Cardiff City vs Everton
Tuesday, 26 February, 2019
Match Preview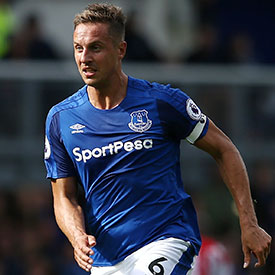 Phil Jagielka is set to make his first Premier League appearance since the opening day in place of the suspended Kurt Zouma
Everton resume their Premier League programme following a 17-day hiatus with a trip to Cardiff City that has assumed heightened importance for manager Marco Silva.
It was hoped that when the Portuguese was appointed, such trips to relegation-haunted sides would be viewed as routine victories but, on a run of form worthy of the bottom three themselves, the Blues travel to South Wales needing a result to ease the pressure on the shoulders of all concerned.
Silva received assurances over his position from majority shareholder, Farhad Moshiri, earlier this month and again in face-to-face talks more recently but, as Claude Puel's dismissal this week by Leicester City demonstrated, there is only so long a poor sequence of form can continue before the manager's future comes under serious scrutiny from the hierarchy.
"I met [him] but it is not the first time, will not be the last one," Silva said his meeting with Moshiri. "It is something you do often, not just because we had the break. Fortunately for us we can meet. It is something you can do easy, something every time we have the time to, we do. Not just with our owner, with our chairman too.
"Yes, good talks of course. I am the first one to understand about the results, but we are talking about the present, the future also, and he passed to me and for our players also the confidence he has in our work and the players we have, and also like me he believes he can achieve the results in the next games.
"All the managers they have to show results and show why the club signed with him. To show the project, to show the idea, but in the end the main thing will be the results. I don't have any doubt about that."
Everton have won just three times in the League since they last met Cardiff in late November and a Gylfi Sigurdsson gave the Blues a slender victory at Goodison Park. Two of those subsequent victories have come away from home, however, and the hope is that Silva and his players have been able to use the break enforced by the absence of cup football to rethink, recharge and reset.
How the Portuguese will set his side up will be keenly observed. The deployment of a four-man central midfield appeared to provide more stability in that area of the park against Manchester City but when Sigurdsson was included playing more on the left side of midfield at Watford last time out, the Icelander's effectiveness was greatly diminished so it remains to be seen whether Silva will try him there again.
And if he is to be restored his preferred central role behind the striker, then provisions must be made for a closer link between him and the selected striker, presumably Cenk Tosun but it could just as well be Dominic Calvert-Lewin. In that instance, it would just leave the issue of who among Bernard, Theo Walcott and Ademola Lookman is handed the wide role on the opposite flank to Richarlison. The diminutive Brazilian has arguably been the most consistent of the three but he was overlooked for a starting berth against Watford while Walcott started against City.
In defence, Kurt Zouma's one-game ban means that a change will be enforced there and with Yerry Mina still rated doubtful with a foot injury, it will almost certainly mean a first Premier League appearance for Phil Jagielka since his he was sent off in the first game of the season against Wolves. Leighton Baines is fit again after recovering from a rib injury but Lucas Digne will almost certainly start and it's highly possible that Jonjoe Kenny will be allowed to continue at right back at the expense of Seamus Coleman.
Meanwhile, the Bluebirds, who had won two on the bounce before being trounced at home 5-1 by Watford on Saturday, won't be able to field Oumar Niasse against his parent club which should see Kenneth Zohore make his first start since September.
While the "R" word seemed an almost unthinkable prospect just a few weeks ago — in truth, it would take a spectacular collapse in form for it to realistically enter the equation for Everton this season — wins over the weekend for Crystal Palace, Burnley and Newcastle have compressed the gap between the Blues and the clutch of clubs sitting above the bottom three. The Blues come into this round of midweek fixtures in 11th place but are just three points above the Eagles and the Clarets, five ahead of the Magpies and only eight above Cardiff themselves who are in 17th.
A win would lift Silva's men to 36 points and effectively banish relegation completely as a concern but it would also ease the pressure on Silva's shoulders and provide the team some momentum heading into Sunday's Merseyside derby.
Win both of these next two games and the picture will start to look a lot healthier for the manager. Lose them and the tenor of the conversation will be very different.
Kick-off: 7:45pm, Tuesday 26 February, 2018
Referee: Kevin Friend
Last Time: Cardiff City 0 - 0 Everton (August 2013)
Predicted Line-up: Pickford, Kenny, Jagielka, Keane, Digne, Gueye, Gomes, Davies, Sigurdsson, Richarlison, Tosun
---
Reader Comments (128)
Note: the following content is not moderated or vetted by the site owners at the time of submission. Comments are the responsibility of the poster. Disclaimer
Bobby Mallon
1
Posted 26/02/2019 at 07:21:45
Just play
Pickford
Kenny
Zouma
Kean
Diegn
Lookman
Gana
Gomes
Bernard
Sigurdsson
Richarlison, it's easy.
Paul Setter
2
Posted 26/02/2019 at 07:34:39
If we play like we have recently then there is one winner in this and it won't be Everton. Sadly I'm not optimistic at all think big Neil will be smarting from his defeat against Watford and will play a very physical side that will launch long balls into the box regularly.
Everton can't deal with either.
With the way silva sets us up each week the opposition manager needs to watch 10 mins on a rerun and bingo that's how you beat Everton.
Neil Lawson
3
Posted 26/02/2019 at 07:47:05
Last night I was watching a variety of highlights on YouTube from the mid and late eighties. So much more exciting than watching us at the moment. So many leaders on the pitch and so much skill too. Oh for Trevor Steven to step out of the Tardis and take his place on the right hand side. Difficult to identify any leaders tonight, although if Jags does play there is at least one player who will sweat blood for a result even if his best days are behind him. We just have to hope for an unexpectedly good performance and 3 points. The reality, I fear, may be different. A draw would help us crawl towards safety. Another defeat is simply unacceptable and should signify the need for immediate change. If after 17 days preparation we cannot perform against a team like Cardiff then analysis is pointless, action is inevitable.
Jim Bennings
4
Posted 26/02/2019 at 07:53:44
Finally a football match involving Everton again!
Not confident at all about this, bizarrely even less so after Cardiff got steamrollered on Friday night because we just know Warnock will have been working on not allowing us any space.
We desperately need to mix up the attack tonight and try something different that Cardiff won't be anticipating.
For me I'd be giving Theo Walcott the role of striker and keeping the ball on the ground playing low balls in behind their defenders as that's what destroyed them on Friday night with Deulofeu taking maximum advantage.
What's the point in sticking with Tosun or DCL and just throwing long balls up to them against Sol Bamba whose middle name is uncompromising.
The lone striking option of Tosun or DCL has been cringeworthy for too long, neither player can play the role well because they don't possess the attributes or football brain to make forward runs and stretch defences.
Walcott has had a nightmare out wide this season so give the guy a change of scenery where the pressure and expectation isn't on him having to beat the fullback.
After all he notched 20 goals in his last season at Arsenal so it's got to be worthy of a trial, it's hardly like we are having great success with anyone else.
It's a huge game for this club tonight, under the circumstances the way the league table below us is closing the gap, it's virtually must win.
Annika Herbert
5
Posted 26/02/2019 at 07:53:52
Zouma is suspended so he can, t play, Bobby@1
Kunal Desai
6
Posted 26/02/2019 at 08:00:02
Lose this and Southampton beat Fulham I will be very very worried.
Bob Parrington
7
Posted 26/02/2019 at 08:02:26
Bobby, we can't play Zouma. He received 2 yellows after the Watford game, ie, a red card. OK it was crap after crap refereeing and linesman-ship but you're not allowed to be critical of the god-like officials.
Just go out there and attack Cardiff. We need to score a few because we are susceptible to conceding. Just play football and enjoy it. FFS, surely these players can't enjoy the tag of losers regardless of how much they're paid.
C'mon, fuckin' get on with it, Everton!!
Bobby Mallon
8
Posted 26/02/2019 at 08:03:08
Annika @5 thanks, Jags it is then and Jim @4 I like the idea of Walcott up top but, as you say, he needs that brain to know when to make runs and stretch the defenders of Cardiff and I don't think he has it.
I just hope he plays our more forward-thinking players and if Walcott does play then I would drop Gomes.
Hugh Jenkins
9
Posted 26/02/2019 at 08:13:53
Whatever footballing "philosophy" Marco Silva is pursuing, clearly he has failed thus far to transfer it successfully to his charges.
I am praying that after a 17-day intensive "course", the penny may have finally dropped and we may well witness an astonishing re-birth of Everton as a footballing force this evening.
If that doesn't happen, then I think the experiment must be deemed a total failure and we need to get in a coach with a different "Philosophy" PDQ.
Tony Abrahams
10
Posted 26/02/2019 at 08:26:21
I think that playing Walcott, up front is the only thing that hasn't been tried, Jim, or maybe just even in behind, in the role Sigurdsson has been playing.
He does his best work running forward, and has no aptitude whatsoever for defending, so if he was playing central, with instructions to just be direct and attack, we might just get something out of him.
Same thing could be said for Lookman, who has got all the skill in the world, but just seems to lack a bit of desire for whatever reason.
I think desire has got to be the main thing tonight. Desire to keep a clean sheet, and a desire to go and play football and win a football match. I hope so anyway.
Philip Jeffries
11
Posted 26/02/2019 at 08:26:26
I've been screaming for Walcott to play through the middle up top. It's one of the reasons he fell out with Wenger at Arsenal as he saw himself as a striker. Whatever you think of him, he can't be any worse than Calvert-Lewin or Tosun. Go for pace through the middle.
I reckon he'll go with Richarlison again up top though. Silva is as thick headed as Martinez was and I can't see him trying anything out of the ordinary. He'll go safe with wingbacks until we go 1-0 down.
Jim Bennings
12
Posted 26/02/2019 at 08:38:23
I think we just have to give Walcott a trial up front, it could well spectacularly fail of course but there's two things that haven't worked all season and that's Theo out wide and the consistent use of Tosun or Calvert-Lewin as lone striker.
Richarlison has had most success out of all playing up front but I don't think his temperament suits games against big bustling centre backs like Bamba and he's on the deck too much for my liking.
Silva should lay down the gauntlet to Walcott and say to him as the most experienced player that he can hurt teams through the middle as he did at Arsenal when given the chance.
We have scored a meek five league goals all year so far and we are almost in March so we need changes, playing with Tosun or Calvert-Lewin as lone striker is like starting with ten men.
Time for Silva to show us he has flexibility.
Alan McKie
13
Posted 26/02/2019 at 08:52:58
Where the hell is Mina??? When we bought him, people thought he would be a Colossus in the middle of our defence. Instead, we have a pussy who has missed more games due to niggling little injuries.
I think we were taken in with his attacking performances from set pieces during the World Cup. Did any of us actually see him in defence? Jagielka at least put his body on the line for the club.
Phil Sammon
14
Posted 26/02/2019 at 08:57:02
It's an absolute mystery to me how Walcott has this reputation as a 'good finisher'.
The bloke misses more one-on-ones than anyone I've ever seen.
His pace seems to get him one glaring opportunity per game. An opportunity he invariably fluffs.
I'll be really annoyed if he starts.
Jim Bennings
15
Posted 26/02/2019 at 09:17:34
Phil,
Despite this he had a really solid goalscoring record for Arsenal and once hit a hat trick for England away to Croatia.
Tosun and Calvert-Lewin have frittered away more chances than Walcott this season and the Watford game was that duo in a nutshell, guilt edged sitters and barely any movement other than that.
If we had a centre-forward worth their salt, we wouldn't be talking about Walcott up front... but sadly we don't.
Derek Knox
16
Posted 26/02/2019 at 09:20:47
It seems like an eternity since our last match, but it's 17 days so long enough, in his press conference when asked about warm weather training/bonding, he answered no but they have had a good rest.
Lyndon, you mentioned in your preview about Puel, which I was sort of shocked over his sacking as it wasn't long ago that Leicester City beat Man City (admittedly, Man City were below par) a feat that would be near impossible for us to emulate.
While watching SSN after Puel's dismissal, I think it was Jamie Redknap by way of explanation, was saying that he was very quiet as a Manager, apparently inanimated on the sidelines, seldom giving vocal support or apparent encouragement to his players.
Does that remind you of anyone? While I don't expect a Manager to run around like a demented Orang-Utan that has just escaped from a secret Government Research Laboratory, and even run onto the pitch while a game is in progress. I would expect a bit more from Silva, than just appear to act Mr Cool while a shambolic display is unfolding before his very eyes.
It shows how low we have travelled of late, when an away game against a recently promoted Cardiff has us viewing it as a vitally important game, then following that with a game of World Cup Final importance. (I can't remember exactly where I heard that expression.... Oh, Yes! — it was that escaped primate!)
Tony Marsh
17
Posted 26/02/2019 at 09:29:15
If we lose at Cardiff, then The Miserable One has to go and we will have to put Unsworth in charge for the derby. Leicester City have given Puell the bullet and they have had a similar season to Everton. Difference is the Leicester owner acts in a more decisive manner than who ever calls the shots at our club. Kenwright, Moshiri, Brands, Nice Blonde lady — who the fuck knows who is in charge here?
If Marco Silva doesn't have the ability to send out a team to beat Cardiff, then I'm afraid all is lost. Watford battered Cardiff in Wales last week; we must surely get a similar result?
A loss tonight and Silva is toast. I can't bare the thought of Sunday at home to Liverpool with Marco Silva standing there in his undertaker's coat staring gormlessly in to space as his zonal marking disintegrates.
Only at Everton.
Dermot Byrne
18
Posted 26/02/2019 at 09:36:17
Walcott up front? Maybe because Gomes can make that pass he needs.
After wingey posts from me elsewhere recently, I cannot help but be excited again.
Heart obviously rules my mind... and long may it continue!
COYB¡¡!!!!!!!!¡¡!!!!!!!!!¡!!!!!!!!!!
Kevin Prytherch
19
Posted 26/02/2019 at 09:49:05
We can't go with a 4-2-3-1. It's been done to death and doesn't work.
If Sigurdsson plays in the No 10 role, he can't be flanked by 2 wingers, it leaves the midfield 2 too exposed. Then, if the full backs venture forward into the space left unoccupied by the lack of midfield, it leaves the defence exposed.
I think that's the big difference from the start of the season. The first few matches, Richarlison was flying up and down the wing, offering as much defensively as he did going forward; this helped counter the lack of numbers in midfield. Since he went up front, he doesn't work as hard defensively now, thus leaving us with a 2-man midfield that is easily overrun.
If we persist with Sigurdsson in a No 10 role, we need at least 1 wide player to play more as a wide midfielder than a winger.
If not – Gueye, Gomes and Davies in the middle, Richarlison and either Bernard or a Lookman flanking a striker.
Frank Sheppard
20
Posted 26/02/2019 at 09:52:46
It will be good to see if 17 days without a game creates refreshed enthusiasm, team spirit and convincing football. Team selection will be interesting in terms of both personnel and set up. It will be great to see Jags back in the starting 11.
Let's hope the squad return in a way that creates a positive result, and have not spent 17 days thinking "What is he on about?" Looking forward to an after-match interview cascading with "good moments".
Fran Mitchell
21
Posted 26/02/2019 at 09:55:42
Sorry, but Walcott has been in miserable form all season.
For me, we should just go 4-4-2:
Gueye & Gomes in the middle;
Lookman & Bernard out wide;
Richarlison Calvert-Lewin up front...
Play direct, run hard!
Ray Smith
22
Posted 26/02/2019 at 09:56:12
Bobby @1,
If we played your 11, we wouldn't be where we are. I can't see Silva changing the team that much.
With the suspension of Zouma, Jagielka should get the nod, but don't hold your breath!
Brian Harrison
23
Posted 26/02/2019 at 10:13:09
The problem we have had for most of the season is, apart from Richarlison and Sigurdsson, we lack goals.
We have also lacked a main striker and that has hurt this team badly, for a club to have spent £250 million on players and for our choices for most of the season to be Niasse now at Cardiff and Tosun and Calvert-Lewin is nothing short of disgraceful. For Brands and Silva to not have rectified the striker problem is a glaring omission by both men.
Having said all of that surely we have enough talent to beat Cardiff, we have had 17 days to rest and reset the team. So there can be no excuses tonight, other than Zouma being suspended and Mina a doubt, we have a full squad to pick from.
Hand on heart I wouldn't know which forward players to play alongside Richarlison, as the lack of goals from Bernard, Walcott, Tosun, Calvert-Lewin and Lookman is a major concern. Add to the fact that our midfield players don't score a lot of goals highlights our problems.
Anthony A Hughes
24
Posted 26/02/2019 at 10:17:18
Mid-season break,17 days off, fully rested, raring to go, chomping at the bit, ready to face Premier League cannon fodder — what could possibly go wrong?
Tony Everan
25
Posted 26/02/2019 at 10:22:58
The 17-day break may have been the tonic to shake off our GDS [Groundhog Day Syndrome].
The break will have allowed Marco Silva to watch the way Man Utd's defenders easily coped with the many Liverpool set pieces and corners on Sunday. [Liverpool have scored the most from them].
They had Liverpool's threat marked by the right men. Smalling didn't let Van-Dick get away from him, he tagged his shirt until the ball was in flight so he could track his movement. It was minimal tugging but it gave Smalling a reference to where is man was. The ref wasn't bothered about it. Marco and Everton's defenders I hope have been watching and have wised up on how to defend properly, ie Don't let their main threat get free headers in. Challenge them to within an inch of the law.
The sunshine will re-ignite our Latin lovelies: Richiebabes, Gomes, Bernard — I am expecting a decisive display from our blue-boys tonight.
Cardiff 1 Everton 3
Tony Everan
26
Posted 26/02/2019 at 10:41:39
With regards to playing Walcott up front, through the middle, why not.
As long as we play to his strength and don't start punting balls expecting him to win headers!
If we play it low ball to use his pace it will cause Cardiff more problems than Calvert-Lewin or Tosun will.
Have we got the brains/skill/composure to play to his strengths under pressure?
Playing this way our midfielders have to pass very accurately, getting low passes forward cut out and leaving us exposed cannot happen, we could suffer badly. Intelligent accurate passing from us is essential .
Marco must use pace against Cardiff, Walcott through the centre is the best option, look at the way Deulefeu left them for dead. I would expect Marco to be all over it and try Walcott as centre-forward.
John Hammond
27
Posted 26/02/2019 at 10:48:02
Walcott should be nowhere near the striker position. It's never worked before so why's it going to work now? He goes to pieces whenever he gets into a scoring position. Wenger gave him several runs in the team as a striker and he bagged a total of 14 goals as a striker in all competitions in his whole career.
Whatever happens, I think we'll win this one tonight. Hopefully it won't be another fortunate 1-0 with them hitting the post 3 times and Jags getting away with a blatant penalty!
Jim Bennings
28
Posted 26/02/2019 at 10:56:18
Anthony A. Hughes
My thoughts exactly!
One thing we can't blame tonight or Sunday in the derby is tiredness.
We have practically had a mini mid-season preseason over the last three weeks so what can possibly go wrong tonight?
We ought to be as fresh as a daisy.
John G Davies
29
Posted 26/02/2019 at 11:27:25
Walcott worth a go up front. Especially against grock centre-halves.
Not worth it, though, unless we can pass on the floor, down the sides of the centre-halves.
David Hallwood
30
Posted 26/02/2019 at 11:30:20
John Hammond (#27), it certainly worked at Arsenal, where he scored a hatful of goals going through the middle. Personally, I'd say to Woolcott, that he's got the centre-forward gig til the end of the season and see how it works out.
As for 4-2-3-1? I've been saying for ever that it doesn't work unless you have 2 outstanding wing-backs, so for me it's 4-5-1 when we haven't got the ball and 4-3-3 when we have.
But back to the "Should we sack Silva?" I would say definitely not. Well worth a watch is an interview with Derek Mountfield on Toffee TV, and he talked about the Kendall Out brigade (and I'll hold my hands up and say #me2) and how it turned around in 18 months, and that all teams need time to gel.
I'm not saying history repeats itself, and I get pissed off seeing the same defensive error, again and again. But this is a new team both on and off the field. On it Gana is the senior player, next comes Davies & Kenny and all the rest came in last season or this one – McCarthy excepted.
So getting a new manager, the whole process starts again; and for people pointing to the ever revolving managerial door of Chelsea, and even Leicester, both teams have a settled nucleus of players that have been there for 4-5 seasons.
Let's hope that the break has revitalised the players; if we play even 70% to our strengths, we should win with something to spare-but this is Everton we're talking about!
My team (not a hope in hell of it being picked):
Pickford
Kenny
Mina
Keane
Digne
Gana
Gomes
Davies
Richarlison
Walcott
Lookman
Tom Bowers
31
Posted 26/02/2019 at 11:34:38
It has to be said that Theo is past his best and although still capable of slotting the odd goal is not worthy of a starting role. Lookman has to be considered but Bernard has really set the world alight.
Cardiff will be on the rebound and with Everton's dismal run of form they could easily extend that run.
However, Everton could benefit from the rare appearance of the experienced Jagielka at the back and help shut down the Cardiff offence which isn't much. Free-kicks, however, are a different matter and most teams that don't score much rely on the occasional dead-ball situation.
As I have always said, Everton need to come out with intensity and belief from the opening whistle but, if they are lethargic as they have been, then it will be another boring struggle to get one point – let alone three.
Jonathan Tasker
32
Posted 26/02/2019 at 11:35:26
How is Silva still in a job?
If we fail to win tonight will he finally get fired?
John Hammond
33
Posted 26/02/2019 at 11:46:24
David #30: You'd think that, by the age of 29, if it had ever worked out for him as a striker, then he'd have been played there more often.
How is he any different to Richarlison up front?
Jay Wood
[BRZ]
34
Posted 26/02/2019 at 11:47:40
With Zouma suspended and Mina still not quite there fitness-wise, but Jagielka reported as fit, the logical move is to expect Jags to partner Keane at the heart of the defence (although I did note Morgan Feeney featuring prominently in the latest video shoot of a Finch Farm training session).
Now Jags doesn't match the (alleged) Silva template for centre backs. He isn't 1.90 m tall, or weighing in at 100+ kg. He is undoubtedly in the twilight of his career – possibly his final year as a player at Everton. His prowess may have faded a tad, but he has been unfairly denigrated by some in recent years and is far from being a total liability or invalid.
Some point to his laughing and joking in the tunnel before the game as some serious flaw as if that defines everything about him.
I recall in Martinez's 2nd season in 2014-15 when the wheels first started coming off under his reign, Jags was very dodgy early season and was dropped.
As Everton's season continued to flounder, Jags was restored to the side and he was our lion heart. He led by example, cajoling his team and gave everything of himself.
By season's end – in a very mediocre season – this was recognized by fans and teammates alike who elected him the fans' and the players' Player of the Year.
If he plays tonight, as club skipper, with all his experience, I hope he can galvanize the team as he did 4 years ago.
Silva and the team have put themselves under pressure and scrutiny in recent months for not addressing the slide. After a very fortuitous 17-day break between games, against the opposition they face tonight, there are no more excuses to be had.
If he plays, I expect Jags to lead by example and be influential in ensuring the team gets the victory we need.
Mal van Schaick
35
Posted 26/02/2019 at 11:49:37
Cardiff will be up for this game fighting for everything, Silva and the team better realise this before the game. We have to compete for everything also.
I hope that over the 17 days Silva has worked on the creative forward play, and to at least create and shoot instead of a lot of passing malarkey.
Get 3 points in the bag, a bit of confidence and a decent run of results, would be good.
2-1 Everton.
Jim Bennings
36
Posted 26/02/2019 at 11:49:38
You could probably say that for many of the players too though Jonathon "how are they still in a job"?
I'm a bit fed up these days of player power and, although it didn't include us, the Kepa moment on Sunday was a disgraceful lack of respect for his manager but displayed all that is wrong with the modern day footballer.
So we sack Silva, fair enough – he's hardly faultless we know that but what next?
Another manager given six months when the players don't want to play for him either?
Watching the Toffee TV interview with Derek Mountfield makes you realise that once upon a time players cared more for the club than their pay packets.
Dale Rose
38
Posted 26/02/2019 at 12:14:56
Walcott on his day is a quality player. At the present he is worth a run out as striker. However, the Cardiff lads will be up for this. We have more to prove than them. A must win game.
Danny Baily
40
Posted 26/02/2019 at 12:42:25
If they can keep it level into the 2nd half, then I can't see anything but a win for Cardiff.
We need to be quick out of the blocks with plenty of pace up top.
Massive game.
Jamie Crowley
41
Posted 26/02/2019 at 12:43:15
Jim Bennings back @ 4 -
We desperately need to mix up the attack tonight and try something different that Cardiff won't be anticipating.
How about Bernard at the No 10?
Please God, just once??
Pickford
Kenny Keane Jagielka Digne
Lookman Davies Gomes Richarlison
Bernard
Calvert-Lewin
Sigurdsson off the bench if it's an experiment in futility. Tosun off the bench if needed. Anyone else off the bench – I can't think that deep.
Sam Hoare
42
Posted 26/02/2019 at 12:43:50
Only worth playing Walcott as a striker against a team that plays a high line. Otherwise, his pace is less useful.
I expect Cardiff will look to play deep and counter with Hoilett and Zahore. In the last few months, we have done better in matches when we have had less possession and struggled against teams who let us have the ball. I expect those struggles to continue tonight.
I think I'd opt for Tosun who looks most likely to bury what few chances come our striker's way:
Pickford
Kenny Jagielka Keane Digne
Sigurdsson Davies Gueye
Lookman Tosun Richarlison
Jim Bennings
43
Posted 26/02/2019 at 12:49:53
Jamie
I quite like the idea of Bernard at the No 10 role.
As we have said before, it's time for the manager to show us he's flexible and mix things up, it's clear as day that, for nearly three months now, things aren't working.
Martin Kulkarni
44
Posted 26/02/2019 at 12:50:40
6# Kunal. Every right to be worried. I was very worried indeed, but everything is going to be okay, and we will not and cannot be relegated. Jay Wood has told me so. I feel better already!
Brian Williams
45
Posted 26/02/2019 at 12:52:09
Jay Wood is right, Martin.
John Keating
46
Posted 26/02/2019 at 13:01:12
Apart from the 17-day break having made the players rusty, there can be no excuses tonight.
Surely even Silva has to finally realise his non-tactics do not fit with the squad he has and he has to do something to fit the players?
Not holding my breath and hoping for a draw.
Andrew Keatley
47
Posted 26/02/2019 at 13:01:14
After the pasting they got at the hands of Watford – and especially Deulofeu's pace – I can see Cardiff sitting much deeper, particularly if Walcott plays. No doubt Warnock will be looking to target set-pieces.

Martin Kulkarni
48
Posted 26/02/2019 at 13:03:18
How can you say anyone is right, Brian, the season isn't over yet. We're dealing with speculation at best, however we all feel things might go. Neither Jay nor anyone else knows. I can envisage a possible scenario, Jay and some others envisage a different scenario.
It is just as possible we can go down, as it is possible we will survive. People are speaking in absolutes when they cannot know for certain. If some can, I wouldn't mind knowing the winning lottery numbers for the weekend!
Pat Kelly
49
Posted 26/02/2019 at 13:03:40
The excitement is unbearable. A high stakes game against the mighty Cardiff. Who needs Champions League, FA Cup, League Cup, when Silva can take us to these dizzy heights???
James Hughes
50
Posted 26/02/2019 at 13:10:57
After a 17-day break, the team
must
, not should, be firing on all cylinders tonight. Anything less than 3 points is not good enough.
Let's not forget, we had an extended break because we couldn't beat a team in the relegation places in the league below us. Regardless of the legality of one of their goals, we were gutless and rolled over for them.
Time for Silva to prove he's not a fraud and show what he can do.
Jim Bennings
51
Posted 26/02/2019 at 13:31:25
We have won THREE football matches since November 24th.
If a record like that doesn't get this team psyched up to start putting things right, then we might well just give up.
Clive Rogers
52
Posted 26/02/2019 at 13:31:45
Jamie, #41,
I agree that Bernard is worth a punt in the No 10 role, but not with Calvert-Lewin as striker. His positional play is awful, never makes the right runs and doesn't seem to have a football brain. Basically, he is just tall and fast.
Jay Wood
[BRZ]
53
Posted 26/02/2019 at 13:35:26
Martin @ 44 and 48.
"I was very worried indeed, but everything is going to be okay, and we will not and cannot be relegated. Jay Wood has told me so. I feel better already!"
Don't be a pratt, Martin. I did no such thing.
I offered you a reasoned analysis on another thread to calm your fears. If, having read that, you continue to play the hysterical paranoid with regard to the 'R' word, that's your choice.
As for your second post: 'It is just as possible we can go down, as it is possible we will survive.'
It is NOT 'just as possible' for either scenario. There are multiple reasons (as I already highlighted to you) why the odds are stacked in favour of survival, rather than relegation.
You are fully entitled to your opinion, Martin. You cluck and flap your wings in full panic mode as much as you like. But don't falsely attribute to me attitudes and words I have not expressed, or snidely denigrate me as you attempt here.
Justin Doone
54
Posted 26/02/2019 at 13:46:22
I just hope we have been practising plenty of set-piece routines in both attacking and defending them.
Pretty sure Cardiff will be putting plenty of high balls into the area and the defenders need to defend, not rely on the linesman's flag as they can't get them decisions right all the time.
Easier to deal with it ourselves and really go for it against Cardiff. All had a nice rest, the sun is shining and I hope the Brazilians are ready to party.
Jim Bennings
55
Posted 26/02/2019 at 14:03:03
Warnock is many things but he's an arl' arse when it comes to sussing out teams like us and he will be working on set-pieces and hurting us from corners.
Bamba will be a big physical threat and, if we start with our head in the sand again, we can be sure to concede from a dead-ball situation.
Tony Abrahams
56
Posted 26/02/2019 at 14:21:24
If you can't get those lottery numbers, Martin, go and have a couple of grand on Everton to go down, especially with odds of 250/1 on offer right now!
Pat, I'd love to qualify for the Champions League or win either of those cups, but we have had seven managers in charge of Everton since we last reached the really dizzy heights.
"You're fuckin Shit, you're fuckin shite," are the last words anyone wants to hear when they are having a bad time — especially if it's coming from their own supporters, but I suppose it's better than those sly little digs that really don't need to be spoken?
Kristian Boyce
57
Posted 26/02/2019 at 14:21:57
Wasn't one of the main reasons Walcott left Arsenal was that Wenger wouldn't play him in a central role over the years? He may not have been prolific when played there, but he still got double figures for a few seasons. I was fully expecting when Fat Sam signed him, he was earmarked for a spot in the middle, but, as soon as he came, Tosun was bought to fill that role.
I'd give him a go, heck, nothing else has worked this season, so we might as well try something different.
Paul Cherrington
59
Posted 26/02/2019 at 14:49:58
It will be good to see Jagielka back in defence – it is still only when we revert back to some of the old guard that we look half-decent again. It was the same last season when Allardyce did it to make us more solid. I know Jags has his limitations but at least he will get some organisation and proper defending into the team.
It's obvious we cannot keep relying on older pros like him but needs must right now! Lose tonight and we are getting sucked into that relegation dogfight – make no mistake about it! Trouble is, we don't have the manager or players for it...
James Hughes
60
Posted 26/02/2019 at 15:03:34
Jay, I would have to disagree with that last post. You have stated on here quite a few times we will not be relegated this season... (Hopefully never, who knows where we are going?)
Loved the last paragraph, going to try it out in true Norman Collier style: Baaaawckk, Baaaaaawcckk
Jay Harris
61
Posted 26/02/2019 at 15:03:45
This will be a very physical game and Cardiff are not well placed in the goalscoring stakes and have to accommodate the absence of Niasse.
With that in mind, I wouldn't play Bernard who is too easily knocked off the ball and would play Davies in a 3-man midfield with Gomes and Gueye.
Up front, I would go with Calvert-Lewin to win the headers and hold up play, flanked by Richarlison and Lookman.
The back 4 picks itself although its a toss-up whether Jagielka's lack of fitness will give Feeney a chance or whether experience and leadership at the back is preferable.
This will be a true test of Silva and the players.
Sam Hoare
62
Posted 26/02/2019 at 15:07:10
Almost more than corners, we seem to be vulnerable to free-kicks from wide positions, even near the half-way line!
I guarantee Warnock will have the Cardiff forwards going into those areas and trying to win free-kicks. I hope we will not give needless fouls away like we did in abundance against Milwall and others.
Dave Harvey
63
Posted 26/02/2019 at 15:10:06
Marco sacked if we don't get a result tonight?
Jamie Crowley
64
Posted 26/02/2019 at 15:12:19
Jay @61 -
Inasmuch as I am near desperate to see Bernard in the 10, your line-up with "clogging" midfield is, in my opinion, an intelligent one.
Clive @ 52 -
I'd prefer DCL up top if Bernard were to play the 10, as I think his speed, coupled with Bernard's vision and ability to thread balls through (I think he would be excellent at that, mind you we've not seen him play the position) would be a potent attacking threat.
Either way, Jay's approach, mine, Clive's? It means nothing.
Three points today. Alarm bells will be going off like your Big Ben tower over there if we lose. Nothing matters except three points today.
I don't want to stare into the abyss. Lose today, we might just be doing that come next week.
Bobby Mallon
65
Posted 26/02/2019 at 15:16:43
If most on here think our forwards are gash, then maybe just maybe we need to look at the Under-23 squad.
Step forward, Sambou and/or Hornby. Give them a go — let's see how they handle it... can't be any worse (can they?).
Trevor Peers
66
Posted 26/02/2019 at 15:17:46
Looks like you're finally smelling the coffee, Sam. Silva couldn't organise the proverbial piss up in a brewery when it comes to organising our defence. Our only chance in this game is to score three goals very quickly and hope that knocks the stuffing out of Cardiff.
If this turns into a scrappy street-fight type of match, there will only be one winner and our lack of goal scoring of late points to exactly that. Let's hope the 17-day rest has involved lots of shooting practice.
Steavey Buckley
67
Posted 26/02/2019 at 15:23:03
Having to play Jagielka and Tosun would weaken the Everton team and give a bigger advantage to the opposition.

John Pierce
68
Posted 26/02/2019 at 15:39:05
Silva has no choice. This is a game that should be won comfortably. A draw is insufficient.
Is his 'Hail-Mary' a win against the sh!te? I wonder, would people give him a pass if he won the Derby and scraped a draw here or there for the rest of the season?
Mike Gaynes
69
Posted 26/02/2019 at 15:47:25
So happy to have an actual game to talk about. And I will be so damn happy to see Jags in the lineup. I don't care if he's 36, I just enjoy the passion he displays.
Jamie and others, Bernard in the #10 is highly unlikely given that he's never actually played it before -- just a few minutes at a time at Shakhtar. But I would definitely like to see him and Lookman on the wings today.
Alan #13, how do you know it's a "niggling little injury"? Why would you call him a "pussy" when you haven't got the slightest fucking idea what's going on? You weren't around here last season, but I'll bet that in conversation you were insulting of Keane's lumbering pace, again without knowing what was going on. Leave it by the side of the road.
Jay Wood
[BRZ]
70
Posted 26/02/2019 at 15:51:30
James @ 60.
Read the small print. The devil is in the detail.
I have offered a rational opinion as to why I don't believe we will be relegated this season. It is an opinion I stand by.
I have never claimed we cannot be relegated this season because mathematically it is possible. Highly unlikely, given the many, many factors for that to happen, but not impossible.
What's your money on, James?
Mike Gaynes
71
Posted 26/02/2019 at 16:00:57
Dave #63, after the season, maybe. Now? No way.
Michael Lynch
72
Posted 26/02/2019 at 16:33:39
Anything less than three points tonight is unacceptable. If we can't win this, we deserve to be in a relegation scrap. Three points and we're safe in mid-table, take a point off the Shite on Sunday, I'll be feeling a lot better. Sack Silva at the end of the season and bring in someone who at least isn't as clueless as this idiot and I'll be looking forward to next season. As Steve Ferns implied elsewhere, it doesn't really matter if we keep sacking failures, because whoever comes in next will be expected to work to the same system that Brands introduced, and with the same players he has targetted/bought. Shame about the £4m Watford have fleeced us for though.
Anyway, I've renewed my season ticket, so I'm confident next season will be better under a new manager. Let's just get a win tonight and start building towards August.
Anthony Flack
73
Posted 26/02/2019 at 16:49:31
Apologies for duplication
Anthony Flack
74
Posted 26/02/2019 at 16:49:41
After 10 days chilling in Antigua what a relaxing return to reality
Quite a bit of angst on hear that reflects our frustration. I'm a fan of what Jay and Mike post - not just here but on other posts
I don't think there is even a remote chance of going down - 4 points from next 2 games, frustrate the RS and things will feel a little better
Whilst I might get mocked for my next statement I forecast we will get more than 48 points - I don't tend to gamble but if I could work out how to get the odds and bet - I would !
The season is now about working out and building how next season will be better
Happy hunting tonight
Derek Knox
75
Posted 26/02/2019 at 16:56:12
Mike @69, I too am glad we have a game to look forward to, just how we perform in that game is another matter for speculation, with the team needing more than hope from us.
You mentioned Jags who we assume will be back in defence, and yes he does show passion, a virtue that seems to elusive with most of the others in the squad. There again how can we expect passion from a Manager who shows none himself.
I mentioned in my earlier post, regarding the sacking of Puel, which was not only based on recent results, but his tactics, and his similar statuesque poses on the sidelines to Silva.
I do obviously hope for a win tonight but can't in all sincerity say that I am confident of us achieving one, even after seeing the demolition by Watford on Friday last.
As a fellow poster mentioned before, Warnock is an old warrior and knows how to exploit a team with weaknesses, and you can bet they will target our Achilles Heel in set pieces, corners and Zonal marking. He can also motivate his players, okay it didn't work against Watford, but they were imperious on the night with our 'old Delboy' having his best game for them.
Anthony Flack
76
Posted 26/02/2019 at 16:57:47
Ps Antigua from what I have discovered is not a footballing hotbed -
Most of the chaps I spoke to didn't realise Barcelona are not in the Premier League and a couple said Messi was Manure's best player
However as with everywhere in the world I spotted an Everton top yesterday on s little local kid on Valley Church Beach...
2 0 to us tonight
Kieran Kinsella
77
Posted 26/02/2019 at 17:00:44
Mina is fast becoming the new Slaven Bilic. Big expectations, hefty salary, always injured.
Echo quote Silva as saying this is a "must win." If he did actually say that, then he is a fool. While I might agree with the sentiment, he doesn't need to invite any more pressure on himself.
Raymond Fox
78
Posted 26/02/2019 at 17:01:06
We are 275/1 to be relegated, any doom mongers out there get your money on. You might as well sling your cash in the canal though, because there's no way we are going down.
As far as tonight's game is concerned we are definitely no certs to win this game, there's no easy away games.
The stadium will be a cauldron, they will be right up for this game and anything can happen.
Wales beating England at union also in Cardiff will further wind the Taffy's up they will be baying for our blood.
I've got everything crossed for a win, but I fear it could be a draw or a loss.
Dave Abrahams
79
Posted 26/02/2019 at 17:03:29
We could do with a few more positive posts like Tony's (25), thanks for that Tony, it's bucked me up, a good win tonight and we can start planning to rob some points off them on Sunday, then carry on that way for the rest of the season. The only way is up.
John Reynolds
80
Posted 26/02/2019 at 17:07:06
17 Days reflection and regrouping will show a regeneration, and the final trimester of the season will see a return to the promise and excitement of November. Our high-press, high-energy game will be back and it'll seem as if December-Feb never happened. Cardiff will be brushed aside and the reds will be fearful on Sunday. By May we'll all wonder what we were panicking about.
*no guarantees are provided with this prediction
Dave Williams
81
Posted 26/02/2019 at 17:08:10
It's really anyone's guess isn't it. Up front we have been so poor and everything has been tried apart from Theo in the middle. He doesn't seem that bothered to me but maybe it's worth a shot and if he is poor remove him at half time.
We need guys who will graft tonight and show some desire and it shows how poor we are that we all struggle to name a team to satisfy that criteria.
Jags is worth a place and I agree with others that he at least will show desire and guts which may just transmit to the rest of the team.
Pickford
Kenny
jags
Keane
Digne
Davies
Gana
Gomes
Bernard
Walcott
Richi
I have no faith in Walcott but no other option screams out at me so try him and see.
We badly need a win to get us up for Sunday.
Mike Gaynes
82
Posted 26/02/2019 at 17:10:27
Derek my man, agreed. Anyway, let's be sure to have some fun on the Forum today, no matter the outcome. Gotta come up with something besides fish and cats.
Anthony #76, that's amazing. Can't imagine how that shirt reached that kid, but I'm delighted. My long-ago memory of Antigua is that they're into cricket but not much else.
Raymond #78, so the odds are actually better of us making the Champions League than being relegated. I find that "oddly" comforting.
Jimmy Hogan
84
Posted 26/02/2019 at 17:14:35
If we lose this evening. will Silva get sacked? No one knows, but it's been a strange old season. Even the games we have won, I've felt we weren't necessarily the better team. I'm confused about the kind of team we are. There seems to be no common theme about any of the season. I heard there were murmers within the club about the players not really "getting" Silva and the whole zonal marking thing, but is it the players themselves who just can't adapt? I don't know, anyway, 0-2 with Richarlison firing again is what I'm expecting. COYB.
Dermot Byrne
85
Posted 26/02/2019 at 17:19:46
Mike, with Silva under pressure, it has to be about metals.
Let me lead!
Bill Gienapp
86
Posted 26/02/2019 at 17:20:33
Right on Mike (69) - I bet last season Alan was slating Keane for that "niggling foot injury."
Paul Curwen
87
Posted 26/02/2019 at 17:23:00
Evening fellas stuck at work til 7 home before 8 is it on the Tellybox tonight ????
Mike Gaynes
88
Posted 26/02/2019 at 17:37:04
Dermot, don't worry, we'll iron it out.
Derek Knox
89
Posted 26/02/2019 at 17:43:49
Paul @87, if you check on Google, Live on Sat and click on the England flag it lists all the Channels covering the game, the last time I checked it, Bein Sports 11 HD and NBC Gold (US) although usually the Canadian TSN 1-5 or Sportsnet/World /One /Ontario etc, cover our games. These are available on paid IPTV, but then there are the usual (and usually dodgy) streams, hope that helps.
Derek Knox
90
Posted 26/02/2019 at 17:48:16
Dermot, that limits things a bit as there are not that many metals in the Periodic Table, pity Leon Osmium wasn't still playing!
Mike Gaynes
91
Posted 26/02/2019 at 17:49:52
OK, that's it, cancel the metals puns. DK already locked up the worst one of the day.
Tony Waring
92
Posted 26/02/2019 at 17:53:06
Assuming Jags plays tonight will we still stick wkth zonal marking or revert to man to man ? Indeed has Jags ever played the zonal theme ?
Denny Kerr
93
Posted 26/02/2019 at 17:54:59
Silva has basically stated pregame that he's not going to change anything.
As far as I know, we didn't sign any new players during the mini holiday the players have just enjoyed, so why would we expect any difference in effort, desire, or result?
I really hope I'm wrong, but I can't see where our next points are coming from. No, I don't think we'll be relegated, but what does that say about the status of our great club?
Jimmy Daly
94
Posted 26/02/2019 at 18:01:14
Pickford
Kenny, Jagielka, Keane, Digne
Gueye, Gomes, Davies, Sigurdsson
Richarlison, Hornby.
Cardiff 0 - Everton 2 (Richarlison, Hornby)
Tony Twist
95
Posted 26/02/2019 at 18:06:53
My team would be:
Pickford,
Kenny, Keane, Jags, Digne,
Gana, Siggy, Gomes,
Lookman, Richarlison
DCL.
But it doesn't matter what formation if they don't form partnerships on the pitch and play as a team. If we score first I think we will win otherwise it won't be pretty and a relegation run in will be on the cards.
Jamie Crowley
96
Posted 26/02/2019 at 18:08:19
Fish, some other pun-fest I ignored but giggled at many contributions (cat theme I think?), and now metals.
I think we can safely draw a correlation between the number of puns on the live forum, and the inverse of how well our season is going.
More puns, shittier season. Less puns, good season as no one has the time or inclination to bother with them when riveted to the screen.
I'm bet TIN on a win today, with BARIUM any puns on the live forum!
Tony Everan
97
Posted 26/02/2019 at 18:09:07
Dave #79
Cheers, It's an Evertonian affliction .
The Olympic flame of optimism that we all have gets extinguished every week but there's always an ember left that gets the fire going again the next time the lads trot out.
Come on you BLUE BOYS!, give us a couple of wins this coming week and the world will be a different place.
Jamie Crowley
98
Posted 26/02/2019 at 18:10:35
I hope Livermorium loses tomorrow.
Eddie Dunn
99
Posted 26/02/2019 at 18:16:50
Like on many occasions this season, I have managed to completely erase the previous cock-ups and I have forgiven everyone. So now with renewed optimism (one gin & tonic) I am ready to watch us play confident attacking football and tighten things up at the back. I hope to see a spirited performance full of energy and purpose. Will I feel like this in a couple of hours?
Mike Gaynes
100
Posted 26/02/2019 at 18:23:51
Jamie, I wouldn't give a plugged nickel for your puns.
Eddie, I like your method of getting up for the game.
Tom Bowers
101
Posted 26/02/2019 at 18:24:30
The turning point is now. This is where we see the best of Everton.
Another thumping away win like the one at Turf Moor.
Nothing like supreme optimism is there !!
Now back to reality.
Any kind of win is welcomed at this point. No need to remind ourselves of what's gone on the last few months. I am sure Silva has been well and truly appraised of his situation and that a decent end to the season will be expected after the long break.
COYB.
Jamie Crowley
102
Posted 26/02/2019 at 18:24:57
Eddie -
Did you use the word "spirited" as a pun, Mr. Gin & Tonic?
Jamie Crowley
103
Posted 26/02/2019 at 18:26:18
Mark Burton
104
Posted 26/02/2019 at 18:30:08
A win tonight stops relegation fears but a loss really puts us in the bottom bit. This will then stop the players we need wanting to come to Everton. Aston Villa and Wigan ringing bells now!!!!
Brent Stephens
105
Posted 26/02/2019 at 18:31:27
Why do we let players like Berkelium go?
To be replaced by run-of-the-mill big Bohrium players like Tosun.
We need players who can Cesium the moment.
Graeme Beresford
106
Posted 26/02/2019 at 18:34:24
Horrible horrible feeling about this one. As they have just lost 5-1 to Watford at home you know their boss is going to just say we can't be embarrassed again. Hit long balls, get set pieces and test them. Don't have a good feeling at all.
Mike Gaynes
107
Posted 26/02/2019 at 18:36:54
Brent, your puns are less than aluminumating.
Darren Hind
109
Posted 26/02/2019 at 18:38:19
11/10
Lump on, or apply caution ? . . or wait until the magic sign (PT) comes on and gives his verdict
Brent Stephens
110
Posted 26/02/2019 at 18:42:29
Mike, can you pronounce that? cos I can't. Bit of a Tungsten-twister.
Christy Ring
111
Posted 26/02/2019 at 18:44:12
After the 17 day break, we should be raring to go tonight, and I was surprised when Silva said Gomes was suffering from fatigue, and the break did him the world of good. Should he not have rested him for a couple of games? Quietly confident we'll get a win tonight, if we show a bit of passion, drive and no silly mistakes tonight. Hope the Jag is back, and anything less than 3pts, will make Sunday a hell of a lot harder.
James Marshall
112
Posted 26/02/2019 at 18:48:09
I rarely bet on football, and never bet on Everton games but I would be open to waging a plastic tenner on us getting beat tonight.
All this stuff about raring to go? Why should we be raring to go? Does time off motivate players? I don't see any logic to that notion myself.
Cardiff are way more motivated than we are and this will be a hard slog, not to mention a real shit-show for us defensively unless something dramatic has happened to our players & manager in the last 2 weeks. Cardiff will lump the ball into our box and make it a physical encounter - just the way we like it (!!!!)
Paul Curwen
113
Posted 26/02/2019 at 18:48:27
Thank you Derek @ 89 :)
Joe Corgan
114
Posted 26/02/2019 at 18:50:30
So what's it to be to tonight? Another lethargic performance with no cutting edge and a suicidal implementation of zonal marking or...
Will we see Jagielka and Baines (and possibly Coleman) restores to the side providing the drive and leadership we need? Will the 17-day break have provided some time for reflection to Marco Silva as well as the break needed to restore some confidence and an opportunity for his team to reassess how are players are used and how they're told to play?
I guess we'll know the answer in a couple of hours.
Anthony Flack
115
Posted 26/02/2019 at 18:51:02
Surprised to see Morgan back .
Nick White
116
Posted 26/02/2019 at 18:53:53
Eddie Dunn #99. Love the optimism! Hope you are right! Just hope the gin and tonic doesn't have to turn into a bottle of gin to down sorrows😄
Paul Tran
117
Posted 26/02/2019 at 18:54:04
Darren, best bet of the day is Getaway Trump for the Coral Cup.
Mike Gaynes
118
Posted 26/02/2019 at 18:54:31
EVERTON LINEUP: Pickford, Jagielka, Coleman, Digne, Keane, Sigurdsson, Gueye, Richarlison, Schneiderlin, Walcott, Calvert-Lewin.
Now that's something I didn't see coming. Schneiderlin??
Anthony Flack
119
Posted 26/02/2019 at 18:56:48
Surprised to see Morgan back .
Mike Gaynes
120
Posted 26/02/2019 at 18:57:39
PT, best of luck and put a bet down for me. I'll send you a check.
Paul Tran
121
Posted 26/02/2019 at 18:59:42
Not confirmed runner, Mike, the trainer is leaning towards that race. Over here you can do non runner no bet for Cheltenham, so if he doesn't run, you get a refund.
Dick Fearon
122
Posted 26/02/2019 at 19:05:13
If we do not have an U/23 attacker bursting at the seams with skill and energy and worth a try in this lousy striking department we should sack the blooming lot and their coaches with them.

Mike Gaynes
123
Posted 26/02/2019 at 19:05:38
Even better, Paul. I'll send you an envelope stuffed with cash.
For a moment, I thought your comment "not confirmed runner" was a reference to Schneiderlin's return.
Paul Tran
124
Posted 26/02/2019 at 19:07:48
Darren, if you open the Racing Post every morning, you'll see better 11/10 shots than this team.
Jay Wood
[BRZ]
125
Posted 26/02/2019 at 19:09:46
Hmmm... looks like Silva has gone long on PL experience for this one.
Jags, Coleman and Schneiderlin recalled. Walcott preferred over Lookman and Bernard. Gomes benched.
I presume Tom Davies must have a knock, because he has been playing well since returning to the starting XI, but not even on the bench tonight.
That is made up of Stekelenberg, Mina, Kenny, Gomes, Bernard, Lookman and Tosun.
17-days to prepare the team for this one.
Losing is not an option tonight, Blues.
Paul Tran
126
Posted 26/02/2019 at 19:10:05
Mike, in UK racing parlance, Schneiderlin would be done under the non-trier rule
Darren Hind
127
Posted 26/02/2019 at 19:12:22
not with such poor opposition though Paul.
Coral cup - noted
Tony Abrahams
128
Posted 26/02/2019 at 19:12:57
Stop it Paul, I just hope Walcott isn't pulled up for the same rule!
Paul Tran
129
Posted 26/02/2019 at 19:16:33
Only against that Austrian team last summer, Darren.
Paul Tran
130
Posted 26/02/2019 at 19:18:57
Tony, Silva would be called into the stewards room to explain the team's performance.
Ivan Varghese
132
Posted 26/02/2019 at 20:37:09
They got to stop playing 'build up from the back'. Teams are adapt at getting into shape quickly. They cannot exploit the creativity of forwards if the defense gets back into shape.

Bob Hannigan
133
Posted 26/02/2019 at 21:48:26
MOTM, Idrissa Gueye, hands down
Mike Galley
134
Posted 26/02/2019 at 22:47:49
Due to work/family etc I haven't even been able to listen to the game, never mind watch or even go.
Obviously delighted with the result. What was the performance like? More importantly, how did the defence shape up on set-pieces? Did Jags make a difference?
Add Your Comments
In order to post a comment, you need to be logged in as a registered user of the site.
Or Sign up as a ToffeeWeb Member — it's free, takes just a few minutes and will allow you to post your comments on articles and Talking Points submissions across the site.