Everton vs Liverpool
Saturday, 2 March, 2019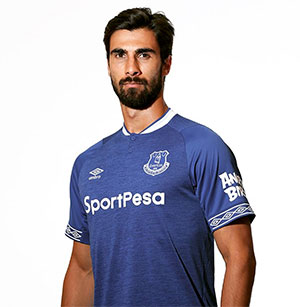 Andre Gomes is expected to return to the side after sitting out almost all of Tuesday's win over Cardiff
As if Everton's miserable record at Anfield wasn't bad enough, they now have a winless record in Merseyside derbies that is also stretching by the year. It's nine years now since the Blues beat Liverpool and at some point you'd say that we are well overdue or that the law of averages would at least play its part.
Well, in a way it has — Everton have been bang average for many of those intervening seasons and bloody awful for some of them but there have also been occasions where we have been more than a match for the reds on paper and simply not delivered. That also has to change.
While Evertonians were pondering their navels during the club's enforced 17-day break last month, there can't have been many who felt we stood much of a chance of winning this weekend's Goodison derby. Just three wins in the League since that horrible 96th-minute calamity in the last derby, defensive frailty and struggling to score goals, if ever an Everton team seemed less equipped to take on Liverpool when they sit at the top of the table it would be now.
But Tuesday's comprehensive win at Cardiff came at just the right time and, more importantly, it was underpinned by an encouraging performance, one that harked back to Everton's promising form prior to their December collapse. There was a visible flourish in confidence as the lead increased on the night and the passing game that was a feature of the early weeks of the campaign and then hugely conspicuous by its absence over the past three months made a welcome return.
It goes without saying that all of those positive signs need to be carried into this weekend's game because, free of any real concerns of their own, Everton have an opportunity to let loose and not only finally beat Liverpool but also put a massive dent in their title challenge.
Even though it came after the two-and-a-half-week hiatus, parts of the team selected by Marco Silva for Tuesday's match appeared to be a nod towards the fact that the Blues would be playing twice in the space of five days. The inclusion of Morgan Schneiderlin, in particular, raised eyebrows but while the Frenchman put in an assured display in central midfield alongside Idrissa Gueye, it would be hard to see the manager leaving André Gomes out of the starting XI this time around.
Phil Jagielka's performance (his early error aside) and Kurt Zouma's eligibility following suspension present a more vexing decision for Silva, however. The Frenchman has been one of Everton's best and most consistent players this season and would, ordinarily, be expected to walk back into the side but it might not be automatic.
Then there's the question over the wide men. Both Richarlison and Theo Walcott are badly off form but even if he has only scored twice since Boxing Day, what the Brazilian has going for him is that he has chipped in with 10 goals this season. Walcott's last goal was on 23rd December and he hasn't provided much in the way of assists either but, for reasons best known to the manager, he has been drafted back into the starting lineup in recent matches. Perhaps it's his pace, attitude and previous goalscoring record with Arsenal but it wouldn't be a surprise to see him start again on Sunday.
Up front, while he has yet to find consistency, Dominic Calvert-Lewin has been an intermittent source of goals and he generally looks more capable of leading the line on a regular basis than Cenk Tosun.
For their part, Liverpool, who could find themselves in second place coming into this one if Manchester City successfully negotiate what can be a tricky trip to Bournemouth, will be desperate for the points but they have been below the standards they set in the early part of the season in recent weeks. Their 5-0 destruction of Watford in midweek suggests they might have re-found their mojo but Everton should pose a much stern test despite sitting below the Hornets in the table.
Dejan Lovren is unlikely to make because of injury and Roberto Firmino will undergo a fitness on an ankle problem but Jürgen Klopp has an otherwise clean bill of health in his squad.
If there was one more un-needed wrinkle in the script it's that in their infinite wisdom, the Premier League have seen it fit to appoint one of the most controversial derby referees in recent history to officiate this one. Martin Atkinson, who achieved infamy among Evertonians when he sent Jack Rodwell off just 23 minutes into the October 2011 edition of the Goodison derby.
The decision was later rescinded but only after Liverpool had won the game and it would be some time before Atkinson would take charge of another match at Goodison Park. He would, of course, miss a crucial incident in a League Cup semi-final between Everton and Manchester City at the Emirates Stadium when Raheem Sterling ran the ball over the byline but was allowed to cross for Kevin De Bruyne to score and make it 2-1 in that match. He then compounded the error by aiming sarcastic comments at Jagielka when the skipper complained. Here's hoping a man described by the same defender as "a little bit arrogant" doesn't make himself centre of attention again.
Kick off: 4:15pm, Sunday, 3 March, 2019
Referee: Martin Atkinson
Last Time: Everton 0 - 0 Liverpool
Predicted Line-up: Pickford, Coleman, Keane, Jagielka, Digne, Gueye, Gomes, Sigurdsson, Walcott, Richarlison, Calvert-Lewin
---
Reader Comments (234)
Note: the following content is not moderated or vetted by the site owners at the time of submission. Comments are the responsibility of the poster. Disclaimer
Jim Bennings
1
Posted 02/03/2019 at 08:00:01
If I was one of the senior people at Everton, I'd be sticking a plaque on the wall of the dressing room with the following facts and figures.
1) We have not beaten Liverpool since 2010.
2) We have not won the second derby of the season since 1988.
3) We have not won a derby that Liverpool has scored in since the 1995 Kanchelskis 2-1 game.
4) We have won THREE derbies this century which is now 19 years old (that's 3 wins from 37).
5) Finally, in big bold writing, Klopp's "It's their Cup Final".
Stick that plaque on the wall and let everyone at this club know that we are crying out for an Everton victory in this damned fixture.
What an absolute disgusting record we have had now for 20 years in this once proud local dust-up.
Fuckin' end it, Everton!
Brian Murray
2
Posted 02/03/2019 at 08:08:10
Unfortunately, Jim, we never read the script and are real specialists in letting the fans down. To me, it would be a lot more than a World Cup Final if we win or even drew and it was enough to give City the title in May.
Bitter? That is when you have Steaua Bucharest banners flying before every home game to commentate denying us the European Cup by getting us all banned because of their usual disgusting fans.
Anyway, let's keep a cool head and hope for a fair ref. Coyb
John Raftery
3
Posted 02/03/2019 at 08:09:33
It ain't much better over the past 50 years, Jim. I have attended 99 consecutive league derbies. Of those we have won 16.
It is a myth that the form book goes out of the window in derby games. It usually doesn't.
The vast majority of our wins have come when we had a decent team and were better than them. For example 25% of those wins came between 1984 and 1988 when we had a great team.
Kunal Desai
4
Posted 02/03/2019 at 08:13:38
Do we currently have the worse derby record in global football? Can anyone confirm this?
Zouma to come back in for Jagielka.
I can't see us troubling them, I think we will play well in patches, similar to the Man City game, but without any real threat going forward. Like City I see the RS easing to a comfortable victory.
Jim Bennings
5
Posted 02/03/2019 at 08:13:48
Woeful, John, isn't it?
At least in the '80s and '90s though we did get a good number of wins in those two decades, both at Goodison and Anfield.
What's gone on in this fixture since 2000 though is just disgraceful on Everton's part.
3 wins in 37 is unbelievably bad.
Jim Bennings
6
Posted 02/03/2019 at 08:23:18
Kunal
I've no idea but we must be pretty close to one of the worst records in local derbies globally, especially given that we play eachother every season with no relegation hiatus intervals.
To think during the 1990s we beat that lot SIX times between 92 and 99.
As I say, it's high time this record ended tomorrow – no more waiting.
Sandra Bowen
7
Posted 02/03/2019 at 08:36:32
9 years is absolutely criminal. I can't believe it.
Jags and Zouma at the back for me. Keane is so slow on the turn and their front 3 as we know are all nimble and quick. Jags even at 48 is still quicker than Keane on the deck.
I would also like to see Bernard start, offers movement and retains possession better than most.
Dave Evans
8
Posted 02/03/2019 at 08:51:25
The past and records do not construct what happens now, unless people allow it to affect their behaviours.
If we have – on the pitch for the 90 minutes tomorrow – the better, well-coached set of players who are motivated and hard working, we will likely win. If not, we won't.
Anthony Murphy
9
Posted 02/03/2019 at 09:12:06
John Rafferty, wow 99 consecutive league derbies.. Take a bow, mate.
John Keating
10
Posted 02/03/2019 at 09:18:25
Although I don't believe in changing winning teams, in this case, we have to play Zouma at the back just for his pace against the quickness and movement of their front three.
Regardless of who he picks at centre-half, we have to get them a lot closer than they have since pre season, you could get a battleship between them !
Cardiff were atrocious and on the couple of occasions they did have the ball forward we were extremely lucky the centre backs weren't exposed.
To start with Walcott after recent games would be a big gamble for Silva and so far he cannot justify a starting berth.
As mentioned, form going out the window for derbies is nonsense. Fingers and toes crossed plus an extra candle at mass tomorrow for a draw.
Dave Abrahams
11
Posted 02/03/2019 at 09:22:20
Lyndon, I'm glad you're not picking the team. Leaving Zouma out of the team would be madness and putting Richarlison in it is very close to madness as well! He's been a very bad handicap to Everton in the last few weeks...
But each to his own; whoever gets selected, I hope they all put a shift in and get us some satisfaction from this very important fixture.
Kim Vivian
12
Posted 02/03/2019 at 09:31:35
Trouble is we just keep dwelling on the past which can never be changed. That's water that's flowed past in the stream. What's trickled past will never be seen again. Forget about it. Think about the water that's arriving.
A run of dominance will have to start sometime. Let's make it start tomorrow with positivity, passion and noise, not bitter grudges.
FFS, if Burnley can beat Spurs, we can fucking beat Liverpool. Let's just not lose it in the fucking tunnel.
GET FUCKING IN THERE, YOU BLUES!!
Ian Bennett
13
Posted 02/03/2019 at 09:37:29
If ever there was a time to dig out a win, it's tomorrow. Running on the pitch, saying it would be like Everton winning the World Cup, 330 million fans cheering Liverpool tomorrow and a few Everton fans.
The guys a prick, their fans are unbearable, and I hope to god they bottle it.
Geoffrey Williams
14
Posted 02/03/2019 at 09:37:43
Playing Walcott and Richarlson in the same team is a major mistake.
Robert Leigh
15
Posted 02/03/2019 at 09:42:05
Like many. I feel Zouma has to start – he is our best centre-back.
Richarlison will wind them up, and I can't see Silva starting Lookman so it's Richie on the right and Bernard on the left for me.
I'm feeling optimistic, they know they need this and they know we want to stop them: 2-1 Blues.
Pickford
Coleman - Keane - Zouma - Digne
Sigurdsson - Gana - Gomes
Richarlison - Calvert-Lewin - Bernard
Subs: Stekelenburg, Jagielka, Kenny, Schneiderlin, Lookman, Walcott, Tosun.
Tony Waring
16
Posted 02/03/2019 at 09:47:19
John at 10 – was your father named Eddie and was he a teacher? Incidentally, I am planning a shed load of candles for tomorrow!
Bill Fairfield
17
Posted 02/03/2019 at 09:48:32
I hope Richarlison winds them up because he's been winding us up for weeks now. Let's see the same big effort as the Man City game, I just hope and pray for a better result.
James Stewart
18
Posted 02/03/2019 at 10:00:41
Playing Jagielka and Keane against Liverpool's front 3 would be suicide. Zouma has to play and I would be tempted to throw Mina in alongside him if fit:
Pickford
Coleman Zouma Mina Digne
Gomes Schneiderlin Gueye
Bernard Sigurdsson Richarlison
Gyflie as the false nine.

Sam Hoare
19
Posted 02/03/2019 at 10:00:50
Relax, people. Earlier this week my 5 aside team won 9-1. Then Everton beat Cardiff 3-0. On Wednesday I got a new, fantastic job I've been wanting for about 4 years. Last night, I had some really fantastic sex. This morning I had my first lie-in for 6 months. Tomorrow I'm going to Goodison Park for the first time ever.
I'm having a dream week. It's going to be 3-0.
Fraser Auld
20
Posted 02/03/2019 at 10:01:23
The team should be really up for this one – if they felt anything like I did after we lost the last derby, that should be all the motivation needed to turn up and run through brick walls for a win.
Please, please win, Everton – I can't handle watching another defeat with my Liverpool-supporting dad, uncle and cousin...
Tony Williams
21
Posted 02/03/2019 at 10:01:28
Apparently, we have the worst derby record in Europe apart from Barcelona and Espanyol.
Mike Kehoe
22
Posted 02/03/2019 at 10:01:39
I think it was Jamie Carragher that once said:
"No man ever steps in the same river twice, for it's not the same water and he's not the same man."
The opposition is the same but everything else is different from better times, the past is gone and can't be changed; tomorrow we face a much better team than us with so much ability but also with so much to lose: if the atmosphere is right they may choke under the pressure. There is also a big storm due in the north-west tomorrow afternoon: it definitely won't be hurricane Silva.
Sadly though, we have no leaders on the pitch, bar Coleman who is now a spent force, though still has heart, and the manager lacks passion and clearly can only whip his players up into a state of high apathy.
My god, how I would love to see Silva lose his mind at an Everton win and run onto the pitch like their Teutonic toothy twat.
COYB
Tony Everan
23
Posted 02/03/2019 at 10:17:41
It will be an almighty battle in the stormy conditions and one goal may settle it.
Probably from a corner or set piece.
So that's 1-0 to us, Siggy scores from 20 yards after a half cleared corner.
Paul Kelly
24
Posted 02/03/2019 at 10:28:36
Sam, does the Mrs know, ie the sex? What a week, hey, I haven't had a week like that since Tenerife '97, watching the Cadamarteri derby in Las Americas with another blue and a RS (and weirdly a Tranmere fan who grew up a stone's throw away from Goodison),
My RS supporting mate piped up about Kvarme being the best right back in Europe, then... Quality moment.
Butterflies already. Twat 'em boys.
Dave Williams
25
Posted 02/03/2019 at 10:30:05
Jags to play – he organises the defence and Zouma next to him. I only saw the 30 minute highlights on Sky of Cardiff and, unless Coleman really was looking good, I would be tempted with Kenny.
Gomes has to play, drop Walcott and retain Richi because he will ensure that they keep two back to mark and cover him:
Pickford
Coleman (proviso above)
Jagielka
Zouma
Digne
Gana
Gomes
Sigurdsson
Bernard
Calvert-Lewin
Richarlison
I don't always agree with Jim but he's spot on today – hammer the team with how they so owe the fans a win. Show them Klopp's reaction when they scored at Anfield and send them out hell-bent on 90 minutes of thorough unpleasantness for anyone in red.
We need the return of the dogs of war tomorrow and I hope the fans really get at them too. Anfield is so much noisier than The Old Lady and we have to rectify that and get behind our team and really drive them on.
Come on!!!!

Pat Kelly
26
Posted 02/03/2019 at 10:43:31
It would be the highlight of the season to dent Liverpool's title chances by taking 3 or even 1 point tomorrow. A lot would be forgiven, if not forgotten.
But realistically nothing has changed to suggest that is likely. The win against Cardiff was timely but we're facing a different class of opponent tomorrow which we are no way equipped to deal with. And unlikely to be for a long time.
Chris Gould
27
Posted 02/03/2019 at 10:45:09
Sam #19, congrats on the new job and the fantastic sex. But I can't relax about the result quite yet because it all depends on what day your dream week ends?
Some say that a new week starts on Sunday, others will argue Monday. I think it's something to do with the moon, or maybe Christianity, but I've never really cared before. I care now.
Jim Bennings
28
Posted 02/03/2019 at 10:58:32
Our record in Merseyside derbies is so bad that if Liverpool score then we will need to break a 24 year hoodoo to win the game.
It seems like yesterday that Kanchelskis match we won 2-1 but the fact is it's two decades ago now that Everton last won a derby that Liverpool scored in which I find disgraceful considering score lines of 2-1 or 3-1 are pretty commonplace in football.
Clive Rogers
29
Posted 02/03/2019 at 11:05:36
I can see us bringing Zouma in and playing three at the back, with wingbacks, leaving Richarlison out and Bernard for Walcott.
Neil Copeland
30
Posted 02/03/2019 at 11:18:18
John #3, wow! 99, full respect to you sir.
Sam #19, what a great week. Can't remember the last time I had sex, never mind great sex, although I think it may have been the night of 17 October 2010. We can do them tomorrow, hope you witness something special for your first Goodison Park game.
Sam Hoare
31
Posted 02/03/2019 at 11:29:25
Paul @24, luckily the Mrs was very aware! Here's hoping for another Cadamarteri.
Chris @27, thanks, I reckon (hope) that my week ends on Sunday night, we'll soon see.
Neil @30, cheers, me too!
Frank Crewe
32
Posted 02/03/2019 at 11:30:35
One of our problems appears to be the form of our wide men. Walcott, Richarlison and Lookman all appear to be out of form. Only Bernard is showing any form and he always gives 100% which I don't think the others do. Maybe we should try something different.
Play three at the back and Bernard as part of a two up front with Calvert-Lewin. Use Coleman and Digne as the wide men. Also, I wouldn't play Gomes. He hasn't shown enough over the last three months. Shneiderlin played okay against Cardiff and it appeared to free up Gueye.
We are at home so the onus is on us to attack so I think two up front would occupy their defence rather than an isolated Calvert-Lewin or Tosun huffing and puffing away on their own.
Pickford
Jagielka, Keane, Zouma
Coleman, Sigurdsson, Schneiderlin, Gueye, Digne
Bernard, Calvert-Lewin
Bench: Stekelenburg, Mina, Gomes, Tosun, Kenny, Richarlison, Walcott, Davies.

David Pearl
33
Posted 02/03/2019 at 11:41:09
Well done, Sam, 19.
As for the team, someone please tell me how Gomes and Richarlison are getting away with their form the last couple months because they've been hopeless, and yes even more than Walcott. I'd play Theo up front with Richarlison and Bernard and bring in Zouma for Jagielka. If Mina is fit, l would even go with a back 3.
The most important thing is confidence. However, my dream weekend would be to score a goal with an obvious handball and another offside goal, for the reds to have 2 men wrongly sent off and to watch Phil Thomson's face as the final whistle blows. Now that would be nice...
Oh, did anyone else see Pinocchio on Sky last week saying how other fans don't want them to win the league because they feel the RS would dominate the league for years to come? Unbelievable! Kick the shit out of them, boys!!
John G Davies
34
Posted 02/03/2019 at 11:47:43
I think 3 centre-halves would mean they would play 3 high up the pitch. Manager won't allow one v one along back line.
My first thought is to pack the midfield. Kill the space in front of the back four. Too often they have got in between the lines, their tricky forwards being allowed free runs against our slow-on-the-turn defenders.
Don't go at them gung ho. They are probably the best on the counter-attack in the league. They will love it if we attack in numbers.
Keep it tight, win your tackles and individual battles. 100% effort for 90 minutes.
Dave Abrahams
35
Posted 02/03/2019 at 11:48:27
Liverpool have a great record this season with only one loss. I might be grasping at straws but, going back quite a bit, I remember Liverpool came to Goodison Park on a Sunday afternoon with a better record, no losses after 30 games, and level with Leeds United for the all-time record of not losing from the start of the season.
Well it wasn't pretty but a Wayne Clarke (?) goal settled the match and sent us all home in a very good mood, and it stopped them from claiming that all-time record... maybe tomorrow?
Anthony Murphy
36
Posted 02/03/2019 at 11:51:48
The Bournemouth vs Man City result may play a part psychologically for the Red Shite. City worry me. They are mesmerising at times but seem to switch off at the back with so much possession and energy going forward.
Neil Copeland
37
Posted 02/03/2019 at 11:51:58
Frank #32, I agree in respect of Schneiderlin. He played deep against Cardiff which allowed Gana to play more forward in pretty much the position that Gomes normally occupies.
I was surprised how technically gifted Gana is even against an admittedly very poor team. This, in turn, gave Sigurdsson more freedom which he excelled in.
I put on another post that I would not be surprised to see Schneiderlin play but I also take London's comments into account ref; squad rotation. I think Gomes drifts in and out games too much so I think for the overall benefit of the team I would go with Schneiderlin (although I can't quite believe I am saying it).
Jim Bennings
38
Posted 02/03/2019 at 12:01:30
Regardless of the team selection or anything else tomorrow there's one thing that we simply must do. Turn Goodison into a fuckin bear pit and it's on the fans tomorrow to seriously do something about this shocking atmosphere at the Old Lady.
Derbies at Goodison used to be passionate raucous occasions and right up until the late '90s early part of 2000s the atmosphere was intense.
Tomorrow I don't want to see people getting in their seats 15 minutes before kickoff, we need to be there an hour before kickoff singing and making noise and let those horrible freak show bastards know that they are getting out of Goodison with nothing easy.
It's a monumental game for us and it is for them. We couldn't bear watching them lift the Premier League title, of course we couldn't, no more than any red blooded Kopite wants us to win the title, that's what rivalry is all about in any sport so it's on us to put a huge spanner in the works.
We need to make Goodison Park a horrible wall of noise and passion tomorrow and really play our part — not sit there in silence waiting like little lambs to the slaughter.
Bring something Blue, scarf, flag, anything as long as it's Blue and let's create our own "Blue Wall".
Neil Copeland
39
Posted 02/03/2019 at 12:07:10
Jim #38, spot on.
John Keating
40
Posted 02/03/2019 at 12:10:16
Tony @16,
Not me I'm afraid, Tony.
Sam @19
I can't believe anyone could have fantastic sex with their missus.
I'm at an age now I can't remember if I've had any sort of sex whatsoever.
Even if I could remember, it wouldn't have lasted long enough to make an impression.
Derek Knox
41
Posted 02/03/2019 at 12:16:35
Dave @35, remember that game, if only History could repeat itself, I think it would lift everybody.
I'm hoping I'm wrong but just can't see enough fight from the players we have, and especially the coach we have too, who shows little or no passion on the touchline. Judy had more Punch than he does. "That's the way to do it!"
So come on, Everton, show some guts and fight, make our fans happy, derail their title hopes, and hopefully shut their RS mouths until next season anyway.
Colin Malone
42
Posted 02/03/2019 at 12:21:46
Andy Robertson,
Christmas and birthdays have come at once if Walcott plays. We won't be able to fight fire with fire, so it's five at the back or a 4-5-1. Jags has to play.
COYBB.
John Raftery
43
Posted 02/03/2019 at 12:28:39
Anthony (9) and Neil (30) Thank you.
I said the form book rarely goes out of the window in derbies. Actually, one of the few occasions when it did was in the first of those 99 games, the 101st league derby in December 1969. We had won our first ten home matches that season. The RS came to Goodison and won 3-0 with the second goal infamously coming from the head of Sandy Brown. Thankfully, the return game at Anfield in March 1970 followed the form book. Our 2-0 win was one of eight consecutive victories as we marched to the league title.
The other game which bucked the form trend was in November 1994 when we were bottom of the league. Joe Royle's first game in charge saw us win 2-0 as the Dogs of War barked all night long. We will need a similar approach tomorrow if we are to overturn current form.
Raymond Fox
44
Posted 02/03/2019 at 12:35:52
We should have had a draw at their place, which considering their form was a great performance by us.
With their forward line, we need quick players at the back so I'd go with Jags and Zouma; Digne is a shoo-in at left-back (probably our best player) but I'm torn between Coleman and Kenny. I'm tempted to go with Coleman for his experience but I think I'd go with Kenny in this game.
Up front, I'd start with the players that started at Cardiff, they should have gained some confidence from it. All we can ask for is 100% effort from every player; if they do that, we might upset them... who knows?
Realistically, they are the better team, especially up front, so we are second favourites tomorrow without a doubt, whichever way you look at it.
I'm just hoping for a good game and that we get the bounce of the ball and the ref leans our way a bit. I would love a win, but a draw would suit me fine.
Rob Halligan
45
Posted 02/03/2019 at 12:36:54
I have had one shitty week, the Cardiff result aside, and a win tomorrow would go a long way to making me feel slightly better.
i was on the coach to Cardiff on Tuesday when the missus called to say our cat had lymphoma and would need to be put to sleep the next day. Anyone might think "Ah well it's only a cat", but to spend all of the next day with him (the vet appointment was 6:30 pm) then take him to the vets and be with him while the vet euthanized him is a truly heartbreaking experience.
In the past, my mum and dad both died on the Friday before we played on a Saturday. My mum died in 2008, we played Blackburn away the next day and lost. My dad died in 2011. The next day we played Chelsea away in the FA Cup replay. I'll count that as a draw even though we won on pens. So, by the law of averages, we should win tomorrow.
John #40. Your post made me smile for the first time since Tuesday afternoon. Cheers mate.
Derek Knox
46
Posted 02/03/2019 at 12:49:10
Hey Rob, sorry to hear you have had a bad week, and truly hope upon hope that tomorrow's result can go some way to eradicating the bad, and replacing it with good.
I just wish those players really knew how much their performances, and results of course, mean to so many fans both at home and abroad.
Tony Everan
47
Posted 02/03/2019 at 12:52:58
Talking of cats, that black cat that strolled onto the pitch, and made itself comfy 8 yards out, may just mark the position our winning goal is scored from.
It's meant to bring luck, and I will take a win by any means: own goals, wicked deflections, dodgy penalties, goalie mistakes, or lucky black cat influences.
Who cares how we win?
John G Davies
48
Posted 02/03/2019 at 12:57:19
Mr Ed is at it again:
"The game is massive. There will be 330 million Liverpool fans watching on the television. And a few Evertonians."
Derek Knox
49
Posted 02/03/2019 at 12:58:37
Tony, I think we would all throw something into the 'kitty' for that one!
Neil Copeland
50
Posted 02/03/2019 at 13:03:28
Rob #45, sorry to hear about your cat. Hope the week ends on a high.
Neil Copeland
51
Posted 02/03/2019 at 13:04:56
Tony #47, we would be purring all the way to the pub.
Darren Hind
52
Posted 02/03/2019 at 13:06:08
That big-nosed gobshite, Phil Thompson, just said it was our Copa America, our African Nations and our World Cup. Geoff Sterling cut him down and said, "Don't you mean it's yours?"
Thompson had a gob on him like a smacked arse. Then Sterling said he was claiming Liverpool would wallop us last night.
I hope all this shite is getting registered in the Goodison dressing room. We have to wipe the smugness off their horrible gobs.
Len Hawkins
53
Posted 02/03/2019 at 13:15:24
John #48,
That comment alone should spur on the players to shove his words up his jacksie. I hope someone throws his towel & sunbed in the swimming pool. I hate the Red Shite with a passion and clowns like Horse Teeth make me hate them even more.
Neil Copeland
54
Posted 02/03/2019 at 13:22:08
I am hoping for a 98th-minute winner with only 4 mins of added time initially allocated by the ref. The goal being scored with a hand from an offside position from a cross that went over the byeline and originating through an illegal challenge to win the ball by our player.
David Pearl
55
Posted 02/03/2019 at 13:23:15
Yes, Darren, and they talked about the Shite for 15 minutes and the Blues for 1 or 2. Obviously writing us off.
I don't want to see Calvert-Lewin playing – he is not currently good enough... then again who do we have that can keep hold of the ball up top?
John G Davies
56
Posted 02/03/2019 at 13:24:07
Careful, Darren.
If Tommo reads that, he will make a statement to the police against you. He's got form for that.
Darren Hind
57
Posted 02/03/2019 at 13:27:08
I called him a big-nosed gobshite... I'm pretty confident that would stand up in a court of law.
Brian Williams
58
Posted 02/03/2019 at 13:28:34
Thompson's a twat of the highest order. Going on about "bitter blues" when he was in a shop in town with his family some time ago.
I couldn't say what I wanted to say as his wife was with him. Another deluded knobhead who hasn't a shred of shame over why we're bitter.
Rob Halligan
59
Posted 02/03/2019 at 13:33:42
Thompson is an utter gobshite. A Red Shite the missus knows was doing some tiling work for us a few years back. He was telling me he knew Thompson well, and he asked Thompson if he could get a signed RS shirt for a charity event he was holding.
Thompson said yes, but told the tiler he would need to go to the RS shop and buy a shirt first, so Thompson could take it into the changing rooms and get it signed. Needless to say, Thompson was told where to shove it.
Clive Rogers
60
Posted 02/03/2019 at 13:36:22
Even though we are at home, the onus is on them to attack, so with 3 at the back (5 when needed) and 2 defensive midfielders we can sit back and hit them on the break. Zouma has to play for his pace.
Our wing backs can play further forward to stop crosses from their fullbacks and attack down the flanks. I'm not an admirer of Calvert-Lewin but he is our best option at present for this game with Sigurdsson and Bernard behind him. COYB.
John Raftery
61
Posted 02/03/2019 at 13:39:32
Darren (#57), Correct. I remember Thompson waving two fingers at the Gwladys Street after Alan Waddle scored the only goal in November 1973. Around ten thousand of us reciprocated.
Rob (#45), Sorry to read about your cat. Hopefully tomorrow will see your bad week end on a high.
John G Davies
62
Posted 02/03/2019 at 13:45:00
The weekly sweep to see what colour his hair is on Sky Saturday is entertaining.
Dave Abrahams
63
Posted 02/03/2019 at 13:46:17
Funny enough, Thompson's dad, Vinny, was a very well-liked man. I never met him but people who knew him always give him the thumbs up and said what a cracker he was. Strangely, Vinny was an Evertonian but his son never followed in his footsteps – maybe he wanted to be one of us but obviously wasn't of the right breed.
When Souness was on the brink of being sacked, Thompson was part of the coaching team and was asked if he wanted the job; he jumped at it. Unfortunately, the Liverpool board had a change of heart the next week and Souness was kept on. One of his first jobs immediately after this let-off was to fuck Thompson off, but Thompson was later called back into the fold after Souness finally went.
Derek Knox
64
Posted 02/03/2019 at 13:47:24
Darren @57, yeah, especially before the beak!
Paul Hewitt
65
Posted 02/03/2019 at 13:48:07
Doesn't matter what team he picks, or what formation he chooses. We ain't gonna win. Lucky if we draw.
James Hughes
66
Posted 02/03/2019 at 13:48:46
Darren, I am sure if you giving someone a description and just used the words 'big nosed gobshite' they would get the man straight away.
Hope the ref gives us a fair crack tomorrow.
Clive Rogers
67
Posted 02/03/2019 at 13:52:51
James, that is not going to happen, it's Atkinson. He hates us for some reason.
Paul Tran
68
Posted 02/03/2019 at 13:53:07
No doubt that calling Thompson big-nosed would stand up in any court. The court would have to define gobshite.
Exhibit A for me would be his tearful interview after the League Cup Final replay when he dragged the Forest player to the floor. 'It was a foul, but it was a professional foul outside the box'. How we laughed. The year after they called it the Mickey Mouse Cup.
Jamie Crowley
69
Posted 02/03/2019 at 13:54:41
Mike Gaynes is predicting a win, and Sam Hoare is making his first Goodison trip, humping his way to Goodison while newly employed.
Surely we have to win? The omens are too good.
And Lord knows it's about fuckin' time!
John Raftery – respect. 99 derbies is an insane number. You're a fortunate man to experience that, results be damned.
John Keating
70
Posted 02/03/2019 at 13:59:28
The RS as a Club have always been shite.
I remember that arsehole Tommy Smith had been in their first team a couple of years and our school had been asking him for ages – as one of our old boys – to come in and talk to the kids... well, half of them.
Finally, reluctantly, he came. The RS dimwits at school were asking for his autograph, which he refused. He was sour-faced the hour or so he deemed to stay and hardly said a word, just wanted out. A couple of the 6th-formers told him they were going to break his legs, can't remember if they were red or blue? Needless to say, he was never asked back even though he went on to win more trophies. A real prick.
I did hear that the story went back to Shankly who gave him and the rest of the tossers a right bollocking about representing the Club. Didn't seem to make much difference, they never improved over the years
John G Davies
71
Posted 02/03/2019 at 14:00:47
Stood up in court to give evidence against a former friend and business colleague who was charged with disability benefit fraud.

Derek Thomas
72
Posted 02/03/2019 at 14:03:04
I'm going for the win too... 99, 100. Has a certain symmetry.
See the non-kicking foot, Mike Gaynes?
Jamie Crowley
73
Posted 02/03/2019 at 14:11:22
Jesus, Joseph, and Mary... and then I read about the week Rob had! (@45).
Sorry man. People don't realize how difficult putting a fury member of the family down can be.
I do appreciate how you spun the terrible week into an omen of positivity predicting a win.
Derek Knox
74
Posted 02/03/2019 at 14:16:32
Regarding Phil Thompson, not only has he been stealing and wasting perfectly good oxygen since birth, he has the audacity to steal 10 times what would be his quota, had he been deemed a worthy recipient.
Surely this alone is a crime against humanity!
Paul Birmingham
75
Posted 02/03/2019 at 14:17:16
Let's use all the media bullshit as positive energy.
Mr Ed sees himself as some modern-day Teutonic Knight, but is deluded.
Let's see his antics pre- and post-match, the fella must be on a touchline ban soon for his antics this season.
The press and media, and especially Sky and the Red Echo, don't count and aren't worth watching or reading. Let's steam them and take our chances, and play with menace and fight.

Paul Birmingham
76
Posted 02/03/2019 at 14:24:32
Let's keep our heads and channel our energies into beating the RS.
Hopefully Marco Silva has enough anti, from the media and Mr Ed, to drive his team to play out their skins and win tomorrow.
What a day it can be... Onward Evertonians!!
Mike Powell
77
Posted 02/03/2019 at 14:31:40
I hope the players understand what the derby means to us fans. Let's get the ground bouncing to show the players what it means.
I hate the derby just because I know we will roll over for them again, and then have to put up with them deluded RS in the pubs and at work, even in our street.
Please, Blues, let's do them. I hate them with a vengeance!
Tony Abrahams
80
Posted 02/03/2019 at 15:29:22
I hope your week turns into a month, Sam, and then your month turns into a year, mate!
Gavin McGarvey
81
Posted 02/03/2019 at 15:31:43
Dominic Calvert-Lewin's goal the other night reminded me of a young Graeme Sharp, and a couple of goals from Sigurdsson (who, whilst not exactly Sheedy-esque, does score some nice free-kicks) should be enough to see us take all 3 points. COYB.

Rob Marsh
82
Posted 02/03/2019 at 15:43:33
We'll need a ball carrier for this one; Silva has to start Gomes. If we play a too-defensive midfield, they'll find ways around us... we're not defending to good at the moment.
The ability to run at them and keep them under pressure will be our best form of defence. Davies could also play in this one. I'm not sure Sigurdsson will keep up with this derby, I can see them playing a manic pace.
Paul Birmingham
83
Posted 02/03/2019 at 16:05:36
John @62, agreed. I can't stand him and there's more that can't, than do.
He epitomises what they stand for, and that shonk, doesn't know what or where it's going.
Like he played. He talks blight. It's staggering how much rank ex RS, they have in the media.
Still tomorrow we seek salvation, and extra nirvanas tonight and tomorrow.
George Cumiskey
84
Posted 02/03/2019 at 16:28:20
I'm more worried about Keane playing than Jagielka, as I think he's the biggest weakness in our defence, caught out of position too many times and easily pushed off the ball.
Dave Lynch
85
Posted 02/03/2019 at 16:36:16
I'm worried, full stop. I/We have been here so many times over the years and have had our hopes crushed.
I'm going fishing, I can't take another defeat by that lot.
Jim Bennings
86
Posted 02/03/2019 at 16:37:35
Dave,
I think I'll save the fishing for summer if that lot win the Premier League or Champions League, a nice long summer fishing trip... lol!
Clive Rogers
87
Posted 02/03/2019 at 16:37:39
Gavin @81, Sigurdsson hasn't scored from a single free-kick for us.
Ivan Varghese
88
Posted 02/03/2019 at 16:54:54
Everton, please don't 'go back to go forward'. If we allow Liverpool to get into defensive shape... Good Luck!
Also, please tighten up the zonal marking.

Derek Knox
89
Posted 02/03/2019 at 16:57:39
Dave Lynch @85, Red Snapper or Red Mullet, or Blue Marlin?
Dave Abrahams
90
Posted 02/03/2019 at 16:58:56
Clive (87) surprising that, maybe he's been saving it for tomorrow.
John G Davies
91
Posted 02/03/2019 at 17:00:21
Part one accomplished.
Over to you, Everton!
Tim Gerrard
92
Posted 02/03/2019 at 17:02:55
The first derby victory I remember was the Andy King derby. What a day after years of not winning, with a lot of draws mind, everyone go and watch on YouTube, just brilliant. For Evertonians of a certain age just mad celebration. I always loved Andy King but that goal cements him in our collective memories.
Someone in our team can be the present day Andy King, go on Tom or DCL a place in history beckons.
Tim Gerrard
93
Posted 02/03/2019 at 17:03:00
The first derby victory I remember was the Andy King derby. What a day after years of not winning, with a lot of draws mind, Everyone go and watch on YouTube, just brilliant.
For Evertonians of a certain age, just mad celebration. I always loved Andy King but that goal cements him in our collective memories.
Someone in our team can be the present-day Andy King: go on, Tom or Dom – a place in history beckons.
Derek Knox
94
Posted 02/03/2019 at 17:15:59
Tim Gerrard, you didn't used to drink in the Little House, Aigburth Vale did you?
There was a family of Gerrards (all Blues) who used to drink there, as I did myself.
John G Davies
95
Posted 02/03/2019 at 17:16:44
Tim that's the incentive. Score the winner against these and you will go down in history and never have to buy a bevvy in Liverpool again.
I had the pleasure of having a few drinks on a couple of occasions with Tony Kay. His girlfriend told us when he went to the bar he still, after all the years, can't get his head around the way he is treated by Blues when he comes to the city.
Don Alexander
96
Posted 02/03/2019 at 17:19:31
Klopp's patronising "it's their Cup Final" may be useful in winding up a fully committed Everton tomorrow.
But there was another comment that does anger me and that's Wayne Rooney apparently saying he couldn't get his head around the rest of the squad being in no way "up" for this match last season whilst training at Finch Farm the week before.
If Marcel & Marco can visibly change that tomorrow, I'll call it progress of a sort... but what a damning indictment it was by Rooney.
Tim Gerrard
97
Posted 02/03/2019 at 17:28:13
I am from South Liverpool, went to St Margaret's in Aigburth. The family are all Blues and whether we are the same Gerrards, I don't know!
I can't remember a Little House... so maybe not!
Clive Rogers
98
Posted 02/03/2019 at 17:31:00
Dave, hope so.
Martin Mason
100
Posted 02/03/2019 at 17:35:15
Here's to a great game and a performance from the team that makes us proud. Whilst I very much hope for a win, based on reality, I seriously doubt we can do it against a very strong Liverpool team.
John Keating
101
Posted 02/03/2019 at 17:44:16
As long as every player gives 100% and Silva's tactics are half-sensible, we can get something tomorrow.
Please no open football, trying to take the RS on at their own game. No daft free-kicks around the box to test our well-organised dire zonal marking. And no giving Atkinson the slightest excuse to red card us.
Christy Ring
102
Posted 02/03/2019 at 17:44:35
We have to be in their faces tomorrow. I'd probably start Schneiderlin, we looked more balanced and Gueye was superb ahead of him.
A win tomorrow would be brilliant. Klopp is a completely different person, and totally obnoxious, when things are not going his way, and I'd love to wipe the smirk off his face.
Dave Lynch
103
Posted 02/03/2019 at 17:59:03
Derek @89.
We don't have these species in the local lakes I fish. They're very rare around the Wirral area lol...
I'm fishing a little knock-up (match) with 5 other lads, who are all blue noses. None of us are confident.
Dave Abrahams
104
Posted 02/03/2019 at 18:05:45
Martin (#100), stop it, Martin: no doubts, okay?
Guess what: it's John Rafferty's 100th consecutive derby game and your post on this thread is number 100. Now if that isn't an omen, I don't know is, put them bleedin' doubts away.
Anthony Murphy
105
Posted 02/03/2019 at 18:07:44
Don, if you remember, that was the game in which Rooney was substituted by Allardyce and kicked off. He probably felt he was the only one who actually gave a shit.
God, that Goodison derby last season was truly awful. Liverpool wanted a training exercise and rested half the team trying to avoid injury with their Champions League game coming up and we duly obliged.
This time will be very different. I fear that, if they win tomorrow, they will almost certainly go on to win the Premier League given their remaining fixtures.
Mike Gaynes
106
Posted 02/03/2019 at 18:08:42
Rob my friend #45, deepest condolences to you and your lovely lady on your loss. This was, I assume, the furry friend I never got to meet on that evening in 2017 when we first met. Very sorry.
John #3, wow. 99 straight derbies is a truly astonishing record. I can't even make it down the stairs 99 straight times without stumbling. Now I'm doubly honoured to have met you. Hope 100 is magic.
Derek #72, at this point in my life both feet are the non-kicking foot.
Sam #19, glad you're on a roll. Carry it with you tomorrow. Enjoy our 1-0 victory.
Derek Knox
107
Posted 02/03/2019 at 18:10:07
Tim @97, sounds about right, the Little House was the nickname, real name was 'Ye Olde House at Home', next to the Traveller's Rest, both now demolished to make way for luxury flats, opposite the Aigburth People's Hall.
Martin Mason
108
Posted 02/03/2019 at 18:12:18
I'll do my best, Dave, I'd give one of my bikes for a real thumping win but, as an Evertonian of nearly 60 years now and many, many derby humiliations, I have fairly low expectations. I'd love to see us win for all Evertonians who, as John Moores said, "deserve better".
Gerry Ring
109
Posted 02/03/2019 at 18:13:09
Christy #102 & a few other contributors. I have to strenuously disagree with my brother regarding the selection of Schneiderlin.
I don't think one good performance in 3 years against a Championship team warrants selection for tomorrow's game.
We need guys that will "stand up & be counted" tomorrow and that isn't Schneiderlin's style. We need to rattle Liverpool with big tackles & dogged determination. The conditions won't be good so the ref will allow for that hopefully. If only Carsley was available (or a fit James McCarthy).
David Greenwood
110
Posted 02/03/2019 at 18:14:32
100 consecutive derbies, John, you deserve a win and fingers crossed you get it.
I'm just hoping the players turn up and put in a proper shift.
I'm going 3-2 with a last minute Sigurdsson winner.

Brent Stephens
111
Posted 02/03/2019 at 18:15:28
I suspect Silva might start Davies and Gana together, being told to sit in a 4-5-1.
Steavey Buckley
112
Posted 02/03/2019 at 18:17:15
The big difference between Liverpool and Everton for the past 2½ seasons, Liverpool have bought quality, while Everton have bought substandard players. That is why there is such a gulf between the clubs. Although it does not help by Everton having sub-standard managers as well.
Dave Abrahams
113
Posted 02/03/2019 at 18:19:57
Martin (108), for God's sake — just raise your bleedin' expectations!!!!
Rob Marsh
114
Posted 02/03/2019 at 18:42:10
Jim Bennings #1,
"5) Finally, in big bold writing, Klopp's "It's their Cup Final"."
It will be their Premier League title gone if we coax a win!
Paul Birmingham
115
Posted 02/03/2019 at 18:45:45
Let's believe in the impossible and dream and hope and we can do it tomorrow.
Perhaps all people down on luck or just in the dumps, as we all find ourselves in life's bumpy road, this may be worth a read.
To review a poem I've found has been very handy in life especially, when the chips are down. I've carried in my tool kit over the last 33 years, and was taught to me by an old school L1, in what was for me, BT days, now Openreach days.
I always have a copy in my wallet, and helps get life's battles in perspective.
For Evertonians tomorrow and Silva's squad, please read and he should pin on the wall.

The poem is by Walter D Winkle, "The Man Who Thinks He Can":
This link may take you to it, but if not and is likely as I'm useless with iPads, if you type in your browser, you'll find it.
For sure, all Evertonians are worth x10 RS, any day.
Here's to a good pre-derby night.
🍺👍🍀☘️⚽️🍺🍺🍺🍺👍

Julian Exshaw
116
Posted 02/03/2019 at 18:48:36
Don't we just deserve it this time? Haven't we suffered enough?
I use the term 'suffer' with the greatest respect to those truly suffering but, in terms of being fans of a football team, boy have we suffered!!
This club broke my heart as a young lad as early as 1977 in the FA Cup semi-final at Maine Road... and continues to do so now, a middle-aged bloke, as they did in December.
It's our turn; let Goodison rock tomorrow, let 'Grand ol' Team' ring out all over the city. Please!!
Rob Marsh
117
Posted 02/03/2019 at 18:49:58
Jim Bennings,
"4) We have won THREE derbies this century which is now 19 years old (that's 3 wins from 37)."
That's an absolute fucking disgrace for the club, no excuse. It's obvious evidence of an inferiority complex.
I tend to walk away from derbies like every other blue, trying to forget them, and so tend not to dig too deep; didn't realise it was that bad.
Justin Doone
118
Posted 02/03/2019 at 18:59:08
Let's put history's to one side and change the mentality of everyone at Everton by concentrating on the positives...
Er... Anyone got anything positive to say?
Oh I've just thought of one. At least Sam isn't managing us.
In all honestly, as long as there are no mess ups and we give it a go – ie, effort, heart and attacking fiat play – what will be, will be.
Peter Mills
119
Posted 02/03/2019 at 19:06:33
Paul #68, I have never forgotten that post-match interview with Pinocchio. When I think about it, I normally google Thompson's reaction to Jagielka's late equaliser at Anfield. It's always worth a look.
Robert Williams
120
Posted 02/03/2019 at 19:16:12
JC @73. 'People don't realize how difficult putting a fury member of the family down can be."
Sorry but I find that funny!

Jay Harris
121
Posted 02/03/2019 at 19:31:33
Paul,
That is so true but the belief has to be universal from the support right through the players, coaches and management.
Pickford owes us a clean sheet after that Anfield gaffe so, if he can achieve that and Sam and the black cat bring us enough luck to score, I see a 1-0 win and them down to ten men.
I think the team selection is secondary to the team being motivated and organized.
Jim Bennings
122
Posted 02/03/2019 at 19:32:48
Tomorrow, we have a double incentive.
We could finally end our horrible record against the devil worshippers and at the same time put a massive dent in their title hopes by beating them.
What a monumental derby tomorrow would be to win for those two reasons.
It's time a modern-day Everton player became a Merseyside derby folklore hero, the fact we still talk about Tim Cahill and Arteta as the scorers is beyond a joke now.
End it tomorrow, Everton.
Paul Kennedy
123
Posted 02/03/2019 at 20:00:34
I just do not want to be embarrassed. The gulf between the two sides is very very obvious.
Rob Marsh
124
Posted 02/03/2019 at 20:03:43
Have a look a what the bookies are offering:
11/2 - 5/8
I'm surprised we're that far out?
Only thing left to do is have a go!
Ryan Holroyd
125
Posted 02/03/2019 at 20:07:18
Let's hope we can all put our differences on the players, Silva etc and do these horrible vermin tomorrow. COYB
Ian Bennett
126
Posted 02/03/2019 at 20:15:52
Pickford
Coleman
Zouma
Jagielka
Digne
Schneiderlin
Gueye
Gomes
Sigurdsson
Calvert-Lewin
Richarlison
John Hall
127
Posted 02/03/2019 at 20:16:14
Even if they don't have toothy Firmino рlaying, they still have Sturridge — and he loves a derby! We've got to be strong boys! COYB!
Dave Lynch
128
Posted 02/03/2019 at 20:21:43
Just had a potter on RAWK to see what the loveable gobshites are saying.
They're calling us Rhylwall and on had the fucking cheek to call us " A despicable fan base".
I swear to fucking God, if we beat them tommorow I'm gonna cause WW3 on that site.
Despicable fan Base! I could go on and on about that lot and their despicable... I'm fucking fuming at that comment.
Sean Callaghan
129
Posted 02/03/2019 at 20:24:56
RW (120). What a silly comment.
Jim Bennings
130
Posted 02/03/2019 at 20:26:58
Dave
There's no bigger freak show than the Kop these days and we are going to get a little glimpse of it tomorrow in the Bullens Road Stand with all kinds of zany flags about Princess Diana or Wine for Men Riding at Dawn or that other oddball with a million badges on his hat.
Grade A bellends, the lot of them, and I've got news for that massive allconquering club, the last two clubs to win the league title beginning with L? Leeds in 1992 and Leicester 2016.
Fucken do them tomorrow and I don't care if we finish 12th.
Rob Marsh
131
Posted 02/03/2019 at 20:37:09
Ian #126,
Yes, there's good balance to that selection.
Schniederlin might not be fully up to a derby, fitness-wise, but he can be a nasty type and we'll need that tomorrow.
So much though depends on whether Richarlison has a bad hair day or not. If he's up for it, he's capable of giving their defence real trouble. Calvert-Lewin needs to turn up like a jack-in-the-box everywhere and be a nuisance.
I don't want to do too much defending against that lot I'd rather play a pushing possession game.
Rick Tarleton
132
Posted 02/03/2019 at 20:41:18
There was a comment on an Everton site on Facebook which I rather liked:
"If Liverpool were playing the Isis select eleven, I'd get a tea towel and cheer on the terrorists."
(The original was slightly more earthy, but you get the gist of it.)
Not a lot of expectation, but I've got my fingers crossed and am hopeful of at least a point.
Kristian Boyce
133
Posted 02/03/2019 at 20:43:15
Sam Hoare, you do realize that if we win tomorrow, we'll all be expecting a weekly update on your sex life as a good luck charm.
Kris Boner
134
Posted 02/03/2019 at 20:51:33
Not that I've ever wanted an omen like Sam Hoare having fantastic sex as a reason for Everton to win, but if that is what it takes then Sam you are going to have to take one for the team weekly.
Mike Galley
135
Posted 02/03/2019 at 20:59:01
Dave #128,
I've heard them talk about us in a similar vein and I make a point about mentioning, in no particular order, they're attack on the Man City bus last season, their tear gas attack in the Man Utd bus years ago (just to prove it's a generational thing), their attacks and stealing tickets from their own woman and kids at Athens.
I/we could go on all day. The most despicable fan base? Give me strength!
Mark Burton
137
Posted 02/03/2019 at 21:04:04
I don't care if we finish 17th as long as we beat the Red Shite tomorrow and they don't win the Premier League. COYB
Rob Marsh
138
Posted 02/03/2019 at 21:04:24
I don't know about the rest of you, I'm always happy to have a good go at them, but it's their 12th man that usually gets them the wins and worries me more than any striker they have.
When I'm talking about the 12th man, I'm not talking about the Bullens Road stand with thousands of mindless mongs from the Norwegian woods or their following of Cockney merchant bankers either; no, this 12th man wears a different colour to the players on the pitch and runs around with them on the pitch ensuring lady luck is always kind to them.
Dave Lynch
139
Posted 02/03/2019 at 21:04:44
Jim.
It's the unadulterated arrogance of them I dislike.
They dismiss everything that their fans have done to tarnish the game of football – even down to stealing there own fans tickets at the Champions League Final.
I don't believe in God, the Devil, good or evil etc... But I swear they are in league with some unearthly entity.
If my post doesn't make sense, I apologise, my blood is still boiling.
Please, please, Everton – turn up tomorrow and give them a kicking.
Dave Lynch
140
Posted 02/03/2019 at 21:06:46
And Mike re the above post.
Mike Galley
141
Posted 02/03/2019 at 21:16:08
Amen Dave.
Joey Crawley
142
Posted 02/03/2019 at 21:23:08
When Juergen Klopp ran to the Spion Kop,
the slimy toad cheering the Anfield Road,
you broke my heart Origi, gave us the heebeegeebees.
A freakish goal sank us in a Nordic hole,
it killed our season but we're still breathing,
then Millwall stuck the knife in but we're still fighting.

We spanked the bluebirds now Marco ain't mincing words,
we've got our mojo back, let's give the red shite a heart attack, making gob shite Carragher salivate like a rabid puff adder,
Nothing's gonna make me happier
than when we smash their title hopes
and that gurn off their manager.

Now can I get a reeeeewind like it's 1999,
I'm bleeding blue it must be true,
the toffees and Silva are coming for you, Juergen.
What rhymes with Juergen, nout, peace out!
Chris Leyland
143
Posted 02/03/2019 at 21:23:12
Just for once, Everton, please do something un-Everton like and beat that shower of arrogant, entitled, self-absorbed, badge-wearing, Norwegian gob shites.
Please play out of your skins and if, by some chance, we do manage to win, I want to see Marco and Duncan sprinting up and down the touch-line before sliding on their knees in front of that toothy prick.
Let's go one further and get a replica Jules Rimet trophy made and parade it in front of his condescending, despicable, ugly and deluded face.
Anthony Murphy
144
Posted 02/03/2019 at 21:23:19
Let's not focus on what it means to them and their pursuit of the title, but what it means to us given our appalling record in this fixture.
Some of the stats here regarding our record against them should be motivation enough. I heard somewhere we have only won once since the war from a losing position. Not sure how true that is, but we need to sort this shit out.
On saying that, if a win derails their title quest to the point where they blow it completely, I will take a few days off, throw my quadrant park mix on and get off my tits.
Tony Twist
145
Posted 02/03/2019 at 21:28:45
I think it is time to make a change and a return of the Everton spirit. I would have a team of:
Pickford,
Kenny, Zouma, Mina, Digne,
Lookman, Gana, Davies, Gomes, Richarlison,
Sigurdsson.
We need the blue brothers (Kenny and Davies) in the mix, we need heart, we need an identity. A clean sheet would be magnificent and I would love it if Tosun came on in the second half and got the winner.
Having said that, though, I couldn't care less how we get the goal – just that we win. Best of luck, Blues.

Andy Crooks
147
Posted 02/03/2019 at 21:34:07
Sam Hoare, have a great day tomorrow, how brilliant a victory would be.
Does anyone else envisage every dreadful outcome, prepare for every disaster and yet get it wrong. The Pickford incident was not on my radar last time.
To every blue, everywhere, I hope we will get what we deserve. A top show and a victory.
Jim Bennings
149
Posted 02/03/2019 at 21:55:41
Anthony @144
The only time I can ever recall us beating them from a losing position was that Monday night in December 1992 when Beardsley scored a late winner at the old Park End in front of the mutants.
I remember it well because Mark Wright scored a header from a corner in the second half and they were all goading us with chants of "Going down, Going down" then Mo Jo silenced them with a instant equaliser.
That's the only time I can ever recall an Everton victory from a losing position, in actual fact though probably only one of two times we've won when Liverpool have scored in a derby.
Brian Denton
150
Posted 02/03/2019 at 21:59:07
Jim, that game was the only time in our lifetime we've come from behind to beat the buggers. For most of my lifetime (until Moyes did it a couple of times) the only way we ever finished above them was by winning the League!
Tom Martin
153
Posted 02/03/2019 at 22:20:35
I'll be watching the game tomorrow from a hospital room in France, along with my dad who had a stroke last week, and is fighting to regain movement in his whole left side, and my two brothers who have travelled out here to support him.
Dad introduced me to the blues when I was a toddler and we've supported Everton together ever since, season tickets in the top balcony for many years, and more recently we sold programmes at Goodison to get to the game when we couldn't afford season tickets.
It's been a hellish week, especially for dad, he's hit rock bottom some nights, but he's gritted his teeth and literally begun to drag himself towards recovery.
I'm filled with pride to see the determination and sheer bloody-mindedness of a man who's been dealt a massive blow. My Dad.
I'd absolutely love to see just a fraction of that fighting spirit from our boys tomorrow. We are Everton.
To all those going tomorrow; raise the roof, sing your hearts out, contest every decision.
A win tomorrow would surely bring a smile to Dad's face, what I wouldn't give to see that...
Ivan Varghese
155
Posted 02/03/2019 at 22:33:27
I think the players that can cause problems with Liverpool's defense are Calvert-Lewin and Walcott. I hope Calvert-Lewin's confidence is high and Walcott stops looking for some magic to impress his manager and instead puts his head down and makes intelligent runs.
Jamie Crowley
156
Posted 02/03/2019 at 00:03:06
Surely after December, in one of the worst defeats I've witnessed in sport occurred to us, we've suffered enough as Julian Exshaw rhetorically asks @ 116?
How long Lord, how long?
I have very little hope for tomorrow in an honest moment.
Neil Copeland
157
Posted 03/03/2019 at 00:22:59
Tom #153, sorry to hear about your dad, I hope he recovers soon.
Don Alexander
158
Posted 03/03/2019 at 00:29:39
Tom (#153) best wishes to your Dad and family. Stay strong, and that ain't easy.
David Pearl
159
Posted 03/03/2019 at 00:46:12
All the best, Tom. We know a victory could somewhat help to lift your dad. That's the biggest reason of all. I'm sure he's fighting moreso because you're all there for him.
My dad took me to my first game when I was 5 and l believe Latchford scored from my view from the Upper Bullens. I can't remember against who precisely... maybe it was a derby?
Coyb
Mike Jones
160
Posted 03/03/2019 at 00:46:49
I don't want the shite to ever win the league again in my lifetime. I'm hoping for a draw. I'm expecting a defeat.
Laurie Hartley
161
Posted 03/03/2019 at 00:58:59
I see Sane has been on the wind-up with Gueye.
When someone has got the drop on you, they will keep hammering it into you relentlessly. There is only one thing can silence them.
Let this be the day.
We have got to keep their two full backs occupied.
Pickford,
Coleman, Jagielka, Zouma, Digne,
Gueye, Sigurdsson, Gomes
Lookman, Richarlison, Bernard.
Up the Blues!!!
Fran Mitchell
162
Posted 03/03/2019 at 01:20:00
Pickford
Kenny Zouma Jagielka (c) Digne
Schneiderlin (even I am shocked I'm saying this)
Gueye Sigurdsson
Bernard Calvert-Lewin Richarlison
With City's win, they are under pressure. We, on the other hand, have nothing to lose, except our pride... which we have none anyway.
Let's fucking destroy their season.
Jamie Crowley
163
Posted 03/03/2019 at 01:20:34
Tom -
Best to your Dad and you. I hope for you both we win tomorrow.
Bill Gienapp
164
Posted 03/03/2019 at 01:34:28
"We have nothing to lose, except our pride... which we have none anyway."
New motto for the badge, Fran? LOL.
Wishful thinking perhaps, but I could see a win tomorrow bringing our season full circle. Just as the loss at Anfield seemed to derail everything, I think a win could trigger an upwards surge in form over our remaining matches. And while we're at it, I wouldn't mind a date with Margot Robbie!
Derek Knox
165
Posted 03/03/2019 at 02:30:55
Tom @153, the best tonic for your Dad would be a long overdue win. God Bless you all, if it was down to us (fans) we would win. Let's hope the team whoever they turn out to be, don't let us all down!
Tim Greeley
166
Posted 03/03/2019 at 03:19:12
Fran Mitchell, with that throwaway line "except our pride... which we have none anyway" – fatalistic and fantastic! Are you from New Jersey?! Something I would say. Well played sir, and I feel it.
Hope our team FINALLY can muster the "this club exists right fucking next door, why can't we beat them?! Give no fucks" attitude it's gonna take to shake this shameful run. I have no idea what's gonna happen.
Mike Gaynes
167
Posted 03/03/2019 at 03:21:33
Tom, all the best to you and your family.
Paul Kelly
168
Posted 03/03/2019 at 05:00:30
Up already, no sleep from here on out for me, fuck, these games get me going (not as much as Sam Hoare, obviously, back to him in a min).
Sorry to hear about your pet, Rob, being an animal lover and owner I know how shit it is, and hang in there, Tom, best of luck with your dad's recovery, but the tonic to all our ills could start today (in a way, lighten our moods) it'd go along way in fact just to put a smile on our long-suffering anti-derby-winning faces, I'm sure.
As it goes, I hope the genetic jackhammer that is Sam Hoare is giving ten of his best as I type, to whip up some weird voodoo or curse on those red bastards and break this wedlock to winning against those fuckers that's hung around our necks for so long.
ps: If I'm sober enough to make the live forum, if I get to rowdy, please, just tell me to calm down. I'm not one for swearing...
Mike Jones
169
Posted 03/03/2019 at 05:23:44
I'll take a draw, Paul. I'm up too. Can't sleep on these days before the game. Usually can't sleep afterwards either...
Paul Kelly
170
Posted 03/03/2019 at 05:53:10
Shit isn't it Mike? If only the club put these threads to the players, to show them what it means to us fans, the stress, the insomnia we experience, the loved ones lost and the ones who need a smile on their face a little more than the rest of us.
If I played for a team and read this stuff before hand, it would be impossible not to give your all (though we would anyway, being fans).
Just for once Everton, twat these fuckers.
Jamie Crowley
171
Posted 03/03/2019 at 06:34:07
Paul's up, and I'm going to bed!
I'm wearing my Yakubu jersey to bed. We need goals, and it can't hurt.
Feed the Yak...
Sam Hoare
173
Posted 03/03/2019 at 07:10:56
Tom@153 I hope you're Dads doing ok and gets a lift today. Rob, sorry to hear about your cat.
Thanks for those wishing me well on a Goodison debut. Off to Euston station shortly.
David Greenwood
174
Posted 03/03/2019 at 07:14:18
Sam, hope you have a great day, I'm Just heading off to the game myself.
LETS FUCKING DO THIS.
Dave Lynch
175
Posted 03/03/2019 at 07:45:47
Just googled Margo Robbie.
She's well tidy, still wouldn't swap a night with her and a bucket full of viagrafor a win today though.
Besides, she'd see me off at my age.
Up and out to catch some fish, see you all in the aftermath.
Coyb.
Paul Kelly
177
Posted 03/03/2019 at 08:00:59
Best of luck to you lads travelling up there!
Got a new slogan though Jamie;
Feed the Hoare and he will score!!!
See what I did there, well clever I am.
All the best Sammy boy, hopes it's a Goodison debut to remember. Get yourself to the section by the Park End, boss hotdogs, shit beer, plus the legend that's Speedo Mick may be about, what's not to like.
Paul Kelly
178
Posted 03/03/2019 at 08:10:28
Mr Lynch, on googling Margot Robbie,
"She's well tidy, still wouldn't swap a night with her and a bucket full of viagra for a win today though."
Mmmhhh, got me caught between a rock and a hard place ( pun not unintended), but no contest, three points it is,.
I'm sure Ms Robbie has turned down a fat bald ginger bearded Scouser in the past anyway, (many times).
Duncan McDine
179
Posted 03/03/2019 at 08:43:32
The feeling I get leading up to a Merseyside Derby these days is similar to what I imagine it's like to be sitting on death row. Wonder what I should have for my final meal before the game today???
Dermot Byrne
180
Posted 03/03/2019 at 08:52:30
It's Competition Time!
What will you be doing at 6.30 this evening?
I have a Mindfulness Guru popping round and have a quart of tequila.
Paul Tran
181
Posted 03/03/2019 at 08:56:07
Tom, all the best to your Dad, you and your brothers. If we win, it'll give you all a big boost. If we don't, you'll all dig deep and pull through anyway!
Paul Kelly
182
Posted 03/03/2019 at 08:56:20
"What will you be doing at 6.30 this evening?"
Apologising to Margot Robbie I should imagine.
Eddie Dunn
183
Posted 03/03/2019 at 08:56:38
Tom, I hope your old man makes a full recovery and I hope the Blues do something to spur him on, best wishes.

Dermot Byrne
184
Posted 03/03/2019 at 09:02:18
Very funny Paul Kelly!
Dave Abrahams
185
Posted 03/03/2019 at 09:06:45
Tom(153) I hope you get that big smile off your dad just as the match ends, give him a big hug and tell him it's off dozens of Evertonians from ToffeeWeb,
Good luck and God bless to your dad and all your family.
Jonathan Tasker
186
Posted 03/03/2019 at 09:47:52
"Walcott- badly off form."

I would describe him as a massively over paid football geriatric who saw Everton coming and couldn't believe his luck that somebody was stupid enough to offer him so much cash .
One of the laziest, most useless players I have ever seen in over fifty years.
File under Nyarko.
As for today, a bit more huff and puff than a normal league match and then we lose 1-0. Silva comes out with the normal post match waffle.
Sack all of them and stop going until the Kenwrights leave the clue for ever.

Dale Rose
187
Posted 03/03/2019 at 10:06:49
Tom and Rob all the best to you both. I preferred my cat to most people and certainly any red bastard. A cat would be handy this afternoon, a fucking big puma tracking any red shite that came into our half.
Come on you blues send the shite back with a dent in their title hopes. Not that I'm bitter
Sam have a good day.

John G Davies
188
Posted 03/03/2019 at 10:14:32
"I heard a stat the other day, I know we've conceded a lot of goals, but I think for first contacts we're top of the league for defending set plays, it's second balls which we're conceding from"
Michael Keane.
Interesting that. Suggests we are getting the first part right but failing to react on second ball.
Neil Copeland
190
Posted 03/03/2019 at 10:34:28
Paul Kelly, you're on fire mate, I hope some of it rubs off on the team. Take it easy on Margot, she maybe a delicate little flower.
COYB let's twat the RS today!
Mike Keating
191
Posted 03/03/2019 at 10:43:13
Ok - which one of you lot was letting off fireworks behind the Hope Street Hotel at 4 am this morning?
God knows why the RS persist in staying there as part of their pre match prep but looks like it back fired last night. Hope they didn't get a wink.
Paul Birmingham
192
Posted 03/03/2019 at 10:47:18
Rob@45, my sincere condolences for the loss of your cat. Tom@ 153, I hope your Dad gets on the mend, rapid.
All here's to a good day for Evertonians, and we come out from the barren hell of almost perpetual purgatory today.
I hate the RS, let's pay back today and kick start good times at EFC.
All have a good day and don't get goaded by the vermin.
Onwards Evertonians to victory, and smash them on the park.
Neil Copeland
193
Posted 03/03/2019 at 10:47:50
Mike #191, I am sorry to say it wasn't me although if I had known they were staying there I may have been tempted.
It wouldn't surprise me if they tried to push the KO back 24 hours as a result.
James Marshall
194
Posted 03/03/2019 at 10:52:29
As usual I'm expecting a defeat, anything else will be a bonus. Even a draw would be a good result for us, and for the title which lets face it, we all want City to win at all costs!
Conceding first will be the ultimate nightmare - we have to take the lead to stand a chance in my view, and that dear reader, is not going to be easy.
I'd take 0-0.
Mike Keating
195
Posted 03/03/2019 at 10:56:51
Yes Neil - they make a big song and dance about it every evening before a home game including the Goodison derby match. Barriers block that side of Hope Street to hold back the latest shipment of adoring fans. Now that this is public knowledge, I'm hoping to be woken at 4am every time they stay over.
Coyb
Gordon Crawford
196
Posted 03/03/2019 at 10:57:49
What a glorious birthday it would be for me if Everton won the derby.
COYB
Neil Copeland
197
Posted 03/03/2019 at 11:04:37
Mike, I think I will sign up for a course in Pyrotechnics.
Neil Copeland
198
Posted 03/03/2019 at 11:05:53
Gordon, Many Happy Returns!
Julian Exshaw
199
Posted 03/03/2019 at 11:20:51
I like Marco Silva and hope he gets things going but is he the type of manager to stick that quote from Colgate face on the wall and get the lads up for it? The language problems notwithstanding, I'm not sure he is but good luck to him and the boys anyway. 5 hours to go....
Rob Halligan
200
Posted 03/03/2019 at 11:25:33
Thanks to everyone for the kind words about our cat. As I said earlier, I know it's only a cat, but when he's been part of our lives for over 15 years, it's very difficult and hard to accept he's no longer there. His name was Rooney by the way. Named after Wayne. Unfortunately Wayne left us 6 months later but we couldn't change the cats name.
More importantly, to Tom, hope your dad gets well. It's even more difficult when a parent becomes ill.
Mike Gaynes, yes he's the same one you nearly met 2 years ago.
COYB FTRS.
John G Davies
201
Posted 03/03/2019 at 11:28:25
Any chance we could welcome their coach similar to the manner they welcomed the City coach?
Nicholas Ryan
202
Posted 03/03/2019 at 11:31:15
Shakespeare really does have a phrase for every occasion - how about these from Henry V, for today:
"... For there is none of you so mean and base, that hath not Noble lustre in your eyes. I see you stand like Greyhounds in the slips, Straining upon the start. The Game's afoot: Follow your spirit, and upon this charge, Cry, 'God for Harry, England and Saint George'.
[Apologies to American, Welsh, Irish, and particularly French, fans! ]
"... We few, we happy few, we band of Brothers; for he today, that sheds his blood with me, Shall be my Brother . And gentlemen in England now abed, shall think themselves accursed they were not here, And hold their manhoods cheap, while any speaks, that fought with us ...on Crispin's Day".
Of course, we have to Win, for any of this to make sense!
Best of Luck, everyone!
Derek Cowell
203
Posted 03/03/2019 at 11:36:11
David @ 159 as I recall the great Bob Latchford famously never scored a derby goal!
Brian Harrison
204
Posted 03/03/2019 at 11:46:08
Yes of course we want the players to really get into them today, but don't let your hearts rule your heads. Make sure we don't give the ref an opportunity of sending any of our players off. Because of our record against them the first goal will be so important, as I cant remember the last time we came back from a goal down to win. I hope we see the Richarlison that we saw early in the season, and not the one of the last couple of months.
My main worry is the lack of goals from our front 6 apart from Sigurdsson and Richarlison. Seems a recurring theme for me, but I just don't feel that Bernard or Walcott are a goal threat, and stats show us that Gueye,Schneiderlin,Gomes or Davies score many goals. Which puts a lot of pressure on Sigurdsson and Richarlison, not to mention young DCL having to learn his trade on the job.
But surely at sometime we have to beat this lot, and what better time than today. I am hoping for a last minute winner so they have no time to come back at us.
Oliver Molloy
205
Posted 03/03/2019 at 11:54:13
100% commitment, every decision to go our way, Bernard to score a winner and that's that.
Some of the stories on here show us all that the big wheel keeps on turning, every day someone somewhere is having a good day, bad day.
Today let it be Evertoinan day, a day we will all remember .
It's well overdue, all the best to all going to the game, shake it up in there.
COYB .
Bobby Mallon
206
Posted 03/03/2019 at 11:58:23
All those at the game make that ground a bear pit
Jay Wood
[BRZ]
207
Posted 03/03/2019 at 11:59:25
Today is the day.
Just get the job done, Everton.
James Marshall
208
Posted 03/03/2019 at 12:03:38
With our team it'll be a teddy bear pit.
Derek Knox
209
Posted 03/03/2019 at 12:05:19
John @ 201, do you mean through rocks at Herr Klippety?
Not really in favour of violent behaviour, but make sure one hits them f**king giant gnashers, he'll crap his Lederhosen, and it'll stop him running around like a demented ape.
Sorry if this post has upset any apes who may be reading.
Dave Williams
210
Posted 03/03/2019 at 12:16:29
Tom, puts football in perspective. Hope your dad gets better and I'm sure a win today would help.
Rob, we lost our dog last year to a brain tumour and I can't remember grief like it. They are part of the family our hairy, furry friends, never give less than 100% devotion and my heart goes out to you.
We now have a maniac of a Border Terrier who gives great joy but the first one (called Toffee) will never leave me.
How a win today will give joy to all of us whether our lives are going along nicely or are in need of a boost.
Come on!!!!!
Terry Underwood
211
Posted 03/03/2019 at 12:19:33
If there is a fly-past of pigs and we do win, I hope to see TTT (that Teutonic twat) slinking away with a rousing chorus of "We won the cup" ringing in his ears. "Their cup final" indeed. Herr Klopp, you have no idea – it's much more important than that.
Get well soon to the dad in hospital. And commiserations for the cat, I had to put down my 20-year-old rescue cat; four years later, I still miss her.
Andrew Laird
212
Posted 03/03/2019 at 12:20:14
The build-up to derby day makes me feel like I'm sitting in a doctors waiting room waiting for a prostate exam, and then when the doctor comes out of the surgery office to greet you, you discover he has been raising money by growing his fingernails.
Andrew Laird
213
Posted 03/03/2019 at 12:25:57
Just a guarantee that those victims won't get any ridiculously favourable decisions and I would take that regardless of scoreline. I think that an even playing field is something we haven't had often enough against our deluded flag-waving, badge-collecting bastards and our collective sense of injustice plays in to those bastards hands. The ref is Martin Atkinson.
Paul Setter
214
Posted 03/03/2019 at 12:37:37
Just for once, a weekend not spoilt by the result would be nice but especially to this bunch of maggots.
I hope we give them something to moan about: injuries, last minute winners and red cards – honestly, I don't care as long as I see them crying. Parasites.
Neil Copeland
215
Posted 03/03/2019 at 12:44:14
I have just taken my dog for a walk and as usual he came back very happy and very filthy.
Watching him wash himself reminded me of a Klipperty presser; all teeth, spit and bollocks!
John G Davies
216
Posted 03/03/2019 at 12:46:33
We should treat it like a cup final.
Mr Ed has lost every final he has contested.
Ray Smith
217
Posted 03/03/2019 at 12:54:05
John 201,
I don't advocate the behaviour you are alluding to. To do so would reduce us to their level.
Give it to them verbally and hopeful they will hear the roar like it used to be.
I don't recall any real roar this year, which many ex-pros have recalled, what a hostile environment Goodison Park used to be.
Eddie Dunn
218
Posted 03/03/2019 at 13:00:16
I have just walked my dogs in rather blustery conditions in the field behind my house. The little Jack Russell wasn't too keen, and he is, like Bernard, very close to the ground. The other one is a collie/huntaway, tall and leggy, loves the rain, a sleek athlete a bit like Thierry Henry. Once towelled-off, the two are now sat watching Sunday brunch, with that twat Simon Rimmer.
Just thinking about the players in the build-up to today's game, all plugged-in to their headsets, others on the phone. Then the choice of gloves/tights to wear. Is there any chance of any of them getting muddy? Do pitches have any mud these days?
Paul Birmingham
219
Posted 03/03/2019 at 13:03:18
John,@216, a very good point. Let's pray that Everton turn up and turn the RS over.
Nows the time, today, of all days our players must do the business and win.
Darren Hind
221
Posted 03/03/2019 at 13:18:54
This'll be the first home derby I've missed since the cup game that was put on big screens at Anfield when Bally scored the winner.
Not watching it in the ale house because I don't think I could listen to them. The Mrs has gone around to the daughter-in-law's to get out of the way and I'm pacing around talking to meself with the blinds drawn.
This is far more nerve-racking than when you go to the game, you can have a few bevvies and a laugh on County Road to take your mind off it.
Derek Knox
222
Posted 03/03/2019 at 13:25:26
Eddie @ 218, thought you would have had a Kerry Blue.
Trust the ones you have are Dogs of War and can spot a gobshite/Redshite from a distance.
COYB
Tim Greeley
223
Posted 03/03/2019 at 13:33:37
For Rob Halligan's Cat!!
And I say that with all sincerity; I went thru the same experience when I was about 27 with my cat we had from when I was 11 or so. A girl I went to high school with somehow worked at the veterinarian's office and I cried right in front of her and did not give a fuck. I feel ya man. FOR ROB HALLIGAN'S CAT!
As for Sexy Sam and all that sexy sex, I won't dare make any such comparisons. 🤔😜🙃
Eddie Dunn
225
Posted 03/03/2019 at 13:33:41
Kerry Blues – there must be a few of those out there! I swerved a weekend back home – the missus went on Friday (all her lot are Reds). I couldn't face watching it in their house on the big hi-def screen.
The worst thing about them is that they patronisingly hope we little Toffees do well – apart from the derby. This attitude was fine in the mid-Eighties when Merseyside v Manchester (United) was a thing. Back then, if we won one title, I could stomach them winning something else. Now I find the thought of those bastards winning anything vomit-inducing.
Anyway, they are going to have a late lunch in a pub at 3. I told the missus, "but you'll miss the game" and she replied, "Dad is recording it." Well, thank fuck I didn't go!
Brent Stephens
226
Posted 03/03/2019 at 13:44:20
DH #221 today we bring you a win.
Derek Knox
227
Posted 03/03/2019 at 13:53:58
Darren @ 221, pacing up and down like a caged bird, I know the feeling mate.
Like they do in a good Western, when the guy goes into the Bar, give me a shot of RedEye …….. Ooops. I meant Blue Curacao, Honky Tonk!
James Marshall
234
Posted 03/03/2019 at 14:17:56
One thing to remember today – we're not alone, all of Manchester is Everton, and the wider footballing world as well. Today we're all Evertonian!
Dick Fearon
236
Posted 03/03/2019 at 14:40:33
I am in West Oz and so far my day is going to plan.
A few Blondes before a short kip then after a shower don my Dixie shirt, O lord, how I wish for another of his mettle, cracked a few more bottles of ice cold Blonde Lager and I am ready for whatever fate throws our way.
As the song goes, Let It Be. To all Blues the world over I say we have suffered long enough.
Paul Tran
239
Posted 03/03/2019 at 14:52:51
I've woken up, read the psper, walked the dogs, done some work, done some writing.
Now what do I do for the next hour!
Chris Hockenhull
240
Posted 03/03/2019 at 14:56:07
Timm Greely 223...Great mate..totally get your sentiment me here with Mr Cheeks we send our best wishes..FOR ROB'S CAT !!!!. DO IT BLUES!!!!!!!!!!!!!!!!!!
Derek Knox
241
Posted 03/03/2019 at 15:02:17
Paul Tran, you could boil 20 eggs, one at a time, or watch the Fulham v Chelski game, not too bad, apart from the usual gobshites in the Studio, the Ginger one is a guest too today.
Paul Tran
242
Posted 03/03/2019 at 15:04:15
Thanks Derek, some belters there!
Pat Kelly
243
Posted 03/03/2019 at 15:05:11
Is there anything to be said for another Mass ?
Mark Tanton
244
Posted 03/03/2019 at 15:12:10
Utterly brilliant Pat, and already shared widely.
Jamie Crowley
245
Posted 03/03/2019 at 15:12:17
For Sam Hoare!!
For Rob Halligan's cat!!
For Darren Hind stuck in a dark room, who now knows what it's like to have to watch every game from America!!
For Mike Gaynes prediction!!
For REVENGE!!!
Cue evil laugh: BBAAAWWWW HHHHAAA HHHHAAAAAA HHHAAAA HHAAAAAAAAA
Ray Said
246
Posted 03/03/2019 at 15:18:42
No Gomes or Richi

What does Walcott have to do to be dropped?
Darren Hind
248
Posted 03/03/2019 at 15:19:32
Fucking Sky
They just put the shite team up at the bottom of the screen in Fulham Chelsea game and brushed us off with Everton have made a couple of changes too
Frank Wade
249
Posted 03/03/2019 at 15:20:24
Pat # 243, Classic Father Ted ?
Jamie Crowley
250
Posted 03/03/2019 at 15:21:40
After Schneids inclusion against Cardiff, I'm not questioning the lineup.
COYB
Rob Williamson
251
Posted 03/03/2019 at 15:24:49
Is it too much to hope:
- that we don't lose this in the tunnel?
-that the players show the same fight as the fans?
-that WE score a last minute winner?
-that WE get a dodgy penalty?
-that THEY get a player sent off unfairly?
-that we don't give Salah the chance to collapse in the area?
-that WE get a fair crack of the whip from the ref?
That's not too much to hope is it? Is it?
Tony J Williams
252
Posted 03/03/2019 at 15:27:36
God I fucking hate them...that is all
Come on Blue men...pleeeeeease
Andrew Laird
253
Posted 03/03/2019 at 15:28:47
Walcott must be able to suck a golf ball through a garden hose. Please prove me wrong and score Theo!
David Pearl
254
Posted 03/03/2019 at 15:31:31
Jamie, that's a really short list. All the cheating, diving, red cards, off side goals, last second evil fate, double standards... this is our year, we know everything bullshit we've had to put up since (for me) Clive Thomas!!
Craig Walker
255
Posted 03/03/2019 at 15:32:04
Please God, let us win this today. For my now 8 year old son who has never seen us beat them. For my dad who passed away in 2003 after raising me and my brothers as Blues. For all of us who have to go to the workplace or school playground tomorrow and tolerate their arrogance. For the numerous injustices and the long-suffering loyal fan base. To go some way to me feeling less sick when I think of their scabby win in December and Klopp rubbing our noses in it. Just this one time. Please let us win our World Cup final.
David Pearl
256
Posted 03/03/2019 at 15:34:41
Didn't you see the games he has played this season Mike?
Oh I missed the most important reason. To wipe that smug look off big nose!!
Eddie Dunn
259
Posted 03/03/2019 at 15:49:46
Walcott will score 2 goals today... 2-1 Blues, Theo the Hero!

Ivan Varghese
260
Posted 03/03/2019 at 15:50:32
I am sure it will be 100% from the team today. But if they stick to building from the back and loose the ball in 3rd quarter of the field, Liverpool's pace, finding gaps and passing accuracy would shred us. We need a different game plan from what I have seen.
Add Your Comments
In order to post a comment, you need to be logged in as a registered user of the site.
Or Sign up as a ToffeeWeb Member — it's free, takes just a few minutes and will allow you to post your comments on articles and Talking Points submissions across the site.