'Fourth Grace' on city's waterfront will respect Bramley-Moore Dock's maritime heritage
Thursday, 14 March, 2019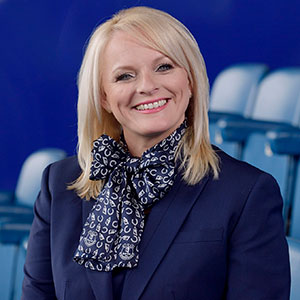 Professor Denise Barrett-Baxendale says that Everton hope to build a stadium that "will sit beautifully as the Fourth Grace on Liverpool's waterfront" with their proposed new stadium at Bramley-Moore Dock.
Speaking at the MIPIM property conference in Cannes, France, on Tuesday as part of the Liverpool City Region official delegation, Everton's CEO spoke of the "steady progress" that the club has been making "despite the complexities" of the £500m scheme which still has a target date of 2023 for completion.
She said that securing the funding is the most important objective at the moment because staying at Goodison Park is not an option.
"We're the most confident we ever have been at securing funding for the site," she said but was unable to reveal with whom Everton are currently in talks.
Professor Barrett-Baxendale stressed that a new stadium, which still has a planned capacity of 52,000, "future-proofed for safe-standing", is "crucial" for Everton to compete with the Premier League giants and that the heritage of the docks, a UNESCO World Heritage site, is very important to the.
She said that the stadium will be developed in sympathy to the dock — the club wants to be respectful and reflective of the maritime heritage of the site in terms of design" and that club want to create "a natural emerging stadium that comes out of the dock." The ground will open up an area that's currently closed to the public.
Meanwhile, the Professor said that Everton have invested £8m in the area around Goodison Park and that they want to do something "unique" in Walton to give something back.
Element of the Blues' current stadium are expected to be carried through in the design and feel of Bramley-Moore Dock DBB. "Goodison Park is magical, so we want to capture those bits that are uniquely 'Everton' and take them with us," Barrett-Baxendale explained.
"It will be a fortress; an intimidating place to watch football. It will have a lot of Goodison in it. The fans want the club to recreate as much of Goodison as they can in the waterfront. There will be a 'Toffee trail' from Goodison to the new stadium."
The second phase of consultation later is planned for later this year with designs due to be revealed before the end of 2019.
---
Reader Comments (192)
Note: the following content is not moderated or vetted by the site owners at the time of submission. Comments are the responsibility of the poster. Disclaimer
Anthony A Hughes
2
Posted 14/03/2019 at 07:14:59
It's just a waiting game now. No stadium plans or planning permission or funding in place. I think we'll be hard pressed to get this done for 2023.
Phil Greenough
3
Posted 14/03/2019 at 07:23:26
As someone predicted after the Newcastle debacle last Saturday, out comes the new stadium. It's so tedious, EFC have zero respect for its fans and must think we're all cretins.
Colin Glassar
4
Posted 14/03/2019 at 07:29:24
It's so predictable Phil. Next we'll have Phil Neville coming out saying, "this is unacceptable, the players are hurting, we are determined to turn this around" etc
The new stadium seems to be used as a distraction from our shambles on the pitch. Watching the Champions League games recently just goes to show how far we are away from joining the elite teams. New stadium or not, we are light years from being contenders again.
ps: DBB is a professor of what exactly? Just out of interest.
Bob Parrington
5
Posted 14/03/2019 at 07:43:19
I have a couple of thoughts on this "Professor" business, one of which my daughter will criticise me for.
This is because she is a Dr, not medical, but as a PhD in biomechanics. So, the first thought is, "Do we have to preface everything to do with Denise with the title Professor? Would this be unprofessional?"
The second thought is it is fantastic for her to be making such a presentation, which keeps us in the "public arena", ie, the press, which is good for our sponsors and so is good for our club.
Sean Kelly
6
Posted 14/03/2019 at 08:00:59
I wonder will we ever grace 4th place in the Premier League and get Champions League football? Not likely.
Another bit of pr spin shite after another shite performance.
Sean Kelly
7
Posted 14/03/2019 at 08:03:06
Professor of bullshit, Colin, and she has a Masters in it too!
Kev Jones
8
Posted 14/03/2019 at 08:08:20
Colin #4 she is Honorary Visiting Professor in Leadership in Sport serving Humanity awarded by Liverpool Hope University.
Kev Jones
9
Posted 14/03/2019 at 08:20:32
The conference in Cannes would have been organised months ago. So, whether we had lost 3-2 or won 3-2 against Newcastle, she would have made the same speech.

Tony Abrahams
10
Posted 14/03/2019 at 08:31:50
Phil@3, that's how I have always felt about "our saviour" mate, and think that's the way he's played a large majority since he became involved with Everton.
Kev is correct though, this conference was organised before last week, although I'm wondering what will come first, the new stadium or a new railway station for the city of Liverpool? (This is also being discussed at this conference.)
All part of the bigger plan no doubt, with Bramley-Moore Dock hopefully being the catalyst for great things to happen for the City in general, and Everton's only hope being a "Big Uzbek Gangster" waiting in the shadows with his steel!
Phil Sammon
11
Posted 14/03/2019 at 08:56:50
'Honorary Visiting Professor in Leadership in Sport serving Humanity' awarded by Liverpool Hope University.
Well, that somewhat devalues the title of 'Professor'.
I might add some bollocks like that on my CV.
Tom Hughes
12
Posted 14/03/2019 at 09:00:27
I take issue with some of points made in her speech, saying the club "would've reconfigured Goodison years ago if it was possible" is a complete nonsense. Why has the club felt the need to repeat this now?
The powers that be have never had their fingers on the pulse of redevelopment from day one. 20+ years of ignoring the elephant in the room. No vision whatsoever to see beyond the relatively tiny obstruction of a few end terraces on the Bullens Road side, and a blind adherence to "only a new build will do" (only if funded by someone else that is).
Fact is, Bramley-MD was only prompted by the attraction of funding through a Commonwealth Games bid, that failed, and has resulted in years of nothing, punctuated by consultation, and consultation about consultation.
Several years ago, I attended a couple of meetings with Elstone trying to outline the potential of Goodison Park, and his only answer was that they simply couldnt afford it. End of story, the ultimate debate-killer, "we're skint mate". My response was always that if you cant afford to add 10-15k net new seats to GP, how are you ever going to afford 50-55k elsewhere, without massive naming rights, an Olympic's/CWG bid and/or a high-value enabler to fund most of it, a la kings dock?
He simply wasn't interested. The club didn't have a pot to piss in, and he certainly wasn't interested in overcoming any of the planning or funding obstacles, and prefered to sit on his fat pay-check and do nothing until a Mr Moneybags could be found.
So it has never been the case that reconfiguring was not an option. It has simply been allowed to become the perceived wisdom, because the club wanted a freeby, and to that end have therefore never allowed it be contested. They have never conducted anything approaching a full study of Goodison Park's potential since John Moores was at the club.
Now we are facing a potential £500m bill for what appears to be a good but relatively basic 52k stadium, with no trimmings like a sliding roof or pitch for multi-purpose use (which you would expect for that outlay, in that location), with no sign of any enabling funding from external developments or a commonwealth games. Not to mention a conspicuously non-existent transport plan, which tbh should've been completed before any commitment was made to the site.
As regards the part about being able to increase the Bramley-Moore Dock stadium capacity in the future, Meis himself has said several times that this is not possible in his scheme. He's designing a finished stadium to fill the site to the club's brief. (Upper tier C-values of 60mm would also suggest he's maxed-out in terms of expansion), and the only expansion will come from safe-standing, which will be subject to a change in legislation regarding capacity-increase ratios.
Don't get me wrong, I really like the ambition of Bramley-Moore Dock, it's possibilities and the whole vision etc. However, at £500m, I'm not entirely convinced that what we are seeing is best value for money, and the continued referral to Goodison Park's redevelopment viability as "not possible" or "would've been done years ago" is entirely revisionist, disingenuous, inaccurate and dare I say, maybe even smacks of a bit of the Destination Kirkbyesque hard-sell to me. If BMD is the real deal, it will sell itself.
If costs are running away with themselves, firstly, how and why is this happening? Secondly, at what point does the cost-benefit ratio, or even basic affordability collapse? Of course, those extensive redevelopment studies carried out by the club over the past 20+ yrs will allow a quick and simple comparison. Shame they don't exist isn't it?
The first stage in any stadium planning process is always: "What can we do with our existing site?" We simply copy-and-pasted the gospel according to Wyness & Elstone, and that fundamental flaw in the process has come back to bite them on the arse time and time again.
Yes, the Russian might yet push this over the line, but can we really afford it, how will it affect future team spends, and will it really be any better than what £100-250m could achieve at GP (especially as this could readily get it up to 60k+ capacity)?
Dave Abrahams
13
Posted 14/03/2019 at 09:05:11
Get off Mrs Barrett-Baxendale's back, you are just upsetting some Everton fans by doing this.
Derek Thomas
16
Posted 14/03/2019 at 09:40:51
Tom @ 12; Hear, hear. If Bramley-Moore Dock is the real deal, it will sell itself... and if it doesn't, then the 'Impossible' will suddenly become... Commence Operation Redevelop Bullens Rd.
I should live long enough to see either, thank you very much. Mr Moshiri... In your own time, when you're ready, etc.
I'm still sticking with my original prediction of £600M+ and season 2024-25.
Mike Littler
17
Posted 14/03/2019 at 09:51:02
If it happens, will us Blues be impressed with the 4th Grace? Does anyone really here have faith in our inept board to do it right? The capacity debate shows how far out of touch they are with the fans 52k with no expansion unless safe standing comes in.
We will behind before we start and have a mid-sized ground for a mid-level club. If Bramley-Moore Dock is too small, look somewhere else perhaps?
Kev Jones
18
Posted 14/03/2019 at 10:42:34
Honorary titles are a way of marking esteem and respect and are given for achievements that would rank alongside the equivalent university role, in this case, 'professor'. These awards are given by universities to people who have made outstanding achievements and given leadership in their communities.
Kev Jones
19
Posted 14/03/2019 at 10:46:42
Phil #11 perhaps you are undervaluing yourself and you should have an honorary title on your CV. First see if a university would agree that your CV demonstrates it deserves an honorary award.
On the other hand, maybe you just need to grow a pair and give credit were it is due.

Daniel A Johnson
20
Posted 14/03/2019 at 11:11:05
My only concern and always has been is do we have the money for this build?
Moshiri won't fund it himself so where is the funding coming from? If we don't get the money there is no stadium.
I don't mean to be negative but we are skint, especially when you consider Goodison has been crumbling for years... and all we do is just repaint it.
Steve Croston
21
Posted 14/03/2019 at 11:36:55
What's the problem with what she said? I can't see anything wrong, but some people love to have a good old moan, don't they?
For me, it's all good news and another small step towards achieving our dream. Some people need to get a grip, seriously.
Mick Conalty
22
Posted 14/03/2019 at 11:44:17
Bill Kenwright is also a professor — a Professor of Kiddology the one who kidded the kid, who kidded the kid, that kidded the kidder.
Dave Evans
24
Posted 14/03/2019 at 12:23:55
People would be more positive about this if they hadn't just witnessed the team doing another fragile dying swan last Saturday.
That said, Barrett-Baxendale is only doing her job in raising awareness of the Bramley-Moore Dock development on a European stage and hopefully promoting interest and possible investment. She sure doesn't deserve the stick above for this.
Dennis Stevens
25
Posted 14/03/2019 at 12:26:00
Hear! Hear! Tom Hughes #12. I'm not so much against Bramley-Moore Dock as I am for the redevelopment of Goodison Park, which I would expect to be much cheaper, deliver a bigger capacity, and could be processed one side at a time. It could have all been completed years ago!
Frank Wade
26
Posted 14/03/2019 at 12:37:20
I applaud the CEO, club and the new management structure for the professionalism they are showing in pushing on with planning for the development of our new stadium. There are a lot of factors in such an undertaking, especially on a heritage site, so as with our team building, we have to be patient. We have a lot of work to do.
Anyone know what the 'Fourth Grace' is. Are there Three Graces already on the waterfront? What is a Grace?
Tony Everan
27
Posted 14/03/2019 at 12:43:02
And ''securing the funding is the most important objective at the moment''
Time rolls on and still no funding for it, still, at least some optimistic noises on that front. Are the financiers waiting until Brexit has been settled?
Jim Bennings
28
Posted 14/03/2019 at 13:15:46
I'm just waiting for the word and I'm ready to go, I've got 3,000 blue and white Lego building blocks here...
Mike Doyle
29
Posted 14/03/2019 at 13:28:04
Frank #26. The 3 Graces are 3 prominent buildings on the Liverpool waterfront. They are - the Royal Liver Building, The Cunard Building and the Port of Liverpool Building and they are clustered at the the Pier Head – not quite sure of the distance but I'd guess at ½ - ¾ mile south of Bramley-Moore Dock.
Mike Doyle
30
Posted 14/03/2019 at 13:33:55
Phil [#3] It wasn't me - I wrongly predicted a piece from one of our senior players (though not Jags or Seamus as they've been wheeled out recently) spouting the usual how disappointed Newcastle was after our brilliant start... we'll give it 150% in the remaining games... still believe we can make the Champions League, blah, blah. Perhaps we'll get that after the Chelsea game?
Thomas Lennon
31
Posted 14/03/2019 at 13:43:48
Tom #12 - I think the point is (and I am sure you know it) that although Goodison Park could be added to, it would cost dozens of people's homes to approach the quality and space that are already in place elsewhere, built by our competitors. Bramley-Moore Dock is likely to get financial support commensurate with its location, significantly more than Goodison Park. It is obviously not just about seat numbers.
I can still remember the dreadful block that was seriously proposed by the Blue Union to be built in the school grounds, with a corridor leading to the ground, suggested to be the place where new facilities would be located? Talk about building in obsolescence! Project Desperation. Perhaps if a White Hart Lane-like project for the complete rebuild was proposed we would be in the right ballpark – how much is that costing (£800 million plus)?
Rather like Mrs May, you need to acknowledge that those days are gone, the policy is dead, we are moving on.
David Peate
33
Posted 14/03/2019 at 14:37:35
The Club:

Formed in Everton.
Played in Anfield.
Removed to Walton.
Regenerated in Vauxhall.

Very little about Everton other than the name... so why not 'Tranmere' now?
Tom Hughes
34
Posted 14/03/2019 at 15:42:34
Thomas #31,
Everton have already knocked down several dozens of houses at Goodison in their history, did you complain then? The club predates any local residents, and I would assume that anyone moving next to a football ground might expect the possibility, and to be suitably reimbursed of course. However, the point is the land-take required to more than match the 52k proposals need not be much deeper than the road itself, with some additional space for right-of-light and circulation. This combined with an extended Park end would readily yield 55k, and all the corporate and executive capacity of Bramley-Moore Dock. Hardly prohibitive when compared to a £500m new build debt.
As far as Bramley-Moore Dock attracting financial support, so far I think you'll find that the vast majority of that went out of the window with the failed Commonwealth Games bid. Ultimately the costs will have to be met by the club. Hence the reason why we're still waiting to see anything of substance from the club several years after this was first announced.
I'm sure you'll remember that it was the Kirkby project that attracted and deserved the "desperation" moniker, when the concerns of the KEIOC and later Blue Union campaigns were proved to be fully vindicated. I'm not really aware of the concept proposals your talking about, but I'm sure that they'd be at least as salubrious as having a sewage plant as a neighbour.
You also need to read up on the new White Hart Lane project, its costs and what has been revealed about Bramley-Moore Dock, their respective design features and quality. Perhaps then you can take a more informed stance instead of telling someone who has done, to move on. I can remember Wyness telling me I needed to move on too. Where's he now?
Paul Columb
35
Posted 14/03/2019 at 15:55:23
Regardless of where the Club is at in the various facets of its endeavor to elevate the Club back to its prior grandeur, I wish they would control the almost child-like hyperbole that sets us up for ridicule.
'Own fab four', 'the City's all ours', 'Fourth Grace'. Let's actually see something of progress on and off the pitch so that we might have something of a foundation on which to base the prodding of the RS. Until then, it makes us look desperate and daft.
James Lauwervine
36
Posted 14/03/2019 at 15:58:20
Kev Jones, thank you. Everything you have said on this thread and been spot on. You've removed the need for me to say anything, except that.
Jamie Crowley
37
Posted 14/03/2019 at 16:10:46
Tom Hughes brings up an outstanding point regarding "trimmings" and multi-use.
I would think a sparkling new stadium at the docks would be a fantastic place for concerts? That's a sizable revenue stream missed!
I'd think in the summer when the pitch isn't being used (so to speak), you could book some awfully big names and fill that place quite easily? The revenue over the years would cut into the borrowed balance in a really healthy manner.
Why are we not doing this?
Liverpool, to my perspective afar, is a Mecca for music - thank you Paul, John, Ringo and George. Surely bands would love to throw a concert in Liverpool, in a brand new kick-ass, shiny stadium? The money would be big.
Brian Williams
38
Posted 14/03/2019 at 16:12:59
Talking of Kirkby, did anyone know that Liverpool have moved their training ground to there.
Seems like they're the ones getting out of the city!
Brian Williams
39
Posted 14/03/2019 at 16:14:53
Jamie #37.
I think the Echo Arena got there first, though Bramley-Moore Dock could hold significantly more people, of course.
Jamie Crowley
40
Posted 14/03/2019 at 16:20:23
Brian,
Put that one down to dopey American. I forgot about your Echo aArena.
Saw some great clips on YouTube of Paul McCartney playing with David Groehl there. Looked an awesome venue.
Liverpool probably wouldn't want two competing venues for music, making one location obsolete.
Tony Abrahams
42
Posted 14/03/2019 at 16:24:04
That's why Liverpool FC, have suddenly decided to have concerts in the summer, Jamie, trying to get a foothold before our waterfront stadium takes over?
Rob Marsh
43
Posted 14/03/2019 at 16:30:11
How much has the council had to do with this? A 4th grace?
I might be wrong here but I suspect many of you will be thinking like myself. We wanted capacity and an awesome atmosphere within the ground, to do this surely the had to optimize and spend towards that end?
The exterior of the building needs to be presentable and not much more. If the council is demanding a marble-clad Taj Mahal to stand alongside the three graces, but a mile down the road, how much of the budget is going into this folly at the council's demand?
Paul Columb
44
Posted 14/03/2019 at 16:32:18
The RS are well aware that once a promoter has had a positive and profitable experience with a venue, there will be little appetite to change said arrangement/venue as it is a ton of work.
For events requiring greater capacity or a different experience than the Echo Arena can offer, they're wanting relationships well established before Bramley-Moore Dock gets a head start. The only thing Everton has going for it in this respect is that the residents of Anfield apparently have little appetite for more noise and disruption.
Then again, if the Liverpool Waters scheme progresses as planned, including residential development, Bramley-Moore Dock could run into similar issues?
Martin Berry
45
Posted 14/03/2019 at 16:38:53
I think she is doing a fantastic of promoting Everton and the City.
Doing far more than the moaners/naysayers and those who miraculously appears to have prior knowledge of the stadiums lack of facilities and what is a relevant professorship !
Eddie Dunn
46
Posted 14/03/2019 at 16:48:45
My main worry is that here we are with the team in mid-table, having had no money to spend in January. If this stadium is going to happen, surely the purse strings will be pulled eve tighter and our hopes of any on-field success will reduce.
Having seen Arsenal lose out on many of the very best players for 5-10 years due to their funding of the Emirates and now Spurs hampered by a tight budget the writing is on the wall for us.
I am personally becoming worried that this whole thing will prove too expensive; alternatively, we will get relegated due to lack of investment in the playing staff.
Sorry to be so doom-laden, it's just that I distrust the spin that spouts from the club, and have little faith in the board to see this all through.
William Gall
47
Posted 14/03/2019 at 16:49:11
Frank # 26
if you were or are a resident of Liverpool or a merchant seaman you will at sometime sailed down the Mersey. and the first thing you notice is the Liver building and you get that tingle ( I AM HOME ) I now live in Canada but to remind me of home, I have pictures of the three graces hanging on the wall.
Now at 78 and not in the best of health i have on my bucket list a determination to see the 4th grace. The only negative at the back of my mind is as a supporter of Everton since 1952 they tend to let you down.
Rob Marsh
48
Posted 14/03/2019 at 17:02:04
William Gall #47,
You're a bit older than myself, but the image you've described sounds heart-warming, enchanting almost... and I can easily imagine how you could feel that way upon seeing those three magnificent building coming into view after a long time away.
Sadly, those days have slipped away and I cannot see why EFC should have to take on the burden of building a "Fourth Grace" – it won't be right next to them.
Phil Greenough
49
Posted 14/03/2019 at 17:05:59
May I just add that I'm not unhappy about the promotion of EFC, by whoever. Just the timing. I know Denise Barrett-Baxendale had this arranged months ago; as such, her speech was going to be what it was. It's just that announcements about Bramley-Moore Dock seem to appear after bad results or performances.
Len Hawkins
50
Posted 14/03/2019 at 17:07:55
Professor of Difficult Sums sounds more important.
As for the Four Graces, I can only think of three: Kelly, Fields and Jones.
Tony Abrahams
51
Posted 14/03/2019 at 17:09:03
Seriously, Rob, this has come from Denise Barrett-Baxendale, and the "Fab Four" shout came from Moshiri.
Both of these shouts have "Theatrical Bill" all over them — it's what he does, he's infectious!
Mike Gaynes
52
Posted 14/03/2019 at 17:28:04
Mike #29, thanks for the explanation... I had the same question as Frank.
Phil #49, let's face it, if they waited for good performances to make announcements about Bramley-Moore Dock, they'd have been pretty much silent this season.
Brent Stephens
53
Posted 14/03/2019 at 17:39:17
Len - for what we are about to receive...?
Drew O'Neall
54
Posted 14/03/2019 at 17:53:43
Phil 3, Colin 4
Everton planned the 'MIPIM property conference in Cannes, France' after the Newcastle game did they?
So predictable.
Rob Dolby
55
Posted 14/03/2019 at 17:54:01
Reminds me that my season ticket renewal is due.
Derek Knox
56
Posted 14/03/2019 at 18:04:39
Len and Brent, what about Amazing, Saving, and WG? :-)
Slightly off topic, but our famous Golfing Blue, Tommy Fleetwood is leading The Players Championship at Sawgrass, Ponte Vedra, Florida, at -7, incidentally where our own Jamie Crowley hails from. Unfortunately the filming on the first day is always pre-chosen featured groups, of which Tommy had little or no coverage.
Peter Mills
57
Posted 14/03/2019 at 18:06:34
Mike #52, you've been inside one of them!
Rob Halligan
58
Posted 14/03/2019 at 18:38:12
Drew # 54. DBB must have really pulled some strings to get a slot at the MIPIM conference. There are hundreds of speakers from all over the world scheduled to speak at the conference, so how DBB can just either A) just stroll up and get a slot, or B) make a phone call and ask for a slot, as some on here seem to think, is totally beyond me.
As you say, Drew, some on here are so predictable following any new story about Bramley-Moore Dock.
Oh, look, there's another one below your post. "That reminds me, my season ticket renewal is due." So predictable.
Rob Marsh
59
Posted 14/03/2019 at 19:16:17
There's something about our double-barrelled DBB that looks a bit air hostess from a very cheap and nasty airline.
Perhaps it's her attire or maybe that very false and corporate smile she's enticing us from above with.
I'm also having flashbacks from the Grafton in my early 20s for some strange reason?
Rob Marsh
60
Posted 14/03/2019 at 19:18:12
Tony Abrahams #51
We should expect more of the relentless same in the coming years.
Mike Berry
61
Posted 14/03/2019 at 19:19:13
She talks the talk. But can she or Everton walk the walk?
Kev Jones
62
Posted 14/03/2019 at 19:27:34
James #36 cheers. It's also been good to read the other more sympathetic posts balancing out those with different opinions.
Derek Knox
63
Posted 14/03/2019 at 19:28:59
Rob @ 59, she's like Miss World in comparison to the 'Grab a Granny' Brigade that used to frequent the aforementioned establishment.
Gawd, Rob, you have brought back a few memories there, me old mate, not all pleasant either as I recollect... How a few pints can affect one's perception of beauty, is still one of life's long mysteries!
Rob Marsh
64
Posted 14/03/2019 at 19:42:47
Derek Knox #63
I'll admit I suffered like any young 'chap' from a beer goggle problem once enough of it had been consumed.
In my defence, I was usually carried into the establishment and then carried back out again!
Joe McMahon
66
Posted 14/03/2019 at 20:09:35
Bob & Colin @ 4 and 5, I think it's more like Professor Yaffle from Bagpuss.
Kev Jones
67
Posted 14/03/2019 at 20:12:39
Frank #26 whats a 'grace'? - along with what Mike#29 says about the buildings at the pierhead, a quick Wikipedia searchadds:
''In Greek mythology a (Charites or) Charis or Grace is one of three or more minor goddesses of charm, beauty, human nature, creativity and fertility. The usual list of their names were Splendour, Good Cheer and Festivity'' – all well-known attributes of ToffeeWeb.
Mike Doyle
68
Posted 14/03/2019 at 20:24:03
For the benefit of our USA-based TWebbers perhaps Rob & Derek could explain – in detail – "The Grafton" and "Grab a Granny".
In this way, Mike Gaynes et al will be well prepared before their next visits to the city – in fact, they'll probably give the game a miss in favour of sampling those delights!...
And guys, if you have any Grafton photos, perhaps Lyndon could publish them?
David McMullen
69
Posted 14/03/2019 at 20:28:18
Don't get too hung up on the '4th Grace' tag. It's just another way of saying iconic. It won't be iconic to me if it's 52,000 and cheap looking.
Kev Jones
70
Posted 14/03/2019 at 20:36:00
Wikipee also adds that the Charites should not be confused with charity, an interesting distinction given DBB's association with charity work ('Soup Kitchen Goddess to quote Tony Marsh #27 on the Heseltine thread).
Rob #59 certainly drags her down from Grace to tacky air hostess then Derek #63 sees her as Miss World in comparison to the Grafton 'grab a granny' scene – which weirdly brings us to Wayne Rooney.
Anthony A Hughes
71
Posted 14/03/2019 at 20:38:23
Aah, the Grafton, those were the days. Always used to go to get my pulling stats up to scratch. Spent many a Saturday night there, two for one offer, pints – not birds!
Although, thinking back...
Terry Farrell
72
Posted 14/03/2019 at 20:38:49
It will be iconic.
It will be seen from the waterfront.
It will be part of Liverpool Waters.
It will signal the Second Coming... get behind it!
Rob Halligan
73
Posted 14/03/2019 at 20:42:13
Mike # 68. Somehow I couldn't imagine Mike Gaynes going to the Grafton. Pity it's closed though, as next time he's over we could have dragged him down there. The girls / grannys would have loved him.
Terry Farrell
74
Posted 14/03/2019 at 20:48:14
Woman goes up to a bloke in the Grafton and says, "Haven't seen you before."
"No," he says, "I just got out after 20 years inside."
"What for?" she asks.
"Murdered my Mrs."
"So you're single then?"
Kev Jones
75
Posted 14/03/2019 at 20:59:53
Could it be that there is another strand to DBB's speech in Cannes? Perhaps it has allowed us to disentangle Tony Marshes confusion between DBB's actual grace, her Cahris, rather than than his confusion with Charites.
Further, her speech has allowed Rob and Derek to stumble upon an insight into the psyche of that Everton great, Wayne Rooney, and his possible conflation, under the influence of alcohol, between Miss World and 'Granny'.
ToffeeWeb is truly greater than the sum of its parts.
Derek Knox
76
Posted 14/03/2019 at 21:01:07
You see now Kev Jones that ToffeeWeb works in mysterious circles! :-)
Rob @73, you have just reminded me there of two things. When we last met when Mike was over at the end of November, John McFarlane Snr suggested that we should have a TW get together on a more regular basis, to which most present, thought would be a good idea, and of course any other TW'ers who couldn't make it on that night.
Talking of John, I know he sustained an injury through a fall, just after that night, I know he was okay after it, but convalescing, and did post on here a couple of times. I haven't seen John's posts since, so I do hope is well, such a lovely gentleman and a lifelong Blue.
As it was John's suggestion, it brought the whole thing back to mind, so hopefully before the season is over we can possibly arrange another ' meeting ' in a more convenient place than the Midland. We all did sit together eventually, but not till after a lot of jostling and beer juggling.
Mike Doyle
77
Posted 14/03/2019 at 21:15:36
Rob #73.
Sad to hear that the Grafton has closed. Perhaps some innovative individual could re-open it... although it was a bit before my time (I think). Within Liverpool, it must be as well known as The Cavern – and probably the source of far more entertaining stories. If the building still stands, it deserves a blue plaque and listed building status.
Jason Wilkinson
78
Posted 14/03/2019 at 21:16:36
Re; The Grafton. Can anyone remember the name of the club further up by Ogden's? It made the Grafton look posh.
Other less than classy establishments were Sully's in Bootle, The Gaff by the Leo on Rice Lane, The Goat on Regent Road.
Good times back in the day. Was it Joe Bananas on the Dock Road?
Maybe all that booze has affected my memory. Saturday night dives after the match would be an interesting thread.

Anthony A Hughes
79
Posted 14/03/2019 at 21:20:15
I think it may have been the Montrose, Jason.
Anthony A Hughes
80
Posted 14/03/2019 at 21:22:51
Pickwick's, just off London Road, was another meat market.
Rob Halligan
81
Posted 14/03/2019 at 21:27:26
Pickwick's was just as raunchy as The Grafton. The Coconut Grove was another. Wasn't the Wooky Hollow another club where anything goes?
Ray Roche
82
Posted 14/03/2019 at 21:28:15
The Grafton, a tip from one of my older mates... after getting a knock playing on a Saturday...
"Don't let them see you limping. They go for the lame ones first!"
Jason Wilkinson
83
Posted 14/03/2019 at 21:31:45
Anthony #79,
Spot on mate. God there were some horrors in there.

Ray Roche
84
Posted 14/03/2019 at 21:33:25
Rob, yes, the Wooky, an old cinema/theatre once used by NEMS as a warehouse cum repair centre for TVs, radios and other electrical goods before it became a haven for virgin young males looking for their first leg over.
Mike Doyle
85
Posted 14/03/2019 at 21:35:32
Rob #81. I vaguely remember the Coconut Grove - Tuebrook - always thought it an odd location for a club.
Always thought the best club in Liverpool was The Cabin (Hardman Street). As I recall it's claim to fame was that it didn't employ bouncers - so if a fight did break out it carried on until someone won or the protagonists lost interest. All these years later, I'm still surprised by how many of my generation don't recall it.
Don Alexander
86
Posted 14/03/2019 at 21:40:02
dup
Anthony A Hughes
87
Posted 14/03/2019 at 21:40:59
Hardman Street was the posh end of town back then, Plummer's, Kirkland's, Hardy's Bar. Flintlock's was another regular haunt as well.
Derek Knox
88
Posted 14/03/2019 at 21:47:54
Mike @85, true it was an odd location, in Tuebrook, I think like the Wooky Hollow, it had been an old cinema, converted into a Night Club. Don't quote me verbatim on that, as suggested before, alcohol and years obfuscate the grey cells.
The Cabin I recall too, usually off-duty nurses used to frequent, but it was okay for a late night mosey after a few pints and Testosterone started taking over the alcohol.
About this ToffeeWeb get together, I live in Chester now but can get to Liverpool on the train, so if anyone knows of a sizeable venue which has some seating, and doesn't get too packed, but also near the centre, for those travelling by bus and train, pitch in!
Derek Knox
89
Posted 14/03/2019 at 21:49:52
Don, get you, your postie is a man of letters! :-)
Brent Stephens
90
Posted 14/03/2019 at 21:59:31
Dr of Letters. An actual post nominal.
Rob Marsh
91
Posted 14/03/2019 at 22:09:49
Mike #85
The Cokee!
You've got me reminiscing now, It was a bit out the way, but the place had a loyal following that travelled to it, we had to join some big queues for that place.
It had a touch of the Grafton about it, but with a younger and more attractive clientele, did you ever notice in that place that your feet stuck the floor a little bit as you were walking around?
Yep we've done the crawl down Hardman Street as Anthony Hughes has mentioned.
Anyone remember Pickwicks (another Grafton in disguise).

Rob Marsh
92
Posted 14/03/2019 at 22:15:00
To our American friends (and anyone else) who have no idea what the Grafton was.
This was a night club and place where after I woke up (and many others) the next morning and many a time not usually in your own bed! I would be shaking my head due to the immense hangover and the absolute disbelief I'd done it again, even if I did enjoy myself.
This place was legendary to wollies also, most of the cities divorced women and those within a 25-mile radius had prowled that place one time or another. To be fair though, there were some lookers in there, it did attract a few of them knowing how many desperate males were in there, kind of snowball effect for both sexes. Myself and my mates went there when we were enduring let's say a "barren spell" where the opposite sex was concerned and then reacquainted ourselves with them.
I kid you not when I say I've seen men dragged off by groups of women from that place.
Paul Birmingham
93
Posted 14/03/2019 at 22:18:44
Does anyone remember Sams Bar in town, and The Vaults, Montrose Club, Slaters, The Jakaranda, basically most of Hardman Street had good late bars. Many late nights after away games in them places.
Makes you cry when you see how the prices were then. Sadly good times and days, on the pitch, now past memories but times have changed.
Rob Marsh
94
Posted 14/03/2019 at 22:20:36
Paul #93
The Montrose club made the Grafton look quite classy!
That really was our last resort!
Mike Doyle
95
Posted 14/03/2019 at 22:38:58
Rob (#91), come to think of it, I think I was that younger and more attractive clientele you mention! (Many thanks – if only my wife was so complimentary!).
I recall a sticky dance floor – but most seemed to be like that. Did it also have one of those dance floors with alternating flashing lights in the floor – a bit like the club in Saturday Night Fever? I'm sure Mike Gaynes can relate to that image!
Paul Birmingham
96
Posted 14/03/2019 at 22:45:03
Rob @93, yep, that was one where you'd go, and if you couldn't bag off, then it was, the piss take until the next week out.
Simple times but great laughs, and when you think back, there's always a great memories, that will see us through on and off the pitch.
For me there's some fine debates on this thread, and based on vfm and optimum potential of exploiting Bramley-Moore Dock, then, I'd love to be in the next public debate with Dan Meis and Co.
ToffeeWebbers should collate and present all views and present to Farhad and Denise, so all aspects are considered.
Most of us have said all along that there's some due concerns, natural born from previous plans that failed, but this time, it would be good to see a model of the 10 square miles landslide and where the car parks, new station, bars and pubs will go.
The Bramley-Moore pub could thrive, there'll be new pubs and bars, and they'll need to have dedicated pedestrian walks into Town.
Long, long way to go but who knows.
I reckon, there's enough material on this thread for a book, "Those Where Those Days", ToffeeWeb could publish and donate to good causes.
Frank Wade
97
Posted 14/03/2019 at 22:50:20
Mike #29, thanks for the Grace's explanation. I know the buildings but never heard the term.
John Raftery
98
Posted 14/03/2019 at 22:57:31
Derek (89),
I was in the Wetherspoons, the one in the old Blackler's near Central Station, last night. It was fairly empty after about 6.30 p.m. Plenty of seating, good real ale, reasonable prices and food if you want it. It would probably be too busy on Fridays, like most of the pubs in the City Centre.
Near Moorfields, there is the Lion Tavern which is smaller but has two rooms each of which could seat the sort of numbers we had in November.
Rob Marsh
99
Posted 14/03/2019 at 23:09:11
Mike #94,
The dance floor was wooden when I was going, but what a lot don't know there was another decent sized night club upstairs, maybe this was where you were mesmerized by the floor.
Do you remember having to wear a shirt and tie for that place?
My mate and I were head locked and thrown out of there by Brummie (the head doorman) until he realised he'd thrown the wrong ones out and let us back in – oh joy!
Derek Knox
100
Posted 14/03/2019 at 23:09:32
John @98, thanks – that sounds like a good shout, you must remember the Midland was not ideal. The next thing apart from the date is to consider which night would be best: Thursday, Friday, maybe!
If anyone is interested, and lives in the Merseyside or surrounding area, please let us know through TW, and we can arrange a little get together.
The last one was good when Mike Gaynes came over just before the Anfield derby. As mentioned before, we were all stood around the bar for about the first hour and a half, and then luckily we got a few seats together.
Mike Gaynes
101
Posted 14/03/2019 at 23:23:46
Rob #73 and Terry #74, you guys made me explode in laughter. Seems like I really missed something at the Grafton!
Derek, that night at the Midland is a special memory, but you're right, it probably wasn't ideal for a large gathering. We got lucky to get enough seats for John Sr and Jimmy The Sailor!
Rob Marsh
102
Posted 14/03/2019 at 23:32:20
Mike Gaynes #101,
Yes you did!
All you had to do was buy them a few drinks and lie through your teeth and tell them they were beautiful.
Mind you, the beer had taken over by then and you couldn't actually see them properly!
Jason Wilkinson
103
Posted 14/03/2019 at 00:00:51
Getting back to Netherfield Road from places like Halewood, Page Moss and Kirkby wasn't easy back in the day. You knew you looked a right twat sat on a bus around 8:30am on a Sunday morning wearing a shirt, smart kecks and a tie. The buses never started too early on a Sunday. You would spend about half an hour drinking a rotten cup of tea, with a couple of small children asking awkward questions dreading the "Will I see you again then?" question.
Most of the time, you wanted to say "Fuck off – you look old enough to be me nan!"
I remember getting kicked out of some God-forsaken dump, some place I never knew existed (Netherley I think), with the words "Sorry, love, you'll have to get off, me husband's back home from Fords soon."
I always imagined a bloke that looked like Pluto from Popeye chasing me round some estate with a bat.
No wonder you can't buy Holsten Pils anymore.
Mark Andersson
104
Posted 15/03/2019 at 01:02:24
Nothing like getting side tracked and reminiscing about Liverpool night life back in the good old days...
Always a good read on TW... As for the actual subject of Bramley-Moore Dock, I'm 58 but seriously don't think I will live to see either the new stadium or Everton mixing it with the top 4...
Liverpool FC has monopolized the city and media for the last 20 years, and will dominate for the foreseeable future...
For all his wealth, over the last few years, Moshiri has made little impact, on or off the field... just carried on Bill's bullshit but in a nicer suit.
8 games left; no doubt more lows than highs... then, it all starts again in the Summer of Hope!
Terry Farrell
105
Posted 15/03/2019 at 07:03:57
Thanks Mike laughter is my favourite therapy
Lenny Kingman
107
Posted 15/03/2019 at 07:48:06
I remember the Babalou with some fondness. Some players used to get in there, turncoat David Johnson and his Welsh mate John Toshack. DJ was big on early T Rex. Ride a White Swan (appropriate for Tosh) and Get it On, which was the perceived order of business on those nights long ago.
On the matter of the stadium the only way I see this building being erected is with the grace of God. Notoriously unreliable source some may say.

Kim Vivian
109
Posted 15/03/2019 at 09:05:41
All this reminiscing about club/bar life back when. Just thought I'd throw in a mention in dispatches for the Cabin in Birkenhead. That was our own equivalent our side of the water I think back then. Similar tales and laffs - skirmishes, beer goggles and a rapidly diminishing standards as the night drew to a close
Best leave it at that I think!
Dave Abrahams
110
Posted 15/03/2019 at 09:21:24
Remember most of those clubs and some stories to match them, surprised nobody has mentioned The Hotsy Totsy and The Archers both just off Dale Street and slightly less posher than most of the clubs above, Blue movies in The Archer, and on a Sunday afternoon,terrible, these clubs were a haven before all day drinking came about and part of the folklaw of Liverpool.
Paul Birmingham
111
Posted 15/03/2019 at 09:32:04
The Harrington, is still going, and I think that's it, I recall the state reopened, but I've not been since 1986.
It's the old mans easy mile, (not a mile, but can seem like a mile), from the Ship & Mitre, to try and get to the Slaughter House, but rarely acheived these days, as we take the knock, as the real ale and export lagers, on offer, especially at The Ship & Mitre, are potent.
Some real cracking pubs on and in the nooks off Dale Street.
Martin Nicholls
112
Posted 15/03/2019 at 09:53:34
John #98 - I was in the Lion on Monday. Superb pub and I'd say ideal for the type of gathering you seem to have in mind.
Darren Hind
113
Posted 15/03/2019 at 10:40:27
I preferred the more upmarket clubs like the The Norseman
John Cook
114
Posted 15/03/2019 at 10:44:49
I'm surprised no one as mentioned the She club yet.Definately gave the Grafton a run for its money.The Pez Espada by Walton Hospital as also.,great on nurses night !
John Cook
115
Posted 15/03/2019 at 10:48:17
The roughest was ever in though was the Lamplighter which I think was a boat.Like Madison Square Garden in there.
Derek Knox
117
Posted 15/03/2019 at 11:10:13
Darren, the Norseman, just up the road from the Dominion, (the only pub I recall with a ship's figurehead on the roof) used to attract Merchant seaman from all countries, with, should I say, differing opinions on most subjects! What an unclassy dive!
Really hope we can get this TW get together, off the ground, and all those with stories about Everton and the 'old fleshpots and smokey bordellos of Liverpool' can be exchanged over a glass or two.
Geoff Lambert
119
Posted 15/03/2019 at 11:25:18
Paul#93.
I remember sams bar well used to sing along to the guy with the guitar every weekend the place was bouncing. Pickadicks was a scary place for a young man in them days, all the grannies in susies drooling all over you Lol.don't forget your ausi whites in yates wine lodge with the sawdust for a carpet..
Paul Birmingham
120
Posted 15/03/2019 at 11:34:59
Geoff@119, Sams was our first port of call after getting off the train after an away day, and the atmosphere, singing and dancing on tables, was legendary. What came later was always a bonus, but in them days, the older women, were always on the hunt.
Immense days, and if this squad could aspire to that time, and start believing in themselves who knows.
If only it needs to happen soon, as we are all getting on in age.
Rob Halligan
121
Posted 15/03/2019 at 12:26:02
Does anyone remember the Hoffenbrau (sp), now the 051 I think, on the corner of Mount Pleasant and Brownlow Hill? Used to go there before home games were they had strippers on. Great days in there.
Ray Roche
122
Posted 15/03/2019 at 12:54:40
Yes Rob, the Hoffenbrau was built on, more or less, the site of the Mardi Gras at the bottom of Mount Pleasant. The Mardi was my favourite club, used to have a group called The Detours who used to be Drifters soundalikes. Yet another old cinema. Others like the Four Winds, The Temple and Babalou, all good to go to "on the pull".
And somehow we'd squeeze in a Chinese in the Kong Nam(I think it was called)
The Triton often looked like a busy A+E on a Saturday night.
Kim Vivian
123
Posted 15/03/2019 at 13:19:18
Haha - this site's turned into Tripadvisor.
Oh, for a bit of football eh?
Derek Knox
125
Posted 15/03/2019 at 13:31:32
Kim, I don't think Trip Advisor would recommend many, or any for that matter, of any of the establishments that we have been mentioning, great memories of the 'old Liverpool scene' don't think any of them are left.
The newer pubs or revamped old ones are all mirrors, lights and little atmosphere, or am I showing my age?
Kev Jones
126
Posted 15/03/2019 at 13:51:53
Talk about a thread of two halves.
We started out with the most powerful woman at EFC, our CeO responsible for realising our dreams of a new stadium.
We then, via an image of a tacky air-hostess and miss world ended up in various dives full of older women who were both mocked and also feared as powerful seducers.
Derek Knox
127
Posted 15/03/2019 at 14:16:27
Kev, one of the reasons why we all love ToffeeWeb, where else could you find such entertaining diversity, when there are no matches to discuss, and the original thread has covered most bases?
Mike Gaynes
128
Posted 15/03/2019 at 14:20:59
Kev #126, I consider it one of the great charms of TW that you never quite know where a thread is going to end up. Sometimes a single offhand comment can launch an immensely entertaining exchange that goes off in a direction quite unrelated to the original article -- just as a conversation might have at one of these pubs. I love that.
The comments thread of an article I wrote a couple of years ago resulted in several long-ago schoolmates reconnecting. Still makes me smile.
Bobby Mallon
129
Posted 15/03/2019 at 14:31:06
I remember the grafton what a place
Derek Knox
130
Posted 15/03/2019 at 14:48:30
Mike G, so right too, I have contacted John McFarlane Snr, not only to ask about his Welfare, and also to say he has been missed on the site. I am trying to get another 'get together' for TW, as you have probably seen, and as it was John's idea, I felt I should inform him of such intentions, but also find out both if he is well and possibly able to attend.
I don't expect you will be able to attend this one Mike (should it materialise) but you would be more than welcome, we could even see if they would re-open the Grafton (lol) for you! Mind there would be a Zimmer Frame Park outside for some of the lovely ladies that used to frequent (probably still up for it, perish the thought) but that's a matter for mirth and conjecture.
Mark Murphy
131
Posted 15/03/2019 at 14:49:40
I'm sure there was a "posh" club called the Continental that only let you in if you had a suit on? I got my first suit from Issy Crown to go there.
The cabin was my fave tho - proper sleazy punk bar!
Is the Sportsman's still there? I remember going in there one lunchtime during a sixth form trip to the Tate. I had my school uniform (West Park Grammar) on but still got served. They had strippers on!!!
Scott Hall
132
Posted 15/03/2019 at 14:50:48
Completed by 2023? Careful... you might have to lay a fucking brick soon. Imagine that!
Anthony A Hughes
133
Posted 15/03/2019 at 14:53:38
It was The Club Continental on Wolstenhulme Square and yes it was an upmarket place, Snobs was another one around there I think.

Tony Everan
134
Posted 15/03/2019 at 14:57:23
Yes Rob, The Hoffenbrau, On our Christmas day/night out from the poly up there mid 80s we went to the Friday afternoon strip show.
Some aging beauty wandered on stage and took her kit off to moooove closer, moove your body real close .untilllll we .
we drank our 50p afternoon special pints lager and left as there was only us there and 3 old fellers in the front row seats with a daily mirror on their lap .
It was that old Higson's Lager I think it was called , had a weird taste to it . I think they used Mersey water.
Anthony A Hughes
135
Posted 15/03/2019 at 14:57:53
Talking of strippers my first experience was in The Old Corner Tavern
on the corner of Green Lane/Prescott Road. It was a Friday lunchtime
and as few of us from Sandown college had an extended lunch-break .that day. All of 16 years old.
Eddie Dunn
136
Posted 15/03/2019 at 15:15:14
Blimey, the Hoffenbrau house. I went there with school mates, in the lower 6th. We were going to the Phill to a lecture but managed to get in there and had a few pints to be served at table by topless women with bruises on various parts. You could get an unexpected thrill as they served the ploughmans. Made our little woolly heads spin.
Daniel A Johnson
137
Posted 15/03/2019 at 15:18:16
To be fair although she does promote us well whenever I see pics of Prof DBB I cant get over the travel agent dress style.
Jay Harris
138
Posted 15/03/2019 at 15:25:22
I would also like honourable mentions for the Peppermint lounge off London road (saw Erroll Brown and hot chocolate there), The Rumblin Tum ( next to the Philharmonic and the Beachcomber (best late night club IMO) and the Blue Angel (facing the cabin).
I remember the Babalou used to close at 1am so if we hadnt clicked we would head a few doors up to the "Beachy" which was open till 2am.
Great memories and nostalgia I just hope that is not all weve got left at Everton.
Phil Bellis
139
Posted 15/03/2019 at 15:34:31
Ah Tony... The Hoffenbroffel... Used to see John Bailey and the lads in there in the 80s...
Jay... Opposite the Lord Warden?.. Became the Hotsy Totsy, named after Frank Nitti's Chicago club.. Grand night out

Jamie Crowley
140
Posted 15/03/2019 at 15:47:16
When I finally make it over there, I'd like to hit ever bar listed in this thread.
Every single one of them.
I'll need a tour guide, please.
Paul Birmingham
141
Posted 15/03/2019 at 15:56:18
We all got memory lane, and no one can take it away.
Now for great days again, on the park, let's hope, so soon.
Martin Nicholls
142
Posted 15/03/2019 at 16:15:18
John#114 - the Pez Espada that I remember was on Temple Street in town. Were there two of them?
I remember being refused entry to the She Club when we got back from the 1977 League Cup semi second leg at Bo!ton. A few of the players turned up when we were arguing the toss with the "doorman" and Andy (is our) King introduced us as friends of his! Got in no problem!
Lenny Kingman
143
Posted 15/03/2019 at 16:17:42
An honourable mention must also be made for the Victoriana club, next door to the Mersey tunnel entrance. Once saw Edwin Starr in there.
"War, duh duh, what is it good for. Absolutely nothing. Say it again y'all"
Great memories.
Rob Marsh
144
Posted 15/03/2019 at 16:26:26
Derek Knox #125
You're correct Derek, we live in a changed world.
All the pubs in the City Centre have changed, you'll for the most part find the same pubs in every city centre, they're all chasing the tourist dollar/euro and have become very "Metro", the person next to you is just as likely to be drinking Darjeeling tea as they are a pint of bitter.
Rob Marsh
145
Posted 15/03/2019 at 16:40:24
Phil Bellis #139
Talking of John Bailey and the Grafton I mentioned earlier on, my mate and I found ourselves standing next to John Bailey at the Grafton bar, his elbows were on the bar and his head in his hands with a "How did it come to this look".
I was moving to tap him on the shoulder and ask if I could buy him a drink and his mate intercepted my arm on the way while shaking his head and giving me a don't do it look. He then whispered in my ear, "He's got a few things bothering him, best leave him alone".
I usually end up with my head in my hands after the Grafton, but not while I'm there, but as a pro footballer he must have had some tidy women around him and then finds himself in the G with all its delights.
Mike Galley
146
Posted 15/03/2019 at 16:51:39
Some of these clubs/bars take me back to my younger days!! Can anyone remember a club, in the loosest sense of the word, called the Torro (or maybe El Torro) in the Rice Lane area?
Hope my memory is not playing tricks on me there!
Used to go and watch strippers in the Caradoc on a Sunday afternoon after the mornings game. If I'm honest, it was more the promise of a late drink ( before the days of open all hour pubs) than the exotic dancers that got us there!
The Coconut Grove? I was once told to F**k off by Paul Walsh in there. Not sure what the 18yo Mike said to deserve that, but I can imagine the gist of it!
Martin Nicholls
147
Posted 15/03/2019 at 16:53:38
Lenny#143 - think I was at that Edwin Starr gig at the Vic - seem to remember seeing the Alan Price Set there as well. Also used to go there in it's earlier incarnation when it was the Downbeat - great local band, Steve Aldo and the Fix used to play there. Anyone remember them?
Phil Greenough
148
Posted 15/03/2019 at 17:03:05
It was the El Torro club on Rice lane, Mike. It was next to the garage, opposite the library. Walton labour club was on the next corner.
Paul Birmingham
149
Posted 15/03/2019 at 17:03:30
I do remember often having Friday after work pints at the Atrium Bar and Bails, was always in there.
The now converted bar opposite Moorfields, Izvestia forgotten the name, it was long and fairly narrow, Brian Labone, was always in there, prior to his passing.
The Ginger Bread strip joint p, next to the Old Radio City, well, that was a place.
Geoff Lambert
151
Posted 15/03/2019 at 17:22:42
Is the Red Pepper still going not far from queens drive baths? then on to the shed which was the nurses club in the hospital grounds. Fast forward a bit to the 90s and a bit further out the Paradox was a good night for the over 30s on a wed. Now a sports direct...
Mike Galley
152
Posted 15/03/2019 at 17:31:46
Thanks Phil. It was usually our last place of call if we never made home after a home game. We'd usually set off for the game with good intentions of getting home to spruce up and go the Paradox/Fallows, and some how find ourselves in there sometime after midnight. Uually after a win!!
Mark Murphy
153
Posted 15/03/2019 at 17:58:34
Last I heard Ye Olde Crack hasn't changed much?
I need to get back there one day soon to see if that painting of the Napoleonic wars is still on the wall.
Someone had done a speech bubble on one of the wounded saying "aargh you twat"!
Used to give me the giggles after several pints of Draught Bass!
From there to the Phil then Kirkland's then ending up in either the Cabin or Tropicana before eventually mine sweeping in Chinatown or an Indian!
Kev Jones
154
Posted 15/03/2019 at 18:04:04
Derek #127 & Mike #128,
I agree, they are indeed part of the unique ToffeeWeb splendour and charm. I was very moved by the nostalgia and reminiscences of those shared male experiences, the picture of a vanished world and an unhappiness at the brave new world in which we live.
Although the content of the trip down memory lane was unexpected, I wonder if the secret bond between Bramley-Moore Dock and the tacky pub-n-club scene is the image of a powerful woman?
Dave Abrahams
159
Posted 15/03/2019 at 18:25:28
Derek (157), Andy Crooks is coming over from Belfast for the Man Utd game, which is on a Sunday... is it possible to arrange a pub meeting for after that match?
Derek Knox
160
Posted 15/03/2019 at 22:17:41
Dave, I have nothing but total admiration for Andy Crooks, who I thought was going to the Anfield Derby, but did not even have a ticket, when we met him, but came over just to meet Mike Gaynes, total respect!
I am personally open to any day of the week, which hopefully suits the majority. Dave I have total respect too for yourself, and your son Tony, who are both died in the wool, True Blue Evertonians, a phrase that is glibly used, but it does apply to you and your son.
In view of what you have said, and I have no objections to endorse it personally, why can it not be the Sunday, after the Man U match?
Please, please, please to all blue noses, if you can make it, it would be a convenient date to put some faces of true blues to the names on TW.
As someone mentioned earlier, we are not getting any younger, and from a personal point of view, I was totally over the moon at meeting many of the regular contributors on TW!

Jason Wilkinson
162
Posted 15/03/2019 at 22:55:17
I do hope to see a "fourth grace" – not another concrete bowl covered in fading metal cladding. I drive past the Etihad to work every weekday. It hasn't aged well. Footy stadia mostly look shite on a non-matchday. I would love to see something that has something going on every day and night around the ground.
Mike Galley
164
Posted 15/03/2019 at 00:05:20
I'm a very rare contributor to these threads but an avid reader of all of them. If you all organise a ToffeeWeb get together (unfortunately, without the esteemed Mike Gaynes this time) then please count me in if that's okay.
My dad's 76 and was at Oldham away (as a young kid) during our last promotion. He's always taken great pleasure from the articles John McFarlane Senior posts on here.
Eric Myles
166
Posted 16/03/2019 at 03:21:11
At 59 I guess I'm a youngster on here as although I know of all the places mentioned on here I was too young to go to any of them. Did make it to the She once though, and to the Cabin when I was back in town from uni.
Pickwick's was the old Gaumont cinema, only made it there once to see a band called "The Table" back in the punk days.
Rob #85, the Coconut Grove was another converted cinema where I spent my ABC Minors Saturday mornings.
Mark #153 Ye Cracke is still going strong and is one of my regular haunts the few times I'm back in town. The painting is still there. I remember the Cracke when it was just the 1 house bedore being knocked through to thw other side. Basically just the front bar and the war office with Big Norm dominating both rooms!
Eric Myles
167
Posted 16/03/2019 at 03:23:45
The old Cracke was pretty much the size of The Belvedere.
Eric Myles
168
Posted 16/03/2019 at 03:32:18
My mis-spent youth was mainly centred around Toxteth and Jamaica House, Silver Sands and The Ibo, until Sal opened The Casablanca on Hope St. Anyone remember them?
Peter Mills
169
Posted 16/03/2019 at 08:50:44
I was in "The Docker's Hook" (don't know the pub's real name) on the Dock Road prior to a Sunday afternoon derby at Anfield, and was rather surprised to see a lady walk in with a ghetto-blaster under her arm. She moved a few tables, switched on her cassette player, and commenced her cabaret.
It was disconcerting to see her at the end of her act with several ciggie stubs stuck to her arse.
We lost 4-0.
David Midgley
170
Posted 16/03/2019 at 09:11:50
Mark #131.
Just holding in my hand and fondling, wait for it. A black half crown , 2/6 d. gambling chip from the Cabin. Working class lads out in town,on the pull and able to squander your hard earned money on roulette !!!! How sophisticated could you get ?
As an aside, Pete Price who used to be on late night radio worked in The Swan in Wood St., they had an upstairs bar, The Steering Wheel he then went to The Cabin and became their DJ. I wonder what happened to all those women ? Must be in Amazon heaven.
Dave Abrahams
171
Posted 16/03/2019 at 09:24:27
Eric (166), I don't think Pickwick's was the old Gaumont cinema, The Gaumont became a snooker hall where the young John Parrot, another Evertonian, played and practiced to become the very good snooker player he became.
David Midgley
172
Posted 16/03/2019 at 09:25:53
Nobody has mentioned The Royal Tiger on Manchester St. . Saturday night on match day you would find the Everton players there. It was their unofficial watering hole. Imagine as a young lad standing next to Roy Vernon, him holding a pint in one hand and a ciggy in the other and brushing up against,in a nice way of course, the Golden Vision, aaaah the stuff of dreams.
David Midgley
173
Posted 16/03/2019 at 09:29:14
Peter #169.
Where else could she put them?
You're not blaming her for the defeat are you?
Ray Roche
174
Posted 16/03/2019 at 09:50:04
David |170
A mate I went to Art School with, on release from my firm, knew Pete Price and we called in one lunch hour to see him at the Steering Wheel but in my mind it was above a shop or cafe in Bold St?
We'd stroll down to Ye Cracke from the school for a swift pint and a cheese cob. Smashing little place.
Alan McGuffog
175
Posted 16/03/2019 at 09:57:36
Mike Galley...I remember El Toro, off Rice Lane. One night Bianca Jagger entered on a white stallion. Or was that Studio 54 ? One or the other.
Eric Myles
176
Posted 16/03/2019 at 11:43:23
Dave #171, am I even in the right street then? Pretty sure Pickwick's was the same street as the Gaumont if it wasn't the cinema itself?
Used to drink in the Dixie Dean Bar on London Road in my pre-legal days so knew the area.
And The Moonstone!! Anyone remember that???
Dave Abrahams
178
Posted 16/03/2019 at 13:40:04
Eric (176), The Gaumont was in Camden Street, same street as The Royal Warden pub, Pickwicks was further up London Road, I think in Fraser Street on the left hand side walking from London Road.
Lenny Kingman
179
Posted 16/03/2019 at 15:15:06
No mention of the Gladray?! I think there were a lot of punters who were glad to go in at all hours. Quite a few of them were glad to get out at any hour. Or so I am led to believe!
Dave Abrahams
180
Posted 16/03/2019 at 15:24:05
Lenny, I think The Gladray died when Gloria left, what a character she was, and she wasn't frightened to show what she was famous for, put them in everyone's face.
Ray Roche
182
Posted 16/03/2019 at 16:38:37
Dave Abrahams,
I don't know if you're a "Towny" Dave, I'm not, but after reading all the posts on here I stumbled upon this piece from ToffeeWeb in 2013. The Gladray gets a mention from Cliff Marshall no less, our first black player. Might interest you.
https://www.ToffeeWeb.com/season/13-14/comment/editorial/25844.html
Phil Bellis
183
Posted 16/03/2019 at 16:55:39
I offer..the Somali, Iron Door and Black Cat, Cracke is unchanged except for
the absence of the Heath Robinsonesque cartoon "the buck passing machine"
Alan McGuffog
184
Posted 16/03/2019 at 17:03:20
Phil, hasn't the Cracke been extended ? The big room at the back. Used to frequent it as a weekend hippy around 1970. Had sneaking preference for O'Connors on Hardman arty / poetry set upstairs but a and ready bar downstairs, great juke box and the place usually inches deep in piss from the blocked khazi. Rock n' roll !
Dave Abrahams
185
Posted 16/03/2019 at 17:08:56
Ray (182), yes Ray I'm a "Towny", I tried the page you gave me but wouldn't come up, I'm a bit thick, well very thick, with using my IPad, so it could be me, if the article isn't too long, is there any chance of giving me the gist of it, if it's long don't worry about it.
Andy Crooks
187
Posted 16/03/2019 at 17:11:03
Mike Galley, it would be a pleasure to meet you.
Phil Bellis
188
Posted 16/03/2019 at 17:21:44
Alan.. Remember O'connors Tavern... I was barred out the Cracke by the two old ladies.. 1..for selling tie-dye tshirts (they had the rights) and 2
..playing "Like a Rolling Stone" very badly on a fiddle... Soon let me back on though
Ray Roche
189
Posted 16/03/2019 at 17:46:26
Dave@186
It's basically the story of Cliff Marshall and his time at EFC . The bit below is where he mentions the Gladray.
Dave, if you put "Cliff Marshall" in the top right hand part of this page, where it says "Search" and shows a magnifying glass and then hit enter, it gives a list of articles in the Site Search and the Cliff Marshall one is there. Some interesting comments in the posts too.
"The next time I got "the call" I thought "Uh oh, what is it now?". I was a bit of a "Del Boy" wheeler-dealer so they got me in the room and said "We heard that your auntie runs the Gladray club, can you get our Christmas do there?". So "I said leave it with me lads". The Gladray was Liverpool's first strip-club and it was the best Christmas party that Everton ever had! You could get away with more things in those days – there were no cameras around."
Dave Abrahams
190
Posted 16/03/2019 at 18:31:01
Ray (189), Thanks Ray, got it, yes a good read, didn't know about Cliff's auntie being involved with the Gladray, that was some club, especially on a Monday, mad Mondays, a lot of people would make their way to The Gladray, well to see Gloria really, she was a barmaid and entertained the whole club as well, talking and mixing with everyone, she wasn't all that old when she died, well liked by all the customers, she must have made The Gladray a bomb, don't think she was involved in the ownership, I wouldn't be surprised if she's got a page on google herself.
Ray Roche
191
Posted 16/03/2019 at 19:31:32
Dave, I'm not a towny, born in Roby, but I served my apprenticeship in Benson St. between Mt Pleasant and Renshaw st., I loved walking around the area close to Catherine St, Faulkner Sq etc, as well as Ye Cracke, in our lunch hour from Art School so I'm no expert on many of the clubs and pubs mentioned here, but I love the way ToffeeWeb shoots of at a tangent on threads like this.
I'd have loved to visit the Gladray(and Gloria!!!) but didn't know it existed! Ain't life a bitch!
Incidentally, the " Site Search " option on ToffeeWeb enables you to look up old articles, a nice way to pass the time away.
Dave Abrahams
192
Posted 16/03/2019 at 21:10:25
Ray (191), yes I like that area around Faulkner Square and Catherine Street, there's a cracking little pub just off Catherine St.Peter Cavaghners( sic) a very old fashioned pub which attracts art students and and eccentric people who you can strike a good conversation with, something similar to Ye Cracke where I go now and again, especially when I've been to watch a film on The Philarmonic, which has the only screen in the world which comes up from out of the floor, accompanied by an organist playing before the film starts and takes you back to long ago, Liverpool is a very interesting city much underrated by people who have never been here.
Eric Myles
193
Posted 16/03/2019 at 00:01:22
Dave #192, I'm always in Peter Kavanagh's when I'm back in town, I always rent the flat opposite it so I don't have far to crawl home.
The Gladray!! I'd forgotten all about that place, but then I did have quite a few nights I'll never remember in there.
Eric Myles
194
Posted 17/03/2019 at 00:07:50
Dave #178, I remember a cinema in that area that used to show porn movies, or was that the Gaumont also I'm thinking of?
Derek Thomas
195
Posted 17/03/2019 at 00:36:44
Eric@ 194; there were 2...or so I'm told, The Scala and The Essoldo. They were up the top end of London Rd on the right as you go out of town, between TJs and the Majestic.
Lenny Kingman
196
Posted 17/03/2019 at 03:07:30
The Jacey was the place for porn, or the 1960's version of it. It was in Clayton square, doubtful if its still there! Probably is in spirit, bit like the original Cavern club.

Alan J Thompson
197
Posted 17/03/2019 at 05:57:58
Lenny(#190); Not sure if it still is but wasn't the Jacey bought or just converted to a Sally Army base? "Will you come to the Mission, will you come, for a free cup of tea and a bun, and a bun..."
Dave Abrahams
198
Posted 17/03/2019 at 09:03:36
Eric (194), yes the cinema was The Essoldo in London Road, although it was also known as The Kings, in fact over the years it had a number of names, one of the picture houses we used to bunk in with a little piece of wire.
Derek (195) The Scala was in Lime Street next to the Futurist and facing The Palais de Lux, what a marvellous name for basically a flea pit.
Living close to town we were blessed with numerous picture houses to go to, very handy because in those days we practically lived in them, four or five times a week. That peice of wire came in very handy.
Jonathan Tasker
199
Posted 17/03/2019 at 10:21:27
There's no new ground.
It will conveniently fail on either planning or funding or both.
Keep buying those season tickets though.
Paul Curwen
200
Posted 17/03/2019 at 10:23:51
Jonathon... there are no sharp objects near you, I hope, mate!
Paul Burns
201
Posted 17/03/2019 at 14:14:38
Bramley-Moore Dock is too small... it's fucken obvious, and right by the sewage plant — which seems apt since Kenwright has been "running" the show.
Clarence Dock, just up the road, is far bigger and better prepared but never gets a mention, Madness.
Having said that, none of this bullshit will ever happen (again).

Brent Stephens
202
Posted 17/03/2019 at 14:21:14
Paul, something I've posted about before but very little (in fact, I can't remember anything) has been discussed about the sewage works right next door to Bramley-Moore Dock.
I can only assume that Everton have looked into this and received reassurances about smells. If not, then I guess Everton are just holding their noses and getting on with it.
I couldn't smell anything when I was down there last year, and the works is not conspicuous. But if nothing else, it leaves us open to jibes from fans in "the other place".
Colin Glassar
203
Posted 17/03/2019 at 14:22:58
Thanks for the memories Dave #198. I don't remember The Essoldo but I do remember The Scala, Gaumont, ABC, Odeon, Futurist etc . anymore, anyone?
Mike Doyle
204
Posted 17/03/2019 at 15:09:34
Dave #192. Totally agree that Liverpool is an underrated place - but that point applies to people born there too (like me).
I discovered the Faulkner St/Catherine St/ Quarter area just a few years ago when my son was a student at LIPA. In the previous 50 years I'd never set foot into this part of the city.
LIPA attracts a large number of students from Scandinavia and speaking to a few of their parents (all speak perfect English of course) - all of them thought Liverpool was a great place and had visited plenty of places I hadn't.
Colin Glassar
205
Posted 17/03/2019 at 15:14:35
Mike, next to London Liverpool is the most culturally diverse city in the country with the most museums, theatres, ale houses etc...
Mike Doyle
206
Posted 17/03/2019 at 15:26:08
Colin I'm sure you are right. During the next few years I'm intending to take one of the tours that tourists go on and see how the city is presented to visitors - I'm sure I'll get a different perspective.
Despite living in Liverpool until I was 23 I keep finding references to places I've never visited (and that doesn't include the new attractions).
Joe McMahon
207
Posted 17/03/2019 at 15:27:01
Colin @203, the scene I was into was planet X and the pink parrot, but it was always a bit of a trek for me living in rossendale. Manchester had the banshee, happy days. Of course all this was in the days when Everton were good!
Colin Glassar
208
Posted 17/03/2019 at 16:01:35
Never heard of either of them Joe. When were they around?
Alan J Thompson
209
Posted 17/03/2019 at 16:13:14
Apparently, Liverpool is the only city in the world with a street of only art galleries and museums. Just the one street though although I'm also led to believe that the Bluecoat was the first poor house or orphanage.
And in the mid 19th century up to 40% of the world's trade passed through Liverpool, the Second City of the Empire.
Eric Myles
210
Posted 18/03/2019 at 03:54:29
Dave / Derek, what was the cinema just along the road fron The Grafton, passed the Births, Marriages and Deaths registrar, heading towards town?
My memory's fading after having left Liverpool when I was 18.
Ed Fitzgerald
211
Posted 18/03/2019 at 06:35:15
EEric - It was the hippodrome
Dave Abrahams
212
Posted 18/03/2019 at 09:18:12
Eric (210), Broome Terrace, the registrar office, was in between The Hippodrome as Ed(211) says and another cinema The Savoy, further down West Derby Road was The Palladium then at the bottom was The Carlton on the corner of Green Lane which became a night club then a pub.
Chris Hockenhull
213
Posted 18/03/2019 at 10:43:41
Colin (203) and any others...anyone remember/ admit to The Gilmour??????????????
Chris Hockenhull
214
Posted 18/03/2019 at 11:29:35
And..The Asp..Rice Lane early 70's
Don Alexander
215
Posted 19/03/2019 at 23:20:11
Bloody hell, Chris, I thought I'd finally put the Asp to sleep in my mind and then you bring it up! All I still remember, thanks, is the world's fattest stripper waddling on stage smoking and receiving a "Come on Aaarse!" "welcome from one of the more cultured patrons. She bellowed out "Fuck off" and then turned round, bent over and continued to smoke the ciggie from her nether regions.
I know this was all pre-match entertainment for an evening game but for some reason the match never registered in my head!
"Pass me the pills nurse!"
Add Your Comments
In order to post a comment, you need to be logged in as a registered user of the site.
Or Sign up as a ToffeeWeb Member — it's free, takes just a few minutes and will allow you to post your comments on articles and Talking Points submissions across the site.