Everton vs Chelsea
Saturday, 16 March, 2019
Match Preview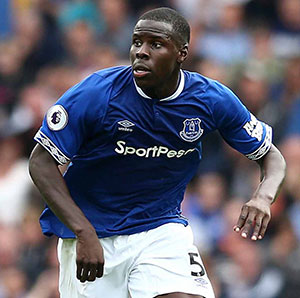 Kurt Zouma is ineligible to face his parent club so with Phil Jagielka a doubt, it points to a first start for Yerry Mina in two months
Everton begin a four-match stretch of games against London opposition this weekend when sixth-placed Chelsea come to Goodison Park.
The Blues face West Ham, Arsenal and Fulham between now and mid-April but are preparing to face Marizio Sarri's side this weekend in a fixture that is, in itself, the first of three consecutive home matches against top-six opposition.
The game comes on the heels of Everton's dispiriting 3-2 defeat at Newcastle that swept away the nascent optimism and momentum that the team had been developing on the back of the win at Cardiff and the derby draw against Liverpool.
Silva admitted in an interview with Sky Sports that consistency, something Everton have lacked this term, is a key to success and that as a collective, the Blues "have to sort it out" but he cited the upheaval caused by the revolving door at Goodison over the past few years as an important factor in the club's travails.
"It's a new coach, new players and new pressure," he said. "Everton signed 12 or 13 players last season. This season we signed seven more. Twenty new players.
"Some of the players signed last season aren't here now. Twenty months and four coaches also. It's so many changes for one football club."
In Evertonians' dissection of the calamity that unfolded at St James's Park, there is a feeling among many that the team's problems run deeper than the chopping and changing of personnel that has been a feature since David Moyes's departure in 2013.
One theme has been a lack of confidence and belief and Silva believes that the "taste" of beating one of the "big six", something Everton haven't done in over two years, will help in that regard. The decade prior to Ronald Koeman's hire was peppered with some stirring home victories over Chelsea but the last one was three seasons ago so now would be an ideal time to score another win over the West Londoners.
Silva will be forced into at least one change as Kurt Zouma is ineligible to face his parent club and that will almost certainly see Yerry Mina make his first start since the FA Cup defeat to Millwall in January because Phil Jagielka is again doubtful through injury.
Seamus Coleman has recovered from the unspecified illness that necessitated this withdrawal from the squad just before the Newcastle game and he is likely to play this time in place of Jonjoe Kenny.
Rounding out the rest of the side is a little harder to call and depends on what Silva made of the second-half collapse against the Magpies last Saturday. Richarlison struggled to make a consistent impact during the first 75 minutes of the game and was the one sacrificed when the manager wanted to bring on a third centre-half in the form of Mina but he did score his 11th of the season and, as such, was more productive than Theo Walcott has been.
In central midfield, the Blues kept two clean sheets with Morgan Schneiderlin alongside Idrissa Gueye but conceded three on André Gomes's return, a statistic that might be harsh on the Portuguese but may play on Silva's mind as he mulls over his starting XI.
Further forward, Bernard's improving consistency should earn him another start and Dominic Calvert-Lewin keeps chipping in with timely goals so is likely to also keep his spot leading the line.
For their part, Chelsea could stick with Europa League hat-trick hero Olivier Giroud despite Gonzalo Higuain's availability while Eden Hazard, who was rested for their trip to Ukraine, is set to return to their starting line-up.
With seventh spot as many points away and Everton running out of matches to bridge the increasing gap, there is less to play for over the remaining games and more for Silva and his charges to prove ahead of what will be an important summer for the club.
The Portuguese needs to demonstrate to supporters and his superiors that he has what it takes to craft a winning team from the squad at his disposal and is worthy of being the man to blend in the new talent that it is hoped will be signed during the close season.
A win or two over the four top-six teams they still have to face between now and mid-May would be a start but it's going to require a fortitude of spirit and penetration in attack that has been sorely lacking against the better teams this season.
Kick-off: 4:30pm, Sunday 17 March 2019
Referee: Anthony Taylor
Last Time: Everton 0 - 0 Chelsea
Predicted Line-up: Pickford, Coleman, Keane, Mina, Digne, Gueye, Gomes, Sigurdsson, Bernard, Richarlison, Calvert-Lewin
Full coverage: ToffeeWeb match page
---
Reader Comments (168)
Note: the following content is not moderated or vetted by the site owners at the time of submission. Comments are the responsibility of the poster. Disclaimer
Bobby Mallon
1
Posted 16/03/2019 at 07:06:55
That's another defeat then. I know it's negative but I just can't see we're our next point is coming from. We have never beat the top six in years, we don't seem to do well against West Ham. Fulham could be the one but I won't hold my breath with our away record. I'm so down on Everton at the moment there needs to be drastic change st our club.
Frank Sheppard
2
Posted 16/03/2019 at 07:14:34
Would be happy with a draw. An odds defying performance and 3 points, or a scrappy win that we nick seems, too much to hope for.
Brian Murray
3
Posted 16/03/2019 at 07:17:56
Apparently Silva deliberating over dropping Pickford. I'm all for it but not for the useless Stekelenburg. Time for the blue mountain – Virginia??
Brian Porter
4
Posted 16/03/2019 at 07:27:15
Can't see us winning another game under Marco effing Silva. Totally inept and out of his depth. I blame Moshiri for this complete cock-up of an appointment. What the hell was he thinking, spending the best part of 9 months chasing after a manager who's never completed a season in the PL and whose record included getting Hill relegated and being sacked by Watford, as well as one of the previous clubs abroad who employed him. It certainly can't have been for his glittering CV could it?
The more time goes by, I'm afraid the more it becomes apparent that F M knows bugger all about running a premier league football club and even when he finally realizes he's made a mistake, he's too much of a ditherer and waits far too long before taking action to correct his mistakes.
Silva should be long gone by now, but I'm dreading him being here in the summer and being allowed to sign more mediocre players for 'his' team. I'm steeling myself for a long, hard season next year, with a potential relegation fight on our hands.
Sorry to sound negative but this is what Silva's reign has reduced me to.
Dick Fearon
5
Posted 16/03/2019 at 07:30:02
If Richarlison, DCL and Walcott are our only options surely a case could be made for giving at least a few minutes debut to a young striker whether he be a few years out of nappies or a bit older.
Should that not be tried it would confirm my despair at the guff constantly aired about our U/18 and U/23 squads.

Sam Hoare
6
Posted 16/03/2019 at 07:48:29
Brian P@4 I think that's pretty unfair on Moshiri. After his good start at Watford there were a few big clubs sniffing round Silva as he looked a decent bet for the next Pochettino. As for being sacked name me any manager who's been around a few years and hasn't been sacked?!
Retrospect makes things very clear and easy but there were decent arguments I think to appointing Silva, Koeman and even Allardyce to a degree. Impossible to know how these things will work out.
I agree with a fair amount of what Silva said in his interview. There have been some signs of promise but just so much inconsistency. Think we are very high up the table in individual mistakes that have lead to goals. It's just not quite worked so far. And that falls on Silva. He's got 8 games to get it right. Although something tells me he might be here next season even if he doesn't.
Kim Vivian
7
Posted 16/03/2019 at 07:59:15
Going against the thread here and am going to plump for a win. Score? Who can guess? - but a clean sheet and 1-0 has it for me.
More pills, Nurse!
Jim Bennings
8
Posted 16/03/2019 at 08:16:37
"Over two years without a win against a top six side"
What a disgrace!
37 points in mid March, what a disgrace!
It's hard to even care or expect any kind of surprise element result with this Everton side nowadays, we just turn up and don't win most weeks, end of story.
John Keating
9
Posted 16/03/2019 at 08:23:10
You would think with Chelsea having to travel to play in Ukraine in the EL on Thursday with it's history, Everton would be a shoe in for a win tomorrow.
I said weeks ago we would only beat Wolves and Burnley in our remaining home games, nothing much has changed.
Richardson is not worth a start based on recent performances but did well coming on as sub the other week. DCL should start every week without doubt as games will give this lad experience and confidence to go on and do well for us in the future.
Fingers crossed for a draw
Phil Sammon
10
Posted 16/03/2019 at 08:24:52
I saw enough against Newcastle to believe we can win this. I may be losing my marbles but I'm going to put a few dollars on an Everton victory.
Graham Coldron
11
Posted 16/03/2019 at 08:25:39
Summed it up great there Bobby.I'm sure that most fans are sick and tired of how things are at the moment but a must win against one of the media darlings has a depressing air of inevitability about it.Factor in its on Sky as well with the depressing possibility of the usual controversial pivotal incident e.g. a sending off or a crucial disallowed goal it's no wonder we are all shrouded in an air of negativity.However if we can put in the type of performance like we did against the red white who knows how what will happen ?It would be great if we could stick two fingers up against the rest of the nation of only to remind these twats that when all said and done we support the best team in the world.
John Raftery
12
Posted 16/03/2019 at 08:38:01
Well, as someone who would have stuck with Sam for this season while we downsize the squad I think it is no surprise that a comparatively inexperienced manager has struggled in this league. But now that he is here I also think we should stick with him for the time being. Just one win against one of the top six along with a couple of others against perhaps Fulham and Burnley will see him keep his job at least until the autumn.
Like others I can see next season being very tough. Staying out of the relegation battle will be a challenge unless Silva can build and sustain a team ethic among a group which still looks unbalanced in terms of both skills and personalities.
As regards team selection I would revert to Schneiderlin but also consider if Tom Davies merits a return to bolster the midfield. He was not our worst player before he was dropped. Despite his lack of productivity in the final third I would stick with Bernard. His link up play with Digne was one of the positives at Newcastle, at least for the first hour.
Eddie Dunn
13
Posted 16/03/2019 at 08:39:42
Chelsea managed to sit many first choices on the bench on Thursday. Expect hazard to give our ponderous centre halves kittens. The loss of our best defender will make this very difficult.
I just can't see us keeping them out, so our only hope is that we can score more than them.
A home defeat looms and Barkley will surely score.
Jim Bennings
14
Posted 16/03/2019 at 08:50:56
I guess to make matters even more sobering is the reality that tomorrow we should have been at home to Brighton in the FA Cup Quarter Final, but we couldn't beat that mighty Millwall team.
Tony Everan
15
Posted 16/03/2019 at 08:58:02
Lyndon, The Gomes debate is an important one.
Clean sheets with Scheiderlin/Gana in previous two matches . Concede 3 with Gomes's re-introduction.
Scheiderlin/Gana has become a profanity with many Evertonians due to some of the dross we have seen when it has been used. However, dynamics can change with player form, different systems and different players in from of them.
I think we looked a more solid and organised outfit against Cardiff and Liverpool. First half against Newcastle we played some great football in patches, but were also a tad lucky to be 2-0 up at half time . We were looser in our play and could have easy conceded 1 or 2.
Gomes is easy on the eye as a player, moves well, intelligent and strong. I just don't think he has what it takes to be top 4/6 in the premier league.
It kills me to say it think he is a bit slow, not tenacious enough . Dont get me wrong, the Schneid/Gana combo is not a dream team by any means. I am just saying it looked better v Cardiff and Liverpool. The team looked better, more secure.
Overall I think Gomes is a great player,[ maybe better suited to the spanish/portuguese leagues?], but I don't want us to sign him permanent. I am hoping we are looking elsewhere for someone who can give us a little bit more than him .
Is that a fair opinion or am I for the stocks?

Jamie Evans
16
Posted 16/03/2019 at 09:04:44
Loving the positivity.
Not sure how we can only beat Wolves and Burnley in our remaining home games when we've already played Wolves?
I hope my fellow ToffeeWebbers who are attending the game tomorrow have a bit more belief.
Full support.
Allan Board
17
Posted 16/03/2019 at 09:20:39
Mr Silva now at that point where he clutches at any straw to shift the focus from himself.
Tell you what, mate, here is a free bit of advice for you going forward in your 'coaching pathway' – if things are not going well and you don't know how to rectify them, then drop the machismo and bloody well ask for help from someone who sees it better than you.
That's why you have a coaching team. It's not rocket science; however, I won't hold my breath.
Football coaching is rife with pretentious people who won't share idea's – colloquially, it's called being full of shit.
Kevin Prytherch
18
Posted 16/03/2019 at 09:29:22
Why not Schneiderlin, Gana and Gomes?
It would be at the expense of Sigurdsson.
Dave Abrahams
19
Posted 16/03/2019 at 09:39:02
It is depressing being an Evertonian, even more depressing reading this thread, even though I understand the despair of all the posts sent in.
Keane and Mina at the heart of the defence is another heart breaker, hope it is not as heartbreaking as it appears to me at the moment, but after all that I'm going for at least a draw. I'm hoping a lot of the players will pull themselves together, like for the Liverpool game, and prove that they do really want to play for the manager, as most of them say they do. It won't be 4-0 for our old friend George, but don't rule out a win.

Paul Birmingham
20
Posted 16/03/2019 at 09:41:55
Tomorrow, I hope the cuurent foul weather prevails, Chelsea, get the wildies, due to travel and bad food, and Marco Silva inspires and Everton go for it.
Yep, I'm dreaming, not delirious, but for the life in me, I can see us at best etching a draw. Chelsea can be unpredictable, but I see Sarri, using the game as an opportunity to exploit their good away win on Thursday.
The conditions, if they carry on like today, will make it precarious, for GKs and defenders, and I hope, we get Bernard and Charlie, on the ball, and a Calvert-Lewin, carries on working his socks off, like vs the RS, and Skunks.
Hand on heart, I'd take a draw, but that's the best, I can see, but surprise us in a nice way Everton, and beat them.
The next few weeks are all tough games, surely Marco Silva will be urging his squad to deliver, for some it's the last leg of their Everton journey, the players must play for the shirt and their pride.
Trevor Peers
21
Posted 16/03/2019 at 09:51:00
Tony @15, it will be interesting to see after the Newcastle defeat if Silva reverts back to being a bit more pragmatic, like you say by playing Schniederlin and Gana, to give us more defensive stability. He would be well advised to, results are the priority now not playing pretty football. Gomes big problem is his lack of real creativity and of course his lack of a few goals.
We already have a problem by losing Zouma at the back and to approach this game with a cavalier attitude would be a big mistake. If we get embarrassed and lose heavily, it will only quicken Silva's departure and it will have been his own fault.
John Keating
22
Posted 16/03/2019 at 09:51:27
Paul.
If Everton "go for it", our weekend will definitely 100% be ruined!!!
Clive Rogers
23
Posted 16/03/2019 at 09:55:58
Assuming Mina plays, it will be a big test for him. As Zouma may not be here next season, Silva needs to assess whether Mina is up to the Premier League or not. Has he got the determination and concentration etc?
Jerome Shields
24
Posted 16/03/2019 at 10:00:42
Schneiderlin instead of Gomes in midfield to steady Everton's defensive shape. Maybe bring Gomes on later on.
I still think Coleman is a weakness and Kenny should play. We haven't kicked up enough about Walcott this week, so he will start.
John Raftery
25
Posted 16/03/2019 at 10:06:42
Mina played at Stamford Bridge in November when we kept a clean sheet. He was arguably our Man of the Match that day. So, on paper, there is no reason why that cannot be repeated tomorrow. The concern would be around Mina's current level of fitness and lack of match sharpness.
Kev Jones
26
Posted 16/03/2019 at 10:14:00
Looking forward to see what Pickford has learnt after recent weeks. Hope Lookman is on the bench.
Clive Rogers
27
Posted 16/03/2019 at 10:20:16
John, he has had good games and bad games and his injury problems are a worry, but a decision on his future needs to be made.
Pat Kelly
28
Posted 16/03/2019 at 10:23:14
Silva has only hastened Everton's decline to being a bottom-half Club. If he stays, that's the future.
Derek Knox
29
Posted 16/03/2019 at 11:10:19
Not a great deal of positivity on here regarding the match. We truly have sunk low as a team – even the more optimistic posters are envisaging a lucky draw at best, and I tend to agree with that, but do not see a win under any circumstances.
People asking for a Schneiderlin return – God help us... but, if he can make a difference, then why not? I still fail to understand why James McCarthy isn't given a look-in. I'm not saying he was a great player before injury, but at least he showed commitment, which is sadly lacking from most of the others.
John Keating
30
Posted 16/03/2019 at 11:33:32
Dave (19) and Derek (29),
It is sad that we have no optimism or positivity but that's where and what we have come too, unfortunately. It seems a bit pointless hoping we'll win 2-0, 3-1, etc etc before every game then afterwards have to post on the dire shite we've witnessed.
This season had alarms ringing pre-season and early doors, though we still hoped when Silva's signings took to the field things would change; unfortunately, nothing substantial did.
We'll still get the 3-0, 4-0 lads coming on. God I hope they're right!!!
Eddie Dunn
31
Posted 16/03/2019 at 11:42:24
After the tremendous support the crowd gave against Liverpool we had something to build on. The early performance at Newcastle also boded well. The problem is, as soon as we have our hopes raised, this group of players and coaching staff manage to drain all of the optimism at the drop of a hat.
I wouldn't be surprised if we found ourselves 2-0 up with ten minutes left only to watch yet another inexplicable calamity befall our motley crew.
Brian Harrison
32
Posted 16/03/2019 at 11:55:35
Well if Brands and Silva are serious about their belief in bringing through youngsters, then no better time like tomorrow to start. I am fed up of seeing Walcott and Bernard start week after week, they have scored a total of 1 league goal between them since August. I don't think I can remember too many shots on target from either of these two.
Now I have been a bit disappointed in Lookman's performances of late, but tell him he starts the next 4 or 5 games. Richarlison has lost his early season form but, despite that, the lad still scores goals. Seeing that Brands has stated he doesn't think we will be bringing in a top class centre-forward in the summer, then we may as well start Calvert-Lewin till the end of the season.
Tony Everan
33
Posted 16/03/2019 at 12:04:06
We will be vulnerable again from set pieces and corners tomorrow. Hazard will win free-kicks around the box, Chelsea will be winning corners.
Giroud and/or Higuain will be ready for the set-pieces coming in and we need to take care of them. Another player who we will have to be tracking and marking very closely is Rudiger. He steals into the box and is a big danger, we have to take him out (99% fairly) or we will be punished.
Tomorrow will be a massive test for our defence, but there is a goal or two to be had at the other end if we play well.
Mike Morgan
34
Posted 16/03/2019 at 12:08:16
I live in Newcastle, it's been at tough week being a Toffee in Geordie-land!!!
I was at the game. It strikes me that Silva isn't playing 4-3-3; it's more like 4-2-4. Sigurdssun was playing alongside Calvert-Lewin; Richarlison and Bernard pushed up as wingers. This leaves a poor defence very vulnerable.
We either need to play Sigurdsson deeper, 4-3-3, or the wingers deeper, 4-4-2. I hate to say it but even Liverpool don't play their front three plus an attacking midfielder. They secure the midfield and then let the front three have the freedom to attack.

Jim Bennings
35
Posted 16/03/2019 at 12:35:36
There was never going to be much optimism or positivity because, once again, we are in March and our season is dead – apart from tripping over the 40-point mark by April.
The apathy amongst Everton fans is because we never see the team feature in big games, hardly ever reach a Semi or Final of tournaments either domestically or in Europe.
It's hard to sit and watch other English clubs playing massive Cup games this weekend or the Champions League and Europa League draw yesterday bringing about huge ties for English participants on the horizon next month.
There's only so long you can remain optimists when you are basically watching the same predictable scenario at Everton unfold season after season after season.
Tony Hill
36
Posted 16/03/2019 at 12:47:03
Of course, it's been a very bad season and it's for the team to get the fans going but we really need to rouse ourselves from our misery and despair. It is in danger of poisoning things for us into the future, almost regardless.
I am a natural pessimist but there is being created a vicious circle of gloom and fear between us and the team and it has to be broken. I repeat: the team and manager certainly have the primary responsibility, but we have to make an effort to be more hopeful and vocal in support rather than drowning in cynicism.
Part of that involves being much more realistic as to Everton's current status and prospects. From that recognition, we can build together.
Colin Malone
37
Posted 16/03/2019 at 13:08:57
These Sunday fixtures are doing my head in. Using public transport – Arriva, Stagecoach and Merseytravel is horrendous on a Sunday. Buses on County Road, every 15 minutes through the week, every hour on a Sunday???
Everton Football Club provide buses on Walton Lane but why don't the above mentioned provide a normal service for two hours after the game?
Kevin Prytherch
38
Posted 16/03/2019 at 13:14:23
Mike 34 – spot on.
Sigurdsson plays so far forward that we get overrun in midfield. The only way that the midfield doesn't get overrun is when either the wingers play deeper, or the full backs advance into midfield – this then leaves us vulnerable at the back.
Playing with two wingers and a Number 10 isn't working and hasn't for a long time.
Darren Hind
39
Posted 16/03/2019 at 13:51:18
There is a very clear difference between pessimism and surrendering before a ball is kicked and I'm delighted to see true blues like Dave A recognises what it is. Of course Chelsea are favourites. They have got a better team and better individuals.
The white-flag wavers always forget themselves. Those claiming we wouldn't get any more points have already had their mug predictions shattered. Sure they were all over these pages during the Newcastle game – but that was only after it had started to go Pete Tong. They seem to have conveniently forgotten the four points we took from the previous two games... Where were they then?
This season has been torture for Evertonians, but some of the Homer Simpsons ("cant-win-don't-try") amongst the ranks are getting exactly what they deserve. They want to raise the white flag before every game, but they are the first to scream the house down if they think the players have done the same.
George Mc Kane
40
Posted 16/03/2019 at 13:51:36
I am going to the game as usual (and will do my 4-0) tomorrow, with optimism and posso waves. If I was as pessimistic and miserable as some posters and seemingly so negative, I wouldn't go. It is not the hope that kills us, it is when there is no hope.
Try a bit of positivity and less name-calling. Might work.
Darren Hind
42
Posted 16/03/2019 at 14:00:02
Tremendous news, George.
I'll be back too on Sunday. I can't wait!
Sam Hoare
43
Posted 16/03/2019 at 14:00:34
I feel strangely positive. There were good signs in the first 60 minutes or so against Newcastle. And we were unlucky against them at Stamford Bridge, I thought.
I think Mike's point at 34 is correct. We do seem to get overrun in midfield too easily. I think we sorely lack pace there with the likes of Schneiderlin, Sigurdsson and Gomes all a bit one-paced.
I also think that maybe it's time to dispense with the players on loan; we've had a good look at them. Let's see what our players can do and if they need to be shifted this summer.
Pickford
Coleman Keane Mina Digne
Gana Schneiderlin Davies
Richarlison Calvert-Lewin Bernard
Brent Stephens
44
Posted 16/03/2019 at 14:02:28
We're all true blues on here. Let's not forget that. We all want a win tomoz. My rational half (no, not my wife) says a loss but my emotional half says a win.
Brent Stephens
45
Posted 16/03/2019 at 14:05:02
George #40 – looking forward to your pre-match rendition tomoz.
"Try a bit of positivity and less name-calling. Might work".
Absolutely!!
Mike Morgan
46
Posted 16/03/2019 at 14:06:42
Thanks, Kevin (38). I believe Sigurdsson is a good player. He was outstanding in the derby. Just playing him 10 yards deeper could make a major difference as he would more easily be able to link with Gomes and Gueye defensively. It would also allow him to arrive in the box less well marked. Cahill was a master of the position – he almost invented the half midfield/forward role.
Overall, I believe we have a good squad with the exception of an established goalscoring No 9. I thought Rondon showed us what we were missing in terms of hold-up play and goal threat. Calvert-Lewin may be that player in 2 years time but we need someone now.
A good No 9 and Sigurdsson playing 10 yards deeper and things could be moving in the right direction. If Silva plays 4-2-4 v Chelsea, we could be in for a tough afternoon.
Dave Abrahams
47
Posted 16/03/2019 at 14:10:06
George (40), lovely to hear from you and to find you still positive after a trying few months for you. I know I have no need to tell you to keep your spirit up, that's your nature, but it really is great to have you back on ToffeeWeb. Let's try and rally the team tomorrow on the way to welcome victory. I'll even risk 10p on a 4-0, and that's a very big risk for me!!!
George Mc Kane
48
Posted 16/03/2019 at 14:12:47
On The Blue Astral and full of posso's – no point in doing anything if there is no hope or future.
Got told a few "neggo's" last year... didn't accept them and defied the 'experts' – looking forward to a Bluetiful Future.
Mike Dolan
49
Posted 16/03/2019 at 14:12:50
We played quite well, perhaps serving up some of the best football of the season in the first half against Newcastle before totally falling apart into a terrified panic. We are lacking that one complete player who can lead the way... and we have been since the ageing Gareth Barry was pensioned out.
I hope beyond hope that we see the good confident Everton tomorrow. Chelsea are not that great this season so this could be the time. I hope Schneiderlin gets a game because he does what Barry used to do though without Barry's solid impeccable leadership. Everton 2-1 – they play great but nobody knows how they will play in the game after that. It's a project.
Derek Knox
50
Posted 16/03/2019 at 14:23:59
Good to see you back George, hope all is going okay for you, a win will definitely help.
Dave @47, I haven't heard anything back yet from John McFarlane Snr, I will give it another 24 hours then I will try to ring him. That sounds like a good a day as any when Andy Crooks comes over for the Man Utd game on 21 April, for our TW soiree. It's an early kick-off so if we say 5:00 pm onwards in Wetherspoons (the old Blacklers in Charlotte Street) obviously will not suit everybody, but I would imagine most will be able to make it.
All Tw'ers welcome as per usual.
Paul Tran
51
Posted 16/03/2019 at 14:36:36
Great to hear from you, George and great that both you and Darren will be in your rightful places tomorrow.
I know you'll both enjoy it, hopefully the team will turn up and make it more enjoyable!
Mike Morgan
52
Posted 16/03/2019 at 14:46:18
Mike (49), I agree. Not much fuss was made when Barry left (understandably to some extent given his age) but we lost an excellent player with great experience and leadership qualities.
Part of the reason we have gone backwards is losing Barry and not properly replacing him. (Both Gueye and Schneiderlin can play that position defensively but aren't leaders and can't pass forward.)
Losing Lukaku and his goals at the same time as Barry without replacements goes a long way to explaining our problems.
Alan J Thompson
53
Posted 16/03/2019 at 14:52:24
Have I read that right and Silva is saying that those players signed by the three previous managers and who aren't with us now are part of the problem? Wasn't it him and Brands who signed five new players and sent a lot out on loan?
Does this man take responsibility for anything? How can players who haven't played for us this season be responsible for any part of the shambles this manager has put out for most of the season??? Gordon Bloody Bennett!!!
Stephen Meighan
54
Posted 16/03/2019 at 15:17:10
Certain people on ToffeeWeb slagging others off for being negative... everyone is entitled to their opinion. Isn't it a game of opinions?
You can't really blame them for being negative as we have witnessed some crap this season. Four wins since November says it all cumulating in that disaster last Saturday.
We all want Everton to win and do well but it's just not happening. We're all hoping for a good performance tomorrow against Chelsea but we have to see what Everton turn up? Here's hoping...
Paul Tran
55
Posted 16/03/2019 at 15:34:07
Dead right, Mike. Not much fuss was made about Barry leaving because he didn't run around like a lunatic and was 'slow'. The one experienced pro who could slow down the game, manage it, and pull a smart foul if need be, was let go.
The one experienced pro who should have been kept on the staff, ultimately to coach/mentor the young players, was let go... And that, for me, sums up the current Everton set-up.
Derek Knox
56
Posted 16/03/2019 at 15:39:36
Paul and Mike, the old saying, 'you never miss the water till the well runs dry' is very pertinent in this case, another masterstroke from that overpaid idiot Koeman.
Tony Twist
57
Posted 16/03/2019 at 15:39:44
Playing Schneiderlin at home? Christ, we need to go all-out attack. Schneiderlin ain't going to bring any attacking to the game.
We are far too concerned about the other side and how they will hurt us rather than how we can hurt them. The last three managers have instilled this mentality into the players.
That is why we are where we are with not a man amongst the team. Silva also is just a very poor man-manager.
Mike Dolan
58
Posted 16/03/2019 at 15:40:41
Mike #52 and lets not forget the much maligned Ross Barkley who was our best forward mid-fielder. We effectively lost Howard, Jagielka, Baines and Barry to old age. We lost the three great young players that were to be our future in Stones, Barkely and Lukaku.
If you lose your past and sell away your future, then its actually amazing that we've managed to stay in the Premier League. All of a sudden we had no identity. I hope we can keep that in mind when we inevitably start calling for a sacrificial manager's head when this aggravating inconsistent form probably continues till the end of the season.
Stephen Meighan
59
Posted 16/03/2019 at 15:46:47
I fancy us to win 4-0 tomorrow. If it's good enough for George McKane, then it's good enough for me. Here's hoping!
Jim Bennings
60
Posted 16/03/2019 at 15:49:46
Gareth Barry was unbelievably underrated by most fans not just at Everton but in general.
I'd go as far as saying he's the most intelligent footballer I've seen at this club in the last 20 years.
He read the game tremendously well and his passing was excellent, it was Barry's presence that allowed Ross Barkley to prosper so much in Martinez's first season here.
Tony Abrahams
61
Posted 16/03/2019 at 16:05:30
I also thought that it was James McCarthy's energy which helped Barry prosper, Jim?
It's all about "the team" and it's all about getting behind "the team" because a defeatist attitude will only kill us and, like George said, it's all about defying the experts!
Glad the two "Godfrey old boys" are back at Goodison tomorrow, and like Sam says, let's try and concentrate on the positives, because Everton played some great football for an hour at Newcastle last week.
Paul Tran
62
Posted 16/03/2019 at 16:08:32
Arguably our last balanced midfield, Tony. McCarthy with the energy and biting tackles; Barry with the guile and nous; Barkley with his maddening mix of tricks and blind alleys. Oh, and with a proper striker ahead of them!
Tony Hill
63
Posted 16/03/2019 at 16:09:50
I think it was the right time for Barry to go but he was a good servant. He is certainly the type we need, though someone in their mid/late 20s please.
Kevin Prytherch
64
Posted 16/03/2019 at 16:16:07
Barry, McCarthy and Barkley complemented each other, much the same was as Schneiderlin, Gueye and Davies did (albeit to a lesser extent).
The common denominator here was 3 midfielders. Barkley didn't play as far forward as Sigurdsson does and, because of his ability, always kept at least one defensive midfielder occupied, thus preventing us from being overrun in midfield.
We can't play two wingers and a Number 10 in the same team.
Tony Abrahams
65
Posted 16/03/2019 at 16:24:04
I don't think McCarthy has been properly fit since that first season, Paul, when he left a very good impression on most of us.
I saw some great signs from Everton last week but it's all about the result at the end of the day with not enough players willing to give everything for "their team"?
A work in progress or a manager who is only going to take us backwards for loads. Hard to make up my mind but, like people have already said, what's the point in being negative? Especially before a ball has been kicked.
Tony Abrahams
66
Posted 16/03/2019 at 16:27:20
Very good point that last paragraph Kevin, one of the best things I've read for a long time that mate.
Sam Hoare
67
Posted 16/03/2019 at 16:27:50
Yes, Kevin @64, it's a conundrum that Sigurdsson – whilst being one of our best (certainly most productive) players – has unbalanced our midfield blend since his arrival.
Finding that right midfield blend is going to be crucial next season, whoever is in charge.
Neil Lawson
68
Posted 16/03/2019 at 16:45:17
John (12),
"Someone who would have stuck with Sam". So you're the one?
Mike Morgan
69
Posted 16/03/2019 at 16:46:10
Paul (55), Derek (56), Mike (58) – I agree with all your points.
We've been through incredible change and lost some really good players. How in effect we swapped Barkley plus £30m for Sigurdsson, who's 4 years older, is beyond me (Koeman's ego).
However, I still believe we have a good squad now (but an established centre-forward is missing). I thought the summer signings were pretty good (Mina still to be proved). I wouldn't swap Gomes, Gueye and Sigurdsson playing as a proper midfield 3 for Henderson, Milner and Wijnaldum.
It's frustrating times but, as I said earlier, if Silva could play Sigurdsson deeper, so we had a more solid midfield, and he could buy a top centre-forward in the summer, things would be better.
I'm old and lucky enough to have seen the 1970 team, different class but also played 4-3-3. Alan Ball (very different class) was the attacking midfielder. Without the ball, he lined up with Kendall and Harvey in midfield, not with Royle up front.
Karl Jones
70
Posted 16/03/2019 at 16:51:48
Another home defeat. The sad thing is I wouldnt be surprised to see another hammering. No confidence whatever in this manager or his players. Sad time to be an Evertonian.
Jim Bennings
71
Posted 16/03/2019 at 17:00:38
One thing we know tomorrow is if Chelsea score the first goal then our chances are slim.
Check these stats out.
Everton have not rescued a point when the opposition has scored first since Newcastle on December 4th.
Everton have not won when the opposition has scored first since Swansea in December 2017.

James Stewart
72
Posted 16/03/2019 at 17:01:39
Don't really care what happens, the Newcastle game was evidence enough that this manager is completely out of his depth and needs removing.
He should have been sacked after the embarrassment that was the Millwall game.
Jim Bennings
73
Posted 16/03/2019 at 17:18:53
Regardless what people say about transition, new management new players etc we can't get away from this...
5 wins in 19 matches and two of those were against Cardiff.
Christy Ring
74
Posted 16/03/2019 at 17:20:30
Jerome @24, It makes me laugh when you say Coleman is a weakness and play Kenny. In the last few games Seamus looked like his old self, even with Wallcott ahead of him. He was sick before the Newcastle game, and in case you missed it, Kenny had a shocker.
Tom Bowers
75
Posted 16/03/2019 at 17:20:58
The season has been a disaster and one more defeat won't mean much as the consistency level is poor anyway.
Last week's debacle was gut-wrenching but merely added to the many poor results, not to mention performances, giving us little hope for next season under Silva.
Not being able to really dominate games and put average teams away has been a real problem which shows that, no matter what starting eleven is named, there is no real unity.
Silva has some players he doesn't pick and others out on loan but surely they can't do any worse than what we have seen who are commanding big pay packets.
John Keating
76
Posted 16/03/2019 at 17:33:16
28-0 to Everton. Now I'm a real Evertonian.
David Cooper
77
Posted 16/03/2019 at 17:36:25
What do all the following have in common?
Wolves, Watford, West Ham, Leicester, Bournemouth are all above EFC at 5pm on Saturday 16 March. If ,by a miracle tomorrow, we win, we will jump back above Bournemouth. Anything less and we will stay below all 5 of them.
But I have good news! We will be top of the bottom 9 teams! How far have we fallen since the heady heights of 6th!
The saddest and most worrying outlook is that I would not mind swapping most of our team and manager for any of the 5 teams above us. I can't even begin to consider the Sky 6.
We have been in the shit before and climbed out it at Oxford and against Wimbledon. But even those teams had fighters in them. Who are our fighters? I don't see any.
Yes, the future looks good! 5 U21s in the England U21 team and Gibson and Gordon in younger England teams. U23s sit proudly atop Premier League 2. That's a least 7 Blues who couldn't be any worse than what we have endured recently.
I really hope everything I have written here blows up in my face as we get 3 points tomorrow!
COYBs
Sam Barrett
78
Posted 16/03/2019 at 17:42:15
Hello chaps, I'm in New York City this weekend, staying in Manhattan. Anyone know of a decent bar I can catch the game in? Cheers!
John Wilson
79
Posted 16/03/2019 at 17:45:48
Everton are not 'a team' as such and have not been since Koeman said, "I want dat one..." too many times until, like he was playing, '21', he went bust.
Everton as they were are simply no more; this is a new Everton side trying to make up a team. It is going to take time as, right now, Silva has only had a limited number of players relative to the full squad size and limitations in both of these windows; he's largely inherited more than some undesirables.
There were, at times, watching the side we call Everton, prior to the Liverpool game at Anfield with Pickford's faux pas, seasonal Annus Horribilis, where, even under Silva, it was like watching an Everton team schooled by Barcelona. It was eye-shockingly good football, more than just attractive quick-flowing football. Jaws – aka flip-flop-Klopp – even ran onto the pitch like he had just watched Liverpool win the Champions League and the Premier League title at the end of that derby game.
Jim Bennings
80
Posted 16/03/2019 at 18:01:46
John Wilson,
I don't know how many you've had tonight so far but Everton have not once looked like Barcelona in terms of "eye shockingly good football".
We looked half-decent at times earlier in Autumn, half-decent with some half-decent results – nothing outstanding.
I'll have a bit of what you have been sipping tonight.
George Cumiskey
81
Posted 16/03/2019 at 18:09:00
You read some bullshit on TW, people getting slagged off for being negative when there's nothing to be positive about. Nobody is negative because they want to be, only because the performances on the pitch don't give any reason to be positive.
Everyone going on about what a great 60 minutes we had at Newcastle but conveniently forgetting that, once they scored, the writing was on the wall.
People are only passing opinions on what they are watching week after week and the steady decline of the performances all season.
You've got Darren Hinds talking about Evertonians waving white flags... I don't see any white flags in the ground, mate, but plenty on the pitch.
It's the daft optimism that gets me – not the constructive criticism that some people offer.
Derek Taylor
82
Posted 16/03/2019 at 18:10:57
I suspect that, in all honesty, Silva regards even a 'limited' Seamus a shoo-in and, ideally, would have Jags play tomorrow over the woeful Mina. It is not to be... so, if he has any sense, he will find starting places for both McCarthy and Gueye to shore up what has become free passage for opponents 'through the middle' whenever this overpriced defender gets a game.
Further forward he has to make a decision to include Lookman over Walcott and ignore the niceties of Bernard to use Richarlison as a winger. Let's hope the Brazilian is at his nastiest.
I'm looking for at least a point as our record against Chelsea is more than reasonable. A win would remove any objection this apology for a manager has for failing to use the massive squad at his disposal!

Steavey Buckley
83
Posted 16/03/2019 at 18:17:41
Everton, for the last 6 seasons since Moyes left, have had 4 shocking seasons, 1 good one and 1 decent one. That is why Everton are where they are. Everton can't keep on chopping and changing and expect consistency.
As for last week's terrible loss, it was not playing Gomes instead of Schneiderlin that caused Everton to throw away the game, but Silva's disastrous substitutions, when Everton were coasting 2-0 up with ½-an-hour to go.
John Pierce
84
Posted 16/03/2019 at 18:24:45
Sam Barrett:
Turmills is now the designated EFC bar!
John Pierce
85
Posted 16/03/2019 at 18:25:57
Sorry Sam again.
Brent Stephens
86
Posted 16/03/2019 at 18:27:39
George, and the thing is that, among the so-called white-flag wavers are genuine fans who travel the length and breadth of the land to support our lads.
Derek Taylor
87
Posted 16/03/2019 at 18:36:44
Stevey, your post @ 83 implies that Everton should have patience with this manager even until we are on the fringe of relegation.
Of course, we shall not go down this season but we could well get pretty close to the drop. What is it about Silva that makes you think next season will be any better? He looks a typical 'Villa' manager to me.
Trevor Peers
88
Posted 16/03/2019 at 18:48:44
The psychology behind Everton's long years of failure isn't because we keep changing the manager, it's because we haven't had the right structure in place to pick the right one.
Money has a lot to do with it, but we are not a well-run club, the management structure isn't built to succeed – we just don't have the right football people at board level. Just look at our transfer dealings as an indicator, they have been a total disaster and we have squandered millions in an embarrassing fashion.
No wonder there's a complete lack of optimism amongst the fans. We've been totally hoodwinked, with false promises of projects. Now we're totally dependent on Brands bailing us out, he's our only hope on the horizon at present, because nobody else at the club has got a clue.
Paul Birmingham
89
Posted 16/03/2019 at 18:52:32
Bournemouth hammered Chelsea recently, so, it can be done.
Interesting to see what tactics will be used, but Chelsea, whilst having a huge squad,it's not the seasoned and proven squad of 10 years ago. They've had a long week, but if we are honest this season, most of the weeks, have been long, such is our inconsistency.
I just hope that we turn up and play with effort and can walk off the pitch, with pride.

Kevin Prytherch
90
Posted 16/03/2019 at 18:53:20
David 77 - I agree with the future. 5 U21 internationals, as well as Holgate and Connelly (who played last summer) is promising.
My fear is that, in today's pressure environment of instant success, they will never be given the chance to make it.
Moshiri made it easy for Silva with his 'youth' comments. Silva could have got away with some bad results because he was budding the young players, instead he's made a rod for his own back by largely ignoring them and still weighing in with bad results.
Question for anyone...
Would you be happy effectively writing next season off to blood as many of our young players as we can and see if we can create a team for the future??
Young players would include (probably not all at the same time) Robinson, Kenny, Holgate, Davies, Williams, Dowell, Vlasic (still hold hope for this guy), Lookman and Calvert-Lewin.
John Keating
91
Posted 16/03/2019 at 18:53:55
Brent @86,
Include Europe and pre-season in that!
Steavey Buckley
92
Posted 16/03/2019 at 18:59:45
Derek, changing the manager has not changed Everton's fortunes because it makes the situation worse when bringing in a manager who has no Premier League success. Martinez, Koeman, Allardyce and Silva all have no Premier League success. That is why they do not meet Everton fans' expectations.
Brent Stephens
93
Posted 16/03/2019 at 19:01:00
Yes, John. The length and breadth of Europe - including Bury!
White flag wavers, may arse.
Ivan Varghese
94
Posted 16/03/2019 at 19:05:38
It's a win if we draw. I see their forwards running rings around our zonal defense. Chelsea is adapt at intricate plays in the box
Pickford is, I predict, maybe our best player with reflexive saves. He's good at that.
I would love to see McCarthy pair up with Gueye in defensive posture.
Derek Taylor
95
Posted 16/03/2019 at 19:11:49
Steavey, are you saying that merely keeping Silva will improve our lot one iota? He's a 'no-mark' who should never have got a smell of the job. Hard though it is to pick the right man, several 'lesser' clubs have managed it this season, as witnessed by the Premier League table.
George Cumiskey
96
Posted 16/03/2019 at 19:18:51
Brent, exactly. He's talking about Evertonians on TW waving the white flag when they are just expressing opinions on the evidence of their own eyes.
It's not the fans waving the white flag – it's the players and manager.
Ivan Varghese
97
Posted 16/03/2019 at 19:22:56
Steavey #92. Martinez, Koeman, Allardyce and Silva all failed because of a loose defense. Once Stones left and older legs were soft, their defensive coaches are struggling to adapt,
Danny Baily
98
Posted 16/03/2019 at 19:23:59
Kevin @90, our senior players will struggle to hit 40 points this season. I don't think we have the luxury of fielding weakened sides and writing off a season!
New manager to sell off as much of the deadwood as possible. The key is to get a manager with past experience of building balanced squads, on a budget or otherwise. Cowley is from Lincoln if they get the Imps promoted this season. Can't be worse than Silva.
Derek Taylor
99
Posted 16/03/2019 at 19:27:36
No worse, Danny. About the same!
Thinking small time has got us where we are!
Dermot Byrne
100
Posted 16/03/2019 at 19:33:19
And if the fans roar, just maybe. The game is about hope... or surely it's pointless.
Steavey Buckley
101
Posted 16/03/2019 at 19:41:34
Ivan, my choice for manager when Moyes left was Benitez because his win ratio with Liverpool was one of the highest. That includes knowing how to set up a defence that can defend.
Sam Hoare
102
Posted 16/03/2019 at 19:48:38
George @81 what constructive criticism is this?
I've no problem with people talking about who should start, how we might play differently, or what went wrong in the last match. But I, like Darren, have less time for people who only come on to say we are crap, we've got no chance, we're a laughing stock, we're gonna get hammered etc etc. That's not constructive criticism in my eyes.
Of course, everyone is entitled to their opinion but the defeatism can get quite overwhelming!
Andy Meighan
103
Posted 16/03/2019 at 19:52:24
Brilliant post from George @81.
Oh, and by the way, I'd love to know if these posters who are bigging up the fat Spanish Sam Allardyce as their choice of manager are actually from this city? I'd guess not...
I've asked hundreds of Evertonians if they would have that horrible bastard as coach and not one has said "Yes". Just screwed their faces up in disgust.
The day he walks into the corridors of Goodison Park is the day I walk out.
George Cumiskey
104
Posted 16/03/2019 at 20:06:09
Okay, Sam, you've only got time for people who agree with your opinions; that's fine, mate.
John Keating
106
Posted 16/03/2019 at 20:11:59
Sam
if someone says they can't see us winning tomorrow based on games played so far this season, it's a bit like what the bookies base their odds on.
If someone says, based on the season so far, they can't see us winning at home any of the remaining games against the top teams, then those supporters are not true blues?
Do you think that whatever anyone on here says is actually to blame for whatever happens on the pitch? Some do...
Tony Hill
107
Posted 16/03/2019 at 20:15:07
When Rooney left in 2004, there was an Everton T-shirt I saw which read something like: "We hate him so much because we loved him so much". I think a lot of fans now feel similarly betrayed by the club itself and hate our repeated failures.
Of course, they are right to be angered. But we must not help to kill the thing we love.
Mike Dolan
109
Posted 16/03/2019 at 20:28:34
It was small-time thinking that got us here. We are paying the price now for the absolutely chronic lack of investment in the last years of the Moyes era. Also, the almost total disregard of a meaningful infrastructure on the business side of things.
Barcelona, Real Madrid, Man Utd and even Liverpool are big clubs because they are run like big clubs and not like the mom-and-pop store on the corner.
I do believe that Silva and Brands need to be given the time to get the playing style up to speed. Last season was dreadful from start to finish; this season, we have seen fleeting glimpses of improvement. For half a game last week, we played as well as we had played in years.
We will get there but the only thing that is really guaranteed to screw us up is another panicky manager change. Marco Silver may or may not be a world-class manager but he is definitely good enough to take us to at least the top six which, considering the shambles he inherited, would be a freaking miracle.
Let's just rip Chelsea apart tomorrow. Hope always begins with the next game.

Darren Hind
110
Posted 16/03/2019 at 20:31:46
George Cumiskey,
If there is another person on these pages who has been called negative more than me, I haven't seen their posts.
Your outrage is a little bit misplaced there, fella. You don't seem to get the difference between roll-over defeatism and opinion.
You moan about the daft optimism on here, but I don't see that. I do see the usual made-up nonsense about non-existent posters people claiming we will win 3-4 nil every week, but ask those who make these foolish claims to point them out and they never can... know what I mean?
You claim that the people who have been coming on here for weeks predicting we won't get anymore points are simply giving "constructive opinion" – are you sure about that? Do you even realise the odds of it happening? And how is it constructive when they disappear every time their predictions go down the pan, only for them to reappear for the next game?
These people are not even waiting to see who is playing for us or the opposition. They don't even know who will be in charge. That's not constructive criticism – it is out and out defeatism. They have already quit, months in advance.
Please don't tarnish those who travel all around the country watching our team or those who regularly support from afar with this depressing defeatism expressed by 2-3 people on here. If you travel around, you will know that couldn't be further from the truth.
I consider myself to be ultra critical but, like most people, I take each game as it comes. I don't go in for the half-witted crystal ball nonsense.
There is no "daft optimism" as you call it. You're not part of some sort of exclusive group who sees what other people don't. Everyone who has watched us this season can see we have been shite... but how many will throw the towel in so readily??
I have not been happy with this club for years. I systematically criticised previous managers' style of play on these very pages, but I would never, not ever, raise the white flag before a ball has been kicked.
Laurie Hartley
111
Posted 16/03/2019 at 20:38:20
I watched the pre match press conference. I honestly think the young bloke is hurting as much as we are.
It was obvious that the Goodison crowd gave him a real lift in the derby game so the Newcastle result would have left him more gutted than we are.
I think the best thing for us to do is get behind him and the team. The only qualifier I would put on that is that everyone of them has to give everything they have got.
Sam Hoare
112
Posted 16/03/2019 at 20:39:19
George @104, either you didn't read my post or you're deliberately misunderstanding it. I love a good debate. I'm less keen on whinging. What do you mean by 'constructive criticism'?
John @106, I'd never accuse anyone on here of not being a true blue. I've no issue with people saying they can't see us winning but I do get a bit worn out by certain people who every single week state with total certainty that we have no chance of winning.
As for having an effect on what actually happens on the pitch, it's hard to say. I wouldn't rule it out entirely. Certainly within the stadium, the mood and expectations of any fans are likely to transmit to the players to some degree.
Tony Hill
113
Posted 16/03/2019 at 20:44:08
Laurie @111, I very much agree.
Darren Hind
114
Posted 16/03/2019 at 20:47:17
And since when did referring to somebody as respected as Dave Abrahams as a "True Blue" constitute a slight on others?
I guess that's what happens when you take notice of bullshit.
Stephen Meighan
115
Posted 16/03/2019 at 20:51:11
I fancy a 4-0 win tomorrow... or am I being silly? Heard that somewhere before. Oh well.
John Keating
116
Posted 16/03/2019 at 20:59:31
Thanks for the reply, Sam.
As you see, everyone every week has a different opinion on what they see.
Gomes was Man of the Match... Gomes was shit. Pickford needs dropping; Pickford needs keeping. We all see things differently.
If you read all the posts above, a few have suggested, probably based on our season so far, that they can't see us winning tomorrow. Their opinion, they might be wrong, they might be right, but just because they gave their opinion the day before or the week before doesn't make them less of a blue than anyone else.
For anyone to intimate that someone with a different view or opinion is less a blue than anyone else is a disgrace, as I am sure you will agree.
Bill Gienapp
117
Posted 16/03/2019 at 21:14:48
What a bummer. We played some genuinely great stuff in that first hour against Newcastle. If we'd simply held our nerve and seen out the victory, it would have been seven points from nine since the extended lay-off, with two solid road wins. There would have been genuine momentum and excitement over hosting a Chelsea side whose form has been scattershot at best over the last several months.
Instead, in the span of 25 minutes, the Silva era may have been crippled beyond repair. Fine margins indeed.
Frank Sheppard
118
Posted 16/03/2019 at 21:23:02
A good post from Tony Hill at 107
Tony Hill
119
Posted 16/03/2019 at 21:23:34
The fact that we played some genuinely great stuff in the first hour, Bill, should do anything but cripple the Silva era. It should instead spur us all on to think how we can build on that excellence with better players. That is why it is so frustrating to read much of the sourness above.
Silva has produced, albeit very patchily, the best football I have seen from Everton for a very long time (with a short nod to Martinez's first season, with better players). I mean the pure quality of that football, however fleeting.
That is a cause for reserved optimism and we would do well, as supporters, to try and blow the sparks into flames.
Derek Knox
120
Posted 16/03/2019 at 21:24:30
As I have mentioned on here before, I don't think the almost unwavering and loyal support that is given by supporters, especially for away games can be faulted.
There must come a point when that loyalty is questioned, when it does not appear to be repaid by the players, Manager and staff. Especially when more effort has been afforded by the support attending in all weathers, to grounds 4 and 5 hours away, than is reflected on the pitch, only to be let down time and time again.
I have always advocated that I can reluctantly accept defeat, if it has been by a better side, even a couple of bad refereeing decisions, or just bad luck, provided it has been matched by 100% effort by all on the pitch, and the Manager making sensible team selections and substitutions. Sadly that has not been the case for a while.
Bill Gienapp
121
Posted 16/03/2019 at 21:59:43
Tony (119) - I, for one, haven't thrown in the towel. I refuse to buy this growing sentiment that our early season promise was merely a mirage. It's just frustrating, because you could see the stars beginning to genuinely align for a strong end to the season, I mean you could *see* it, and then... *poof* it all just goes to pieces.
Of course, if we beat Chelsea tomorrow, that changes everything.
Paul Birmingham
122
Posted 16/03/2019 at 23:23:51
Just maybe, last week at the Skunks, the way we gave them the match on a plate from a 2-0 lead has dropped the coin to Marco Silva?
Let's hope so for tomorrow.
Mike Keating
123
Posted 16/03/2019 at 23:29:35
Jim @ 14
If the F A had VAR at all FA cup fixtures we could have been playing Swansea in the final.
Neil Copeland
124
Posted 17/03/2019 at 01:29:48
As always, looking forward to the game tomorrow. I thought that the game at Newcastle was lost when Mina was brought on, I really couldn't understand that move as I thought we still had control of the game until then.
Hopefully, Silva has learned a lesson from that game.
I also hope that Jordan Pickford gets his head down and concentrates on putting in a solid, professional performance. If Jordan gives the defence some much needed confidence we may get something from the game.
As for optimism vs pessimism; I always go to Goodison Park thinking we can win. Why? Because it is Everton playing at home.
100% agree with those saying the crowd needs to be vocal, it makes such a difference.
Jerome Shields
125
Posted 17/03/2019 at 05:12:37
I think Mina will play okay. Zouma is likely to be gone at the end of the season. Against Newcastle, Mina was tactically suckered.
Though I felt Gomes played well first half, in the second half, it was proved he was not up to 90 minutes.
Richarlison and Calvert-Lewin played well but, once Silva abandoned supporting the forward line and cancelled it out of the game, no-one would have made a difference.
Bernard rather that Walcott, please. Lookman a big question mark???
I am convinced that Silva will be in his job next season. Maybe Moshiri has copped on that the problems run deeper than the manager at last.
Brands is the main light and Denise in Cannes – beside Monaco – is taking 'Kiss my ass' too far.
Terry Farrell
126
Posted 17/03/2019 at 07:17:42
George, I'm with Darren and Laurie on this – particularly when you scale the negativity up from ToffeeWeb to Goodison. The players were uplifted by the crowd in the derby. Too many times, it's the opposite – particularly the young lads.
Calvert-Lewin will have a tough task today but he is showing signs of clever hold-up play and flick-ons and buying fouls in the right areas. He even followed through on one of their centre-halves last week, showing a bit of controlled nastiness. His header was superb.
Let's get behind him and enable him to be as good as he can be and it might be good enough. Rip him to pieces and it's a self-fulfilling prophecy. Same with Silva.
Dave Abrahams
127
Posted 17/03/2019 at 09:10:37
Terry (126), I go along with that – why be negative before the game? Moan like fuck after the game if Silva and the squad have cocked it up, but not before the teams have even been picked.
Yes, everyone is entitled to their opinions but surely you can leave the negativity until after the game has been lost.
Terry Farrell
128
Posted 17/03/2019 at 09:17:05
Dave, amen, mate!
Jonathan Tasker
129
Posted 17/03/2019 at 09:27:57
Does anyone know when the new ground opens?
Trevor Peers
130
Posted 17/03/2019 at 09:31:56
Some people really believe that Silva will become a good manager.
Others prefer to look at the facts and judge him by his record past and present. Not very good at all.
We all hope we win today though 4-0.
Tony Abrahams
131
Posted 17/03/2019 at 09:33:38
What's the point in supporting a team if you're not going to get behind them? I talk about the first hour at Newcastle because I'm looking for some positivity; otherwise, I think it would be better if I just stopped going the game.
Very good post that, Dave, because you made me a much better footballer with some of your criticism "after" I'd just played a game of football, even if I never liked it at the time.
Paul @122, that was the first thing I thought at the end of last week's game, mate. It was Silva's fault imo, so let's see if he learns off it, because if he does, then last weeks capitulation might just have even been worth it?
Chris Gould
132
Posted 17/03/2019 at 10:00:32
Laurie #111, that's exactly what we should do. Silva is clearly a grafter, and he wants to play winning football which is pleasing on the eye. That's what we all want to see, so surely we should all be supportive of him?
Just because he's made mistakes, and not quite found the right balance yet, doesn't mean we should just quit on him. We haven't turned the corner but, in the first half against Newcastle, there were moments that made me believe we were close.
Why not support the man and not be so ready to chuck in the towel? He's young, he makes mistakes, but the team and Silva will perform better with our support.
Derek Taylor
133
Posted 17/03/2019 at 10:07:20
Silva is a loser, Full Stop!
Jonathan Tasker
135
Posted 17/03/2019 at 10:14:00
In the 1977-78 season I saw us beat Chelsea 6-0 at Goodison. I am not making this up.
James Marshall
136
Posted 17/03/2019 at 10:19:35
Chelsea head coach Maurizio Sarri: "In my opinion, Everton, outside the top six, are the best team in the Premier League in terms of technical quality.
"So we have to play a very important match, and a very difficult game."
Hahaha! He hasn't watched us play much this season has he!
Kevin Molloy
138
Posted 17/03/2019 at 10:22:26
Relax, Mina's back.
If we are to get anything at all out of this game, the one thing we must not do is score. Easier said than done like.
Martin Mason
139
Posted 17/03/2019 at 10:23:20
It's 0-0 from the whistle today and Everton are going on a very good run to the end of the season. I'm going for a workmanlike 2-0.
Raymond Fox
140
Posted 17/03/2019 at 10:25:08
We are 7/2 in places for a win today. That seems on the generous side to me, and I've had a few bob on and I think we may see a good performance.
Man for man, they have more quality than us, I just feel a surprise coming as they are not ripping up trees themselves.
Logic decrees that maybe a draw is the best we can hope for but one can live in hope.
Derek Knox
142
Posted 17/03/2019 at 10:36:14
Jonathan, I remember that game well, it was when Bob Latchford reached the 30-goal mark. I was there in the Main Stand in what was a brilliant atmosphere that day, don't think we'll see that score today.
It wasn't that long ago though when Naismith got his perfect hat-trick against them. I say perfect, because he scored one with each peg, and one with a header, he was never the best player in the World, but you could never fault his commitment.
Of course, he is also fondly remembered for the extremely unselfish work he did for the homeless, ever mindful of those less fortunate than himself. He even purchased Season Tickets and each home game, two Evertonians who were unable to afford to go to the match, were allowed to use the them.
How many of the current group of millionaires would do that? ... answers on a postcard please!
Neil Copeland
143
Posted 17/03/2019 at 10:39:03
Jonathan #135, I was at that game too, Latchord scored his 30th goal that night. We used to beat Chelsea at Goodison most seasons in those days.
Terry Underwood
144
Posted 17/03/2019 at 10:43:57
In common with most posters, I am not expecting anything from this game. I just want a decent gutsy performance. Anything we do get will be a bit of a Brucey, here's hoping...
Tony Abrahams
145
Posted 17/03/2019 at 10:44:55
Look at the clip of Jelavic scoring the winner against Man City on the Everton page and watch a real loser punch the air in celebration with the crowd.
Moyes knew he had the Man Utd job right then? Kidded everyone who went along with "The Prince and the Pauper" double act, but the saddest thing about it was that he tricked himself the most.
Eleven years without a trophy? Silva has been here for 9 months and, just because he's had some money, let's look at the shambles he came into.
England's top six are all into the European quarterfinals of their respective competitions and, if Silva is a loser, he his just getting added to every man who's had the Everton job since Joe Royle.
It's no good being able to attack if you can't defend, I'm very aware of this but it's no good going the match if you're not going to get behind the team, surely even the realists know this?
Paul Birmingham
146
Posted 17/03/2019 at 10:45:41
Tony, let's hope so, mate. Let's hope that the players stay tuned in and focused for 97 minutes.
Let's turn the form book and give the media mob something to talk about.
Yep, no mean task today against a good team but it's not the Chelsea of yesteryear, they are beatable with the right attitude and effort.
Martin Mason
147
Posted 17/03/2019 at 10:46:47
Derek@142, the answers would fit on the back of a postage stamp in capital letters.
Ajay Gopal
148
Posted 17/03/2019 at 10:49:18
I would go with a strong midfield, and keep Richarlison on the bench.
Pickford
Coleman Keane Mina Digne
Davies Schneiderlin Gueye
Sigurdsson Calvert-Lewin Bernard
Subs: Stekelenburg, Jagielka, Baines, Gomes, Walcott, Lookman, Richarlison
An opportunity for Mina, Bernard and Davies to cement their places until the end of the season. If every one of the team puts in a 100%, we should give Chelsea a tough match.
Mike Keating
149
Posted 17/03/2019 at 10:50:32
Derek @ 142,
You wouldn't need anything as large as a postcard.
George Mc Kane
150
Posted 17/03/2019 at 10:51:14
Appropriately - - just sitting in my writing room getting ready for the game and listening to some music and The Who Wont Get Fooled Again is on - - Mmmm.
There is no comparison of Evertonians what makes a good one or a bad one just a different way of seeing and saying things.
I prefer to try and see some future in most things and something positive - - makes me no better or worse that others - - just a different outlook - - but if I really believed things were so poor and so bad I would rethink my future or DO something about it.
Enough of all that for me - - rather get into the music and some poetry and then head off to The Dark House for some jollies and put my 4 - 0 bet on.
I just did a little Live FB for TDH - - I normally do on match day - - showed the scene outside my top floor window - - The River bending around from New Brighton towards Runcorn - - a gap above the Blue Liver Birds of silver and gold light with grey clouds about with an incredible ( The Young Bloods - - Get Together is on now - - - lovely) gold reflection on The Mersey - - Bluetiful - - like a Whistler or even a Signac - - - my usual routine this morning - - breakfast - - second cup of coffee in the front room in the morning light - - when I was ill I would sit here for hours looking out of the window - - "My Treatment/Recovery Period involves a great deal of sitting and resting - - allowing and permitting time for meditation and contemplation and catching and appreciating "moments " - - The snow is melting in the winter sun and translucent diamond like drips are falling from the leaves outside - - glistening and twinkling in the light - - slowness has its qualities" - - I know that when I couldn't get to the game I missed it dreadfully - - missed the camaraderie of TDH of sitting in The Park End with my family and friends - - lyrics from Joni Mitchell Big Yellow Taxi and even James Taylor Fire and Rain float through my mind - - and Van of course - -
"When I wake up in the morning I'm gone
And I need a friend to lean upon
Why don't you see what you can do?
See me through"
Love it when Harry Dean Stanton sings this in Cool Hand Luke after Luke's Mom dies. Beautiful.
Oh I know thing are grim at Everton - - my logic tells me its all crap - - but this - - this - - is my preparation for the "fight" - - I fill myself in my warm room
- - surrounded by my loved things - - postcards, photos, quotes, colours, sounds and sometimes silence - - fill my repaired heart and untouched soul and my soaring unquenchable spirit - - fill them with my beauty - - with the things I love and find beautiful - - these words:
"The coolness of the riverbank, and the whispering of the reeds
Daybreak is not so very far away
Enchanted and spellbound, in the silence they lingered
And rowed the boat as the light grew steadily strong
And the birds were silent, as they listened for the heavenly music
And the river played the song"
- - fill me with positive energy to face anything that the outside world can throw in my face and try (but not succeed) to discolour my day and my love of life - - so I can stay home this Sunday in my dressing gown - - wonderfully warm - - put TV on and watch Everton with replays and commentary - - or I can go out into this cold day - - and this day is a cosmic illustration to me of being A Blue - - looking out of my window I have seen the Golden Vision on The River - - then hailstones and wild wind - - followed quickly by Blue Sky and then again rain - - so is today a right off and negative day - - is it a lost day - - or is there possibilities:
"Way, way back, way back
When you walked, in a green field, in a green meadow
Down an avenue of trees
On a, on a golden summer
And the sky was blue
And you didn't have no worries, you didn't have no care
You were walking in a green field
In a meadow, through the buttercups, in the summertime
And you looked way out over, way out
Way out over the city and the water
And it feels so good, and it feels so good
And you keep on walking
And the music on the radio, and the music on the radio
Has so much soul, has so much soul
And you listen, in the night time
While we're still and quiet
And you look out on the water
And the big ships, and the big boats
Came on sailing by, by, by, by
And you felt so good, and I felt so good
I felt I want to blow my harmonica"
- - for those of you who can hear me - -all you have to do is close your eyes and open your minds - - I will pick up my harmonica and give it a blow - - there you go - - Blowing My Feudal Horn for Everyone.
Just walked over to the window - - looked over to the City - - at The River - - - breathed in - - blew it out - - looking down on the City - - eyes wondered over towards Goodison - - nearly lost all this last year - - going to enjoy every single second of being an Evertonian - - going to soar above it all in the cool cool Blue Sky - - breath it all in - - going to fly - - let my wings take me to The Holy Ground - -don't need a car or public transport just going to fly there - - - like Icarus or Mc Murphy or Vincent Van Gogh -- Lovers Artists and Poets - - Flyers - -come on you Blues Take Off your Shackles - - pick the locks - fly with me over Goodison - - just like to in Miracle in Milan or young Ivan flying over the farm in Ivan's Childhood.
Rave on you Blue Boys - - Rave On - - and on and on - - - cosmic grooves over The River from New Brighton and a Blast on The Old Gob Iron.
There you go. George.
James Hughes
151
Posted 17/03/2019 at 10:58:58
Mr McKane, it's great to have you back and that you will be able to go the game. I read that Darren has been allowed out to play as well. I hope you both have a great day.
I am sure you will both bring us much needed luck. I am having a couple of quid on your 4-0. Will send the winnings up to your project.
COYB
Tony Abrahams
152
Posted 17/03/2019 at 10:59:53
Top of the mornin' to you, George, it really is a delight to read some of the stuff you post on match days mate, as I've got a picture of you blasting out "Blowing in the Wind" on your harmonica!
George Mc Kane
153
Posted 17/03/2019 at 11:03:26
Thank you James and Tony - - Listen To The Lion.
Rave on Thy Holy Fools.

Derek Knox
154
Posted 17/03/2019 at 11:06:20
Great to see you back George, maybe Goodison has missed you, and you will bring that 'missing ingredient' today. Enjoy!
Dave Abrahams
155
Posted 17/03/2019 at 11:40:10
Lovely to see you back, not only back but fit, lively and well, brilliant George, carry on and on and on.
Tony Everan
156
Posted 17/03/2019 at 11:41:31
Good morning George, the river, the Irish sea and the changing light means so much to us who were reared next to it. Your channelling of its spirit, fills my heart with warmth.
Gazing out from Crosby beach gives me that reset, a feeling of freedom and a cleansing of the soul. I need to be there but my opportunities are less frequent these days.
It is a wonderful thing that our beloved Everton will have a home next to the river. The club is a hallmark of the city, more loved than anything in it, it will be a shining jewel in the city's crown when it built.
Have a great day George, cosmic vibrations in a blue psyhcoplasma being deposited on the ether for you, your family and all Evertonians.
Geoff Lambert
157
Posted 17/03/2019 at 11:48:20
So inspiring George, love to breathe in your posts and breathe out your cosmic grooves. Glad you are feeling better and I hope the Blues can give you something back today.
George Mc Kane
158
Posted 17/03/2019 at 11:48:59
Wonderful stuff, Tony.
Brent Stephens
159
Posted 17/03/2019 at 11:56:48
George #150 "let my wings take me to The Holy Ground - -don't need a car or public transport just going to fly there - - - like Icarus or Mc Murphy or Vincent Van Gogh".
Inspiring stuff, George. Great to see you can get get back to GP. Don't fly too high or too low, mind!
I fear a loss. I will cheer for a win.
Tony Heron
160
Posted 17/03/2019 at 11:57:19
I just wish our players could show some of the passion of the Rugby Union boys in the Wales v Ireland match yesterday. Every man giving everything he had for the cause.
Watching the Irish striving to score deep into "overtime" even though it would make no difference to the result, was Inspirational. And to have officials who are not only efficient but totally in charge. If only football was the same.
Tom Bowers
161
Posted 17/03/2019 at 12:00:26
Ajay #148.
I agree going with a strong midfield can help but, with what Everton have at their disposal, they all need to be at the top of their game to get the result and sadly that has not happened this season.
Some attacking players, like Richarlison, Bernard and Walcott, are sadly lacking in consistency when tracking back to help out... and, although Richarlison gets goals, neither Walcott nor Bernard have done enough in that department.
Gana and Sigurdsson drift in and out of games and Lookman and Davies seem to be out of favour for the most part as starters.
It's been a woeful season but we all hope there are one or two more decent wins one way or another before it is finally done with and forgotten.
Paul Birmingham
162
Posted 17/03/2019 at 12:18:37
Inspirational, George, it's in the air today, for upsetting the odds, and EFC, will etch out a win or at least a draw.
Eddie Dunn
163
Posted 17/03/2019 at 12:39:45
Jonathan #135. I was also there when latchford got his 30 goals and we thumped Chelsea 6-0. I was in the Park End – it was pandemonium under the terraces. Those mutants were not happy!
Oh for another day like that. I bet most current Chelsea fans have no idea how ordinary their team was back then.

Derek Knox
164
Posted 17/03/2019 at 12:55:21
Aye Eddie, Megamoney has transformed a lot of Clubs from being also-rans into forces to be reckoned with, which makes our profligation of a much awaited cash injection, a very, very bitter pill to swallow.
Okay, Chelsea and Man City have overpaid for occasional flops, but they have still had other players to carry it over the line, and although they have chopped and changed Managers, in the main, most have got the job done.
Paul Tran
165
Posted 17/03/2019 at 13:17:12
Jonathan, Eddie, I was in the Street End that wonderful day. I remember Mick Lyons jumping in front of Bob to head home the fifth... and was booed by many! After the huge disappointments of the previous season, the scenes when he slotted home that penalty were unforgettable.
Andrew Keatley
166
Posted 17/03/2019 at 14:22:53
Be interested to see how Silva sets us up for this one.
I'd like to see Sigurdsson given the job of getting close to Jorginho – and Gana vs Kante will be pretty intriguing.
I also have a feeling that there may be a few clashes between Calvert-Lewin and Luiz, and that might be key for us; I think Calvert-Lewin might wind him up rather well.
If we can get through 90 minutes without Walcott or Schneiderlin entering the fray, then that would be great. If Pickford gets the nod, here's hoping he'll show the maturity he lacked at St James Park.
I am strangely hopeful – despite our consistent lack of backbone. It's odd. This club does that to us, doesn't it? Plus Chelsea are hit-and-miss themselves at the moment.
Andy Crooks
167
Posted 17/03/2019 at 14:26:56
George, I don't "get" the stuff you post. I guess I am as square as all get out. But that really doesn't matter.
What I can say is, I didn't get Syd Barrett either but he, like you, made me feel that there was more than a fixed view of the world.
Great to read your stuff again. To someone who gets to few games, you are part of my match day experience .
Max Murphy
168
Posted 17/03/2019 at 15:01:11
Tony, I was at the game in Cardiff yesterday. The match was a terrible affair, with some of the worst officiating I've ever witnessed.
When Wales are playing, you have to have the best referee in the world as they are masters of cheating. Unfortunately the ref yesterday missed so many infringements, even the Welsh supporters around me couldn't believe some of his decisions against the Irish, but gladly accepted them with cynical smiles.
Let's hope St Patrick is at Goodison Park today to bring us victory!
Bobby Thomas
169
Posted 17/03/2019 at 15:06:04
Kevin #38
I completely agree. Sigurdsson is so far forward he sometimes almost playing as a second striker. The way Silva's setting up hasn't been effective for months, with or without the ball.
Combine that with frequently playing wide men either side of Sig, add the full backs pushing on and we are wide open. The center backs get really exposed, such as Spurs at home, when they had no chance and were set up to fail.
If your going to play like that you at least need another genuine holder in there. Its one of the reasons why the away form is absolutely chronic.
Mike Gaynes
170
Posted 17/03/2019 at 15:17:06
Good morning, all.
George, delighted to see your poetic wanderings again, and warmest congrats on your recovery. Especially appreciate the Cool Hand Luke callout.
Anybody interested in Rooney's hat trick: http://www.espn.com/videohub/video/clip/_/id/26284305/categoryid/0
4th goal is a peach.
Annika Herbert
171
Posted 17/03/2019 at 15:20:44
Any strong midfield shouldn't include Sigurdsson in it!
Tony Heron
172
Posted 17/03/2019 at 15:22:20
Max @168. I bow to your superior knowledge and the benefit of "being there". With a surname of Murphy, no doubting where your allegiances lie. Have a great Paddys day and let's hope Irish and (Everton) blue eyes are shining tonight.
Derek Knox
173
Posted 17/03/2019 at 15:23:07
Bobby @169, good point you make there regarding the set-up, this is why I doubt very much whether Silva is the man to lead us to where we want to be.
If we as fans can identify all these anomalies,, and Marco is allegedly a stickler for detail and analysis, it doesn't say a lot in his favour does it?
Be interesting to see how he sets up today, although I have a feeling in my water (quick Nurse!) that we may do alright this afternoon.
People are still going on about Pickford, and yes I do realise he has been guilty of lack of concentration on the job in hand, and arrogantly laughing it off, but I think the penny may have dropped (hopefully) and he will be more consistent.
Can I just remind everyone of the alternative, for those that are asking for him to be dropped, his replacement would be Stek………….. enough said!
Phil Greenough
174
Posted 17/03/2019 at 15:38:20
Millwall 1-0 up after Murray was rugby tackled in the box by Cooper, the ref never saw it. Millwall certainly leading a charmed life in the FA cup. 2-0 game over?
Add Your Comments
In order to post a comment, you need to be logged in as a registered user of the site.
Or Sign up as a ToffeeWeb Member — it's free, takes just a few minutes and will allow you to post your comments on articles and Talking Points submissions across the site.