West Ham United vs Everton
Friday, 29 March, 2019
Match Preview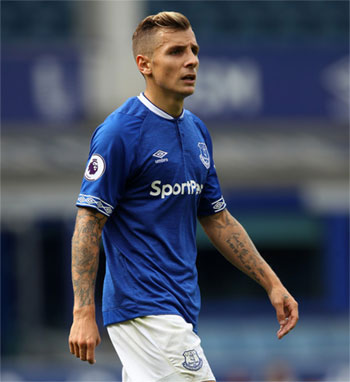 Lucas Digne is available despite missing France's win over Iceland on Monday with a thigh strain
Everton return to action this weekend following the international break with a trip to the London Stadium to face West Ham United.
With a goalless draw and a defeat on their two prior visits, the Blues will be looking to register their first win at the Hammers' new ground this weekend and leapfrog their opponents in the table in the process.
Everton come into the game two points behind West Ham and will be hoping that the momentum that can be generated by their 2-0 win over Chelsea won't have dissipated over the intervening fortnight without a game.
Marco Silva will be without Yerry Mina who is ruled out, possibly for the remainder of the season.
That is a point of consternation for the Everton Manager, who is unimpressed that Colombia elected to field in him two games so soon after he completed a rare 90-minute match against Chelsea.
The defender tore a hamstring in a friendly against South Korea, an injury that usually takes weeks to heal.
"Of course I am not happy," Silva said yesterday, "and Carlos Queiroz, the manager of Colombia, is not happy. It is not good news. It is serious.
"We prepared the national team and the staff. We knew before he went to [his] international team that it could have been a risk to play two matches. We communicated this to them. But we cannot control their decisions.
"We did everything we could do. After he played 90 minutes against Chelsea, we knew it was a risk to play him in two matches in a short period."
Silva has Kurt Zouma eligible again after he missed the win over his parent club last time and, barring any late training-ground injuries, he would resume his partnership with Michael Keane in central defence with Lucas Digne apparently fit to play despite missing out on France's win over Iceland on Monday.
The fullback was sidelined by a thigh strain he picked up in training with the French squad last weekend but Silva said in his press conference that he will be available to face the Hammers.
The rest of the side is likely to be unchanged given Silva's need to get some consistency out of his side — which would mean Dominic Calvert-Lewin continuing up front (despite Cenk Tosun's two-goal salvo for Turkey in the week) and Richarlison operating wide on the right.
[It's] fantastic news for me," Silva said of Tosun's performance against Moldova. "I know he is ready if I decide to start with him or if I decide to put him in during the match. It is most important for his confidence.
"I spoke with him yesterday about how important it is for him to score goals. I am sure Tosun will be more confident."
While West Ham have lost on the road to the likes of Cardiff and Bournemouth in recent weeks, they have racked up an impressive run of results at home where they are unbeaten since before Christmas.
They have beaten Arsenal and held Liverpool to a 1-1 draw in that time and come back from 2-0 down to beat Huddersfield 4-3 last time out, further underscoring the resilience that Manuel Pellegrini has been able to instill in his charges.
As such, this will be a difficult assignment for Everton and a test of the strength they showed in the second half against Chelsea; the last three away wins came against teams in the bottom four.
Kick-off: 5:30pm, Saturday 30 March, 2019
Referee: Paul Tierney
Last Time: West Ham United 3-1 Everton
Predicted Line-up: Pickford, Coleman, Keane, Zouma, Digne, Gueye, Gomes, Sigurdsson, Bernard, Richarlison, Calvert-Lewin
---
Reader Comments (83)
Note: the following content is not moderated or vetted by the site owners at the time of submission. Comments are the responsibility of the poster. Disclaimer
Frank Sheppard
1
Posted 29/03/2019 at 06:00:16
Intriguing fixture, a winnable away game as they often ship goals. I feel quietly optimistic. COYB.
Paul Birmingham
2
Posted 29/03/2019 at 06:40:11
Let's try and get on an unbeaten run to the end of this season, and take some optimism into preseason.
The club can't afford any more mediocre seasons, if it's ever to break on through and be a consistent top 7 side.
Tomorrow is winnable, but which EFC will turn up and will the team play the full 95 minutes?
Jimmy Salt
3
Posted 29/03/2019 at 07:22:04
I honestly think we will be crap.
Safe from relegation summer hols booked.

Jim Bennings
4
Posted 29/03/2019 at 07:23:12
A chance to record back to back wins for the first time since October.
Ok, it's a tough game, these are six home games without defeat and they've beaten United and Arsenal at the London Stadium this season aswell as held Liverpool so it's a tough trip.
From an Everton perspective though the one thing that pisses me off season after season is our shitty away form, we never seem to win more than four and that's why we never have a higher placed finish.
It's a game I want to see us try and win and not just sit back on a draw.
We put it a good performance against Chelsea two weeks ago and got a great win so don't throw it away with another cheap loss tomorrow, that would be maddeningly symptomatic of Everton's season.
Steavey Buckley
5
Posted 29/03/2019 at 07:28:55
Everton need to shake off the complaint that they don't do well after internationals. So will need to show more mental strength than usual when on the 'road' tomorrow.

Robert Leigh
6
Posted 29/03/2019 at 07:47:46
Excited for this as I'm going to the game, albeit behind enemy lines...
That lineup makes sense Lyndon, I hope the bench includes Lookman as I'd like to see him on the park for at least half an hour - perhaps at the expense of Richarlison given his travel the last week.
2-1 blues, DCL to score first.
John Pierce
7
Posted 29/03/2019 at 08:07:40
The last four halves of footy from this team, v.good, pathetic, traumatic, inspired. We could easily have been walloped in that Chelsea game yet it was as schizophrenic as the Newcastle game. How an ending colours the performance?
They were essentially the same. I couldn't predict this if I tried.
Tony Abrahams
8
Posted 29/03/2019 at 08:11:32
If that's the case Jimmy@3, then all this talk about Everton being a long term project, should see yet another new manager come the summer.
I think the players are playing for their future, but maybe I'm an optimist, and think if we play badly it might just be because of a lack of ability, or even just a lack of mentality?
Hopefully we can play like we did at Newcastle, but show more nouse and courage, if we are able to get infront, because this won't be an easy game, when you look at the stats that Jim, has just given us, especially with West Ham, looking to do the double over Everton, for the first time since the seventies.

Tony Hill
9
Posted 29/03/2019 at 08:50:24
I think we'll win. They're as erratic as us and nearly made a mess of it against Huddersfield. We have a decent enough record there.
Derek Knox
10
Posted 29/03/2019 at 09:15:25
Good news that Digne is available again after injury on International break, and the team that Lyndon suggests looks capable of getting a result, but as Paul @2, says in his last paragraph, which Everton will turn up, and will they keep it up for 95 minutes?
Christopher Timmins
11
Posted 29/03/2019 at 09:36:11
The Everton with a desire to try and break into the top six better show up tomorrow or some of them should go on a permanent holiday at the end of the season.
If we play like we did in the second half against Chelsea then we will win, that's the bench mark going forward.
Alan J Thompson
12
Posted 29/03/2019 at 09:41:08
If a player is injured on international duty are that country's FA still liable for the wages of the player for which he is unavailable for his club side? If Everton asked that the player not play both international games will they then follow their own wisdom and not play anyone who played for their national side?
Laurie Hartley
13
Posted 29/03/2019 at 10:10:56
Jim # 4 - one thing I am sure of about Silva is that he wants to win every game so I think he will go for it as usual.
How that turns out is anyone's guess. As they say in the land down under it could be "chocolates or boiled lollies".
I hope that Lyndon's team starts the game. I think we can win this one.
Up the Blues!!!
Jon Withey
14
Posted 29/03/2019 at 10:33:34
Mina news is disappointing - straight after a decent display.
West Ham could move to 7th with a win, so it comes down to if we want to be part of that competition.
Wolves and Watford seem to be the most cohesive teams in that mini-league - West Ham, Everton and Leicester are erratic but have some decent players.
I wonder if West Ham have the more combative midfield with Rice in it, I fancy them to win it at home - but if we play like we did second half at Chelsea then there is room for optimism.
John Raftery
15
Posted 29/03/2019 at 10:36:30
Mina has spent more time on the treatment table than on the pitch this season. A torn hamstring is bad news. Six weeks to three months is the normal recovery time depending on how badly he has torn it. We appear to have acquired an injury prone centre half who will need to be nursed through a season: not what we expect for a £28.5m centre back in his early twenties. Assuming Jags retires, Zouma goes back to Chelsea and Holgate returns to the squad it looks like we will need to sign two centre backs in the summer.
As others have said our away form against teams above us in the league is consistently abject. It is not much better at home with West Ham strolling to a 3-1 win in September. Our record in London has been poor for many seasons and even worse since one of our few happy hunting grounds, Upton Park, closed. I hope for a 95 minute performance and will be happy if we get a draw.
Nicholas Ryan
16
Posted 29/03/2019 at 10:58:37
Slightly off-topic, but: Deulofeu bossing it for Watford I can understand; Barkley doing it for England, I can just about stomach; but Yannick Bolasie tearing it up in Belgium- God give me strength!!
Ian Macdonald
17
Posted 29/03/2019 at 11:06:18
So hard to predict.
In a majority of games this season, we have been unable to play both halves well, we are better at home 2nd half and better away in the 1st half. Is it the manager or the players?
Jim Bennings
18
Posted 29/03/2019 at 11:40:22
John 15
Our last win in London was at Crystal Palace in January 2017, and prior to that it was at West Ham (Boleyn) in May 2015.
So that says it all really.
Derek Knox
20
Posted 29/03/2019 at 13:27:03
Jim @18, by that reckoning we are due one in 2019, maybe this could be it. You have to admit we are consistent, one win in London every 2 years. :-)
Sam Hoare
21
Posted 29/03/2019 at 13:43:44
This will be a very tough game. West Ham have been excellent at home lately. But we are something of a bogey team for them.
If we do get 3 points then we could well end the weekend only a point or two off top 8 which is strange given how poor a season it has been for the most part. We'd also still be very much in the battle for 7th which I think would actually represent a pretty decent achievement given that there the competition is alot fiercer for that spot this year.
Kieran Kinsella
22
Posted 29/03/2019 at 13:53:09
As of a couple of years ago our record v West Ham was better than our record against any other club. I am not sure if that is still the case after some embarrassing results the last two years. That joker Arnautovic seems to have an axe to grind against us and always shows up when we play them. I really don't know what to expect tomorrow. Both teams are so hit and miss, mediocre. I could see us winning 5-1 or losing 5-1, or anything in between.
Jim Bennings
23
Posted 29/03/2019 at 14:02:13
Derek 20
I'd say we are definitely due a win in London and what's more, take a look at the remaining away matches...
Our last four away trips are all to London lol.
John McFarlane Snr
24
Posted 29/03/2019 at 14:04:59
Hi Derek [20] any progress in the ToffeeWeb get-together?
Jay Harris
25
Posted 29/03/2019 at 14:28:38
West Ham doing the double over us would be a shocking indictment of how far we have fallen as a club so I am hoping for a 3-1 win for us.
We cant keep a clean sheet but neither can they and to concede 3 against A Huddersfield side whose major problem is they cant score goals shows West Ham's inconsistency too.
As others have posted this is a very unpredictable game but we need to show up.
Derek Taylor
26
Posted 29/03/2019 at 14:48:22
We are constantly told to be patient as Everton's 'recovery' is a 'long term project.'Of course it is quite understandable for the 'Johnnie Come Latelies' who inhabit the Clubs's top offices to talk that way. For the owner the waiting period amounts to three years, for the Manager and DoF a mere ten months.
But, for so many who subscribe to these columns it has been more than a quarter of a century of waiting for better times so we need no lectures from anybody on how to manage our expectations.
For what it's worth, my oft stated view is that as far as Premier dominance is concerned, we are well and truly fucked - destined to be 'also rans' forever more. That's if we can stay in that particular field !
Kieran Kinsella
27
Posted 29/03/2019 at 14:50:37
We have had some funny old games against them down the years. I remember when I was maybe 11/12 I was mortified when Kendall Mark II played Sharpie as a loan striker with a five man midfield at Upton Park. I was not much of a Sharp fan at that time based on his goals to game ratio. We lost. I also remember the rag tag Walter Smith team smashing them 6-0. Then we won 4-0 away to them. Then 5-0 at home in a nice little 99/2001 sequence.
Kieran Kinsella
28
Posted 29/03/2019 at 14:55:01
Derek Taylor
You have to be realistic. These things take time. Look at Preston. Their owner was replaced, two of their stars passed away. But they made the first step in the recovery with the expansion of the ground as they look towards getting back to the top. OK, so it's been 115 years since the Deepdale renovation but Rome wasn't built in a day.
Derek Taylor
29
Posted 29/03/2019 at 15:16:27
Trouble is, Kieran, I don't think I'll last to see 115 years on this planet although I've managed to get 70% of it in the life bank.
Having said that, it seems no time since I saw Tom Finney - 'The Preston Plumber'- run us ragged whilst registering a 4-0 Goodison mauling on the opening day in (I think) the mid fifties.
Kieran Kinsella
30
Posted 29/03/2019 at 15:40:42
Kudos to you Derek. I have been wrapped up in Everton only half as long and it drove me batty years ago.
Mike Gaynes
31
Posted 29/03/2019 at 17:01:27
John #15, given the enthusiasm with which he plays, his comparative lack of game fitness and the idiocy of Quieroz, Mina's injury was pretty much inevitable and not his fault. So he's had some bad luck with various injuries in the past eight months... no reason to write him off. I think he'll be just fine, and we definitely don't need to waste our limited funds on CBs this summer.
Jamie Crowley
32
Posted 29/03/2019 at 17:03:57
Mike -
Hypothetical scenario for you:
Zouma doesn't sign and returns to Chelsea. Mina is injured.
What's our CB pairing?
I'm not being a dick or asking to be shitty-clever. I'm asking an honest question. Who plays for you if that's the case?
Frank McGregor
33
Posted 29/03/2019 at 17:20:04
Having watched Mina's limited involvement with the team, he is not good enough for Everton or the Premier League.
Mike, he is just another waste of money, needs moving on as soon as possible.
Tony Abrahams
34
Posted 29/03/2019 at 17:33:53
Asking him closer to next season Jamie, would be the most sensible thing to do!
Brian Harrison
35
Posted 29/03/2019 at 17:49:57
I guess the team Lyndon has picked will start the game, but how most people pick Bernard to play wide in a front 3 is beyond me. Surely one of the main things you are looking for in a player playing in a front 3 is goals. Just look at all the top teams and they have regular scorers in those positions.
But despite starting most games over the last few months Bernard is yet to score a league goal, and quite honestly I cant remember him having to many shots on target. By the way I am not advocating Walcott play either as he has only scored 1 league goal since August. But with such poor goal returns from these 2 the pressure on our only 2 regular scorers Sigurdsson and Richarlison is immense.
I accept that Bernard is feeling his way in the Premier league and maybe he might have to play in a different role. But if that role is the one occupied at present by Sigurdsson then the same criteria still applies he needs to score goals. Now if he is struggling scoring playing in a front 3 then the chances of him becoming a regular scorer playing in the number 10 role looks even harder. Bernard is a nice footballer with a good first touch but he has to contribute with goals, otherwise give Lookman the same amount of games and see what his goal return is.
Jay Harris
36
Posted 29/03/2019 at 18:05:26
Jamie,
You are right to question that issue but I do have a feeling we may get Zouma and Mina will either sort himself out or move on.
In addition Williams (who?) and Jags will not be around.
However we have Peniington, who is getting rave reviews and Holgate, who seems to be doing well, Feeney, Galloway (questionable) and Connolly(would be a good sweeper imo) to be considered before we go chasing the market.
Martin Mason
37
Posted 29/03/2019 at 18:27:06
Brian, the wide players in 4-3-3 don't have to be major goal scorers. They are best able to keep the play wide get up and down the line fast to attack and defend and either cross or cut inside on to their best feet. Walcott would be perfect if he had better touch. I'd say Bernard is perfect in that role. He isn't a 4-3-3 midfielder as one needs to be defensive and two box to box. Not trying to be a know it all Brian just read a lot recently to help me understand. Milner and Henderson are perfect yet they were considered donkeys once.
Mike Gaynes
38
Posted 29/03/2019 at 18:31:42
Jamie #32, might as well ask what happens if Keane or any other player gets injured. Mina is no more likely to get hurt than anybody else. But in your scenario, it would of course be Keane and Holgate to start, with Feeney as an emergency reserve. At 20, he may be ready for some first-team minutes.
And that doesn't account for Pennington, who just this morning was nominated by Sport Bury as Ipswich's player of the season, a lonely light in a catastrophic year for them:
"But for me, the best player of the worst Ipswich season in my lifetime has to be Matthew Pennington.The Everton youngster has been quality and an absolute rock at times." (https://www.buryfreepress.co.uk/sport/ipswich-town-column-my-player-of-the-season-9065633/)
At 24, I would expect Matty to get one final chance to impress Silva this summer. Who knows, maybe he truly has made the step up.
So I'm with Jay #36. With so many other needs, I wouldn't spend dime one on a CB. Wait and see how things shake out.
Mike Gaynes
39
Posted 29/03/2019 at 18:34:46
Brian #35, what Martin says... plus Bernard has never been much of a goalscorer, and Everton knew that when they bought him. He's been brought in to spark and create opportunities, and I think he's doing a good job in that role. But the goals will have to come from elsewhere.
Kieran Kinsella
40
Posted 29/03/2019 at 18:47:09
Brian/Martin/Mike
My issue with Bernard isn't necessarily goals, it is assists. I know he looks good on the ball and all but in raw terms there isn't enough product. He kind of reminds me of Pienaar in that respect. It is well and good entertaining but at the end of the day goals win games. The other issue we have is that, his lack of goals/assists would be less of an issue if one or more of Davies, Gomez, Schneiderlin, McCarthy or Niasse were chipping in with double figures of each but they are not. At the minute it seems like we have two passengers in the team (Rich/Siggi) who we can't drop simply because while doing little else, that do get a goal each about once every three games. I am not saying these guys are terrible players but we don't have the right balance in the team at all.
Kieran Kinsella
41
Posted 29/03/2019 at 18:53:18
Mike 38
I agree on Pennington. I imagine he along with Williams (not Ashley the other one), Dowell, Robinson will all be back at Finch Farm in the summer and given the once over before they are sold or pushed into the first team squad. I imagine Holgate will stick around. If Penn and Holgate prove themselves then they could be in contention with a fit Mina and Keane, assuming Jags is off to the glue factory.
Tony Everan
42
Posted 29/03/2019 at 19:18:07
If we put two good halves together we will win the match.
No more of this split personality of playing shite for 45 and playing great for 45, we are good enough to harness the good and get consistent. Marco will be telling them as much.
Correct Score : West Bubbles 1 Evertoffees 2
Derek Taylor
43
Posted 29/03/2019 at 19:19:08
Bernard's physique will always be against him making much of an impression in the Prem. He contributes very little and whilst the occasional dribble is pleasing on the eye it is merely titillation.
Both Lookmam and the fading Walcott are better options. In my view.
Brian Harrison
44
Posted 29/03/2019 at 19:24:37
Martin
You compare Bernard to Henderson and Milner, its very rare that Milner plays in the front 3 and Henderson never plays there. If you want to compare wide players who play in a front 3 like Bernard try Salah,Mane or Son from Spurs or Hazard or William from Chelsea or Rashford and Martial from Man Utd.
That is what you are looking for in a wide player, goals and assists not just someone who is neat and tidy and helps his fullback defensively.
Rob Marsh
45
Posted 29/03/2019 at 19:43:41
I'm 50/50 on this game, I've no idea what way it will go.
I suspect though that beach balls and Ambre Solaire will be the attitude of the team, maybe this will help.
They've been playing a tight & nervous game lately, so let's see if relaxed minds can get points.
Bill Gienapp
46
Posted 29/03/2019 at 20:06:02
West Ham's Jekyll & Hyde routine has been almost as maddening as ours this season. Which basically means anything could happen tomorrow.
Re: Bernard, I actually think he could have double digit assists right now if we were more clinical in front of goal. He creates a lot. A perfect example was the end of the Watford match, in which he put an excellent, last-gasp cross into the box... and Tosun hammered the header over the bar (and was offsides anyway).
Raymond Fox
47
Posted 29/03/2019 at 20:07:19
If what happens usually after a good win, we will probably lose.
I tipped us to win against Chelsea, not because of logical deduction, it just felt right!
So by the same token this doesn't.
Justin Doone
48
Posted 29/03/2019 at 20:15:39
Game is toss off a coin. Similar seasons for both. New manager, style and players.
Probably unsure of best starting 11. Both have some very good players on paper that can win and change games in the blink of an eye but realistically this is achieved once a month, not once a week.
Always liked Noble for them. Reminds me a little of Osman with a bit more strength and know how. The kind of dependable, steady player every team needs. Sets the benchmark in terms of miniman effort but can score a few goals too. That is what we lack. Hopefully Gomes or Mooy can be that for us.
Derek Knox
49
Posted 29/03/2019 at 20:21:30
Tony @42, spot on there mate, but while I feel fairly confident we can get something out of this game, there are variables to consider.
That is the Jekyll and Hyde possibilities of both us and West Ham, and the attitude of the players after the International Break, will they be able to carry whatever momentum we had after the Chelsea game into this game?
Justin Doone
50
Posted 29/03/2019 at 20:43:41
As for our defence I'm always hopeful a youngster will step up but for a Premier league team to challenge even the best youngster needs an experienced pro to bring him through and help him when struggling.
Jags is probably our only good experienced defender but sadly he's a few years past his best when this partnership should have been developing. Stones wanted a move, I can't blame him so that left the Argentinean lad who's name escapes me followed by Holgate.
Both suffered injuries and the argintinean lad wasn't really fancied and sold. I think this was a mistake as it left inexperienced kids to cover without being nurtured through.
We now have several good 24/ 25 year olds but they all lack top class experience and I don't think we can challenge next season without bringing in someone better and more importantly an experienced leader.
We should all know the spine of the team is so important for consistency and we have a promising but fairly inexperienced spine from keeper through to striker. Sometimes I'm surprised we do as well as we do because I think our spine is a mid table team.
Now that sounds harsh but I'm not sure many would make a top 6 match day squad never mind team. So being realistic we are on par. But I hope the young players are going to quickly improve and get good on the job experience.
We are learning the hard way, but I believe we are learning and improving which gives me hope for next season. We just need a top class striker and good experienced defender. I don't want another 22 year old for the future, I want them ready now!
Tony Hill
51
Posted 29/03/2019 at 20:55:33
As a fan base we are going to have to shake off our instinctive pessimism. We are part of the cure for the cringing defeatism of our club, the excruciating tentativeness and ponderousness of everything we do as a football team or have done over the last 1,000 years or so it seems.
If, before most of our matches, we damply contemplate how we are probably going to lose it will be little surprise if our forebodings come true.
Let's expect in our marrow to win, players and crowd alike, and see what happens. It's what Shankly did for the shite, what Ferguson did for United. They made their sides feel great and play as though they were, until the brave pretence became reality.
Tom Bowers
52
Posted 29/03/2019 at 21:22:08
Apart from the finger pointing at Silva and various players for most of the season especially since that ridiculous 96th. minute RS goal that seemed to change everything, one has to to say that almost every game begins the same way for Everton.
They always seem to start slow and lethargic without much intensity which may be part of the Silva strategy, or is it ?
I really don't think that the squad is anywhere near competitive enough to challenge for the top six nor do they have the mental resolve to get at other teams when the opportunities arise ala the Barcodes game recently.
I have said they lack a really strong leader such as a Peter Reid and until that is addressed I will not expect the team to progress much beyond what they are this season.
Tony Hill
53
Posted 29/03/2019 at 22:11:39
Superb interview with Coleman in the Mail done by Dominic King. I wish it was in another paper but it's the very measure of the man. He's the guardian of our spirit, Seamus, regardless of his form. He speaks well, though briefly, of Silva.
Eddie Dunn
54
Posted 29/03/2019 at 22:55:16
I strongly believe that we will win at West Ham on Saturday. The team have turned the proverbial corner and Silva is getting a stay of execution from me. I am willing to wait till the end of the season and see just where we end up. A far cry from a month ago when I was amaong those ready to pull the trigger. COYBs.
Geoff Lambert
55
Posted 30/03/2019 at 00:45:00
Can I have a Newcastle first half and a Chelsea second half please? But not the other way around.
Mike Gaynes
56
Posted 30/03/2019 at 01:52:01
Right with ya, Eddie. I won't be on the forum tomorrow so slip in some smart-ass remarks for me, will ya?
Fran Mitchell
57
Posted 30/03/2019 at 02:52:38
2 jekll and hyde teams, after an international break. West Ham won at Newcastle and Huddersfield, but in between lost at Cardiff they're just as maddening to their fans as Everton are to us.
Similar issues - lack of a goalscorer (their main striker out of sorts and out of favour after having his dream move to china knocked back) and pouros defense, but in Anderson they have a dangerous player who will stretch our defence, whilst Antonio and Lanzini are both capable - bothing coming back from serious injuries, but capable. So their front 3 is dangerous. In Hernandez they have a striker who does almost nothing, but he is just the type to score a goal against our leakish defense. And of course, Rice will make a battle to dominate midfield.
Should be a good game, and I expect goals from both teams.
My bet is 4-3 to the toffeemen, a Brace for DCL, a first PL goal for Bernard, and Keane to get one from a corner.
COYB!
Derek Knox
58
Posted 30/03/2019 at 03:04:04
Fran @57, love the optimism but can't see the International break and the Chelsea result having ' the elixir of life ' effect quite that much, but would certainly settle for that result now.
I always had a bit of respect over the years for Fulham and West Ham, because they always try to play open entertaining football, hope tomorrow is no different, but with the proviso, that they are not better than us. 😂
Paul Kelly
59
Posted 30/03/2019 at 05:55:34
Tom @ 52, the posts before him. Don't side track yourself from the par for the course managerial career of Silva in the premier league.
Forget excuses, if he can't do better than Allardyce's finish, then what's the point? I don't see an improvement in the team, going forward-yes, defence-not so much.
The top brass have hired a first division manager, a relegation manager, Koeman-i could go on all day, a relegation saving manager then another relegation manager. Fucking boss, plus kids won't walk around Liverpool wearing Umbro trackies.
I wish I had the optimistic attitude of our American cousin's.
Paul Birmingham
60
Posted 30/03/2019 at 07:53:54
Today could be a step on the road to some consistency but erring on caution, for years the self implode button and can't be bothered attitude kicks in away from home.
I'd take a draw and hopefully not a Soton swat performance, which was rank with many very poor away days over the years.
It's got to be in the physio today and on a big pitch, full house but strange atmosphere at the new West Ham ground, it's a great chance to go and smash out a good performance.
I'll wait in hope to see if the players have kept the belief and fight from the Chelsea, second half game.
Maybe also worth a squad place for Anthony Gordon, in the run in at some time, this season, as he does look like a skill full player with plenty of heart and fight.
We wait in hope.
Mark Murphy
61
Posted 30/03/2019 at 08:19:03
Looking forward to this one - anyone recommend an away friendly pub?
I'm taking my best mate who just happens to be a red so hoping for a good converting performance from the blues!
First outing for my new "nil satis" tattoo as well!!
And it's sunny!!
COYB!!
Martin Berry
62
Posted 30/03/2019 at 08:26:57
These are a dangerous team, in Lanzini and Anderson they have two excellent midfield players who are going to be in high demand.
With that I mind it depends which Everton team turns up, if we put in a shift we should win, however with our Jekyll and Hyde season I would not be putting any money on anything other than a draw.
Eddie Dunn
63
Posted 30/03/2019 at 08:46:47
Mike #56, you can depend on me. ;)
Dave Abrahams
64
Posted 30/03/2019 at 09:16:24
If WHU use the same goalkeeper they used against Liverpool a few weeks a go, I'd urge Pickford to keep an eye on how he commands the penalty area, well he did that night, as well as making great saves.
Hope he stinks today though !!!
Martin Mason
65
Posted 30/03/2019 at 09:37:35
Brian@44, sorry mate I didn't mean to compare Henderson and Milner with Bernard only to say that they are the typical style of the 2 midfielders in 4-3-3. It's one either side of a single holding midfield and their job is to transit from defence to attack quickly running hard, dribbling or even passing fast forward. Milner can play on the wing too and he is an absolute gem of a player to have.
We don't have the players to fit the system and so, as Kieran says we are unbalanced. Ross Barkley isn't quite it in that position (it doesn't matter because his game is coming on so good now) and that's why Chelsea have suffered a bit with shape. I believe we have the players at Everton but are unbalanced because of Sigurdsson and we have many players who don't possess the intensity to play the modern game well like Schneiderlin and, I'm sorry, Gomes
Raymond Fox
66
Posted 30/03/2019 at 09:51:29
I don't see any logic in the idea that if we all proclaim they will win a game it will magically transform the team into winning it!
I keep telling myself every week that I'm going to win the lottery, its not happened yet.
Tony Hill
67
Posted 30/03/2019 at 10:08:32
Raymond, the mental attitude of team and fans is part of any successful club. Of course, nothing will be transformed immediately but you can be sure that if we mope along lamenting our deficiencies as matter of routine, then we will stay exactly where we are. Football is not about logic nor is it a lottery.
Martin Mason
68
Posted 30/03/2019 at 10:34:37
Tony, I agree. Negativity is a terrible thing for a soccer fan to have especially if you're an Evertonian
Raymond Fox
69
Posted 30/03/2019 at 10:35:37
Tony, I agree with you that its better to be positive and ambitious rather than negative.
It becomes difficult though when things go pear shaped on a regular basis.
We all weigh up the pros and cons and make a personal judgement on the outcome.
Kim Vivian
70
Posted 30/03/2019 at 11:11:19
Very lethargic start to this thread. Hope that is not indicative of the team performance later. Hard to guess this one. I had us to win 1-0 against Chelsea (gut feeling) and today I feel a little negative for some reason. I hope, however, we can play two halves of football and come away with three points but have a horrible intuition we will get turned over.
I am not feeling a draw here whichever way it goes. My (non intuitive) prediction? I do not envision a classic but maybe a scrappy 2-1 win - with a penalty somewhere.
Fran Mitchell
71
Posted 30/03/2019 at 11:16:34
Martin, I wouldn't say Liverpool's style of 4-3-3 is the only way 4-3-3 can be successful, nor is the inly way they adopt it either. I agree that Milner is ideal for the high-press game, he really is a gem of a player. But another key cog for Liverpool is Wijnaldum, whilst they have Shaquiri also. So different styles.
We have Davies, who has great potential despite a slightly underwhelming year. Gomes can offer much more too, and has the ability to control the tempo of games, and has the physical attributes to become a real driving force in midfield.
Also, if you look at Liverpool's midfield of Milner, Fabinho, Henderson - whilst it runs hard, it lacks goals and creativity,and will likely cost them their beat chance of a title, as they are too reliant on Salah and the brilliant Mané, but as a result have drawn too many games.
Derek Knox
72
Posted 30/03/2019 at 11:44:20
Kim, you didn't once have a tent at the fairground by any chance? You have covered nearly every eventuality there barring Nuclear Disaster. 😂
Sam Hoare
73
Posted 30/03/2019 at 11:51:11
I agree that Bernard needs to add some more goals. In his last 3 seasons at Shakhtar he scored around 8 goals a season and I would hope for him to do similarly for us. I'd wager he'd disappointed not to have more blue goals, he's fluffed a few chances.
But really he is a creator. I read somewhere that he creates more chances for us than any other player except Digne and Sigurdsson, who also take the majority of set pieces. Trouble is that we have not always been clinical.
Tough game today. I'd probably take a draw with a good performance although we owe them for what happened at Goodison. We're still yet to get many (any?) points from a losing position, I wonder if we might remedy that today?
Fran Mitchell
74
Posted 30/03/2019 at 12:07:46
Bernard has fluffed his best chances to date - seems to lack a bit of composure in and around the 18-yard box. I'm sure that when he gets his first, he should be more confident and the goals will come.
He has great skill, movement, and passing. Maybe he won't be a definite starter for a top-6 team, but an excellent option to have and expect him to have a good season next year.
However, I feel he will always be slightly lacking fitness wise - since his first game he has always seemed to fade after 60 minutes, and this hasn't improved as the season and his fitness progressed. But in Lookman, Richarilson and Bernard, our left sided options are pretty decent - added to the likely return of Vlasic ( despite being a more cetnral player)
Billy Roberts
75
Posted 30/03/2019 at 12:11:23
Type or paste your comment here. PLEASE capitalise initial letters of proper names and use proper grammar. No txt-speak; all-lowercase posts are likely to be deleted
Billy Roberts
76
Posted 30/03/2019 at 12:19:06
Tony Hill @ 51 and some others, an excellent and intelligent post, what is the alternative?
To be always looking for reasons why we cant win ? And then what gaining some cheap pleasure at being right when your team gets beat like you predicted.
Your thoughts aren't simplistic at all, they are crucial to build a successful club, it's what we want the club promote on every level.
The first level is us.
Clive Rogers
77
Posted 30/03/2019 at 14:14:36
Bernard only averaged 3 league goals per season in his 5 seasons at Shaktar. His average goes up a little with cup games, but against some poor opposition. In his last 3 seasons he averaged 4 league goals. He will never be a goal scorer I'm afraid.
Eddie Dunn
78
Posted 30/03/2019 at 14:41:06
Unfortunately by the time the little feller gets to the box he is puffed. That's why he doesn't score.
Derek Taylor
79
Posted 30/03/2019 at 15:19:04
Wrong Billy. We've got nothing to do with it. If the team is any good we share their joy, Unfortunately they don't share our misery when it goes tits up !
Jamie Crowley
81
Posted 30/03/2019 at 16:36:30
I want 7th. I actually want Top 4, but that's a bit off.
Why in the world aren't we minimally 7th, even in this transition year?
Burnley are beating Wolves currently. If that holds and Leicester win, we're 4 points off 7th.
Surely we should be "best of the rest" this season?
If we go through the motions and pack it in today, finding all the excuses (international break, road game in London, etc.), I'm going to be frustrated.
The week where Tim Cahill announces he's hanging up his boots, I want an effort he would be proud of. I'm not asking too much in my opinion.
Jeff Armstrong
82
Posted 30/03/2019 at 16:46:46
Win tonight and we're really amongst the battle for 7th,Europa League still on?
Not sure if it's going to go down to 7th now, but a £1 million per league placing is worth plugging away for .
Jeff Armstrong
83
Posted 30/03/2019 at 16:51:14
We'll probably finish 7th and Wolves win the cup (which I hope they do) and miss out on Europe anyway, but still, it could be a decent end to a crap season, and a platform for next season.COYB
Dave Abrahams
84
Posted 30/03/2019 at 16:52:55
Jamie (81), I understand you wanting Everton to finish 7th. and possibly play in the Europa League next season,I don't think we have the squad to play in the premier league and also numerous games in the Europa League as well, better to wait until the season after next when the Europa League is in a reduced format and hopefully Everton will be in a stronger position to cope.
Jamie Crowley
85
Posted 30/03/2019 at 17:04:59
Ya you're right Dave. Good point.
It's the principle of it all to me - finishing behind Wolves, Leicester, Watford, West Ham? It just instinctively pisses me off.
Add Your Comments
In order to post a comment, you need to be logged in as a registered user of the site.
Or Sign up as a ToffeeWeb Member — it's free, takes just a few minutes and will allow you to post your comments on articles and Talking Points submissions across the site.