Everton vs Arsenal
Saturday, 6 April, 2019
Match Preview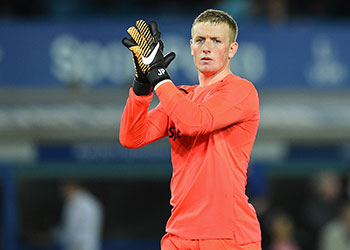 Jordan Pickford is expected to play after meeting with Marco Silva and Marcel Brands in relation to the fracas in which he was involved in Sunderland last week
Everton face Arsenal on Sunday looking to build on successive 2-0 victories that have propelled them back into the conversation around who will finish "best of the rest" behind the big six this season.
Wins over Chelsea and West Ham have transformed the mood around the Blues' camp and helped to dispel the clouds that formed following the ugly 3-2 reverse at Newcastle last month.
Currently sitting in 10th and four points behind Wolves in seventh with six games to play, Marco Silva's team are now hoping to put together a run of results that would see them leapfrog the teams above them and, possibly, secure a Europa League qualification spot.
They face a Gunners side that hasn't lost in the Premier League since they were beaten by title-chasing Manchester City in early February but that run includes just two away games, a 1-1 draw against Tottenham at Wembley and a 2-1 win at doomed Huddersfield Town.
Indeed, apart from that victory at the John Smiths Stadium, you have to go back to late November for the last time Arsenal won on their travels but, nevertheless, they are well positioned to finish in the top four and qualify for the Champions League, either at Spurs's or Chelsea's expense.
That less-than-stellar away record will encourage Silva, however, as he seeks to end what has been a turbulent campaign on a strong note. He will likely keep an unchanged side from the one that was so convincing at the London Stadium last weekend and which would include Jordan Pickford who has been disciplined by the club but is expected to play on Sunday.
Pickford was warned about his conduct after footage emerged of his involvement in a scrap outside a Sunderland bar last weekend. The goalkeeper reacted to derogatory comments about his fiancée, Megan Davison, and had to be physically restrained during an altercation outside the bar.
"The first chat we had at the beginning of the week I was clear with him and in that moment the feedback he gave me was that it was a big lesson what had happened," Silva said of the conversation he and Director of Football, Marcel Brands had with Pickford at Finch Farm this week.
"It is finished ... but I will repeat to you because we want to be clear: no one was happy with the situation and the club is clear also."
An unchanged lineup would mean Dominic Calvert-Lewin continuing as the lone striker between Richarlison and Bernard and ahead of Gylfi Sigurdsson, a quartet that has emerged as the most effective attacking unit at the manager's disposal.
It would see Theo Walcott, who failed to cement a starting berth despite a number of opportunities in February and March, being named on the bench again, an issue that was raised in Silva's pre-match press conference.
"Why not include Theo [in our plans]?" the Portuguese said when asked about the former Arsenal winger's future. "He is our player, not just with one or two years on his contract but with more years.
"He's fighting to help us, fighting to take his place in the starting 11 again and he is part of our plans like all the other players."
Yerry Mina is the only absentee through injury as he recovers from a serious hamstring tear but the strong partnership of Michael Keane and Kurt Zouma means that the Colombian would have been an unlikely starter even if he were fit.
Unai Emery, meanwhile, has injury concerns over midfielder Granit Xhaka and defender Laurent Koscielny while his midfielder enforcer, Lucas Torreira, misses out through suspension.
With neither Watford nor Wolves in action this weekend and Leicester not playing Newcastle until midweek, Everton could again close the gap to seventh to a point if they can record another stirring home victory over a top-six club at Goodison Park.
The occasion is likely to produce the kind of atmosphere that Silva has said is so important to his team's chances of success and another London scalp would further bolster the manager's standing ahead of another important summer of recruitment.
Kick-off: 2:05pm, Sunday 7 April, 2019
Referee: Kevin Friend
Last Time: Everton 2 - 5 Arsenal
Predicted Line-up: Pickford, Coleman, Keane, Zouma, Digne, Gueye, Gomes, Sigurdsson, Bernard, Richarlison, Calvert-Lewin
---
Reader Comments (66)
Note: the following content is not moderated or vetted by the site owners at the time of submission. Comments are the responsibility of the poster. Disclaimer
Derek Knox
1
Posted 06/04/2019 at 07:35:50
This is not an easy fixture by any means, but if it is at all possible for us to carry on the Chelsea/ West Ham form, and coupled with Arsenal's dubious recent away form, this could swing in our favour.
I know due to FA Cup fixtures the Premier Calendar this weekend is pretty sparse, and two of our nearest rivals play each other in the Cup, it is an excellent opportunity to make ground on them, I always believe that points in the bag, are better than games in hand.
I am also hoping that should we beat the Gunners, it may initiate a belated, successful run to the finishing line. I know a lot of our supporters don't relish the Europa Cup qualification, but it is a foot in the door of Europe, and although it is detrimental to our fixture list, (Thursday/Sunday Football) but being honest, are we equipped now, or likely to be next season, to play Champions League past the qualifying rounds?
Derek Knox
2
Posted 06/04/2019 at 07:39:43
Sorry meant to add that Kevin (No-ones) Friend is the referee, so let's just hope (there's a lot of hope involved here I must admit) he has an impartial game.
Neil Lawson
3
Posted 06/04/2019 at 07:52:56
Tomorrow could likely be a true indicator of whether the last couple of results accurately reflect the progress we all crave. Two good results will not obscure memories of the dross we have had to endure. Three good results may, at least, give us real hope for a significant improvement and genuine confidence for a more exciting and rewarding 2019/20 season.
Robert Workman
4
Posted 06/04/2019 at 07:53:00
Leicester play at Huddersfield today!
Derek Knox
5
Posted 06/04/2019 at 08:02:20
Robert @4, sorry I overlooked that Huddersfield v Leicester fixture, maybe now their fate has been determined, the Terriers may put on a display for their fans and do us a favour.
Joe Lockrobin
6
Posted 06/04/2019 at 08:31:14
We need to come out all guns blazing, this is my chief concern.
Three good wins against London based opposition would be something to hang our hats on.
Success on Sunday could spark further good results and subsequently be the difference in attracting quality players (Gomes) in the summer.
So, no pressure Toffees.
2-0 Everton or 2-0 Arsenal... or a 2-2 draw.
Jerome Shields
7
Posted 06/04/2019 at 08:45:20
The Arsenal litmus test is upon us again. Now, we will really see how Everton have progressed. I am hopeful after the great performance against West Ham.
Tony Everan
8
Posted 06/04/2019 at 09:09:39
It will be a good competitive game, I think our growing confidence will see us put Arsenal under a lot of pressure . Chances will need to be converted ruthlessly.
These games are good opportunities for DCL to shine and cement his no1 role, I will be willing him on to bag a goal or be influential in the win.
They have many threats though and will cause us problems too.
The brain says Everton 1- 1 Arsenal
The heart says Everton 2-1 Arsenal , with us winning it with a spectacular 20 yard siggy special. [Although any old goal will do]
Liam Reilly
9
Posted 06/04/2019 at 09:39:59
Need to get at them from the start and press them high up. if they don't get time on the ball and with a bear pit crowd, then Everton will win.
Rob Halligan
10
Posted 06/04/2019 at 10:06:03
Leicester actually play Newcastle next Friday. Leicester are away to Huddersfield today while Newcastle play palace at home.
Colin Malone
11
Posted 06/04/2019 at 10:32:38
This is our last afternoon home game of the season. The Burnley game has been moved to Friday night, FFS.
Dave Williams
12
Posted 06/04/2019 at 11:03:44
I see this as a good indicator of where we stand now. Chelsea first half was awful and quite how we turned it on it's head in the second half still astounds me. West Ham we were very good throughout. Having been a fan now for 55 years I tend to need some convincing that the corner has been turned and whether we truly have the right man in charge ie Silva- I think Brands is excellent.
Roberto gave me hope for six months, Ronald didn't appear that keen on joining us and Sam was a safety net. Silva hasn't been at all convincing since December- why did we tail off so badly and why has it taken so long to fix? Arsenal may provide some answers about Silva- Emery is a good manager seeking to be even better, they play good football and won't bully us so can we reproduce our West Ham form?
I think we can and we should but will he get them motivated?
Fingers crossed- I am ready to be convinced!
Christopher Timmins
13
Posted 06/04/2019 at 11:17:05
I would agree with David @12 this is will be a good indicator of where we currently stand and whether the progress made over the past number of weeks is meaningful long term.
If we play like we did in the second half against Chelsea or the first half against West Ham we will win.
I would not get caught up on our finishing position at the end of the season, I am more interested in our points tally. If over the next 6 games, 3 against teams with a lot to play for at the top end of the table, we could manage to accumulate another 10 points that would be a good return and put a bit more respectability on the season overall, however, a points tally of 53 would still be less than my target of 62 at the outset of the season and would reflect how badly things went from Anfield in November to mid February.
Richard Lyons
14
Posted 06/04/2019 at 11:18:25
Half-time vs Chelsea = Silva's Oxford Utd moment?
Today's performance will be an important indicator... COYB!
Frank Crewe
15
Posted 06/04/2019 at 11:28:18
I know finishing as high as possible is always any clubs ambition but at the same time Europa League football without the squad to cope is usually detrimental to league form. Something we found out in past seasons and Burnley found out in this one.
If we make it into Europe do we have the squad to cope with it and the PL, FA Cup, and League Cup? Especially if we don't keep Gomes and Zouma and Gana leaves. I'm not sure I wouldn't be happier with an 8th place finish and strengthen the squad for next season so we can make a serious run on a top six place and maybe win a domestic cup. After all it has been 25 years since our last cup success. Seems better than huffing and puffing every Thursday night in the Europa, picking up injuries and suffering for it in the PL and cups.
Until we can match the top six in squad size getting into Europe with a small squad is simply helping them to keep a stranglehold on the top six places. Let Watford or Wolves get into the Europa. Lets see how they cope playing qualifiers in July and then playing best part of a season on Thursdays and Sundays.
Jim Bennings
16
Posted 06/04/2019 at 11:59:46
A point tomorrow if we beat Fulham next Saturday wouldn't be too bad at all in the bigger picture.
Arsenal for the best part of 30 years have been the mother of all bogey teams to us, think the Gunners have won more Premier League games against Everton than any other team and we have recorded something like 6 wins in 30 years.
Steve Carse
17
Posted 06/04/2019 at 12:02:12
Frank, we have a massive squad, that's why Brands' main job over summer is going to have to be to cut it back. So why not want to play in the Europa League? This season we've had so many players picking up a fortune every week without, in many cases, getting anywhere near the field of play.
This season we'll have played just 42 games by my reckoning. In so many ways -- financially, keeping players involved and happy, media coverage etc -- that is simply not enough.

Steve Carse
18
Posted 06/04/2019 at 12:02:12
Frank, we have a massive squad, that's why Brands' main job over summer is going to have to be to cut it back. So why not want to play in the Europa League? This season we've had so many players picking up a fortune every week without, in many cases, getting nowhere near the field of play.
This season we'll have played just 42 games by my reckoning. In so many ways -- financially, keeping players involved and happy, media coverage etc -- that is simply not enough.

Clive Rogers
19
Posted 06/04/2019 at 12:05:27
Games such as this give the best indication to the powers that be who they want for next season. DCL has played better the last two games apart from his shooting against the Bubbles. He needs to show on Sunday that he can be a finisher. I have doubts myself and I think a striker will be priority with DCL as back up. Bearing in mind that if we try to sign Gomes and Zouma, the best part of £70M could be gone, plus another £40M for a striker there won't be much left for other additions. I expect any other signings to be youngsters with potential.
Minik Hansen
20
Posted 06/04/2019 at 12:31:16
Michael Kigne and Lucas Deane at the back. ;) Rather we have that referee than most of them lots. Marco, please just keep that fire on the belly going for this game, from the very start of the whistle. COYB.
Derek Knox
21
Posted 06/04/2019 at 12:41:24
Clive @19, interesting one regarding prospective purchases of Gomes and Zouma, let's start with Gomes.
I was under the impression that Marcel Brands had travelled to Barca some time ago, and they had reached a figure of around £23-24M for the lad, should we wish to make his loan permanent.
Now the Zouma with Chelsea one could be a lot more complicated with this ban that they have. Chelsea are absolutely stock-piled with players (most out on loan) but not sure how many CB's they have. I believe he joined for around £12M, but since then he has been mostly loaned out, so they either envisage a future for him or they don't.
Another thing I only found out the other day, is that Abramovitch has not even attended one match this season, is he losing interest ? Does he intend to seek another plaything with his ill-gotten gains. Will Sarri still be there next season?
There are so many variables attached to this possible scenario. Hopefully those that matter in transfer affairs are more abreast of the situation than we are. If it doesn't look like we can get the lad permanently, which will be a shame, I hope they have a suitable candidate lined up.
Jim Bennings
22
Posted 06/04/2019 at 12:45:09
The signing of Zouma will undoubtedly be complicated but it's something we definitely must look at completing this summer.
Zouma is relatively young and has only a handful of years experience in terms of a defender and this guy could be like Distin by the age of 29-30, he's got all the attributes needed at this level, pace, power, fitness, the concentration should come with more years experience.
Gomes when he plays like he did last Saturday at London Stadium will also be imperative, he can be that good at times it's unbelievable, it's just about him finding that on a weekly basis next season, I'm sure he will after a full summers training here.
Dave Williams
23
Posted 06/04/2019 at 12:55:20
Couldn't agree more Jim. Zouma is indeed a young version of Distin and Gomes has almost limitless potential. We must sign these two as they are known quantities so no risk involved.
Darren Hind
24
Posted 06/04/2019 at 12:58:11
This is a decent Arsenal team, but certainly not a vintage one
Silva has finally compromised as far as zonal marking is concerned - his job depended upon it. - and I think we have been looking a little more street wise as a result
Arsenal have all the pressure and I think we are entitled to see anything less than three points as a failure.
The women have all sobered up and safely out of the way, so I`m off up there . .Let the Tiger roll
Frank Crewe
25
Posted 06/04/2019 at 13:00:58
@Steve Carse.
Yes on paper we have a big squad but the reality is a lot different. How many of our squad actually play in the first team other than the odd appearance? We know who our first team players are. The rest of them don't get a look in. Most of our squad is made up from the deadwood from the Moyes, Martinez, Koeman and Allardyce eras. The likes of Mirallas, Williams, Sandro, Pennington, Bolasie, Niasse, Besic etc are just drains on our wage budget. In total we have 15 players out on loan all due to return in May or June. Most of them we want off the books and unless their contracts have ran out we are going to have a lot of problems getting rid because of the wages they earn. I'm sure before Silva can buy any more Moshiri will insist we trim what we already have. So maybe our squad isn't as big as you think it is.
Jamie Crowley
26
Posted 06/04/2019 at 13:23:19
To Europa, or not to Europa, that is the question.
I just don't see the point of playing in any competitive game if you don't try to win. We should absolutely, starting with Arsenal, try to tip Wolves, Leicester, Watford, et al to 7th place and a European spot.
We have a host of players currently on the bench or younger players not seeing a lot of time, who could use the games and experience.
JJK, Holgate (coming back), Baines, Jags, Schneids, Davies, Theo, Cenk, Dowell (coming back) to name a few.
Yes, we will cull the squad numbers. But I think Europa would / could be a massive benefit to keep our players sharp. And it's a European competition with the Holy Grail of CL football at the end of it.
If we were to make Europa, I'd argue that I'd "sacrifice" League position for real runs at the League Cup, FA Cup, and Europa. Make next season a type of "Cup season" as it were, and FINALLY win some silverware.
If we don't finish 7th, then for me it's all about the League. We have to finish 6th minimally if there's no European competition for us. Oh, and if we don't have a real run at the League Cup I'll go postal.
Arsenal tomorrow will help clear up whether we are going to have a real shot at 7th. I think we have a good chance of getting 3 points.
Tom Bowers
27
Posted 06/04/2019 at 13:25:30
Frank # 25 yes there is a lot of ''deadwood'' to be dealt with one way or another at the end of the season and one would thing that Silva and his team have a good dossier on who is worthwhile keeping.
No matter what, I think we all feel extra strength needs to be brought
in to reach the next level which should be top six quality.
Would be nice to beat the Gunners and make it 3 London scalps in 3 games but they can play some nice stuff and it should be an interesting game.
Keeping the same starting eleven would help for the final run-in of games and maybe cement a basis of a good team for next season.
Clive Rogers
28
Posted 06/04/2019 at 13:43:48
Derek, #21, didn't realise Zouma had been signed so cheaply, but no doubt Chelsea will want a lot more now. Other clubs are interested in Gomes (Spurs) so his price may inflate. It's a strange situation with Abramovich as he now has an Israeli passport, but has been denied a visa. He can't work in the UK, can only make short visits and has got a cob on with the UK government. His club have denied he is losing interest.
Steve Ferns
29
Posted 06/04/2019 at 14:07:45
Abramovich has lost interest in Chelsea. I have seen it alleged that Abramovich was only ever interested in Chelsea as a way of "reputation washing". This means that being Chelsea owner cleans up a shadowy reputation and silences the questions about just how he obtained control of what is now Gasprom when he was a colonel in the Russian army. There is no doubt that up until a couple of years ago he was a respected London based businessman. Now he's been effectively barred from the UK and his reputation is back in the gutter, so Chelsea's purpose is over. Rumours are he is set to sell them for more than he has invested. The Abu Dhabi lot are also similarly allegedly interested in "reputation washing" and have used their Man City connections in a variety of ways to their benefit, but that's not likely to be something TW would wish for me to repeat on here.
Brian Williams
30
Posted 06/04/2019 at 14:13:32
Au contraire, Steve — spill, mate!!! 😁
Steve Ferns
31
Posted 06/04/2019 at 14:14:40
I'll tell you on the 21st Brian.
Derek Knox
32
Posted 06/04/2019 at 14:21:27
Oh go on Steve, spill the arabica beans! :-)
Paul Birmingham
33
Posted 06/04/2019 at 14:42:25
Let's hope the EFC team turn up tomorrow and show the same guts, spirit, organisation and focus as they did last week at West Ham.
It's been a long time, since we've seen a total commanding 95 minutes performance at GP.
Tony Twist
34
Posted 06/04/2019 at 15:59:27
Fingers crossed for a win tomorrow but it is glaring that they are twenty points ahead of us, that is just embarassing. It will be tough going to get seventh but only finishing in that position will make me feel that this team and manager have a future.
Jim Bennings
35
Posted 06/04/2019 at 16:45:57
Given the Leicester result today and the fact that they are on a roll with 4 wins on the spin, hopes of a 7th placed finish are remote or us at least this season.
The thing that Everton need to be aiming for in the remaining games is to accumulate as many points as possible and just see where that takes us.
It is a case then of starting over again in summer and trying to build a momentum that can see us nail down 7th next season and then regularly finish 7th, we need to make 7 our magic number for the next three years or so.
Derek Taylor
36
Posted 06/04/2019 at 16:47:48
How many times have we done that, Jim ?
Jim Bennings
37
Posted 06/04/2019 at 16:56:10
That's the problem Derek.
We used to do it regularly under Moyes but over the last 4 years we have lost our position as best of the rest.
We need to start cementing that 7th place before we can seriously expect to breach the top six.
The fact that Arsenal are so far ahead of us is very galling but shows exactly what we need to be next season to even get close to the top six.
Tony Twist
38
Posted 06/04/2019 at 17:00:13
In my opinion 7th is nowhere. For what we have spent 7th is a failure. This year I was hoping to challenge the likes of Arsenal in the league and then cementing a European place year upon year. That to me is progress, this season we have fallen so short with the inability to defend.
Joe McMahon
39
Posted 06/04/2019 at 17:05:09
Jim, there are more top 6 teams with CL experience than the good old Moyes days. The division is a lot harder.
Dave Williams
40
Posted 06/04/2019 at 17:09:57
Steve- I heard the same thing a while ago about Chelsea- it's purpose has gone without respectability and a UK passport.
Hence the comparative slowing down in their spending I guess. Who will buy them at that sort of price I wonder and will they be able to compete on the same level?
Tony Everan
41
Posted 06/04/2019 at 17:34:57
At the start of the season the spread markets predicted we would finish 7th, so that is the par for the course .
6th and above we have over achieved
8th and below under achieved
Sam Hoare
42
Posted 06/04/2019 at 19:24:17
Tony Twist@38 7th is not nowhere in my opinion. It is where we should be aiming this and maybe next season.
I don't think transfer spending per season is as indicative as wages budgets and in those terms I think we are about 7th.
The competition for 7th has got harder and the likes of Leicester, Wolves, Watford and Bournemouth have some very decent managers and players amongst them. I'd hope to be finishing above them but certainly not a given.
Silva and Brands are building a younger more progressive team but the competition is intense as witnessed by English success in Europe this season. I'd have taken 7th-8th this season with 6th-7th next season as the building blocks.
I expect us now to finish 9th-12th which has to go down as failure of sorts for Silva but he will be given more time and I hope that decision will be justified next season.
Andy Crooks
43
Posted 06/04/2019 at 21:58:38
Jamie C, I agree. Why should we disparage the Europa League? Great nights under the lights and a sign that we are going somewhere. As you, rightly say, we should aim to win every game. If we are eleventh we should aim for tenth. Every player should be looking to improve. Every point is worth a fight.
Every player should look at Ronaldo and think that this a one-off chance for glory. If only Besty had Ronaldo's attitude; he would be the best player of all time by an even greater distance.
Jimmy Hogan
44
Posted 06/04/2019 at 22:58:51
At the end of the day, we've still lost more games this season than we've won.
Jay Harris
45
Posted 07/04/2019 at 00:22:42
This will be a tough game. Emery has taken them up a peg from Wenger and we have only won 1 in 8 against them.
Having said that their away from is sketchy and we should want it more than them with GP behind the players.
I look forward to a rocking GP, a good game of football and a 2-0 win.
Cmon Blues you owe us this!!!
Bob Parrington
46
Posted 07/04/2019 at 08:20:56
I think the Arse will score. So Everton 3 - Arsenal 1.
How did the RS get that off-side non-decision that lead up to their first goal vs Soton and change the whole complexion of the game. They have been donated too many points this season by lousy officials!
Neil Wood
47
Posted 07/04/2019 at 08:32:00
Any spare tickets for today please... manager to get the day off work. 07879551102
Thanks in advance
Derek Taylor
48
Posted 07/04/2019 at 09:25:00
In reality, Everton have not advanced one iota on last season's results and likely finishing slot. All this talk of progress under Silva is eyewash. 8th/9th is all that goes down in the records - pretty football counts for nothing, but I do understand why the younger elements in our following HOPE for better things. Some of us have waited a lifetime.
Mal van Schaick
49
Posted 07/04/2019 at 09:37:28
We've had some pastings at Arsenal over the years, in our current form and playing with the same passion as we did against Chelsea and West Ham, I would love to beat Arsenal at Goodson today. 2-0 would do me.
Neil Wood
50
Posted 07/04/2019 at 09:46:51
Jesus Derek that's the spirit!!!
Eddie Dunn
51
Posted 07/04/2019 at 09:48:21
Today, I expect us to give the North Londoners a close game. We are certainly capable of upsetting them. As for the race for 7th -Leicester or Wolves can fight it out. It will at least mean that one of those will be burdened at the start of the next campaign.
I think we will win 1-0.
Rob Halligan
52
Posted 07/04/2019 at 10:03:12
Bob # 46. I got told a few weeks ago that had VAR been in operation this season, then the RS would have been 17 points worse off. Don't know how true that is, but they have had a lot of decisions go in their favour regarding dubious penalties and offside goals. As I said yesterday, VAR can still favour the so called big six teams after the decision not to send off Kyle Walker following a clash with a Brighton player when he threw his head into the Brighton player.
Anyway, no doubt VAR will have its own thread on here next season which will probably rumble on all season.
Regarding today. The pressure is off us, so I think we can go out relaxed and turn in a decent performance. Playing Chelsea, Arsenal and Man Utd in 3 of our last 4 home games will ensure the team remain focused and help turn in good performances, help to end the season positively and we can all look forward to next season, along with VAR!!
I'm going for a close 2-1 victory. DCL and Richarlison to score.
Sam Hoare
53
Posted 07/04/2019 at 10:17:05
Derek Taylor@48, I think your half right. Results are all that matters ultimately. But 'pretty football' does count for something.
First of all football is an entertainment business and pretty football is more entertaining, it translates potentially to more fans, more tv appearances and more revenue.
Secondly 'pretty football' can be a sign of things to come. Look at Klopps first season, the results were very mixed, they finished much lower in the league than they would hope for; but the football showed promise. They stuck with Klopp and now they look a serious force. I'm not saying Silva will turn out the same but you never know.
Personally I'd take a season of 'pretty football' that sees us 9th/10th but building a young progressive team with hope than another season in 8th with Allardyce's KITAP1.
Neil Wood
54
Posted 07/04/2019 at 10:22:01
Does anyone know anyone with a spare ticket please!!! Really want to go today
07879551102
George McKane
55
Posted 07/04/2019 at 10:29:10
"Man needs, for his happiness, not only the enjoyment of this or that, but hope and enterprise and change". Bertrand Russell.
Today I choose life. Every morning when I wake up I can choose joy, happiness, negativity, pain. To feel the freedom that comes from being able to continue to make mistakes and choices - today I choose to feel life, not to deny my humanity but embrace it.
I am sitting in my writing room listening to a bit of Dylan ( Morning Chris) at the moment - - and have just posted my normal live video on The Dark House Blues FB Page - - looked out of my window towards Goodison - - I can just see the white roof of the Main Stand and can see Bramley Moor in all its potential glory.
It's Great To Be An Evertonian.
Let's have some posso's - -
"I don't want to straight-face you
Race or chase you, track or trace you
Or disgrace you or displace you
Or define you or confine you
All I really want to do
Is, baby, be friends with you"
Bit grey and overcast today but never mind - - getting the bus under The Tunnel and will ride up to The Dark House holding on like Charlton Heston on Jack Hawkins Chariot in Ben Hur - - driving up our own Appian Way - - I will look up from TDH to The Colliseum:
And I shall drive my chariot
Down your streets and cry
Hey, it's me, I'm dynamite
And I don't know why'
And you shall take me strongly
In your arms again
And I will not remember
That I even felt the pain.
We shall walk and talk
In gardens all misty and wet with rain
And I will never, never, never
Grow so old again.
Going to the game is a pleasure for me - - no matter what - - the whole day from when I wake up is Bluetiful - - and is totally geared to Goodison - - the bus journey with headphones on listening to Van or Lennon or Dylan - - maybe a bit of Sandy Denny - - today I will take my shoulder bag - - bought in The Van Gogh Museum in Amsterdam with Vincent's name on the side and Give Peace A Chance badge from The Lennon/Ono Exhibition at The Liverpool Museum - - my camera for TDH and notebook for quick observations to be used later and my mouth organ (you never know when you may need it) - - as I have said before - - for me the whole Everton thing is part of my life - - good and bad - - without it my life would not be the same - - too many friends and compatriots and "moments" - - I get myself ready for the game - - morning of listening to music, reading some poetry over a 2nd cup of coffee in my sunflower cup:
And when heart is open
And when heart is open
You will change just like a flower slowly openin'
And when heart is open
You will change just like a flower slowly openin'
When there's no comin'
And there's no goin'
And when heart is open
You will meet your lover
Sitting and listening and filling my soul and spirit and head with Bluetiful thoughts - - I know reality but sometimes I like to dream - - dreams and visons - - for me as a man who makes his living from his own heart and mind the task of the artist is to see through, beyond within and below the here and now, the way things are and the powers that be to raise life to the mystical - - to float above - - to see the beauty in life:
I'm a dweller on the threshold
And I'm waiting at the door
And I'm standing in the darkness
I don't want to wait no more
I have seen without perceiving
I have been another man
Let me pierce the realm of glamour
So I know just what I am
I'm a dweller on the threshold
And I'm waiting at the door
And I'm standing in the darkness
I don't want to wait no more
Wowww - - thank you Van for Lifting me and taking me with you:
I will pass along Scotland Road - - Daisy Street, St Alphonsus, look up towards Everton - - - - thinking about all the Cardinal Godfrey ToffeeWebbers - - heading toward Westminster Road - - TDH - - friends - - Blues - - A Sense of Wonder:
Along the path where heaven lies
Along the path where heaven
Along the path where heaven lies
All is clear
Ahead where home awaits the heart
Ahead where home is waiting
Ahead where home awaits the heart
Peace is near
Close your eyes in fields of wonder
Close your eyes and dream
Close your eyes in fields of wonder
Close your eyes and dream
It's the w(holy)e thing - - the feeling of a special day - - like Joni Mitchell - - "don't know what you've got till its gone" - - Happy 75th Joni - - don't let it go - -don't wait for the special times - - make them - - "The Love You Take is Equal To The Love You Make":
Me used to be angry young man
Me hiding me head in the sand
You gave me the word, I finally heard
I'm doing the best that I can
I've got to admit it's getting better (Better)
A little better all the time (It can't get no worse)
I have to admit it's getting better (Better)
It's getting better
Since you've been mine.
So off now to get ready for my Blue Trip - - don't need the bus really could just float on the astral over to Goodison - - Posso waves for all Blues everywhere:
I want to know did you get the feelin'
Did you get it down in your soul
I want to know did you get the feelin'
And did the feelin' grow
Sometimes, when the spirit moves me
I can do many wondrous things
I want to know when the spirit moves you
Cosmic grooves - - with a firm handshake - - George
Darren Hind
56
Posted 07/04/2019 at 10:42:35
The Tiger rolled for me yesterday and George McKane is back on TW and waxing lyrical about my arl school and . . well life.
I can live with weekends like this
Derek Knox
57
Posted 07/04/2019 at 10:45:50
Great stuff George, and glad that you are back, hoping for a good performance today and of course a win. Hope to see you on the 21st.
Neil Wood
58
Posted 07/04/2019 at 10:50:41
George just got your voicemail many thanks for the info your help is massively appreciated. I am however travelling from Huddersfield so long way to drive without a definite ticket.
I really appreciate you taking time out of your day to try and help...welcome back!
If anyone does have a ticket spare though please let me know
Derek Thomas
59
Posted 07/04/2019 at 10:52:09
There are days, now and again, when Arsenal don't travel well past Watford,*nods to a young Rooney - and maybe this another of them.
Andrew Clare
60
Posted 07/04/2019 at 11:13:02
Arsenal are a very good team. They are in a group of teams that compete for honours every year. The expect a high level of performance and achievement. We have got to compete with these teams and raise our level of performance and our expectations. We must not accept mediocrity.
Let's get out there and win this game and let's get right behind the team. Finish the season on a high.
James Hughes
61
Posted 07/04/2019 at 11:18:17
George, I am going to borrow from you and say that was a Bluetiful post.
Speaking to several Hammers this week and their opinion is we are the 2nd best team to visit them after Citteh. They felt they got off lightly last week.
If that team could turn up this week it would be amazing. Going for a comfortable home win and little Bernie to rip them to shreds.
Nitesh Kanchan
62
Posted 07/04/2019 at 11:29:26
The Europa League would be good experience for the young players, shouldn't be a problem with at least 2 teams in the group outside of top 5 leagues to qualify to next round and then play the first team going into the big games in February after a hectic Christmas schedule.
Looking at the groups Arsenal and Chelsea had this season, they didn't even need to play their first team. We were unfortunate last time to have Koeman as manager and being in group of Lyon and Atlanta which happens very rarely to end up in a group of two teams from top 5 leagues.
If we are in the top 4 going into February, we should focus on the Premier League; else, if we are once again best of the rest, then we should have a go at the Europa League.
Peter Mills
63
Posted 07/04/2019 at 11:34:47
Enjoy the day George, you should get decent odds on your usual 4-0.
Colin Malone
64
Posted 07/04/2019 at 11:35:10
I've been going to Goodison Park for 40 odd years and have always looked forward to the last home game, players doing a lap of honour, meeting up after the game in the pubs around the ground, then to town for a few more and a sing song, and by the way helps local business.
Whats happen? Sky come along and fuck it up and change it to the Friday evening. Every way you look at it, its a fuck up. Supporters working patterns, travelling from afar etc etc. All for a game that means nothing to the neutral. Okay if Burnley would have lost yesterday, they won and are 20/1 to get relegated on Skybet.
I'm going to contact Everton Football Club and the Echo and try and get it moved back, not only for me but for business around the ground.
Chris Hockenhull
65
Posted 07/04/2019 at 11:57:27
Good Morning to you too George. Hope the bet comes in as well. Btw..my copies of "Lust For Life" and "Letters of Vincent Van Gogh" books arrived last week and are here on the bedside table. Enjoy the day..Tangled Up In Blue..Coyb!!!
Dave Abrahams
66
Posted 07/04/2019 at 13:01:14
Neil (58), just read your post, so you might be too late to see this, anyway, try standing outside the ticket office's, back of the Stanley Park End and also the one on Goodison Road, there are usually people trying to get rid of tickets they have been left with, especially like today when the match is on TV.
George lovely post as usual, I hope to see you after the Man.Unt game in The Excelsior, no need to tell you to stay happy and positive, best wishes.
Add Your Comments
In order to post a comment, you need to be logged in as a registered user of the site.
Or Sign up as a ToffeeWeb Member — it's free, takes just a few minutes and will allow you to post your comments on articles and Talking Points submissions across the site.