Report: Wigan lodge bid for Robinson
Saturday, 22 June, 2019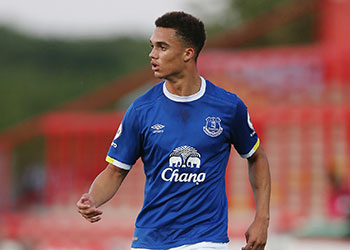 Wigan Athletic are keen to sign Antonee Robinson on a permanent basis according to Sky Sports.
The USA international defender spent last season on loan with the Latics and was expected to return to Everton this coming season to compete with Lucas Digne for the left-back spot at Goodison Park.
However, Leighton Baines's decision to extend his contract by a further year would keep Robinson as third-choice in that role and Wigan are hoping that the Blues will agree to sell him this summer.
Reports earlier this week suggested that their offer was just £1.9m.
---
Reader Comments (23)
Note: the following content is not moderated or vetted by the site owners at the time of submission. Comments are the responsibility of the poster. Disclaimer
Richard Mason
1
Posted 22/06/2019 at 17:30:27
I have to laugh, £1.9 million bid in for Robinson, a full USA international and only 21, if any other club were selling, it would be £15 million. Or, if Everton were buying, it's what we would have to spend.
Dave Williams
2
Posted 22/06/2019 at 17:39:08
We can't sell him just because we have Baines still. If he is good enough, we must keep him and see if he can learn from Baines. If not considered up to it, then maybe a higher offer would be worthwhile in clearing the decks.

John Dean
3
Posted 22/06/2019 at 19:18:18
He's terrific going forward but is often found missing when it comes to his day job. I can't comment on Robinson's transfer value but I don't think Digne would be worried about losing his place to this lad.
Bill Gienapp
4
Posted 22/06/2019 at 19:36:53
They might as well have asked us to just hand him over for free. I hope Brands said "I'm going to assume this is a prank call" and hung up.
Mike Gaynes
5
Posted 22/06/2019 at 19:39:56
Something weird about this story -- not that Wigan want him back, of course, because they put him back in the lineup as soon as he was healthy again and he didn't miss a minute in their spectacular run in. Naturally, they love the kid.
But who expected him to compete with Digne this season? Back him up, maybe, but certainly not compete with him.
The strangest aspect is the bizarre offer. If that's accurately reported, it's beyond ridiculous. Insulting.
Anyway, bottom line is we should absolutely not sell him. Loan him, yes. Sell? No way. Physical gifts like his do not come along every day.
Darren Hind
6
Posted 22/06/2019 at 20:17:44
1.9m ?
Wigan merely testing the water, surely
Rob Marsh
7
Posted 22/06/2019 at 23:07:41
No mate, they're testing our patience!
Alex Kociuba
8
Posted 22/06/2019 at 23:11:07
Can't we do what Barcelona do with us? Sell for £2m and have a buyback option for £4-5m then if he turns out to be worth having back we can keep or resell him?
For a young international I think this could be good insurance and good for all parties.
Liam Reilly
9
Posted 22/06/2019 at 23:34:41
Keep this kid.
Insulting offer for an international. You'll never know how good they are unless they are given a chance. Just look across Stanley Park to see that.
Rob Marsh
10
Posted 23/06/2019 at 01:11:03
Next logical step is to bring him back from Wigan, give him a hug and pat on the back and then send him back out again on loan.
His next loan club should Ideally be in the prem, one of the promoted clubs or mid table types (I shouldn't be so smug, mid table is a good description of us at the moment). This will give him the experience he needs to improve while making mistakes elsewhere and then we'll have him ready to push Digne when Leighton calls time.
Mike Gaynes
11
Posted 23/06/2019 at 02:04:38
Rob, the thing is... I'm not sure how many Prem clubs he would start for right now, and the last thing he needs is to be on the bench for somebody. Antonee needs games. Lots of games.
I'd send him right back to Wigan. Paul Cook is an outstanding manager who has already improved his defensive fundamentals, and he'll play him every available minute.
Rob Marsh
12
Posted 23/06/2019 at 03:02:13
Hello Mike,
Good points (all of them).
I was thinking more along the lines of the Ideal situation, but very little about life is ideal. If he could make it to a prem club and do well it would do his confidence a world of good.
Having said that, if he's making progress at Wigan I'd be happy to go with what you've said and leave him there for another season.
Brian Cleveland
13
Posted 23/06/2019 at 04:14:31
Clubs in lower divisions don't have much cash to splash, so for Wigan, almost £2M is probably a significant amount of their war chest even if it seems insulting to us. Sure he'd be worth more to a Premier club if there's one interested... But not seen any bid so far.
I think another loan or buyback clause would be appropriate now that Baines is here for another year.
Rob Marsh
14
Posted 23/06/2019 at 12:41:42
Brian #13,
Why sell him at all?
He cost us nothing, his wages will be relatively low at this time and if he comes good we're going to happy.
We have time on our side with this kid, Leighton will keep Digne honest, the kid will then mature elsewhere and will be ready for Premier League action in a year or two.
Barry McNally
15
Posted 23/06/2019 at 13:21:01
Ask Leeds if they're interested in taking Robinson on loan — a year training under Bielsa could do wonders for him.
Si Smith
16
Posted 23/06/2019 at 13:39:04
A loan deal seems sensible here, clearly the Wigan manager likes the lad, he will progress playing Championship football so let's loan him back.
Other than that, this for me is where a buy-back clause is useful; let the lad go for £3m with a buy-back for say £5m in 2 or 3 years; if not, a season-long loan would be best bet.
Michael Williams
17
Posted 24/06/2019 at 02:06:34
Send him back to Wigan if we can't loan him to a team in a better league. As someone else said he'll play every minute. He won't get any time with us with Digne and Baines. None of our young players will.
Brendan Woods
18
Posted 24/06/2019 at 06:17:17
£1.9 mill? That could nearly buy us 0.33 Arouna Kone's based on previous dealings with Wigan. Considering how badly they mugged the club off with Martinez, Kone, McCarthy (& giving us Alcaraz on a free), I'd be removing the decimal point from that offer before considering any permanent deal with them.
Si Smith
19
Posted 24/06/2019 at 18:07:40
More and more reports suggesting Silva is going to sanction the deal!
Kieran Kinsella
20
Posted 24/06/2019 at 18:33:45
Brian 13 is correct. Such is the imbalance between spending power that any Premier League club can expect to pay at least five million for a player, drop a division and you get next to nothing unless someone rolls the dice on an outstanding talent.
Same issue with Pennington. He might seem a £5 million player when compared with say £80 million Maguire, but if no Premier League clubs want him, he is essentially worthless.
Your value is based on what someone is willing to pay. If you sell the Crown Jewels at a Bedouin yard sale in Mali, you might get five quid.
Justin Doone
21
Posted 24/06/2019 at 20:15:46
Offer him to clubs on loan only.
Buy backs can go wrong if the player doesn't want to come are expect to much of a salary increase and further lines agents pockets.
He needs games and we have time to see how well he develops over the next few seasons.
Si Smith
22
Posted 25/06/2019 at 05:13:34
Agreed, Justin, but for your solution we need a 3- or 4-year deal in place at a minimum.
Buying back Robinson isn't a tough one, we can dictate what we want to a player at Wigan as we're much much bigger.
If another club came forward, then we can negotiate terms between Wigan and the other club to get a good deal for all.
John Keating
23
Posted 27/06/2019 at 09:37:02
Loan deal sounds good.
Any sort of sale has to have a buy-back at exactly what we got for him.
Add Your Comments
In order to post a comment, you need to be logged in as a registered user of the site.
Or Sign up as a ToffeeWeb Member — it's free, takes just a few minutes and will allow you to post your comments on articles and Talking Points submissions across the site.