Fan Comment
Projected League Results
Steve Ferns

13/01/2020
46

comments | Jump to last
Following on from doing the projected table earlier in the season, after 12 games, in my article "Not as bad as you might think", here is the same stuff updated.
This is the Projected League table for the end of the season: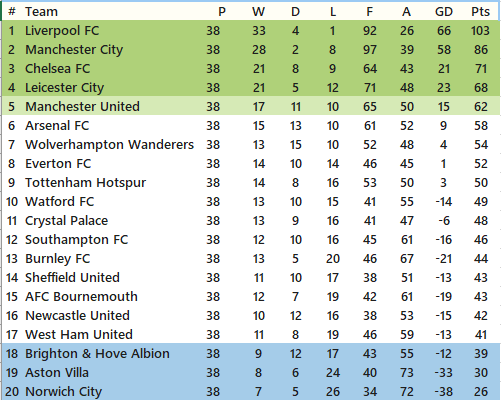 This second table includes some other figures that might help you understand the workings a bit better: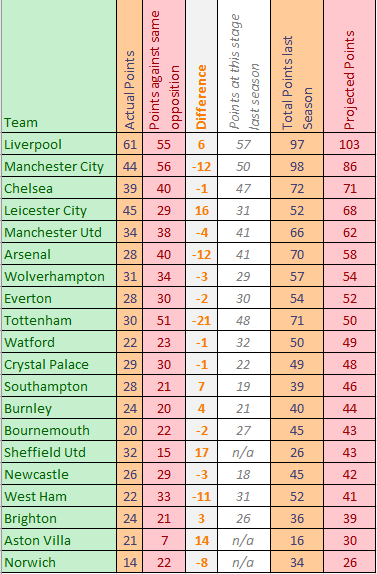 Actual points is exactly what it says, the actual points teams have right now.
Points against the same opposition is the key to understanding this. I have taken the exact same fixtures played this season and looked at the results last season. The number of points from these exact fixtures is this figure in this column. Now of course, three teams got relegated and three teams got promoted. As Champions, Norwich take Cardiff's results as they finished 18th, for finishing second, Sheffield United take Fulham's results, and Aston Villa, as the play off winners, take the results of Huddersfield. Please note, we use the result of Cardiff v Huddersfield for Norwich v Villa, and perhaps I should use the actual result in the previous season in future editions, something I am still thinking about.
The difference is the barometer. How much better or worse are we doing compared to last season? It's simply the points difference between the two teams
Points at this stage last season is merely the point total after this many matches, note Liverpool's is after 22 games and not 21, same for West Ham. This is not relevant to any calculations, but may be of interest.
Total points last season is exactly how many points were won last season, or the points of the promoted sides relegated counter parts.
Finally, we get to the business end, the projected points. This is last season's points total with the difference added or subtracted as appropriate.
So, some commentary, Spurs' collapse is evident in the difference from last season, and this is reflected in their projected points total, showing that they actually have a lot of hard games still to come and even when doing better last season, they struggled to pick up points. This means they could fall as low as 10th.
Why 10th? Because, like with Wolves last season, it is hard to predict or project Sheffield United. They should get far more than 11 more points, perhaps double that, which would take them to 54 and above us.
I won't go into the remaining fixtures, but if the projections predict we have a chance of 7th or better, then I will do more detail on the remaining fixtures for each of the contenders with around 10 games to go in the international break.
I will list our own remaining fixtures and the results from last season though:
West Ham (a) 2-0 Win
Newcastle (h) 1-1 Draw
Watford (a) 0-1 Loss
Crystal Palace (h) 2-0 Win
Arsenal (a) 0-2 Loss
Man Utd (h) 4-0 Win
Chelsea (a) 0-0 Draw
Liverpool (h) 0-0 Draw
Norwich (a) 3-0 Win (against Cardiff)
Leicester (h) 0-1 Loss
Spurs (a) 2-2 Draw
Southampton (h) 2-1 Win
Wolves (a) 2-2 Draw
Aston Villa (h) 1-1 Draw (against Huddersfield)
Sheffield Utd (a) 2-0 Loss (against Fulham)
Bournemouth (h) 2-0 Win
6 wins, 6 draws, 4 defeats, 24 points.
The results hardest to replicate are Man Utd, for the score line, but at home we can beat them. The next game, is one where a draw would not be devastating. Some of the draws will be hard to pull off, Liverpool, Chelsea (away), Spurs (away), and Wolves (away). But there is some bad results we can improve on: the Newcastle draw, the Leicester loss, the Huddersfield / Villa draw, the Fulham / Sheff United loss. However, if you do the games in your head, I think you will have us returning slightly more than 24 points. The questions is, though, can we get the 6 extra points we need for 6th?

Follow @ferninho
---
---
Reader Comments (46)
Note: the following content is not moderated or vetted by the site owners at the time of submission. Comments are the responsibility of the poster. Disclaimer
Stu Gore
1
Posted 13/01/2020 at 19:47:21
Leaving "the match that shall not be named!" aside, I'm quite happy to see some in-game management from Ancellotti, trying to use his subs to positively effect the game (even if they are defensive in nature). We haven't had that. I look at the next four fixtures as winnable.. before we go and get done by the Ref/VAR at Arsenal.
This must take a fair but of time to put together Steve, fair play to you.
Carl Manning
2
Posted 13/01/2020 at 19:51:31
I also think we can factor in the deeper United and wolves go in the Europa league it could possibly distract them. After all, that champions league spot for winning is a huge carrot to both of them. Wolves particularly have been very impressive and judging by the majority of Nuño's line ups so far, he has been taking it seriously since game 1 in the group.
James Doran
3
Posted 13/01/2020 at 21:01:49
I think we will pip Arsenal and Wolves to 6th.
Len Gowing
4
Posted 13/01/2020 at 21:07:47
Without the deep analysis shown here I did a similar look at the rest of the season last night and had us at gaining another 24 points in a "normal" scenario, putting us on 52 for the season. Considering that it has been 54 & 57 points respectively that got 7th place for the last 2 seasons that still leaves us short.
However, if we were to continue the upturn in form since Silva left, that could get us another 32 points, sitting at 60 for the season, which should cement 7th. We would then be at the mercy of who wins the FA cup to catapult us into July Europa league qualification. I'd take that.
John McFarlane Snr
5
Posted 13/01/2020 at 21:13:25
Hi Steve, I have just completed a self-imposed ban, in anticipation of the criticism the results of the Manchester City and Liverpool games would bring. While I don't agree with the manner some criticism has been expressed in the past, it was always delivered on events that had occurred.
I find on my return that there is now a 'Projected League Results' thread, which gives fans the opportunity to debate fixtures that have yet to be fulfilled, I can only imagine that this is some sort of light entertainment in a period of more serious concern.
Steve Ferns
6
Posted 13/01/2020 at 21:20:35
Welcome back John. Good to see you back. Your nephew has kept the McFarlane name prominent in your absence.
The table adds on last season's results in the fixtures yet to be played to the results from the 22 games this season. It highlights that Spurs crisis might be worse than you might think. It also should give cause for optimism that 6th is still up for grabs, and we don't need to do much more than get 4 or 5 more points than we did last season. No miracles needed.
Brian Williams
7
Posted 13/01/2020 at 21:21:59
Hi John. Good to see you back. Was getting a bit worried about where you'd gone mate.
Andy Crooks
8
Posted 13/01/2020 at 21:23:49
Cap doffed, Steve. The work is first rate. You and Sam Hoare write the stuff I love.. However, I hope you are working on another, much more important, article. Of course you will have to get it past the Eds but go for it, mate.
Steve Ferns
9
Posted 13/01/2020 at 21:26:25
Andy, I was leaving that to you. You spoke to an expert about it!
Andy Crooks
10
Posted 13/01/2020 at 21:26:39
Good to hear from you, John @ 5. Hope you are well and hope to see you in the spring. Get another article up here soon.
Andy Crooks
11
Posted 13/01/2020 at 21:28:52
Steve, you know more about libel than me. If I wrote it, perhaps you could make sure I stay legal.
Paul Birmingham
12
Posted 13/01/2020 at 21:52:44
Thanks Steve, this helps some balance and perspective on the rest of this season.
Anything can happen, and maybe some of the draws can become wins, and a few defeats become wins, then it will be interesting to see this table again with 6 games left.
Joe Parkinson
13
Posted 13/01/2020 at 21:56:50
Just verified the lottery results over the last 2 years, and by my predictions the winning numbers for this coming Saturday are as follows, 8, 10, 24, 32, 42, 51
That's taking into account the drum holding the balls spins at 60 revolutions a minute !!!!
Seriously lads, this really is becoming Silly..
2 main reasons for this,
1) Injuries to players..
2) Var.
I always enjoy your posts Steve, you are a really genuine Evertonian with a vast knowledge and understanding of not just the game but of our club, and I respect you for that, but surely this current post is a bit tongue in cheek?.
Onwards and upwards Blues
Peter Warren
14
Posted 13/01/2020 at 22:06:35
Steve, a lot of effort In your article and interesting. Realistically we should take one game at a time (we have nothing else to concentrate on) and aim for 6th. I think Utd unfortunately out our reach (despite them being average) because of how bad we were under Silva. Despite our lacklustre squad, two midfielders out, we should aim for 6th now.
Look at each other team / ie win Sheffield Utd away that would mean we need 2 more points than them in 15 games / 45 points. ✅
Then look at next - I haven't look at table but suspect it's Wolves. Draw away with them means we need 4 more point than them in 15 games / 45 points but they have Europa. ✅
Don't know who's next in league probably Spurs. I would say they will be hard to catch and biggest rival. We would need a draw away and hope they progress in Champions league - clearly they are currently severely understrength so great opportunity.
Suspect them someone like Palace ahead - surely we can pick up more points than them - I think we have them at home which means we just need to beat them at home and gain more points over 15 games ✅
Arsenal - I think are poor, like us. Game at Emirates will be key.
My conclusion is ManU too far ahead for us to gain that many points on them but other than that I see Spurs as main rivals followed by Arsenal owing to fact they will pick plenty of points up at Emirates. Sheffield Utd squad will be stretched come February and I daresay Wolves will feel the Europa.
Brian Williams
15
Posted 13/01/2020 at 22:09:31
As investment warnings say though "Past performance is no guarantee of future results."
It's all guess work at the end of the day.
Brent Stephens
16
Posted 13/01/2020 at 22:16:43
Brian "As investment warnings say though "Past performance is no guarantee of future results"."
And the "fund" manager is also important in football.
On the question of investments funds, a piece of research this week says that you have the same success with picking investment funds by throwing a dart at a list of funds, as does a professional investment manager.
Steve Ferns
17
Posted 13/01/2020 at 22:25:27
No problem Andy.
Joe, the history here is that they used to publish such a table in a fanzine or the official programme. Phil Kelsall Roberts used to replicate it in the early days on this site.
I was always fond of maths, and I blame Everton for that. At a very young age, my dad was amazed to see me writing out the league table before the game and working out where Everton could be by the end of the day. In the days before the internet and the "as it stands" table, you needed a pad and pencil, preferably one with a rubber on the end to update it as the goals went in.
I used to always enjoy Phil's work and after about 10 games, you can see the season start to take shape on the projected table. When it disappeared off this site, I started doing it myself, just for a bit of insight. The thing you learn when you have to input all the new results and you are looking at all of least seasons results, for every side, is just how many results stay the same. You would be surprised. Which is why this table is a good barometer after the half-way point.
Look at two of the early strugglers, Watford and Southampton. After 12 games both were in the relegation zone and had 8 points each. The projected table then said not to worry, Saints are actually only 1 point worse off. It projected they would get to 38. Since then they have recovered and pulled off some great results and this is reflected in the new projected as they have got to 46.
Watford meanwhile were looking dead and buried. 5 points is a lot to lose, but the projection still had them well above the drop requiring them to shed a load more points to go down. Their recovery is shown by clawing back 4 of those lost points and now being projected to finish in 10th.
Spurs were the big shock early on, but the revised projected table really highlights the trouble they are in. They have a difficult five games coming up where they lost a lot of points last season and if they follow those results they will be bottom half and only recover into the top half in the last few games.
A prediction I would make based both on the numbers, and on my eyes, because that is where this works best, is Newcastle to go down. Newcastle were 5 points up on last season after 12 games, and since then have lost 8 points on last season in the next 10 games. Whilst Almiron might have hit a golden patch of form, I see a poor side struggling (yes down to injury to an extent) and with a poor manager and a 㿔m flop of a striker, I can see them struggling to hold onto the 16 points they achieved last season from the 16 games they have left, particularly as one is a win over Man City.
Norwich, Newcastle and Bournemouth or Brighton go down for me.
Mike Gaynes
18
Posted 13/01/2020 at 22:30:58
Mr. McFarlane senior, a pleasure to see your name again.
Steve, evidently you don't sleep or eat much, given the time you expend in contributions to this board while (apparently), maintaining your law practice. Thank you for the effort.
My own impression is that three unaccountable factors will impact the accuracy of this guesstimate -- morale, injuries and January transfer business. With injuries hitting us harder than most, I'm less than sanguine about whether our midfield depth will be sufficient for the estimated performance levels in the remaining games. And without new signings or unexpected contributions from young players like Gordon, I think 8th is very optimistic and 6th is unattainable. At this point my eyeball test tells me there are 8 clubs in the league that are simply better than us this season, the obvious 7 plus Wolves, and despite all their problems we will simply not pass Spurs and Arsenal. Their new managers will right their ships, as will ours.
Steve Ferns
19
Posted 13/01/2020 at 22:35:50
Peter this is Spurs remaining fixtures and results from last season:
Watford (a) 1-2 Loss
Norwich (h) 1-0 Win (over Cardiff)
Man City (h) 0-1 Loss
Aston Villa (a) 2-0 Win
Chelsea (a) 0-2 Loss
Wolves (h) 1-3 Loss
Burnley (a) 1-2 Loss
Man Utd (h) 0-1 Loss
West Ham (h) 0-1 Loss
Sheffield Utd (a) 2-1 win (over Fulham)
Everton (h) 2-2 Draw
Bournemouth (a) 0-1 Loss
Arsenal (h) 2-4 Loss
Newcastle (a) 2-1 Win
Leicester (h) 3-1 Win
Crystal Palace (a) 1-0 Win
As you can see, they lost 7 of their next 9 games last season. They're badly out of form and missing Harry Kane. If they can get back on form and win some of these game then it would go a long way to recovery. But as I said, doing the numbers all the time, these results stay the same a lot more than you might think.
Steve Ferns
20
Posted 13/01/2020 at 22:37:32
Mike, there is no guessing by me here. I am not guessing the score, and predicting everyone's results. This is the actual results from the same games last season. Otherwise I might just as well post up a league table from a computer game.
Stan Schofield
21
Posted 13/01/2020 at 22:46:24
Interestimg Steve.
So Liverpool have 4 points more than at the same stage as last season, whilst Man City have 6 points less. I suppose you only need a drop in form or some injuries to one of them, and a sequence of wins from the other, to produce an end result quite a bit different from the projection.
Steve Ferns
22
Posted 13/01/2020 at 22:53:57
Stan, sadly the projection highlights how impossible Man City's task is. Liverpool's loss is to City, one of their draws is at Goodison, so the tough games are already factored in. Meantime City should avenge one of those 3 defeats projected (Newcastle) but the other two are away at Chelsea and Leicester and so could well be further losses. Other than these 3 games, City beat every side they have yet to play, including beating Liverpool in Manchester. They also have to go to Old Trafford and Tottenham to repeat their victories there. So, you can't really expect much from City's side of things, it's the RS we need completely derailed, but stranger things have happened.
Jerome Shields
23
Posted 13/01/2020 at 23:18:18
Good analysis Steve. It just shows you what way this season was going from the start and where Everton are going to end up, given the performance we have all witnessed, which is no surprise.
It shows that Evertons plan, if there was one, is not progressing as exspected. Ancelotti has a enormous task to change things around. There is no way a less experienced Manager would have had a mission of doing so in the job.
Spurs deflation is spectacular , from a Champions League Final.
John McFarlane Snr
24
Posted 13/01/2020 at 23:51:30
Hi again Steve, do you think that the 'Projected Results' formula from last season, would have predicted that Liverpool would lead Manchester City by 14 points with a game in hand at this stage?
Surely you have witnessed enough football matches to know that anything can happen in a game, for example Southampton 0 Leicester City 9, Leicester City 1 Southampton 2
I find it easier to discuss matches that have taken place, rather than speculate on results of games that have yet to be contested, but I suppose that I grew up in a less scientific era. I have already revealed on this site, that I'm known by some as 'Johnny McFossil'.
Steve Ferns
25
Posted 13/01/2020 at 00:02:26
No John. But if you think of the "swingometer" on election night, as the results show a pattern the projected table starts to reflect this and can help show what will happen for the remainder of the season.
Ie the discussion above about city and Liverpool. And the fact that if city win the league then it requires a collapse by Liverpool as city cannot claw the gap back themselves.
It's an indicator. Not a crystal ball as in the early stages of the season, all it shows you is what happened last season.
As regards Johnny "McFossil" you do yourself a disservice. Hopefully when Phil Kelsall Roberts logs on he can confirm where he first got the idea for this from, because I believe it goes a long way back, John. It's not a modern idea.
The thing with statistics is it's not the be all and end all. It's something that can help you see things. It doesn't give you the answers. I prefer to look at things from a different side to how I would if I just went the match.
Each to their own, eh John?
James Hughes
26
Posted 14/01/2020 at 01:05:03
a good article and as good a prediction as any. Not many I would about apart from Arsenal away as I think it will be a draw.
The other being a home win against the RS which I really want to happen. Cheers Steve
Stan Schofield
27
Posted 14/01/2020 at 10:55:01
John@24: The current time is no more scientific than the era in which you were brought up. Projections of the future have never proved particularly scientific, because they seldom turn out to agree with reality. They've become more complicated, partly because computing power enables them to, but that doesn't imply they're more scientific.
Factors such as you've mentioned, to do with the real world and its tendency to turn on a sixpence, make projections very uncertain and usually of little use.
Eddie Dunn
28
Posted 14/01/2020 at 11:29:04
This is a fun excercise Steve and there is obviously some merit in it as you establish that often results season to season between certain sides are very similar.
However, I would give an example of how it is fallible and that is Bournmouth. They seem to have finally run out of luck and I imagine that they will go down. Your table has them safe on 43 points.
The problem with it is that if just one or two results go differently, the whole thing takes a radical turn.
Steve Ferns
29
Posted 14/01/2020 at 11:45:33
Eddie, that's precisely the thing. I look at the table and I forecast that Norwich, Bournemouth and Newcastle will go down. Two of them are not in the projected bottom 3. Newcastle are dropping like a stone, from 5 points ahead of last season to 3 points behind in just 10 games, an 8 point swing. Bournemouth are also on a downward trajectory and I expect this to continue.
Brighton are 3 points better off than last season, but such is the raising of the bar, that they are in the bottom 3. I think they will keep improving and will be able to get themselves clear.
Aston Villa, based on Huddersfield's numbers, are in a ton of trouble. But I think those numbers mean very little, to be honest. Whilst Villa sit second bottom, I think Villa will find a way out of it, and Huddersfield got more points from the remaining 16 games, than they did from the 22 played so far, indicating that Villa still have favourable games left.
At the end of the season, you can see some massive results as teams reverse results and a 6 point gap over the victorious team can be wiped out in that 1 game. For example, if Liverpool beat City, the 17 point gap becomes 23 points as Liverpool move to 106 and City drop to 83. Or say we win at the Emirates, Arsenal drop to 55 and we move onto 55 as well.
Jeff Spiers
30
Posted 14/01/2020 at 12:32:26
Steve, could you please forecast what game it would be the RS winning the title? I want to book my holiday. Far, far away!!
Jay Wood
[BRZ]
31
Posted 14/01/2020 at 12:55:39
Don't think Steve is claiming this is 'scientific' or definitively predictive on how the remaining fixtures of the season will pan out.
Just a little bit of harmless fun.
At the start of the season, me and a few mates each predict the finishing position of all 20 PL clubs. There are always clubs that surprise you by either performing better or worse than expected.
Sadly, the top six in recent years has become very easy to predict. The middle range a lottery. For the relegation spots the key factor for me is always the number of goals a team concedes, especially if that has been the case over a number of seasons.
In that regard, the current table upholds that theory. The most porous defences are Norwich (45 conceded to date - more than two a game) and Villa (43 - again, just shy of two goals conceded per game).
Next worse is Southampton with 39, but if you take away the complete outrider result of the 9-0 home loss to Leicester, they would have conceded less than Everton (32).
I'm not surprised Bournemouth are down there too. Eddie Howe has always just about squeezed enough results out of a season to keep them up, but since they got promoted their record of goals conceded reads 67, 67, 61, 70 and currently 35. This puts them on course to another 60+ goals against this season.
Their goals against has placed them in the poorest 2-4 teams in the league each season for goals conceded. That will eventually catch you out. This could well be the season it does.
On my theory that the teams who concede the most being the teams most at risk of relegation, Burnley needs to be careful. They are the 4th worst for goals conceded on 37 and have been on a poor run for some time now.
You have to smile, when considering these numbers, that some lobbied for the likes of Howe and Dyche to replace Silva.
Shocking to think, then, that under Silva Everton lost all three games to the three teams currently sat in the bottom three. And in two of those, we couldn't score against the two worst defences in the league.
Brian Williams
32
Posted 14/01/2020 at 13:15:54
I'm glad this isn't Steve being scientific because I remember not too many weeks ago he predicted, quite confidently, that we'd win silverware this season! :-)
Carl Manning
33
Posted 14/01/2020 at 13:21:50
Jeff I think I read yesterday that sky had worked out, if results go to plan, the next merseyside derby would be the game they could clinch the title
Carl Manning
34
Posted 14/01/2020 at 13:23:23
Also Jeff, I believe it's backed on the givemesport.com website
Derek Knox
35
Posted 14/01/2020 at 14:00:44
Steve F, as you know I have never been one for statistics, and like John McFarlane says there are so many surprises and unexpected results, along with poor refereeing (which seems to be in it's ascendancy) and ridiculous VAR decisions, which generally contradict the expected. I just hope that some may start going our way.
Oh, and welcome back John McFarlane Snr, you have been missed as echoed by many other TW members, your input is always not only welcomed but also informative from a much respected and senior blue.
John McFarlane Snr
36
Posted 14/01/2020 at 14:04:34
Hi Stan [27] I was taking a tongue-in-cheek approach, it appears to me that stats and formations have been exhausted, and prophesies have replaced them. You are correct in hinting at the fact that the electronic world in which we now live, has replaced the bar-room discussions, our audience has become global. but not as enjoyable without the occasional bottle of Guinness.
In my youthful days I must have [wrongly] predicted the outcome of many games, but fortunately for me my mistakes were not highlighted globally, and being the 'dinosaur' that I am, I yearn for the 'Good Old Days'?
Peter Warren
37
Posted 14/01/2020 at 14:15:01
Thanks Steve - Spurs certainly been in rotten league form for last 12 months and you may well be right
Eddie Dunn
38
Posted 14/01/2020 at 15:03:58
Yes, Steve and Peter, it will be no surprise to Spurs fans who have witnessed a shocking meltdown from a squad of players that 18months ago looked capable of challenging for the title and only last may got to the Champions League final despite their drop in domestic form.
It illustrates that opportunities for sides that could win things generally onlt have a small window to do so before time and events overtake them.
I wonder if the rumours of personal issues and relationship complications have caused this chain of events. Or is it purely a football conundrum?
Jeff Spiers
39
Posted 14/01/2020 at 15:24:24
Carl, thanks
Fran Mitchell
40
Posted 14/01/2020 at 16:17:56
Such predictions are just bound to cause more pain, and football can never be predicted.
Nobody would have had Watford to be bottom of the table mid way through the season, nor have predicted their revival under Pearson.
Nobody would have predicted our form until December, nor the form post Derby.
Nobody would have predicted Spurs' fall from grace.
And we certainly wouldn't have predicted what the other lot are achieving.
Let's just take one game at a time. A face off with Moyes' West Ham, this could go either way.
Jay Harris
41
Posted 14/01/2020 at 17:00:51
First of all welcome back Sir John. Your "Caveman" posts have been sorely missed.
Hope you are in good health and continue so.
Steve,
First of all compliments on spending so much time throwing useful information for debate on TW.
One thing you cant factor in yet is the January signings and I don't foresee Levy or Mourhino throwing the towel in although Spurs over the last few years have dropped off in the second half of the season.
I see Spurs making significant signings and making a real fist of it for the rest of the season. Sheffield United look the most vulnerable as the season wears on I can see them tiring. Wolves are a very well run club with a good manager so I see them maintaining. Leicester also look to have hit a run of bad form but look to have enough in the tank to stay top 6.
We by comparison are running on empty unless we can get some significant signings over the line especially in MF.
It will be interesting to revisit the table in a months time and see how things look then.
John McFarlane Snr
42
Posted 14/01/2020 at 18:59:26
Hi Derek [35] thank you for your kind words, I hope you don't take offence when I say that you were part of the reason that caused me to exit the cyber world of ToffeeWeb. I fully understand the frustration that supporters like yourself endure, in fact I share the same frustrations and disappointments. I do however feel that calling Marco Silva a clown and an idiot was out of order, I think that on reflection you may well agree with me.
Hi Jay [41] thank you for your compliment, I'm afraid that my 'Caveman' attitude is something I can't claim credit for, because my upbringing in the district of Everton [although humble] has dictated that I treat everyone with respect, and although I may not be the victim of verbal abuse, I still find it distasteful.
Neil Copeland
43
Posted 14/01/2020 at 22:56:38
John, welcome back.
John McFarlane Snr
44
Posted 15/01/2020 at 13:49:57
Hi Neil [43], it's good to be back, I withdrew from posting because I feared the losses to Manchester City and Liverpool would heighten the criticism of both management and players. I fully support the right of fans to express their concerns over such events, but I also believe that there is a way to do so.
We all have a little knowledge of football, I myself having been involved in the amateur game [Sunday League level], lots of endeavour and loads of Guinness. Some posters appear to me to take pleasure in the perceived failings of the Board, the team Manager and playing staff, giving vent to their feelings in an unacceptable manner. I feel that we all have our favourite themes; mine is nostalgia, others impart their views on team selection, tactics. formations, and player recruitment. My outlook is to leave these things to those who have the responsibility of dealing with such issues.
I may receive a bit of stick for this post but my contributions are based on experience, having witnessed relegation in 1951 and a couple of near-misses, promotion in 1954, League titles, FA Cup victories, and a European Trophy. I wish a similar successful future for my Grandson, the present generation and future generations.
Dave Abrahams
45
Posted 15/01/2020 at 14:03:49
John (various ), nice to see you back John, like Brian Williams I was worried about your well being, best wishes to you and Josh.
John McFarlane Snr
46
Posted 15/01/2020 at 15:33:03
Hi Dave [45] you will have seen from my reply to Neil [43] my reason for taking a spell away from posting on this site. I'll pass your regards to Josh, his team is top of the League and he is leading goal scorer, and tops the assists chart.
I feel a bit better on the Everton situation, there has been an improvement in form but I still think that we could be a little more direct in our approach, however, it's not within my remit to solve the problems, I can only offer vocal support.
---
Add Your Comments
In order to post a comment, you need to be logged in as a registered user of the site.
Or Sign up as a ToffeeWeb Member — it's free, takes just a few minutes and will allow you to post your comments on articles and Talking Points submissions across the site.
---
---
© ToffeeWeb