Report
Second string see off Salford City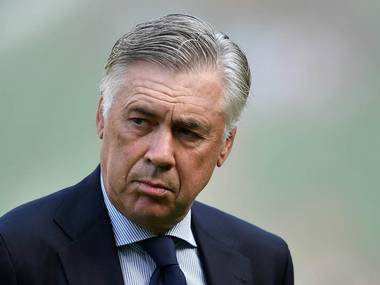 Carlo Ancelotti has a number of options available to him as he plots a course through to round three
Everton continue their busy start to the new season with the first step of what they hope will be a long journey in the Carabao Cup as they host Salford City.
Carlo Ancelotti makes 10 changes for tonight's tie, with debuts for Joao Virginia and Niels Nkounkou. New signings Allan and Doucouré are on the bench while James Rodriguez is rested.
There is no place in the matchday squad for the likes of Yannick Bolasie, Muhamed Besic or Sandro Ramirez while there are suggestions that Alex Iwobi has a hamstring strain.
Former Everton midfielder Darron Gibson is on the bench for Salford along with former Blues academy player Alex Denny, while fellow ex-Everton Academy player Ibou Touray starts for the visitors.
Everton kicked things off and retained the ball reasonably well early on, moving it around until Kean gave it away, allowing Salford City to mount their first attack, firing over.
An early chance was created by Bernard, Walcott heading it over rather than into the goal. Gordon, who had already shown some really bright touches, showed a great turn of speed to beat his man and win a corner that was converted in the simplest of fashions by Michael Keane on a superb delivery from Sigurdsson.
Salford thought they could equalize straightaway but Towell's shot was straight at Virginia. At the other end, a swift move saw Davies lined up to fire a foot wide of the far post. Kean and Davies tried to combine but it didn't come off; however, Nkounkou showed some great skill, driving forward and firing hard from a very narrow angle.
The build-up was too slow at times against a well-disciplined defence, with Kean not showing well, producing a couple of poor touches in promising positions. Kenny was getting a decent workout when Salford attacked down the right some of the midfield passing brought back unpleasant memories of last season.
Branthwaite appeared to turn his ankle and found that he could not carry on, being replaced by Lucas Digne after just a quarter of the game. There was a lull in any attacking intent until Walcott drove forward and wastefully fired over in typical fashion.
Everton had not really followed through on the opening goal and poor quality passing (slow, sideways, backwards, inaccurate, unimaginative) in midfield meant that advances into the Salford area had become increasingly rare whilst the visitors were given every encouragement to build their attacks, admittedly without getting close to the Everton area.
Grordon tried again to produce a textbook move along the 18-yard line but curled it just wide off a defender, and nothing came of the corner. Kenny finally put in a low cross but it lacked the required accuracy. Bernard pulled out a great snapshot that was only just pushed around the post by Hladky as the Blues finally applied some sustained pressure as half-time approached.
Nkounkou and Gordon were linking nicely at times down the left but the quality of the final ball was lacking and care of the ball in intricate passing moves was sometimes lacking, but they went off at the break with an important one-goal lead.
After the restart, Salford tried to build something but again shot over from distance. The unchanged Blues looked to do better, and a fantastic build-up with a gorgeous delivery from Sigurdsson to Moise Keane was a goal all the way, except when Kean stooped and somehow got the ball to fly off the top of the crossbar.
Everton were having a better spell, moving the ball around well without creating a decent chance, Nkounkou a little profligate with an overhit cross and then an overhit shot.
Gordon again drove in well form the left and delivered a hard cross that fell nicely for Bernard who should have done a lot better than walloping the ball at the stanchion behind the goal. At the other end, Towell was set up well but spooned it miles over the bar when it looked easier to score.
Worryingly, the visitors were getting a decent sight of the Everton goal with the Premier League side's lead looking rather slim and vulnerable. Gordon tried to make another run down the left channel but was bundled over a little too easily.
Nkounkou did very well to drive in a low cross that should have been inviting to Kean and Walcott, neither of whom had shown sufficient anticipation to get close enough. Gordon drove in against and shot this time, the ball batted back by the keeper.
A delightful piece of trickery by Nkounkou deserved much more but clear chances were at a premium in this one, while at the other end, Salford again shot wide as Carlo Ancelotti wondered with increasing frustration why his second string were making such heavy weather of finishing off some stubborn opponents.
Finally, Nkounkou and Gordon combined to lay it on a plate for Sigurdson who could not miss with a well-placed sidefoot shot that he drove home. Everton would have had a third but for an amazing reaction save that denied Walcott. Then Kenny tried to get one with a nicely curling lob.
Sigurdsson thought he had a second but his low drive skinned the outside of the post as he Blues looked to finish Salford off with a flourish. Gordon came so close to doing that with a brilliant strike that hit the afar post. Gordon was chopped down by Andrade and Kean took the penalty with a bizarre hop-skip and jump that saw the ball hit the roof of the net.
Another fine flowing move near the end saw Kean hit the post and then Gordon incredibly smash a difficult rebound shot onto the bar. Bernard could then only shoot straight at Hladky before the final whistle.
Scorers: Keane (8'), Sigurdsson (74'), Kean (pen:87')
Everton: Virginia, Kenny, Keane, Branthwaite (24' Digne), Nkounkou, Davies, Sigurdsson, Gordon, Bernard, Walcott, Kean
Subs: Pickford, Coleman, Allan, Doucouré, Richarlison, Calvert-Lewin
Salford City: Hladky, Threlkeld, Turnbull [Y:58'], Eastham, Touray, Towell, Lowe, Hunter, Wilson (61' Andrade), Henderson, Thomas-Asante [Y:67'] (75' Elliott). Subs: Armstrong, (75' Gibson)Denny, Evans, Golden.
---
Reader Comments (196)
Note: the following content is not moderated or vetted by the site owners at the time of submission. Comments are the responsibility of the poster. Disclaimer
Tony Hill
1
Posted 16/09/2020 at 19:19:09
Playing the B Team. That's ok.
Dan Nulty
2
Posted 16/09/2020 at 19:20:53
Fine by me too. Too many fixtures on the horizon.
Brian Williams
3
Posted 16/09/2020 at 19:21:55
No Iwobi in the squad. Anyone know if he's injured?
Hope not!
Stan Schofield
4
Posted 16/09/2020 at 19:22:45
Good selection. Strong bench just in case.
Ray Smith
5
Posted 16/09/2020 at 19:23:59
Strong bench if (unlikely) needed.
Tony Abrahams
6
Posted 16/09/2020 at 19:24:48
No Iwobi or Delph, or Bolasie and Besic. Shift these four plus Sandro, and go and get that quality wideman to bolster our squad even more.
Stephen Vincent
7
Posted 16/09/2020 at 19:25:51
Surprised Gibson not playing, ideal game to blood him, Branthwaite already has that experience.
Delph's absence surely signifies the end.
Gareth Price
8
Posted 16/09/2020 at 19:29:01
The players coming in have all seen the level they need to get to if they want to play in the PL games. Now let's see if they can do it.
Brian Williams
9
Posted 16/09/2020 at 19:29:15
Delph got injured running to answer Ancelotti's phone call.
Tony Everan
10
Posted 16/09/2020 at 19:34:18
No Iwobi ?, He's off to Palace as a player swap plus cash for Zaha. Delph off to Leeds .
This team should be technically a million miles ahead of Salford City, a few can stake their claims here.
It concerns me a bit that it is a bit lightweight, a bit short on hard men fighters and I am concerned about it's resilience to defend set pieces.
It's a 4th division club ! What am I worrying about ?
Frank Sheppard
11
Posted 16/09/2020 at 19:34:24
Interesting selection, wasn't expecting so many changes, but,, looks like a " go on, impress me " Statement.
Nicolas Piñon
12
Posted 16/09/2020 at 19:38:52
Tony
Is that a fact or just a wish? Haha
Bill Gienapp
13
Posted 16/09/2020 at 19:39:31
Isn't Delph still injured? I'm pretty sure he was declared unfit for Sunday, not that anyone cared.
Iwobi's absence is certainly curious.
This would seem to signal the end of Bolasie's flickering hopes of playing a role this season. I would have given him at least a chance to make an impact in this match.
My only potential concern is Virginia - he imploded so badly on loan with Reading, I have no idea what the current state of his confidence is. What purpose does Jonas Lossl serve in the squad, exactly? Because it sure doesn't seem to be as a backup keeper.
Colin Glassar
14
Posted 16/09/2020 at 19:40:21
The Walking Dead are being put in the shop window. Great news.
Stephen Brown
15
Posted 16/09/2020 at 19:44:22
Bill, I'm with you on Bolasie! His unpredictability would have been useful on the bench and his attitude spot on! Disappointed for him!
Iwobi and Delph must be on the way ! And maybe Lossl who was on the bench on Sunday but now been leapfrogged by Virginia!?
I'm a little nervous now!
Dave Williams
16
Posted 16/09/2020 at 19:47:26
That really marks the cards of those who haven't made the squad on Sunday or tonight. Disappointed that Bolasie hasn't made it but I have total faith in Carlo who has seen plenty now and seems ready for a cull.
The likes of Walcott, Sigurdsson and Bernard need to show some real effort whilst the young lads like Kenny, Kean, Davies, Nkounkou and Branthwaite have a chance to stake their claim. It should be interesting!
Nick Page
17
Posted 16/09/2020 at 19:47:40
Davies, Sigurdsson, Walcott and I'm done. Everton that.
Martin Berry
18
Posted 16/09/2020 at 19:58:04
No surprises, team as expected and great to keep the "squad" involved.
Dave Abrahams
19
Posted 16/09/2020 at 20:01:10
I hope Salford's midfield isn't very good, because Everton's isn't the strongest, hopefully whatever class ours has will be enough.
Christy Ring
20
Posted 16/09/2020 at 20:02:17
I would have given Bolasie one final chance, considering we're not blessed with natural wingers. Agree with changing the team, hopefully our big earners will impress tonight, so we'll find it easier too offload them. No Iwobi in the squad again, could there be a deal lined up? Is Delph still injured, it's unreal.
Jay Harris
21
Posted 16/09/2020 at 20:11:28
That's a lower half premier team that should be able to on put Salford to bed or be ashamed to pick up their wages.
Cristobal Aguirre
22
Posted 16/09/2020 at 20:44:58
I was looking forward to see some minutes for Bolasie. But anyway I think we have to sign a central defender and probably a winger if we are able to sell Iwobi. Does Anyone knows what players might be signed in the next few days?
Cristobal Aguirre
23
Posted 16/09/2020 at 20:47:50
I would also like to add some quality and experience striker like Mandsukic or Cavani. Kean has a lot of potential but is a risk in this season and I have some doubts about his commitment.
Alex Gray
24
Posted 16/09/2020 at 21:01:38
I feel for Kean. He won't be getting a sniff tonight as there isn't an ounce of creativity from the midfield. We're in control but don't do anything with the ball. The young left-back Nkounkou is the best player on the pitch do far.
Ciarán McGlone
25
Posted 16/09/2020 at 21:10:51
Not great this.
Who's the masked person in the stand?
Tony Hill
26
Posted 16/09/2020 at 21:13:43
Baines.
Yes, it's a bit flattening so far.
Ciarán McGlone
27
Posted 16/09/2020 at 21:17:52
Sigurdsson manages to look awful even against this level of opposition.
Kid at left back looks promising though.
Bill Watson
28
Posted 16/09/2020 at 21:26:14
There's no doubt that if Sigurdsson, Davies, Bernard and Walcott were still first choices then we'd have been fighting relegation.
Alex Gray
29
Posted 16/09/2020 at 21:31:54
Agreed Bill.
Peter Warren
30
Posted 16/09/2020 at 21:49:48
Ciaran can't agree. Walcott is the standout non performer no threat at all. Moise Kean looks worryingly poor too
Alex Gray
31
Posted 16/09/2020 at 22:00:27
Bernard has been the worst player on the pitch alongside Walcott for me. I wish Gordon would take more risks on the ball, when he does he looks excellent.
Peter Warren
32
Posted 16/09/2020 at 22:09:28
Our new left-back looks excellent – very good signings by Brands, him and Branthwaite. Gordon looks good, bright future for all those left footers.
Tony Hill
33
Posted 16/09/2020 at 22:09:56
Good enough in the end. Excellent Nkounkou and very good Gordon.
Kieran Kinsella
34
Posted 16/09/2020 at 22:10:00
Wonder if Bolasie and Iwobi missed out because we are really trying to sell them and don't want them getting injured. Whereas the rest are sort of available should a bid come in but not front window merchandise
Tony Hill
35
Posted 16/09/2020 at 22:11:59
Meanwhile, I may have to revise my view that Kean is a lurking gem.
Andy Crooks
36
Posted 16/09/2020 at 22:13:36
Kean seems not so good Maybe he needs time. Very lucky young man to earn so much money for being, well... utterly fucking useless.
Ian Randles
37
Posted 16/09/2020 at 22:14:28
Good win from the lads, Gordon is a shining light following on from his performances from last season.
Matt Traynor
38
Posted 16/09/2020 at 22:18:12
Andy #36 I think it's time for another write-off. I just don't think he's got it. Hopefully we can pons him off back to Italy for a decent claw back, but I really, really wanted him to succeed.
And I don't know why
But I felt the same about Besic.
Brian Williams
39
Posted 16/09/2020 at 22:18:46
Haha. Gylfi's Icelandic Scouse accent!
Joe McMahon
40
Posted 16/09/2020 at 22:20:02
DCL not good enough 2 years ago and now Kean. Give him a bit more time first. I'll hold my hands up I didn't think DCL would make it, so I'm not gonna be to hasty to write off Kean.
Tony Hill
42
Posted 16/09/2020 at 22:25:02
Very fair point, Joe. But he was worryingly shite tonIght, no question, and we paid a lot for him.
Tony Abrahams
43
Posted 16/09/2020 at 22:28:14
He wasn't good Tony, but I'd only give up on him if he gives up on himself. He looked livelier once he'd scored the weird pen, and hopefully he will be better next week at Fleetwood now he's has this run out.
Tony Hill
44
Posted 16/09/2020 at 22:29:54
I hope so, Tony.
Kieran Kinsella
45
Posted 16/09/2020 at 22:30:47
My jury is still out on Kean. Rich had the benefit of quality supply from James on Sunday. Kean got a run out out with the misfits. I'd give him some time with quality around before I write him off
Ed Prytherch
46
Posted 16/09/2020 at 22:31:16
Is Lewis Gibson fit? It looks like we need him for the bench at least.
Siggy & Tom were fine in the second half but Bernard and Walcott were expensive passengers.
Defence OK even with Digne at center back. Moise has a long way to go before he is worth a start in a prem match.
Bill Gienapp
47
Posted 16/09/2020 at 22:34:51
For what it's worth, Kean *has* now scored in the last three matches he's started.
Hugh Jenkins
48
Posted 16/09/2020 at 22:36:26
Kean is still young, in a foreign country, carrying, for him, a big price tag.
I should think he is trying too hard to impress and in doing so, looks gauche.
Hopefully the fact that Carlo picked him tonight, and let him take the penalty, will start to calm his nerves, and he can begin to deliver on his promise.
After all, as the old saying goes, he hit the woodwork a couple of times tonight, that, on another night, would have gone in - so we would have scored five and he could have had a hat trick.
Lady Luck - if she smiles on him and he can then relax, he will be OK.
Tony Abrahams
49
Posted 16/09/2020 at 22:44:07
He looks like he's trying a bit to hard Hugh, and like Kieran, I'd give him a bit of time. It might take a bit of time but the new format of this cup competition, should help him get a few games in a short space of time, and some of the kids movement is very good.
It's mad how we all see a different game, I thought Gordon was only good in snatches, and although his finishing was wayward, I thought Bernard constantly showed and consistently recycled the ball all night.
The left back looks very good, Kenny got stronger as the game went on, which was the polar opposite of the man in front of him, because Theo doesn't really look like he wants to play.
A good run out, the ball got moved quicker at times, and now to get rid of some players hopefully.
John Boon
50
Posted 16/09/2020 at 22:47:00
Sometimes it is difficult to shine against much weaker opposition. Just glad we have signed our new midfielders because we would have been bad without them. I have always hoped that Moise Kean would develop into a top striker. I know he is still young but he just doesn't seem to have it, certainly not impressive today.
Most of those on the field are adequate bench players. Nkounkou and Gordon show lots of promise. Kenny is okay but no more than just that.It just wasn't the type of game to make any serious judgements. After the Spurs display almost anything would be underwhelming. Still good to be able to watch any game.Just hope Branthwaite isn't too badly injured because he also shows lots of potential.
Justin Doone
51
Posted 16/09/2020 at 22:47:35
Another good win with 10 changes to the team and an early enforced substitution due to Braithwaites injury.
I'll stay positive and praise Nkounkou and Gordon. Solid performance for most of the rest against a lower level team.
Roll on Saturday..
Andy Peers
52
Posted 16/09/2020 at 22:49:47
Average win and certainly makes you realize how much of an average team we really are without the new blood. Gordon and Nokunu were man of the matches. No hope anymore for Davies, Walcott, Bernard, Kean and potentially Siggy. I feel like Siggy has a role off the bench but not as a defensive midfielder. Would have given Bolasie a run out. Goalkeeper did not have to do much but I already felt more secure with him than Picford:)
Tony Everan
53
Posted 16/09/2020 at 22:52:32
Gordon , Nkounkou impressed , Siggurdson , Bernard are good for our squad depth . Walcott and Delph and Iwobi's days with us are numbered i think.
We are short now at CB and relying on Mina to stay fit, which is a bit worrying. I think Carlo will be discussing the options with Marcel in the morning, we need someone in within a week if we can.
Sam Bowen
54
Posted 16/09/2020 at 22:57:50
Fingers crossed for Kean coming good but totally understand the reservations. Hasn't looked the part any time I've seen him play yet and that's a worry. Nice penalty though
Rob Halligan
55
Posted 16/09/2020 at 22:58:02
Nkounkou looks a beast of a player. Looks more equipped to play centre half than left back, though I don't recall him heading the ball tonight. I wonder if he could play as a centre half, though either way, it looks like a new centre half is a must if rumours of Holgate being out for a few months are true.
John Atkins
56
Posted 16/09/2020 at 23:02:42
Evidently tonight it confirmed what we know, Tom Davies and Theo Walcott are decent players but we'll never be a top 4 or even a top 6 side if they are regular starters, lots of energy, plenty of huff and puff but they just lack real quality and I see a few others on the books languishing around !
Thank God we have the new signings
Tom needs a good season on loan at a Championship Club to further his development
I know I'm in the minority but I still believe Moise Kean will come good
A couple of years ago that match could have been much closer or gone to penalties. I'm noticing a really different mind set now under Carlo
Lots of positives all round tonight though so roll on Saturday
Trevor Peers
57
Posted 16/09/2020 at 23:06:16
Thankfully Carlo is running the team and not some of the punters on TW, he has the nouse to buy the right players and identify the useless ones. Tonight's game was a potential banana skin but we came through without having to bring any of our new signings on. We got good performances out of Sigurdsson, Bernard and Gordon who are all going to play thier part this season in a much more exciting and well balanced midfield.
The only thing we lack is a goalscoring winger or striker to give us more options up front and a dependable center half to add cover in defence. Hopefully Carlo can sort these issues out before the window shuts.
Jay Harris
58
Posted 16/09/2020 at 23:08:41
The standard of passing and movement was light years off Sunday's team.
I was very impressed with our left hand side though. Thought Gordon was MOTM and Nkounkou not far behind.
Moise Kean was very poor and looked totally pissed off to be here. Not a patch on DCL when he was learning who showed good mobility and a good attitude. Kean seems to want the game to come to him rather than make a mark on it himself.
Poor attitude; dusty bin for me along with Walcott and Iwobi.
Tom gave 100% as usual but he has got to improve his tackling and passing if he is to make the necessary move up. Siggy showed he still has the brain for the top level even if he is half a yard slow.
Bill Gall
59
Posted 16/09/2020 at 23:12:05
It looked a typical slow no effort performance that was similar from last season with the best performances coming from the 2 younger players Nkounkou and Gordon. Kean seems in another world and he seemed confused when given the penalty to take, and even after he scored, seemed to be annoyed that he had not done more in the game. We may have gotten ahead of ourselves from the weekend's performance, but tonight's game showed what can happen if any of our 3 new signings get injured. Talking about injuries hope Braithwaite's injury is not to serious.
Jerome Shields
60
Posted 16/09/2020 at 23:12:28
I think that Kean will come good. His positioning is getting better and he has the look of a player that is leading the attack. I was disappointed in Bernard, expected him put in a more authoritative performance. Gordon and Nkounkou where outanding.
I found Kenny competent. The back line played well. Davies needs to cut down on losing possession, his no 1 weakness. He needs to study the video of the Spurs game and learn fast. Sigurdsson was good enough and Walcott was as per usual. I still think final third play is weak, which did not help Kean in particular. , but Gordon was the exception.
The contrast between Everton final third play and the Spurs game shows you difference of all round better technically midfield.
A good result.
Paul Birmingham
61
Posted 16/09/2020 at 23:22:14
A good win, and well earned praise for Anthony Gordon, and Nkounkou, who, were the best players on the park.
Realistically the bulk of the back up squad didn't do anything spectacular and you'd think they'd be fighting for their futures, as I'm sure time will be called soon, directly or indirectly, for some of the squad tonight.
Which clubs would bid, or take on loan the back up squad is interesting.
I'm not going to single out players but the midfield and wide players, who were the core last season, in my view didn't help their causes.
My views, are Bernard, Tom, and Siggy, will stay, the rest I reckon could go.
Great potential for Anthony Gordon and Nkounkou. The French lad, was playing before he was born; seriously he looks like the real business and strong and sharp in descision making, and Anthony Gordon, is stepping up and in my view will be a key player for the future, at EFC.
Hard work, guts and effort, and the basic ingredients, are vital in any sport.
Interesting if some some players have been rested, if only to make them easier to sell before the transfer deadline.
But Fleetwood, away will be a tougher game, but let's see how we do against the Baggies.
I'm hoping we can stay in tune and beat them well.
Let's hope so.
Two clean sheets, back to back, that's a good start, and hopefully will nurture belief, confidence and conviction through the whole squad.
Common Lincoln City!
Danny Broderick
62
Posted 16/09/2020 at 23:22:24
Whole midfield was poor except Gordon. Don't be fooled by Sigurdsson's assist (a corner) and goal (an instinctive tap in). He was shite for a good hour, and only started playing once we were 2-0 up and they'd tired after about 70 mins. Walcott showed nothing, Davies was ok but leaves you wanting more. Bernard the same.
Hopefully some desperate Premier League teams will come in for some of this lot...
Andrew Keatley
63
Posted 16/09/2020 at 23:23:39
The apologists are out in force for Moise Kean. He's been starved of minutes. He's got no confidence. There's no creativity behind him. He's trying too hard.
I've been saying this from the moment he signed – somewhat gently, but now more directly – Kean scored goals for Italy and Juventus in teams in which he had little responsibility. With top players around him, and little expectation, he scored a handful of goals when opposition teams knew little about him, and his reputation quickly grew. But he's not a good footballer, and he is showing no real sign of improvement.
It's about time that the people who believed the hype start to accept the reality: Moise Kean is already a busted flush at this football club.
Joe (40) - I have always supported Calvert-Lewin. There were obvious (to me anyway) signs that he has what it takes, even if there are areas of his game that need work. I do not see signs of a top player in Kean - who is more of the crash, bang, wallop type of player who relies on ricochets and brute force to beat players.
I do not go in for this philosophy of cherry-picking parallels with certain players in the hope that what applies to one will somehow end up applying to the other. Instead, I let what I see on the pitch dictate to me who displays enough positive signs of being a top player and who does not. Kean does not.
John Keating
64
Posted 16/09/2020 at 23:27:26
Apart from Virginia, that was the team I thought would start. I did hope they would put in a shift to give Ancelotti food for thought. Apart from Nkounkou and Gordon, I don't think anyone put pressure on Ancelotti to name them in place of the players from Sunday's team.
Kenny I think cemented his back-up role to Coleman. Sigurdsson, Bernard and Davies are squad players only. Walcott is finished and Kean nowhere near ready for the first team.
With Holgate out for possibly 12 weeks, Mina injury-prone, and Branthwaite injured, it is imperative we get a centre-back in on loan.
Nathan Ford
65
Posted 16/09/2020 at 23:32:35
Positives from the game
Nkounkou - Excellent looks a very capable understudy for Digne
Gordon - When his confidence grew he looked very dangerous
Bernard - Played well in central position and will only play better with a stronger team around him
Kenny - Played well considering he had Theo playing in front of him and will only play better with better players around him. Give him James in front of him and Allan and Doucoure in CM and I think he will flourish
Gilfi - I thought he played quite well. Yet again played deep and not as comfortable in that position but when he plays with Allan and Doucoure he will be a valuable squad player
Justin Harris
66
Posted 16/09/2020 at 23:34:56
Jay Harris @58 spot on. I thought Gordon, Nkounkou and Bernard played well tonight. Sigurdsson had glimpses but Kean, from what I have seen so far, including tonight, is struggling to convince me he is going to the striker we are looking for.
His first touch so many times was awful, which is a basic requirement from any striker, and just lacks that desire and intelligence needed at this level. I know many will say he's still young but, for me, I haven't seen enough in 15 months to suggest he is improving.
Paul Birmingham
67
Posted 16/09/2020 at 23:36:07
John @64, spot on, and it's sad that these players aside from the few that tried, couldn't be bothered to put a proper 100%, shift in.
I think these under performing, diss motivated players have stamped their exit visas out of EFC, tonight, and if not tonight, a tough game at Fleetwood, next week, could if it's not already, a wake up call, be the penultimate, or final game, in the EFC, first team.
No more excuses, the mercenary, lazy arses at EFC, will be training with the U23s, very soon.

The club hopefully will tighten up and no longer accept mediocrity.
That will raise questions and hopefully, lessons learnt about transfer policy.
Now to beat The Baggies.
Brian Wilkinson
68
Posted 16/09/2020 at 23:38:53
If Moise Kean is a centre forward that will be the piece in our jigsaw to the rebuild, then I am not holding my breath.
Looks like a poor man's Stuart Barlow to me, others may say Deidre Barlow.
Not for me. We have got the midfield sorted; now, we need a proven striker to back up Calvert-Lewin.
Any decent bids for a Kean, snatch their hands off.
Tom Bowers
69
Posted 16/09/2020 at 23:43:52
We can keep making excuses for Moise Kean and saying he lacks confidence just doesn't cut it. Today, against a League Two club, he showed poor ball control and lack of good anticipation. He wasn't short of endeavour but one suspects he is not the player that is going to help Everton achieve something down the line.
People like Gordon and Nkoukou come straight in and show poise and skill so why not Kean???
He really doesn't warrant inclusion any more than Sandro, Tosun or Bolasie who are other players who have struggled to impress.
Andy Crooks
70
Posted 16/09/2020 at 23:45:08
Andrew K, I was very much an apologist for Kean (I am sure you hate the word a much as me), but yeah, I see what you mean. I saw him in his first game and I thought he was superb. He looks to me now as if he totally lacks anything like guile. He is, in, my view, James Vaughan with a couple of tricks.
Martin Reppion
71
Posted 16/09/2020 at 23:47:29
It seems that, when people don't like a player, they only watch the bits that confirm their view. Same goes for a favourite.
Tonight, Bernard played as a hub through which we took the ball forward. Not necessarily showy, but he worked his socks off.
Sigurdsson did what he can do when he has space created either by poor opposition (tonight) or hard-working players around him (Allan and Doucouré maybe?). He will never be a workhorse type. But he has the ability to play the killer ball and, with an on-form centre-forward, we would have had the second goal much earlier.
On the down-side, since his early days at Arsenal, I had always rated Theo Walcott. So I was always looking for him to come good here. Sadly, tonight must be his last game for us. If nobody wants him, he can go and play golf for the length of his contract. All it takes against 4th Division opposition is for top players to back themselves. He didn't.
Virginia, Nkounkou and Gordon all showed promise. It was hard to judge Kenny as he was doing the work of 2 players down his flank. What would he have given for a mirror image of Gordon in front of him?
On the whole, job done. If, as it looks, Iwobi and Bolasie are gonners and one or two more follow them out of the door, we may have the funds to bolster the defence and attack before the transfer window closes.
Roll on Saturday.
Patrick McFarlane
72
Posted 16/09/2020 at 23:50:19
32 shots on goal, hit the woodwork five times, yet some accuse the players of not putting a shift in?
Next week's encounter with Fleetwood will be tougher and probably most who played tonight will be on duty again – I don't think we'll see 32 shots at goal at the Highbury Stadium, but hopefully, Everton will progress.
Gordon and the young left-back gave good accounts of themselves and could feature in Saturday's squad.
Jay Harris
73
Posted 16/09/2020 at 23:53:05
I don't think Kean lacks ability – he just lacks attitude.
Someone compared him to Calvert-Lewin but IMO he is polar opposite to Calvert-Lewin who, even when he wasn't scoring, was working hard for the team and making good movements and always looking to learn.
Kean looks like he is carrying a bag of cement on his shoulders and never looks for the payers around him.
Brian #68, I think Deirdre Barlow would be insulted.

John Raftery
74
Posted 16/09/2020 at 23:55:00
It concerns me that with a couple of exceptions through injury tonight's team will quite possibly be the one to play at Fleetwood next Wednesday. That will likely be a much tougher game with a place in the last sixteen beckoning. At times tonight we were careless in possession and profligate in our finishing. A much greater proportion of chances need to be converted against stronger opposition.
I recall Kean being compared by some to a young Lukaku around the time we signed him. Twelve months on, I have yet to see anything from Kean to suggest he will ever come close. But he is still young. I have not given up hope he can in time develop into a half-decent forward.
Tony Everan
75
Posted 16/09/2020 at 23:55:29
Kean at 20 years old is very young still, he is very raw and I hate to say it but he looks like he needs another 2 years development before he is even considered as Premier League starting material.
We need a more experienced and quality forward as back-up and competing with Calvert-Lewin up front. Carlo will have someone in mind. I can see Moise going back to Italy... which may be a better environment for him to progress.
Patrick McFarlane
76
Posted 16/09/2020 at 23:56:54
Kean looks to me as if he's not happy in England and probably wants to return to Italy. I would not lose sleep if he did – however talented he might be and however much he turns out to be a super player. He's no good to Everton FC right now if he doesn't want to be here.
Ancelotti is one of the few types of managers who could cajole him into staying and fighting for a regular first-team place, but if the lad's heart isn't in it what can be done?

Fran Mitchell
77
Posted 16/09/2020 at 23:59:58
There were some on here who wanted us to play James, Doucouré, Allan, Richarlison etc for fear of mucking up and losing. So to then be disappointed that the 2nd string only won 3-0 and didn't play like Brazil is a bit odd.
I only watched the 2nd half, and we looked comfortable and didn't leave 1st gear. If anything, it was a decent fitness exercise for the second string.
Only Keane will play on Saturday, but we'll need some of the others throughout the season. Gordon and Nkounkou will be happy with themselves and should be involved with the first team more and more. Davies, unfortunately, looks like a move away will be on the cards. Probably the Championship, and maybe he'll do well, but he really doesn't look the part.
And hopefully we can get a winger so Walcott can go and fulfill his potential somewhere else. And a defender is absolutely necessary.
Andy Crooks
78
Posted 16/09/2020 at 00:02:26
Like your post, Martin. It has seemed to me for a while that Bernard is top notch. In a confident team, with a run of games he is really good.
The most talented player at the club. He has skills that remind me of Alan Ball. Never gives the ball away.
Graham Lloyd
79
Posted 17/09/2020 at 01:03:31
Just finished watching the replay and quite surprised by some of the stick Kean is getting. I wonder if he had scored from that cross by Siggy (he really should have!) and then chosen to slam the ball in confidently from his penalty rather than the cheeky dink, if he would be getting so much flak.
Was he "great"? Well no he wasn't – but very few players were "great" – particularly in that first half. I thought it had big sense of déjà vu from last season which should be no real surprise as we were playing Davies and Sigurdsson in centre-midfield, as we were a lot last season.
I think Kean will benefit from playing the full 90 minutes in the cup games so I hope he starts the next one. I'll defer to Carlo's judgement on what he see's on the training field as to whether he is worth keeping in mind for the first team as first choice back up for Calvert-Lewin. Kean strikes me (albeit from afar) as a character well suited to Carlo's style of management.
Gordon and Nkounkou looked particularly good amidst a sea of mediocrity btw.
Dave Bowen
80
Posted 17/09/2020 at 01:09:16
In the (abysmal) 3-1 defeat to Bournemouth, I thought Moise Kean looked a real box of tricks & was the best player on the park. It was by far the best game of the season.
Tonight, he went back to looking disinterested & basically half-arsed. So the cynical side of me wonders if that Bournemouth performance was really a shop-window come & get me shout. Because on tonight's performance, we aren't gonna get a buyer for him or have as reliable back-up for Richarlicon & Calvert-Lewin.
Geoff Lambert
81
Posted 17/09/2020 at 02:44:48
Fran #77,
Simple question for you: Do you want to win this cup?
If No, keep playing the shite that started tonight. If Yes, when should we start playing the best available players to win some bloody silverware?
Why is it that some on here think the WBA game is more important than this competition?
25 fookin years without a trophy... why is that I ask? Because we never take the cup games seriously.
Steve Brown
82
Posted 17/09/2020 at 03:13:30
Iwobi and Kean have disappointed since signing and I understand the clamour to sell them. But, we will lose a ton of money if we sell these two now. They are young, and I do wonder if they are worth persevering with.
My guess is that Sigurdsson and Bernard will remain as squad players, which leaves Besic, Bolasie, Delph, Sandro and Walcott as surplus to requirements; Tosun will probably go out on loan in the January window when he is fit.
Ideally, I would still like a left-footed centre-back and right-winger to come in before the end of the transfer window.
We look like we have good coverage at full-back with Kenny and the excellent Nkounkou – what a spot he is turning out to be.
Andy Mead
83
Posted 17/09/2020 at 03:51:14
The thing with Kean is this. I know he's young, new country etc etc but tonight he kept falling or slipping over and his first touch is terrible. Every ball just bounces off his shins. He's a professional and it has to be much better then this no matter what country he's in.
Sigurdsson looked better in a deeper role with more time to look up but not first choice now. Davies, the same old player, gave the ball away far too often. Left-back was great, a real find and a good back-up to Digne.
Derek Knox
84
Posted 17/09/2020 at 03:54:37
I'd go along with the general opinion having watched the match, that apart from the more regular first teamers, Digne (through injury to Jarrad) Keane, and Gylfi, only Niels and Gordon were worthy of a mention.
Many saying Bernard was okay, but I was disappointed, as with Walcott, Jonjoe and Kean. As for the others who didn't even figure as bench warmers, it is patently obvious they have no place in the plans.
Worryingly more so, how do we get shut? Who's going to go in for underperforming highly paid misfits?
Fleetwood Town next, we will need to revise personnel and be more aware for that one, as they are capable of a giant killing on their day!
Kieran Kinsella
85
Posted 17/09/2020 at 04:42:47
Derek,
I am not optimistic of offloading them. Palace would seem like a destination for Iwobi given Hodgson signed Benteke, Townsend etc after similarly failing at "bigger clubs" but the issue is that we paid way over the odds pre Covid.
Since then he has sucked ass causing a devaluation even with Covid. With Covid, best case we ship him out on loan.
David Ellis
86
Posted 17/09/2020 at 06:32:55
For me:
Virginia – did fine.
Defence – All solid; Jonjoe didn't offer much of a threat in attack. Nkounkou looks like a very exciting player
Midfield – Bernard and Sigurdsson did what they do. Both are Premier League players and decent back-up. Davies looks short technically, hence loses possession too often.
Attack – Anthony Gordon looked great in patches. Walcott was okay. Moise Kean – he was awful, the ball just does not stick to him and I think that is a basic ability you don't learn aged 20. Sell if we can.
Second goal was lovely and both Bernard and Gordon almost scored absolute crackers. A few great balls in from Sigurdsson too.
Paul Smith
88
Posted 17/09/2020 at 07:25:15
Patrick, I think the opposite is true. The way he took the penalty said to me he wants to succeed here; I like that. Would I want him in our first time right now? No chance but I think with time he might surprise us.
Stephen Brown
89
Posted 17/09/2020 at 07:29:21
If Kean wasn't a high profile signing from Juventus he'd be getting much more grief!
His performances are no better than Barlow, Angell, Branch, Anichebe and Madar.
He must have something as he's a current Italy international and happy to give him time but my eyes don't lie!
Tony Abrahams
90
Posted 17/09/2020 at 07:37:25
I also thought Martin spoke a lot of sense in that post Andy C, but can't agree with you that Kean is just a James Vaughan with a couple of tricks because he's nowhere near as brave as James was, mate!
I don't think Kean was confused, Bill G, especially because he wasn't given the penalty to take, he stood by the spot waiting for the ball, and after he scored he looked like he wasn't happy with Anthony Gordon, because the young scouser might have also wanted to take the penalty kick.
His look to Gordon was like a "Can't you see I need a fuckin goal? Get on it, Anthony, I'm struggling a bit here, whilst you are playing on your doorstep and coasting." That's how I saw it anyway.
Eddie Dunn
91
Posted 17/09/2020 at 07:40:20
We looked better as they tired. I though Bernard was instrumental but obviously lacks the finishing prowess even against pros of this calibre.
Sigurdsson got going late-on when the space opened-up. Alas, Davies looked no better than the Salford lads, he did some very sensible things but continues to cough-up possession when under little pressure.
Gordon looks a shy soul and hopefully his confidence will increase.
Moise Kean has a poor first touch but I thought he was trying too hard, but how did he not convert that easy header... those goals are bloody massive, and to hit the bar from 4 yards with no-one jumping next to you is shocking.
Very glad we didn't risk any of the others, especially after seeing Branthwaite pulling-up. (Has he been on Mina's excercise routine?)
I enjoyed the second half.

Bobby Mallon
92
Posted 17/09/2020 at 07:40:55
Danny Broderick – what a load of cod's wallop, we played well and dominated from start to finish.
Conor McCourt
93
Posted 17/09/2020 at 07:54:14
For all the stick Kean is getting, he could and should have had a hat-trick. He is the only player we have in the squad who has movement in behind and has predatory instincts. He will come good if both he and we persist.
Colin Glassar
94
Posted 17/09/2020 at 07:55:46
According to The Times, most of last nights team are up for sale. Let's hope we can get rid of least half of them.
Andrew Ellams
95
Posted 17/09/2020 at 08:06:55
Last night was weird. The performance looked laboured and slow but a bit more luck on chances that hit the post or bar and without a couple of blinding saves from their keeper it could have been 6-0 and we'd all be viewing it in a very different light.
That said, Walcott needs to go and I wouldn't be too upset if Kean was moved on to fund a move for Lozano or Ünder.
Trevor Peers
96
Posted 17/09/2020 at 08:07:15
The fact remains we need an extra goalscorer and it looks like Kean will be sold or loaned out to make way for him. Even if Kean remains, the only way he can earn respect is by banging in goals in open play when he's called upon.
Anything less than that and he will be deemed an abject failure; there's very little sign of him delivering the goals required so far. He would need to at least get into double figures in the Premier League. He's had a season to adjust, there can be no excuses this season.
Anthony Murphy
97
Posted 17/09/2020 at 08:11:00
Possible that Kean will come good with time, but I feel he's unhappy and wants out... never see or hear anything positive from him.
Andrew Ellams
98
Posted 17/09/2020 at 08:13:47
Better, more experienced strikers have been unable to make the transition from Serie A to the Premier League. He just looked out of his depth last night against a mid-table League Two defence.
Cut the lad free and let him kickstart his career back in Italy.
Bill Watson
99
Posted 17/09/2020 at 08:14:47
I listened to the first half on Radio Merseyside and it sounded very flat so switched to Radio 5 for the second half for, maybe, a more objective commentary. Unfortunately, it didn't get any better!
However, we won 3-0, with the second string, and hit the woodwork five times so, job done.
I expect some of the dead wood to be shipped out towards the end of the window when clubs, who've had a poor start, will be desperate to add a new face.
Robert Tressell
100
Posted 17/09/2020 at 08:16:25
We won 3-0 comfortably – having hit the woodwork 5 times and forcing two truly outstanding saves. Better luck and we'd all be talking about an 8 nil thumping.
Gordon and Nkounkou are clearly excellent. First 11 quality already.
Kean scored and with a bit of luck would have had a hat-trick. Someone said that's 3 goals in his last 3 starts. Once he relaxes a bit, he will be fine. I really wouldn't be surprised to see him dislodge Calvert-Lewin by the end of the season.
No need to sell him or Iwobi. In fact, no need for any sort of clear out. Maybe one or two, but we do need some depth to get us through a season where hopefully we'll be competitive in league and cups.
A few will leave on loan before leaving for good - Bolasie, Ramirez. The rest we might well need.
What we do probably need is CB cover, with Branthwaite injured now and Gibson not featuring last night (about to go on loan perhaps). So one of Tomori, Adarabioyo or AN Other hopefully.

Paul Tran
101
Posted 17/09/2020 at 08:16:38
With the likes of Iwobi & Kean, etc, it's not about the fee we get, its the wages we save that matter. We sign players on longer contracts to spread the cost, so selling at a reduced fee makes less of a difference than the amount we save on wages.
That saving could make a difference regarding FFP, or by shifting three ineffective players for an effective one.
Darren Hind
102
Posted 17/09/2020 at 08:18:22
I laugh when people who exonerate this manager of everything, talk about "apologists" for young players.
Kean has made 35 appearances for Everton. On several occasions recently he has looked for all the world like he has never played the game. The kids's game is on the floor. His confidence and self-belief are so low, it's impossible to gauge which level he can achieve.
We paid a lot of money for this kid, so it's natural to be disappointed with what we have seen from his so far... but there is zero mileage in battering away at him.
There is a huge gaping hole in the logic of people who repeatedly hammer young players whilst exonerating the guy who keeps putting them in the team. Only one person picks the team and if he is repeatedly selecting players who are not good enough, it's his fault and his fault alone.
These kids don't pick themselves.
Martin Berry
103
Posted 17/09/2020 at 08:19:12
I thought Nkounkou, Kenny and Gordon deserved praise and some of Sigurdsson's crosses were dangerous and Michael Kean was commanding the team from the back.
What surprised me was other players who should have stood out against poor opposition but didn't, Walcott proved why he should move on.
As for Moise Kean, a young man who I want to do well, he was dire, there was not one aspect of his game you could recommend on last night's showing, even when he scored the pen his face said it all: he is not happy, probably wants out, and after last night's performance, may get his wish.
Fran Mitchell
104
Posted 17/09/2020 at 08:26:18
Geoff, but we won, and comfortably so. So in terms of going further in the competition, job's done and no harm done to the first 11 for WBA. Where's the beef?
I do want us to win the cup, any cup of course. However, the second string are adequate for the first couple of rounds and the league will always be priority. A win at WBA and we are set up for our best start to the season for donkey's years.
Are you saying you'd have been happier winning at a canter yesterday with our best 11, then limping to a 1-1 draw against WBA?
Paul Tran
105
Posted 17/09/2020 at 08:30:34
Darren, I think Carlo has to put up or shut up regarding Kean. He needs time on the pitch. Might even look better with the first choice midfield behind him.
I'm all for picking him in these games. I think he needs more time coming off the bench as well.
He strikes me as the archetypal modern Everton signing; talented but not very effective. We'll only know how effective he can be if he's on the pitch more.
Me? If the prices were right, I'd sell him and buy Edouard off Celtic.
Ajay Gopal
106
Posted 17/09/2020 at 08:34:27
I did not see the match or the highlights either (saved that for tonight). But, based on the many (gloriously) contradicting opinions, I would sell/keep the following - based on the 1st 2 outings so far:
Sell:
Bolasie
Walcott
Besic
Delph
Sandro
Keep:
Davies
Iwobi
Siggy
Bernard
Exchange loan - if Carlo/Brands put their minds to it, I am sure an exchange of Kean for Chucky Lozano at Napoli can be worked out, with an option to buy at the end of the season.
Buy a left footed CB like Tomori and loan out one of Branthwaite or Gibson.
Squad:
GK: Pickford, Virginia, Lossl
CB: Keane, Mina, Holgate, Tomori, Gibson
Full Backs: Coleman, Digne, Kenny, Nkounkou
MF: Allan, Gbamin, Gomes, Doucoure, Davies, Siggy
Forwards: James, Bernard, Iwobi, Richarlison, DCL, Gordon, Lozano
Hopefully, Gbamin regains his fitness by November and can play a role in the 2nd half of the season.
Brian Murray
107
Posted 17/09/2020 at 08:44:42
I find it shocking that a pro footballer, whether it's Jigsaw Barlow or Moise Keane, can't kill a ball fired at him.
It's very dangerous to have this lad as a third option. Either try Simms out or swap Kean for a proper striker who can at least hold a ball up. Big financial loss on the cards but that's our trademark at the moment until all these substandard players are off and away.
I just hope the fact that he is the same nationality as Carlo doesn't make him stubborn or cloud judgement... surely not, eh?
Stan Schofield
108
Posted 17/09/2020 at 08:46:59
Darren@102: Agree totally. It's very unlikely that Kean is a crap player, otherwise there wouldn't have been all the media fuss when he signed for us. His confidence is clearly low, but one of the current criticisms is that he couldn't trap a brick. I remember the criticism of Lukaku that he couldn't trap a bag of cement, even though from what I could see he was quite good at trapping a football.
It might be a good idea to give the lad a break. After all, Brands did tell Kean's mum that he'd be looked after.
Derek Knox
109
Posted 17/09/2020 at 08:55:46
Robert@100, your tinted blue spectacles, are obviously a lot bluer than mine, in your assessment of those given the chance again last night but failed to impress again. Jonjoe (very mediocre, but did try) Davies (over-rated couldn't get rid of the ball quick enough).
Walcott very poor again considering what he's on and his history, Bernard did try, but didn't set the world alight either unlucky hitting the post. Kean gives me the impression he doesn't want to be here.
You'd think that a game like last night, or indeed others in the past (pre-season/friendlies etc) fringe players would be busting a gut to impress the Manager, and the fans alike, to be either in the first team consideration or at least a place on the bench.
I did think Gordon and Nkounkou were the epitome last night of what the others should have acceded to!
Paul T, good shout there for Odsonne Edouard of Celtic, what a partner or standalone striker he would be with DCL. Good strong, right age, wish we had him.
Rob Hooton
110
Posted 17/09/2020 at 08:59:58
Well we seem to have a knack of signing quality left backs! Time will tell but that was an excellent debut.
I thought Gordon was great and very unlucky not to score, we hit the woodwork at least 5 times didn't we? Could have been 6 or 7 quite easily so not much to moan about
Michael Kenrick
111
Posted 17/09/2020 at 09:00:09
The idea that Carlo should not have picked Kean for this game is utterly preposterous.
Jerome Shields
112
Posted 17/09/2020 at 09:01:24
Bolaise's efforts haven't got him where he wants to be and it will be interesting to find out the reason Iowbi was not in the squad. Besic and Sandro are goners.
Walcott still doesn't feel the need to step up. A regular feature when he plays is commentators and their side-kicks commenting on his once-promising career, as a way of contrasting with his performances now. 100 goals, second-youngest England-capped player, 47 Caps, 2 FA Cup medals. . .
I suppose we all remember him moving at pace and scoring. He still is tactically aware, but technically he is now off the pace and appears to be playing to avoid injury. He seems basically to have found his comfort zone and is staying there, his big wages roll in anyway. Probably planning for his MLS move in the last year of his contract.
.
Eddie Dunn
113
Posted 17/09/2020 at 09:04:22
Darren, Stan,
Kean might just start to get his game going given a couple of 20-minute cameos with some quality service but, until then, at least he has the Fleetwood game to continue his development.
As Darren says, his game is at a low ebb but I'm sure he has plenty to offer. If his header had dropped in, he might have gone on to get more but, in fairness, some are suggesting that he looked unhappy, whereas I thought he looked angry with himself for not doing better. The pen was a little embarrassing (as Sigurdsson would normally take it) but it shows his peers want him to succeed.
I, for one am willing to be patient and Darren remember that a lot of those 35 appearances have been off the bench with little time on the clock.
I think the other thing worth mentioning regarding him is that Salford sat deep and he usually received the ball with his back to goal. Perhaps not his strongest skillset.
If we get past Fleetwood, then it will be interesting to see how this lot would cope against a good Championship team. I wonder if Carlo would feel the need to bring in the big boys?
PA Greenhow
114
Posted 17/09/2020 at 09:04:54
IMO Players like Walcott will consider starting games like this as a step down. Similarly, Kean will most likely think he should be starting Premier League games, not games against minnows. This is reflected in their "Can't be arsed" attitudes.
Whereas, the full-backs and Gordon will see it as an opportunity to impress. Shows the importance of buying players with the right mentality, attitude and desire.
Good result, but it's starting to become clearer who is buying into the team and who is happy to collect their cheques with minimal input... off you pop (transferred or into the reserves never to be see again).

Ray Roche
115
Posted 17/09/2020 at 09:07:10
Darren @102
After Kean put in a MotM performance against Newcastle last season, instead of giving his confidence a boost by naming him in the next lineup he was dropped.
As you say, his game, and confidence, must be on the floor.I wonder how he would have performed with Sunday's midfield behind him.
Andrew Hight
116
Posted 17/09/2020 at 09:07:30
Gordon has a great second half and, in fairness, so did Sigurdsson. The left-back had a good 90 mins and the keeper and defence had nothing to do. Davies and Bernard were okay. Walcott and Kean offered very little and I would be very happy to see them moved on with Iwobi, Bolasie etc.
Tony McNulty
117
Posted 17/09/2020 at 09:07:42
Trevor (57)
"Thankfully Carlo is running the team and not some of the punters on TW"
Imagine the fun and games we would have during the debates on the "Everton Senior Team Selection Committee: TW Division."
And having made our selections we could then present them to the Live Forum
Robert Tressell
118
Posted 17/09/2020 at 09:14:14
Derek @ 109. I'm more realistic than Blue-Tinted. I'd love us to have better quality depth but we can't just sell all the second string. We'd then just need to buy a replacement second string.
They'll all have a part to play this season. They'll all have better games too.
Next summer will result in a deeper overhaul as contracts expire.
Trevor Peers
119
Posted 17/09/2020 at 09:23:39
Tony #117.
I dread to think what the outcome might be if team selection was left to us amateurs on TW, haha. Of course, it's good fun playing fantasy football manager and all part of the experience being on this forum.
I prefer to leave the big decisions to the manager provided he knows his stuff... Carlo is obviously an excellent manager and is proving it.
Mike Corcoran
120
Posted 17/09/2020 at 09:25:08
Comparison with Lukaku, no contest.
Kean can trap it much harder and further...
Andrew Ellams
121
Posted 17/09/2020 at 09:29:24
Some of Kean's poor control and first touches last night and the number of times he ran into trouble and lost possession weren't down to the players playing behind him.
He's a kid a long way from home – who knows how many different things he's struggling with? But I'm not sure if we are doing him too many favours keeping him at Everton.
David Pearl
122
Posted 17/09/2020 at 09:30:39
Actually, Sigurdsson is our penalty taker... so, if he hadn't used his head and let Kean have that penalty, the morning headlines could have been very different. Especially given the ridiculous run-up.
This kid trains every single day with professional coaches and cannot trap a ball with any part of his body? He learns to do that... then we might start to see something.
That is such a basic thing. In fact, if Carlo wants to send him over to my place l will teach him within an hour in my back garden. £50 grand a week, my arse.
Andrew Ellams
123
Posted 17/09/2020 at 09:39:23
David, I think there is a difference in being able to trap a ball and having an attack of confidence during a match and things going wrong.
He wouldn't have got anywhere near the Juventus first team if he genuinely couldn't get the basics right.
David Pearl
124
Posted 17/09/2020 at 09:45:31
I can't remember ever seeing him getting the basics right, Andrew, have you? Every time l've seen him play, he has pinball flippers for feet. He even tried to chest the ball and couldn't do that to within 6 feet.
He needs to go on loan; we need reliable back-up. Not this kid right now. Of course, there's Tosun... and Theo.
Tony McNulty
125
Posted 17/09/2020 at 09:53:40
Trevor (119)
As many of us have been saying, without Carlo we would have struggled to attract players of the level of James Rodriguez and others, especially given the lack of European football.
He's certainly an improvement on some of our more recent managerial choices. I must admit to having some doubts about him after the post lockdown restart. He seemed unable to get the team performing in some games and we were really dire at times. I guess you have to put that down to the quality of some of the squad with which he had been saddled.

Danny Broderick
126
Posted 17/09/2020 at 10:24:25
I wasn't overly impressed with us last night for about 70 minutes. The keeper and back 4 did well, particularly the left back. Anthony Gordon was also bright. But the rest of the midfield was as dire as ever. And Kean offered nothing up front. If that team played against a mid table Championship side, we would have lost.
Bernard, Davies, Sigurdsson and Walcott played their normal game with all their normal faults. And Kean was ineffective. Don't be fooled by Sigurdsson taking a corner for his assist, and scoring a tap in. He was crap, invisible as usual.
On about 70 minutes, Carlo and Duncan were looking increasingly concerned. Gary Neville suggested we might have to bring on some of our big hitters as it was getting uncomfortable.
From there on in, however, we bossed it. We got the second goal, then could have scored another 4/5. Sigurdsson suddenly started playing and looked a good player. We were brilliant in the last 20 minutes - no doubt Salford we're lacking fitness and they knew they'd lost by then.
I'd say 4/5 players took their opportunities last night, but I wasn't impressed by any of our established midfielders or Kean in attack.
Brian Harrison
127
Posted 17/09/2020 at 10:24:35
Well if Iwobi wasnt injured then I think the message was loud and clear, if you cant get in the squad to face Salford there is no future here for you. Ancelotti picked exactly the right team for this game, some kids and some squad players. I am sure this selection was twofold first to give some youngsters more experience and maybe to put players he wants out in the shop window.
Certainly Nkounkou and Gordon put in excellent performances, and were probably the only 2 who impressed the manager, and did their first team squad chances no harm at all. I do feel for Moise Kean as it just hasnt happened for him yet, but he is young enough to put it right, lets not forget its difficult for home grown youngsters, let alone young players with no network of friends around him, to try and help him.
But we won comfortably probably could and should have scored at least 4 or 5 more goals, and we progressed without having to call on to many who played against Spurs.
Barry Rathbone
128
Posted 17/09/2020 at 10:30:44
Seen enough of Kean to understand why Juve were happy enough to cash in. Need to do the same before others realise his Juventus goals were all tap ins and he can't control a ball.
Shocking player totally bereft of the basics
James Fletcher
129
Posted 17/09/2020 at 10:34:41
Yeah I'm yet to see why Kean is a professional footballer, let alone some kind of future star. Sad, as I really wanted him to show what he could do last night but he struggled against low end opposition.
Dave Williams
130
Posted 17/09/2020 at 10:37:51
Stan #108 well said mate! Lukaku went through a period of being awful, couldn't control or shield the ball and the professors on here said what a waste of money he was for £28m!!
For heavens sake give Kean a chance everyone. Young lad, learning his trade, foreign country, strange language ( plus the accent!!)- of course it will take time with him, especially given the midfield and striking partners he had last night. Give him a decent run with the new midfield in place and see if he improves. Look how people slagged off DCL ( and how some still do)- Kean will make it big time somewhere and I just hope it's with us and not with Serie A.
Jerome Shields
131
Posted 17/09/2020 at 10:54:35
Iowbi and Bolaise where apparently left out of the squad for tactical reasons by Ancelotti.
Tony Everan
132
Posted 17/09/2020 at 11:06:38
Jerome 131
That is code for, " they are bubble wrapped and waiting to be dispatched "
Derek Knox
133
Posted 17/09/2020 at 11:17:31
Dave & Stan, Whoa there a minute re Lukaku, I don't ever recall anyone ever saying he was a waste of £28M, agreed his first touch was awful at times, BUT he regularly scored despite that. So much so there was no-one even close to him in the season scoring charts.
Although it will be interesting to see, given a few more games, if Moise Kean will come good, but up to now, taking into account his poor first touch and control, there is little or no comparison to Lukaku.
I often look at his facial expression which are often an indicator of whether a player is enjoying his game, and unless he is a miserable sod by nature, that never comes over that he is.
Andrew Ellams
134
Posted 17/09/2020 at 11:25:45
A really worrying point about Kean is that I don't remember too many strikers coming into English football, starting off badly and then coming good.
Graham Lloyd
135
Posted 17/09/2020 at 11:29:14
Kean has some level of talent otherwise he wouldn't be getting picked for Italy. We just need to understand (in time) if Carlo and the rest of the players around him can unlock that talent. I can't see us making a profit on him in the current market so I would keep hold and keep giving him cup or late league minutes. As mentioned above, he looks completely shot of confidence. Minutes in the league and FA cup with a few late cameos in the league will tell us, and more importantly, Carlo whether that is possible.
All that said. I would have loved to see him celebrate a bit more after his cheeky penalty though! Whether he knows it or not, it comes across as being a bit disenchanted IMO.
Andrew Keatley
138
Posted 17/09/2020 at 11:47:04
Darren (102) - "There is a huge gaping hole in the logic of people who repeatedly hammer young players whilst exonerating the guy who keeps putting them in the team. Only one person picks the team and if he is repeatedly selecting players who are not good enough, it's his fault and his fault alone."
Doubling down on your ludicrous logic from last night's live forum I see. Let me lay it out for you. Ancelotti inherited a squad from Silva. Last season he could only pick players from that squad. Add in injuries to a few players and he's even more limited in who he can select. All of our squad should be good enough to play for Everton - that's why they are here in the first place. If there are players who are regularly underachieving then what is he going to do? We can't put out a team of 3 players because the manager decides that the others simply are not good enough. You have to select 18 players from the club to be the match-day squad. That's it. So I'm sorry but you're the one with the flawed logic if you keep criticising a manager who is giving opportunities to players - young and old - to turn a corner and prove themselves, when really it is those players that deserve the criticism for simply not being good enough to take their chance.
Michael Kenrick (111) is bang on the money; Kean simply had to start last night's game. The fact that his performance only served to illustrate the reasons why he has been used so sparingly up to now is on Moise Kean and nobody else. Players need to take their opportunities. Gordon did. Nkounkou did. They proved themselves to be good enough. Kean is way behind.
Jerome Shields
139
Posted 17/09/2020 at 11:59:19
Tony#132
Could be.
Graham #135
Good point. Smile and the whole world will smi!e with you.
Conor McCourt
140
Posted 17/09/2020 at 11:59:59
Andrew@138-you do know that Carlo was desperate for Kean's signature from Juve
Andrew Keatley
141
Posted 17/09/2020 at 12:03:53
Conor - Not sure what you mean. When he was Napoli boss?
Tony Abrahams
142
Posted 17/09/2020 at 12:12:07
I don't think I ever came off a football pitch with a smile on my face, when I knew I should have done better Derek, even when my team had just won.
This is an good thread, all the difference in opinions is what makes football so interesting, and although I might have been guilty of it myself in the past, I'm only ever dismissive about a footballer, if I see a lack of effort, and that's why I'm not giving up on Moise Kean.
Gordon was great in patches, but I'm not sure the kid is ready because I think he switches off a little bit to often. But the more he plays, the more he will develop, and some of his forward play was very good.
Sometimes it's about being patient, especially with the younger players. It's easy being dismissive, I've done it myself with Theo Walcott, but that's only because I see a lack of desire, and not because he lacks ability.
Andrew Keatley
143
Posted 17/09/2020 at 12:20:50
Tony (142) - I tell you what's easier than being dismissive; being indecisive. Saying "maybe in time a player will come good." Doing that gives a feeling of magnanimity that some people really like, while also it strokes the belly of the club. "Let's be positive. Let's get behind the players. Let's BELIEVE..." We all have to use our critical faculties otherwise this place would just be a warm, fuzzy place where nobody said anything incisive or insightful.
Being dismissive is actually not so easy. Because we all want every player to be a success. We all want to believe. But faced with evidence to the contrary I am not going to let desire and hope get in the way of reason; I'm going to be critical.
Stan Schofield
145
Posted 17/09/2020 at 12:32:41
Derek@133: ToffeeWeb used to have loads of posts saying that Lukaku was a shite footballer, despite him banging in goals regularly. His first touch was supposedly shite, despite the fact that some of his interpassing, especially under Martinez, was great for such a big bloke. Some people seem to make their minds up, and there's no shifting them.
Michael Ward
146
Posted 17/09/2020 at 12:44:33
I have read all the comments and to be honest I think Davies is just in that can't do anything right stage with the fanbase.
I thought he had a good game. He was always willing to make himself available, showed good energy and also showed his quality. Yes maybe we are a little impatient for him to reach his potential and yes he is now 22 but think of where Jack Grealish was at his age and where he is now after a couple of season's in the Championship to boost his confidence. Tom is going to be backup to Doucoure and he has a job on his hands to shift him but performances like last night showed me he has the quality to be a premier league player for us and playing in a team with top midfielders and a bit of stability will only help him. Last night reminded me more of his quality than gave me a stick to beat him with.
I view him, Nkounkou and Gordon as the big "winners" out of last night and potentially Sigurdsson (who is in direct competition with Gomes for a place in the team as it stands, Gomes didn't have his best game at the weekend). Nkounkou must be delighted with himself, he has basically progressed his career a year by showing that he can be an able understudy to Digne and us signing another left back doesn't look a great idea now.
The losers from last night for me were Kenny, Walcott, Bernard and Kean. I thought Kenny was trying too hard, he knew he had to perform and do something special and I think he knows that Coleman over the course of the season is definitely someone who can be shifted from the team. He isn't a young player anymore he has had a season being first choice RB in a top European league. He didn't do anything to convince me he should be considered over Seamus as it stands - I expected better. Walcott was so anonymous that I would be tempted to have a look at Bolasie as the backup for the RW ahead of him now and give him a go against Fleetwood. Theo has rightly been in and around the team as he has been the only natural option on the RW (Richy can do a job but is much, much better either up top or on the left). With James seemingly first choice there now and the potential for others to play out of position to cover it (Gordon, Richy, Iwobi, Bolasie!! etc...) he looks like a very expensive bench option and surely we will be looking to move him on. Bernard I don't think had a bad game to be honest, he is more a victim of the performance of Gordon. I don't see what the established pro and Brazilian international offers that we can't get from our young scouser and if I was to give one of them some minutes I know who would get them. I expect Gordon may make the bench for the weekend and Bernard is the most familiar player to him to likely miss out. Again from a cost perspective does he offer enough given the alternative options. Finally Kean, I think we have to be patient with him, playing up top on your own is a tough job there are plenty of examples of that, he needs more opportunities like this to boost his confidence and also get used to the responsibility. DCL didn't become the player he is now overnight and let's remember Kean is 3 years younger than him. That said only by dominating in games like this is he going to be trusted in that role in the premier league (It is no shock he got shunted to the wing when he came on against Spurs). He had the chances and didn't take them. One positive is he seemed to put more effort in and that seems to be an upward trend.
Anyway, I am delighted we drew another lower league team in the next round and hopefully we will see the majority of this line up again in that game, maybe less a few we have managed to get rid of.
Bill Gienapp
147
Posted 17/09/2020 at 12:45:50
This was a big opportunity for Kean, and it's disappointing he didn't take better advantage of it. That being said, some people act like he's never shown us anything on the pitch, when he was actually quite good in his last two league starts (Newcastle & Bournemouth), both of which he scored in. I was particularly impressed by the Bournemouth match, in which he showed good movement and had two superb passes that easily could have been assists with better finishing.
I'm just not sure why some seem so eager to cut bait on him, like... what's the benefit? He's a relatively low earner and there will always be a market for him in Serie A. If he doesn't want to be here, then fair enough... but otherwise, why not see what Carlo can do with him over the course of a season in a stronger side?
Francis van Lierop
148
Posted 17/09/2020 at 13:06:30
I was only able to see the first half, I've got to say I was very impressed by Niels Nkounkou. What a find.
Jerome Shields
149
Posted 17/09/2020 at 13:14:02
Just had a look at Bernard stats. Was impressed, Ancelotti seemed to have played him deeper. I was expecting him to get more forward and even score, hence my disappointment.
Ian Horan
150
Posted 17/09/2020 at 13:17:43
Apart from the obvious, any idea where Iwobi and Delph are!!!.
Also if Tom Davies and JJK can't stand out and dominate against division 2 players they should be moved on.
Robert Tressell
151
Posted 17/09/2020 at 13:21:35
For me, Walcott plays like you might expect of someone who has been playing the game for 15 years. He looks like he's going through the motions a bit - with no titles, champions league ties, cup wins and England caps to work for. He's diligent and tactically mature and can score important goals but has no oomph. He'll play his unremarkable part this season and then be off.
John Keating
152
Posted 17/09/2020 at 13:22:09
Stan 145
Spot on with your last sentence Stan
"Some people seem to make their minds up, and there's no shifting them"
They're never wrong
Darren Hind
153
Posted 17/09/2020 at 13:28:18
Oh Dear Andrew you are digging such a deep hole. It was all so unnecessary too. You came in swinging simply because people are trying to offer words of encouragement to a young player who is clearly struggling.
You could have saved yourself a lot of embarrassment if you actually took a minute out to find out how Mr Ancelotti rates Kean. He thinks he is an "incredible talent".
Despite your long list of daft arsed excuses about him having no choice but to play Kean, Carlo himself (The one who you think can do no wrong ) thinks differently
The really funny thing here is, that Carlo is front and center of the group you dismiss as "Moise Kean apologist". There are numerous quotes from him extolling the virtues of his young talent. If only you had looked ?
The reason he has chosen him so often (as opposed to being forced to by last nights circumstances) is because he rates him.
He very recently told gathered press that he has THREE strikers available to him.
"I think Moise Kean has many qualities. He is a great talent and as I said before, football must surely be based on talent, which must be supported with great character, professionalism and personality. He is very young. He is a serious boy, helpful and will surely do well"
So there you have it. The flaw in your logic. The guy you are making excuses for, clearly thinks you are talking shite.
Bill Fairfield
154
Posted 17/09/2020 at 13:29:57
Moise Kean needs to relax more everything seems rushed,it was noticeable how much better and relaxed he was once the game was won
Kevin Prytherch
155
Posted 17/09/2020 at 13:30:44
With regards to Kenny. Many people have alluded to Gordon playing well while Walcott was anonymous. This is obviously going to impact the performance that Kenny puts in as he didn't have the same outlet that Nkounkou did. I did notice a few occasions where Kenny would make a run and be visibly frustrated when no one spotted it. I don't think it's fair to write him off based on this performance, I feel we'll see a very different Kenny with Rodriguez in front of him.
Paul Jones
156
Posted 17/09/2020 at 13:32:50
With regard to Kean the level of football he plays at Everton does not match his ego or yet another poor Director of Football buy. If he still has a good reputation in Italy then probably best he returns and we get another top professional like those signed this season.
Kevin Prytherch
157
Posted 17/09/2020 at 13:37:06
On Kean as well
His all round game is obviously miles behind Calvert-Lewin - games like last night demonstrate just how good our favourite championship strikers all round game really is.
However
He does naturally seem to be around the right areas at the right time, which is one area that Calvert-Lewin seems to need to think about. If his header was 2 inches lower and his last shot 2 inches to the right then he has a hatrick and no one debates any of this.
I think there's a player in there, but a completely different player to what we have now. He'll turn out to be more of a poacher than a player and, with a bit of confidence, could be very useful.
Andrew Keatley
158
Posted 17/09/2020 at 13:42:01
Darren H - What else is Ancelotti supposed to say? Of course he's going to offer up encouraging soundbites to the press - to do otherwise would be hugely damaging to the club. But surely there's a world in which Carlo is gilding the lily. Can you concede that possibility?
Tell you what, let's pause this and talk at the end of the season. We'll find out exactly where we are on Moise Kean. My guess is that Kean will play less than 750 minutes in the Premier League (if he even stays here beyond the transfer window) - which would suggest that maybe Carlo doesn't actually think he's as incredible as you think he does. Seemingly nobody on these pages can change your mind about anything, but if I'm proved right then I'm hoping that time can.
Also, I'd appreciate if you didn't take that patronising "Oh dear" approach. It doesn't come off well.
Brent Stephens
159
Posted 17/09/2020 at 13:45:35
I was really enthusiastic when we signed Moise Kean but have been very disappointed so far. He hasn't had an extended run of games, but nevertheless so much of his football (ball control, beating a player, positioning, taking chances in front of goal) have been poor. I live in hope and he certainly has to be given longer. Fingers crossed.
Dave Abrahams
160
Posted 17/09/2020 at 13:51:32
Kevin (155), playing behind Walcott definitely had a baring on Jonjo's game and I also saw the frustration on his face three or four times with the way Walcott was performing, not very good.
Jonjo has the ability to perform, along with Seamus, to share the right back position this season and eventually make it his own, he did enough last night to make me confident he has a good future at Everton, especially playing with better and more responsible players around him.
John Keating
161
Posted 17/09/2020 at 13:57:26
Kevin 155
Fully agree regarding JJK
I find it strange some are calling for Kenny to go and spend money, that's in tight supply, on unknown oversea players
As has been proven with all our best teams over the years. It's not so much having the best individual players but having the best team players
Sukhdev Sohal
162
Posted 17/09/2020 at 13:58:18
10. Tony- I really hope you're right. As much as I'd like someone younger than Zaha he'd be perfect for LM in a 442 and I can't stand Iwobi. The worst player I've seen put on an Everton shirt after Antolin Alcaraz.
Len Hawkins
163
Posted 17/09/2020 at 14:01:40
Bobby Latch used to be called The Sponge when the ball came to him it stayed with him Kean on the other hand is more like The Trampoline the ball bounces off him he has a touch like a midwife.
Conor McCourt
164
Posted 17/09/2020 at 14:05:30
Andrew- yes for Napoli
Kevin@157-spot on...on all fronts.That's exactly how I see it.
Si Cooper
165
Posted 17/09/2020 at 14:08:07
Remind me how many games into a new season we are (a few weeks after the end of the most bizarre one yet)? To paraphrase some, 'Moise Kean' obviously doesn't want to be here! So none of these keen observers must have spotted the 40 yard sprint he put in to rapidly overhaul one of the opposition players? Obviously not just dialling it in, in my opinion.
Some right choosey folks as well, suggesting we turf out potential superstars just because they haven't yet hit their straps.
Rather than those who played being in the shop window last night, I'd suggest that it was the ones who played last night who are most likely to be seen as genuine squad players.
Jamie Crowley
166
Posted 17/09/2020 at 14:11:18
Perfectly said Si.
Jamie Crowley
167
Posted 17/09/2020 at 14:15:23
Moise's touch is close to terrible, it's very, very heavy.
But the boy has a nose for goal. He played really poorly last night, but still could have had three goals! He' putting himself in the right positions for success.
We need to be patient and not cut bait yet. Having said that, the kid needs to improve and buckle down. Someone should be fizzing balls into him at 100 mph and expecting him to keep them within inches of himself when he receives it, all the while regaling him with stories of one Romelu Lukaku.
It's too early to write the kid off. He's got to up his game though, soon.
Joe McMahon
168
Posted 17/09/2020 at 14:22:52
Before anyone questions me I'm not saying Moise Kean will be the standard of Dennis Bergkamp. But it also took the already established top quality professional Dennis a good while to settle in England and at Arsenal. People were also questioning him to, and this was a very high quality player.
Jim Harrison
169
Posted 17/09/2020 at 14:27:37
Joe 168
Fair
And Niasse got a whole contract to come good!
David Ellis
170
Posted 17/09/2020 at 14:27:57
I wish the problem with Kean was merely that he was lazy and "did not want to be here". However he seemed to be trying hard last night. Unfortunately he just can't do the basics. If he can't control the ball then he is simply no use to us. I am gobsmacked that he is an Italian International. I'm gobsmacked that we paid so much for him, actually I'm not.
Reuvy Havin
171
Posted 17/09/2020 at 14:35:37
On Sigurdsson.
Now that Allan and Decoure are in the team, I think he can flourish - I would put him in the 10. Some or most people think his time is up - I couldn't disagree more. Now that we have intelligence with James and actual proper central midfielders, I think this precisely the time that Sigurdsson can finally use out his technical and brainy skill set.
I'd have Richarlison on the left, James on the right. Carlo has said that James' best position DCL up top.
(Both would cut in often, the fullbacks would give width, Allan would cover and Decoure could too when both the fullback and winger were forward.)
Sigurdsson is a very good player. Just needs a strong central midfield behind him so he doesn't have to worry about Everton losing the ball and getting smashed the other way - he was always worried about this to me last year. He was played as some sort of 6/8 hybrid nonsense position - for lack of other options. Always trying to make sure we didn't give the ball away because it was obvious that if we turned it over there'd be noone quick and robust enough to save things before they got close to the defence and the goal - certainly Sigurdsson himself isn't, and he knew it. And he doesn't really have the pace to make many options for people to pass to him when they're coming out of defence - he's just way too slow to maraud around the middle of a pitch. So he was basically useless in terms of his own play.
(To me, tonight was somewhat (there were obviously differences - quality of opposition, etc) a microcosm of this dichotomy. First part of the game was a 6 - useless. Next part of the game was more of an 8 - a bit less useless. Last 20 minutes we thought we should go for it - Salford tired, if we got one more goal it would sure things up - Sigurdsson feels less unencombered and starts hanging out nearer a 10 position without worrying as much about defensive stuff - he does good things. His goal wasn't a big deal - but his movement for it was good - nothing crazy, but good. He played some good balls. Etc)
Mark Taylor
172
Posted 17/09/2020 at 14:51:02
On the basis of last night
- Kean has all the poor attributes of Lukaku- poor touch, ponderous to build through- without the significant redeeming feature of an eye for a goal.
- Gordon looks like a talent, or at least he looked more so against this lowly level of opposition than anyone else on the park, excepting perhaps the left back. Whether he will ever be up against a right back as slow as Salford's is debatable.
- Mostly everything else is what we already know. Bernard and Siggy are not messiahs, they are no more than decent squad players who can do a job. If they are all you have, as was the case last year, you will struggle. Walcott is past playing even at that level and Davies hasn't even reached that level, and probably won't. Brutally put, those two are probably excess to requirements. Then there is all the other expensive flotsam and jetsam we have acquired; Iwobi, Tosun, Sandro, Besic, Bolasie, the list goes on. Problem is, which we also already know, while we have 6 or 7 we could do with moving on, few if any will have them at their current wages and certainly not anywhere close to the transfer fees we shelled out.
Maybe we could have a jumble sale. Or a buy 2 get 1 free offer...
John Pierce
173
Posted 17/09/2020 at 14:54:23
I will not worry about Kean. The rawness is there but he can beat 2/3 players with pure power something Calvert-Lewin doesn't do. It's good to have variety. He's a spear head that thrives on counter attack situations, he aint the technician you need against a low block.
We have a limited stable of forwards so he's staying and getting cameos until either they yield great results, Calvert-Lewin needs resting or is injured. The key element here is when he is presented with the opportunity, he takes it. I think he will.
Similarly Sigurdsson only really became useful when Salford tired. He became prominent in the last 20 minutes, this is his role, teams either become fatigued or are searching for a goal, space frees up and he then becomes dangerous because he has time. Even last night he was passive and off the pace, but still has that set piece delivery that keeps him on the side.
The left side made a good fist of making a case and Virginia was unfussy, although untested. The rest were so poor; ball pace, control, static, wayward passing. It was all pretty turgid. Let's be fair it was only when they tired we started peppering the woodwork.
They have some tine to think about their performance but this incarnation may well be back at it against Fleetwood in a weeks time. I'm expecting a lot better.
Bill Gall
174
Posted 17/09/2020 at 15:28:40
there seems to be 2 different opinions on M.Kean. Last night he had a poor game and so people gave negative comments on it, with a number saying he should be sold. Other comments were on a couple of positive displays last seasonal games that showed he has the ability to play in the premier league. Surely it would be better to keep hold of a 20yr old potential, than to sell him now and loose money on it.
We are starting to see young players coming into the first team, and that was what a lot of supporters wanted,so lets give young players a chance and not judge them on 1 game.
Darren Hind
175
Posted 17/09/2020 at 15:30:11
Andrew
I'm more than happy to leave it there. I don't hold out much hope for Kean myself.
I suspect you are not old enough to have watched your own sons playing grown up football. or coached young lads trying their best to play well. If I'm right, One day you probably will. then you will understand the natural instinct to desperately want a boy who is struggling to come good.
You feel the term "Oh dear" is patronsing, but you have just dismissed people wanting to offer support to a struggling youngster as "apologists".
Carlo is not "Gilding the Lilly". As Conor quite rightly points out. He was an admirer of Kean before either of them even got here.
Dont be fooled by Carlo's "favourite uncle" persona. The guy can be fucking ruthless when the need arises. If he doesnt want a player who will fetch a fee. The player will be packed off in short order. Better players than Kean have found that out to their cost.
I hope we are both wrong. I hope young Kean bangs in so many goals, Carlos is forced to go to DCL and Rich and tell them to shape up or ship out
Mike Dolan
176
Posted 17/09/2020 at 15:32:23
I just love to read how certain players look disinterested while others look like they are playing well so that they can be moved out of the club, some on the other hand just couldn't care less.
Moise Kean at such a tender age is now a lap dance away from the poisoned chalice which is the wrath of our rather fickle supporters.
He shows great promise for a young striker still growing into his own body. He does look awkward sometimes and his much maligned "first touch" is about as Lukaku's was at a similar age. His confidence is a bit drained but lets face it even last night when not playing that well he hit the post, twice and took his pen well.
Has he scored in the last three games that he has started? Is the lad going to develop into one of those annoyingly rough center forwards who can play entire games and just clumsily barge the ball into the net twice every three games. I think he might just turn out to be that bad.
Wouldn't it be great if our third striker was more of a rough and tumble bruiser who could push defenders around a little bit? This kid will be awesome when he manages to hold the bit in his teeth. Patience Patience Patience.
Tony Everan
177
Posted 17/09/2020 at 15:34:36
Kevin 157
It would be interesting to see how Moise Keane got on in our stellar 4-3-3, with Richie on the left and Rodriguez on the right. Gomes, Allan, Doucoure behind him.
I am not advocating starting before DCL at all, but it would be good to see Kean play 20-30 mins if we were 2 or 3-0 up. It would be interesting to see his predatory instincts with that level of service around him.
For me , he is 20 and really needs more competitive games, with Juve so superior,he hadn't really had that full on. He needs time to work on his game and improve. There is a player there, a strong bull of a predator but it is going to be a work in progress.
Patience is the quality that is needed with Moise, but sadly, it is a lost treasure and has become a thing of the past.
Tony Abrahams
178
Posted 17/09/2020 at 15:34:48
Andrew@143, good post mate, because you was dismissive whilst making your point, which is constructive imo.
Everyone criticises, but it's when people just criticise for the sake of it, rather than giving constructive criticism, or something we might learn from, that's what I've never understood?
I used to play, and honestly used to get embarrassed if a coach said I'd played well, because I already knew if I'd played well, (twice a season) and I used to be even worse if I was told I'd played badly, because I also knew when I'd played shite.
That's the point I'm trying to make, we only learn when people tell us why they are being dismissive, whilst indecision is usually just stringing someone along imo.
Kean is probably not smiling because he's probably not happy with his game, I love football, because actions always speak louder than words!
John Pierce
179
Posted 17/09/2020 at 15:43:57
Tony E & Mike D. I like those posts, the picture you paint is very much one I can see regarding Kean. 👏🏼👏🏼👏🏼
Mike Gaynes
180
Posted 17/09/2020 at 15:49:59
Kevin #157, great post.
John P #173, likewise.
I'm in the "keep Kean" contingent as well. Talent worth nurturing.
Jay Harris
181
Posted 17/09/2020 at 15:56:31
It seems Kean is dividing opinion.
My take on it is he has a goalscorers instinct but is not suited to the Premier league where everything is closed down and players tightly marked so close control, retaining the ball and laying off to a teammate are all necessary qualities.
Regrettably Kean doesnt show me any of this. He is a head down, run at defenders and try to get round them or bulldoze the way through which obviously does not work even against lowly Salford. Technically he is not too bad but his attitude and awareness of other players is not good.
People say "If only that header would have gone in" and I have to tell you that even at 69 years of age I could and should bury that header with only the GK to beat. To head it onto the bar was very poor.
Brandthwaite is 18 and Gordon is 20 we don't have to make excuses for them because their quality and attitude shows.
Last season I was all for being patient with Italy's potential superstar but on the basis of 90 minutes against lowly Salford I'm afraid this kid will not make the breakthrough.
Kevin Prytherch
182
Posted 17/09/2020 at 16:14:14
John 173 - fully agree regarding Sigurdsson. He is only ever good when he has time and space, either against fading teams or teams who are playing more open. That's why he looks so shoddy against teams who sit back and defend, and why he seemed so good in Silva's purple patch against more attacking teams.
This should be his role, coming on against teams who are either tired or chasing the game and putting the game to bed. In this scenario - he is still an excellent squad player.
Tony Abrahams
183
Posted 17/09/2020 at 16:23:27
You don't have to make excuses for anyone, (unless you really like them!) because an excuse is, just an excuse. If Gordon gets a run, there will be plenty of people making excuses for the kid, when we are punished because he hasn't tracked his runner? Hopefully I'm wrong, because the the kid has got talent, and that's why loads of people like him!
Tony Abrahams
184
Posted 17/09/2020 at 16:48:10
I went round the world@178, but John P, kept it simple regards Sigurdsson, and made loads of sense.
I couldn't understand the criticism of Bernard, except for his wastefulness, in the final third considering his quality, So I was very surprised to hear Jerome, had to look at his stats, to be impressed because I thought it was the little Brazilian, who constantly tried to get on the ball, and kept us playing all night. (He will become a much better player, playing with our new additions imo)
Jonjoe is basic, nothing flash, nothing extravagant, rarely wastes the ball with his passes, put it on a six-pence for Moise Kean to miss, and is hopefully going to be the unsung-hero, in a similar way both Carragher & Neville became to both their home-town clubs.
Big teams need that local identity on the pitch, and if we can sign another good wideman, I'm predicting we might just become one of those big teams again. At least I'm dreaming now - anyway!

Kris Boner
185
Posted 17/09/2020 at 16:52:42
I don't get this whole unsmiling Kean being seen a sign he doesn't want to be here and should be binned because of it.
Richarlison doesn't smile very often on the pitch, and he has a very serious resting concentration face.
So Kean doesn't smile when he scored, he probably accepted that one goal, given to him by Siggy who normally would have taken the penalty, would not have matched up to the three he should have had if he hadn't hit the post.
A more accurate reflection of the kid's reaction to scoring a goal would be his celebration after scoring against Newcastle. Passionate and exuberant.
Also, why is smiling so important to some people when things are still tough for the kid and yet smiling is the death knell when Pickford is trying to shake off a mistake and prepare himself for the next time he is called into action.
If Kean wants to have a serious look on his face whilst knocking them in then I'm cool with that. I'm more interested in how the rest of the team reacts when he scores, and they are reacted well showing a close knit group.
Jerome Shields
186
Posted 17/09/2020 at 17:35:37
Tony #184,
I did have to look at the stats to see what others had seen and that I hadn't watching the same match, on a mini screen. Glad I did since those stats show a player that will be able to make a valuable contribution to the first team squad.
I was concentrating on final third play.
Kris #185
It's the perception it gives. It would help with the perception people have of him. I think that he is a player with a lot to offer, it would help gets fans on his side, which would also benefit him.
The penalty was well taken.
Jay Harris
187
Posted 17/09/2020 at 17:44:10
I watched Villa and West Brom struggle like hell against lowly opposition and both scorelines flattered them so it says something for quite a few of our players on the pitch last night that I never thought we were in danger at any point.
Stan Schofield
188
Posted 17/09/2020 at 18:32:12
Jay@187: Yes, imo it was a walk in the (Goodison) park for us. Some folks on this thread, and on the Live Forum, have been critical of an apparent lack of effort or commitment against Salford. As far as I'm concerned, if we can win with minimum effort, efficient economy, then all the better. Players have to pace themselves in a long season.
Martin Mason
189
Posted 17/09/2020 at 18:42:15
We've played 2 games now and played exceptionally well in both albeit against different classes of opposition. Several, no most, players in the team against Salford did exactly what was expected of them, several played exceptionally well in the type of game that is traditionally the type we do badly in.
I saw nothing but positivity and a massive strengthening of the squad that the new arrivals have brought. Jonjoe Kenny and NKounku were massive pluses. I found nobody disappointing in Wednesday's team.
Sigurdsson played really well but unfortunately will never fit into a modern squad, Tom Davies hasn't reached his potential yet and gives the ball away dangerously but his time will come. Gordon is like us having bought a £40M player for nothing.
This transfer window has been devastatingly good for us and if we could get a central defender on loan could be perfect.
Kean? Just get off his back and see how it goes with him, he has the potential to become good in a position where most develop late and few are successful at 20. If Carlo rates him, then he's good enough for me.
Martin Mason
190
Posted 17/09/2020 at 18:44:30
Stan@188, exactly. Wednesday was exactly how a top club should have played that game. We were superb.
Mark Taylor
191
Posted 17/09/2020 at 18:49:26
While I was critical of Kean's performance last night, not difficult if one just kept one's eyes open, I am with those who dispute the claim that he doesn't care. I think he does.
His move to us is going down the pan and there are only so many chances you get at new clubs before you get moved down the pecking order of clubs interested in you and thus down the salary scale and it's a long if not impossible journey back. He won't want this to go wrong.
Wanting the penalty is, in my view, one of the few positive aspects of his contribution last night. At least he didn't shy away.
Is there a player in him? There might be despite last night when frankly he looked a bit desperate, over hyper. I can't see it being as a hold-up player who can guard the ball, lay it off. It might be as a player feeding off runs and through balls where he has some pace and power to offer. Same as Rom really. Or Vardy in Leicester's winning year. We may not have seen much of it but I can imagine he has a decent shot on him if he's in the mood so could maybe flourish in that type of set up.
But that is not, from what I can see, the gameplan we have right now so he might be a square peg in a round hole.
Tony Abrahams
192
Posted 17/09/2020 at 19:29:15
I was only winding you up, Jerome, because I often agree with your opinion, mate, but it's hard watching football on a small screen. It's been hard enough watching Everton on a big screen for long enough!
I was interested when you mentioned Bernard because, watching the game last night, I thought he'd been our most industrious player, but I agree, he's got to become much better in the final third.
I thought Gordon played in patches, but he helped create a number of chances, and that's definitely what you want off these type of players. I can understand the people who were more impressed with "young Anthony" whilst Everton are hopefully going to become more entertaining than watching The Sopranos!
John McFarlane Snr
193
Posted 17/09/2020 at 20:44:13
Hi Tony [192],
I listened to last night's game, and some of the players who were considered to have played well, have been crucified on this thread. Experience has taught me that we can go to the same match and see a different game.
I must confess that I expected Everton to win comfortably, but experience has also taught me that anything can happen in a game of football. There are some players that I favour more than others, and I may be critical, but not to the extent of some on this site.
My take on things is that anyone who earns his living playing football, can do exactly that, 'play football'. As I have stated I have my favourites, but I defy anyone to find a post where I have vilified any Everton player.
At games I experience elation, deflation, pleasure, frustration, but the most important thing to me is the fact that I offer support to those players who wear the 'Royal Blue' shirt, irrespective of favouritism, or otherwise.
Dave Williams
194
Posted 17/09/2020 at 20:56:49
Derek #133,
There were a good number of people on this site who said Lukaku was a waste of £28M, I promise you!!
Graham Mockford
195
Posted 17/09/2020 at 21:04:26
Encouraging start. It's a nice feeling to be optimistic even though we are only two games in.
My only worry is up front. I'm a big fan of Calvert-Lewin, I think he will be as good a centre forward as Graeme Sharp, but if he's injured do we really believe Moise Kean could replace him? I've seen nothing to convince me he has what it takes. I'm fact I've seen nothing in nearly 40 appearances
Jamie Evans
196
Posted 17/09/2020 at 21:44:36
I was encouraged by a number of things; Nkounkou and Gordon played well and impressed. Kenny was fine for me, moved the ball quick, as did Tom Davies, who isn't the type of player who will be scoring loads and getting noticed, he has energy and keeps things ticking over. Tom just needs to improve his passing accuracy, gives it away too cheaply at times.
Kean needs to relax his feet, as Michael said in 111 this was the perfect game play him. Bernard and Sigurdsson if they are squad players shows good depth to me. Feels like we have a good blend of experience and youth in the squad now.
Tony Abrahams
197
Posted 17/09/2020 at 22:03:17
I read your posts John Mc, I understand your sentiments, some are quick to criticise, whilst some are very reluctant. I hate the dismissive stuff without any real example, but again going back to when I played, I'd sooner have constructive criticism, than someone who never broke anything down and talked about the game.
My own take on things is that it's dead easy to criticise, but if you want people to listen and learn, you've got to earn their respect. You've got to show them you know what you're on about, and also that you care. Sadly I never met that many, once I moved away from playing with my mates, because football is absolutely brutal.
Michael Kenrick
200
Posted 17/09/2020 at 23:01:28
I think it's great on these post-match threads to read all the different takes on the game and the players, especially the perceptions of how they performed.
I think most people give credit to players who have played well, whereas they are naturally critical of those who haven't. And that's entirely as it should be on a forum like this.
As far as I can tell, football's always been like that. It's about summing up what you've seen and what your reaction was to seeing them play.
Of course, if you deliberately don't actually watch them play, then you might not be in the best place to judge for yourself how they played, or how reasonable and justified the views are of those who did actually take the trouble to watch them play.
Phil Lewis
201
Posted 17/09/2020 at 23:35:20
Moise Kean is proving Souness right. He speculated months ago on TV that Juventus would never have released an aspiring young star so easily without good reason. Souness was correct, Kean is useless.
I came to the same conclusion about Moise Kean before Souness, after witnessing his earliest appearances for us. My nephew sat next to me in the Gwladys Street stand pleaded his case, complaining that Kean wasn't being fed enough by his team mates.
I pointed out that it was his lack of positional awareness and inability to create space for himself off the ball, which made it impossible for others to pass to him. It meant he was easily marked, or found himself continually turning and dribbling into dead ends, as soon as he received a pass.
Moise has shown absolutely nothing in the ensuing months to convince me otherwise. People who are attempting to make a case for him, are clutching at straws. He has an athletic frame, devoid of a football brain. To compare him to Lukaku is absurd.
Excuses about a young lad in a foreign land are nonsense. He's living in the lap of luxury, with a manager who speaks his native tongue. What more could any young man ask for?
He was quite simply yet another costly mistake. Iwobi is another who falls into the same category. Arsenal mugged us. I bet they couldn't believe their luck at the fee we paid for him.
It's a long list of deadwood. I don't need to name the rest. Their performances speak for themselves. Carlo's priority should be focussing on shifting them quickly and bringing in players of similar quality to our magnificent recent signings.
John McFarlane Snr
202
Posted 18/09/2020 at 00:21:28
Michael [200] I sense that the last sentence of your post was addressed to me, nowhere in my post did I give an opinion on the performance of the team or individual players. I merely stated that players who received praise from the matchday commentators were slated by some on this thread. I also said that I appreciate that fans can attend a match and see a different game, this is something I recognised a long time ago.
Tony Abrahams
203
Posted 18/09/2020 at 08:54:23
Just wait your turn John Mc, it seems to me that Michael, just enjoys digging you out.
---
Add Your Comments
In order to post a comment, you need to be logged in as a registered user of the site.
Or Sign up as a ToffeeWeb Member — it's free, takes just a few minutes and will allow you to post your comments on articles and Talking Points submissions across the site.
---
© ToffeeWeb