Report
Blues do enough to secure the win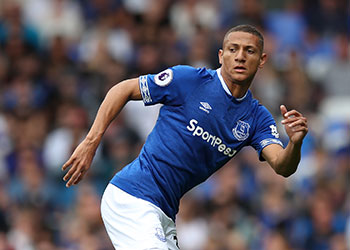 Richarlison is sidelined by concussion protocols following his withdrawal from the cup quarter-final against Man United in midweek

Everton look to recover from the disappointment of Wednesday's cup defeat to Manchester United by advancing their claims for European qualification with victory at Sheffield United.

With the available members of his first-team squad further reduced by the enforced absence of Coleman and Richarlison, along with James, Allan and Digne, Carlo Ancelotti finally has to start Anthony Gordon along with the more experienced players who consistently fail to deliver the required end product. Will tonight be any different?

Ancelotti also again wastes a seat on the bench by naming two substitute goalkeepers. For the home side, former Everton captain Phil Jagielka, who once famously played in goal for Sheffield United, is named on the bench. John Lundstram is suspended.

Everton, playing in a rather nice blue and white strip, got things started in wet and blustery conditions at Calvert-Lewin's former home. But the home side won an early corner that needed to be repulsed.

Some intricate Blues passing broke down at Iwobi, but they were trying to get their passing game together, Doucouré next to give it up cheaply.

Davies tried a probing forward pass that was blocked. Iwobi put in what looked like a decent cross for Calvert-Lewin, who ran underneath it, with nothing from Sigurdsson's first corner delivered without challenge to Ramsdale. Brewster almost embarrassed Pickford, blocking a clearance.

A very sloppy giveaway by Sigurdsson saw The Blades almost score, Godfrey clearing it off the line with the linesman flagging for offside. Davies again could only find a red-and-white shirt with his otherwise tempting forward pass.

A decent counter saw Calvert-Lewin on the wing picked up the ball but showed too much of it to the defender. Iwobi then took the chance for a shot that Ramsdale had well covered.

A long ball up to Calvert-Lewin from Keane saw a brilliant chest trap, the paintbrush volley too straight and flying the wrong side of the angle. A free-kick after Holgate was caught saw Ramsdale fumble and it needed a Pinball Wizard to finish amidst the mayhem that ensued, The Blades finally saved by getting a free-kick.

Gordon played his part in trying to create an opening with some nice triangular play but Doucouré lost the ball. Iwobi and Davies were getting a lot of the ball but finding it hard to get a decent ball into the Blades area.

Iowbi danced through 5 defenders with some nifty footwork but could not fashion a shot, neither could Gordon. Sigurdsson lashed a shot from outside the area wide of the far post. Mina's long ball asked too much of Anthony Gordon.

Davies lost a 50/50 decision and Burke, with the final kick of the half, shot across the Everton goal from a very narrow angle that may have taken a fingertip from Pickford to keep it out.

The game was pretty open after the resumption, Sheffield United trying something different with long throw-ins for the Everton defence to deal with. But Everton were not really being challenged, yet seemed unable to ratchet up the tempo to the degree needed to force a result.

It appeared that Gordon had not done enough for Carl Ancelotti, Bernard replacing him just 10 mins into the second half, but would he provide the spark that was so obviously missing?

Everton finally built an attack and won a corner, Holgate glancing it on, beyond Calvert-Lewin's stretching reach. When they finally worked the ball goalward again, Holgate unleashed a wild shot miles off target.

Sigurdsson wasted another set-piece with a lazy over-hit ball, and Coleman strangely replaced Michael Keane. The home side then won a corner that fortunately was directed well over the Everton goal.

Sigurdsson fired his next set-piece direct to Ramsdale, the Blues strangely reluctant to really press their advantage in terms of player value and apparent superiority. Would Gomes be the man? Carl having a laugh, obviously, as he replaced Davies.

Amazingly, something like a flowing attack materialized... and then just as quickly evaporated with Bernard's poor ball, after Calvert-Lewin should have powered through on his own.

Finally an almost fluid movement looked to break through but it was recycled back to Coleman and then played through Bernard and Doucouré to Sigurdsson who fired a perfect strike just inside the far post to finally show the ambition needed to win this game.

The Blades tried to respond but Everton's defence held firm. They did win a corner that was driven across and then blazed over by Stevens. Godfrey decided to waste some time and got himself a silly booking. Iwobi won a late corner as 5 mins were added but they decided to fart around with the ball in the corner, leading to pressure for the Blades.

There were plenty of danger moments as the final minutes were played out, Pickford also getting booked for time-wasting, McBernie firing wide at the death, but the Blues stuck it out to take home all the Boxing Days spoils.

Scorer: Sigurdsson (80')

Sheffield United: Ramsdale, Baldock [Y:71'], Basham, Egan(c), Robinson, Stevens, McGoldrick (63' Norwood), Ampadu, Osborn, Brewster (76' Mousset), Burke (46' McBurnie).
Subs not Used: Jagielka, Bogle, Lowe, Fleck Verrips, Sharp

Everton: Pickford [Y:90+3], Holgate, Keane (67' Coleman), Mina, Godfrey [Y:89'], Iwobi, Doucouré, Davies (74' Gomes), Gordon (55' Bernard [Y:81']), Sigurdsson (c), Calvert-Lewin [Y:51'].
Subs not Used: Olsen, Lössl, Kenny, Tosun, Nkounkou, Branthwaite.

Referee: David Coote

VAR: Chris Kavanagh<
---
Reader Comments (284)
Note: the following content is not moderated or vetted by the site owners at the time of submission. Comments are the responsibility of the poster. Disclaimer
Thomas Richards
1
Posted 26/12/2020 at 19:06:00
Gordon starts.
Hope he has as much effect on the game as some ToffeeWeb posters expect.
Chris Williams
2
Posted 26/12/2020 at 19:12:27
Bench
2 keepers
3 full backs
2 midfielders
Tosun.
1 centre half
Stephen Vincent
3
Posted 26/12/2020 at 19:14:40
2 keepers again, I really don't get it. We have half-a-dozen kids who would benefit from the experience.
Still, Gordon in, so not all bad.
Thomas Richards
4
Posted 26/12/2020 at 19:26:15
Stephen.
Does look strange at first glance.
Managers sometimes send messages to the owners by their subs selection.
Ciarán McGlone
5
Posted 26/12/2020 at 19:27:01
The Gordon start that loads have been calling for... hope he lives up to expectations. To be honest, I haven't seen much in him so far.
We need a confidence-lifting bounce after the horrendous showing against Man Utd.
Ernie Baywood
6
Posted 26/12/2020 at 19:30:20
I'd hoped Gordon might have had a few sub appearances before being thrown into the starting lineup. It's not like there haven't been opportunities.
Let's hope he can do well but it doesn't exactly set him up for success.
Gary Carter
7
Posted 26/12/2020 at 19:38:10
Christ, Carlo gets moaned at for not playing Gordon and now people are missing that he's been picked, it's tragic.
Tommy Carter
8
Posted 26/12/2020 at 19:39:15
Based on the comments of many an Evertonian via several forums, I expect young Anthony Gordon to be the next Andrei Kanchelskis.
But, based on my own more realistic observations, I expect a tough night for him. However, I think he has enough about him to put in a performance. Good luck to him, he demanded an opportunity. Here it is.
Thomas Richards
9
Posted 26/12/2020 at 19:51:35
Commentator just mentioned its the first time we have been in the top 4 at Christmas for 16 years.
Stephen Brown
10
Posted 26/12/2020 at 19:53:45
On the two keepers selection, I find it remarkable that Simms isn't given a sub spot! He's raw but scores consistently in U23s.
1-0 down with 20 to go throw him on !
3-0 up with 20 to go throw him on!
Strange!
Brian Wilkinson
11
Posted 26/12/2020 at 19:54:09
Gordon's alive, oh well no one else threw it in.
Stuart Sharp
12
Posted 26/12/2020 at 19:55:25
You beat me to it Brian. Gutted.
Derek Wadeson
13
Posted 26/12/2020 at 19:56:43
We can now name nine subs, three goalkeepers travel to each match, so makes sense to me to at least involve the one that under normal circumstances who would not be involved after kick off.
Imagine if two goalkeepers got injured or one got sent off, the howls of protest would be heard all the way to Sheffield if our third goalkeeper was not on the bench.
Ciarán McGlone
15
Posted 26/12/2020 at 20:12:19
This passing around at the back is absolutely mind numbing. It's Sheffield United. not Barcelona.
Andy Crooks
18
Posted 26/12/2020 at 20:44:59
Why two goalkeepers on the bench? Is there some profound and wonderful reason. Surely even having Carlo's cat sat there would provide an interesting diversion that would be more astute.
Sean O´Hanlon
19
Posted 26/12/2020 at 20:51:12
I decided not to watch game tonight. Instead, Watching Carry on Screaming. No difference in performances.
Ciarán McGlone
20
Posted 26/12/2020 at 20:51:25
Puzzling and worrying first 15 with Davies unable to link the play from the back... and even when it did get forward nobody able to do anything worthwhile. Improving half though with Iwobi's mazy run the highlight.
Not convinced by the central midfield trio at all.
Thomas Richards
21
Posted 26/12/2020 at 20:53:12
Klopp has picked two keepers on the bench in a CL game this season
Brian Williams
22
Posted 26/12/2020 at 20:53:30
Sean#19.
Well you've already posted that you reckon we'll get beat so why not watch Carry on Screaming. 👻

Pete Hughes
23
Posted 26/12/2020 at 20:53:54
Jesus, we must play the slowest football in the Premier League?
Roger Helm
24
Posted 26/12/2020 at 20:54:19
I think Carlo is making the point that the squad is so poor that the goalies are better footballers than the players he didn't name.
Danny Broderick
25
Posted 26/12/2020 at 20:57:08
Is there something pulling the players towards centre mid every time we get the ball? Iwobi gets it, he comes inside. Gordon the same. The defence get it, they give it to Tom Davies, he passes it sideways then Iwobi and Gordon come back towards him. This goes on forever until the ball goes back to Pickford and he punts it up to DCL. This is a cycle repeating itself every 5 minutes. The full backs don't cross the halfway line. Really poor to watch.
Alex Gray
26
Posted 26/12/2020 at 20:58:18
Utter garbage. Have to say Gordon has done absolutely nothing for me so far. Iwobi is our only creative player currently. This has got 0-0 or a loss all over it.
I'd have Holgate off for Coleman personally.
Simon Dalzell
27
Posted 26/12/2020 at 20:59:27
Dreadful. No semblance of a plan, or even a command of the basics.Painfully slow.
Jay Wood
[BRZ]
28
Posted 26/12/2020 at 21:02:26
We are clearly the better team.
Just a matter of taking the chance(s) when it comes and not doing anything silly to hurt ourselves.
Danny Broderick
29
Posted 26/12/2020 at 21:02:40
Really poor game. 4 shots each. Sigurdsson has obviously reverted to being the invisible man. Trouble is most of the rest of the team are competing for invisible status as well. Tom Davies is the only one getting on the ball. It's like a hot potato to the rest of the team.
Kevin Prytherch
30
Posted 26/12/2020 at 21:03:51
Are we saying that playing a 4-2-3-1 against a team that we need to break down, with Sigurdsson at number 10, and DCL isolated up front, and no natural attacking width from full back, is struggling break down a team.
No one could have predicted that!!!
Neil Lawson
31
Posted 26/12/2020 at 21:14:42
That early sub of Gordon is outrageous. He has had little service and that is not his fault. This is Ancellotti saying "I know best." I think it is Ancellotti being an arrogant knob. If you pick a young player, you have to at least give him a reasonable chance.
Not impressed.
Alex Gray
32
Posted 26/12/2020 at 21:22:22
Disagree Neil. Gordon hasn't offered anything. Saying that, nothing on the bench is any better. No sub will change this game as we have no quality on the bench whatsoever.
Kieran Kinsella
33
Posted 26/12/2020 at 21:25:03
Neil 31
Gordon was complete crap, running into dead ends, giving the ball away, going backwards not forwards. You can't wish him into being a star, he's just not very good.
Neil Lawson
34
Posted 26/12/2020 at 21:30:57
Gomes ?
Am I watching Morecambe and Wise ?
Phil Wood
35
Posted 26/12/2020 at 21:37:15
Gordon given a run out in a crap side in crap conditions with hardly any playing time under his belt (thanks Carlo) and gleeful critics here putting the knife in.
Hurray, our crap team have scored!
Phil Wood
36
Posted 26/12/2020 at 21:41:07
Agree with everything you say Neil 31. An arrogant knob indeed.
Kieran Kinsella
37
Posted 26/12/2020 at 21:42:55
Phil
Not gleeful at all, would've liked him to do well. Just tired of people using his absence as a reason to criticize the "busted flush". Conor McAleny did more in one brief appearance than Gordon has so far. No one hyped up Conor
Phil Wood
38
Posted 26/12/2020 at 21:45:13
He had an excellent run out at Salford then got snubbed.
Alex Gray
39
Posted 26/12/2020 at 21:45:23
Lads he didnt play well. Was bullied off the ball and passed backwards. Not saying he's a bad player but Bernard (who I don't rate) has been far better tonight.
Kieran Kinsella
41
Posted 26/12/2020 at 21:51:04
Salford Phil. Fourth tier team.
Thomas Richards
42
Posted 26/12/2020 at 21:54:37
Grazie professore
Ciarán McGlone
43
Posted 26/12/2020 at 21:56:21
A performance of little quality against one of the relegation fodder in the league.
I thought Bernard was excellent. Gets a lot of shit on here but one of a limited number of technically creative players we have. His touch for the goal was superb.
We won.. but we need our better players back.
Stephen Brown
44
Posted 26/12/2020 at 21:57:12
Win without Richarlison ✅
Win under pressure to go 2nd ✅
Subs make decent impact✅
Sigurdsson winner ✅
Don't let team break run against us✅
Well done blues!!
Thomas Richards
46
Posted 26/12/2020 at 21:57:29
Gordon is a work in progress. Not ready to start games.
Tony Hill
47
Posted 26/12/2020 at 21:58:39
Yes, let's give up on Gordon. Fucking hell.
Jay Wood
[BRZ]
48
Posted 26/12/2020 at 21:59:59
Did what needed to be done.
The goal was a thing of great beauty. Really well played by both Bernard and Doucoure and clinically finished by Siggy, who really put in a shift with graft and craft all game.
Thomas Richards
49
Posted 26/12/2020 at 22:00:32
Who is giving up on him Tony?
George Carroll
50
Posted 26/12/2020 at 22:00:33
For goodness sake, we have 4 of our best players injured, we played in terrible conditions and yet fans are moaning their particular favourite didn't play 90 minutes. Enjoy the result have belief that Carlo knows more about football than the vast majority of ToffeeWeb managers. Enjoy whilst we can before Boris announces another U-turn.
Steve Cotton
52
Posted 26/12/2020 at 22:01:23
Bernard saved us there, the best player in blue by a mile. Holgate much better as a central defender. We won playing poorly but the ref was a complete twat all game...
Calvert-Lewin, great player but needs service. Gordon was dire... all those calling for him, give your head a wobble!
Brian Williams
53
Posted 26/12/2020 at 22:01:33
Thankfully a win but Jeez did they make hard work of it.
The shining light today for me was Tom Davies. He was given a job to do (and that wasn't to be the creator of everything) and he stuck to it and didn't put a foot wrong.
Bernard changed the mode of transition from midfield to attack when he came on and gave just that little glimmer of creativity that we'd lacked all game.
Defensively okay, but going forward generally slow, lacklustre and really struggling to create.
Thankful for three points and second place though.
Craig Walker
54
Posted 26/12/2020 at 22:02:32
Great 3 points. At last, an opportunity to climb the table and we didn't bottle it. We weren't great tonight but we'd have lost that under Silva. Davies, Mina and Godfrey were my standout performers. Sigurdsson needs to improve his set-piece delivery though. 4 or 5 times he put it in the keeper's hands.
Patrick McFarlane
55
Posted 26/12/2020 at 22:03:11
David Coote tried to be the Grinch, with what I can only describe as one of the most absurd performances I've ever witnessed, throwing yellow cards around for dissent but not stamping his authority on the game early doors by booking the Blades players who stepped over the mark several times. Sheffield's Robinson (I think) was stealing tens of yards on every throw-in but not a single word of warning.
I didn't have the clock on my screen but did the official add time to added time again? As the last few minutes seemed to go on for ages.
Anyway, the one piece of quality that Everton produced earned them the points and we should be thankful for that, but we need a lot more than we saw tonight; however, the application and work-rate was there against stubborn if limited opponents.
Tommy Carter
56
Posted 26/12/2020 at 22:03:36
Job done. 2nd place. Wining games in difficult circumstances.
Superb Mr Ancelotti and the players that performed there tonight.
Starting to see some performances from Mina which is a huge boost. This flat back 4 really seems to suit us.
Gordon literally knocked on the door of one of the game's most decorated managers and demanded his chance. Got it tonight and did very little with it. Bernard replaced him and there was an instant and marked difference in quality. The goal was down to his sublime touch in the box. Thank you. 1-0.
Listen, Gordon is young and I genuinely think he has a chance. But it's a symptom of the common Evertonian that, when things aren't going well, the next academy prospect becomes the obvious answer that is not being selected. Someone on here mentioned Simms for the game tonight. I honestly shake my head with disbelief. Tonight was a game for character, grit and stand up and be counted.
Tom Davies is regularly and graphically slated on this website during and after almost every game. Well, tonight I thought he was excellent. He gave the ball away repeatedly at times but he was in the position to intercept and dominate on several occasions. Attitude as always, first class.
Well done Everton. Well done Mr Ancelotti. A world class manager at a great club.
Tony Hill
57
Posted 26/12/2020 at 22:05:13
Thomas @51, Kieran Kinsella has decided he's no good.
Will Mabon
58
Posted 26/12/2020 at 22:06:27
Gordon didn't get one good ball to run onto that I recall. I thought once or twice he was a bit static when Godfrey looked for him but Godfrey turned back from him a couple of times too. Hard to judge him from this I think.
Jay Wood
[BRZ]
59
Posted 26/12/2020 at 22:09:10
Winning four consecutive PL games has only been achieved 4 times this season.
Once by Villa.
Once by Spurs.
Twice by Everton.
We're doing alright.
Terry Farrell
61
Posted 26/12/2020 at 22:10:50
Davies played well tonight and tried to take the game to them. Gordon did okay but he wasn't able to get a run at the full-back but he is pacy and will improve at this level. the naysayers should factor in his age. I seem to remember similar comments about Calvert-Lewin and Holgate when will they learn that not many young lads land on their feet straight off (except Rooney).
Roger Helm
62
Posted 26/12/2020 at 22:11:55
I am scratching my head how this bunch of players are second in the league, two points behind Liverpool. Just think where we would be with more of an attack.
Jerome Shields
63
Posted 26/12/2020 at 22:12:15
Jerome Shields
64
Posted 26/12/2020 at 22:12:17
Difficult game for Everton, but they put through the right performance to get the right result. Good tactics and formation and good substitutions.

Tommy Carter
65
Posted 26/12/2020 at 22:12:36
@ Will 58
In football as in life, you make your own luck.
Can't say that his lack of input was the result of poor play from his team mates. Bernard came on in the same position and did incredibly more during his time on the pitch.
Michael Williams
66
Posted 26/12/2020 at 22:13:50
I would like any of the people ripping Carlo to raise your hand and let us know you think you could manage this team into second place in the league.
Jerome Shields
68
Posted 26/12/2020 at 22:15:20
Thought Gordon did ok.
Thomas Richards
69
Posted 26/12/2020 at 22:18:16
Hopefully the negative minded Blues will look at the table and sleep peacefully tonight.
We are in good hands with Ancelotti.
Derek Thomas
71
Posted 26/12/2020 at 22:18:45
A sandwich of left-over cold turkey on slightly stale bread of a game to watch... needed some assorted condiments and pickles to spice it up and make it more appetising.
Filled a corner though.
Lee Courtliff
72
Posted 26/12/2020 at 22:21:09
When Bernard came on I said to myself, "well, he can't possibly be as ineffective as he was on Wednesday."
Fairs fair, he played well when he came on and contributed to our goal.
Bit of a shite performance but how many times have we seen the 'Big Clubs' win like this and bemoan the fact that we can't?
On we go.
Michael Williams
73
Posted 26/12/2020 at 22:21:13
No one roots for our young players as much as I do. However, I thought Gordon was just okay at best and have no problem with him being subbed. Bernard's flick to Doucouré was just a little of the quality we needed.
Bill Gienapp
74
Posted 26/12/2020 at 22:24:43
No one's going to sing songs about that match, but we did what we had to to get the three points. Bad conditions, with a tired, banged up squad, against a side whose recent results had given them a dangerous crumb of self-belief? I'll take it.
Hate to say it, but we looked so much better when Bernard came on. I'll attribute that more to Bernard being somewhat overlooked this season, rather than Gordon squandering his opportunity though.
Also pleased for Siggy. He's a player who has the quality to produce that one goal that proves the difference between a win and a draw, but it's been way too long since we've gotten to see it.
Mike Gaynes
75
Posted 26/12/2020 at 22:28:12
Good 'un Stephen #44!
Fine, mistake-free efforts by Davies and Iwobi today. Mina was particularly huge down the stretch, looked exhausted and I would expect to see him rested for Monday. Bernard made up for his poor showing off the bench Wednesday with some elegant touches today, Doucoure came up with a couple of big plays, and Siggy's finish was as composed as you could ask for.
We are 2nd. Well done.
Martin Berry
77
Posted 26/12/2020 at 22:32:15
A win is a win and I thought Doucoure was again standout. When this lad needs a rest, then we will really understand how we miss him. An outstanding bit of transfer business.
Thomas Richards
78
Posted 26/12/2020 at 22:34:11
James, Allan, Digne, Richarlison, Coleman.
Half of our outfield players, all of them starters in a fully fit squad, missing from starting and we are in 2nd position.
What's not to like?
David Cooper
79
Posted 26/12/2020 at 22:36:38
Anyone know when was the last time we were 2nd on Boxing Day?
Paul McCoy
80
Posted 26/12/2020 at 22:37:05
Not going to complain about the win, but my god we are really missing Allan and James, not to mention Digne and Coleman. We looked devoid of attacking threat for most of the game tonight and punting it aimlessly to Calvert-Lewin was not the best of ideas in gale-force winds.
Jamie Crowley
81
Posted 26/12/2020 at 22:37:36
I'd thrilled. Second in the League at Boxing Day. Fantastic.
I'm honestly befuddled at what some people were expecting? The Live Forum was replete with, "We're playing shite" or, "We're awful" et al, that type of thing.
It was freezing, pissing down rain, gale-force winds, and we have a slew of injuries! This is why players like Tom Davies, Bernard, Sigurdsson, Gordon, etc. are valuable. They stepped it up and did right by the team, giving their all, selflessly as they're not "starters", when we had the need.
It's a team game. It was ugly, but we got what we needed and everyone pitched in to get a result.
UTFB!
Mick O'Malley
82
Posted 26/12/2020 at 22:37:49
I've always liked Bernard but I find he usually plays well when we have plenty of the ball and are on top; otherwise, he can be a bit lightweight and ineffective but he is capable of moments of quality, I think Derek @71, your description of the game is perfect. I'm made up with the win and another clean sheet. COYBs!
Mal van Schaick
83
Posted 26/12/2020 at 22:37:55
Well said, Thomas #78. These are the games we need to win to stay in the top six.
Thomas Richards
84
Posted 26/12/2020 at 22:39:31
Jamie Evans
85
Posted 26/12/2020 at 22:39:33
Good win, great festive period in the league so far.
Be interesting see the team for Man City. Calvert-Lewin, Doucouré and Mina must be in need of a rest.
Mike Corcoran
86
Posted 26/12/2020 at 22:40:22
Just got some 1987 beer goggles in the secret Santa. They're are boss but a little bit flimsy.
Mike Corcoran
87
Posted 26/12/2020 at 22:41:43
Davies was ace, leave him alone.
Benn Chambers
88
Posted 26/12/2020 at 22:41:54
First things first, the points are all that matter and we're 2nd in the league with 5 of our best players and starters all missing. Every single one of us would've took that after 15 games, even with all our players back and fit.
We are lacking something from an attacking point of view with Digne and James missing and that's to be expected but we seem to have gained something defensively. We are very hard to break down and score past now.
As is obvious from my posts on here, I'm not Tom Davies's biggest fan, not because I dislike him, I just don't think he's consistently good enough to be in our squad, let alone first 11. I do have to say though, that tonight, he was head and shoulders the best player on pitch until he had to come off. He needs to watch tonight's performance back and study it. That's what type of midfielder he is. He sat, he's showed for the ball and was always available and he was calm on the ball, he took in his surroundings and made us tick. Well done young man, more games like that and he could absolutely play in our midfield but he needs to show in consistently.
Special mention too for Gylfi. Not just for the winner, which was a sublime move and finish, but for his overall game. He worked his arse off and never stopped running. Also Michael Keane, absolute Rock. Mina as well.
Well done Carlo and well done Everton. 2nd in the league at Christmas. Brilliant.
Tommy Carter
90
Posted 26/12/2020 at 22:43:04
@ 63 & 78,
I thought he did okay too. Average. Steady enough.
But he's the one knocking on the door of the manager.
Shown me nothing tonight to suggest he should be starting. That's not to say I don't like him. I do. I think he'll have a career. But, every time we play bad, so many contributors on here start telling me that he's the next big thing and that Carlo can't see it. It annoys me.
Andy Meighan
91
Posted 26/12/2020 at 22:43:19
Martin 77, Spot on. He ran the game tonight and as far as I'm concerned. He's been a great bit of business, cracking player.
Tony Everan
92
Posted 26/12/2020 at 22:46:19
It was a filthy December night, swirling strong winds, rain and about 3 degrees. We were playing a side that trades only in the physical side of the game. Taking all this into account, I thought we matched them for fight and eventually a little bit of quality from us won the day. I think the lads deserve big credit for grinding out the win.
We have Digne, Richarlison, Allan, James Rodriguez, and Gbamin to come back hopefully in the next few weeks. The squad will be looking strong. With that quality coming back fresh and fighting for their places, we can mount a big push for the second half of the season.
John Raftery
93
Posted 26/12/2020 at 22:48:28
Reading through the first 30 or so comments on this thread, it was clear we were heading for inevitable defeat under a witless manager with not so much as a clue about selection or tactics.
Surprisingly we won. It was not a vintage performance but, at this stage of the season, it is all about grinding out the points not playing silky football. Calvert-Lewin, Davies, Sigurdsson, Iwobi, Doucouré, Bernard plus all of the back line contributed to a solid defensive display. Well done to all of them.

Rob Hooton
94
Posted 26/12/2020 at 22:48:32
A proper, gritty 1-0 away win, minus half our best players and in grim conditions. There's a beauty in the ugliness; only 1 goal conceded in last 4 league matches after leaking like a sieve before that.
I wanted to see Gordon play and he struggled to get into the game, it was a tough one for him so I shalln't be judging him on it.
Happy.
Jamie Crowley
95
Posted 26/12/2020 at 22:49:23
Jay Wood @60 -
That's the most spot on and concise comment I've read from you.
Well said man! Cheers!
Julian Exshaw, wherever you are -
The LF shat (past tense of shit) out on me after you'd commented, "I've murdered a couple of them." Hilarious way to phrase throwing back a few pops. Cheers.
Paul A Smith
96
Posted 26/12/2020 at 22:49:35
That's my favourite win this season. With the players we have out and the fixture pile-up, recent defeat to Man Utd, and Sheffield Utd due their first win, that is psychologically a great win.
The manager is doing his job. Them four defenders are giving us something to build on every week.
The board have to find ways to do their job now and find more quality for the manager to keep us up there.
Danny Broderick
97
Posted 26/12/2020 at 22:49:56
Not a great performance, but our spirit is obvious and our defence is strong. It's not often we have been able to praise Everton's spirit and defence in recent times.
We need much better from the full-backs and wide men going forward though. And Sigurdsson, despite the quality he showed when he scored, remains the invisible man. Absolutely zero link up play with Calvert-Lewin again.
I hope Carlo can get them working on the training ground how to build attacks. We seem solid in defence at the moment. But our attacking play consists of going side to side and then back to centre mid. The only break in this pattern is when Pickford hoofs it aimlessly upfield.
Amazingly, we are second anyway! Happy days!
Tommy Carter
98
Posted 26/12/2020 at 22:50:56
I must say that Calvert-Lewin has been feeding off absolute scraps these last few games. However, his hold up play is world class. His determination and effort unquestionable. What a transformation for this player.
Peter Mills
99
Posted 26/12/2020 at 22:51:44
4 league games ago, someone on here (was it Rob Halligan?) predicted we would take 13 points from the following 5 games.
Typical negative attitude and lack of ambition!
Jamie Crowley
100
Posted 26/12/2020 at 22:55:15
Am I right thinking we've given up a grand total of ZERO goals from open play in our last FOUR Premier League games?
But nah, we're shite.
Paul A Smith
101
Posted 26/12/2020 at 22:58:35
Jamie 81 the live forum was choca with tacticians when I looked. Then they all went home when we scored. Amazes me how defeats are all about tactics and subs but a run of wins and its all out the window that tactic talk.
Apart from the first win when the standard self-justification shout rings out: "I thought the manager got his tactics spot on today."
John Keating
102
Posted 26/12/2020 at 22:58:58
Great 3 points.
Not free-flowing football in any way but a precious win. Bit of class for the goal. Well done, Tom Davies.
Now on to the next one. One at a time...
Patrick McFarlane
103
Posted 26/12/2020 at 23:02:09
Danny #97
Everybody remembers Peter Reid's vain efforts to catch Maradonna in 1986, but I can't help thinking that Sigurdsson couldn't currently catch the aging pop-star, Madonna, if she made a dash for it. However, he took his goal really well and he has skills but unfortunately, the physicality of the Premier League seems to be beyond him in most games.
Paul Birmingham
104
Posted 26/12/2020 at 23:02:20
Well, said Jay, Brazil..
One Year One, on, and Everton are second in the EPL.
The same football rules, COVID rules, apply across, the globe.
Tonight, was a massive win, for EFC.
Evertonians, that's, a good performance, and better will come, but patience and belief is needed.
NB Mr Ed, is starting to show, consistently, his beliefs, excuses, every week, for ant game, the RS, struggled or didn't win.
Evertonians, you know, and will know.
Time and patience, life's virtues, but essentials, to progress?
On the right track. 👍👌..
I'd say yes, as this is the best form season, Everton, have had, since 1986/87.
If any one has facts to differ, then, speak up..That's x2 x4 win b2b, winblocks.

"Whats Our Name?"

Jamie Crowley
105
Posted 26/12/2020 at 23:02:29
Paul Smith @101 -
I thought the manager got his tactics spot on today! 😜

Luke Welch
106
Posted 26/12/2020 at 23:03:04
Calvert-Lewin has been feeding off scraps, but that's par for the course for now. The squad is depleted of control and creativity at the moment and it's a case of grinding out results. Hopefully there will be reinforcements in January.

Rob Dolby
107
Posted 26/12/2020 at 23:03:46
As expected a pretty awful game to watch. I was happy with the starting 11 given our injuries.
Tough for a young lad like Gordon to make his mark when the left back checks back all of the time but he will learn from the experience. Bernard drifted inside immediately and showed a bit more composure and experience.
Thought Davies played very well though I would have liked to see him move the ball quicker.
We started the game with 2 goal threats in Calvert-Lewin and Sigurdsson, luckily enough our one bit of quality produced the goal.
We are 2nd without 4 of our starting 11. The league is stupidly tight this year. A European place is up for grabs with any additional quality added in January.
I hope Ancelotti doesn't make too many changes against Man City.
Jay Harris
108
Posted 26/12/2020 at 23:03:47
When the players were in the tunnel I saw the referee acknowledging all the Sheffield players as if they had known each other for years. That was borne out by him showing yellow cards to Everton players like confetti for minimal offences and denying the penalty and not even referring it to VAR.
That was all compounded by an additional 5½ minutes. Can anyone explain where that extra time came from?
I see he is from Nottinghamshire and wonder if there is any allegiance.
Anyway we got the three points and we are 2nd in the Premier League with a string of top players to come back from injury.
The future is brighter than at any time in the last few years.
Sam Hoare
109
Posted 26/12/2020 at 23:04:13
Really fantastic and important three points that, against a team who worked hard and with us fielding a starting XI full of knackered legs.
I thought Davies was very impressive, showed for the ball and mostly used it pretty well. Doucouré's running was gob-smacking and Gylfi's work rate was not far behind.
Gordon was a bit of a disappointment. Never quite seems confident enough to run at his man and try to make something happen. By contrast, Iwobi tried a few times and, though haphazard, looked the most likely to make something out of nothing.
Playing centre-backs at full-back might work against the good teams where you want to keep solid and hit on the counter but it's not great when you have more of the ball and the onus is on us to create. Godfrey was better than Holgate but neither will add much offensively when we need to open teams up.
2nd on Boxing Day. Brilliant. I had real doubts about us after the Burnley match, when we seemed to be shipping goals all over the place but we have tightened up considerably since then. Is it possible that injuries to Rodriguez, Coleman and Digne have helped to that end? Maybe. But, either way, much credit due to Ancelotti and the team for making it a much more enjoyable Xmas for Everton fans.
Will Mabon
110
Posted 26/12/2020 at 23:05:09
Tommy 65:
Yes, there's an element of make it yourself. For most of the time though Gordon was rigidly in left wing position along the line, whether by instruction, I don't know. Bernard dropped back more and a little inside, roamed a bit.
I think Gordon will prosper more with a ball to run at rather than from stationary. Early days, can't dismiss him yet.
Jay Wood
[BRZ]
111
Posted 26/12/2020 at 23:05:54
Interesting considering the concerns expressed during our slump and how poor we were defensively and over-reliant on Calvert-Lewin for our goals that:
* our last four wins have come without a goal by Dominic, who continues to play immensely
* we have conceded just 3 goals in the last 6 PL games
* we have 3 clean sheets in those 6 games
* only 4 teams have fewer goals against than the 19 we have conceded (City 12, Villa 13, Spurs 14 and Chelsea 17). City and Villa have played two fewer games than us, Spurs 1 fewer game)
* there are no fewer than EIGHT teams who, like Everton, have conceded 19 goals. Five of those 8 have played 1 or 2 games fewer than us
* we have the 6th most potent attack in the Premier League. Only 'them' 36, Chelsea and United both 30, Leicester 28 and Villa 27 have scored more than our 26
* only Leicester and United with 6 wins have won more on the road than Everton's 5 wins (equal with Villa)
* on home wins 'they' are the only ones with a 100% home record, seven. We are equal second with Chelsea and Southampton with 4 home wins
* we are equal first with both 'them' and Leicester with the most total wins, nine
Considering who is absent. Considering the fixture list and the quality of the opposition faced this month, I'll repeat what I posted earlier:
We're doing alright.
The rest of 'em are lucky we DID have a slump!
Tony Abrahams
112
Posted 26/12/2020 at 23:06:02
The most pleasing thing for me (although it seems like it's annoying quite a few) is watching Ancellotti on TV with Rio Ferdinand, going over his career and the big games he's managed in, is that he is such a calm manager.
He's won four on the bounce with quite a few injuries and people not being happy with the style is fine because it's their prerogative but, if you can't see a serial winner starting to add pragmatism to a football club that has stopped existing to win, then that's something I hope we begin to understand in the future.
I'm aware that we need to win something but I'm also certain that we will have a lot more chance when everyone gets behind the team and the manager.
We lack craft, that's obvious to see, but, for a man like Ancellotti, I'm sure that will be the easiest part to add, and what he's trying to instill into our squad is the most important thing for this illustrious and common-sense manager.

Trevor Peers
113
Posted 26/12/2020 at 23:06:28
Tonight was a tough battle but wins breed confidence and Carlo knows how to win. He knows what he wants and will get the good players we need.
We're a team in transition; it will take time... but, with more transfer windows, it will improve. There's a lot more to come, I'm certain of it.
Paul A Smith
114
Posted 26/12/2020 at 23:07:24
Jamie, haha – most importantly the players carried them out.
Bernard deserves great credit. He's come on full of enthusiasm tonight and he was cool in the box when that ball dropped for the goal.
The defenders deserve great praise too. I have given a couple of them stick and against top level they are not great but, against the other 15 or 16 teams, they can hit a good standard.
At the moment, they are the ones giving us something to build on.
Michael Lynch
115
Posted 26/12/2020 at 23:13:42
That was straight from the Moyes playbook. A side shorn of all its glamour players and big names, keeping it tight and nicking one to pick up three points and stay in the top four.
Without Digne and Seamus, Carlo opted to keep his non-specialist full-backs in their own half which, while reducing our creativity considerably, meant Sheffield Utd – like Arsenal, Leicester and Chelsea before them – hardly got a sniff. A nice goal and a good win against a dreadful Sheffield United in terrible conditions.
MotM for me Tom Davies, but Bernard was excellent when he came on, as was Seamus, both of them pushing us on up front. Shame for Anthony Gordon, who was anonymous and then hooked early.
Rob Halligan
116
Posted 26/12/2020 at 23:14:39
Peter # 99. It might have been me. I think I said after we beat Chelsea, we would get 13 points from Leicester, Arsenal, Sheffield Utd, Man City and West Ham. I still think we're bang on course to achieve this.
Barry Williams
117
Posted 26/12/2020 at 23:17:21
We have now coped admirably without a number of key players for quite a few games.
Tonight, that starting line-up was bereft of 5 of these key players from the line-up – Coleman, Digne, Allan, James and Richarlison – but we still won, and the team is 2nd. I was disappointed by what happened in the cup but, on a cold, wet night in Yorkshire, 4 changes, players possibly leg weary, we came through.
Now, strangely these injuries might have a positive long-term outcome. We now know that we can rely on certain players to come through, play out of position, and still do a decent job. Plus, usual non-starters are getting game time, which benefits the squad as a whole, with the knock-on effect of subs being used that might not even get a sniff. All this, whilst 2nd, and 5 'first-team players' to return.
Bernard looked particularly bright coming on. We have competition for a change, a number of systems at our disposal, plus knowing who can work well within given systems.
Davies was excellent, and I am one of those supporters who cannot understand the vitriol towards him at times. Works hard, unspectacular, and quite versatile – Alan Harper, anyone?
Then, we have a January window too.
Long term, quite hopeful, though being a 50-year-old Evertonian, I do not get too excited!
Man City with 2 days prep may be a bridge too far, maybe not, but we are going in the right direction as a club – on several fronts.
We have won ugly, pretty and practically this season – all within 15 league games! When did we last do that?
Oh – No Richarlison tonight – and we won!

Will Mabon
118
Posted 26/12/2020 at 23:19:30
It's a big call, Rob – means we need to avoid defeat vs Man City!
Still, it was a big call at the time, so fair play.
Paul Birmingham
119
Posted 26/12/2020 at 23:21:37
Well in, Jamie, the next game is the game... so, if Everton can get the mindset and get ready for Man City, then there's no reason why we can't beat them. Monday at home with support and they are beatable.
Everton! Show the same approach and tune in, they can win, as Man City don't have the same mental steel from 2018.
That team tonight did a great job and gave a professional performance.
"What's Our Name?"
Bill Gall
120
Posted 26/12/2020 at 23:23:24
This was a tough game against a team fighting to avoid relegation and desperate for points before their fate is sealed, and in poor weather conditions.
Most of Everton's tactics seemed to be not to make a mistake, and to not allow Sheffield Utd to gain any momentum. It was not a game for the purists but one of those games that hard work became necessary for the points.
We realize that this game was won without some of our better players but the subs who came on did not let us down; it still showed we will need some more quality players to make up the squad.
The position in the league we are in at the moment makes nice reading but, to maintain a position in the top 4, it will take more quality players brought in during the January window. The other positive is it makes it more of a chance to qualify for a European competition.
It was difficult to say who was Man of the Match for Everton but, in my opinion, it should be the manager and all the team — who played as a team for the result.
Will Mabon
121
Posted 26/12/2020 at 23:24:07
I suppose the biggest positives, ignoring the style, tactics etc, are: firstly, the solidity of the defence, which is a real improvement; secondly, that we have returned from a pretty grim slump and strung four together on the bounce, again.
It's a long time since we've seen that from Everton.
Danny O'Neill
122
Posted 26/12/2020 at 23:25:01
We were never going to lose that. The question was: Can we go and win it against a Moyes-like team?
The manager's most crucial change was Bernard for Gordon. We needed something different to unlock them and Bernard done that; especially in the build-up to the goal.
Credit to the much-maligned Sigurdsson too. I've criticised of late but he's been great in recent matches.
Man of the Match for tonight was Mina; awesome and didn't put a foot wrong.
Second in the league with half of the first 11 missing. Not a bad place to be.
Shaun Robinson
123
Posted 26/12/2020 at 23:25:01
See the BBC are as impartial as ever. On their report, it says we were without Richarlison and James, no mention of Allan or Digne, or Coleman only being a sub. Half the usual starting team being unavailable doesn't merit a mention. It must be a cause for dismissal if any of them write anything complimentary about us.
Robert Tressell
124
Posted 26/12/2020 at 23:27:03
To give credit, the movement and attacking intent from Sigurdsson, and the finish itself, was very good. He's not dominating games like we might want but he's had a quietly effective run of games of late.
Danny O'Neill
125
Posted 26/12/2020 at 23:32:28
If he wasn't Everton manager, Carlo Ancelotti would be getting massive credit right now. As it is, he is being ignored by the national media and treated with scepticism by large parts of his own support who can't enjoy being where they are now as apposed to where we were this time last season.
Tony Ball
126
Posted 26/12/2020 at 23:33:59
Sigurdsson played well again tonight. Great finish for the goal.
Doucouré was my MtM. He still had steam left for another match straight after.
Patrick McFarlane
127
Posted 26/12/2020 at 23:34:10
Shaun #123,
You can just imagine the outcry in the media if our neighbours were shorn of so many of their regulars for such a critical period, they'd probably be calling for the temporary suspension of the league until the players were fully recovered. Never mind, hope we continue to pick up points regularly and eventually they'll notice that we're up there on merit.
Arsenal were rubbish last week because they lost at Goodison, but today they are marvellous because they beat Chelsea.
Tony Ball
128
Posted 26/12/2020 at 23:42:59
I don't understand why some expect the utter destruction of an opposing team before they are happy. Look up all the teams' results who have finished top 4 over the last few years. I think you may well see more than a few sneaky 1-0 away wins against inferior opposition.
Paul Birmingham
129
Posted 26/12/2020 at 23:43:01
Savour and enjoy, take stock.
Everton, are improving.
Now to beat Man City, but it can be done.
I sense there will be at leat 50k Evertonian spirits at Goodison Park on Monday night.
Game on, Everton, and feck Man City. Massive game, but take the positives from tonight.

Danny O'Neill
130
Posted 26/12/2020 at 23:44:09
Patrick, they are the most fickle and awful fans ever. If they win, they are great. If they lose, they are awful. Forget how they play or perform. It's why they hounded out a manager who gave them 14 straight years of Champions League football. Shameless.

Patrick McFarlane
132
Posted 26/12/2020 at 23:50:16
It took 23 matches to gain 29 points last season, 22 matches the previous season, but beware as the Boxing Day fixture is usually nearer the half-way stage ie. 19/20 matches played but due to the late start to the season, there are still a lot of games to be completed from New Year's Day onwards.

Jay Wood
[BRZ]
133
Posted 26/12/2020 at 23:50:54
Someone wrote after the Arsenal game that he didn't consider the defence 'trusted' Tom Davies to give him the ball from the back line.
I thought it a strange observation because, time and again against Arsenal, the defence did just that and Tom transitioned the ball forward well. As they did again today. And Tom was excellent.
Any one else notice that Tom appears to have observed (and applied) Allan's 'sticking out butt' trick that the Brazilian uses to keep possession when closely pressed?
Another bonus of having better quality players around the young 'uns at Finch Farm to learn off, perhaps?
Barry Williams
134
Posted 26/12/2020 at 23:52:00
Danny O'Neill (125)
I can only echo those sentiments. Tonight the 14 players involved only included 2 of Ancelotti's signings; thus, he is getting a tune out of the squad he inherited to a large degree: a squad that has massively underperformed previous to his appointment. I don't think there is much more that you can realistically ask for!
Paul Birmingham
135
Posted 26/12/2020 at 23:53:40
Well-in Rob, and great to see faith and belief in EFC, superb.
A massive result tonight for Everton.
Jerome Shields
136
Posted 26/12/2020 at 23:55:51
Everton play well against Top Six teams; they have repeatedly struggled against lower-half opposition.
Ancelotti knows that it is necessary to pick points against these teams to keep up a challenge in the Premier League and achieve a Champions League place. Wenger knew this also and 14 years of Champions League football where achieved doing this.
No matter how lowly the opposition, a professional performance by Everton against Sheffield United was necessary based on this context. The fact they are bottom of the Premier League is irrelevant.
It was a very important game to win. Everton now have a squad with most players with playing time used their best.
John Boon
137
Posted 26/12/2020 at 00:05:17
I am never one to "roast" our team. Like any Evertonian, I am delighted to be in the league position we are in. However, fans should be able to be realistic, even when we win, and today's result – as pleasing as it was – did show up some weaknesses that could affect continued progress:
(1) Gordon is not yet the shining light that many fans have suggested he is. He should still be given chances because there may still be something there. He never seems happy.
(2) Bernard can be a frustrating player but, when he plays like he did today, he adds the "class" that we need.
(3) I did not understand the substitution of Keane unless he was being rested. His aerial presence was missed from the minute he was off.
(4) I know many will disagree but I do not think Holgate is a Premier League right-back. He tackles well but always belts the ball up the field, often to the opposition. He usually passes back because he is incapable of taking the ball to the byline. Seamus is 472% better, and showed that as soon as he came on.
(5) Both Gordon and Iwobi were only able to bring the ball back before attempting to cross. Calvert-Lewin, dynamite with his head, rarely got crosses that he could attack. This only happens when Digne and Coleman are supplying crosses from the lines.
(6) We did put in a tough display and fully deserved to win, but not enough class to indicate that we could regularly beat the top teams. We really do need more goals.
(7) Sheffield Utd are a very poor team. But teams still get 3 points when they beat them. We can be satisfied, but no more than that.
(8) Kudos to Pickford, Keane, Godfrey, Davies, Doucouré, Sigurdsson and, as always this season, Calvert-Lewin who deserves far better service.

Paul A Smith
138
Posted 27/12/2020 at 00:08:33
Imagine going into that Man City game ahead of them with better players than we have now. That's a better prospect now.
It's vital we don't have a bad window now. Isco, Milik, Alli — all possibilities in January. Anyone else know of any possible improvements we could pinch?
Stuart Sharp
139
Posted 27/12/2020 at 00:15:42
Glad to see Davies getting some love. He was outstanding today.
With the teams around us dropping points and Sheffield Utd without a win, I had a bad feeling as the game wore on... but, despite the worst refereeing performance of the season, we won with a lovely goal.
Plenty to build on. Plenty to be positive about. Check the table and sleep well.
Bobby Mallon
140
Posted 27/12/2020 at 00:21:49
We need a couple of outstanding free players.
Bob Parrington
141
Posted 27/12/2020 at 00:22:19
I agree with Davies being MotM. Excellent from start to being subbed.
Sigurdsson put in a good performance - didn't stop running from the go to the final whistle. Looking much fitter now.
Lousy conditions. It seems to be pouring down at every game I've been watching for many weeks.
Tony Hill
142
Posted 27/12/2020 at 00:25:02
No one will, or should, complain when we win (or lose) with maximum, concentrated effort from all players.
Mike Price
143
Posted 27/12/2020 at 00:26:50
The one thing we need to add is pace up front. It's been the same for years, if we had Salah and Mane we'd probably win the league even with Pickford in goal.
Tom Harvey
144
Posted 27/12/2020 at 00:31:17
It's surprising how shaky we look under pressure, but how well we're doing, 2nd?
I'm a bit confused but happy!
Kase Chow
145
Posted 27/12/2020 at 00:31:31
Buzzing we won that. We needed the win and we did it (admittedly against crap opposition.)
Really good goal and we are 2nd in the league!!!
Obviously it'll all go very wrong soon... but WOW!!!
Kunal Desai
146
Posted 27/12/2020 at 00:33:58
Yet again, we dig out 3 points in uninspiring fashion. It's about grinding out results for now, whilst we adapt and change our style of football once Carlo has had a few more transfer windows.
We should also give credit to Davide here, I think he's worked with his father in tweaking systems, formations and style, coinciding in the recent upturn of results; it's not just Carlo that should be taking all the plaudits.
Fran Mitchell
147
Posted 27/12/2020 at 00:45:38
Before the game we all thought we'd probably slip up and give the winless club their much needed win.
We'd all moan and say 'Everton that'. 'Typical Everton', 'nothing ever changes' etc etc
But a real banana skin, away from home, in torrential weather, and we managed to get a 1-0 win, 4 on the trot, to move 2nd in the Premier League on Boxing Day.
All that without Digne, Richarlison, Allan, Coleman, and Rodriguez. That's 5 of our starting 11.
So that is something that is a huge change and not to be sniffed at.
There is much to improve, but we know that. We all know Gomes, Sigurdsson, Davies, and Bernard are limited, poor even. But we have serious potential to improve further.
Being top 4 in January could seriously encourage a couple more to join the Carlo revolution and we could, just maybe, challenge the top 4 come May.and beyond.
Justin Doone
148
Posted 27/12/2020 at 00:48:11
A very good win, 3 points and another clean sheet.
I know the performances are not great but I think it's partly down to the manager wanting us to remain deep and compact as a defensive unit.
We have been caught cold on many occasions, conceding the first goal and having an uphill struggle to get back into games.
I don't want to criticise anyone but, on Gordon, he needs to build his strength up. He was being pushed and pulled but the referee gave him nothing.
Before that, he needs to be 'cuter' as many commentators say which is basically to get better at cheating to win free-kicks. He didn't impact the game but got poor service and did his role well. He has all the basic qualities to be a good player. He needs to keep progressing and become more confident and stronger.
There seemed to be clear instructions on full-backs to stay back and wingers to stay wide and help out defensively until the subs, who were given more freedom.
Patrick McFarlane
149
Posted 27/12/2020 at 00:49:25
BBC webpage report that Everton manager Carlo Ancelotti says he has "found the right club" after a 1-0 Premier League win at Sheffield United at Bramall Lane takes his side to second. A year on from his first match as the Blues' boss, he says he is "lucky" to manage the club.
I wonder if a certain Mr Hind is moonlighting for the BBC over the festive period? [Grins!]

Jason Li
150
Posted 27/12/2020 at 01:02:05
Magnifico!
I'm wondering if Carlo is asking players not to do too much initially as we we can't rotate for top quality players to prevent further fatigue-based injuries. So we play just keep it tight for 70 minutes. Then really attack hard in the final 20-25 minutes where many Premier League matches have been decided.
It also reminds me vaguely of watching the Italian national team in tournaments. They always look like slow starters in the group stage, never sprinting, no-one's breaking sweat and no dribbling all over the place. They have this structured steady flowing pace of distributing the ball across the park. In the 2006 World Cup, suddenly they're in the final while everyone's concentrating on France.
In the end, less fatigue and less injuries with back-to-back fixtures might mean higher league placings, so that's one reason why we're not doing long sprints at the beginning of games. For example, I can't see Leeds keeping the long sprints up from minute one and getting a good league position if half the team are crawling in for half time soon.
If my observation is even half correct, then more evidence why we are lucky to have a top trophy-winning ex-professional player and manager at the helm to take us into the big time.
Oh yeah – stay around the top 4, and who knows who Carlo may attract to join us. Some exciting players at least, anyway.
David Pearl
151
Posted 27/12/2020 at 01:13:45
I'm sorry to ignore other posters... but Fran!! Sigurdsson is 'poor even'???
What the fuck does this guy have to do other than be our best player, working his bollox off for 4 games straight?
Davies had a solid game. Gomes looked tidy and Bernard made a difference. Neat and tidy, made the goal?
Jason @150, yes 1 game at a time. I don't care how the points come. But rather pleased we won as it added to my 80/1 accumulator!
Urggghj... back to my whiskey, it makes more sense. We could slip to 10th by next week in this crazy season. But, for now... we are 2nd, after 15 games. Enjoy it.
Tom Bowers
152
Posted 27/12/2020 at 02:14:51
A win is a win, even against poor opposition, and it can be more difficult against a desperate team like the Blades and in torrential rain conditions which can hinder the better footballing team to a degree.
In these conditions, even skilled players make mistakes but Everton did well after a slow start and showed patience until the fresh legs of the subs. came on. I expected a low scoring game knowing both teams lacked somewhat on offence, especially the Blades.
Good to see Gordon get a start but he really didn't show that he can be a force in this team.
Everton have won 4 in a row again but we all know the next game will be the most difficult.
I cannot understand though how Liverpool get an extra day to prepare for the Barcodes even after what will be a rather easy game against Albion tomorrow.
Albert Perkins
153
Posted 27/12/2020 at 02:19:40
Not much mention of Gomes. I thought he did a very neat job today. Tackled well, held the ball up well when we needed to see the game out, didn't give away the usual dangerous free kicks or penalty, and in fact should have won a penalty to secure the points.
Also, we could have tried to hold the ball more at the death but we opted to attack when there was an option. Still can't believe we are 2nd.
Gio Mero
154
Posted 27/12/2020 at 02:24:08
I think Andre Gomes played 20 brilliant minutes. Tom Davies was very good as usual. Bernard really should get more playing time given what we're missing on our left at the moment.
January window: could we please get Eriksen and win the Premier League?
Jason Wilkinson
155
Posted 27/12/2020 at 02:37:20
We're 2nd in the table after 15 games. I always hope but rarely believe these days.
The performance away at Spurs was fantastic. It set us up for the wins against West Brom, Brighton & Palace. We went into the derby with confidence that we might regain some pride by beating the neighbours. In hindsight, we were better in that game than we were in the previous 4.
Then followed a slump. Defeat to Newcastle being the most disappointing in my opinion. Somehow, Ancelotti has galvanised the squad and managed to change the mentality. I still think we need 4 or 5 better players than those at his disposal.
What he has done is turn Calvert-Lewin into a striker who is now recognised and feared by opponents. He has rejuvenated Iwobi. Keane is looking like the centre-half we hoped he would be. With the addition of Olsen, Pickford has genuine competition for a starting place.
Many (myself included) wanted Gordon to get his chance. Well... he got a start and he isn't Messi in waiting. That is not writing him off. Just that he isn't quite ready. Likewise, Gomes, Sigurdsson, Davies, Delph and others have been picked out as not good enough.
I don't believe Ancelotti would disagree. However, he can't buy a new squad in one transfer window. In the course of 12 months, he has, with the help of some quality additions, turned us into a team to be reckoned with. For the first time in many years, we have a squad that look genuine challengers to the Sky 4, 5 or 6.
The voodoo of not winning without Richarlison has been broken too. We are 4 games away from halftime in the season. If we are still in the top 4 places, I would suggest Moshiri has found the right man to lead us back to the top.
Jim Harrison
156
Posted 27/12/2020 at 02:49:47
Did we win? Are we 2nd in the Premier League? Are we under strength but still grinding out results? Feels great.
Hopefully we can do something in January to boost the team whilst the key players get back to fitness. But so far we are getting on okay.
Next game will be tough. To get a point would be a result; a win would be dreamy. But should it be a loss, it will be important to keep the score down.
Ernie Baywood
157
Posted 27/12/2020 at 03:01:10
Not the game to judge Gordon. You can't give a young lad rare game time and expect him to excel.
He'll be better for the run.
Good on Gylfi. He's showing his quality and he's upped his workrate. There's always room in the squad for a guy of his ability.
Derek Knox
158
Posted 27/12/2020 at 03:03:25
Funnily enough, I felt before the match and following the Carabao Cup showing (or should I say non-showing) that this was indeed a banana skin. This was further impacted when I found for sure that Richarlison had been ruled out completely.
I reluctantly hoped that no more injuries and a scraped draw would be the best outcome. Especially when I also heard swirling wind and rain would replace another game devoid of fans.
Okay, it wasn't pretty, and the ones who have been poor in previous games all put a great deal more effort in. There were a lot fewer misplaced passes, and although attempts at their goal were very limited, the same could be said for our hosts.
Who, last season surprised a few in grinding out many wins with workmenlike performances, and finished above us if I recall, just missing out on a Europa League slot. Now they have 2 points from 15 games and a –18 Goal Difference... I would be getting worried if were a Blades fan, but feel a little for them too.
I think Chris Wilder is a decent honest manager, and I don't envy either the task that lies ahead to turn things round, or improve their position. Although it's mathematically possible at this stage, it seems highly unlikely where that spark is going to come from.
Getting back to our boys, I couldn't really fault any of our players, considering the wintry horrible conditions. I had hoped that Anthony (Flash) Gordon would have played a blinder and given Carlo a headache come next match, but he was largely anonymous and probably the Weakest Link on the night.
As Justin @ 148, mentioned he ('Flash') looks like he could do with bulking up a bit, and become more of an imposing figure. I also heard some time ago, that he sent for a Bullworker, to improve his strength, but had to send it back because he couldn't get the box open. :-)
Man City next, and not a lot of time to prepare, but if ever there was a good time to play them, it could be now, they still look decent but are not a patch on how they were 18 months ago.
Freddy Maldonado
159
Posted 27/12/2020 at 03:09:31
Very pleased with our form right now. If someone told me we would be 2nd after Boxing Day, I would have chopped their hand off and eaten it in front of them (I'm not a zombie). All this without most of our starters? Very pleased.
Man City is a different animal but one that we can take down with the grit this team has. We just have to be patient and focus on eliminating the dangerous passes through the channels and those pinpoint passes out wide. We can do this.
With this said, we need some help in January, don't we? A wide player and a creative midfielder would make a big difference. I think we might be able to hold off until the summer for a right-back and another striker unless we can poach a few goodies.
I can sleep happy at least! Very happy to be talking trash to people-representing the best club in the world!
Kieran Kinsella
160
Posted 27/12/2020 at 03:57:54
Old timer's question:
I read this is the first time since 1986-87 we have won four in a row twice. Do my childhood memories deceive me or did we not also have a three-game losing streak in September or October that season versus Arsenal, Spurs and West Ham? Before rebounding?
I'm asking based purely on memory — no cheating. But anyone remember?
Laurie Hartley
161
Posted 27/12/2020 at 04:37:39
I love a 0-1 win away from home.
I thought Tom Davies was the Man of the Match – but Doucouré came close.
I have been very disappointed with Gomes and Bernard because they have quality which they showed when they came on.
Sigurdsson seems to have found his goalscoring touch – can he chip in another 10 this season? He is certainly fighting for his place.
I love Seamus but leave the back four alone, Carlo.
I had a look at the ages of our current crop:-
Starting XI:
Pickford 26
Holgate 24
Keane 27
Mina 26
Godfrey 22
Iwobi 24
Davies 22
Doucouré 27
Sigurdsson 31
Gordon 19
Calvert-Lewin 23
Subs:
Bernard 28
Gomes 27
Coleman 32
Injured:
Richarlison 23
Digne 27
Allan 29
Rodrigues 29
Gbamin 25
Delph 31
Subs not Used:
Tosun 29
Branthwaite 18
Nkounkou 20
Kenny 23
Plenty to be encouraged about there.
Derek Thomas
162
Posted 27/12/2020 at 04:59:28
Derek K. @ 158;..."they still look decent but are not a patch on how they were 18 months ago."
Also, we're not a patch on how we were 18 months ago either.
Let battle commence,
Bob Parrington
163
Posted 27/12/2020 at 05:19:31
Some excellent posts on here but I pick 3 to agree with fully.
Patrick @ 55, Terry @ 61 and Jay @133.
Really shitty conditions so don't expect classic football. Refereeing very poor on the whole but not 100%. Hoping Gordon would impress but perhaps the wrong game to reintroduce him as he was regularly left inside boxes with no pass available and very few chances to run at the opposition. Conditions didn't help.
Davies was the stand-out for me in this game and I was surprised by this. Yes, Jay, he has certainly learned that trick from Allan.
Sigurdsson has ran his arse off in the last 4 games and this one was no exception. Topped it off with a well-taken goal and, guys and gals, wasn't this a peach of a team goal??
On to the Man City game and the need to rest some players. Hmmm? Let's do selection, taking into account availability and needs to rest. I'll start the selection game with the following:
Either Pickford or Olsen
Coleman Holgate Keane Godfrey
Doucouré Sigurdsson Davies
Iwobi Calvert-Lewin Richarlison (if fit)
I'd switch sides for Iwobi and Richarlison occasionally.
Subs: Either Olsen or Pickford, Nkounkou, Gordon, Branthwaite, Simms, Bernard, Kenny, Gomes, Mina
Alan J Thompson
164
Posted 27/12/2020 at 05:45:50
I've not read the above comments but that was a fairly dour performance which seemed mostly to be because we had so few players getting forward and we scored in what might have been when we had the most players in the opposition penalty area other than for set-pieces.
Gordon did nothing outstanding but, if that was the reason for subbing him, then he must have been unlucky that his number was pulled out of the bag as few others did much of note. For me, Tom Davies, always looking involved, was our best until he too was taken off, but he did look in some discomfort at the time.
After that Doucoure came to the fore and Calvert-Lewin showed a couple of exquisite touches without doing a lot more than pressing and chasing. Some of the substitutions seemed to have more to do with the upcoming Man City game rather than trying to have a positive effect on this game.
A win away and 2nd place in the Premier League but without sacrificing too much defensively... some way has to be found to get more players forward when attacking, and into scoring positions.
Steve Brown
165
Posted 27/12/2020 at 05:57:00
I fully expected a win and the team delivered it! Tom was excellent in the holding midfield position, Doucouré was full of energy, and Bernard improved the performance when he came on. The back four were rock solid, as they have been for several games.
Let's not over-criticise Gordon for a quiet game – we should be patient with him and we will get the rewards.
Richarlison will miss the Man City game as he is serving his concussion protocol, plus Ancelotti will rotate the team. So expect an unusual line-up with the fuller strength team back for the home game vs West Ham.
Here is my guess on the line-up (could be wrong!):
Olsen
Coleman Holgate Mina Godfrey
Davies Doucouré Gomes
Iwobi Tosun Bernard.
Jamie Crowley
166
Posted 27/12/2020 at 06:05:39
Bob @ 163 -
I love Seamus Coleman. But I'd not touch that back four right now. We haven't conceded a goal from open play in four straight league matches. Don't mess with that.
Bring Seamus on as a substitute when we need to focus on getting forward.
And I'd say this, too about Seamus:
I can't think of a better Captain in my time than Seamus Coleman. He does everything a footballer should.
Conducts himself with dignity.
Is loyal.
Plays the game at 100%.
Plays the game without drama.
Never once shied in the face of adversity.
Is a genuinely good person.
Is humble.
He's Irish. 😉
The man simply makes me proud. He's genuinely class, and he might be my favorite player of any team I've ever been a fan of. There is this fella named Bobby Orr who'd probably nip him in the favorite race for me, but my goodness do I simply love everything Seamus Coleman is, stands for, and represents.
I feel like I've watched a kid from Sligo Rovers, bought for sixty grand, become the epitome of everything I could ever ask for from an Everton player.
I know that seems a contradiction, saying he should not start presently, but that's down to our back four playing well. And the great thing is, Seamus would probably agree, and when his number is called, he won't bitch, sulk, or complain. He'll just get out there and play his ass off for Everton, and lead us the way men should lead other men, by example.
Legend.

Roman Sidey
167
Posted 27/12/2020 at 06:58:09
We'd have lost that match in almost every season I've supported the club (since 2002). Very satisfied when the side wins an ugly affair.
Bernard is an interesting player. He is one of our more talented footballers but struggles against well-organised sides. Against the lower-placed teams, he can really show his worth. This may seem like he's only good against bad teams, but Everton lack players who can expose weaknesses in sides and take advantage, and have done for a long time.
I watched the match live and then watched the extended highlights a few hours later and cannot for the life of me see why everyone is so hyped on Davies. He was better than he has been this season, but that really isn't setting the bar too highly. Not trying to have a dig but, if someone could explain with tangibility why he had such a great game, I'd appreciate it.
Gordon is an unfortunate case. The conditions were very shit for a pacey winger trying to make yards, so we can't judge him too harshly. However, he won't be afforded too many absent nights if he's literally knocking on the manager's door at 19.
Bill Gienapp
168
Posted 27/12/2020 at 07:07:33
I agree with Jamie... well, I like his above post there as well, but I'm specifically agreeing with (81).
This was never going to be a scintillating match – given the conditions, the injuries, the fixture congestion and the overall circumstances, it was always going to be a slog, and a test of character... one that we ultimately passed, in a way we almost certainly would not have in seasons past.
I mean, people keep saying "We miss James, and Richarlison, and Digne, and Allan" and I'm like "Well... yeah?" Of course we're better off when we have our full-strength squad. But oftentimes you just have to make do with what you have. It is what it is.
Keith Slinger
169
Posted 27/12/2020 at 07:18:31
You can see why we are called "Bitter Blues" judging by the comments on here.
Okay, the football is not great; however, is it not the sign of a great team to win when they are playing badly?
We are 2nd in the Premier League at Christmas, for the first time in a very very long time; embrace where we are, look at who we have injured; more importantly, enjoy the ride and believe in Carlo Magnifico.
The blue half of Merseyside have been reborn again; enjoy and back the boys, back Carlo, and kill the virus?
Darren Hind
170
Posted 27/12/2020 at 07:30:29
It's beginning to look a lot like Christmas....
I agree, this is beginning to look like the side Davey Moyes took to 4th place. No frills, just a group of players focusing on the job they have each been given. Huge pat on the back for Mr Ancelotti – and son.
Moyes was fantastic in the early days, before he forged his unholy alliance with Kenwright and started talking of glass ceilings and became The Ginger Twat. He amazed by leading his relegation favourites to Champions League qualification.
I think this team can do the same. It has all the same qualities, only with better players. Whilst others are floundering, we are quietly going about our business.
If we can get Champions League qualification, you would expect Moshiri, Ancelotti and Brands to be a tad more ambitious than Kenwright was last time around.
Tom Davies for me was easily MotM. Just as he was against Arsenal. No, he doesn't go tackling everything in sight, but he is maturing by the minute. His positioning, reading and discipline have been remarkable for a player his age.
Davies has had to do it the hard way. Like Calvert-Lewin and Holgate before him, he has had to climb from under the boo-boys telling him he will never be better than Championship quality. He has had to ignore the abuse and show his critics the finger in order to get here; not only is he standing in for a player we "couldn't win without", but he is standing in and winning.
Anthony Gordon has been left out in the cold for so long, he was never going to come back firing on all cylinders. He looks like he will be the next target. Fortunately for young Gordon, he now has three role models to look to when the going gets tough.
Leave those kids alone.
Bob Parrington
171
Posted 27/12/2020 at 07:37:09
So, Jamie and Bill, does that mean you agree with my line-up?
I agree with your love of Seamus! One of the best ever! Came back from a horrific injury and performs as if it never happened. Don't we love that!??
Steve Shave
172
Posted 27/12/2020 at 07:38:19
Great post, Jamie, Seamus is truly a legend! I think he will start next game, which is why he got minutes last night; one of Keane or Mina will be rested.
Difficult conditions last night make a mockery of anyone suggesting we should have been playing fast flowing football. We were efficient without looking in trouble really; these 1-0 away wins on a cold wet night really make a difference at the end of the season. We have 4 of our 5 best players out injured with Seamus and Gbamin to come back too, attractive football will come back again this season I'm sure.
Calvert-Lewin feeding off scraps but boy does he look effective, he holds it up so well. I'd like to give a shout out to Gomes who, like Bernard, looked fresh and energetic when he came on – worth saying, I thought, as he has been getting a lot of stick, plus he has nice hair.
John O'Neill
173
Posted 27/12/2020 at 08:16:09
I agree, Steve. He has got nice hair.
Danny O'Neill
174
Posted 27/12/2020 at 08:19:55
Not a contradiction at all, Jamie. You don't pick players because they are decent guys or likeable.
Seamus has been tremendous for us and is a genuine top person as well as a talented footballer. But right now, that back four is very settled. I would only change it when Digne comes back.
Still Mina for me last night. Tom played well and is getting deserved recognition, but as soon as Allan is back, he makes way.
Need to see more of Gordan but again, looks like back-up for me and that is back-up for the squad we have now. Once we add more better-quality players, I'm not sure.
Still well placed and on target for a European place. As we were after the draw at Burnley.
Terry Farrell
175
Posted 27/12/2020 at 08:34:14
Jamie, amen to your Seamus comments. I love him. Oh, and Carlo is god.
Danny O'Neill
176
Posted 27/12/2020 at 08:48:48
Kieran,
It upsets me that 86-87 is an "old timers" question. But I guess that's the reality!!!
I cheated and looked it up and yes we did lose 3 on the bounce. That season we also had 2 runs of not just being unbeaten but winning 6 and 7 consecutive games as we took the title back. Not as swashbuckling as the 84-85 team, who themselves got off to a terrible start, losing 4-1 at home to Tottenham on the opening day followed by a 3-2 defeat to West Brom.
Good job we didn't judge the season on a game by game basis in October back then!
Kase Chow
177
Posted 27/12/2020 at 09:01:34
Woke up this morning and had dreamt we're 2nd in the league
Usually we'd lose at a Sheff Utd and let a Brewster break his scoring duck against us
When the pressure is on and we've just lost a big game we'd lose this too
As happy as I am about the win and being 2nd, I'm just as happy about our mentality to win this match. We desperately need a couple of attacking reinforcements to support Calvert-Lewin but I'm amazed at how Carlo is getting a tune out of players like:
Mina (let's be honest: he's been mainly solid)
Sigurdsson (he's actually looking half decent)
Davies (best game I've seen him playing for 2-3 years)
Iwobi (amazing approach play can he sort his final ball)
Bernard and Gomes (both have been utterly ineffective for so long but they changed the game yesterday)
So the results are impressive, the improvement stark and we are changing our mentality long may it continue!
Steve Shave
178
Posted 27/12/2020 at 09:06:05
Darren,
As always, I admire your backing of the young lads. I don't always agree with the way you do it but your support of Tom has never floundered. Whether he has or will ever have "what it takes" to step up a gear again, I simply don't know... but your reminders for us to give these lads breathing space on this forum is helpful in my view.
I'm trying to stop making predictions about 'anything Everton' lately; to me, we are simply an unfathomable, basket case of a club who I cannot predict. We seem to win the games I think we will lose and lose the ones I think we will win.
Just when a player looks finished (Pickford, Iowbi et al) they start performing consistently. Just when we seem to build someone up to be the next big thing, they disappear and don't move on. You've got to love our club. :)
Jeff Armstrong
179
Posted 27/12/2020 at 09:07:35
Where's the Sigurdsson haters? Conspicuous by your absence, you know who you are!
Graham Mockford
180
Posted 27/12/2020 at 09:14:11
Darren 170,
I think Davies has had his best two games in a long time. Maybe with a run in the side, he can establish himself as a starter, we will see. I always think it's hard for a player in their late teens or early 20s to learn their craft in such an unforgiving environment as the central midfield of the Premier League. I think that's why so many go out on loan to the Championship.
But, in his case, he has 100+ games under his belt so this season does feel like now or never. It's also true that homegrown players get more stick than others. I think fans have greater expectations of them. Gordon could be just another in a long line. Ossie and Hibbo anyone?
Fran Mitchell
181
Posted 27/12/2020 at 09:14:12
Interesting is that, there are a few comments that reference "the comments on here are absurd" or something of the ilk.
I've read through the comments, and apart the from first ones predicting defeat, all the post-match comments have been I find enthused and really quite happy with the game. Not the 'negativity' that many refer which I think is more assumed than actually read.
I think Godfrey is looking a real player. I remember Lescott playing as full-back before forcing his way into his preferred position. He could be equally good.
Davies is looking much improved... his decision-making, short, quick passing, and positioning is much better than a year ago. He's also holding the ball much better. All round improvement and clearly putting the work in at Finch Farm.
Calvert-Lewin puts in another shift, leads from the front, and almost scored a worldy. If only that volley had gone in.
Mina too has recovered from his early season wobble and looks commanding.
Gordon will have learned a lot. We can't expect him to just waltz in and play like Messi. But he'll have learned how he needs to battle and run to make it. Patience is needed. I'm sure Carlo is working with him greatly in the training field.
We have much to be content with. And much to improve still. An alternative or support to Calvert-Lewin is greatly needed, and maybe that's enough if Davies and Sigurdsson continue their improvement.
Another winger would be great, with Bernard moving on.
Steve Shave
182
Posted 27/12/2020 at 09:17:38
Jeff,
I am not a Sigurdsson hater but I have frequently called for us to sell him. Yes, he has upped his game and I am pleased for him but we should be looking to cash in.
My main issue has been how (no fault of his own) his purchase has hamstrung us for years. This was tolerable for me when he is pitching in with goals and assists; when he is not, he offers little to us.
I for one thought he was finished and I make no apology for having this view (he has probably been the one player I have lambasted the most – he represents the ill-fated Koeman & Walsh splurge for me which, to be frank, may have coloured my view). I reiterate I am happy for his performances to turn my head and change my view. He has some way to go yet before I will be convinced.
Stan Schofield
183
Posted 27/12/2020 at 09:18:11
As Darren says, the young lads always need our support. It's so blindingly obvious that it doesn't merit further discussion, so I won't discuss it further.
I sometimes think that the media handling of Everton influences a proportion of our fan base to think in line with the images of Everton that the media promote. Not entirely unexpected, since many folks are easily swayed by media bias. But such folks should make more of an effort to be less gullible.
Ian Bennett
184
Posted 27/12/2020 at 09:25:23
Davies played his best game for a long time, and Keane looks a hell of a lot better in a solid Burnley style back 4.
Conditions were terrible last night but, fair play, the Blues dug it out in a game that was devoid of good play.
The squad still lacks depth. The Man Utd game proved that our bench has nothing if we go a goal down. I doubt we will sign anyone unless we can shift some players.
But enjoy it, Blues, we deserve this.
Jeff Armstrong
185
Posted 27/12/2020 at 09:36:17
Fair play, Steve, you've given credit where it's due, but some constantly criticise the same players game after game, myself included sometimes, but will never come on and offer praise when praise is warranted.
Like a lot, I've criticised Gomes and Bernard and groaned when they came on, thinking what will they do on a stormy night in Sheffield? Well, the pair of them were excellent and turned the game our way in the last half-hour. Well done to the whole squad last night.
Steve Shave
186
Posted 27/12/2020 at 09:43:43
Agreed Jeff, I said the same earlier. Bernard and Gomes were both really fresh when they came on and did their job. I will continue to stand by Gomes, who I think is still not right after the injury. Carlo has them playing with guts and determination.
Yes, I am always happy to admit it when I've got things wrong, I am happy for players to show me they are up for it: Mina, Pickford, Sigurdsson and Iwobi have all upped their game much to my delight.
Why we love or dislike players is not always rational, as mentioned above, the unnecessary and expensive purchase of Sigurdsson has always represented something else to me, a gross mismanagement of team planning, building and finances.
Irrationally I don't think I ever forgave him for this or that he became our 4th No 10 that season whilst we showed the door to our best No 10 (Barkley). Not his fault, nor was the juicy contract we offered, it has held us back for years – trying to fit him in and justify the outlay.
John Keating
187
Posted 27/12/2020 at 09:44:11
It's getting difficult for Ancelotti now. We are getting results with the present set up, especially with the present 4 at the back; however, these 4 sacrifice more flowing play and Calvert-Lewin, Holgate and Godfrey have been brilliant and have done everything asked of them, can't be faulted, but both unable to supply Calvert-Lewin in the box.
Coleman and Digne can supply Calvert-Lewin and will no doubt be reintroduced when fit and maybe Calvert-Lewin will get back scoring.
Personally as long as we are winning is all that counts. We won't see much of the ball against Man City, whoever we play, so let's keep it as is, however, Ancelotti needs to change to a more attacking option if needed.
Dan Nulty
188
Posted 27/12/2020 at 09:50:37
It isn't pretty, not exciting to watch, but it is getting results in the league. I couldn't care less at present. With the players we have playing, we can't play attractive football.
It calls for pragmatism. I'm glad we don't have Arteta as I imagine him being stubborn and trying to play our way through the injury crisis.
Without 4 of our best players, I really think we are over-achieving. Any club in the league would be struggling without 4 of their top players.
I actually feel with the discipline, concentration levels, and actual effort, the team are actually personifying Nil Satis Nisi Optimum. They are giving their all, what we are witnessing is the lack of quality on the ball and pace but they are making up for that in effort.
Worried about tomorrow and talk of rotation but I'd have taken the points haul from the last 5 games without a shadow of a doubt.
Dan Nulty
189
Posted 27/12/2020 at 09:55:28
What I would like to add – not sure if someone has picked up on this above as I haven't read all the comments – but why wasn't Gomes penalty given?
Talking of penalties, why wasn't McBurnie booked for his blatant dive that was checked by VAR? Why is Niasse still only one of 2 players to be banned retrospectively for diving?
Pisses me off that week after week other players and clubs get away with it.
Mark Murphy
190
Posted 27/12/2020 at 10:00:25
Fran, the negativity on the Live Forum is depressing for every game. When we scored last night, there were comments like "The worst team are leading" and "We don't deserve that" and "We're still crap" while I was dancing round the kitchen that our patched up team on a shitty night had just done a number on a team desperate for a win.
The negativity does disappear (along with the posters) as another win nears the end but there are far too many at the start of games – even before we've kicked off. Some people come across as actually wanting us to lose so they can appear more knowledgable than Carlo! UTFT!
Tony Abrahams
191
Posted 27/12/2020 at 10:02:39
Danny@125, although I'm not remotely interested in what the media have got to say, your post has got me thinking of what a fantastic pragmatic job Ancelloti is doing under the very difficult present circumstances, and I bet you it's not going unnoticed at all mate!
Liverpool have one more game to play this year, but I'm sure Virgil van Dijk will be mentioned many times by some of these very biased condescending bastards who probably would have been fuming if Calvert-Lewin's wonderful effort had gone in!
Laurie Hartley
192
Posted 27/12/2020 at 10:08:30
Roman #167 – "
If someone could explain with tangibility why he had such a great game, I'd appreciate it
."
My explanation – he seemed to make space for himself nearly every time he received the ball.
Christy Ring
193
Posted 27/12/2020 at 10:28:50
Jamie, a fitting tribute and absolutely spot on about Seamus, when the ref blew for full time, did you see him clenching his fist, a legend. We really showed our fighting spirit in horrible conditions. Delighted for Davies who was excellent, and our subs Coleman, Bernard and Gomes made a huge difference.
Thomas Richards
194
Posted 27/12/2020 at 10:30:46
Jay #133,
That was me re Tom Davies. He was very good last night. Taking the ball off the back four as a deep-lying centre-mid should always be available to do when the centre-halves split.
If you think he played a similar game against Arsenal, I can only suggest you watch the Arsenal game again.
Paul Smith
195
Posted 27/12/2020 at 10:30:59
Buzzing today and looking forward to the Man City game. A different prospect but should be exciting to watch, as long as we don't get whipped. By the way, I've given Tom shit many times before but last night he had a touch of Grealish about him.
It's gonna be interesting to watch how he goes and if he can grab that 3rd spot in midfield, which I think Sigurdsson is beating him to at present.
Did any anyone else hear Siggy say "Carlo asked me to play defensive midfield prior to the goal last night so he wasn't sure why I popped up where I did." Lucky for us he did but was Carlo happy with the point?
Stephen Brown
196
Posted 27/12/2020 at 10:38:48
There seems to be a subconscious acceptance that we won't win the City game as we put everything into last night's game. I think we have every chance of getting a good result.
Pickford
Holgate Mina Keane Godfrey
Davies Doucouré
Iwobi Sigurdsson Gordon
Calvert-Lewin
Another big effort, lads!!
(Take Mina, Doucouré and Calvert-Lewin off when we're 3-up!!)
Danny O'Neill
197
Posted 27/12/2020 at 10:46:07
As we're singling out individuals who previously have been criticised by many (myself included), having already praised Tom and Mina for last night, I would also call out Sigurdsson.
I spent a long time sticking up for him, thinking he was one of those players you would have on the pitch because he can produce a moment of magic. Admittedly I too had finally given up on him, but the last few games, he has found himself again. Probably as he's in the Number 10 position rather than a more unnatural wide or deep-lying midfield position. It's great that Carlo now has difficult decisions to make when James is back.
I too have no care for the media, Tony, especially when it comes to football. It just always intrigues me how we are played down or ignored (which is actually fine by me!). It goes back to my childhood '80s when even then, we were not considered fashionable. They so wanted Tottenham to win the league in 1985!!
Brian Furey
198
Posted 27/12/2020 at 10:49:18
The difference in fans' comments between winning and losing... probably like most of youse on here, I have been amazed at our last four results. Just as I was amazed at how the season began with our first four wins and us being top of the table.
Shocked at how well James was playing from the off and how we suddenly had a new young top goal scorer. So mch in football and other sports is in the mind and perception of yourself or your team. That's why sports psychology is so big nowadays.
It always amazes me how many fans tend to overreact to a defeat or even to a win. How often in a game does your team dominate, create loads of chances, play really well... but then the other team gets a freak or lucky goal to win? How do we react?
Not many of us stay calm and say that was just bad luck or an off-day. No, no. We can't see that – had one of the many chances we created early in the game went in – then the other team could have collapsed and we'd won 5-0. Perception. Tendency to let the result dictate how we describe the game.
Imagine if we hadn't've got that goal last night. Say Brewster got a tap-in from a Pickford mistake but everything else was the same. What would this board be saying today?
Would we still be praising Davies or Mina? Would we be saying Carlo hasn't a clue playing 4 centre-backs? Would we be saying "Give Gordon more time" or "Sigurdsson is a great captain"? Would we fuck!!!
Yet, when we watch a poor game, away from home, against a side with 2 points, on a horrible stormy night, and create very little... but we win and go second, then we put back on our blue rose-tinted glasses and see it all so differently.
All I'm saying, lads, is I'm delighted with Carlo and the way we've been forced to play defensively now. First four games were exciting to watch and scoring for fun but we were conceding like mad.
I think the pace and youthful hunger from Godfrey and Holgate really compliments Keane and Mina who can both be slow if exposed. Doucouré looks a much better player now Allan is out of his way. But, if we can get our full team back and Richarlison starts scoring again, we could really finish top 4.
Happy New Year, fellow Blues.
Ciarán McGlone
199
Posted 27/12/2020 at 10:53:59
"What I would like to add, not sure if someone has picked up on this above as I haven't read all the comments but why wasn't the Gomes penalty given?"
_____________
Because it was outside the box.
Peter Mills
200
Posted 27/12/2020 at 10:57:27
On the route of my regular walk to Crosby beach, a couple of hundred yards from where Signor Ancelotti lives, a decent but unassuming house was recently demolished.
It has opened a superb site, with views across the fields and towards the coast. It looks like an impressive edifice will be built there, but at present there is just a large, muddy excavation. It doesn't look pretty but the groundworks are essential before the new property can start to appear.
It's a bit like what Carlo is doing at Everton.
Brian Murray
201
Posted 27/12/2020 at 11:02:38
It might start to get a bit tricky easing James back in without losing this defensive grit which is as important as the gold dust he gives us. Not Carlo's first rodeo, I'm sure he's already on it.
The Man City game plan will unfortunately be the same as the Man Utd one for now until we get some big players back.
I love Carlo's mentality as much as his ability. We have missed that for decades.
Kevin Molloy
202
Posted 27/12/2020 at 11:13:33
Kieran,
I remember Clive Tyldesley in his tape summary for our 86-87 win saying 'and with the loss against X, that made it three losses in a row' by way of 'but bounce back we surely did'. Can't remember which teams beat us, but I think the mighty Charlton might have been one. I remember some no mark for them got a hat-trick.
Kevin Molloy
203
Posted 27/12/2020 at 11:19:35
And what about that penalty for Gomes?
I looked at it in real-time, thought 'that's a pen isn't' it?. then saw the slow mo, and I thought, "Yup. Calm down, André – that's definitely going to be given." And then, nothing.
Then, after the game, we go to the two Yorkie summarisers complaining how Sheff Utd should have been playing against ten men, they show the penalty again, and Brown "It's a tough one."
Right.
Brian Murray
204
Posted 27/12/2020 at 11:24:44
Kevin. We were on live at least twice that season, away at West Ham and Nottm Forest. Lost both but not sure if that's the games you mean.
Kevin Molloy
205
Posted 27/12/2020 at 11:29:50
Brian, this wasn't Clive doing live tv, it was the tape Radio City released after the season to celebrate the year, all put to the tune of 'Magic Moments' with Clive's commentary in the background.
Ajay Gopal
206
Posted 27/12/2020 at 11:31:09
Roman (167),
I watched the replay of the game here in the morning without knowing the result and especially made it a point to focus on Davies and Gordon.
Davies had an excellent game, in my opinion, and I had him down as my MotM. He was the outball from defence, and was very calm and assured in protecting the ball – I don't recall one instance when he gave away the ball near our D.
He was the fulcrum of the midfield yesterday. One or two of his through passes to Sigurdsson or Calvert-Lewin did not come off, but I thought Sigurdsson was much more wasteful.
It was as good a defensive midfield performance as any I have seen from an Everton shirt. Do you remember any shot from Sheffield United from outside the box? And then think back to the goals that we were regularly conceding from the edge of the box – Diangana's goal for West Brom, Bissouma's goal for Brighton, Rafinha's goal for Leeds and others.
Davies played a fantastic 70 mins for us, make no mistake about it. Will he be as effective against the much more tricky Man City attackers? We will see.
Those saying Gordon did not show anything to justify knocking on Carlo's door demanding he be given a starting place:
Firstly, it is a myth that he demanded to know why he was not being selected by Carlo. Rather, the truth is that Gordon wanted to know from Carlo what he (Gordon) needed to do, to be considered for selection. Big difference.
Secondly, as others have speculated, probably Gordon was playing strictly to Carlo's instructions of providing protection to his full-back – Godfrey. And I thought as a double team, they were pretty effective in preventing easy crosses and quick break-aways down their flank.
You can see that Gordon's instinct is to cut inside, but he always checked himself and played the safer pass. I don't recall him giving away the ball in dangerous positions. Plus the abysmal playing conditions did not suit his style of wing play. I am quite sure that Carlo would have been quietly satisfied with his contribution.
Having said that, Sheffield United were quite poor – they are a hard-working side, but they desperately need to find 1 or 2 players of quality in the transfer window. I wish them well.
I quite like their manager, Chris Wilder. But how in the world they ended up paying 㿄 million to Liverpool for that useless Rhian Brewster beggars belief! I am more than convinced that the media helps their darlings by bigging up their ordinary players which helps them get outrageous fees for bang average players:
Dominic Solanke: 㾿 million
Jordan Ibe: 㾻 million
Rhian Brester: 㿄 million
I can't believe that Barca paid 𧵆 million for Coutinho! What exactly has he achieved since he went there? I smell a scam – does anyone else feel the same?
Jason Li
207
Posted 27/12/2020 at 11:35:35
Calvert-Lewin and Holgate needed about 3 years to develop; Tom, at 22 years old, possibly needs the same amount of developing time, and nearing a good Premier League standard.
Godfrey's only 22 as well and may still need another year or so on little parts to his game. Iwobi just mainly whipping a nice cross in and almost there from Carlo's coaching team. If he watches De Bruyne, Baines and Digne like a box-set binge, that should give further ideas on how it's done.
Conclusion: Carlo plays young inexperienced players while also coaching them how to excel in their position.
Next...
Gordon may need another 2½ years, but will be a very good player if all he needs is just to fill out. With Nkounkou maybe needing a similar time to improve into a top pro. But Carlo will coach them into top effective players. Our young players are doing well.
Everyone has called it right that Gordon is not ready – not a criticism by anyone from the way I see it, just calling it as it is. More, that we are really invested and want to see him keep going and make it.
We can all see that Gordon can move up a few more levels, like Tom and Dom, and it's exciting to see another Academy graduate in the process of making it over the next couple of years.
Brian Harrison
208
Posted 27/12/2020 at 11:49:04
Quite unbelievable how we are sitting in 2nd place in the Premier League, especially considering we have appointed a washed-up Italian who has a good CV but is well past his sell-by date and is only here because we are paying him a king's ransom.
He is lucky he has stumbled onto a formation that is getting results but it won't last. He has inherited a good set of players, but has under-performed in getting a tune out of most of them.
Mark Murphy
209
Posted 27/12/2020 at 11:50:18
Brian @201,
I think Sigurdsson is making that decision more difficult the way he is getting back to defend. The last two games he has been very energetic and digs in when we are under counter-attack. Not his biggest fan but fair play – he's fighting for his place and making a decent scrap of it.
Mark Tanton
210
Posted 27/12/2020 at 11:52:10
I have to say that, although it was undoubtedly an ugly game for the most of the 90 minutes, the negativity on Live Forum was troubling.
1. Sheffield United brought us down to their level.
2. They resorted to kicking lumps out of us for the last half an hour when we took control.
3. We were missing a lot of key players.
What character and resilience to keep going and win!
Derek Thomas
211
Posted 27/12/2020 at 11:54:39
Brian @ 201;
I actually think we started too open vs Man Utd and too defensive vs Sheffield Utd.
When we opened it up yesterday, we were getting into their half more.
Eddie Dunn
212
Posted 27/12/2020 at 12:00:12
The game was of a low quality but the conditions were atrocious and Sheffield Utd reduce most games to mud-wrestling. We would have dominated much more had the dreadful ref given the fouls to we that he should have done.
Calvert-Lewin was bulldozed at one point and got nothing; he also got booked for God-knows what.
We will be second behind the "World Champions" no matter what results happen today. It sets us up for Man City who have no Jesus and a semi-fit Aguero. Let's hope at least one of our three wise men are fit.
Hugh Jenkins
213
Posted 27/12/2020 at 12:12:28
With the various opinions on whether or not we are lucky to have got Carlo Ancelotti as a manager, here is a direct quote from him after the match yesterday.
"I am really pleased because I found the right club, a nice club, a family club. I live in a nice area so, after one year, I can say I was lucky."
Thomas Richards
214
Posted 27/12/2020 at 12:18:26
Great to hear comments like that, Hugh. One thing I would add:
We are the lucky ones to have a man and a manager of this calibre at our club.
Danny O'Neill
215
Posted 27/12/2020 at 12:19:47
It will be interesting when the full-backs and James are fit again.
Earlier in the season, we were more attacking but that inevitably leaves you more open at the back... hence 5-2 vs West Brom and 4-2 against Brighton.
Now we are more resolute and controlled, but are winning by the odd goal. I think Dominic in particular is missing his supply chain via Digne & James.
Nice problem to have... and it will be nice to be able to have both options available.
Ernie Baywood
216
Posted 27/12/2020 at 12:32:06
Absolutely Danny. The more ways to win the better.
I'll take dour 1-0 wins but realistically know that you can't go through a season like that. A bit of bad luck, a lack of good luck, or just an off day and you're stuffed.
It's up to Carlo to find the right mix. I'm sure he's up to the job, even if he has been a bit experimental at times.
Patrick McFarlane
217
Posted 27/12/2020 at 12:46:53
Kevin #202,
Indeed it was Charlton Athletic who were the third of the clubs to defeat Everton in 1986-87. Scottish International (U21s) Jim Melrose scored a hat-trick, the second time he had accomplished that feat against Everton as he had also hit a hat-trick in 1982 for Coventry in the 4-2 defeat of Everton at Highfield Road. He also scored his sides consolation goal in a 2-1 defeat against Everton in the return fixture for Charlton at Goodison in March 1987.

Thomas Richards
218
Posted 27/12/2020 at 12:49:30
Special mention to Calvert-Lewin.
The transformation of this lad is unbelievable. In my opinion, he is the best target man in the Premier League. Along with the goals tally he is bound to be hunted by the top clubs in Europe.
Jay Wood
[BRZ]
219
Posted 27/12/2020 at 12:49:38
Thomas @ 194. On Tom Davies:
'If you think he played a similar game against Arsenal I can only suggest you watch the Arsenal game again.'
Maybe you should take your own counsel, Thomas.
As I do every Everton game, I already have watched the Arsenal game back. Not just edited highlights. The entire game.
I like to do so to look for patterns of play by the team and individuals. To notice subtle nuanced plays or positioning I may have missed in a fast-moving play watching live. You have the luxury of being able to freeze or re-wind the game to better analyse these things.
For your claim that I found 'strange' to be true - that 'the defence doesn't seem to trust Tom Davies' - there needs to be evidence that passing out from defence to him is deliberately avoided and only taken as a last resort. There was no evidence v Arsenal. There was no evidence yesterday v The Blades.
Pickford, Keane and Mina regularly passed to our deepest lying midfielder just beyond the 'D' of our penalty area in both games. Tom was excellent in both games in his ball retention under pressure and moving the ball on sharply forward.
Roman @ 167 in this very thread is possibly representative on how some posters regard certain players, unable or unwilling to see any good in them.
When as Roman writes he needs someone to explain to him just how Tom played well yesterday then you kinda know that no manner of explaination will change his mind.
Opinions, eh Thomas? On this one, I'll trust my own eyes not yours.
Thomas Richards
220
Posted 27/12/2020 at 12:51:44
"Pickford, Keane and Mina regularly passed to our deepest lying midfielder just beyond the 'D' of our penalty area in both games"
No, they didn't.
Danny O'Neill
221
Posted 27/12/2020 at 12:53:48
Tony @191, well that didn't last long!
You VVD prediction was spot on. Just been referred to at half time Leeds v Burnley when commenting on the penalty Pope gave away. "Need consistency, when you look at Pickford on VVD etc".
Just let it go!!
Kevin Molloy
222
Posted 27/12/2020 at 12:54:34
Thanks, Patrick, yes that's the chap!
Tony Abrahams
223
Posted 27/12/2020 at 13:00:43
So they obviously want inconsistency Danny, considering VVD was offside 👍
Danny O'Neill
224
Posted 27/12/2020 at 13:06:33
Not that fixture Patrick (217), but I do recall being in the Gwladys Street in March 1987 when a very nervy Everton limped to a late 2-1 win against Charlton at Goodison.
It wasn't convincing but it was a win that for me, made me privately believe we were going to secure our second title in 3 seasons.
Dan Nulty
225
Posted 27/12/2020 at 13:07:37
199 Ciaran. Watched it again, paused it over and over, the player's thigh is still in contact with Gomes's knee inside the box. Could be argued the initial contact was outside the box but he was still in contact inside the box. Just put it on again on iPlayer.
Even if outside the box, we didn't get a free-kick. At best, it is a yellow card and free-kick.
Jon Harding
226
Posted 27/12/2020 at 13:14:23
Jamie C @ 166,
Seamus, Legend – Absolutely! Deserves a thread of its own that.
One of my favourite memories of recent years (so ignoring the 80s) was a rare away game for me with our fabulous travelling supporters. It was only Reading away in an early round of the League Cup but we had sold out nearly 5,000 seats.
Through the turnstiles into a massive throng with no thoughts of taking their seats early or watching the warm-up. All pies and lager. And raucously singing the Sixty Grand Seamus Coleman song. Brought a tear to my eye – just like your post.
And we won!
Tom Bowers
227
Posted 27/12/2020 at 13:16:04
Hey Dan, if it had been Salah it would have been given for sure.
Luckily we didn't need it this time but many times over the years we have lost points due to ineptitude of officiating.
Patrick McFarlane
228
Posted 27/12/2020 at 13:23:39
Just reading some tweets about today's Sky's coverage, apparently, Manchester City is sitting in second place and our neigbhours can go seven points clear if they win today - do they get bonus points for a victory due to the absence of the Dutch guy?
Sky pundits using their crystal ball have been debating the title chances of each side, usual contenders are discussed, someone says we haven't mentioned Spurs yet, and Gabby A whomever that is asks what about Everton?

Danny O'Neill
230
Posted 27/12/2020 at 13:24:30
I said after the Man Utd cup game, Tom Bowers; give me VAR over incompetent officials any day.
I'm not detracting from the deserved result or performance, but the player who scored the decisive goal would not have been on the pitch in a Premier League fixture and Man Utd would have played the game with 10 men for over half of the game.
Last Wednesday was a reminder of officials getting it wrong without having the option to review a situation. Now they have started using it as a friend rather than viewing it as a threat, VAR is generally getting it right most times, even when a decision goes against us.
Somewhat contradicting my gushing over VAR, however, that was a free-kick last night. Nothing will ever be 100% perfect, right?
Darren Hind
231
Posted 27/12/2020 at 13:26:07
Brian Harrison,
Glad to see you admitting you were totally wrong about the players you claimed were not good enough. Let's hope that this time around you are not totally wrong about the manager too.
You have spent a year bleating for everyone to give the manager time to prove he can build a team. Why don't you take your own advice?
This is the third match thread running you have looked to change the mood with your embarrassingly premature "I told you so"s.
I pity you, You simply can't just enjoy the wins. If Carlo proves all of his doubters wrong and gets us qualified for Champins League football, we will simply celebrate. You will feel cheated because you will think we didn't make daft-arsed excuses in support of his cock-ups when it was going badly.
Breaking news, Brian: Nobody will care what you think if Carlo does come good and we qualify. They will be too busy planning their European trips.
Life's so unfair... innit?
Peter Gorman
232
Posted 27/12/2020 at 13:29:57
I honestly thought Brian's post @208 was a Kevin P-esque wind-up.
It was, wasn't it?
Danny O'Neill
233
Posted 27/12/2020 at 13:31:04
Airing on the side of caution, Darren.
This seasn, I'll take Europa.
Champions League next season. Either way, come the summer, fingers crossed we're all on Expedia and Booking.com!!
Kevin Molloy
234
Posted 27/12/2020 at 13:34:49
I suspect Darren is setting the bar eye wateringly high for a first full season so that the humble pie will not be blotting out the sun come season end.
Tony Hill
235
Posted 27/12/2020 at 13:45:55
Thomas @218, what a shame that volley didn't go in. What's particularly pleasing is that he is still improving. I'd love to see him trying longer range shots like the one against Arsenal. He has also developed an ability to go past defenders more fluently.
If he stays free of injury then in 2/3 years he will be truly formidable. Fabulous to see.
John Keating
236
Posted 27/12/2020 at 13:48:37
Danny,
I really think VAR and the way it is being used is ruining football.
As regards to incompetent refs, I don't know if you're watching the dickhead doing the Leeds - Burnley game?
Jay Wood
[BRZ]
237
Posted 27/12/2020 at 13:50:20
Thomas @ 220.
It's panto season, so in response to your:
'No, they didn't'
I'll echo back:
'Oh yes they did!'
Your turn.
Danny O'Neill
238
Posted 27/12/2020 at 14:17:00
I don't have an issue with it, John. If it helps refs make the right call the majority of the time, it works for me.
1977 FA Cup semi-final, 1984 League Cup Final, Gary McAlistair's free-kick, Don Hutchinson's "goal" and Carragher manhandling Lescott to the ground.
It has worked perfectly for Rugby for decades so I don't get the suspicion. As I said, nothing will ever be 100% perfect, but if something helps get more decisions right than wrong, I'm good with that, even if it goes against our favour.
Thomas Richards
239
Posted 27/12/2020 at 14:21:51
Jay,
Taking into account your status as the Grand Dame of ToffeeWeb, I won't bother.
Using your forensic analysis of Everton games: What is the major difference Ancelotti has brought to Tom's game, leading to the very good performance from him last night?
Danny O'Neill
240
Posted 27/12/2020 at 14:27:21
If I may, Thomas, notwithstanding the fact he has managed and coached some of the worlds best midfielders, I would wager Ancelotti has some decent advice and guidance to pass on to Tom.
For me, it was obvious; cut out the silly fouls and giving the ball away.
I would also suggest that competition is playing a part. With Allan and Doucouré recruited, and likely more inbound over the next 12 months, one or two players who were hitherto in their comfort zone are now looking over their shoulders and knowing that, when they do get an opportunity, they have to grasp it rather than going through the motions.
Tony Hill
241
Posted 27/12/2020 at 14:42:21
For what it's worth, I think a calmness has descended upon Tom and, from yesterday's evidence, there's a rhythm to his play. I detect, perhaps wrongly, that he's benefiting from some good coaching so that he trusts himself and concentrates.
In fact, he's always been a forward-thinking player in his passing, by instinct, but he has been badly inconsistent and inclined to retreat into his shell.
Let us hope he can maintain this form. It would be a massive bonus for us and due reward for a young player who seems to have considerable strength of character, as others have noted.
Danny O'Neill
242
Posted 27/12/2020 at 14:49:41
Perhaps also on Tom, maybe fitness is playing a part. He looks sharper. Previously, he always looked a little sluggish and heavy-legged, which would explain the lazy challenges and sloppy passes.
Great to see him looking much brighter both in mind (decision making) and physically.
Just pull those socks up, Tom! As in literally, not 'work harder'.
Mark Murphy
243
Posted 27/12/2020 at 14:57:20
Darren and Peter (and Brian),
I honestly thought Brian was laying on the sarcasm thickly – not literally slagging off Carlo.
Irony is difficult on here – I tried it when the moaners were in full flow against Leicester and got mistaken for a miserable arse as well.
David Cooper
244
Posted 27/12/2020 at 14:58:13
It's great to have a forum such as ToffeeWeb where we can share all our different opinions and tactical views mostly without unpleasant comments. Testament to how we see every match through a different lens. I admit to seeing Richarlison through "rose-coloured glasses"!
Earlier on in this thread, I asked the question: "When was the last time we were in 2nd place on Boxing Day?" I really expected our dyed-in-the-wool fans and experts to tell me. So was a bit surprised I got the answer "sometime in the 80s". So I tracked it down and it was Boxing Day 1984, when we beat Sunderland. We all know how that season ended!
So we are nowhere near as good as that team but it is a truly amazing team and manager performance to sit there for at least another day. Who knows what will happen tomorrow? Maybe Carlo's best version of how to defend Italian style might blunt Man City's formidable attack or they might not. Either way, no-one could have expected us to be in 2nd place today – just as no-one could have seen us be top after 5 games. So, for me, Carlo is the best thing to happen to us in 35 years!
Brian Williams
245
Posted 27/12/2020 at 15:04:24
Mark, you have to use the irony font, mate.
Rob Halligan
247
Posted 27/12/2020 at 15:08:47
Brian, do you think you will be getting to the game on New Year's Day?
Speaking to a blue while out walking the dog, who has been selected for the West Ham game, and he thinks it will be okay. Funnily enough, he told me it's the second time he's been selected in the ballot: he also got selected for the Chelsea game.
Brent Stephens
248
Posted 27/12/2020 at 15:14:04
Rob, "Funnily enough, he told me it's the second time he's been selected in the ballot"
Strewth! Having been successful in the ballot for the Chelsea game, I continued applying for subsequent games - not really thinking there was any chance! I'll keep applying (Upper Gwladys, S143 suits me!).
Brian Williams
249
Posted 27/12/2020 at 15:16:49
Hope so, Rob. Keeping my fingers crossed there's no need to change tiers before then. Should be able to get a test on New Year's Eve.
Looking forward to it and hoping both Richarlison and James will be playing.
Jay Wood
[BRZ]
250
Posted 27/12/2020 at 15:19:36
Thomas, unlike some I don't presume to know the inner workings of what goes on at Finch Farm as to what Carlo says and does with Tom to improve his game.
Unlike you, I don't make suppositions that his defenders don't trust him so don't transition the ball through him when they most evidently do.
I see zero evidence of any hesitancy by any defender in any situation that they think: "Oh! It's Tom Davies. I don't trust him to receive, retain or pass on the ball, so I'll take another option." They can't afford such potentially fatal hesitancy in the position they play.
Ergo, Tom is trusted.
To reply to your specific question, what I see with my own eyes is that Tom is basically the same player that broke into the team at 17.
I've already written on Lyndon's match thread that Blues possibly need to refrain from holding too closely to preconceived notions they have about the team, individual players, and the manager.
Tom Davies is one such player such attitudes apply to.
People still trot out the tired old line that "he is living on the reputation of that goal v Man City four years ago."
This ignores that at 18 under Koeman once he broke into the team Tom was often selected ahead of the likes of Gueye and Schneiderlin on merit, overwhelmingly won the fans and players' young player of the year award AND the goal of the season for THAT goal v City.
Subsequently, he got less game time under Allardyce and Silva (who still made him captain on occassions). Without doubt, he has had poor games and poor moments in games. You have to accept that from young players.
But what you can definitely say about Tom is he is courageous and never hides. Courageous in how he attempts to play a telling ball forward rather than always opt for the safe back or sideways pass. Courageous in how he always shows for the ball. Courageous in how he competes and never steps back from an opponent.
He has good close control and the ability to get out of tight situations, very tidy short passing which helps put Everton on the front foot. Equally, that same control lets him down at times, the ball bounces off him and his competitiveness sees him give away cheap fouls in trying to retrieve the lost ball.
As Danny mentions, when called on this season, Tom has displayed more consistent ball retention and cut down on the clumsy fouls.
Whether that is down to him maturing (people forget because he has been around so long and already played 100+ games he is still only 22), or Carlo's input, I cannot categorically say. Probably a combination of both.
As I already mentioned on this thread, it is noticeable (to me) that Tom has adopted Allan's sticky-out-butt tactic when trying to retain the ball at close quarters or getting himself between the ball and the player. A possible benefit of having better quality players at the club for young 'uns to learn from.
Tom Davies is the closest we have in the current squad to replacing Allan's role. And for the most part, when called upon this season to do so, he has performed admirably.
I trust him and his abilities. As, I'm confident in saying, does his manager and team mates.
Rob Halligan
251
Posted 27/12/2020 at 15:20:23
Brent, I suppose it depends on how many are actually entering the ballot? If it's only about 10k, then we could be getting to more games than we anticipated, assuming our tier level remains at Tier 2.
Covid test was negative today, so all systems go for tomorrow.
COYB
FTRS.
Brent Stephens
252
Posted 27/12/2020 at 15:26:09
Rob, I hope we stay in a lower tier so I can stay in an upper tier.
Brian Williams
253
Posted 27/12/2020 at 15:47:56
Rob #252.
Rob I want you to do something, a challenge if you will, that I set my match-going nephew but he failed.
I asked him to wait for a very quiet moment in the game and then shout out very loudly something stupid that would undoubtedly be recognisable for us watching on the box.
What are you, Rob, man or mouse?
Thomas Richards
254
Posted 27/12/2020 at 15:54:40
Jay,
Tom has been coached and instructed to take less touches in possession. Mostly one- and two-touch football from him last night saw him have a very good game.
You allude to it in your post, his problem has been in chewing the ball with too many touches, resulting in him being caught in possession and the ball taken off him in dangerous areas.
A vast improvement last night from Tom by not doing that.
Danny O'Neill
255
Posted 27/12/2020 at 16:03:46
A bit like the advice passed onto Calvert-Lewin, Thomas. "The best strikers tend to score most of their goals with their first touch" is what I think he was told. As well as staying in the box rather than chasing corner flags, Marcus Bent style. But oh how we loved Marcus's effort.
I read today that Sheffield United ran 5 km more than us, man for man, last night. It's not about running around, it's about using your head and footballing brain.
Thomas Richards
256
Posted 27/12/2020 at 16:08:09
Similar, Danny... and you're right: the improvement in Dominic is beyond our imagination.
Potentially a world-class centre-forward.
Brian Wilkinson
257
Posted 27/12/2020 at 16:11:50
I know a few have touched on penalties given for the slightest touch. On watching the Gomes incident again, the player's thigh definitely catches Gomes and nudges him. I have seen penalties given for less. It would have been a soft penalty, but penalty all the same.
We seem to take points from teams we were happy to take a draw with this season.
Is a very big ask, going into a third game so soon; however, if we can keep it tight, you just never know against Man City.
Have a feeling it will be a backs-to-the-wall game but, as long as we do not go in with the same mentality mindset as we did against Man Utd in the cup, we have a chance.
Rob Halligan
258
Posted 27/12/2020 at 16:13:21
Brian, 254,
I'm sat at the back, or near the back of the Upper Gwladys Street stand, so I doubt I would be heard anyway? Was Brent set the same challenge, as I'm sure I heard a booming voice shouting "Brian Williams is a Wanker"!!
Brian Wilkinson
259
Posted 27/12/2020 at 16:14:59
Brian@254, you could have quoted one of Shakespeare's plays, during the cup game on Wednesday.
Brent Stephens
260
Posted 27/12/2020 at 16:34:18
Brian #260 "You could have quoted one of Shakespeare's plays, during the cup game on Weds."
Alas, poor Yorath?
Mike Gaynes
261
Posted 27/12/2020 at 16:36:35
Thomas #255, it's funny but I get exactly the opposite impression on what Tom has been coached to do. Many of his worst errors have been on one-touch passes, and the difference I've seen in him the past two games is that he is taking
more
touches, turning away from defenders, looking up before he passes and not rushing so much to get the ball off his foot.
Maybe it's a function of the natural maturity process -- he's only 22 -- but like you I'm guessing it's the coaching.
Mike Gaynes
262
Posted 27/12/2020 at 16:39:48
Brent #261, that's the quip I've had ready for the past two years as we've tried... and failed... to ship Bolasie someplace.
Alas, poor Yannick...
Brian Murray
263
Posted 27/12/2020 at 16:44:21
Mike don't get yourself bard from the site kidda
Thomas Richards
264
Posted 27/12/2020 at 16:59:16
Mike #262.
Did you watch last nights game?

Ian Edwards
265
Posted 27/12/2020 at 17:04:10
Danny 264. Ancelotti employed the same tactics at HOME to Man United.
Danny O'Neill
266
Posted 27/12/2020 at 17:08:58
6 at the back Ian? Do tell
Brian Williams
267
Posted 27/12/2020 at 17:10:59
Rob#259.
With all due respect mate he can't claim that one as it could have been any one of the 2000 that shouted that!
Ian Edwards
268
Posted 27/12/2020 at 17:16:24
It was virtually 10 at the back. Like it was last 20 at Fulham, home to Arsenal and Chelsea
Brent Stephens
269
Posted 27/12/2020 at 17:21:20
Mike, Duncan Ferguson once said "All the world's a stage, and all the men and women merely players. They have their exits and their entrances; And one man in his time plays many parts. - so get on and play on the left wing, Siggy"
Danny O'Neill
270
Posted 27/12/2020 at 17:25:09
My take on the Man Utd match Ian was that it was a perfect storm. Certainly for the first 30 minutes. They played as well as their obvious talent can do on their day, we were as poor as we could be.
We were 4-2-3-1 but they absolutely pegged us back.
Paul A Smith
271
Posted 27/12/2020 at 17:27:00
The arguments about who is good enough and players written off etc has hundreds of factors.
For instance if we have played a team in form, our players under Moshiri's reign have generally been not good enough.
That has mainly come from the notion of sexy football being a 'thing' of Moshiri's and not having enough quality to see it through.
Last nights team are good enough to beat Sheffield United, a dodgy Arsenal and most of the teams in the division from 8th down but it'd never be pretty.
Ask those same players, ie Sigurdsson, Keane, Pickford etc to beat the likes of Man U City and Lpool and its a different story of course.
I want us to win the league so if those said players couldn't get in those sides then to me they are not good enough and their level if they played all season would be lucky to finish top half, I don't think there is much doubt in that.
Put Richarlison, Allan, James and Digne back in their positions and we still wouldn't be good enough to make back to back wins by playing pretty at those 3 sides because of the lack of quality from last nights side.
Play this recent system with the returnees and surely there is a stronger chance we can finish in the top 4?
Surely we can nick wins with our quality returning and standing solid against teams?
The big question now is, are these players focused enough to park the bus in the biggest games and be confident and composed when it matters?
The -good enough or not good enough-argument all depends on what you want and if that is success, there should be hardly any arguments on which players can make that difference.

Mike Gaynes
272
Posted 27/12/2020 at 17:27:28
Thomas #262, yep, and I counted at least four times when Tom received a pass under pressure, turned away from the defender with a couple of touches, looked up and then calmly passed the ball with his fourth or fifth touch. I was impressed. And surprised.
Thomas Richards
273
Posted 27/12/2020 at 17:32:03
I counted twice Mike.
Second time he was caught in possesion and didnt do it again.
As someone said earlier, we all watch the game differently.
Ian Edwards
274
Posted 27/12/2020 at 17:32:39
Whenever we are leading with 20 to go Ancelotti defends deep and starts taking off offensive players and replaced them with Defenders or holding mids.
Mike Gaynes
275
Posted 27/12/2020 at 17:32:50
Ian Edwards is the guy who was all over the Forum yesterday calling Carlo a coward. He thinks we're bottom 2, not top 2.
Joe McMahon
276
Posted 27/12/2020 at 17:38:49
Mike @278, also I remember a few posters only a couple of weeks ago, saying how miffed they were at being below Moyes WHU and Carlo is not taking us anywhere.
We have a good few points on them now, I'm sure he will do the best he can for us, 2nd at Christmas ain't bad at all!
Mike Gaynes
277
Posted 27/12/2020 at 17:49:48
Brent #271, unfortunately Siggy considered it sound and fury, signifying nothing.
Joe #279, first time since '86, isn't it? My prediction of finishing 8th is starting to look a little rickety.
Thomas Richards
278
Posted 27/12/2020 at 17:55:28
The most important issue re Tom, regardless of how you saw the game, is the improvement he showed.
A lot of people take the goal hr scored v City as an example of his style of play.
Brilliant as it was I put that down to the exuberance of youth, think he was 18.
Thats not his game at all.
Hopefully under Carlo he will develop into a good player.
Dont forget this is a kid they called into training with the senior England squad at St Georges when he was 16.
He still has plenty of time
Alan McGuffog
279
Posted 27/12/2020 at 18:04:38
Just my two pennorth...some on here want us to emulate Brazil of 1970. That would be lovely.
Those who remember 69 -70 will recall that the wonderful Everton side grinded out many single goal wins that season.
Points come first !
Alan Williams
280
Posted 27/12/2020 at 18:05:52
Evening lads I watched sky bias sports this morning they were talking with a journalist from the mirror and an ex Aston Villa player about who would finish in the top four or chase the red shite they mentioned every team except Everton who actually sit 2nd Aston Villa and Southampton were before us sky and the pundits hate us doing well coyb let's prove we can stay there and upset a few on that biased sky sports
Barry Rathbone
281
Posted 27/12/2020 at 18:16:17
Terrific that we won it was deffo a fixture we usually conjure up a shitty loss from.
I really don't know what to make of it all this oddball of a season could bring anything - maybe a CL spot is possible.
I'll believe it when I see it, mind
Derek Taylor
282
Posted 27/12/2020 at 18:51:27
Local players will only be shown respect on here whilst they are waiting to be selected. Once they get in the team, they will get dog's abuse for the slightest error. Davies is the new Osman and would be sensible to 'do a Barkley' asap !
Will Mabon
283
Posted 27/12/2020 at 19:05:46
Patrick @ 228 - that would be Gabby Agbonlahor.
Patrick McFarlane
284
Posted 27/12/2020 at 19:10:46
Cheers Will, I don't have sky so I didn't have a clue who it was. A very good weekend thus far, if we could eke out three points tomorrow it would make things interesting for us for the new year.
Bill Gall
285
Posted 27/12/2020 at 19:21:46
I hear that there has been a huge sale on Rollaids for upset stomachs on Merseyside has anything happened to make people sick, There is also a rumor going around that the Sky Sports pundits have been given spelling and pronunciation lessons on the word Everton, and free maps for directions to Goodison Park, and they will do their best to get them an unobstructed view of the game
Danny O'Neill
286
Posted 27/12/2020 at 19:29:20
Bill, it's funny as you are not far off. The way Sky talk about us is like they are talking about Everton in the mid-Moyes years. They clearly haven't been watching us, not just this season, but haven't been taking any notice for a decade or so.
Bobby Mallon
288
Posted 27/12/2020 at 21:30:37
We are going to win tomorrow night 2-0
Stan Schofield
289
Posted 27/12/2020 at 21:48:40
Alan@279: Spot on. The 69-70 Everton side played like the 1970 Brazil side, we were the best footballing side in Britain with the Holy Trinity being matched, globally, only by Gerson, Rivelino and Cloadoaldo. But we were also a very hard and gritty side, as you say grinding out some wins as the need arose.
One of the good signs of the current squad is our ability to play expansive football with plenty of goals, as per at the start of the season, and hard defensive football to grind out wins, as in the last four games.
Alan McGuffog
290
Posted 27/12/2020 at 22:09:59
Stan...I'd be interested to know if you'd be in agreement for sheer sublime skill, the football we played in 68 -69 was better. But the Championship season we added a bit more bite, devilment and a never-say-die approach.
I recall Labone saying something to the effect that, if opponents wanted to play, we'd outplay them and if they wanted a war...
I'm beginning to like this current side!
Thomas Richards
291
Posted 27/12/2020 at 22:20:07
Stan, Alan.
There is a video on youtube
of the 1967 Everton v Man Utd game.
When you get a chance give it a watch.
Particularly look at Harry Cattericks formation and tactics.
Genius Harry

Stan Schofield
292
Posted 27/12/2020 at 22:20:18
Alan, yes, definitely, the 1968-69 season was the footballing peak. The title season was a bit more businesslike and gritty, but also tremendous footy through the midfield.
Stan Schofield
293
Posted 27/12/2020 at 22:22:10
Thomas, tremendous game, 3-1 to us, with Ball and Young, and Charlton and Best on the field.
Peter Mills
294
Posted 27/12/2020 at 22:29:21
Alan #290, Stan #292, I'm with you all the way. 1968-69, pure joyful football, which was wonderful to watch.
But I can still feel that knife to the heart, Man City's last-minute winner in the FA Cup semi-final at Villa Park.
The following season, we learned to win. It's very important. The current team is cottoning on to the concept.
Thomas Richards
295
Posted 27/12/2020 at 22:36:38
Stan,
A fantastic game mate.
4-3-3, years ahead of the English game.
Danny O'Neill
296
Posted 27/12/2020 at 22:44:35
Stan @289, to my earlier point, it's nice to have different ways to win. I think this Everton side is being moulded that way. Carlo has managed Real Madrid and Bayern Munich so can go attacking but is also Italian at heart; defensively and tactically astute. I suspect he will build an Everton squad that can mix it.
Bobby, you've tempted me to have a punt on your 2-0 even though I never bet on Everton. I'll put a virtual one on!!
Stan Schofield
297
Posted 27/12/2020 at 22:45:53
Thomas, yes, it always seemed to be 4-3-3. Although, Ball tended to score a lot, and his linking with the front 3, especially Joe Royle when he became a regular, also seemed to make it effectively a 4-2-4.
Andrew Keatley
298
Posted 27/12/2020 at 23:18:06
Tom Davies played pretty well, but I do think that Sheffield United afforded him a great deal of time and space – conditions which suit any footballer. It will be very different against Man City, and I hope he is able to show a similar level of performance under a greater amount of pressure.
Pleased to see Bernard and Gomes making positive contributions from the bench. Gordon did not make anything of his opportunity, but he'll get others – and hopefully they'll be in games in which our attacking unit is more cohesive and he has greater licence to go forward.
Eddie Dunn (21) - Calvert-Lewin was booked for petulantly punching the ball away after he had committed a foul. His frustration boiled over and the ref pounced on it.
Roman Sidey
299
Posted 27/12/2020 at 00:47:25
Danny, funny you mentioned Marcus Bent, as I've been thinking about him lately. I watched a vide of all Tim Cahill's goals the other day and the thing that stood out is how many times in 2004-05, Bent was the direct provider or at least the one who set up the play. Certainly not the striker you'd expect a top-4 side to have but he did the job he was given.
Jay Wood, I'll happily change my mind on Davies if I see enough evidence to do so. I was one of this fanboys early in his career but I tend to lose enthusiasm for players who stagnate, and anyone saying he hasn't been stuck for the past couple of years is either his mother, or selling a bootload of No 26 jerseys they foolishly bought in bulk four years ago.
Against Sheffield Utd he had a good game, but I honestly think the praise he's getting is patronising due to how ordinary he's been for quite a long time.
I'm not a Davies hater at all. I just think that 100+ Premier League games should produce a more impactful player.
As for tomorrow against City, I'd definitely keep the same back four, and maybe only change Gordon out for Bernard. With that back four, we may be sacrificing some attacking clout, but Man City will find it very hard to score against them.
---
Add Your Comments
In order to post a comment, you need to be logged in as a registered user of the site.
Or Sign up as a ToffeeWeb Member — it's free, takes just a few minutes and will allow you to post your comments on articles and Talking Points submissions across the site.
---
© ToffeeWeb