Ancelotti remaining 'positive' as difficult run looms
Wednesday, 9 December, 2020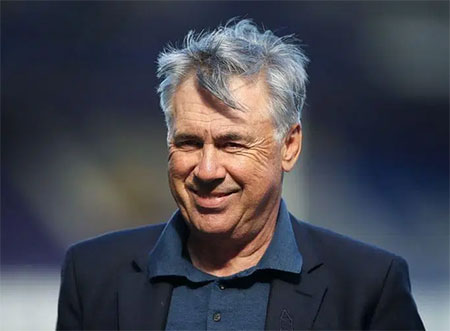 Carlo Ancelotti says that Everton are "where we want to be" with regard to a push for Europe this season despite the team's recent run of just one win in seven games.
Since surging to the top of the nascent Premier League table with four straight wins and then twice coming back from a goal behind to draw 2-2 in the Merseyside derby, the Blues have only beaten Fulham, while losing to all four of Southampton, Newcastle United, Manchester United and Leeds United.
A disappointing 1-1 draw at Burnley means that Everton have now fallen to 9th in the Premier League table and will go searching for their next points from potentially difficult games against Chelsea, Leicester City and Arsenal before facing Manchester United in the last eight of the Carabao Cup before Christmas.
Ancelotti says he was encouraged with his team's response to going a goal down at Turf Moor and described how his side's attacking impulses have had to be "sacrificed" to a degree by a different defensive shape aimed at slowing the rate of goals being conceded.
"I am positive because I saw the team react really well, showing a good spirit, sometimes showing good football," the Italian said of last Saturday's game.
"We have to be ready for this tough period. The table could be better but we are where we want to be. We want to fight for a position in Europe and we are there.
"The spirit was good against Burnley, what the players did all together was good. I am quite satisfied.
"I was not satisfied with [performances in defeats at] Newcastle and Southampton. With this spirit, we would be able to draw those games.
"It was not a win. We wanted to win, but for the performance we have to be positive."
---
Reader Comments (89)
Note: the following content is not moderated or vetted by the site owners at the time of submission. Comments are the responsibility of the poster. Disclaimer
Marc Hints
1
Posted 09/12/2020 at 08:52:55
Blimey six games in two weeks, can't see us going anywhere this month especially with our record of injuries we are getting and bound to get more with this hectic fixture. We cannot even rest players as we have Chelsea, Leicester, Arsenal and Man UTD in the cup! and as we all know the bench is basically non existent
Kim Vivian
2
Posted 09/12/2020 at 09:46:06
Whatever we had done over the past few weeks, our fixture list and squad is exactly as it would have been and is.
Of course he has to remain positive. He's not exactly going to come out and say...
"Well actually I'm sheetting the bricks because we have a paper theen squad with very little talent outside our first 11, and I worry about how we are going to cope with the 6 tough matches in this moment to New Year, even assuming injuries and suspensions don't take their usual toll"... is he?
The run up to the New Year is going to be trying for all of us. It's just a shame we haven't managed to consolidate a few more points from those games which we probably should have. However, I think we will be in much the same league position at the end of the year as we are now, with a widening gap above us and progress in the Carabao.
Mark Taylor
3
Posted 09/12/2020 at 13:17:27
Well, we are not where I want us to be right now and given how much harder the next 5-6 games are, unless there is a very rapid reversal in our fortune, we will be where nobody wants us to be, well down in the bottom half.
Somebody needs to hold Brands and/or Ancelotti accountable for why we don't have a credible back up for either full back positions. That has been a significant reason for our stumbling form, not that the two out are that good, but they are two of our better players and their absence has involved us fiddling with our system and playing players out of position. Our squad is simply not at the quality level necessary to get away with than, even against the lowly teams we have mostly been playing.
Tony Everan
4
Posted 09/12/2020 at 13:27:47
The fixture list may help the players find a good rhythm and be beneficial. Training regimes will have to be adjusted accordingly. Some fringe players will have to be fully ready to help the team. We've got a big squad and it is an opportunity for some to step up and make their claims.
Doesn't seem to harm the RS too much, playing weekend and midweek, using their squad. We should be able to do it too, no excuses.
Another thought;
Sounds like Moise Kean is pushing for a permanent move to PSG. How about getting Idrissa Gueye back as part of an agreement, initially on loan from Jan 1st. I think he is a player who would be the missing link and would make our midfield work better, especially with the necessary inclusion of James Rodriguez. Sigurdsson, Delph and Gomes hopefully can engineer a move for themselves as I can't see a future for any of them at Everton. Well, maybe Gomes but I'm am certainly not optimistic.
Tom Harvey
5
Posted 09/12/2020 at 14:11:44
He's correct, points wise we're not in a bad position.
However, they wilt under any decent press and give the ball away and our star players aren't playing like stars (except DCL).
There's a general fragility, if we lose against Chelski that could well and truly set the tone for the next four games, that being the case others below and above might make merry over the Christmas period at our expense.
What Ancelotti is saying, will be part of the pyschological game aimed at the players and I believe he understands the real disposition of his troops. If he doesn't the truth will hit home shortly.
Christy Ring
6
Posted 09/12/2020 at 14:57:43
It's vital to remain positive, with a tough schedule coming up, but picing players out of position is not the answer. Carlo admitted after the Leeds game, 3 at the back didn't work, especially playing two midfielders as wing backs. He started the Burnley game with the same formation, only for the injury to Delph, he reverted back to a back four, and Allan and Docoure looked alot more balanced with Gomes beside them. He doesn't trust Kenny, but why not take a chance on Nkounkou, he couldn't be any worse than Delph or Iwobi at left back.
Jerome Shields
7
Posted 09/12/2020 at 15:25:21
Ancelotti objective is a top six finish and he knows with this limited technical squad and injuries there will be periods of bad results, where adaptability has to be worked on. Things have improved from the Southampton game. At least he has been working on giving players game time in this last two game to adapt to different formations and positions and they have improved.

Jay Harris
8
Posted 09/12/2020 at 15:34:16
If we play Iwobi and Godfrey as wingbacks against Chelsea we will be torn to bits by Werner, Pulisic, Ziyech, HAvertz, Mount, Reese JAmes and chilwell.
Chelsea are everything we should have been given what we have spent over the years.
Young strong, Skillful and pacy.
I am dreading the weekend even moreso now Ive just reminded myself.
Brian Wilkinson
9
Posted 09/12/2020 at 16:02:29
We are knackered around the 70 min Mark just playing 1 game a week, god help us playing 6 games in two weeks.
Clive Rogers
10
Posted 09/12/2020 at 16:15:24
I really can't see us winning any of those games to be honest. Injuries haven't helped but our midfield is the big problem. There is a lack of pace and also of goals and assists. One goal from midfield so far. Not good enough. There is too much pressure on the back line. I expected more from Allen and Doucouré
Kase Chow
11
Posted 09/12/2020 at 16:20:49
Brands and/or Ancelotti should be accountable for the unbalanced nature of this squad
No reserve full backs
No reserve striker
and the usual dire, losing football. Nothing has changed really
Joe McMahon
12
Posted 09/12/2020 at 17:00:51
I'm glad Carlo remains positive, as yet again after witnessing slow unattractive football, game after game, year after year, mainly since 1997 I'm sure many of us loose interest in this blighted club.
Our neighbours win major trophies and get constant media fawning and global recognition. Everton are the Peoples Club, with a shabby run down stadium and obsessed with history, all of course in the real world of 2020 professional sport means nowt.
Yes i'm down on it (i've had a dreadfull year personally) but the football we see our team playing year on year is awfull.
Carlos contract will net him millions, while Everton continue running to stand still. Like Seamus after a derby defeat, actions speak louder than words.
Kieran Kinsella
13
Posted 09/12/2020 at 17:06:46
We are on track for another (virtual ?) January AGM with Moshiri saying (again) he didn't spend all this money for us to be eleventh. Happens every year like clockwork
Brian Harrison
14
Posted 09/12/2020 at 17:21:03
Joe 12
Sorry to hear you have had a dreadful year, and sadly our club haven't done a lot to brighten your year. I know many on T/W don't like to mention the other lot but your right for the last few seasons they have gone from strength to strength. Despite having as bad an injury list as us it doesnt seem to have deterred them at all, despite them competing in Europe as well as the league.
I just think what the last 5 years have highlighted is if you keep changing managers every couple of years or less, then its a recipe for failure. When you think 2 of our last 5 managers had the heady distinction of having their clubs relegated immediately before joining us. Another was appointed not because of his ability to win things no, he was signed because he has a good record of stopping clubs getting relegated. So its little surprise to most that we are still struggling to get any consistency out of a group who have never shown any consistency. I do believe that Ancelotti will turn things around, and I can well understand some saying they expected more from him than we are seeing at the moment. But he has won just about everything there is to win in the game, and given time and money to spend he unlike most of his recent predecessors has proven he is a winner.
So for me we have to believe in Ancelotti, because if he cant turn this club around then I fear where we would end up if he leaves without winning a trophy. This club has given us nothing to shout about for decades, but its extremely lucky that it has the most loyal fans there is around, but another decade without a trophy and I think fans would start voting with their feet.
John Pierce
15
Posted 09/12/2020 at 17:44:17
It's a big ask to and will stretch any squad, so that has to be the hope right. All teams will have a full on December and it's really about rotating, energy is the key here, whilst experience and ability counts, we've seen in under previous managers that playing the same side game after game really hurts you.
I remember Silva played Gomes into the ground one Christmas. Realistically you target games, I'd look at playing the same side against Sheffield, Arsenal and United, and rotating most of the side v Leicester, City, maybe even Chelsea. We absolutely have to win that cup game, but Ancelloti doesn't rotate really unless he's forced. All I can see is him driving the team into the ground.
Ben Attwood
16
Posted 09/12/2020 at 17:45:22
Interesting to read Kaka's Sky Sports article today. He won everything whilst playing for some top managers and he rates Ancelotti as the best coach he worked with.
Hopefully, we will now start to see some of this expertise...
Start by ditching the usual dross and pick a few kids keen to learn.
Neil Lawson
17
Posted 09/12/2020 at 18:16:23
We are where we want to be. If I were you,Carlo, I would use Google maps instead of that 10 year old sat nav. You may find that you took a wrong turning somewhere.
Eddie Dunn
18
Posted 09/12/2020 at 18:31:07
The manager has a difficult job keeping morale up, keeping those not in his long term plans interested and giving the youngsters minutes without hurting the team and ruining their confidence.
It is to the likes of James and Richarlison that the more mortal players will look to make the difference, but the only player who looks like he truly believes in himself is Domenic.
This guy has morphed into a classic English centre forward. His improvement has been staggering.
With better service he could double what he has.
We have holes in the squad (who's to blame- I don't know), the defence is the obvious problem but that problem impinges on to the midfield selection, which itself has an effect on the attacking play.
The team has looked like a group of individuals of late. The industry of Doucore and Allan isn't gelling. It is a new partnership, as is James arrival on the right. No wonder we look like a team of strangers with the right back problems and now leftback too.
Stability is what we need. The lads need to be in tune with each other and everyone needs to know their role.
Tinkering with the players is one thing but the tinkering with the systems has simply backfired every time.
Now Ancelotti needs to stop making the same mistakes. Even Silva eventually abandoned the zonal marking and approved a hybrid.
I personally can't fathom the absence of Gordon and Nkounkou. I did notice that Gordon gave the ball away too often when he did play and Nkounkou didn't grasp the wingback role last time out. However, other clubs seem to give young kids a run so I am at a loss to understand Carlo on this one.
We may well be reasonably placed in the club's plan for the season(which is probably Europa league qualification). If, however we ignore the surprising start then we are on a terrible run. If the boss was Eddie Howe, or even Arteta, he would not be given the benefit of the doubt.
We need to get the fans behind the team, get the boys to regain that confidence of the first seven games. This train needs to get back on the rails. Giving the Pensioners a tuning would be the ideal tonic
I wonder what Steven Naismith is doing this weekend?
Patrick McFarlane
19
Posted 09/12/2020 at 18:46:36
Brian #14
I think I object to the constant comparison with our red neighbours, because it's akin to comparing oranges to pears, whilst we have been up and down like a yo-yo for the last 60 odd years, mostly down, the other lot haven't finished outside of the top 8 during that time frame, in fact, the last time they finished lower than 8th in the top flight was when they were relegated in 1954. Every other major club has had lean times during that period, but it seems the other lot are immune to such things.
As for Ancelotti, he has to put a positive spin on our current points tally and league position, with the hope that his troops can rally to some unexpected victories in the coming month, the last thing the players need is for the manager to show he doesn't rate or believe in them.
Darren Hind
20
Posted 09/12/2020 at 19:39:29
He always looks choca when he does these interviews. Cant say I blame him.
Being a footy manager seems to have less and less to do with managing the footy these days.
I bet he would rather just be getting on with it than wasting his time straight batting inane questions.
You just have to hope he can get a tune out of his team and get us back in the mix. If ever we needed a big win, its now. It would change the entire mood of the place. Two good 45mins.
We cant keep playing in snatches
Bill Gienapp
21
Posted 09/12/2020 at 19:59:39
We're right in the thick of things. Reel off a few wins, and we'll be up near the top. The problem is, our current form doesn't inspire much confidence, even though anyone can basically beat anyone on a given day.
I hope, if nothing else, the past few matches have shown we need to stick with a 4-3-3. Gomes has his issues, but he's the best option for that third midfielder at present. And if Digne and Coleman being injured means we play Nkounkou and Kenny, so be it. Getting cute with the wingbacks just isn't cutting it.
Pat Kelly
22
Posted 09/12/2020 at 20:01:47
We are where we want to be. Is it any wonder the players can't be arsed.
Bobby Mallon
23
Posted 09/12/2020 at 21:36:56
This team has played 1 game a week since that 1st international break. Playing 6 games in two weeks will do them the world of good. They will get so match fit.
I only have one gripe. Why is a 29-year-old A-list professional footballer (Rodriguez) not able to last the full 90 mins?
He trains every single day. Surely they train for more than 90 mins a session. Why is he knackered after 65 or 70 mins? Is it genetic?
David Pearl
24
Posted 09/12/2020 at 22:08:41
No, Bobby, he is a lazy bastard.
Paul Birmingham
25
Posted 09/12/2020 at 22:15:51
Let's hope the players can come out and sustain a consistent game plan and tempo against Chelsea and believe in themselves. They've rested their best players but 5his is a pivotal game in that it's the start of a tough run of games to January.
There's no excuses, every team has injuries, it will be interesting to see if Nkounkou, Gordon or Kenny, are in the squad, and what formation.
Chelsea have pace all over, but the players have to believe and be professional and ruthless on the park, and fight for every ball and work hard off the ball and manage the spaces.
Looking forward to the game and a consistent 95 minutes from Everton..
Danny O'Neill
26
Posted 09/12/2020 at 22:30:19
We were the underdogs in this fixture last year just as we are now. But we won.
If we win, we will be 2 points behind Champions League "certain". If we lose, the 5 points behind (2 games)... in December.
I don't think we're in as bad a place as some make out despite the recent bad form.
Season ends in May. Moyes promoters know that well.
Danny O'Neill
27
Posted 09/12/2020 at 22:40:53
Sorry, bad maths. Obviously if we lose it's 8 points, but still only 3 games and December.
Tom Bowers
28
Posted 09/12/2020 at 22:52:25
Good to know Carlo is happy with Everton being where they want to be. I am not so sure... especially the way they are performing. They just seem so haphazard these days and lacking in assuredness.
The midfield is the big problem and what we saw from the new boys early on has waned dramatically.
Even if we somehow win the next game, we cannot be sure they will have turned the corner as they have been constantly a letdown.
Fingers crossed they can finish the year with some better displays.
Brian Murray
29
Posted 09/12/2020 at 23:02:54
Two 45-minute displays -- now those were the days, my friend. Maybe it's time for Richarlison to prove he's way too good for us and be a match-winner right through to the summer, then by all means get his mouth piece (agent) to tell the world Everton are being awkward by playing hard ball. He seems a decent lad so hopefully we won't have that usual circus.
Brian Wilkinson
30
Posted 10/12/2020 at 00:08:04
Brian @29, hope I am wrong but it will be sooner rather than later, before Richarlison moves on.
Maybe the time is right to try and soften Palace with Tosun, Bolasie and some cash, for a sweetener for Zaha.
Jim Harrison
31
Posted 10/12/2020 at 01:20:39
Jay 8,
No, Chelsea are what we wish we could be. But they are a team that has spent far, far more, has at least a decade of success, and are in a completely different market to us.
All for ambition, but reality is, well reality. We try and get the players Chelsea, Man Utd and Arsenal don't use, they are signing top talent from across the world.
Phil Lewis
32
Posted 10/12/2020 at 02:13:31
Stability, commitment, confidence. Three things in short supply at present. Essential if we are to get anything from the demanding fixture list ahead. If we can establish the first two, the third should naturally follow.
Several different permutations have been tried recently, with scant success. Fitness permitting, in a good old-fashioned 4-4-2 formation, my team to face Chelsea, for what it's worth:
Pickford (G)
Holgate (RB) Keane (CB) Mina (CB) Godfrey (LB)
Rodriguez (RM) Allan (CM) Gomes (CM) Doucouré (LM)
Calvert-Lewin (F) Richarlison (F)

Craig Mcmahon
33
Posted 10/12/2020 at 06:42:00
Phil @32,
I really like that team in a 4-4-2 but we all know he won't do that on Saturday. I fear the worst
Trevor Peers
34
Posted 10/12/2020 at 07:53:39
The only thing I'm positive about is that the only chance of us actually winning another game this year will be at Sheffield United away. The rest of this year's fixtures look very tough indeed.
Unless Carlo reverts back to a 4-4-2 system or something similar. I think we will be lucky to get a couple of draws playing with the disastrous three centre-backs he has mysteriously deployed since the derby game.
Jim Bennings
35
Posted 10/12/2020 at 08:22:10
He can't really say much else, can he?
I understand we must remain positive but it would be nice to have clear visible evidence that the team are actually working on defending in training, I've lost count the amount of times I've seen Everton defenders turn their backs on shots that have then resulted in goals.
Going forward, for me, I still smell a problem too because, if Calvert-Lewin was to lose form or, even worse, get any kind of injury for a lengthy period, then we would be doomed at that end too.
We don't commit anywhere near enough men into the box; whilst it's been falling for Dom kindly this season, soon defenders will get tight to him and that's where others need to start pulling their finger out.
I can't believe Richarlison has only scored one penalty in the league all season; that needs to be an area where he needs to improve his game for me.
Iwobi has done okay on the right but again, an attacking player that's scored one goal in 16 months here – not enough.
James needs to start bringing more goals to the table because I had him earmarked down for a good solid 10-12 goals.
Doucouré needs to start pushing up more and doing what we saw at Fulham; he is our most likely candidate as being the "Tim Cahill" type that should be arriving with late runs, scoring some headers etc.
Allan and Gomes probably won't score three between them.
Sigurdsson has long since lost his scoring boots and the likes of Davies was never really a goalscorer from midfield.
So again, we find ourselves overly reliant on one man... so it's looking like it could become a problem very easily sooner rather than later.
When you look at our fixtures, unless we improve on the last six performance levels, then we will be 13th come New Year; the Premier League is unforgiving – as we found out last season.
Peter Mills
36
Posted 10/12/2020 at 09:23:43
I've been successful in the ballot for a ticket for the Chelsea match, but haven't received the health questionnaire that was supposed to be sent at 8:00 pm last night (it has to be completed by midnight tonight).
Has anyone else received or not received said questionnaire?
David Woodworth
37
Posted 10/12/2020 at 09:29:09
A lot of individual mistakes leading to goals.
Mina is great one game, then it appears in the next that he's left his brain at home.
This passing out from the back is a disaster, players don't seem to be on the same page. Passes under-hit or to a player that is being marked. If we get away with it, then it's back to Pickford to lash it forward.
This team just invites pressure, and has forgotten how to close down the opposition. Teams just wait for them to be given the ball, they don't have to do much.
Thomas Richards
38
Posted 10/12/2020 at 10:42:06
Great.
We just need some of our fans to show the same positivity.
Roger Helm
39
Posted 10/12/2020 at 10:47:23
I know we have had injuries but, if other players can't deputise for them, what is the point of them being in the squad?
Peter Mills
40
Posted 10/12/2020 at 10:56:07
Re my post #36, the email arrived at 10:45 am today; the deadline for completing it has been extended to mid-day Friday.
Chad Schofield
41
Posted 10/12/2020 at 11:12:49
I was going to write something lengthy but almost all my points have already been covered, especially by Eddie Dunn #18.
I'd be less concerned about the quality of the opposition, as they should hopefully afford us more space to play on the counter. But the amount of games is worrying – especially as we have not tried the likes of Gordon and Nkounkou properly, when we should have. Instead we're going to have to go in to these games with a patchwork team, low in confidence.
All we can do is try and stay positive, and hope Ancelotti doesn't just reveal himself as the Italian Kevin Keegan or Bobby Brown Shoes – great when it's all going well, loved by the players they wrap arms around, yet devoid of any ideas when things go wrong.
Don't get me wrong: there is no way we'd have attracted some of the players we have without him... but, yeah, I'm yet to see any genuinely great tactical moves... and even Roberto did the Lukaku wing surprise against Arsenal (though it was much less effective second and third time).
We are still dicking about with the ball around our box but clearly lack the players to do it. Other managers are targeting it, so why are we still doing it?!!!
[I do realise how little positivity there is in what I've written!]
Andy Meighan
42
Posted 10/12/2020 at 11:14:49
Everyone on here seems to be under the impression that Chelsea are going to administer some sort of mauling to us on Saturday.
I watched them against West Brom away and earlier Brighton away... okay, they got 4 points from those games but were very very lucky to take 4 points.
The game on Saturday will be a lot closer than people think and I fancy us for at least a draw, if not a win. Leicester are blowing hot 'n' cold Arsenal are shite so there's points to be won there… if we get our act together (and it is a big 'if' like).
Jim Bennings
43
Posted 10/12/2020 at 11:53:54
I read the Kaka interview praising Carlo Ancelotti, it was an interesting read but it still doesn't mean anything in the here and now.
The fact Carlo is so well thought of is great; he is a great fella and his career is sparkling with silverware at some of the finest clubs on the planet, working with some of the game's greatest players.
However, Everton was always going to be a very, very different challenge; a club that didn't already have superstar talent that just needed a few egos massaging.
What Everton needed back then – and still need now – is a massive overhaul and a shift in mentality.
The part where Kaka says Ancelotti came in and didn't want to change a thing... perhaps, in our case, that's not a good trait because that's exactly what we do need, someone to come in and totally change the dynamic of the club, the training, the fitness, the mentality.
Listen, I love Carlo and he's a great guy, his CV is absolutely immense. I still feel proud that he's associated with this club, even if it falls flat; I still couldn't feel any ills towards him.
I really hope he does make this club even remotely competitive again, if not quite successful, but eventually we need to start reaping the rewards of having him here.
Paul Burns
44
Posted 10/12/2020 at 13:07:27
You can change managers, players... even chairman – but one thing at Everton never seems to change. The playing style always seems to remain the same.
The ball is moved far too slowly, player movement off the ball is ponderous, and closing down is half-hearted at best. Every player receives the ball with his back to goal, no-one will, or seems able to, carry the ball forward at pace.
The players still don't seem fully fit or mobile. It's been going on for at least a decade and still hasn't been addressed.
Kase Chow
45
Posted 10/12/2020 at 13:19:38
Our movement off the ball is dire.
The forwards' runs are almost non-existent.
It's so depressing to watch.
Minik Hansen
46
Posted 10/12/2020 at 16:22:34
#35 Jim, so we expect goals from Richarlison and James, there's no doubt there will be, the problem is the team isn't playing as it's supposed to, with Digne, Coleman and Richarlison been out at some point. So we're going back to where we need the key players to a good, standard performance that is expected. The bench has been found out, it could be better. Iwobi's 1 goal in 16 months, I didn't really think about it - well, that's why Ancellotti needs a couple of windows to stabilize the team performance week in week out? Other manager's were givin' time, like klippety Klopp. We're bound to do the same with Ancellotti in charge; giving him opportunities to properly work with and have influence on the team setup.
Justin Doone
47
Posted 10/12/2020 at 17:36:09
Comment's can be taken in a coupe of ways.
On the negative side our overall results and some performances haven't improved from Silva. A lack of cohesion, style, consistency and clean sheets are always a worry.
Thats despite DCL improved performances and goals not forgetting 3 new player's all an upgrade on what we had.
Positives being the ability to bring in quality players, playing generally a more attacking style of play to create and score goals.
That Carlo know the players limitations and until we improve the playing options we will remain inconsistent.
We are where we are because the players are not good enough.
We all know our weaknesses, so do the opposition. Sacking manager's hasn't changed much. We need to improve recruitment of first team ready players.
I agree we stick with Carlo despite not agreeing that another manager couldn't get more from individual players.
Carlo manages, others coach.
Sean O´Hanlon
48
Posted 10/12/2020 at 20:00:01
Joe #12. With you all the way. We'll remain in our shabby stadium, now that Joe Anderson has been arrested, and today he resigned (or was kicked out).

Brian Williams
49
Posted 10/12/2020 at 20:02:12
Sean he was neither kicked out nor resigned. He has stepped aside voluntarily until 31 December, when the police make the decision on whether to charge him or not.
Ian Riley
50
Posted 10/12/2020 at 20:13:29
The manager, coaches, and players need to work harder. When you're in a hole, you need everyone to work harder to get out of it. It's as simple as that.
Billy Roberts
51
Posted 10/12/2020 at 22:35:10
Sean @48 – stop being silly.
Posts 49 +50 very good.

John Raftery
53
Posted 10/12/2020 at 23:22:07
In each of the last two seasons, our home matches against Chelsea have proved to be a turning point in the season. Let's hope Saturday's match has the same effect.
Steve Brown
54
Posted 11/12/2020 at 00:14:18
4-3-3, simplify, insert some pace in the team, cut out individual errors and improve passing under pressure. And repeat.
Brian Murray
55
Posted 11/12/2020 at 01:04:17
Andy @ 42.
Other teams blowing hot and cold well we make that an art form. Usually in one match. Hope the few fans make some sort of difference to the energy and the pressing (dirty word at Finch Farm).
There again, we have had easily the best support, especially away from home, for a long time... so, even when the bear pit is full, we somehow fall short. The likes of Chelsea don't like the high-energy 'in their face' tactics so, if Richarlison turns up, there's no problem.. is there!
Robert Tressell
56
Posted 11/12/2020 at 08:20:03
I had hoped that Carlo would make more of a difference to the players we already had. Calvert-Lewin and Holgate have kicked on, certainly. Not so much anyone else.
It's disappointing but realistically we need better players. We're carrying passengers every game. From what I have seen so far, I think Carlo will deliver results, goals and good football when we get those better players.
John Hammond
57
Posted 11/12/2020 at 10:04:04
We've got fans in the stadium for the Chelea game, right? Should give the players a massive lift. This could be a repeat of last season's 3-1 as long as there's no 3 at the back silly business.
Sam Hoare
58
Posted 11/12/2020 at 10:14:36
Whilst on another thread about Moyes, I was looking at our managers' records.
I was surprised to see that Ancelotti's record so far at Everton (over 29 games according to Wiki) includes a 51.72% win record. Which is the highest percentage for any Everton manager serving more than 1 game since Kendall's first stint.
Perhaps that percentage will drop over the next month. I suspect so. But till now perhaps he has done a better job than I give him credit for.
I still feel that, to the eye, we look like a disaster waiting to happen. Teams seem to be able to pick through us so easily and it's no surprise that we've kept no clean sheets since Week 1. There have been individual mistakes, for sure, but also it just seems that the system (or the players? It's hard to tell) is leaving gaps all over the place.
On paper, it would look like the next three matches might yield a very poor return, but then our best performance of the season was against the league leaders from the capital. Though you might well say they were not up to speed that day, we still played with and energy and precision that has been lacking ever since. Perhaps we might see more of the same against some better teams where the onus will be on them to break us down rather than vice versa? I fear not, but hope springs eternal.
Tony Abrahams
59
Posted 11/12/2020 at 10:30:51
Who needs stats, Sam, when the only obvious thing is that you don't get to manage and be successful at the clubs Carlo Ancellotti has been at, if you don't know what you're doing!
Brian Murray
60
Posted 11/12/2020 at 11:14:51
The word 'transition' in football is a mythical cop-out. All it (we) need is a few more smart acquisitions, then be as fit as possible, press high and put players in positions they know and can deal with because modern footballers need it telling to them simple and they know their job and personal battle.
Jeez, it's easy this manager malarkey. Common sense, no over-thinking or tinkering, Carlo. Oh and get the 3 or 4 youngsters we all know about in the squad and really push for the sales of Sigurdsson, Gomes, Bolasie and Kenny etc. Do all that and watch the good times roll.
Sam Hoare
61
Posted 11/12/2020 at 11:17:27
Tony, yes, there's no doubt that Ancelotti is/was a good manager. But my question was always whether he was the right manager? Were his undoubted skills suited to Everton's need? It's been a long time since he built a team and has succeeded mainly by having to fine tune.
I've been pleasantly surprised by how he seems to have taken to the club but I'm still waiting for an effective system and identity to really emerge. The proof will be in the pudding, I suppose, so let's hope the Christmas pudding is tasty!
Tony Everan
62
Posted 11/12/2020 at 11:39:02
Sam & Tony.
Ancelotti's CV speaks for itself, it's as good as it gets. But, as Sam says, the job at Everton is a lot different to the previous jobs he has had. Strip out the level of talent and then...
To make a success of the Everton job, firstly we need the players to be fitter, faster, physically stronger and more motivated than our opponents. This is what Moyes did over the years. His methods, training, team building and motivation were marginally ahead of many if not all of our opponents. Teams did not like playing us because of it.
Ancelotti is the best in the business at managing big-time ultra high-quality players but, at Everton, we need to be the absolute best at the base level qualities first for the likes of James Rodriguez to shine.
At the moment I would say there is massive room for improvement on the fitness, sharpness, reaction time, rapid pressing and improvement of physicality (some more than others). Get these base fundamentals better than our rivals and the quality will flourish.
As far as I am concerned, this has been the biggest blight on the club since Moyes left. Not many at all would want Moyes back (me included) but it's very hard to argue that he did very well with very limited resources at Everton for the reasons explained.
Barry Rathbone
63
Posted 11/12/2020 at 12:21:14
Tony,
"His methods, training, team building and motivation were marginally ahead of many if not all of our opponents. Teams did not like playing us because of it."
Sorry, Tony, I must take issue with this: we were terribly slow starters under the Moyes regime. The lead in the legs was not expunged from destructive pre-season training till Xmas.
Fortunately, most clubs knew their destiny by then and we could pick up enough points from ensuing non-event games.
We had the Indian sign over Man City for years but everyone else thought of us as non-descript or easy pickings.
If teams are playing well, fitness isn't an issue. Our problem is, we are simply not playing well.
Paul Hewitt
65
Posted 11/12/2020 at 14:00:14
Might not be a bad thing, Chris. Going to need hardworking players tomorrow, to try and get the ball back.
Patrick McFarlane
66
Posted 11/12/2020 at 14:02:48
Paul #65,
We might win the ball back more often, but what the feck are we going to do with it when we do? I could see the merits of dropping James to the bench but not to have him available at all is a big miss. Likely, we'll see a hit-and-hope type of display tomorrow and, if Sigurdsson, starts I'll tear what remains of my hair out.

Tony Everan
67
Posted 11/12/2020 at 14:20:59
James Rodriguez is out. Play a 4-3-3, bring Seamus back if fit or use Kenny. Iwobi replaces James on the right side of the front three.
Pickford
Coleman or Kenny, Keane, Mina*, Godfrey or Nkounkou
Doucouré Gomes Allan
Iwobi Calvert-Lewin Richarlison
*A bit concerned about Yerry getting done for pace tomorrow. If Holgate is up to speed, he could step in, or alternatively Godfrey at centre-back and Nkounkou at left-back.
Geoff Hind
68
Posted 11/12/2020 at 14:23:40
Cheer up, everyone, we could be in the position of Barcelona!
Chris Williams
69
Posted 11/12/2020 at 14:25:08
Coleman out too seemingly, maybe back for Leicester.
James manages to create something every game, either for himself or others, so a miss on balance.
Hopefully not 3 at the back, and being outnumbered in midfield.
Pat Kelly
70
Posted 11/12/2020 at 14:36:56
"I have confidence that playing every three days, we can manage the situation better than once a week." Ancelotti
I'm beginning to wonder what planet Ancelotti is on. Tosun will be given another chance to show he can't score.
James Marshall
71
Posted 11/12/2020 at 14:44:16
I wouldn't give a great deal of credence to anything footballers or managers say to the media. They all get wheeled out and talk a load of waffle to satiate the gathered hounds of doom.
Bottom line is we have a few players injured and will have to adapt. Ancelotti is also not speaking his first language so you're going to hear things said in a way you and I might not as native speakers.
People get so hung up on players' and managers' comments – it's really not worth getting your knickers in any sort of twist about. It's the 90 minutes of painful football you want to worry about!
Brian Murray
72
Posted 11/12/2020 at 15:24:14
If Tosun and Sigurdsson are even considered for the bench, what the fuck is Unsworth doing with the likes of Simms and Onyango? They are getting rave reviews and surely are better than them wastes of space.
Robert Tressell
73
Posted 11/12/2020 at 15:32:35
Brian, the moment for youth has been and gone; if we don't play Gordon and Nkounkou against Burnley, then we won't see them against Chelsea. Simms and Onyango are lower down in the queue.
It's a shame but I'm predicting a back 4 of Holgate, Mina, Keane and Godfrey against Chelsea.
Brian Murray
74
Posted 11/12/2020 at 15:43:04
If he just rinses then repeats, it smacks of a lack of vision or he's just had enough and wants pushing before he jumps. I honestly thought he was different from the usual losers we get.
Michael Lynch
75
Posted 11/12/2020 at 15:53:07
Gutted for those who won tickets in the ballot hoping to see James play, and will end up watching Iwobi and Davies lumbering around out of position while we get schooled by Lampard's exciting young team.
Nkounkou and Gordon must be really crap in training.
Andy Meighan
76
Posted 11/12/2020 at 15:53:08
I'm getting a bit tired of hearing how Spurs weren't up to speed when we played them in the first week. Were, like us, they'd just come off a short pre-season and we had 3 players making their debuts.
The truth is Ancelotti did a number on them. Obviously we won't have the same personnel from that game against Chelsea but, given one or two bad results against them, we've generally done quite well at home against them.
Tough? Yes. Winnable? Yes. It's about time Richarlison came to the party though – he's been out of sorts the last few games.
Joe McMahon
77
Posted 11/12/2020 at 16:00:56
Micheal @75, fully agree. Freezing cold in an empty old stadium watching a slow sideways low scoring Everton. Most of us are defo better off at home.
Darren Hind
78
Posted 11/12/2020 at 16:08:39
"I was surprised to see that Ancelotti's record at Everton is (over 29 games according to wiki) Includes a 51.72% win record"
The only surprise I got when I read that was that somebody actually believed it.The sort of misleading nonsense which gives stattos a bad name.
Leaving aside victories over the mighty Salford and Fleetwood. Carlo has been in charge of 31 EPL games. He's won 12 which means he has failed to win 19.
Patrick McFarlane
79
Posted 11/12/2020 at 16:27:18
According to ToffeeNewsfeed, 16-year-old left-back, Thierry Small, trained with the Everton first team today. That is welcome news, but I doubt we'll see him tomorrow.
Mark Murphy
80
Posted 11/12/2020 at 16:28:49
I'll be watching tomorrow (it's that or StrictlyCome Dancing, for fuck's sake) but I'm not at all worried. They should beat us comfortably – we're a year at least behind them – but I'll be looking for the tweaks and tactics that Carlo tries and the attitude of the team on the pitch.
To be honest, we'll probably learn more in defeat tomorrow than in a win – a win will just patch over the weaknesses in the squad. If a good pasting shows what we need in the next 2 windows is what it takes, then so be it.
On saying that UTFT – gerrintoem!!!
Mike Gaynes
81
Posted 11/12/2020 at 16:55:56
Robert #56, to your list of players who have "kicked on", I would add the name Michael Keane. His improvement under Carlo has been stunning.
Agreed, though, that the bottom line is we need better players, and more of them.
Tom Harvey
82
Posted 11/12/2020 at 17:33:05
Mike Gaynes @ 81,
Yes, he's improved; his positional sense seems to be that much better this season, he's involved in less panic-button situations and looks a fair bit more composed.
In any defence that includes Mina, his partner has to offset his own position to include what Mina is doing; maybe Keane has now adapted to this.
The good news is we now have Godfrey, this is going to be an absolute bargain at £20(ish)M; he can defend, he's mobile, agile and he reads the game well and also he has a taste for getting forward. I'm mighty pleased with this buy.
The quicker he can spend time with Keane in a stable defence, the better. Keane has some good attributes, but his pace and turning circle are not the better ones. With Godfrey next to him, I feel we'll be that more robust.
Steve Carse
83
Posted 11/12/2020 at 17:35:13
Mike (81), agreed Keane's performances have improved, but largely due to Ancelotti playing with a back line sitting somewhat deeper than anything we've seen previously, reducing the number of times Keane is likely to be turned.
Peter Mills
84
Posted 11/12/2020 at 17:39:24
I pursued the whole ticket application process, almost entirely because I wanted to watch James in action. It seems that has been thwarted.
My devotion to the cause included visits to various Covid testing centres, none of which could guarantee a result within 30 hours. To achieve this, I was directed to Anfield, where I had to undergo a test in the kop bar.
I found the exercise rather less wholesome and acceptable than the bowel cancer screening test I undertook recently.
Mike Gaynes
85
Posted 11/12/2020 at 17:52:50
Steve #83, yes, but he's also passing the ball out of the back with vastly greater success -- and confidence -- than he has ever shown at any point in his career. His ability to pick a long pass has at times been brilliant, and we'd never seen that before. I would credit that entirely to Carlo.
Peter #84, deepest condolences, but at least all the screenings came out right, and that's what matters.
The Fiver says we are suitors for Dele Alli and Harry Winks in January. Comments?
Tony Twist
86
Posted 11/12/2020 at 17:57:38
Ancelotti has made this all the more difficult by making idiotic team selections like playing people out of position. Using players accustomed to the position would have at least blooded the stand-in left-back (Nkounkou), right-back (Holgate) and Richarlison stand-in (Gordon), even if their inclusion didn't change the outcome of those matches.
Playing players in positions they are used to would have made it much harder for the opposition to beat us and might have produced more favourable results and meant that confidence on the pitch wouldn't be as low as it is. Those players would be totally up to speed with the pace of matches, tactics and their jobs within the team ready for this long run of tough fixtures.
Very poor management.
Jay Harris
87
Posted 11/12/2020 at 18:33:33
Mike G,
IMO we have better players here at the moment and adding either or both of those 2 will add to the wage bill especially on Levy's usual terms.
I think we need a goalscoring MF player and a solid Defensive mid (Gana Springs to mind) and if the budget stretches to it cover at RB if JJK is not up to it.
Mike Gaynes
88
Posted 11/12/2020 at 18:40:14
Jay, if the price is reasonable I think Winks is the pacy terrier we need in midfield, the one we hoped Davies would be.
BTW, great article on Ben Godfrey in The Guardian:
https://www.theguardian.com/football/2020/dec/10/everton-ben-godfrey-i-started-a-mission-of-proving-people-wrong?utm_term=8907bc028660471da178fb8e34aba054&utm_campaign=TheFiver&utm_source=esp&utm_medium=Email&CMP=fiver_email
"It is unbelievable to be able to learn from this manager. I am so appreciative of the opportunity. He has worked with some world-class players and, the experiences he's had, I can soak everything up. And I have been doing. He gives you confidence. He's quite laid-back and to be honest he simplifies things for you. He makes the game as easy as possible for you and I'm really enjoying learning from him. Believe me, everyone here is desperate to achieve something and we are working hard to do something we can all be proud of at this football club."
Geoff Williams
89
Posted 11/12/2020 at 18:43:19
Be prepared for some 'creative' selections for tomorrow's game, more round pegs in square holes.
Jay Harris
90
Posted 11/12/2020 at 18:45:36
Personally I don't rate Winks as highly as Tom Davies and Delle Alli has an attitude problem.
Great article but Godfrey is no left back and I dread if he gets played there tomorrow.
Jason Li
91
Posted 11/12/2020 at 19:24:30
Mike, yeah, Godfrey another great Ancelotti/Brands signing.
Loads of good signings since Ancelotti joined.
Imagine how good the squad looks once they've brought in another 5 first-team ready players?
As we can't go out and spend on the Pogba's or a Kepa or Havertz or Morata or Alisson's of this world, with this in mind as we wait for our captain to return who costs a fraction of these players, and Holgate and DCL and other lower-priced players to get us through December with Ancelotti, let's hope our much lower costing squad gives Cheski a good game.
---
Add Your Comments
In order to post a comment, you need to be logged in as a registered user of the site.
Or Sign up as a ToffeeWeb Member — it's free, takes just a few minutes and will allow you to post your comments on articles and Talking Points submissions across the site.