Small 'relaxed' about first Everton contract
Friday, 2 April, 2021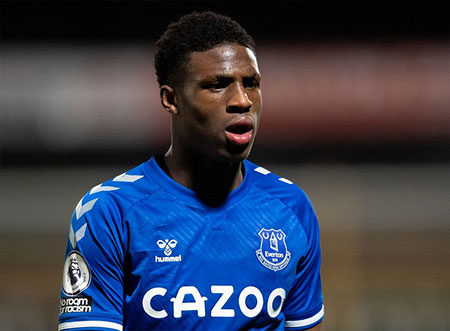 Highly promising young fullback, Thierry Small, is said to be sanguine about negotiations over his first professional contract with the Toffees.
The 16-year-old won't be eligible to sign pro forms until August and, according to the Liverpool Echo, the Solihull-born starlet isn't harbouring desires to leave in a bid to get first-team football sooner rather than later.
They say that it is their understanding that, "the defender and his camp are relaxed about negotiations due to the length of time before his next birthday and there is no current insinuation he is considering a move elsewhere."
The report comes in the wake of a claim made in The Express that Small doesn't want to wait around for his chance at Everton and has been seeking talks with the likes of Manchester United, Arsenal, Brighton or Brentford rather than sign a three-year deal at Finch Farm.
Small, who came to prominence on the BBC's Wonderkids series, is already part of the Under-23s setup, recently making his senior debut in an FA Cup tie against Sheffield Wednesday, and Everton have high hopes that he will be a future star.
---
Reader Comments (33)
Note: the following content is not moderated or vetted by the site owners at the time of submission. Comments are the responsibility of the poster. Disclaimer
Dave Williams
1
Posted 02/04/2021 at 22:37:39
We can't afford to lose him. A bit radical perhaps but I'd consider selling Digne which would clear the way for Small (if he really is that good) and would raise decent money for one of the creative midfielders we need.
Man Utd cleared the way for Beckham and Co – it's a chance worth taking if (I repeat) Small is that good.
Paul Hewitt
2
Posted 02/04/2021 at 22:39:27
Sell Digne to accommodate a 16-year-old??
Do me a favour!
Alex Gray
3
Posted 02/04/2021 at 22:41:58
I wouldn't sell Digne but, by the time Digne needs replacing, this lad could be a ready-made option. I don't want to lose him.
Danny O'Neill
4
Posted 02/04/2021 at 23:10:40
I posted elsewhere on this as I read this yesterday.
Actually credit the lad for wanting first-team playing time. Realistically, with the first choice French international left-back in front of him, that's not happening any time soon at Everton.
If this is true, I actually like to see a footballer making a football decision rather than a financial one.
James Fletcher
5
Posted 03/04/2021 at 02:15:02
Have to agree with you, Alex, the timing in our squad seems perfect for him – by the time Digne needs replacing, he will be perfectly positioned to start to fill in.
Paul Kernot
6
Posted 03/04/2021 at 05:25:07
If we had a right-back who provided as many accurate crosses as Digne, we'd be a fair bit better than we are now immediately. To have such a highly rated 16-year-old coming through ready to take his place fills the role Robert Tressell discusses in his article on succession planning precisely. Digne will get injured at some point, guaranteed, so he'll get his opportunity soon enough.
Colin Glassar
7
Posted 03/04/2021 at 09:12:58
Our recent history with young players, eg, Lookman, Kean, Vlasic, Deulofeu etc... doesn't bode well for this young man, or Nkounkou.
Geoff Cadman
8
Posted 03/04/2021 at 09:14:40
Lookman, Kenny, Dowell, all Under-20 World Cup Winners we all hoped would become first-team regulars. The lad is 16... a long way to go yet.
Brent Stephens
9
Posted 03/04/2021 at 09:19:43
I wonder if Small is thinking that, by the end of 6 months, his development might have progressed even further, increasing his value – especially if he gets a bit of first-team game time towards the end of the season.
Craig James
10
Posted 03/04/2021 at 09:23:01
This to me is the agent trying to get more money for the player on their first professional contract.
I admire the player if it is solely down to playing first-team footy but he would not get into the other teams mentioned monitoring the situation or walk into any Championship or League One sides at the moment.
Imho, the club need to provide a clear path to first-team footy, ie, U23s this year, on loan in League Two next season, then League One, then Championship etc, which should take the player to 19 or 20 years of age. With plenty of game time under the belt to develop, maybe then he could be Digne's natural successor.
From what I have seen of him, he has something but, like most young players, is inconsistent and he isn't a Wayne Rooney or Messi, so my advice to him would be "Relax, bide your time, as you are at the right club to develop as a player and could be in the first team by the time our new stadium opens."
Robert Tressell
11
Posted 03/04/2021 at 09:51:59
Small sometimes plays left-wing at U23s level and really he can cover the entire left flank like Alphonso Davies. If he stays, he will get opportunities. The trouble is, there's no reason for loyalty. We pinched him off West Brom so he'll need persuading we remain the right place for him.
Dave Williams
12
Posted 03/04/2021 at 09:54:25
Paul,
I said to sell Digne "if Small is that good"! Is he a Rooney, albeit a defender, or is he just a kid with promise? If the former, we can't afford to lose him; if not, then he must be developed here or moved on.
Barry Rathbone
13
Posted 03/04/2021 at 10:56:08
"The defender and his camp are relaxed about negotiations. "
16 years old and he has a "camp".
Don't suppose it's Tawd Vale with the cub scouts. (19th Aintree, sixer, vice capt and scorer of the extra time winner the cup final – right here – thank you!)
Eddie Dunn
14
Posted 03/04/2021 at 11:00:16
Let's not forget that there is another very promising lad also in front of him.
Tony Everan
15
Posted 03/04/2021 at 11:06:35
Barry, He wants more money so he can graduate from having a mere camp to an entourage. Maybe the club could build his staff a new wing at Finch Farm.
I am not surprised other clubs are queuing up to lure him, he looks to me from the very few times I above seen him play like a real quality prospect.
If he wants a bit more money to get him to stay then pay him it. Give him some assurances he will get opportunities. It will be money well spent, and recoverable if he wants to move on in a few years.
The issue is Nkounkou ahead of him in the queue . The manager and his backroom will be having discussions about both players strengths and whether they need to be in direct competition with each other.
Potentially, if Digne moves on in a couple of years, with Nkounkou and Small primed to take over the role we could have a very strong left side for the long term.
Dave Abrahams
16
Posted 03/04/2021 at 11:12:28
Barry (19), who was the team you played in the final of that game. Vice captain eh Barry, was you one of the Scoutmasters favourites?
Brent Stephens
17
Posted 03/04/2021 at 11:12:35
Whitaker, Eddie? He looks good. Also quite like the look of Warrington, I think it is.
Interesting! Here's a link to info on Lewis Warrington
Link
But the picture shown on the right is of a Lewis Warrington, US navy 19th century.
Mike Allison
18
Posted 03/04/2021 at 12:29:03
The kid is 16, he can't possibly be expecting to be a Premier League defender yet.
The thing this highlights for me is how important it is to be in Europe and progress in the cups. People sometimes argue that this causes fixture congestion, but the more games you have, the more quality players you can keep happy by giving them game time.
If we have two games a week, every week next season, then Nkounkou can start more often and Small can begin to have first-team involvement as 3rd choice at the age of 17. He's unlikely to get that anywhere else.
Danny O'Neill
19
Posted 03/04/2021 at 12:35:42
Be able to watch him today at 2pm against Man City.
Tony Abrahams
20
Posted 03/04/2021 at 13:44:23
Good point Geoff@8. Players have got to play to develop, and usually for a manager who has faith in them, which is possibly why Lookman, is beginning to look like a good little footballer again.
It's a money game, doesn't start that way, but it's what it eventually becomes, and earning more money sometimes creates a more difficult pathway, so hopefully the kid is advised properly.
Bill Griffiths
21
Posted 03/04/2021 at 15:05:32
I've noticed on this thread and another that a few posters seem to think he's next in line behind Digne. Have they all forgotten about Nkounkou?
Steavey Buckley
22
Posted 03/04/2021 at 16:10:32
Thierry Small is not going to walk into any top club's football team. He is more likely to end up playing in their academies than in their first teams. But I do believe he should be added to the Everton first-team squad and given games from the subs bench to show him that Everton care about his ambitions for first-team football. Or send him out on loan. But I have to agree with him, the academy has become a 'dead end' for first-team ambitions.
Danny O'Neill
26
Posted 03/04/2021 at 16:18:32
From what I saw today, a long way to go. U-23s (a far from ideal set up) is the next step for him.
7 step overs might look good but when the outcome is a goal kick to the opposition, it shows you the lad has a lot to learn. Understandably. He's 16. Let him make mistakes and learn, but not in the first team. Not in anyone's first team. It will ruin him.
Thomas Richards
27
Posted 03/04/2021 at 16:22:29
Small, Onyango, Nkounkou. Calls for these lads to start games are unrealistic, Danny. We need to let them develop before starting them.

Danny O'Neill
28
Posted 03/04/2021 at 16:26:34
Not getting carried away with one match, so I would appreciate others' opinions, but I would add Lewis Warrington to that list, Thomas. Really impressed with what I saw today. A composed orchestrator of a midfielder if he develops. You can never tell at this age but I really like what I saw today.
Thomas Richards
29
Posted 03/04/2021 at 16:29:07
I haven't seen much of him, Danny.
Good judges of a footballer are giving him a shout. Will keep an eye on him
Tony Abrahams
30
Posted 03/04/2021 at 16:38:27
I only watched the last 15 minutes, Danny, but you can see that Warrington wants to be involved all the time though, which is something all good midfield players want to be. I also liked the composure of our Number 4, but I never watched that much today, and so I'm only going off a little glimpse, but that was a fantastic win for Everton's kids today!
Bobby Mallon
31
Posted 03/04/2021 at 21:09:09
Craig @10 and everyone else. What if he's our defensive Wayne Rooney type, just full of talent, do we send him out on loan then? If he's good enough, he plays first-team football in front of France's second-choice left-back if need be.
Bill Gienapp
32
Posted 03/04/2021 at 22:03:00
As a few others have noted, it's interesting how quickly people seem to have bailed on the idea of Nkounkou being the next big thing and are now eyeing Small as Digne's would-be successor.
Barry Rathbone
33
Posted 03/04/2021 at 22:30:17
Dave 16
I can't remember to be honest but at a guess I think it was a troop from the Old Roan they were thought of as posh kids at the time. I do remember the final being played somewhere in Warbreck and completely losing it after scoring.😆
If heaven is a collection of great personal experiences that one is on my list.
Nicholas Ryan
34
Posted 04/04/2021 at 14:33:10
This lad is 16... by the time he's 20, he might be 'Thierry Who?' Outside of a Rooney or Messi, it's impossible to predict how they will progress at that age.
For example, some friends of ours, who are retired and have a large house, provide lodgings for LFC Academy players. A few years back, they had a big African lad who was a centre-back and was the "next big thing"; at the same time, they had an unremarkable goalkeeper who nobody talked about.
The centre-back has disappeared without trace, while the goalie was Peter Gulacsi, now playing at the top of the Bundesliga with RB Leipzig.
Steven Telford
35
Posted 04/04/2021 at 20:44:51
He is considering going to United for fear of not getting game time at Everton... The times they are a-changin!
Meanwhile back on planet earth, as Barry said, a 16-year-old with 'a camp', FFS! I wonder if Paul Stretford carries a picture of him in his wallet and disappears off to the gents for quick one?
Danny O'Neill
36
Posted 04/04/2021 at 22:06:04
Very well put, Nicholas. It's understandable and easy to get excited about young talent, but we just simply never know how they will develop. We should just let them develop, not put the burden of expectation on them at 16, 18 or even 20 years old.
---
Add Your Comments
In order to post a comment, you need to be logged in as a registered user of the site.
Or Sign up as a ToffeeWeb Member — it's free, takes just a few minutes and will allow you to post your comments on articles and Talking Points submissions across the site.