Sir Philip Carter, CBE
Everton FC Chairman, 1978-91; 1998-2004
Life President, 2004-2015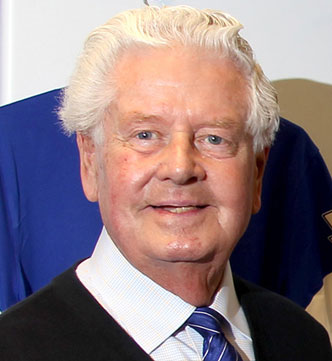 Sir Phillip Carter was Everton Chairman from 1978 to 1991 and, as such, presided over the most successful period of Everton's history – the golden period between 1984 and 1987 when the club won the FA Cup, two league titles and the European Cup Winners' Cup before being denied entry to the European Cup by the ban on English clubs following the Heysel disaster.
As such, his greatest acheievement at Everton might have been what he didn't do in that he resisted strong calls to sack Howard Kendall in late 1993, just months before the former playing legend delivered the FA Cup.
He was reappointed as Chairman in December 1998 following the resignation of Peter Johnson but retired again from the role and the Board of Directors in June 2004, making way for Bill Kenwright to assume his long-cherished role as leader of the club.  In recognition of all his contributions to the club, Sir Philip was given the title of "Life President". 
Carter returned to the Board in 2008 as Kenwright had whittled the number of Directors below the minimum threshold of three following the resignation of CEO Keith Wyness. He passed away at the age of 87 on 23 April, 2015.
Kenwright eulogised his predecessory by saying: "Words cannot describe my feelings of loss primarily as a friend but also as an Evertonian. Sir Philip was simply a giant... a great man, a great leader and the very best friend and colleague anyone could ask for. I never once met him without calling him chairman. I never will. That title was his by right. He will always have a major place in our great club's history."
Born in Scotland in 1927, Carter moved to Liverpool, where his parent had married, following the death of his mother. A boyhood Evertonian, he attended Waterloo Grammar School and went on the serve in the RAF from 1945 to 1947 before joining Littlewoods the following year where he was mentored by the firm's founder and famous Everton chairman, Sir John Moores. He was made managing director of Littlewoods in 1976 and retired in 1983
In the meantime, Carter had been appointed to Everton's Board of Directors for the first time in 1975 and was elevated to Vice-Chairman in 1977 when Moores left the Board and became Chairman in his own right in 1978.
He also served as President of the Football League from 1986 to 1988 and was an instrumental figure in the formation of the Premier League in 1992, having been knighted by the Queen the year before.