Bill Kenwright, CBE
Everton FC Director, 1989 - present
Everton FC Vice-Chairman, 1998 - 2003
Everton FC Chairman, 2003 - present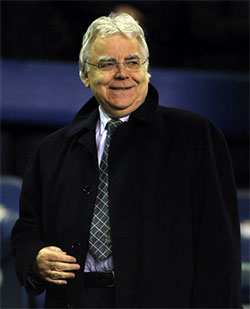 (Photo by Matthew Lewis/Getty Images)

A lifelong Evertonian who frequently regales supporters with tales of his days in the Boys' Pen at Goodison Park, Bill Kenwright was elected to the Everton Board of Directors on 23 October 1989.

After failing in a bid for control of the club in 1994 he eventually succeeded in buying Everton six years later when Johnson was persuaded to sell his controlling stake.

Kenwright installed former supremo, Sir Philip Carter, as Chairman but eventually took the helm himself in 2004 when Carter became Life President until his passing in 2015.

Born on 4th September 1945 in Liverpool, Kenwright attended Booker Avenue County Primary School and then Liverpool Institute High School before makng his name as an actor in the 1960s with in the role of Gordon Clegg in Coronation Street. He would go on to later parts in The Villains, the Liver Birds and the film Carry On Matron.

His greatest success would come as of the country's top theatre producers, scoring hits with Joseph and the Amazing Technicolor Dreamcoat (the rights to which he later sold to Lord Andrew Lloyd Webber for £1m), Blood Brothers, and the stage version of Shirley Valentine.
1994
Having enjoyed a period of unprecedented success in the mid- to late-1980s, Everton FC was in the midst of a marked decline as the ban on English clubs competing in Europe following the Heysel tragedy led to the break-up of the club's best team of the modern era. Lady Grantchester, now the head of the Moores family, had indicated that the club's owners would be willing to sell their stake in Everton FC, leading to two rival bids for control in 1994.
Kenwright headed up a consortium that included Prof. Tom Cannon, Tony Tighe, Mike Dyble and construction magnate Arthur Abercromby but he was eventually persuaded that Birkenhead-based tycoon Peter Johnson, a man of considerably deeper pockets, would be better placed to return Everton to former glories.
1999
Johnson's tenure promised much at the outset but he oversaw a tumultuous period that took Everton to the brink of relegation in 1994 and again in 1998 before frustrated supporters, unsettled further by questionable plans to relocate the club to a brownfield site at Cronton Colliery, made his position as Chairman untenable.
Once again Kenwright stepped forward with a consortium that included friend Paul Gregg and his wife Anita to bid for control and with no one else apparently interested, his True Blue Holdings succeeded in negotiating Johnson down to a price of £857 per share – effectively allowing the then-chairman to walk away with his initial investment of £20m+.
2002 - 2003
Relatively early in their onwership of the club Kenwright and True Blue Holdings were faced with declining fortunes on the pitch where Walter Smith's tenure as manager was faltering badly despite its early promise. Smith had come south of the Border following a glittering managerial career at Glasgow Rangers where it was hoped he could emulate the success in the Premier League of another uncompromising Scot, Alex Ferguson.
Unfortunately, by March 2002 it had become obvious that Smith's time as the Toffees' boss had come to an end and, following an awful run of results thtat culminated in a dreadful 3-0 FA Cup defeat to Middlesbrough, the decision was taken by the Board to sack him.
Smith's last act, however, is believed to have been to recommend his successor, another Scot – albeit one with no top-flight experience – in the form of Preston North End boss, David Moyes. Just 39 at the time, Moyes was nevertheless regarded as one of the most promising manager's in the game and had been approached by Ferguson at Manchester United to become his assistant but he turned it down feeling he wasn't ready.
Moyes's impact was instantaneous – he won his first match in charge of Everton, a 2-1 home victory over Fulham and would lead the club to safety from relegation that spring with room to spare. It marked the beginning of more than a decade of consolidation, stability and rebuilding at Goodison Park during which the spectre of relegation would be removed after a scare in the new manager's second full season when the Blues finished 17th.
Though he was nominal Vice Chairman following the takeover, Kenwright was the de facto leader of the club from the outset and it was he who led what had the potential to be the biggest single initiative in Everton's history since the club's move to Goodison Park in 1892.
Together with English Partnerships, Liverpool City Council and the North West Development Agency, Everton proposed to build the "Waterfront Stadium and Arena" at Liverpool's Kings Dock, a new ground and entertainment venue in a prime location on the banks of the Mersey.
With overwhelming backing from supporters, the club's proposal emerged as the preferred bid for the site but the Everton board was already battling to raise its £30m commitment to fund the development. When cost estimates began to rise, almost doubling by 2003, Everton were forced to accept defeat at withdraw their proposal, with a smaller concert and exhibition arena chosen instead.
A reverse mortgage scheme proposed by Gregg to salvage the scheme at the eleventh hour but would have effectively handed control of Everton to him was rejected by Kenwright and Jon Woods and the Blues' waterfront dream died.
2004
The year that Kenwright became Chairman in his own right would be one fraught with controversy over the sale of young star Wayne Rooney to Manchester United and the infamous Fortress Sports Fund debacle that eventually succeeded in forcing Gregg off the Everton Board and, with the help of American-based entertainment magnate Robert Earl, consolidated power in Kenwright's hands.
Rooney had burst onto the Premier League scene as a precocious 16 year-old and was, by the 2004 European Championships, an established England international and, perhaps, the best player that Everton's youth Academy had ever produced. The precise machinations that led to his departure from the club he had grown up supporting remain obscured by spin and assertions by both sides but the combination of urgings from the player's aggressive agent, Paul Stretford, and Everton's increasingly dire financial situation greased the wheels for Rooney's acrimonious sale that August in a deal that eventually rose to £27m.
It is believed that the vital cash injection from what was, at the time, a club record transer staved off the very real possibility of Administration, a pressing state of financial affairs that looked like it might be eased towards the end of 2004 with a £15m rescue package brokered by Swiss-based financier Christopher Samuleson. Despite repeated assurances from Kenwright that the Fortress Sports Fund money was "48 hours" from being deposited into the club's bank account, it never materliased. A club official would later admit to shareholders that the FSF had been a calculated ruse to push Gregg out of the club.
2005 - 2007
Despite the ructions in the Boardroom and Kenwright's failure to follow through on his promise of signings to fill the void left by Rooney, the 2004-05 season proved to be a surprisingly successful one thanks to the managerial appointment he had facilitated in 2002. David Moyes had been brought in from Preston to re-energise a team that was heading for another relegation battle before the Scot masterminded a successful escape from the drop and, three years later, steered Everton to fourth place in the Premier League and a shot at qualification for the Champions League.
The club's bid for entry to the group stage of the successor to the old European Cup was foiled agonisingly by Villarreal and a highly controversial decision by referee Pierluigi Collina to deny what appeared to be a legitimate goal by Duncan Ferguson. It would be Everton's best chance of breaking the hegemony of English football's new elite for a decade.
2014 - 2016
A virtual ever-present at Everton matches, particularly at home, Kenwright became conspicuous by his notable absence from Goodison Park during the 2014-2015 season, leading to mounting speculation regarding his health. Fears that the Chairman was seriously ill were lent credence by the first acknowledgement as such in the media by John Richardson of The Express in January 2015, followed by various doom-laden prophecies by the infamous Goodison rumour mill.
The Chairman acknowledged his illness in due course, without providing any detail, and insisted that he was on the mend but an apparent escalation in the club's search for fresh investment at the end of the year merely added further fuel to the fires of speculation.
A £200m bid by a partnership of American venture capitalists, John Jay Moores and Charles Noell, under the banner of JMI Services, looked to be on the verge of completing a takeover of the Everton by the end of January 2016, paving the way for Kenwright to step aside completely after 16 years at the helm. A period of silence following the expiry of the Americans' period of exclusivity and due diligence cast doubt on the proximity of a deal until the emergence of British-Iranian billionaire, Farhad Moshiri, in late February.
The Monaco-based businessman came seemingly out of the blue from the perspective of Evertonians and the public to purchase a 49.9% stake in the club, with Kenwright and Jon Woods each selling holdings totalling 13% of shares in Everton and Robert Earl ending his decade-long association with the Blues by selling up completely.
The move gave Moshiri de facto control at Goodison and there were immediate promises of an expanded kitty for player acquisition and retention as well as a commitment to examine the long-standing stadium issue.
---
Blues takeover: Kenwright's message to fans
Exclusive Liverpool Echo interview by Ken Rogers
Monday 15 February 1999

BILL KENWRIGHT today gave the clearest hint yet that he is closing in on a deal that will signal a new beginning for Everton Football Club.
The Goodison Park vice-chairman and his advisers have spent the past four months working on a complicated financial plan to try and secure the 68 per cent majority shareholding held by Peter Johnson.
The fans have increasingly been demanding answers to problems that have still not been finally resolved. They have interpreted silence from the boardroom as a signal that nothing is happening. On Saturday, a small group of supporters organised a petition calling on former chief Johnson to sell his shares immediately and at a fair price to end what they perceive as a worrying financial stalemate.
Kenwright today agreed to speak exclusively to the ECHO to help calm the fans fears. The vice-chairman has been reluctant to say too much with negotiations at such a delicate stage, but he feels that he must now clarify a number of important points to ensure that Evertonians remain totally united as the club enters a crucial phase of the season.
Kenwright said: "I want to make it clear that in no way has Peter Johnson been obstructive to me. He has not asked for hundreds of millions of pounds. He has made me feel confident that he wants me to take over Everton Football Club.
"Obviously, it would not be right to discuss in public the actual size of any offer and what he might require to step aside, but I have always been hopeful that we can reach an agreement and continue to be so."
This statement from Kenwright might seem to suggest that there is still a lot of work to be done, but his caution is clearly linked to what happened five years ago when he actually had an agreement in his possession signed by Lady Grantchester of the controlling Moores family which appeared to give him control of the club.
Kenwright's elation was shattered when Johnson stepped in at the very last moment to snatch the club from his grasp. This time round, Kenwright will take absolutely nothing for granted, nor will he tempt fate, until the ink is dry on this latest agreement.
The title of the theatre impresario's new film – "Don't Go Breaking My Heart" – seems perfectly apt right now as he moves into the final straight in his dealings with his former arch-rival Johnson. Kenwright shows little or no animosity towards the man who DID Break his heart back in 1994.
He explains: "If you had said four years ago after my failed takeover bid that I would subsequently be sitting in the vice-chairman's seat with Sir Philip Carter back in his former role as chairman, I would have said you are barking mad. But that is where we are today.
"The fact that I am even talking about a takeover bid fills me with mixed emotions. On the one hand I am thrilled. On the other I am sad that things have not worked out because it means the club has not progressed the way all Evertonians like myself hoped it would. I swallowed my personal disappointment five years ago and put all of my backing behind Peter Johnson.
"I stood aside. He was the man Everton wanted at that time. He was also given the backing of the fans and the media. I am sorry it has not worked out. I would have been happy if it had because this would have indicated that the club was on top and moving forward and this is the only thing I am interested in.
"So while I am thrilled that my dream of leading the club is still alive, it is still a double-edged sword. I feel that the new leader of Everton will face a bigger challenge now than when Peter Johnson first took the chair.
"It's a whole new ball game. You only have to look at the vast investment in the other leading clubs, not least in London. "Anyone looking at the Everton situation will have to deal with three key areas. The first - and the one that I have been dealing with - is the complicated challenge of securing the major shareholding. Stage two is to stabilise the club financially. Finally, it is vital that manager Walter Smith is provided with sufficient funds to suit his needs.
"Some fans might say that our need is now. All I can say is that even as we speak, if Walter came to me and said he wanted a certain player, I would move heaven and earth to help him, as would Sir Philip Carter and the rest of the board. But Walter is a realist.
"He has a total grasp of the present situation. Despite speculation about his future, he is in the place he wants to be, doing the job he wants to do. He is under no pressure from the board. He knows what the score is. I have a huge confidence in him that he will lead us forward on the field. "
Kenwright understands why the pressure is getting to his fellow supporters and he can associate with those who have begun to point the finger at the board and ask serious questions about the way the club is being run. He said: "I was one of those fans who wrote angrily to the directors 40 years ago when Everton got rid of my hero Dave Hickson.
"I told them they didn't understand us. I therefore had every sympathy with those people who were totally bemused about the sale of Duncan Ferguson to Newcastle. It was history repeating itself.
"However, we have had a serious financial situation and it is something the present board is now trying to deal with.
"When I got involved in my first bid to take over the club five years ago, I knew nothing about stocks and shares. But I learned very quickly. People often say to me: 'Get your cheque book out, Bill.'
"If these people think that I have a cheque book with tens of millions of pounds at my disposal, they have the wrong person. I could no more buy all of Peter Johnson's shares than play centre-forward this Saturday. These amounts are not in my personal ball park.
"But then they are not in the ball park of many other Evertonians like me. Someone like Paul McCartney is an Evertonian and he might have that kind of cash as an individual. But I am the only one who has come forward publicly to try and find a solution and help take this club forward.
"I am not going to be the major shareholder when the deal is finally done. We have naturally been talking to powerful financial institutions to enable us to reach this stage.
"What I will be is a catalyst to get things going with me in the driving seat alongside the chairman Sir Philip. I believe it is very important that we have someone at the helm who understands the club and the fans. It won't be Everton in the hands of an institution and that institution will never drive the club. I will do that with Sir Philip Carter and the board. If everything comes right, as I hope it will, I will explain how it works to the fans.
"I don't want any grey areas and I won't mislead the fans in any way. We have been working on this on a daily basis. I have had a heavy involvement along with my staff and advisers and I'm sure Peter Johnson's advisers have been extremely busy also.
"Obviously, the one thing I don't know is who else Peter Johnson has been talking to, but in all my dealings with him, I believe he wants me to make this deal succeed."
Kenwright spoke candidly about his relationship with his former arch-rival. While both are very different people, they have found themselves launched together by the Everton experience. Johnson found his situation at Goodison totally untenable as fans waged war against his regime and his style of management.
Kenwright said: "Do I think he has made mistakes? Yes, definitely. Is he the devil that some fans would like to paint him? No. Do I in any way condone the threats and talk of violence against Peter Johnston? Definitely not. Do I think it is right that he can't feel comfortable in his home city? Definitely not.
"Whoever takes over from Peter Johnson just has to get it right. It's not just about having a big heart and a passion for your club. I look at Mark Goldberg at Crystal Palace. He is a Palace fanatic, but he is the first to admit that he has not got it right yet. You look at people like Francis Lee and what happened to him at Manchester City. Franny was City through and through, but it all went wrong for him.
"I have a lifestyle at present that 99% of the people I meet appear to envy. The image is of a man in London with a plush office and a beautiful partner whose life revolves around film previews and hit shows. I am very happy with my life, but if the Everton deal goes through I will have to give a portion of it up because there is a football stadium in Liverpool that will draw me to it even more than it does at the moment.
"I want to play a part in the rebuilding of the Blues, but I have to make sure that everything is right. I have always said that if there was someone out there with my love of the club and more money than me who could bring a better future to Everton Football Club, I would shake them by the hand as I did with Peter Johnson five years ago.
"I repeat that the fans and the media wanted him at that time. It was a sobering experience for me and it's the reason why this is no ego trip. I dislike the glare of the media. The last thing I want and need is to be on the back pages of the national newspapers. I turn down 20 interviews a day. I m not involved in this to get my name in lights.
"It's just that I went to Goodison Park as a kid and it instantly changed my life. The love affair still rages, despite the bitter disappointment of losing out on the club in 1994."
Clearly, Kenwright is still coming to terms with the dramatic about-turn at Everton. He said: "It is only recently that Peter Johnson has decided that he wants to relinquish his majority shareholding. We have been working hard on a possible takeover. We have been trying to steady the ship. We have had to deal with the aftermath of the Duncan Ferguson saga and the fact that the team has not been performing well - until Saturday.
"Walter Smith and I have spent some time together and we both have the same beliefs. We are building up an excellent working relationship.
"I believe that every player, whether at youth, reserve, first team or international level, needs to know that there is a real future for this club and that everyone is pulling in the same direction. This is why we need to settle this matter and demonstrate from the top that everything is flowing forward. Kenwright, a man used to dealing with success from London's West End to New York s legendary Broadway, wants Everton's name back in lights, but he is determined to keep his feet on the ground and provide sensible leadership.
He said: "It would be stupid to make rash claims. But what you can do is inspire a spirit of revitalisation which Walter Smith and my chairman Sir Philip Carter can work on. We have to deal with the present situation and get the future mapped out. Leadership has never been so important. We are fourth from bottom, but we are not going to embrace relegation and say we are going down.
"I get dozens of letters every week from fans who are obviously worried about the present situation, but the bottom line is that they love their club and simply want to support it in every way they know they can. Evertonians are remarkable supporters and they truly deserve a club worthy of them.
"I can understand why some fans have been getting edgy with no positive news about the takeover. This is why I have spoken to the ECHO to try and explain exactly where we are up to. The fans will be the first to know when we have some positive news. I hope we will be able to give it to them sooner rather than later."