Dr David Marsh, MBE
Chairman of Everton Football Club, 1991–1994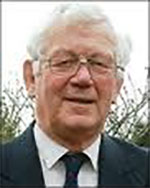 A former amateur golfer, Dr David Marsh served as chairman of Everton between 1991 and 1994 when he succeeded Sir Philip Carter.
He oversaw the return of Howard Kendall for a second spell as manager in his first year and was responsible for courting Mike Walker from Norwich City, an appointment that had the potential on paper to be successful but which ultimately proved to be misguided.
Dr Marsh presided over a period where Everton were stagnating following a period of rare success in the mid-1980s and the inertia that continued in those crucial early years of the nascent Premier League, which had been founded under Carter's partial guidance, would have lasting and damaging consequences.
He was succeeded as chairman by Peter Johnson once former owner Sir John Moores's shares could finally be sold upon his death in 1993. Johnson completed the purchase of a 68% stake in Everton in March 1994.
Away from football, Dr Marsh had been president of the Lancashire and English Golf Unions between 1973 and 1975 and he was made captain of the Royal and Ancient Golf Club of St Andrews in 1990, the most prestigious office in world golf. He twice won the English Amateur, represented England on 75 occasions and helped the Great Britain and Ireland team win the Walker Cup in 1971.
He was awarded the MBE for services to amateur golf.