Sir John Moores
Director of Everton Football Club, 1960 – 1977
Chairman of Everton Football Club, 1960 – 1965; 1968 – 1973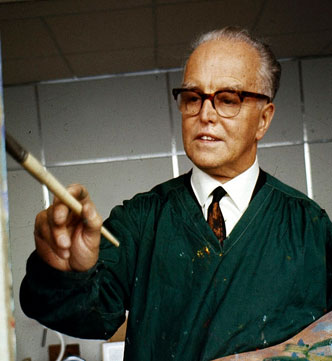 Getty Images
Everton FC were perhaps the first beneficiary of a mega-rich sugar daddy in the form Sir John Moores under whose stewardship the Toffees came to be known as the Mersey Millionaires. The financial clout and relative success that was brought to the club under his direction in the 1960s was to become a rare period of post-war glory for the Blues. However, this tremendous advantage was largely squandered by a boardroom that seemingly lacked the vision, sense of investment or will to prepare for the future, made all the worse with the ascendancy of neigbours Liverpool through the 1970s.
Early Background
John Moores was born into a working-class family in Eccles, near Salford, Lancashire on 25 January 1896. He was one of eight children and the eldest of four sons. He left Elementary school in 1910, at the age of 14, and became a messenger boy at the Manchester Post Office but was soon accepted in a course at the Post Office School of Telegraphy. This enabled him, in 1912 to join the Commercial Cable Company as a junior operator. He was in the Navy in World War one, from 1916 onwards, as a wireless operator. He was demobilised from the Navy in March 1919 and carried on working for the Commercial Cable Company. 
In 1920 he was posted to Liverpool where he stayed for a few months, but later that year, Moores was posted to Waterville in County Kerry, Ireland. He noticed there was no public library around for miles so he set up a store that sold books and stationery. He bulk imported books and called it the Waterville Supply Company. He also sold golf balls as there were no sports shop and a golf course. However, in 1922, Moores was back in England as the company stationed him at Liverpool, where he would live for the rest of his life.  
The Littlewoods Empire
John, Colin Askham and Bill Hughes were friends who had worked together as Post Office messenger boys in Manchester. It was whilst looking for a new money-making idea that Moores came across John Jervis Barnard, a Birmingham man who had latched onto the public's growing passion for two things: football and betting. 
Moores had always been an avid football fan from when he was very young. Sports of all kinds had always interested him. He played amateur football himself until retiring at the age of 40. Barnard had devised a 'football pool', where punters would bet on the outcome of football matches. The payouts to winners came from the 'pool' of money that was bet, less 10 per cent to cover "management costs". It had not been particularly successful. Clearly, Barnard was struggling to make a profit. Moores got hold of a Barnard pools coupon, and the three Manchester friends decided they could – and would – do it better. 
They could not let their employers, the Commercial Cable Company, know what they were doing, or they would be fired. No outside employment was allowed. That ruled out calling it the John Moores Football Pool, or anything like it. Moores recalled years later: "Calling it the John Smith's football pool sounded a bit dodgy". The solution to that particular problem came from Colin Askham. He had been orphaned as a baby and been brought up by an aunt whose surname was Askham, but he had been born Colin Henry Littlewood. And so, in 1923, the Littlewood Football Pool – as it was called originally – was started. 
Each of the three partners invested £50 of their own money into the venture and, with the help of a small, discreet and cheap printer, they got to work. In 1923, £50 was a huge sum to invest in what – based on Barnard's experience – was a precarious venture. As Moores himself remembered: "As I signed my own cheque at the bank, my hands were damp. It seemed such a lot of money to be risking". A small office in Church Street, Liverpool, was rented and the first 4,000 coupons were distributed outside Manchester United's Old Trafford ground before one Saturday match that winter. Moores handed the coupons out himself, helped by some young boys eager to earn a few pennies.
It was not an instant success. Only 35 coupons came back. Bets totalled £4 7s 6d, and the 10 per cent deducted did not even cover the three men's expenses. They needed to take the idea to another level, and quickly. So they decided to print 10,000 coupons, and took them to Hull, where they were handed out before a big game. This time, only one coupon was returned. 
Their venture was about to collapse almost as soon as it had begun. In the canteen of the Commercial Cable Company, the three partners had a hushed conversation. It was a crisis meeting. They had kept pumping money into the fledgling business, but midway through the 1924-25 football season it was still losing money. The three young men were each £200 lighter in the pocket, with no prospect of things improving. Bill Hughes suggested they cut their losses and forget the whole thing. Colin Askham agreed. They could see why John Jervis Barnard's idea of a football pool had failed in Birmingham. 
They expected Moores to concur, but instead he said: "I'll pay each of you the £200 you've invested, if you'll sell me your shares". Moores admitted that he considered giving up on the business himself, but was encouraged by his wife, who told him "I would rather be married to a man who is haunted by failure rather than one haunted by regret". Moores kept faith and he paid Askham and Hughes £200 each. In 1928, Moores' younger brother Cecil devised a security system to prevent cheating. Eventually the pools took off, becoming one of the best-known names in Britain.
In January 1932, Moores, by now a millionaire, was able to disengage himself sufficiently from the pools to start up Littlewoods Mail Order Store. This was followed on 6 July 1937 by the opening of the first Littlewoods department store in Blackpool. By the time World War II started, there were 25 Littlewoods stores across the UK and over 50 by 1952.
Chairman of Everton
In 1960, Moores gave up his chairmanship of the Pools business, and handed over the reins to his brother, Cecil Moores, so he could become a director of Everton Football Club. In June he became the chairman and in April 1961 he famously sacked Johnny Carey in the back of a London Taxi and appointed Harry Catterick as Everton manager in his place. 
It was to be a storied appointment as he and Catterick built a magnificent team over the course of the 1960s, one that won the title in 1963 and 1970 and the FA Cup in 1966 but which nevertheless under-achieved given the array of talent in its ranks at various points over the decade that included Alex Young, Alan Ball, Colin Harvey, Howard Kendall, Gordon West and Brian Labone.
Moores would remain as Everton chairman first of all up to July 1965, resigning due to the poor health of his wife, who died two months later. In 1968, Moores regained the Chairmanship before stepping aside again in August 1973 when he resigned. In 1975 he brought future chairman Philip Carter to the Everton board, but Sir John resigned from the Everton board of directors altogether in April 1977.
Mersey Millionaires
Under Moores, Everton began an agressive campaign of improvement that involved bringing in the best players available, from far and wide, for substantial transfer fees.  Through the Moores years, Everton experienced one of the greatest periods of success in their history, with League Championship trophies secured in 1963 and 1970, along with the famous FA Cup victory over Sheffield Wednesday in 1966. 
Harry Catterick was the stern and autocratic manager who made this success possible, although many claim he got a jump start with the team his predecssor John Carey had puilled together in the early years of the Moores Era.  That was of course before the famous incident where Carey was relieved of his post by Moores in a taxi. Billy Bingham, Jimmy Fell, George Thomson and Alex Young were all brought to the club. 
In 1961-62 Everton finished 4th in League Division 1 with Catterick bringing goalkeeper Gordon West & Dennis Stevens to the club from Blackpool & Bolton Wanderers respectively. 
1962-63 was a Championship winning season for Everton the first time since 1939. Winger Johnny Morrissey, Alex Scott and Tony Kay were all brought in by Harry Catterick. John Moores had also overseen the purchase of Everton's new training ground of Bellefield. Welshman Roy Vernon and Scotman Alex Young fired in 46 League goals between them as Everton scored 84 goals home and away. 
The following season 1963-64, Everton failed to build on the success they had gained the previous season finishing 3rd. Sandy Brown & Fred Pickering both joined the club with Frank Wignall leaving for Nottingham Forest. 
In 1964-65 the blues finished 4th in the League Division 1 table with Harry Catterick signing Ray Wilson and Mick Meagan. Eveton finished the League Campaign of 1965-66 in 11th but won the FA Cup. Jimmy Husband, John Hurst and Joe Royle all made their debuts this season as did Mike Trebilcock. Ray Wilson would become an Everton World Cup winner this year also. 
1966-67 saw the FA Cup holders finish 6th after they signed World Cup Winner Alan Ball from Blackpool, Howard Kendall joined from Preston N E and so the famous Kendall, Harvey, Ball midfield came in to being. 
In 1967-68, Everton finished one place higher in 5th and lost to West Bromwich Albion in the FA Cup Final, after beating them 4-0 and 6-2 in the league. Fred Pickering, Derek Temple, Alex Scott and Jimmy Gabriel all left the club this season. 
At the end of the 1968-69 season Everton finished 3rd in the table. Alex Young left the club but Everton reached another FA Cup Semi-final, and were Champions again at the end of the 1969-70 season. Everton brought in Keith Newton to add to the squad that won the league by nine points.
John Moores never put any money into the club apart from his shares purchase. What he did do was provide security for expenditure on players and provide considerable business acumen alied to a ruthless determination to succeed.
From a financial aspect, all John Moores ever did was guarantee Everton's overdraft – he never spent a penny on the club but he did allow Everton to spend plenty under his control and direction – they couldn't live beyond their means. 
The Fading Glory
The main problems at Goodison started in the limbo years after the mid-80s, largely because of the incapacity of Sir John Moores. He was alive but least his business dealings were largely done by people acting on his behalf like his eventual successor, Sir Philip Carter, and then Dr David Marsh, neither of whom had any real financial clout. No-one could be brought in to provide any major financial backing because Sir John's shares were not to be sold until his death and this, together with the Heysel ban and the break-up of Howard Kendall's successful side, was what caused the club to stagnate in the years that followed.
The Transfer of Authority

Sir John Moores resigned from the Everton Board of Directors in 1977. He had two operations in 1986, one of which was for an enlarged prostate and, apparently, never recovered full health. By 1988 he was wheelchair-bound and began to lose his power of speech. He attended Everton games up until a few years before his death and died on 25th September 1993, aged 97.
Moores had exercised an iron grip on the control of Everton, with his shareholding reatined until his death.  It was only after his demise that a power battle ensued for control of the club, with Peter Johnson ultimately defeating a consortium led by Bill Kenwright.
.