Tomasz Radzinski
8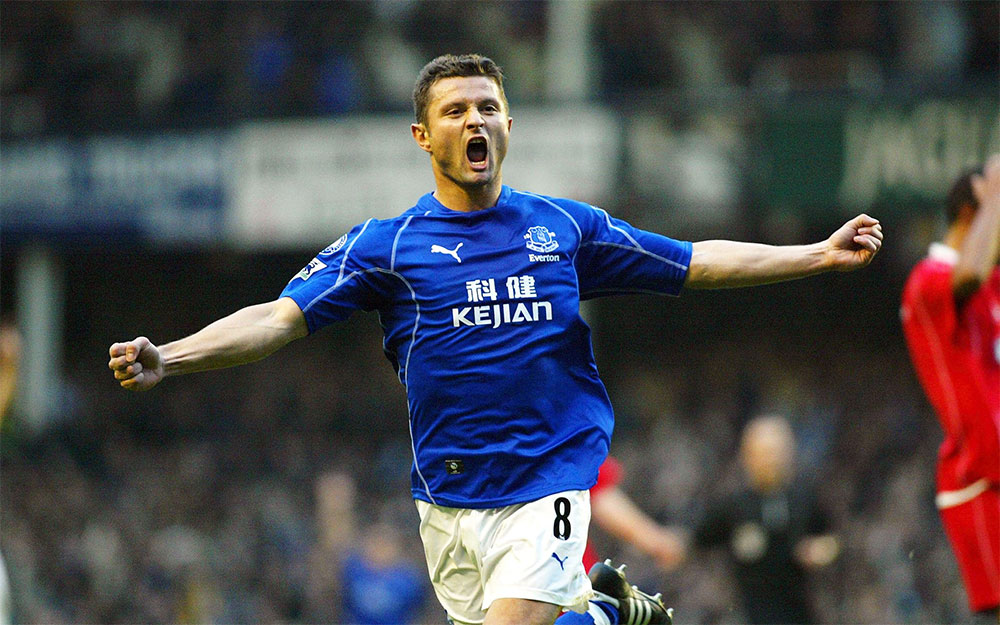 Not many people in England had heard the name Tomasz Radzinski before the summer of 2001 – except for some dim memories of a surprising Anderlecht victory over Manchester United in the European League-Cup in which the Canadian international scored twice. That brace to sink Sir Alex Ferguson's men was just one of many highlights for Radzinski that season as he finished top scorer in the Belgian league and helped Anderlecht to the league championship.
His £4.5m transfer to Everton turned into a month-long saga as Anderlecht fought a public battle of words and denials over the loss of their leading goalscorer who had set his heart on a move to England and, ultimately, it seemed as though player power had prevailed.

Tomasz had come a long way to get to Goodison Park – literally, since his 13th birthday when his family left their native Poland for a new life in Germany.  His dream was to emulate to the great footballers of his country; Boniek, Lato or Deyna who turned Poland into a world footballing power during the 1970s.  With PE teachers for parents, Radzinski could hardly fail to improve his ball skills or hone a streak of athleticism that was to stand him in good stead when he chased through-passes for provincial club Vfl Osnabrück.

His next stop was Toronto Rockets when the family moved on to Canada.  Radzinski was taken on board at the behest of Grzegorz Lato, the ex-Poland international, who had coached the local club.  In 1993, he moved on to play for St Catharines Roma, who won the Canadian Cup in 1994.

Thanks to another illustrious Polish contact in Wlodzimierz Lubanski, Tomasz crossed the Atlantic again to play for Germinal Ekeren in Belgium and he helped to repay the club's faith in him by scoring the decisive goal in their 4-2 extra-time win over Anderlecht in the 1997 Belgian Cup Final.

The forward had few qualms over his subsequent transfer to Anderlecht, but a far more difficult choice awaited him.  Was he to concentrate on playing for his club or continue his arduous journeys on behalf of his adopted country?

"I had to make a decision," he explains, "as the club were always fighting with me over that."  The upshot was that Radzinski reluctantly renounced further claims from Canada and effectively terminated his international career.

Radzinski joined Everton in the summer of 2001 as a direct replacement for Francis Jeffers who had just been sold to Arsenal for £10m and after a delayed start to his Toffees career because of injury, Radzinski made a reasonable impact, scoring on his full debut in a 5-0 drubbing of West Ham and sowing the seeds of a dynamic partnership with Kevin Campbell that was, sadly, to be broken up by injuries soon thereafter, first to Campbell and then to Tomasz himself.

By the end of winter 2001-02, Everton's need for a goalscoring partnership was becoming more acute, placing more emphasis on a quick return to fitness and form by Radzinski. He was quick but often lacked for movement off the ball but he faired better during the 2002-03 season, with signs that he was coming to terms with the increased pace and greater physical demands of the Premiership. 
Excellent last-minute goals against Southampton, arguably the best of his time at Everton, and Manchester City were vital, as was his opener that paved the way for Wayne Rooney's special moment against Arsenal where the teenage sensation announced himself to the nation.  Radzinski was sorely missed for the vital last eight weeks of the season – a prime factor in Everton's descent out of the European slots.

The following season was a critical one for "the Rad" to hone his firing boots even more and really make his name in the Premiership. Although he did score eight goals, he didn't quite make the required impact, missing vital one-on-ones and guilt-edged scoring opportunities more often than supporters would care to remember.  And, perhaps most telling of all, at 30 years of age, his pace was beginning to go.  
Although not out of contract until 2005, he was not impressed with an offer of a meagre two-year extension offered by David Moyes under the new 'over-30' short-contract policy at Everton, and seemed destined to look for a more secure deal elsewhere, although when he submitted a transfer request in mid-June, it was rejected by the club.
Everton eventually relented, however, and at the end of June 2004 offered him the 3-year deal he wanted, mainly due to uncertainty over Rooney's future.  Radzinski turned the new terms down, though, and took the to the press accusing Moyes of being unable to make a decision and criticising the club in the Daily Mirror, adding salt to the raw wound by going on to tell Rooney he should leave!
It was an unprofessional move that betrayed a lack of respect for Everton fans who had supported him through thick and thin. Radzinski decided to fight the fine of two week's salary levied against him for spouting off in the media but said he had not regrets.  "I don't think it was a big outburst," he said at the time.  "It was just bad timing maybe and that's why I was got fined.  I thought it was really not fair to me after the service I provided to Everton for three years."

In the end, Radzinski was sold to Fulham in a £1.75m deal in July 2004 for whom he would make over 100 appearances but notched just 11 league goals and had spells in Greece and Belgium before he hung up his boots in 2012. A brief stint as the technical director at Belgian club Lierse between 2013 and 2015 suggested a possible future within the game.
FactFile
| | |
| --- | --- |
| Squad number | 8 |
| Position | Striker |
| Nationality | Canadian |
| Born | Poznan, Poland |
| Date of birth | 14 December 1973 |
| Height | 5' 8" (174 cm) |
Joined
16 July, 2001
Joined from
Anderlecht
Signed under
Walter Smith
Transfer fee
£4m
Debut (as sub)
v Liverpool (h),
15 September 2001
Full debut
v West Ham Utd (h), 29 September 2001
Left Everton
23 July, 2004 for Fulham (£1.75m)
| | |
| --- | --- |
| Previous Clubs | North York Rockets, St. Catharines Wolves, Germinal Ekeren, Anderlecht |
---
Everton Career

Season

Squad
Number

League
Apps (sub)

League
Goals

Cup
Apps (sub)

Cup
Goals

Total
Apps (sub)

Total
Goals

2001-02

8

23 (4)

6

2 (0)

1

25 (4)

7

2002-03

8

27 (3)

11

3 (1)

0

30 (4)

11

2003-04

8

28 (6)

8

2 (2)

0

30 (8)

8

Totals

78 (13)

25

7 (3)

1

85 (16)

26
Previous Career
| | | | |
| --- | --- | --- | --- |
| Seasons | Club | Appearances | Goals |
| 1987-1990 | Vfl Osnabrück (Ger) | | |
| 1990-1993 | Toronto Rockets (Can) | | |
| 1994-1994 | St Catharines Roma (Can) | | |
| 1994-1998 | Germinal Ekeren (Bel) | 104 | 42 |
| 1998-2001 | RSC Anderlecht (Bel) | 77(1) + 12(4) | 52 + 5 |