The Last Game: Life, Death, Family and Football
By
James Corbett
:: 24/08/2012

Comments
(39)
jump to end
A large part of my career has been spent writing about the men who made Everton great. Earlier this week I finally signed off the proofs of a book that details the careers of the 800 plus men to have played for our wonderful club. It had taken me half a lifetime to write. But now I'm going to tell you the story of the greatest — in my view — Evertonian of them all. And most of you will never have heard of him. His name was Charles Mills and he died earlier today.
Charles — or 'Didi' as my siblings and cousins called him — was born in 1924. He never played or worked for the club, nor really came into close contact with its playing staff or management. But for around 80 years he attended Goodison and bred a family of great Evertonians. Many people knew him, liked him and loved him. He was a well known figure in Liverpool's wholesale markets, in Crosby where he lived, and in the community of Merseyside Catholics. Everyone knew of his passion for Everton and, despite his unassuming nature, his greatness as a man. He was the finest I ever knew. Indeed I do him a disservice when I say he made me the man I am today. I have never existed on the same level. But he showed me the person I should try to be.
There were three great threads that ran through his life: family, church and football, but really the boundaries between these were so blurred so as to be instinct. He worshipped at St Peter and Paul's Church in Crosby on a Sunday with the same people he went to the match with the day before. Those he wasn't related to through blood shared his royal blue DNA. One by one these old boys have passed, but their names — Jack Fleming, Wilf Heslop, Austin Thomas and many others — and their shared experiences are as much a part of our family lore as if they were uncles of our own.
Some, such as his great friend, Dick White outlive him. Now in his mid-nineties, Dick is one of the last people alive to have witnessed Dixie Dean's sixtieth goal. Although they were great friends and drinking buddies for 60 years or more, as Evertonians he and my grandfather were the absolute antithesis of each other: Dick, passionate, feisty, living every moment up in the stands; Didi, phlegmatic, resigned to the sufferance that is the badge of all of the Everton tribe. In fact he never stood to applaud a goal, no matter its significance or the bedlam that was unfolding around him. When Stuart McCall hit a dramatic last minute equaliser in the 1989 FA Cup Final, his response 'They'll still lose anyway' so enraged Dick that punches were thrown between the two old men before their adult sons dived in to break it up.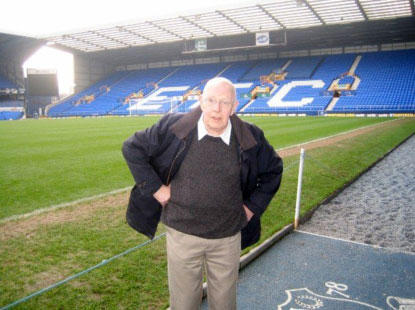 All his friends were Evertonians. I don't think it was a conscious decision and he never railed at the injustices of Heysel or Clive Thomas or whatever. But he did see Evertonians as a distinct tribe. 'They're not like us,' he'd say. 'We're different to them. We're cut from a different cloth.'
He did, however, make a few exceptions. One, whose family he kept close links with right through the end, he forgave for his red sins enough to use his contacts to help supply him with tickets to Liverpool's finals through their Shankly and Paisley heydays. But then old Charlie always was a good judge of character. Father Vincent Nicholls — as he then was - has since risen to be the head of the English Catholic church and some whisper fancifully of his chances at the Vatican. A Kopite Pope? Not even Dan Brown could have conceived of the idea. My grandfather, who railed against the pernicious influence of the Vatican while simultaneously devoting himself to the Catholic Church, would find the idea hilarious.
His passion for football was defined by his identity as an Evertonian and his love for the club. As a young boy he was particularly close to his maternal grandfather, an immigrant from Tipperary who had followed Everton since the Victorian era. His own father watched Everton from the start of the last century. But despite this unbroken family link to Everton's virgin days, it was a neighbour who implanted the seed in his infant mind. Four years ago he penned a short memoir of his life as an Evertonian, and remembered:
So where did it begin my allegiance to Everton FC? Strangely enough, not on a football ground but through a one-time neighbour, as a 3-year-old in our Bootle abode in 1927 — not the most salubrious of places but nevertheless our home, a home which had much love in it. Not so our next door neighbours. To say that they would now qualify for the Dunmow Flitch [the most happily married couple of the year] would be rather more than an exaggeration. Anyway, this night it was about Everton — 'You never think about me — it's all about "Everton, Everton, Everton — Bloody Everton"'.
Ain't that the place where Dad goes on Saturday? My small brain went into action. Must know more. From that moment on, I pestered the life out of Dad to go with him despite Mum's opposition.
Months later, on the eve of the fateful 1927/28 season, Didi made his Everton debut at the annual Blues v Whites match between the first team and reserves, which served as the traditional prologue to the new campaign. His first team debut came the following April, just shy of his fourth birthday, as Everton neared the First Division title. (My family are fortuitous indeed for my Grandfather and father's debuts coincided with title wins and my own a runners up spot and title in season two; watch out for 2014/15 when I bring my own son for the first time!). By the age of seven he was in the Boys Pen and firmly besotten. He recalled in 2008:
To this day I can recite that 1933 FA Cup winning side backwards. Naturally I was not allowed to go to Wembley but remember listening to our crackling radio and hearing the three goals going in and then the trophy being presented. I shot down our road shouting "Ey I addio we've won the Cup". Great until one of our neighbours, a scoutmaster, complained to Mum and her little boy was dragged inside out of hearing. The bubble burst until 9.00pm (yes, British Rail, make a note) when Dad arrived home.

What a reception! Celebrating until dawn!
Aged 14 Didi saw Everton lift the title a third time, with the team of Sagar, Jones, Mercer and Lawton the best he'd ever seen. Lawton, he said, was better than Dean, and even in old age he ran out of superlatives for T. G. Jones. Never one to get carried away with modern players, one of the few he genuinely admired was the young Joseph Yobo, who he said was the best defender he'd seen in 60 years.
And then war came and changed everything. In 1941, aged 17, he joined the RAF and didn't see home for six full years. He served as a navigator in bomber command in the Middle and Far East, and then his national service in Mandate Palestine. He very seldom spoke of his war experiences and refused to collect his medals. Recollections tended to be defined by homesickness for his family, and longing for Everton. Apparently one of his distant dispatches, about his memories of watching the flickers of light from the Bullens Road as cigarettes were lit up across the pitch by Main Stand patrons as dusk descended on Goodison, was published by the Liverpool Echo.
But this was as close as he got to the journalistic career he once coveted. Plans for university were wrecked by the fighting. He left for the RAF as a boy and came back a man. Within a year of his return he was married. Within two he was a father.
Instead of the newspaper industry, he followed his father to the wholesale market on Queens Square, and spent his entire 42-year career working for the flower wholesaler, Charles White, rising to be a director. Many in the city's business fraternity knew him, and his presence in a melting pot where the city's merchant class rubbed shoulders with some of its poorest — and most unruly — denizens was a fascinating one. It also made him the 'go-to' man for tickets whenever there was a Cup Final or big match on, as Cardinal Nichols will attest.
But still there was Everton. Awaiting him in Liverpool was his 21st birthday present — albeit two years delayed. His first season ticket. He maintained it for nearly sixty years, belatedly sharing it with me, before I inherited it five years ago when he gave up on the match. It is an heirloom I will one day pass on to my own son.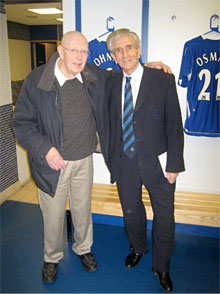 Everton were omnipresent for this period and the tradition passed down to his sons, Charles and Peter, in the late 1950s, his daughter Cath, from the late 1960s, and then to his grandchildren from the mid-1980s, starting with me (my Dad, an Essex immigrant to Liverpool had adopted Everton on his arrival in 1962) and spreading to my cousins and brothers.
As much as Sharp, Steven and Southall in the mid-1980s, I remember the matchday routine: walking down County Road, the smell of his pipe tobacco, the stop at the sweet shop on the way, holding his hand. Twenty years later it would be me holding his, as he doddered back to my Uncle's car, increasingly stooped and frail.
Matches would have their ceremony. For a long time he sat a few rows in front of my Dad and I and would come up for a chat at half time, his paper bag of sweets and pipe sticking out the corner of his mouth. He never, as I've said, rose to applaud a goal. He never berated either. He just took it all in and loved it. The one time I saw him animated was after winning the 1995 FA Cup, when for some reason we were all paranoid about Man Utd fans turning on us after the match, and my grandfather danced down the steps of the old Wembley in complete and oblivious delight. But on an ordinary matchday, afterwards it would be off to the Edinburgh Castle ('The Bug and Bite') on College Road. Just after 6pm, without fail, he'd head out and buy us each a copy of the pink Echo. The first round was always on him.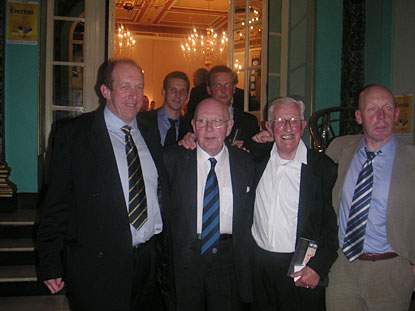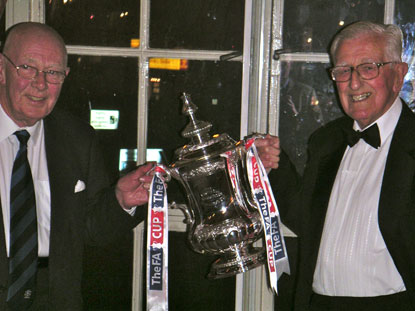 It was a big blow when he announced at the end of the pitiful 2003/04 season that he would no longer attend Goodison. His knees weren't good and the stairs were a slog. His seat was taken away to make way for corporate seating, so the new one promised to be more of an ordeal. We struck a temporary compromise, whereby I — an exile in London — would take the seat and he'd attend when he felt like it. This lasted for a season, maybe two, but by then he'd had seen enough. There was a farewell visit around four years ago, when he was taken to the Joe Mercer Suite and treated like the king that he was. Graeme Sharp presented him with a signed shirt, thanking him for his support over the years, which went up on his living room wall.
Instead of match-going he took pleasure in joining us for our post-match drinking sessions. He read voraciously — three or four newspapers a day — and followed my career in journalism closely. The proudest moment of my career was reporting from Palestine — where he'd once served as a Sergeant — for the Guardian, which he read every day for 50 years. On Sunday nights when I was home from the capital, I would head to his place and we'd drink whisky and talk and watch Match of the Day 2 together. He might not have been so good on his feet, but he could still drink heartily and we'd easily demolish a bottle of malt whisky talking football, family and theology; his three favourite topics.
The last year of his life wasn't so kind. It seems an eternity ago, but less than a year ago I was sat in the Bug with him sharing a post-match pint. Then last November he had a serious fall outside his home. Possibly only the cold air closing his aged arteries saved him from bleeding to death on the pavement. He moved from one nursing home to another; a shameful indictment of modern Britain, with its preference for privatised social services, who can discard those they don't want, and a shocking situation for a man who had fought for his country and devoted his life to helping others.
Slowly his senses, once so acute, deteriorated, but there were still moments when his face would light up. If I mentioned my name or one of his family it usually meant nothing, but the words 'Dixie Dean' always provoked a flicker of recognition. When I showed him the artwork for Neville Southall's book in the spring he unexpectedly announced 'I know that ugly bugger!'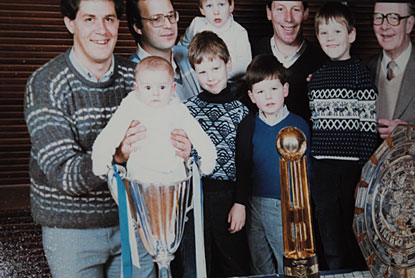 He spent his last days surrounded by those that he loved the most and the excellent staff in Green Hays Care Home in Waterloo. I'd said my goodbyes a month or so earlier, when he was peaceful and calm. By complete coincidence, immediately afterwards, I had a meeting in one of the executive boxes at an empty Goodison Park. Having seen him so frail I'd been unable to stop myself crying beforehand, but being in the place where we'd shared so many good times brought a sense of tranquillity. It's a privilege walking through the empty old stadium, just as it had been knowing and loving this great man.
Three nights before he died Everton opened the 2012/13 season. Marouane Fellaini put in one of the finest individual performances I have seen from an Everton player, as my family watched them secure a brilliant win as part of a voracious Goodison crowd. The following morning a delivery man belatedly brought me the finished copies of Neville Southall's autobiography, that I'd co-authored. Later, after more than 15 years work, I signed off the final drafts of my Everton Encyclopedia.
That afternoon, my mother called me from Green Hays. He was nearing the end, she said, his health had taken a turn for the worse and he'd been given the last rites an hour earlier. She asked me to say a few words, to tell him I loved him. Unexpectedly placed in such a position I struggled, so instead I told him about Neville, about the Enyclopedia — to which he'd input his own memories — and about Everton the night before, his last game. And these were the last words I spoke to my hero.
There was a strange symmetry that so many Everton related episodes of my life were closing and that the team had put in such a great performance as he neared the end. I like to think that he timed everything just right.
Why, some of you will ask, does my late Grandfather matter to those who didn't know him? I think he has a wider significance, because every football-supporting family has its Charlie Mills somewhere in its sprawling tree. He's important, also, because he's part of a dying breed. Supporting a Premier League team is increasingly no longer defined by family history or shared local identity. For most people it's a case of picking up a TV control and picking a team. The family traditions that defined our game are dissipating with the men who bred them. The roots of these clubs are being hacked away by the global TV and marketing revolution. It has become a lifestyle choice.
In his brief Everton memoir Didi concluded with a favourite saying of his own father — also Charles and also a great Evertonian — '"The martyrs died for their faith, we're only expected to live for it."'
My grandfather added: 'We all leave our footprints on the sands of time. He certainly left his. But we must advance. I've had my pleasure of thankfully seeing my offspring 'maintaining the faith'.'
Indeed he did. So farewell then Charles 'Didi' Mills: husband, father, grandfather, great-grandfather, friend and Everton giant — in my family at least, and I'm sure many others too.
Charles Mills, 26 May 1924- 23 August 2012.


See other Fan Articles : Add your Comments

Reader Comments
Note: the following content is not moderated or vetted by the site owners at the time of submission. Comments are the responsibility of the poster. Disclaimer
Dave Lynch
856
Posted 24/08/2012 at 16:53:48
Such a fitting tribute to an obviously great man.
Rip. Didi.
Paul Traill
860
Posted 24/08/2012 at 17:11:08
A lovely read. Sounds a great man. All the best.
Julian Wait
864
Posted 24/08/2012 at 17:08:44
James
Thanks so much for sharing.
Beautiful story. Beautiful words. Brought strong and compelling memories of my own father, a lifelong blue of Irish origin, Catholic, and also from Bootle; he went to War on his 17th birthday, September 3rd 1939. He also never spoke of the war unless asked, and then only what was required.
The subtext you conclude with and his comments about "cut from a different cloth" also ring true. Last night, here in Austin TX USA, I went for Pizza with my family, and there is a fella in a Liverpool T-shirt. My 10 year old step son, who has never been to Goodison, and yet dies his hair blue (!) and still has his Arteta and Cahill posters on his wall (I don't get over there much these days to get new ones!), started to fake gag and I asked the lad "Why Liverpool" and he couldn't say anything. Really, he was silent. He just didn't get it, and I felt sorry for him, even though he is a Kopite.
RIP Didi.
Dave Kelly
881
Posted 24/08/2012 at 18:22:48
Very moving, very powerful, James. He sounded like a great man...

I never had the pleasure of having an Evertonian grandfather or father — they were both Kopites! However, I will always treasure the banter, there was something magical about being a Merseyside football fan during the fifties and sixties.

It brought back fond memories when you mentioned the Bug and Bite, we often had a pint there in the days when I played in the Crosby and District Sunday League.
RIP Charles Didi Mills... I am sure your grandson (and great-grandson) will carry on the family tradition with class, dignity and style!
Ajay Gopal
888
Posted 24/08/2012 at 18:41:43
Beautiful story, beautifully told. Thank you for sharing. May his soul rest in peace.
Jon Beck
889
Posted 24/08/2012 at 18:49:57
Moving and uplifting tale, James. Thank you for sharing.
Brian Bates
910
Posted 24/08/2012 at 19:41:53
Reading this brought a lump to my throat, thanks for sharing. All the best
Peter Mills
923
Posted 24/08/2012 at 20:17:03
I shared many big trips to Villa Park with this man, Didi, my Dad. 1969, 85, 86, 89 semi finals and a memorable match which just about won us the league in 1987, Kevin Sheedy scored the only goal.
I'll be at Villa tomorrow with my own particular thoughts and emotions. It would be great to hear the "Sheedy" shout go up amongst the Blues in support of Kevin at a difficult time for him.
Guy Hastings
931
Posted 24/08/2012 at 20:38:04
A great piece of writing.
Denis Richardson
937
Posted 24/08/2012 at 20:48:36
Really nice piece, thanks for sharing. Good innings and rip.
Hope he's having a few drinks with Dixie:-)
Brendan McLaughlin
940
Posted 24/08/2012 at 21:14:31
Didi...epitomises what NSNO is all about
Tony I'Anson
950
Posted 24/08/2012 at 22:04:29
Thanks for sharing that with us all James. A great tribute. RIP Mr Mills.
Terry White
957
Posted 24/08/2012 at 22:36:52
My condolences, James, to all the Mills family. I am Terry, the oldest son of Dick & Nessie White, living in San Jose, California. My Dad is now 95 and, as you say, has now outlived all his great friends. He was very sad and nostalgic today when I spoke to him, Anne having broken the news to him earlier in the day.
The photos of Peter and young Charles with my Dad and your grandfather brought tears to my eyes. As you know, the SSPP family clans were very close to each other. The Whites, the Mills, the Flemings, the Morleys, the Normans and the Downies among others. By the way you seem to have elevated "Our Vin" before his time - unless you know something that we don't?
I cannot imagine my Dad and Charlie coming to blows! But I do recall, on too many an occasion, the frustration my Dad felt upon coming home to Allenby Avenue from an awful Goodison performance to have your grandfather, after a suitable period of reflection, pronouncing that he saw some good in the performance that nobody else could see!
I have too many memories to bore everybody here but let me say that this is a very sad day for all the White family. We have all been brought up in the correct way and are passionate in our support of the Blue cause. I think we are bringing up our children and grandchildren the same way. Your grandfather was the most polite and courteous man. Of course he was also married to the most wonderful of women. And he was an inspiration to his family and all who knew him.
I'll be in touch with Peter and Anne directly.
John Corbett
958
Posted 24/08/2012 at 22:49:17
This is not just an epitaph to a great Evertonian, it is the record of a great man who showed several generations of supporters how to enjoy the good times and how to endure the lean times. As Shankly once said "Football is not a matter of life and death, it is more important than that."

Charles Mills was a link between the eras of Dixie Dean and the present day Everton, he saw it all not as an over paid prima donna on the pitch but as a supporter, just like the rest of us. Excellent piece of writing, James.
Alan Humphreys
985
Posted 25/08/2012 at 01:34:57
A fitting tribute I'm sure your Grandad (or indeed anyone) would be proud of. You did him and your family proud in telling his tale.
My Grandad was similar but swap Everton for Boxing but the parallels were still there and it brought a tear to my eye remembering his tales as Im sure it did to you writing it. He couldn't take to modern boxing as I'm sure the older generation have difficulty with modern football.
Wishing you, his family and friends all the best. RIP Sir.
Chris Leyland
991
Posted 25/08/2012 at 02:10:12
A great tribute James. I read your book, which your mum, Mary, passed to me via my sister in law, Nuala who is a teacher at Great Crosby. Talking of which, Nuala's dad Gerry died as we walked back to the car after the Tamworh FA Cup game in January this year. I'd taken him with my kids, aged 11 and 6 at the time, it was actually my 6 year old son's first game, but unfortunately my father-in-law took ill as we were about 200 yards from the car and died in hospital about an hour later. The club were really good when they found out and gave me and the kids free ticket and let us meet all the players at the Chelsea game in Feb, GVd bless your grandad and all best.
Peter Mills
007
Posted 25/08/2012 at 06:58:49
Dad loved to tell the story of him arriving home from the war unannounced, after an absence of many years, having left as a 17 year old boy. It was 10.30 on a Friday night and an impromptu party broke out amongst the family and neighbours, only for it to be swiftly curtailed by my Grandad who said " the boy needs some rest". Cue general disgruntlement at the party- pooper and hasty plans for resumption at lunchtime the following day.
Sure enough the celebrations were re-convened and had been going for half an hour or so when Grandad casually said "Get your coat son, there's a match, you and I are going to Goodison". I think that may have been the moment my Nana coined the phrase "Everton, Everton, Everton, always bloody Everton".
It's in the DNA Jim!
Paul Joy
025
Posted 25/08/2012 at 09:27:35
James
A beautiful and moving tribute.
Thank you for sharing this with us, it was a privilege to read.
RIP
Paul Wharton
031
Posted 25/08/2012 at 09:48:32
James
A lovely insight to your grandfather's life, you have great memories to hold on to.
He is now in the blue heaven watching Dixie banging them in.
Denis Byrne
036
Posted 25/08/2012 at 09:44:01
Thank you so much for sharing Dido's story with us Jim, it is an honour and a privelege to be part of the same tribe as such a man. An exile in Brighton, all visits home and to Goodison have a mandatory stop in 'The Eddie', where the kids would do 'the stations' around the photo's of the old teams and recite their catechism of the cup winning years and goal scorers. At quite moments we'd look about the pub and wonder about all the arl fella's stories. Its moving to know we would have been in the same space as Didi. We'll tip a malt for him on our next visit;
Slainte go saol agat,
Bean ar do mhian agat.
Leanbh gach blian agat,
Is solas na bhflaitheas tareis antsail seo agat.
RIP Mr Mills.
Denis Byrne
037
Posted 25/08/2012 at 10:16:16
I'm so sorry ... 'Dido' (could you please change ed?)
Denis Byrne
039
Posted 25/08/2012 at 10:18:36
Didi. (ed, can you PLEASE change, my arthritic finger means I often hit wrong key). I'm sorry.
David Price
158
Posted 25/08/2012 at 18:56:02
Always felt special being an Evertonian, James, you just took it up a few notches with this piece.
In grief there is pride, may the latter grow more with time.
All the best.
Brian Montrose
161
Posted 25/08/2012 at 19:40:03
James, I think your grandfather would have been as proud of you as you clearly are of him. RIP.
Alan McGuffog
162
Posted 25/08/2012 at 19:43:48
Charles.....my condolences to you and all your family. What better way to find solace than with a thumping win at Villa. An excellent and moving obituary.
Peter Mills
178
Posted 25/08/2012 at 21:16:21
Just back from Villa Park. I saw some good in them today!

Charles Mills
204
Posted 25/08/2012 at 22:30:50
Alan.
Lovely to hear from you.
Dad has certainly gone out on a high and my brother's comment in the last post 'I thought I saw some good in them today' is a suitable epitaph!
Catherine Mills
331
Posted 26/08/2012 at 14:12:19
Thanks James, a very moving tribute to my dear dad, Didi.
I did smile though when you said he never rose from his seat to celebrate a goal. I was sitting next to Didi at Highbury in 1984 when Adrian Heath scored the winner against Southampton in the 90th minute of the FA Cup semi final. Didi went beserk!!
We had great trips all over the country in the 1980s with memories to treasure.
He brought us up in the faith and it's good to know he will be wielding his influence up in heaven now.
Thanks Dad x
Peter Mills
403
Posted 26/08/2012 at 20:28:16
Cath, I know the memories of this match always make you giddy. And me, it was one of the most memorable moments ever. But it was in the 119th minute! :-)
He also stood up when, in April 1987, Kevin Sheedy just about won us the League when he blasted a volley into the same goal we scored 3 into yesterday. So it was brilliant to be there, especially when the "Sheedy" chant went up.
Thanks Dad x

Eugene Ruane
411
Posted 26/08/2012 at 20:45:21
Wonderful!
Kjetil Moen
412
Posted 26/08/2012 at 21:26:58
A great read, thank you for that.
Catherine Mills
413
Posted 26/08/2012 at 21:30:54
Thanks for the correction Pete, yes 119th minute it was. :)
I know Didi has passed into heaven now as he was clearly orchestrating our great victory over Villa yesterday.
COYMB
Peter Mills
429
Posted 26/08/2012 at 23:30:56
Denis Byrne (and everyone else), thanks for the sentiments. Didi, Dida or Dido, it doesn't matter, he would just have smiled, happy in the knowledge that he represented the memory of many families who have been brought up correctly.

Chris Tratt
492
Posted 27/08/2012 at 12:32:11
A wonderful tribute to a wonderful person. I grew up in College Avenue having moved there from Spellow Lane way back in 1958. The "Mills" family my first and longest friends. That is why I am an Evertonian to this day.

I grew up alongside Charles, Peter, Ann, Mary and Cath and of course Mr Mills (as I always knew him) and May (wife and mother). Many a game of football or cricket in our respective gardens and Victoria Park. Inter Rangers was our own football team!!

Wonderful times, wonderful memories. Thank you Mr Mills (Charles) - God bless you and all your family.
Mary Corbett
494
Posted 27/08/2012 at 12:30:32
Can I reiterate Pete's thank you and say how much James' article has made us all remember the warmth, laughter and love which surround this wonderful man. I have been proud to have Dida as my Dad and know how much he has touched people's lives.

We have had the most lovely tributes from people who knew and loved him. However, what has really meant such a lot are the comments on here from people who did not know him. Thank you so much. Making the effort to write something has touched our lives too. So Dida's love continues to impact in death, as well as life.
Peter Mills
658
Posted 27/08/2012 at 22:13:40
Hello Chris, the funeral is at noon, Monday 10 September at SS Peter and Paul's. It would be good to see you if you can make it.
Chris Tratt
584
Posted 31/08/2012 at 17:22:25
Peter, I will there on the 10th September. Best regards to you all.
Nigel Jones
566
Posted 09/09/2012 at 09:57:48
A well written and wonderful tribute.

I met Mr Didi Mills just the once, when I joined the Mills family on a Saturday to share the "ritual" some 31 years ago. I remember the day well, enjoying the family hospitality a great deal more than the game as my team, Swansea, lost 3-1.

I recall that one of the loudest cheers of the day was when Bob Latchford scored the fourth goal of the game – for the Swans! That said a lot for the Evertonian fans and their values when compared to others, including my fellow Jacks who so, so often let themselves down and boo their former favourites!

I am sure the Didi legacy and those Evertonian values are safe with Pete, Ben, James and the family. I hope you enjoy you're season though I am sure you will understand that sentiment might not include on the 22 September. You see, I am 'cut from a different cloth'. Sorry!!

So much of what James wrote I can empathise with as my own father is 93 years old and first watched the Swans in 1929 when they played Grimsby at the Vetch, the lovely old ugly ground where I also started watching them in the 60's. I know our clubs don't share the same rich history but much of what has been said on this article resonates with fans everywhere. Dad and I will be at The Liberty later this month and I am sure we will see a great game whatever the result.

Tomorrow will be a sad day for your family and my thoughts will be with you.
Peter Mills
687
Posted 09/09/2012 at 19:47:22
Thank you Nige. I look forward to seeing you and your Dad in Swansea in a couple of weeks time, I'll be quite content with a 0-1!
Add Your Comments
In order to post a comment, you need to be logged in as a registered user of the site.
Or Sign up as a ToffeeWeb Member — it's free, takes just a few minutes and will allow you to post your comments on articles and Talking Points submissions across the site.
© ToffeeWeb