Blues Lack Drive in Stalemate With West Brom
By Lyndon Lloyd

24/08/2013

Comments (27)
jump

Everton 0 - 0 West Bromwich Albion
Optimism and the celebratory atmosphere of Roberto Martinez's first competitive home game in charge gave way to frustration at Goodison Park as Everton were held to a goalless draw by West Bromwich Albion that denied the Blues a first victory of the season.
The game was preceded by the Martinez March to welcome the new boss and a tribute to Blues legend, Dave Hickson, led by Billy Ingham, the season ticket holder of 69 years from the new Barclays ad, and there was plenty of expectation for a game against a WBA side who had lost their own home opener last weekend.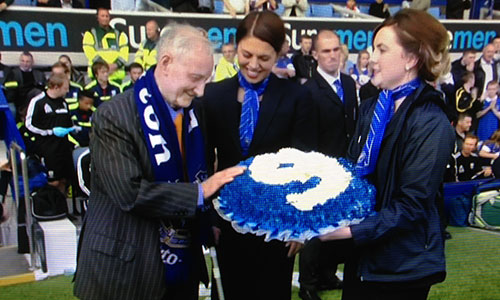 Aided by the lovely ladies of the press department, Billy Ingham led the tribute to Dave Hickson
The team was unchanged from the one that almost grabbed a win at Norwich last weekend and the same patient, possession-based build-up was on show but a curious lack of urgency as the second-half wore on fostered increasing restlessness among the home faithful, tempered only by a late charge in the final minutes that almost produced a precious winner.
The Blues would be thwarted twice by the woodwork, though, as the mercurial Marouane Fellaini watched an effort with the outside of his boot rebound off the inside of the post and Seamus Coleman's cross-cum-shot bounced off the crossbar with substitute goalkeeper Luke Daniel beaten.
Those were moments of rare thrill in the final third as Martinez's men, largely untroubled in their own defence by a limited Albion side, rolled through the first 80-odd minutes in their newly-adopted keep-ball mode looking for an opening.
They would be stymied for the most part by resilient defending – often illegal and unpunished – by the likes of Jonas Olsson, whose constant man-handling of Fellaini and blatant check on Nikica Jelavic prompted no action from the officials, inconsistent refereeing by Premier League newcomer Roger East, and, often, a simple lack of blue shirts in the opposition penalty area.
The Blues started on top and would remain so for the rest of the game but chances were at a premium in the first half. Steven Pienaar had the first two sights of goal, a diving header following excellent work by Ross Barkley that Ben Foster clutched at full stretch and a low shot that the 'keeper comfortably gathered to his right but there was less of the high-tempo, incisive probing that Evertonians had come to expect during home games towards the end of the David Moyes era.
Another typical jinking run by Barkley ended with the youngster dragging a shot across goal after 20 minutes before Youssouf Mulumbu and James Morrisson had what would be the visitors' only real attempts on goal before half time, the first a wayward attempt to bend one past Tim Howard, the second a dipping half-volley off a Shane Long flick-on that flew over the bar.
Martinez's men resumed control of matters, though, and the game became increasingly fractious and testy as Mulumbu was booked for deliberate handball on the edge of his own box (the disappointing Kevin Mirallas would fire the resulting free kick into the defensive wall) and Long somehow escaped a yellow card when he cynically poleaxed Leighton Baines near the touchline.
The Blues had some genuinely pleasing moments in the first 45 minutes, though, not least when a lovely passing move ended with Coleman laying the ball off to Mirallas at the edge of the area and the Belgian took one touch before smashing a shot destined to creep under the crossbar until Foster tipped it over.
An equally great move six minutes before the break saw Coleman collect Pienaar's neat pass into the box but the Irishman's shot was foiled at the near post.
The pattern continued into the second half, with Everton pressing a little more noticeably in the early going and Coleman forcing a corner after drilling a really inviting ball across the six-yard box with no takers in a blue jersey able to capitalise. From the corner that followed, though, Leon Osman hammered a volley off McAuley that ricocheted 15 yards wide and yet somehow the officials awarded a goal kick to West Brom.
Though the will was there from the crowd for the team to increase the pressure as the game ticked on, Everton appeared to go off the boil a little and started to ride their luck a little at the back. An awful giveaway by Jelavic gifted the Baggies a chance to counter but Long couldn't bring Mulumbu's through-pass under control at the vital moment and the Blues escaped.
And Howard was called into his only meaningful action of the afternoon after 64 minutes when he had to turn Morrisson's drive away for a corner with an impressive one-handed save.
That was after Mirallas had tested Foster again at his near post after cutting in neatly from the byline on the left side of the area and though the Belgian would win another corner with 20 minutes left, there were just three blue shirts in the area when Baines swung the set-piece in. It was the last real contribution from Mirallas before he was substituted along with Jelavic in the 72nd minute, the pair making way for Arouna Kone and Steven Naismith.
Though the Scot's introduction wasn't much of an improvement on a subdued Mirallas, it has to be said that the Blues did look more threatening with the Ivorian leading the line as he was more wont to pick the ball up from deep and run at the West Brom defence. Combined with an increasingly offensive role played by Fellaini and the Martinez's side went into the closing stages looking more threatening again, though the urgency was still lacking.
For all their neat passing exchanges in midfield, it was a clipped, angled ball from Phil Jagielka from the right side of midfield that carved out what looked to have been the decisive chance. Fellaini chested the flighted pass down in trademark fashion but couldn't find the inside of the post with his shot and rebounded agonisingly off the base of the upright. And Coleman, too, looked like he might have pinched it in injury time when he swung the ball in from the right only for the ball to bounce away off the woodwork to the far side.
Overall, it was a fairly flat start to Martinez's tenure on home turf, with a performance illustrative of the argument that you can have all the possession and passes you like, but you still have to carve out enough chances to win the game. It also highlighted the lack of a genuinely incisive playmaker in the centre who can make things happen on a consistent basis. Barkley provided plenty of moments of spark and he was, by and large, the most purposeful of the Blues' midfielders but while he is still learning his craft, someone else needs to be taking the initiative.
None of Osman, Fellaini, Pienaar or Gibson have demonstrated that they can be that player and that yearning for quality in that position is what makes Everton's financial situation and the strengthening that the likes of Tottenham have been able to make in that regard so dismaying.
Given the shenanigans with Manchester United and the looming transfer deadline, though, thoughts turned most often to the great enigma that is Fellaini. The Belgian beast is cited by most Evertonians as the more dispensable of the two players being courted by Moyes at Old Trafford and when you look at his casual demeanour at a first-half West Brom corner where his failure to attack the ball saw it drop dangerously near Howard's left-hand post or see him lay a lackadaisical pass off to an opposing player like he's barely interested, it's hard to argue.
Yet, his sheer size and ability to break up play in midfield can be taken for granted and they will be hard assets to replace. And once he had moved forward in the final quarter of an hour of this stalemate, Fellaini looked the more likely outlet to produce a goal thanks to his aerial ability.
Therein lies the conundrum: can we afford to keep such a saleable asset and play him in a position that, while he may favour it, is not where he is most useful to Everton as long as we lack a reliable match-winner further forward? Will his replacement, should he be sold, arrive in time and compensate sufficiently for the immense talents that the Belgian international brings to our team?
Finally, for Martinez, this will clearly not have been the dream home start he would have envisaged. In the incredibly competitive landscape of the top six to eight teams in the Premier League, four dropped points from two eminently winnable games already feel like lost ground. Importantly, for a manager with such a reputation for attacking football, there just wasn't enough of it on show this afternoon, and there was certainly a general lack of drive about his team.
That should change against Stevenage in the League Cup in midweek and his players will hopefully have more opportunity to express themselves against lower-division opposition, but it's in the week-in, week-out grind of the Premier League where his reputation at Everton will be forged.

Follow @Everton1an
---
Reader Comments
Note: the following content is not moderated or vetted by the site owners at the time of submission. Comments are the responsibility of the poster. Disclaimer
Keith Young
319
Posted 24/08/2013 at 19:39:14
No mention of Baines. I know he was on the pitch but has he already "gone"?
Lyndon Lloyd
323
Posted 24/08/2013 at 19:57:25
Baines was very much there, Keith, and one of our more productive players. I notice, though, that he is not as effective when Mirallas switches flanks with Pienaar as he did a couple of times.
Colin Williams
343
Posted 24/08/2013 at 20:06:31
Lyndon," Baines of our most productive players", what game was you watching? Baines was well below average! Coleman was far more effective!!!
Looked like Baines was elsewhere! Jelly was shite, Kevin was very poor. Osman, well! Say no more. Naismith ffs, just retire or play at your real level. Pienaar, your wage packet must be slowing you down, where is that high performing/ offensive player that used to cause so many problems for the opposition! We can't/won't get results with so many players obviously not good enough or past their sell by date. What a shit day!!!
David Flanagan
354
Posted 24/08/2013 at 20:51:44
Nothing new. WBA came for a point and got it. Same team, same tactics, same subs. We created little despite dominating possession. Played two average sides and we still can't win. We need to play at a higher tempo to get behind teams but seem incapable of doing it.
Mark Griffiths
389
Posted 24/08/2013 at 21:59:19
Colin 343. I thought Pienaar was excellent today?!
Clive Rogers
396
Posted 24/08/2013 at 22:10:22
Suddenly the squad doesn't look strong enough and the signings haven't helped. If our best two players go to Utd there will be tremendous pressure on RM to bring in adequate replacements, which won't be easy at this late stage. The fact is that almost every other club has strengthened much more than us. Southampton have spent 6 times what we have. Spurs would have spent £90M if the Willian deal went through, before they get the Bale cash. That's 15 times our spend. Can Kenwright explain where the extra TV which everyone else is spending, has gone in EFC's case. It's £24M and we've spent £6M.
Danny Kewley
401
Posted 24/08/2013 at 22:17:49
If possible wba were actually worse than stoke today! With a lot of their yard dog tactics getting missed by the officials. Too many of our players though had a poor day. There were some bright spells though and with a resolve throughout the team we can still be in the mix.
Nick Entwistle
408
Posted 24/08/2013 at 22:41:02
Can someone tell me the man who came on before the match to take the applause and lead tributes?
RE the possession football, is it possible to play this way but not be slow in the build up (Unless you're Barcelona of course)?
Its very un-premier league and where the 'philosophy' of RM has its flaw.
Michael Williams
411
Posted 24/08/2013 at 22:56:30
He is the Everton fan in the new Barclays premier league advert
Phil Sammon
413
Posted 24/08/2013 at 22:53:50
Nick
Billy Ingham - he's in a new Barclays advert (which is shit by the way)
It must have been a weird one for WBA fans. We had Billy out on the pitch and up on the big screen it said 'Dave Hickson 1929-2013'. You couldn't hear what was being said on the loudspeaker so it effectively looked like this fella was called Dave Hickson and they were announcing his impending death.
David Pearl
414
Posted 24/08/2013 at 22:47:36
Would we have more points on the board if Moyes was still manager?
I know it's early days but this knocking the ball around in front of our own box is bullshit. Felliani, although he would prefer to play as a defensive midfielder is far more effective up close to Jelavic.
At least Kone looked a bit brighter.
Unlucky not to of won but we lacked the intensity Moyes instilled last year.
Tom R Owen
416
Posted 24/08/2013 at 23:00:07
It's been said a million times - until blue bill goes nothing will change because the club has no money and he won't let go of the train set.
But I for one won't waste my money on shite like today
Nick Entwistle
417
Posted 24/08/2013 at 23:01:54
Oh, some bloke from central casting then. Still, he was mighty chuffed to take to the pitch.
Would be nice to have the oldest or longest subscribed season ticket holder given the same stage.
Gavin Ramejkis
418
Posted 24/08/2013 at 23:05:19
I said after the Real Betis friendly that in order to play the expansive Martinez style play we need far more pace, the tippy tappy today was ok to the point where we needed pace to beat the last man and it simply isn't there. Mirallas has pace but had a poor game, Barkley could do it but was closed down quickly, Pienaar has some but again not a great game for him. We need players like that Cedric Mabwati from that very same Real Betis game, pace and direct. When I used to play it was the one thing I dreaded - a bugger with the stones to right at me, if they have pace and you don't track with them running backwards before you know it they have left you for dead.
Derek Knox
419
Posted 24/08/2013 at 23:02:32
Having just watched the game again, on Football First (well, extended highlights) there were a few good points to be seen. Although, again, as at Norwich, we should have had three points.
It's not the end of the world. we haven't been outplayed, or beaten comprehensively. I know it's early days, but hopefully Roberto has the acumen, to realise that against better opposition, that could be the case. I would hope that he makes a few tweaks, before the visit to Cardiff.
Patrick Murphy
420
Posted 24/08/2013 at 23:12:10
Nick I think Mr Ingham has been watching the Blues for over 60 years that's why he was chosen for the advert in the first place.

Colin Williams
421
Posted 24/08/2013 at 23:07:01
Mark 389- I felt piennar was only average today. The lad is not the player he was since coming back from Spurs. Pre- spurs he was un-playable and maybe our consistent player.
Michael Kenrick
424
Posted 24/08/2013 at 23:21:16
I thought for a moment they had said "Billy Bingham"
At 82, he probably looks as fit and spry as Mr Ingham did out there...
Michael Winstanley
428
Posted 24/08/2013 at 23:20:56
I thought at times in the second half, Baines, Fellaini and Pienaar took the game to WBA, regaining possession time and again, also being a yard quicker in their passing than those around them.
We need ten of them to play every week and be as consistent, we simply don't have the funds. To sell Fellaini would be huge mistake, top player in my opinion.
I was disappointed today because my expectations were so high but we played okay in large parts of the game, never looked like conceding.
We did change to 442 at one point with Mirallas and Jelavic up front, Barkley played wide right but he subbed Mirallas almost immediately, thought that was a strange move because he didn't give it enough time to see whether we'd be more effective.
Next time out I hope Kone starts, he looks quite a direct player.
Andrew Cutler
526
Posted 25/08/2013 at 09:38:15
Phil (413)...that was funny mate
Max Wilson
570
Posted 25/08/2013 at 11:04:32
Disappointing isn't it? It's not good enough. Players' form seems to be affected by the transfer troubles. Even Mirallas was out of sorts.
And now we are in danger of a relegation struggle.
Stand back and look where we are and what we have to do to climb back to where we were last season. One more disappointing result and Relegated Robert will have us in trouble. Is this his level? Lower end of the table?
Tony Christian
574
Posted 25/08/2013 at 11:15:31
I didn't hear the Z-Cars theme today. Did any body else?
Kev Dale
596
Posted 25/08/2013 at 11:58:56
Why is it that our managers and coaches cannot see that Jelavic cannot play the system they are asking of him? This passing system requires the front target man to be very fast and have very quick reaction instincts to get into space and ahead of the central defenders plus have a great first touch of the ball. All too often, Jelavic is only getting to the ball as the defenders are plus he often needs that second touch!
This passing system where we are passing and passing looking for the forward to create space and when it happens it's got to be fast so that the midfield players join into the attacking play with the defenders facing their own goal and it becomes one touch football, that's how it is supposed to work!
Unfortunately we are doing all the passing bits in defence and midfield but have no option up front and when we do we are not fast enough or skillful enough to take advantage. This was the problem last year and with the same players being used this year it's not going to change!
I am personally disappointed with the two game I have seen this year, I have also re-watched them on TV and my opinion is the same, we have some very good players in the right positions but we also have some very average players in one or two key positions which lets the team down, I'm talking about central midfield and our forwards.
Osman is a very good player but not strong enough for that central midfield slot, and Jelavic is again a very good player if you're asking him to play the old centre-forward's role but, with the system we are now playing, he is way out of his depth.
Only my opinion, I still think we are a good team; with a couple of quality additions, we could be top four!! But everybody is saying that aren't they!
This my first post, sorry... got carried away!

Tom R Owen
667
Posted 25/08/2013 at 16:13:40
Tony
Yes when the teams came out
Mike Bird
820
Posted 25/08/2013 at 20:26:44
The only positive to come out of this game was the white socks!

Add Your Comments
In order to post a comment, you need to be logged in as a registered user of the site.
Or Sign up as a ToffeeWeb Member — it's free, takes just a few minutes and will allow you to post your comments on articles and Talking Points submissions across the site.
© ToffeeWeb