Everton coast into the last 16
Everton 3 - 1 BSC Young Boys (7-2 on aggregate)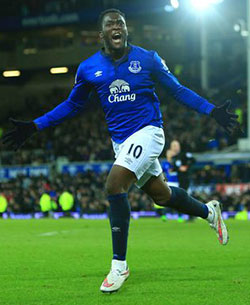 Lukaku took his tally over the two legs to five goals before making way in the 48th minute
Everton are into the last 16 of the Europa League as the last British representatives after easing past Young Boys thanks to two goals by Romelu Lukaku and one from Kevin Mirallas.
Roberto Martinez made five changes to the team that started against Leicester, with Antolin Alcaraz coming in for the suspended John Stones, Luke Garbutt getting a start in place of Leighton Baines, Kevin Mirallas replacing the cup-tied Aaron Lennon, Gareth Barry starting instead of Muhamed Besic and Darron Gibson chosen instead of Ross Barkley .
The Swiss side pulled a goal back on aggregate after 13 minutes after Tim Howard saved a bouncing shot from distance that Vilitic diverted off course but the American couldn't prevent Sanogo from converting from close range.
Lukaku levelled from the spot, however, after Naismith was taken out by the Young Boys 'keeper trying to reach the Belgian's back-heeled pass.
A few minutes later, Everton broke with Garbutt racing down the left off Gibson's excellent pass and he centred for Lukaku to lash home a beautiful first-time effort.
Mirallas made it 3-1 on the night in the 42nd minute with a composed finish off Gibson's sublime through-ball as Everton threatened to turn it into another rout.
Lukaku started the second half and saw a right-foot shot blocked shortly after the restart but he was quickly replaced by Arouna Koné with 41 minutes left in the second period.
Mirallas then forced a one-handed save from Marco Wölfli and the 'keeper also denied Kone from a good position before the Belgian just missed converting Garbutt's fizzing low cross by inches.
The match had lapsed into exhibition mode by the last quarter of an hour and when a fortunate bounce fell to Kone just outside the box, he had time to line up a shot but it came back off the post.
Mirallas, meanwhile, was denied by Wölfli as he cut in and forced a punched stop by the Swiss side's goalkeeper, Barry fired weakly from Coleman's cross and substitute Leon Osman had an injury-time "goal" ruled out for a push on his marker's back.
So the Blues cruise into the next round and await their next opponents when the draw for the last 16 is made tomorrow. Elsewhere, Tottenham were beaten by Fiorentina and crashed out 3-1 on aggregate, Celtic were edged by a late goal from Inter Milan and Liverpool were turfed out on penalties by Besiktas after the game finished 1-1 on aggregate after extra time.
Everton: Howard, Coleman, Jagielka, Alcaraz, Garbutt, Barry, McCarthy (Besic 61'), Gibson, Mirallas, Naismith (Osman 80'), Lukaku (Koné 48')
Subs not used: Robles, Baines, Barkley, Browning
Kick off: 8.05pm
Referee:S. Johannesson (Swe)
Note: Lukaku has been hailed for having scored his 100th career goal aged 21 years and 284 days but FIFA's invalidation of Belgium's 5-1 win over Luxembourg last June, in which he scored a hat-trick, means he is officially still on 97 goals after this match.
Quotes sourced from ToffeeWeb Match Reports
Reader Comments (143)
Note: the following content is not moderated or vetted by the site owners at the time of submission. Comments are the responsibility of the poster. Disclaimer
David Hallwood
2
Posted 26/02/2015 at 19:32:59
Looks like 4-3-3 unless he's going to play Gibson RM or No 9??
Craig Mills
3
Posted 26/02/2015 at 19:33:55
Pretty solid looking team, and good to see Osman back on the bench. If we score first, I'd like to see Kone get a good run out.
Denis Richardson
4
Posted 26/02/2015 at 19:39:53
I'm very surprised to see McCarthy starting tbh. I thought we'd want to keep him fit for Arsenal.
I would also have gone with Kone up front; I hope Lukaku doesn't end up playing 90 mins...
Stephen Brown
5
Posted 26/02/2015 at 19:54:27
Go 1 up and take off McCarthy and Lukaku.

Stephen Brown
6
Posted 26/02/2015 at 20:02:39
Where's Atsu?
Ray Roche
8
Posted 26/02/2015 at 20:59:50
Suffering with a virus, Stephen.
Anthony Jones
9
Posted 26/02/2015 at 21:01:31
Neither Barry nor McCarthy would have seen let alone played that pass. Gibson needs a run in the side.
Stephen Brown
10
Posted 26/02/2015 at 21:12:11
Thanks Ray, not going to happen for that lad!
Christy Ring
11
Posted 26/02/2015 at 21:11:29
Lukaku off on 47 minutes. Is he clutching his hamstring? 3-1 up, and a yellow card away from missing next round... He should've been off at half-time. Pure bullshit by Martinez.
Peter McHugh
12
Posted 26/02/2015 at 21:32:18
Garbutt must be signed up and must start at left back on Sunday.
Brendan Fox
13
Posted 26/02/2015 at 21:30:16
It's imperative we keep Gibson fit for the rest of the season as he has brought us something that no other of the midfielders can deliver in the killer pass, I think it will also take some of the pressure off Ross.
Garbutt has also impressed and needs to be given a run of games ahead of Baines at LB as he has been more positive this evening and delivered some very dangerous crosses into the right spots.
Philip Bunting
14
Posted 26/02/2015 at 21:32:34
Garbutt looking excellant, Gibson must start v Arsenal. Besic and McCarthy too similair with 1 needing dropped or either rotated. Would prefer midfield 5 with mirralles, mccarthy, Gibson, Barkley but struggling for balance on left side, possibly Oviedo maybe...
Brendan Fox
15
Posted 26/02/2015 at 21:39:49
Phil, I see what your saying about balance on the left; I would love to see any two out of Garbutt/Baines/Oviedo in the LB/LM position as this would give a natural balance and cover allowing good link-up play and rotation between the LB & LM.
For me, Garbutt needs to be given games until the end of the season so that it may persuade him to sign a new contract as he is going to be an epic player – hopefully for the mighty blues!
Brendan Fox
16
Posted 26/02/2015 at 21:45:41
Good to see Kone getting some minutes as he brings something different to the mix to Lukaku and his hold up play is much better, maybe one day we may get to see both Lukaku and Kone on the pitch at the same time.
Breandan Clarke
17
Posted 26/02/2015 at 21:58:09
Robles is crap should be let go. Gibson and Kone are crocks and should be follow him out the door. The fickle football fan eh?
Teddy Bertin
18
Posted 26/02/2015 at 22:02:27
Posts on here today already trying to write the script out like "if Martinez plays a weakened team it's an insult to the club and competition" and " if we lose tonight even the diehards will turn on Roberto" (apologies both paraphrased). The man can do no right in some people's eyes at the moment.
If Lukaku is hailed off at half time then Martinez is denying a striker who is lacking confidence of a potential hattrick and if he's left on then it's "pure bullshit". It's not been a great season but there is still hope in this competition and all the negativity isn't helping anything or anyone.
Tony Hill
19
Posted 26/02/2015 at 22:02:03
You can smell the grief and resentment in the media at our smooth progress, especially that patronising ass Tyldesley. Wonderful.
I know it was a bit of a stroll again in the end but that was good to watch. Garbutt must be retained, Gibson excellent, Kone's touch is good to see, encouraging from Coleman. Besic excellent again when he came on, despite some strange views on here today that he's overrated.
No complaints, very pleasing. But please don't fuck it up on Sunday and Wednesday, that would be far too predictable.
No complaints from me.
Eugene Kearney
20
Posted 26/02/2015 at 22:07:42
Excellent result and a joy to cruise it through to the final 16.
Let's hope this second Europa League win will kick us into gear properly and get us winning our way a bit higher in the Premier League table.
COYB.
Andy Crooks
21
Posted 26/02/2015 at 22:04:33
I was surprised and disappointed at the line-up. I thought it would be a chance to give experience to young players. The coach decided to go for a confidence boost and he was absolutely spot on.
We looked very nervous to begin with but the confidence visibly grew and it all paid off. Gibson looked good and Lukaku will be great. He gets into good positions and will score more and more.
Ross Edwards
22
Posted 26/02/2015 at 22:11:52
Excellent result. If only we can play like that in the league.
Phill Thompson
23
Posted 26/02/2015 at 22:01:53
I'm puzzled why Garbutt's contract wasn't sorted last summer when Bobby was dishing out contracts. He's got class but still got further to develop in the sense that he's unlikely to walk into a permanent spot in a "bigger" (ha!) team and why go for permanent spot but mediocrity in a lower team.
Wayne Smyth
24
Posted 26/02/2015 at 22:05:23
Decent performance by the team aside from a very shaky 10 minutes in the first half. Nice to see Osman back and Garbutt and Kone get some minutes. Osman is very intelligent and seems to improve us a lot.
Gibson looked great again and Garbutt showed a lot of promise going forward, though I think he needs to work on his defensive side a bit. Some of his closing down and positioning was perhaps not the best.
Looking forward to tomorrow's draw.
Jim Knightley
26
Posted 26/02/2015 at 22:10:49
I'm with Teddy. Martinez deserves criticism because of what he has done in the league, but not in Europe. We've been fantastic, winning an extremely tough group, and we've thrashed Young Boys over two legs. I'm hoping for Brugge or Torino in the draw, and I really want us to avoid the Spanish Clubs, Wolfsburg, Napoli and Roma at the moment.
Paul Andrews
27
Posted 26/02/2015 at 22:13:39
Developing into a wonderful centre forward Lukaku.
That's 15 for the season now.
Brian Hennessy
28
Posted 26/02/2015 at 22:01:47
Delighted to go through and loved the cheer from the crowd when the other crowd went out.
Still baffled by some of RM decisions though. Playing McCarthy, Barry and Gibson in the same team is just crazy. In the early part of the game Martinez had Gibson playing too far forward and Barry and Mac didn't have the ability to get the ball to him.
Gibson saw what was happening and dropped deeper and was superb just as he was on Sunday.
Bringing on Besic when he was carrying a yellow card was also unnecessary
When fit it should be Gibson and McCarthy/Besic in future.
On current form obviously Howard should be dropped and Garbutt should also play more.
Looking forward to tomorrow's draw what a tough list of teams remaining. Would love to draw Sevilla, what a city and an incredible atmosphere at their ground.
Nick Entwistle
29
Posted 26/02/2015 at 22:15:22
So is this what Martinez has done? Implemented a continental style of play in the PL?
The PL is such a mishmash of styles all at 100mph that it really doesn't work. But in Europa, all day long.
Still laughing at Liverpool skying a penalty and turning on ITV1 to see Goodison going crazy... hehehe.
Mike Allison
30
Posted 26/02/2015 at 22:13:54
I just can't believe how much work he expects Naismith to do. He plays every minute of every game, and as much as I love a canny tryer, he doesn't have the physique or talent for it.
He spent the summer putting together a decent size squad so that he'd have options, yet he has been absolutely abysmal in the way he has managed the rotation of it this season. I'm assuming Naismith will play the full 90 against Arsenal on Sunday (probably out of position again), looking completely shagged out after an hour and barely able to keep his feet, as he does in every game.
I sincerely hope that in the future this can be put down as a 'learning' season for Martinez, but the noises he's making are still of a stubborn, obstinate person who thinks he's never wrong, so will never learn or improve.
Peter Laing
32
Posted 26/02/2015 at 22:21:41
Have we got the makings of the dogs of war in Gibbo, McCarthy and Besic ?
Brin Williams
33
Posted 26/02/2015 at 22:19:54
WTF??
Anyway, that was an excellent result some great performances tonight and credit to Roberto. Thought Nais had a stormer, Barry did well and Gibson's pass was 'incredible' Seamus back to his old self - (as was Howard !!) and Garbutt showed what he has in the locker.
Let's hope Romelu is for real this time?
All round - 8/10
Brian Hennessy
34
Posted 26/02/2015 at 22:21:23
Nick - Best tweet of the night was during the second half of our match someone tweeted -
"Liverpool fans, tune into ITV+1 now to see your team still in the Europa League", priceless
Paul Dempsey
35
Posted 26/02/2015 at 22:18:11
Christy, Please don't take this personally but what more does the Martinez and the team have to do? Martinez manages the team and obviously divides opinion but he wins 7-2 on aggregate, wins home and away, brings back players who have been injured, plays Besic and Garbutt over the two legs....
Get a grip mate... Irrational hatred of our manager is not our club's style and not becoming of us as a fanbase.
Kevin Rowlands
36
Posted 26/02/2015 at 22:26:53
Credit where it is due, I've been one of the biggest complainers but a comfortable win and the ONLY British team left in the Europa and possibly Europe after the next round of CL games. Why we have been so poor in the league is bewildering, we really do have a good squad and some very good players, hopefully tonight is a turning point and we'll all be a lot happier in the next few months.
Matt Traynor
37
Posted 26/02/2015 at 22:32:15
That waste of money Lukaku (according to a lot on here) scored his 100th senior goal tonight.
Brendan Fox
38
Posted 26/02/2015 at 22:32:35
Mike @ Post 30,
Who pissed on your chips? Cheer up – we got a good result if you weren't aware... I'm not sure what your beef is with Naismith but the lad's a grafter and makes me proud to be a blue because he leaves everything he's got on the pitch!
Victor Jones
39
Posted 26/02/2015 at 21:59:45
That was good. I really enjoyed that. And I haven't been able to say that to much this season. Heres hoping that we can carry that winning momentum into the Arsenal game.
Martinez now needs to sign young Garbutt up on a 4 to 5 year deal. No pissing about. Do it as soon as humanly possible. His play tonight was brilliant. And he looks better every time I see him. And believe me, if a novice like me sees how good he is, then most Premier League clubs will no doubt also be taking note. Give him the left back spot for the rest of the season. He is good enough. Integrate Baines into midfield. He has the skill and vision. Why not?
Also fit Oviedo into a LMF position.
Naismith had a good game tonight. No Barkley. And Naismith flourished. Lukaku played well. Would love to see him and Kone play together sometime. FFS even Alcatraz and Barry even played ok. And what about that pass from Gibson to Mirallas. It was bootiful. BOOTIFUL. He needs to keep his place in the team. For now I'd sacrifice Barkley.
Can we now do the unthinkable? And get a result against the Arsenal. Or is this another false dawn? The only changes that now need to be made, are Howard out, Robles in. Alcatraz out, Stones in. The Barry or Besic question is tough. I'd go for Besic. But I can see the merits in going for Barry experience. And Barry does play better alongside McCarthy. And as stated , Gibson must now keep his place. Barkley is a luxury, who now must earn his place in this team. But will Martinez act accordingly. Who knows. I'd be surprised if he starts playing players who are starting to show some form. That's not his style. Looking ahead, that team tonight would IMO trouble a pedestrian Stoke City.
OK folks. That was a good nights football.(for a change). Everton win a football match and go marching on. And the RS and Spurs go crashing out. No work tomorrow, so with the wifes permission, I'm having a few Cream of the Barley. . Cheers.
Breandan Clarke
40
Posted 26/02/2015 at 22:34:15
Anyone else notice how completely unarsed Miralles seems the past few games? Think he'll be off soon. Would love if we won this and he had zero input. Might even deflate his ego albeit not likely.
Jason Murray
41
Posted 26/02/2015 at 22:30:07
We survived the early scare when we easily could have been two nil down but produced a class performance again. The cross from Garbutt for Rom's second was tremendous but the ball of the match was undoubtedly when Gibson sent Mirallas through. Great night to be a Blue; bring on the next victims!
James Power
42
Posted 26/02/2015 at 22:31:07
Great result. I'd just like to comment on Kevin Ratcliffe. Jesus what awful commentary - "maybe de are where de are...maybe de are where de shudder bin last year. Maybe de overachieved .." Shit, really? I could have got that from the local cabbage down the pub. No wonder I suppose, it's itv 4. If Robbie Savage is on BBC1 I suppose it's a natural regression. Rats is trying to prove his ability to be balanced by talking us down, whereas the loveables are shameless in their bias on national TV. Come on Kev we need any advantage we can get!
Paul Tran
43
Posted 26/02/2015 at 22:38:56
Good win, good performance, created plenty of chances again. Don't know how long Gibson will last, but he made a difference again. He must stay in the side. I'd also give Garbutt a run and make him play his way to another contract.
Martinez's survival will depend on whether he gets the team to deal with the sides that sit back.
Still, it's not often that we go through and they don't, so let's enjoy tonight and see if we can string two good performances together on Sunday.
Joe Revill
44
Posted 26/02/2015 at 22:41:25
Great result tonight lads well done. Hopefully we can keep this up and get a result against the arse on Sunday. coyb.
Paul Thompson
45
Posted 26/02/2015 at 22:37:45
Defence looked very nervous at the start and we were letting YB have too much space in our half. But after the pen, we settled down and played some good stuff. Some definite positives in game time for Garbutt, Gibson, Kone and Osman. Some more midfield options for Arsenal.
Pretty much only good teams left in now, but we've nothing to prove and everything to gain in this competition.
Brendan Fox
46
Posted 26/02/2015 at 22:40:55
The usual shite with BBC if you look on the sport main page highlight article is that the gobshites have gone out and there is tiny little highlight article about us easing through.
Wish the BBC and other media would just fucking wake up and realise that the gobshites are the definition of shite and no-one other then them deluded Norwegians gives a shit. Typical the only English team left in the EL but no boo-hoo for the shite and forget about the only victorious team left in the comp.
Brian Hennessy
47
Posted 26/02/2015 at 22:50:09
Agree James Ratcliffe was terrible, then again most things on ITV are
John Paul McGurk
48
Posted 26/02/2015 at 22:50:28
Kevin M what is his problem, he looked devasted when Lukaku scored his second and sad when scored
John Keating
49
Posted 26/02/2015 at 22:53:47
I said after last Thursdays game that I was glad we won but not really interested because Leicester was more important.
Same tonight. Arsenal is far more important.
Trevor Lynes
51
Posted 26/02/2015 at 22:50:51
Osman is such a steadying influence and everyone played with much more confidence.
Mark Andersson
52
Posted 26/02/2015 at 22:37:43
Love waking up to positive news. Been hot as hell here in Oz so refreshing to read happy smiley posts. Now can we please take this positive into the Arsenal game.
I've not read the online Daily Mail for a while, simply because they are so baised towards the money clubs, but I will bet our result will be featured somewhere near the bottom. Screw them and the rest of the baised media.
Victor Jones
53
Posted 26/02/2015 at 22:37:11
Off course I meant Alcaraz . Not Alcatraz. Although for most of the time he should be in Alcatraz. Although I'll be easy on him tonight. He actually didn't play to badly.
Barry Lambert
55
Posted 26/02/2015 at 22:56:31
Ratcliffe says we over achieved last season. Bollocks! It is impossible to over achieve.The fact is we are currently under achieving with a stronger squad.
Did Brian Clough's Forest over achieve for 10 years? Listening to that twat co-commentator yet again bleating on about our 2 offside goals last week was seriously getting on my tits.

Great win tonight.COYB
Matt Geraghty
56
Posted 26/02/2015 at 22:49:46
Whoever we draw in the next round will be decent opposition. Ajax, Clube Brugge and Dnipro look like the easiest, while the Spanish and the Russian sides look like the ones to avoid.
My choice, would be Inter. I think if we could go there, and beat them, that would give us the psychological boost to and win it.
Its been a good night to be a Blue.

Mike Childs
57
Posted 26/02/2015 at 23:09:57
Spot on John Keating.
Jonathan Benn
58
Posted 26/02/2015 at 22:52:55
I thought we did exactly what we had to tonight with what we had available. The best bit of punditry in the whole match was from Strachan saying that Young Boys played into our hands by attacking.
We can attack the manager all day long and we can say that the players can do better but the biggest issue is that certain players refuse to show a second string to their bow domestically and we were taught that in Europe. Look at today, Barry didn't have to make a tackle yet never made a pass. McCarthy didn't have to chase down anything, but never stopped running.
On the flip side, all commentary wanted to say was that Besic likes a tackle, yet he was looking to pick the ball up deep and run with it, almost Gascoigne like. All people have said is that Gibson is a shit crock, yet today he was full of energy, even showed pace and was our creative hub.
The top and bottom of our season is this..... Our playing style has been found out. The opposition game plan is to stifle (in the Premier League) and we struggle because the players we have are too one dimensional. The blame is partially managerial as he bought the players and tells them what to do, and the blame is partially the players because they refuse to adapt to the circumstances of a game and alter their playing style.
We will continue to be successful in Europe because our basic playing style fits the European ethos. We will continue to struggle against lesser teams in the league because they wont allow us to play and we cannot adapt to trying to break them down.
We will not be relegated, we will not make the European places. We need to write off the league season and try and win a European competition. You may not like it, and it will kill me seeing our team struggle when my 9 year old son watches, but we will be a different side next season and hopefully a Champions League side because we won silverware this season.
COYB!
John Malone
59
Posted 26/02/2015 at 22:46:06
Really pleased to score three and get through but it will be a different game altogether against Arsenal. If Martinez can get the shape right Gibson could be a very useful player his forward passes remind me of Paul Scholes back in the day.
It's a shame that we can only play eleven, we have a lot of different options in midfield at the minute and I just hope Martinez can find a winning formula in the league as the Europa wins only mask the recent poor form.
David Hallwood
60
Posted 26/02/2015 at 23:18:46
Spot on James Power(#42). When I heard him rambling on like that, I was thinking WTF is he on??
Still I'll give him a pass; our most successful captain and I remember a commentator describing him as a Rolls Royce of a player. Maybe he's trying to compensate for his obvious blue leaning, as he was a boyhood blue and lived the dream.
Victor Jones
61
Posted 26/02/2015 at 23:12:40
We don't need a trip to Russia. Or two hard games against Inter Milan. There is still a little matter of trying to win our Sunday league matches. I know that its illogical that we struggle in these games. There is no real reason for doing so. But the fact is , we do struggle after a Thursday night game. (although I think we have always struggled in Sunday games). I really don't like them. Especially early kick offs. But that is just me.
Back to the Europa League, I think that this Everton squad could beat Ajax. They would suit Martinez's style. Everton could have time on the ball. They could beat Ajax with a counter attacking game. So that would be my preference.
As for Mirallas. He will be gone in the summer. He knows it. Martinez knows it. Keep Lennon. And lets get in a certain young fella who is currently floundering about in Spain. Delboy I think you affectionately call him.
Denis Richardson
62
Posted 26/02/2015 at 23:22:21
Good result and glad to have gotten through with no further injuries and a few players getting back to fitness again.
The game was always going to be a bit easy but still good to get a win. Hopefully we can get a kind draw in the next round but until then back to the main business. Arsenal and Stoke coming up and we need to pick up some points.
I hope Gibson can get a few games as we finally have someone looking to pass the ball forward and no sideways. Both Gibson and Mirallas played 90 mins so I can't see both of them playing 90 mins in the upcoming 2 league games. Will see what Martinez decides.
I'd definitely like to see Garbutt given at least one start out of the next two league games. Martinez needs to convince him to sign and a one off game in the EL isn't going to do that. Play Baines against Arsenal and Garbutt against Stoke.
Look forward to the draw at noon tomorrow. A lot of tough teams left but hopefully the draw will be kind - I'd take Brugge or one of the Ukrainian sides. Rest are all tough!
Nick Entwistle
63
Posted 26/02/2015 at 23:33:14
Meanwhile, Chelsea sign a 㿔m per year shirt deal with Yokohama. I don't know why that's relevant but jeez...
Trevor Peers
64
Posted 26/02/2015 at 23:36:00
Nick, it means we need to be equally ruthless in our pursuit for glory.
Brent Stephens
65
Posted 26/02/2015 at 23:21:49
Really enjoyed that tonight. Pressure was off, we had a few scary bits. But good displays from Gibson (passing), Garbutt (crosses), Coleman (surging runs), Lukaku (goals), Kone (control), Barry and McCarthy (work rate and defensive duties), Naismith (what can you say? his body must ache at the end), Osman cameo few minutes (some sublime passes), Besic (busy and safe), away fans (better than Toblerone), RS (result and crowd reaction).

Paul Dark
66
Posted 26/02/2015 at 23:33:04
Yes, the league takes precedence.
Some smallish points:
Besic was excellent when he came on; shades of Bobby Moore sometimes. Not sure why he was risked given the disciplinary points start again after the next round. I guess Roberto will always be a purist, even if and when it costs us – odd profession to be an inflexible purist in, mind.
Alcaraz looks good on the ball; he can head well when under no pressure – but if anyone is near him or bullies him or makes him defend stoutly (or at all), he is a weak and uncertain link in the side.
We look wooden without Rom, however lean his return in the PL this season. I'd love the crowd to get behind him at GP more – though he got a good reception when he was subbed (hope he's OK for Sunday).
Barry's permanent selection is also baffling, quite baffling.
With Kenno and Bobby we really do have gushing cream on gushing cream – just no cake, I sometimes fear.
Christy Ring
67
Posted 26/02/2015 at 23:26:18
Wayne 24 are you for real? You said I was talking bullshit because I said Martinez should have brought Lukaku off at half-time. We were 7-2 up and then you said it was good to see Kone get game time????
Harold Matthews
68
Posted 26/02/2015 at 23:07:55
True John Paul. Mirallas was as sick as a pig when Lukaku hit the net.
Professional performance against a very poor side. Nothing to get excited about but very satisfactory.
Colin Glassar
69
Posted 26/02/2015 at 23:48:38
Just watched CNN International announcing the defeat of ALL three British teams left in the EL. Everton weren't even mentioned.
Jamie Barlow
70
Posted 26/02/2015 at 23:31:06
Mike Allison. It shows how differently people see things. Naismith would be the first name on the team sheet every week for me. He's fantastic.
Breandan@40 Did you see the Mirallas reaction to Lukaku's second?
It's games like tonight that make me wonder why some don't want us in Europe. Great night to be a blue. Great atmosphere and fair play to the Young Boys fans. 2,000 I believe and never let their team down.
As others have said above. What is up with Kevin Ratcliffe? Shocking again today except for when he said "Besic looks for a tackle even when he has the ball" That one made me smile.
We need to pick up points quickly in the league now so we can really go for this cup. The longer we struggle in the league, the harder it's going to get playing better teams in the cup. Get to safety (horrible saying that) and we can go full pelt and anything is possible. We look quite good in Europe mode.
MotM – Gibson. I hope we can keep him fit.

Steve Barr
71
Posted 26/02/2015 at 23:57:11
Colin,
I live in the States and often have to explain that Everton is the true team in Liverpool. I'm not surprised these US Networks didn't recognize that Everton is the remaining British (I prefer English) club left in the Europa Cup.
They probably don't know where most of the teams remaining are from. Bet they don't know where Port Vale is!
Colin Glassar
72
Posted 27/02/2015 at 00:06:36
As long as we know who we are, eh Steve?
James Flynn
73
Posted 27/02/2015 at 00:17:34
Jamie (70) – "Did you see the Mirallas's reaction to Lukaku's second?"
More, Lukaku extending his hug on Mirallas after Mirallas's goal.
After, what, three years, everything physically and technically indicates Mirallas should be a top-flight player. He just isn't. One of those peculiar fellows.

Eddie Dunn
74
Posted 27/02/2015 at 00:17:42
The Rat was trying too hard to be impartial, as if it was an English league game. You can want an English team to win Kevin.
In fairness to Martinez (who I have slagged off loads this season), he seems to realise that Gibson has something that no other Everton player has at the moment, the ability to see and implement a pass in one millisecond.
You can't coach that, and I really hope and pray Gibbo stays injury-free for the rest of the season. Lots of positives tonight, let's hope we can build on it at the Arse on Sunday.

Jamie Barlow
75
Posted 27/02/2015 at 00:43:51
I like Mirallas James. I think he is a top player. It was just a peculiar way to celebrate a goal.
David Hallwood
76
Posted 27/02/2015 at 00:38:32
Perhaps with Gibson, he will abandon the 2 holders in MF which just haven't worked this season. Don't hold your breath, but the 4-3-3 looks good-go for it Martinez.
James Flynn
77
Posted 27/02/2015 at 01:05:33
Jamie (75) – A top talent? I agree. A top player, he hasn't shown.
Sorry, but in a When-I-Feel-Like-It competition between him and Yakubu, I'd take the Yak every time.
As I mentioned, a peculiar fellow.
Bill Gall
78
Posted 27/02/2015 at 01:22:19
What the hell are the Sky Sports Liverpool pundits going to talk about now? The only English team left in the Europa League is not one they like to talk about.
I'm so glad they are out as teams that are knocked out of the Champions league should not be given a second chance.
Spurs out too, it is a wonder that Sky Sports pundits do not phone in asking for some sick days off.
Please, Everton, let us insert this goalscoring into our league play..
Colin Malone
79
Posted 27/02/2015 at 01:54:07
Gibson needs protection, just like Sheedy with Reidy and Bracewell, hence McCarthy and Besic / Barry. More so Gibson, to get through his bad injury. We need that quick forward passing to get us out of the mire.
Will Firstbrook
80
Posted 27/02/2015 at 02:44:13
Nice to see the fullbacks making some penetrating runs down the flanks. Gibson and Besic (when he came on) were pulling the strings in midfield. There really were some brilliant scything passes made tonight which completely opened up their defense.
Some dodgy defending of corners in that first 10 mins but they settled down well after that.
They really does look like a different team in this competition as compared to our league displays. Strange game...
Paul Kernot
82
Posted 27/02/2015 at 04:35:04
Just got home (NZ time). Trawled through article after article re Europa League on Soccernet.com. Not a word about Everton. I was beginning to think I'd got the time zone thing wrong again. All about how Liverpool and Spurs blew it.
Come on here. Everton cruise into last 16. 7 - 2 on aggregate. Last British team in comp. Not one word. Aaaaarse!
Peter McIver
84
Posted 27/02/2015 at 05:19:22
Here in Adelaide, the ABC news had one headline about Europa appearing at the bottom of the screen: Liverpool knocked out of Europa League on penalties; Everton ease through to last 16.
Made my morning!
Brian Porter
85
Posted 27/02/2015 at 05:50:29
I loved it. A long time since I felt able to say that, but tonight was a joy to watch.
Victor (#61), I must agree with you re Sunday games. I hate them and can't remember the last time we played well in one, EL or not. We just never seem to perform well in them, especially as you say, the early kick-offs. We have to live with them but wish we could find a magic formula to motivate the players to play their best on a Sunday. Mind you, the same applies to Saturdays at present.
Back to the YB game: Gibson had a great game, Garbutt great going forward but still a little frail defensively, and Naismith a stand out man for me. His effort, if copied by the rest of the squad would see us back to winning games for fun again.
As a commentator said, "Naismith is everywhere" and he was! In a few minutes, Osman showed what we've been missing. Knock him all you like, but Leon brings something to the team in terms of his vision and calming influence, even if he can't do it for 90 minutes any more, he is still a very important and pivotal member of the squad. Well done, lads!
Peter Barry
86
Posted 27/02/2015 at 06:46:39
It is worth noting that the Lame Stream EneMedia's Sports Sections and TV programmes today spend far more time analysing and bemoaning the RS and Spurs FAILING than they do about Everton gloriously succeeding.
Nigel Munford
87
Posted 27/02/2015 at 07:30:14
Peter #86 — I totally agree very poor reporting all round in the media, our neighbours get the headlines, followed by Spurs, Everton's cruise into the last 16 comes 3rd on BBC sport app, football section, and in the main app didn't make the main page.
It's as if losing is far more news worthy than winning, even Smooth Radio state British clubs all exit Europe, so what country is Everton part if then??? I'm amazed!!
Colin Glassar
88
Posted 27/02/2015 at 07:49:13
Eddie 74, Rat's commentary last night wasn't a one-off he's always like that when Everton play. He's a miserable sod who is always trying to point out the negatives, is it jealousy?
I wonder if he contributes on here under a pseudonym?
Kevin O'Regan
89
Posted 27/02/2015 at 07:58:12
Is it maybe time to stop bloody booing Lukaku? That sickens me.
Yes, he has been wasteful; yes, he needs to do more... but he is young and improving and needs confidence, not booing from his own fans.
James Hughes
90
Posted 27/02/2015 at 08:07:17
Colin I like that thought, Rat's on here as John Doe being another doom and gloom merchant.
Pleasantly surprised again last night our performance in Europa are like chalk and cheese and I was glad I didn't have to hide behind the sofa.
I would like to add that Mirallas needs to buck his ideas up or the only way he will make CL football is by being a ball-boy.
Steve Barnes
91
Posted 27/02/2015 at 08:31:01
Mirallas should sign – forget CL and 'big clubs' – stick with the best. Garbutt should sign – good lad, impressive and loads of potential.
Naismith is a star, maybe not the most gifted, but what a grafter! Lukaku needs to find his shooting boots in the EPL
Gibson, what a pass! I was surprised RM didn't chuck Barkley on for 15 mins after it was all sewn up – give the lad a bit of Goodison confidence.
Maybe we will be back down to earth with a bump come Sunday, but I'm enjoying this whilst I can. Pity I'm not in the office today to smile at all my red colleagues.....
Craig Walker
92
Posted 27/02/2015 at 09:01:13
Great performance last night topped by them lot crashing out on penalties. On the negative side, there are a lot of good teams still left in the competition though. Great to still be in it though.
Why does Ratcliffe say "Judge-elka" ?
Brian Harrison
93
Posted 27/02/2015 at 09:13:04
I had almost forgotten what it was like to walk out of Goodison having won a game. Despite a couple of early scares it was a very professional performance.
But the stand-out player for me was Gibson, how nice to see a midfield player always looking to play the ball forward early. His touch and range of passing were a treat to watch and forwards were at last prepared to run off the ball as they knew Gibson would find them. His pass for the Mirallas goal was pure class. He may not be able to get round the pitch as quick as he used too but he has a range of passing that neither Barry, Besic or McCarthy can match. So for me provided he stays fit it has to be Gibson and any 2 from 3 for the other places.
Strange isn't it that RM has brought in either defensive midfield players or wide players yet no sign of a midfield player who can look for an early pass like Gibson.
Tony Abrahams
94
Posted 27/02/2015 at 09:02:38
I thought that about Barkley myself, Steve. I thought the game was perfect for him, with all that space to operate in.
It was good thet Gibson played 90 minutes; it looks like he's been doing a lot of work behind the scenes.
I hope Pienaar returns with a similar spark to his play, and the players can take their European form into the Premier League.
Sam Hoare
95
Posted 27/02/2015 at 09:24:11
Two things to note:
1. Our confidence is SO fragile at the moment. When they scored early on, it suddenly looked as though the nightmare scenario might be possible and had their effort that hit the bar been an inch lower, then it would have been squeaky bum time. But we scored and then confidence grew and we looked once more like the team of last season rather than this one. Our form in Europa gives us confidence that evaporates in the league.
2. What a difference top quality passing makes. Take a bow Gibson, whose quick and incisive passing started many of our best moves. Aided with good movement up front GIbson's range and vision was what we have been crying out for all season. I wonder if Gibson and Besic (whose passing I think is superior to McCarthy's) might be our best midfield combo?
No idea what Martinez's best team is at the moment and i'm pretty sure he doesn't either. This season suggests he will stick with his favourites (Howard, Barry, Baines etc) despite downturns in form.
Naismith offers an intriguing conundrum as his workrate is top class and makes him almost undroppable although his touch and passing is not what it might be and he's certainly not a natural winger. He would seem the obvious choice for № 10 but I think his control and decision making lets him down in such a pivotal role though his main competitor, Barkley, is not exactly at his best right now. Osman on the other hand offers the touch and intelligence without the work rate and movement.
I'm very curious to see the starting line-up for Sunday. I suspect it will look very familiar.
Mike Keating
96
Posted 27/02/2015 at 09:33:09
If only Lukaku had Kone's first touch, he would be worth 㿈m. Play them together and see what happens. Bring on Villarreal...
Paul Burns
97
Posted 27/02/2015 at 09:27:45
Can't believe how many people are obsessed with the league, swallowing the Sky bullshit hook, line and sinker. As long as we stay up, it doesn't matter, only 3 or 4 teams can ever win it under current conditions and we're not one. Stay up and try and win a cup now and again.
This is easily doable; far lesser clubs have done it, yet we have people on here who don't like playing in Europe and blame it for poor league form.
Rubbish. Nearly all teams who do well in Europe are near the top of their domestic leagues and the fact we're not is Martinez's fault, not the fact we've progressed in a cup competition.
Graham Mockford
98
Posted 27/02/2015 at 10:01:45
Free draw today but the two Russian sides cannot play the two Ukrainian sides due to a current Uefa ruling. With four Italian sides in the hat, it's an even money bet we will be in one of these three countries.
No weak sides left so it's all about the quality of the away trip. Bruges, Florence or Seville for me.
Rahman Talib
99
Posted 27/02/2015 at 08:01:05
After the win last night, the first song that came to my mind is "Minnie the Moocher" by Cab Calloway.
For the life of me, I dunno why...
https://www.youtube.com/watch?v=8mq4UT4VnbE
Anto Meehan
100
Posted 27/02/2015 at 10:43:08
5 Italian teams left
Inter, Torino, Fiorentina, Napoli and Roma
A bit of payback due for Villareal and Fiorentina but for an away trip I have the fingers crossed for Brugge.
A bit of personal payback for Brugge who let me down on a FIFTEEN match accumulator a couple of years back......22,000 reasons to beat them :-)
Sam Hoare
101
Posted 27/02/2015 at 10:50:40
Not many easy teams left in but Brugges or Dnipro or maybe Torino might be the best bets.
Have a horrible feeling that Wolfsburg might be the best team in it and may be hungry to exact some revenge for our slightly fortunate group results.
Anyone who said Europa was a waste of time was wrong. Only thing keeping Evertonians smiling this season!
Joe Bibb
102
Posted 27/02/2015 at 10:52:23
There will be more teams worried about playing Everton than we are about playing them.
We are doing well in Europe and have been unlucky against Chelsea, City and Man United.
Things will turn out ok but all the moaners should stop and think, if we do go on to the Semi Final or Final in Europe and Martinez gets the recognition he deserves, would he want to stay at a club where these people panic at every draw at home?
Andrew Ellams
103
Posted 27/02/2015 at 11:04:27
Wolfsburg worry me too Sam. If we have to play them before the final it will mean four matches in one season, and it will take a huge effort to get the better of a good side like that four times.
Sam Hoare
104
Posted 27/02/2015 at 11:03:23
Joe, get off you high horse. People don't panic because we draw at home, they worry because we've only won 3 at home all season. Which is relegation form.
We were no more unlucky against Chelsea and Man Utd than we were lucky against Wolfsburg and Krasnodar.
Martinez should of course get recognition and praise for any achievements in Europa as he should get criticism for our failures at home. If he can't handle that then he shouldn't stay at the club.
Phil Walling
105
Posted 27/02/2015 at 11:08:16
A good win as predicted although Corals still haven't reduced the 16/1 against us winning the trophy which was on offer 24 hours ago. Get on!
Paul Thompson
106
Posted 27/02/2015 at 11:19:12
All the points about Gibson and passing are spot-on. Bu we should also take note of Osman's contribution in the short amount of time he was on the pitch. Those shorter threaded through balls in and around the box are a vital contribution to breaking down mass defences and that we've been sorely missing.
Brent Stephens
107
Posted 27/02/2015 at 11:26:02
Paul, #106. Yes, Osman no longer a 90 minute player, but coming on for the last 20 or so if we can't break a defence down...
Only on a short while last night but 3 or 4 sublime, piercing passes.

Andrew Ellams
108
Posted 27/02/2015 at 11:30:15
Do that quick Phil. I guess the odds will all change after the draw is made.
Conn Prosser
109
Posted 27/02/2015 at 11:27:46
Just watched the highlights on the official site. That video stream has gone rubbish. It used to be alright (in Australia) but now it takes half an hour to stream three minutes. Anyroadup. I was tingling all over for Rom's second goal. And that Gibson pass! Made it look easy. But yeah, Mirallas almost looked disappointed to have scored. He's defo a gonner.
Cracking result and performance. Sets us up nicely to lose on Sunday. Or dominate and draw.
Denis Richardson
110
Posted 27/02/2015 at 11:23:48
Like your optimism Phil but we haven't even made the quarters yet and although we've performed well so far, Wolfsburg is the only proper team we've come up against and we were lucky against them, if we're being honest.
I'll feel a lot more optimistic if we can get into the quarters, then it starts to get a bit of a lottery and once off performances can make/break you. All I'm hoping for is a kind draw with the first leg away.
We'll know in half an hour..
Mike Corcoran
111
Posted 27/02/2015 at 11:37:55
Brugge or Ajax, please.
Graham Mockford
112
Posted 27/02/2015 at 11:50:55
Draw is live on uefa.com

Kevin Tully
113
Posted 27/02/2015 at 12:00:53
Nick Entwistle
114
Posted 27/02/2015 at 12:07:24
This draw is as intolerable as the national lottery.
Brett Jonathan
115
Posted 27/02/2015 at 12:08:39
Can't believe Wolfsburg are the bookies favourite. We smashed em twice!
Mark Boulle
116
Posted 27/02/2015 at 12:09:09
Who have Everton sent in a suit to sit looking bored in the audience?
Charlie Dixon
117
Posted 27/02/2015 at 12:09:31
https://uk.eurosport.yahoo.com/gs/football/europa-league/draw/

Nick Entwistle
118
Posted 27/02/2015 at 12:09:56
Some 'banter' with Dudek and now technical procedure. They know how to put on a show.
Kevin Tully
119
Posted 27/02/2015 at 12:12:01
These feckers rabbit more than my missus.
Brent Stephens
120
Posted 27/02/2015 at 12:13:27
EFC v Kiev
Brent Stephens
121
Posted 27/02/2015 at 12:13:58
Kiev 25-1
Brett Jonathan
122
Posted 27/02/2015 at 12:11:05
We've got to be okay with that draw. Not fun for the travelling fans, but we should be able to beat them.
Nick Entwistle
123
Posted 27/02/2015 at 12:14:29
Graham Stuart was in the Everton delegation... not sure who the suit was.
Kevin Tully
124
Posted 27/02/2015 at 12:14:38
At home first leg – would have preferred it the other way round, but will take that draw.
Nick Page
125
Posted 27/02/2015 at 12:12:09
fuck me, I thought....if we come out first we'll win this.....
Number 1....Everton
oof
Brent Stephens
126
Posted 27/02/2015 at 12:14:58
They look scared (dare I say chicken?).
Chris Leyland
127
Posted 27/02/2015 at 12:14:46
We need to be careful, our opponents are no chickens...
Sam Hoare
128
Posted 27/02/2015 at 12:15:53
Was it just me or did commentoator know who we were playing before the ball was opened? Strange...
Brett Jonathan
129
Posted 27/02/2015 at 12:16:10
Far too early in the morning for those kind of jokes Brent.
Sam Hoare
130
Posted 27/02/2015 at 12:16:35
Decent draw though.
Ciaran Duff
131
Posted 27/02/2015 at 12:15:39
Let's hope the Russian rebels don't shoot down our plane!
Nick Page
132
Posted 27/02/2015 at 12:17:27
Fuckin ell, friendly place....
http://www.goal.com/en-sg/news/3868/main/2015/02/27/9317712/theyre-not-fans-at-dynamo-kiev-theyre-militia
Jeez
Mark Boulle
133
Posted 27/02/2015 at 12:16:08
Just looking at Kiev's squad on wikipedia. They've got a decent keeper, Veloso the Portuguese midfielder is handy and I think Yarmolenko up front is not bad. They also have ThankGod Mbokani, who I think we've been linked with before haven't we...?
Shouldn't hold any particular terrors anyway.
Brent Stephens
134
Posted 27/02/2015 at 12:18:07
Sorry, Brett!
Dave Abrahams
135
Posted 27/02/2015 at 12:08:27
Sam Hoare (95)
I enjoy your posts as you know the game, Gibson has played well in the two games since he came back and I think Besic is going to be a very good player for the Blues but leaving McCarthy out would be the height of folly, he is Everton's rock.
Brent Stephens
136
Posted 27/02/2015 at 12:18:57
Sam, was it Dudek announcing it as he opened it?
Mark Boulle
137
Posted 27/02/2015 at 12:20:14
If we can get through, 3 of Fiorentina, Roma, Wolfsburg, Inter, Sevilla and Villareal will be out as they've all been drawn against each other. That's great news.
Dare I say it, our name is on the Europa League...?!
Sam Hoare
138
Posted 27/02/2015 at 12:19:55
Dave (#135):
Yes I know McCarthy has been a rock. Though I would be curious to see Gibson and Besic. I also like pineapple on pizza though so a fan of unlikely combinations.
Brent, I'm pretty sure it was the English commentator but maybe my imagination.
Steve Hogan
139
Posted 27/02/2015 at 12:20:24
Our delegation at Nyon, Graeme Stuart and David Harrison (the club secretary).
Brett Jonathan
140
Posted 27/02/2015 at 12:22:15
The video feed was on a 30-second delay but, by the looks of things, everyone knew the draw a bit earlier.
Clive Lewis
141
Posted 27/02/2015 at 12:25:37
Any chance that Kiev will be kicked out after the violence?.
Anto Meehan
142
Posted 27/02/2015 at 12:24:07
Finish them off at Goodison and don't worry about the trip to Ukraine. We should have a 2- or 3-goal lead heading out there.
Brett Jonathan
143
Posted 27/02/2015 at 12:27:17
Not at this point Clive. They 'solved' that issue by not drawing any Russian or Ukraine teams together.
Gavin Johnson
144
Posted 27/02/2015 at 12:27:59
Kiev's officials looked pretty happy to get us. I'm fairly happy to get them to be honest. It could be a lot, lot worse.
Nick Page
145
Posted 27/02/2015 at 12:34:00
Dnipro looked an easier draw.
http://int.soccerway.com/national/ukraine/premier-league/20142015/regular-season/r26855/
Lost a few games though in EL
http://int.soccerway.com/teams/ukraine/fc-dynamo-kyiv/2253/
Jay Wood
146
Posted 27/02/2015 at 12:57:49
Brent @ 126 ... groan! Do yer do kids' parties??!! ;-)
Gotta take that draw with the quality left in. Hope we take full advantage of it and progress to the last 8. Some big clubs will be knocking each other out, clearing the path a wee bit for the quarters.
Kiev is not such a long haul as going into deepest Russia, either, but the security situation may be a bit hairy.
Andrew Ellams
147
Posted 27/02/2015 at 13:17:52
Sam @ 128, they did because the draw was loaded for the two Ukranian teams to come out in the first two games so they could keep them apart from the Russian teams.
Simon Jones
148
Posted 27/02/2015 at 13:35:39
I know I'm tempting fate and will probably find someone has laced my coffee with something, but when the second goal went in and the RS were knocked out, I suddenly fancied us winning this thing... weird or what?
Will Firstbrook
149
Posted 27/02/2015 at 15:22:31
As others have noted, not the worst draw by any means but yeah, travelling fans will need to be careful for the away leg. Was just reading some of the accounts from that Guingamp free-for-all. Nasty contingent of "fans" there and you can bet a few will be looking forward to the opportunity of having a go when we roll in.
Dave Abrahams
150
Posted 27/02/2015 at 17:07:03
What was the attendance for last night's game?
Andy Crooks
151
Posted 27/02/2015 at 19:07:44
Dave, don't know what the attendance was but I thought the support was magnificent.
---
Add Your Comments
In order to post a comment, you need to be logged in as a registered user of the site.
Or Sign up as a ToffeeWeb Member — it's free, takes just a few minutes and will allow you to post your comments on articles and Talking Points submissions across the site.
© ToffeeWeb