Blues extend sorry run with defeat at Stoke
Stoke City 2 - 0 Everton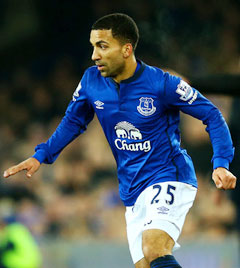 Aaron Lennon returned to the starting XI but only managed a disappointing hour
Everton's horrible run of Premier League form continued at the Britannia Stadium with an eighth defeat in nine away games thanks to a goal in each half for Stoke, scored by Victor Moses and Mame Biram Diouf.
Aaron Lennon returned to the team alongside Darron Gibson and Steven Naismith for the trip to the Britannia Stadium.
Leighton Baines missed out so Luke Garbutt continued at left back. Ross Barkley and Kevin Mirallas were named among the substitutes.
A scrappy opening yielded few chances but a number of infringements for Mark Clattenburg to deal with. Steven Naismith received some cautionary words before Gareth Barry was booked for tugging back Charlie Adam, picking up his 10th booking of the season and a two-match suspension in the process.
Gibson had the Blues' first effort on target for the Blues with a low shot that was comfortably gathered while a couple of corners from Luke Garbutt came to nothing.
Stoke, meanwhile, had their first real spell of pressure with half an hour gone and Moses forced a parrying save from Tim Howard. The home side remained in possession following a spate of "handbags" between Naismith and Phil Bardsley before the Stoke fullback swung the ball into the box from a throw-in. Victor Moses rose unmarked in the box to plant a header into the top corner beyond Tim Howard's reach and make it 1-0.
Everton's best passage of play towards the end of the first half yielded a couple of set-pieces and a shot on target from the angle by Lennon but it was not enough to unduly trouble Asmir Begovic.
The best chance of the game for Martinez's side came early in the second half when Lukaku was handed a rare chance to get behind the defence with the ball played in front of him and his deflected shot squirmed agonisingly past the far post.
The Blues continued to press in the second half but lacked the guile to break down a stubborn and physical opponent. Lennon was withdrawn along with Barry after an hour and the introduction of Leon Osman and Arouna Kone yielded two quick shots on goal but one was blocked and the other beaten away by the 'keeper.
As Everton chased the game increasingly in vain, they were sucker-punched when Diouf got away with a foul on Phil Jagielka in the centre circle and was on hand to convert the rebound after Marko Arnautovic's shot came back off the post.
Luke Garbutt forced a late save from Begovic after McCarthy had been fouled on the edge of the box by Jonathan Walters but it was a rare test for the Potters' keeper.
The result represents the League double for Stoke over Everton following their win at Goodison Park on Boxing Day and ratchets up the pressure on Martinez whose team have now recorded just two victories in 16 matches in the Premier League.
If there was a silver lining for the Blues it was that all three of the clubs occupying the relegation places coming into the evening lost, preserving that six-point buffer. QPR were beaten 2-1 at home by Arsenal, Burnley went down 2-0 to Liverpool and Leicester lost at Manchester City.
Everton: Howard; Coleman, Stones, Jagielka, Garbutt; Barry, McCarthy, Gibson, Lennon; Naismith, Lukaku
Subs: Robles, Alcaraz, Barkley, Osman, Besic, Kone, Mirallas

Kick off: 7.45pm
Referee: Mark Clattenburg
Last Season: Stoke City 1 - 1 Everton
Full coverage: ToffeeWeb Match Reports
Reader Comments (353)
Note: the following content is not moderated or vetted by the site owners at the time of submission. Comments are the responsibility of the poster. Disclaimer
Brian Hennessy
1
Posted 04/03/2015 at 18:56:12
At least the bench looks good... apart from Alcaraz.
Jim Bennings
2
Posted 04/03/2015 at 19:04:32
Who's occupying the left flank?
Kevin Rowlands
3
Posted 04/03/2015 at 19:08:55
I quite like the side, and yes the bench looks very strong including Alcaraz, need this tonight, COYB!
Tony Hill
4
Posted 04/03/2015 at 19:10:36
Barry. Inevitably.
Brian Hennessy
5
Posted 04/03/2015 at 19:09:28
Naismith I guess Jim.
Yet another unbalanced RM side. Barry McCarthy and Gibson should never be in the same side.
McCarthy and Gibson for me with Mirallas/Baines or Oviedo on the left when fit.
Karl Jones
6
Posted 04/03/2015 at 19:10:10
The team looks unbalanced with no natural left wideman. Who will cover Garbutt if he goes forward? Looks very unbalanced to me. We need to start high tempo as Villa did last night if possible. This looks like a typical Martinez side designed to keep possession with very little attacking threat. Hope I'm wrong.
David Harrison
7
Posted 04/03/2015 at 19:19:50
Apart from McCarthy, there are no legs in the midfield. I fear the worst.
Colin Glassar
8
Posted 04/03/2015 at 19:24:50
We're playing with amputees, David? That'll be a first.
Brian Wilkinson
9
Posted 04/03/2015 at 19:30:40
At least he's selected Naismith and Gibson from the start. Let's be thankful of small mercies.
David Hallwood
10
Posted 04/03/2015 at 19:32:28
It's a 4-3-3, so IMO it's a balanced side, but I would've liked Kone in place of Lennon.
David Harrison
11
Posted 04/03/2015 at 19:33:28
Nice one Colin
Andy Cobham
12
Posted 04/03/2015 at 19:32:20
He's fucked it up again....no balance, overloaded with central midfielders, we're gonna get beat.
I sincerely hope I'm eating humble pie and marvelling at the amazing way the team played later on, but I can't see it.
Very very worried, hoping for a miracle.
Andy Crooks
13
Posted 04/03/2015 at 19:34:49
This is a better team than Stoke's. They have a better coach but, if our players take it into their own hands, they should and must win.
Phill Thompson
14
Posted 04/03/2015 at 19:35:26
Ah not quite right spelling but it brings a smile to my face to see "Lennon & McCarthy" on the team sheet. I just hope at the end I'm not misquoting Bob Monkhouse's phrase: "He's not smiling now!"
David Hallwood
15
Posted 04/03/2015 at 19:38:23
Andy, the problem is that we're a better team than 12-14 of the league, so why don't they show it?
John Malone
16
Posted 04/03/2015 at 19:33:19
He'll have to play the same shape as Young Boys at home but with Lennon up top with Rom to give Gibbo some passing options to aim for it could work it mite not, funny how under Martinez I feel every game is a gamble!
Stephen Brown
17
Posted 04/03/2015 at 19:43:10
No balance at all.
Terry McLavey
18
Posted 04/03/2015 at 19:42:23
Colin (#8),
I laughed out loud! Living in Cornwall now, I miss the Scouse humour, but the beaches are nicer!!
Phill Thompson
19
Posted 04/03/2015 at 20:01:14
John, I think Lennon is cup-tied from his Spurs days...
Terry McLavey
20
Posted 04/03/2015 at 19:46:51
Fuckinel, we've found a team worse than us!
Terry McLavey
21
Posted 04/03/2015 at 20:19:14
Spoke too soon! Now where's that sofa?!?
John Malone
22
Posted 04/03/2015 at 20:20:53
On about tonight Phil, I believe Moses scored a header from a cross wow remember them goals scored from decent crosses into the box!
David Harrison
23
Posted 04/03/2015 at 20:24:23
Since we haven't turned a game around for a very long time, that's game over then.
Stephen Brown
24
Posted 04/03/2015 at 20:27:20
That's it now... I'm afraid I'm now officially in the Martinez has to go camp! Whatever the score.
Si Mar
25
Posted 04/03/2015 at 20:30:25
Give Martinez some credit, he has got our most talented squad of players for a long time playing this badly, no shape, cohesion, tactics, goal, poor defending and a lack of team spirit, it really is quite an achievement!!
Will BK please put him and importantly us out of this misery.
David Cromwell
26
Posted 04/03/2015 at 20:33:20
Wow, we are utterly gash!
David Harrison
28
Posted 04/03/2015 at 20:36:03
What took so long Stephen?
Paul Jeronovich
29
Posted 04/03/2015 at 20:38:37
Question is, if BK does sack Martinez, who the hell takes his place??
Tim Michael
30
Posted 04/03/2015 at 20:36:12
Here we go again... 30 mins of steady but ineffective play... then along comes a goal conceded.
James Byrne
31
Posted 04/03/2015 at 20:36:26
Can't even be arsed watching or listening to this team play now; that's how dismal this has all gone.
What we need is Stoke to hump us about 5 nil to get this shithouse board to run this clown of a manager out of town.
Chris Owens
32
Posted 04/03/2015 at 20:36:30
56% of the play, and only 2 shots, compared to their 5. Some things never change. The only good thing is Barry's booking, meaning he's banned from the next 2 games.
Vineet Sood
33
Posted 04/03/2015 at 20:37:50
I agree with you Stephen... For the first time this season, the patience I feel RM had deserved after last season's quality of football and finishing position has finally run out. This is one shapeless game too many.
I've been secretly hoping that this dire football is just down to a lack of confidence amongst the players, but any worthy manager would have picked up a talented (on paper) team such as ours by now, and got us playing our way out of trouble.
As of now, I really don't see where our next Premier League win is coming from... BIG TROUBLE!!!
Charlie Burnett
34
Posted 04/03/2015 at 20:40:53
I'm seriously starting to think these performances are on purpose to get rid of Roberto. We are seriously in trouble...
Tim Michael
35
Posted 04/03/2015 at 20:41:34
It will take an out-of-character performance from the Blues to come back into this game...
Geoff Evans
36
Posted 04/03/2015 at 20:41:03
50 years and more a supporter, since the days of Alex Dunlop and never been so depressed as this. Please someone, somewhere do something!
Martha Richardson
37
Posted 04/03/2015 at 20:40:11
Hello,
I have a question that I need help answering, how many games this season has RM put out the same team compared to last season? It seems to me that every week he changes the midfield with two or three players? Last season I was pretty sure of our line up (barring injury) and how we would play, but this season it all seems rather confused. Not sure if this uncertainty translates to player confidence, but has this 'tinkerman' approach contributed to our relegation fight?
Thanks.
Tim Michael
38
Posted 04/03/2015 at 20:44:23
Don't think that he has any option now but to send on Kone to play up front with Rom. Naisy gives way. Take out Barry is now surplus to the next two games and bring on Kev on the left, Lennon on the right with Gibbo and James bang in the middle. Just go for it now!
Stephen Brown
39
Posted 04/03/2015 at 20:52:17
Tim Michael - spot on ! Should have started with that BALANCED team!
David Harrison
40
Posted 04/03/2015 at 20:54:41
Tim's suggestion has just answered Paul's question. He could do it! Actually anybody would be better than this loser.
Matthew Correal
41
Posted 04/03/2015 at 21:00:47
Most direct we've been all season.... Against the team that wrote the blueprint for it.
Paul Jeronovich
42
Posted 04/03/2015 at 20:59:01
Tim Michael for next EFC manager!!! You heard it here first, well in Tim.
David Cromwell
43
Posted 04/03/2015 at 21:01:38
Here's Kone!!!
Andy Cobham
44
Posted 04/03/2015 at 21:02:18
Sack Sideshow Bob...the biggest clown around. I was really worried til they scored, now I'm resigned to defeat. The unthinkable now feels like a certainty.
David Cromwell
45
Posted 04/03/2015 at 21:04:17
Already look a better team! What is the point of Barry, Bobby?
David Harrison
46
Posted 04/03/2015 at 21:14:20
If we won the Europa (fat chance), we could make history as the 1st 2nd tier team in the Champions League.
David Harrison
47
Posted 04/03/2015 at 21:23:06
Can't believe I'm pleased the shite are winning. That's how low you can go
Andy Meighan
48
Posted 04/03/2015 at 21:13:55
Paul (#29) – who the hell takes his place? There's plenty of coaches out there who could a well better job... Bilic for one. All those who scoffed at Pulis – look at the job he's done at WBA. No way they're going down... there's hundreds who could a far better job than this cunt. You'll hear the same old shit out of him again after the game.
For god's sake, what is wrong with Kenwright? Can't he see what's happening? This is a nightmare and I feel like I'm never ever going to wake up from it...
Mark Rimmer
49
Posted 04/03/2015 at 21:17:24
QPR, Burley and Leicester all losing. Can't believe it's come to this, I've actually been routing for the Redshite to win. No idea where our next points are coming from so I'm hoping for a record low points premier league survival.
Peter Jansson
50
Posted 04/03/2015 at 21:22:45
What did I do in my past life to get a sentence to be a fan of a team who has invented perfect football to not score? Watching Everton is a torture on a prime level.
I am so sick and tired of Roberto Martinez that I could pay Money out of my own pocket to get rid of this guy. He is definitely brilliant of getting abosolutely nothing out of a decent Squad.
This is the most stinky football I have ever watched I think. Worse than Norway under Drillo.
Clive Mitchell
51
Posted 04/03/2015 at 21:27:32
That's it. Sack him now.
Christy Ring
52
Posted 04/03/2015 at 21:17:13
UNBELIEVABLE!!!
No shape... no width. He has to go.
Paul Corbishley
53
Posted 04/03/2015 at 21:25:54
Sack him now. It's simply embarrassing.
Mike Powell
54
Posted 04/03/2015 at 21:28:11
Martinez out! Martinez out!
Get out off our club, you clown!
Pete Ellingham
55
Posted 04/03/2015 at 21:15:41
I've had enough now. He has had chance after chance and nothing changes. Please get rid now before we are relegated. In fact, he should have the decency to resign!
David Harrison
56
Posted 04/03/2015 at 21:28:16
Please Bill put us & him out of our misery. How long can this go on for?
John Maddock
57
Posted 04/03/2015 at 21:28:46
I am really fearful now of the drop. Sorry Roberto, it is time to go, otherwise you just might take us down. Very fortunate tonight that QPR and Burnley are losing also... I shouldn't be talking about that though..
What an embarrassing season, given the talent we have.
Paul Dickinson
58
Posted 04/03/2015 at 21:30:12
Over to you, Kenwright, you have been uncharacteristically quiet for too long now; sort this shite out now.
Mark Burrage
59
Posted 04/03/2015 at 21:35:41
Bye Bye, Martinez.... and take that useless lump Lukaku with you..... Great ball by him for their 2nd goal.
Paul Carsley
60
Posted 04/03/2015 at 21:35:29
BK will never sack him as it will cost ££££ to get rid of RM.
God, I wish we had DM back to at least give us some fight!
James O'Connell
62
Posted 04/03/2015 at 21:38:18
Utter fucking shite
Oscar Huglin
63
Posted 04/03/2015 at 21:38:45
If you all get your way and Martinez goes, who do we bring in? Redknapp? Bilic? MOYES?
Stop and think about what you're asking for.
Thomas Surgenor
65
Posted 04/03/2015 at 21:38:11
I've backed Martinez up until tonight. I've never been fond of sacking managers but, after that performance, something needs to change.
3 strikers on the pitch and we couldn't score? (Naismith and Mirallas can play striker, before you ask.)
We just look so deflated. Something needs to change and a change of manager is easier than the 21 players who can't seem to perform!
Peter Jansson
66
Posted 04/03/2015 at 21:40:30
I think I would never say this, but I rather have Moyes back than Martinez...
Andy Crooks
67
Posted 04/03/2015 at 21:37:09
If Roberto Martinez is not sacked immediately, I believe we will be relegated. His appointment was, in my view, the worst decision in the history of our club. I actually can no longer bear to look at him without wanting to kick the television in.
Terry McLavey
68
Posted 04/03/2015 at 21:39:26
Please wake me up at the end of the season and tell me what happened, I can't watch this aimless shite anymore!
Mike Hughes
69
Posted 04/03/2015 at 21:42:01
Just go now.
You can keep Dave Whelan company.

Matthew Svatos
70
Posted 04/03/2015 at 21:37:38
Who wants to start the petition? Big Dunc for manager. Maybe he'll be the kick in the arse all of these 'players' need.
David Cromwell
71
Posted 04/03/2015 at 21:37:00
I am literally numb right now, legitimately fucking numb. We need to hear from the chairman when enough is enough. He needs to come out and state the minimum expectation going forward. This is a serious serious situation we're in and changes must be considered.

I used enormous restraint in writing that, I feel it's the very least Evertonians deserve. The very least. In light of the season we've had, that was the absolute cherry. I feel like I've inhaled a low grade of poison gas or similar... Absolutely numb.
Chris Morris
72
Posted 04/03/2015 at 21:40:27
BK, this man will take us down, make no mistake about it. He is inept, lost the players and has no tactical ability. Had the last 18 games been the first 18 he would have gone.
Don't be blinded by the Europa League, he has to go and I mean tonight, we need 3 wins and he won't deliver them. Please, I beg you.
Phil Rodgers
73
Posted 04/03/2015 at 21:43:10
Absolutely diabolical. Should have gone after Hull away.
Anthony Newell
74
Posted 04/03/2015 at 21:42:38
Turning point for me tonight. Hoped it would change, wanted to give the guy a chance. Sorry, Adios Amigo. Clueless, abject.
Si Mar
75
Posted 04/03/2015 at 21:41:14
Thought the relegation battles were gone for a long time.
Can anyone tell me why Lennon is playing ahead of Mirallas?
I want to wake up tomorrow with Bobby looking for a new job, funny how he's not linked with Barca or Milan anymore, can't think why?!!!!
Mike Walker
76
Posted 04/03/2015 at 21:38:56
Sack him now. Get rid – he has not got a clue.
Where do we go from here? The only good thing is the teams below us are loosing as well.
BK – stop it now... Or we will not be in the Premier League next season.
Paul Burns
77
Posted 04/03/2015 at 21:38:37
Everton have been a sad joke all season and the lack of standards has tragically spread to the fans.
How can ANYONE think the unforgivable dross we've had ALL season is remotely acceptable?
It may be too late already.
Dave Rinehart
78
Posted 04/03/2015 at 21:39:13
Not good enough tonight, even by League 2 standards. I know Martinez gets stick for his decisions, but at some point the players need to start taking ownership for poor play. Kone looked like he was trying to draw a foul by diving through contact with the ball. Howard has lost it, not sure if it's confidence or reflexes but Robles can't do any worse. I'm very worried if this is our form for the rest of the season.
Ross Edwards
79
Posted 04/03/2015 at 21:43:47
He has to go now. If he had any decency he'd walk. This was a game we had to win, and we showed hardly any fight whatsoever.
Mike Hughes
80
Posted 04/03/2015 at 21:44:29
Taxi please!
When? As quickly as possible.

Tony Hill
81
Posted 04/03/2015 at 21:42:16
As low as it gets. Even in our other relegation fight seasons there was a sense that we had some guts. We missed the moment to sack Martinez in January and we are now paying the price. We are simply appalling.
Roman Sidey
82
Posted 04/03/2015 at 21:38:03
Well, I'm done with watching Everton until this bloke is shown the door. Now listening to a fucking imbecile like Victor Fucking Moses after beating us for that tripe they call a football team and that spud they call a manager.
At least we can look forward to eight extra league matches next season and maybe a "dream cup draw" away to a big club.
Mike Price
83
Posted 04/03/2015 at 21:40:40
The only thing that may save us is our home support because when things get even more ridiculous the crowd may push us over the line.
The Board must be looking at a plan B after this and hopefully there's a maximum one year payout when he's sacked. If there's not the clown in charge of contracts is not fit for purpose.
Utter nightmare of a season that I'm sure is affecting lots of ours health.
David Harrison
84
Posted 04/03/2015 at 21:44:06
I agree Phil. Can't remember a worse performance than at Hull. Unbelievably so many haven't seen it until now. Surely the time has come
Alexander O'Brien
85
Posted 04/03/2015 at 21:45:51
Su despedido Roberto!!

Robert Miller
86
Posted 04/03/2015 at 21:38:51
Can't score. When we do we can't hold a lead. A shambles at the back. No creativity in midfield. No confidence up front. No leaders. No backs to the wall spirit. Convincingly beaten by distinctly average sides.
We are going down.
How can this have happened?
Mike Oates
87
Posted 04/03/2015 at 21:41:34
There is no fire, no pace, absolute crap system. We are running on empty, it's clear the players are totally bemused where and how they should be playing. Lukaku just wants to go.
Martinez's build-up of Garbutt as he did Barkley, Stones, Mirallas, and Lukaku has once again put the curse on the young lad, and what a stinker he had.
Individually they are all trying but there's just no pattern, whenever we have the chance to break quickly, it gets to the halfway line and then Naismith, McCarthy, Lukaku, Lennon, Coleman, Garbutt, or whoever gets it, passes it back 40 yds – it's absolutely criminal.
Peter Jansson
88
Posted 04/03/2015 at 21:45:27
I don't care who they replace Martinez with.. it can actually not get worse.
Nigel Rickman
89
Posted 04/03/2015 at 21:43:13
After the promise of last season, he has totally ruined this squad. Remember how Wigan year after year with him in charge just about escaped, until the inevitable.

I see the same thing here, concentrate on a cup (no chance) and watch us sink.

He has to go to give us some sort of chance, there's enough home bred on the coaching staff to hopefully turn it around and rescue the season.
Christopher Dover
90
Posted 04/03/2015 at 21:40:16
Just waiting for RM press conference saying how unlucky we were to lose the second goal and a lapse in concentration for the first, but we had phenomenal energy and drive in the second half that I am proud they gave all they could and it's just a case of a win then the momentum will be with us...
His book on how to turn a good team into crap in less than one season will be on sale soon.
Mike Keating
91
Posted 04/03/2015 at 21:41:27
I listened to the first half and watched the second. Can't believe we are now 14 points behind Stoke FFS and lucky to be still 6 points clear of relegation.
I can't bear to listen to RM's excuses. Jimmy Case on Radio Merseyside is preferable
We can't be wishing for the RS, ManUre and Shitteh to win just to keep us alive – absolute embarrassment
Going to bed... Good night.
Ross Hutchinson
92
Posted 04/03/2015 at 21:42:12
The only thing keeping Martinez in the job is the Europa League. Until we're knocked out of that, Martinez will remain our manager, unfortunately. But I do agree he does need to be removed from his position as Premier League teams now know how to play against his tactics and he has no other strings to his bow.
Sam Rangle
93
Posted 04/03/2015 at 21:49:36
Specialist in relegation.
Stephen Brown
94
Posted 04/03/2015 at 21:42:53
That side was a joke! What is our formation? When did we last play with two wide players?
Awful... just awful! That's the straw that broke the camel's back! I've been a supporter of RM but remember thinking after the 5-year contract and that monstrosity of a mural on GP that we are setting ourselves up to look silly! God it has happened!
No leaders on the pitch either – is Cahill available for a short term loan? Please play 4-4-2 for the next few games as it can't be worse than our non-formation!
I can't believe this awful mess! He surely must come out and slate that performance!!
David Harrison
95
Posted 04/03/2015 at 21:49:01
When does the 2nd half of the season start? We'll be phenomenal then...
Mark Frere
96
Posted 04/03/2015 at 21:47:28
It's all a complete shambles!
Martinez out!
Anthony Newell
97
Posted 04/03/2015 at 21:48:29
Joe Royle and Big Dunc for me to right a listing ship. Get some passion and fire back. Couldn't fucking trust this guy...
Joe Clitherow
98
Posted 04/03/2015 at 21:48:45
It can get worse. Is there anybody here still supporting this idiot? Worst Everton manager in history, no doubts in my mind. Worse than Mike Walker. 8 defeats in 9, 1 win in 13, 6 away games from 8 without scoring. Relegation form without any shadow of doubt.
Paul Corbishley
99
Posted 04/03/2015 at 21:41:01
A good comment was made on one of the threads by James Martin a few days ago. We all come on here and moan then start bitching at each other because some boo and others don't. We are too easy as a fan base. We no longer demand excellence.
Why don't we take a note of the Old Trafford crowd at the weekend. They started passing backwards whilst winning and the crowd let them know what they wanted: Attack, Attack, Attack.
Joe Edwards
100
Posted 04/03/2015 at 21:49:19
This Joker has to be sacked before we end up playing his old team next season. I am sick to fucking death of his positive moments bullshit, his lack of ability to pick a balanced side, and I have had his bullshit tippy-tappy football up to my back teeth.
He has no Plan A never mind a Plan B. The only good thing that has come from this game is fucking Barry getting a two match suspension; he should be sent on permanent loan to Tranmere until his contract runs out.
Mike Hughes
101
Posted 04/03/2015 at 21:47:37
I'm going to dream I wake up, stick the telly on with my porridge and mug of tea and hear Bill Turnbull on BBC Breakfast news interrupt an interview as follows:
"Sorry Prime Minister, we have to interrupt for a moment. We have some breaking news. Roberto Martinez has resigned with immediate effect from the Mighty Everton FC. We go live now to Goodison Park where a taxi is waiting. And there's Mr Martinez now in his bullshit brown shoes. The fans have brown trousers. More on this later. Now back to Mr Cameron ......"
Roman Sidey
102
Posted 04/03/2015 at 21:47:11
Phil Rodgers, about five minutes from the end that Hull match from a couple months ago flashed in my memory, and I thought, "That should have been that then." Bit of agreement coming from others too.
Dermot O'Brien
104
Posted 04/03/2015 at 21:41:53
Martinez's record this season is in Mike Walker territory now. It's sad after all the hope and expectation from last season. First thing Roberto can do is take down that fucking mural of himself and then just piss off.
Paul Jeronovich
105
Posted 04/03/2015 at 21:50:45
Looking at our fixtures, if we have no fight and persist on possession football, we're fucked. End of.
Mike Keating
106
Posted 04/03/2015 at 21:49:11
And Arsenal
Tim Michael
107
Posted 04/03/2015 at 21:37:43
Well RM did change... but all far too late. He should've left Lennon on as we needed the width to supply two front strikers. Although he didn't do badly, Ossie was not the option. It wasn't working for Naisy so why wait until less than 10 mins to go to bring on Kevin? No chance of him doing anything at that point.
When we play Newcastle a week on Sunday, he needs to start with two upfront from the outset. Four across the middle which needs to be Kevin and Lennon.
Barry's PL season is in my eyes over. No point in bringing him back after the ban. Decide between Gibbo, James and Mo who your two central men are and run with it. Luke has done really well but bring back Bainsey with the message that you are a senior pro so now show.
Finally, the goalkeeper. Could someone tell me with less than 10 mins to go why is Howard is taking goal kicks short that hardly reach the defender and also continuing to build slowly from the back? Sorry but we are back to a steady stream of goals conceded under his stewardship.
The Newcastle game should also mark the end of season. No amount of sound bytes alter the fact that these changes have to come. The current setup is broken.
Stephen Brown
108
Posted 04/03/2015 at 21:53:17
Who would have thought that in March I'd be praying for Liverpool, Man City and Arsenal to win?!? Says it all! Sad!
Mark Wilson
109
Posted 04/03/2015 at 21:34:26
The question is obvious now. Ten games left, the clubs future at stake. What's the biggest risk ? Allowing a manager who has totally lost it to continue or gambling that sacking him now gives some kind of chance to save ourselves under a new mgr ?
I just can't see how it's a bigger risk to sack him....I really can't. We will be finished for years if relegated and may not recover.....
Surely the gamble is worth it ? How can we be worse ? We can't win a game in the league, if that continues were down anyway so how can it not be worth taking the risk to put someone else in charge and I don't mean Martinez's no2 either.
Here's the thing.....I know I may get howled at but seriously.....we need passion, we need urgency, we need a clear idea of shape and we have to pick a team that has a fighting chance of creating enough chances to score a goal or two and yes I know that could mean conceding but that's happening anyway so wtf ? Could Ferguson, with zero experience but Royle to call on deliver us 12 points ? Will Martinez do that ?
We've been desperately close to going down before but somehow this feels worse, simply because it's so shocking a decline and frankly has been coming from day 1 of the campaign when the mgr allowed his World Cup holiday to distract from organising an effective pre season and we started knackered and got worse. He should have been sacked after Christmas and I see that now, no other club would accept this rubbish or the threat to their survival. Europa League ? Not interested, all that matters is staying in this league. Feel sick just thinking about how we've been allowed to collapse like this......
John Steadman
110
Posted 04/03/2015 at 21:51:41
Sack him immediately, never mind getting a taxi, let the useless idiot take the walk of shame.
No shape! No passion! No belief!
Sheer ineptitude, the Europa Cup has got him out of the fire for far to long.
Go now and give us a chance to survive!!!!!!!!!!

Ian Riley
111
Posted 04/03/2015 at 21:39:39
Thank god the bottom three are doing us a favour!
Please MR BK, make the decision now. Ten games left to save us!
Who do we get? Well lets wait till we are down then decide.
The players are better than this. Wait for the crap the manager comes out with? Anyone here think we can win a game? The team is set up to go behind. Play two strikers and have a bloody go at scoring a goal! Not one shot on goal in the first 30 minutes. It will not be us that saves us but other teams. How lucky we are at present? Any other season we would be down?
Jim Bennings
112
Posted 04/03/2015 at 21:50:16
Utter embarrassment.!
The needs needs to go as soon as our interest in Europe expires.
This is no longer a knee-jerk reaction, it is not some bad 10 game spell, it is the ENTIRE season.
Where are the next points coming from?
Simon George
113
Posted 04/03/2015 at 21:48:52
Surely has to go now? I mean, how much worse can it get, we cant win anymore.
This will probably be the best team on paper to ever get relegated from the premier league.
Mike Hughes
114
Posted 04/03/2015 at 21:55:42
John #110 - the taxi's on me.

Graham Mockford
115
Posted 04/03/2015 at 21:47:51
This is a team that is broken, a manager who is completely and utterly clueless as to how to put things right, players who are so obviously short of direction and leadership they are performing way below their collective abilities.
Martinez has been found out and anyone who wants to make a case as to why he shouldn't get sacked need their bumps feeling. We might not get relegated this season but we will limp painfully to safety. But it took Martinez three good attempts to get Wigan relegated.
Our last 16 games show an almost unbelievable record of
W2 D5 L9. F11 A22 Pts 11
That's not a blip its a trend of major fucking proportions.
In the name of God go now.
Jackie Barry
117
Posted 04/03/2015 at 21:55:33
That was an awful team selection and an awful performance, sack him.
Karl Jones
119
Posted 04/03/2015 at 21:52:28
If Martinez had any pride, he would realise he has no answers and resign. The trouble is he was used to losing at Wigan and doesnt really know any different. Thats why we need Kenwright and the board to show some balls because its not going to improve while hes manager and we will go down. Tim Howard "We are difficult to beat again" What a load of bollocks.
Paul Jeronovich
121
Posted 04/03/2015 at 21:56:32
Big dunc supported by Joe Royle til the end of the season. At least they would know how to fight and scrap out of this mess.
Joe Clitherow
122
Posted 04/03/2015 at 21:58:32
Dermot the mural is long gone months ago
Dermot O'Brien
123
Posted 04/03/2015 at 21:57:11
Anyone would do at this stage but what managers are available? Big Joe and Duncan could get us out of trouble and over to Warsaw.
Tim Michael
124
Posted 04/03/2015 at 21:55:28
Correction - Newcastle game should the end of Howard's season
Kevin Tully
125
Posted 04/03/2015 at 21:52:51
He's lost this bunch of players, absolutely no doubt about that. He came in to a solid dressing room and it's now clearly a shambles.
Sorry Roberto, I thought you were the man after last season - but do the honourable thing mate and resign. It's over and I'm sure you know it is.
I am also fairly sure our chairman will know how the senior players feel, it's no use prolonging this agony any more. Do what needs to be done, while there is time to ensure this club's Premier League status is safe.
Sheedy & Alan Irvine for the rest of the season.
Davie Turner
127
Posted 04/03/2015 at 22:00:44
Highway to the danger zone
Andy Crooks
128
Posted 04/03/2015 at 21:53:33
Liverpool would not tolerate this fool. Kenwright thinks that Evertonians will tolerate anything. Time is running out for the club to be saved. We are the worst team in the division with the worst coach in the history of the club. Sack him for gross incompetence , negligence and fraudulently earning money.

Mohammed Horoub
129
Posted 04/03/2015 at 21:46:35
This is officially rock bottom. The team is a disgrace. Martinez is a scam artist who was hired by an even bigger scam artist. 28 million for 'The Lump'. How many goals have we conceded from mistakes this year?
I have no choice now but to cheer for 3 teams every week and those are the teams playing Burnley, Leicester and QPR. If Everton happen to be one of those teams so be it. This manager is not worth our time and I feel sorry for the supporters who give up their time and money to watch this crap live.
This is about as helpless as I've ever felt supporting Everton because I know Kenwright and Martinez are in this together and they will burn Everton down with them if they have to. He got lucky with Moyes. No such luck this time Billy boy. Either be a man and sack Martinez tomorrow or we are going down. 28 from 28. First time in Everton's history. Congratulations Mr. Martinez you phenomenal character. The day you are gone will be a rebirth for our club. Hope the owners realize now that it's going to cost them ALOT more money to keep him.
Think with your wallet Kenwright. No room for loyalty here. Getting promoted from the championship is much tougher than finishing 17th in the prem.
Don't let Martinez go into Goodison against Newcastle because it will get very, very ugly.

Phil Rodgers
130
Posted 04/03/2015 at 21:59:29
Europa can fuck off now, literally need to just put the kids out.
Survival is much more important.
Kunal Desai
131
Posted 04/03/2015 at 21:56:48
I can accept that we may finish lower than last season between 7th-10th on around 50 odd points but we have fallen away drastically from last season. Someone from the club, be it senior players need to come out and tell us exactly what is going on. There are some serious underlying issues at the club. If the players have issues with Martinez then they need to be raised with Kenwright now. There is not fight, grit, determination or passion from any of these players which just doesn't seem right for an Everton side of the years. If Martinez does stay until the end of the season then he must be sacked in the summer now. He is not going to change his ways unfortunately.
Chris Lawlor
132
Posted 04/03/2015 at 21:58:41
He has to go and there is no doubt about it now. Whether he is pushed now or the end of the season is the question. The teams performances below us will probably save us from the drop but my god I don't want him getting his hands on the next transfer kitty.
In terms of a replacement i'd look at Slaven Bilic who is doing great things at Besiktas ...i know Big Dunc's name is mentioned a lot but it would be sheer folly to put a totally inexperienced individual in that position, fire and brimstone he may have but tactical nous and a broader vision of the game is something different entirely.
Dermot O'Brien
133
Posted 04/03/2015 at 22:00:49
Thanks Joe. (I don't get over much). Pity Martinez didn't go with it.
Keith Meakin
134
Posted 04/03/2015 at 22:01:48
Time to leave Roberto, Joe Royle and Peter Reid for me until the end of the season.
Colin Gee
135
Posted 04/03/2015 at 22:00:36
The only good thing to come out yet another shite performance tonight is that Gareth barry was booked so misses the next two games.
As for Martinez, TIME TO GO BOBBY LAD.
Mark Wilson
137
Posted 04/03/2015 at 21:55:38
Ian #111 your point is well made, I really, really, think that the players are better than this. Some have slipped badly but there's enough there to get us out of this if the mgr gets a grip.....but I don't think he has it in him. So having said that maybe we go on and save ourselves then he wins the bloody EL and we qualify for the Champions League...if so I'm happy to admit to being a moron with no understanding of football after a lifetime supporting this club. Very happy.
Eddie Dunn
139
Posted 04/03/2015 at 21:55:04
I watched the pre-match press thingy- Martinez was preposterous in his blind egomania, talking absolute nonsense.
I hoped that we would pull something out of the hat tonight but it is the same old story. The script isn't going to change...hard luck stories are not good enough anymore.
People on here have been saying for ages that something is rotten at EFC. He has lost the players, he has lost most of the fans. Now it is time for the Chairman to act.
Otherwise, we will go down, or be saved by the skin of our teeth, because there are 3 even worse teams out there.

Bill Gall
140
Posted 04/03/2015 at 22:00:02
Why would BK fire Martinez after all Martinez promised him the Championship and we are nearly there.
If BK had any backbone, he would have fired him after Xmas. There was very little fight in the team then and now there is none.
Mike Hughes
141
Posted 04/03/2015 at 21:59:57
I wanted RM out after the WBA match in January.
I didn't think DF/JR would be the right choice.
But I'd take them now if they'd just get rid of this clown.
They could not do any worse.
Any decency and he'd walk.
I'd love to hear someone come on here and defend him.
(But their medicine has probably sent them to sleep by now.)

Joe Clitherow
142
Posted 04/03/2015 at 22:02:29
Still think he will sack him tonight. It is the time with a weekend off for FA Cup. Bollocks to Dynamo Kiev, thats just icing on a cake compared to the lifeblood of the PL. It is unfortunately just clouding matters with heart rather than head
Keith Knowles
143
Posted 04/03/2015 at 22:02:27
Forget Europa; if we lose our next game then Martinez should go. The players look lost and devoid of passion for the shirt.
Peter Morris
144
Posted 04/03/2015 at 21:52:02
If we are able to stay up now, I fear it won't be due to our own efforts, more about the failings of clubs below us. Make no mistake, I'm as angry and hurt as the rest of you and it might be a controversial thing to say at this particular moment when passions are running high, but I think it is down to us, the supporters who go to the games, to take the onus away from the manager and players(God knows they have proven so woefully incapable of doing the job themselves). From the Newcastle game onwards, we simply have to carry the team through. We must not create a brittle and prickly atmosphere at Goodison that has prevailed all year. the moaning and groaning isn't helping. much as it may be justified. Changing the manager now would in my view achieve nothing. It's our club, not his, not the players', so let's make sure we drive the players on to secure enough points to preserve our proud Premier League status. The recriminations(let's not call it a post mortem, that is inviting trouble), can all start when the season is over and the positions of all the principle people in this sorry mess of a season can be soberly examined and dissected.
John Paul McGurk
145
Posted 04/03/2015 at 22:04:47
This is not a joke, bring back David Moyes
John Gee
146
Posted 04/03/2015 at 22:01:16
We're three points worse off than Wigan at the same stage of their relegation season.
The alarm bells were loud after the Southampton game and deafening after the "asymetrical" team set up game. Surely, they're irresistible now.
Mike Hughes
147
Posted 04/03/2015 at 22:05:54
Keith #143 -
Forget the next game. He's got to go tonight.
Dick Fearon
148
Posted 04/03/2015 at 21:59:57
If Leon is expected to be our savior, Lord help us.
Ian Jones
149
Posted 04/03/2015 at 22:06:30
Last season most of us were laughing at David Moyes troubles at Utd whilst we were doing well.
Penny for his thoughts now!
Patrick Murphy
150
Posted 04/03/2015 at 21:58:26
If Martinez is to be removed it has to be done by this weekend, forget the EL that will only get in the way of achieving safety in the League.
Six home games would in any normal season be seen as a gift for a team in our position but without changing the manager the required atmosphere will not be generated to help the team and will in all probability create a nervous energy that will be counter-productive.
We really shouldn't be worrying about other teams results especially when those teams are in relegation territory but the truth is we are - we can't seem to put the ball in the net with any great regularity and can't keep a clean sheet often enough to sneak a point even when it may be unmerited.
That poisonous combination is the hall-mark of a team embroiled in the relegation zone and it needs to be addressed now, not next week not in a month or so it has to be done now, Roberto has had since early December to address these issues in the Premier League and he has failed to do it and I'm afraid that I can't see him doing it.

Tony Hill
151
Posted 04/03/2015 at 21:59:47
If QPR win their game in hand we are 3 off the relegation zone. It is no good assuming that sides below us will carry on losing because the present reality is that I can't see us picking up more than a handful of points. We just have to hope that we can scratch out a couple of wins from somewhere but I have never been more worried about our survival.
Tommy Coleman
152
Posted 04/03/2015 at 22:00:52
That was dreadful. Shape all wrong from start to finish.
We never collectively attacked, defended or closed down. It wasn't down to effort, we were just not playing as a team. How many times did Stoke come away with the ball after little battles.
Martinez earlier in the season said he wouldn't change tactics/philosophy too much as it would confuse the players. They looked confused tonight.
Stoke are shit but it was easy for them because they played as a team.
I certainly don't want Martinez out but he's got to get back to basic tactics and players playing in their natural positions.
Chris Perry
154
Posted 04/03/2015 at 22:02:09
Life is shite! The worst manager I have seen in 35 years of watching Everton. No fight, pride or passion.
Jay Harris
155
Posted 04/03/2015 at 22:08:22
The lowest points total at this stage of the season since 1927 and this clown is STILL in charge.
Matt Bridges
156
Posted 04/03/2015 at 22:05:08
#TeamMartinez
Chris Sillett
157
Posted 04/03/2015 at 22:06:34
I think a defeat against Kiev next week could be the final nail in the coffin for Martinez but then again he has recently signed a new 5 year contract and lets not forget we had a very similar season in Moyes' second year and finished 17th yet Kenwright kept faith in him.
Bill Gall
158
Posted 04/03/2015 at 22:05:51
As Martinez has proved that he is not a Premier League manager why hold on to him?
Even Alan Irving with a couple of the coaches as assistants till the end of season would put some fight back in the team . And in the meantime look for a manager and not a jerk reaction for the first available.
Clive Lewis
159
Posted 04/03/2015 at 22:05:23
Don't think we are going to improve. The future of Everton is at stake. Bill has to make a decision that could rewrite the history pages of the once great club. If he sits it out to save some cash he could ruin his beloved Everton financially. Over to you Bill.
John Maddock
160
Posted 04/03/2015 at 22:02:31
I agree Bob needs to go, however calling him the worst Everton manager in history is a little harsh. He gave us a great season last year, no one complained then.
I just think he is far too, 1 dimensional, without a plan B and other clubs figured him out quite easily and this has been exploited by just about every team we have played this season.
David Harrison
161
Posted 04/03/2015 at 22:10:00
Tommy, how can you still not want him out?
Dave Abrahams
162
Posted 04/03/2015 at 21:55:23
Never saw the game but it looked like we played the way we've been playing for the last seven or eight games so I'm not surprised, but you think someone at the club would Instill some fight in them.
If Kenwright doesn't get rid before the Newcastle match he will stay and that means relegation for sure, just sick that this has been allowed to happen. The club seems finished as well as the team.
Matt Bridges
163
Posted 04/03/2015 at 22:12:31
I live down the road from Brentford, so at least I could see that game next year
Colin Gee
164
Posted 04/03/2015 at 22:11:03
Tony #151 QPRs game in hand is on Satuday at home to Spurs, so hopefully Spurs can do us a favour.
Any Martinez supporters want to defend him tonight after watching that sack of shite?
Clive Mitchell
165
Posted 04/03/2015 at 22:03:08
Some on here think other teams' performances will save us. They won't. If we produce the form of the last 16 games in the final ten we'll end up on 35 points. And we'll be gone. BK has to make a judgement call. Changing the manager is clearly the safer bet. It has to be done now.
Karl Jones
166
Posted 04/03/2015 at 22:11:53
How can anybody want him in charge for the start of next season?..If we stay up, it will be worse again than this season. The saving grace this season is that three teams look worse than us. That may not be the case next season.
Mark Wilson
167
Posted 04/03/2015 at 22:07:05
And.....think those talking about the way we as supporters can play our part are spot on. If Kenwright acts and sacks him we have to get stuck in with dogs of war support for a dogs of war fight......and I think that probably goes the same way even if Martinez isn't sacked but it may be a lot harder as it will be the tippy tappy sideways dogs and they arn't as easy to get behind.....or something like that....
Chris Leyland
168
Posted 04/03/2015 at 22:13:19
When I was sitting in the Bullens Road and we were 2 down to Wimbledon in the final game of the 93/94 season needing a win to stay up, I still had more faith that we would do it than I do now with this fraud in charge.
Simon Dutton
169
Posted 04/03/2015 at 22:03:54
Neil Lennon??!! That just about sums everything up.
Alastair Donaldson
170
Posted 04/03/2015 at 22:12:42
Agree.......this is the tipping point...go now RM, resign.....please!!!!
What will it take the club to act.Sadly not fans reaction.
Surely it's purely a business decision now, sack him, give him his golden farewell and get Dunc in there.
The cost of sacking vs relegation and maybe one more round in the Europa Tin cup.....no brainer.

Steve Davies
171
Posted 04/03/2015 at 22:01:27
Drop Howard, Barrie and Barclay. Put in Robles, Gibson and Besic. Lennon on the wing, Lukaku and Kone up front. Play 4.4.2. Practice defending corners, attacking corners and sack the clueless Spanish clown.
Bring in Big Joe and Dunc until the end of the season, then get a proper manager who preferably has not taken his team down the season before....job done.
This clown was banging on this morning on how he saved Swansea from going out of the league....I have heard it all now.....sack the halfwit......
Brent Stephens
173
Posted 04/03/2015 at 22:07:47
Too good to go down? We are what we are, not what we have been in the past or have the potential to be. We are what we are and that, currently, is utterly diabolical. On that basis, we are going down.
Keith Harrison
174
Posted 04/03/2015 at 22:21:07
Big Joe in temporary charge until the end of the season. ACT NOW BILL!!!
Tommy Coleman
176
Posted 04/03/2015 at 22:13:23
David Harrison 161 -
1. We've a chance to win the Europa.
2. I think we will bounce back next year, teams have season dips all the time. Last season showed us what he's capable of.
3. I completely agree with his football philosophy.
4. 3 years is enough time for a manager to show his maximum potential with a team, that's how long id give him. We don't want to be swapping managers every season.
The only way I'd want him out this season is if we're out of Europe and relegation is imminent in which another manager can get some "honeymoon" results and get us clear. I'm 100% we won't go down.
David Harrison
177
Posted 04/03/2015 at 22:18:57
That's how dire the situation is Simon. Goodison will no longer help us as long as this deluded manager is there. Any change now would help change the atmosphere and help the players. Beggars cannot be choosers.
Steve Higham
178
Posted 04/03/2015 at 22:15:52
If we don't get rid of Martinez now he will still be here next season as well.
Can you believe that were cheering on our rivals to help us avoid relegation - as a poster has stated earlier think it was James Martin its our own fault we never let our feelings known - sit in the morgue that is Goodison Park and accept mediocrity because that's the Everton way.
John Malone
179
Posted 04/03/2015 at 22:10:35
There's no chance of Kenwright sacking him no chance after giving him a 5 year contract and 28 million 4 the dope up front he's backing his man and I fear it will be his downfall. David Moyes took on a squad full of deadbeats when he dodged relegation, Martinez was handed over a team full of established internationals and he's managed to bring us down to this level! Get him out!
Mike Hughes
180
Posted 04/03/2015 at 22:20:41
I actually think DF would be a terrible manager right now.
However, on a short term basis could he do any worse than RM? Or would he be our Alan Shearer?
RM out NOW.
Paul Hewitt
181
Posted 04/03/2015 at 22:22:44
I don't know who should take over but ANYONE is better than this clown
Steve Cotton
182
Posted 04/03/2015 at 22:17:49
If he had any class, he would resign tonight or tomorrow... in fact I think he will.
Joe Clitherow
183
Posted 04/03/2015 at 22:20:04
So 5th, where we were last season to 17th, which is where I would take this season, roughly 㾾M lost revenue on prize money alone. 5th to 18th (God Forbid - and I'm not religious) roughly 㿨M for this year. Every year we don't come back, about 䀆M+ year on year.
Who says we can't afford to sack the useless idiot? These will be the numbers going through Earl's and Green's head when they want their stakes paying back
Paul Corbishley
184
Posted 04/03/2015 at 22:17:30
Well said Chris I was in the Paddock that day.
At 2 down I though that might have been that but I knew, from the bottom of my heart that the 11 players on that pitch would run themselves into the ground to keep us up and that we would create chances.
Now?
David Hallwood
185
Posted 04/03/2015 at 22:19:42
From now til the end of the season I'd go 4-5-1, like we use to play we need to stop the crosses coming in and keep clean sheets. Oh and Tim Howard hopefully has played his last game for us.
Alexander O'Brien
187
Posted 04/03/2015 at 22:19:42
Martinez WONT be sacked and will be here for the remainder of the season so we'll just all have to accept it. Rightly or wrongly. Depressing thought!
Chris Sillett
188
Posted 04/03/2015 at 22:19:29
If Martinez does leave then Slaven Bilic would be my choice, whether he would leave Besiktas to come here is another matter.
Matt Butlin
189
Posted 04/03/2015 at 22:07:12
For me, it was the away game at Spurs that destroyed our season. We went 1-0 up early then reverted, as planned to our 'pass it about' style. Spurs had other ideas though and set about hustling and pressing us and we had no answer. We lost the game and any belief that the Martinez tactics could really stand up in the premiership. Every other team in the prem saw how to deal with us and we've played into their hands ever since. Martinez either hasn't clocked it, has no other ideas or is as stubborn as they come. Jesus, let's hope that all that gets destroyed is our season because without the premiership money, we all know what will happen.
Eoin Cullen
190
Posted 04/03/2015 at 22:21:20
In January 1994 Everton appointed a new manager. He came from a "smaller" club and had gained a reputation for free flowing, passing football. The only negative was that the club he came from, Norwich, had a reputation for shipping goals as well as scoring them. Eleven months later, with our team in desparate trouble, Walker was sacked.
Remind you of anyone?
Andy Meighan
191
Posted 04/03/2015 at 22:23:53
Just read his post-match reaction on the BBC site. The usual bollocks.
Jim Bennings
192
Posted 04/03/2015 at 22:06:33
Barry is out for two games big deal it just means we have two more sideways Sammies in Besic and McCarthy to fill in.
Clearly part Moyes last season, let's be face it when Martinez did take over he took over a side that finished 6th, sadly this season we are now seeing Martinez stamp on Everton Football Club, he has had his idea's, his pre-season, his set formation and his own philosophy.
This is what you have got and this is what your stuck with, unless Bill has actually seen what is going on???
Bill?? Ohhh Bill?? ... No didn't think so.
David Harrison
193
Posted 04/03/2015 at 22:23:00
Tommy, I respect your opinion but you can't seriously think we are going to win the Europa, that relegation isn't a distinct possibility or that his philosophy has any chance of succeeding here.
Mike Hughes
194
Posted 04/03/2015 at 22:27:31
A link on BBC website:
http://www.bbc.co.uk/sport/0/football/31712353
RM: 'Every game is a final now'
Final nail in your career.
RM will never get another PL job.
Patrick Murphy
196
Posted 04/03/2015 at 22:22:26
Tommy - We've an outside chance of winning the Europa League and we would have to be at our very best to overcome some of the talented teams that remain in the competition - in fact I'll be pleasantly surprised if we get past Kiev.
There is little evidence to support your one season dip theory as this malaise set in following the Palace game last season and has gotten steadily worse and if this had been Roberto's first season in charge would we have stuck with him?
His philosophy may work in the long-term, but a club like ours has to get results in the here and now and try to ensure it remains in the top-flight any form of gambling with that, is lunacy and could see us in the wilderness for a decade or more.
A new manager appointed in the next week could re-ignite the fans and that could be enough to re-ignite the team, keeping the current incumbent will more than likely see the very opposite.
Eddie Dunn
197
Posted 04/03/2015 at 22:08:21
5 Live is full of disgruntled Evertonians wanting Martinez out.
Nick Armitage
198
Posted 04/03/2015 at 22:04:22
Mike Price - you say the board must have a plan B. Are you having a laugh? They haven't had a plan A for 15 years.
The problem at the club is Kenwright. He's a phoney who has never kicked a ball in his life and simply doesn't understand football, I didn't want Martinez when he joined and just want him gone now. It was a poor lazy unimaginative choice by a man who clearly doesn't know the game. That is why we are up shit creek. He had picked a second rate manager from a second rate club. Tappy tappy may work in the lower leagues but it won't work against well organised teams who can play as well.
Paul Jeronovich
199
Posted 04/03/2015 at 22:26:05
I don't profess to be clued up on football finances but if the unthinkable happens and we are relegated, the value of the club would surely depreciate and if BK doesn't have the money to underpin the club would we be more attractive to buyers at a cheaper price?? Surely BK would be forced to sell.
Gavin Johnson
200
Posted 04/03/2015 at 22:25:53
It's a small mercy that the other teams below us lost. Every home game needs to be like a cup final now. So we need to get behind the team and be the 12th man. I can't see what help venting and sounding off is going to do. If there was a change it should have happened in January. it just reeks of desperation at this stage with and yes, Duncan, would be our Alan Shearer. If we were to get someone in at this late stage it shouldn't be a back room novice.
Simon Dutton
201
Posted 04/03/2015 at 22:28:17
Why does everyone believe that sacking a manager and bringing someone else in will make the players play any better.
As someone said earlier, Martinez has been protecting the players all season and it could be his downfall.
Also to those saying play 4 4 2 can any tell me,of another team that plays this way in the Premiership, teams don't use it anymore.
Guess there's just 2 of us on here that want to stick with Martinez.
Oliver Molloy
202
Posted 04/03/2015 at 22:18:23
Are we surprised at tonight's result?, I'm certainly not.
This last few weeks I have been saying we will not get relegated,but I am now getting anxious.
I don't know what the answer is for this team to be able to get a result in the league.
We are just awful, all over the pitch and there seems to be no fight for whatever reason.
Everton have 4 or 5 big time charlies who like to talk complete and utter shite, same as Martinez.
I can not make up my mind,if it would be the right or wrong decision to sack the manager at this stage of the campaign.
I can see Charlie Austin scoring against us, I can see us losing against the likes of Qpr,Burnley,Sunderland that's where I'm at - trying hard to keep the faith but despairing at the same time.
Dave Abrahams
203
Posted 04/03/2015 at 22:30:07
I want Martinez out. Yesterday but please stop asking for Duncan, you really don't know what you are asking for, you really don't.
Brent Stephens
204
Posted 04/03/2015 at 22:32:00
Mike #194 "RM will never get another PL job."
Yes, sound thought. I always thought the worst managers are those who could only step in and avoid a team getting relegated, but not take them far up the table. The worst is now a manger who takes two sides down in the space of a couple of seasons. FA Cup tin pot, my sweet arse.
Mike Hughes
205
Posted 04/03/2015 at 22:36:01
Simon #201 -
Why does everyone believe that sacking a manager and bringing someone else in will make the players play any better.
Well, sticking with the manager has made the players worse so on that basis ......
It would take an absolute fuckwit to do any worse than RM has done since December.
RM Out NOW.

Brent Stephens
206
Posted 04/03/2015 at 22:36:26
How much is the parachute payment? And for how long?
Tommy Coleman
207
Posted 04/03/2015 at 22:30:22
David/Patrick.
On our day, as we've shown in Europe this season, we're as good as anyone. We're a match for any of the teams left in the comp.
6 points ìs a lot for these teams below to catch up. I can see us being comfortably clear by the end of the season.
I love the Barcelona etc style of play, Martinez has same philosophy. Whether he's good enough to deliver success with this philosophy is another matter but I want to give him every chance because that's the way I believe football should be played.

Sam Rangle
208
Posted 04/03/2015 at 22:39:09
Duncan Ferguson would be a huge mistake. No track record and spends too much time on social media. A big NO from me. We should be wiser than to ask for Dunc.
Brent Stephens
209
Posted 04/03/2015 at 22:39:12
Simon #201 - it's called the Hawthorne effect - i.e. it's not the nature of the (managerial) change but the fact of change. Short lived, maybe, but long enough to save us this season.
Mike Hughes
210
Posted 04/03/2015 at 22:40:23
I can't believe a couple of comments on here.
'I believe that's the way football should be played.'
Jesus wept ......
Brent Stephens
211
Posted 04/03/2015 at 22:40:50
Tommy #207 "I love the Barcelona etc style of play."
So do I - and I love he players they've got to be able to play that way.
Bill Gall
213
Posted 04/03/2015 at 22:34:31
First time since 1967 that Stoke have done the double over Everton.
Martinez is certainly going all out to break records at Everton.
Mike Hughes
214
Posted 04/03/2015 at 22:41:51
Brent #209
That's exactly what we need right now - a short term survivalist. I don't know who but just anyone -
Frank McGregor
215
Posted 04/03/2015 at 22:35:14
As a last ditch effort to get the players motivated and also get the fans on board, it maybe worth considering bringing in Joe Royle and Peter Reid to cover till the end of the season.
Gregory Kelly
216
Posted 04/03/2015 at 22:25:00
Stoke would be third in the league if it had started in January, so getting beat there of itself should not be a big surprise. Certainly not a result to sack the manager on the back of.
We battered them most of the second half but they were Stoke at the back and our front men were not good enough and the one who might have been, Mirallas, was on the bench. Its true that teams can read us and the full backs are well policed, this should leave space in the middle but Barkley and Barry have had poor seasons. As for the second goal tonight Lukaku can't hold the ball up consistently. Worrying, but there are easily three worse teams than us.
Chern Lee
217
Posted 04/03/2015 at 22:42:42
Bet365 has 51-1 odds on relegation ....which seem quite long to me.
Do they know something we don't ?
Paul Thompson
218
Posted 04/03/2015 at 22:36:57
As someone said earlier, we are running on empty and are only relying on the bottom 3 to carry on losing to stay up. Don't know about the rest of you, but I'm not prepared to take that chance. I honestly can't see where a win is coming from home or away.
We now have a small window of time/opportunity of 10 days before our next league game to sack Martinez and get someone else in. The Europa just doesn't matter at this stage I'm afraid. We have to let the club know how the vast majority of us feel. Bombard them with emails. Here is one way: Link
James Stewart
219
Posted 04/03/2015 at 22:42:43
@201
Could a new man realistically do any worse? I don't think they could. Martinez is a dead man walking and needs putting out of his misery. Its just embarrassing now how low we have sunk.
James Carlisle
220
Posted 04/03/2015 at 22:38:47
Martinez has a good record at getting teams out of relegation trouble at the last second. However, it's the fact that he has consistently put teams in this situation year on year that shows he's just a shite manager. Last season was clearly a one off.
If we don't get shut of him now then defenitely in the summer. He shouldn't be given the chance to do this to us again.
Paul Smith
222
Posted 04/03/2015 at 22:40:44
I'm sorry but this Muppet has to go before its to late. We need to get rid now and put someone like peter Reid in charge till the end of t!he season to keep us up then reavluate. I cannot believe how anybody can defend this buffoon who is in charge of us and kenwright needs to grow a pair and get rid while we still have a chance.
Douglas McClenaghan
223
Posted 04/03/2015 at 22:44:23
There may be three or more worse teams below us but they won't go down without a fight. There's no fight in Everton.
Brian Keenan
224
Posted 04/03/2015 at 22:39:49
I am waiting for the Chairman of Everton FC to step in and relieve the Everton Manager of his Job.
I, as an Everton Supporter, have had an enough of this disappointment. I hope it is very soon rather than off a later stage?

I know about Europe. However the league is more of an importance rather than anything else.
Max Murphy
225
Posted 04/03/2015 at 22:28:27
What did everyone expect? We are managed by Roberto Martinez. He should have gone after the Xmas debacle. Enough has been said. Now is the time for action. We need a petition (Matthew #20), formal protests to get rid of this man from our great club.
Simon Dutton
226
Posted 04/03/2015 at 22:39:54
Of course, I forgot the manager has made these overpaid primadonna "players" bad players nothing to do with players not being able to play 2 games of 90 minutes in a row (Kevin Miralles) or the players been intelligent enough to go "F### this its not working, but as a professional footballer I am not putting up with this and I am going to it my way"
The players
Dave Harper
227
Posted 04/03/2015 at 22:40:38
The man looks totally destroyed. At the end of the match Martinez was booed off, couldn't look the fans in the eye and appeared to be about to applaud the supporters but then thought better of it.
I have wanted him gone for some time and expressed reservations after the first 3 matches af LAST season. Wonder what he'll say on MOTD.
Andy Walker
228
Posted 04/03/2015 at 22:16:04
Thought we played well second half. Problems are Barry, McCarthy, Lennon, Naismith and Lukaku.
Mirallas Kone and Ossie to start next game. McCarthy off the pace, Barry should never start again and Lukaku needs the riot act reading to him.
It's too late to sack Relegation Roberto now, the fans should have made their feelings known 18 months ago.
Brent Stephens
229
Posted 04/03/2015 at 22:45:10
Gregory #216 "Stoke would be third in the league if it had started in January, so getting beat there of itself should not be a big surprise. Certainly not a result to sack the manager on the back of."
Jeez, Gregory! This isn't about one poor game! Have you not noticed the run of results over the last few months? Take a big handful of L's, and a few D's, and maybe a W. Throw them up in the air and that's us!
Ken Kneale
230
Posted 04/03/2015 at 22:45:52
Interesting article on the RS in todays Telegraph. Rogers saying how he had to change or realise he would be sacked. How contrasting to our position where RM appears safe no matter what and positively boasts he will not change.
Can anyone tell me the hotline to BK - we really need to get something done here or we have all seen the last of Everton as a top-flight club in our lifetimes.
Tommy Coleman
231
Posted 04/03/2015 at 22:43:46
Mike Hughes 210 - Ha. Yes Mike, that Barcelona team that are arguably the greatest team in history. That's the way I like football to be played.
You can keep your short term "survivalist". "Survivalists" don't win trophies.
Mike Hughes
232
Posted 04/03/2015 at 22:47:08
Gregory#221
Stoke would be third in the league if it had started in January, so getting beat there of itself should not be a big surprise.
No disrespect but what a load of rubbish
If the league had started in January, where would we be?

Joe Clitherow
233
Posted 04/03/2015 at 22:42:41
Are you for real Tommy?
Do you seriously see a Martinez side playing like Barcelona?
I see only slow, backwards, turgid, boring shite that got even worse than that because where we scraped the odd win before we now get beat every single game and the GD is solidly in negative territory. He tried the same "magic" formula with Wigan, it didn't work there. He tried it with much better players here, it hasn't worked here either. We are now on a worse points total per game than Wigan were in their relegation season; this is the worst points total at any time since 1926-27, adjusting for three points for a win.
Because Martinez says it, it doesn't mean it actually happens you know? This Emperor truly has no clothes whatsoever.
Mike Hughes
234
Posted 04/03/2015 at 22:50:21
Tommy # 231
Just please tell me the connection between Barcelona and Everton? I'm not seeing it.
Mike Hughes
236
Posted 04/03/2015 at 22:51:40
Lyndon / Michael
You need to enhance the technology on here.
I need 'Scream' mode.

Brent Stephens
237
Posted 04/03/2015 at 22:50:39
Fucking deluded, Tommy. Staring relegation in the face and you want us to be Barca! For fucking hell's sake! Greatest team in history they might well be - and you think that's us! Jeez wept, man!
Tony Hill
238
Posted 04/03/2015 at 22:50:08
Tommy we are playing like Tranmere. The players, or a number of them, are not prepared to commit for Martinez, and/or his management has drained them of the confidence to make the effort. We need to wake up as a club and stop living in a fantasy world. We are in dire trouble.
John Atkins
239
Posted 04/03/2015 at 22:50:58
What saddens me is we are putting up with this shambles
The RS for all their faults would NEVER allow this to happen
We have a small club mentality and are happy to let Billy Bullshit walk all over us
Come the Newcastle game there will be no protest, I've tried before and been vilified for trying such
Only ourselves to blame
Mike Hughes
240
Posted 04/03/2015 at 22:53:26
I'm going to have to go.
I'm going into meltdown.
At this rate I'll be gone before RM has.
Night, night.

Colin Gee
241
Posted 04/03/2015 at 22:47:01
Brent #206 no idea how much the parachute payment is if we go down ,but we would certainly end up with about 𧴜 million with the likes of Lukaku, Mirralles, Stones, McCarthy, Baines, Coleman, Barkley, Garbutt all being sold as the Empire that Kenwright built on sand finally collapses.
Anyone else looking forward to a strike force of Marlon Harewood and Carlton Cole to get us back into the Preimer League?
Brent Stephens
242
Posted 04/03/2015 at 22:54:33
Tommy, do you think we are playing like Barca? Or should play like them? Which is it?
David Hallwood
243
Posted 04/03/2015 at 22:44:15
Gregory (#216) If it was a one-off you may have a point, but yet again 3 shots against 2 goals conceded, and this has happened again and again and has never been corrected. Oh yes it did when he was forced to change disaster Howard, then reinstated him after we kept 3 clean sheets.
In addition, the world and his wife know that if your conceding, go 4-4-2, keep it tight with 2 up top, or even 4-5-1 a la OFM, but he stuck to his 'philosophy' and its been downhill all the way.
He's taken the best defence in the league and with the same personnel turned it into a sieve. Like you I hate clubs that change managers at the drop of a hat and that's the reason I didn't want him sacked. But enough is enough, he must go.
Ray Robinson
244
Posted 04/03/2015 at 22:43:30
For someone who will talk the hind legs of a donkey, Martinez has failed to explain why Distin and Mirallas have been so marginalised (although I can guess the latter), why Howard was allowed to return straight into the team, why Barry, McCarthy and Gibson all start in the same team, why Naismith (hard worker though he is) still is one of the first names on the team-sheet, why he takes a winger off, plays with no width and then brings on another winger, why keeping possession of the ball means going backwards most of the time (including to the goalkeeper from a corner!), why we hardly ever have any shots on goal - all the substantial things that I would be interested in hearing, rather than the constant media-pleasing platitudes and bullshit that I keep hearing. Add to that a shambles of a pre-season and it's taxi for Martinez, I'm afraid!
Tom Loughrey
246
Posted 04/03/2015 at 22:58:00
http://www.bbc.com/sport/0/football/31616988
His post match comments are scaring the shit out of me more with every passing game.
Keith Harrison
248
Posted 04/03/2015 at 22:56:46
Wake me up, when September comes.
Mike Hughes
249
Posted 04/03/2015 at 23:00:14
"
I did feel that as a team, we showed we had played a number of matches in a short period of time. The desire for the result was there but the legs couldn't get there.
"
My arse.

Jack Cross
250
Posted 04/03/2015 at 22:23:20
I'm certainly no fan of Martinez, in fact the complete opposite but no matter how much on the slide we are, I can't in a million years see us going down.
I expected us to struggle this season. I thought maybe a 10 or 12th position. So not that far off the mark. But relegation no chance. Can't see it, even if the football is dire.
Martinez, will be here next season. I have no doubt of that.
Bill Gall
251
Posted 04/03/2015 at 22:53:47
Do not tell me that the article on NBC is right, were Martinez said that one of the problems is fatigue with the Europa games coming up. I guess he is right as I watched how fatigued Tottenham and Liverpool were when they struggled in their games. Do you think the players would be less fatigued if they were trained properly? Or is that why we play tippy tappy football at the back so they do not get tired?
Milos Milenkovic
252
Posted 04/03/2015 at 22:52:36
Tommy, I am sure that Barcelona has never, ever in their history, used 3 defensive midfielders. Any team that use 3 defensive midfielders deserves points deduction. Results in the games during last month, where we used this type of formation is, 3 games, 0 goals and 0 points. Last and probably only game with one defensive midfielder (Besic) and one central midfielder (Barkley) resulted in our 3:1 victory.
Peter Barry
253
Posted 04/03/2015 at 22:55:13
If your Manager and his backroom staff and five of your players are all ex-Wigan you can't expect to play like Barcelona but you can expect to play like Wigan - and we are and the end result will be the same - RELEGATION.
Tommy Coleman
254
Posted 04/03/2015 at 22:53:17
I'll explain again fellas. Looks like you're anger is making you read my comments out of context.
Martinez is from Catalonia, he has the same philosophy that the Barcelona system tries to employ to its players/teams.
As I said earlier, whether he's good enough to execute that philosophy is another matter. I'd give him another year to do so.
Brent Stephens
255
Posted 04/03/2015 at 22:59:42
Roberto ""I did feel that as a team, we showed we had played a number of matches in a short period of time. The desire for the result was there but the legs couldn't get there."
Bollocks of an excuse..
"We haven't got the results that our performances deserve."
Bollocks.
"We need bit of luck and momentum but it's not been that type of season."
A bit of luck? How about some decent tactics? Bollocks
Barry Thompson
256
Posted 04/03/2015 at 23:00:35
We need dogs of war to get us out of this mess but unfortunately we only have the Andrex puppies
Kim Vivian
257
Posted 04/03/2015 at 22:59:54
Fucking brilliant - Patrick(247). Nice one mate...I needed something to make me laugh.
Gavin Johnson
258
Posted 04/03/2015 at 22:42:06
When he took the job Roberto wanted to improve on what OFM had built. He did this and more. I know there's a lot of Moyes lovers on here, but he would have never got us where we finished last season, and not playing such attractive football. He also wouldn't have thought out of the box and got the kind of loan signings we dropped on.
I think part of the problem is that Martinez hasn't continued what he originally said he'd do - Building on what we were already good at - grit, determination, hard work. All of which, seem to have gone out of the window this season. It makes me wonder if he's forgotten the winning formula, merging 2 philosophies that are like fire and ice, but he had managed to do last season where we had the best of both worlds.
I agree with Simon that the players should take more responsibility, but shouldn't have Martinez been a bit stronger and banished some of the big characters to the bench (I'm specifically thinking Howard) but there's other players to a lesser extent?
This seasons been tragic. I still think that we have to stick with him, and do our bit and get right behind the team. Who would you even get at this stage of the season? Duncan Ferguson (in house appointment) or the likes of Neil Warnock/Paul Lambert...No thanks!
Ray Robinson
259
Posted 04/03/2015 at 23:04:56
Our dogs of war Barry, Naismith and Besic get booked early on in every game and are then hamstrung for the rest of the match.

Mike Hughes
260
Posted 04/03/2015 at 23:04:55
Tommy #254
I can see it now.
Barcelona football executed perfectly by EFC next year in a wonderful 2-0 win against Rotherham.
Brent Stephens
261
Posted 04/03/2015 at 23:05:38
Tommy, what on earth suggests that Roberto has anything remotely good enough in his locker to make us play like Barca?
David Holroyd
262
Posted 04/03/2015 at 22:56:58
Should of sacked him at Christmas. Sick of hearing the bullshit that comes out of his mouth . Anyone can see he hasn' a fucking clue.
Lukaku and Barry's touch is so poor it's like rebounding of a wall instead of a footballer.
Stoke may of had less of the ball but they all knew there jobs. Every team has found us out , they all pressurise us stright from the kick off.
Back to the dogs of war, get big Joe Royle for the next ten games he couldn't do worse than that useless c**t of a manager.
Kenwright act now for Gods sake
Brent Stephens
263
Posted 04/03/2015 at 23:07:48
Tommy, I'm sorry, mate. My sheer anger at the man ends up with me being angry at some posts. I don't mean to offend, mate. I'm absolutely tamping at the guy, not you.
Joe Clitherow
264
Posted 04/03/2015 at 23:06:28
What? Does the water in Catalonia make everyone have the same philosophy then? A fella in my road was a raving Trotskyite when I was a lad but I didn't grow up thinking the same as him. Absolute arse shite you are spouting lad
Phil Walling
265
Posted 04/03/2015 at 23:05:24
Peter, when I said just that a year ago, so many TWers said I was talking bollocks. Roberto was their god. Now he is their devil. The truth is he should never have inherited the job in the first place.
Tommy Coleman
266
Posted 04/03/2015 at 23:03:34
Tony 238 - I disagree, he hasn't lost the players. The second he does he will be sacked.
Milos 252 - I agree. That's what I said earlier. He's got it all wrong with this formation. Especially after saying changing style would confuse players. It certainly did that.
I think he's just trying to shore up the defense but he should get back to putting players in their natural positions.

David Hallwood
267
Posted 04/03/2015 at 23:09:38
So Martinez has stated that we've played a lot of games over a short period of time......erm haven't the RS, Spuds, Chelsea, Arsenal & Citteh all done the same and they all won....just sayin'
Mike Hughes
268
Posted 04/03/2015 at 23:14:57
Phil #265
To be fair, I think the general reaction to his appointment (at least on TW) could be summarised as 'underwhelmed but open-minded.'
That was how I felt.
But his time is well up (and was after WBA at home).
Tommy Coleman
269
Posted 04/03/2015 at 23:12:40
Brent - let's give him a chance. Look how we played last year. It still might turn out to be a great season.
Jim Bennings
270
Posted 04/03/2015 at 23:01:16
If Martinez is here next season there will be plenty of fans who won't be.
FACT!

Mike Hughes
271
Posted 04/03/2015 at 23:18:57
Tommy - do you work for The Samaritans?

Bill Gall
272
Posted 04/03/2015 at 23:02:19
I wish people would stop going on about last season. we got 9 pts more than the previous season . we finished 1 place higher we only scored 6 goals more than the previous season and had 1 goal less .
The performance last season was good but it came with 3 players on loan, 2 we signed this season who are not performing at the same standard and a manager who's philosophy is great if it works , but this season it is not . We will never be at the standard that Barcelona set but even they have changed their style this season after being exposed by Bayern Munich in the cup
We now have a manager who doe's not believe that there is any other way than he believes is right, and is to stubborn to change .So even if, and it is most likely we will not get relegated we will still have him next season. Stubborn Chairman stubborn Manager and neither is going to admit they made a mistake. .
Chris Leyland
273
Posted 04/03/2015 at 23:07:25
Gavin, a quick look at the history books will show that the last manager did in fact 'get us where we finished last season' on two occasions and went one better in finishing 4th. However, it is actually irrelevant. We are deep in the shit and I for one want rid of this charlatan ASAP
Tommy Coleman
274
Posted 04/03/2015 at 23:19:07
Joe Clitherow 264 - Read up about that area and it's football philosophy before throwing insults. Martinez himself has stated 100 times the style of football he wants his teams to play.
Kevin Rowlands
275
Posted 04/03/2015 at 23:19:30
Ok here it is, a Wigan fan from a couple of years ago, sound familiar?.....https://pbs.twimg.com/media/B_SXenfXAAEY64N.jpg
Brent Stephens
276
Posted 04/03/2015 at 23:18:40
Tommy, a "great" season now will be avoiding relegation. It can't possibly be much more than that. I know how we played for part of last year and loved it. But he hasn't been able to maintain that. The blip has been since the final acts of last season. I've seen nothing since then to suggest that he can get back back to those levels. He's had his chance. The risk of going down is too great.
Jack Cross
277
Posted 04/03/2015 at 23:11:43
Phil Walling. I remember your feelings on Roberto, (similar to myself and a few others). and you have kept your thoughts on Roberto, throughout the season in the same vein. I quite agree Phil, he shouldn't have inherited the job. But I said give him 3 seasons and next season will be make or break for me with him. Lets hope he changes it around next season. But I can't see it. I think quite simply he took too much on. But it's for him to prove me wrong.
Mike Childs
278
Posted 04/03/2015 at 23:04:06
Simple fact Howard stays in goal next year we will be the championship league, Robles in goal we stay up.
I lov the education in the game my fellow TW'ers have given me plus the passion. Unfortunately the passion hurts.
Today on the nbc sports extra feed I used had Ian Crocker as lead and Barry Horne as the color. Barry Horne sounded like a fellow TW'er the way he ripped them. The last time Barry was doing one of games I thought he hates us loves Arsenal. After 10 minute tonight I realized he was
One of us calling it like it it is. Praise was limited except for Stoke making the basics look easy and pointing out the pints that we have discuss ad nausea. Sure enough after the game looked hm up and he layedfor us.
Jack Cross
279
Posted 04/03/2015 at 23:23:17
Type or paste your comment here. PLEASE capitalise initial letters of proper names and use proper grammar. No txt-speak; all-lowercase posts are likely to be deleted
Mike Hughes
280
Posted 04/03/2015 at 23:27:37
Jack #279 - well said.
About time someone made a stand.

Gavin Johnson
281
Posted 04/03/2015 at 23:20:31
He did indeed get us to 4th Chris, but the team was on a steady decline to top 7/8-ish respectable finishes after the 2009 season. Do you honestly believe Moyes could have ever have got us to 4th again without major investment?
Chris Leyland
282
Posted 04/03/2015 at 23:30:25
Gavin, no I don't but I don't belive Martinez will ever get us top half again as ling as he remains in charge
Brian Hennessy
283
Posted 04/03/2015 at 23:19:58
Please , please, please Bill sack this man before he does any more damage.
It's quite simple, he is a terrible manager.
No team should be in our current league postition with the players we have at the club.
Trevor Peers
285
Posted 04/03/2015 at 23:30:26
Jack 279 Is this were we Post our Vote for Roberto to get the sack?
Joe Clitherow
286
Posted 04/03/2015 at 23:22:25
Tommy I do know about it. I'm also not starstruck or in awe because there are lots of Catalan clubs and the only one vaguely successful or well known in general is Barcelona, so the philosophy doesn't stack up that well all in all does it?
Having a philosophy and executing it in the way you want are not the same thing. I've heard Martinez spouting his shite plenty of times this season and last and I've seen him fail 28 times and counting this season, and more last when he got lucky and sussed at the end. First European team that gets a video of us getting beat time after time will knock us out, guaranteed.
His philosophy doesn't work, Breaking News, we don't play like Barcelona, philosophy or not.
Jack Cross
287
Posted 04/03/2015 at 23:27:06
Jim Bennings. Jim, we have seen some shite managers at Everton over the years. And what do we do? We call them, we moan about the team, we argue with each other and then guess what? We go and watch them again the next home game. That's fans for you. Genuine fans anyway.
Mike Childs
288
Posted 04/03/2015 at 23:26:06
Should have been in goal the rest of the year not Next. Here's one to chew on from the game Stoke are 13 points ahead of where they are this year compare to last while we are 20 ponts worst this year. Ouch. Laughing boy is responsible for at least 10 or more of those points.
Patrick Murphy
289
Posted 04/03/2015 at 23:35:40
Tony Hill
290
Posted 04/03/2015 at 23:31:43
The key point is that we don't look at all like beating anyone on present form, and that certainly includes QPR, Burnley, Sunderland and Villa all of whom we are to play. We got a draw at home against the worst club in the league with an own goal.
Given that, why do people say that we simply can't go down? Where does that confidence come from? I am genuinely interested to know because I need some reassurance.
Kevin Rowlands
291
Posted 04/03/2015 at 23:22:24
Ray 244, good post and 100% correct, for all his effort Naismith is nowhere near good enough for the standard needed in this league, the Robles decision was insane, but you know what it starts from the top, the ONLY reason this man isn't being binned off tonight is that the phony luvvie twat gave him a FIVE year extension after last season, why not wait to see what he does the following year? To top that off the thin Spanish waiter proceeded to give all our elderly players contract extensions, spend a club record amount on someone who can't head a ball, can't trap a ball, is lazy, thinks he's better than he actually is, and wants out of the club for CL football, what a joke, he can't even turn up against the mutants who had their captain out and lost a center half after the first 15 mins. Honestly, fuck the Europa, this season has to go down as one of the worst I have ever witnessed as an Evertonian in nearly 50 years, absolute fucking garbage!
Mike Hughes
292
Posted 04/03/2015 at 23:38:15
Tony #290
It's not confidence.
It's blind loyalty to a man rather than a club.
Colin Malone
293
Posted 04/03/2015 at 23:06:31
Roberto, you, and I mean you. I want you to take the team, instead of warm weather training in Dubai.
I want to take our team to, a food bank, to see how working families struggle, yes working families, then to Whitechapel centre, to see how homeless people live, then go on a trip with all our paramedics, any time, not just the weekends and see there passion. Then visit a factory, anywhere in the area, who are on ٤.50 an hour, if they are lucky, to which they work 12 hours a day, 7 days week, just to pay the bills.Then go to Alder hay, Clatter bridge, Fazakerley hospitals and see how much passion these people have, patients and doctors, These are the people who sit and support Everton Fc.
Joe Clitherow
295
Posted 04/03/2015 at 23:37:58
So if there really are three worse teams than us (there aren't, by the way, on current form), shouldn't we sack Martinez now anyway whilst we are "safe", to give a new manager the maximum time to shape the team for next season?
What a sad indictment of expectations that is though. Can you imagine that as a defence from a school in the league tables - "there are three worse schools than us"? How can some people here accept what the Catalan Clown has reduced us to, and how he has dismantled everything good about a stable, regular Top 6 club within 18 months?
Peter Barry
296
Posted 04/03/2015 at 23:43:02
Lucky for you Tommy Coleman as I believe 'Blinkers' are very fashionable in the Championship.
Paul Saleh
297
Posted 04/03/2015 at 23:44:36
Any other club with genuine desire wouldn't put up with this abysmal record. So why should we. He is a dead man walking, but the worry is this dead man is taking us down.
Get rid and get rid soon. Grow a pair of balls BK and do the decent thing
Patrick Murphy
298
Posted 04/03/2015 at 23:50:17
Since Boxing Day the bottom five teams are - points won in brackets - Villa (5) QPR (5) Everton (7), Burnley (7), Sunderland (7) from 11 games with QPR having played only 10. If Everton made that sort of start to the season would we all be relaxed about it and think there were three worse teams in the division?
Paul Smith
299
Posted 04/03/2015 at 23:55:44
I was just about to drop off to sleep when this though came to mind;
....We're worse than Wigan...
Shit!

Gavin Johnson
300
Posted 04/03/2015 at 23:33:10
Maybe so Chris, I'm only relatively Pro-Martinez, but that's only because I think they'll be 3 teams worse than us and he's the best manager to give us a chance of getting to the latter stages or winning the Europa.
In the case of Moyes, had he stayed on last season. I think we'd have finished a little lower in the league and we'd have had the knives to gunfight excuses. So Martinez did everything correctly last season and it wasn't Moyes work by Osmoses. There's a myriad of reasons why it's not worked this season, but the bottom line is that results haven't been good enough and the club will have some decisions to make in the summer.
Going back to Kendall's swansong season, there wasn't this kind of vitriol and some of his signings and decision making were questionable to put it politely. We were in a relegation battle but I remember everyone got behind the team. I just think we need to try and get that kind of backing and hope it helps the players try that little bit harder. And to coin Kendall's words "the Gwladys street noise will suck the goals in."
Gavin Johnson
301
Posted 05/03/2015 at 00:00:05
He should have been backed or sacked in January. Not bringing in a quality CB was a big mistake last window.
Patrick Murphy
302
Posted 05/03/2015 at 00:00:49
Gavin - I can't disagree that the supporters have to fully support their team especially now and in the last three months of the season, just because people make their feelings known on here doesn't mean they will not rally behind the team - the away fans did tonight at Stoke but even that didn't seem to help the players.
It is becoming more obvious by the week that the players are not well enough motivated to perform to their abilities in the Premier League, but seem capable enough to win in Europe.
As regards Kendall he had played for the club and managed the club previously and just about had enough of his legendary status to allow him some leeway - Martinez has the albatross of relegation on his CV and he cannot escape that fact which means he does not have the goodwill of too many Evertonians, many of whom made their feelings known from the outset and some like myself who thought he might achieve good things at Goodison despite not being totally convinced.

Peter Barry
303
Posted 05/03/2015 at 00:12:28
Defeat has now become Roberto's 'Norm'. We can't even manage a 'lucky' draw these days- the writing is well and truly on the wall.
Gavin Johnson
304
Posted 05/03/2015 at 00:13:15
Patrick, I think our away support is the best in the league. Unfortunately I couldn't say that about our home support. The atmosphere this season has never raised the roof. I just wish the slate could be cleaned for these remaining games and there could be unequivocal support instead of players being lambasted by sections of the crowd. At this stage I just hope we can all be united for our home fixtures.
David Hallwood
305
Posted 05/03/2015 at 00:14:04
Just seen the lowlights on MOTD. what can you say; the first goal there was no pressure on the ball and the player was able to pick his spot. Could Howard have done better:mmmmmmmm but I think a De Gea or Cortoise would have saved it. The second was piss poor control by Lukaku, but the player still had a lot to, and wasn't pressured enough.
The pass, pass, pass philosophy comes undone when a team's doing this poorly IMO, because a player low on confidence will give a 4 yard pass just to offload, rather than to pull the opposition out of position.
FFS Roberto go out for 0-0 draws til the end of the season, that'll see us home.
Derek Thomas
306
Posted 05/03/2015 at 00:26:30
Short version; I can't work up any apathy.
Long version; See above.
Aman Kanji
307
Posted 05/03/2015 at 00:19:18
Great poll to be run weekly with weekly stats and trend graph... "Are you renewing next season"
Brian Wilkinson
308
Posted 05/03/2015 at 00:18:57
Could do a lot worse than bring Andy Gray in, ok he shafted us once but doubt he would turn us down again.
Other than that, Joe Royle, imagine what he would have done with 㿈 million to spend.
Nicholas Randall
309
Posted 05/03/2015 at 00:14:11
Everton have 10 games left. They need to get to 40 points. To do this, they need 4 more wins or 3 wins and 3 draws. Currently in the Premier League they don't look like winning. I think they are in real danger of relegation.
Everton couldn't beat Stoke tonight but in the form they were in before the game, I didn't think they would win.
Steve Barr
310
Posted 05/03/2015 at 00:23:58
Listen, these overpaid players get what they deserve at Goodison.
No excuses for the shit we have endured this season. Non whatsoever.
Us fans are miserable as fuck. What do you think these players are doing now?
Certainly not going through the agony and misery we are all going through, thats for sure.
Andy Crooks
311
Posted 05/03/2015 at 00:25:15
Just watched Leicester put up a passionate show against City. They look better than the shameless shower of shit that disgraced the shirt tonight. I just cannot bear to watch us last on MOTD shortly ,as the very sight of the babbling ninny we have as a coach makes me want to vomit.
Bob Heyward
312
Posted 05/03/2015 at 00:04:39
28-points at 28 games. Utterly predictable. Utterly shocking. I called it at game 19. That's how easy it was to foresee.
Now, if I can see what's blatantly obvious, why oh why is BK so blind to it. Martinez had to go post-Christmas. He didn't. We threw away a Cup and a transfer window along with nine-games to get where we are now.
So, having called the 28-point total right, here is the next prediction. If one of the bottom three start winning a few games, we're relegated. Why? Because as long as Martinez is here, we are not in charge of our destiny. The table does not lie. We are on course for 38-points, yet any review of our remaining games in the light of the appalling Leicester result will show all to be challenging. I think 35-points is probable.
Just to put that in context - the average points needed to survive since the turn of the century is 38.5.
Again, the apologists will scoff. I note their current line is 'we won't get relegated, too many poor teams below us'. That's what Leeds and Newcastle said.
I promise you, our current run is what relegation looks like. Any notion that a team designed to push for Europe will somehow conquer relegation six-pointers is laughable, and our results show that. And believe you me, every team in the Prem will be hoping we go down, making every game a huge, unfamiliar challenge to our team. Ask yourself, who will roll their sleeves up and fight rather than call the agent and seek out. I see few lads prepared to lead, especially in attack.
All in all, I'm afraid we fiddled while Rome burned. Any in coming manager will have a big challenge and no chance to bring anyone in. Plus I'm not sure we could attract anyone of calibre now, leaving us with a Royle-type option...hardly a solution to the type of hard to motivate 'get me outta here' player that I described in the last paragraph.
So, looks to me like our future is out of our hands. Too late to change now. I'll scream and support with my heart, but my head cannot see us staying up IF one of the teams in the bottom three start winning. Maybe we get lucky and stay up because they don't start winning. But the fact that we're now relying on luck is the shameful result of certain elements, fans and Club, allowing Martinez the free ride to stink the place out with his BS when the end result of his antics was as obvious as 28-points at 28 games.
Damian Nolan
314
Posted 05/03/2015 at 00:38:53
Tommy Coleman should be the guy at the other end of the SOS phone on the Runcorn Bridge. If this form keeps up he is going to be busy.
Kevin Rowlands
315
Posted 05/03/2015 at 00:34:46
Ok, going to say it now and have felt it for a while, Romelu Lukaku is fucking garbage, Naismith, a nice lad but nowhere near good enough, it should be Kone supported by proper footballers like Osman,hopefully Pienaar and a rejuvenated Ross, with Taliban sitting on the bench, Martinez sacked and Alan Irvine in to steady the ship for now!
Sean McCarthy
316
Posted 05/03/2015 at 00:30:04
This really is depressing!!! I recorded the skysports highlights and just watched the game without knowing the score. I'm now asking myself why I bothered. Mr Brown Shoes is just clearly drowning he is so far out of his depth. If he thinks all we need is a change of luck then we are doomed. You make your own luck in most things and we seem incapable of doing so.
So many players seem to be struggling for one reason or the other whilst others simply aren't good enough. Take Naismith for example. Works his arse off and will run all day but this is all to no avail whilst he has the ability of a championship player. His first touch is awful and his second touch is usually a tackle!! Yet he is one of the first names on most teamsheets.
Stevie Wonder can see that Barry's legs have well and truly gone and how many of his 10 yellows have been as a result of this?? Yet week in week out he's out there as 1st choice. How??
Coleman has gone backwards this year. His defending still causes heart failure and going forward he rarely looks like he has the ball under control and appears to get a cross in more by luck than judgement
Howard is another past his sell by date. Stokes sub keeper is better than our 1st choice!! FFS STOKE!!!!!
We pay a huge sum for a striker then starve him of proper service then call him "shit". He's only 21 so let's reserve judgement on that one for now.
What's happened to the best English talent in the last 20yrs?? Whoever that is it's certainly isn't ross Barkley!! It's clear to see why david Moyes didn't pick him.
Yet Martinez picks these players week in week out and we go from bad to worse as each week passes. He talks a lot but says nothing. He is taking us straight to the championship and yet some seem unable to see that.
Look at the sos1878 site for some of the most deluded views around.
We're in a mess and I think we shud be grateful that Leicester burnley and qpr are even worse!!! Everyone goes on about how bad villa are yet we are only 3 points above them and still to go to their place with the impetus of them having a new manager - even if it's as big a bluffer as Martinez!!
Bob Heyward
317
Posted 05/03/2015 at 00:44:40
Irvine? Bells bells no. Motivation wise, our problem is too many of the squad want out. McCarthy, Kev', Rom, Seamus, Ross, Luke, Tim, Buzz, Barry, Atsu - all of them have severe motivational issues that an inbetweener-type manager, at this time, will not address.
I'm afraid we fiddled while Rome burnt. The apologists won their ego-led 'I'm right', post-Moyes-tinted defence of Martinez. The time for change was mid-January. It's now too late to replace Martinez as we simply won't get a manager of the calibre to interest the players I just listed.
All we can do now is hope the bottom three keep losing, pray we pick up a few points ourselves (though after Leicester, where they come from, I don't know), get rid of Martinez as soon as we're safe and then replace with an inspirational manager - de Boer etc. That way we might just avoid the great exodus. That said though, if one of the bottom three start winning...we're screwed.
Garry Corgan
318
Posted 05/03/2015 at 01:10:48
Should Martinez go?
"Anything less than a win on Wednesday at Stoke City would mean a record low points total after 28 games in the Premier League."
"Using three points for a win, only in the 1926-27 would Everton have ever had a lower points total at the same stage of the season."
In the Premier League era alone, Walker, Kendall #3 and Smith didn't survive with such a poor return.
David Barks
319
Posted 05/03/2015 at 01:21:49
How is the man still in a job. He has taken us so far backward, he's very close to completing the job and taking us down. How is this allowed to happen at this club? Again, what "Big" club would allow this? The supporters were up in arms about moving grounds a few miles, but are sitting on their ass while the club very well may be relegated. I don't think it will matter then what ground we were playing in, we'll be ruined. Where are the protests, where are all the outspoken supporters? Seriously, where the hell is everyone. This is shocking and it's just being allowed to happen.
Paul Webb
320
Posted 05/03/2015 at 01:39:54
I bet other teams can't wait to play us, an easy 3 points, heartless, gutless and clueless.
We have no fighters in the team to get us out of this relegation fight like the 1990s.
Bob Heyward
321
Posted 05/03/2015 at 01:24:41
Garry, all great points. However, will BK have the nuts. He pulled the trigger on Walter at this point to replace him with Moyes, so perhaps that's evidence to show he would.
Then again, I wonder whether he'll be influenced more by Moyes second season, keeping faith and being rewarded in the long-term.
If it is the latter, he should pause. Moyes' second season does not compare with Martinez. Moyes team was the cumulative result of years of poor squad building. Today, our squad is far, far better than then. There is, in my view, zero comparison.
That said, I'm not sure BK has much choice in what he can do.
Would canning Martinez resolve the nuanced questions of motivation within a squad, especially in attack, where so many are probably looking to move on (Rom, Kev, McCarthy, Seamus, Atsu, Luke, Ross etc)? Sure, Martinez is the problem, but the time to sensibly recruit went in January. No inspirational manager, eg de Boer, would come at this time to manage a team in this position. Instead, we'd be looking at a 'Big Joe' type option - would that really win round the demotivated attack? Granted, I think someone (anyone!) could tighten defence, but it's attack that's going to be key.
I'm afraid that wilful-blindness to our perilous situation by some has combined with procrastination. Rome burned while some fiddled the Martinez BS. January was the time to act. It came and went. Despite screaming for Martinez to be sacked for months, I now see no option but to retain him, hope for a few points ( though after Leicester, God knows where they come from!), pray no one in the bottom three start winning, cross fingers and toes that he wins the Europa and gets us in Europe (long shot, I know!), then sack him as soon as we're safe, then get a top replacement before the players go for their holiday/get on the phone to their agents! Honestly, I think that's the best we can do/hope for.
Unsatisfactory? Yes. But I see no other viable alternative. We simply have no choice but to carry on the Martinez chaos, hoping for the best. It's Hobson's choice, but unless BK has a great manager waiting in the wings that will fire the imagination of those players that want out, I just don't see a Royle type option (because I think that is now the only option open to us) having the time or carrots to effect a motivated attack. How the hell we got in this situation...well, the pro-Martinez lobby have a lot to answer for!
That said, at the end of the season there must be a reckoning for why we got into this position. Some need to take a long, hard look at where blind-support and overly positive sentiment have brought us. I predicted we'd be on 28-points at 28games as far back as game 19. Why couldn't others see the same stark staringly obvious outcome?
DJ Staunton
322
Posted 05/03/2015 at 01:21:51
#145 :-D :-D :-D
Our expectations and optimism for this season, based on last season's promise of a long overdue reinstatement of the 'School of Science' kind of football we've been weaned on, have been shattered by Martinez's rank and bizarre decision making this term.
I fucking hate cronyism: Howard, Barry, to a lesser extent Baines. Really rankles when individual form and fitness matters fuck-all to team line-up and shape. A "bad moment" to be an Evertonian...

Douglas McClenaghan
323
Posted 05/03/2015 at 01:49:21
Mike #260
I see it this way: The manager enthuses about Everton's performance after losing 1-0 at home to Rotherham.
Paul Kelly
324
Posted 05/03/2015 at 02:11:14
Kev #275: Just read that link, scary or what. Going to show it to everyone I know.
Mike Hughes #280 PMSL, thanks for the only bright spot in this depressing yet predicable night.
Mark Andersson
325
Posted 05/03/2015 at 00:34:33
My prediction of a 2-0 defeat was supposed to backfire. Oh well just read all the angry posts, Tommy your a brave man posting your comments on this thread.
You have the right to your oppinion, you make some valid points, however look at the facts. Your wishful thinking is as bad as the manager.
I also agree with the post about the crowd playing there part, but again how can we collectively muster good vibes while watching shite football wrong tactics and half arsed players.
Give us something to cheer about, the biggest cheer would be to see a new manager . That would give us some belief that we can turn it around, because at this moment in time most of us have lost heart.
For all the will in the world I just cant see Martinez being sacked and can see us going down. I hope im wrong about at least one of them.
Minik Hansen
326
Posted 05/03/2015 at 02:34:13
Imagine the weight you're carrying of people slating you. Well deserved most will say. Now imagine instead you get support and get help being pushed on. Everything will make it easier when we lift each other. Witness it. Come on our beloved toffees, time to show proper spirit in times like these. COYB.
Colin Gee
328
Posted 05/03/2015 at 03:16:02
The NIghtmare on Gwladys St.
Can't sleep after watching our latest 'performance' just had a look at the fixtures before we play the Barcodes a week on Sunday.
Going to have nightmares now, if the results go against us we could be 16th, level on points with QPR in 17th and just three points off Aston Villa and QPR in 18th and 19th...
Lose heavily against the barcodes and again to QPR a week later could then see us in 19th...
Roberto's dream is turning into a fucking nightmare!
Victor Jones
329
Posted 05/03/2015 at 03:01:31
I've been kidding all day that we might get a result against Stoke. But as usual it was all just wishful thinking. It was just the same old story. Same old rubbish. No more joking from me, I promise. This is now beyond a joke. We have a manager in charge who has lost the plot. He has to go, so that maybe a stalwart of the club can at least be given some time to save the season and save Everton Football Club. People scorn suggestions, but would Joe Royle or Peter Reid or Kevin Sheedy or Duncan Ferguson or even Alan Stubbs , all do any worse. Get to safety, then do a proper search for a permanent manager as soon as the season ends. And Everton Football Club is still in the Premier League. (and yes I know that Stubbs might not be available).
I never wanted Martinez at Everton. And I have voiced that many times. And I don't hold with all this talk about how wonderful last season was. I watched some rubbish from Everton last season, Believe me. And I watched a few lucky wins. Games that could have gone either way. And we went tamely out of the domestic cups. As usual. Last season was ok. And Martinez got lucky in a few games. But he slipped up badly in every game that really counted. The games that would have really put Everton in poll position. Martinez always fell short. No plan B.
Roll on to what is happening now. Martinez is always falling short. He is not even getting the odd lucky win. Every team has caught on how to play against us. And still no plan B. There never will be a plan B.
We just might under Martinez manage to avoid relegation. But only because there are a few worse teams than us in this league. Lucky we have that 6 point lead on them. That is the sad indictment of our season.
And Martinez still at our club next season. That is an ever sadder indictment.
How anybody can defend Martinez this season is beyond me. And how anyone thinks that he will turn us into Barcelona. Jeez-U-S-Christ. Taxi please, For Martinez and Tommy. They can discuss their philosophies. Or nonsense.
Won't mention the Europa League. Because we are a long way from actually winning this competition.( to listen to some people, you would think we were in the final). The league comes first. Always will.
My team is Everton. Always was, and always will be. We just can't walk away. That is not an option. But youngsters watching this present Everton team under Martinez, will be having other ideas. They like good football. Not clueless dross. Martinez needs to go, before he destroys this club, before he decimates the future fan base , before he destroys us financially, Before he kills this club. I am serious. We go down. We will struggle to get back up.
People worrying about his pay off. That would be nothing compared to losing the soul of Everton Football Club. Rant over. FOREVER EVERTON.
Jack Cross
330
Posted 05/03/2015 at 05:19:35
According to Lukaku, Roberto, teaches the team something new every day. I'd like to sit in on that lesson.
James Marshall
331
Posted 05/03/2015 at 05:58:52
He wants to stop teaching them something new, and teach them something old - like how to win football matches.
To everyone talking about 40 points and being safe - there's a very good chance about 36 points will be plenty, even 34/35 could do it this season.
Nothing has changed really since last night - we're still 6 points, 7 if you count our goal difference above the bottom 3.
Leicester, Burnley and QPR are the 3 teams that will keep us up. The manager is banking on it.
Is he the most arrogant, stubborn manager of all time?
Joe Clitherow
332
Posted 05/03/2015 at 07:09:39
I woke up and he is still here. I think the pressure needs to turn on Bill now. When does "loyalty" transform into "dereliction of duty"?
Ste Traverse
333
Posted 05/03/2015 at 07:25:22
By the time I get home from work tonight, i
Ste Traverse
334
Posted 05/03/2015 at 07:30:09
Want this clown GONE. I can't stand BK, but he will earn a little respect back if he does the RIGHT THING.

Tony Draper
335
Posted 05/03/2015 at 07:23:16
Everton's main priority now is to find and appoint a new manager.
The relegation issue, whilst also VERY important, is secondary to the main issue.
Whether we liked or disliked or were nonplussed by RM's appointment surely we are all ready for a new appointment.
Our points tally is pitiful and entirely inexcusable given the amount of talent in our squad. Our style of play is entirely predictable. By "style of play" I mean what we actually do during matches and not what we are theoretically aiming to do eventually at some undisclosed point in the future.
Enough.
James Marshall
336
Posted 05/03/2015 at 07:56:56
If we're honest, I think we all know BK is unlikely to sack him - it'll make him look like a dickhead for a start.
Plus there's a pay-off and we all know how Uncle Bill feels about rummaging around under the sofa cushions.
Oh, and the not insignificant question of who takes over? Serious, available targets seem few & far between if you ask me. And when I say serious, I don't mean Koeman or De Boer as so often quoted by people on here - never gonna happen when you run a tin-pot organisation like Everton, with a shitty old stadium, and nothing but history to make us great.
We're kinda fucked with the small-town, small-minded, short-sighted mentality that everyone has become so familiar with and (in many cases) accepting of. Passive little Everton, the sleeping giant.
My arse.
Zayn Zaffar
337
Posted 05/03/2015 at 07:56:05
OMG!!! Checked the back pages to see the headline "Martinez Sacked" but unfortunately that was not the case, I want him out, never wanted him in the first place, but once appointed I backed him as he is our manager, he is not a 'Premier League' manager nor will he ever be a 'La Liga' coach, at the best probably a championship manager who will still struggle. Everyone is talking about Plan B, but there's no Plan A. I would rather Everton playing boring football and win 1-0, than play the so-called fancy possession play and lose, He needs to go, and needs to go NOW!!
Keith Knowles
339
Posted 05/03/2015 at 08:30:08
If we lose our next game the Martinez has to go; the Europa is an irrelevance compared to us staying in the top flight
Allan Barratt
341
Posted 05/03/2015 at 08:41:52
Why the next game?? The muppett should of been booted at xmas. Another game is another game nearer the drop!!
Keith Knowles
343
Posted 05/03/2015 at 09:07:50
Alan 341: I agree but that was never going to happen at Xmas. BK will not sack him even results and performances have gradually turned the loyal support against him.

Dave Abrahams
344
Posted 05/03/2015 at 09:08:30
I was severely tempted to have a few pound on Stoke yesterday because it was easy money, couldn't let myself do that so had a flim on Lukaku to score the first goal and Everton to win.
Martinez is not the only fool backing Everton.
Michael Polley
345
Posted 05/03/2015 at 09:08:01
We are fighting for survival now. We have had relegation battles in the 90's, but this time it's different. There is no fight, or passion in the team. RM has lost the plot, and I pray to God we don't get relegated. If we stay up it will be courtesy of teams that are worse than us.
The Europa League is now irrelevant. Premiership status is the priority.Martinez needs to go - I,ve supported our wee team for 35 + years, and I never felt so down, and depressed as I do now. This idiot must not be allowed to destroy our great club. If he had any decency he would step aside.
I will cheer on the team on Thursday evening, but I'm dreading our next leaque game. We need inspiration from somewhere !!!!
Simon Jones
346
Posted 05/03/2015 at 09:16:43
In my opinion the reason we have done well in the Europa League is a European style of play suits a Martinez team, an English style of play does not. Under Moyes we watched our team "get stuck in" and defenders whose job it was to hoof it, but at the same time, players who could pass and show some creativity. Moyes' problem was his lack of adventure and being too pragmatic once he had established his team, Martinez's problem is his idealism in playing a "certain way." He eventually took Wigan down trying to play a certain style of football that was beyond most of those players. I just hope that there are three worse teams than us.
Simon Jones
347
Posted 05/03/2015 at 09:29:15
@Michael 345, you weren't depressed when Mike Walker was in charge?
Paul Burns
348
Posted 05/03/2015 at 09:19:06
Absolutely no comments in the press as expected and everything will continue as we sleepwalk to disaster. This is what happens when a wolf in sheep's clothing allows unknown persons not with the club's best interests at heart to seize control by spinning bogus tales of the Boys Pen and other fairy stories.
We have no friendly local press to apply pressure as they used to, as they're only interested in the RS nowadays and so the fans are ignored and taken for granted. Kenwright is like an absentee landlord, living in London, while Everton FC rots and squanders their Premier League riches. This has gone on for two decades and it's going to take a massive demonstration before, during and after the next home game to finally start the beginning of the end for the phony cartel who have taken our club from us and almost ruined it beyond repair.
James Newcombe
349
Posted 05/03/2015 at 09:25:45
I said at Christmas, he's got to go before he takes us down. Our game was sussed out at the tail-end of last season by the likes of Southampton and Arsenal. He's had since then to counteract that. Instead, he's lost the players (a long time ago) and now the fans.
Tony Hill
350
Posted 05/03/2015 at 09:30:27
Bob (321). Correct, we're stuck with him in my view now. We just have to grit our teeth and pray. The only proviso would be if he has completely lost the dressing room in which case we would give ourselves a slightly better chance of staying up with someone else, presumably a caretaker, in charge.
How sad.
Sean Wafer
351
Posted 05/03/2015 at 09:38:45
Lukaku is utterly shambolic. Who can we fool into paying £10m for him in the summer?
Andrew Clare
352
Posted 05/03/2015 at 09:29:22
If Martinez is not removed we will be relegated.
He should have gone at Christmas.
BK's faith in him spells disaster.
Mike Keating
354
Posted 05/03/2015 at 10:12:30
Apparently RM is a real obsessive where stats are concerned so what will he make of these from todays Guardian;
We had most of the possession (57%), more shots on target (5:3) and one more corner (6:5) and still got stuffed 2-0.
Dreading every game now
Graham Mockford
355
Posted 05/03/2015 at 11:09:23
Mike 354
I suspect in Roberto's world that will only convince him he's doing the right thing and it's just bad luck.
He seems to ignore the really important stat, 28 points from 28 games.
He's a dud who got lucky last year with someone else's team. Look at his record but more importantly look at his signings to get the measure of the man.
Mike Keating
356
Posted 05/03/2015 at 11:16:40
Graham 355 - you missed one in the sequence; 28 from 28 and £28 for a striker who is piss poor at the moment
Victor Jones
358
Posted 05/03/2015 at 11:22:35
Some people on here thinking that BK will not sack Martinez because that would then make him look foolish. I dickhead, to quote other ToffeeWebbers. Well to watch as Martinez takes Everton to the brink of The Championship. WTF does that make Kenwright look like?? Its time that Everton FC started to get tough. From the top to the bottom. Get rid of Martinez now. And to hell with his compensation . Who cares about that? Everton forked out 28 million for a work in progress. A hit and miss enigma. Who might be good. Or he might be gone in the near future. Who cares about paying Martinez off. Be gone I say, Be gone. And to hell with the consequences.
Does it really matter what team Martinez now puts out. They are shackled from the start. We need the old dogs of war approach. At least long enough to see us to safety. But play the proper "dogs of war" style. Pump high balls into the opposition half. Especially their penalty area. Chase every ball. Tackle every ball. Play two forwards. Make opposition defenders earn their money. Fight. Scrap. Die for the club. FFS. Time is running out. We need results now.
And remember that Joe Royle's dogs of war did not piss about with pissy passy nonsense in their own third. Not pretty , I know. But what exactly is the rubbish we ate now getting. This is now all about getting a few results. By whatever means. I don't think that I will live long enough, to see us turn into Barcelona. So for now it has to be the "Dogs of war" approach.
Emotions running high last night. And as I have said at times, it is not about losing the odd football match. We cannot win all the time. It is about the complete capitulation of this team, this season. And the complete lack of ideas on how to turn this around. The lack of fitness. The lack of fight. The lack of any tactical nous. The lack of how important set pieces can be, whether taking or defending . The lack of clean sheets. The lack of goals. The lack of actually making a meaningful substitution at the right time in a match. The list is endless.
People saying that this group of players need to step up. Well yes I agree with that. All misfiring players need to look at themselves. But ultimately everything is down to the manager. His philosophy. His style. His decisions. His team. No more excuses. As already said on here, how long would Martinez get at Man U , or Across the park.
And yes , the silence is deafening from our chairman. When is he going to act? What's that old first world war saying, Lions led by Donkeys. Well in Everton's case, its Rabbits led by Donkeys. Some bloody combination. Lets hope that a few of the rabbits grow a pair. And quick.
This is all just a bit flat at present. But once more into the breach we all trod. Another must win game in Sunday week. The law of averages say we have to win sometime. So will somebody please tell Bobby Brown Shoes that. COME ON YOU BLUES. Some time this season. Thank you.
Lewis Barclay
359
Posted 05/03/2015 at 12:30:19
If it were to happen, I guess winning the Europa League and getting Everton relegated from the Premiere League, could be seen as a step up from winning the FA cup and getting Wigan relegated.
The next obvious step would be to win the Champions league with Real Madrid and get them relegated from La Liga, with the ultimate aim being; winning the world cup with Brazil and having them immediately denounced as a recognised country.
Denis Richardson
361
Posted 05/03/2015 at 12:42:36
Lewis - don't worry about the Europa, we will 100% guaranteed not win that trophy. As soon as we come up against a decent side we'll be out. We've had a very easy run of it and the wins against Wolfsburg were lucky and they themselves are much better now.
We may go through against Kiev into the quarters but I think that's as far as it'll go. Unfortunately, if its true that Martinez' sacking pay off is somehow linked to the EL then we may have to wait until April before he's shown the door - god only knows where we'll be in the league by then. Then again if we can somehow just scrape/fluke 3 points at home to Newcastle, then we'll be within touching distance of safety - so close and yet so far.
On another note I am amazed how little there is in the press about Marinez' job. I cannot find one article after the Stoke game asking whether he's going to be sacked soon. After 1 win in 12, that is really really odd.
Gavin Johnson
362
Posted 05/03/2015 at 13:17:54
There's a very good article on NSNO today assessing Martinez's tenure and whether or not he should be sacked.
Jimmi James
364
Posted 05/03/2015 at 14:03:44
jesus we are deep in the shit
Tony Hill
365
Posted 05/03/2015 at 14:03:57
Gavin, thanks for that reference. The article is probably the best case that can be mustered for Martinez but I think it is wrong. I think it underrates the extent to which the players are adrift and uncommitted to the Martinez project and it also, in my view, underrates the danger we are in. I believe the manager should have been dismissed in January and that, contrary to my own belief in him throughout last year, he is damaging our club and will continue to do so.
I do not, however, think that Martinez will be sacked before the end of the season, and he will definitely be with us next season if we survive; and so I must hope that you and the author of the article are right and that I am wrong.
Matthew Williams
366
Posted 05/03/2015 at 14:04:37
Let's have it right my fellow Blues...we were shite last season as well! Two decent 90 min performances does not make a great season in my book. Our club has some shameful footy stats that no-one, it seems, can ever change.
No player looks too bothered to me; no-one is hurting, our football is fucking painful to watch, nowt seems to change from game to game... and that useless twat Barry always gets a game! Mirallas sums up our squad – all fur coat and no knickers and it seems he's also made of fucking glass!
Howard is in the States already, it seems; McCarthy is average at best (㾹 mill)... jeez, even our best player going foward has been a fucking defender (Garbutt).
Bring in anyone who can instill a bit of pride and can start to address our piss-poor footballing records... Fuck it, I just want the Blues to win a cup, starting with one we have never won (the League Cup) and build from there, then the Europa League... then the Super Cup. Call it the new Holy Trinity to aim for!
David Harrison
367
Posted 05/03/2015 at 15:14:56
Hasn't he gone yet? Looks like the nightmare is going to continue. 10 more games of blind hope being dashed and for 1 reason only...OUR MANAGER IS USELESS!!!! Every other cited reason is peripheral to this. Surely even Bill can see this
Steve Bell
368
Posted 05/03/2015 at 16:01:41
Those who believe we won't get relegated because there are worse teams below us are living in a fools paradise. Everton under Martinez have hit the self destruct button and the countdown has started. Each game is nearer zero point and then the ship WILL self destruct.
We either run for the exit or go down fighting. I say fight like fury but.......Martinez please go and go now. We need a General at the helm not Captain fuckin Mainwareing.
Jeez BK if you love this club, Act.

David Smith
369
Posted 05/03/2015 at 16:18:48
On current form I can't see us getting more than a couple of draws from our remaining games - we also have to play most of the teams below us, so obviously these are 6-pointers.
Thursday, 12 March 2015
Everton vs Dynamo Kiev
Sunday, 15 March 2015
Everton vs Newcastle
Thursday, 19 March 2015
Dynamo Kiev vs Everton
Sunday, 22 March 2015
QPR vs Everton
Saturday, 04 April 2015
Everton vs So'ton
Saturday, 11 April 2015
Swansea vs Everton
Saturday, 18 April 2015
Everton vs Burnley
Sunday, 26 April 2015
Everton vs Man Utd
Saturday, 02 May 2015
A Villa vs Everton
Saturday, 09 May 2015
Everton vs S'land
Saturday, 16 May 2015
West Ham vs Everton
Sunday, 24 May 2015
Everton vs Tottenham

David Smith
370
Posted 05/03/2015 at 16:32:33
...and Spurs last game - we always lose to them.
Steve Cotton
371
Posted 05/03/2015 at 16:51:02
Just a few questions to consider:
First the team. If Lukaku is not going to score for us because he is facing 3 defenders and has no service then who is going to get the goals?

Mirallas? No, his head has been turned, Barkley? He can't even beat the first man at the moment? Coleman? Only if he can get forward more often. Stones looks really classy at the back but him and Jags are too weak when it comes to dominating forwards

3 defensive midfielders most games means our entire game is played in our third. We don't have a playmaker, don't tell me that Osman is going to save us, Barkley is struggling and Gibson is not the answer
Will Kenwright sack RM after painting a mural about him, giving him a 5 year contract and drooling live on TV about him? No! because he will look a twat!!

Is Howard the worst keeper in the perm? probably
all in all we need to get a fucking grip asap...
Clive Mitchell
372
Posted 05/03/2015 at 16:49:59
On any analysis, the two games against Kiev matter a lot because of the risk they pose to us getting anything out of the PL games that follow. One of those is a six pointer at QPR which we have to be desperate to avoid losing - three days after Kiev away.
These facts are the reason that Martinez has to be sacked now. Any new regime will be free to prioritise the league; Martinez cannot. So staying in the EL puts our PL status at risk. You only have to look at RM's body language to see that he's gone. He has to be replaced before he's taken us with him.
Andrew Lawrenson
373
Posted 05/03/2015 at 17:46:35
Clive, I have got to agree with you, we must forget about success in the EL, and put all our focus on staying up. It would be great if we won it and get automatic entry to the group stages but let's be honest we would get destroyed by Real Madrid, Barcelona, Athletico, Bayern etc etc.
And imagine playing away at a top team then getting beat 4-0 only to cme back and play a few days later away to Rotherham...
Ian Riley
374
Posted 05/03/2015 at 18:50:07
The manager will not be sacked until the summer at least. If it was going to happen it would have been today. The chairman has left it too late and we will have to see it out. We all live and die by our decisions and this will have to run its cause. Stay up or go down, its wait and see. At least the penny has dropped with the national press. This may wake up the manager and realise he is not at Swansea or Wigan. Staying up for those teams is winning the league.
I actually like the guy and he is probably polite to everyone he meets. The chairman should ask Joe Royal to act as a mentor to Roberto and give a honest account of how we are playing and what is needed to improve results. The manager has no one to turn to at the club in a senior footballing capacity. He appears to be in a rut with formation and style and can't see beyond this.
If the manager cannot take up this opportunity then he has to go. The club is bigger than any manager and board. Any manager that is not willing to change things when results are so bad, then your finished. Wigan never finished above fifteenth in the league, under our manager. He must change or he might never get a job in football again.
Brian Wilkinson
375
Posted 05/03/2015 at 22:09:39
Forget parachute money, if Everton get close enough to bottom three, Bill will act, no way will Bill want to lose out on Premier League revenue.
Paul Hewitt
376
Posted 05/03/2015 at 22:20:30
How close do we need to be Brian?
Brian Wilkinson
377
Posted 05/03/2015 at 22:53:08
I recken if any of the bottom three get within 3 points of us, Bill and Roberto are banking on the bottom three not closing the gap, we are very very lucky at the mo that the bottom three are not putting pressure on us.
Can you imagine what Joe Royle would have achieved, had he had the 㿈 million to spend.
Barry Lambert
378
Posted 05/03/2015 at 23:00:28
Oh to be a fly on the wall at the next Board Meeting. Surely even Bill's lapdogs must have something to say?
Keith Harrison
381
Posted 06/03/2015 at 15:46:29
Brian, It's no good dropping into the relegation places on the last day of the season. Nor can we expect a miracle worker if Bill 'acts' with only one game left!
Phil Walling
382
Posted 06/03/2015 at 15:54:17
Barry, they don't hold formal Board Meetings at Everton. Bill just rings round his mates or has a word in their ears at matches. Elstone looks after the legal governance business.
Timothy Blanshard
383
Posted 06/03/2015 at 15:32:13
It's all a tad depressing, after our first season with RM I had such high hopes until we lost a champions league spot that was ours for the taking, but I still believed in RM
I remember blue blue Bill saying "as soon as RM explained how his Wigan team battered us and dumped us out of the FA cup his mind was made up". No mention of Phil Neviles stinking horrific back pass (he never played for us again after that, yes it was that bad).
I suppose once he had been listening to David Moyes for over 10 years RM's ideas must have sounded fresh and new at the time, it all looked great on the pitch too, but now he seems bereft of ideas. The buzz about the place and the feeling of, wow this fella is going to take us to new heights, that feeling has well and truly ebbed away, something drastic has to happen and very soon, the only problem I have is who do we want to replace him? I did mention big Joe two days ago on a short term thing, as for long term no one at all springs to my mind, I've got nish idea.
Who here can throw a few names in the hat experienced enough, and more importantly would be a good fit for our great club?
Brian Burns
384
Posted 06/03/2015 at 18:39:46
Can someone name the cranks who have come from Wigan and sit on the bench? I don't recognise any of them and that's also a pointer why all has gone pearshaped. Surely if we had someone with a bit of backbone - say Dave Watson - they would've piped up now and said what the fuck are you playing at? Change it now!
Play 2 wingers and Barkley behind Lukaku too!!
Sean Roberts
385
Posted 06/03/2015 at 19:29:53
I think we as fans are to blame for this season.
It's nothing to do with form, luck, tactics or pre season. No.
It's all because we all pushed for the change of the badge.
We had the most piss poor badge in our history yet had the best season in years so what do we do? Complain about the badge and get it changed. What happens? We get a new decent badge and the team plays like a team who !!! Well they just don't play like a team (domestically).
Bring back the tin man badge !!!
Just a thought like.
Also another point to ponder.
To anyone old enough to remember the dire joke of a manager that was Mike Walker, his record for us was 31 games with 6 wins and 9 draws yielding 27 points !!! Compare that to Martinez this season in the league 28 games, 6 wins and 10 draws mean that we have took one massive step back in time here !!! Do I want him sacked ? I would love to see him turn it around but unfortunately I think he is out of ideas and out of his depth so let's get someone in who can stop this rot and give us a glimmer of hope for next year !!! Coyb's
Ken Dixon
387
Posted 08/03/2015 at 11:35:11
Hello. I am 83 now and supported the Blues at Goodison Park since I was 6, when Ted Sagar showed what real passion was as a goalkeeper and Tommy Lawton caused every team visiting us to fear the bloody place. Any visiting player spotted 'spitting' on our turf was left in no doubt how us fans felt about it... that was passion.
I just wanted to comment on the players in those days. Almost all of our teams recruited lads from Orrel Pleasure. Forty pitches of cinders from the power station for the kids to play on – no lawnmowers, just steam rollers to make flat unmarked pitches each week. Every single kid would have given his life to play for Everton (or Liverpool) and I remember well those Derby days of local kids getting 㿅 a week to thrill us at Goodison and Anfield. They would never have let this chaos happen to their team and we as fans loved it... and loved them.
I feel that the money in today's game has killed off motivation and I am so sorry for all you unhappy guys like me who spend their lives in support. All Scousers are moaners... part of our culture.
If only we could get a strong manager to make our teams from kids from Bootle and Old Swan, instead of greedy players with unpronouncable names from the jungles of Africa. There is no better 'heart' than a Scousers Heart, why look further.
Good Luck My Everton, I wish I was able to see you just once more. COYB...
---
Add Your Comments
In order to post a comment, you need to be logged in as a registered user of the site.
Or Sign up as a ToffeeWeb Member — it's free, takes just a few minutes and will allow you to post your comments on articles and Talking Points submissions across the site.
© ToffeeWeb