Baines suffers relapse of ankle problem
07/08/2015

55 Comments [Jump to last]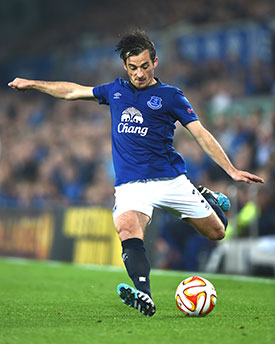 Leighton Baines missed the end of last season after undergoing ankle surgery
(Shaun Botterill/Getty Images)
Everton have been rocked by the news that Leighton Baines faces another spell on the sidelines with an ankle problem.
The 30-year-old defender suffered a relapse of the injury that required corrective surgery towards the end of last season, handing Roberto Martinez a major injury setback on the eve of a new season for the second year running.
A year ago, Ross Barkley was ruled out of the first eight weeks of the 2014-15 season with medial knee ligament damage sustained in training two days before the season opener at Leicester.
Now, the Catalan will be forced to do without one of his most important players as Baines requires more time to recover after re-injuring the ankle that has dogged him on and off for the last two or three years.
"With Leighton, it was a very, very unfortunate block in training, where the ball hit his ankle that he had a little bit of trouble with in the later stages of last season," Martinez told evertonfc.com, although he has not provided a timeline for Baines's return.
"We're just hoping we can get him back quicker than we fear because the injury looks very similar to what he had before."
Martinez has Bryan Oviedo as a ready-made replacement for his first-choice left back but he will be mindful of the Costa Rican's own injury problems over the past two seasons. Oviedo suffered a horrific leg break 18 months ago and then saw his attempted comeback aborted by a hamstring injury in March and a metatarsal fracture in April.
Both he and Baines returned to pre-season action earlier than anticipated this summer, featuring in the Blues' pre-season games in Scotland, boosting the manager's options at left back following the decision to let Luke Garbutt spend the season on loan at Fulham. Ironically, Garbutt will also miss the first 6 weeks of the campaign with an ankle issue of his own.
Everton have Brendan Galloway as further back-up to Oviedo but with Tony Hibbert facing an undetermined amount of time on the treatment table himself, the loss of Baines amplifies concerns over depth in both fullback positions at Goodison Park.
---
Reader Comments (55)
Note: the following content is not moderated or vetted by the site owners at the time of submission. Comments are the responsibility of the poster. Disclaimer
Matt Muzi
1
Posted 07/08/2015 at 19:53:31
FFS!!!!
Bit of good news with two players signing new contracts then this, at least we've got young Brendan to cover, but we desperately need cover at the back.
Terence Tipler
2
Posted 07/08/2015 at 19:54:48
Just starting to rejoice, with the good news over McCarthy, and Mirallas, and the possibility of Austin coming to join us, when this happens.
Kristian Boyce
3
Posted 07/08/2015 at 19:57:05
Hope it isn't true, but its rather ironic that last week we were well stacked in that department, and now could be slightly screwed.
Brent Stephens
4
Posted 07/08/2015 at 20:03:23
Poo if it's true. He was looking very keen in pre-season friendlies.
Colin Glassar
5
Posted 07/08/2015 at 20:06:51
And we can't even get 'Garbs' back.
Mark Tanton
7
Posted 07/08/2015 at 20:17:20
A toss up between Galloway and Oviedo then? On another note, this Austin stuff seems to based on even less than usual, or am I off the pace here?
Denis Richardson
8
Posted 07/08/2015 at 20:19:58
That is shite if true but baby face can step up to the plate.
The current 'style' we've been playing doesn't rely on the FBs bombing forward as much as they used to so hopefully Oviedo will be fine. A run of games will get him to the level he was at before his leg brake, fingers crossed.
Putting things into perspective - we're playing Watford at home tomorrow. Baines or no Baines, if we can't get past them then we're fooked anyway.
How's that for a POSITIVE statement!
Kelvin Thomas
10
Posted 07/08/2015 at 21:07:09
FFS!
Jim Bennings
11
Posted 07/08/2015 at 21:13:15
It's a known fact once you reach 30or over it's harder to shake off injuries and I queried the sense in sending Garbutt on loan to the Championship for 12 months, obviously he's goosed now anyway.
That leaves either a hardly match fit Oviedo or a rookie kid in Galloway, might get away with it against poor opposition tomorrow but after that our defence will get torn a new one.
It really is depressing being an Evertonian these day's.
John Malone
12
Posted 07/08/2015 at 21:26:05
If anyone remembers in Martinez's first year iwhen Baines went off in the derby and we went to a 3-5-2 and oviedo came in that we started winning games!
So as much as I'd be disappointed if Baines is out I'd be comfortable with Oviedo coming in and doing more than a decdnt job!
Craig Fletcher
14
Posted 07/08/2015 at 21:31:34
Jim (9) actually what depresses me is reading your constant, negative drivel on this website almost every single day.
Dave Pritchard
15
Posted 07/08/2015 at 21:43:00
Is Oviedo fit to play?
Darren Bailey
16
Posted 07/08/2015 at 21:44:16
He's got a point though Craig. Are you comfortable with Oviedo or Galloway at LB against City, Spurs, Chelsea, Utd & Arsenal this early in the season 'cause I'm not sure.
Let's just hope it's not true.
Pete Edwards
17
Posted 07/08/2015 at 22:07:06
This story is in the rumour mill for a reason........
Craig Fletcher
18
Posted 07/08/2015 at 22:15:25
Seems odd there is a time-scale for his return before the injury is actually announced? Wouldn't physios need a few days to properly assess an injury before plotting when he is likely to be back?
Craig Mills
19
Posted 07/08/2015 at 22:19:01
Has this been confirmed on the OSCARS Q
Craig Mills
20
Posted 07/08/2015 at 22:20:27
Sorry, predictive text!!
Is this confirmed on the official site?
Major bad news if true
Jay Harris
22
Posted 07/08/2015 at 23:53:46
It's not April 1st is it?
What is the source of the rumour?
Jim Jennings
23
Posted 07/08/2015 at 23:59:00
Craig #11 - completely agree
William Cartwright
24
Posted 08/08/2015 at 04:52:54
Jim Bennings; I guess you are neither a glass half full or a glass half empty guy but more of a "Who's pinched my fucking beer type" then . . ?
Karl Jones
25
Posted 08/08/2015 at 06:14:47
Nothing about Baines in the team news for today on the Official site this morning. Only a rumour, but I have a horrible feeling it might be true.
Duncan McDine
26
Posted 08/08/2015 at 07:50:10
It's the kind of rumour that feels like it has substance (it's not the kind of thing for anyone to bullshit about really). Hope it's not true, but if it is, Baby Face or young Galloway will have their chance to shine.... I believe both of them have what it takes.
Clive Rogers
27
Posted 08/08/2015 at 08:12:46
It would have to be Galloway, Oviedo has not impressed in pre season. Not fully fit probably.
Couldn't understand Garbutt going to the championship on loan. He's 22 and has PL experience already. Alan Ball had a world cup winners medal at just 21.
Duncan McDine
28
Posted 08/08/2015 at 08:21:42
I see your point Clive, but he's also injured anyway. I can now see the sense in buying players capable of playing 2 or 3 different positions.
Brian Porter
29
Posted 08/08/2015 at 08:26:39
If true, it shows the stupidity in loaning Garbutt out for the season. Hopefully, Oviedo can step in if fully fit, but is he? Once again, our defensive shortcomings could be coming back to bite us in the backside, with a really tough opening run of games ahead of us. Not the best news on the eve of our first game of the season.
Jim Bennings
30
Posted 08/08/2015 at 08:28:24
Craig and William..
Maybe you guys are happy that we are the lowest spenders, have no preparation in place to compensate for injuries and are quite frankly doing nothing so far to rectify last season's slump.
Call me negative but after witnessing so much shite over the year's I'd say I'm being a realist lads.
Charles Cook
32
Posted 08/08/2015 at 09:01:52
Jim, your 'realism' eg the club 'are quite frankly doing nothing so far to rectify last season's slump' appears negative to others because, we don't really know that do we ?
Let's see where we get to by the end of the window. Martinez' first window was the best I can recall in modern Everton history but the real juice did n't flow till the last day. I don't see my position as either especially positive or negative, but I'm arguing that it would qualify as realistic.
Mike Allison
33
Posted 08/08/2015 at 09:20:11
Jim it's not even a case of whether you're right or not, that's pretty subjective. It's more about how much you bang on about it and how often.
You have an opinion, fine, but we all know what it is so you don't need to tell us over and over again. If you think there's something important to say then write something properly, a fan article or something. It's the people who pop up on every thread just to whinge about the same things in the same ways all the time that make ToffeeWeb hard to enjoy.
Guy Hastings
34
Posted 08/08/2015 at 09:57:42
Saw Luke G in friendly at Fulham last week. Looked very so-what until he went off injured. Crossing was mainly poor and looked decidedly unhappy against Zaha.
Kevin Elliott
36
Posted 08/08/2015 at 10:28:13
Craig.
Regarding your post at no 16.
Is it a line from the new James Bond movie ?
Mike Keating
37
Posted 08/08/2015 at 10:34:16
Keep it up Jim - constant, negative drivel is the lifeblood of ToffeeWeb.
Jon Withey
38
Posted 08/08/2015 at 12:05:06
Cheer up Jim, we're still in the Premier League and we even have some decent players !
Perhaps we need another season with Walter Smith to adjust expectations. Idan Tal was our most skillful player.
Harold Matthews
39
Posted 08/08/2015 at 12:21:39
I like "moan a minute" Jim Bennings. Entertaining stuff with plenty of good facts. Saturday night, after a defeat, wouldn't be the same without him.
Colin Glassar
40
Posted 08/08/2015 at 12:24:35
What about Phil W, Harold? Has anyone seen or heard from him? He's been MIA for a while now. He is TW's chief moaner par excellence.
Matt Traynor
42
Posted 08/08/2015 at 12:31:43
Colin #34, I think he and Richard Dodd hang out and discuss the consistency of Wigan pies over a few hand pulled real ales.
They say you should never meet your idols, but I've met a few T'Webbers in person and it's never been disappointing - at some point it dawns on you that we do have 1 thing in common!
Colin Glassar
43
Posted 08/08/2015 at 12:36:09
I've missed his pie recipes tbh Matt. And his constant rants about his Wigan family.
Dave Abrahams
44
Posted 08/08/2015 at 12:47:49
Back to the main point, is baines injured or not?.
Ian McDowell
45
Posted 08/08/2015 at 13:03:41
Not heard anything on any other site so hoping its not true.
Colin Glassar
46
Posted 08/08/2015 at 13:18:52
Nothing at all Dave. Let's just hope it was a rumour.
Jamie Barlow
47
Posted 08/08/2015 at 13:27:01
Not a rumour. Someone's just posted a picture on Twitter that they had took with Baines this morning. The lady asked whether he was playing today and he said he isn't. She said he didn't look like he was injured though (No protective footwear) so mustn't be as bad as believed.
Ernie Baywood
48
Posted 08/08/2015 at 14:21:23
Well that would seem to indicate there's something in it. Galloway starts
Colin Glassar
49
Posted 08/08/2015 at 14:32:30
Oviedo doesn't sound like he's a 100% either.
Matthew Williams
50
Posted 08/08/2015 at 15:04:48
Well he is not starting today so I think you have your answer as to whether its true or no.
Tony J Williams
51
Posted 08/08/2015 at 17:45:46
Word from a "fella in the know" is that Baines's ankle operation went wrong and he will be out for at least 15 weeks... brilliant
Jay Harris
52
Posted 08/08/2015 at 18:03:27
What sort of medical people are we using if this is true.
How can you fuck up a serious ankle operation.
Jim Bennings
53
Posted 08/08/2015 at 18:30:33
Sounds like we see Baines before the end of October and certainly not the best of him this side of Christmas.
Galloway did quite well but going forward I don't think he's really going to offer what a proper fullback would do.
Oviedo doesn't look anywhere near fit to be honest, very game when he came on but looked sluggish.
We really need to go hell for leather in the remaining weeks of the transfer window.
Des Farren
54
Posted 08/08/2015 at 19:22:43
Jay @45. I can only assume like most Premier League clubs,we are using the best available.
The fact that Baines is injured again does not point to an operation that has been" fucked up".
There are other possibilities,yes?
Des Farren
55
Posted 08/08/2015 at 19:31:31
There are quite a few on here would qualify for a "moan a minute" award.
To be fair,Jim would be up there with the best,but he is certainly not the worst.
Peter Morris
56
Posted 08/08/2015 at 20:15:49
I have a theory as to what is behind our ongoing injury jinx, which undermined last season and is threatening to do even worse this. I think that Finch Farm was built on an ancient Viking burial ground, and the disturbed spirits are taking our their revenge on our playing staff. I think Buffalo Bill needs to get an exorcist in, and put on a London stage production about the whole mystery-it will be a sell out.
Anyone got anything better to offer?
Phil Walling
57
Posted 09/08/2015 at 01:21:56
Still in Cyprus lads, but missing the Warriors more than Everton at present. Watched today's game in local sports bar but nothing to post only 'Told you so.........
Ernie Baywood
58
Posted 09/08/2015 at 03:03:44
Good for you Phil. Order a Zivania and celebrate; you've earned it.
Colin Glassar
59
Posted 09/08/2015 at 12:52:44
So the ball caused the damage to Bainsey's ankle? Well, I'd either sue the surgeon or the ball. Ridiculous but it must've been a freak accident.
Clive Rogers
60
Posted 09/08/2015 at 14:26:26
Really this shows how badly run we are. Baines never looked right all last season, had his operation late on and is 31. It was entirely predictable that problems may have occurred in his recuperation. It is a similar story with Oviedo who has not been the same since his broken leg and was poor in pre season and yesterday. So we let Garbutt go on loan, and have to play an inexperienced CB at LB. The same will happen if Coleman gets injured, as there is no way Hibbert will be able to stand in. I despair.
Brian Cleveland
61
Posted 09/08/2015 at 15:29:28
Colin, I had the same reaction... hit by the ball? Yeah that's unfortunate... that would never happen during a game... would it?
To be damaged when hit by the ball it would have to be made of plasticine!
Phil Sammon
63
Posted 10/08/2015 at 13:41:03
Baines is out for 3 months according to one rag. I wonder if we can get Garbutt back.
...who's also injured, to a lesser degree.
Add Your Comments
In order to post a comment, you need to be logged in as a registered user of the site.
Or Sign up as a ToffeeWeb Member — it's free, takes just a few minutes and will allow you to post your comments on articles and Talking Points submissions across the site.
© ToffeeWeb