Funes Mori in contention for squad to face Chelsea
by

74 Comments [Jump to last]
| 03/09/2015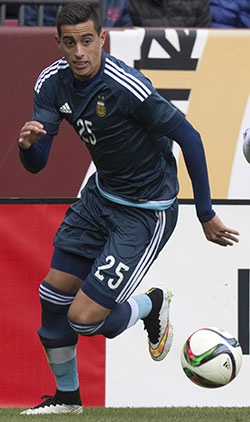 Roberto Martinez says that new defensive signing Ramiro Funes Mori could go straight into the matchday squad after the international break.
Everton host Chelsea in nine days' time in their first fixture since the closure of the transfer window and both of the deadline-day acquisitions are expected to be named on the 18-man team sheet.
Aaron Lennon will need no introduction to Everton fans after his loan spell at Goodison Park earlier this year but Argentine international Funes is something of an unknown quantity and there will be plenty of observers watching on to see how he fares in English football.
Martinez admits that the 24-year-old will need time to adapt to the Premier League but, in terms of fitness, he says he would have no hesitation in including him in the team to face the Champions on 12 September.
"I feel that after the break he will be ready to join the group," Martinez told evertontv.
"Clearly, he is going to need a little bit of an adaptation period because the British game is very, very different, especially for a player that is in the last line. But, in terms of being available, I expect him to be fully fit and ready for the Chelsea game."
Funes spent two weeks on Merseyside familiarising himself with his new surroundings before jetting out to Texas – where, coincidentally he lived from aged 10 and eventually joined MLS club FC Dallas – to link up with the Argentina national side.
The former River Plate centre half has just broken into his country's senior setup, recently earning his first cap, and Martinez believes that alongside new Manchester City signing Nicolas Otamendi and Manchester United's Marcos Rojo, Funes could ultimately form the bedrock of the Albiceleste's defence in the future.
"[T]here's a little bit of a change of generation in the national team," the manager continued. "You see [Nicolas] Otamendi, who has just signed for Manchester City, and Ramiro –- both could be the future of the national team. "That [Ramiro] can do that, within the environment and protection of ourselves, is something that excites me. And then, just purely that winning mentality that he brings, someone who has won a lot coming into a dressing room full of young talent here at Everton, he's the perfect fit."
Though BBC contributor and observer of South American football, Tim Vickery, has expressed serious reservations about the wisdom of Everton signing Funes – he went as far as describing the Ł9.5m fee the Blues paid this week as "reckless" – ESPNFC's Sam Kelly has a more optimistic view of the player's ability to succeed in the Premier League.
Cautiously likening Funes to another goalscoring Argentine defender who likes to bring the ball out of defence in Daniel Passarella, Kelly says that Funes has the physical strength and enough pace to cope in what is one of the toughest leagues in world football.
"It's going to be a step-up in pace for him and he might find the refereeing tricky at first," Kelly told evertonfc.com. "The Argentine Primera is a very physical division in which referees frequently let defenders get away with tackles that would be yellow or red cards elsewhere, so he's going to need to adapt to that quickly.
"A lot of players who move to Europe from Argentina need to bulk up a fair bit when they make the switch but I doubt that will be such a pressing issue for him. He's got a decent turn of pace and is good in the air too, especially attacking corners.
"He'll also return to Everton from his first proper excursion with the Argentine national team. I've no idea whether he'll play in either or both of the friendlies against Bolivia and Mexico, but he should be well-rested without having lost too much match sharpness."
---
Reader Comments (74)
Note: the following content is not moderated or vetted by the site owners at the time of submission. Comments are the responsibility of the poster. Disclaimer
Charles Brewer
1
Posted 03/09/2015 at 18:29:59
It would be a good idea to start him against one of the weaker teams in the Premier League, so Chelsea is ideal.
Ged Simpson
2
Posted 03/09/2015 at 18:34:34
Like it Charles
Colin Glassar
3
Posted 03/09/2015 at 19:00:32
If he plays well against Chelsea, they might offer us £50m for him.
Drew Shortis
4
Posted 03/09/2015 at 19:09:17
Starting at left-back against Chelsea may be an option. It would address our current weakness in that position, assuming Oviedo is not fully fit, and would give him his first taste of English football without having to be the man marking Costa. I'm not suggesting that it will be easy to deal with Chelsea's right winger, but it is a little less pressure than starting at Centre-back.
If he was some 19-year-old kid, this would be reckless, but he's an experienced player who has played for Argentina. I'm fed up of getting players in and then waiting for months to see them as they settle. If he's that good, chuck him straight in.
Helen Mallon
5
Posted 03/09/2015 at 19:15:14
Well said, Drew. He seems like a top player. £9.5m could be a snip.
James Flynn
7
Posted 03/09/2015 at 19:29:10
Drew - "If he was some 19-year-old kid, this would be reckless, but he's an experienced player who has played for Argentina. I'm fed up of getting players in and then waiting for months to see them as they settle. If he's that good, chuck him straight in."
Agree.
Landon came in from a lower league, off 3 weeks vacation no less, and Moyes put him straight in against Arsenal. He held his own.
If Oviedo needs a couple more days off come next weekend, give the kid a go.
.
Colin Glassar
8
Posted 03/09/2015 at 19:29:14
It would be suicidal, IMO, to throw him in the deep end against a hurt and angry Chelsea. If Oviedo isn't fit, then put Barry back there.
I can just see Pedro, or Hazard, ripping him to pieces and then a few saying, "This guy is rubbish, what a waste of money!!" Let him at last train with the first team for a week.
Harold Matthews
9
Posted 03/09/2015 at 19:34:07
Absolutely stupid idea to even think of him playing against Chelsea.
Patrick Murphy
10
Posted 03/09/2015 at 19:42:10
I can't see what the fuss is about. If we paid ٧.5m for him albeit half of that was not part of his valuation, then why shouldn't he take his place in the first-team squad?
If we've bought a pup, we'll soon find out. If he's any good, we'll see that against a decent team.
Raymond Fox
11
Posted 03/09/2015 at 19:52:40
I agree, the lad will not know his arse from his elbow yet! We're not that desperate to play him surely.
If it's agreed that there is a big difference in the Premier League from the league he has been playing in, I would say it's very ill-advised, and could set the player back weeks with regards to his confidence.
Dave Lynch
12
Posted 03/09/2015 at 19:55:51
How the fuck is he going to score? Have you seen our corners...
Colin Glassar
13
Posted 03/09/2015 at 19:59:29
Put him on the bench by all means then bring him on in the 70th minute when we're 5-0 up, but don't start him.
Mark Dunford
14
Posted 03/09/2015 at 19:59:35
Agree with Harold and Colin. We need Oviedo back for this game (or Galloway, if Oviedo can't make it). A debutant from a league where most of the better players are already abroad seems a risk that should be avoided if possible.
He might be great but he might also be another Per Kroldrup; this isn't the game to find out. Barry to left back would be a better option if others aren't available.
Gordon Crawford
16
Posted 03/09/2015 at 20:08:29
Sometimes you have to take risks in life, so I would put him in at left back if we don't have anyone else fit. And you can't put Barry in at left back, that would just be suicide; he has no pace and Pedro would tare him a new one.
My opinion though.
Michael Polley
17
Posted 03/09/2015 at 20:42:16
Too much of a risk. This is going to be a hostile game after the Stones soap opera, so we need some experience in that position.
By all means have him as a sub
John Daley
18
Posted 03/09/2015 at 20:53:16
"Barry in at left back, that would just be suicide; he has no pace and Pedro would tear him a new one."
Any wide man with pace who is prepared to run at him is going to present massive problems for Barry at left back. Nailed on for first card of the day and then skating (ever so slowly) on ice from then on out.
Jim Burns
19
Posted 03/09/2015 at 21:35:49
What about the possibility of RM not playing Stones? Depending on his mindset, there would be massive pressure on the lad. Maybe Funes Mori would replace him for this one – highly unlikely I know and an enormous risk... but interesting that RM is even considering playing him.
Ben Howard
20
Posted 03/09/2015 at 22:05:23
In my opinion, playing a 24-year-old Argentinan international at left back is preferential to Barry. Poor Barry's total lack of pace would be completely exposed and a recipe for disaster.
Victor Jones
21
Posted 03/09/2015 at 22:16:53
Some people seem to think that Chelsea will be a push over. Seems that emotions from the Stones on/off transfer has clouded some people's judgement. I don't take fellow supporters for mugs, but please remember what Chelsea did to us last season. They are capable of doing that again.
Don't be fooled by their sloppy start. We need to be on our game. Especially our defence. Oviedo or Galloway for me. Even Browning could play LB. Shame that Baines is out. And Garbutt (when fit) should be called back. He should never have been out on loan. As I now rate him as a valuable squad player.
Mori will get his chance. I would play him against Reading. We should then see what he can do. Time will tell if he is good enough for Everton. But for now, I don't think he should start against Chelsea. And being an international means nothing. Alcaraz was an international! Do we want him back?
Ross Edwards
22
Posted 03/09/2015 at 22:27:23
Play him. Oviedo is a shocking player who has basically dined out on his goal at Old Trafford for a year, masking his complete lack of footballing ability. And as for the suggestion of Barry at left back, it doesn't bear thinking about. Barry in the team sheet full stop fills me with dread.
We'll put Tim Vickery's opinion to the test who seemingly doesn't rate him whatsoever, he would even have Alcaraz over him apparently, which just tells you how clueless he is!
Ciaran Duff
23
Posted 03/09/2015 at 22:31:27
I'm guessing that Oviedo will be okay. Happy to see Mori in the squad but to start him would be lunacy. Apart from the step up, he has had no time with his new team mates or system.
Also, I thought that Barry played really well at LB when he had to fill in later on in the Watford game.
John Aldridge
24
Posted 03/09/2015 at 22:37:34
I'm of the opinion of playing Mori at LB if Oviedo isn't fit too. Barry would be a disaster – he doesn't have the pace needed and would be ripped to shreds by their wingers/FB.
Lee Courtliff
25
Posted 03/09/2015 at 22:43:17
Barry was shown up a few times against Spurs for being slow in both possession and reaction time. I dread to think what he'd be like at LB against Pedro or Willian!!!
If Oviedo isn't fit enough then play the new lad or switch to a back three but Barry at left back is suicide.
I also predicted Bilyaletdinov would be a massive hit in his second season, so what do I know?
Dave Abrahams
26
Posted 03/09/2015 at 22:48:38
He's a 24-year-old Argentina International, what's the problem? Liverpool have thrown an 19-year-old youngster into their first team although he has never played in the Premier League and he's done okay.
If Funes is fit then let the fans see what he can do, for £9.5m or whatever they are supposed to have paid, he should have some ability.
They have played two young players, who are not really ready for the first eleven and Oviedo who is patently obvious not properly fit, up to now, so give the Argentinian a go.
Joe O'Brien
27
Posted 03/09/2015 at 23:27:19
I think it'd be crazy to start him against Chelsea. First match getting used to the speed, physically of a totally different league... against Pedro... Looks like a red card waiting for him all day long. Stick him on the bench then give him minutes against the lesser teams. Galloway or Oviedo for me.
Dan Dorrington
29
Posted 03/09/2015 at 23:58:50
Conversely to what some gents have offered: Throw him in, albeit with a mantra of 'Mate it's gonna be tough', listen to our fellow defenders and PAY ATTENTION to how the game plays out.
If it goes in our favour, he has a solid game, and that will do wonders for his confidence and we reap the benefits thereafter. We paid £9.5M for the lad, let's see what he can do – throw him in at the deep end. People suggesting Barry at left back confuse me. Glass half-full... sin miedo.
Andrew Yates
30
Posted 04/09/2015 at 00:11:52
Couldn't we just get Ashley Cole in on a free for a year!? Ha, I say throw the lad in if needs be, it proves nothing him having a few minutes against Reading or lesser Premier League teams.
Mark Wilson
31
Posted 04/09/2015 at 00:30:14
You all know he's going to put Barry at left back against Chelsea, don't you? If all four LB's are injured, it's gonna happen.... scary.
Brian Cleveland
32
Posted 04/09/2015 at 00:55:32
I don't think it would be a good idea to play him. Have him part of the match day squad, maybe even on the bench but without the intention of using him. It might be a decent moment to blood him in the Carling Cup against Reading just ten days later.
At least let him get over the jet lag first!

Eric Holland
33
Posted 04/09/2015 at 01:20:33
If he's good enough, he's good enough!!
If he ain't... he ain't.
Have some confidence in him and let him do his best. What's the worst that could happen???

Anthony Dwyer
34
Posted 04/09/2015 at 01:45:37
John / Ben (16-18)
Spot on boys, Barry at full back against Pedro would be absolute suicide. He will be booked within half an hour and either sent before an hour is up or we will be a few down.
I cannot overly comment on how Mori will do as I've seen nothing of him but apparently he is quick and strong, plus he is left-sided so I'd personally fancy him over Barry or Galloway. Hopefully though Oviedo is fit and we will not have to throw Mori in at the deep end.
I can not understand for the life of me how this topic is even an issue though, Garbutt should never have been loaned out until Baines was tried an tested. We rushed to get him out but took our time to bring players in, this type of thing is simply infuriating.
Anyways, come on blues give us a performance to be proud of against Chelsea so as we can give Jose the abuse his recent actions deserve. Learn the words, clear your throats and get ya monopoly money ready, cos Money Can't Buy You Stones.

Mike Gaynes
35
Posted 04/09/2015 at 03:09:58
He must be looking really good in training.
Sam Hoare
36
Posted 04/09/2015 at 07:50:49
Very split opinion.
I think given how isolated our LB tends to get that playing Barry there against Pedro is my least favourite option.
To start Funes Mori there would be throwing the lamb to the wolves so to speak before the lad has even had time to work out where his locker is. Joe Gomez (who someone mentioned) had the whole pre season.
I'd probably opt for Browning. He struggled against City but it's good for his long term future to say we believe in you lad, you can do this. He's also quick and good in the air and so long as he can deal with his nerves I think he'll be ok.
I would like to see Funes Mori given a shot at LB in a few weeks time as I think having a fast, strong, good in the air player there really helps solidify our defence (remember Lescott).
Jim Bennings
37
Posted 04/09/2015 at 07:52:29
There's no way Mori will play against Chelsea unless Stones or Jagielka get injured.
I have no qualms starting him next to Jagielka at Reading, would prefer him next to the more experienced Jagielka to begin with, nothing on Stones here by the way.
He's got himself into the Argentina side which is a feather in the cap for any guy, who knows if he's going to adapt or not, he may be fantastic or he may be another Kroldrup. It is a big risk, yes, of course, especially at £9.5 million, but let's wait until we see him play quite a fair few games before we make judgments on the fella.
Mike Allison
38
Posted 04/09/2015 at 09:16:59
He may have to play left back if none of the others is fit.
However, in that case I would play Coleman left back and someone else (probably Browning) at right back. I'm also sick of signing players then hearing that they're not ready to play, but in this case I think it's definitely sensible not to chuck him in against Chelsea.
Drew (4), Besic has been here over a year and still isn't trusted to play as if he's a first team option.
Sam Hoare
39
Posted 04/09/2015 at 09:26:54
Poor old Kroldrup. He hardly got a chance. Played one league game in which he was terrible, but then so were a lot of players, and was never given a run that any foreign player would need to establish himself.
He went on to play a lot of games for a decent Fiorentina team so clearly was not that bad a player. He's talked about as some sort of a disaster player but truth is that we never saw him and I think we only lost a mill or two max on his transfer fee.
Colin Glassar
40
Posted 04/09/2015 at 09:31:27
I've heard Bryan will be okay for the Chelsea game. Apparently, we've been telling the CRs fibs so he can get some recovery time after two tough games.
Thomas Surgenor
41
Posted 04/09/2015 at 09:36:53
Colin (#7),
For once I have to disagree with you.
Admittedly, I haven't ever seen Mori play 90mins but I do NOT think that Barry is the answer at left back against someone as pacey as Hazard or Pedro.
I'm not suggesting (because I haven't witnessed him play) that Mori is the answer but we do need more pace there than Barry.
Paul Andrews
42
Posted 04/09/2015 at 09:48:52
Sam,
Graeme Sharp watched Kroldrup's first training session and told a mate of mine he would not make it. "He can't head the ball" was Sharpie's verdict.
Paul Cherrington
43
Posted 04/09/2015 at 09:51:13
As others have noted, this a tough one.
I know it's no-ones fault but I can't believe we are scratching round for LB all of a sudden. Barry to play there is a definite no; he would get caned all game long.
However, I wouldn't be inclined to throw the new guy either especially how isolated our LB tends to be these days. so it would have to be Oviedo if fit for me.
John Hodgkins
44
Posted 04/09/2015 at 10:31:29
I would be happy to see him come on for the last 10-15 minutes if we have a comfortable 2-goal cushion.
Richard Lyons
45
Posted 04/09/2015 at 10:37:47
Well, judging by the video, he's very very good at kissing badges and making heart shapes with his hands... so let's throw him in the deep end against the reigning cChampions!
Seriously, I think RM will have him on the bench... no way will he start the game.
Paul Kennedy
46
Posted 04/09/2015 at 10:55:05
Having read what the pundits on BBC think, we have got a dodo according to them, a waste of money, and Roberto apparently loses his head when dealing with South American players!!
Remember Besic's first touch against Chelsea... Although he looked good last night!
Mike Keating
47
Posted 04/09/2015 at 11:40:59
I hope Oviedo is fit. I agree on Reading game as starters for Funes Mori but anybody rather than Browning at LB for the Chelsea match. After the City game, a similar roasting by Pedro et al would destroy his confidence completely.
Laurie Hartley
48
Posted 04/09/2015 at 11:57:58
Argentinian defender who is about to join up with the national team.
Naturally left footed, 6.1&1/2 and, according to Martinez fit.
He has to make his debut some time.
We can't take Barry out of the middle of the park against Chelski.
If Oviedo isn't fit (and Galloway won't) be I'd play him.
No brainer.
Roger Helm
49
Posted 04/09/2015 at 12:05:12
Well, if he is like Passerella he has to play, obviously. Worryingly however he bears a resemblance to Alcaraz.
None of our LBs are convincing or even available so whoever plays will need protection so put a grafter like Naismith left midfield.
Jason Thomas
50
Posted 04/09/2015 at 12:21:07
Told you, Lyndon! That left back spot is beckoning!
Tony J Williams
51
Posted 04/09/2015 at 12:40:52
Thank God I didn't read this last night, I would have had nightmares.
Barry at left back.......Christ (shudders)
David Torpey
52
Posted 04/09/2015 at 13:33:58
Chelsea will target him ruthlessly. I reckon starting him would be asking for trouble in a game where the slightest error at the back will put it on a plate for Chelsea's attacking men. Needs time to develop strong communication with his team mates. I would be inclined to rule him out of this game if I were RM.
Nigel Munford
54
Posted 04/09/2015 at 15:32:03
Have to agree with Dave #24, he's an Argentine international so why wouldn't he be good enough to start if he's needed to, why invest in players and wrap them up in cotton wool.
Mike Childs
55
Posted 04/09/2015 at 19:00:53
Because we can hide the funds?
Paul Kossoff
56
Posted 04/09/2015 at 21:06:02
Does anyone know what Mori's temper is like? Because with Costa playing, the dirty windup merchant, he has to be a saint to put up with him.
Jon Cox
57
Posted 04/09/2015 at 00:21:42
Football is about real people and NOT computer games.
Like he has fear? Er no, why should he? Football is a game of attack and defence, no more no less, why should any geezer be afraid of the Premier League?
I say let him play and fuck the meeja!
Jon Cox
58
Posted 05/09/2015 at 01:07:42
David Cooper
59
Posted 05/09/2015 at 01:39:56
I know you can't judge a player by the brief chosen clips you see on YouTube. But he does look like a player who is more than average in the air. Most of the clips are of him scoring headers which is rather encouraging given our lack of headed goals.
Admittedly it would help if we could consistently take a corner and put it somewhere in the business area of the penalty area. He also appears very left-footed and there is footage of him hitting a screamer free kick.
He will definitely add to the Blues physicality and I would not be surprised to see him play left back v Chelksi.
Matt Ostnes
60
Posted 05/09/2015 at 02:44:32
He is left-footed but also is pretty good with the right. He usually makes long passes to the other side of the field with the right.
Also, he almost made a incredible goal with the right foot from long distance:
Link
Matt Traynor
61
Posted 05/09/2015 at 04:49:07
Matt #56, I see you like your central defenders - and your name is an anagram of Stones!
Anyway talking of centre backs scoring from distance with their standing legs... years ago I was watching Everton at Arsenal at the old Highbury. Already a goal down, Ferguson sent off for swearing (the referee was miked up for an experiment and players like Adams were always swearing at him, and he did nothing).
Fully expecting defeat, I was actually sat in the North Stand in a season ticket area. Dave Watson nonchalantly volleyed in. From about 25 yards. On his left foot.
Those factors in combination had me dancing in the stands, when about 6 people in front of me jumped up and turned round.
Gave me a grin and a thumbs up and started jumping around too!
We're like cockroaches - we get everywhere. Even here in Saudi I've met a couple of Everton lads. No RS yet fortunately.
Paul Ward
62
Posted 05/09/2015 at 05:17:24
Despite it being Mori's debut and against Chelsea I would play him at LB. Galloway would be risky and Barry too slow.
Then there is the likable Oviedo, who is either not fit enough yet or will never be good enough. I do think posters generally still think he deserves a place because of his goal at Old Trafford. Apart from his poor showing at Spurs he lost possession which resulted in Kane in a one-on-one with Howard.
The LB against Chelsea should be a defensive one, not a marauding wing-back.
Phil Sammon
63
Posted 05/09/2015 at 05:58:09
So Paul, you'd rather we play a centre-back at left-back. A centre-back who has no PL experience. A player who is yet to even meet his teammates. Yeah, sounds like the makings of a very solid defensive unit...
Sam Hoare
64
Posted 05/09/2015 at 07:36:17
Apparently Galloway may be fit to play. He's been good at LB and will do okay I think vs Pedro.
Tony Abrahams
65
Posted 05/09/2015 at 08:02:11
All depends on the manager. I remember when we signed Stones, and the next home game was against Villa. We had no right back, so Moyes moved our best defender Jagielka there. He paired Heitinga with Distin and we were all over the place defensively. (Not a new phenomenon.)
I left Goodison feeling that, had Kendall signed Stones, he would have played him at right back that day. "With the attitude, Son, you are playing with ten internationals today; go out and enjoy yourself, because I know your good enough."
If you are good enough, then surely the best place to start is in the deep end. Play football... it's what he's been signed to do.
Eddie Dunn
66
Posted 05/09/2015 at 08:04:41
No way would I play Barry at left back, it would be crazy given his lack of pace. Remember his penalty away to Arsenal in the cup – keep him out of the box.
By next weekend we will have a clearer picture as to who is fit, so don't panic.
Sam Hoare
67
Posted 05/09/2015 at 08:23:39
Mori played 90 mins for Argentina last night alongside Messi and Aguero (not up front!). Good sign.
James Marshall
68
Posted 05/09/2015 at 10:40:44
I don't think he'll start, but I do think he'd cope against Costa, as players in the Argentinian league are very similar to him. Hustlers who like to give centre halves a hard time physically.
Funes Mori from what I've seen of him looks a strong, athletic handful who's very good in the air - though you don't get to see him do too much defending but then that's probably not going to make for an exciting YouTube video.
We'll find out soon enough, but I'm quietly excited about this kid.
Tony Marsh
69
Posted 05/09/2015 at 11:41:24
Why we let Garbutt go out on loan, I will never know. I remember posting on here the day it happened that it would be a cert that Baines would get injured and he did. Now look at the mess we're in.
Garbutt was playing better than Baines last season, it just didn't make sense. All this pack shuffling at the back when we are down to the bare bones and our manager brings in another winger, Lennon, when we don't play wingers???
Fingers crossed the Irish don't push Coleman in to playing whilst injured or a Bus driver playing for San Marino doesn't crock Stones in that farcical non-event. As soon as this crap is over, the better, and we can get on with the stuff that matters.
Tony Cheek
70
Posted 05/09/2015 at 11:46:46
Brilliant Charles! The table doesnt lie!

Tony Steele
71
Posted 05/09/2015 at 11:55:42
From those who know what they're talking about, he's a liability. He's still relatively young for a defender though.
Roger Sunde
72
Posted 05/09/2015 at 12:03:34
@Sam
He didn't just play full 90 mins, he also scored his first goal for Argentina.
Dave Williams
73
Posted 05/09/2015 at 12:04:21
Roger #46 agreed. The key is who to play ahead of the LB. Isolate whoever it is and we will be 1 against 3.
Naismith would do a job for a one-off and would give the LB a fighting chance. Besic would be another good bet as he is looking more disciplined now.
If Bryan or Brendan are fit then they must be played. Otherwise I would go for Barry; yes, he lacks pace but he knows the league, knows how to play LB and is clever enough to shut down space to prevent him being exposed for pace, especially with Naismith or Basic briefed to stay close to him.
Browning is not a LB so forget him and I agree with so many others that Mori should be given a chance to settle then play his natural position alongside Jags at Reading.
Surely our tactics against Chelsea will be to hit them on the break which would make it difficult for them to create the space to do us for pace at the back? Difficult one... whatever Roberto does will be hailed if we get a result and slated if we lose badly; he's taking a gamble whichever way he goes but has no choice!
Tony Abrahams
75
Posted 05/09/2015 at 12:28:25
If you know what you're talking about and you have seen him play, he's a liability?
If we could watch him for ourselves, maybe we could decide if the people who call him these names actually do know what they are on about?
Paul Kossoff
76
Posted 05/09/2015 at 16:57:37
Do what the Chosen One does: park the bus.
Nathan Cross
77
Posted 06/09/2015 at 19:39:17
Ciaran Duff
78
Posted 08/09/2015 at 07:51:01
Roger (#68) – He didn't actually score in the Bolivia game.
Will be interesting if he plays against Mexico tomorrow. They will be a far more competitive team.
Ciaran Duff
79
Posted 09/09/2015 at 08:37:55
He was an unused sub for the Mexico (2-2) game. Might have been good in a way as Argentine defence was shakey!
I only saw brief highlights but the guy playing his position (Otamendi) was badly turned and then gave away the penalty for Mexico's first goal. Almost gifted Mexico another with a terrible back-pass and wasn't very well positioned for Mexico's second either. Got 2 (out of 5) rating on one site I saw.
Luckily Aguero and Messi bailed them out in the last few mins.

Add Your Comments
In order to post a comment, you need to be logged in as a registered user of the site.
Or Sign up as a ToffeeWeb Member — it's free, takes just a few minutes and will allow you to post your comments on articles and Talking Points submissions across the site.
© ToffeeWeb