Mourinho denied a swift exit from Goodison
by

37 Comments [Jump to last]
| 14/09/2015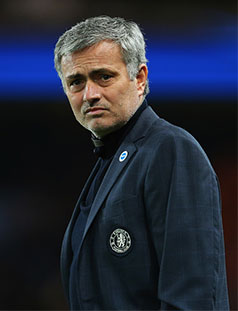 Mourinho's reaction to his side's defeat at Goodison on Saturday typified the lack of class he showed over the summer in pursuing John Stones
(Alex Livesey/Getty Images)
Jose Mourinho's frustration at having to wait for Roberto Martinez to complete his post-match interview before he could beat a hasty exit back to London was caught on tape after Everton's handsome 3-1 win over Chelsea on Saturday.
The Portuguese interrupted his opposite number while he was taking questions from the Liverpool Echo's Greg O'Keeffe where he told Martinez that he should have allowed the visiting manager to get his press duties done first because he "had to travel".
The Catalan responded by saying it was neither his nor Everton's decision before joking with the reporter that he preferred the Mourinho of a year ago after Chelsea had beaten the Blues 6-3.
Far from the "furious bust-up" between the two managers that many media outlets have tried to sensationalise it as, the exchange was brief and Mourinho is heard saying "fucking hell" before apparently stomping off.
The incident typified Mourinho's mood after the game – it wasn't much better before-hand either; he walked out of an interview with BT Sport when the topic turned to John Stones – in which he bemoaned Chelsea's luck and tried to argue that his team were unfortunate to lose the contest, that despite them having just two efforts on target in the entire game.
The loss, the Champions' third in fives games and their second in three seasons at Goodison Park, put another dent in their hopes of retaining the Premier League title and increased the pressure on their manager.
Everton, meanwhile, took their tally for the season to eight points with a morale-boosting victory on the back of Steven Naismith's "perfect" hat-trick.
---
Reader Comments (37)
Note: the following content is not moderated or vetted by the site owners at the time of submission. Comments are the responsibility of the poster. Disclaimer
Patrick Murphy
1
Posted 14/09/2015 at 06:23:53
Here is one of the differences between a class club and a newly rich club.
Alan Humphreys
2
Posted 14/09/2015 at 06:24:03
We'll call that 4-1 then. Mourinho is a poor winner and an even less gracious loser.
Richard Lyons
3
Posted 14/09/2015 at 06:31:22
Uvas azedas... That's Portuguese for "sour grapes"...
Andy Codling
4
Posted 14/09/2015 at 06:38:51
Cona!
Craig Fletcher
5
Posted 14/09/2015 at 06:55:11
The difference between Chelsea and Everton football clubs in a nutshell me thinks. Patrick (1) sums it up nicely. I sincerely hope Arsenal compound their misery next weekend.
Kunal Desai
6
Posted 14/09/2015 at 07:11:04
Arrogant fool. Deluded. Spits his toys put of the pram when the going gets tough. Talks more shite than Bobby.
Ian Jones
7
Posted 14/09/2015 at 07:28:27
I saw his interview on BT Sports after the game. His interview went on for ages. Didn't seem too worried about leaving in a hurry.
Perhaps someone reminded him that it was only a few years ago that Ancelotti had been sacked in the Goodison corridors after yet another humiliating defeat at the hands of such a little club!
Mark Andersson
8
Posted 14/09/2015 at 07:31:53
Kunal you're right there, had to laugh at your comment.
I've watched the match 3 times now and the camera was one Moanreamio more than anything else.
Well done Bobby, hope this is the start of something special. You won some fans back so don't screw up in your next match.
James Marshall
9
Posted 14/09/2015 at 07:57:10
Maureen is losing it big time! Hahaha! His rambling interviews and inability to even look anyone in the eye is hilarious.
Eugene Ruane
10
Posted 14/09/2015 at 08:16:38
Well this is a little confusing. My reading of RM's 'When they beat us 6-3, he was such a nice man, I prefer him like that' was not I prefer him nice like last year, but I prefer him behaving like a twat – the way he did just then (like that there). In other words, preferable if he's narked as fuck and nasty coz..we've won. Come on Roberto, sort this out!
Tony Burke
12
Posted 14/09/2015 at 08:25:27
It was abundantly clear what Roberto meant. Mourinho can be pleasant and generous in his opinions but only when it suits him and only when his team have won. He's not alone. Wenger is another example of the insufferable individuals who prosper in the Premier League.
Matthew Salem
13
Posted 14/09/2015 at 08:27:53
This is very amusing. In all fairness, Roberto loves to talk and talk and when he is asked a question and I can imagine Maureen just seething and seething as Roberto goes on and on about "character, fine margins and complete performances". Love it. I hope your bus back to London SW3 had a puncture. Twat.
Chris Wilson
14
Posted 14/09/2015 at 08:31:47
Hmmmm...I'm not a psychologist, or have any real expert insight in the human mind. But I'd say Everton have broken Jose. Who would've thought? We're just lil' ole Everton.
Scott Hamilton
15
Posted 14/09/2015 at 08:45:08
If their form carries on like this, he will soon be "the unemployed one"!
Matthew Salem
16
Posted 14/09/2015 at 08:47:09
So if Chelsea get relegated, do we make derisory offers for Costa to help them out?
Trevor Peers
17
Posted 14/09/2015 at 08:47:40
Jose has met his match in Roberto, when it comes to keeping cool under pressure Roberto has no equal. After witnessing his press conference's during last season awful run he doesn't have a negative thought in his body.
Unlike Jose who seems a tormented soul even when winning the premiership, he's definitely lost the plot and probably his job which is amazingly self destructive.
Gerard Carey
18
Posted 14/09/2015 at 08:58:12
Sour grapes!!!!!, another loss or two and "the special one" will be out on his ear, good riddance I say. Glad we are the club with real class.
Colin Glassar
19
Posted 14/09/2015 at 09:04:59
Mourinho and JT personify that club - Classless!!
Sandra Williams
20
Posted 14/09/2015 at 09:18:23
So 'Money can't buy you manners' either.....so it would seem! Utterly classless. He is a man 'on the edge'......let's hope Arsenal and Arsene can give him a final push next week.
Jim Lloyd
21
Posted 14/09/2015 at 09:21:02
I think the man was worried in case their bus left without him...with good reason! What a spoilt brat he is.
What a classy manager we have. He might talk sometimes like the Delphic Oracle but our Boss is a gentleman and makes up for froth spouted by Chairman Bill.
Ross Edwards
22
Posted 14/09/2015 at 09:42:14
He's losing the plot. He's feeling the pressure. He was having similar meltdowns and tantrums towards the end at Real Madrid before he was sacked.
Brent Stephens
23
Posted 14/09/2015 at 09:44:00
Superb, Roberto! Eugene's interpretation of Roberto's comment is spot on.
Clive Mitchell
24
Posted 14/09/2015 at 09:47:31
Classless clown. No doubt he has an agenda – who cares what it is – but rarely have a club and a manager been so perfect for each other. Hope they lose every week.
James Byrne
25
Posted 14/09/2015 at 10:34:15
He's a Grade "A" Classless Bell-End. I'm thoroughly enjoying his downfall.
Barry Roberts
26
Posted 14/09/2015 at 11:26:09
Matthew 15 great shout. ha ha ha
Mark Smith
27
Posted 14/09/2015 at 12:17:10
If he behaves like that in the job centre, he will get his benefits sanctioned.
Gordon Crawford
28
Posted 14/09/2015 at 13:18:43
I'm not a huge RM fan as a manager, as I think the man is very limited in what he can do. But as a human being, I think he shows a lot of class and a positivity that we could all learn from. The world would be a better place if we had less people like JM and more people like RM.
JM Is a classless clown though, it kills him to admit that his team were second best. I hope he gets the sack.
I do think in January we should put in an offer in for Hazard. Lol
Jay Harris
29
Posted 14/09/2015 at 14:47:17
The self anointed Special One appears to be more special needs.
(No disrespect to any special needs people intended.)
Julian Wait
31
Posted 14/09/2015 at 14:58:10
Gerrard quoted as saying Mourinho would have been "ideal for (the RS)".
Indeed.
Eddie Dunn
32
Posted 14/09/2015 at 15:08:49
Mourinho is a prima donna of the highest order. Spoilt, arrogant and selfish with little regard for his employees (Doctors), and lacks class (talking about players contracted to other clubs).
As Ross said, he was behaving badly when the pressure was mounting at Madrid.
I hope that this is a continuing trend and he implodes along with his ugly team of horrid shysters.
I wonder what Stones is thinking about his suitors now?
Peter Conley
33
Posted 14/09/2015 at 15:34:29
My interpretation of Roberto's comment was that he preferred the abusive Jose. Last season they had won 6-3 so charm was oozing out of the blinkered one. This time 3-1 flattered Chelsea so the mask slipped. Monday now. Has he apologised, does anyone know??
Tony McNulty
34
Posted 14/09/2015 at 15:38:54
As the Aussie cricketers in the slips used to shout when a nervous batsman would come to the crease: "Pressure!!"
The man is clearly under the cosh; there is little rational basis to these sorts of outbursts. He is momentarily losing it. And if he loses to Wenger next week look out for even more sloppy emotional behaviour.
Julian Wait
35
Posted 14/09/2015 at 15:40:44
Mathew 15 - In short, NO. I do not want that nasty, sulky "services coffee pot" on our team.
I would take Hazard though, he'd be a decent replacement for Osman if he's able to get back to form.
Jim Potter
36
Posted 14/09/2015 at 16:13:46
He was only delayed coz it took him ages to fit his big head through the Goodison exit. Childish pratt.
You dodged a bullet there Stonesy.
John Hughes
37
Posted 14/09/2015 at 16:16:41
Jim (20) why bring Bill Kenwright into this thread about Mourinho acting like spoilt prat? He has not spoke about the incident or was involved in it,
Stu Smith
38
Posted 14/09/2015 at 21:16:42
Apparently.... It is common practice to let the away manager go first.
Dennis Ng
39
Posted 14/09/2015 at 21:20:11
I read something similar but the affair doesn't seem to be of our machinations. Media's war on Mourinho was just played out at our ground this time.
Add Your Comments
In order to post a comment, you need to be logged in as a registered user of the site.
Or Sign up as a ToffeeWeb Member — it's free, takes just a few minutes and will allow you to post your comments on articles and Talking Points submissions across the site.
© ToffeeWeb