Everton vs Chelsea
by

51 Comments [Jump to last]
| 11/03/2016
FA Cup QF Preview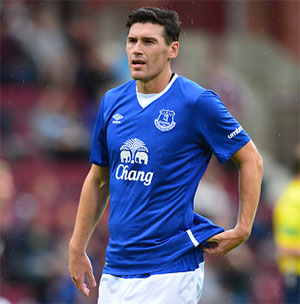 Gareth Barry is expected to return after recovering from the chest infection afflicting Finch Farm
Everton go head-to-head with Chelsea this weekend in an FA Cup Quarter Final tie that has taken on massive importance for both teams.
With the reigning Champions well out of the title race and now out of Europe, this particular road to Wembley represents the last chance for either side to land a trophy this season as they have struggled through their respective difficulties on the pitch.
Since sacking Jose Mourinho, Chelsea under Guus Hiddink have been on an impressive run of form. A 13-match unbeaten run in the Premier League has lifted them above the Toffees and into contention for a Europa League qualification place.
Everton, meanwhile, have dropped back into the bottom half of the table and with no sign that they are capable of stringing together a sequence of wins down the final stretch that could push them into the top six, the cup feels like the best route into Europe for Roberto Martinez's side.
With that in mind, while Martinez could never admit it — indeed, he has denied it as would be expected —  Everton's season effectively rests on the outcome of this tie. Win and the Blues are a step closer to the Final and have a date at Wembley in the last four the plan for. Lose and it probably is curtains for 2015-16 with two months of the campaign still to go. The Catalan has time and un unpredictable Premier League on his side but even though he insists his team is well-positioned heading into the final 10 games, the form book suggests all his eggs should be in an FA Cup-sized basket.
Martinez will be forced into at least one change to the team that started against West Ham. Kevin Mirallas serves the first match of a two-game ban for his second red card of the season, creating a vacancy on the left side of midfield that could be filled by Tom Cleverley or Muhamed Besic.
Both are fully fit now following illness and a hamstring injury respectively which, when combined with Gareth Barry's return to full availability following the chest infection that also sidelined Cleverley, it poses a selection dilemma for Martinez. Cleverley has been deployed on the left on a number of occasions already this season while Besic was named in that position against Chelsea in the League back in September but succumbed to an early injury.
Meanwhile, Aaron Lennon has been listed by the club as doubtful because of a hamstring complaint and Bryan Oviedo's hospitalisation with bronchitis in midweek means he is in the same boat as the manager prepares for tomorrow's late-afternoon kick-off. The former is, perhaps, the more likely of the two to play this weekend and assuming the Costa Rican misses out, Leighton Baines could start despite the reported discomfort he has been experiencing in his ankle. Gerard Deulofeu could get the nod after weeks of inacitivity if Lennon doesn't make it.
Then there is the question of central defence where John Stones's return to fitness has presented a selection problem that the manager attempted to deal with by fielding a back three last weekend, Stones was sacrificed at half-time following Mirallas's first-half dismissal but there is speculation that Ramiro Funes Mori's central involvement in all three of the Hammers' goals might push Martinez to pull him out of the starting XI after an extended run of impressive form in the side.
Chelsea, meanwhile, didn't come out of their Champions League Round of 16 second leg against Paris St Germain without picking up a couple of injury doubts of their own.
Diego Costa was forced off in the second half of that game with a thigh tendon problem and he was followed soon afterwards by Eden Hazard whose ongoing groin issues have prompted talk in the press from his father who claims that Chelsea are forcing him to play through pain this season.
Hazard, last year's Player of the Year, has echoed the Londoners' general form this term and been below par for much of the campaign, and while the noises out of Stamford Bridge today have suggested the Belgian will be available, it's hard to imagine he will be firing on all cylinders.
Costa, however, has shown a propensity to recover quickly from knocks of his own in the past and could pass a late fitness test. John Terry, returning from a hamstring strain, will all be assessed late before Hiddink makes any final decisions.
As they showed in September — albeit thanks to the now-departed Steven Naismith's goals — when they beat Mourinho's men handily and in January at Stamford Bridge in that infamous 3-3 draw, Everton can more than match Chelsea when they're in the mood. They also demonstrated in the Capital One Cup semi-final first leg against Manchester City that they can thrive in a raucous cup-tie atmosphere under the Goodison lights and overcome a top team.
The Blues will have to draw on all of their collective spirit and determination for this one to ensure that 2015-16 does not fizzle out into nothing more than weeks of recriminations and regret. For Martinez, personally, the result of the tie is likely to dictate how much pressure he will be under in the coming weeks amid increasing restlessness   and concern among the fanbase.
Kick-off: 5.30pm
Referee: Michael Oliver
Predicted Line-up: Robles, Coleman, Stones, Jagielka, Baines, Barry, McCarthy, Besic, Lennon, Barkley, Lukaku
---
Reader Comments (51)
Note: the following content is not moderated or vetted by the site owners at the time of submission. Comments are the responsibility of the poster. Disclaimer
Andrew James
1
Posted 11/03/2016 at 19:01:48
I fancy a win tomorrow. I was looking at Chelsea and some key players are out. We can beat anyone on our day but the issue is then throwing it away.
I think fortunately Chelsea might not have enough in terms of attacking personnel to get back into the game if we can get a few goals up.
That said, it wouldn't in the least bit surprise me if lost 4-3, scored some wonder goals, had a soft penalty against us, a handball missed and scored an own goal from the half way line.
That's the great thing about Roberto's Everton. Expect the expected which, for anyone but a Blue, is the unexpected.
Really though we do need to get to another semi final, we've been to a lot of quarters in recent decades and then dropped out under Smith, Moyes (bloody Wigan) and Roberto himself two seasons ago when Arse (always drawn at home in the Cup) nal thrashed us.
Jim Bennings
3
Posted 11/03/2016 at 19:25:41
Season defining game.
Forget what Martinez says that this game is not make or break, this IS make or break and it will decide whether our season dies on its knee's or not by 7.30 pm tomorrow evening.
For once, just once you'd like to think Everton Football Club will make us proud and not "bottle" it on the big occasion as we habitually do.
Sadly I'm not confident in getting past a Chelsea team that also shares the same fate as us if they lose tomorrow in having nothing else to play for.
All I will say is if we lose tomorrow and next week against Arsenal at Goodison then the atmosphere could soon become extremely toxic.
What a monumental week this could be for Everton .

Darren Hind
4
Posted 11/03/2016 at 19:29:08
Let next week take care of itself. we have beaten this crew already this season and were robbed of a second victory.
Let them worry about us.
James Flynn
5
Posted 11/03/2016 at 19:44:10
No special lights hanging off this Chelsea bunch. Glad it's them we're playing.
Phil Walling
6
Posted 11/03/2016 at 19:48:16
Where's Naisey when you need him? Oh... I just remembered... so it's all down to Romelu. Again.
2-2 draw, anybody?
Andy Meighan
7
Posted 11/03/2016 at 19:49:35
Darren they probably are worried about us you're right as history (the 6-3 game apart) tells us they always get a difficult time here. I don't know why but I've a feeling they'll score first tomorrow and shut up shop.

Anyway, if we were to win I still can't see us winning the cup, not while the likes of Man Utd, West Ham and Arsenal are still in it, though one of them are going out.

No it's still going to be hard for us and if Reading win tonight do you think we'd draw them? No, thought not.
Mike Green
8
Posted 11/03/2016 at 19:50:20
Good point Darren (3) but that team was a different proposition to the one that drives to Goodison tomorrow, currently sitting top of the away form guide with 14 points in the last 6 games having won 4 and drawn 2. We, conversely, are sitting second from bottom of the home form league with 4 points – a win, a draw and four defeats.
But it's a cup game and anything could happen – Goodison televised under lights, inebriated crowd desperate for a win, new owner to impress. Should be well worth watching either way.
COYB.
Phillip Mark
9
Posted 11/03/2016 at 19:50:47
I just can't fathom what's happened to Deulofeu. In any case I'd have Barry, McCarthy and Besic playing tomorrow. Give Barkley, Lennon and Lukaku all the freedom they need to do their stuff!
Dennis Ng
10
Posted 11/03/2016 at 19:56:30
Jim, it's make or break for Martinez, not us. We are unhappy enough with our season that only a miracle can change it (FA Cup + Europe). Winning a cup might cheer us up massively but it does not remove that bitter taste of Martinez's bullshit.
Trevor Peers
11
Posted 11/03/2016 at 20:01:54
The FA Cup is very different from the Premier League so let's just sit back and hope we can deliver a much needed home victory!
Paul Montgomery
12
Posted 11/03/2016 at 20:03:45
All that has happened to Deulofeu is that Lennon is currently a better player, offering more in both attacking and defensive sides to his game. We can't play 2 right wingers......
Colin Gee
13
Posted 11/03/2016 at 20:04:25
We need the Martinez that turned up at Goodison with his Wigan side in the 2013 Quarter Final and wiped the floor with us....
However, Martinez is doing a very good job of being David Moyes in that tie 2013 at the moment.
Glen Garrett
14
Posted 11/03/2016 at 20:09:04
If Everton don't win tomorrow the season is over and hopefully so is Martinez.

I hope that Stones and Jagielka get their acts together tomorrow. No funny shit, just clear the bloody ball away from Chelsea.
Raymond Fox
15
Posted 11/03/2016 at 20:28:10
We are very slight favourites at 13/8 Chelsea 7/4 and 12/5 the draw.
Our players could be psychologically up against it, because we cant seem to get over the line and win at home this season.
You can bet Chelsea will be getting the ball into the box at every opportunity, no wonder after the goals we keep conceding.
The manager keeps getting it in the neck, while our defenders get a relative free ride, take a look at the 3 West Ham goals, they are hopeless when the balls in the air.
Even though Funes Mori is involved in conceding all the goals on Sat. and should have done better on each, I would say he's the best of a bad bunch!
I've not a clue what the result tomorrow will be, the betting is saying a draw, which sounds about right.
Alan Bodell
16
Posted 11/03/2016 at 20:35:06
Jim (#2), you nailed it mate but what would be a nice change is if we would get in the officials faces like Chelsea and worse still, Arsenal.
They both get so many decisions with their aggression to the twats in black and if you think I'm exaggerating then just look tomorrow, I fucking guarantee they will surround the ref for every decision.
Dick Fearon
17
Posted 11/03/2016 at 20:38:11
If skill was the defining thing, we would have half a chance. A bit of luck would help but that could go their way. A referee decision could affect both sides.
Should the end result hinge on tactics, we are dog meat.

Dave Abrahams
19
Posted 11/03/2016 at 21:05:09
Phil (5),
I think Lennon has scored more than Lukaku in the last few games.
Joe Clitherow
20
Posted 11/03/2016 at 21:25:52
We owe Hiddink and Chelsea for 2009. We have our own version of Drogba this time though, and he'll be desperate to score against Chelsea.
I'll be in a foul mood with the classless, historyless bastards because I've been relocated from my usual seat for a cup game yet again.
A win is all I want tomorrow, none of your usual shite please, Martinez and your third-rate helpers. You're finished if you do.
Jamie Crowley
22
Posted 11/03/2016 at 21:43:29
Joe Clitherow...
I'm coming over the pond and just checked my seat assignment – I'm sitting right next to you! ;0)
Peter Cummings
23
Posted 11/03/2016 at 21:49:40
What is needed tomorrow, lord forgive my transgression, is some of the passion we saw at Anfield last night, when the reds never gave Man Utd a second's peace, as they fought for every ball and hassled and harried them at every turn.
If we want to progress into the semis, this is the kind of pressure we MUST exert and forget about the 'gentlemanly' approach which has far too often been our downfall.
And remember, a football match is for 90-plus minutes and not inviting the opposition to get at us after half-time. I was worried in case Clattenberg reffed but instead we have to put up with an equally inept and card happy moron in Oliver who could turn the tie into 'Another Nice Mess' by his incompetence... what price at least one red???

Jan Erik Lloyd
24
Posted 11/03/2016 at 21:49:52
Will the game be decided tomorrow, or will there be a replay at the Bridge if we draw?

Patrick Murphy
25
Posted 11/03/2016 at 21:52:44
Perhaps we should wear red shirts and ensure the officials give us the game-changing decisions at the right time too, Peter (#22). I can't believe for one minute that the Everton team won't show enough passion, when a place at Wembley is at stake.
Laurie Hartley
27
Posted 11/03/2016 at 21:57:01
Well played, Jamie.
Up the Blues!
Gary Willock
28
Posted 11/03/2016 at 22:03:57
My 5-year-old sons first 'real' game tomorrow (friendlies don't count). I've held off since his big sister asked me to go early at her first game (night match) a few years back. Feels like Christmas Eve, and I ain't kidding!
First day of a new era? The day we slay the Giants for 90 not 70? The day I teach my son that we have to walk round the ground twice and touch each corner before the game for luck. This. This is what it is ALL about! :)
Colin Hughes
29
Posted 11/03/2016 at 22:04:39
Interesting that Saturday's episode of Football Focus on BBC1 is being hosted from St Luke's Church by the ground.
Don't we just know we will have to put up with Kopite behaviour despite them being already out the cup. I predict either a load of replica wearing shite or a stupid "Yourapeeeeen cups" banner. I wait with bated breath to see how they will try and grab the limelight.
Joe O'Brien
30
Posted 11/03/2016 at 22:10:36
I'm happy enough with Michael Oliver being the ref. At least he seems not biased. I was dreading Clattenberg or Atkinson reffing...
I would love to see Besic starting, man-marking Willian, who's the dangerman for us.
Andy Meighan
31
Posted 11/03/2016 at 22:29:37
Joe (#19), whats all this "historyless classless" bollocks about? Chelsea won the league in the 50s. Roy Bentley and all that in the 60s and 70s – they always had class players.
Yes, they had their barren years... but what club hasn't? You sound like one of them cretins from over the park who think football began in 1992. Give it a rest please.
Trevor Peers
32
Posted 11/03/2016 at 22:33:50
Overwhelming feeling these days when you attend a match at GP is having no idea about the outcome of the match.
Maybe cup matches are a bit different though, we usually put in the required effort and focus to win out.
Chelsea are technically gifted, our only hope is to run them off the park, and use the crowd to our advantage. I only hope Roberto sees it that way and forgets about his philosophy for once.

Harold Matthews
33
Posted 11/03/2016 at 23:09:52
I hope we don't waste Besic by making him follow Willian about. Let them worry about us.
The bookies make us favourites and so they should. With Mr Moshiri in the stands and Wembley beckoning, I'm expecting a fine winning display. That said, if we are 2 up with 20 minutes to go, it will be all hands to the pump and I do not want to see Barkley or Lukaku on that pitch.
Jim Hardin
35
Posted 11/03/2016 at 00:11:20
Jamie, I salute you for that one. Please remember that you are a guest and visitor and behave appropriately. No Uncle Sam's Army songs about Timmy, lest you upset Victor, Darren, and Gareth. Also, no pillaging, burning, or looting, unless you end up at Anfield by mistake. Then, by all means, have at them.
ps: If you could help out the assistant referees to get the correct offside calls to prevent more gift goals for Chelsea, that would be appreciated.
Kieran Kinsella
36
Posted 12/03/2016 at 00:49:21
Gary Willcock,
Thank you for posting about your five-year-old son. I was going to post some miserable old git negativity but you reminded me what it's all about. Family, fun and wide-eyed excitement the first time you attend a big match at GP. I hope it's a game your son will remember for all right reasons. COYB
Frank Sheppard
38
Posted 12/03/2016 at 06:17:36
Let's hope we put in a decent display and they have a bit of a mid-week hangover/sulk. Get in a lead and then someone locks RM in the changing rooms, so he can't engineer another loss from a winning position. If only games lasted 80 minutes...
Gary Willock
40
Posted 12/03/2016 at 07:38:06
Cheers Kieran Kinsella! I may even forgive the spelling of my surname there ;)
In fairness the lads helping me remember what it's all about too. Got up this morning at 6am and came in to our room singing "we've got a diamond...."
COYB
Joe Clitherow
41
Posted 12/03/2016 at 08:00:57
Jamie (#22),
I'd be happy to provide some education if you are anywhere near PK4.
Mike Berry
42
Posted 12/03/2016 at 10:32:15
Gary Willock (#28). I just love that. I hope you and your boy have a fantastic time today, a day that will be with him for the rest of his life.
My first game always gives me nightmares. My Dad (a RedShite) took me to see a Boxing Day game when I was 5... early sixties, standing on the Kop, I couldn't see a thing. I got lifted over everyone's head to the touch line, then taken away by the police so missed the game... It still makes me shiver as I write this.
ps: I took my two grandkids (one Arsenal, one Spurs) to the Old Lady, drove them round 20 times telling them the history, then drove them back to London playing "It's a Grand Old Team" non-stop. Enjoy your day, Gary, and let's hope we are all smiling tonight.
Phil Williams
43
Posted 12/03/2016 at 10:32:50
Gary (#28),
My first game was as a 6-year-old in 1970. It was played in March. The score, Everton 5 - Chelsea 2.
Same again would be nice, do you not think!
Vince Furnier
44
Posted 12/03/2016 at 10:59:03
A bit concerned for the size of our support today. I've just received an SMS this morning telling me it's not too late to get me a ticket. Never known that before. Maybe this new chap understands marketing though.
Ray Robinson
45
Posted 12/03/2016 at 11:05:01
Phil (#43) – didn't Kendall score more or less straight from the kick-off?

Mike Green
46
Posted 12/03/2016 at 11:06:10
Vince (#44) – don't worry, tickets are available in the main stand and the Street end but they are very, very limited. It's near as damn it a sell-out from what I can see.
Mike Green
47
Posted 12/03/2016 at 11:12:29
Jamie (#22) – have a great time; fingers crossed it'll be a worthwhile trip!
Phil Williams
48
Posted 12/03/2016 at 11:49:36
Hey Ray (#45)
I was 6 and all I can remember was being scared by the noise!!
I've just looked up the scorers and Kendall did score, and for the record so did Ball, Royle (2) and Whittle.
I'm now going to have a daft fiver on 5-2 today.
Gary Willock
49
Posted 12/03/2016 at 14:14:53
Hey Phil, as a man who got married on Friday the 13th; I'm not normally one for omens. However, that sounds close enough for me!! Coybb!!!! :)
Phil Walling
50
Posted 12/03/2016 at 15:07:55
I have a sneaking suspicion that John Stones may get the nod today. Funes Mori had a mare last week but may be needed to fill in at left-back.
Deulofeu may be the other to get a re-appearance as Lennon is feeling a hammy.
No chance of RM seeing Tim as his Cup keeper but stranger things have happened!
Paul Kossoff
51
Posted 12/03/2016 at 15:16:27
If Costa and Hazard play, we should use 4-4-2, two banks of four with defence in mind, hit them over the top with pace.

No gung ho against a very clever coach as Hiddink is, just frustrate them then bang. Coyb.
Don Alexander
52
Posted 12/03/2016 at 15:59:54
I remember that 1970 5-2. In the second half, we were already out of sight (score-wise). Roger Kenyon was getting his foot deliberately trodden on at the near post by Peter Osgood as we defended a corner. Big Rog took "swift and merciless", cue the stretcher, and the result was sealed.
An underrated player Kenyon. A mate of mine who played for Norwich at the time described him as THE hardest defender he'd ever played against, and he played against Smith, Hunter and Harris!
Wish we had him today.
Peter Bell
53
Posted 12/03/2016 at 16:03:42
Don, Kenyon is a traffic warden now in Chester.
Peter Bell
54
Posted 12/03/2016 at 16:05:19
And he said he never gives tickets to cars with Everton stickers in the rear window.
Jim Bailey
55
Posted 12/03/2016 at 16:08:54
Don (52)
I remember Rog right hooking Colin Stein of Coventry in the centre circle. Not many cameras around at that time, great memory though.
Also wish we had someone with the spirit and guts of Mick Lyons. Ah well, I can dream.
Max Murphy
56
Posted 12/03/2016 at 16:32:03
Roberto Martinez has systematically wrecked the last two seasons. He is in serious danger of doing permanent damage to our great club. His ridiculous tactics, substitutions and pathetic public statements have left us the laughing stock of the Premier League.
He has shamed and embarrassed the club and the fans. His refusal to ever admit responsibility for the team's inept performances and shameful results, shows the club and fans that he is a fraud and a phoney. Win, lose or draw is of no consequence. Although I do fear for all Evertonians that we will suffer yet another ritual humiliation on our home ground.
Brian Denton
57
Posted 12/03/2016 at 16:48:47
Phil #48, I was in the Park End stood on a crate (you could take them in in those days - well before days of 'Elf and Safety'). I think Kendall scored after 14 seconds, but could be wrong about that. Crowd was 50k+ and I think a lot of the Goodison Rd was out of action as we were building the new stand.
Mike Keating
58
Posted 12/03/2016 at 16:50:42
Looks like Stones and Terry both on the bench but they are risking Costa and we are going with Lennon, Baines and Cleverley... Fingers well crossed!
Add Your Comments
In order to post a comment, you need to be logged in as a registered user of the site.
Or Sign up as a ToffeeWeb Member — it's free, takes just a few minutes and will allow you to post your comments on articles and Talking Points submissions across the site.
© ToffeeWeb