Opinion
Highs, Lows and Bakayokos — Wimbledon 1994
Jim Keoghan

24/08/2016

40 Comments
[Jump to last]
Share: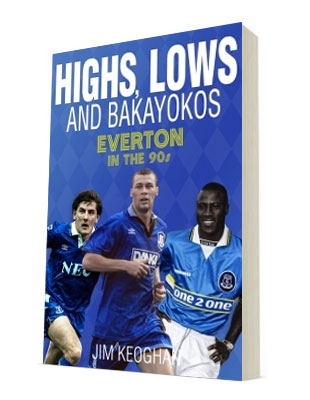 Football is a game that is defined by moments; key points where a match, a career or a season can take a different turn due to a piece of luck, a dodgy refereeing decision or an instance of individual brilliance. For Everton, two moments that would greatly impact upon the club's future fortunes occurred in the space of mere minutes in that almost fateful game against Wimbledon in May 1994. The first was that goal-line clearance, the second, Barry Horne's howitzer of a goal. 
Industrious, dependable and dogged, Horne was not the kind of figure you would expect to come to the rescue on a day like that; and certainly not one to produce a shot of such power and technique.
As the midfielder himself admits, the goal came at an important time: 'We were about 25 minutes in and there was a growing sense of frustration. Despite plenty of hustle and bustle, we'd only created one clear cut chance and that had to change. Something needed to happen or there was a danger that the game would slip away from us.'
According to Horne, so much of what happens in football occurs subconsciously, instinctive reactions to the game's numerous permutations and variables. And this was true of his wonder-goal.
'I never really thought about it until later. The ball was there in front of me, sitting invitingly and it just seemed instinctive to have a go.'
I was behind the goal where Horne's 30 yard, half-volley screamed into the top right-hand corner and even as the net rippled, I couldn't quite believe what was happening. Elation and celebration seemed to occur independently of comprehension. I was up, hugging those around me, screaming with the intensity of a toddler, recklessly joining in with the explosion of emotion that had consumed Goodison. And yet all the time still processing what had occurred. It wasn't just the source of the strike; it was also how unlikely it had seemed. Out of nowhere we'd levelled, erasing the horror of the first 20 minutes in one moment of sheer, unexpected brilliance.
'For me, that was the moment my mindset changed. The pessimism that had haunted me since we had gone 2-0 down dissipated utterly from that point on. When Horne's shot went in (and that has a case for being one of the best goals ever scored at Goodison) I just felt the win would be ours' remembers Neil Roberts.
At the time of Horne's goal, around the 70 minute mark, the scores and standings were:
Blackburn Rovers 0-0 Ipswich
Chelsea 1-2 Sheffield United
Norwich 0-1 Oldham
West Ham 2-3 Southampton
| Position | Team | Goal Diff. | Points |
| --- | --- | --- | --- |
| 17 | Southampton | -16 | 45 |
| 18 | Sheffield United | -16 | 45 |
| 19 | Ipswich Town | -23 | 43 |
| 20 | Everton | -22 | 42 |
| 21 | Oldham Athletic | -25 | 42 |
| 22 | Swindon Town | R | R |
'Despite the celebrations, we couldn't let our levels of concentration drop. Anything could happen elsewhere. What we had to do was try and win. That aim hadn't changed since three o'clock' says Barry Horne.
Although drawing level had only really restored the parity that had existed at kick-off, proceedings felt different from the moment play resumed. Everton clicked in a way that had been totally absent an hour earlier and began to build a head-of-steam that pushed the visitors back.
Alongside this, the atmosphere changed in the stadium too. Had it been a goalless draw at this point or if the teams were level after Everton had squandered a lead, then a nervy quality would have been evident. But the way in which Everton clawed back into the game, displaying the kind of resistance and fight that had long been absent from Goodison, gave the fans an enormous boost, accentuating the atmosphere to the point of near-frenzy.
'The crowd were amazing and they really spurred us on' remembers Paul Rideout. 'They'd actually been a huge help all afternoon. I've played at lots of clubs and I don't know where else you get that? Even at 2-0 down when it looked like the team was dead and buried you had tens-of-thousands of Evertonians still cheering you on, still believing that something could happen. It's pretty unique. After the second goal though, the noise was just incredible.'
Everton continued to press, carving out a succession of near chances without ever really getting close to manufacturing anything clear-cut.
'In the closing quarter of the game we were playing with the kind of passion that should have been the case from the beginning. Had we played like that from the start then it's likely that Wimbledon would never have got a two goal lead. But although there was only one team in the game, we were unable to find that killer ball. It was getting very frustrating' admits Tony Cottee.
They say that good things often come in threes. For Graham Stuart that particular idiom was about to come true. First he had converted that all important penalty. Secondly, Stuart had cleared Holdsworth's goal-bound header off the line. And then, to complete the trinity he would secure his name in Everton folklore by scoring the team's third, final and most important goal. Not that he knew much about it, as he later confided to the Liverpool Echo.
'Anders played it across and I played a one-two with Tony Cottee. I sort of half-tackled the bloke, then I just heard the crowd roar. I didn't know how it went in.'
There was a surreal feel to the goal, the moment that the shot crept its way into the bottom corner. Football often produces such moments; almost implausible outcomes that at one point seemed so unlikely.
Hours earlier, when we'd been waiting outside the gates talking about the game ahead, no one could have predicted a result like this. Nor would such an outcome have seemed remotely plausible at two goals down. Stuart's strike made the implausible real. For the fans watching, the goal was greeted with an explosion of emotion.
"Highs, Lows and Bakayokos — Everton in the 90s" is available from Pitch Publishing from 26 August

Follow @@jimmykeo
---
Reader Comments (40)
Note: the following content is not moderated or vetted by the site owners at the time of submission. Comments are the responsibility of the poster. Disclaimer
Alan Bodell
1
Posted 24/08/2016 at 18:51:21
That was a surreal day, a bit of a blur to me as despair then hope followed by absolute euphoria. No Park End and some of us blagged in with Wimbledon and at 0-2 the scallies below were giving us cut-throats and we tried to tell them we were Blues.

Still a blur to me today but without that comeback (Hans, you'll never buy a beer in my pub again) we could have spiralled to who knows how low.

Vinnie Jones would not have made his dressing room if we lost. Read Andy Nicholls' book.
Darren Hind
4
Posted 24/08/2016 at 20:26:52
For a few moments, I was back there...
I remember everything about that day with such clarity. I was so focused. I remember the name of the horses I backed before the game. I remember the seat I sat in. (I too was in the corner where the Wimbledon fans should have been.) I even remember the round I bought in the Springy before the game and that they had no steak pies left in the chippie on the way up. I remember the tension in the air, the despair, the hysteria, the overwhelming relief.
Drank until early hours after the game, remember every alehouse, everyone I met, every song we sang. The gutted looks on the gobshites faces as they pretended they wanted us to stay up. I remember every word of the bollocking my Mrs gave me when I brushed past her on the doorstep on Sunday morning – she was dolled up on her way to a christening we were supposed to attend and I was just getting back looking and smelling like a miner's lamp.
I can't remember what I had for me dinner today though or which way I drove home.
Christos Biziliotis
5
Posted 24/08/2016 at 20:37:18
Hi my Everton friends, it's my first involvement in the site. I was at that match. Howard Kendall gave me a ticket. I remember myself desperate at 0-2 and vomiting at 3-2 after being drunk... as always.

I was there vs Coventry back in 1998 so I hope I'm a good omen. Cheers my fellow blues. See you vs Crystal Palace.
Michael Polley
6
Posted 24/08/2016 at 20:39:27
I remember that day. I couldn't bear following the game.I think I locked myself away somewhere. But I had this quiet confidence we could win. At 16:50 I turned in the TV to see the Goodison pitch swarming with celebrating Evertonians – what a day!!!
Stephen Brown
7
Posted 24/08/2016 at 20:42:49
I remember a big fat guy in the salmon striped kit behind me bear hugging me as Barry Horne scored.
I did my GCSEs a couple of weeks later and one of the essay choices was ' write about the best day of your life' I wrote about the game the emotions the characters and achieved an A* grade from a predicted C! I thank Graham Stuart, Barry Horne and 40,000 fellow Blues for that!!
Chris Williams
8
Posted 24/08/2016 at 20:57:20
I remember a banner in the Upper Gwladys. It said 'PRIDE EVERTON'. I remember looking into Stanley Park through where the Park End Stand used to be and the trees full of fans trying to see the game. I remember sitting next o my son in the front row of the Top Balcony with a drunken Irishman on the other side who kept asking me 'what happened.' Own goal mate, penalty mate I said. 'Jaysus' he said. He disappeared at half time.
Then Limpar telegraphs a dive from 8 yards away and PENALTY. Neville picks up the ball but sense prevails and Diamond picks up the ball and slots. PANDEMONIUM. People tumbling out of trees in Stanley Park.
Great goal from Barry Horne. Somebody says that he scored in his first game and here he is scoring on his Last appearance too. Cruel.
The crowd invades the field celebrating. Crazy Gang looking at each other thinking Fuck, we're vulnerable here these bastards torched our coach Last night. Effectively match won there.
Strange goal wins the game, dodgy some said afterwards. Who cares.
Crowd on the pitch protesting at the end, sack the board, never again.
Great evening and following morning. Strong drink may have been involved.
Great memories, great occasion. Never ever again. Too fucking close for comfort.
PRIDE EVERTON
Dave Speed
9
Posted 24/08/2016 at 21:20:56
Wimbledon go 2 up. Switched off the radio in tears. Couldn't get to the match – long, sad and painful story. Rocked back and forth in tears with my 18-month-old son on my knee. Life is more important, Shanks.
My wife says "Put it back on, you never leave the game before the end no matter what." On it goes then and Diamond has the ball and he is preparing to take the pen. In it goes and there is some hope.
But this is the Crazy Gang, the party-poopers, the nut-jobs who did the RS at Wembley in '88. It ain't gonna happen.
A Century later and Barry Horne wellies one. He wouldn't even try to make a pass over that distance and yet he lets fly and it's 2-2. Unbelievable. Then there is that debacle on the edge of the box and Diamond scores what is probably an even more incredible goal than Horne's. 3-2 and I'm still waiting for Clive Thomas to appear and screw it all up.
The final whistle goes and I frighten the hell out of my baby boy with my leaping around and screaming. If you have to have a low like the 2-0 to get a high like the 3-2, I never want another high again. COYB let's have the highs at the other end of the table. What a memory.
Graeme Beresford
10
Posted 24/08/2016 at 21:33:22
I too remember this day, one of, if not thee greatest day of my younge life. I must of been around 9 years old and I was a regular visitor to Goodison with my Dad on a Saturday afternoon. I never appreciated how much effort my Dad made to get me to the matches, he would take me to football in the morning then quickly home to shower and change and drive to my Grandads and Grandma's in Walton, then the walk up past the pub on the corner by the shell station, always fond memories Anyway...
... We walked up to the Gwladys street end and I've never seen anything like it upon our entrance up the stairs to the beautiful stadium. There wasn't a seat in sight. These days it was pay on the gate and my Dad looked around, the match was about to kick off and he had to grab a steward and say 'where can me and my lad sit, mate'. This guy took us up and down the Isles until he spotted it, two seats halfway between the corner flag and the old clock in the corner of the stand. We had our seats, finally.
Now back then I wasn't really sure what this game meant. I remember knowing it was the biggest game we had ever played but not really knowing the full consequences of what relegation would mean. I do remember is being two nil down and thinking 'oh my god, we are done for'. Then all of a sudden we were back in it! I remember when Horne's shot flew right into the top corner, I remember the feeling of despair changing to one of clarity in an instant, it was almost like someone had flicked a switch and things started to go our way.
One of my fondest memories of that day was when we got our penalty kick. Being a 9 year old, knowing I would be the ridicule of the school class because I was a blue and everyone else was a red, knowing (sort of) what it meant . I couldn't look!!! To this day this has only ever been my one moment in football were something was so important I couldn't even watch it. We had a pen A pen to make it 3-2 and complete the come back of all come backs and save our premier league skin! And there's me, sitting with my hands over my eyes, my Dad shaking me telling me to watch, I couldn't! Everything seemed to go quiet, slow motion even, It was like I was sat in the Gwladys on my own, just waiting. Then the road of the crowd snapped me back to reality! WE HAD SCORED!!!
I can remember my Dad, he grabbed me and held me aloft as if I was the fa cup!! The match ended and fans ran onto the pitch. A mate of mine Danny proudly got a piece of the turf which he put in his back garden and in school he asked me 'why didn't you run on the pitch'. But I was a shy 9 year old, my dad asked me if I wanted to go on but I never, I really wanted to share the moment with him and once the final whistle went I had my first ever experience inside a pub.
My Dad hoisted me onto his shoulders and for a few hours after the whistle ended we danced, sang, smiled and sang some more in the local alehouse. Which one I can't recall but I'm sure my Dad says it was The Clock. Another memory of mine is returning home, back to Maghull with my Dad and opening the front door to the smell of my Mum cooking dinner! She came running to the door and said 'well, how amazing was that' (she had been listening on the radio) and me and my Dad opened our mouth to speak But we both couldn't. The shouting and singing from the day had caught up with us both! My Mum still laughs about it now!!!
I will forever remember that day. Even if I never goto a football game ever again. I hope one day my son/daughter says to me... 'What's the greatest football match you have ever been to Dad?' I will smile from ear to ear and I will tell this story again... And again... And again because we are Everton! That day we all were Everton! The town was blue, the sky was blue, the world was blue... The world was ours!
Dave Abrahams
11
Posted 24/08/2016 at 21:42:23
Dave (9) great story Dave, we said after the game "it must never happen again" being in that position, but a few years later we all had to go through it again versus Coventry.
Back to the Wimbledon game, I went through all the emotions everyone else had to suffer and then the absolute ecstasy. I will always remember Southall running up the pitch to take the penalty, I couldn't believe it, I was more than relieved when he got to the half-way line he was waved back by people on the bench. What was you thinking of Neville?
Andy Crooks
12
Posted 24/08/2016 at 21:55:17
This piece and the posts following demonstrate what a truly great site this is. That day was intense to such an extent that I don't know whether it shortened or lengthened my life expectancy!
I was living in Glasgow and was seated outside the shop of my friend Jamal. I had accepted relegation after an afternoon of deranged Faustian pacts. He ran from his shop screaming " you are saved, you are saved!" Perhaps my happiest .oment as an Everonian.
What is best? Winning the Champions league or final day survival? That day made heroes and you know what, all they did was clean up their own mess. Still, they became legends. What a day.
Denis Richardson
13
Posted 24/08/2016 at 22:00:23
Was on a cricket pitch that day, fielding during the game!
Luckily the captain was a blue and he put me out on the boundary, coincidentally right next to the pavilion. Got the barmaid to put the commentary up as loud as it went so I could hear what was going on.
Change of over, I didn't move – opposition thought it was an odd position for a fielder. They were also a bit confused when said fielder started jumping up and down on the boundary screeching, even though nothing had happened in the cricket match. Captain then also started jumping up and down.
(Did we ever get a receipt off Segers?)
Bobby Thomas
14
Posted 24/08/2016 at 22:37:34
I hate the way that this match became the "iconic" fixture of the modern Everton. It just encapsulated the extent to which the wheels had come off. I will also never think of any of them as legends. '90s Everton was a complete mess.

Peter McHugh
15
Posted 24/08/2016 at 22:39:25
Has just turned 15 and was probably most relaxed person in last 10 mins in the ground given I thought we only needed a draw! Haha, what a memory the relief and joy as unbelievable. I've never known a crowd influence the result so much.
Best I've seen us play was Spurs semi a year later but best match I've ever been to was Wimbledon.
Colin Gee
16
Posted 24/08/2016 at 22:46:36
I was one of those in the trees in Stanley Park 'that' day. Possibly the most surreal match I have ever 'been' to.
Cracking view though! I could see everything apart from the Park End goal.
Patrick Murphy
17
Posted 24/08/2016 at 22:47:58
Bobby (14) I am of a similar mind as yourself in some respects, I often wonder if we had have been relegated, would the club have been cast adrift for all of this time and suffered the fate of a Sheff Wednesday et al or would the club's owners have been forced to look into the mirror and address the issues that had and have plagued the club for so many years?
The day and the game itself was probably the most dramatic one that I have ever had watching Everton FC – so many emotions, so much at stake and so many stories, and it will rightfully live on for all those who were there and those that couldn't make it to Goodison on that day.
I much prefer to remember games such as Spurs (85), Watford (84), Man U(95) and of course the ultimate Rotterdam (85) I had the good fortune to attend all of those games apart from the White Hart Lane encounter, but I will cherish those memories more than May 7th 1994, however apart from the Bayern Munich victory at Goodison, it was an iconic day for all those who witnessed it and showed just how important the club was and is to its fans.
Patrick Murphy
18
Posted 24/08/2016 at 22:58:38
I meant to add that quite a lot of the team that took the field against Wimbledon played a large part in bringing the last trophy to Goodison so therefore they can be considered Bona-Fide Everton legends.
Ste Traverse
19
Posted 24/08/2016 at 23:02:37
I was 17 then and wasn't a season ticket holder until 1995 and remember getting to the Gwladys Street around 2.00pm and seeing the queues all the way up City Road and thinking no chance of getting in.
I went the match with Liverpool supporting mate of mine, and he pushed us into the queue quite near the front (something I wouldn't have attempted on my own) and we just squeezed in before they shut the turnstiles and we got seats in the corner of were the Street End meets the Paddock.
The game was just surreal. At 0-2 I was silently cursing my RS mate for pushing us in and having to witness our impending doom, and was slaughtering Gary Ablett for that hapless, comedy own goal, then the remarkable turnaround occurred.
I'd never before, and have never since, witnessed us to come from 2-0 down to win a game but that was the one to do it in.
I wanted to get on the pitch at the end, but by the time I'd got down the front the stewards and Police were surrounding the pitch and there was little chance of joining the masses of jubilant Blues.
I recall hanging around outside the ground at the end (something I never do) unable to take in what I'd just seen, and around an hour after the final whistle waiting for a bus on Walton Lane and the (replacement!) Wimbledon team coach coming past and getting a wave of their then owner, Sam Hamman.
So yes, I will admit that I only got to see arguably the most gripping, gut-wrenching 90 minutes in the clubs history down to a Kopite friend shamefully pushing us in the queue.

Thanks Mark...
Ste Traverse
20
Posted 24/08/2016 at 23:10:05
Chris Williams #8
I don't remember any 'sack the board' protests after the Wimbledon game. They certainly happened in 98 after the Coventry game. I got on the pitch and recall them.
Jamie Sweet
21
Posted 25/08/2016 at 02:14:59
I was a young lad who had never been to Goodison Park at this point, my Dad (a non-Evertonian) asked me if I wanted to try and go to the game as he knew how much it meant to me. After much thought, I reluctantly said no... not wanting my first Goodison experience to be watching us get relegated.
Instead, I spent the afternoon in bed listening to the radio. After we went 2-0 down I lost it and threw my radio across my bedroom. It wasn't just that we were two down which sent me into this uncharacteristic rage... it was the fact that it was a penalty and an own goal... it just felt like we were trying to throw it away.
My radio lasted about 10 minutes on the opposite side of my room before my crying arse emerged from under the covers with a sudden overwhelming sense of "this isn't over... this is Everton!!!"
Turn the radio back on to find it's 2-1. Confidence grows further. Horne... Stuart... more tears (of joy this time).
I remember watching the incredible after-match scenes on MotD, and in particular a young boy on his Dad's shoulders and thinking that could have been me.
As a result I didn't miss the opportunity to be at the Old Lady final day in '98. That was an incredible experience, but I can't help thinking that to have been there in '94 would have been infinitely better.
Paul Ferry
22
Posted 25/08/2016 at 04:21:08
I just remember arriving at the Old Lady that day around noon and drinking and there was no singing and no high spirits and quite frankly in the Winslow it was quiet.
There was a hum to be sure but the same lads I had travelled with to Wembley, Rotterdam, and Carrow Road were scared. Disbelief. This cannot be happening.
Sky was gloating: Everton, one of the mainstays of top division football along with Arsenal, face relegation today. Remember, we had not beaten Wimbledon since winter 1991 and the Dons beat us next time we played them in 1995.
I knew Graham Stuart back then and still do: one of my mates lodged EFC youngsters including Steve Reeves from London – only thing of note was sub at Villa away - who Graham took under his wing.
We were in the Upper Bullens by the Gwladys with great views of jeez AL the pen but then the two great goals.
I always want to think that Rotterdam '85, Highbury '84, Wembley '84, and yes Andy screamer King 1-0 are my highlights, but it's probably that last desperate game of 1993-94 that in retrospect was more important (Coventry felt like a breeze after that and hitting the pitch with 'we want Johnson out').
My fave goal I thought was Inchy, Highbury, 117th minute – 'Oh Everton, don't lose your heads now' – but thinking more deeply it was Graham in '81 with that pen.
An absolutely remarkable day! The widespread mourning before 3PM – those lines outside the Street End though! – and then in town that night! Sheer sheer joy.
Hugh Jenkins
23
Posted 25/08/2016 at 07:31:14
That game, to me, was an "I am Spartacus" event. Every Evertonian (or who claims to be an Evertonian) you speak to, claims he/she was there that day. I was there with my son, and my father-in-law. My son and I still have our ticket stubs for that game, in our souvenir collection.
As we walked to the ground we were being chided & goaded by young RS fans outside the ground, revelling in our predicament. We sat in the main stand, upper tier.
When the first penalty went in, so early in the game, all we could hear was the clatter of seats as some got up and left, believing it was already all over. When we went two down, the clatter became a cacophony and many left.
The rest of the game seemed a blur – but the Everton goals are still clear and succinct in my mind. Even that, of course, wasn't enough – we still had to depend on other results, elsewhere.
As the final whistle blew at Goodison, the chap in the seat next to me had a transistor radio glued to his ear, listening to the results from other grounds.
I looked at him, he looked at me and said the most comforting words I have ever heard: "We're safe now."
Tony Draper
24
Posted 25/08/2016 at 08:05:24
Me and me Dad. He's a cheery little feller, makes (the late, great) Norman Wisdom look like his "miseryarse" brother. He was tense. Tighter than a six-gun thigh-strap at the OK Corral. He was silent.
But, what he couldn't take his eyes off were the "Stanley Park Roosters", and neither could I. The legion of Blues perched in the trees of Stanley Park, lining Walton Lane for a glimpse through the "Tree End" building site. Heroes every last one. Rumours abounded that they were Squaddies, Commandos and "Special Forces" for whom physical discomfort over prolonged periods was only a test of mettle. Well, that season was a true test of mettle inside the ground too!
"Fuckem! Fuckem!", I'd told me Dad the previous weekend. "If we get relegated, they'll be on us like sharks! If we stay up, they'll have fuck-all to say!"
"Tell them that they're talking out of their bloody arseholes as always, tell them that, Dad!"
"But, what if we do go down, son?"
"Dad, Everton are like the Queen Mum, we do NOT EVER go down! NEVER!"
Then, Dad and I discuss the "Doomsday Scenario".
"Son, if we go gobbing off all week about staying up, but then we get done?"
"We get shit on Dad, we'd get deeply shit on. But for this week, we can frighten the cheap red shite outta them! Then, next week, after we stay up, we hunt the cunts down and GIVE THEM PURE FUCKING BLUE THUNDER!!!"
"Look at them lot in the trees, son!"
After the victory, we stayed in "The Anfield" (Walton Village) all night. He spent his bus money on the last round and walked home to Maghull. He only admitted his "Special Forces Last Round" a couple of years ago.
"Stanley Park Roosters, Everton's Special Forces. It would ne'er have been done had they not been there".
Chris Williams
25
Posted 25/08/2016 at 09:49:04
Ste
I may be combining the two never again matches in my mind. Age eh? Bloody Hell!
The Coventry match was a more tense experience in my memory for some reason.
Andy McNabb
26
Posted 25/08/2016 at 11:05:20
Somehow got seats in the Bullens for me, my wife and my sis. My wife entered the ground as a Kopite and after that experience, being right in amongst REAL footy fans she left Goodison as a Blue - Damascus Road and all that.
These days when I look back on it, one of the biggest changes is that if we managed to stay up we had been promised TEN million quid to spend in the transfer market!!!! Wouldn't buy you Rom's right foot these days.
Andy McNabb
27
Posted 25/08/2016 at 11:05:20
Somehow got seats in the Bullens for me, my wife and my sis. My wife entered the ground as a Kopite and after that experience, being right in amongst REAL footy fans she left Goodison as a Blue - Damascus Road and all that.
These days when I look back on it, one of the biggest changes is that if we managed to stay up we had been promised TEN million quid to spend in the transfer market!!!! Wouldn't buy you Rom's right foot these days.
Paul Hughes
28
Posted 25/08/2016 at 13:22:51
I've still got my ticket stub. Upper Bullens Visitors. Price £12.00.
I watched the 25 minute highlights clip on YouTube again last night. I still got a shiver at the comedy goals for Wimbledon, still thought Holdsworth couldn't miss with two headers when it was 2-1, and still cheered at my PC when Barry Horne equalised.
22 years ago, where did it go?
Dave Williams
29
Posted 25/08/2016 at 18:20:24
Couldn't get to the game and was too nervous to listen to the radio so went into Exeter with my wife.
Got in the car and about to drive out of the multi storey car park and just had to switch on the radio just as they panned over to Goodison and announced we were 2-0 down! I lost focus at that point and scraped the car all along the concrete pillar leaving both passenger side doors caved in with little paint left on them!
Jane couldn't understand why I was effing at the radio about the score and not about the ruined car!
I was forced to hand over the keys and allow her to drive home ( horrors!!) and having caused hundreds of pounds worth of damage which back then we could ill afford to repair she couldn't understand why I spent the rest of the weekend saying what a fab one it had been!
The immortal words " it's only a game" were heard more than once and dismissed with customary scorn.
Happy days!

Victor Jones
30
Posted 25/08/2016 at 18:29:30
Here's what I did that day: Tuned into the match on the radio. We go two goals behind. I say, fuck this. Me and the dog go for walk to our local park. (I'm a coward that way). I only settle when Everton are leading by about three goals so last season was a bloody nightmare. We head home. Fully expecting that we have been relegated, I say to the missus that Everton are down. What are you on about, she says? Everton won 3-2.What?! Bloody hell. We bloody well won. Me old head was sore for a few days. Work was torture on the Monday.And the rest is history. We are still in the top league and me old Staffordshire Bull Terrier was named Lucky. I kid you not.
Amit Vithlani
31
Posted 25/08/2016 at 21:53:06
I was studying for my A levels. Room locked, radio 5 on, books open. Alan Green and Mike Ingham. Collapsed on my bed in agony when we were 2 down. I thought I would fail my exams if we were relegated. My father had died a couple of years before and it was a tough time for our family. Surely Everton would not deepen the gloom?
No, ofcourse they wouldn't. Match of the Day was taped and I watched it over and over until the wee hours.
Pure unconfined joy and relief from events I had no control over. The strangest but sweetest of emotions.
Martin Campion
32
Posted 25/08/2016 at 22:05:55
Can somebody clear this one up... I don't actually remember hearing
Z-Cars
as the teams came out – just deathly silence. Also, the queues outside Gwladys Street from 11.
I also recall one charismatic member of the honourable police force on a horse telling us that "This club doesn't care about you, letting you stay out here for so long queuing!" He was met with silence, we were all terrified as to what the afternoon may bring. He wasn't to be seen on the way out!
David Ellis
33
Posted 26/08/2016 at 11:43:03
Listened on the radio from Hong Kong when it was already 2-2. ..but remember Stuart Hall's commentary - mentioning some Irish guy who just shut his eyes for the whole second half...he couldn't take it anymore.
I expected us to win...but that's because I hadn't seen Everton play for a few years (not even on TV) and didn't realise how bad we were until they showed in Hong Kong TV the FA Cup quarter final live vs Newcastle the following year - I was totally shocked how awful we were compared to my memories of the late 80s.
Stephen Brown
34
Posted 26/08/2016 at 11:49:53
I'm sure Baddiel and Skinner were on MOTD that night ?
Ray Roche
35
Posted 26/08/2016 at 11:50:32
Martin, I don't recall the absence of Z Cars but the queues were awful. Luckily I got to Gwladys St early but seemed to wait for ever to get in. There was so much shouting and pushing and the queues so big and wide that, when I saw my mate about 20 yards away going to the end of the queue, he couldn't hear me shouting...I was going to squeeze him in in front of me. He didn't get in and for half the match I was sorry that I had. All worked out right in the end, though, results wise. The Grantchesters were on Merseyside as I drove home and said "This will never be allowed to happen again". Yeah right. Coventry City 98 ...here we go again...
Brent Stephens
36
Posted 26/08/2016 at 12:33:39
Went to B&Q when we went 2 down. Came out to hear on the car radio that we'd pulled one back. Sat in the car at B&Q listening to the rest. B&Q customers in the car park must have been concerned for my sanity when we score again, and then again, as the car was rocking. Madness.
Martin Campion
37
Posted 26/08/2016 at 12:53:21
Cheers Ray. Also, David, Bad and Skinner did co-host motd. Skinner's little nod to Anders was that he had his hand up for offside and gave away the penalty!
Jack Convery
38
Posted 26/08/2016 at 15:36:53
A day that proved it's not just food poisoning that can cause the shits!
Jeff Hough
39
Posted 26/08/2016 at 19:23:11
I'm lucky that I got in to Goodison for that game. I'm a bit of a dozy bastard and left to my own devices would probably have left it too late to make it before they closed the gates. However, a couple of mates rang me at about 10.30 am and said they'd heard on the radio that queues were already growing outside the ground. Anyway I got my arse in gear and we were there between 11.30 and 12 and they must have opened the gates early as we were in by about 1. There were thousands still behind us and most of them must have been locked out.
The atmosphere that day was indescribable and put everyone there, or following it on the radio, through an emotional roller coaster the like of which I have never felt before or since (and I was at the Bayern game).
For me it all seems a bit of a blur now but highlights included:
Pride Everton, fans in trees, the gobshites with a hearse who were escorted to safety by the bizzies, the going down party at Villa Park, ha fucking ha!
The match itself and the frenzy from the fans, the fear in the faces of some of the Wimbledon players wondering what would happen if it all went tits up for us. Grown men spending most of the match inside the toilet literally shitting themselves and refusing to (or not being able to) come out.
Despair, then hope, then sublime joy, relief, euphoria!

Apparently, thousands of the local residents who had been listening to it on the radio (and the din from inside Goodison too of course) poured out of their houses and partied in the streets around the ground as the final whistle sounded. That snippet came from a mate of mine who lived in Nimrod Street at the time.
I do agree with those who say that it is a sad indictment of our fall from grace that the Wimbledon game has become so iconic. However, I also think that it gave the supporters a reminder of what the club (not players, directors, manager etc.) really meant (means) to us because of how close we came to sliding into obscurity. I think we knew that if we had gone down then that we were finished as a major force.
What is a fact is that the following season(s) our attendances shot up.
That didn't even happen after the mid 80's success when those of us who were regulars at Goodison were privileged to see the finest team in our club's history. (Sorry if that offends some older webbers, I don't really remember the 1970 team).
Without that comeback on that day I don't think that we would have been in a position to tempt someone like Moshri to invest now. So cheers to the class of 94 (even if you were shit for most of the season) and here's to the future.
Nick Entwistle
40
Posted 26/08/2016 at 19:23:15
Waiting for radio commentary with latest scores page up on teletext just before kick off. Fell asleep, woke up ten minutes after the match and the first thing I see is the score. Feel I missed out completely. Three years later I had all the joy of knowing what it was like. Never Again.
Roy Noon
41
Posted 26/08/2016 at 22:12:47
I was married with 3 very young kids at the time, so getting to the match was a bit difficult. Anyhow, when I got to the ground about 1.30 ish things were already chaotic. I'd parked up in some side street, there was a bit of a gap between the double yellows where the road had been repaired, and in my panic, I thought that'll have to do.
Legged it down to the Goodison Road ticket office and patiently queued ...sadly the queue was'nt really moving. After an hour it became clear I was'nt going to get in. The next half hour, up to 3pm was crazy, people were scrambling up walls and kicking down doors trying to get in. I milled about for a while, the game was on, the crowd noise and despair was tangible ..two goals down already.

Walked down towards the Gwladys Street ..a gang of scalls managed to unlock one of the big exit doors and the poured in. I ran over to follow them in, but they came running out as fast as they went in, closely pursued by a couple of coppers. Could things get any worse? Walked down towards Bullens Road and could see all the kids perched in the trees of Stanley Park like human apples. Thought, well if they can do it why cant I? Unfortunately, all the best spaces in the big trees had gone. However, all was not lost, found myself a wiry sapling and managed to shin up it. Was waving about like a pendulum, but could see about half of the pitch which was better than nothing at all. Saw the ball leave Barry Horne's boot, then heard the roar of the crowd. The trees went wild, some poor kid came bouncing down through the trees and hit the floor. He was ok .at least he got off the floor. The match ends and the trees erupt again, yet another poor kid comes thudding to the floor. Poor lad was crying and hurt, but the elation of it all just overtook everything.
Slid down my trusty willowy sapling and headed straight to the alehouse to meet up witn some of my old buddies. Sang ourselves hoarse and then I told them of my wobbly tree experience, which had them in pleats.
Oh, got a parking ticket stuck on my windscreen when I got back to my car. But I appealed because of the yellow line discrepancy .and won.
One funny old day that was. From despair to ecstasy in the space of a couple of hours.
Aidan Wade
42
Posted 27/08/2016 at 12:14:51
"If you have to have a low like the 2-0 to get a high like the 3-2, I never want another high again."
Brilliant!
---
Add Your Comments
In order to post a comment, you need to be logged in as a registered user of the site.
Or Sign up as a ToffeeWeb Member — it's free, takes just a few minutes and will allow you to post your comments on articles and Talking Points submissions across the site.
© ToffeeWeb