Opinion
The Return of Gwladys Street's Hall of Fame
Lyndon Lloyd
09/09/2016

46 Comments
[Jump to last]
Share: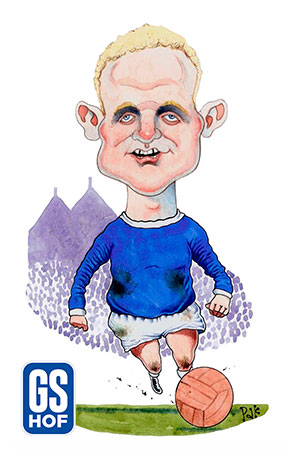 Few clubs' supporters, if any perhaps, laud their heroes in quite the same way as Evertonians. If you know your history after all, this grand old team has featured some of the English game's most notable pioneers — on and off the field — and some of its greatest ever players.
That desire to both recognise and celebrate our rich, Royal Blue history has been epitomised by our own "Dr Everton", David France, who, having founded the Everton Former Players' Foundation, conceived of Gwladys Street's Hall of Fame in the late 1990s which sought to acknowledge the men who have have made significant contributions to the development, welfare and success of Everton Football Club.
By way of background for younger Blues, the initial inductees to this pantheon of Everton greats were elected by a panel of former-players, journalists, shareholders and season-ticket holders who assessed the accomplishments of the candidates during their careers at Everton. Since then, Hall of Fame inductees have been elected by supporters via postal ballots and Internet polls.
At present, there are 129 members, 35 of them still with us today. They include representatives from most of the 138 years of the grand old club's illustrious history — some playing careers stretch back to the days of St Domingo Football Club in Stanley Park. The most recent inductees were added in 2009. They included Duncan Ferguson, Tony Kay, Graham Stuart, David Unsworth and Bill Kenwright.
While some names are less familiar than others, others will evoke misty-eyed reminiscences of the great Evertonians of yesteryear who helped to establish our Royal Blue pride. The full list of Hall of Fame members is summarised on YouTube: Part 1 | Part 2 | Part 3
The good news is Gwladys Street's Hall of Fame is back and with it the most exciting date on the Everton calendar. To induct four new members the Hall of Fame dinner will be relaunched at the Hilton Hotel in Liverpool on 10 March 2017 to raise much needed funds for the Everton Former-Players' Foundation and EFC Heritage Society.
It will be a smaller gathering than the Nuremberg Rallies held for 11 years at the Adelphi Hotel but, no doubt, will be equally raucous. Many fans have attempted to capture the emotion of the Hall of Fame celebrations. Few have succeeded. These include Ian Macdonald for ToffeeWeb in 2009.
Other attendees at the Hilton will include many Hall of Fame members, some former players and a sprinkling of modern-day counterparts. To date, the Everton managers Walter Smith and David Moyes attended regularly to address and connect with the match-going fans and the current manager will be invited.
Please note that the celebration is limited to 300 tickets, priced at £60 and £80. Details related to the availability and sale of these tickets will be announced in October.
Now to the imminent Hall of Fame ballot. The internet vote will be hosted jointly by ToffeeWeb and NSNO from midnight 11 September to midnight 18 September, 2016. All Everton supporters are eligible to vote — but once only - and must select 4 men from the following short-list of 8 candidates, namely John Bailey, Kevin Campbell, Martin Dobson, Tony Hibbert, Nigel Martyn, Joe Parkinson, Dave Thomas and Pat van den Hauwe.
The results will be announced formally by David France at The Everton Heritage Evening to take place at the Everton School immediately before the home game with Crystal Palace on 30 September. That event is organised to aid of Everton in the Community.
A few words about the candidates … in alphabetical order
John Bailey joined Everton from Blackburn in July 1979 for £300,000. The left-back featured in the sides that won the FA Cup in 1984 and the title 1985. Bails was a popular figure in the dressing room where there was more to him than a big hat and glasses. After losing place to Pat van den Hauwe, moved to Newcastle in October 1985. Everton appearances 220 (2) goals 3.
Kevin Campbell was signed on loan from Trabzonspor in March 1999. His impact was immediate - he scored 9 times in 8 games and saved Everton from relegation. The striker's transfer was made permanent in the summer of 1999 for a fee of £3 million. He has the distinction of scoring the most goals in the Premier League without earning an England cap as well as the winner in Everton's last triumph at Anfield in 1999. Everton appearances 139 (25), goals 51.
Martin Dobson was the first British player to be transferred for £300,000 when signed from Burnley in 1974. The elegant mid-fielder - whose silky skills became an integral part of the tactics of the Everton sides in the mid-Seventies which came so close to winning silverware - returned to Burnley in 1979. He was awarded five England caps. Everton appearances 230, goals 40.
Tony Hibbert, a local boy and Goodison favourite, was a member of the Everton youth team that captured the FA Youth Cup in 1998 and progressed to spend his entire professional career at Goodison. Despite many seasons littered with injuries, the right-back appeared in more competitive European games than any other Everton player. Everton appearances 297 (32), goals 0.
Nigel Martyn joined Everton for a nominal fee in 2003. Signed originally as back-up to the unreliable Richard Wright, the 37-year old became first-choice after six games. A confident and commanding keeper - the best since Neville Southall - he literally saved Everton from relegation. Awarded 23 England caps, his international career would have flourished but for David Seaman. Everton appearances 99 (1).
Joe Parkinson was signed from Bournemouth for £250,000 in December 1993. A important part of Royle's 'Dogs of War', the uncompromisingly combative midfielder was a Goodison favourite and help to capture the FA Cup in 1995. Knee injuries resulted in his prolonged absence, retirement in 1999 — at age 28 - and appointment the club's first Fan Liaison Officer. Everton appearances 105 (2), goals 4.
Dave Thomas was signed from Queens Park Rangers for £200,000 in 1977. The skillful and pacey winger — who bombed down the left touchline with his socks around his ankles— was a key supply route of pin-point crosses to Bob Latchford especially during his 30-goals season. He was awarded eight England caps. Everton appearances 84, goals 6.
Pat van den Hauwe joined Everton from Birmingham in September 1984 for £100,000. The left-back helped to win the European Cup-Winners' Cup in 1985 and League titles in 1985 and 1987. His goal at Norwich secured the 1987 silverware. Psycho Pat moved to Tottenham in 1989 for £575,000 Born in Belgium, he was awarded 13 caps by Wales. Everton appearances 199 (2), goals 3.
Again, the ballot, hosted jointly by ToffeeWeb and NSNO, will start on 11 September. The dinner will be held at the Hilton on 10 March. The event is limited to 300 tickets, priced at £60 and £80.

---
Reader Comments (46)
Note: the following content is not moderated or vetted by the site owners at the time of submission. Comments are the responsibility of the poster. Disclaimer
Ian Jones
1
Posted 09/09/2016 at 07:47:36
Apologies for any ignorance shown. Why were the Hall of Fame dinners cancelled? I understand some of the 'Hall of Famers' and others had health issues so probably couldn't attend but what other reasons?
I have read the Ian MacDonald link. Very interesting especially the bit about when Andy Gray and Duncan Ferguson would appear on the pitch and immediately the defenders knew what was about to happen!
Ian Jones
2
Posted 09/09/2016 at 08:22:17
Okay, having done a bit of research, it seems the event following the 2009 was to be the 2012 awards, and may have been cancelled due to the recession leading to poor ticket sales – fair enough.
I read this on the Liverpool Echo site where it also suggests that:
"But the Hall of Fame concept is still very much alive and Kevin Campbell, Nigel Martyn and Pat Nevin will be the next inductees."
I expect Pat Nevin will be disappointed not to be involved. :)
Terry Underwood
3
Posted 09/09/2016 at 12:58:44
Ian (1) Totally agree, Just imagine being a centre half against Big Dunc, I would be looking at the fixture list to see when it would be wise to "Pick up a knock in training" then sit in the stands and watch some other poor sod get beaten black and blue.
Ste Traverse
4
Posted 09/09/2016 at 13:20:31
I remember wondering how the hell Kenwright managed to be one of the inductees back in 2009 and still wonder.
Paul Ferry
5
Posted 09/09/2016 at 15:41:05
Dobbo and Jesus wept Dave Thomas are not already in there. Get them in. What on earth is Hibbert doing in this company?
Dave Abrahams
6
Posted 09/09/2016 at 16:34:32
Ste (4), you beat me to it, who proposed Kenwright for a place in Everton's Hall of Fame?
I would seriously, very seriously, like to propose Bernie Wright and Brett Angell to go into the Hall of Fame. If Kenwright can get into it, then seriously any one can.
Until today I never realised that The Luvvie was in Everton's Hall of Fame. If there was a Hall of Shame, he'd be top of the list and that is before yesterday's revelations.
Jeff Armstrong
7
Posted 09/09/2016 at 17:03:33
I hope Pscho Pat gets into the Hall, gives Kenwright a good kick up the arse, then leaves quietly via a side entrance. If he promises do to that, he'll get my vote!
Eugene Ruane
8
Posted 09/09/2016 at 17:33:03
Dave (6) -
Ste (4), you beat me to it, who proposed Kenwright for a place in Everton's Hall of Fame?
I did a little research and don't think there was anything iffy going on, each nominee simply needs 8 nominations.
For Bill's nominations, it names..
J Seagrove.
M.E Mamm.
R.Kidd
Gordon Clegg.
Richard Dodd.
Martin Mason
Boyce Penbil.
E.Presley* (* never died, signed the form on his 2nd visit to England when he came to visit Tommy and Bill again - apparently).
What was a little unusual is that under 'nominator's details' they all had the same IP address and appeared to live in the same house (address: 1 Hickson St, Moyesville, Martinez-On-The-Waffle, La-La Land).
Ste Traverse
9
Posted 09/09/2016 at 17:55:46
I'm pretty much sure the Echo reported there was a 'last minute surge' of votes for BK back in 2009 which was, in my eyes anyway, shady to say the least.
Dave Abrahams
10
Posted 09/09/2016 at 20:25:23
Nice one Eugene, although I don't believe the second nominee, even his mam would know better than to propose him. I think the second nominee was Mrs Mason.
Tony Abrahams
11
Posted 09/09/2016 at 20:26:38
Unsubstantiated gossip, Dave!
Dave Abrahams
12
Posted 09/09/2016 at 20:30:22
Tony (11), you mind your own business!!!
Martin Mason
13
Posted 09/09/2016 at 20:47:51
I personally would never include Kenwright in the GS Hall of Fame which I'd reserve for players or perhaps managers who the fans interface with. Kenwright did nothing but keep the club in survival mode and he made a fortune out of it: a difficult job but maybe inappropriate for a fan's hall of fame.
I'm sure though that the less bitter of our posters could make a case for him having been a key player in the survival and recovery of the club which I see as very much a work in progress.
Great to see that you lads are understanding the unsubstantiated gossip concept.
Tony Abrahams
14
Posted 09/09/2016 at 21:07:23
Survival and recovery Martin? Unsubstantiated bollocks, if ever I've heard it.
Leicester City went into administration, and also dropped into English footballs third tier, but are now champions of England for their first ever time.That's what I call survival and recovery.
Not Little Old Everton, punching above their weight because they had a pauper for an owner who continually robbed Peter to pay Paul, whilst telling everyone that he was the best man for the job?
Dave Abrahams
15
Posted 09/09/2016 at 21:19:54
Tony (14), he's drawing you in... leave it!!!
Andy Crooks
16
Posted 09/09/2016 at 21:30:43
Kevin Campbell saved the club. He should be there. In my view Walter Smith should be, also. He saved Everton with the shittest hand ever dealt to an Everton manager.
I have been trying to get an article together about him but Rangers have been unhelpful to say the least.
John Daley
17
Posted 09/09/2016 at 22:26:05
Walter Smith, Andy? I'm pretty taken aback by your...well, I was going to say 'suggestion' but it actually reads like more of an assertion that he is deserving of induction.
Surely, his method of dealing with 'a shitty hand' was to take a massive crap on his clean mitt so they would match?
Terrible desperado signings, backs to the wall tactics, unfit ill-prepared players, a disharmonious dressing room and the genesis of the 'Everton can't expect to do much more than this ever again' mindset. Could not (and still cannot) stand the man.
The fact he was operating under financial constraints doesn't excuse or exonerate him from serving up the most awful, turgid, miserable fucking football I've ever witnessed as an Everton fan.
His managerial methodology was best summed up by his pre-match instructions to 'star signing' Olivier Dacourt: Just go out and fucking foul as many as you can. When Dacourt questioned these orders on the patently obvious basis that it would lead to him being shown cards and/or being sent off, Smith simply shrugged his shoulders and said "just do as you're told and leave worrying about stuff like that to me".
His complicity in the whole Rooney to United saga should be enough to see him barred from ever being considered a contender for induction as well.
Andy Crooks
18
Posted 09/09/2016 at 22:45:58
It's hard to argue with that, John, and I laughed out loud at it. I didn't enjoy the football much but, honest to God, during that era I really feared relegation and I thought he just wouldn't let it happen.
I think he has a story to tell which would be fascinating. In fact, the Everton, Rangers relationship is a shady area. Walter Smith talking about Everton is a closed door. I honestly think they were dark days for Everton but I think they could have been worse. I wanted to write an article about that time but it was impossible.
I'll give you one thing, though, John. In my view Walter did make a signing for Everton that transcends most others in it's laugh out loudness. Who would you guess at?
John Daley
19
Posted 09/09/2016 at 23:28:24
"I think he has a story to tell which would be fascinating"
You may be right, Andy.
As long as he's not the one to actually tell it.... out loud, like.
Can you imagine how boring his miserable, monotone voice-over would be?:

                                      WALTER (V.O)
"As far back as I can remember, I always wanted to be an entertainer"
[Cue: a bit of Tony Bennett]:
'I know I'd go froooooom rags to riches
If you would only say you care
And though Peter Johnson's pockets may be empty
I'd be a millionaire'
MAIN TITLE:
                                  "GRIM FUCKA'S"
DISSOLVE TO:
WEE WALTER--AS A CHILD--WEARING A SMACKED ARSE FACE LIKE SOMEONE'S JUST SPUNKED ON HIS SUGAR PUFF'S --
looking out of his (probably barred) window.
                                    WALTER (V.O).
"To me, being an entertainer was better than owning your own off-license. 
Even before I first wandered into the Provincial Grand Lodge Of Glasgow for an after school job, I knew I wanted to be a part of them. It was there I belonged.
To me, it meant being somebody in a neighbourhood full of nobodies."

End of movie because everyone's nodded off or topped themselves. 
Andy Crooks
20
Posted 09/09/2016 at 23:42:22
John, I'm glad I nominated Walter because that post was just brilliant.
Tony Abrahams
21
Posted 10/09/2016 at 09:44:41
Andy, I went to the very first Hall of Fame night in the Adelphi, and it was an absolutely brilliant evening, spent with a couple of very good friends, and a few hundred fanatical Evertonians. (Nights like these show you the real reason why Everton are such a special football club.)
Anyway, that very same day, we had just signed Kevin Campbell and Scott Gemmill, on loan from Nottingham Forest. I went over to Smith and asked him what the fuck he was doing signing players like this for Everton.
Although I was referring to Scott, more than Campbell, Smith's reply, definitely came out of the Sunday League circuit. "I've got to do fucking something, haven't I", was his reply. Campbell done us proud, but I can't say the same about disappointing Walter, I fuckin' hated him!
Eugene Ruane
22
Posted 10/09/2016 at 14:10:00
Apparently John, Walter was mesmerized the first time he walked into that lodge as, like his dad, he was a staunch protestant.
However his mother it seems was a little different.
A 'free spirit' and sexually not at all 'presbyterian.'
In his autobiography, Walter revealed "Ma was sexually liberated and very much intae water-sports, golden shooers an aw that type o' thing"
I was never a fan of Smith but I did enjoy reading his book 'The Slash My Father Wore.'
(I'll get me coat... bowler hat and that big thing they lob up in the air)
Brian Denton
23
Posted 10/09/2016 at 14:58:42
The Mace, Eugene, as well you know. If I were you, I wouldn't be in Netherfield Rd or Southport on a certain day.
Vaguely a propos of which, were you at Tommy Wright's tester vs Rangers back in the day? Most scary night of my life!
Dave Abrahams
24
Posted 10/09/2016 at 15:37:02
Brian (#23) when Everton played Rangers in 1963 for the two games classed as "The champions of Great Britain", the game at Goodison was a nightmare with the tanked-up Rangers fans too tanked up to behave like normal people.
They caused trouble all over town before the game and after, a lot of them got what they deserved, same as the Celtic fans when they came to Anfield for a European Cup-Winners match a couple of years later.
Great people and great fans, the Jocks... but not when they mix it with Scotch, beer and religion.
Ray Atherton
25
Posted 10/09/2016 at 16:32:50
Dave (#24),
Coming home on a train from a London game, the players were on the same 6:00 pm train. We had a good chat with Roy, Alex, Gabby, etc...
A few of the lads with me were going to Ibrox on the coming Wednesday for the Championship of Britain. Alex Scott (Chico) tried to put them off going, he said the Rangers fans were nutters. Being a Glaswegian, Chico tried but to no avail.
I think we won up there 3-1.
Andy Crooks
26
Posted 10/09/2016 at 18:21:00
"The slash my father wore", Eugene, what can I say? I have snorted with laughter.
John Daley
27
Posted 10/09/2016 at 20:28:56
Eugene (@22),
So, that's the real story behind Smith Snr's 'special' Masonic lapel pin?
John Daley
28
Posted 10/09/2016 at 20:33:52
"In my view Walter did make a signing for Everton that transcends most others in it's laugh out loudness. Who would you guess at?"
Apologies Andy. I (somehow) failed to spot your question before.
Bakayoko?
Dave Abrahams
29
Posted 10/09/2016 at 21:48:49
Ray. (25), yes, it was 3-1 up there. Andy Rankin saved a penalty if I'm not mistaken and we drew 1-1 at Goodison. I never went to Ibrox but the game of football had little interest to many of the Rangers fans at our ground.
Dick Fearon
30
Posted 11/09/2016 at 08:10:44
Can anyone provide a logical reason why Tim Cahill does not get a mention?
Eric Myles
31
Posted 11/09/2016 at 08:56:35
If Hibbo is, in then surely Osman should be too?
Chris Williams
32
Posted 11/09/2016 at 09:33:00
Dave and Ray,
I went to the game at Goodison. Never seen so many pissed people at a match. I have memories of bottles being thrown on the pitch in large numbers and stewards and police collecting them and stacking them up on the path against the wall along the Goodison Road side. Pretty big stack by the time they finished.
A big drunken Scottie was stood in the middle of the Street End crowd, pissing all over the place. He disappeared so I'm not sure what happened to him.
The crowd sang 'scotch porridge oats' to the tune of 'Scotland the Brave' to the displeasure of our guests.
I can't remember anything about the game though.

Eugene Ruane
33
Posted 11/09/2016 at 15:48:37
Brian (23) -
'The Mace, Eugene, as well you know. If I were you, I wouldn't be in Netherfield Rd or Southport on a certain day.'
Now you say it, 'mace' sounds familiar but 'as well you know' makes it sound like I'm Boyneforth McOrange, grand wizard of inner lodge number 1690 (or whatever they call their things and..stuff)
As for 'If I were you..', pah! you could never be me.
There is only ONE Boyneforth McOra er...I mean Eugene Ruane.
Re Netherfield Rd on 'a certain day', never a problem, after they've all fucked off to Southport, the place is empty.
That is not by the way a suggestion for anyone to take a big truck up there and fill it with 76-inch flat-screen tellies, X-Boxes and crates of Sunny D (anytime after 11:30am you should be fine).
Eric Holland
34
Posted 11/09/2016 at 18:39:43
Dick, I must agree with you. Tim Cahill should be there.

Colin Glassar
35
Posted 11/09/2016 at 19:05:30
I voted for Dobbo, DT, PVDH and John Bailey in that order.
Victor Jones
36
Posted 11/09/2016 at 22:13:34
Dobson was a cultured footballer. His days at Everton should have been rewarded with silverware. I still cringe at how we threw the league away .Was that 1978? And how we got beat by an average Aston Villa in 77.Dave Thomas also gets my vote. How is Duncan Mckenzie in and those two players are not.I also voted for JB. Unsung hero of the great mid-eighties team. Also Nigel Martyn gets my vote. Great keeper. Some of his saves were just brilliant. Yes, right up there with West and Southall.Is Trebilcock in the hall of fame? Short Everton career but two very important goals.
Dick Fearon
37
Posted 11/09/2016 at 22:33:37
At that 1963, match I was behind the Gwladys St goal when massed drunk Rangers fans turned up late looking for trouble. They got it in spades when one of our supporters was struck by a flying empty Whisky bottle.
Everyone in the area was climbing over each other to have a go at them. That Scot and his mate were stretchered away covered in blood with clothes hanging in strips. Definitely one of the ugliest crowd scenes I have witnessed at the old lady.
Mark Andrews
38
Posted 12/09/2016 at 09:43:25
"Hall of Fame"? Dreadful American concept. Not for me thanks.
Dick Fearon
39
Posted 13/09/2016 at 16:48:49
I nominate Tim Cahill!
Brian Denton
40
Posted 13/09/2016 at 17:05:41
Eugene 33
"As for 'If I were you..', pah! you could never be me."
Maybe not, but I think I could do a good parody of your unique posting style! I'll think on it - something to look forward to!
Now I'll get trawling for some links
Phil Guyers
41
Posted 13/09/2016 at 20:04:19
Can we assume that Tony Hibbert has been nominated because his Goodison career effectively ended four years ago and Leon Osman was overlooked because he's only just finished?
Ossie is joint 10th on the all-time appearances list and I assume will be nominated in the future.
The omission of Tim Cahill is simply baffling.
Peter Mills
42
Posted 13/09/2016 at 22:04:19
I was at the Tommy Wright testimonial, and have no recollection of the football. I do remember a fan lumbering onto the pitch at the Park End wearing only a Rangers scarf, and the previously mentioned large Scotsman wandering in to the Gwladys St terracing.
Eugene Ruane
43
Posted 13/09/2016 at 22:38:47
Mark (38) -
'"Hall of Fame"? Dreadful American concept. Not for me thanks.'
Ironically, if there was a TW hall of fame, a few more (short, dismissive, negative) posts like that from you would almost certainly put you in the running.
(I'd vote for you).
Brian (40) - 'Now I'll get trawling for some links'
Trawling!!?
There's no trawling, the links are up here (taps temple).
It's brain, google, copy & paste.
Brian Denton
44
Posted 13/09/2016 at 23:00:27
Eugene, I meant looking for some appropriate links for my putative parody (strokes chin).
Now all I need is to find a TW poster to have a fight with...... This could be fun. It will be an affectionate parody, before you take aim.
Dennis Stevens
45
Posted 13/09/2016 at 23:21:43
I bet it won't be very affectionate after he takes aim!
Peter Mills
46
Posted 14/09/2016 at 16:22:13
It's Tim Cahill for me too, a player who would would have been embraced into any trophy winning squad we have ever had. Just imagine him against Bayern Munich in 1985, Leeds in 1964 or the rs at any time.
---
Add Your Comments
In order to post a comment, you need to be logged in as a registered user of the site.
Or Sign up as a ToffeeWeb Member — it's free, takes just a few minutes and will allow you to post your comments on articles and Talking Points submissions across the site.
© ToffeeWeb