Opinion
Book Review: Everton Crazy
Lyndon Lloyd
27/09/2016

12 Comments
[Jump to last]
Share:
by Dr David France, OBE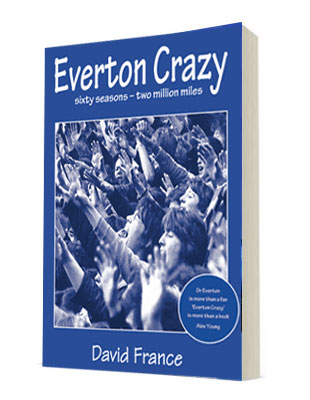 As a memoir of the life to date of an Evertonian, Everton Crazy — Sixty Seasons, Two Million Miles is intriguing and engaging enough in its own right. It's written with warmth, no shortage of humour and genuine affection for this 138-year-old institution that drives us all mad but without which we can't seem to live!
It's all the more interesting, however, that it is the long-awaited autobiographical journey of one of Everton's most fascinating supporters and a man whose contributions to preserving, championing and celebrating the club's history are almost without equal.
Founder of the Everton Former Players' Foundation, which sought to provide medical and other assistance to ex-players (particularly those not fortunate enough to have enjoyed the bounty of the Premier League years), and Gwladys Street's Hall of Fame, Life President of the Everton Shareholders' Association, and the author of 16 books devoted to Everton Football Club, Dr David France is a true giant among Blues. And that is without mentioning his efforts to assemble the Everton Collection, the largest cache of sporting memorabilia devoted to one club in the world.
Dr Everton's Magnificent Obsession, another must-have tome for Evertonians everywhere, beautifully details how David amassed his collection over the course of decades, much of it from thousands of miles away in America. Everton Crazy provides an intimate yet humble and genuinely funny insight into the man himself.
Those who know David, a great friend of ToffeeWeb, or have been fortunate enough to have met him will know of his fondness for a good tale, Everton-related or not, and the beauty of Everton crazy is that it's packed full of them — short, accessible vignettes that make it the sort of book you can dip into when time allows… although the chances are you'll end up reading most of it in one sitting because of how quickly it draws you in.
Interspersed with some wonderful comic gags illustrated by Peter King, the book has a delightfully easy narrative flow that charts the twists and turns of David's life with the ups and downs of the club he fell in love with — thanks to the France family's Blue blood and his indoctrination of all things Everton as a young boy by Grandad France — serving as an ever-present anchor, focus and obsession.
From his childhood recollections growing up in rugby-leaning, "smelly old Widnes", where "Ma Carsley" — like the combative Blues midfielder, David says his mother "wasn't fully appreciated until after she was gone" — waged war on the local cockroaches and "Chemical Harry" , as he nicknamed his father, worked as a process worker at one of the local chemical plants, to his first visits to "Mama Blue" in the 1950s, Dr France transports the reader back to the days when, like many young lads at the time, he would stand on a milk crate on the terraces with his father before migrating to the 1906-vintage Goodison Avenue Stand and its wooden floorboards that would reverberate under the stamping feet of hundreds of passionate Blues.
Then there are the stories gathered from mile upon mile following Everton up and down the country, hitch-hiking the "Rugby League corridor" from Manchester to Merseyside, rattling along A roads in his father's Ford Cortina, and pestering passengers on the Tube in London before a "charitable angel" sold him a ticket for the 1966 FA Cup Final "for the equivalent of an apprentice's weekly wage".
As life took the young David France beyond his supposed class boundaries to university, lifelong companionship and marriage to his lovely wife Elizabeth, and an impressive career in the oil and gas industry in the United States, Everton, of course, remained a constant and, even through bouts of ill-health, the distance over The Pond has never kept him away from his first love.
If all of this sounds very familiar it's because so much of it will resonate with Evertonians, regardless of age, origin or current circumstance. And therein lies the beauty of Everton Crazy — it is simultaneously an autobiography, a historical record of the club's history over the past five or so decades, and, towards the end, a prescription for Everton FC's future told through the eyes of a man whose love for the Blues shines as brightly as so many of us.
Not all of us will have had quite so many amusing escapades following the Mighty Blues, have had the same impact on preserving the club's heritage or led as varied a globe-trotting life as the Good Doctor but his words and devotion will strike a chord with every Evertonian.
Everton Crazy is released today, 27 September 2016, priced £18.78 and it is recommended that you get your hands on a copy of the limited edition of only 1,000 copies ASAP while stocks last. Click here for details of special signing sessions on Merseyside in the coming days
---
Reader Comments (12)
Note: the following content is not moderated or vetted by the site owners at the time of submission. Comments are the responsibility of the poster. Disclaimer
Chris Williamson
1
Posted 27/09/2016 at 09:46:16
Only 1000 copies? Is it being sold by kitbag?
Damian Wilde
2
Posted 27/09/2016 at 11:59:14
Sounds a great read. How come only 1000 copies?
Dennis Stevens
3
Posted 27/09/2016 at 17:09:03
"... almost without equal."??? I think you do Dr Everton a dis-service there, Lyndon!
Gerry Quinn
4
Posted 27/09/2016 at 17:34:14
Can't even get a copy online – very disappointed, my dear Doctor F!
Can't we serialise it on ToffeeWeb for us outflyers, Doctor?
Lyndon Lloyd
5
Posted 27/09/2016 at 18:13:48
You know, Dennis, you're absolutely right. I'm not sure why I even put the word "almost" in there.
Mark Jones
6
Posted 27/09/2016 at 18:38:12
You can buy it on line at De Coubertin Books Ltd.
John Raftery
7
Posted 27/09/2016 at 19:28:43
Regrettably these days, not many of us read books... and even fewer of us buy them. Any book selling 1,000 copies is doing very nicely indeed. If it were to sell out very fast, I suspect another print run would be forthcoming.
This will be an excellent, unique addition to anyone's Everton library and I hope it does sell quickly.
Mike Gaynes
8
Posted 27/09/2016 at 19:57:35
There won't be any left for us Blues on the far side of the pond!
Minik Hansen
9
Posted 27/09/2016 at 20:14:26
Or for any foreign blues for that matter.
Darryl Ritchie
10
Posted 27/09/2016 at 20:41:34
I pre-ordered my copy as soon as the ad came on TW. Especially when I saw the 1000 copy tag. Received an email this morning, telling me that the book was enroute.
I live in Victoria, BC, so it's not a 'foreign/local' thing. It's a 'snooze you lose' thing. You would think that if the book sells out, they would publish a second edition, though.
Garry Corgan
11
Posted 27/09/2016 at 21:11:21
Hopefully a daft question but if I go to one of the signings, will they definitely have copies available to buy?
Robert Workman
13
Posted 13/10/2016 at 16:14:16
Still available. Just ordered it from De Coubertin Books. Also available from Amazon, but with slightly higher postage charge outside UK.
Incidentally, I can thoroughly recommend the recent interview with David France on Toffee TV – he should be inducted into The Hall of Fame for his efforts on behalf of the club.
---
Add Your Comments
In order to post a comment, you need to be logged in as a registered user of the site.
Or Sign up as a ToffeeWeb Member — it's free, takes just a few minutes and will allow you to post your comments on articles and Talking Points submissions across the site.
© ToffeeWeb