Opinion
Koeman may need fresh approach to solve lingering problems
Lyndon Lloyd

24/11/2016

78 Comments
[Jump to last]
Share:
There's been a lot of change at Everton over the past six months but there remains a simmering frustration with the team's lack of consistency and ability to grind out results.
Last Saturday's 1-1 draw with Swansea City was viewed beforehand as an opportunity for the players to offer an emphatic response to their 5-0 thrashing at the hands of Chelsea earlier in the month. Instead, they spent almost all of the second half chasing the game and barely mustered a clear-cut opening until Seamus Coleman took matters into his own hands by looping an equalising header into the top corner in the 89th minute.
Everton have undoubtedly improved from the porous and increasingly fragile outfit they had become in the early part of this year — they are fitter, stronger and undoubtedly more resilient defensively — and addressing that was clearly Ronald Koeman's first order of business this season.
Having accomplished that and made an unexpectedly strong start to the campaign, however, the Dutchman's honeymoon came to a swift end in September, starting with the League Cup defeat to Norwich City which sparked an eight-match sequence in which the Blues have won just once.
They managed to grab a creditable draw at Manchester City thanks to a moment of magic from Romelu Lukaku and they were very unfortunate to lose at Burnley but it's been an otherwise uninspiring couple of months for Evertonians who have witnessed just six home Premier League wins in all of 2016 so far, one fewer than in 2015. No wonder then that the atmosphere — or the distinct lack thereof, particularly early in matches — inside the Grand Old Lady has become a topic of concern lately; the frustration and lack of enthusiasm is understandable.
So, too, is the yearning among many fans for the arrival of the next transfer window but, with eight games still to go before the first of any new signings is likely to arrive, it's incumbent upon Koeman to dig deep and find a way of re-energising, motivating and reorganising what he already has at his disposal. Despite evidence to the contrary in recent weeks, there's plenty of talent in his ranks but it may need a fresh approach and the odd fresh face from below to tide things over until fresh faces can be introduced.
Un-splendid Isolation
First and foremost, the manager has to find a way to harness the goalscoring ability of a player he openly admits is on the best strikers in Europe at the moment. Romelu Lukaku's all-around ability may still be a little rough around the edges but he remains a world-beater on his day who has consistently proved in an Everton jersey that he can score plenty of goals… with the right service.
It's mystifying then that supporters are still muttering after matches in terms of the Belgian being isolated and relied upon as a ball-holding, lone striker when it's been clear for years that that isn't his best game. Roberto Martinez discovered fairly early last season that, depending on the opposition, one of the best ways to bring the best out of Lukaku was to pair him with a second striker who could open up the space and channels for him.
Ultimately Arouna Koné's inability to act as that consistent foil came down to his own fitness and levels of ability but the Catalan either wasn't able or didn't try to address the situation last January by bringing in a better player. Koeman, for his part, has tried a revolving deployment of two supporting attackers in forward areas with Lukaku but it hasn't delivered consistent results either.
Part of that is due to the inconsistencies of the personnel involved — Yannick Bolasie, Gerard Deulofeu, Kevin Mirallas and Aaron Lennon have all been tried in various combinations but only the Congolese international, as maddening as he can be, has really contributed enough — but a large part of it is down to the fact that the formation isn't supporting Lukaku on a reliable basis.
Against Swansea in a match in which the Blues had 63% possession and dominated the second half, Lukaku exchanged just three passes with Lennon, six with Barkley and nine with Bolasie. Mirallas was on the field for 22 minutes and didn't link up with his compatriot once. He had just two chances in 90 minutes, one of which was of his own making.
Furthermore, in another persisting issue from the previous regime, Everton generally don't get enough players into the box when they're attacking, a symptom, perhaps, of the reliance on two holding midfielders when, particularly at home against weaker teams, there's an argument for moving one of them further forward or dropping Ross Barkley back into a deeper-lying role. Pushing desperately for an equaliser with 88 minutes on the clock and the captain having been withdrawn to make way for another forward, there were just four blue shirts in the area against Swansea when Coleman went up for his all-important header.
If Koeman's preference for Bolasie plus one other, with the former as a nominal second striker or not, is supposed to function like a 4-3-3, it doesn't seem to do so on a consistent basis — at least not to the extent that there is seamless interchange between Lukaku and his supporting cast. And that could be down to one more problem nagging at the brains of Blues fans: Everton aren't actually playing much coherent football at the moment, at least to the extent that the Goodison faithful expects.
Koeman's side appears to have been built on pace and power, with finesse largely taking a back seat to the expectation that sheer pressure and forward momentum will generate sufficient goalscoring opportunities. It's a theory that was entirely debunked by the galling lack of chances against Swansea and it's come to the point now where the manager needs to try something wholly different to see if it yields different results.
Trying a genuine 4-4-2 formation would be a start. Granted, until new director of football Steve Wash is able to bolster the forward line Koeman's options in this regard will be limited, but having that option via a more reliable goalscoring outlet than Bolasie should give Everton more flexibility than the repetitive and predictable reliance on Lukaku as a lone striker. Neither Enner Valencia nor Koné are the answer long term but trying either one for a time during games in the coming weeks might give an indication as to whether it's a system that has merits.
In need of a "water-carrier"
Of equal — if not greater — priority should be acquiring a genuinely skillful and creative attacking midfield presence in the Christian Eriksen or Gylfi Sigurdsson mould but, again, that can only be achieved when the window is open and the right targets are available. In the interim, the focus should be on establishing some sort of passing rhythm and pattern to Everton's play.
Gone are the intricate triangles and off-the-ball movement that characterise many of the top sides' ability to move the ball from box to box, replaced by the necessarily more direct and haphazard approach we have witnessed in recent week — one where the ball stops with the centre halves as they search for a forward-looking out-ball that doesn't involve flighting diagonal balls up the pitch.
For now, the onus will fall on Gareth Barry and Idrissa Gueye to be the link men in the middle but the one player who has looked the part in his fleeting appearances so far has been Tom Davies. There was a strong argument for his inclusion last weekend but, whether it was due to his heavy commitments with England Under-19s over the last international break — the fact that he played for the Under-23s against Manchester City last Saturday would suggest otherwise — or Koeman's hesitance to blood him at this point, he was overlooked in favour of the returning James McCarthy.
Many felt that, combined with McCarthy's lacklustre form in recent months (he was disappointing again at the weekend, albeit on the back of a couple of layoffs from injury), Davies's confident and positive cameo at Stamford Bridge earlier this month warranted his inclusion against Swansea. The fact that much of Everton's passing patterns against the Welsh side bypassed the Irishman — with Barry suspended, Bolasie was the key outlet in that game — would seem to support the idea that Koeman missed a trick by not giving the youngster a chance but the manager is clearly biding his time with Davies.
"It's always difficult for young players but they need to know that we really believe in them," Koeman said after the midfielder's appearance as a substitute against Chelsea in which his forward drive produced the corner from which Everton had their only effort on goal in the entire match. "Obviously you need to be a little bit patient but after they have made their debut – they know the level they need to be at, to compete against clubs like Chelsea.
"It was a very good experience and it will help him to improve and become a better player."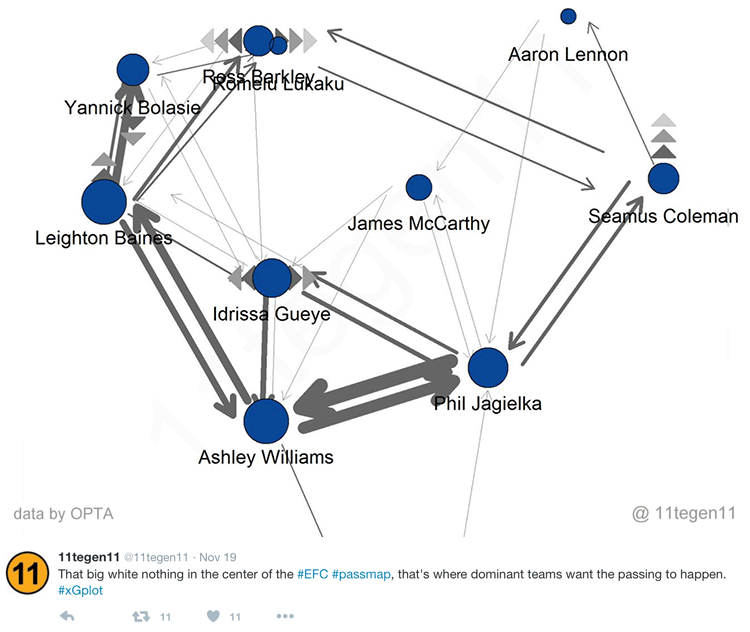 Koeman appears at the moment to be stubbornly putting his faith in the more senior players when plenty of supporters feel Davies is ready now and, the longer results continue to disappoint, the stronger the case for change will be. Clearly, the team's reliance on Barry, who, despite being 35, remains the glue that holds the midfield together, but the need to groom his successor will grow more acute as this season wears on.
The likes of Kieran Dowell, Liam Walsh and Dominic Calvert-Lewin might justifiably be regarded as too raw or light-weight to make the step up just yet in other areas of the field but Davies has shown in every appearance so far that he is more than capable of stepping in and holding his own. (After all, this is a kid who has been training regularly with Everton's first team and who was invited to do the same with the senior England side at St George's Park earlier this year.)
Again, some are viewing the upcoming transfer windows as a panacea and they may well prove to be if Walsh and Koeman can draft in some transformative additions to the side. The more immediate changes must come from within the current personnel, however, and that will likely require all the coaching acumen of the manager and his coaching staff.
As Leicester proved last season — and continue to do so with their Champions League exploits — psychology, confidence and a winning attitude can offset for a multitude of apparent deficiencies but it has to be paired with the right system and approach.
A relatively comfortable first quarter of the season should have been the period in which Koeman worked out the kinks in the squad he inherited and integrated his new signings, ready for this upcoming period when the fixture calendar becomes much more challenging. As it is, he and his team will go into the gruelling winter months still searching for some key answers; time will tell if he has what it takes to find them in what will be more difficult circumstances.

Follow @EFCLyndon
---
Reader Comments (78)
Note: the following content is not moderated or vetted by the site owners at the time of submission. Comments are the responsibility of the poster. Disclaimer
Paul Burns
1
Posted 24/11/2016 at 19:42:32
The squad has enough water carriers, we need a skillful midfield playmaker with an eye for a through-ball like Mikel Arteta. We are wasting Lukaku who still manages to score a good amount of goals despite the paucity of inventive players for years.
We keep repeating the same mistakes, ploughing through god knows how many inconsistent wide men and holding midfielders who can't defend properly and never attack.
Every manager in the Premier League works out our dismal style of play and how to counteract it easily. It will take a massive change of strategy for us to improve and no-one at the club seems able to even work out what we need.
Brian Williams
2
Posted 24/11/2016 at 19:44:56
We seem unable to create any space to speak of in the midfield areas, and yet the Swansea midfielders had 8-10 metres around them when receiving the ball in and around the middle third of the field.
The Swansea game was dire to watch and the second half was the absolute minimum level we should be reaching let alone being looked upon as an improvement. It was only an improvement on utter shite after all. Really frustrating watching Everton lately.
Rick Tarleton
3
Posted 24/11/2016 at 19:55:46
Watching the game against Swansea, I was struck above all by the lack of movement of our front players. Time and again, Gueye and Barkley found themselves with the ball in the attacking half of the field and they ended up checking back or passing sideways or back, because there was no movement ahead of them.
When the ball went to any of the four wingers deployed during the game, their total inability to cross to an Everton player left us vulnerable to counter-attacks. Deulofeu went past his man so easily, but never found a ball to Lukaku. Partly this is Lukaku's fault, his strength is running on to a ball, but he never thinks of making runs to create space for another attacking player.
Baines's corners invariably went straight into the keeper's arms and the keeper was never challenged by an Everton player.
Koeman may have improved us defensively, but in offensive play, we remain totally one dimensional, waiting for Lukaku to counter attack, or to run on to a ball with space in which his first touch will not prove to be too heavy or cumbersome.
Bolasie looks a simple waste of money, Mirallas is, as he has always been, an individual with little sense of the idea of team, Lennon is off the pace and Deulofeu will score the odd brilliant goal, but generally fails to use his talents to find a team-mate .
Koeman's job is to do something with these individuals that makes them team players. I wish him luck, but don't feel he has a clue how to do so.
Jon Cox
4
Posted 24/11/2016 at 19:57:34
Santa may need bigger sledge due to ever expanding problem of the world's children!
Surreal.
Rob Dolby
5
Posted 24/11/2016 at 20:05:13
There isn't enough movement from the midfield, our play is slow, sideways and predictable.
All passes are to feet generally due to everyone being petrified to lose the ball. We don't have anyone running past Lukaku who can then be found with a pass into space. Without Lukaku we would struggle big time.Putting anyone like an Erikson or Sigurdsson in that midfield playing to those orders would look exactly the same.
Sunderland have a group of players that look poor at the start of every year, they bring in a new manager and have a reaction to beat the top teams and stay in the Premier League.
My worry is that I haven't seen a reaction out of our squad to the new manager. Tactically the fullbacks aren't bombing on as much under Koeman; other than that, I can't tell who is managing us.
John Davies
6
Posted 24/11/2016 at 20:05:18
Fantastic summation.
Paragraphs 7 and 12 describe our problem perfectly
Jon Cox
7
Posted 24/11/2016 at 20:19:55
It's not a difficult question.
Get rid of all the slackers and best centre-forwards in the world, who by the way probably pisses off all the other squad players with the "I am God that hovers on a blade of grass" and we may just start to get a bunch of guys together that could get into the thought patterns of what a team playing together means.
He may score goals but from what I've seen and read, I think this guy rules our team by fear.
I think the rest of our players are scared shitless and become oh so nervous when they have the ball and therefore not thinking on what they have to do when in possession. Hence attacks breaking down.
Everyone can argue with me till they're Blue in the face BUT no-one will persuade me other wise.
1) Get rid of this egotistical nightmare;
2) Let the rest of the players start to ENJOY their football.
Eric Paul
8
Posted 24/11/2016 at 20:26:04
Rick @3
Spot on; the boo-boys are on Barkley's back but the problem is the statues in front of him when he has the ball. Lukaku is a good goalscorer but, if he put the work in, he would have twice the goals.
Eugene Ruane
9
Posted 24/11/2016 at 20:36:29
This is how it seems to me, just opinion, I could be wrong on all of it.
The problems (as I see them) simply can't be tackled by getting in a couple of new players and getting rid of a couple of old players. (See insanity – doing the same thing over and over and expecting different results, etc.)
For me, if the big problems aren't addressed/sorted, everything else is a band-aid on a broken leg.
So... firstly, we're not a smart side, so much of what we do on the park is dumb and mistakes are repeated over and over and over.
We need some smarts, some brains and some guile – a few players who can think their way through a game and lead the rest.
Secondly, we're (seemingly) not as strong physically as many of the sides we come up against and are too easily pushed and pulled around.
Our (for want of a better expression) 'will to win' is lacking (nb: I don't mean saying before a game 'the lads are desperate to do well', I mean actual will to win).
"How can you say that?"
Because I see how much second ball we don't get and I see loads of headers we don't contest (and we simply don't press teams like they press us).
We are lacking genuine leadership on the field, far too quiet, far too 'nice.'
Each week I hear/read "Why did he replace...?" or "He should have played 4 at the back instead of 5 coz..." but I can't get involved with any of it because it makes no difference to me.
Until I sense some real change and a new ethos, I'll continue to go to the game, sigh and wait for... something.
(And while Kenwright is still in there, 'working his magic', I'm not expecting anything ground-breaking.)
Mark Morrissey
10
Posted 24/11/2016 at 20:52:15
Only an opinion but I think he's perhaps lost the dressing room over his mis-management of Lukaku and Barkley. His overt methods may just have backfired on him.
It's Koeman's style but he's perhaps picked on the wrong team. It's perhaps not the time to say "buck up or ship out" because most of the players know they are going nowhere fast.
If this weekend ends in a defeat, I think Koeman's in for a long season. A winter of discontent is looming large and I'm one of the people backing him to succeed.
Paul Conway
11
Posted 24/11/2016 at 20:57:16
Wtf, you can have as many diagrams, plans, schemas as you like... But, the bottom line is, we are carrying too many water-carriers, or passengers, if you like.
This team stinks of ineptness. Players who in their preferred position cannot fulfil their role, or adapt to be an integral part of any strategy. They are purely incompetent, barring (Lukaku, Gueye, Bolasie, Coleman).
It's just plain pathetic to see players raking in serious wages performing the way they do. The only thing some have to offer is a different, expensive, paid by the fans hair-do. They are championship material and going nowhere with an attitude. The sooner these names are history the better.
The most frustrating thing about it is, during the Barron years of Walter Smith's and mike walkers reign, we had no expectations. So, when we got walloped, it was par for the course. Whereas, we have become more financially sound in the last few years, yet, we have the same misery heaped upon ,us. Bollox to these excuses for players, let's drop them and get a new team!
Jon Cox
12
Posted 24/11/2016 at 21:02:03
Mark M,
I'm interested in your first para. Could you expand on that please. I meant this:
"Only an opinion but I think he's perhaps lost the dressing room over his mis-management of Lukaku and Barkley."
Thanks.
Patrick Murphy
13
Posted 24/11/2016 at 21:12:03
I concur with Eugene — it is a matter of appetite for the game and too many of our players lack it. We've had far less skillful players at Everton over the years, but somehow, fairly regularly they would compete for every ball; this lot don't do 50-50 challenges or even challenges where the odds are in their favour.
It might be the realisation that they are wasting their collective time, but that doesn't wash when it happens against the struggling clubs in the Premier League. It might be because they feel 'underpaid' in comparison to the high fliers in the league or it might be they do understand that Everton FC cannot afford to get shut of them in any great numbers and therefore they know they can get away with minimum effort.
Given Unsworth's observations about the younger players last night, it would seem that this 'casual' approach to playing for Everton FC has swept throughout the club. If I knew why this is so, I would be on ٤m a year, but bad habits and bad attitudes are difficult to break and I sincerely hope that our current manager can at least address those issues, otherwise we are in for a torrid campaign.

Andy Crooks
14
Posted 24/11/2016 at 21:20:15
Good article, Lyndon. All is not well and you highlight what might help.
Eugene, I agree. We do not have a sore loser. I mean a really bad loser, not a cheat but some ferocious fucker who will galvanise the others and send them on to the pitch with a will that no team can match.
We are easy to play against, a pleasure to referee. Addressing this does not require a multi-million-pound solution. It needs WILL. Guile will cost more and I hope and expect we are looking for it and ready to pay.
Lyndon, I agree totally about the young lads. One of them, just one, might provide the spark we need.
We are full of fear at the moment. Two holding midfielders, keeping it tight, ponderous and unimaginative. I believe that Evertonians will get behind a bold team and a bold coach. We are not far away but we need something different, lucky, special, fortuitous... or a spark.
Aidy Dews
15
Posted 24/11/2016 at 21:28:04
The thing with some of our players is their mentality. The likes of Lukaku, Barkley, Deulofeu & Mirallas have got some ability, some more than most but when it comes to graft and working for the team, it goes a miss! Koeman demands work rate, pressing and aggression and those players I mention haven't got all that in them. They don't want to mix it, they don't tackle and will not work back or press from the front and along with not producing the goods (apart from Rom), Koeman is getting frustrated with many of them and some could be replaced in the next few windows?!
I do feel we need 2/3 players in January that will improve us but I don't want us going mad and bringing in 4 or 5. Let's get a few in to try and help us achieve our aims of Europe this season and see what's on offer to us in the summer. The summer market is usually more open and the possibilities to get in better quality is greater than it is in January imo so let's get what we need in January and have a proper look at our recruitment in the summer and take it from there.
But we could do with a ball playing, creative CM, a quality wide forward that gets goals to help take the burden off of Lukaku and for me another CB to either give Jags a kick up the arse or replace him! Then in the summer we need to get in the obvious ones, a GK, RB competition, box to box midfielder, another wide option and when Lukaku leaves (and he will leave this time, it's probably already agreed...) we need to get a couple of strikers in and then see where we're at.
But we need to persevere with Koeman for now and give him 2/3 more Windows to bring in the required quality and the types of players that will work within his preferred system and way of working before we start to really judge Koeman's Everton as let's face it, this isn't really his team. He's added some good players to it but 4 new players isn't going to turn us into world beaters over night is it. There's a lot of dross in our squad currently and it will take time to shift them but Koeman needs time, more than the 10 minutes he's only had before he starts getting stick which he already is and which I find crazy, even if I do get frustrated with performances and results myself. Let him build HIS Everton team and see how we get on, then we can all judge
Mark Morrissey
16
Posted 24/11/2016 at 21:36:16
For Jon @ 12. I think many of the players will have disapproved of his handling of Lukaku, publicly offering Rom to Barca in the same way he divided the fans on here. Also with Ross, he picked out a player and he publicly slated him over several weeks and I think he may have just created a divide within the ranks again, just as he divided the fans on here.
You don't see many managers publicly berating their team and getting away with it. We have asked him to be honest and honest he has been. He may just have over-egged the pudding IMO with his frank public criticism. I like it, I'm not sure all the players do.
Tom Bowers
17
Posted 24/11/2016 at 21:47:28
Discerning football fans can all see what the problems are but rectifying them is a different thing. Having exceptional creativity in midfield is what all teams would like but such players are like gold.
We have all witnessed the wonderful trio of Messi, Xavi and Iniesta for Barca in recent years who always found a way to unlock packed defences but Everton's midfield have shown in recent weeks that they would have trouble opening a defence of 80-year-old grandmother's.
Whilst a fresh approach is all well and good you still need capable players to carry out that approach successfully. Everton have brought in some decent players but they are underachieving and Koeman, like his predecessors, seems to be a deer in the headlights at times, not knowing what to do next.
Granted, he hasn't had very long so we have to be patient but the Swansea performance coming right after the Chelsea shellacking has thrown up red flags. Hopefully, they can get some decent results over the next month to get rid of the recent sour taste and that some new inspiration can be obtained in January.
Rob Dolby
18
Posted 24/11/2016 at 22:02:22
Koeman isn't going anywhere on ٤m a year. Up to now I just don't see a great difference between him and Martinez. His pressing ethos may as well be pure theory as I just haven't seen it. A couple of transfer windows will give everyone a good idea of where we are going under his leadership.
We dodged a bullet with Sissoko. I just hope that we bring in players who have hunger and a point to prove rather than some prima donna types.
Kunal Desai
19
Posted 24/11/2016 at 22:03:03
We need to move away from firstly playing two defensive midfielders at home to garbage teams. Secondly scrap this one striker bollocks upfront as well against shite that come to Goodison.
I can't remember the last time we started with two out-and-out forwards. For now why not use Valencia and bring him on for 20 odd minutes and give defenders an alternative other than marking Lukaku, who is the only goal threat, out of the game.
Over the years, it's become beyond embarrassing that we cannot muster two strikers to start at Goodison against mediocre and rubbish opposition.

Alan Bodell
20
Posted 24/11/2016 at 22:09:20
Until we get creativity in midfield as stated similar to the Icelandic 'issons' Siggi and Gunner then we can have 90% of the ball and end with nothing, put young Davies in there alongside a more senior established ball player and that would work as I see things.
Only trouble now is Walsh and Co need to find that guy because he is not with us right now.
Dick Fearon
21
Posted 24/11/2016 at 22:11:37
Koeman's biggest problem is how to cleanse the players minds of their obsessive determination to first of all look for a sideways or back pass.Most teams employ that style when necessary but to our lot it is used far too often.
Players that do not present for a forward pass or give less than 100% publically called out by team mates and manager alike. The team captain should take the lead with this. No more Mr Nice Guy, Jags!
Kevin Tully
22
Posted 24/11/2016 at 22:17:02
There is a common theme when watching teams who are perennial winners. They never let a referee get away with giving poor decisions against them, and they have two or three players who will never be bullied by the opposition.
We are the 'last of the Corinthians, jumpers for goalposts, first team to have numbers on our jersey, happy to be in the Premier League' bunch of gobshites.
In any organisation, the narrative is set by the people at the top. The ambition can only come from the people who steer the good ship Everton. Has any manager of Everton been hauled over the coals for not winning a trophy or gaining a place in the Champions League? No chance.
Until that all changes, we will always be the bridesmaid, if that is we ever make it to the church. Some of our fans love all that shit though. I've even read on these very pages they wouldn't want Everton "to buy success."
Who knew? What do they think the modern game is all about?
Dan Davies
23
Posted 24/11/2016 at 22:31:19
January is notoriously difficult to buy in good players but the hierarchy of the club cannot afford to do nothing on that front, Everton need to do business in January if not there will be a fan backlash.
After the underwhelming summer transfer window there's an expectation of new blood needing to be brought in to freshen things up. If we have a rough December and a shite transfer window, TW will be awash with negative posts, and rightly so.
The club, between now and the transfer window, need to be seen to start addressing the issues both on and off the pitch otherwise patience will be in short supply.
I'm still in the 'give Koeman time' camp but I can understand people's frustrations. Eugene is correct – we need somebody in midfield with brains to pull the strings.
Over to you, Mr Walsh, no pressure like!
Patrick Murphy
24
Posted 24/11/2016 at 22:32:00
Phil Kirkbride in a piece in the Echo says "But for Koeman to take Everton, who have finished 11th in the past two seasons, into the Europa League, then it will require him to not only revamp the bulk of the Blues squad but also ask from him to alter attitudes and, harder still, change the culture of the club."
That's really it in nutshell "the culture of the club" which in my opinion means as Kevin Tully stated that the club isn't built to be successful, it's more than happy to jog along and say oh well there's always the next game, the next season etc etc. Until that culture is removed, we as fans will have to put up with half-baked performances.
Danny Broderick
26
Posted 24/11/2016 at 22:35:29
The manager needs to freshen the team up a bit – we are doing what we did last season, albeit with a bit more organisation in defence.
For me, Barkley and Lukaku can't play in the same team. Both are a bit ponderous, both need movement around them, and both go from the sublime to the ridiculous. I think Lukaku guarantees you goals though, so I would drop Ross instead.
I don't know if anyone saw any pre-season games when Deulofeu played up front, but he did well. I would like to see us play 4-4-2 with him up front alongside Lukaku. He would offer us some movement up front and support for Lukaku.
We could still have Barry and Gueye in centre mid keeping it tight, with Lennon on one side and Bolasie on the other. Hopefully our manager can see the need to freshen things up in any case...
John Raftery
27
Posted 24/11/2016 at 22:41:23
It is not the formations we are using which is the root cause of our failure in attack. Rather our problems are caused by the painfully slow tempo in our game and a lack of passing ability.
We have not yet replaced Arteta, Osman and Pienaar, players who played with intelligence and could thread the ball through tight spaces. Frankly, playing two strikers up front will not work if the service to them is of the hit and hope variety.
Last Saturday we saw a charge of the light brigade with three wingers, two strikers plus Barkley on the field. Despite the equaliser from Seamus we created less in that period than we had in the first half.
What can be done between now and January? I agree with Lyndon and others that Tom Davies should be given an opportunity. At the very least, he will bring energy into the midfield areas and from what we have seen he may improve our passing.
James Marshall
28
Posted 24/11/2016 at 23:10:48
It doesn't help when you only have a small handful of players with a football brain – Barry, Gueye, Baines... that's about it as far as I can tell, and it simply isn't enough. We have plenty of players with ability, but I get the impression they're all a bit football-retarded when it comes to patterns of play, knowing what's going to happen, and second-guessing to counteract it.
Barkley is a prime example of a player with bags of talent but absolutely no brains – no disrespect to the bloke but he hasn't got a clue what to do with or without the ball most of the time.
The rest of them are equally as headless half the time as well, and until we get in some players with the right temperament, as well as footballing nouse, we're going to continue being a mid-table side.
Don Alexander
29
Posted 24/11/2016 at 23:23:05
Mark Morrissey at #16 identifies one facet that's bedevilled Moyes's, Martinez's and now Koeman's squads, albeit Martinez encouraged what drives fans mad, and that's "niceness".
It seems to me that most other teams are grateful when they play us. They seem to know they're not gonna get injured or be tackled until they're in or on the edge of our box (Coleman, Barry and Idrissa aside), and there'll be few aerial jousts in their area but plenty of aerial opportunities in ours.
In short, our shower are riddled with unprofessional lazy wusses content to see out their dream-world contracts.
Don Alexander
30
Posted 24/11/2016 at 23:25:02
And no manager in the country can deal with mutiny like that except by the Transfer Window and the full support of the owners.
Phil Rouse
31
Posted 24/11/2016 at 23:25:27
To be honest, at least last season we were attractive to watch going forward, but painful to watch at the back with basically the same squad. Does that mean we have become anti-football again?
Trevor Peers
32
Posted 24/11/2016 at 23:37:28
Kevin @22 is absolutely right, the whole culture of the club has been geared to being whimpering also-rans, rather than winning trophies for decades. The club has been badly run since our last great successful period of the 1980s.
Finding the path to success hopefully might be closer though; there has been a change at the top that we all craved for. Money is now apparently being pumped in. We should be full of optimism, but strangely, we are as divided and depressed as ever.
The last manager's false promises of instant success have caused untold damage, because now we're faced with the harsh reality. Hard work and bloody mindedness are the route to success, not pipe dreams.

Tom Bowers
33
Posted 24/11/2016 at 23:45:34
If we are going to talk about players, then basically the whole team comes under scrutiny. For some reason in almost every game ,they have come out lethargic and by doing that have spurred the opposition – no matter whom – to realise they can get points from Everton.
Maybe the answer is to bring in some energetic youngsters eager to impress such as Dowell, Davies, Holgate and the like. Surely they couldn't do any worse?
Rom has to play a certain role but is not mobile enough and quite honestly Bolasie hasn't really showed up yet. Mirallas, Deulofeu and Lennon have not answered the call consistently and Barkley is the enigma who may well be better off in another set-up.
Jagielka, Williams, Baines and Barry are experienced but aging which can make them a step slower in the tackle where it matters. Gibson, Cleverley and Besic are others who are also inconsistent and may now be surplus to requirements.
Yes, we may think on the positive side and say "Koeman will get it right given time" but what I have seen so far is not encouraging. They were a much more potent side when Matinez first took over and he didn't have the backing of Moshiri to help him through.
Peter Laing
34
Posted 25/11/2016 at 00:09:11
Too much deadwood on the books with a massive cull needed. The ghosts of David Moyes and Roberto Martinez are still hanging around the Club in the shape and personnel of the current squad with wholesale changes needed in all areas from the goalkeeper, the full-backs, centre-halves, midfield and forward line.
Everton at the moment are a busted flush and Koeman needs the funds to deliver the remedial action required.
Derek Thomas
35
Posted 25/11/2016 at 00:45:31
Nice to see you've been reading my posts for a 'proper midfield' *ends tongue in cheek mode. I've expected some to comeback in a negative way with: "Suppose you want to go back to an old-fashioned 4-4-2" and you've said it in a positive way.
I won't get bogged down in the 'system numbers' game as it's all bollocks anyway. Any system that works well will: (a) maximise the strengths of the players, not flaunt their shortcomings. It will also: (b) fluctuate between, taken to extremes, 8-1-1 and 2-1-7.
Before we get new players in, the current players will need to up their mental attitude, commitment and effort. Or any new comers will find their optimism being sucked out of them and soon they will be as anonymous as the rest.
Koeman's fresh approach may need structural and well as personnel changes... The key is, as you politely dance around the bleedin obvious – the two defensive midfielders.
I would only bring in two kids – this team and most teams tbh are not good enough to carry three potential passengers or newbies... I mean we carry passengers now and look at the state of us!

Davies for Barry (tough decision but age and legs shade it) and try Dominic Calvert-Lewin in a 4-4-1-1-ish type formation, just who else might miss out starting or end up playing is for the Dutch 6-million-pound man.
He has to stop doing that Einstein thing re actions and results.

Derek Thomas
36
Posted 25/11/2016 at 01:34:19
Eugene @9; Exactly. We need some guile AND some snide – not too much snide, more like somebody who is snidishly guiley.
If Everton were a Test Cricket team at the moment, they would be Australia – all full of so-called big names who under-perform, with fast bowlers who in theory should be terrorising batsmen, but who are 'rotated' to 'rest' the poor ickle sensitive souls.
They've just lost test after test and yesterday – after mucho clamour – have actually dropped players and given 3 or 4 new caps and atm 'seem' to be doing okay.
As to the snidey guile; Faf du Plessis (Saffa capt.) was caught shining the ball with the help of a Trebor Mint in his mouth. He took his fine, more or less laughed and said everybody does it... that's the snide... not Suarez snide but push the envelope snide.
The Guile; deep in one of these new day-night tests under the floodlights, they were 258 for 9 with an hour to go. David Warner, the Aussie opening bat... and one of the few who does mostly perform, pulled his arm throwing the ball – Du Plessis declared immediately and put the Aussies in – without their opener, having to rely on a guy making his debut, while Warner was still getting treatment. Then bowled the shit out of them restricting them to 14 runs in 12 or 13 overs – That's Guile.
How this new Aussie team react has yet to be seen, but the selectors couldn't go on with the same old same old – in fact, one or two of the selectors got the push too. Change has to start at the top.
Gary Russell
37
Posted 25/11/2016 at 02:03:14
Ah right, Derek, I get it. So that means our present manger would be Ian Botham.
Peter Barry
38
Posted 25/11/2016 at 02:40:10
Do your talking on the pitch guys because I, and I am sure many other supporters too are getting sick and tired of all the excuses and promises to do better we see bleated on websites every week.
Mark Andersson
39
Posted 25/11/2016 at 03:13:57
Morshi the money man who spent wisely on getting rid of Martinez and bring in what he thought was a good fit in Koeman.
3 months into a 3 year contract and already the hope of optimism are quickly fading. Ask your self what is the diffrence between Southampton when managed by Koeman and Everton managed by the same coach.
Simply the players.. on paper most of you would say we have a better squad. So as pointed out, it has to be down to the attitude of our squad. After all Koeman done well enough at Southampton before Mr Moneybags persuaded him to jump ship.
Koeman cant motivate, scare or inspire this bunch of players to go out and give 100%. Unless the January window addresses these issues (I doubt it), then expect us to slowly fall away like last season.
Meanwhile the morning papers are declaring Stevie Me some kind of demi God after he hung his boots up. Oh how the media love the red shite while we are still in the shite..
Michael Long
40
Posted 25/11/2016 at 03:49:25
Watching Everton passing is like what I tell my barber. Short back and sides. There is just no urgency or desire to drive or take risks going forward.
I do believe Koeman will get it right, but I also believe the only way to do that is to buy players with the right mentality and creativity to help us be consistent.
For example, I watched the game the other day and I was just thinking to myself Sigurdsson is a type of player we need. His passing forward, set pieces and movement is what we're missing in the final third. Because in the final third lately we have been piss-poor.
Mirallas is someone to bring on last 10-20 minutes, Lennon works hard to track back, however again final ball an issue, Deulofeu only has 20-30 minutes in him, but also struggles final ball. Is it time now to give Geri a go in the Number 10 role?
Jagielka is finished. As much as I love the lad his legs are gone. Best think Koeman can do with him now is drop him because it's looking at lot more like Distin and Howard.
A thing that does frustrate me however is when the opposition have a corner, every man in a blue shirt is in the 18-yard box and not one on the half-way line, I understand the objective of defending a set piece, however say keeper catches it and looks for options going forward, nobody there. Then onto the sideways and fucking back passes.
Next month is a huge and busy month. Especially with our next three home games ffs. These players really can't afford to start off slow especially against Arsenal or Liverpool. It has to be pure fight and effort from first whistle to last.
Problem is, do we have it in us? Or are we arsed? Unless proved wrong, the answer is No.The frustration of being an Evertonian is second to none.
Darren Hind
41
Posted 25/11/2016 at 05:27:01
The manager seems shocked at the reality of his starting position. I'm absolutely certain he thought he was going to inherit at least one of those horriblst one those fuckers Andy Crooks speaks about. I mean every team has at least... don't they?
Koeman finds himself in a similar position to the one Howard Kendall was in, a team relatively high on talent, but completely empty in terms of character.
Peter Reid and Andy Gray were not the most talented players we ever had, but both possessed something even more potent. Not only did they have belief and desire, they were both capable of inspiring it in others. To have one such player in your side is a major plus; to have two virtually guarantees you will be challenging for honours. Koeman himself was such a player and you would like to believe that would give him an edge when it comes to identifying it in others.
I'm getting tired. I used to start buzzing around Thursday, I'd be so looking forward to going the match, wherever it was getting played. Now, although I'm wide awake (just got home), I have to confess that I'll need to check the fixture list to know who we are playing this weekend.
We need a spark, we need a Peter Reid or an Andy Gray to walk into our dressing room, one of each would be nice.
I'm not normally one of those who will pin their hopes on Everton having a good transfer window (so many more funerals than weddings) but it's all we have. The winner/s we desperately need are not here at the moment. Koeman may as well go and bang his fist on the Kabin counter and demand that Noris Cole gets out there and kicks some arse... Unfortunately, that seems to be what he's trying to do.
John Davies
42
Posted 25/11/2016 at 07:36:31
Some great points re formation, tactics and most importantly attitude. Fight and guts is a very important part of any successful team; without it, you win nothing.
I agree with posts on this thread about our attitude – or lack of. None more so than Darren's post re an Andy Gray or Reidy. Both players with injury problems when we signed them, both with hearts of lions.
One thing lost me though: Who is Noris Cole?
Darryl Ritchie
43
Posted 25/11/2016 at 07:39:27
Our frustration with the players' lack of intensity is old news. I truly believed that that attitude would leave with the former manager. It seems, as Koeman is sadly discovering, it hasn't.
Koeman wants to play a high pressing game, but what happens when a few of the forwards and midfielders can't (or won't) play that way. The system breaks down and the play becomes directionless. It seems we revert to sort of a Moyes/Martinez hybrid; hoofball combined with aimless passing.
The players are so tentative. There doesn't seem to be any joy. The goals we score are more of a relief than a cause for celebration.
The fans were fed up with two years of finishing 11th. I got the impression from the manager, when he first arrived, wasn't overly concerned; that this wasn't a do-or-die season. He believed that this season, with the high quality players he inherited, combined with his skills as a top manager, he would see us near, if not in, one of the European spots. Next season, with more investment and the addition of top players, he would push for top four.
It is proving to be a lot more difficult than he thought. The question is: Does Koeman have the management skills to sell his system to the players? Can he get players that don't run without the ball, to start running at the opposition?
Or failing that, come up with an effective style of play that the players we have can make work.
It's time to start earning your paycheque, Ronald.
Paul Tran
44
Posted 25/11/2016 at 08:07:31
I've been banging on for ages about this, Darren. I'm not sure those type of characters are out there. Certainly not in England, judging by the last two international tournaments.
He's going to have to import it, which is presumably why we hired him and Walsh.
Shuffling the current deck won't make a difference until we get a bit more character and nouse in the team.

Tony Abrahams
45
Posted 25/11/2016 at 08:54:27
It's a real problem, like everyone is saying, and especially for the players who must be thinking that they should have been more careful in what they wished for!
Paul, I get your point about there not being many characters out there these days, but alls we are looking for is people who just want to go out and play football, and demand the same from everyone else in their team. Surely some players in the game still have this very attitude?
Tony Abrahams
46
Posted 25/11/2016 at 09:01:14
Darren, you say that you're tired, and I couldn't agree more, because going to Goodison has become an absolute chore!
I haven't been to an away game yet this season, which tells me everything about watching Everton at the minute, and one of my little twins fell asleep on my knee at the game last week. He's telling me he'd sooner go to school!
Phil Sammon
47
Posted 25/11/2016 at 09:46:48
Isn't Ashley Williams that type of character? Mo Besic too?
Phil Walling
48
Posted 25/11/2016 at 10:35:01
Strange thing about our situation is that not a tear would be shed if Koeman sold ANY of this present squad – even Lukaku and Coleman!
As so many have remarked, there is 'a disconnect' between Evertonians and this bunch of dispirited jobsworths. Trouble is, the manager is not excluded from that comment.
Jim Hourigan
49
Posted 25/11/2016 at 10:41:43
Whilst we all look to our own clubs (and rightly so), just one look around the Premier League and you will see and hear the same gripes from their fans - Spurs massively underperforming, arsenal too fragile, city too inconsistent, Man Utd not good enough etc etc. ( and what about England !!!). I suspect the RS and Chelski (of the last 5 weeks) are the only happy fans.
The reality is that there is little of real quality in the premiership. We talk of the need for players in midfield or up front but in reality who are they and more importantly are they available and good enough? Players playing in continental teams rarely settle quickly, so no short term solution there and the rest. If they can't hold a place in their own team are they really good enough? And if they are keeping a place why would they be sold?
The solution rests, to a great extent, in our own hands and the bravery of the manager. No one expects 5 or 6 youngsters to come through at once but we have to try and bring some on and we, as fans, may have to accept yet another mediocre season, if we can see a purpose to it.
Mindless passing square is the safety first solution of ageing footballers and those with little courage or ability to try things. It equally demonstrates the mindset of the manager – they can't score if we've got the ball and that keeps him in a job!! Younger players are less likely to adopt such an approach and are more likely to be adventurous and try things particularly if used in relatively large numbers, ones or two's can easily be subsumed by the ageing mass so you have to have 3 or more. Whilst I doubt we have the same number that Man Utd had back in the early '90s, their philosophy was to change the whole mindset through change en masse. Are we brave enough to do it?
We still need experience but the right sort, the type that will support and protect, players with intelligence to recognise and cover for inexperience, finding and selecting them is the managers job. We already have a mix of youth and some intelligent experience – Lukaku, Barkley, Baines, Barry, Coleman, Williams, Deulofeu, Gueye and dare I say it – Cleverley and Besic. For me the others are journeymen or players on the decline.
Now let's see who can step up from the U23s and below. Football is quicker and stronger than was in the '60s, '70s and '80s but so are the youngsters, so the old adage still holds true 'if you're good enough you're old enough'
Stand up as a club and say we will create our own dynasty built on a mixture of youth and experience and I for one will accept going to Goodison and seeing us occasionally lose for the bigger picture. Going and seeing 㿈M one-trick ponies strutting around with no end product is far less appealing.
Mark Andrews
51
Posted 25/11/2016 at 11:53:20
It's been said many times in the comments but I'll repeat it. We need a brain in midfield who can run the game, we need an Arteta like brain with matching skill. We got nuffink!
Allan Board
52
Posted 25/11/2016 at 12:18:39
The trouble with sportsmen now is they are told they are brilliant all the time, no matter what, so not to upset the darlings! Just imagine this is all they get from age 6 or 7 when they are swept away from proper grassroots sport to be put in academies of excellence. In a matter of weeks they become insular kids who think they do no wrong – ever! As we know, 99% never become elite sportsmen and are abandoned by academies.
Ask yourself this-how are kids supposed to understand team ethics and unselfishness when academies are only interested in churning player numbers through the system in the hope that eventually a diamond will magically appear once a season to justify the club's outlay.
I coach kids at grassroots – build a team spirit first, make the game easy for them by coaching appropriately and tell your parents that there is no room for individuals, only kids who want to be part of a team – and stick to it. I would ban academies from player recruitment until age 13/14.
I have witnessed scores of perfectly good, disciplined and talented kids (including my own daughter) have their confidence destroyed by pretentious football academies, whose only objective is money.
Kids need to be developed in a familiar environment,with their mates, not pressurised to conform and meet stats at 7 years old. Hence why you have a glut of professional players who are more or less all the same – pre programmed to meet requirements and stats, who know bugger all about people skills.
Is it any wonder there are no leaders out there?
Brian Furey
53
Posted 25/11/2016 at 12:35:07
Like a lot on here, I'm feeling very let down by the attitude of most of the players and their lack of fight and commitment. Maybe Coleman, Gana & Williams show some willingness to work hard and fight for the Everton cause but I fear too many of the others have already lost all motivation.
If you look at it from their point of view they had a manager who told them how wonderful they are and got them believing they are better than they really are. Now they have a new manager in who is very blunt (Niasse) and they know the club is at a stage where they can spend big and bring in lots of new players.
I am no mind reader but if you go through the players who many of them look happy with the current situation/manager. I read somewhere last month that they are scared of Koeman and so if they feel they are on their way out then there is not much motivation for them to work hard and play for their place. Jagielka, Baines, Barry (maybe not yet), McCarthy, Lennon, Mirallas, Deulofeu are all probably thinking this is their last season with the team or at least no longer promised a starting place when new faces come in.
Of course, I could be wrong... but I think we are experiencing the calm before the storm. We are going into a period of transition and so morale might be low for players who think they already have lost their managers belief in them.
I think they all started the season well trying to impress the new coach and Lukaku was on fire scoring for fun. We did have quite an easy run of matches and is the reason why we are still sitting in 7th place. However, I feel that has gone now and a lot of the players don't want to play the hard-working, pressing game the coach is asking them to play which would explain why so many of us are struggling to define what is our system of play.
Koeman has already replaced 4 players and so if he replaced another 3 or 4 in January that is a huge part of the team that will be gone. He knows if he can keep Rom scoring he has a chance of finishing in the top 5 but personally I think we will struggle to remain in the top half after a poor December & January.
Mat McConville
54
Posted 25/11/2016 at 13:03:53
The problem for a couple of seasons from an offensive perspective is simple. The three behind Lukaku always want the ball off Lukaku with play in front of them (Lukaku playing backwards). They need to start busting a gut to get past Lukaku and beyond the ball. Gamble.
Barkley would add 5-10 goals extra a season if he was coached to not always look for the possession behind the ball with play in front. Show him Lampard at his peak. The run past the striker into space.
Peter McHugh
55
Posted 25/11/2016 at 13:28:06
I think that's right, Matt. Barkley's goal against Newcastle at home when Lukaku was on loan is an example.
They need to gamble and run off him not behind. The lack of players in the box when we're attacking is alarming.
Steavey Buckley
56
Posted 25/11/2016 at 13:30:25
The main problem is the Everton 1st team are simply not good enough to trouble most teams in the Premier League. And that is down to the manager. In the same way, Martinez was not good enough to be manager for Everton last season... or the season before that.
Everton cannot afford to be generous to the new manager when the team is failing on the pitch, week after week – it should not be allowed to continue.
Michael McCarthy
57
Posted 25/11/2016 at 13:39:09
Defending starts from the front. I ask the question: Do we press defenders or force the keeper to kick it anywhere?
Kevin Rowlands
58
Posted 25/11/2016 at 13:51:33
Wrong Phil! I will shed tears of joy when Lukaku and Mirallas are finally moved on.
Rick Tarleton
59
Posted 25/11/2016 at 14:46:13
Players pass backwards and sideways when there's no movement in front of them.
Lukaku has many assets, but making runs and exploring channels are not among his talents. He wants a ball to run on to and as for the so-called wingers.
I think Bolasie represents the kind of waste that I last saw spent on Mick Walsh in the late 70s; the other three are only marginally better and Depay's recruitment doesn't suggest that he'd be in any way an improvement.
Clive Rogers
60
Posted 25/11/2016 at 14:48:28
Lennon wasn't trying last Saturday imo. He kept moving inside instead of into space on the wing. Deulofeu saw far more of the ball when he came on. I hope not to see Lennon in a blue shirt again.
Geoff Evans
61
Posted 25/11/2016 at 17:35:30
Patrick 24: You have it in a nutshell. The culture.
Since the inception of the Premier League, the club has been happy to just get by and pick-up the Australian's millions while at the same time short changing its fan base.
I sincerely believe that Moshiri wants that to change and that he has put his faith in Koeman to achieve it. Hopefully he gets it right and we can start to be recognised as a force in the modern era.
Jack Convery
62
Posted 25/11/2016 at 18:18:58
Everton in the Premiership have been a make do and mend team. Class sadly lacking due to its price and when glimpsed in a youngster, sold asap. Hence are struggle to win any kind of silverware, since 1995.
The soul of our club is rotten and has been for a very long time. Look at our lack of success with youth team players. Just ask yourself how many youngsters we have had come through, only for them to be sold or not even make it – apart from Hibbert. Why?
There have been some great kids at Goodison. Ones that come to mind our Billy Kenny, James Vaughan, Victor Anichebe, Jack Rodwell, John Stones and of course Wayne Rooney. In my humble opinion, had Rodwell, Kenny, Vaughan, Anichebe come though at our neighbours, most of them if not all would have had much better careers. I bet when they were 16,none of them was worse or better than Fowler, Gerrard or Carragher – all Evertonians when kids.
Why were they not taught how to handle the media and the cash they were being paid or even how to handle fame and the mental pressure that comes with it? They were wasted by Everton and in my opinion only Rooney reached his potential and Stones most probably will do so too.
This is off the cuff but its just an example of the culture Koeman has to deal with and 12 games is nowhere near enough time to sort this mess of a club out.
Gerard McKean
63
Posted 25/11/2016 at 18:59:52
It has to be a very good article that provokes a thread of comments as interesting as this one.
Derek (#36), I don't know how many of us follow cricket these days but your analogy was quite right. Fans of the Australian cricket team have a big advantage over us though in that their selection committee gave the players who were failing to deliver one last chance before they were brave enough to ask younger lads to step up to the plate. Their response to the challenge set by South Africa speaks for itself.
My main interest, however, is in the culture of Everton FC. Kevin (#22) and Patrick (#24) are correct; the tone is set at the top and for too long that tone has been far too comfortable for all concerned. A little short of two years ago, I walked away from employment at Everton FC because I could no longer accept the culture of complacency that reigns behind the scenes. I made abundantly clear in writing why I left but actually nobody cared; I was one less pain in the ass to have to listen to.
All of my concerns over the previous two years prior to my leaving, both written and in face-to-face meetings, were made directly to the Deputy CEO. Perhaps she was too busy adding more initials after her various surnames but her repeated mantra that my concerns "had been investigated by external consultants" smacked of someone who had better things to do than get to the bottom of the evidence-based issues that I raised. Not once, not a single time, did any "external consultants" bother to contact me about these issues. Some investigators!
Until someone has the bottle that those Australian selectors showed and realises that there has to be root-and-branch reform of the way this club is run, we are destined to remain the also-rans. A winning culture on the pitch cannot be sustained without a culture of, well, let's call it nil satis nisi optimum – from the boardroom through to the changing room... and everyone in between.
In the meantime, I am doing the exact opposite to Tony (#46) and only going to away games; I shall always support the shirt but I'll do my best not to give any more of my money to some people there who who actively enjoy wallowing in mediocrity.
Peter Cummings
64
Posted 25/11/2016 at 20:59:51
All the talk seems to be about picking up players in the January window which may, or probably won't, improve our style of play, as evidenced by the last lot we picked up.
Although he is now a pariah to most of us, Moyes had that sixth sense that provided the club with some of our best finds from the lower divisions, many of whom became players of international class. Yet Koeman, like Martinez, seems incapable of this type of lower division 'trawling' which still turns up gems like Vardy & Co on a regular basis while at the same time stubbornly refusing to recognise the talents already available in our own so-called 'reserve' team's backyard.
As far as I am concerned I fear our future success as a really top team is an increasingly distant dream, and as a day one critic of the Koeman appointment will never believe he is the right man to end the malaise that has blighted my beloved Everton and our once famous 'School Of Science'.

Laurie Hartley
65
Posted 25/11/2016 at 21:59:54
A picture is worth a thousand words – certainly for me.
Who is running the show on the pitch? Answer: no-one.
Replace James McCarthy in the picture with someone like Fabregas, Kagawa, or Mata and I would bet everything, including the mentality and passing pattern, would change.
There are plenty of good players in this squad. He needs the missing link.
Ray Roche
67
Posted 25/11/2016 at 22:44:14
Peter (#64),
"Yet Koeman, like Martinez, seems incapable of this type of lower division 'trawling'"
Surely that's why Walsh and Co have joined us?
Tony Abrahams
68
Posted 25/11/2016 at 22:50:52
I've done that myself in the past Gerard (#63), but only for a couple of months, and after I'd already purchased a seassy!
I still pay for one of my kids to travel wherever Everton play, but after watching them play at Chelsea on the telly, I've told him he can fuck off, until the players start giving 100% again.
Like Darren said, I used to start getting ready once Thursday came, but it's as if this season hasn't really started yet, and it hasn't bothered me, not doing something that I really used to love. Let's hope the feeling comes back, because there's not many things better than watching Everton win away from home!
Clive Rogers
69
Posted 25/11/2016 at 23:32:39
Laurie (#66),
The squad is really poor with problems in defence, midfield and attack. Our best players from previous years are now past it while most of the players Martinez brought in are simply not good enough. We are plummeting down the table and recruits are vital in January to stop us drifting into trouble.
Laurie Hartley
70
Posted 26/11/2016 at 00:13:32
Clive (#69), we have differing views on the squad – fair enough. If you are correct though, things have changed dramatically from what many were saying not so long ago.
At the risk of causing a storm, even Tony Pulis said last season (after they had beaten us a Goodison), "this is a top five squad".
I do feel Jagielka's days are numbered so I agree with you about the defense, however, my view remains that a if Koeman can, in January, bring in a leader, things will improve.
Clive Rogers
72
Posted 26/11/2016 at 09:16:22
Laurie,
I think we basically agree. The squad is weak from the previous regime who may well have taken us down this season.
I in no way blame Koeman who has strengthened with his signings, but has perhaps been taken by surprise by the lack of quality. We need quality signings in all departments from goalie to striker.
Aidy Dews
73
Posted 26/11/2016 at 11:25:52
Mark Anderson (#39),
I actually think Southampton have got more better players than us. By far they've got the best keeper in Forster. Their backline nicks it for me just about. Cedric is a really good right-back, Bertrand is now one of best left-backs in the league, Van Dijk is up there has one of best centre-backs in the league and Fonte is good but if anything it would be a toss up between him and one from either Jags or Williams to go in alongside van Dijk.
There's not a lot in it in the centre of the park. Gueye gets in all day long for me and then it's a choice between either Barry or Romeu for me.
Then in the attacking positions I think only Lukaku would get in, maybe Barkley at a push but I think all of Tadic, Boufal & Redmond are better or as good as what we've got.
But a lot of it is a mental and attitude thing with our players and a lot of them haven't got that work rate. Koeman is demanding they press, they graft and show more aggression and it isn't happening.
And I've seen a lot saying we should play 2 up top, we should play 4-4-2 and I agree we should try something new but if you have managers that play certain systems (Moyes more often was 4-1-4-1 or 4-5-1, Martinez 4-2-3-1, Koeman either 4-2-3-1 or he prefers 4-3-3) then their not going to shift from what they like and prefer to play and will work on those systems and get in players that suit those systems as opposed to changing their ways to appease certain players and fans if you like.
John Pierce
74
Posted 26/11/2016 at 14:14:32
Koeman has caused himself a problem. Is it legitimate to say the squad isn't good enough and look for reinforcements in January? Well, yes.
However Koeman has been so open with the players – several are clearly not interested in playing for him as they know their careers at Everton are over. The result: the last several weeks' malaise.
This is were Koeman's approach falls down, a disinterested and unmotivated squad waiting to be put out of their misery.
As such, we are not seeing effective evidence of Koeman managing what he has... more a view to managing what he might have in January, hence his very open media policy in recent weeks, dulling expectations with every word.
If you extend this further, with several seasoned professionals downing tools on him, it's a difficult sell to comprehend why the younger players aren't given a chance? Yet more evidence Koeman ain't all that.
My biggest fear is we bring 3/4 players on January and go nowhere. Yet on the hallowed pages of ToffeeWeb, we just get the apologists citing time etc.
But we are likely to have 7 or 8 new first-team players, and Koeman has had 6 months to exert an acknowledged force of personality.
He just ain't all that.
Mike Gaynes
75
Posted 26/11/2016 at 16:31:09
Peter (#64), I agree with Ray's comment. Koeman's had only one partial transfer window. Give him and Walsh a few at least before you compare them with Moyes for finding lower-level gems. Moyes didn't turn up all those winners in his first year on the job.
Gerard (#63), what was your job at Everton?
Ernie Baywood
76
Posted 27/11/2016 at 00:27:16
It's hard to be too excited right now. If Koeman got the best out of this side we might be, what, 6th? If it goes tits up, maybe 11th?
We'll lack winners and lack real creativity. Our best is nowhere near good enough to actually challenge; our worst comfortably ahead of the relegation dogfight.
A step change in this club's ability to compete will only happen with money. That leaves us, the players and the manager treading water. Nothing else will have as much impact as cash.
It always felt a bit pointless. You just hope they can do you proud. Maybe even surprise you. This week's game is just another game. I'll be thrilled if we win and I demand they give their all, but does it really matter?
When did it last really matter? I get a strong feeling that it's not just supporters expressing this feeling.
William Cartwright
77
Posted 27/11/2016 at 15:11:06
Late response to Paul Burns:
I think most ToffeeWebbers have a reasonably consistent set of opinion(s) when it comes to the team selection:-

(1) Two defensive midfielders leaves us short in and around the opposition's penalty area.

(2) Romelu needs a goal-hungry foil to play off in front of goal (could that be Barkley?

(3) Wingers cutting inside and supported by attacking full backs works as per Baines and Pienaar but they were special and can't be replicated easily if at all.

(4) We have never replaced Arteta.

(5) I understand Koeman wants to replace most of the playing staff and I get that. He sees first hand exactly the psychological damage brought about by Martinez and 3 years of influencing the squad by his meandering, rambling, favoritism crap.

(6) Replacing the squad en masse is just not practical, or even desirable, but I expect it to happen over the next 2 -3 windows, and I do expect Tom Davies et al to be a part of the process. However if a better alternative becomes available, either from within the club or outside then Koeman will go for it, without remorse.

(7) Expecting some news on the stadium soon.

(8) Gibson, Niasse, McCarthy, (Jagielka? Mirallas?) Lennon, Kone, (Valencia?) et al, with Barry into a coaching role?) I expect all to be gone before we kick another ball next season.
Peter Roberts
78
Posted 27/11/2016 at 19:57:02
Shocking. Get rid and quick.
Barry Jones
79
Posted 28/11/2016 at 01:08:49
After I read "Romelu Lukaku remains a world beater on his day", I stopped reading as the credibility of the article flew out of the window.
Rob Nunn
80
Posted 28/11/2016 at 07:43:15
Lots of respect, Lyndon, cause you do a fabulous job for little praise. My apologies if I am repeating any comments above because I am a bit too distressed to read all of them.
You lost me with the first paragraph. When did we have a chance to grind out a result? To me, that would imply hanging onto a 1-0 away win against Man Utd. That would be grinding out a result.
Getting twatted 5-0 at Chelsea, a last-gasp draw against Swansea at home and the latest defeat against The Saints hardly qualifies as being in a position to "grind out a result".
Gerard McKean
81
Posted 28/11/2016 at 12:13:08
Mike (#75) thanks for asking.
The simple answer is that I was Chief Steward. "Simple" because that was the work for which I was paid. Less simple to explain is the unpaid consultancy and other work I did in my time as a steward (2007-2015).
As a lifelong supporter who (to connect this with another recent tread on TW) was in the Gwladys Street End when Gerry Humphries scored that great goal, and who was lucky enough to be at Goodison to see goals from Colin Harvey and Roy Vernon that clinched Championships, I obviously have a great love and passion for Everton FC and because of that and the fact that I had the time to do so, I was happy to put my professional skills at the disposal of some senior staff at the club. This gave me a unique insight into the way the club is run and, honestly, the more I saw, the less I liked.

Despite the heroic efforts of some very good people there, the overriding impression I had was of a culture of comfort-zone complacency, nepotism and cronyism.
As I was in the extremely fortunate position of not having to work as a steward for the pay, I did not have to take any crap, as it were, and I spoke out whenever I saw something wrong. Most of the employees were not in that position, of course, and they had to "like or hike". Some were presumably paid a severance to leave and keep schtumm, but as I left entirely of my own accord at a time of my own choosing when I no longer wanted to watch sycophants with nothing to offer the club ingratiate their way into favour and look after number one, I am beholden to nobody.
I remain convinced that there is an exact correlation between the way a club is run and results on the pitch. There is a huge difference between creating a professional and inclusive, listening culture in an organisation and a superficially friendly and cosy atmosphere in which criticism is unwelcome.

Eddie Dunn
82
Posted 30/11/2016 at 10:08:58
Gerard (#81). Thank you for that insight into the workings of our club. It explains quite a lot.
So much kudos to be associated with the Premier league, especially these days with the wall-to-wall media coverage, plus the money sloshing about must attract some people for the wrong reasons.
Of course the club is not a democracy, and apart from adhering to basic employment laws, the club can do what ever it wants. This is why I would like to see fan ownership, like in Germany, so that the fans had a real say in the club's direction. I doubt that it will happen here, with so many vested interests involved, and the big money makes it even less likely.
We haven't much of a clue what has gone on at Everton over the years, and input like yours helps to demist the windows.

---
Add Your Comments
In order to post a comment, you need to be logged in as a registered user of the site.
Or Sign up as a ToffeeWeb Member — it's free, takes just a few minutes and will allow you to post your comments on articles and Talking Points submissions across the site.
© ToffeeWeb