Everton History
Archibald Leitch – The Man Who Shaped Goodison Park
Rob Sawyer (EFC Heritage Society)

18/07/2016

34 Comments
[Jump to last]
Share:
At the start of the 20th Century, Goodison Park was arguably, England's premier football stadium. Today, for better or worse, it is one of the most historic in the land. As you sit in your seat and look across the famous "Old Lady", two of the stands you see can be credited to Archibald Leitch — stadium designer extraordinaire.
Glasgow-born Leitch was an architect specialising in the design of industrial buildings when he was commissioned to design a new 80,000-capacity Ibrox Stadium for Rangers, the club he supported.  The resulting stadium was spectacular but tragedy struck in 1902 when fatalities resulted from a section of wooden terracing collapsing at an international fixture. As a safety measure, Leitch's subsequent terrace designs were based on raised earthworks. In spite of the Ibrox disaster, Leitch remained very much in-demand. He was engaged south of the border in the early 1900s at the likes of Craven Cottage and Anfield Road where he then created the terracing for the Spion Kop (the stand constructed over it was not his design).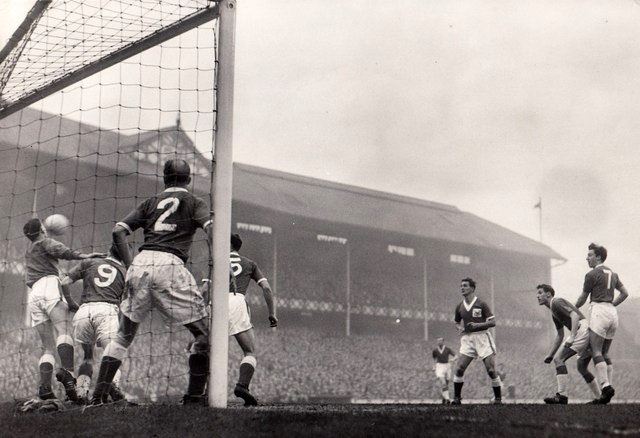 Everton vs Nottingham Forest, December 1957, with 1909 Goodison Road stand as backdrop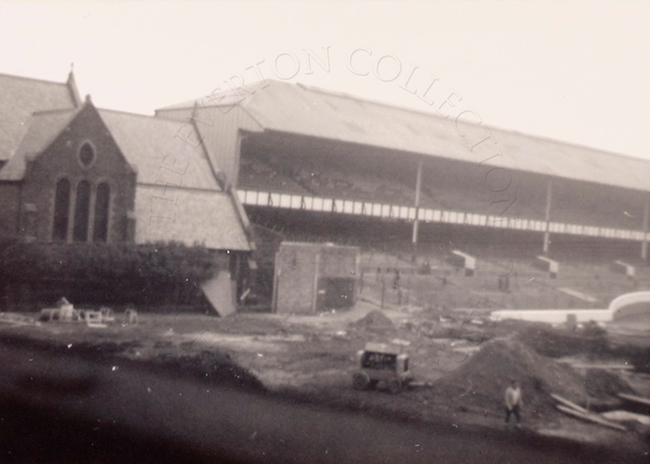 Gwladys Street Stand circa 1969 during construction of new Main Stand (copyright Everton Collection)
In 1908, Everton commissioned Leitch to create a new Goodison Road Stand. The result was a vast, steel-framed double-decker edifice dubbed the "Mauretania" by the press in reference to the huge Cunard ocean liner of that era.  This was the first large stand to have a terrace directly underneath the seating balcony. The front of the balcony bore a criss-cross steel feature which became a hallmark seen at ten stadiums up and down the land – today, this motif is featured on Everton's 2016-17 kit. Leitch would also be engaged by, amongst others, Arsenal, Manchester United, Sunderland, The Rugby Football Union (Twickenham)... but perhaps his pièce de résistance was Villa Park's Trinity Road Stand.
Leitch felt a connection with the city of Liverpool and lived in Blundellsands for a number of years. His firm was engaged by Everton, again, in 1926 to construct a new stand on the Bullens Road side of the pitch. The £30,000 stand you see today is little-changed, bar a raised roof added in 1963. The trademark criss-cross balcony design is now, once again, visible after the removal of advertising hoardings. A row of terraced houses was demolished to create space for a larger Leitch-designed Gwladys Street Stand – it opened in 1938 at a cost of £50,000.  In this form, with floodlights added, Goodison hosted 1966 World Cup matches but, three years later, Leitch's Goodison Road Stand was demolished in phases, making way for today's triple-decker.  The Henry Hartley-designed Park End Stand was replaced in 1994 with the single-rake stand we see now.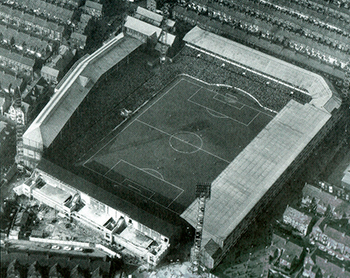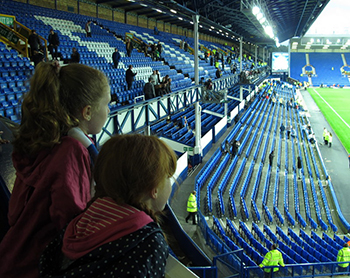 Left: Goodison Park aerial shot, 1966, from the Park End | Right: Bullens Road stand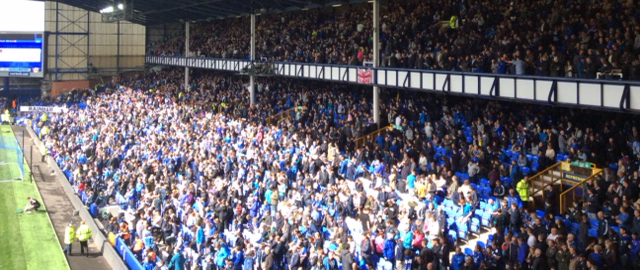 Gwladys Street with typical Leitch balustrade design
Leitch died in 1939 but many of his works far outlived him. The Taylor Report accelerated the replacement of his many stands and few now survive.  Ibrox's revamped South Stand still proudly displays the familiar criss-cross motif but Tottenham Hotspur's East Stand is living on borrowed time. It is at Goodison, however, where Leitch's work is best preserved. It is a testament to the man that, 90 and 78 years after their respective unveilings, the Bullens Road and Gwladys Street stands are virtually unchanged. The obstructed views, cramped seating and basic facilities may rankle but Leitch's venerable creations will continue accommodating the Toffees' faithful until the time comes to say farewell to Goodison Park (at least in the form we currently know it).
 Further reading: Engineering Archie by Simon Inglis (English Heritage, 2005)  

Follow @handforth70
---
Reader Comments (34)
Note: the following content is not moderated or vetted by the site owners at the time of submission. Comments are the responsibility of the poster. Disclaimer
Pete Jones
1
Posted 18/07/2016 at 20:38:21
Excellent, Rob, A timely celebration. In a era of identikit grounds, Goodison Park still has an aura thanks to Leitch, even if it does mean bobbing your head to see round the pillars. Villa Park's Trinity Road was a favourite of mine too.
Tony Draper
2
Posted 18/07/2016 at 21:33:27
Thanks Rob.
I bloody love Goodison Park.
I feel a bloody hypocrite even saying this, because I want a "New Goodison" down by the river. But, what I really want is just... a 22nd Century Goodison Park!
All of the feeling, the charisma, the ashes of our comrades... everything, but just 22nd Century!
And I most definitely want the stands right bang up on top of the pitch with the iconic Leitch blue-upon-white criss-crosses. Without that, it'll just be a ground where we have to go to watch Everton play football, and there's plenty of them already.
TBH, I'm not that fuckin sure I really want a new ground at all... How could I possibly ever walk out of Goodison, never to ever return?
Stuff of fuckin' nightmares!
Olalekan Taofik
3
Posted 18/07/2016 at 21:57:41
What a flashback to refresh our Blue memory. It's a great write-up for a generation of EFC fans and future building/ structural engineers to learn from.
Please keep it up.
Peter Mills
4
Posted 18/07/2016 at 22:48:06
Tony (#2), that really is a confused, disjointed comment.
I agree with every word you say!
Tony Draper
5
Posted 18/07/2016 at 23:32:10
Thanks Pete.
You......... Understand.
Gerry Quinn
6
Posted 18/07/2016 at 23:57:24
Those who understand need no explanation...
Mick Davies
7
Posted 18/07/2016 at 00:11:11
I wonder if Leitch felt affection for Everton, considering he did so much work on the ground, and lived locally for a period of time? I would imagine his ironwork and the blue kits would make him feel an affinity with his beloved Rangers.
Dave Abrahams
8
Posted 19/07/2016 at 00:27:38
Tony (#2),
I believe the voices of Evertonians long gone still echo around Goodison Park. Where will these voices go when we move?
A brand new ground on the docks will be awesome. For me, a restored Goodison Park in Walton, Liverpool 4, will satisfy me more, and my ghost will be happier there.
Derek Thomas
9
Posted 19/07/2016 at 01:46:43
Me too Dave, same as Tony @2. My Goodison Park is the Goodison Park of Carey and Collins and Young. Of Catterick and Moores, with Tony Kay and Roy Vernon puffing away on ciggies and cigars in Archie's Main Stand. Of Ball, Kendall and Harvey.
Where TV was in B&W and the RS were still in the 2nd Division. A Goodison Park of police horses and horseshit, of Woodbines and Higsons, tea with Sterrie in it. Where I'd run back after the game to catch the opening bars of Sports Report on the radio, where Eamon Andrews would tell me, as if I didn't know, that we'd won the League. Of four tall floodlight pylons and two square clocks.
I know where my ghost will be too.
Dennis Stevens
10
Posted 19/07/2016 at 02:34:25
Well, wherever we end up & whenever we get there, I hope it's not a featureless bowl!
A four-sided ground with four distinct, individual stands – close to the pitch & quite steep to create an atmosphere of real intensity, please!
David Ellis
11
Posted 19/07/2016 at 07:52:18
No doubt fans back in the early 1900s mourned the loss of the stands that the new Leitch stands replaced.....The loss we all feel is genuine and understandable, but its a personal loss, not an institutional one. The institution of Everton must move on, but I agree not to an identikit stadium, and keep the seats close to the action.
I have been to the new Wembley and I just felt too far away - its essentially all single tier and the "higher tiers" are just swept back far too far from the pitch compared to say the Goodison Main Stand third tier.
Paul Kelly
12
Posted 19/07/2016 at 11:39:28
First time I've had this thought, I might get shot down but here I go:
How would anyone feel about a brand new Goodison Park with old style features (cosmetic) to give it the feel of the Old Lady, continue her legacy?
Pissing in the wind, I know... but a lovely thought anyway, like getting a new car with an old patina, so to speak.
Brent Stephens
13
Posted 19/07/2016 at 11:47:45
Paul #12 - with you on that. Would love the criss-cross motif to be taken and used in our new Mersey stadium. And the boy's pen for Bill? Or just a pen for the new signings.
David S Shaw
14
Posted 19/07/2016 at 12:35:18
If any new stadium design does not replicate the Leitch criss crosses then the architect should be dismissed on the spot.
I'm talking replicating it, not some rubbish modern twist on it, not some small part of the ground having it. It needs to be the full length of all of the double decker stands.
Dennis Stevens
15
Posted 19/07/2016 at 13:03:08
Oh, and can we plan for the introduction of safe standing areas too? There's huge demand and it's only a matter of time before it happens, so best to integrate it into the stadium design from the start.
Alex Bonnar
16
Posted 19/07/2016 at 13:54:46
A little off subject but I'm in Stockholm at present a few minutes walk from the new National, multi-purpose arena. Completed in 2012, shared ownership with the national FA, local council, local football club and a consortium of developers.
Retractable roof, holds just over 50k for footie matches and 67k for concerts (a rock band there last weekend). Modern design, overlooking a large lake to one side and has now attracted further investment in hotel, apartments and commercial buildings for many large national and international organisations.
There is a new (last year), shopping mall next door and transport links brought in. Apparently cost approx €200M. Anyone putting two and two together???
Mark Fitzgerald
17
Posted 19/07/2016 at 14:18:45
Paul (#12),
I can't see why you'd think you'd be shot for that opinion. Surely most here would agree with that proposal.

There's no doubt that modern stadiums look amazing (all glass and chrome, etc.), are more comfortable, are more safe, offer better visibility, etc.

But are they as atmospheric as their older counterparts? That may well be debatable. Or perhaps it's a flawed romantic view of the past.

Personally I think the most memorable arenas are those with the fans who generate those incredible atmospheres that I allude to. I would love a new fancy stadium for the club. I would love that new stadium to pay homage to classic Goodison Park. And I would love our fans to create the atmosphere that it deserves.
Tony Draper
18
Posted 19/07/2016 at 15:02:33
Brent @13.
Just a pen for Bill, I think. One of them free ones from dodgy insurance companies that diddle old ladies out of their life savings. Then he can sign everything over and spend his time leafing through lawnmower catalogues.
Sue Brown
19
Posted 19/07/2016 at 16:12:14
Tony (#2)
Well said... My thoughts exactly.
John Gall
20
Posted 20/07/2016 at 11:38:40
Derek (#9) : beautiful post. My peak Goodison years were a bit later, say 1976 to 1982, but most of what you describe still applied then. The teams I witnessed were considerably weaker than those you saw, but the mood of match-days at Goodison has stayed with me forever.
None of the contemporary UK stadiums impress me. I live near the Emirates, supposedly the state-of-the-art example, and I just find that place a soulless concrete bowl. Why they can't just thoroughly upgrade Goodison Park, I do not understand. It's important the club remains in Liverpool 4: the whole history of Everton is immersed in Walton and environs.
Redevelop stand by stand, starting with the poxy 'new' Park End – a sad indictment of the lack of ambition EFC has shown since the highlights of the 1980s. Give us back our class, our style and our swagger. And keep us connected to our roots at the same time.
Eric Myles
21
Posted 21/07/2016 at 07:13:58
Replicate, David (#14)??
Remove existing and transplant to new more like, add as necessary if need be, or maybe not to just keep some authenticity.
And doesn't someone have one of them clocks in his back garden??
David S Shaw
22
Posted 21/07/2016 at 12:02:37
Can't argue with that, Eric Myles.
The other grace to restore is the old Main Stand gable. Absolutely beautiful it was.
Steve Boardman
23
Posted 22/07/2016 at 18:22:25
Just to pick up on some of the earlier comments. My father's ashes, plus those of a lot of other Blues, are buried in the Garden of Remembrance at the back of St Luke's with a plaque on the gable end wall of Gwladys St. He was Roman Catholic not Anglican but the church were delightful to deal with. Even if we move ground, he will still be in his spiritual home!
Tony Abrahams
24
Posted 22/07/2016 at 21:51:35
Tony @2, what a brilliant post. More I think of it, leaving Goodison behind, will be a very hard thing to do.
David 11, I agree, Wembley Stadium, no longer holds any kind of aura for me.
Dave 8, I hope you will be happier when you're a ghost!
Dave Abrahams
25
Posted 22/07/2016 at 22:05:54
Tony (#24) I think I will be, especially when I'm haunting you!!!
Tony Abrahams
26
Posted 23/07/2016 at 09:49:34
I know, you will probably be one of those poltergeist's throwing cushion's from the main stand!
Tony's 100% right about Goodison though, because if you shut your eyes, for just ten minutes, then you will have loads of good, bad and absolute great memories, that come flooding back.
Thanks for taking me to Goodison, Dave, with my greatest memory of you besides trying to attack the gate men who wouldn't let you carry me in, was definately when you nearly threw me out of the upper gladdy, when Andy King, scored that goal!
John Raftery
27
Posted 24/07/2016 at 20:56:14
I have been to all the new stadiums in this country plus quite a few abroad including those in Munich, Lille, Wolfsburg, Berne, Kiev, Bordeaux and Nice.
The best of the lot though is the new stadium in Lyon. All the seats are close to the pitch, the capacity is over 59,000, the concourses are huge both inside and outside the stadium and the atmosphere at the Ukraine v Northern Ireland game last month was second to none. With a retractable roof it would be the ideal solution for us on the banks of the Royal Blue Mersey.

Jeff Armstrong
28
Posted 24/07/2016 at 21:15:55
John, sounds just about right that Lyon stadium. I also think 59,000 is about right too. We've sold 32,000 season tickets to date; we could add 15,000 to that with a bit of success.
Stands close to the pitch, good atmosphere, which some of these superbowls (eg, The Emirates) do not have. It really feels like the type of ground we would be happy to have.
Lukas Polster
29
Posted 24/07/2016 at 21:31:11
I agree, John (#27), about Lyon's stadium having great atmosphere. I've only seen it on TV but I did go to their old stadium & the atmosphere there was amazing. I hate to say it but much better than Goodison, but that's down to the fans – not stadium design.
Paul Burns
30
Posted 25/07/2016 at 11:54:11
I agree with Dennis Stevens' views on how the new ground should be, very steep stands and that go right to the edge of the pitch.
I urge all Evertonians to go to Google images and put in "Juventus stadium".
In my opinion, this is exactly the type of ground Everton need. It could be scaled up to hold more and generates a fantastic atmosphere, something rare in Italian football.
Paul Burns
31
Posted 25/07/2016 at 11:57:14
Disagree with Lukas Polster though, stadium design has a huge effect on the atmosphere inside.
Tony Draper
32
Posted 26/07/2016 at 19:21:07
Not sure how many TWers have already seen this article (or similar) I'm certain that Lyndon or Michael have already listed the following link a while back. But out of interest, thought it might be useful.
As persuasive as the accompanying hype appears I'm not entirely convinced.
But, please, judge for yourselves:
Link
Tony Williams
33
Posted 29/07/2016 at 11:58:34
Tony (#2)
Superb, I think that is what every Evertonian thinks.
Ever Blue,
Ever True,
EVERTON.
Tony Draper
34
Posted 30/07/2016 at 21:01:58
AND !
AND !
AND !
HOW, could Everton FC ever contemplate leaving William Ralph "Dixie" Dean ?
Our GREATEST took his final breath at "God's Acre".

---
Add Your Comments
In order to post a comment, you need to be logged in as a registered user of the site.
Or Sign up as a ToffeeWeb Member — it's free, takes just a few minutes and will allow you to post your comments on articles and Talking Points submissions across the site.
© ToffeeWeb