Everton History
Everton's 'Hall of Fame' Events through the Decades
Rob Sawyer

06/03/2017

25 Comments
[Jump to last]
Share: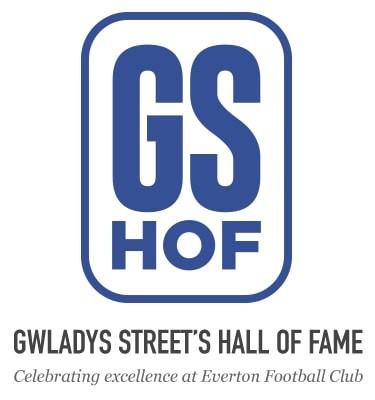 Friday, 10 March, 2017 sees the staging of a Gwladys Street's Hall of Fame event after an eight year hiatus. At The Hilton Hotel John Bailey, Pat Van Den Hauwe, Nigel Martyn, Ian Snodin and Kevin Campbell will join the 120-plus previous inductees in the pantheon of Blues greats.
The concept of an independent Everton Hall of Fame was the brainchild of Dr David France, the uber Toffees fanatic, who was inspired by the veneration afforded ex-baseball players in the USA.  It was the first of its kind in the United Kingdom. In 1998, a panel of ex-players (including Brian Labone and Alex Young), shareholders, Merseyside sports journalists, Sir Philip Carter, season-ticket holders and other Evertonians convened by "Dr Everton" considered the claims of over 900 past-players for inclusion in the first draft of inductees. The benchmark was to have made a significant positive contribution to the Blues cause through ability, determination and sportsmanship across all eras of the club's history. In the end 75 former players and 5 other club servants made the cut.
In February 1999 the first gala was held at the Adelphi to celebrate the launch of the Hall of Fame. David had spent many months, in that pre-digital era, tracking down former players to invite – often relying on Brian Labone's lengthy list of contacts. That first, raucous event has gone down in Goodison folklore. In excess of 100 men who have donned the royal blue shirt, Kendall, Collins, Fielding, Gabriel, Lyons, Royle, Hickson and Ratcliffe amongst them, were there to experience a level of hero worship that they had not enjoyed since they hung up their boots.
In his memoir, Everton Crazy, David recalled that the festivities continued way past the designated curfew, in spite of the best efforts of the man himself and hotel management. The evening dinner festivities ended up segueing into breakfast. Ten subsequent annual fan ballots saw the Hall of Fame ranks swelled - with many new inductees presented to the enraptured supporters at Everton love-fests held at the Adelphi. Benefitting, financially, from these gatherings was the Everton Former Players' Foundation - another concept instigated by the mercurial Dr France.
The tradition of celebrating the club's heritage and former servants goes back nearly 90 years.   On 23 April 1929 Everton F.C. held a banquet at the Philharmonic Hall, ostensibly to commemorate the golden anniversary of the club (technically this was the previous year) and the publication of the club's biography, authored by former board member Thomas Keates (who died shortly after its completion).
600-plus guests assembled to toast the achievements of the club in what the Liverpool Echo journalist Bee described as a "capital setting".  The League championship trophy, won by Everton during the previous season, and other items of silverware, were proudly displayed. The job of compeering the mammoth event fell to club chairman, William Cuff.  One by one he called to the stage the players and officials who had helped to make the one-time St Domingo's Church football club, one of the giants of the game.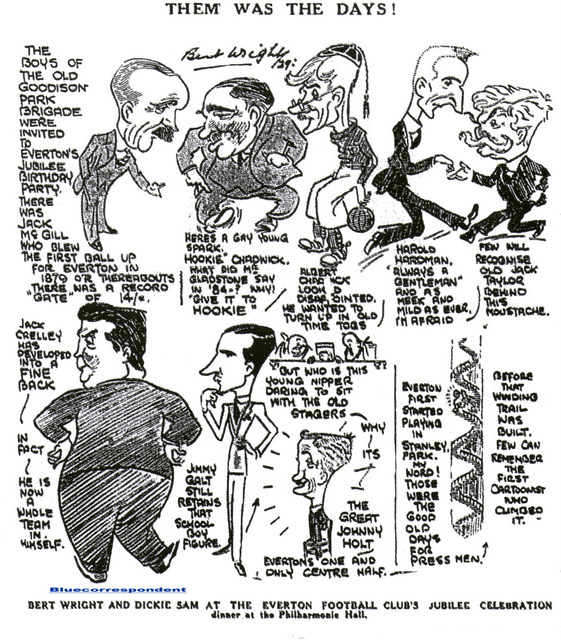 Evening Express cartoon, 1929
First up was the oldest surviving former player (from the 1878/79 season), Alfred Wade who received a great ovation. Those following him up to take a bow included  Edgar Chadwick (referred to by Cuff as "Hookie") with his brother Arthur,  Jack McGill, William H. Parry (captain in 1879), George Dobson, Robert Smalley, Tom Booth, Jack Taylor (the captain who held the FA Cup aloft in 1906), Fred Geary,  Harold Hardman (sat at the top table, as he was then a  director of Manchester United), Jack Sharp (the former winger was, by then, a club director), Charlie Joliffe, Bill Stewart, James Galt, Bob Balmer, Jack Crelley, Bill Stewart,  Tom Fleetwood, George Harrison, John McDonald, Harry Makepeace, Harry Cooke, Jack Elliott, Louis Weller, Tom Costley, William Marriott and Bill Briscoe.
Lord Derby (whose ancestor gave the famous Epsom horse race its name) arrived from London by train shortly after the event had commenced. He conveyed the joy the King and Queen had felt when witnessing a display by schoolboys and schoolgirls at Goodison Park in 1913. Also in his address, he stated: "As long as we live there always the hope that next season will bring off the double event by winning the Football Association and the Football League Championship. One hundred and thirty-seven years elapsed between my family first won the Derby and won it again, so you may take consolation with me and go on hoping."
In addition to Harold Hardman, representing the denizens of Old Trafford, Everton's Vice-chair, Ernest Green, toasted invitees from  Liverpool FC, Aston Villa, Newcastle, Burnley, New Brighton, Tranmere Rovers and Manchester City plus the  English, Scottish, Welsh, and Irish F. A.'s.  Tom Crompton, chairman of the Liverpool FC, reminded the attendees that he, too, was a former Everton player.  One other ex-player, whose name was not reported in the press, asked that his ilk not be referred to as veterans.  So Bee suggested, in his newspaper column, that they be known as "Wonderful Old Players"
Mr. C.E Sutcliffe, proposing a toast to "The Everton Club", claimed: "If I were asked to name two of the finest sporting clubs in the country," he added "I think that I should place Everton first as a real, good, honest sporting club that has made its mark in the world of sport.  Everton is one of the clubs whose name was not only respected in Lancashire and England, but throughout the whole world."
Will Cuff, responding, proclaimed: "I am sure you will agree with me when I say that this is a momentous occasion. It is an event unique in the history of this club, and very nearly in the history of most clubs. If you don't agree with that you will agree that it is extremely improbable that this occasion is likely to be repeated in this club in the presence of any one of us here." He went on to reflect on the club's achievements and innovations  - including the use of goal nets,  the publishing details of the home and visiting players in the matchday programme; numbering the players on the programme and indicating changes on the board, showing results on  "telegraphic indicators", setting aside a league match as a benefit to a player and guaranteeing a £500 benefit payment to a player.
Touching on the scientific tag that Steve Bloomer had bestowed on the Blues, Cuff stated:
"The one outstanding feature of the club has been the ideal that whatever the result, the team would play a scientific type of football, and I feel that we have achieved that ideal. It has been argues that the purest football, is that which is played on the turf and not in the air... Ladies and gentlemen, we have endeavoured to cultivate that style of football. We may not have much to write home about when we talk about winning championships and cups, but all that...is not the be all and end all of football. Above all, the game is the thing that matters".
James Galt and Fred Geary  replied on behalf of the guests whilst  W.R. Williams purposed the toast of the Chairman. He said; "Thirty-five or so years ago there entered into the councils of the Everton club a dapper young gentleman with an undoubted profile destined to play a large part in the councils of the club in years to come...Through the length and breadth of the land...Mr  Cuff and the Everton club are synonymous terms. Everywhere he has gone he has been received with open arms and respect."
Musical accompaniment throughout the function was provided by Mr. J.L. Pennington's orchestra, assisted by the vocal talents of  Mr. Eric Child and Mr. Griff Williams. The momentous event closed with the singing of "Auld Lang Syne."
49 years later, it was time to celebrate the club's centenary with a similarly lavish affair, held at Littlewoods' JM Centre.  On 23 October 1978, John Moores hosted an event for shareholders, their guests, club officials and myriad former players – in all nearly 700 invitees were present. Former players present included Joe Mercer, W.R. "Dixie" Dean, Ted Sagar, Alex Stevenson, Jackie Grant, Harry Leyland, Tommy Eglington, Peter Farrell, Brian Harris, Bobby Collins, Gordon West, Brian Labone, John Hurst, Ray Wilson, Alex Parker, Cyril Lello, Colin Harvey, Jimmy Harris, Tommy E. Jones, Gordon Watson, Eddie Wainwright, Norman Greenhalgh, Derek Temple, John Morrissey and Dave Hickson. Incumbent manager, Gordon Lee, was joined by former player and team supremo Harry Catterick at the top table. Amongst the, then, current crop of players present were Billy Wright and Dave Thomas.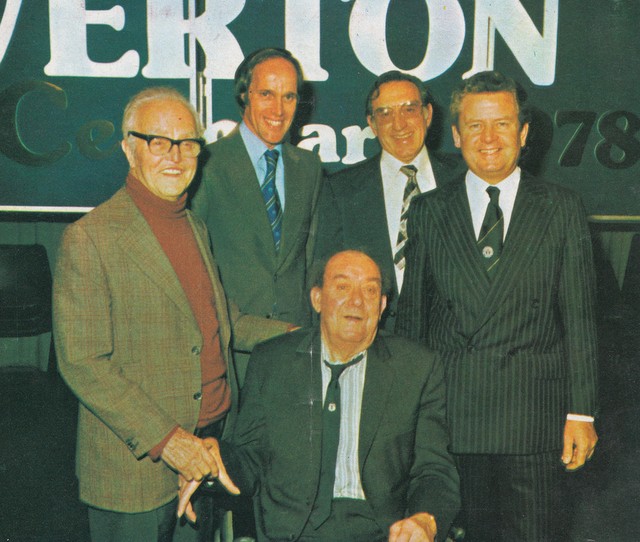 At the 1978 event: L-R John Moores, Gordon Lee, Dixie Dean, Harry Catterick, Philip Carter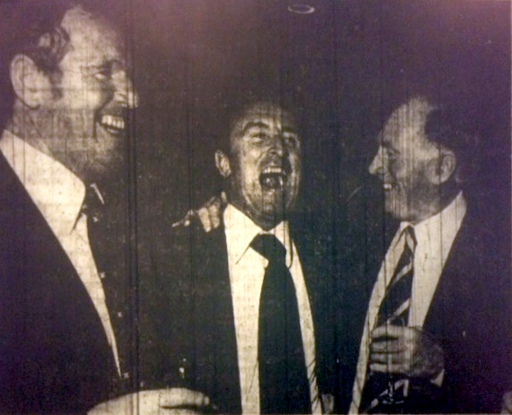 1978 dinner: L-R Tommy Eglington, Harry Leyland, Joe Mercer
Chairman, Philip Carter, who presided,  welcomed the guests and announced that Everton was "on the threshold of another golden era."  Gordon Lee gave, what was reported to be, a stirring speech which earned an ovation. In a nod to the 1929 event, thirty former players were introduced individually onto the stage,  each receiving a wonderful reception. Gordon West, displaying trademark wit as he descended from the stage, moaned about Billy Dean: "He could never play – and he got a bigger reception than me!" 
Roll on 2028 when, one hopes, there will be many reasons to be cheerful and a 150th anniversary event to match those that have gone before.
For more information on the Gwladys Street's Hall of Fame visit www.evertonhalloffame.com
Thanks to:
David and Elizabeth France
Billy Smith
Kjell Hanson
Source Material:
Everton Crazy – David France (Gwladys Street's Hall of Fame, 2016)
Gwladys Street's Hall of Fame  - David France (Skript, 1999)
Blue Correspondent website
Bee and Blackstaffe (Liverpool Echo)
Charles Lambert (Liverpool Echo)
Ian Hargraves (Daily Post)
Everton FC matchday programme
www.roydenhistory.co.uk (Mike Royden)

Follow @EvertonHeritage
---
Reader Comments (25)
Note: the following content is not moderated or vetted by the site owners at the time of submission. Comments are the responsibility of the poster. Disclaimer
Dennis Stevens
1
Posted 08/03/2017 at 09:37:26
2028 – maybe we'll finally have achieved that elusive "Double" by then!
Richard Humphrey
2
Posted 08/03/2017 at 10:18:24
Really looking forward to Friday night. Great to see the old players who love the club and are not just passing through to what they think are better things.
Chris Williams
3
Posted 08/03/2017 at 13:37:38
There are some outstanding individuals in there, that is for sure. Loads I've seen over the last 7 decades and loads I know from my Dad's stories when I was a whole lot younger. He went for 6 decades from the 1920s and I was well schooled in his heroes.
It's worth a look at that list of members.
Dave Abrahams
4
Posted 08/03/2017 at 16:08:07
The photo of Joe Mercer with Leyland and Eglington, it looks like Eggo is in the centre to me, not on the left.
Brian Harrison
5
Posted 08/03/2017 at 16:42:44
Dave,
Yes, Joe Mercer on one side and Harry Leyland on the other side of Tommy Eglington. I used to see Harry quite often as he had a stall on Birkenhead Market and I used to go over there from time to time. I think Harry was closer to Blackburn and Tranmere than he was to the Blues.
Dave Abrahams
6
Posted 08/03/2017 at 16:50:33
Brian (#5), yes, Harry played in the 1960 FA Cup Final for Blackburn and never really made it at Everton because Jimmy O'Neill was the main goalkeeper.
Simon Smith
7
Posted 08/03/2017 at 17:05:25
I went to some of the Hall of Fame dinners in the late 1990s , only wish I was in a position to attend them now!
Oh maybe in a few years, if they become a regular event again, I might be able to... Have fun, all that go, and have a great night!
COYB'S! ! !
Ray Atherton
8
Posted 08/03/2017 at 17:53:41
Dave (#6),
I think our ex-Blue Eddie Thomas played for Blackburn in that 1960 final. He scored 2 goals against RS in a Senior cup match under our best floodlights in the first division.
Also Louie Bimpson, ex-Red, played for the Rovers.
Terry White
9
Posted 08/03/2017 at 18:30:30
Brian (#5), Dave (#6) and Ray (#8), Matt Woods, our reserve centre half behind the great Brian Labone, also played for the Rovers.
I'm afraid my memory does not allow me to recognize either of Harry Leyland or Tommy Eggo in that photograph.
Dave Abrahams
10
Posted 08/03/2017 at 19:15:23
Ray (#8),
I think Eddie went to Blackburn Rovers as part of the deal which brought the great Roy Vernon to Everton. If I'm right, it looks like Roy missed out on that cup final.
Eddie Thomas was a very slight-built inside right, I think he was under-rated, had a very good football brain, I think he scored four in one game that finished 4-2 to the Blues either against Preston NE or Portsmouth.
He also scored for Swansea versus Liverpool in a 2-1 win for Swansea, think it was 1964, Moran missed a penalty for Liverpool, one of my many happy days on the Kop when they got beat, and it wasn't unusual in those days, especially in the EIGHT seasons they were in the old Second Division, as I like to remind my red friends, as often as I can.
Chris Williams
11
Posted 08/03/2017 at 19:57:22
Dave,
As usual, you're correct. From memory, he was valued at ٦k in the deal. He probably was under-rated at the time, and occasionally got dog's abuse from the crowd.
Although nothing like as bad as the treatment Alan Shackleton got. At least from what I can recall...

Dave Abrahams
12
Posted 08/03/2017 at 20:15:24
Chris (#11), I think Alan got a lot of stick, one reason was he replaced Davie Hickson, who went to Liverpol, and the other was he wasn't very good...
Did he come from Burnley? He was married to a beauty queen, so footballers had a bit of glamour then, even though they were only on £20 a week.
Terry White
13
Posted 08/03/2017 at 20:45:21
Dave and Chris (#11 & 12),
Alan Shackleton scored 10 goals in the 59-60 season in 26 games. Not too bad. Included 3 against Birmingham (4-0) and both goals in a 2-1 win over Sheffield Wednesday.
He and Dave played together at the start of that season, Shackleton wearing the #11 shirt before Dave left and we went out and signed Bobby Laverick from Chelsea after which Alan played at #9.
I was browsing around and in 1957 we beat Man City 4-2 on a day when our scorers were Ken Birch, Willy Haughey (anyone remember him? 4 appearances and this only goal), Jimmy Gauld and "Tom Thumb", Graham Williams. However did we manage to win that game? And Bert Trautman was in goal for them!
Dave Abrahams
14
Posted 08/03/2017 at 21:01:51
Terry (13) yes 10 goals in 26 matches looks a decent return, so he didn't do too bad, but he really wasn't a good footballer.
Willy Haughey was a young Scotsman, he seemed to be around a few seasons, not sure if that is true, he had a good touch and football brain, but lacked a bit of pace.
At that time, we had a centre-forward, Jackie Hood, who came from The Highland League, a big strong lad, not sure if he even got a game for the first team.
You mention Jimmy Gauld playing, he was heavily involved with the fixing of matches when Tony Kay was suspended for life, hope that's not a clue to how we won that match against Man City.
Chris Williams
15
Posted 08/03/2017 at 21:30:54
Dave,
Yes he came from Burnley did Shack.
Gauld must have been a piece of work. I recall he seemed to be involved in the Kay story in the People but wasn't he involved in the other Albert Dunlop drug story as well.
That one led to a big purple heart on a stick being planted on the centre circle before a Derby at Anfield.
Interesting time to be a young Evertonian.
Dave Abrahams
16
Posted 08/03/2017 at 22:14:26
Chris
Not sure about that, Gauld had left Everton by then, in fact he didn't stay here too long.
I may be wrong but the Purple Heart story might have come from an article in a Sunday paper later in the year when we won theChampionship in 1963, it might have been written by Albert Dunlop himself. Albert was a notorious gambler who got himself into a lot of debt, maybe he sold the story to get himself some money.
Terry White
17
Posted 08/03/2017 at 22:22:02
Chris and Dave, if we are going to recall bad #9s, let's not forget those two icons of the mid 50s, Jimmy Glazzard and Peter Harburn.
Both signed while Dave was on his travels, Glazzard was way past his sell-by date when we got him from Huddersfield, and Harburn from the lower leagues, Brighton, I believe. A combined 7 games and 1 goal.
Jimmy Gauld had a vague connection to my Scottish family and we were quite excited when we signed him, He had pace and an eye for a goal, 7 in 23 games especially a double to beat John Charles's Leeds in an early game for us. He also played in the epic 5-2 win at Old Trafford around 1956, a game I attended in my infancy!
Yes, he was reportedly involved in the betting scandals that you both have mentioned, especially the betting that got Kay suspended. I am not sure whether the drugs rumour that Dunlop perpetuated had any real merit to it.
Ray Roche
18
Posted 08/03/2017 at 22:29:16
Dave (#16),
That's how I remember it, Dunlop being an unreliable bloke always short of money. He ended up at Rhyl where he was a "bit of a one", apparently. I also played for Rhyl but at a later time but some older pals of mine who played when he was there were less than impressed with him as a man. Crooked was a word that cropped up... read the link below from ToffeeWeb some time back.
http://ToffeeWeb.com/season/15-16/comment/editorial/31197.html
Chris Williams
19
Posted 08/03/2017 at 22:35:10
Terry,
I think those Dunlop stories came up again in fairly recent times for some reason. I think ex players like Jimmy Gabriel came onto this website to refute them quite categorically.
As for Gauld, I must have seen him play but I can't rgecall him. The same goes for Peter Harburn.
I was quite a sprog in those days mind, but I seem to recall a young right winger called Bentley who played for us against, I think, Bolton and was played off the park by Higgins their left back. I think I saw him play against the same player in the reserves the previous weekend and give him the runaround.
Hard man was Higgins, father of Mark I think, who had muscles in his spit.
Ray Roche
20
Posted 08/03/2017 at 22:54:33
Chris, have a look at the link I provided, and the comments from Tony Kay.
Chris Williams
21
Posted 08/03/2017 at 23:01:27
Ray,
Yes, that was what I was thinking of.
Dave Abrahams
22
Posted 09/03/2017 at 09:21:40
Terry (#17),
Jimmy Glazzard was a cracking centre-forward, he once scored four against us, he also scored the winning goal for Huddersfield versus PNE then went in goal and saved a penalty from Tom Finney; you are right – we signed him years too late.
Peter 'Sailor' Harburn, as you say we signed him from Brighton H A preseason. I went to Leicester with thousands of Blues fans for the first game of the season, we got battered 2-0, the sailor was all at sea and impressed no-one. He didn't last long, but long enough toget injured, off the pitch: he heard what he thought were burglars trying to get into his house from the garden, he rushed out and ran right into the clothes line and nearly blinded himself. That kept him out for a few games, thank God.
The players we signed those days, I think all the scouts had learning difficulties, they definitely had very poor eyesight.
Terry White
23
Posted 10/03/2017 at 15:43:56
Dave (#22), I agree. Glazzard was a good First Division player in the mid-50s. But we signed him in the late 50s!
Happily we were much more fortunate in our next signing from Huddersfield, the Great Ramon Wilson. I saw Bertie Auld the other day describing the late Tommy Gemmill as the "best left back in the world in the mid 60s". I strongly beg to differ.
Dave Abrahams
24
Posted 10/03/2017 at 18:59:22
Terry (#23), Bertie was a character, giving his old teammate a good reference. Bertie was a manager in Scotland, I can't remember which team. One of his players got injured just before half-time, the trainer gave him some treatment and the player carried on until the interval.
The trainer said to Bertie when he got back to the bench, "He's not too good,' referring to the injured striker, "he doesn't know who he is." Bertie said, "Well, when he comes in tell him he is fuckin' Pele and he might go out and score a hat trick in the second half."
Damian Wilde
25
Posted 12/03/2017 at 11:11:16
Oustanding article, thank you, Rob.
---
Add Your Comments
In order to post a comment, you need to be logged in as a registered user of the site.
Or Sign up as a ToffeeWeb Member — it's free, takes just a few minutes and will allow you to post your comments on articles and Talking Points submissions across the site.
© ToffeeWeb