Report
Barry leads the charge to consolidate 2nd place
By Michael Kenrick
17/09/2016

168 Comments [Jump to last]
Share: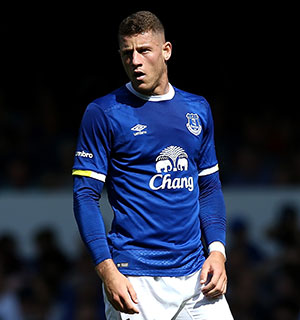 Ross Barkley keeps his place in the side after being substituted at half-time against Sunderland on Monday
Everton 3 - 1 Middlesbrough
Everton celebrated Gareth Barry making his 600th Premier League appearance with an unchanged team from the Monday outing to Sunderland. Barkley retained his starting place, with a strong-looking bench ready to answer Koeman's calls.
Enner Valencia was named as one of the substitutes, preferred over Arouna Kone, while Cleverley reappears, edging out Tom Davies. Funes Mori and Holgate must bide their time with Williams and Jagielka forming and increasingly strong partnership at the back. A former product of the Everton Academy, Adam Forshaw, figured for the visitors.
Boro drove forward from the kick-off and won the first corner, Barry heading it away. Everton's early play was fairly scrappy as they looked to settle, playing it out of the back and looking for Barkley, who needed to show more drive. Coleman fouled Friend wide right, the free-kick delivered well and flicked on by Downing but wide.
Boro were doing an effective job of keeping Everton away from their area, while pressing high into Everton's half. A little too much pass the parcel when the home side did get the ball, Barkley eventually taking the initiative but again the ball was played backwards until a loose pass forward yielded possession.
Forshaw was onto Barkley as he turned and advanced. Play was tight down the right but Gana won a corner on 13 minutes, Mirallas putting in a nice one that Jagielka headed behind off his shoulder. Everton were still unable to penetrate forward, and Barry lost the ball, almost in with a shot on Stekelenburg. Bolasie had a chance to release Lukaku but overhit the pass, as the Blues struggled to find their rhythm.
Barkley was playing deep and got space to move but chose to pass rather than advance but at least the Blues finally drove into the Boro area from open play, but only briefly. But much better play followed, with Barkley making space and hammering a very hard shot at Valdes to enliven the crowd. Next, Barkley fed Mirallas, who ran on and shot at Valdes, the tempo improving by another notch.
But a cross in from Boro, Negredo appeared to head it out of Steklnburg's hands and into the the net... was it actually a foul? cf Andy Gray in the 1984 FA Cup Final for Everton. Stekelenburg was booked for dissent as the Blues tried in vain to persuade Lee Mason to rule the goal out.
From another good Mirallas corner, the ball ricocheted around the Boro goal area, fell to Barry and a superb left-foot strike from a tight angle into the roof of the Boro net put Everton level again after just two minutes, Williams possibly fouling Valdes in the process.
Much more spirited play form Everton saw Barkley advance and create another chance for himself (rather than playing it back to an expectant Lukaku on the edge of the area) firing sharply but over. Everton continued to press well, finally pushing Boro back deep. Some excellent play from Barry, robbing Negredo, as the fans on 30 minutes celebrated the life of 30-year season ticket holder Derek Acker, who died at the Stoke game.
Gana was scythed down in midfield, but the free-kick was cleared; however, most of the play was now in the Boro half, with Everton looking for their second goal, Barkley doing well to pass to Lukaku's feet, but the Big Man was being tightly marked, as Everton allowed their build-up play to slow down again. But Barkley turned his man and drove in, taking perhaps and extra touch that allowed defenders to get in and block his shot.
More pass the parcel at the back as the Blues sought to make space but Boro were making it difficult and the Blues were far from controlling things. Boro were allowed to charge forward, the shot flying high over the bar. Barkley started another forward move but it broke down, however, Coleman picked up the ball and showed how it should be done, skipping along the line of the Boro area and slotting nicely beyond Valdes, just inside the post.
Downing tried to make amends, his hard shot flying off Jagielka for a corner, the Blues needing to be solid at the back. Bolasie did well to dispossess Friend but then lost the ball. Forshaw then went in with studs showing on Ashley Williams. Good play from Gana and Boalsie saw the ball crossed to Lukaku in an advanced position, and he claimed a touch as the ball bounced past Valdes into the net. Barry was booked for blocking Barragan as the Blues went in at the break with a handsome two-goal lead.
No changes at the break and it was Barkley in an advanced position, wrongly called offside. Lukaku looked to break forward but was driven wide as the Blues pressed well from the off. Bolasie did well to get wide but his cross was not good enough. Coleman chased a lost ball and almost made it pay off. But the game was scrappy with an ugly spell of head-tennis until Baines got forward, winning a corner. Barkley with some great play, setting up Mirallas not once but twice, both wasted.
Barkley did very well to win the ball and jink into space before lashing a low shot that Valdes had to save down to his right. David Nugent came on for Boro as Everton's tempo of passing slowed around the hour mark.
Barkley and Gana did well to stifle a run of Nugent but the ball was not rolling well for the Blues as Boro had something of a resurgence. Mirallas finally ran at the red shirts, the ball bouncing off Lukaku then Barkley with neither taking a shot. Lukaku was kicked in the leg, and it was the opportunity for Enner Valencia to make his Everton debut.
Everton looked better for the fresh legs of Valenacia who tried to set up Barkley, Barragan tackling him for a corner. More fresh legs as Deulofeu replaced Mirallas, who had put in a pretty good stint, having lost 13 lbs under instruction from Koeman!
The imperative seemed to have waned, however, judging by the awful cross put in by Bolasie after some good work in the build-up. Given the ball again, Bolasie ran into a cul-de-sac and gave up possession, leading to a cross that Stekelenburg had to field. Boro had not given up by any means and the Blues were in danger of becoming complacent. Stekelenburg was forced to punch as Boro put in a good spell of attacking play.
Barkley again tried to get the Blues going forward but Bolasie stalled and went backward, inviting more Boro attacks. It was walking pace at times as the Blues payed it back to Stekelenburg far too often and showed no forward intent, with 10 minutes still left.
It was fairly uneventful as Everton ran down the cliock, Gareth Barry going off to a tremendous ovation as 2 minutes of added time were played out sealing a solid win on the back of a rather restrained second half that could have been much better. Still, 3 points consolidate 2nd place behind Manchester City.
Everton (4-2-3-1): Stekelenburg [Y:23']; Coleman, Williams, Jagielka, Baines; Gueye, Barry [Y:45'] (90' Cleverley); Mirallas (72' Deulofeu), Barkley, Bolasie; Lukaku (66' Valencia).
Subs not Used: Robles, Lennon, Funes Mori, Holgate.
Middlesbrough (4-2-3-1): Valdes; Barragan, Ayala [Y:37'], Gibson, Friend; De Roon, Forshaw (84' Clayton); Nsue (56' Nugent), Ramirez (70' Fischer) , Downing; Negredo.
Subs not Used: Guzan, Espinosa, Chambers,T raore.
Referee: Lee Mason
Attendance: 39,074
---
Reader Comments (168)
Note: the following content is not moderated or vetted by the site owners at the time of submission. Comments are the responsibility of the poster. Disclaimer
Ryan Sydow
1
Posted 17/09/2016 at 16:38:22
Barkley over Deulofeu to start – not sure I agree with that... Perhaps a little motivation might go a long way for Ross. COYB!!!
Mick Davies
2
Posted 17/09/2016 at 16:48:56
Bit of a Martinez there; hope it's not pandering to the 'local superstar'. How will the others on the bench like Ged and Tom Davies feel after coming on and doing no wrong? I hope Koeman's seen a marked change in Ross during the week because he certainly didn't deserve to be in the side after Monday's performance.
I just hope he's learned a lesson and up's his game to the level we know he should be at, and not just strolling around hoping his team mates will do the business.
Ciarán McGlone
3
Posted 17/09/2016 at 17:00:45
First chink in the armour for me... Ross should've been dropped.
However no doubt he'll play a blinder and I'll be eating my words... Hopefully.
Feel sorry for Deulofeu. Did well when he came on last week and gets no recognition for it.
Phil Sammon
4
Posted 17/09/2016 at 17:00:50
It's not 'doing a Martinez', Mick. That would be playing Ross through dire form. Him getting injured, then reinstalling him despite his deputy's far superior performance.
Ross had one bad half, much like Mirallas and Lukaku. I don't actually think Deulofeu did enough to win a starting berth anyway.
I'm still fearing the worst for Barkley's career... but let's not throw the towel in just yet.
Rob Hooton
6
Posted 17/09/2016 at 17:05:37
Could be a good bit of work by Koeman – Ross needs to add a dimension to his game but showing faith in his talent could also help him. Hope he has a blinder!
Victor Jones
9
Posted 17/09/2016 at 17:24:02
Good bench tonight. Slightly disappointed to see young Davies omitted ... but the bench still looks strong.
Tom Harding
10
Posted 17/09/2016 at 17:54:45
Typical Everton, just when they were starting to play, they go and give something stupid away.
Pivotal game this, we need to learn how to come back from behind and make this place a fortress again.
Get in there, Barry!
Gareth Clark
11
Posted 17/09/2016 at 18:03:18
Fucking foul! Fat fuck Lee Mason, get on a treadmill so you can keep up with play, ya bald blind twat.
John Graham
12
Posted 17/09/2016 at 18:19:29
Take it your not a fan of Mason then, Gareth.
Mark Morrissey
13
Posted 17/09/2016 at 18:21:14
I felt he'd start with Barkley and I reckoned on it being 3-0. I'll settle for 3-1. Glad that he kept his faith in Ross. Top management. Hope Bolassie can nab another for us. NSNO.
Next week, Man City to slip up and we'll be top of the league. Happy days.
Geoffrey Hall
14
Posted 17/09/2016 at 18:21:35
Playing well now... let's go for the kill.
Ciarán McGlone
15
Posted 17/09/2016 at 18:22:03
Koeman gets it right again. Barkley having a great game... simple things right, not losing possession and the silky stuff coming off. King Koeman.
Gana is superb again.
Gareth Clark
16
Posted 17/09/2016 at 18:22:51
How can you make such a bad error as a ref? Surely he gets a ban or a fine for being so shite?
Geoffrey Hall
17
Posted 17/09/2016 at 18:23:11
Fucking love it!
Craig Fletcher
18
Posted 17/09/2016 at 18:23:26
Barkley has been very good this half. If anything, maybe Mirallas to be hooked first for Deulofeu in the second.
Tony Kost
20
Posted 17/09/2016 at 18:56:26
Gareth (#16), you're right, the ref is very disappointing. Lukaku is getting a kicking.
Craig @18 – Barkley is much better – just like him to win a few more of his challenges... been good on the ball though.
Mirallas to be hooked.
Tony Kost
21
Posted 17/09/2016 at 19:02:00
Deulofeu now on for Mirallas; good applause for Mirallas... nice atmosphere.
Deulofeu – love that haircut – I'm jealous!
Steve Ferns
22
Posted 17/09/2016 at 19:17:42
He's here,
He's there,
He's every fucking where,
Idrissa Gueye
Steve Ferns
23
Posted 17/09/2016 at 19:22:03
Solid Second after five games, I'll take that. Thank you very much.
This looks like it will be the best Everton side, in a long time. We just need to surpass 70 points to prove that.
Tony Kost
24
Posted 17/09/2016 at 19:39:44
Idrissa Gueye – potential Player of the Season?
It's like playing with 12 players every week.
David Barks
25
Posted 17/09/2016 at 19:43:37
Goodison singing, players expecting to win the game, solid defense and hard work without the ball to make those expectations a reality, and a noticeable intelligence and maturity at the end of the game that was completely lacking in the past. This is what we should expect at Everton, to capitalize on games against these sides.
No match is an automatic three points obviously, which makes these wins against WBA, Sunderland, Boro and Stoke so valuable. What is great is hearing a player like Barry saying after the match that our expectations should be high and why shouldn't we go after the league. Loving this.
Paul Mackie
26
Posted 17/09/2016 at 19:46:49
If anyone missed it, there was a great interview with Barry on Football Focus this morning where he was saying that of course we should be aiming to win the Premier League.
After two seasons of utter shite, I think Koeman has got our players believing in themselves again. We had a good core squad already and he's added quality where needed. We'll be knocking on the door of the Champions League places for certain this season.
Craig Fletcher
27
Posted 17/09/2016 at 19:47:48
What I liked especially was the ease with which we saw out the second half. There's not much more I can say that hasn't already been said about Gueye and Barry – both absolutely superb again.
Nice also to see Coleman getting back to his best. Let's hope Lukaku's knock wasn't anything serious.
Brian Hennessy
28
Posted 17/09/2016 at 19:49:31
MotD running order has just been announced and despite the fact that we are second on the table, and our match had four goals, we will be the second last match shown
The reason given by Lineker for the Arsenal game on before us – there were controversial decisions in the Gunners match, and our match was shown on live TV.
Now maybe I'm missing something but we had a bit of a controversial decision for their goal and wasn't the Gunners Hull match shown on Sky Sports????
Jay Wood
29
Posted 17/09/2016 at 19:53:44
Another lethargic start. Foul or not, the keeper surrendered the ball too easily for their goal. Duly stung into action, Everton dominated the remainder of the half to cruise into a 3-1 lead.
The way we started the 2nd half, we looked intent on racking up more goals, but in the end just strolled through to the final whislte.
If we can play well for just 20 minutes every game, establish a 3-1 half time lead and comfortably see out the 2nd half without anxiety for the remainder of the season, I think I'd settle for that.
Sound management by RK to retain Ross. He had a good game.
Colin Glassar
30
Posted 17/09/2016 at 19:54:39
No surprise there then, Brian, and some think there's no conspiracy.
Martin Mason
31
Posted 17/09/2016 at 19:59:46
Very proud of what Everton are achieving now but maybe an average start with improvement steady as the season goes on. When you're second in the league and playing so well, there is so much scope for disappointment.
We now have really top class players now but I'm not sure what bad injuries to Gana, Barry or Lukaku would do to us. I really think we are much the poorer when Lukaku isn't in the team.
Jim Hardin
32
Posted 17/09/2016 at 20:04:06
Excellent entertaining football. Almost 1/3 of the way to safety then is it?
For those slating Lukaku as lazy, his moving out of the 18 taking his defender with him (why the defender went that far is beyond me?) opened up the space for Coleman to run into. Pretty good finish too by Coleman. No more arguments about him being brought back into the squad for Holgate I hope.
Mick Davies
33
Posted 17/09/2016 at 20:05:20
I think Coleman was outstanding today, offensively and defensively: I wondered whether we'd ever see the old Seamus again, and Ronnie Koeman has given me the answer. He's got the players fit, and, strangely enough, OFM didn't think they needed to be.
One good example from the commentator today was that Mirallas has lost 13lb over the summer; during training, Koeman attached a 13lb weight to him and made him realise how difficult it must have been for him carrying that extra lard.
So I have high hopes for a successful season, thanks to our management team and their 'Catterick' style ruthlessness – I can't see the players getting away with mediocre performances any more, so it's onwards and upwards, and let's win that elusive first League Cup.
Eugene McLoughlin
34
Posted 17/09/2016 at 20:06:28
Fucking deluded twats think the RedShite are gonna finish 3rd!! Hahahaha!!!
Raymond Fox
35
Posted 17/09/2016 at 20:07:56
Whatever they paid for Gueye, he's worth 5 times that, he had a great game again.
I did not think Barkley would start but he had a very good game; a goal from him would have topped his performance. Bolasie did well first half but disappeared in the second half.
We are still short of another class forward, especially if Lukaku gets injured; Valencia is never going to win balls in the air, is he?
One player who will be none too pleased at the moment with not being first pick will be Funes Mori.
Great we are doing well but we are getting an easy passage at the moment; when we play the money clubs will tell us how good we are.
Mike Green
36
Posted 17/09/2016 at 20:10:00
Having written to the BBC and complained in the past of our treatment on MotD, I looked at the results tonight and thought "Shit – we've won 3-1, bossed the game and will probably be last on MotD..."
There's a lot of goals out there tonight and we could be placed anywhere depending on your angle but my understanding was order goes on League Position, Number of Goals and talking points – in which case we probably should be on 2nd. Let's face it, if it was Liverpool they'd be right up there.
Great performance today – only criticism is we should've made it 6 or 7 which would've (I hope) put us on MotD first. Still, yet to really play the Big Boys
Gareth Barry – what a pro – congratulations!
Idrissa Gana Gueye – if he continues this form, he is a pure diamond – what a cracking footballer.
And Ronald Koeman – lessons on how to shape a football team. We could have a real class act on our hands here.
Super, super stuff.
William Cartwright
37
Posted 17/09/2016 at 20:12:02
Don't tell Ste Traverse about the MotD running order, he's convinced there's no such thing as a conspiracy by the media and anyone who thinks differently is paranoid and self-delusional.
Apart from their goal, which was a bit dubious. I thought the ref played it quite well.
Interestingly the TV half-time re-run showed Andy Gray's Wembley goal and honestly there was nothing to chose between them. Anyway, 3 more points and 2nd place and it's looking good so far.
COYB
Joe Foster
38
Posted 17/09/2016 at 20:12:10
This is great.
James Morgan
39
Posted 17/09/2016 at 20:15:10
Very pleasing win today. We won without getting out of third gear, which says a lot. We were fit, hungry, determined and solid. Last season we would've capitulated by the hour mark and gone on to lose or draw at best.
Ronald has really got them thinking they should be ambitious and worthy of the upper echelons. Obviously we expected to beat Boro but the main thing is we did it rather than look back with a "should've beat them" afterwards. We should do the same at Bournemouth next weekend and really start to cement our credentials.
Once again, Gueye proved that you can cost pittance and come from a shite relegated team but be the standout player. I hope the naysayers are (no doubt happily) eating their humble pie.
Phil Walling
40
Posted 17/09/2016 at 20:15:13
I'm off tomorrow to visit some old friends in Greece for a month. Annoyed at missing games when we are on such a good run but 'the plates' have to be humoured occasionally. Just don't want anybody saying I don't post when we are doing well.
I'm loving it!
Eugene Kearney
41
Posted 17/09/2016 at 20:15:51
Great result – second in the table. It's early days but it feels pretty good!
All those "marquee" non-signings that turned their noses up at EFC recently will be begging to join us next summer!!
COYB.
Eddie Dunn
42
Posted 17/09/2016 at 20:17:25
Such solidity in our team – it has been a while since I could have said that. The only worry is that we looked to have lost our threat once the big man went off.
However, there were some super performances, particularly from Gueye, and Barry and Seamus. Barkley also had a good game which is to his credit given all of the talk about him.
2nd in the league!
Joe O'Brien
43
Posted 17/09/2016 at 20:19:02
Don't really care about MotD any more. We know and every other fan knows we're playing great football and have a very strong team.
It's a great feeling being 2nd. Only going to get stronger with Koeman in charge. Well happy that Ross looked good today after being taken off on Monday night. Coyb
Shane Corcoran
44
Posted 17/09/2016 at 20:19:37
Eugene, #34, what three are going to finish above them? Good call I reckon.
Didn't see our game and I reckon we're not an option on Match Choice (?) so MotD will have to do.
Koeman's interview after the game; I could listen to his honesty all night.
Chris Gould
45
Posted 17/09/2016 at 20:21:09
How the commentators on BT Sport could argue that the Boro goal was legit is beyond me. Negredo headed Stek's wrist. He did not make contact with the ball which was safely in both of Stek's hands. That's a foul every day of the week.
We won so I'll excuse the ref for not getting it right. I can't excuse the tossers commentating who watched it several times and still suggested that it should stand. Ridiculous.
Shane Corcoran
46
Posted 17/09/2016 at 20:22:02
William (#37), and you believe what regarding such conspiracies?
Darren Hind
47
Posted 17/09/2016 at 20:25:28
Raymond
Don't start that lark. I hate this "easy start, hard finish" shite. Did we not have enough of that last season? They are all hard games.
This has always been a decent squad of players. Koeman has added the Viagra.
Jim
Give it a rest lad, nobody is slating Lukaku.
Eugene
Nothing deluded about it, they will finish 3rd... not far behind us.
Chris Gould
48
Posted 17/09/2016 at 20:25:31
William, anything that happened in 1984 is not relevant. The rules have changed. You could crunch someone with two feet and studs showing back then, as long as you touched the ball.
Negredo didn't touch the ball. He headed Stek. It was a foul.
Colin Glassar
49
Posted 17/09/2016 at 20:25:36
MotD is a national treasure which belongs to all of us. It's a pity it's been taken over by THEM!!!
Marcus Leigh
50
Posted 17/09/2016 at 20:25:46
The future's bright. The future is royal feckin' blue!!
Shane Corcoran
51
Posted 17/09/2016 at 20:27:45
Darren, they're all hard games but are they all equally hard?
Surely you'll admit we'll have tougher games away to Man City, Man Utd, Liverpool and Arsenal than we've had already?
Geoff Evans
52
Posted 17/09/2016 at 20:27:54
I'm just glad I can watch MotD again!

Peter Cummings
53
Posted 17/09/2016 at 20:28:42
Hard to criticise a win but the second half was a huge letdown in an attacking sense. We took our foot off the pedal big time and while 'Boro didn't pose a real threat they had more of the second half possession and easily closed down our forwards with first time tackling as well, they cashed in on poor passing by us.
Barkley while showing some improvement from the previous game still spent too much time on the deck, while Bolasie wasn't as influential as he usually is. My MotM was Seamus closely followed by Gueye and Barry while our defence coped well with any opposition threat. All-in-all a fairly satisfactory result but we must show more of a 'killer' instinct if we are to continue a so far excellent start to the new campaign.
Freddy Maldonado
54
Posted 17/09/2016 at 20:33:14
I am very pleased with our Club. The organization looks to have structure now, don't it? We traded insecurity for pride in one's work.
If you would have offered me 2 months ago, second in the table after 5 matches with a +7 GD, I would have bitten your hand off and cauterized the wound myself.
We still have some opportunities out there. Our finishing has to be more clinical – bodies need to fly if that is what it takes. I think Lukaku is still making his way this season – he may be a month away.
Acquiring a "fit" Striker must happen in January. Koeman is correct in his assessment – Champions League is not realistic. Our spirit, fight and stamina is leagues better than last season but do we have the assassins to finish the job? Valencia is not ready and Kone's knees are shot. For example, Mirallas, Lukaku and Barkley were in the box at one point, almost running rampant and barely marked but they couldn't tap it in. I have seen this for a few seasons now. Is it bad luck or lack of killer instinct? I understand the ball does its awkward pinball act at times but methodical finishers gobble those up.
I know that may sound a bit negative after our glorious start to the season but we need to be prepared for success. This team is important to my mental and emotional health so I need them to keep winning...
I'm happier with the response after the Boro goal more than I am about the win. We are going to be tough to beat this season. We are organized and relentless in the back. It's almost very old school back there – physical and no nonsense. Stekelenburg probably can't believe his good fortune right now to be behind them.
Did I mention that Gana is my love child?
Darren Hind
55
Posted 17/09/2016 at 20:34:29
No, Shane. I think we will win some of the so-called harder games, I also think we will slip up when we least expect to.
You can only beat what's in front of you and we are doing that.
Its our consistency which counts, I don't care about anybody else's.
Stan Schofield
56
Posted 17/09/2016 at 20:34:55
Another solid result. We can't be accused of being fragile this season, we look solid as a rock.
I can't get too worked up about MotD, and things will no doubt change on that front anyway if we keep this up.
Patrick Carty
57
Posted 17/09/2016 at 20:36:19
My rating's for the game!!
Stekelenburg 5 – should have been stronger for their goal
Baines 6 – quiet enough game
Williams 6 – steady
Jagielka 6 – solid game
Coleman 7 – got forward and took his goal really well
Bolaise 6.5 – quieter game than the Sunderland one but caused a few problems
Barry 8.5 – well taken goal and great all round play
Gana 9 – exceptional display, covered every blade of grass on the pitch
Barkley 7.5 – good attacking play from Ross, looked a lot more assured
Mirallas 6 – worked hard for the team
Lukaku 7 – claimed the goal his performance deserved.
John Daley
58
Posted 17/09/2016 at 20:37:27
"Great we are doing well but we are getting an easy passage at the moment, when we play the money clubs will tell us how good we are."
The team and manager are doing everything that could be asked of them at the moment. There's a difference between something being 'easy' and making something look easy by putting in hard graft and basic prep beforehand. No team in this league is simply there waiting to be rolled over. People at the club are currently putting in the work and getting the rewards.
Results against so-called lesser teams are equally capable of telling you how good or bad you are. Last two seasons the results against those sort of teams, teams we should be 'expected' to beat, told us we were fucking shite.
Gary Poole
59
Posted 17/09/2016 at 20:39:53
Loving football again. A professional performance and a very comfortable win. Love the way we are pressing teams and causing them to lose possession and, of course, loving the contrast to the last two dogshit seasons under that clown.
Koeman is absolutely transforming that set of players into a team that can meet their potential.
The next two games are very winnable and, with Koeman in charge, I am so much more confident that we will do so.
What a transformation from last season's car crash.

Christopher Wallace
60
Posted 17/09/2016 at 20:42:06
MotD is pure shite... Goals on Sunday is where it's at!
Gana and Barry taking it in turns for MotM awards, with the other being a close runner up.
Few idiotic comments at start of thread slating Koeman for keeping faith with Barkley. He has spoken and worked with him since hauling him off at Sunderland. How would he see how Ross reacted if he'd stuck him on the bench? He wanted to see if he is intelligent enough to take advice on board, and he got his answer.
Also, Ross wasn't the only one playing shit in 1st half at Sunderland. The team underperformed, and Mirallas was equally as bad, in my opinion.
Anyway, the team looks quality at the minute, and the new signings have been outstanding, happy man!
Shane Corcoran
61
Posted 17/09/2016 at 20:46:29
Darren, very likely we'll lose when we expect to win an vice versa.
It's still probably likely though that the games I've listed will be tougher than the likes of what we've encountered so far.
It's not a big deal for people to say it, I'm just not sure why it bothers you.
Pete Edwards
62
Posted 17/09/2016 at 20:51:10
Peter @53 Barkley did spend time on the deck, after fouled quite a few times winning freekicks..very strange comment!
Brian Williams
63
Posted 17/09/2016 at 21:00:27
Have to comment on Barkley. You're not gonna get a complete transformation in one game but without a doubt there was a difference, an improvement, and sometimes from the lad actually trying to do less rather than too much.
It looks like he CAN learn and today is hopefully the beginning of his transformation. He did well after what must have been a difficult week for him.
Rob Hooton
64
Posted 17/09/2016 at 21:03:53
Gareth Barry, man of the moment. Imperious performance yet again for our consummate professional.
Important, clinical equaliser and did what he does best. Congrats Gaz, hope there are many more great days for you at Everton.
Gueye was outstanding again, Barkley looked on it and Mirallas is now due an obligatory goal as his record shows so well worth sticking with.
COYB, really feeling good about the club right now, especially if we continue the great community work that has been going on for years.
Colin Malone
65
Posted 17/09/2016 at 21:08:52
Idrissa Gueye has more stamina than Mo Farrow. Another unbelievable performance.
Much improved, Ross, we all love you. Well done.
Paul Tran
66
Posted 17/09/2016 at 21:15:20
Solid performance after a sluggish start. They were never going to score in a month of Sundays.
I don't believe this 'easy fixtures' stuff. We're beating what's in front of us and getting some consistency and momentum.
The real test will be when injuries and suspensions kick in. A case in point today when Lukaku went off. He didn't have a particularly good game, but we don't seem as effective without him there.
That league table looks good!
Mick Davies
67
Posted 17/09/2016 at 21:16:47
Anyone heard how serious the knock to Rom is? He is absolutely vital if we are to achieve anything this season.
Martin Mason
68
Posted 17/09/2016 at 21:23:06
Peter@53
Koeman was raving about how brilliantly the team played in closing the game down in the second half in such a controlled manner. I wanted blood and thunder and 3 more goals but he is right and we're wrong; we were superb in the second half.

Simon Bates
69
Posted 17/09/2016 at 21:27:38
The defence through experience, knowledge, heart, pride, desire and quality, is undoubtedly one of the strongest in the EPL. Our back four, enabled by Stekelenburg, Gana and Barry, are solid.
It seems with a fully fit and firing Rom, he just has to choose the best attacking trio to beat what's in front him!!!
Big Ron, please keep shuffling that attacking threat we carry; we haven't even hit form yet – we will be lethal if and when we do.
Dave Abrahams
70
Posted 17/09/2016 at 21:28:40
I'm glad Koeman started Barkley today, didn't give Ross time to dwell on things. He did most things right today and it was his best game for Everton this season in my opinion. Keep it going, Ross.
Gana was MotM again with Barry, Coleman and Baines not far behind. The team as a whole are improving each game but, as most on here appreciate, there are many better teams to face.
Paul Conway
71
Posted 17/09/2016 at 21:33:48
Everybody is up for it at the moment. Fair play to Barkley who upped his game immensely and answered his critics, of which I myself was a very vocal one! So its a large slice of humble pie for me... Pass the mustard please and I will eat it with relish... And some of that too!
Barry was outstanding. Gana was just immense. But I have to say 'What a manager!' – most coaches probably would have kept Holgate in the starting eleven and made Coleman fight for his place, given that Holgate was playing well. But the reward for his astuteness was a sublime solo goal, right out of the Lionel Messi scrapbook!
Can't believe we have our Saturday nights back. Wishing all ToffeWebbers and Evertonians a very happy Saturday Night!
Tony Hill
72
Posted 17/09/2016 at 21:37:21
Martin (#68), that's an interesting point. We look as though we're playing in controlled spells at the moment, changing gears both up and down and conserving energy. If we'd locked it in last season against West Ham and Stoke at Goodison and Bournemouth and Chelsea away then we'd have had 12 more points.
We are obviously vulnerable if Lukaku gets injured but this was another very pleasing display. Great to see Coleman firing again and Barry continues to be excellent, but I think Gueye is quite remarkable; his timing and anticipation are like few I've ever seen.
Tony Hill
73
Posted 17/09/2016 at 21:41:06
10 more points sorry...
Colin Glassar
74
Posted 17/09/2016 at 21:42:19
I thought Mirallas was poor last week and poor today. Maybe it's his turn to be Barkleyed.
Martin Mason
75
Posted 17/09/2016 at 21:46:47
"We are going to compete for every point but Everton are not in our league" admitted their manager, Aitor Karanka. "Our league is against Crystal Palace and West Brom so we must keep calm."
That is an idea of how potent Everton are now. We were absolutely magnificent today in a game we would have lost with last year's mentality. Roll on, Man City, even if it is only to see how good we really are.
Peter Morris
76
Posted 17/09/2016 at 21:57:12
How good is Idrissa Gana Gueye? I mean, how fucking good is Idrissa Gana Gueye? This man is unbelievable. He has turned a pedestrian, predictable midfield into an energy packed pressing machine. Absolutely horrible to play against.
He's like a pesky wasp buzzing and harassing opposition incessantly and is JUST what we need, and have needed, for years. This could seriously be the best signing in a generation. Such a great support to Gareth Barry, and brings the best out of all of those around him.
Brilliant. Just brilliant.
Craig Fletcher
77
Posted 17/09/2016 at 22:01:10
Mick (#67), on the OS, Koeman said in his interview that he could be a doubt for Tuesday v Norwich in the League Cup, apparently he had a knock to his foot. Doesn't sound serious, fingers crossed.
Colin Glassar
78
Posted 17/09/2016 at 22:01:47
A really nice write-up in a Boro rag about just how good Everton are compared to their lads. No sour grapes a la Sparky Hughes or Big Sam who always think they were the better team after losing games, just appreciation of a better team. Very refreshing.
Paul Mackie
79
Posted 17/09/2016 at 22:04:29
Martin (#68) – The last couple of games we seem to be playing (and I realise this will trigger some of you) how some Spanish sides play. Keep the ball for long periods, then have 20-30 minutes of all-out effort and attacking to get the win, then back to killing the game off.
I don't particularly care if we don't tonk sides like Sunderland 8-0. I'd rather the team kept their energy levels up and do enough to win comfortably like we did today. As soon as we equalised it was pretty clear we were going to go on and win.
Colin Glassar
80
Posted 17/09/2016 at 22:04:35
Bruised big toe, Mick and Craig. This could clear up in days or take weeks, it just depends on how quickly the player recovers.
Mike Green
81
Posted 17/09/2016 at 22:10:27
Colin (#64) – indeed he was. I was waiting for Koeman to hook him but it didn't come. The great thing about today though was every player, including Mirallas, looked like they were playing for their place.
Brent Stephens
82
Posted 17/09/2016 at 22:10:32
Well done, Koeman, for starting Ross. Made his point at half-time at Sunderland. But I suspect there was a danger it would hit Ross too much if he was benched today. Instead he's given Ross a chance to respond immediately. That's what I call man management. And while Ross was not outstanding I do think he put much more effort in today.
Barry. Gana. Nuff said.
Brent Stephens
83
Posted 17/09/2016 at 22:14:13
As a guy next to me at GP said today, water covers most of the earth – and Gana covers the rest.
Martin Mason
84
Posted 17/09/2016 at 22:14:37
I thought that the BT panel were very poor in their very biased adulation of Everton. It's bad for us long term if we have a bad spell and it was unfair on Boro who have a very strong local supporter base.
Dan Davies
85
Posted 17/09/2016 at 22:16:17
Another good result, keep the ball rolling... happy days.
Well happy at the moment. No complaints from me. COYBB!
Tony Hill
86
Posted 17/09/2016 at 22:19:39
Colin (80), slightly worrying that because he had a toe injury last year I think which kept him out for a fair while.
Ste Lewis
87
Posted 17/09/2016 at 22:24:02
Apparently Gana has won 62% more tackles than any other player in the league over the first 5 games!
Colin Glassar
88
Posted 17/09/2016 at 22:29:58
That's true Tony and he's also had a recent (heel?) injury to his foot.
Graham Mockford
89
Posted 17/09/2016 at 22:50:41
Good solid performance today.
The big positives were another excellent defensive performance. Ashley Williams looks a great buy, never seems to get out of second gear but gives absolutely nothing away. A huge improvement on Funes Mori.
The midfield three has an excellent balance. Barry really consistent, 600 PL games is some achievement. Barkley had a really good game after his poor 45 minutes on Monday, the lad is definitely worth persevering with and Koeman's handling of him might be the making of him.
Finally, Gana is everybody's favourite new player, I genuinely can't remember who made such an impression in his first five games.
One downside to consider: both Gana and Bolassie could be out for January with AFCON.
Paul Smith
90
Posted 17/09/2016 at 23:14:05
First game I've watched in 3 weeks due to Internationals, work, and currently in Spain.
Gana is everything I've read about him, and more, some engine he's got. Barry was majestic showing some wonderful bits of close control and 600 games up – fantastic achievement.
I thought the Stekelenburg incident was a foul, Negredo clearly headed his arms when he had hold of the ball still but it was a quite ruthless reply from the boys (not a bit like the previous two seasons).
And finally we saw a different Ross, one that IMO has a wonderful future ahead of him at our wonderful club. Well done, lad – you can be as good as you want to be... just believe in yourself.
Dave Williams
91
Posted 17/09/2016 at 23:16:46
Great stuff and this side is only evolving at the moment. Give it another half-dozen games to really gel and we could be a match for anyone.
Gana is a marvel with work rate, passing ability and reading of play second to none – what a buy! And when I think of how the club was slated by a lot of TW posters who thought they knew better than the manager and Walsh...!!
Not sure about Mirallas – he plays as many loose balls as Ross but hopefully he will come good. Great man-management by Ronald with Ross – dropping him could have ruined his confidence but instead he had his best game of the season and didn't give the ball away.
Going in the right direct – well done, everyone!!

Eddie Dunn
92
Posted 17/09/2016 at 23:19:43
Have to agree with Chris 45, who states that Negredo headed the keeper's hands. The likes of Hoddle , MczManaman as well as the commentator and Howard Webb all thought it was a goal. How could they all be so ignorant of the rules of the game?
It is incredible that they come to a consensus on BT that it was okay. One of them even said that if the keeper had both hands on the ball then it would be no goal, and seconds later said that there was nothing wrong with it! Ludicrous.
Jamie Crowley
93
Posted 17/09/2016 at 23:24:54
Great game. We looked superb. Again!
Idrisaa / Gana / Geuye / Superman / Jesus is absolutely amazing. That kid covers more of the field than any player I think I've ever seen.
Colin Glassar – Mirallas benched? No way. Did you see the defense-splitting ball he played to Rom last week for the goal? He's been playing well. No real outstanding moments today but I'd not bench him – he's been excellent thus far.
Jay Wood
94
Posted 17/09/2016 at 23:28:20
TBH, I thought Gana had one or two loose moments in the game today, BUT! Before anyone leaps in indignantly, such is the standard he is being measured against given his performances to date, even being a teensy-weensy bit 'off', he still was a nominee for MotM.
Graham Mockford
95
Posted 17/09/2016 at 23:30:10
Jay
A nominee.? He was head and shoulders above every player on the park.
Jamie Crowley
96
Posted 17/09/2016 at 23:33:36
Gana is putting in such consistent, superlative / flawless performances that if he doesn't start shitting golden goose eggs people will be baying for his head on a spike!
Jay Wood
97
Posted 17/09/2016 at 23:35:21
Don't think he was 'Joe Hart' above everyone on the park today, Graham. Barry and Coleman also had very good games. It's a very subjective call, so I never get too arsed about players' match ratings as some are inclined to do.
Ernie Baywood
98
Posted 17/09/2016 at 23:47:06
Can't underestimate this turnaround. From setting unwanted records a few months ago to our best Premier League start.
So much to like. 3-1 didn't really reflect the game. Boro didn't even manage a shot on target (yet scored!). Solid, dangerous, controlled, energetic.
I actually thought Valencia did well when he came on. Keen to see a bit more of him.
Kristian Boyce
99
Posted 18/09/2016 at 00:20:59
Eddie, @92. Its funny that, on NBC in the States, the view was completely opposite. Arlo White was commentating with Neil McCann (former Rangers player) and both of them said the goal shouldn't stand.
Funny how a station manned full of RS couldn't pick out a blatant foul.
Patrick Murphy
100
Posted 18/09/2016 at 00:42:18
If a forward heads the goalkeeper's arm, then it has to be a foul every day of the week, unless of course Lee Mason is officiating and it's Everton on the receiving end. Andy Gray in the cup final made contact with the ball not the keeper, so a legitimate goal in my humble opinion.
I also agree with Darren, you can only beat the team you are playing, and it doesn't matter a jot where that team is in the league or how famous they are – 3 points is 3 points won and the more often this Everton team achieves that then the better it will be for all of us.
Don't believe the hype put out there by professional pundits; like journalists and advertising people, they have an agenda all of their own. Koeman has his own agenda regarding Everton FC and if he gets it right, the pundits can say what they want as often as they want.
David Hallwood
101
Posted 18/09/2016 at 01:30:07
I was screaming at the BT gobshites that it was a foul on the goalie and looked it in real time.
MotM, Gana?? Barry?? I thought for the second game in a row our MotM was the Zen-like calm of the defensive unit, an absolute pleasure to watch.
Mike Green
102
Posted 18/09/2016 at 01:59:45
Patrick #101
'Don't believe the hype put out there by professional pundits; like journalists and advertising people, they have an agenda all of their own. Koeman has his own agenda regarding Everton FC and if he gets it right, the pundits can say what they want as often as they want.'
Amen.
Dan Parker
103
Posted 18/09/2016 at 02:16:21
F'kin love it, end of.
David Pearl
104
Posted 18/09/2016 at 02:18:38
All going so well. Can't tire from looking at the table. Can't understand how pundits can be so obviously wrong. Barry... What a player! Barkley better. I'd like to sit him down and show him tapes of De Bruyne. This is what you should be doing Ross!
Mirallas poor the last couple games but putting much better shifts in. Between him or Deulofeu though its a difficult choice. Who wastes most possession? If they improve we can keep looking up. For now though it's one game at a time.
Gordon Crawford
105
Posted 18/09/2016 at 02:40:29
One brief comment about Barry on MotD last night, really sickens me.
Delighted with the three points. COYB
Brian Wilkinson
106
Posted 18/09/2016 at 02:45:07
Dave@105, how about Lennon being thrown in.
Brian Wilkinson
107
Posted 18/09/2016 at 02:51:28
If I was Bolasie, I would be giving the dubious goals panel a ring... I'll eat my hat if Lukaku keeps the goal.
Fantastic display again, Villa must feel like they've had their kecks ripped down and been shafted by King Dong, the seventies porn star, when we took Gana off them.
Eric Myles
108
Posted 18/09/2016 at 02:57:12
Chris #45, both commentators on the BeIn feed said it was a foul, and one of them was Beglin.
Thought it was perfectly OK myself.
Jonathon Laws
109
Posted 18/09/2016 at 03:06:13
Jay - Interesting to hear Niasse's showing him about. And about everything else he said makes me think we've got a top player.
Norwich next and the suns shines tomorrow.
Mick Davies
110
Posted 18/09/2016 at 03:10:48
Eddie @ 92, to be fair, they all agreed (after watching it for the 15th time) that it was a foul on the keeper. McManaman was the last to accept it but he said it was a difficult one for the ref, and he mentioned Gray's goal in the 84 final and said things were a lot different then – tackles that were okay then are outlawed now.
David Ellis
111
Posted 18/09/2016 at 04:47:43
Andy Gray's goal in 84 wasn't controversial at the time. Nor were half of Dixie Dean's goals when the ball and goalie would often end up in the net together! But under current rules that was a foul and all the commentators on my feed and the pundits agreed.
Why does it matter where we were on MotD??? Liverpool v Chelsea were last. West Brom v West Ham were first... What's the conspiracy?
Barry Jones
112
Posted 18/09/2016 at 04:50:52
Jay, I also noted that Gueye made one or two misplaced passes. I can only give him 11 out of 10 today.
Paul Kernot
113
Posted 18/09/2016 at 05:55:56
Brian (#108). Have to agree. After watching several replays, the ball didn't change direction at all. I think Bolasie deserves a goal next to his name for the effort he's put in so far. Of course Rom's presence made the goal possible but still, Bolasie's goal for me.
Steven Jones
114
Posted 17/09/2016 at 07:45:19
Colin Glassar and Brian... We were featured in the Thursday new Premier League program, We were lauded and featured in Football Focus, we were early on MotD and had big shouts for Barry and Gana and Barkley and a good length for Koeman...
Conspiracy? Yep, you're right!!!
Paul Mackie
115
Posted 18/09/2016 at 07:55:17
I'm also not understanding why everyone thinks it's a conspiracy if we're not last on MotD. Yesterday must have been a tough running order as all of the games featured lots of goals and multiple dubious decisions.
Steve Pugh
116
Posted 18/09/2016 at 08:13:16
David Ellis (#112), Yes, it was.
So many people complaining about the foul on Stekelenburg but no mention of Ashley Williams going in high on their keeper in the build-up to the equaliser. If we're honest, neither goal should have counted... but both did, so no loss.
Eugene Ruane
117
Posted 18/09/2016 at 08:56:07
Currently away in Ireland (Murroe, rural Limerick) so gave a mate my season ticket before leaving and then had to find an alehouse here with BT – not easy. When we did find one (in the centre of the city) all but one telly in there was showing Limerick vs St Pats. It was odd watching our game with the commentary from another.
Anyway, there was one other (local) blue in there so we both really enjoyed our 'comeback' win. My mate is a Spurs supporter so, as he drove me and had to sit and watch, I'm obliged to go to a place called Cappamore today to watch their game. Thought Ross showed a lot of bottle.
Up the Toffees (and Mr Gueye!)
Thomas Lennon
118
Posted 18/09/2016 at 09:09:18
From the off, it was immediately evident that the high energy pressing game of the Spurs match had been moderated to pressing in our half most of the time and in their half some of the time. However, after 20 mins, Boro were played out of the game, particularly by Gana & Barry but also Coleman, Bolasie, Mirallas, & Baines. Excellent and it will be good to measure them against Man City.
It was pleasing to see Barkley take the game on in the second half in particular for 15 mins after a period of passing ball around at the back. More of that Ross.
Good impression of speed and intent from Valencia up front in the centre-forward position. Useful start but can he score?
Derek Thomas
119
Posted 18/09/2016 at 09:11:50
Ernie @99; It's fine margins mate, Martinez didn't do too much at first with Moyes's squad, he just seemed to encourage them to be a bit more open.. though tbf he also brought in 3 players. This gave us 72 points.
Trouble was, he kept on opening it up and didn't know when to stop.
Koeman hasn't done too much with Martinez's squad, just tightened it back up again... though tbf, he also brought in some players.
So it's back to the 'Fine Margins' thing.
Gray did get a bit of head to the ball, not much, but more than the Boro guy who got none. I think the Ref let Williams's challenge go to even it out... like they always seem to do when they've made a balls-up yet won't or can't admit it.
Finally; How long will it be before some pundit, no doubt of the RS variety asks... 'Are Everton the new Leicester?' – No, we're just the new Everton.
Paul Hay
120
Posted 18/09/2016 at 10:32:19
Congratulations to Gareth Barry. What a mentor for Ross to follow.
Well done to the boys and back-room staff of Mr Koeman. Let's just continue to get behind them guys.
Keep the faith.
Jonny Flynn
121
Posted 18/09/2016 at 10:51:31
It's a change to be able to sit back in the middle of your chair and watch a game in comfort – not grabbing the curtains to hide behind or looking for the dog to kick. We know our defence is in good hands – no tippy-tappy rubbish, our midfield is a finely tuned machine that keeps turning, and our attack is very purposeful in all it does.
I love Bolasie and the energy he has. But Gana... what a talent! A credit to our scouting team because I knew very little about him but he's Tommy Gravesen on steroids and classier on the ball too. He must have four lungs or something. A firm favourite. I can't wait to see him in the derby. I shudder to think what he'll do in that.
And finally, Ronald Koeman – he is so refreshing to listen to. No bull, no sugar-coating, just pure sense – how could anyone not play for the man?
Keep it up, lads, make us prouder than we already are.
Colin Malone
122
Posted 18/09/2016 at 10:56:46
Brent 83. Great quote, I would like that on a tee-shirt.
Dave Ganley
123
Posted 18/09/2016 at 11:33:14
I thought this season would be immeasurably better with Koeman at the helm but I'm surprised at how well we are playing so soon. Everybody has bought into what Koeman is bringing to the table and nobody is sulking when replaced or rebuked for not putting in the necessary effort. Ross has responded just how you would wish him to after Sunderland last week.
As to yesterday, the Boro goal is subjective I guess. The Stek should have been much stronger and we would have been fuming if it had been us and the goal was ruled out. Anyway, it seemed to kick start us and we won comfortably in the end. Another question answered in how we react to adversity.
It is early days but, as others have said, you can only beat what's in front of you and we are doing that well. We can start to build up confidence with this run of games and really if we carry on like this then we shouldn't fear going anywhere. There is a real air of optimism around Goodison Park now and it's long overdue. It's a joy to go to the game and expect to win again. Looking forward to the Norwich game on Tuesday now.
As for MotD, can't stand watching that show with Lineker, Shearer etc spouting their shite, makes me puke the way they fawn over the Mancs and RS. Fuck 'em, don't care what time the put us on, couldn't care less. Hopefully we can really do something this season, that would make the fuckers choke on their slimey sycophantic words for the RS etc.
Ciarán McGlone
124
Posted 18/09/2016 at 11:46:31
Thought we had a poor second half. Next step is playing for the whole game.
Our start to the season puts the anger of the transfer window into some perspective... If we'd bought another striker and Number 10, I think we'd be genuine contenders for the league. Koeman is capable of it with modest investment.
Andy Meighan
125
Posted 18/09/2016 at 11:49:04
If Aston Villa had said, "Here you can borrow Gueye for 4 games and if you like the look of him, give us £30 million," we'd have bit their hand off. £7 million at today's prices – what an absolute snip. It's almost Colemanesque...
Simon Smith
126
Posted 18/09/2016 at 12:06:49
In defence of BT Sport. They did correct themselves. Even McManaman said he was wrong and it definitely should not have stood.

Terry Underwood
127
Posted 18/09/2016 at 12:50:02
All this "Easy start" stuff is twaddle. There are NO easy games... Burnley 2 RS 0 Chelski 1 RS 2. See what I mean?. Play badly, you lose, play well, you may win. Simples.
Paul Conway
128
Posted 18/09/2016 at 12:54:13
Funny old game... Paul Pogba = £100 million, Gana = dog ends, in football financial terms.
At the moment, I am Watching Watford v Man Utd and apart from a screamer that hit the bar, he is playing up till now like an £800k player.
Seriously, right now, would any of you fellow ToffeeWebbers swop Gana for Pogba?? Moi, non!
Eugene McLoughlin
129
Posted 18/09/2016 at 12:57:11
Precisely, Terry... Watford 1-up against Man Utd.
Sam Barrett
130
Posted 18/09/2016 at 12:57:49
Just a thought on Boro "goal". Whether it was a foul or not is not the issue. Personally, I think it was a foul as Negredo headed Stek's arm as he was in the process of catching the ball. The comparison to Grays goal is this – Andy Gray headed the back of the Watford keeper's hand at he same time as the ball hit it.
The real issue though is the fact the ref gave it and the media reaction. If it would've been RS there is no way in this earth Mason, or any other ref, would have dared to give the goal. The fact that pundits were undecided too, again if RS then the ref would've been universally condemned/lambasted and this would still be news today.
To compete totally we need the refs to be a bit more favourable to us, remember the Man City semi last season?
Eugene McLoughlin
131
Posted 18/09/2016 at 13:01:18
Screw the media love-in with the RedShite and the Sky darlings...
Koemanating is the MAN.
Eugene McLoughlin
132
Posted 18/09/2016 at 13:02:06
Haha – Koemanating!!!! New word for dominating!!!
Tony Kost
133
Posted 18/09/2016 at 13:14:46
Everton came back so well after conceding. Great first half display and a very controlled performance in the second half.
I would have liked an extra goal or two in the second half – would have been good for the GD. Boro were close to capitulation.
As for MacManaman – he'll never be impartial when we are playing. All the former RS pundits don't do us any favours!

And – it's fair to say – the RS are playing well atm – Sadio Mane has been a great buy for them. Excuse me now while I vomit!!
Simon Smith
134
Posted 18/09/2016 at 14:43:28
Man Utd looked terrible today. I think Man City are our only concern this season.
Colin Glassar
136
Posted 18/09/2016 at 14:52:31
Simon, I've been saying for a while now that I think Mourinho has lost his fire. He's a multi multi millionaire who's won everything there is to win in club football.
His Man Utd side look similar to his last Chelsea team, ie, full of names, egos and bling but lacking team spirit, endeavour or imagination. Jose is only a young(ish) manager but maybe he's just after the money nowadays I don't know. I don't see them winning the league under him.
Nigel Gregson
137
Posted 18/09/2016 at 15:53:59
Derek Thomas 120 – excellent post. Let's hope Koeman doesn't go too tight and finds the right balance for good.
Simon Smith
138
Posted 18/09/2016 at 16:03:37
On a slightly different topic. How glad are we that we signed Ashley Williams instead of Bruno Martins Indi.
Stoke are all over the place with him at centre-back!
Andy Walker
139
Posted 18/09/2016 at 17:34:34
Colin (#137), how long is a 'while' cos it was only May this year that you said that Mourinho would do for us?
Bit of hindsight?
Glad we got Koeman though, I had wanted Mourinho as my first choice back in May (Koeman was second on my list)... but not now.
Brian Hennessy
140
Posted 18/09/2016 at 17:39:32
A bit of a gap opening up at the top of the table after this weekend's results – looks like a two horse race...
Mike Corcoran
141
Posted 18/09/2016 at 17:42:32
Remember KITAP1? There's a repeat on Sky Sports right now.
Colin Glassar
142
Posted 18/09/2016 at 17:49:12
At least three months Andy. No, seriously, he looks like he's lost that intensity he used to have. I think his latest sacking from Chelsea might've knocked the stuffing out of him as he looks like a shadow of his former self. He looks old, sad, haggard and lost on the sidelines.
Sometimes you just lose your touch and can't get it back. I'm not writing Jose off just yet but something's rotten in red mancunia.
Andy Walker
143
Posted 18/09/2016 at 17:59:11
I hope he has lost it Colin and fortunately it isn't going to be whilst managing us.
Scares me how positive things look for us at the moment as I'm not used to it since the 80s, but my head says I can't get too carried away until we have played a couple more top teams. But I love RK's directness and honesty when questioned and he gives me confidence that he really knows what he's doing and hopefully that's the same with the players. Certainly seemed to work on Barkley as I thought he had his best game for us this season yesterday.
Colin Glassar
144
Posted 18/09/2016 at 18:15:49
Well I'm deffo not getting carried away after only 5 games Andy. Our next three games are definitely winnable, which would put us on 19 points, but the big test will come on 16 October when we face Guardiola and his boys. That will be the game to measure just how far we have come this season.
Mike Powell
145
Posted 18/09/2016 at 18:16:43
Wasn't the best off games in the second half but the game was won and we just cruised through it. Thought Barkley was much better today along with MotM Barry and Gana – these three ran the show .The ref was a joke and Deulofeu is so frustrating to watch.
As for MotD, I stopped watching that about 2 years ago, there is definitely a conspiracy because they always show our match last or second-last. COYBs
Andy Crooks
146
Posted 18/09/2016 at 18:47:55
Colin (#145), I disagree. In my view, there are no such games. How far we have come has already been amply demonstrated. Has Watford's performance suggested how far they have come?
The Man City game is in a line ahead. Do you suggest that losing it is in some way defining our season? In my view, our season was defined when a decision was made to pay whatever it took to rid the club of the appalling Martinez.
Colin Glassar
147
Posted 18/09/2016 at 18:54:57
Andy, it's one thing beating the likes of Sunderland and Middlesbrough but a different kettle of fish playing a team like Man City. I'm not saying a loss will be a catastrophe, far from it, but the performance will be an indicator of where we are.
Paul Mackie
148
Posted 18/09/2016 at 19:16:45
I agree with Colin. At risk of sounding Martinez-esque, sometimes it's not about the result, it's about the performance. I'd take us hammering them all game and losing 1-0 to a freak goal off of John Stones's arse over a 0-0 draw where they hammer us for 90 minutes and we don't get a shot on target.
Brian Harrison
149
Posted 18/09/2016 at 19:31:11
I did say last week that we had the easiest start to a season that we have had for a long time. But you still have to win the supposedly easy games, just ask Liverpool losing to Burnley and Man Utd losing to Watford.
But what is evident is our style has changed under Koeman, we now play at a much higher tempo, and look to press higher up the pitch. Yes, we will have tough games to come, but Koeman could hardly have wished for a better points tally. Getting the points on the board early breeds confidence, and if we could stay unbeaten till the Man City game we would go into the game feeling confident.
Koeman is not getting carried away he knows that it is early days into his stewardship and there will be many twists and turns ahead, but he strikes me as someone who will relish playing City on their own ground.
Finally, when are the Refs panel going to ditch Mason & Moss, the two most inept refs doing the rounds? Everytime they are in charge of one of our games I fear the worst. Surely yesterday's debacle must re-inforce the use of video technology, especially when Mason or Moss are in charge. They might know the rules but they definitely don't understand the game. To have these two officiating in the richest league in World football is a joke.
John Daley
150
Posted 18/09/2016 at 19:38:09
"
Our next three games are definitely winnable, which would put us on 19 points, but the big test will come on 16 October when we face Guardiola and his boys. That will be the game to measure just how far we have come this season."
Okay, so what if we were to lose our next three games but then trolley Man City in the fourth? You would attribute greater significance to a win in the final game of that four game sequence than you would the triple flop immediately preceding it?
There's been numerous instances of us beating a more favoured team (say, Arsenal, for example) one week, only to then get turned over by a team we were expected to beat (say, Crystal Palace) the next. Why does that first game paint a more accurate picture of 'where we are' than the other?
Consistency of results and the totting up of points come the end of the season will be the only true indicators of 'how far' this team has come.

Rob Hooton
151
Posted 18/09/2016 at 19:39:45
I think every team in the league will be fearing playing Man City at the moment, they look a cut above at the minute.
Hopefully we can show the others how to tame them! And what JD said too...
Chris Watts
152
Posted 18/09/2016 at 19:41:09
I looked at the starting 11 yesterday. 4 players Moyes brought in. 2 Martinez brought in. 4 of Koeman's. And Barkley ,who came through the academy.
Martinez's signings were actually pretty poor. The 4 signings Koeman has made have seriously improved the team. Let alone the tactics etc. I was critical of the TDD fiasco but I'm so glad we didn't get Sissoko. He would not improve our team.
I trust Koeman and Walsh to upgrade each position gradually...
Mike Allison
153
Posted 18/09/2016 at 19:44:54
John, bang on. The Man City game won't mean any more than any other. You do well in leagues by beating the mediocre teams consistently, not by big performances in occasional games.
Patrick Murphy
155
Posted 18/09/2016 at 19:53:47
Gareth Barry and Lukaku were pretty poor?
Chris (153), I thought that Rom – although he didn't do a great deal – looked more interested than he has of late and that Gareth had a fine game. Gueye was the pick of the Koeman players and the others were decent enough, although not outstanding.
The Moyes boys in the team, Mirallas, Coleman, Jags and Baines, did pretty well as we have come to expect, but again none of them truly sparkled. Which leave Ross who had one of his better games in an Everton shirt. The subs were not much to write home about: Deulofeu was his usual erratic self; Valencia was making his first appearance; and Cleverley wasn't on long enough to make any assertions.
It really doesn't matter who signed the players who appear in Everton's first team, it's how the current manager gets the best out of those chosen by him. So far so good on that front.
Sam Barrett
156
Posted 18/09/2016 at 19:58:48
Man City have had it easy so far?
Joe Clitherow
157
Posted 18/09/2016 at 20:08:57
Rob 152
I don't think we should fear playing Man City at all. I think not fearing teams is the key to beating them. City are beatable as any team are.
City and RS and us look the best teams so far (it is still very, very early) but they both have suspect defences for me so it will be interesting. Arsenal had a good win yesterday but they are not a cut above by any measure. As for Chelsea, well any team that features David Luiz in defence is beatable to me.
All this easy/hard team stuff is just shit really; I was at Oxford United in 1986. You beat the next team you play and that's it.
Chris Watts
158
Posted 18/09/2016 at 20:25:11
I didn't mean the Martinez players played badly far from it. Just found it interesting that koeman has clearly decided the majority of Martinez signings aren't good enough. Lukaku and Barry are of course fantastic ones.
And also that koeman has made 4 who are all first teamers, all improving the team. Again think of alcaraz kone Robles mcgeady niasse they didn't even get in Martinez first 11
Points to a much better recruitment strategy
Graham Mockford
159
Posted 18/09/2016 at 20:52:12
This is certainly not a pro Martinez post because why would you. However over three years it's not all terrible.
I've categorised the transfers he paid money for as follows. I've ignored youth players who are still to prove whether they will make it.
Good buys who you will definitely get more than your money back.
Lukaku
Galloway
Holgate
McCarthy
Deufoleu
Not quite good enough but we will probably get our money back.
Funes Mori
Besic
Robles
Lennon (small loss)
Duds
McGeady
Kone
Uncategorisable due to absolute shitness.
Niasse
He did as well bring Barry in on a free but at the same time did the same with Alcaraz, Eto'o and Cleverley.
In reality, if you look at it individually because even with his net spend of 㿞m, the profit on Lukaku will nearly cover that. However he just didn't strengthen in the right areas namely centre half and centre forward.
Colin Glassar
160
Posted 18/09/2016 at 21:09:28
John, you know what I mean. If we win our next three games and then get battered by Man City, it will just mean we still have some way to go to reaching the very top. If we lose all three preceding games and then beat Man City, it could mean we are a confused, bipolar team. If we draw all four games... well, we could go on all night examining different scenarios.
Dave Abrahams
161
Posted 18/09/2016 at 21:10:44
Graham (#160), I agree with a lot of your profits and losses, but the way the transfer market is with all the crazy fees being paid, if Aarron Lennon was to go in January, I wouldn't be surprised if we made a good profit. The same with Tom Cleverley, even with the big signing on fee he must have received.
Saying that, I hope they both stay, although I realise at least two big signings will be arriving in the next window so one or two will be going out.
Andy Crooks
162
Posted 18/09/2016 at 21:19:14
Graham, add the cost of his jaw droppingingly awful loan deals to that. Atsu, Traore? What was he thinking of? How much did this man cost our club? An utter blight on our history.
Graham Mockford
163
Posted 18/09/2016 at 21:27:37
Andy
As I said, I'm not trying to defend him. I would say, however, his transfer business is not a complete nightmare; it will probably pay for itself in the end.
His player selection, although not great, was not the problem, it was more what he got out of the players he had that was the problem.
Graham Mockford
164
Posted 18/09/2016 at 21:34:24
Dave,
You make a good point in that the transfer fee is not the only cost to the club. For instance Eto'o was 'free' but his wages will have been high.
I agree on Lennon, we won't get ٢.5m for him but I suspect he could be a squad player.
Cleverley we could get our money back given we got him for free and he's only 27. We got him for free because I assume he had to take a pay cut leaving Man Utd.
Either way, I don't think any of them compare to paying 㾹.5m for Oumar Niasse, truly the sign of a manager in his dying days.
Dave Abrahams
165
Posted 18/09/2016 at 21:39:44
Graham, I think, along with most of the fan base, there should be a "Stewards Inquiry" over the Niasse transfer, the whole deal wants a good looking into.
Chris Watts
166
Posted 18/09/2016 at 21:40:59
The point still remains, from all those players you listed – 16 – only 2 get in Koeman's first 11. That's quite damning. And yes, Holgate, Deulofeu and Galloway are young so can be considered failures.
Colin Glassar
167
Posted 18/09/2016 at 21:58:44
Dave, a "stewards inquiry"? More like a public inquiry led by the Lord Chief Justice with the aid of the CIA, FBI, MI5, Mossad and the bloody KGB. This must be the fraud case of the century!!
Graham Mockford
168
Posted 18/09/2016 at 22:02:39
Dave,
I think we need Andy Burnham on the job.
Mick Davies
169
Posted 19/09/2016 at 01:15:39
Patrick @ 155,
Mirallas, Coleman, Jags and Baines, did pretty well as we have come to expect, but again none of them truly sparkled.
Really??? Did you not notice that 'Boro' didn't have a single shot on target? I wonder if Jags, Baines and Coleman had anything to do with that...
Didn't you see Seamus and his reinvigorated work rate, where he was like his old 'express train' self up and down the wing, defending, and assisting the attacks? Or just maybe it wasn't him that scored that class goal – which if Sturridge had scored would have been fauned over – that put us ahead.
Mick Davies
170
Posted 19/09/2016 at 01:22:40
Andy @ 162, I'm just trying to play devil's advocate here but Martinez got the club 㿇m for that headless chicken, ٤m for the useless Anichebe and another ٤m for the hard working but not very talented Naismith. That's nearly 㿔m and we could get that in profit from Lukaku if he goes.
However bad Martinez was as a coach and also – like every manager – he made some bad buys, you can't just discredit everything he did... let's just put him in the past and rejoice in our new Everton.
Max Murphy
171
Posted 19/09/2016 at 17:01:49
It's good to be in the position we're in, but of the 5 clubs we've played, only Spurs merit to be called decent opposition. 2 of our victories were against teams currently lying 19th & 20th in the league, and one of those victories was decided by a penalty.
Our neighbours have taken 7 away points against Arsenal, Spurs and Chelsea. My worry is when we come to play a top team away from home, we may struggle. ,
Our main weaknesses, are giving the ball away cheaply, and too many misplaced passes (a legacy of that idiot Martinez), which will destroy us against the likes of Man City & Arsenal for example. I hope I am totally wrong.
Thomas Lennon
172
Posted 19/09/2016 at 17:09:34
It is true to say we have only played one 'top team' so far – but if we can beat the bottom 15 clubs home and away, that's 90 points – and how many times did we drop points against that opposition last year?
Quite right that we will most likely struggle away at a top 5 club but we have the structure to defend getting stronger every game and that gives us a chance – and a manager showing much better game-changing tactics.
Injuries will be the bigger test - let us see where we get to by January 1st and who we have left playing 100% by then.
Patrick Murphy
173
Posted 19/09/2016 at 17:12:24
Max (#171),
Are you a media pundit or do you just look on the RS as our only barometer of success or failure. All teams in the Premier League have played five games, the various points tallies tells us where those teams are at this moment in time, any other details such as upcoming fixtures or who each team has played is irrelevant.
Look at Man City and Man Utd's fixture list for the opening five games, not really too different to ours are they and with a large slice of luck we may have beaten Spurs but that would be very greedy as we've had our little breaks so far.
I'm not saying we are going to win the league or even claim we are nailed on to finish in the top six as we haven't played well enough for long enough so far in our fixtures, but winning, like losing becomes a habit and if the team are still suffering teething problems, but are winning football matches that is always a good sign for it to have a decent season.

Will Firstbrook
174
Posted 19/09/2016 at 17:31:52
While it could be argued that we've had a decent run of fixtures to start, I think there is ample evidence to suggest there really are no gimme games in the EPL these days (except maybe Stoke..)
Considering that abject capitulation away to the Black Cats last year (ultimately signalling the end of BBS's reign) this team has come a long way (mentally, physically, and technically) in a relatively short period of time. Much, much more to do but it was critical, above all else, for this team rebuild some of that confidence that has been lacking for far too long.
I think most of us have been supporting the Blues long enough to know that success is fleeting and one's fortunes can take a turn at a moment's notice. We are certainly not world beaters (yet!) but there are positive signs that we are in the process of (re)building a foundation that many believe can propel us forward – one game at a time.
---
Add Your Comments
In order to post a comment, you need to be logged in as a registered user of the site.
Or Sign up as a ToffeeWeb Member — it's free, takes just a few minutes and will allow you to post your comments on articles and Talking Points submissions across the site.
© ToffeeWeb