Report
Blues fightback fails to beat Hornets
By Michael Kenrick
10/12/2016

327 Comments [Jump to last]
Share: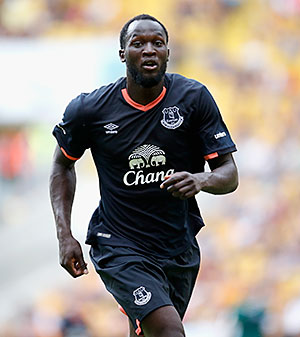 Eighth and ninth goals of the season for Everton's prime goal-getter but they weren't enough
Watford 3 - 1 Everton
Ronald Koeman made a couple of changes, with McCarthy and Deulofeu getting the chance to impress. Mirallas and Funes Mori retained their places. Jagielka and Barkley failed to start a second successive game as Everton continue the season without record signing Yannick Bolasie.
The now standard Everton kick-off ensued: back to Williams, the ball lofted forward and possession conceded. But it was Everton who attacked through Deulofeu but he could not get past the defender and ended up conceding a free-kick. Holebas tried his trademark long throw at he other end, another long ball pumped up toward Lukaku, Mirallas called for a push.
A half-chance came from the next ball forward and almost fell for Lukaku but he did not attack the ball and it was cleared. Guedioura was carded for a stamp on Gana's ankle.
A zipped ball out to Deulofeu was glanced behind for Everton's first corner that was powered in at Gomez along the goalline, who was forced to do a volleyball save and deflect it away from goal.
Watford mounted their first decent attack, Amrabat getting past Funes Mori with ease but crossing poorly. But they put a good move together that saw Capoue cross dangerously, Funes Mori preventing any shot on Stekelenburg's goal. Deulofeu clipped the heels of Zuniga and his name went in the book. The kick for Watford came to nothing.
Watford had settled better and were setting the tempo but a bouncing ball over the top from Gareth Barry fell nicely for Lukaku and he side-footed it past Gomez to give Everton the lead. That gave Everton a surge of life, with attacks developing down both sides, crosses from Deulofeu and Baines threatening more goals.
But at the other end, Deeney got a chance to shoot but it was weak and Stekelenburg saved comfortably, with nothing coming from a Watford corner soon after. Everton looked more solid but the focus of all forward movement was Lukaku.
Amrabat again caused havoc down Everton's left, beating Banes then Funes Mori but Deeney could not get a clean strike on it and Everton escaped. Then it was the turn of Okaka and Holevas down the Everton right but that came to nothing.
Williams was called for climbing over Troy Deeney, the kick fired straight at Lukaku and the ball was back with Everton, to the frustration of the home crowd. But it was scrappy stuff from the visitors as well, and not pretty to watch at times.
Mirallas zipped in a nice ball right to Lukaku's feet but the big man was under pressure and it came right back. The pressing game saw lack of any fluidity from both sides in a tight and competitive midfield. Okaka was flattened by a Funes Mori clearance and was spoken to by the ref for his 'You watching?' gesture.
A header on target was saved easily by Stekelenburg. But in the next attack, it was Amrabat who fired in a tremendous cross and Okaka ran past Williams and did a brilliant flick on the turn to bamboozle Stekelenburg and put Watford back in the game.
Gana gave the ball away in a forward position and it put Everton under real pressure. More clever stuff from Amarabat, and a good ball to Deeney on the far post was thankfully fluffed by the 99-goal Watford man. Capoue looked to beat Barry as he drove into the Everton area, Barry clipping the ball away.
Deulofeu whipped in a tremendous cross that Mirallas could not quite reach. It was frenetic stuff at times with no lack of effort from both sides, fighting for every ball. Coleman was next to cross in well but Mirallas was not determined enough to make a chance out of it as the half ended.
Behrami started throwing up before the restart which was a little delayed. Deulofeu did his trademark run with 15 stepovers and no delivery, the ball going behind as Barkley was out to warm up early.
Deulofeu fired in another cross, earlier this time, but straight to Gomez as the second half so far lacked the vim and vigour of the first. Mirallas and Coleman combined but the Irishman was called off side before he crossed to Baines.
Deulofeu was fouled on another run in and he risked censure for his animated reaction. It was Deulofeu again into the area, but he played it behind both Mirallas and Lukaku. A good move was spoilt by Lukaku advancing offside.
It was scrappy and formless with neither side doing very well, silly fouls and offsides breaking the tempo. Guedioura fired in one free-kick that was headed over. The next silly foul by Deulofeu on the other side was punished by Prodl, headed in with ease.
Baines seemed to take out Amrabat with a raised arm, and he was booked. Britos came around the back and it needed a smart save from Stekelenburg. But Holevas headed in the corner undefended, a shocking capitulation by the Blues.
Barkley came on with a massive task to turn around an absolute disaster on the part of the Blues who had ominously failed to build on their lead, and had now yielded three goals in a shocking collapse.
Deulofeu fired in a low cross and Lukaku for once was ahead of his defender but Prodl was too clever for the big man. Deulofeu did well to run down the channel but Mirallas had been turned and could not do anything with the ball.
Another silly free-kick this time given up by Williams almost gave the Hornets another chance. Everton were being pressed hard as Valencia replaced Mirallas. Into the final 20 minutes and Watford slowed the tempo to a walking pace, pulling everyone back and making Everton's task harder than ever.
Everton did finally put together a decent move, Valencia winning a corner that Deulofeu swung in well but Barkley could not fire in the second ball. Barkley's free-kick was punched away by Gomez. Deulofeu tried his luck from the left but Barkley could not dig out the shot. Gomez collected a corner easily but the Blues kept pressing. Valencia fired a shot wide.
Holevas got free and was sandwiched but no penalty called, as a bearded Aaron Lennon replaced Leighton Baines for Koeman's final throw of the dice. A great cross-field pass from Barkley and tremendous ball in from Deulofeu for Lukaku to flick home... only he didn't and he was called offside anyway.
A good cross in from Lennon was headed behind lamely by Valencia. Finally a better play from Valencia and a great cross from Lennon headed home by Lukaku.
It was desperate stuff as Everton fought for an equalizer, Valencia being impeded by Britos but no call from referee Taylor. Barkley played a soft free-kick straight at Gomez. Spoiling tactics from Watford as they looked to run down the clock.
A dismal result for Everton from the scoreline despite some tremendous effort put in by the Blues in a very competitive game, who slip down another place in the League despite two goals from Lukaku.
Watford: Gomes, Zuniga (90+2' Kabasele), Prodl, Britos, Holebas, Guedioura [Y:7'] (61' Janmaat), Behrami, Capoue, Amrabat, Okaka (81' Watson), Deeney.
Subs: Success, Sinclair, Ighalo, Pantilimon.
Everton: Stekelenburg, Coleman, Williams, Funes Mori, Baines, Barry, Gueye (63' Barkley), McCarthy , Deulofeu [Y:14'], Mirallas (70' Valencia), Lukaku.
Subs: Robles, Jagielka, Lennon, Cleverley, Holgate.
Referee: Anthony Taylor
---
Reader Comments (327)
Note: the following content is not moderated or vetted by the site owners at the time of submission. Comments are the responsibility of the poster. Disclaimer
Tony Hill
1
Posted 10/12/2016 at 11:42:33
Obvious point is the three defensive mids. I assume Gueye will play more advanced. I would have given Valencia a go. Odd-looking team in my view.
Rick Tarleton
2
Posted 10/12/2016 at 11:45:25
I'd love to know who's going to create the openings for Lukaku that Koeman was banging on about in The Guardian this morning.
Dave Ganley
3
Posted 10/12/2016 at 11:46:17
Wish us all the best but to have 3 DMs is just rubbish. We only have 3 attackers on the pitch. We struggle as it is with lazy forwards, the game last week typified that so to have only 3 again just limits us so much.
Maybe it's the lack of depth and quality in the squad left to Koeman by that moron Martinez but if you don't fancy anybody in the first team squad then have a look at the Under-23s. Having a balanced team is surely the main aim rather than just a first team squad player. This team, like most of Martinez's teams, just isn't balanced.
The squad just isn't good enough. We need to get rid of a lot, easier said than done, and we also need to get rid of this idiotic idea of 2 or more DMs. Even Moyes never did that. If the forward line ever did it's job then it would be easier for the manager to do so.
Hopefully we can get the win: 2-1 to us. COYB
Anthony Hughes
5
Posted 10/12/2016 at 11:54:23
I can only echo the above posts. It appears to be a line-up set up to avoid defeat rather than go out and try to score some goals and win the game.
Come on, Ronnie lad, live a little bit dangerously and play two up top, who knows what might happen?
Shaun Taylor
6
Posted 10/12/2016 at 11:54:47
I was hoping Robles would get a chance after last week's game.
Peter Hadwin
7
Posted 10/12/2016 at 11:58:45
Hopefully not like Groundhog Day I hope, but am not optimistic. The team selection and players on the bench do not quicken the pulse.
Dave Williams
8
Posted 10/12/2016 at 11:59:00
Very disappointing selection for me. Valencia showed enough last week to be given a start and still no Davies on the bench. I would have gone three at the back using Holgate, push Coleman and Baines up the pitch with Barry to anchor midfield and Gana and Davies either side.
Still, maybe this is a master stroke, James and Gana will press well and we win 2-0.
Hope springs eternal!!
Ajay Gopal
9
Posted 10/12/2016 at 12:01:00
I don't know why Stekelenburg keeps getting picked after costing us so many points. But otherwise, not a bad-looking team. McCarthy, Deulofeu and Mirallas must be on their last chance.
Michael Lynch
10
Posted 10/12/2016 at 12:01:02
Three DMs. Has anyone mentioned that yet?
Two wingers, a lone striker, and no creative midfielders? I'm clearly missing something, which is why I'm not a manager. Mirallas playing alongside Lukaku? Deulofeu dropping into the number 10 role?
Baines and Coleman playing further forward, Mirallas and Deulofeu tucking in? Someone help me out here, I'm being a bit thick.
Don Alexander
11
Posted 10/12/2016 at 12:03:21
What might happen is that we lose, further descend the table, and then get even journeymen players giving us two fingers in January – never mind those aspiring to European competition.
Just cos you've got enough shit to fill five shirts doesn't mean you have to fill them all, and I excuse all the youngsters from that by the way.
Gary Willock
12
Posted 10/12/2016 at 12:03:32
Hoping it's a true 4-3-3, with Gana, Barry and Macca told to work more up the field as a unit. However, I am suspecting it's 3 DMs, which is the same as basically playing a 7-0-3.
Is the Dour Dutchman slowly surpassing the dour Scot in negativity – next couple of hours should give a hint.
Final point: what a poor bench in terms of changing a game if losing. The great hopes of Ross and Valencia.
Eddie Dunn
13
Posted 10/12/2016 at 12:03:53
This is a damage-limitation selection. Will Gana be given license to get forward?
The trouble with this kind of approach is that the home team dominate and if they score, we soldier on till half-time, wait 15 mins into the second half before changing it. Then, in the last half hour, we improve and either scrape a draw, or don't quite create enough and lose.
I would much rather we played two up front and got them on the back foot.
Anthony Hughes
14
Posted 10/12/2016 at 12:03:58
Bang your cash on 0-0.
Fran Mitchell
16
Posted 10/12/2016 at 12:08:15
Conservative pretty much sums up this selection.
Last season, Southampton had an awful start and Koeman managed to turn it round and they were brilliant in the second half of the season. Here's hoping he can do it again.
Gordon Crawford
17
Posted 10/12/2016 at 12:09:55
What is he playing at with this team selection? Davies should be playing instead of Barry. Barry needs to be rested as he is knackered these days. Davies would be high in energy and very forward thinking.
Holgate should be playing behind Coleman. Coleman should be played right midfield instead of Deulofeu. Robles should be in goal instead of Stekelenburg.
Phil Sammon
18
Posted 10/12/2016 at 12:12:24
How to make an isolated striker even more isolated. This team is crying out for fresh faces. I don't know why Koeman is resisting.
I had finally become resigned to the fact that Martinez was narcissistic to the point of lunacy. Surely we couldn't have hired two on the trot.
Anthony Hughes
19
Posted 10/12/2016 at 12:13:15
We aren't exactly tearing the League up at the moment, playing 4-2-3-1 or 4-3-3. Let's give two strikers a go.
Christopher Dover
20
Posted 10/12/2016 at 12:19:41
I really want to support the manager but he is showing signs that he will not change his selections no matter what.
If we do not win, and win well, then heaven help us for the next two matches, why will he not give Davies a start? He says he's not up to it but Holgate proves him wrong.
Here's hoping but I'm not looking forward to the match – hope I am wrong.
Matthew Melia
21
Posted 10/12/2016 at 12:29:20
Why does he continue in the Roberto mould of same old, same old?
Valencia made a big difference against Man Utd and was chomping at the bit, unlike our Tub of Lard and Holgate is a breath of fresh air.
McCarthy ain't got it, Deulofeu runs out of puff far too quickly and, Yes, I know how thin our squad is, but we DO HAVE young lads who can't do any worse than some of those getting a shirt regularly.
I was hopeful that Koeman would make a difference but, alas, he has too many of Robert's no-marks, so January can't come too soon.
Time for a change – not one old one out, another old one in.
COYB – Let's get 3 precious points
George Cumiskey
22
Posted 10/12/2016 at 12:30:24
Three defensive midfielders against Watford? What an adventurous manager we have... Still no youth in the team!
Joe O'Brien
23
Posted 10/12/2016 at 12:31:22
Same bloody formation again. And both Cleverley and Lennon on the bench... this manager is as stubborn as Martinez.
Geoff Williams
24
Posted 10/12/2016 at 12:32:58
I can't understand the criticism of the midfield; when you have three forwards who couldn't tackle their way out of a wet paper bag, you need the security of three hard-working midfielders.
Geoff Evans
25
Posted 10/12/2016 at 12:47:06
Barkley on bench, good.
Why didn't he go for the team that finished last week?
Sidewinder McCarthy not the answer to any problem. Just shows how much we're lacking a playmaker.

Victor Jones
26
Posted 10/12/2016 at 12:55:48
That makes a change – we score an early goal. Now let's keep a clean sheet. And the weekend begins at 2:30.
I would take the win right now.
What's that I hear you say? Let's push for more goals. Let's not be greedy. The points are more important. COYBs...
Dean Cooper
27
Posted 10/12/2016 at 12:56:22
There's no creative midfielder on the field because we don't have one in the squad..
Win the ball back quickly in midfield and play it quickly to the front three. Working okay so far as we're 1-0 up, but we do look shaky defensively, even with so many defensive-minded players on the pitch.
Eugene Ruane
28
Posted 10/12/2016 at 13:09:02
Hypnotised defence 1-1.
Max Murphy
30
Posted 10/12/2016 at 13:13:20
Lukaku loses the ball as usual. They break, donkey Williams nowhere – good goal. Watford look like they can score with every attack. Absolute shambles.
Geoff Evans
31
Posted 10/12/2016 at 13:16:34
Premier League team packed full of Championship dross.

David Hamilton
32
Posted 10/12/2016 at 13:20:09
Playing like strangers. No system in attack. One player at a time doing the pressing while the rest stand and watch. Watford first to every loose ball.
Dean Cooper
33
Posted 10/12/2016 at 13:22:40
Watford's goal was impressive, I would imagine it's exactly the type of play Koeman has been trying to get from us this season.
Amrabat and Okaka have been a real handful for us so far.
Kevin Rowlands
34
Posted 10/12/2016 at 13:27:15
The lad who scored for them, his first Premier League goal in SIX-plus years! It's the Everton way.
Ernie Baywood
35
Posted 10/12/2016 at 13:27:24
So many problems. The only thing I'm confident of is that dropping Ross isn't the answer. He's not been great this season but even at his worst he improves this shambles.
Sadly we're seeing the last days of Baines. Constant space down that side and he can't keep up anymore. Not even offering anything going forward nowadays. Feels quite sad watching it.
Watford are very poor but the effort from their forwards is showing up Rom's lack of effort. He's not interested.
I don't dislike McCarthy but no idea why he's on the pitch.
This isn't just about what Ron has inherited. Tactically, it's pathetic. What's the plan, Ron? Sit back and lump it?
Jay Wood
36
Posted 10/12/2016 at 13:34:34
Mixed bag.
Tighter lines, slightly better pressing although not always successful against a Watford side full of big units.
Some good touches and hold-up play by Lukaku, particularly in the build up to his own goal. Great first-time ball by Barry (who otherwise is a little off); tidy finish.
Deulofeu showing good signs, even tracking back and getting in a good block on our own goal line. Needs to be careful in his defensive duties when dribbling across our penalty area. Gave away a free kick and earnt a yellow card and played a poor ball in a similar situation to Gana.
Williams very dozy on their goal. He actually looks up and KNOWS Okaka is there, but then doesn't track his run.
I'd like to see Mirallas come to the party on the left flank or down the middle closer to Lukaku.
Tony Heron
38
Posted 10/12/2016 at 13:35:21
I'm sorry, I know he scored but Lukaku is the laziest player I've seen in nearly 60 years of watching professional football. The big lad who scored for Watford has run his legs off and made his goal by running across the blind side of Williams. If that had been Lukaku he would've been waiting in the 6 yd box for the ball on a plate – otherwise no deal.
Ralph Basnett
40
Posted 10/12/2016 at 13:49:01
Utter dog poo poo!!!!!
Max Murphy
41
Posted 10/12/2016 at 13:49:52
Centre-backs hopeless. We are absolute garbage! Another defeat,
Colin Hughes
42
Posted 10/12/2016 at 13:50:56
Koeman is making Mike Walker look like he did a decent job. Form has been woeful for months – with two teams we NEVER beat up next.
Mike Galley
43
Posted 10/12/2016 at 13:51:49
This is grim. I don't think I've ever been so dispirited about Everton. And I can remember the back end of the Gordon Lee era. It's 3-1 now and I've had enough of these for today.
Colin Hughes
44
Posted 10/12/2016 at 13:52:18
3-1 now... KOEMAN OUT, fucking joke manager.
Ernie Baywood
45
Posted 10/12/2016 at 13:52:48
It really is that fucking simple for Watford.
Ralph Basnett
46
Posted 10/12/2016 at 13:52:57
Utter dogshoite with cherries on the top!!!!!!
Barry Pearce
47
Posted 10/12/2016 at 13:54:31
We really need a miracle now, this is so poor. We just can't defend or do much of anything to be honest. Absolute shambles, and Watford aren't any great shakes.
Max Murphy
48
Posted 10/12/2016 at 13:54:58
Embarrassing & humiliating, that's Everton. The biggest Joke-Team in the Premier League.
Anthony Flack
49
Posted 10/12/2016 at 13:55:30
Very poor side... Simple as that.
Not anti-Koeman but the new manager's impact is poor.
Ralph Basnett
50
Posted 10/12/2016 at 13:56:55
Never mind, Arsenal next followed by Liverpool. Merry Christmas.
Patrick Murphy
51
Posted 10/12/2016 at 13:57:48
If the alarm bells weren't ringing before this game, surely they must be now? To get beat in the Premier League is no crime but to lose so abjectly against what is in essence a pub team is disgraceful.
The AGM may be well-timed because another few performances like this between now and then and it'll be RELEGATION that the club will be fighting and not a host of teams battling for European football.
The malaise is much much deeper than the manager and his tactics, the fact he hasn't been able to address the issues is frightening for all Blues fans. The team allows so many crosses into the box that they invite opponents to score and with our defence playing as if it's a walk in the park the opponents inevitably take a few of those chances.
We are neither a good defensive team nor a decent attacking team; we are poor all over the place and that doesn't bode well for the remainder of the season.
Anto Byrne
52
Posted 10/12/2016 at 13:58:38
Sums it up when they can't defend set pieces and a man on the line fails miserably to clear. Utter garbage.
Paul Setter
53
Posted 10/12/2016 at 13:59:01
Mid table club with mid table players with a bottom 3 manager. This Everton side really is awful – not one player good enough to finish above 10th – we've become the Northwest WBA.
Anthony Flack
55
Posted 10/12/2016 at 13:59:20
Not sure I'd take Kev off when 3-1 down...
Anthony Flack
57
Posted 10/12/2016 at 14:00:22
I forgot McCarthy was on the pitch...
Peter Cummings
58
Posted 10/12/2016 at 14:02:34
It comes to something when you know – as soon as we score first – it's only a matter of time before the opposition takes charge... and so it is proving right now as we run around like headless chickens going nowhere (except down).
Barry Pearce
59
Posted 10/12/2016 at 14:03:37
Our whole defence is probably one of, if not the worst, in the Premier League.
We won't have enough money to change this shambles.
Ciarán McGlone
60
Posted 10/12/2016 at 14:04:10
It's becoming all too predictable now.
John Parker
61
Posted 10/12/2016 at 14:04:14
At 1-1, I could only see one winner. Why on earth couldn't Koeman or the hangers on such as Ferguson and Erwin Koeman see this, if your teams chances of goals and creativity rest on Deulofeu and Mirallas you're in deep trouble, unfortunately.
Quite a few people posted on here prior to the season that Koeman would tighten the defence. As far as I can remember, he was a good footballing centre-half but a very average defender and our defence looks worse than as far back as I can remember over 40 years.
Mike Allen
62
Posted 10/12/2016 at 14:09:04
Valencia has pulled out of three 50/50s so far... what fucking rubbish.
Paul Burns
63
Posted 10/12/2016 at 14:10:17
The worst Everton team I've ever seen and I've seen some dross.
This team and manager are so bad, it's fucken frightening.
John Wilson
64
Posted 10/12/2016 at 14:12:01
Nearly all of the Premier League teams have improved this season, it seems most of them have had good transfer windows. There are no more easy games for Everton.
Chris Williams
65
Posted 10/12/2016 at 14:14:30
Patrick @51,
I totally agree. I don't mind getting beaten by a better team but we've been outfought here by an ale-house team. Nothing but fight and spirit, neither of which do we have.
Ernie Baywood
66
Posted 10/12/2016 at 14:15:37
I think Valencia has shown enough lately to get a run. At least he tries.
Jim Hardin
67
Posted 10/12/2016 at 14:17:20
Lukaku started his goal and made a nice run and nifty finish. Some on here can't criticise him for that so it is back to someone else is running more than him in the game. Big who cares!
As for the goal, well this time Stekelenburg is not at fault. Williams stood like a statue and let a runner in front of him from the same side as the crossing player. Poor defending by him.
The other culprit was Baines who just stopped running. Baines is just standing and watching. If he gets to the defensive spot vacated by Funes Mori, then the cross doesn't get through. Baines is getting caught too high and can't recover anymore. This happened last weekend too. He has either lost a step or maybe the ankle is bothering him again.
Paul Birmingham
68
Posted 10/12/2016 at 14:20:47
It must be time for the shrink, it's despairing and I can't see where the win will come from, as the confidence and belief is shot to pieces. The same mistakes every game and every team relishes playing us.
I'm accepting this season as another write-off even before Christmas; unless a miracle happens in the next 3 weeks, we will be in the bottom 6.
Usual fucking 20 minutes full throttle to save as usual at the end of the game... too little, too late. Terrible days!
Tony Hill
70
Posted 10/12/2016 at 14:23:32
That was an abject and utter disgrace. They should all, from top to bottom of the club, be ashamed of themselves. Watford were appalling and they beat us because they had some courage. The last 5 minutes were irrelevant.
Time for the fans to start to make their feelings known in no uncertain terms, starting on Tuesday. This simply cannot carry on; the tactics are appalling, the lack of basic technique is incredible, the lack of pride is sickening.
Dear God. I have never before given up my season ticket in almost 60 years of support but I see no reason why we should continue to encourage what has become a disgusting shambles. Fuck them all and let us hear no more of "patience".
This is a relegation side, it really is, and today has led me to wonder for the first time whether we should cut our losses with this manager – as for the team itself, it is the worst I have ever seen in its basic cowardice.
Paul Smith
71
Posted 10/12/2016 at 14:23:36
This has been another dreadful performance to be honest. No aggression in attack and toothless at centre-half. Ashley Williams is worse than Jagielka for me – he's so slow to jump and slow chasing back.
We signed bottom-half players – it was bound to be like this. Adding bottom-half players to an already struggling team was a poor summer.
Max Murphy
72
Posted 10/12/2016 at 14:23:48
I said after the Man Utd game we would get no more points this year. Looks like it's coming true.
Thanks, Everton, for another crap weekend of garbage football.
Colin Hughes
73
Posted 10/12/2016 at 14:25:02
Another game we have failed to win against inferior opposition to add to Norwich, Swansea, Bournemouth, Burnley and Palace. One might have been acceptable but six is shocking. Mr Moshiri, it's over to you – if you think these standards are what the club and fans acce,pt or else, get shut of the albino Martinez.
Kevin Rowlands
74
Posted 10/12/2016 at 14:26:14
Their first win against us in 30 years; shite all over the park again... awful team selection, but hey – big Rom bagged a couple – so all is good!
Patrick Murphy
75
Posted 10/12/2016 at 14:27:54
If the same attitude had been shown in the first hour as it was in the last 20 minutes, we would probably be celebrating 3 points but it was all too little too late as per usual. Mirallas shouldn't get anywhere near the first team, he offers nothing, at least Deulofeu and even Lennon showed glimpses. McCarthy was noticeable by his absence even though he was in the line-up.
Barry was outstanding and seems like the only Everton player who really cares. Lukaku had a better game today so he's off the hook, but the rest of them need to examine what it is they are trying to achieve by not being at full throttle for the whole 90 minutes.

Paul Smith
76
Posted 10/12/2016 at 14:28:01
Tony (#70) and Max (#72) – you're both spot on and stating true feelings. I support to see Everton win – not admire a manager or certain players. Questions need asking, there's been no tactical improvement at all, lads; usually a new manager comes in and grabs 20 plus points on adrenaline or new ideas alone.
George Cumiskey
77
Posted 10/12/2016 at 14:28:43
I hate to say it but it might be time for Koeman to fall on his sword. Poor team selection, poor substitutions, poor tactics, doesn't seem to know how to change a game, won't use any youth.
I think he can kiss goodbye to the Barcelona job, and we can't keep blaming Martinez, we need at least 5 or 6 new players to go straight into the first team!
Mike Allen
78
Posted 10/12/2016 at 14:31:43
Fightback? Fucking bollocks, what an absolute fucking shambles of a team. Talentless gutless fucking shower, a bright last 5 minutes does not fool the fans.
Eddie Dunn
79
Posted 10/12/2016 at 14:32:15
The set-up was defensive and it encouraged them to have a go at us. We can't defend, and despite taking the lead, we are swamped. The changes were too late.
Koeman is setting us up wrong and causing the team to have a mountain to climb every week. It is stupidity.
Michael Lynch
80
Posted 10/12/2016 at 14:33:14
Awful. Yet again, failed to show any intensity until the last 20 minutes when the game was almost beyond us.
Chances are we're going to be humiliated by Arsenal and the Red Shite, so roll on Christmas and then the opening of the transfer window. I know it's a terrible time to buy players, but we need something quickly or we're heading into the relegation battle.
The only good thing is there are enough other dreadful teams in the Premier League this season to allow us to avoid going down... Hopefully. Summer is going to be massive for our club, total clear-out, then let's see what Koeman can do
Steve Ferns
81
Posted 10/12/2016 at 14:33:27
Why is that we play much better in the last 20 minutes or so? It is because this is when the manager is listened to less. This is when the will to win, the determination, and the desire from players takes over and tactics go out the window. The shape is gone. And players just play.
Koeman's tactics are utter shite. His man-management is utter shite. His buys are utter shite. His unwillingness to pick players from the best U23 team in the country is utter shite.
His team cannot pass. They do not press. They do not tackle. They do not care. And he should go. I have never ever called for an Everton manager to go. But I hate what he is doing to my club.
He needs to go before he destroys everything. Not just the first team, but the youth team, the finances, the lot. I do not want this gobshite spending what money we do have on 29-year-old foreign journeymen.
KOEMAN – FUCK OFF NOW.
Craig Walker
83
Posted 10/12/2016 at 14:34:02
Thanks for ruining my 6-year-old son's birthday. What have I done to him? A life full of disappointment awaits him. He'd have run more than that big lump up front.
Roger Helm
84
Posted 10/12/2016 at 14:34:08
Beaten by a team of journeymen. I haven't heard of any of them, but like all the teams we play, they were bigger, fitter, stronger, more athletic and better organised and motivated. They won nearly all the challenges and second balls.
We could only beat teams like them by playing better football, but we can't do that either. Three defensive midfielders, and no-one who can pass the ball. Mirallas and McCarthy were passengers, Barry is too old and slow and our defenders are too small and weak.
Lukaku will move on anyway, but apart from Gueye, we need a whole new team. There can't be many teams worse than us in the Premier League.
James Watts
85
Posted 10/12/2016 at 14:34:28
We are in seriously deep shit. No exaggeration there. Koeman has absolutely no idea about passion, tactics, motivation, style, work rate or movement. I want him out, NOW.
Give us a chance in January with someone who actually cares about us – not this prick who sits there, does fuck all apart from picking the same under-prepared players in a system they can't play, week-in & week-out. What a fucking joke.
Tony Hill
86
Posted 10/12/2016 at 14:35:53
The manager's body language is also very concerning. He looks lost, so does the team and, given the upcoming games, it is not too early to worry about this season at a fundamental level. It is very easy to fall into a death spiral in this league and it could be said we are already doing so.
Gary Willock
87
Posted 10/12/2016 at 14:36:10
I said at the end of Man Utd game we should start the next game with the team that finished that game. If he doesn't start the next game in an attempt to win, I am done with this manager.
I'd rather have a go and get beat 8-0 than put up with the negative shite for 85 mins every week on an ever-repeating cycle!!
Steve Ferns
88
Posted 10/12/2016 at 14:37:28
٤M a year, 7th highest paid manager / coach in world sport. he should not be delivering a relegation battle. Look how far Moyes is behind us now.
Ian Bennett
89
Posted 10/12/2016 at 14:39:02
A number of people connected with Everton are robbing a living. Absolute shambles, they're all a disgrace.
Andy Meighan
90
Posted 10/12/2016 at 14:39:17
I'm sorry but this manager isn't the man for the job. What the fuck is he doing at Finch Farm all week. Their goals were a joke non existing marking and every time the ball came in the box we looked like conceding.
I keep hearing it'll be alright when he gets his own players in. It won't; tactically he hasn't got a clue No shape whatsoever and he just keeps recycling the same ordinary players with the same ordinary system.
We do not look like winning a game and are struggling to beat sides who are going to be at the wrong end of the table. Sadly it's going to be us soon, because there's not a cat in hell's chance we'll win a game anytime soon. We are so easy to get at its fucking pathetic.
There's not one player who played today that could hold their head up. Yes, Lukaku got 2 but by God what a shit footballer he really is and the same goes for the rest of the shite. I've said all season we won't finish in the top half of the table. I'm fearing it could be well worse now.
Jim Hardin
92
Posted 10/12/2016 at 14:42:23
Kevin Rowlands,
Still with the Lukaku digs? Give it a rest. Maybe you are just mad you have to reset your games-without-goals counter?
Jay Wood
93
Posted 10/12/2016 at 14:43:43
Why wait until the last 10 minutes of the game and 3-1 down to actually occupy their half and get the ball in the box?
It's been evident – not just this season, but for several – there is just not enough fight in this dog. There are too many doe-eyed puppies, lying on their backs, having their bellies tickled.
The keeper cannot be blamed for their goals. Indeed, he made a blinding save between their 2nd and 3rd goals.
We have the players with the ability and quality to deliver the accurate pacy ball into the box that brought Watford their reward and we have the players with the ability to take advantage of such delivery, but we simply don't do it. Certainly, not often enough and not with enough quality.
It's a combination of the match tactics by the manager and the failure to do what they are capable of by the selected players.
As well as Stekelenburg, other exonerated players for me today are Funes Mori, solid in all areas whilst his other 3 defenders were poor. Williams had a mare. Deulofeu was the most gifted footballer on the park and carried a real threat. He now needs to be retained and given a run to get him back to his superb form in the first half of last season.
Lennon's contribution and delivery far exceeded what he had delivered in recent full run outs. Valencia had a bit about him. Any criticism of Lukaku in this game is bizarre. Who scored our goals? Who else looked like scoring a goal?
All other players were either poor or 'meh.'
Big, big changes and clearout due, be it January or the summer. But Koeman needs to start getting results with this lot, somehow, NOW!
Christopher Dover
94
Posted 10/12/2016 at 14:44:01
We keep getting beat my poor teams. Think it's time the penny dropped – we are the poor team trying (but not very hard) to beat teams better than us, and on this season that's most of them.
Koeman will not change, we keep hopeing he will but all he does is rotate the same players and now we are reverting back with a vengeance of not being able to defend corners and free kicks.
The answer? Who knows... but it does not look like our manager does.
Colin Hughes
95
Posted 10/12/2016 at 14:44:45
I lost faith in Koeman when he started referring to us as "Everton" rather than "us". He talks as if he is manager of someone else and has no affinity with the club. The players are clearly not playing for him.
We should get shut and move for Eddie Howe, at least he was a boyhood fan and now has some experience in the Premier League with Bournemouth.
Ian Hollingworth
96
Posted 10/12/2016 at 14:45:02
It is hard to believe how poor we actually are.
Not sure where we go from here.
Gary Hughes
97
Posted 10/12/2016 at 14:47:14
How much worse do we need to get before / if it starts to get any better?
After watching today, the worrying thing for me is we didn't even get the basics right. We didn't compete with a bigger side and we were bullied in aspect of the game, we haven't got a leader in that team which surprises me considering some of the names playing.
I want Koeman to get it right but would you trust him to spend big in January and get it right?
Dave Pritchard
98
Posted 10/12/2016 at 14:48:23
It seems incredible to say looking back to the start of the season but Koeman may be gone by Christmas if we get turned over by Arsenal and Liverpool in the next 2 games.
Steve Ferns
99
Posted 10/12/2016 at 14:48:37
It's easy, Ian, sack the clown, and give someone who cares the job, and probably on half the money. At least they won't piss off home before 5:00pm everyday.
Christopher Dover
100
Posted 10/12/2016 at 14:49:32
Steve (#88). I think your first post was more on the mark, even that was a bit high of the mark, the way we are playing. :)
Jay Harris
101
Posted 10/12/2016 at 14:49:53
Tony Hill (#70) sums up everything I feel right now. It's as if the whole team is in a frozen state until something shakes them out of it for a last hurrah. Far too little far too late.
I have begged for patience on this site with the new regime but, after that debacle against one of the poorest journeyman sides in the Premier League, I am beginning to question what is going on in the corridors of power.
Barry Pearce
102
Posted 10/12/2016 at 14:51:06
Tony (#86),
Spot on – he looks completely lost in terms of what to do.
Chris Gould
103
Posted 10/12/2016 at 14:52:25
I felt the players put more effort in today, but we're still dreadful at dealing with crosses. No communication between the CB's and no awareness of the runners.
Tony Dove
104
Posted 10/12/2016 at 14:53:15
Up to now, I've only seen one team that's worse than us and that's Watford. A lot of this game was a comedy/horror show on both sides.
Shaming and embarrassing.
Bill Gall
105
Posted 10/12/2016 at 14:54:00
This performance was one of the poorest I have watched this season. I am not aware of what the problem is within the team but it seems that today the players were playing like they had never played together before, and it took over 75 mins to show some cohesion in their play.
Mr Koeman has been at the club long enough to develop some type of plan with the squad he has at the club that is full of international players who have played in nearly every international age squad from 16 years old up to the full international squad, and therefore should not have a problem developing in a style that these players should be comfortable with.
We are aware that we need strengthening in various positions but continually playing under performing players is definitely not the answer.
Everton supporters have suffered enough, and unfortunately we are at the hands of people who show no sign of easing the suffering. Please don't write that this is not Koeman's team as it is. This is the squad he inherited, and added to, and until he can try to bring in other players these are the players that a good manager should be able to develop into a style of play that they are comfortable with, and not a style that half of them do not seem to understand what the other half are doing.
Everton supporters will understand that the club wants to improve from the top down, but what they will not accept is lack of understanding poor effort and having to wait for over 60 min for any sort of excitement.
Turn it around, Mr Koeman. Stop complaining that we need players, – you have just been beaten by a team whose players I would shudder being bought by Everton. Recognize you were outplayed by a better manager, and a poorer team.
David Connor
106
Posted 10/12/2016 at 14:54:24
What a fucking joke of a team that is. And a joke of a manager. Niether have a clue as what to do. Same slow starts. No passion – that goes for the manager even more so than the players..
We will be lucky to stay up this season as we are on a downward spiral that's out of control now. What the fuck we will be like after the next two games, I can't even imagine.
The manager can't motivate this bunch of overpaid overrated tossers. For me, he us no better than Martinez. Our early season optimism is well and truly over...
We are in deep shit make no mistake... It's fucking heartbreaking being an Evertonian. Sometimes I wished I could support someone else, I really do... Suppose we will put it right in the next two games. Yeah, fucking right...
Brian Williams
107
Posted 10/12/2016 at 14:55:09
In my opinion, and forgive me for stating the obvious, but there is something fundamentally wrong that runs deeper than playing poorly. The players' body language speaks loudly of not actually being up to play football.
None of us mere supporters will have access to the reasons behind this but it must be something that runs deep enough that four new additions to the team can't change. Is it the managers disposition towards them? Well he managed okay at Southampton, improving them each season so he must know how to handle players. Is it the influence of one or more players in the squad?
I know I, for one, am at a loss to explain a lack or effort, which was apparent for long periods of today's game and has been obvious in recent games as well. The really worrying thing is that not knowing the reasons makes understanding, or having any clue at all, about what's required to put it right almost impossible.
Something drastic needs to be done... and SOON!
Kevin Rowlands
108
Posted 10/12/2016 at 14:55:44
Jim Hardin, he and the others deserve it, he'll get another free ride from the likes of you because he scored twice but, apart from the 2 goals, he was his usual bog average shite.
Joe Henry
109
Posted 10/12/2016 at 14:56:41
Not an Everton manager... not an Everton team... and, after 69 years, not an Everton supporter – absolute disgrace.
Brent Stephens
110
Posted 10/12/2016 at 14:56:45
"The team is too passive" – says our passive manager.
You might want to stand on the sideline and try to get some passion into them, Ronald.
Martin Anderson
111
Posted 10/12/2016 at 14:56:54
Holgate should be starting every game at centre-back with Funes Mori; we need the extra yard of youth & some fight. We can't afford to play Jagielka, Baines, Barry and Williams – all over the hill, I'm afraid (sorry Leighton)
Rom can't be faulted – score 2 goals you should be winning the game. The squad really now exposed for what it is: aging, no guts... talented, yes (Barkley, Deulofeu, Lukaku, Mirallas) but you need strength & fighting spirit, which we lack.
In fact, we really need a new leader on the pitch – a top quality talented Midfielder, who doesn't give the ball away. With Arsenal & Liverpool coming up, it's looking like another relegation dog fight.
John Charles
112
Posted 10/12/2016 at 14:57:40
Make no mistake – we are in trouble and the blame for that lies with the manager.
Players may not be great but he gets paid a fortune to improve and inspire them – not just spunk millions of pounds on journeymen in transfer windows.

Mohammed Horoub
113
Posted 10/12/2016 at 14:57:51
Mutiny is on... Never seen a collection of 'professionals' play the way this team has. I'm not even sure why after 13 points from 5 games they decided to throw Koeman under the bus. Koeman has two choices now:
1) Play the U23s because the senior team is not reacting to his methods.
2) Speak to Moshiri honestly and hand in his resignation for the good of the club.
I'd like to replace most of this team but we need to get to 40 points somehow and Koeman has not fit in.
If the club decide to stick by him we need a huge overhaul in January. If they decide to get rid of him I hope the club hire someone who doesn't have ambitions of managing Barcelona... not a good criterion for us.

Steve Ferns
114
Posted 10/12/2016 at 14:57:55
Kevin, I'd be happy with Lukau being his usual bog average shite every game and scoring. His job is to put the ball in the net, he did it twice. The rest of the team did not do their jobs.
Patrick Murphy
115
Posted 10/12/2016 at 14:58:47
"We were the dominant team at 1-0 up but then after that starts the problem. We made some bad mistakes in our box and had a lack of communication.
"The set plays killed us today. The team is too passive. It's too reactive. That's maybe fear. Until 1-1 there was one team on the pitch. Even at 3-2 our reaction was too late.
"Of course I'm worried. I see a lot of problems. We're too reactive and don't take the initiative in the game.
"Maybe it's good we play Arsenal and Liverpool at home. We're strong at home. They're good teams but we can beat them."
Mmmmmm not sure I agree with much of what you say, Ronald, also far too many "maybes" in that quote for my liking, your job is to identify the negative issues and address them.
George Cumiskey
116
Posted 10/12/2016 at 14:59:15
Watford have just showed Everton how to play the pressing game. Were you watching, Ronald?
Ciarán McGlone
117
Posted 10/12/2016 at 15:01:16
Is Koeman a worse manager than Martinez?
Discuss.
James Watts
118
Posted 10/12/2016 at 15:03:47
You see a lot of problems, do you, Ron? I see one big fucking problem. YOU!
They are passive because they get it from you. They are passive because they don't give a shit, like you. They are passive because you can not motivate them and they don't believe in your system or tactics! Whatever they are!
Giacomo Trifoglio
119
Posted 10/12/2016 at 15:04:26
Koemen's post match interviews are to obfuscation as Martinez's were to hyperbole.
Ian Riley
120
Posted 10/12/2016 at 15:05:11
We would struggle in the Championship. Something is very wrong at our club. Perhaps our luck is running out.
We just don't know when our next win is coming from. Big decisions to be made by the board! Utterly depressing.
Well done, those who made the journey. Deserved so much better. I feel there's a long hard winter ahead!!!
Ian McDowell
121
Posted 10/12/2016 at 15:05:41
I have no idea how the hell we turn this around. We can't keep on sacking managers and paying out millions of pounds in compensation. Equally this can't continue for much longer.
The wage bill needs reducing too. McGeady, Gibson, Kone, Niassie and Garbutt all haven't contributed anything in the last 12 months.
Michael Lynch
122
Posted 10/12/2016 at 15:05:59
Either Koeman knows he won't achieve anything until he replaces the bulk of his ageing side, or he doesn't give a flying fuck.
I hope to God it's the former not the latter.
Bobby Thomas
123
Posted 10/12/2016 at 15:06:11
I don't know what has happened behind the scenes but it seems that, after about 6 games or so, the players have basically decided they ain't having Koeman. That's the answer to the passive/reactive question.
So where do we go from here? If this carries on we will be in the relegation mix. So the question is do the board give the manager X amount to get some of his own fellas in – who then walk into what I believe is a toxic dressing room – or get shut of Koeman? The latter is usually the cheaper option.
But let's be clear. We aren't unlucky. The players aren't this bad. They just won't play for him.
Kevin Rowlands
124
Posted 10/12/2016 at 15:06:19
Steve, so with that logic, you don't mind us getting beat every game and him having a crap game, as long has he scores twice? What complete nonsense.
Mike Price
125
Posted 10/12/2016 at 15:06:29
I've been saying it for seasons but we're too nice, too soft, too small, too slow and too old.
Added to that, we're not aggressive, not very technical, we have players on stupid salaries that we couldn't give away, and the manager seems a bad man manager apart from that...!
We should have gone for Eddie Howe, I was quite pleased with the Koeman appointment but he was always likely short-term and it's looking even shorter-term now.
Ian Brandes
126
Posted 10/12/2016 at 15:07:13
I went to a previously arranged lunch today, and had a great time.
Came back to this.. Two words: Koeman out. As bad as the previous manager. I despair!
Paul Burns
128
Posted 10/12/2016 at 15:10:21
There are many people stealing a living at Everton, living off supporters hard-earned money and its obvious they don't give a fuck.
They are getting far too easy a ride, this shits been going on unchecked for the last 2 years and I don't hear a single thing from the hierarchy at the club about why the absolute basics of football have been allowed to have been dispensed of by the millionaire, apathetic gobshites that are picking up wages under false pretences.
We need a full blown investigation into why basic standards have been allowed to slip so alarmingly. We are sleepwalking into oblivion, it's that bad.
Peter Barry
129
Posted 10/12/2016 at 15:10:33
Crap team, crap Manager... relegation beckons.
Steve Ferns
130
Posted 10/12/2016 at 15:11:15
No, Kevin, because the rest of the side are not doing their job.
Why is it an aging squad? The average age is not that old, but it was pushed UP by Koeman and the age of the players he was signing. Stekelenburg, Bolaise, Gueye, Williams, Valencia.
Moyes and Martinez tended to go for young hungry players. Koeman is going for old and past it.
You could easily lower the age of the team and play some talented 18- and 19-year-olds. Age is a problem of Koeman's making.
Brian Harrison
131
Posted 10/12/2016 at 15:11:40
Yet another piss poor display, took the lead against a very poor Watford team, and again never wanted to score a second till it was too late. I know he has only been here a short time but this looked like a group of players that weren't playing for the manager.
McCarthy did nothing in the whole game, and unless he was injured don't know why Gueye came off and McCarthy left on. He brought Valencia on against Man Utd and he gave us energy up front so why not start with him? Were Watford such a brilliant team to play that we had to have 3 defensive midfield players? Williams is worse than Jagielka he didnt even jump against Deeney that led to their goal.
Positives: Funes Mori and Barry and (when he took up a more central role) Deulofeu. Barkley offered little when he came on I think he is never ever going to be the player we hoped for. No I didn't mention Lukaku. Yes, he scored a simple tap in and scored from a yard out with a header – both easy chances. But apart from that he did nothing, never won a header made very little movement. You have to do more than he is during a game.
We've now lost 4 away games on the bounce and none of those teams are top 6. Should we lose to Arsenal and to the other lot, we will become the team that is dropping like a stone. To put it into perspective Pardew was under great pressure until they won last week, if they win today they are 3 points behind us.
I fear the honeymoon is over, Ronald, the January transfer window could be important both for club and manager.
Ian Brandes
132
Posted 10/12/2016 at 15:16:43
Can you transfer managers in January?
Hope so. Unsy and Royle please.
Anthony Hughes
133
Posted 10/12/2016 at 15:17:43
Koeman seems to watch a different game than the rest of us. Therein lies the problem and he can't see what's happening before his eyes and so can't make the changes required.
Barry Pearce
134
Posted 10/12/2016 at 15:18:54
I was really pleased when we got Koeman in, but you can only judge on what you are witnessing, and so far it's really average to poor.
There are a lot of people saying the players are not doing it for Koeman. Surely he and his staff must be aware of this, and the culprits replaced with the youngsters who would jump at the chance to play for the shirt?
If this really is the case, we need to act one way or another, before we do get caught up in a relegation battle.
Daniel A Johnson
135
Posted 10/12/2016 at 15:19:32
We need young, hungry, athletic players with enthusiasm. EFC resembles a retirement home for average Premier League players.
We have too many players approaching or in the twilight of their careers who have won nothing and are just happy to milk the club for another 2-3 years living the good life.
Dave Lynch
136
Posted 10/12/2016 at 15:19:43
He must be kidding himself if he thinks it maybe better to play the Arse and the other lot. Trust me – they will fucking muller us if we continue playing this way.
Please God, this is another Howard Kendall moment and it will turn unexpectedly around with another Inchy moment, this is depressing and frightening the life out of me.
Ray Roche
137
Posted 10/12/2016 at 15:20:06
Is Koeman worse than Martinez? – someone asked. No; however, he's added HIS players to the squad, he's got them fitter, but they're not playing any better, so is he better or worse?
Well, he's certainly no better because he's not getting any more out of that shower than the old guy did and, like under Martinez, they don't seem to give a fuck. I was all for giving Koeman at least two more windows but, after the way the team have capitulated today, I wouldn't mind picking up tomorrow's paper and see that he's resigned.
Today was woeful, as bad as any Martinez performance.
Ian McDowell
138
Posted 10/12/2016 at 15:20:47
I agree with Koeman's post match comments. We are far too passive and not aggressive enough and that's why we haven't won at Anfield in years and have lost most big games over the past 10 years.
Most of these players haven't got it mentally. There is very little at the top level between players in terms of ability. It's the ones that want it that succeed to win trophies.
Damian Wilde
139
Posted 10/12/2016 at 15:20:53
KOEMAN OUT.
Laura Round
140
Posted 10/12/2016 at 15:22:12
Just plain humiliating now. Please, please, please play the youngest again Liverpool, the passion and effort is totally missing.
I'm neutral on Koeman. I'm willing to give him time but want to see some flexibility and using this season to try different players, formations etc.
Paul Smith
141
Posted 10/12/2016 at 15:22:38
January window is a red herring, unless he can but a new team and 11 new attitudes. Worse record than Martinez, the season he got the boot, As my arl fella say "Jesus wept".
Kevin Rowlands
142
Posted 10/12/2016 at 15:22:49
Steve, I agree about the age of the squad, in fact they mentioned it on NBC, pointing out we have the oldest average-aged squad in the EPL. That's worrying and also the fact that Koeman refuses to give the likes of Davies a run.
As for Lukaku, I will take another break from talking about him but will finish off by saying that, just because he scores, it doesn't absolve him from part of the blame after another lousy performance, he is part of the team.
Jack Convery
143
Posted 10/12/2016 at 15:22:51
This squad succeeded in getting Martinez the sack by downing tools and they obviously believe its the way to go again. The new players, except for Gueye, look weary and pissed off.
Who do they want, I wonder? – I suspect it's an EFC insider and perhaps they'll get their way if the next two games go as we expect them to go.
Given Martinez was gone after Anfield last season, the chairman may wait til after the derby to order the taxi. If it doesn't happen then, it means Koeman will be here til the summer.
I'm beginning to believe he actually doesn't rate EFC as a Premier League club. If that's the case, then it's his bosses he doesn't respect and that is very worrying as Koeman has seen most things in football.
Daniel A Johnson
145
Posted 10/12/2016 at 15:23:04
The most damning indictment of our club is that, when they cross the white line, I have to ask myself: "Do they actually want to win?"
Peter Morris
147
Posted 10/12/2016 at 15:27:14
Some deeply worrying trends have now become endemic in the weekly performances of this team, which is actually going backwards, and Koeman seems powerless to address it.
1. Defenders are clearly being instructed to seek out Lukaku with direct balls from the back, and yet Lukaku repeatedly fails to win the ball in the air, and the ball comes straight back. Lukaku is nigh on useless with his back to goal.
2. Woeful inability to retain possession. It took Everton 10 seconds to lose the ball from the kick-off and Southampton, who went up field and scored. Our players just keep misplacing passes and surrendering possession, which is criminal in this league.
3. Poor centre-back pairings that simply cannot compete against taller attackers. How many times this season have Everton conceded from simple crosses? And yet our own crossing is poor. Watford today were hurting us with flat, fast crosses, whereas ours inevitably sail into the arms of the keeper.
4. A fear of shooting. The team is full of cowards.
5. We repeatedly come off second best when scrapping for 50/50 balls, and with players like Barkley, Mirallas & Deulofeu avoiding bone crunchers like the plague.
I fear Arsenal will pass us off the park on Wednesday. Big, big problems, and a relegation fight more likely than a punt at a Europa League place.
John Pierce
148
Posted 10/12/2016 at 15:29:57
With each passing week, the disconnect between Koeman & players widens, as does the faith in Koeman with the fans. Today the issues were the same as always, just more obvious than usual.
This begins & ends with Koeman, picking the same team, asking them to play a style they cannot execute. If Moshiri is as ambitious as he says, the fella should be axed immediately. He hasn't shown any evidence of improvement in this side at all.
Perseverance with Koeman is not the answer, he has not achieved anything with a stock of capable but flawed players. I'm on record in these pages as stating Koeman gets a season to finish in a European birth, that realistically is not possible. Such is the malaise and poverty of our performances, sadly I want him gone. There, I said it.
There is no joy, or excitement about watching his team. It feels no different from last season. There is not one partnership on the field, no rapport between players, either that been the centre backs, or full back and wide midfielders.
The substitutions are staid and reactive, but that's on Koeman again as he does have choices but is a steadfast refusnik. The eschewed: Davies, Dowell – even Niasse – tried one at a time would give me insight that Koeman is cycling through his options. He has cut his nose off and the players are spiting him for it.
Perhaps the culture pre-Koeman was rotten but, as the new man, it's his job to bring everyone with him, and lead. He shows no signs of that and players echo their hatred of him on the field and never mention him off the field.
His seasonal goose is cooked. I for one am not keen on that bird.
Brian Williams
149
Posted 10/12/2016 at 15:31:27
In a total change of subject (I suppose). Does anyone know why Lukaku held up four fingers on one hand an one on the other when he scored the opening goal?
Jack Convery
150
Posted 10/12/2016 at 15:33:06
If Costa scores two away goals and CFC lose, who is to blame? – Not Costa, obviously.
Andrew Wayne
151
Posted 10/12/2016 at 15:33:20
I see no difference between this team and the one that was hammered by the RS last season. For Watford read Sunderland or Liverpool at the end.
Koeman has a lot to answer for but the reality is that we have a lot of players who either aren't very good or past it. Quite a few are posing as Premier League players who wouldn't get into most other teams.
The good start at the beginning of the season banked some points to flatter our position but they have now been cashed. We can forget anything from the next two games which just need to be damage limitation.
After that we need to steal 20 points from somewhere but after today and in recent weeks I cannot see how. Amongst the worst football I have ever seen from an Everton team.

Gareth Clark
152
Posted 10/12/2016 at 15:33:25
Brian (#149)
For Bolasie – Number 14.
Jack Convery
153
Posted 10/12/2016 at 15:34:56
They remind me of Inter Milan under De Boer.
Anthony Hughes
154
Posted 10/12/2016 at 15:35:56
It's going to be park the bus against Arsenal on Tuesday.
Chris Williams
155
Posted 10/12/2016 at 15:37:22
Lack of fight and passion again. Outfought by journeyman giants who had nothing but fight and passion and physical presence.
This is unsurprising as it happened under Martinez and The Ginger Twat with largely the same group of players. Why are we surprised? We should be surprised if they did show fight and passion.
As somebody said above, too many comfortable with their wages and not being challenged enough. Basically taking the piss.
Today Stekelenburg did his job, Funes Mori was okay, Gana faded but has to play, Rom scored and put himself about a bit. Geri looked a danger from time to time and needs a run. He was getting stick from Seamus, who was below par but can't be faulted for effort. Valencia showed real pace and some effort and could be worth a start.
Apart from that, below par to crap. Baines off the pace and physically bullied. Lost something, carrying an injury? Most threats came down his side. Williams had a stinker, Barry off the pace but as captain he will be picked. Mirallas was ineffective. I nearly said disappointing but that is his default mode. I'm not sure what position McCarthy was playing. Barkley was Barkley and his free kicks went like lasers into the goalie's hands.
Now two key home games in front of sell-out crowds. Christmas spirit may be thin on the ground. We could go into 2017 in our accustomed 11th place. Should we be surprised?
God bless us every one.
Ho Ho Ho!
Stan Schofield
156
Posted 10/12/2016 at 15:39:19
I believe that criticism of Lukaku or any other player, or indeed criticism of Koeman at the moment, is like rearranging the deck chairs on the Titanic after it's hit the iceberg. I'm not convinced that new signings in January would be likely to improve much, nor replacing Koeman with another manager. I believe the players we have are good enough to achieve a tremendous amount more (because I've seen in the past what they can do) and that Koeman is good enough to facilitate this (because I've seen in the past what he can do).
There seems to be a major problem, an big underlying problem, at Everton. I don't know what it is, but it seems to be there. It strikes me that it must be there for these players to apparently not be up for a battle, given that most footballing is battling. It was there under Martinez, and it's still there, to an extent that last season's utter capitulation at Anfield is likely to happen again, perhaps even worse.
We can go on blaming individual players or the incumbent manager, but it seems futile. Perhaps Moshiri's big 'project' involves some major overhaul of Everton's management 'culture'? I hope so.

Ray Roche
157
Posted 10/12/2016 at 15:40:40
It makes the ٧m-㾸m we paid for Williams look like money down the drain. And if Gana sticks around to carry on playing with these losers, I'll show my arse in Lewis's window. As soon as a team with ambition comes for him, he'll be gone.
Chris Williams
158
Posted 10/12/2016 at 15:41:04
Brian,
A tribute to Bolasie, seemingly.
Max Murphy
159
Posted 10/12/2016 at 15:41:36
Were Everton supporters once a medieval army of devil-worshipping murdering vagabonds? Plundering and scavenging, while wreaking havoc on innocent towns and villages, killing everyone in sight?
And now, re-incarnated to this present day, to watch the demise of a once-great football club. Suffering each game as we experience the torture and punishment for our past evil deeds?
Or are Everton just shite?
Anthony Hughes
161
Posted 10/12/2016 at 15:43:09
I've repeatedly said we had a shocking transfer window and just didn't get the furore over the Williams signing.

Brian Williams
162
Posted 10/12/2016 at 15:43:34
Gareth (#152). Thanks mate.

Ian Brandes
163
Posted 10/12/2016 at 15:43:48
Anthony (#154), it will have to be a ginormous bus then!
Anthony Hughes
164
Posted 10/12/2016 at 15:45:36
I know, Ian, might have to get a chippie in to board the goal up.
Kunal Desai
165
Posted 10/12/2016 at 15:48:02
When Moshiri fired Martinez, we needed a manager who could get Everton back to the basics. That's what Moshiri should have been looking for.
I'm not so sure if Koeman is the man – or I have, as yet, to see any evidence of that. It could be fair to say that Moshiri's first real big decision as majority shareholder is not the right one.
Conor Skelly
166
Posted 10/12/2016 at 15:48:05
This is the year lads. Hold on tight. It's looking like a perfect storm. There's no player chemistry.
Over the hill players in key areas. All the forwards massively inconsistent shit-houses. A striker who can't hold the ball up and gives away possession more often than not. A keeper who makes an already bad defense even more nervous.
Bad summer signings with exception of one. No goals throughout the team. A manager that appears to be alienating himself from the players.
Add to all that a poor home support (it kills me to say that). And finally that there aren't many other teams with as many problems as us leaves us... well...
We're up shit creek.
Clive Rogers
168
Posted 10/12/2016 at 15:52:19
A big mistake picking McCarthy as the attacking mid. He has no idea of how to attack. He looks a spent force.
Mirallas also was never in the game. Should have tried Valencia.
Ron Sear
170
Posted 10/12/2016 at 15:54:13
Why is everybody on ToffeeWeb talking about a team. There isn't one.
There is, however, a group of millionaires who sometimes have a kick around while wearing blue shirts, managed by a disinterested multimillionaire who can't be bothered to hide his boredom.
William Cartwright
171
Posted 10/12/2016 at 15:56:19
There's something rotten in the state of L4 and I don't know what it is. Koeman has not become a bad manager overnight (nor during the last few months?).
The Niasse fiasco smells like a dead fish. A recent photo of the team in the changing room all communicating on their phones instead of general banter. Skill and passion in abundance in the Under-23s and Under-18s but they can' t get a look in.
The manager writing off half his first team squad as below par and slated for replacement in the next transfer window(s). The manager paving the way for the exit of the only player we have who scores goals. The manager insisting on playing 4-2-3-1 when everyone who watches our games week-in & week-out knows it doesn't suit the squad.
I believe the sheer enormity of the challenge of dealing with the 'lack of chemistry' is putting Koeman into turtle mode and he will wield the axe big time (Kenwright permitting). We will see what we are left to pick up in the summer, when he has left either of his own accord or with a fat cheque, and we may, just, be remaining in the Premier League, if we are lucky.
But does Koeman still have what it takes? Does player power now rule and managers have to tread cautiously? Exactly what the hell is going wrong with our great club?
What a very unsatisfactory situation all round...
Brent Stephens
172
Posted 10/12/2016 at 15:59:22
I doubt we'll be able to attract really good players to want to come to Everton in the transfer windows, the less so as the games go on.
Perhaps invest in a paddle for that creek...???
Steavey Buckley
173
Posted 10/12/2016 at 16:00:03
Everton were just out muscled and out fought by Watford for every ball they competed with. Yet, it does not help when the Everton's left back is caught 15 yards out of position for their first goal, Gueye giving away a silly free kick in the Everton half and the Everton goalkeeper showing that he and Koeman are a serious liability for their third.
But it could have been different if Deulofeu could have shown more composure on the ball when Everton were 1-0 up. Instead, he put his cross towards the goal keeper instead of finding Lukaku. At 2-0 it could have been a different ball game. But like Barkley, Mirallas and Deulofeu all 3 players can't be trusted to play an accurate simple ball after doing all the hard work.
Everton need defenders; Coleman and Baines are just not up to the job of proving a solid back 4. That's why the opposition could score so easily from set pieces.
Mike Allen
174
Posted 10/12/2016 at 16:00:37
Okay... maybe the Dogs of War days are over because of so many cheats in the game, along with some terrible referees, but we are a gutless clueless bunch of over-hyped players and manager alike. A 24-man squad and the manager trots out the same 14 or 15 players every game with the same performances.
Oh! I forgot pride! – Not only playing for the club but in themselves... I cant believe what I'm seeing. But worst of all is, the manager and his staff can't see what I and 40,000 fans are seeing. Get your head out of the notebook and look at the fucking game!!!
Tony Twist
175
Posted 10/12/2016 at 16:01:23
The scoreline flatters us really. One of the problems is attitude. That has to change before anything else.
Sounds like there isn't a team at all, it is just a few cliques, one being ex Moyes players, one being the bling boys like perhaps Mirallas, this results in everyone thinking that the problem is not them it is somebody else who is not doing their job.
The manager, Jesus what a car crash he is, I think is hanging on for new players and will then blame the director of football and his steadily growing crew if it all goes wrong. Moshiri needs to be more hands on and learn quickly that splashing the cash will not solve the main problem.
David Donnellan
176
Posted 10/12/2016 at 16:01:42
I know Koeman is a new manager and I hope he turns it around (it looks a massive job), but this is relegation form we are in right now.
The team is lacking confidence, chemistry and any nous. I am not enjoying any of the 'football' being served up at the moment.
Arsenal & The Red Shite coming up, I hope we can improve before them games come around.
Patrick Murphy
177
Posted 10/12/2016 at 16:03:25
Conor (#166) I'm growing more concerned by each passing match. This season has all the hallmarks of that just surviving season of 1993-94. Three wins on the bounce at the begining of the season and the odd win in between before Howard Kendall resigned, due to a lack of backing from the board.
Funnily enough it was the Southampton game at Goodison which saw Howard leave his job. What price that Koeman finds himself in a similar position on 2nd January 2017? There does appear to be something going on behind the scenes and the players may well be more clued up about it than we are as supporters.
The silence from the club in the last 12 to 18 months has been deafening and I won't hold my breath waiting for the much heralded bright new era.
Sean Patton
178
Posted 10/12/2016 at 16:06:57
Watford are a shocking team who got away with murder. What happened to this supposed FA crackdown on dissent?
Every throw in, corner and free kick they are in the referee's face and disputing everything but the galling thing is the Everton players just accept it.
Eddie Dunn
179
Posted 10/12/2016 at 16:09:10
For those moaning about the average age of our squad, the commentator said that Watford's team was older than ours!
I am trying to give the manager time, but his team selection today was baffling. How can he complain about our intensity when he sets us up to stay in the game, and give Watford the encouragement to play in our half?
Once more we throw caution to the wind when the game is lost. Why not show more ambition from the off? Lukaku did score two goals and like others seemed to show more fight as the game wore on, but it was his greed, not passing (I think to Baines) which gave them a chance to break down our left and get a cross in for the goal.
Lukaku was losing out in far too many physical challenges. Surely he is big enough to impose himself on anyone. The first half was like watching something from the Third Division in 1978. How can we pretend that this is the best league in the world?
Koeman now has two home games against top quality opposition to put things right. If he goes into either game with an overly defensive midfield, then we will lose. If he doesn't learn from recent games, then I too will lose faith in him.
Lukaku is maddening at times, but if he gets support in and around the box, he is dangerous. He needs Valencia, and Deulofeu or Barkley to get in there with him. Lennon at least got some good crosses in from the left (unlike Mirallas), so in the next game, I would want to see Lennon keep his place. I also want Valencia to start in the hole behind Lukaku, with Ross in for Macca.
The other worry is that, even if we go ahead in the future, I have no faith in our two wingbacks to stop crosses, and the only player who seems in form back there is Funes Mori.
Kevin Tully
180
Posted 10/12/2016 at 16:10:25
Seriously, what was the plan with hoofing it at every opportunity? Is that why we are paying this manager ٤m a season? I have never been so disgusted when watching a team in blue playing in that manner. If that's how we are going to set up, give Arsenal and the RS the points now, don't bother turning up.
Lukaku cannot play with his back to goal, he is one of the worst forwards in this League at holding off a defender and laying the ball off, so why try these tactics?
We let crosses come into our box at will, with any defender just wafting a leg at it – take your pick. There is no discernible pattern to our play, I cannot see what we are trying to achieve with all these wingers and no fucker in the box except Lukaku up against 3 or 4 defenders.
This will go one of two ways – a few additions and we find our identity as a team, or relegation form with the manager being sacked. Let's hope we can get our act together, as we are an absolute shambles at the moment, and every bit as poor as we were under the final throes of the Martinez regime.
Ian McDowell
181
Posted 10/12/2016 at 16:11:49
I said a while ago, after the Swansea game, I think that we wouldn't win between now and the 2nd of January. The result of this I believe will be a mutual parting of the ways between club and manager.
The players shouldn't get away with this as they have pretty much downed tools on successive managers now.
Tony Hill
182
Posted 10/12/2016 at 16:16:17
Ian (#181), absolutely. I find that the most unforgivable thing of all, the lack of integrity of these players.
George Cumiskey
183
Posted 10/12/2016 at 16:22:06
Bournemouth players said last week they targeted Liverpool's weak link goalie.
Watford players said they targeted the whole Everton team!
Steve Brown
184
Posted 10/12/2016 at 16:26:50
The team's confidence is truly shot, but I could accept defeat if the quality of our general play improved. Since when did we play so many aimless long balls? It must be a tactical instruction as this team is still Martinez's and we know he would have us playing 20 passes to reach the half way line.
The tactical changes today mystified me. I assume McCarthy took the role behind Lukaku to press higher up the field but it failed. Mirallas was far more effective there last week and disappeared when moved out on the left. Why change the one facet of play that worked the week before?
As for the defence... Williams will rightly be hammered but the defensive positional play of Coleman and Baines was a disaster today. They forced their centre-back to come out to the edge of the area to cover them repeatedly and barely stopped a cross between them.
If we don't see Holgate and Davies in the starting line up midweek, then the fans will get very nasty. And rightly so.
Mick Davies
185
Posted 10/12/2016 at 16:27:00
Tony @ 182, the players are only as good as the training and coaching they receive. Lately they look like they don't know where they're supposed to be playing.
Brian Williams
186
Posted 10/12/2016 at 16:29:32
Mick (#185),
You don't need to train players to run, tackle, put in maximum effort. Most of them aren't doing any of the above.
David Connor
187
Posted 10/12/2016 at 16:29:51
We cannot afford to get dragged into a relegation dogfight as it is one we will lose very easily. These players and it seems the manager haven't a clue what they are doing.
I get the impression the players don't give a flying fuck what happens to our once great club... No more please Mr Moshiri. Give this clueless manager an ultimatum. "Improve our you are fucking out, lad."
These players shouldn't be performing as badly as they are. it is all down to the fucking dim coaching staff. Simple as.
As with Martinez, I hope Mr Koeman proves me wrong as we have waited too long for success. But I'm afraid he looks like he wishes he should have stayed at Southampton. Maybe he should've as what we are witnessing right now is our club imploding before our very eyes.
Absolutely gutted as we are a fucking laughing stock... We all want success for our clubs and rightly so. But we are a million light years away.
Andy Meighan
188
Posted 10/12/2016 at 16:30:04
Eddie (#179) – great post but I can't see anything but an overly defensive midfield in the next 2 games. He's practically played 3 holding midfielders today against a poor side. So there's no reason to think he ll change against 2 sides that score for fun.
Tactically, Koeman hasn't got a clue and I've backed him and backed him. Sorry, but I can't no more. He's got no soul or passion at all and it looks like he's just here for the money
Also, it's increasingly worrying that he's lost certain players and that's a recipe for disaster. I'm desperate for it to turn. But fear this is all going to end in tears. I'm welling up already...
Tony Hill
189
Posted 10/12/2016 at 16:30:44
I see that, Mick, and Koeman should indeed be strong and competent enough to deal with the egos of these people. But there is a fundamental lack of effort and will in the team: note how many 50-50s we lost today, how few second balls we pick up.
There are too many players, not all, who are not putting in a shift and only perform when it suits them (not often).
Gordon Crawford
191
Posted 10/12/2016 at 16:36:14
Attitudes won't change, as Koeman has already lost the players, like Roberto before him. They clearly don't want to play for him.
In my opinion, Unsy would get them fighting more. Please don't let him blow our January transfer budget. He needs replacing.
Mark Morrissey
192
Posted 10/12/2016 at 16:38:33
Stekelenburg – rubbish; Willams – rubbish; Mirallas – sell him...
I could go on but what's the point? All playing so nervously because Koeman has them all shit-scared. Only Koeman can sort out this mess.
He needs to put a collective arm around the team but I suspect that is not his style. He has caused this issue by publicly berating players and so he needs to undo it.
Patrick Murphy
193
Posted 10/12/2016 at 16:38:59
Hull City, who were set to be bottom a little while ago, are now in front and a mere six points behind Everton – will somebody at the club please wake up and smell the coffee!

Colin Hughes
194
Posted 10/12/2016 at 16:40:25
Hull, Burnley, Swansea – all showing fight and spirit and we keep failing week in week out. Kevin Kilbane on BBC 1 tipping the Red Shite for the title as "they are the best side I've seen this season". Can things get any worse for us this year?
Maybe we should just get relegated so we can be labelled a massive club in The Championship, and challenge for something... like Newcastle.
Kevin Tully
195
Posted 10/12/2016 at 16:44:36
There are no 'partnerships' anywhere on the pitch in blue. Defensively, in the midfield or up front. A 'team' of 11 individuals. No chemistry, no idea.
Mark Pringle
196
Posted 10/12/2016 at 16:46:07
Some absolutely ridiculous comments about getting rid of Koeman because of his tactics with fans asking what is going on. This form is nothing new and the reason is simple: you could have Mourinho, Ferguson, Wenger as manager, it would make no difference.
You can coach many things but you cannot coach grown, overpaid men how to run, tackle, show some fight and heart and actually care. This squad is shite as there are no men in it; Koeman knows this, so do we, we just let Martinez hoodwink us into thinking different for a while.
Koeman has told the players he doesn't want them, a mix of the truth and a way of trying to get a reaction from those who might want to stay. Clearly none of them do as their effort is non-existent.
Koeman is the very man to clear this shit shower out and bring in his own team; only then can you judge any manager. Personally I would keep Gana and bin every other fucker including Lukaku, scores but very rarely when it matters.
Also re the youngsters, would you really want to put your next hot prospect into this team of fucken conmen, arsehole the lot of them!! Koeman will get rid but we have to persevere with this pish until he has a chance to change it.
Patrick Murphy
197
Posted 10/12/2016 at 16:49:15
Can't be many Saturday's where every home team in the Premier League has scored 3 goals? At least Palace have drawn level with Hull.
Tony Hill
198
Posted 10/12/2016 at 16:50:00
One core problem is that we have a Board with a long history of self-interest, bullshit, confusion and non-delivery. Unsurprising that the team now reflects that, perhaps.
Perhaps Mr Moshiri will put our minds at rest via Jim White on Monday. At least we have that new stadium to look forward to in a couple of years, I'm sure it's coming along very well.
Andrew Clare
199
Posted 10/12/2016 at 16:52:14
It's all very worrying. So far, Koeman seems to have made no impact at all, and I can't see two or three good signings in January making much difference. God it's been a long time since we were a top team.
I remember walking around Goodison after a business meeting in the early nineties and talking to the security guards about the great players and teams of the past and they said to me "You won't see those days around here anymore."
I still believe we can do it but it's getting harder and harder after nearly 30 years without a decent team. People are asking for Moyes back... whatever next?
David Barks
200
Posted 10/12/2016 at 16:53:38
If Moyes took his team to a place like Watford with Neville, Carsley and Heitinga in midfield, he would have been rightfully slated for being way too negative. Yet that is what this manager is doing.
I joked a week ago when the headline said McCarthy fit again, that Koeman would throw him into a three man defensive midfield. I didn't actually expect it to happen; lesson learned.
This manager is an absolute joke. People want to say the players have mutinied. What if they all simply see the same thing so many of us see, that the guy hasn't a clue? He has us playing ultra-conservative football. He has us playing long ball crap to an isolated striker up front.
Not a single person on here can say what exactly is Koeman's footballing philosophy at this club, how we are supposed to play. Do you think maybe the players are just as confused? Because it certainly looks that way to me.
This is absolutely atrocious and I would not want to let this man have any say on transfers in January or the Summer, as he is now calling for. Williams already looks past it, Stekelenburg is bottom tier as far as keepers go, and Valencia is only ever allowed on the pitch for the last 15-20 minutes if we're losing.
I would actually let Unsworth take over and see how those young players get on. This manager talks about players not battling and winning second balls. Don't you think that maybe, just maybe, a couple of those Under-23s might battle their asses off if given the chance to actually play?
Conor Skelly
201
Posted 10/12/2016 at 16:55:39
That picture of them all on their phones in the dressing room tells you all you need to know. No team-spirit, instead everyone more concerned about their online profile.
The players don't believe they can achieve anything as a team so instead the focus becomes how they can achieve something independent of the team.
They play for themselves with the goal being to trend on Twitter.
Conor McGregor
202
Posted 10/12/2016 at 16:57:32
I not sure what to do with the manager situation – probably keep him for now.
But I would get rid of big Duncan off the coaching staff, he doesn't give a shit; give Unsworth a chance as the assistant manager if Koeman gets the boo , Unsworth can step in.
I'm not blaming it all on the manager either, the players are a disgrace, should be give there money to charities the way there have being playing over the last two months.
The goalkeeper is hopeless; Baines was a good player over the years, but his legs are gone, sorry to say; Williams, Jags is too old; Funes Mori hard to trust; Barry too slow, still one of best players; Mirallas, Deulofeu, and Barkley are too inconsistent.
Get rid of Stekelenburg, Robles, Jagielka, Baines, Lennon, McCarthy, Gibson, McGeady, Naisse, Oviedo, Cleverley, Mirallas, Barkley and Kone. May need to get the cheque book out, Mr Moshiri, it's going to cost ya!
Or starting giving the youth a chance, remember what Mr Hansen once said: You can't win nothing with... what, Mr Koeman???
Patrick Murphy
203
Posted 10/12/2016 at 16:58:06
Conor (#201),
That picture wasn't from today though, was it? I think it was from Finch Farm after training either yesterday or the day before. Perhaps they were all on the phone talking to their agents?
Mind you, it might be a good idea to allow them to take their phones onto the pitch as they might 'communicate' more... :)

Chris Corn
204
Posted 10/12/2016 at 16:59:09
This "he's lost the players" is a load of nonsense. If these clowns have downed tools, as alleged, like they did with Martinez, then it shows what a massive bunch of frauds they are and they are cheating you, me and all Evertonians. They are not good enough to turn it on and off when they feel like or when they get a manager that suits them.
Martinez was slaughtered for his eternal optimism and now Koeman is being criticised for being the opposite. I couldn't give a toss if they hate Koeman, all they need to do as players and managers is win games.
Both manager and players are utter shit at the moment and I am wholly frustrated by the paucity of our play. However, the idea that we have a talented bunch of players playing within themselves till a manager they like turns up is delusional. They are all just not good enough.
Denis Richardson
205
Posted 10/12/2016 at 17:00:11
The form stats make grim reading but, whether Koeman is the answer or not, we certainly need fresh blood in the side.
Today's midfield of Barry, Gueye and McCarthy is going to struggle to dominate any team in the league. Looks like we're going to have to grin and bear it until January and hope a couple of new faces will provide the shot in the arm we need.
Just Arsenal and the RS next!
John Malone
206
Posted 10/12/2016 at 17:00:32
One footballing philosophy extreme to the other!!
How can an ex-Barcelona Dutch football legend have us playing this long ball dross???
The name and the pride of the club is being destroyed! It's more blind ignorance from a manager to play his way rather than the best way that suit's the team! I can't understand it!!
Darren Hind
207
Posted 10/12/2016 at 17:01:54
I don't know why you are all turning on Koeman all of a sudden. He's only being candid; give him 8 or 9 transfer windows and he'll stop the rot.
Breath of fresh air....
Patrick Murphy
208
Posted 10/12/2016 at 17:05:53
Watford boss Walter Mazzarri has hit back at Ronald Koeman labelling his team a long-ball side by declaring: "You all saw who played the better football."
Everton surrendered an early lead to go down 3-2 at Vicarage Road and extend their run of form to just one win in 10 Premier League games.
Blues boss Koeman spoke afterwards of his players being unable to deal with Watford's physicality and direct style of play. But the insinuation regarding the home team's approach was met with short shrift by Mazzarri.
"Each person has his own opinion but we all have eyes in order to see" said the Watford boss. "You have all seen who played better and who played good football.
"Each person has his own opinion, but I don't agree with him (Koeman)." (cCourtesy of the Liverpool Echo.)
Having read this and Koeman's other utterances following today's match, expect a few big lads being recruited in January – if of course Ronald stays in his job.
Dave O'Connell
209
Posted 10/12/2016 at 17:09:01
This is getting serious now; we are in deep shit – Koeman is out of his depth. He is no better than Martinez. At least we played some decent football with him... this Everton team is the worst in the Premier League.
John Connor
210
Posted 10/12/2016 at 17:09:20
I cannot believe people are still defending Lukaku on here. We were a goal up and on the attack and he shit himself and gave the ball away when Baines was free on the left. The ball ended up in our net and the game was lost from then.
We are shite and not one of the good young players we have are getting a chance; we will lose them in the next couple of transfer windows.
Amit Vithlani
211
Posted 10/12/2016 at 17:12:24
I don't see Koeman going anywhere as he is Moshiri's man. He will be given 2 more windows, I am pretty certain of that.
That is not saying he has covered himself in glory with his selections. Another poor team selection, with poor tactics.
I have only seen us play well with 2 up top when chasing the game. We push back the opponent and our defence can breathe.
We are headed for defeats to Arsenal and Liverpool with more selections like today. Koeman has to change to 4-4-2, try something different.
Geoff Evans
212
Posted 10/12/2016 at 17:13:16
Andrew (#145): My question mate is: "Do they KNOW how to win?" It seems a long time since they did.
The go a goal down in the first minute and lose, they go one up and get done; makes no difference to this crap. They make everybody look good.
Mike Gwyer
213
Posted 10/12/2016 at 17:19:14
Well, that was fucking dross.
Too shit to even talk about and, being honest, it comes to something when this current Everton team do not even warrant an argument.
I for the life of me do not understand what these players and this manager do in their weekly training sessions; however, if it involves hoofing the ball and lots of arm waving, never winning a 50-50 ball and being absolutely utter shite at stopping crosses into our box, then we are very, very fucking good.
Rick Tarleton
214
Posted 10/12/2016 at 17:19:40
An amazing team selection, utterly defying logic in every way. We score early then pull ten men back and Watford dominate the rest of the first half, getting a well-deserved equaliser in the process.
The second half was pantomime.Is Koeman less clueless than Martinez or Moyes? It's a close run thing.
Watching the players and their body-language and watching the manager's expressions when the camera zooms in, I feel there is little evidence of any rapport between them and him. I wonder has he still got their respect, or has he, in the modern parlance, "lost the dressing-room"?
David Barks
215
Posted 10/12/2016 at 17:22:20
With the next two matches, we face the real possibility of being down to 13th in the table. By the first week of January, we could very easily be down to 15th. This is no joke, it's not a bad patch. We are plummeting down the table, only 3 points above 13th.
We are getting worse. Worse defensively, worse offensively. One win in ten league matches and we have the manager calling for two transfer windows. This is looking a lot like his disastrous time at Valencia.
It looks to me like he is a small club manager, not capable of managing a bigger club with the types of egos that come with that.
John Pierce
216
Posted 10/12/2016 at 17:24:34
By Moshiri's own standard, 11th place is not good enough for Everton, hence dispensing with Martinez. If we slip to 11th or below, will he have the balls this time around?
Let's see the mark of the man. We are cannon fodder at the moment. After Arsenal n Liverpool we will be lower than 11th.
Just call it quits, job too big for Koeman, poor fit, hands up and part ways. You'd get a lot more support for doing so rather than hanging on until it's too late.
Anyway the whole point of the Director of Footy malarkey was being able to dispense with managers without hurting the club structure.
Crack on, Mosh lad. Give Ronald the big swerve.

Brian Furey
217
Posted 10/12/2016 at 17:26:12
I got the feeling Koeman didn't want the job at the start but maybe he thought here is a great opportunity to make some easy money. Even when they fail, managers get huge payoffs and to me he's not done very much to change this team to play better.
I was right behind him from the start but we've gone massively backwards with confidence all but gone. Yes the players have to take a lot of the responsibility but we were playing quite well for the first 5 or 6 games.
I just get the feeling now neither manager nor most players care any more as it's just a job and they're not going to win the league anyway. Ronald will take his big payoff and go manage his country to the next World Cup.
Patrick Murphy
218
Posted 10/12/2016 at 17:29:45
It's difficult to argue with Ped's summary isn't it?
Mick Davies
219
Posted 10/12/2016 at 17:32:19
Brian, Tony. I agree, the players should be doing more, but who is responsible for making them perform to the best of their ability?
Klopp and Conte are proof that a decent manager can pick players up and, maybe even kick them up their lazy arses if need be.
At a reported ٤m salary, surely Koeman should be getting more than the previous incumbent who incidentally lost his job for being unable to lift our side out of this malaise.
Terry McLavey
220
Posted 10/12/2016 at 17:35:26
A bit of random fact, but all the home teams this afternoon scored 3 goals to either win or draw! Perhaps it was a planetary thing so we would have had to score 4! A pretty remote chance admittedly!
I really have genuine concerns about our future we have come close too many times in the past to going down and with these "performances", I don't see us escaping the inevitable. I still delude myself we are a top team but we are really far from it.
Today we were beaten by a team that one of the fans on the live forum observed he hadn't heard of one single player in their team! I think there are serious problems behind the scenes although it will never be admitted to, but how did the flying start we made deteriorate into this mess?
Patrick Murphy
221
Posted 10/12/2016 at 17:35:50
Doesn't look as if Leicester City away will be a relegation six-pointer – they've gone two-nil up after 5 minutes and dented Man City's fading title challenge.
Paul Smith
222
Posted 10/12/2016 at 17:39:07
Brian (#217), I can relate to what your saying an I thought Koemans body language in the summer was saying this is a good money job. Fair enough hes out to look after his life but I thought I would have seen some Koeman character in the team.
Up to now I cant see a thing to say I can see what he wants to do? Where are we heading. Losing 2 of your signings to Africa in January meant we couldn't afford many defeats and we had to play solid. We look a shaky mess.
Not sure about confidence being a problem I see it more as weakness. The whole side is mentally weak and more than 50% are physically weak compared to the athletes Watford put out. Maybe this is why we haven't seen an improvement in fitness since Martinez era.
Gana is seen as our midfield general now an hes about as big as Cleverley. Nothing against Gana, he's given it everything mostly but how have we fallen so low in terms of the quality we sign. Williams is another Jagielka only slower.
David Chait
223
Posted 10/12/2016 at 17:41:27
I normally go quiet after a poor performance but I have to say, our useless summer transfer season has caught up with us. No creativity, no real Number 10, and no class second striker.
Plus no willingness to test youth and rather keep banging on with the same dross every week who clearly aren't able to press and play with tempo.
My bet is Unsworth could stick together an 11 combination that would run circles around this lot.
Tony Hill
224
Posted 10/12/2016 at 17:43:04
Mick, yes I agree with that. I also start to wonder if David (#215) is correct about Koeman's level of management ability.
The main point for me is that there is not a single gleam of light, no hint at all that the side is just a few tweaks away from improvement and moving on successfully.
Sometimes the fit just isn't there, whatever you try. I fear that is where we now are and we may have to take courage and admit that this appointment – which I very much supported – is doomed.
Tahir Abdullah
225
Posted 10/12/2016 at 17:50:50
James Stewart
226
Posted 10/12/2016 at 17:50:52
A maddening result that a lot of us saw coming when that bizarre team sheet was put out. McCarthy as No 10. The mind boggles.
All the vibrancy that re-surfaced post Martinez has well and truly vanished. I'm left scratching my head at what Koeman is doing? He was sat down, silent, even when we were chasing an equaliser in the final minutes. That is not the attitude fitting of an Everton manager.
He is becoming dangerously detached from the ethos of the Everton family. Unsworth gave him a platform and blooded youth and the whole fanbase got behind it, what has Koeman done? I'm not sure he will make it until January if we are mauled by the RS.
Patrick Murphy
227
Posted 10/12/2016 at 17:52:51
I wish I had stuck a tenner on that happening Leicester City score their third goal, to equal what all the other home teams in the Premier League have done today – score three.
When was the last time we won by scoring three goals at Goodison? Oh yeah... 17th September, against Boro... a mere three months ago.
Colin Hughes
228
Posted 10/12/2016 at 17:53:48
Leicester are a different proposition at home and will have no problem taking care of us on Boxing Day with our meek defence.
Brian Williams
229
Posted 10/12/2016 at 17:56:45
Six players required in January because there were only five in that starting line-up today worth keeping. The rest are simply not good enough for a team with so called European aspirations.
Three imposing, big, strong, fast, mobile midfielders needed to prevent us getting overrun there regularly.
Another striker, mobile, pacey, tricky to play off Lukaku. Young centre back (Van Dijk please) and a new left back (sorry Bainesy).
Tom Brown
230
Posted 10/12/2016 at 17:57:37
Too many negatives to bother talking about them. I'm going to bury my head in the sand and think about just the good. Ermmm...
Deulofeu had one of the best performances we've had from an attacking player this season. Deserves a run in the team. Hints that it might be too early to write him off.
Idrissa Gueye will be a super player when the team is functioning.
Lukaku has broken his mini goal drought.
Having scored only 2 in our last 5 away games, 2 in 1 gives a little hope. Watford are not Champions League material but they are no mugs.
PMA :-(
Gavin Johnson
231
Posted 10/12/2016 at 17:57:48
My knee jerk reaction was to post 'Koeman Out' after watching that pitiful display. The squad needs major surgery. The whole spine of this team needs changing. If Koeman doesn't get it right in this window, he might not be in a job, come May time.
We've stood still from last season. Martinez favoured possession football at all costs. Koeman has us playing more direct but the results are the same.
I could give Koeman some mitigation in that it's an old squad, he joined relatively late in the summer, as did Walsh. But the whole shape of the team is wrong.
I've been saying for a few weeks that we need to go 4-4-2. It's almost seems like blasphemy for managers to use this formation in today's game. Like it's only used as a last resort. The manager got us playing more direct. Why doesn't he use it from the get-go?!
It's only when Valencia's come on in the last few games that we've even looked like scoring. We've not the players in centre midfield to play formations like 4-3-3, or 4-2-3-1. We need to have a clear shape and plan. Lukaku doesn't look so isolated when we play with 2 strikers.
Tbh, I'll give Koeman until the summer. He needs at least one window to change things. If we didn't live in an age where you seem to need to have a 'name' manager for commercial reasons. I'd give Unsworth the job. At least you know that he would play a formation to suit the players strengths (4-4-2 in his sole game in charge) and he'd be playing the likes of Davies and Holgate.
Tony Hill
232
Posted 10/12/2016 at 18:02:48
Well, I'm going to nail my colours to the mast. I would get rid of Koeman now and appoint Unsworth.
Max Murphy
233
Posted 10/12/2016 at 18:03:08
Mr Kenrick, "Blues fightback"? Can we please have some veracity in your reporting, or are you being cynical?
John Raftery
234
Posted 10/12/2016 at 18:08:29
Today probably signalled the start of a relegation battle. We lack control in every area of the pitch, we lack character and we lack communication.
If the players really are fitter this season it is not showing in performances. Only Lukaku is doing the job he is supposed to be doing which is to score goals.
We cannot afford to play two lightweight non scoring and non-assisting wide players like Deulofeu and Mirallas and the notion of playing McCarthy as a central midfield player in front of Barry and Gueye was ill-conceived.
The biggest area of deterioration in recent weeks however has been the defence which now looks as prone to error as it did last season. Baines and Coleman were both very poor today and Williams is not the commanding centre half we thought he was when he arrived.
To concede two goals from routine set pieces inside five minutes was woeful and indicative of a mental as well as physical fragility at the heart of the team. It begged a question about what the team are doing during the week in training.
We have a squad and a manager who seem incapable of delivering more than 20 minutes decent output per match. Until now it has been said the jury is out in regard to Koeman. We will hear their footsteps returning to the court room very shortly unless there is an immediate improvement in performances and results.
The manager is allowing things to drift along from game to game as though the transfer market will solve his problems. Quite simply – it won't. His refusal to pick any of the Under-23s in a starting role smacks of stubbornness when it is very obvious the side needs freshening up.
Koeman needs to get a grip of this job, start making some sensible selection decisions as well as demonstrating the leadership qualities we should expect as a minimum of a ٤M-per-year manager.
Patrick Murphy
235
Posted 10/12/2016 at 18:08:49
Tony (#232),
I think many Blues would tend to agree with you, however, I'm very wary of removing the manager at this juncture.
I can see the money men at Goodison believing their dreams have all come true and they can happily wait until the summer before 'opening' the cheque book, or in reality before they can cash in on Rom and replenish the squad with the proceeds.
The best thing that can happen to the club in the next few months is that Moshiri buys the club 100% and we'll then have a single leader and not this strange double leadership situation.

Peter Lee
236
Posted 10/12/2016 at 18:16:40
Last season, the overwhelming majority of posters determined that the problem was the manager. Yes, there was some criticism of individuals, but much less than that aimed at Roberto Martinez.
This season, with a squad that has been strengthened as it has at the cost of shipping out John Stones, the reverse is true. The players come in for loads of stick, individually and as a group, while the manager is more often excused. I don't get it.
I have posted before; good management is about getting the best out of the resources at your disposal. I cannot accept that the performances we have seen this season, none rising beyond the mediocre, represent the best that could be drawn from this group of players.
Management at EFC is failing the club. Ronald Koeman sends his team out to play a containing game for the first hour. He has done this in every game so far. Chelsea, in the absence of Gana Gueye, had other ideas of course. From that point he expects that the opposition will have run themselves out and we can capitalise. It worked against West Brom, Sunderland, Stoke, West Ham, etc. As a plan it's hardly worth ٤m a year I suggest.
I dislike his regular suggestions about needing better players to play the way that he wants. (See above re management.) Nevertheless I think he is hinting at needing pace at the back. If you have that, then you can push to the half-way line and compress the game more confident that you are better able to cover. But we haven't got that so he has to get on with what we do have. What we do have appears to me to be more disenchanted by the game.
Keeping him in post and, worse, letting him spend a lot of cash, would be a huge mistake,

Peter Cummings
237
Posted 10/12/2016 at 18:24:28
I said it weeks ago, we bought second hand players by a ditto manager who now makes Martinez look like a winner by using the same tactics, arrogance and ''I couldn't care less what anyone else says – it's my way or no way'' attitude'.
The great Bill Shankly once said. ''In this city football is the only religion that matters'' but now, because of years of wilful neglect, mismanagement and a complete disregard of the ethics and fans who have supported their beloved team all their lives, in my case for 75 years, Everton Football Club has now become a laughing stock and a sick joke both in our city and the Premier League.
I don't think I will live to see us get close to the days of the 'School of Science' under this regime ever again.
Paul Birmingham
238
Posted 10/12/2016 at 18:28:54
Bar a miracle and some Chrimbo cheer, we look like we are set for a hammering across the next two games. Deffo we are in a relegation struggle, January is the most crucial window in years, as it will decide our season and no team has never been too good to go down; and we ain't even close to good.

The lack of pride and passion for the shirt is so evident and God knows what is happening at Finch Farm. Some strong whiskey on their corn flakes, next week, and may be seek Sheeds and Unsy for a few ounces of hope!
Nitesh Kanchan
239
Posted 10/12/2016 at 18:29:34
I only remember Koeman for almost relegating a Valencia team consisting of Villa, Silva, Mata. All the players in their peak form at that time. How he managed to do that with that team, only god knows.
Even a half decent manager would have got top half finish with them. He had a similar sort of record with AZ after the Valencia stint. He seemed to have a turned a corner at Saints and learned his lessons from previous stints but now it looks like a false dawn.
I don't have much hope now.
Paul Setter
240
Posted 10/12/2016 at 18:30:00
His results are unacceptable – does anyone see it improving this calendar year? I don't.
Next 2 games are hidings waiting to happen – and probably will. P45 for our absolutely garbage manager.
Dave Ganley
241
Posted 10/12/2016 at 18:31:06
I was a big advocate of Koeman coming in and I still think it's way too early to be coming out with "Koeman Out" statements. However he doesn't do himself any favours with some of his team selections. I said on an earlier post before the game that 3 DMs is a rubbish selection and it proved to be.
The players should be ashamed of themselves really though. They won't be but they should. All those sticking up for Lukaku are just missing the bigger picture. He scored 2, great... but we lost. He is bone idle and that's official now. He was bottom of the list for work rate last season and is again this.
Propel slated Carragher for stating this a couple of weeks ago but he was spot on. Doesn't work hard, doesn't pull defenders out wide to give others a chance and doesn't defend from the front. All-in-all, plays for Lukaku and nobody else least of all us the fans.
He's not on his own. Very few of the players give their all. Most are not fit enough to play a pressing game for 90 mins. We all know what game Koeman wants to play but the players for whatever reason won't play like that. We saw it for 20 mins last week and for a short time today so it's not like they can't, just that they won't.
I've said it before and I'll say it again, no professional pride from the players. A lot of them are just rotten. I don't care if they don't like the manager, that's just an excuse to be lazy and short change the fans. When you get on that pitch you play your heart out, not putting out the shite we have to endure week after week.
Koeman may well not be right for the club, who knows but 5 months into the job with a bunch of players who should be ashamed to call themselves professionals isn't long enough to judge.
His recruits have been ok. Gana and Bolasie have been decent and Williams started ok but seems to have been infected with the same defensive disease as the rest. The players need to show a backbone. Pathetic really from allegedly top flight professionals.
I'm dreading the next couple of games. Could well be a rout in both. Sooner some of these players get shipped out the better. No team spirit and haven't had one since Martinez quickly eroded it.
For those suggesting it could be better under Martinez, get a fucking grip. It was due to him we are in this mess in the first place. When he took over we had a decent squad, a great team spirit and players who, however limited, would give their all for the club. Now we have a bunch of individuals who couldn't give a flying fuck for teamspirit and giving their all.
It's going to take much longer than 5 months to get rid of this shit attitude pervading around the club. That's Martinez's legacy and we're the mugs left paying for it while he fucked off into the sunset with a big fat payoff. He should have took his fucking piss-poor idle so-called stars with him too.
Alan Bodell
242
Posted 10/12/2016 at 18:33:41
I don't want to depress anybody but our last game this season is away at Arsenal, we don't have the luxury of a home game against the likes of Wimbledon.
Unless Koeman gets some creative player in the window, we need to go Dogs of War because we currently have neither creativity nor muscle needed for survival.
Dave Williams
243
Posted 10/12/2016 at 18:37:59
We are too full of old players who are past their best, players who are not good enough, and players who lack guts. Four of our attackers are clearly scared of physical confrontation, our defence is too slow (Baines and Jags look way past their best) and the manager is trying to play a system which is totally unsuited to the entire squad apart from the excellent Gana.
Why insist on a pressing game from players who don't know how to press? All we get is long ball crap and no ball retention which then puts pressure on an old and ponderous defence.
We need energy, fight, physicality, team ethic and bigger stronger players. Next game he will no doubt pick Lennon and Cleverley again ignoring the fact that the only permutation he has not tried is one involving the you ger players – at least Davies and Holgate deserve a chance.
Not looking forward to Arsenal who will rip us apart and as for the RS – God help us!!
Patrick Murphy
244
Posted 10/12/2016 at 18:39:26
I think Dave may have stumbled upon the reason we are not winning matches.
Koeman keeps saying "De-Pressing game" "De-Pressing game" and that's what the players hear and they carry it out to the letter, as we the fans get more and more de-pressed with each game.
Julian Exshaw
245
Posted 10/12/2016 at 18:41:50
It has been discussed before but a good coach can work wonders with average players who work their nuts off and have the right attitude. Such teams won't always win but their desire gets their fans going.
Man for man, we are better than Bournemouth, West Brom and certainly Watford, so where are we going wrong? Is it bad coaching or players who simply aren't motivated as long as they're getting their £80,000-plus a week?
We have seen how talented all of these players are though. So is their attitude to be questioned and, if so, why? Why wouldn't they want to play for Koeman, for example? He mentions we are too passive, but whose fault is that? What is going on behind closed doors?
How frustrated I was today seeing the coaching staff nonchalantly sitting back as we conceded two goals. Where was the fire, the anger or an old-fashioned kick up the backside? Does it hurt the coaching staff to see us lose, is it hurting the players?
Whatever the answer is, it is hurting us! We demand more, at the very least a fight as witnessed today for 10 minutes at the end. Sorry about the long post but this is not our Everton!!!
Anthony Murphy
246
Posted 10/12/2016 at 18:44:33
Something doesn't seem right behind the scenes... I'm not sure what's gone on, but Koeman isn't happy at Everton is he?
I'm happy to give him time as he inherited a team in a total mess, and maybe he'll bring in a few fresh faces to get us going, but his lack of animation and 'distance' from the club and fans worries me.

Let's see where we are after the January window, but I need him to feel part of the set-up and I don't see that at the moment... Was he promised funding that didn't materialise? Just a thought.
Guy Hastings
247
Posted 10/12/2016 at 18:46:12
I loved Duncan Ferguson as a player but what the fuck is he on the staff for unless it's to give Lukaku a kick up the arse each week? A job he he isn't up to or Lukaku's arse is Teflon plated.
And didn't Koeman complain about the fitness levels when he first arrived? They look even further off the pace than a year ago – slow to the tackle, which they inevitably lose; playing hospital passes to each other at close range (Lukaku again; offering no speed on the break.
As for a basic understanding of the offside law (yes, bloody Lukaku again). And don't give me the 'he scores goals' routine – I posted elsewhere that he'd score today and be back to being 'world class. Yes, he probably is if you're hoping to a Shoot Annual for Christmas...
Geoff Evans
248
Posted 10/12/2016 at 18:51:06
This city used to have two teams who no-one wanted to play. There's still one. The other, well they've become everyone's favourite team to play, a fucking joke.

Colin Glassar
249
Posted 10/12/2016 at 18:51:32
Just got home from work and what depressing reading this makes. Is it the manager, or players or both? Who knows?
I'm just watching the Leicester City - Man City game and there's another lot who don't seem to arsed but at least there's a team full of stars, not like our sorry bunch.
So, does this mean that Koeman and Guardiola are crap? Or does it mean the modern footballer turns up when he feels like it?
This club is now in the hands of Moshiri and Koeman. All we can do is hope and pray that the malaise which Chairman Blobby allowed to seep into the club is stopped before its too late.
Clive Rogers
250
Posted 10/12/2016 at 18:58:31
Holgate should definitely start the next game. There are several options.
He could replace Coleman or Coleman could be pushed forward. He could even replace Williams who was bought too late in his career and has lost pace and doesn't dominate in the air.
Funes Mori has done enough to keep his place.
Rick Tarleton
251
Posted 10/12/2016 at 19:03:53
I posted a considered post when I gave my thoughts an hour or so again. After dinner, a bottle of wine and an Armagnac.
I'll put it bluntly: the manager has lost the dressing-room. He knows it, every close up of him tells you that. Someone wrote he took this job for the money offered and that seems correct.
He's lost, he's floundering and he couldn't pick a team to beat another team deemed to be in freefall. To pick McCarthy ahead of Barkley means he's not only lost this match, but the commitment of our most talented attacking mid-field player.
Koeman – show some honour and resign.

Colin Glassar
252
Posted 10/12/2016 at 19:09:42
January should be interesting. I hope any new players coming in have a testicles exam before signing.
Richard Reeves
253
Posted 10/12/2016 at 19:13:02
I don't say this with confidence but I don't think we'll be involved in a relegation battle – although I do think that sticking with Koeman is going to be an expensive waste of time.
I too would also like to see Unsworth given at least half a season with Royle by his side. He'd have enough time to prove himself and change the mentality within the squad by dropping players and bringing in some of the youth.
John G Davies
254
Posted 10/12/2016 at 19:13:21
After pie and chips, 8 pints of bitter, and a few scotch, can I say fans asking for Koeman to resign are deluded?
David Barks
255
Posted 10/12/2016 at 19:19:14
I'm still waiting to hear a reason for Koeman to be given multiple transfer windows, based off of what you're seeing on the pitch. What evidence is there? Defensively, were not improved. We're leaking goals every single match. If we go ahead we can't hold a lead. If we go behind we can't win and often lose.
Our attacking play is absolutely atrocious. We're just a long-ball team, that's embarrassing as all hell. But at least most teams that do that put two men up front and Koeman doesn't even do that. The man put McCarthy into a midfield of Barry and Gana, what in the hell is that about? I don't even think Tony Pulis would do that. In fact he has his team playing better football than us, and that was with a single signing of an out-of-contract championship striker.
All of the managers comments just come off as arrogant and condescending. Not once does he say he got something wrong, he starts complaining about the fitness levels, saying Barkley isn't good enough, the players aren't battling and are weak, taking the piss out of the supporters after the Christmas tree thing. Honestly, he comes off as just a big asshole who constantly passes the blame. Which is exactly what the Valencia players said about him.
So three defensive midfielders led to three goals conceded. What will he do now, throw Cleverley in there for Mirallas? Put Robles in there to act as a sweeper in front of Stek? What exactly has he done that anyone can point to and say "That – that is what he has improved"?
Raymond Fox
256
Posted 10/12/2016 at 19:21:14
Dave (#241),
I see your still playing your 'Blame it all on Martinez' card.
Martinez signed 5 only of the starting 11 today and they were the best players on our side in my opinion.
Koeman has had charge of this squad for 15 games now plus friendlies/cup games, I think that is ample time to put his stamp on our team if the overall quality of the squad was good enough.
That's our biggest problem; the simple truth is that too many of our squad are not good enough, some may have been in the past but not now.
Baines has seen better days, Coleman's good going forward but suspect in defence as Baines is. Jagielka and Barry are on their way down, Barkley, Mirallas and Deulofeu blow hot and cold, mostly cold. Many of the players let Martinez down, now its Koemans turn.
Koeman has, one way or another, failed to impress, I have to admit, he's made some right gaffs but he managed Southampton to two consecutive 6th places so I'm willing to believe that he knows what he's doing and can manage. So we come back to the players which is déjà vu isn't it.
Our saving grace is at the moment there are enough sides that are even worse than us, so I wouldn't worry about relegation, I'll be very surprised if there isn't a good few bob spent in the next window, I cant see Moshiri and other board members running the risk of relegation.
Chris Williams
257
Posted 10/12/2016 at 19:28:51
Colin,
The doctor would have to charge a search fee with this current lot. They'd never get into the Women's Russian Olympic Team back in the '60s.
Don Alexander
258
Posted 10/12/2016 at 19:30:32
Once again, Dave Ganley @241 perfectly captures where the responsibility lies. Koeman cannot have been expecting the rank cowardice and apathy he and us all now see on the pitch, week-in & week-out.
Those sort of failings cannot be improved by coaching or bollockings either but even if they could the chances of it happening under a coach such as Ferguson, the very embodiment of an apathetic cowardly bully who, as a player, cared zero for anyone but himself, are nil.
There's a lot of players who need to be got rid of as well, even if it means paying off their Kenwright-authorised contracts. Then they need to be replaced by others whose ambition extends to more than upgrading their car every year. Hopefully Moshiri will grasp the nettle... very, very soon.
Phil Walling
259
Posted 10/12/2016 at 19:33:20
I've slowly come to recognise that we're fucked!
Scream for players to replace the present poxy lot and we'll just get like for like replacements – most probably from the Russian leagues where Moshiri is said to have good contacts.
Scream for 'the kids' to be given a chance and we'll be told that they are nothing like ready for the Premier League and would be better off honing their skills elsewhere under the likes of such luminaries as Pulis and whoever happens to be the manager of Brentford at the minute.
Scream for Koeman to be replaced and we'll wait a long time and then get 'honoured' with the arrival of yet another mercenary who recognises Everton as a soft touch with a 'luvvie Chairman' and a totally naïve part owner.
Then, give it all some more thought... and just fecking SCREAM!
Mark Wilson
260
Posted 10/12/2016 at 19:52:07
Just some thoughts after another genuinely shameful, pitiful "performance".
Only at Everton could we buy a 32-year-old commanding centre back, captain of his country, Euro semi finalist, etc and then watch as he totally undoes all that and somehow forgets all he knows about handling crosses, players running at him and positioning in the box. Incredibly disappointing so far from Williams.
Only at Everton can the Lukaku haters try to persuade you that we should sell one of the highest goal scorers in Europe at 23 and our only real goal threat and replace him, inevitably, with a forward who will score (probably a lot) less but be better at "hold up" play and "run around" more .as opposed to buying two creative players and a second forward.
Only at Everton can huge numbers of supporters be told by a just a few brave souls that the summer transfer window was "fantastic" and we shouldn't be concerned then watch as even the brave souls realise the transfer window was a pathetic unprofessional shambles that has likely set us back 18 months as the resulting dire performances will just serve to persuade the real quality in January not to come anywhere near. Or those that do are so over priced and over paid to overcome that thinking, that we can't afford enough additions.
Only at Everton can we somehow make Koeman the seventh best-paid manager in the world and watch as he struggles badly with a squad that I suspect doesn't like his methods and is letting everyone down, whilst he stubbornly refuses to blood two or three promising youngsters, ignoring the feeling that how on earth could they produce less passionate, gutsy, worthwhile effort than the current mob?
It's all very hard but calls to sack the manager are just daft as frankly it will cost twenty five mill to sack them and get someone else in, thus dramatically reducing transfer funds, unless Unsy and who knows as a number two can do what some suggest and surprise those of us worried about inexperience and lack of profile to attract top players to the club?
We could be bottom six by January, can't help it, I'm really worried now as honestly Koeman seems to have lost the plot and looks hapless tbh. Worse, there's surely a problem at Finch Farm? Those players aren't dying on the pitch for Ronnie are they? Maybe it can all turn round with two wins in a row against the Arse and the Shite. If it's to happen, it will take drastic changes, a risk or two, and please, 4-4-2.
Christy Ring
261
Posted 10/12/2016 at 20:01:29
There's something seriously wrong at the club. Koeman and the team seem to be totally divided. No chemistry whatsoever and I believe we're in a relegation battle.
Williams and Baines need to be dropped, and why won't he put Valencia beside Lukaku from the start?
Mike Oates
262
Posted 10/12/2016 at 20:04:28
Koeman is either a fool or a mercenary. He must be a fool to leave behind a Southampton squad where at least 7-8 of those players from last season would walk into Everton's team – Forster, Bertrand, Konte, Van Dijk, Mane, Tadic, Wanyana, Pelle, and Long.
He must have known before he came that we had an ageing squad, with the likes of Jagielka, Baines, Barry, Gibson, Kone all done for, Deulofeu, Mirallas and Barkley never ever at the races, a defence that couldn't defend, and an over reliance on one man – Lukaku.
Its not a 12-month, not a 24-month rebuild, it's a complete new set up, from foundations to the new roof, he'll be lucky to get the time to do it. Martinez's one decent legacy is Lukaku, because without him we'd be in the bottom 3, doomed to relegation, and Moshiri looking for the quickest exit. But Koeman will get his multi-million pound pay off like Martinez did – only this time, Moshiri sanctioned it.
Paul Kossoff
263
Posted 10/12/2016 at 20:12:38
I said before he was signed that Williams was a cart horse and would not improve the defence. More people are seeing that he's slow, too small, easily turned, gets pulled out of position, not good in the air, and the bullshit leadership crap as his strength? Yea right, okay!!
If he went back to Swansea in January, would anyone be bothered?
Bill Gall
264
Posted 10/12/2016 at 20:16:41
Funny thing is, despite all the slagging of the team and a number of calls for the manager to be fired, the bean counters will still be happy with the number of practically full houses for the Goodison Park games.
Those supporters hoping for an improvement during the January window, ask yourself: "What top internationals will be willing to leave their clubs to come to a mid level team?"
Paul Smith
265
Posted 10/12/2016 at 20:18:42
Money & signings in January won't fix it.
We can't buy our way out of a total lack of passion, belief, awareness and identity. Look at the players he's bought. Only Gana makes the grade, Bolasie is too inconsistent, and let's be honest, without the Euros, Williams probably wouldn't be here.
I've read some good stuff on this thread. To sum up: we're as bad as Bobby Brown Shoes's final season and he got the boot; there's no bigger indictment of how bad we are than that.
Geoff Evans
266
Posted 10/12/2016 at 20:19:05
Shit-shirt got it right at lunch time when he said that Koeman has taken on a bigger job than he realised.
Doesn't say much about the manager or his players.
Colin Glassar
267
Posted 10/12/2016 at 20:19:07
I'm honestly bewildered by what's going on. I didn't expect us to be challenging for a top 4 place after such a disappointing summer transfer window but neither did I expect us to be in free fall in bloody December.
I expect Koeman will play safe and go for a few Dutch players who will know how to play "his" game and someone like Schneiderlin to boss the midfield. But he also needs to get rid of the shirkers and saboteurs ASAP. The rot needs to stop right now – otherwise, we are well and truly fucked.
Geoff Evans
268
Posted 10/12/2016 at 20:26:35
Colin, who would you class as saboteurs?

Gordon Crawford
269
Posted 10/12/2016 at 20:28:18
When Moyes left, he left us with a decent squad who fought tooth and nail for each other. Then in came Roberto who added a little bit of flair to proceedings and we had our best season since the Premier League started.
But the season after that he tweaked things too much and the players started to lose faith in him. And also his bizarre interviews didn't help either. Anyhow eventually the players gave up playing for him, and so he was gone.
Then in comes Ronald and the players responded at first and looked half decent, especially the first 70 mins against Spurs. But then he goes and publicly humiliates Niasse and starts spouting to the press that the players aren't good enough to play his way.
So, like with Roberto before him, the players in my opinion have revolted and decided not to play for him. So he is doomed to fail if that's the case. Just my thoughts.
Colin Glassar
270
Posted 10/12/2016 at 20:33:48
Ossie, who else Geoff?
Nah, joking apart, I always look at the miserable looking players as possible saboteurs. The likes of Mirallas, Lennon, McCarthy, Deulofeu etc. All a shifty-looking lot in my book.
Rick Tarleton
271
Posted 10/12/2016 at 20:35:42
You're not far wrong, Gordon (#269). the body language of the players, and of Koeman himself, supports your thesis, and Mike Oates like the rest of us knows the answer to his hypothesis, Koeman is a mercenary.
Moyes called us "The People's Club" and brought some stability after Smith; he lost support after four or five seasons.
Martinez lost support after one and a bit.
Koeman has lost the fan's support after less than half a season. He needs to do the honourable thing and resign.
Dean Adams
272
Posted 10/12/2016 at 20:35:58
When the next window closes, we will have a clear idea of where we are and what to expect from this season.
For me, people are far too quick to knock the club or the manager at every turn. Ultimately the players are the ones on the pitch and, no matter how annoyed with them, Koeman is he is stuck with them until the window allows him to get replacements.
As for playing the young players, I would play more of them but Koeman seems to be afraid that in this team they will suffer at the hands of the ones who will be going as soon as the manager can clear them out.

Phillip Warrington
273
Posted 10/12/2016 at 20:37:39
This is basically the same team that nearly made it to the Champions League accept we have gained amid old but two good players in Williams and Gueye. I'm sorry but Crystal Palace must have had a grin from ear to ear when Everton paid £30 million for Bolasie – an average bench player at best.
You can see the team has no heart and there is no fresh blood (Under-23) to keep them motivated. So it comes down to the coach and his tactics which, at the moment, he doesn't seem to have... or does he not have the players?
Everybody bagged Moyes but every Everton player when he was in charge fought and ran themselves into the ground for the Everton shirt.
What is the biggest concern to me is we have supposed to have this super scout and he has added scouts under him with the purpose, I believe, to find diamonds around the world for reasonable prices, but all the talk is about buying over-aged and expensive used bench players from other EPL clubs – great scouting that is!!!
I have followed Everton for 40 years and I have never been more delusional about the direction the club is heading. Watching Everton at the moment is heart braking they have no direction or fight
Mike Oates
274
Posted 10/12/2016 at 20:41:02
Gordon (#269). I'm in total agreement with you; no matter how bad Niasse is (its not his fault Martinez forked out 㾹m), Koeman's treatment of him back in August was disgraceful and in any form of industry/administrative workings, if a colleague who has done nothing wrong, and gets humiliated in front of all and sundry, then that would lead to a total lack of respect for the manager concerned.
As I said about 4-6 weeks ago, I can't believe Unsworth or Royle have any respect for Koeman with his treatment of the development squad. He's only watched one U21/U23 game this season, which they lost and again Koeman spouted that the lads weren't ready, yet he continually plays Cleverley, Lennon, Barkley, Mirallas, Deulofeu, and McCarthy who contribute nothing at all!

Brent Stephens
275
Posted 10/12/2016 at 21:04:34
Deliberate, tactical losses by Koeman make the team look so dire that he forces Moshiri's hand and gets big bucks for big players in January – and away we go.
Yeh, okay, I know....
Raymond Fox
276
Posted 10/12/2016 at 21:12:12
We should stick with Koeman, it's top class players we need like we have for 20+ years.
Until we compete with the usual top 6 clubs in the transfer market, we are never going to seriously challenge them apart from maybe beating them occasionally.
Problem is how the hell are we going to do that! Even Moshiri is small change compared to them.
Depressing what, I think I'll start playing golf again... at least if I lose, it will be my own fault. Let's face it, we have no control over the results of football matches.
Gordon Crawford
277
Posted 10/12/2016 at 21:35:48
Raymond, mate, we can't keep making excuses for the manager. You are right in saying that we need top players to challenge the top teams consistently. But today we played Watford and with a team that should be head and shoulders above them in class. But sadly we are the ones who are found wanting.
Last season, Chelsea where found wanting and they are a far better team than us. Why was that? Well, it was because their manager at the time, who is one of the best around, had lost the faith of his players. But this season, under a different manager, they are a vastly different proposition. Yet they have the same players mostly.
I truly believe Rafa would have done a better job.
Eric Paul
278
Posted 10/12/2016 at 21:50:49
Mark Wilson @ 260,
Great post... but regarding Lukaku, have you not watched any of the strikers of which Lukaku and his agent put him in the same bracket as. They make defenders work, they look for space, they try to lose their marker, they control the ball, they win headers, they stay on their feet, they play with aggression, and they don't accept defeat easily.
Lukaku does none of the above. Put him on the transfer list at the price he thinks he is worth in January and he will still be at Everton in February with his agent brokering a contract extension with higher wages and a get-out clause.
Andy Crooks
279
Posted 10/12/2016 at 21:54:44
Not one of them hates losing – not fucking one if them. There is no anger, spirit or defiance in one of them, they could not summon a fucking back bone between them.
Koeman must act now and give a young player a chance. He must be bold, he must light a spark, make a change. He will not go, he will not be fired. It is a battle between him and the soft bunch of fuckers under his command. He must win it, whatever it takes.
Ian Riley
280
Posted 10/12/2016 at 21:57:41
Koeman is a good manager with a poor squad. Our slide has been present over the past two seasons. Players to slow, not interested or not good enough. Koeman walked into a club on the slide. Changing the players is easy. Changing the culture is far more difficult.
Moyes left a working culture but no quality to be anything better than 5th place. Martinez talked of Champions League with no sense of reality. Did koeman come for the money? No, but treble your salary does help. The style of his management may not suit the current squad. He needs his own players. If we sack him, who comes in?
The squad needs a overhaul. If Koeman is not given serious money In January. Then let him go and get a manager who can motivate or tell the players how it is. This will be our only way of avoiding a relegation battle.

Colin Metcalfe
281
Posted 10/12/2016 at 22:04:51
Just a note; did you see the reaction of the players when we got the opening goal? It was so low key, no real celebration. I don't know... it just seemed odd as though the team has no spirit or togetherness.
Did anyone else notice this?
Paul Smith
282
Posted 10/12/2016 at 22:18:37
Colin your right I had to think if Rom had previously been on loan to Watford and was muting his celebration, strange indeed.
Derek Thomas
283
Posted 10/12/2016 at 22:24:23
dup
Gordon Crawford
284
Posted 10/12/2016 at 22:31:50
For me, the manager lost the players. But it's all hypothetical. If that's true, Derek, then I wouldn't want to play for a manager like that.
Anthony Murphy
285
Posted 10/12/2016 at 22:35:59
I did notice that too, Colin – something ain't right... there's also a lack of cohesion between players and those on the bench.
It was encouraging when in the WBA game back in August, he took McCarthy off to tactically change things in the first half, but what's happened to that decisive, no-nonsense approach?? He seems to lack judgement at the moment.
Jim Hardin
286
Posted 10/12/2016 at 22:45:17
Dave Ganley,
It isn't sticking up for Lukaku as much as pointing out that he is not the cause of the problems. He does not choose a line-up or formation. He does not and is not responsible for playing defense. Not sure but don't we have players called defenders and defensive mids and a goalkeeper who get paid, yes, paid, to do this???
I know I am American but over here we have a vague notion that strikers are paid to score but are not expected to run all the way back to their goalkeeper, collect the ball and take it up the pitch themselves.
Your recycled point about Lukaku running is irrelevant for two reasons. First, he doesn't make runs because the ball is not played through for him to do so. The way Everton play, his runs would be to his own half of the field, which would be useless distance right?
BTW, he did make a run after winning the ball in the first place, and scored on a nifty play and pass that he was able to (follow me on this) run onto. Maybe more of those and he would run enough to satisfy you and others.
The second point is that three teams with strikers with higher work rates are going to get relegated. So the distance our striker covers is not the problem and does not dictate wins and losses. HE FREAKING SCORED TWO GOALS!!!!!! How many did the rest of the team score?
Wait, never mind. You, Peter and Kevin can blame him all you like instead of looking at the real culprit, the intractable manager.
Jon Cox
287
Posted 10/12/2016 at 22:45:38
"So, does this mean that Koeman and Guardiola are crap? Or does it mean the modern footballer turns up when he feels like it?"
Colin G, it means that if a manager can't sort it then he's NOT A FUCKIN MANAGER for Everton Football Club,
KOEMAN – sort it before Christmas or DO ONE!
Andrew Presly
288
Posted 10/12/2016 at 22:48:42
I was down at pitch level amongst the Watford fans and to witness close-up the lack of anything out there from our lot resembling heart, soul, courage and will to win was terrifying.
Misplaced passes were met with hand gestures, shrugs and sometimes just indifference from what is increasingly looking like a bunch of self-interested cowards.
Nobody organising, nobody demanding better, nobody even saying a word for long periods. It was pretty bizarre to see. Nothing from the sidelines either.
I'll take Ron cleaning house and pressing Alt + Ctrl + Delete on this squad rather than see another manager go so soon but it's concerning that, under all the bosses we've had since I've been a Blue (this is going back to Harvey) Koeman will be the one who probably cares least about us as a club and our prospects – other than serving as a vehicle for his career.
We're living in interesting times...
Michael Long
290
Posted 10/12/2016 at 23:06:57
Today has just proved how much I am done with these players.
Today, we should of won this game to at least give us a slight confidence going into the next two daunting home games. But instead we have fucked up big time today.
I do still back Koeman, however his selections today were stupid. Against Watford you should be playing 2 up front instead of 3 defensive midfielders. What do the likes of Holgate, Davies, Valencia, Robles and others have to do to convince Koeman that they are better and offer more than the majority of the players.
We must be the only team in the league who doesn't seem comfortable going in front. The mentality of these players equals losers except for Gana.
Coleman and Baines are finished, Barry too old, Stekelenburg is just a clown, Mirallas, Deulofeu and McCarthy are just shite. Lukaku scores goals and god knows where would be without them. However the lad has no work rate. The things we're gonna have to do in January to improve this squad is unbelievable. Winners and not second best attitudes.
Arsenal and Liverpool are just gonna be hidings in the making. The thought of Ozil, Sanchez, Mane and Firmino running at our bone-idol defence is just terrifying. The players have some how in the next 48 hours to get a fucking grip and man-up – otherwise it's gonna be an angry Goodison park and trust me when I say it is intimidating.
I really don't who this side is right now.
Dave Ganley
291
Posted 10/12/2016 at 23:08:25
Jim, you just said it yourself – he made a run and scored. He just doesn't do it anywhere near enough. I did point out he wasn't on his own but, considering he likes to think of himself as the finished article, then compare him to say Suarez, Costa, Aguerro, Messi etc they all find space for themselves. Lukaku stands there gesticulating when a ball isn't played directly to his feet.
The days of having a striker just standing there doing jack shit, occasionally being in the right place, are long gone. All the best strikers have defended from the front. Lukaku seldom if ever does that. Maybe if he actually moved and dragged defenders away from the area, then others would get chances too.
You are correct in that he doesn't get great service but he doesn't help himself either. He is bone idle. Last week against Man Utd showed that. Not interested for 75 minutes then he decided to actually control the ball, shield it well and run at defenders. What happened to the first 75 minutes?
Watch Jamie Vardy tonight against Man City, ran everywhere and scored 3 goals. No, he's not the cause of our problems but he is one of the root causes. Players look at his crappy attitude and do likewise. For someone who is meant to be top notch, he sure has a shit way of showing it.
What does he contribute when he is not scoring? Fuck all. After the Chelsea cup game last season he may as well have not been on the pitch till the end of the season. The chances he missed were incredible, including missing a number of golden chances in the semi and a penalty.
Same this season when he went quite a while without a goal. Just becomes a passenger. Whilst he has his moments, let's not kid ourselves that he's irreplaceable – he's not. He's not a team player – he only cares about himself – and that's only when he can be arsed.
Dave Ganley
292
Posted 10/12/2016 at 23:31:10
And Raymond (#256), I'm not sure how you can disagree that this awful malaise didn't originate from Martinez.
Before Martinez arrived, we had a squad that would give their all for the shirt, regardless of their limitations. Sure, we had bad days... but you knew that there would be a reaction in the next game.
Martinez took over and we see the fruits of his labour over the last 2½ years. A squad full of prima donnas that just couldn't give a fuck about the team, the club or the fans. They see a disgrace to the shirt and this all stems from Martinez's crappy attitude to letting the players do whatever the fuck they wanted on the field without any consequences.
The playing side is a complete shambles and to say this didn't originate from Martinez is just putting your head in the sand. Either that or you just didn't see us play over the last 2 seasons.
Mike Dixon
293
Posted 10/12/2016 at 23:50:36
The U23s have conceded 9 goals this year. The lowest in league.They lie second in league. Time to promote someone to teach the first team how to defend?
Jay Harris
294
Posted 10/12/2016 at 00:05:01
Dave,
I totally agree with you.
Moyes had the respect and team spirit instilled for a top six club but couldn't break the glass ceiling due to his "tight" nature and lack of support from the Kenwright cronies.
Martinez undid all of that within 12 months and with statements like he doesn't practice defending and he only wants to score from open play he instilled a mentality that it was okay to toss off as long as you can pass the ball round all day even if it is between centre-backs and the goalkeeper.
Then Martinez was backed with a bundle of money and brought in more championship standard players like Alcaraz, Robles, Kone, Niasse, Cleverley, McGeady and upped the wage bar much to the chagrin of established Everton players.
With the team spirit evaporating and Moyes players beginning to age Howard, Baines, Jagielka etc his indecisiveness allowed uncertainty and a lack of confidence to creep in and that lack of bottle is now firmly implanted in our DNA.
Not only are we bottling the big games but we appear to have lost all confidence against the more dynamic less skillful teams too.
I thought Koeman was the answer to our dreams although I did favour Emre and Eddie Howe at the time.
It now appears that we have a Mexican standoff at every level between individual players and cliques and the manager and coaching staff and maybe even in the boardroom.
Whatever the truth is, it is painful watching the Blues right now and it is obvious it will take more than a few signings in January to straighten this out.
The only consolation is that something similar has been happening at Old Trafford since Whiskeynose left and the older clique didn't like Moyes nor Van Gaal wanting to introduce change.
You need a very strong character to put player power in its place, and Koeman may just be the man to do it, but will it be too late!!
Dick Fearon
295
Posted 11/12/2016 at 00:16:38
I came in for stick by naming Rafa as my pick for the manager position. A barrage of abuse from anti-Liverpool FC ToffeeWeb posters ensued.

The same happened when I opted for a return of Rooney. They look like good choices now, eh, lads?
Ernie Baywood
296
Posted 11/12/2016 at 00:19:26
What I see is a club in total disarray right now. In my opinion, Ron doesn't feel at all responsible for this team and won't until he's spent money.
So we're going through the motions. I'm not usually one for the big statement but that performance last night was as bad as anything I've seen from us. At 1-1, I was resigned to defeat.
Such a pathetic, lifeless performance. Players were poor, tactics amateurish, and he sat on his hands for 65 minutes watching it. It's like he really doesn't care whether we win or lose until he's had the opportunity to spend.
I know we'll stick with it but, personally, I don't want this guy at my club.
Soren Moyer
297
Posted 11/12/2016 at 00:27:20
Seeing how crap we are playing nowadays, one would wonder what is this 3-year 'project' Koeman is talking about? Because we are becoming worse, week after week!
Denver Daniels
298
Posted 11/12/2016 at 00:32:38
Yes. It's all Roberto's fault. We don't have a single Premier League class player on the books so, until he can overhaul the squad completely, he should be absolved of any blame whatsoever. Because a manager's only as good as the squad he coaches.
Barry Jones
299
Posted 11/12/2016 at 00:33:13
Jim Hardin, your arguement is so flawed and and contrary to any basic understanding of how this game should be played.
Paul Conway
300
Posted 11/12/2016 at 00:39:14
Wtf are we waiting for to consolidate that 11th spot?
Ffs, it's there for the taking!
Raymond Fox
301
Posted 11/12/2016 at 01:28:42
Dave, Koeman has been in charge for well long enough for the players to know exactly what he wants from them; do you not think he's read them the riot act yet, has it made any difference? No. Are they good in defence now the new managers in charge?
They're so-called International defenders who are not very good at it; how much proof do you need! Changing managers again will not make us a good side. Ask yourself how many of our team would get in the present top 6 sides?
As long as there are 6 teams in the Premier League that can spend considerably more than the other teams, the status quo will carry on. I'm sorry to say, that's the real problem.

Kevin Dyer
302
Posted 11/12/2016 at 01:30:04
Koeman has no original thoughts, just the mantra of "press". Utterly clueless. I think he has no firm idea of what he wants the team to do and this transmits itself to the players. Some of them aren't up to it but I cannot believe an entire squad to be lazy, weak-minded etc. Impossible. Koeman's demeanour on the sideline - muted, tense, unreactive - is mirrored by the team on the pitch. He plays with fear. Today we essentially played 3 DMs vs Watford, though McCarthy was nominally a confused-looking AMC.
85m to get our 2nd shot on target vs a poor defensive team. Story of the season so far.
Despite encouraging cameos from Holgate and Valencia last game we get neither starting, but McCarthy in for Cleverley. Our formation was flawed. Our 2 wide attackers provided no cover to our FBs; that should have come from our CM and Gana did cover Coleman. Barry didn't have the legs so Baines was exposed. McCarthy could have supported but was in limbo upfield. As soon as Watford quit playing through the congested middle they were all over us. No reaction from RK.
Lukaku is a great finisher but cannot play as a solo striker. Valencia needs to come in; Rom looks 50% better with a strike partner. We need to shift out the dead wood (Mc, Cleverley, Gibson, Jags etc).
Finally, assuming RK figured that Watford would be physical, maybe starting Holgate over Seamus and not sending Galloway out on loan may have been a decent idea?
Paul Kossoff
303
Posted 11/12/2016 at 01:49:25
Koeman's after game explanation on MotD, I played it five times and still have no idea what he said! I think that it was something about plates or places, possible he was giving coded messages to his wife on how many for Christmas dinner.
Message to Ronald – resign in January and take most of the squad with you, because you are clueless and I firmly believe that 'any manager' brought in would get nothing from this bunch of lazy overpaid prats.
Paul Kossoff
304
Posted 11/12/2016 at 02:01:11
Jim (#286), spot on. We had eight defensive players on the pitch including the keeper, more than enough to keep a clean sheet; you can't blame Lukaku. This set-up by Koeman surely proves once again that it doesn't work.
Mick Davies
305
Posted 11/12/2016 at 02:51:11
Arsenal's players donated their days wages to the Arsenal foundation. I wouldn't imagine our bunch of selfish gobhites would consider doing that, even though the Gunners won, while Konman's Kretins did their best to help a shite Watford side to 3 points.
Jim Hardin
306
Posted 11/12/2016 at 03:03:07
No Barry,
You agreeing with the likes of Kevin and Peter, so you can all clap yourselves on your respective backs, tells me your opinion is the same value as theirs. If it were paper, it would line the bottom of a bird cage.
You continue to keep on wishing for Lukaku to be a "marathon runner" ( a different sport entirely and one I would think Brits are familiar with (Chariots of Fire and all that )). I will expect a midfielder to play a ball to him and run off of him, and expect my striker to score.
See That is what they are paid to do. You might have to read the last line twice, Barry, so that it will sink in.
David Pearl
307
Posted 11/12/2016 at 03:54:46
The longer this goes on, surely people must start to realise that perhaps this squad is lacking in key personnel and key areas? And that maybe, just maybe, it's not all Koeman's fault (or Martinez's for that matter)? Or Mata, or Hazzard, or Eriksen, or Coutihno, or Mahrez (we just haven't got those players).
Certainly Barry was not at fault as I have read. Baines is currently unable to have any kind of effect on this team due to his legs not being as fresh as they used to... but let's say it's because Barry can't cover him. What's he covering? For when Baines was sprinting down the touchline putting in crosses on the run or from space?
And equally, in fairness to Leighton, he hasn't had a partner (such as Pienaar) with whom he can pass and move and cut inside and out... finding room for killer balls!
Nope, Lukaku is lazy. Well, I guess you can't argue with facts. He runs less than more or less any other player in the Premier League. However, once again his supply line is virtually non-existent. How's the chant go again? "Feed the lazy twat and he will score" It's true though, isn't it?
Barkley and Deulofeu have gone backwards in the last 3 years. Maybe it'll click for them but do we have time to wait and see? Deulofeu today looked promising but in the end of course failed to deliver. He's done it before but now... Mirallas is trying, I will give him that... but zero results.
McCarthy... well actually it's not really worth counting and negatively saying we had 8 defenders on the pitch. McCarthy was there to press higher up and win the ball back higher up. And he did that quite well until Watford started throwing themselves about more and we couldn't live with them. Hence Gana came off due to a lack of height and physicality. If our full backs went forward – and people have often said about Coleman playing right wing – then we have enough forward presence.
It's just not working with these players. He could bring in Holgate and Davies... I wouldn't mind that.
But it'd still leave us without what we really need to see games out for the 90 minutes. To control the tempo of the game, to pick out that pass and to orchestrate. Someone that Lukaku respects and listens to. Someone that the other players can feed off and look to for inspiration. It doesn't appear that Barkley or Deulofeu are those players. So we need to buy well in January.
We need to purchase players with the same intensity, the same mind-set that we and our manager expect from the players. It's an important Christmas and New Year. It might also be the year I get the Tin Can Alley game I've been asking for the last 35 years.
So it's over to you, Bill... I mean, Moshiri and Walsh.
Bill... It's not your fault. No, Bill... look at me! It's not your fault.
Bill... Bill??? It's not your fault!
Paul Holmes
308
Posted 11/12/2016 at 04:33:30
Everton have two managers for the price of one. What posters forget is that Ronald and Erwin Koeman both played for the Dutch national team (who won Euro '88), and both managed PSV Eindohoven.
This tells you that the rubbish we watched last season under Martinez and the same rubbish we are watching today is because the players at Everton are not good enough. They need replacing, it's a rebuilding job!
Do you honestly think the Koemans can't see the problems? Give them a break, how many of our team could play for Barcelona? You can only work with what you have and the transfer window can't come quickly enough for the Champions League and Euro Winners, the Koeman brothers.
David Pearl
309
Posted 11/12/2016 at 04:41:42
They are more like the Farelly Brothers to most at the moment. I agree Paul, it can't come quick enough. The club shop should have an advent calendar with an extra week to open.
Phil Sammon
310
Posted 11/12/2016 at 04:59:28
How many of that Watford team could get into the Barca side, Paul?
William Cartwright
311
Posted 11/12/2016 at 07:35:17
I have read so many angry and frustrated posts in the last few weeks, and the last 24 hours especially, and for me Mark Pringle's comments @ 196 stand out.
Koeman may not be an easy sell but he has not become an incompetent overnight. The problem is the current culture of the club. Lazy, feckless, gutless – call it what you will. That is the current culture, not the history of the Club. There is a huge difference.
Martinez struck lucky for a season with the blend of Moyse's defence and his own passing attacking game and it worked a treat, even if there were one or two tell-tale warning signs such as the derby collapse. However, time moves very quickly in football...
Everton have lost the lot with the following players when it comes to 100%+ commitment and development potential:-
Jagielka, Baines, Barry, McCarthy, Oviedo, Deulofeu, Mirallas, Cleverley, Kone, Valencia, Lennon... That is 11 members of the squad who are all drawing salaries and taking up space.
Consider the following who for whatever reason are not performing as they should:-
Lukaku, Stekelenburg, Coleman, Williams. That is another 4.
Consider also the 'unavailable', out on loan or injured:-
Niasse, McGeady, Bolaise, Besic, Tarashaj, Garbutt, Galloway, that's another 7...
Consider also the goalkeeping situation which is not giving confidence at the back:-
Stekelenburg, Robles...
That is 24 probable squad players who are, for one reason or another, either under-performing or unable to contribute...
We have brought in one player who has been worthy of putting the shirt on... Gueye, who with Funes Mori and Robles in his understudy goalkeeper role are the only 3 reliable prospects / entities in the squad!
That, gentlemen, is a recipe for relegation. Martinez was driving us there without question. Koeman has probably the biggest challenge in the Premier League at the present. The January sales may help the situation (if we get some investment) but meantime what is the solution we shout for?
Bring in Tom Davies and all will be solved? Fuck me, if that is the strategy then we are in the deepest shit imaginable. To put a young player into the toxic player power driven crap dressing room situation we seem to be faced with could be a real negative.
Our only hope is to off-load and sell where we can the considerable excess baggage we are lumbered with, and be as supportive and patient as possible with what remains. Koeman has been accused of being too blunt? For me he has not been blunt enough.
Consider also he has been (possibly) let down by the club management / investment then we may be relegation fodder and nothing else. I am now seriously depressed...!
Gareth Rosslee
312
Posted 11/12/2016 at 09:30:16
Klueless Koeman must surely go – although I doubt we can afford it. The opposite of everything I love about being an Evertonian.
Mason Holgate played our first few games – when we weren't completely useless – and then just made way for Coleman, never to be seen again. Got a brief chance against Man Utd and was one of our best on the park. Next week out like it's a given.
Coleman is one of my favorite players, but picking on reputation over form is a sure-fire way to get into trouble. Same goes for Baines on the left. Please go and watch him in the lead up to the Southampton goal and tell me he's the same player he was. Slow to react, half-hearted jog across and a pathetic attempt to close down.
Galloway, Holgate and Davies – three youngsters I've seen put in a shift and there's no room for them. It's diabolical.
Geoff Evans
313
Posted 11/12/2016 at 09:45:49
This January could be a watershed in this clubs history. If the situation we find ourselves in isn't addressed we could be seeing, and I don't believe this is an exaggeration, the demise of a club that we hold dear.
I only hope that just some of the love, pride and passion expressed in these threads, all by true Evertonians, could rub off on the management and players.
Their involvement with this club is of a temporary nature and they can just move on; ours isn't... and we can't.
Steve Carse
314
Posted 11/12/2016 at 09:57:18
Paul (308), of what relevance is it that the Koeman played for Barcelona?
Phil Walling
315
Posted 11/12/2016 at 10:29:40
Could I respectfully suggest that all these calls to 'shift out the deadwood' should include the Koeman brothers as a priority?
Chucking millions at these clowns will only lead to the arrival of more dross like Stekelenburg, Williams and Valencia. Betya!
James Watts
316
Posted 11/12/2016 at 10:40:44
Phil (#315), I'm hoping it's Walsh et al that will be doing the signings and the Koeman brothers stick to playing golf or whatever they do during training sessions.
Ray Roche
317
Posted 11/12/2016 at 10:49:57
Jay Harris (#294)...
Jay, very good post.
Mike Green
318
Posted 11/12/2016 at 11:04:15
What the fuck is going on????
At the top we have co-owners – one whose influence is on the wane but can't let go of his trainset, the other who only invested in the club as a plaything anyway.
At the helm, we have a manager who sees us as no more than a stepping stone which he was willing to take on only for a massive wage hike, but now might be realising that, unless he turns it around, his career's fucked.
In his staff, we have an ex-player who I imagine is behind the scenes telling the whole playing staff to "Fuck off" and not much else... and their response back to him is probably exactly the same. How that person (the soul element on the coaching staff) isn't David Unsworth, I will never know.
Amongst the playing staff, we have a focal point who works only to get his goal stats up and has for the past two years done nothing but want to move on.
Sat on the plane next to him, you have an international who clearly thinks he is better than the club, and the players around him, but has struggled to get into the first team for years (yes, Kevin Mirallas, I'm talking about you).
Around them you have good professionals who would do it for you if they could – but no longer can (Baines, Jagielka, Barry, Gibson etc and perhaps remarkably Williams given we've just signed him).
Beneath them, you have a swathe of players who are simply not good enough for the Premier League – Cleverley, McGeady, McCarthy, Kone, Robles, Niasse etc and a bunch who have been signed by previous incumbents who we have never seen the light of day and I don't even know are even still with us (Rodriguez, Henen etc) and players who are nailed to the treatment table, like Besic.
Then you've got the new boys: Bolasie, who I've rated but is now out) Valencia, who must think "What was I brought in to do?"); Stekelenburg, who does half a job well at least... and Gueye who is the only shining light in all of this and who is probably losing the will to live.
Looking through the training ground fence are the U23s who are doing everything right at their level but cannot get a look-in – no matter how well they do.
Then you've got Ross Barkley and Geri Deulofeu – potential starlets of their generations who shine brightly for a game or two then fade, are dropped, and go back to square one. McCarthy to an extent could be put in this group or the "Championship" group – either way it doesn't look, ultimately, like he's got what we want.
Put that all together and all I see are cliques, dissatisfaction, uncertainty, poor leadership, lack of direction, weak identity, and a complete fucking mess.
Moshiri, Koeman and Unsworth need to go and sit in a locked room with a pen and a bit of paper, write Idrissa Gana Gueye in the middle of it, put their cards on the table and say "Where the fuck do we go from here?"
I really hope that's where the three of them are now... but I can't see it somehow.

Eric Paul
319
Posted 11/12/2016 at 11:09:14
Jim,
Good strikers create space by running – not standing still, waving their arms.
Don Alexander
320
Posted 11/12/2016 at 12:09:11
Well said, Mike Green!
Frank Crewe
321
Posted 11/12/2016 at 12:20:56
It would be so nice to see a straightforward 4-4-2. Give Rom some help up front.
These days, managers appear to slavishly follow the 4-2-3-1 formation even when it plainly isn't working for them. Leicester tore Man City a new one yesterday with Slimani and Vardy up front.
The fact is if you're defending is iffy, and ours is as iffy as it gets, then the best thing you can do is keep the ball in the opposition's half. Keep their defenders busy. It should be obvious by now that Rom cannot hold the ball up. He needs someone to take the pressure off him to score all our goals. Will he get any help? I doubt it. Koeman will stick with his one up front even if it kills him.
I wouldn't mind but 4-4-2 is the best formation for us.
Robles in goal. Stek has become a liability.
Back four: Coleman, Jagielka/ Holgate / Funes Mori, Williams, Baines
Midfield: Lennon, Barkley, Gueye, Mirallas. Let Gueye drop back to protect the defense and Barkley can get forward to support the attack.
Front two: Lukaku and Valencia since they appear to be our main strikers although it would be an idea to play Deulofeu up there since he has movement and an eye for a pass.
I do know that, if we persist with our present formation, we are going to get eaten alive by the Arse and the RS. So Koeman, if he's the manager he thinks he is, has to do something to shake things up.
Terry McLavey
322
Posted 11/12/2016 at 12:21:22
I agree Mike G, you made some valid points.
I've just watched MotD repeat as I fell asleep during it last night!
Did Watford play Z-Cars before the match for us or is it by some weird coincidence it's their tune too?
Watching the match again doesn't get any better either... it really highlighted the disinterest of the 3 defenders stood completely still while their player ran past them to back heel a very cheeky goal!
I really don't know what's going to happen, just how many wake-up calls do we need?
Terry McLavey
323
Posted 11/12/2016 at 12:32:12
Frank, again some very good points, especially about Stekelenburg – it's like having Starfish back – although he did make one excellent diving save which was going to be goal number 4!
Robles was settling in quite nicely until he was dropped, but you don't know about what's going on with behind-the-scenes politics... it is a workplace after all – and I use the term "work" very loosely.
I bet Niasse is quite relieved he's out of favour!
Steven Kendrew
324
Posted 11/12/2016 at 12:54:36
There are some spot-on posts here, but Mike Green (#318) sets it out very well. Koeman is still getting to grips with our somewhat mixed playing staff and he deserves the chance to make more of his own mark on it.

That said, he is not helping himself with some of his recent selections. Maybe he sees something in McCarthy that most of us don't and I am not sure what is problem is with the youngsters.

Between now and January, I hope we play a formation that doesn't isolate Lukaku so much and gives Valencia and Deulofeu a run of games. Mirallas has had his chance. He should be gone in January to be replaced by an attacking midfielder. We also need another striker.

Now off to watch yesterday's game and see how bad it was...
Brent Stephens
325
Posted 11/12/2016 at 13:06:49
One view:– both the players and manager are technically good enough but, for some reason, (various guesses above) the players aren't showing the bottle and fight. Manager to sort them out (tell them to put the effort in or get out of the club – don't let them hold you to ransom). Onwards and upwards – in time.
Second view:– regardless of attitude most of the players aren't good enough in the first place but the manager is a good 'un. Similar end result as above – current players shipped out. Onwards and upwards – in time.
Third view:– the players are good enough but the manager is not, and will never be, good enough. Solution - get rid of the manager. But when? Depressing scenario is he's not moved on for a year or two. And in the meantime they might not be willing to put a shift in. Downward spiral.
Fourth view:- neither the players nor the manager are up to the job. Nightmare scenario, as we don't move on until we get a new manager and then new players, which will take a year or so just to ditch the manager.
My fear is some of the players at least are not "up for it" and that Koeman might not actually be strong enough to sort them out in terms of attitude and application, despite his image. And my feeling is that in any case most of the players are (no longer) "up to it" even if they're "up for it".
My suspicion is that Koeman might also be tactically deficient and not a motivator during the game (I can't understand his passivity, just sat on the bench).
I can't see a positive scenario or short / medium term outcome in any of that. That's so depressing.
Alternatively, an optimistic view:– He's a hard man and tactically capable. He's told them to shape up or ship out. They know the score. They are trying but are just not up to it. He knows that. He is biding his time until the transfer windows. I live in hope.

Andy Meighan
326
Posted 11/12/2016 at 13:50:44
Paul (#308) – what a ridiculous post.
Darren Hind
327
Posted 11/12/2016 at 14:29:23
A lot of this has to do with the fans.
Kev Wood
329
Posted 11/12/2016 at 14:40:31
I expect the Everton Manager to establish himself in the technical area from the start of the game and communicate with the players as appropriate, showing passion and motivating as required. Even the unlamented Bobby Brownboots tried to do that.

Watford's Mazzarri was really giving out to his team when they were 3-1 up and Koeman could probably learn something from him.

What else we need has been fully explored above, but for me it centres around a creative attacking midfielder; a captain who fires the players up and communicates with them; a far better goalkeeper; a striker who can jump (Valencia) to play alongside Lukaku (who seems unable to jump high) and tactics which involve us the ball forward quickly in the opponents half.

I'm willing to show patience but we need to see some progress soon.
George Cumiskey
330
Posted 11/12/2016 at 14:51:11
Pat @244 – brilliant – it's the language barrier!
Maybe Steve McLaren can interpret for him...
Barry Jones
331
Posted 11/12/2016 at 14:54:06
Jim, you should explain your coaching logic about certain players not needing to run to other "Brits", such as Pochetino and Klopp, and see how they respond.
Eddie Dunn
332
Posted 11/12/2016 at 15:15:09
Mike Green. You sum things up so well.
James Watts
333
Posted 11/12/2016 at 15:22:59
Mike - perfect summation. But I can help with the end:
Moshiri is probably in his mansion in London, texting Jim White.
Unsworth is probably out working with the kids, training them and working hard.
Koeman is no doubt on the golf course not giving his usual fuck unless he shanks a shot.
No chance they'll be in the same room, unfortunately.
Paul Tran
334
Posted 11/12/2016 at 15:30:03
I think Koeman is missing a trick big time not playing two up front from the start, but here's the only remotely optimistic take I can think of right now.
For years, even in Moyes's time, many of us have bemoaned a lack of physicality and nouse in midfield, as well as the collective spirit only found in a team that will battle for the cause. Koeman's just saying what many have been saying for years. That it was and is going to involve a proper, complete overhaul of the playing squad. Moyes never had the budget for it. I think Martinez thought he was going to get that budget at at the end of his first season. He didn't, then he lost the plot.
So Koeman comes in, major shareholder wipes the debt clean and promises player investment. Koeman gives the existing players opportunities to prove us all wrong, makes it clear he's getting reinforcements and the players sulk, like they did under Martinez.
The thing is, maybe we've got the budget for a much needed overhaul and possibly someone off the pitch who recognises it and will back the manager in replacing the lazy, unprofessional underachievers on the pitch.
It's long overdue; it has to happen at some point. When it happens, it may involve steps backwards before forwards, regardless of who the manager is.
I hope this is that time.
Mike Green
335
Posted 11/12/2016 at 15:32:38
To be honest, James, they're probably in three different countries as we speak! :D
Daniel Joseph
336
Posted 11/12/2016 at 15:53:25
"It's Difficult" is the new "Phenomenal"...
Phil Walling
337
Posted 11/12/2016 at 16:31:39
Last night I christened Koeman 'Dilligaf'!
Aussies will get my meaning!
Paul Tran
338
Posted 11/12/2016 at 16:40:15
Phil, I'm not Australian. Please explain!
Phil Walling
339
Posted 11/12/2016 at 16:58:41
Paul – The anthem of Australian 'songster' Kevin 'Bloody' Wilson – 'Dilligaf' – Do I look like I give a fuck!
Seemed particularly apt for the Dutch part-timer!
Paul Tran
340
Posted 11/12/2016 at 17:13:59
Cheers Phil! I'd say more like 'have a clue' than 'give a fuck' – Dillihac?
Andy Crooks
341
Posted 11/12/2016 at 18:00:57
Right, Darren, let's hear – what has this to do with the fans?
I suppose we accept this shit, etc?
Brent Stephens
342
Posted 11/12/2016 at 18:05:35
Andy, you know the fans buy the players, coach them between games, pick the side, choose the tactics, make the substitutions...
Well, we all do on here!
Roger Helm
343
Posted 11/12/2016 at 18:22:19
Reasons to be cheerful:–
We have a new owner who seems to have ambition and the means to fund it.
We have a manager who has done well in the past, and is ambitious and bright enough to know if he doesn't do it here it's adios to his future.
This disastrous run has shown up clearly the deficiencies in our squad after years of poor recruitment – so Messrs Koeman, Walsh and Moshiri have no excuse for not getting on with rebuilding ASAP, starting in January.
We are still in the top half of the Premier League.
We are not Aston Villa.
It's nearly Christmas, so we can get pissed enough to forget about football for a while.
Phil Bellis
344
Posted 11/12/2016 at 18:49:32
Roger... I'll reserve judgement on cheerfulness until 22:00 Monday 19 December; but I won't let the bastards spoil another Christmas.
Raymond Fox
345
Posted 11/12/2016 at 19:01:52
Roger, Moshiri isn't going to find all the money it will take to overhaul the squad, he only owns 49.9% or whatever of the club, while the other owners sit on their hands.
He's a business man – not a benefactor... in fact, we know bugger all about what goes on at the club, what the business relationship is within the club, who actually authorises transfers now, etc.
They don't have to keep us informed about the goings on at the club; it would be nice to be considered even a little important... but we are 'only' the customers.
I watched Match Of The Day 2 Extra today – they absolutely slaughtered the players, with one or two exceptions, and Koeman indirectly for that matter, for the lack of apparent organisation, lack of effort, lack of quality, lack of leadership on the field – exactly what is/has been said on here.
Mike Allen
346
Posted 11/12/2016 at 19:43:59
David Moyes sides where no different than Joe's dogs of war he did what had to be done, yes at times dour, yes at times simply not good enough BUT we never threw the towel in never went down without a fight.
Even with Moshiri's wealth the John Moores days are well gone we are what we are like it or not we still need a Moyes type of manager. We all know most continental managers last 3 or 4 years and move on, we all thought and rightly I suppose that it was a coup getting Koeman on a par with Man Utd and City's recruits, but ٤m a year win lose or draw and a good pay off if he fails, it was a no-brainer for the guy.
For me, Moyes deserves a lot more credit; Martinez couldn't come close, and I don't think Koeman can come anywhere near filling his shoes. Let"s hope next time round Unsworth or someone like him is given a chance for football reasons – not for celebrity status.

---
Add Your Comments
In order to post a comment, you need to be logged in as a registered user of the site.
Or Sign up as a ToffeeWeb Member — it's free, takes just a few minutes and will allow you to post your comments on articles and Talking Points submissions across the site.
© ToffeeWeb