Report
Smash and grab at the Champions' lair
By Michael Kenrick
26/12/2016

180 Comments [Jump to last]
Share: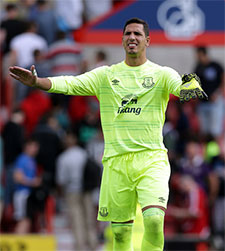 Joel Robles started in goal in place of Maarten Steklelenburg who has a dead leg.
Everton travel to Leicester with Robles, Holgate and Mirallas given starts, with Jagielka and Barkley on the bench.
Maarten Stekelenburg is injured after Leighton Baines crashed into him last week, so Joel Robles replaces him in the starting line-up and young 'keeper Mateusz Hewelt gets promoted to the bench as cover along with bright prospect Tom Davies from the Under-23s.
Everton kicked off with the now requisite hoof forward that then lost possession. The early exchanges saw the visitors controlling the play without really penetrating the Foxes defence. After some lame pass-the-parcel at the back, Colemans early cross was straight to Schmeichel.
After 10 mins, it was Leicester's turn to apply some pressure as Amartey fired in on Robles. For Everton, they were relying on forward balls through Coleman wide right and this ploy won the first corner, taken by Barry but looping in high to Schmeichel. From his release, Gray ran forward and fired wide.
Chilwell put in a good run that won Leicester a corner as the tempo increased a little. But Everton's play out of the back was painfully slow and ultimately wasteful. An attack down the left saw Baines put on a better-quality cross, but it was Baines who gave away a free-kick coming in late on Gray.
Barry tried to pick out Lukaku with a sharp forward ball but it ran away from the big man. Holgate tried the same thing from deep. When Baines did pick out Lukaku, Mirallas was well offside in front of him.
When Everton did play the ball forward at pace, there seemed to be a lot more space opening up, but still no end-product was forthcoming. Gueye played a great ball directly in to Lukaku's feet and it just bounced back off him.
It was laboured at best, albeit with Everton dominating possession but producing absolutely nothing in the way of a meaningful attack on goal. Mirallas did win another corner, that he took, Funes Mori almost connecting, follwed by abetter movement and a scuffed shot from Baines but still not testing Schmeichel as a dreadful 45 minutes of what now passes for Premier League football mercifully ended.
The laboured play continued until a long clearance from Robles bounced nicely fro Mirallas and he struggled to control the ball enough to deflect it off a defender past Schmeichel and into the Leicester net. Route one pays off!
The goal bought some much-needed life to proceedings, with Mirallas threatrening to get a second but for close attention from the Foxes defence. ALbrighton got a chance to threaten the Everton goal from a free-kick but it was played straight to Robles.
Williams overstretched to clear a ball and may have damaged his hamstring as the home side were willed on by their fans, Everton. Ulloa replaced Gray and almost cored off a free-header, Robles well-positioned to catch it as the Yellows had to batten down the hatches under repeated Leicester forays, with Davies replacing Gareth Barry as the pressure continued to mount, Baines picking up the armband.
Some real pressure now, the Everton defence tested but holding firm, with Barkley getting the call to replace goalscorer Mirallas for the last 15 minutes. Davies broke forward and tried a curler past the far post, and was a live wire in mdifield. Simpson booked for a foul on Barkley.
The quality of the football was still remarkably poor from both sides, but all that mattered to Everton was retaining a precious lead. Mahrez and Ulloa had other ideas, with another great ball in to the far post but this time under defensive pressure from Williams.
Everton finally got some decent passing and took the sting out of it, Lukaku getting forward off a superb ball from Barkley, but out wide he played the cross to Gueye, positions bizarrely swapped and the open goal predictably missed. Why oh why wasn't Lukaku in the box instead of making the cross?
Drinkwater drew a yellow for fouling Lennon, which led to a corner taken by Barkley, with Davies firing in the third ball at goal. Cleverley replaced Lennon to break up the play a little as the minutes ticked away towards a precious Everton win.
Into 4 minutes of added time and Everton trying their best to keep the ball away from Robles and Barkley did brilliantly to get the ball out to Lukaku who did the rest as only he can when running with the ball after batting away Wes Morgan.
Lukaku then played in Coleman who could not control his late shot, while the travelling Blues revelled in the moment with a fine retinue of songs as the KP Stadium rapidly emptied. An excellent result from a really poor display of football. That is apparently the best we can expect until the Koeman 'project' is complete... two years from now.
---
Reader Comments (180)
Note: the following content is not moderated or vetted by the site owners at the time of submission. Comments are the responsibility of the poster. Disclaimer
Anthony Millington
1
Posted 26/12/2016 at 14:18:43
A very negative line-up today. 5 at the back with Barry and Gueye holding. So we only have 3 attacking players, Lennon, Mirallas and Lukaku. We aren't good enough to sit back and defend. I predict we will concede set pieces go 1-0 down and then throw attacking players on and try and scramble a draw.
Why not attack from the start? Leicester are near the relegation zone and we are set up to defend for our lives. We are showing Leicester too much respect. Remember what happened with a similar line-up at Chelsea?
Tony Hill
2
Posted 26/12/2016 at 14:23:36
I assume Baines and Coleman will push on. Holgate gives us pace at the back.
John Pierce
3
Posted 26/12/2016 at 14:25:48
I do get that Koeman's approach is linked to his distrust of his attacking players and how little they've delivered to date.
He clearly wants to hang in the game, hoping to win it late. Let's hope the plan ain't blown out of the water after 5 minutes.
John Harrop
4
Posted 26/12/2016 at 14:26:45
Johan Cruyff-style 3-4-3 formation?
Neil Halliwell
5
Posted 26/12/2016 at 14:31:02
What has happened to Deulofeu? Time ago, he was the only player providing a regular service to Rom and now he does not get a look-in.
Frank Wade
6
Posted 26/12/2016 at 14:32:08
Looks like 3 at the back like we had at Chelsea.
John Keating
7
Posted 26/12/2016 at 14:32:33
I would like to see that line-up with Davies and Valencia in place of Lennon and Mirallas.
Coleman and Baines can give us the width with the 3 at the back
Peter Cummings
8
Posted 26/12/2016 at 14:49:10
Very disappointed that Delboy isn't in the team, the lad has the talent to turn the game around and his future potential, given more playing time, is tremendous, the Foxes are minus some of their best players and I think we SHOULD win this one, otherwise it will be a more depressing season for us if it isn't already.
Colin Metcalfe
9
Posted 26/12/2016 at 14:55:15
Barry?? You have got to be kidding me? After his cameo against the RS, he should never start another game for the blues. Not many people can see it but he is part of the problem at Everton!
Colin Hughes
10
Posted 26/12/2016 at 15:38:20
Yawn!!!!!! Has there ever been a less productive attacking Everton side than this one this season? At least Martinez's teams looked like scoring goals.
Christopher Dover
11
Posted 26/12/2016 at 15:51:42
Ghost of Christmas past, Martinez back pass and playing just out side our penalty area lives on.
Boring boring, just belt it up to right wing and hope, please change it and try and win a game, it is Christmas.
Peter Cummings
12
Posted 26/12/2016 at 15:58:39
So far shots on goal one to them and surprise, surprise, none for us but we are ahead on possession, no motivation, no passion, no real confidence, changes vitally needed asap or RK out
Craig Fletcher
13
Posted 26/12/2016 at 16:02:51
You have to feel for Lukaku .. completely isolated again. Good to see Baines and Coleman getting forward but, once again, we have no-one playing off the big fella up front.
Paul Gallagher
14
Posted 26/12/2016 at 16:11:00
Get in there, Mirallas!
Neil Cremin
15
Posted 26/12/2016 at 16:12:06
Route 1 but a goal is a goal. Still very poor quality football... now let's see if we can hold on to the lead.
Neil Cremin
16
Posted 26/12/2016 at 16:18:13
Ref overrules linesman and gives us throw in half way inside their half and we end up playing it back to our keeper who goes route 1 again. Lightning doesn't strike twice.
Paul Gallagher
17
Posted 26/12/2016 at 16:19:56
Leicester lacking real quality today.
Colin Hughes
18
Posted 26/12/2016 at 16:31:47
Hope I'm wrong but Leicester have an habit of scoring very late at home and I have no confidence in our defence holding out under pressure.
Tony Hill
19
Posted 26/12/2016 at 17:00:42
I don't care how bad Leicester were, how many players they had missing and so on; that is an important win.
Excellent from Davies when he came on, Barkley too and a big word for Robles who I thought looked absolutely solid.
Denis Richardson
20
Posted 26/12/2016 at 17:02:18
Ye of little faith.
Graceful on the eye it ain't but, for all "Koeman Out" people, we're 7th with an average and aging squad. Hope we can all now give the guy some time to sort out the mess Martinez left behind.
We're in no realistic danger of going down so let's see what he can do in this transitional season.
Excellent result.

Craig Fletcher
22
Posted 26/12/2016 at 17:07:18
Very professional performance. Took our (few) chances well and the defending was superb. Leicester barely had a sniff in front of our goal. Have to hand it to Koeman, tactically we were spot on today. Robles commanding and decisive in goal.
Jay Wood
23
Posted 26/12/2016 at 17:07:49
Tepid 1st half, slightly better 2nd. Not a lot in the way of football played by either side, but we merited the win.
It was not a 'defensive' line up as some at the top of the thread claim. It was a compact, yet flexible one, enabling us to have at least parity or outnumber them in midfield, then switching to a tight back five across the whole width of the penalty area when necessary. So kudos to Koeman for that.
Williams the standout player for me today. A real rock who cleared everything. Robles was tidy in everything he did today, and you can't always say that about him. Nice cameo from Tom Davies. You can see he is still a tad lightweight for the hurly-burly of the PL, but I do like the way he plays a one-touch pass and how he constantly offers himself to the player on the ball. Ross also showed some visionary passing few if any at Everton possess.
Nice finishes by both Kev and Rom. Lots still to address, but inflicting only the 2nd home defeat of the season at the reigning champions definitely helps raise the spirits again.
Or, at least it does in this Blue...
Brian Williams
24
Posted 26/12/2016 at 17:08:23
Really good three points despite a lacklustre display, which improved a bit with the introduction of Davies and Barkley.
Their debutant Ben Chilwell deserves a mention. Looked like a younger version of our own Leighton Baines.
Ajay Gopal
25
Posted 26/12/2016 at 17:11:57
Everton deserved to win as they grew into the game. Robles was MotM for me – he looked absolutely rock solid and as a result the defence also looked barely troubled. Davies is a very cultured footballer. I really would like Koeman to give him a run of games and would rather not see another central midfielder brought in as that would surely stunt Tom's progress. Barkley came on and looked committed – did the simple things really well. Holgate looked assured – didn't do anything silly. I thought Baines and Coleman in the wing back positions were fairly anonymous.
The 1st half was so poor -– couldn't believe that was 2 Premier League teams playing a football match. Everton looked very tentative – Barry was slowing down the play big time. I am convinced that his time is up. He can come in to protect a lead (if he doesn't give away cheap free-kicks) – but surely we need the energy of Gueye, Barkley, Davies, McCarthy, even Cleverly, to run our midfield.
We badly need cover for Lukaku – if he is injured, we would be truly fucked.
Gavin Johnson
26
Posted 26/12/2016 at 17:12:59
A very good, hard fought win.
Koeman made some good substitutions today. He brought on Tom Davies when Leicester were overrunning us and looked like they were going to score.
Ross Barkley also answered some of his critics this afternoon. He made the difference when he came on. I'd like to see Gana, Davies and Barkley playing together from the start.
Joel Robles also played well and commanded his area well. Both he, and Holgate need to be keeping their places for the next game.
A well deserved 3 points.
Steve Brown
27
Posted 26/12/2016 at 17:14:39
Well said Jay Wood! I'm chuffed to bits.
Where's the two Peter's – Barry and Barks? Lukaku has scored 7 of our 11 Premier League away goals this season. So, let's see them post a congratulations to Rom on here in the festive spirit.
Tony Hill
28
Posted 26/12/2016 at 17:16:08
It's also true that Leicester were so bad as the home side that this was never going to be a classic. We've also just come off the back of a shattering derby loss. We now have two more very winnable fixtures before we play Man City (recently thumped, of course, at Leicester).
Your concluding remarks are unnecessarily grudging and miserable, Michael. Ditto the headline since Leicester hardly threatened.
Darren Hind
29
Posted 26/12/2016 at 17:16:27
Koeman finally does what we have been screaming out for him to do... and warra ya know!
Holgate is class, so is Davies.
Seriously though, Let's give credit where it is due, we won at the Champions and at no stage did we look like losing, The boss deserves the credit
Oh what fun it is to see Everton win away
Merry Christmas Guys. Enjoy this
Steve Brown
31
Posted 26/12/2016 at 17:18:33
The headline to this piece and the concluding paragraph is pure nonsense as well. Wins bring confidence and confidence brings better football.
We had 57% possession and 8 shots away from home to the champions. It was a controlled and clinical performance that should have ended 3-0. A good step in the right direction.
Patrick Carty
32
Posted 26/12/2016 at 17:21:16
Well done lad's a much needed three points. I can relax now and look forward to Match of the Day.
Mike Powell
33
Posted 26/12/2016 at 17:22:02
Much better in the second half; we are a much better team when Barry is not playing. Sorry but he needs replacing.
Barkley was outstanding when he came on, hope he keeps it up. Davies did well when he came on much more energy in the team.
Gana, besides his miss, was again outstanding. More of the same, please Blues!
Karl Parsons
34
Posted 26/12/2016 at 17:25:30
Perfect Steve I cannot add anything to your observation. Top result all round.
Andy Crooks
35
Posted 26/12/2016 at 17:33:01
Michael, I enjoy your reports which are unique in that they are complied, as a fan, as the match progresses. Therefore, I can accept your Scrooge like headline and summary.

Mark Morrissey
36
Posted 26/12/2016 at 17:34:16
Good post Gavin but just watch Koeman put Stek back in goal next time round instead of leaving Robles where he deserves to be.
Dave Abrahams
37
Posted 26/12/2016 at 17:35:11
No complaining or moaning from me, it might not have been a great performance but it was a victory, and coming after a derby loss it should be a confidence booster.
Well done Lukaku, keep scoring lad and we might get that £80M. Will that do Steve(27) ?
Ian Hollingworth
38
Posted 26/12/2016 at 17:42:15
Yeeeessss
Didn't think we would get anything today so well chuffed.
COYB
Steve Brown
39
Posted 26/12/2016 at 17:43:25
That's fine by me Dave 37.
PS, he has just equalled Cantona's premier league total and entered the top 50 highest ever league scorers - all at the age of 23.
Jim Hardin
40
Posted 26/12/2016 at 17:44:10
A good win. It was clear from the outset that orders were to pass the ball around the back three and then reverse it to attack up our right side against their young left back. He did very well. Our back three looked good together with Williams looking more his old self when flanked by two more athletic and younger players. It did seem that Holgate still ball watches and loses his man (bailed out twice by Robles coming out to get the cross) and was beaten on the header by Ulloa to Robles. Still, it seems more of a youth thing than a set-in Stones flaw. Robles looked very good. His distribution is still troubling on his kicks, though.
Rom active again in both the first half and second. As for the comment in the article about why Rom and Gana were switched, isn't that what some on here were screaming for? Rom to make a run? So he does (not the first he made this game) and a ball finally gets played to him, he controls it and fires in a great cross that should have been converted. He did the same in the Liverpool game, but Lennon failed to even make a sprint to get to the post, instead, loitering around the top of the box.
Can't wait for the first negative comment about him being lazy, etc. Thank goodness for the Belgians on the squad.
Phil Walling
41
Posted 26/12/2016 at 17:44:39
A win is a win and my bookie pays me out without deduction for poor quality football!?
As I no longer attend games, it makes no difference how we get the points. There's positivity for you!
Paul Thompson
42
Posted 26/12/2016 at 17:47:37
Let's be honest, how many of us expected 6 points from Arsenal, Liverpool, Leicester? We aren't playing that well, but there are signs of improvement and Koeman being prepared to leave people out if they are not doing the business.
I do hope, however, that he learns from that second half that we have more mobility and intensity if Gueye, Barkley and Davies are on the pitch together. Holgate had a decent game and also deserves a run.
Don Alexander
43
Posted 26/12/2016 at 17:52:45
The performance left a lot to be desired but hey-ho, 3 points are welcome. I expect signings to improve the squad in a noticeable way though, starting next week.
Tony Hill
44
Posted 26/12/2016 at 17:54:54
Jim #40 is right about Holgate on a couple of occasions today but my word this young man and Davies are potential jewels.
Much still to be learned, some muscle to be put on, certainly; they shape themselves, though, like proper Everton players – or, at least, what I think of as proper Everton players.
John Charles
45
Posted 26/12/2016 at 17:57:14
On way back from game. Great result, great support.... But my god mind-numbingly boring football.
Oh and Robles is a far solider keeper than Stekelenburg.
Lukaku can infuriate but he can also score.

Trevor Peers
46
Posted 26/12/2016 at 18:08:51
Great win loved it, be sensible, I'd say with your expectations of young home grown talent, calling them diamonds is silly. Davies did well, but give him time, without all the talk of jewels etc. Learn from what happened to Barkley.
Patrick Murphy
47
Posted 26/12/2016 at 18:09:32
John (45) I had Robles down as my man of the match, not for anything specactular or even his assist but because he came and actually caught the ball on a number of occasions during the game, it makes such a difference to a defence when they can rely on the keeper to tidy things up. If Stek is recalled for any reason other than injury or suspension to Robles, then I'll be perplexed.
As for Rom, well he has scored the same number of Premier League goals as Eric Cantona according to Kristof Terreur, who tweeted "That was Romelu Lukaku's 70th Premier League goal. He equals Cantona's tally and he's entering the top 50 of all time goal scorers."
I don't know what that tells us exactly but obviously it's better to have a goalscorer than not. As some wag commented "Quite frankly if Lukaku keeps up this scoring nonsense in favour of RUNNING I am done with him and Everton."
Special mentions for Gueye, Davies and Holgate who all showed that young players can perform given the opportunity.

Raymond Fox
48
Posted 26/12/2016 at 18:14:25
It's results that count, with this squad of players I'm not expecting fantastic moves and goals galore, a win is a win.
Robles should be given the jersey until he doesn't deserve it. Also Davies needs more playing time, the lads got what it takes.
For all his faults, Mirallas always has a goal in his locker and for me he has to start most matches.
What can you say about Lukaku? He scores goals.
Phil Bellis
49
Posted 26/12/2016 at 18:14:52
I like that Tony (44)...and totally agree; "proper Everton players"
We can all name them, past and present; these boys look the part
Ken Williams
50
Posted 26/12/2016 at 18:18:53
Let's hope this win gives the side the confidence they need to move forward.
Tony Hill
51
Posted 26/12/2016 at 18:20:53
Trevor (#46), that's why I used the word "potential". If they are going to develop into truly top players then I hope they will have the temperament to survive a bit of ambitious praise on TW.
Tony Abrahams
52
Posted 26/12/2016 at 18:23:28
Patrick, I've never played in goal, but have to agree with what I think you're saying, because I always judge a keeper on the saves he doesn't have to make, if that makes sense?
Big Jim, was happy with Joel, at Noel, so that will do for me!
Made up that Davies, and Holgate, got some action, and hope this is a sign of things to come, and also made up that Everton, won away from home. I need to start travelling again, but as John Charles says, I think I'll wait until the football improves a bit first!
Mike Mulhall
53
Posted 26/12/2016 at 18:25:19
Great result. Great 2nd goal as well. Win vs Hull and we are fairly healthy going into transfer window.
Clive Rogers
54
Posted 26/12/2016 at 18:25:38
Davies should play at least part of every game now, then replace Gueye while he is away.
Craig Mills
55
Posted 26/12/2016 at 18:26:18
Big win - need that
Dave Ganley
56
Posted 26/12/2016 at 18:28:07
Very happy with the win. This is definitely a transition period and if you'd offered me 6 points from 9 from the last 3 games I'd have snatched your hand off. Don't care how bad Leicester were it's still not easy to go there and get a positive result.
After the derby last week a win was vital if only for confidence sake and we managed to get it. Up to 7th place now. Well done blues, a lot to work on but excellent win down there.
Ben Dyke
57
Posted 26/12/2016 at 18:29:58
We nearly had 7 points from the last three games. It's not pretty but it's been effective of late. Of course we'd all love to see us take the game to the opposition regardless of who they are but we know where gung-ho got us under Martinez.
It's very steady progress this but at times it's hard to watch. I hope we get 2 or 3 more players in in January to improve the squad and then let's see if we can slowly become a team with a strong defensive base coupled with counter attacking flair.
Peter McHugh
58
Posted 26/12/2016 at 18:39:28
I've never been a fan but Robles was fantastic today. Whilst he had little to do he looked so confident and took the pressure off when needed. I hope it continues.
Lukaku is a class act
Colin Glassar
59
Posted 26/12/2016 at 18:58:44
I knew I should've put a tenner on Leicester getting relegated this season. They remind me a bit of George Burley's Ipswich side a few seasons ago. Came out of the championship, finished fifth, got into Europe and went down the following season.
Chuffed to bits we got a win today so only need 14 more points to be safe.
John Pierce
60
Posted 26/12/2016 at 18:59:39
Very tentative start, poor line up I thought too. Felt it handed the initiative to Leicester.
Dull and lacking invention we offered little until the last bit of the first half. Barry played okay but slowed our tempo down when going forward.
Our obsession with the diagonal to Seamus was bordering pigheaded when the LB just swallowed most of them up.
Credit to Koeman, the subs affected the game in the right way. We got stronger but have to accept Leicester we're rotten.
We got a break both in the manner the goal was created and the deflection which ok it over the keeper. Hey ho!
Visibly buoyed and realized Leicester where shit we played better and the ball stayed on the deck the passing leading to Gana's chance was nice.
Ross did okay and played high up so didn't get bogged down with things.
Created little but scored with what we did make even if the were long passes a'hem.
A win gives Koeman a bit of space, especially after Liverpool.
No surprises that Davies and Holgate looked composed and not out of place. Both should get an opportunity v Hull. This should spell then end for Jmac and perhaps Barry can be used more economically
Stunned a bit we won.
John Keating
61
Posted 26/12/2016 at 19:02:53
If Koeman is true about it being a long term project then he should forget about bringing in players who can't get a game at Old Trafford and concentrate on giving our youngsters a fair crack of the whip.
Our full backs can give us the width we need and Davies and Barkley should give us the creativity in midfield we lack.
Please Ronald just one defensive midfielder.
As for the game today - well winning is what counts I suppose and we certainly need some points. As for the performance, abject, horrendous, piss poor, take your pick.
I think, for everyones sake and peace of mind we just have to accept that Lukaku is what he is, a goalscorer. We have to stop the wishful thinking that he will chase and pressurise defenders.
These days having someone who can get 20 a season is a godsend let the others do the donkey work, however, Koeman must give him some support.
Daniel Joseph
62
Posted 26/12/2016 at 19:14:41
Robbed the champions.
It's difficult
Paul Smith
63
Posted 26/12/2016 at 19:16:53
Well done to the lads today.
Not exactly a stella performance but if Gueye had scored, it would have ended a lovely move.
Koeman has some big decisions to make, the youngsters look good, but often do at first, then need handling with care. As for the 'touted two from Manc U' the last reject we had from 'Jose the Twat' hasn't been bad even if he infuriates.
Mark Morrissey
64
Posted 26/12/2016 at 19:21:13
Many on here saying that Robles was class today. Let's see what happens next game. I hope he gives him his chance and keeps him in
John Pierce
65
Posted 26/12/2016 at 19:27:11
Way too much of the the fella was boss etc. we played a poor team lacked no confidence, 2/12 themselves.
We were okay, with the odd piece of decent playing in the second half.
It's dour and horrible to watch. Even with better players this coach is defender at heart.
If we win the games up to and including the FA Cup game, Koeman might have handed himself a second chance at a job to date he's made a hash of.
Dermot Byrne
66
Posted 26/12/2016 at 19:35:16
A bit too miserable MK? We won a scrap. When "big" teams do that it is a sign of how great they are. Cheer up mate. Things will improve over the next 2 years, not after 2 years. Happy New Year, you'll see!
Iain Johnston
67
Posted 26/12/2016 at 19:38:21
I don't understand many of the negative performance comments... If we'd played like that last Monday gaining the same result as today TW would have been akin to a session interval toilet exodus in the Bier Keller.
We out Leicester'd Leicester, we have just done to them what they did in many games last season and no one complained about performance... I don't care if they play like that and win 25 games a season.
Patient, clinical, a commanding 'keeper and intelligent substitutions followed by 3 points...
That'll do for me.
Jay Wood
68
Posted 26/12/2016 at 19:46:49
John @ 65
Who is going OTT in praise of the team or individual players? No-one that I read. Just acknowledgement of some good individual performances, in an otherwise tepid performance with not much quality football played by either side.
As it is, I (and possibly others...) prefer to focus on the positives: two wins in three challenging games is a positive when compared to the 1 win in 10 before that.
It is also worth noting how the seriously monied clubs are back with avengence this year. As we are at the half way stage of the season, there is good solid data to work with.
Chelsea are averaging an astonishingly high 2.56 points a game which, if maintained, will see them win the league with 97 points, FIFTEEN points clear of City and the 'poo who are averaging 2.17 a game. The Arse are also averaging above 2 points a game - 2.06 - which translates to 78 points over the season.
Most seasons only a couple of teams average above 2 points a game. Last season, for example, Leicester was the only team to average above 2 points a game to claim the title with 81 points.
And what would Everton's current average of 1.44 points a game get you in recent seasons...? (a possible 55 points only by season's end). In the past 6 seasons, 3 x 9th-placed finishes, 2 x 8th-placed and 1 x 7th-placed.
This suggests this season the gap between the very top sides and the second tier group within the PL is as wide as it has ever been.
A lot for the new management to overhaul yet to even get close to the top, as is our ambition.
Dave Older
69
Posted 26/12/2016 at 19:52:18
I would just like to show a bit of support for Ronald Koeman as there are a few here who have clearly got it in for him after just half a season of football. He is NOT a magician.
We have just beaten the Champions and earned a clean sheet. 3 points on Boxing Day is a good day for me, regardless of the performance. I am getting a bit sick of the nit-picking whingers on here. It is Christmas, we won, so be happy eh. NSNO.
John Parker
70
Posted 26/12/2016 at 19:53:59
Great win! Pretty much all of the players turned up and 2 well taken finishes from Rom and Kev.
I wouldn't read too much into the 57% possession though as for the opening 20 mins it was basically our defence passing it around and Leicester never came for the ball as they like to go long and hit you on the break.
Overall, a great win, onwards and upwards!
Michael Kenrick
72
Posted 26/12/2016 at 20:01:25
You are a far better man than me, Iain, if you can happily watch the shite that was the first half performance. I think that put me in a bad mood again.
But yes, I need to give my head a wobble, no doubt. Best not be looking out for quality on the pitch – under this bloke, it's totally subsumed by utter dross.
I used to be jazzed by the incredible privilege of being able to watch every single one of our games as they happened, in living colour. These days, the only moments worth watching are gonna be on MotD anyway...
Dave Abrahams
73
Posted 26/12/2016 at 20:08:38
Tom Davies is 18, I'm happy he is in the first team squad and is starting to get valuable minutes on the pitch. He is getting good experience and will continue to improve, bit by bit. Playing full games, he will hit a bad patch sooner rather than later, although playing a full game now and again will do him no harm.
With Holgate, he is older and looks confident, he will make mistakes, but did so did Stones... too many for me, but we got a great fee for him. Holgate can grow with Everton as, hopefully, we will improve, season on season, with Koeman.
A bit ambitious, I know, after one win, but I think Koeman will prove he knows what he is doing.
John Malone
74
Posted 26/12/2016 at 20:11:34
Peter 58, I really can't believe you've called Lukaku a class act on the back of scoring the second goal which was a decent goal BTW!
Rom's overall performance was absolutely shocking! I am a fan and I have backed him when other's have slagged him off but I watched him closely today and he absolutely stunk the place out!
He didn't win one header, make one good run, have one shot at goal and everytime he got involved with any build up play he gave it away he done literally nothing until he scored that goal!
Really happy with a good win against a poor Leicester but still way off were we need to be!
Would love the Rooney rumours to be true!
Peter Cummings
75
Posted 26/12/2016 at 20:12:43
Said in my pre game post we should win because Leicester were short of their best players but, yet again, we produced a game of two halves, the first a travesty and an insult to football, the second not a lot better but in the end a deserved three points.
A lot of posters, me included, agree that Robles more than deserves his regular inclusion over Stek as does Mirallas along with Gerri, IMO, the question is can we do the same over the Champs in the cup next month against their full lineup, time will tell.
Andy Walker
76
Posted 26/12/2016 at 20:15:26
Dave #69 with you mate. But it's TW, there's been narratives for years on here. We had Moyes needs to go, (ginger, dour, Scottish, KITAP1), then we had Martinez the great hope who because he'd (luckily) won the FA cup was definitely going to be better than Moyes (because he'd won something) right from day one (until eventually everyone saw through him - took way too long). Now we have Koeman and, because he doesn't jump around like Klippperty (instead he's more like that current City manager, ya'know... what's his name, think he might have won the odd thing too) he isn't seen as passionate enough, or committed enough to be a 'proper' blue (it's about perception over reality for some – red Christmas trees for Gods sake).
Ronald Koeman is a top manager, just look how he's trying to get some aggression into Barkley by getting on his case, pissing him off and seeking a reaction, a perfect way to manage him, rather than Martinez's bigging him up constantly each week, which failed.
Chris Leyland
77
Posted 26/12/2016 at 20:18:32
Michael K – you have obviously made up your mind about Koeman and have decided that he isn't the manager for you. Your reports are negative and always begrudging when we win. As a result, they aren't really worth reading any more and I usually await Lyndon's more balanced and less myopic one now.
We won away to the Champions on Boxing Day, a day when we normally get nothing. Try and show some festive cheer and be glad that we got 3 points instead of trying to get petty digs in aimed at Koeman. Sometimes the result is what matters and it mattered to me and lot of blues today.
Eddie Dunn
78
Posted 26/12/2016 at 20:23:36
I would have been pleased with a point, but we got the three.
Robles comes out and catches! Makes all the difference... onwards and upwards.
Patrick Murphy
79
Posted 26/12/2016 at 20:23:38
I tried really hard to accentuate the positives from today's match, result not withstanding, but really it was as bad a first-half that we have witnessed thus far this season and perhaps for many a long year.
I'm all for digging our way out of a mess and getting those 40 points on the board as soon as possible but if what we saw today and on other occasions this season is the template for this team for the long-term – I'm out!!
Had to laugh when I read that Koeman told Lukaku not to run round so much in the second-half, the manager meant for him to stay in and around the two centre-halves – not to stop running at all.
Jay Griffiths
80
Posted 26/12/2016 at 20:36:38
Just back from game. Rom is a poor footballer. Seamus is honest. Funes Mori looks petrified.
One instance today resonated with me. It was bang on 65 mins. Holgate bollocked Gana big time. It went on for quite a while. Heated argument. Williams intervened twice to get them to focus. It struck me that Holgate was dead right, Gana cocked up twice and put him under pressure.
Great to see a kid say his piece regardless of status and then stick to his guns. Holgate and Davies can hopefully be part of a big building program.
Dire game. Happy for the points.
Colin Malone
81
Posted 26/12/2016 at 20:36:49
Un-fucking-believable! I've just read Lukaku is a class act. FFS!!!
I have just watched a game, like many others, where we have most possession and then, where it matters, up front, we ain't got a Mark Hughes, an Andy Gray, or a Graeme Sharp, Andy Carroll, who can hold the ball up and take the pressure off the midfield and defence.
We have got a player who cannot trap a bag of cement or keep the ball in that position. Romelu Lukaku is not a centre forward, maybe a Number 10, never never an out-and-out centre-forward.
Simon Smith
82
Posted 26/12/2016 at 20:53:44
Was watching the updates coming through today with my 2 brothers in law that are Leicester fans.
At 1-0 up, my Evertonian insecurities were readily on show. At 2-0, I couldn't help but let out party mode.
I love being an Everton fan for these moments, if nothing else.
Dermot Byrne
84
Posted 26/12/2016 at 21:09:51
Michael, yes not great, YET?
Mike Dolan
85
Posted 26/12/2016 at 21:15:21
I thought there is enough evidence from the last three games that Everton are working so much harder and that Koeman is finally getting through to his players. It sometimes is not pretty because we don't have the players just yet but it keeps games close and if you can keep the games close then you can win them.
They played well today but kudos to Barkley and the very impressive Tom Davies who both added class to a welcome and workmanlike performance by the whole team.
Darren Hind
86
Posted 26/12/2016 at 21:19:56
The first half was desperately poor, but there was a sequence of play in the second that should have made all Evertonian hearts sing.
If Gana had have made it 2-0 we'd have talked about that 15-20 odd pass move (anyone get a count? ... Patrick?) as a contender for goal of the season.
Yes we were disjointed and lacked belief for long periods, but in that second half, Mirallas found his shooting boots, Lukaku rag-dolled a beast and we still put together the best move likely to be seen outside Catalonia this Christmas.
Comfort and Joy!!!
David Israel
87
Posted 26/12/2016 at 21:22:24
To anyone on here bemoaning our "style" today, I say: remember the "Dogs of War"? They won us an FA Cup, and this side is a great deal better than they were but, having gone through an awful patch, we just have to play to get results. Confidence, and with it better football, are bound to follow.
I agree with those who commend Robles's performance. He was a quite safe pair of hands, particularly in the air. I was disappointed with both Coleman and Baines, who failed to take any visible advantage from their more forward positions. Williams was back to his solid best and Barkley did very well when he came on.
And now to Kingston-upon-Hull!
Dan Parker
88
Posted 26/12/2016 at 21:29:21
The way I see it for the moaning gits, we had an average summer, beat the champions away today (remembering that awful match one game after they won the league), beat Arsenal and were unlucky to lose to the shite. And we still fucking moan. We're relatively well placed in the league, and will hopefully strengthen.
I know a club of our history deserves to be at the top but get a fucking grip. There are a lot of other clubs trying to get to the top. It's been a long time, painful, too long, Ronald knows how to play win. Give him time and I hope it pays off
Local lads haven't always performed, we get annoyed because we think they're us and expect more but we might do better with a tad more support. Only and only if they put in a good shift, we should get right behind.
It's been a good day 👌🏻
Simon Smith
90
Posted 26/12/2016 at 21:51:09
By the way guys, we are getting some awful comments on BBC from Leicester fans.
Let's be honest, despite them winning the title last season, we are still the bigger club.
Jack Bourne
91
Posted 26/12/2016 at 21:57:45
I've just noticed it's Christmas – we've won against the champions, we're 7th and all the teams above have a bigger wage bill and transfer budget... but it's the same old same old. Manager is shite, he's bought 4 players, had a negative net spend and still we dish him already.
After the 6 moths of Kloppy, the RS were shite but they weren't on his back and now sadly they are half-decent. Can we not give it some time?
Brent Stephens
92
Posted 26/12/2016 at 21:58:52
Not the best of football. But I'll take 3 points, a punt up to Mirallas who does their defence, and a swift pass out to Lukaku to run from his own half and do their defence. Plus Davies and Holgate getting more time.
Gary Willock
93
Posted 26/12/2016 at 22:04:59
Some on this site need to really get a grip. The manager is trying something different. He has given some of the kids a go. We beat the champions 2-0 hopefully January will bring a few fresh faces.
The glass is half-full. At least for a few more weeks, so stop whinning and get behind the boys we are supposed to support. I've been quick to judge, but if a man changes, so will I.
Tony Cheek
94
Posted 26/12/2016 at 22:06:57
To be fair, Robles has never really let us down when he has had the chance to play. I remember being quite pissed off when he was dropped by Martinez for a out-of-form Howard, after keeping three clean sheets. Let him have his chance now, he deserves a vote of confidence. Maybe not a long term solution but I think he is a better keeper than Stekelenburg!
Patrick Murphy
95
Posted 26/12/2016 at 22:08:02
Good point, Darren (86).
I'd quite forgotten about that move – it was so out of place in the run of the game. However, if the confidence returns to the players and they start to believe in themselves, that is the sort of footy we all want to see. Unfortunately the link doesn't show the complete move but enjoy those who haven't managed to see the game 'live':
Patrick Murphy
96
Posted 26/12/2016 at 22:12:22
Gary (#93),
This link shows a special glass – is it half full or half empty or just downright spooky?
Stan Schofield
97
Posted 26/12/2016 at 22:12:53
The quality of some of our individuals shows in bursts, so we know what they're capable of. It's a matter of getting more consistency. Mirallas is quality, although frustratingly inconsistent, but that can change. Lukaku's goal showed his quality as a striker, despite his shortfalls which many point out on TW.
So it's not a case of 'shipping out' players, as is often a cry when we lose, but marshalling their skills consistently, and adding to them (not simply trying to replace them) in future transfer windows. That move leading to Gana's miss (he'll hit one home soon), was a joy to watch, and there's surely more where that came from.
Tony Hill
98
Posted 26/12/2016 at 22:16:02
I can't bear the sentimental side of things with Everton sometimes, the Kenwright bollocks and so on, but I've just been roaming around on the Irish Toffees Facebook and they have a wonderful thing from 21 December about a young fan called Will who suffered a very close bereavement, and the impact on him of a visit by Seamus Coleman. It's on Everton TV as well.
I've probably had too many at Christmas but it does renew my faith in the players and their integrity and demonstrates the quality of Coleman, as if we didn't know. Worth a look if you've not already seen it. I don't know how to link things I'm afraid.
Patrick Murphy
99
Posted 26/12/2016 at 22:19:09
I hope this is the one you mean, Tony (#98):
Colin Glassar
100
Posted 26/12/2016 at 22:20:58
Moan if we lose, moan if we win eh? I think it's part of our DNA now. We are congenital moaners (does that even make sense?) who love a good old moan.
I enjoy a moan as well as anyone but I won't moan after a win, however shite and undeserved it was. I haven't seen the highlights yet but as bad as they might be, and I'm sure Lineker will have a good old moan, I promise I will not moan afterwards.
So stop moaning like a bunch of moaning bitches and enjoy the moment, at least until tomorrow.
Tony Hill
101
Posted 26/12/2016 at 22:24:16
Yes it is, thank you, Patrick.
Patrick Murphy
102
Posted 26/12/2016 at 22:26:00
Colin (#100);
Nil Satis Nisi Optimum! doesn't that motto mean that we should moan when the levels of performance are not quite up to it? If we start to accept any sort of win on a regular basis we'll never reach perfection will we?
BTW I linked some highlights earlier in the thread a few posts ago.
Merry Christmas, Colin:) Happy with the points not so much with that first-half performance, but we might see some much needed progress in the level of performance, if we win a few more games in the next few weeks.
Ray Roche
103
Posted 26/12/2016 at 22:34:42
Chris Leyland#77
"We won away to the Champions on Boxing Day, a day when we normally get nothing. "
I thought that, too, until I read on the BBC,
Everton are unbeaten in their last five Premier League away games on Boxing Day (W3 D2 L0)
Tony Abrahams
104
Posted 26/12/2016 at 22:35:13
I didn't know whether to moan at Patrick, Colin, for giving us the link to that young lad who has recently lost his father, but how could I when I heard the kid say, "I just love Everton Football Club".
Thanks for the highlights as well, Patrick, and I'm sure you never meant it when you said "I'M OUT" even if that's how Everton make us all feel at times!

Ernie Baywood
105
Posted 26/12/2016 at 22:35:28
Why is it moaning to comment on the actual game? If you don't get insight then there wouldn't be any point posting... would just be a stream of "Yays" or "Boos".
My take on the game was that we weren't much better than many of our losses and draws. More resilient, but created very little. Both goals were 'created' by aimless punts and owed a huge amount to terrible defending.
Defence did nothing wrong.
Gana tackled everything that moved, but also seemed to want to pass to the blue shirts. Barry did his job as ever, it's just not the sort of job a team with any ambition needs anymore.
The same problem was there with isolating Lukaku again. He's not up to it. His touch was awful again and he then resorted to first time lay offs to players who weren't there. Support him or do something else. He still got a goal, though, and hard earned it was. Imagine what he could do with some help.
The bright point for me (besides the three points) was Davies. I thought he scrapped, pressed and harassed Leicester. He's desperately trying to earn a place in that midfield.
Yes, more negative than positive. But we were two lucky punts away from this thread being filled with negativity so it's probably fair.
Jim Hardin
106
Posted 26/12/2016 at 22:39:41
For those slagging off the first half, Everton had to pass it around to get them stretched. Everton, 9 out of 10 times, went to the right side and attacked the defensive left side. This was slow and deliberate but served a purpose. Albrighton and Okazaki couldn't get forward together as much because they had to defend in their own half, thus taking pressure off of Holgate and allowing Coleman to attack.
You will notice in the first half Baines did very little past the midfield line until the ball was advanced on the right side to near the Leicester 18-yard box because of Slimani and Gray staying up. Everton effectively neutralised one side of the field. You saw the difference when Leicester had to chase a goal in the second half and left the back four more exposed.
Tony, Merry Christmas and Happy New Years then. I still do not trust Robles, or see him as a #1 keeper, but today he earned his place in the 11.
Don Alexander
107
Posted 26/12/2016 at 22:42:30
Well said, Dan Parker @88. No point in moaning about a win, even if we played poorly. Two "rRoute 1" goals will do for me providing Mr Moshiri doesn't waver from what he said re funding purchases to vastly improve our squad.
And thank you to Tony and Patrick @98 & 99 too. I've always rated Seamus. No academy bollocks in his development, just hard graft in a foreign country (language aside) as a very young man, a season on loan during which he was player-of-their-year as they won promotion to the fabled Premier League, and consistently excellent for us despite some of the psychologically flaky fuckers we need to be rid of as soon as possible playing in the same team.
Why he ain't our captain is a mystery.
John Raftery
108
Posted 26/12/2016 at 22:51:40
Moaning is certainly part of the DNA of TW. Sometimes it is better to start a game slowly, especially when the opposition are content to sit back and defend as Leicester were today.
By way of contrast, we started the derby match at a fast pace but could not maintain it. The RedShite sat back, let us burn ourselves out before winning the game with a late goal. Against Arsenal we started slowly, allowed the visitors an early goal before coming back to dominate the last hour and winning with a late goal.
It is important that if a team starts with all guns blazing as we did in the derby, it scores while on top. Equally, if a team starts slowly, it is important not to concede an early goal. We achieved that today, dominated possession in the first half without doing anything with it but got the goals from straightforward clearances from the back.
The first half was a cagey affair and it was interesting to see Ranieri trying to signal his team to move up the field. If his half-time instruction was for them to push up, it certainly backfired with their defence caught out so easily. So, although we dominated possession in the end, we won the game with two long balls. I'll take that every game.
Colin Glassar
109
Posted 26/12/2016 at 22:52:15
Patrick, playing as badly as we are, I'll take a win wherever we can get one. It sounds like our confidence was shot in the first half so a win, however crap, can only help us.
Tony Abrahams
110
Posted 26/12/2016 at 23:08:05
Same to you, Jim, especially now I've started agreeing with you sometimes, mate!
Gavin Johnson
111
Posted 26/12/2016 at 23:19:28
John (#108).
Yes, moaning is definitely part of TW's DNA. I don't look at the site as much these days, and after having a break I logged in recently to see that there were calls for Koeman to be sacked after a couple of months when we were still 8th in the table.
I have to say, it wasn't that much of a surprise but, after a sabbatical away I can see how your average paying fan might see things differently to some of the more vocal TW'bbers.
There was a large contingent of contributors who were talking of relegation only week or 2 ago. Those claims look pretty fanciful and OTT. We're 7th in the league.
The football isn't a joy to watch under Koeman but I don't frankly care if we grind out results like the ones against Arsenal and Leicester. This season was always going to be a season of transition. I'm positive about the January window and look forward to seeing how the incoming players will integrate.
Nigel Gregson
112
Posted 26/12/2016 at 23:51:05
I think we are not in a position to be cribbing about style of play. Wins are all that matter. 7th spot with a win over Champions. I'll take it. Upwards please.
Patrick Murphy
113
Posted 26/12/2016 at 00:08:28
Will we ever be in a position to crib about the style of play though?
It's not the style of play, but rather it's the lack of creativity that is driving me nuts. Of course there are occasions when we have to dig in and take something from a game, it's one of Koeman's better attributes and how he appears to like his players to perform, but that on it's own isn't going to take us to where we want to be.
It does seem that the players have decided to do what the manager wants from them, by working harder for larger parts of the game, more regularly, but is it really too much to ask for this team to create chances or at least move quicker towards the opponents goal – long punts aside?
None of us want gung-ho careless footy, but does it have to be so tortuous to watch? I see no good reason that we can't eke out positive results and play entertaining football simultaneously, but this is Everton and the two elements always seem to be mutually exclusive.
Constructive criticism of an individual or the team by a few posters doesn't necessarily constitute moaning, it just means that there is a gap between what some of us want to see and what we are witnessing at a particular point in time.
Denis Richardson
114
Posted 27/12/2016 at 00:18:59
First aim, win whilst playing good football.
If you can't manage that, just win.
No matter what the performance, there really can't be any grounds for complaining if the team wins. Never mind that it was away to the champions and with a clean sheet. Most of those complaining seem to already have an agenda against the manager and would complain regardless.
Personally I'm not bothered what the performance is like if we win. I'd much rather not play well and get three points than play well and lose.
Winning breeds confidence and teams play well when confident. We don't normally do well over the festive period so I'm well pleased with the win today.
Why can't people simply be happy we won? It's not like it happens every week.
Mark Boulle
115
Posted 27/12/2016 at 00:19:36
Wasn't able to see the game today and not caught up on MotD yet.
One question for those who were there or watched it, was Lukaku REALLY that bad today? BBC gave him Man of the Match and said his was an excellent display of a lone forward leading the line. Apparently he even held the ball up well...
Yet any comment I've seen on here – not read all of them – suggests he was poor and the ball wasn't sticking etc.
Is the reality somewhere in between, at least on this occasion...?
Barry McNally
116
Posted 27/12/2016 at 00:23:27
For all their failings, especially on this site, at least Mirallas and Lukaku know how to finish, given half a chance.
Patrick Carty
117
Posted 27/12/2016 at 00:23:34
Life is so much easier when we win. I actually enjoyed Match of the Day for a change.
Hopefully we will have a good January with incoming's to the club. I think a 7th place finish would be a good season. Maybe an FA Cup Win!
Jim Hardin
118
Posted 27/12/2016 at 00:27:34
Tony,
Funny old world, isn't it? I find myself agreeing with Darren more often too! COYB.
David Barks
119
Posted 27/12/2016 at 00:37:30
It is funny when you read opinions like those of John Malone, who says he watched Lukaku very closely today and he didn't win a single header or make a single good run or do anything at all with buildup play until the goal.
Of course he did win headers, the commentators mentioned on numerous occasions that Lukaku was flicking on headers to himself because no other Everton player was up with him. Multiple times the commentator said that specifically, after seeing Lukaku win the header.
And of course Lukaku also sent Gana clean through on goal but he skied it over the bar. That happened, Lukaku making the run, getting the ball, playing Gana clear through on goal.
So it's funny, how could one claim to have watched him very closely and put down in writing such an ignorant post that is 100% not true?
Colin Glassar
120
Posted 27/12/2016 at 00:44:59
Some people have selective vision, David. I'm in the pro-Lukaku/Barkley camp so I'm probably just as blinkered as their detractors are.
I only watched the highlights on MotD and I only saw the Barkley pass and the Lukaku goal so I'm not really in a position to judge their performances today.
It was great to see the togetherness in the team after Rom scored. Seems like the penny might have dropped...
Michael Kenrick
121
Posted 26/12/2016 at 00:45:58
Funny how you can decide something for me, Chris, that I haven't even decided myself, let alone posted on! I haven't made up my mind about Koeman – although I do think he should be having us play a hell of a lot better than we are.
In fact, I'll follow your lead and use Lyndon as a benchmark:
In the meantime, however, it's not unreasonable to expect a little more subtlety and imagination from the team than has been served up in recent weeks. There have to be alternative routes to victory beyond constant pressing, particularly when the two most forward players merely pay the tactic lip-service.
It is amazing that we are seeing our highest crowds of the Premier League era, so it's perhaps hollow of me to claim that the football is not worth watching, but to me – and I suspect a few other Blues – it will always be about a little bit more than just the results.

Steavey Buckley
122
Posted 27/12/2016 at 00:46:02
Robles was the main reason Everton won today, he protected the defence with his expert handling and his long kick up front put Mirallas through on goal to score. Long may it continue.
Don't drop a goal-keeper when he is doing well like Martinez did with Robles previously.
Roman Sidey
123
Posted 27/12/2016 at 01:20:00
Ray @103, I'd be interested to see our home form on Boxing Day over the past few years. I had a feeling that until last year we had lost quite consistently.
Lukaku is a goalscorer, and before we signed him 3½ years ago, all anyone wanted Moyes to sign was a proven goal scorer – how many 10+ season did anyone have for Everton in the decade before Rom came along? Cahill, Johnson, Beattie, Yakubu and Jelavic. Now we have a player who scores goals and creates chances and people still slag him off. I just don't understand.
Something that has always stood out to me about Rom is, despite the apparent chat of leaving for a bigger club, he is usually the first to celebrate a goal by a team mate and, today included, rallies the rest of the boys around whomever the goalscorer is. You don't get that level of decency with a lot of strikers these days.
As for Koeman, I'm not a fan of giving managers too much time, but if results are coming through and there are signs that the football could be good with a few tweaks, a full season (two transfer windows) is an absolute minimum.
David Israel
124
Posted 27/12/2016 at 01:20:17
I think that today what essentially happened was that we out-Leicestered Leicester, by scoring two goals on the break. And if Pep Guardiola saw any of it, he may want to sign Robles: here's a keeper that can play with his feet, and straight to the centre-forward at that!
Jay Wood
125
Posted 27/12/2016 at 01:25:25
John at 89
"We can be happy with the points and little else."
Actually, I was happy with a great deal more than just the points today.
The football, in general, was poor from both sides. I've already said that. But we merited the win today. The shape and balance of the side was right, given the opposition who are strong at home. The subs were timely and good ones, with Davies and Barkley contributing well when they came on.
Robles claimed everything that came into the box. Williams tidied up everything else in possibly his best game to date in an Everton shirt. Together, they were a huge part in why we kept a clean sheet. Holgate continues to impress, although he was a wee bit culpable on their only serious chance in the 2nd half, both playing the sub onside and losing his man, jumping under the ball. The sub should have left Robles for dead with his header.
Mirallas took full advantage of the cock up by the Leicester centre backs. He most certainly did not struggle to control the ball as Michael reports before striking it home. His first touch ensured the centre backs couldn't get back to him, his 2nd touch both drew the keeper and gave him the angle to shoot across Schmeichel to score.
Similarly, Lukaku did superbly for his goal. This is where we want Romelu. Pressing a defender with the ball, facing his own goal. He brushed aside Morgan, who tried illegally to stop Rom, and bamboozled the other defender before finishing cleanly. We would get continued – even better returns from Rom if we could consistently create more situations like today. I would also give Ross greater credit than the blind long punt out of defence some claim it was. He clearly looks up and picks out the area for Lukaku to attack.
So I don't agree with your assessment that "the team did the bare minimum to get that win" or that "both goals [were] a result of a 50/60 yard "pass," or further, that "in both instances the defenders made a hash of it."
If the defenders did so, it was because of the good anticipation, good pressing, good speed, control and finishing by our two fellahs.
And ... you do realise, John, just because I mention two disparate points in the same post (the fact we've won 2 in 3 from difficult fixtures, and a broader point about the points return for the clubs occupying the top spots at the half way stage), I am not trying to draw any correlation between the data at all.
Nor am I dismissing the large majority of games this season where we have been piss poor. Like many, just 3 games ago, I was questioning our identity, what style of football are we playing (or meant to be playing...) under Koeman, because I – like many – couldn't discern one.
Just 3 games ago I was also saying the manager cannot and should not be excused because he hasn't had enough transfer windows to shape the squad with the kind of player he wants. It is his duty to get results with the players and hand he has been dealt NOW! And neither he nor the players have been doing that.
So in conclusion, there are 1 or 2 points we concur on, but probably more we do not. And the principle one for me today is your opening line. There was a lot more positives to be taken from today's WIN than merely the 3 points, as I describe above.
And just one more thing ... just read that Everton has lost just two of their last 14 Premier League games against a reigning champion (W7 D5 L2). Nah bad!
Don Alexander
126
Posted 27/12/2016 at 01:56:37
On Michael Kenrick's point (#121) about the consistent full houses at the Grand Old Lady, I have distinctly mixed feelings. The fact is unarguable but there's always been a part of me that's regretted that such incredible loyalty has exonerated the board, and Kenwright in particular, of any notion of accountability regarding what is now decades of non-achievement. I remain determined not to allow Mr Moshiri the same sort of posturing.
Peter Thistle
127
Posted 27/12/2016 at 02:08:59
We have never replaced Arteta. I think that's why we lack any creativity going forward. We do not create enough goalscoring opportunities so every game will be a scrap.
Also, Koeman changes formation almost every game, he needs to look at Konte for a bit of education, a solid formation is what's needed.
Also what the fook was written on the Everton shirt today instead of the Chang logo? I couldn't quite make it out on TV. Still 3 points, get in there!
Patrick Carty
128
Posted 27/12/2016 at 02:15:02
The reason for not wearing the Chang logo today was for charity mate.
Great gesture by the club.
Ernie Baywood
129
Posted 27/12/2016 at 03:16:59
Jay Wood, you don't agree that "both goals [were] a result of a 50/60 yard "pass," or further, that "in both instances the defenders made a hash of it."?
Kev and Rom did brilliantly for both goals but they were absolutely long punts that should have been dealt with.
Leicester committed the cardinal sin against us; the same one Man City committed against them a few weeks back. You just don't push up high against teams that rely almost entirely on space in behind. Really foolish. Eventually one of your isolated defenders will fuck up, like we regularly used to under Roberto.
Will Mabon
131
Posted 27/12/2016 at 04:00:06
I see that horse, Barkley, totally lacking as he is in football intelligence, accidentally picked out a through ball to Lukaku in the move ending with Gana Gueye I do wonder how many Red fans have wormed their way on to this site and also fumbled the ball into Lukaku's path for him to run onto for his goal.
I know Barkley appeared to look what was on both times but actually, was probably intending a backwards or sideways pass to slow play down. Still, I'll take mistakes all day if they give us attacking advantage.
Lukaku too, yeah okay, he scored to consolidate our win. That type of goal though, involving running at, and battling/despatching strong defenders, then finishing past a quality goalkeeper, it's not all it's cracked up to be.
Mostly, it's just a result of the striker operating in a mild state of panic, a kind of default to a predictable program used many times, and getting lucky. The same concept was seen in the Man City game. He's obviously on a run of luck, been this way for three seasons at least. The stats bear out this luck, 'cos he has the highest on-target strike percentage of all the top scorers this season, despite being in a mediocre team. His bubble will burst.
So sell him I say, this donkey. Sell the donkey and the horse. What do they give us? With the money, we can buy some guys with legs & lungs, athletes/runners that can also play just enough football... we could probably buy five or six with the dough. After all, these are the type of players that fill every team above us in the table... aren't they? Quality – who needs it.
Will Mabon
132
Posted 27/12/2016 at 04:06:08
Ernie, I'll give you the Mirallas goal – but not the ball from Barkley for Lukaku to score. He looked and was aware of Lukaku, watch the highlights back. It was on the back of a very weird, balletic "tackle" by Barkley though!
Colin Metcalfe
133
Posted 27/12/2016 at 04:42:31
Okay,guys let's take off the blue-tinted spectacles regarding Lukaku today. I said on the live thread how poor he was and, as I write this, I am watching it again. Let's be honest, he stunk the place out!!
However, he did put a wonderful cross in for Gueye, which should of been converted, and of course he scored the second goal... which brings me to my point.
His touch, passing, movement and his work rate leave a lot to be desired but, when faced with a high line and the ball is played in front of him and he gets running at defenders, I don't think there is anyone to live with him in that situation and it must be a defender's worst nightmare when he is in full flight bearing down on goal!
What did we use to say? "Feed the Yak and he will score"? Same with Lukaku; if we play to his strengths, he will get you goals; a lone target man he is not.
Also, a special mention for Joel Robles, I've been saying it for a couple of years now, there is no reason why he can't be a top keeper. I am sure many of you remember screaming at Howard a few seasons ago to come out and catch and command his six-yard area – well that's exactly what Robles showed today – and boy didn't it help the defense out!!!

Paul Tran
134
Posted 27/12/2016 at 08:19:25
That performance was like many in Martinez's first season. Solid at the back, didn't play much good football, scored a couple of goals, could have had more, three points... Thank you very much.
Williams was much better, possibly because he had pace around him. Holgate again staked his claim for a regular game, Robles was solid and Barkley looked good when he came on. Great pass for the second goal, that's more like it, Ross!
Davies played a good cameo; he's a must for any game when we're in front and can stretch the opposition. I loved his sense of purpose and the way he mucked in defensively.
Oh, and Lukaku was again isolated, yet laid on a sitter and scored from his one chance.
So far this season, with a couple of exceptions, we've been solid defensively. That's why we're 7th, despite not playing well. We're woefully short on creativity, because the players either aren't good enough or consistent enough.
I can put up watching a turgid team scrapping for the points, as long as there's some quality to be added very soon. Over to you, Messrs Koeman and Walsh.
Bob Parrington
135
Posted 27/12/2016 at 08:41:25
Some comments on this thread have picked out Barry as the one slowing things down. I would like these folks to look at a replay because my view is that Funes Mori is the one that does this more often than not.
Peter Mills
136
Posted 27/12/2016 at 08:47:22
Tony (#98), Patrick (#99) – thank you for mentioning/posting that link. It would bring a tear to a glass eye.

Colin Glassar
137
Posted 27/12/2016 at 08:58:04
Will (#131), not only is Lukaku a lazy, useless donkey – he also has, apparently, a BO problem.
Tony Abrahams
138
Posted 27/12/2016 at 09:48:50
Some good points, off Dennis, and although winning is the most important thing, I tend to lean towards Patrick, and Michael's view, that winning with a little bit of quality is always more enjoyable.
Got to give it time though, because Koeman did take over the easiest team in the league to play against. Combining skill with a lot more workrate and aggression does take time. It's not very easy to achieve both of these things at the same time, and if you think about it for a minute, not many players very rarely master all of these things, never mind a team?
Dave Abrahams
139
Posted 27/12/2016 at 09:48:51
Peter Mills (136) agree with that, thanks Patrick and Colin for the links. Great story and well done to Seamus and Everton FC.
I don't mind being sentimental, part of life, I've seen the film 'It's a wonderful life' umpteen times, never fails to move me, when it happens in real life, it's great to see and acknowledge.
Allan Board
140
Posted 27/12/2016 at 10:17:10
Great win-2 nil away should never be sniffed at, regardless of the opposition. One thing I cannot understand though is why all the anti-Koeman stuff?
This fella is a proper coach of football and will make EFC competitive in this league. Straight talking,no nonsense and direct. Perfect for Everton at this transitional period.
Just remember, he is changing a complete culture of negativity and the "mid-table is good enough" ethos that has enveloped us for too long. Let the man do his job.
Derek Williams
141
Posted 27/12/2016 at 10:19:03
You've got to love Seamus. Not only is he a very fine footballer, he's a very good bloke too. Well done to all involved at Everton in making the young lad's Christmas
Ray Roche
142
Posted 27/12/2016 at 11:06:34
Roman Sidey #123
Roman, as far as I can find out, since 1999-2000 we've won 4, lost 4 and drawn 1 in home games on Boxing Day.
Eric Myles
143
Posted 27/12/2016 at 11:12:52
Peter( #127)
WhenYouWishUponaStar.org.uk

Tony Dove
144
Posted 27/12/2016 at 11:38:02
Seamus really should be captain.
I hate five at the back and if there is to be a place for Holgate it should be at centre-back.
At least Koeman may now recognise Tom Davies.
Jay Wood
145
Posted 27/12/2016 at 12:21:56
Ernie @ 129.
Read my post @ 125 again. I can't be more explicit or descriptive of the goals.
Both Mirallas and Lukaku still had a lot to do to score, regardless of whether your interpretation – that they came from "mindless punts and terrible defending" – is correct or not. And like me, others in this thread don't subscribe to your own (self-confessed) negative evaluation of the game and the goals.
Far more positives than negatives on the day for me.
Matthew Williams
146
Posted 27/12/2016 at 12:44:39
Barry & Rom are major problems to games where we need some pace & movement to unlock stubborn defences.
We have to start with Davies & a strike partner with Rom or our play will become more pedestrian.
Brent Stephens
147
Posted 27/12/2016 at 13:30:22
Poor game. Two punts out of defence, leading to two very well taken goals. Can't see any arguments.
Brent Stephens
148
Posted 27/12/2016 at 13:32:46
Colin "not only is Lukaku a lazy, useless donkey, he also has, apparently, a BO problem".
Superb.
Matthew Williams
149
Posted 27/12/2016 at 13:41:03
Let's have it right, Blues... our footy is dire to watch at times, if we rocked up at the Nou Camp, every Blue on the planet would be watching the whole 90-plus minutes through their fucking fingers!
Don't blow Moshiri's millions on more dross, harness what we have, build a fucking team we can be proud of... Youth & experience is the way, recall our loan players, add the young guns... build a legacy from there.
Save our funds for the new ground... our brave new future, for our great club!
Harvey Miller
150
Posted 27/12/2016 at 13:41:59
A sweet victory against the Champions and away. I can still remember some boxing days when were riding up high and still got nothing, like the 2-6 roasting from Man Utd in '77.
It's funny how winning makes it all better even if we don't play so well. We just played a little bit better and maybe had a touch of luck this time.
Brian Furey
151
Posted 27/12/2016 at 14:43:13
Delighted with the win of course but it sums up how fickle we are as fans. Some days your team will play well, dominate the game and lose and so most fans will slate them. Then we have days like yesterday where we played quite poor and had 3 chances on target and we score 2 of them.
I'd say Koeman is delighted to get to the end of the year in 7th position with the side playing so poorly with low confidence. He sounds very confident of bringing in new faces and so I suppose we have to believe it will happen as there seems to be cash there to spend.
I can't believe we're back interested in Sissoko after what he did to us and he's been poor for Spurs. I'd like to see us go get Ben Foster but a regular scoring midfielder is a must
Will Mabon
152
Posted 27/12/2016 at 15:57:35
"Will 131, not only is Lukaku a lazy, useless donkey he also has, apparently, a B O problem."

I knew it...

Paul Burns
153
Posted 27/12/2016 at 16:25:20
Sorry, David Israel, but this side isn't within a million miles of being as good as the one that contained the Dogs of War.
Dave Abrahams
154
Posted 27/12/2016 at 16:34:11
Will (#152),
So did I and I bet he is dead untidy and lazy round the house. I wouldn't be surprised if he is a 'brass hinge' as well, doesn't part with the ball much does he?
Paul Tran
155
Posted 27/12/2016 at 17:11:34
Tony, 'five at the back' can change to three at the flick of a switch. It's flexible and makes good use of our attacking full backs and Holgate's pace. Just like the hackneyed old 'two defensive midfielders' argument, it's as negative as you want it to be. It's how the players play more than the 'formation'.
Damian Wilde
156
Posted 27/12/2016 at 17:45:50
Our style of play is woeful. It has to improve. Otherwise, people may stop going to the match, including me.
Kim Vivian
157
Posted 27/12/2016 at 18:58:00
Hey all you whingers who rate us so negatively – are you watching Stoke tonight? Awful. Count your blessings
I'd take Allen in midfield though.
Brian Williams
158
Posted 27/12/2016 at 19:06:23
So being better than Stoke is the extent of our aspirations????
Kim Vivian
159
Posted 27/12/2016 at 19:12:29
No – Just saying count your blessings. I don't rate us as shite as the average on here.
We are not shite. Stoke are.
Colin Hughes
161
Posted 27/12/2016 at 19:17:35
So the RedShite score 4 in a game for the umpteenth time this season whilst we have gone through the whole calendar year without doing it once. Makes me wonder why we have always had problems scoring goals on a regular basis even when we have finished in a lofty position, eg, 2004-05, when we finished 4th, we ended up minus 1 goal difference.
Surely just throwing bodies forward into the opposition's box would help? Klopp has sussed that in less than 18 months across the park – goals win games.
Brian Williams
165
Posted 27/12/2016 at 19:46:07
We're currently the 7th best team in the Premier League. People have a right, though, to aspire to be better, to not be satisfied with either our position in the table or the sort of football we're playing.
Football's a game of opinions and everybody's allowed one and being "just" opinions means there's no right or wrong.
Brian Williams
166
Posted 27/12/2016 at 19:52:52
Kim. Y'see someone could argue that if Stoke are shite, and we're not, how come they did something we couldn't do against the RS. For instance, score against them, lead against them during the game.
Yes, they lost... but they gained the same number of points against the RS as we did. So it's not as simple or straightforward as shite or not shite. here are degrees of shite. Then there's the smell to consider.... Colour and consistency are also important.
Andy Crooks
167
Posted 27/12/2016 at 19:58:40
Good stuff, Will Gabon. Lukaku scored a magnificent goal, a goal of a top striker who will be a great striker, set up another top player.

Neil Sagar
168
Posted 27/12/2016 at 19:59:29
Why not just state the obvious – we're the 7th best and most pundits had us here at the start which is a good foundation to build on.
To delve a bit technically, the style of football we play is the best points return we can expect with the players we have. Yes, we can play more expansive (Martinez) but our players are not good enough defensively without numbers and are left exposed (Martinez).
Once Koeman an Co have a couple of transfer windows, I trust this will change – after all, Southampton weren't a long-ball team.
Dean Adams
169
Posted 27/12/2016 at 20:01:52
Mmm, Brian, but minus 3 goals is not good. That philosophy is a bit flawed I think. We are very obviously in transition and time plus some new players bought under the Koeman flag will see us metamorphosize into top 4 contenders this time next year...
Or not!!
Patrick Murphy
170
Posted 27/12/2016 at 20:08:12
Colin (#161),
You intrigued me by suggesting that goals win prizes and I agree that it is in the main true, however, I had to go back to 1999-2000 to see an Everton side that had scored 4 or more goals in a greater number of games than the neighbours presently have (6).
Everton scored 4 or more in league games in 84-85 and 85-86 on eight occasions. The best during the Premier League era was in 1999-2000 when Walter Smith's (yes him that dour bloke!) team scored 4 or more on seven occasions.
Curiously the 1970 and 1987 title winning sides only managed three and four respectively whilst the 1963 side managed to score 4 or more on six occasions.

Brian Williams
171
Posted 27/12/2016 at 20:09:19
Not a philosophy, Dean. An observation.
Dean Adams
172
Posted 27/12/2016 at 20:14:19
You, Patrick, are the font of much knowledge, I eagerly await the next time we meet up in the Winslow where I can catch up on all things blue!!
Mike T Jones
173
Posted 27/12/2016 at 20:27:14
Good to know we are entitled to an opinion, Brian. What's changed your mind in 26 hours?
Patrick Murphy
174
Posted 27/12/2016 at 20:41:54
In order to balance things out on the goalscoring feats of Everton in the past, the best tallies for scoring 3 or more in league games in the last 50 plus years is that of the 1963 and 1964 team's who achieved the feat on 15 occasions.
The closest sides to that tally were the 1980s team – 84-85 (13), 85-86 (14) and 86-87 (14). The best Premier League tally came during last season when Roberto's team scored 3 or more league goals on a dozen occasions – fat lot of good that did us... :)
Sean McCarthy
175
Posted 27/12/2016 at 20:42:00
Lukaku is now level with Duncan Ferguson on goals scored in the Premier League for Everton in roughly half as many games. Just think how many he'd score if we ever created chances for him...
Patrick Murphy
176
Posted 27/12/2016 at 20:47:22
I don't think he is, Sean. I think Duncan scored 60 league goals for Everton from 162 games and Rom is on 53 league goals from 121 games.
But obviously the Belgian should he continue to take the field for Everton should easily beat Duncan's goals tally. I also believe that he is only 3 goals shy of Tim Cahill's league tally for Everton.

Paul Tran
177
Posted 27/12/2016 at 21:01:45
Good point, Colin (#161), it's taken Klopp 'less than 18 months'. Koeman's been here 5 months. Is he ahead/behind schedule?
Koeman's trying to build what a lot of us have wanted for ages; a physically strong team that presses at a high tempo. That gives your creative players a platform to play. Moyes gave us one half, Martinez gave us the other.
If people keep talking about Klopp, I'll keep talking about his first year, when we were laughing at his calls for patience and his certainty that his average players would get used to the pressing game.
Patrick Murphy
178
Posted 27/12/2016 at 21:03:41
Kevin Mirallas and Leighton Baines still have time to overtake the likes of Rideout, Cottee and Saha in the goalscoring stakes at Goodison.
Top Five as of today:-
Duncan Ferguson
60 21 Nov 1994 07 May 2006
Tim Cahill
56 11 Sep 2004 28 Apr 2012
Romelu Lukaku
53 21 Sep 2013 26 Dec 2016
Kevin Campbell
45 11 Apr 1999 15 May 2004
Leon Osman
44 01 May 2004 16 May 2015
Danny James
179
Posted 27/12/2016 at 21:12:55
Lukaku is the best striker we have had in a generation. He will prove that once he becomes our all time Premier League scorer. His job is to score goals and he does it.
In fact, aside from Gana, he is probably the most effective player in the team for performing the role that they are meant to perform.
David Barks
180
Posted 27/12/2016 at 21:18:45
Paul,
Klopp has been there for about one full season while Koeman has been here for about half a season, with Koeman having the benefit of enjoying a preseason before having to manage a single match. Klopp immediately changed the way they played and took them to two cup finals. We are playing atrocious football.
I'd have to say that Koeman is far behind, unless you expect us to be sitting second in the table come the end of the year. Remember that when Klopp took them over they were behind us in the table.
You say people were laughing at Klopp, well who is laughing now? I watch them play and every attack ends with at least 5 reds in the box. Meanwhile we are relying on assists from our own box to get goals.
I'm willing to be patient but what am I being patient for? The quality of football is just so poor, it's difficult to watch. I like the heart I'm starting to see in the players, but his ultra defensive methods are killing me.
Patrick Murphy
181
Posted 27/12/2016 at 21:47:11
I really abhor having to compare where we are as a team and where the other lot are, but I would bet that the other lot's first-team have cost just a fraction more than our current first-team squad. That doesn't excuse the football we play but better player equals better team.
Better players are expensive and Everton's squad, aside from a couple of notable exceptions, have been bought in, relatively, on the cheap.
The other lot haven't had a sell-to-buy policy in place either, which means they have been able to build on the good bits of their squad over time.
According to the Transfer League information, every Premier League point won by Everton and Liverpool has cost circa 㿮k for the total of 1263 (Everton) points and 𧶛k for 1547 (Liverpool) – points and transfer fees (net) up to, I think, the end of last season.
Tom Bowers
182
Posted 27/12/2016 at 21:47:36
With the kind of money RS have had available for a few years, one cannot compare either manager just yet or their predecessors.
The pressure previously on Rodgers and now Klopp must be tremendous in order for the big US investors to see a return and that will only come with the Champions League.
Everton and Koeman however will have some time to get the ''work in process'' operating and, although most of us are showing impatience (including myself), I think Moshiri will get things turned around.
Money talks and hopefully January and the not too distant future will produce dividends.
Paul Tran
183
Posted 27/12/2016 at 22:00:13
That's my point, David. Lots of folk on here were laughing at Klopp a year ago and they're not now. He preached patience from day one. What's good for the goose...

Graham Mockford
184
Posted 27/12/2016 at 22:12:56
Patrick (#176),
Duncan scored 61 Premier League goals in 239 games. Just under 1 in 4.
In his second spell he managed 24 in 123 over six seasons, or 4 goals per year.
Not quite as prolific as you suggest.
Of course some regard him a legend.
Patrick Murphy
185
Posted 27/12/2016 at 22:19:17
Graham I think he scored sixty not sixty-one goals however, I misread his profile on here and didn't add the sub appearance to the starts so you are correct in that respect. 162 (76) scored 60
Duncan according to TW
http://toffeeweb.com/players/profiles/Ferguson.php
Damian Wilde
186
Posted 27/12/2016 at 22:31:07
We're average at best, but 'shite' to watch. The style of play is beyond woeful. I don't remember it being this bad for a long time.
Gavin Johnson
187
Posted 27/12/2016 at 23:50:26
On the question of whether we are behind or ahead of schedule...
I think that we were ahead of schedule in the early run of games, behind when we had that barren patch where we couldn't buy a win, and now we're exactly where we should be.
I think most would have taken 7th at this stage in the season. We're above the teams who are nearest competitors, such as Southampton, West Ham and Stoke.
The football is awful to watch at the moment but I don't care if we continue to grind out the results until Koeman/Walsh get rid of the deadwood and bring in their own players.
Hopefully we can offload, Kone, Gibson, McGeady, Naisse and Oviedo by the end of next summer.
Bob Parrington
188
Posted 27/12/2016 at 23:57:49
Colin (#161) and Patrick (#170). A reflection of coaches' comments from Ice Hockey tournaments over the years...
"Forwards win games; defences win tournaments."
Clearly both are needed but building on a strong defence will generally allow more freedom for your forwards to express themselves. (Always providing they are good enough, of course!!!!???)
Probably the same rule for football, eh?
Col Walker
189
Posted 28/12/2016 at 05:12:12
David (#180) – well said, "5 in the box" wish we played like that, wish he was our manager to be brutally honest, regardless of his current employers he's got that man manager gift IMO.
That said, whilst our football is woeful right now, I will continue to give Koeman another 2 windows if not 3 to see what he can do. I hope your words "What am I waiting for?" don't come back to haunt me!
The other point I would make is that surely Rom is the worst 'footballer' to score 70 or more goals in the Premier League, his hold up play, passing, control, touch is truly tragic.
Most of the time, he's a goalscorer and no more – that's for sure, and I'm disappointed that EFC have not managed to coach him to be better in his weak areas, but that all said, obviously we'd be utterly lost without him!
Geoff Evans
190
Posted 28/12/2016 at 22:56:46
We'll take anything. Woeful to watch.
---
Add Your Comments
In order to post a comment, you need to be logged in as a registered user of the site.
Or Sign up as a ToffeeWeb Member — it's free, takes just a few minutes and will allow you to post your comments on articles and Talking Points submissions across the site.
© ToffeeWeb