Report
Fantastic young Blues roast City and Stones
By Michael Kenrick
15/01/2017

351 Comments [Jump to last]
Share: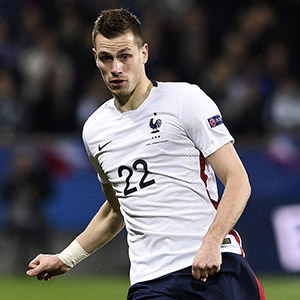 All eyes were on Morgan Schneiderlin after he made his debut as sub on 64 mins
Everton 4 - 0 Manchester City
Everton return to Premier League action with new signings Morgan Schneiderlin and Ademola Lookman on the bench.
Team captain Phil Jagielka is also on the bench with Gareth Barry leading out the side against Manchester City in the pouring rain at Goodison Park. In the absence of Gueye, Tom Davies starts alongside Barry in central midfield, ahead of McCarthy, Schneiderlin and Lennon, all on the bench. Also, Stekelenburg, fit again, but overlooked in favour of Robles.
Proceedings got under way after a moment of applause in memory of Graham Taylor, dead at 72. Everton kicking off and John Stones getting an early touch roundly booed City. Funes Mori did scoop the ball forward for Barkley who was too advanced and called offside.
Some great work by Barkley in defence saw a ball forward for Lukaku to run onto but it was played too hard. Davies was called for a foul. As City looked to break, Baines and Barry combined for a promising cross that was overhit. A lovely move had the ball in the Park End net but Coleman had run offside in the move.
Barkley and Mirallas drove forward, winning a corner that was played deep but Cit broke well, De Bruyne feeding Sterling but Robles and Baines contrived to deny him... possibly illegally but Clattenberg denied the early penalty appeals.
Everton were making a really good fist of this, taking the game to their illustrious guests, and showing a little more skill and composure than sen of late. Lukaku had a chance to beat Otamendi but his first touch was poor.
A good De Bruyne cross was cut out well by Williams, while Lukaku tried a cross that almost found Barkley. The Blues tried to keep control but Williams launched a loose ball forward and into touch. City threatened with a sharp ball from Sterling to Zabaleta.
City were getting a little more of the ball after a good opening 20 mins from the Blues that had not seen a clear-cut chance. More pressing was needed to force the turnover, but Lukaku could not control Mirallas's ball and in the return move, Holgate was penalized for what looked a lot like a dive by Aguero into the area, but it was defended away, with no-one upfield to benefit. Sterling got behind the Everton defence on a superb ball but Robles was well b=placed to gather his shot.
Barkley looked to run and play Mirallas in but he had not run into the space. Lukaku was the next on the end of a poorly paced pass and the Goodison crowd reacted to the lack of quality. De Bruyne picked out Silva for what looked like a certain goal that was well thwarted by Robles, again well positioned, but City were now threatening to slice them apart.
Davies fouled Silva and gave City a good chance from a central position that De Bruyne powered into the Blue wall. The Blues finally got forward to relieve the pressure but it was a little scrappy.
A sweet passing move put the Blues ahead through Lukaku After a great ball forward by Davies, Mirallas crossing to the Big Man who slammed it past Bravo. A very nice Everton goal.
Funes Mori forced to yield a corner that flicked off Stones's head and the Blues dealt well enough with the danger, while the Goodison faithful finally had some good end product to cheer. De Bruyne got a great low cross that needed a tap-in from Aguerro, but just in front of him, as Funes Mori was fouled but the Blues defended the corner. Sterling's shot form a corner was close.
Funes Mori was called for his final warning, but only after Clattenburg received instructions form Aguero. Barkley and Mirallas once again failed to connect and another forward move broke down early. Barkley was not having a good game despite getting a lot of the ball as another of his promising passes was telegraphed.
Lukaku got loose off a fine ball from Barry but Otimendi blocked him for a corner that was eventually repelled. De Bruyne and Zabelata looked to force a chance but Robles was again out well and took a hit to his head that delayed stoppage time. Davies had to clear off the line and Toure's shot needed blocking after a decent half of football from Everton.
The game resumed at in no time at all, Lukaku fed Barkley off a defender, Barkley fed Mirallas... Goal! A lovely finish across Bravo into the far corner.
Barkley played well out of defence and again fed Mirallas, this time sown the wing but he was thwarted by a Sagna. City looked to build and apply pressure, the Blues needed to now defend a well-earned lead.
Barkley gave a way two fouls in quick succession, mostly due to the smarts of his opponents. Stones got on the end of the free-kick but could only head straight to Robles. Holgate picked up the first yellow, again more due to the smarts of Sterling.
Mirallas appeared to be caught by Zabeleta and needed treatment. Davies was then in a little too sharply himself, but Lukaku headed away De Bruyne's ball... Holgate had to be quick to deny Aguero. Zabaleta was replaced by Iheanacho. Lukaku failed to hold-up the ball for Mirallas and then ambled around in an offside position for Barry's quick ball out of defence.
A big welcome for Morgan Schneiderlin, who replaced goalscorer Mirallas. The Blues were making a decent battle of it in midfield, doing enough to thwart the City attacks without creating much, seemingly hoping that the two goals would be enough with 20 minutes left. Aguero conjoured a shot that Robles parried for a corner.
Barry made way for McCarthy and that saw some real midfield pressing from Barkley and Davies that roused the crowd. Silva then tripped Davies and saw yellow.
Schneiderlin fouled Sterling, Toure's shot held well by Robles. Davies then scored a fantastic almost solo goal to make it three!! Picking up the ball deep and going on an excellent run, with a superb trick to totally fool Toure and then getting the ball back from Barkley to finish with a delightful chip over Bravo, Lukaku running in to try and claim the final touch. The 18-year-old was well mobbed by the entire team in front of the old Boys Pen.
Davies then got in it a little with Sterling who had tackled him a little too strongly, Holgate and Aguero getting the talking to. Lukaku had a great chance to make it four but fluffed his lines from a narrow angle.
The Blues tried to create a fourth with Barkley but it didn't happen. Ademola Lookman came on at the end for his Everton debut, with 4 minutes if stoppage time.
Lukaku and Otamendi clashed after the City player had fouled him, Otamendi faking a head-butt, both players seeing yellow cards. The fourth goal finally came and it was a peach from the 12-year-old Ademola Lookman, firing straight through Bravo's legs off a great cut back from Coleman.
Everton: Robles, Baines, Williams, Funes Mori, Holgate [Y:56'], Coleman, Barry (74' McCarthy), Davies, Mirallas (64' Schneiderlin), Barkley (90' Lookman), Lukaku [Y:92'].
Subs not Used: Stekelenburg, Jagielka, Lennon, Valencia.
Manchester City: Bravo, Sagna, Stones, Otamendi [Y:92'], Clichy, Yaya Toure, Zabaleta (62' Iheanacho) (C), De Bruyne, Sterling, Silva [Y:75'], Aguero.
Subs not Used: Caballero, Kolarov, Delph, Sane, Navas, A Garcia.
Referee: Mark Clattenburg
Attendance:39,588
---
Reader Comments (351)
Note: the following content is not moderated or vetted by the site owners at the time of submission. Comments are the responsibility of the poster. Disclaimer
Ciarán McGlone
1
Posted 15/01/2017 at 13:30:33
Just seen Barry's face in the tunnel there... heart sank.
Inevitable.
Geoffrey Hall
2
Posted 15/01/2017 at 14:17:59
We've had good luck in the first half.
Ciarán McGlone
3
Posted 15/01/2017 at 14:21:58
A better half than expected, but giving the ball away a lot.
Davies hasn't had a great game so far but his through ball for Mirallas was simple but brilliant.
After our goal, we dropped deeper and the usual gaps are creeping in due to Barry's mobility issues... I'd hook him now for Schneiderlin.
More of the same energy please, with more accurate passing. I hope we're not in for our customary game of two halves. They are rattled.
Oliver Molloy
4
Posted 15/01/2017 at 14:34:55
One shot and we score and we got away with a stonewall penalty so all good for now.
Baines needs to get closer and stop crosses , it is a huge weakness in his game.
Funes Mori has been careless a few times as has Barkley.
Barry and Williams are our cheerleaders without being out standing.
We need to maintain and better our effort in the second half and if we get another chance – take it!
I hope Clattenberg doesn't choose to "give one to City"...
Colin Hughes
5
Posted 15/01/2017 at 14:41:08
If we don't win this now, then I fucking give up. Sky will be going sick with one of their "six" dropping out of the title race in January.
Dave Older
6
Posted 15/01/2017 at 15:18:30
Surely there is gonna be no hate on here for Koeman today?? 3-nil against City... Jesus, am I dreaming???
Tom Magill
8
Posted 15/01/2017 at 15:25:56
WOW – I'm in dreamland!!!
Dave Older
9
Posted 15/01/2017 at 15:26:07
Err, make that four!!!!!

What a result!!!!

Nicely done Toffees!!!!!
Colin Hughes
10
Posted 15/01/2017 at 15:28:38
Shut that Kopite clown Lawrensen up as well. Last week on Football Focus "it's a 3 horse title race between Chelsea, Liverpool and Man City", totally disregarded Spurs and Arsenal.
Oliver Molloy
11
Posted 15/01/2017 at 15:28:56
What do I know!
Frank Rice
12
Posted 15/01/2017 at 15:29:04
Great performance. Tom Davies – the new Alan Ball.
Steve Dowdeswell
13
Posted 15/01/2017 at 15:31:20
Just so happy right now! Lookman on his debut – Tom Davies on the scoresheet as well. Superb result! Don't care about possession stats, corners, fouls.
Just great to finally see a TEAM performance on the pitch at long last. Every single one of them out there gave it their all. Lukaku running back and even getting involved with Otamendi.
More of the same for the rest of the season and we will be in the running for a Europa League place easily.

Oscar Huglin
14
Posted 15/01/2017 at 15:34:16
"it was a peach from the 12-year-old Ademola Lookman"
I knew he was young but blimey, is that even legal?
Matthew Williams
15
Posted 15/01/2017 at 15:35:04
Not perfect... but not far off it. Great day... jeez, this club!
Well done to all the lads, top shift. Same again next week please.
Andy Kinsella
16
Posted 15/01/2017 at 15:39:52
Wow!!!
Another clean sheet with Holgate in the starting 11. Fantastic result. A midfield three of Davies, Schneiderlin and McCarthy next game
Tony Heron
17
Posted 15/01/2017 at 15:41:22
Yeah Oscar, 12-year-old Lookman and a great "cut back" by Coleman (?), you mean off his backside!! Can Stones claim an assist?
Anto Byrne
18
Posted 15/01/2017 at 15:41:31
Lookout – here comes Lookman... and what a nice finish from the boy. Davies, Holgate and Barkley the standouts. Very happy with a 4-0 win and the confidence it will bring. Perhaps it's our turn for a ten-game winning run.
Joseph Terrence
19
Posted 15/01/2017 at 15:41:35
What a match.
Teddy Bertin
21
Posted 15/01/2017 at 15:46:07
Something to be proud of at last!
Tom Davies growing every extra minute he gets on the pitch.
Hopefully Barkley's confidence will start coming back because he played some awful passes today but looked calmer and more composed when we went 3 up. Great assist too.
Thought Holgate was great today too.
Good lads!!!!
Alasdair Mackay
22
Posted 15/01/2017 at 15:47:04
I've been a major Koeman critic – but today we are excellent. Best we've played under him by a million miles.
I honestly don't know where it has come from, but I am chuffed to bits.
Ernie Baywood
23
Posted 15/01/2017 at 15:47:08
Absolutely brilliant. You don't need masses of possession... it's about playing the game on your terms. From the start we played how we wanted to play. As opposed to under Bobby where teams let us have possession and we fell into their traps over and over.
Halftime chat on the forum was mixed. Plenty of criticism of Ross... well he was getting on the ball and in the end a couple of his passes came off. He's not there to pass backwards, he's there to create and he'll miss many more than he makes. Making two against City isn't a bad return!
Plenty of chat about Davies too. Obviously his effort is brilliant and just what we need. Myself and others were maybe doubting his quality a bit and pointing out weaknesses in his passing. Well I thought he was flawless in the second half. Showed everything and topped it off with an absolute beauty (Rom isn't getting that).
Right, three hours sleep before my first day back at work. Not going to be the struggle it could have been!
John Pickles
24
Posted 15/01/2017 at 15:47:23
Yeah Oscar, who says who don't win anything with Kids?
Daniel Lim
25
Posted 15/01/2017 at 15:48:36
Will Everton be shut down by the home office because of young under-aged labour?
Joe Digney
26
Posted 15/01/2017 at 15:48:51
What a day! Starting from seeing pictures of young Bradley's smile. The players didn't let anyone down what a performance! Makes me so proud to be a blue.
Jim Potter
27
Posted 15/01/2017 at 15:49:22
Wow! Great performance by the boys. Nice to be feeling this good after a game.
Gordon Crawford
28
Posted 15/01/2017 at 15:49:34
Koeman needs to be sacked, that was embarrassing. Shameful Everton.

Ha!ha! What a performance, everyone was fantastic. :)
Craig Fletcher
29
Posted 15/01/2017 at 15:51:33
Normally my personal Everton mantra is to not get too disappointed when we lose, and not get too carried away when we win.
But Wow. Hard to not get carried away with that!
Bob Hannigan
30
Posted 15/01/2017 at 15:53:47
Did Rom try to claim Davies's goal?
Daniel Lim
31
Posted 15/01/2017 at 15:54:30
Regarding Davies's goal. If Lukaku had tried to protect the ball instead of trying to steal Davies's goal, he would gain a lot of respect from us blues and maybe the pundits and commentators as well.
Steve Brown
32
Posted 15/01/2017 at 15:54:30
Now that was 'phenomenal'!
John G Davies
33
Posted 15/01/2017 at 15:55:46
John G Davies
34
Posted 15/01/2017 at 15:55:48
Jay Harris
35
Posted 15/01/2017 at 15:56:08
Those prematurely looking for Koeman to go are looking a bit stupid today. That was a complete performance today. Defensively solid, integrated and composed as a team and four classy goals. Happy days and long may they continue.
Particularly noticed how Ross was throwing in sliding tackles and being stronger in the challenge, Baines and Coleman looking excellent as wing backs and midfield looking stronger than it has for years.
Daniel Lim
36
Posted 15/01/2017 at 15:56:15
Bob @30
Looked like he did – even though it didn't look like he managed to touch the ball.
Tony Heron
37
Posted 15/01/2017 at 16:00:58
Apparently we only had 29% possession. Goes to show in this age of stats, stats and more stats the ONLY one that ever counts in a game is goals for and against.
If Sky must highlight stats how about this one; played Mega bucks City twice, 4 points taken, 4 goals for, none against.
Bill Gall
38
Posted 15/01/2017 at 16:01:02
Lukaku's reaction was simply a goalscorer's reaction – you make sure it is in. I think replays showed it was in, and he never touched it.

Will Mabon
39
Posted 15/01/2017 at 16:01:08
"Hopefully Barkley's confidence will start coming back because he played some awful passes today but looked calmer and more composed when we went 3 up. Great assist too."
Start coming back? Tom, he played an excellent game today. He made no more "awful" passes than many people's God, David Silva. Barkley made several top class passes amongst all else that he did.
Just about the whole team played well today – and just about every one of them made a mistake or two. Same for City's players, that's football.
A glass half-full approach can make all the difference.

Jay Wood
40
Posted 15/01/2017 at 16:01:56
Well, that was fun!
The best complete 90 minute performance of the season, without question.
Praise to Koeman. His line-up and tactics overwhelmingly bettered Pep's. If this is the start of where we are going with Koeman and how he wants to get there, I'm on board.
We pressed well in the right areas at the right time. We defended with discipline and tight lines that City found hard to get around. Our counters were rapid and purposeful. Our finishing both cool and clinical. Our youngsters played with a swagger (and abrasiveness) so lacking in Everton sides in recent years. I like that both Holgate and Davies appear mouthy little buggers who step in and go eyeball to eyeball with the opposition. Even Lookman got in on the act in his brief cameo. What a gem of a goal by Davies. Time for a variation on the Barkley song? 'We've got a diamond called Tom Davies...'
I thought Schneiderlin showed signs of ring rustiness and lack of match fitness, but he'll be a good addition in the long run, of that I'm confident.
With Lookman and Lennon preferred on the bench to Deulofeu, you have to believe the Spaniard's days at Goodison under Koeman are numbered. Disappointed by that personally, but – hey-ho! Plenty more to be excited about.
The league form is really picking up, which makes the meek exit to Leicester last week all the more galling.
Paul Burns
41
Posted 15/01/2017 at 16:03:55
No good crowing and pretending the last couple of years haven't been shit because of one excellent performance. That is a benchmark but it's pointless if we revert back to the recent garbage we've been playing in the next couple of games.
Glib comments about sacking Koeman are pathetic, he fully deserved the flak he came in for with our season being over in January. When he puts in a consistent season, never mind 90 minutes, that's the time for proper celebration.
Drew O'Neall
42
Posted 15/01/2017 at 16:04:30
Robles 9
Coleman 8
Holgate 8
Williams 8
Funes Mori 7
Baines 7
Barry 8
Barkley 9
Davies 9
Mirallas 7
Lukaku 7
What a joy to behold.
Colin Glassar
43
Posted 15/01/2017 at 16:06:16
Everyone of them today were brill. I'll have more of that please.
Daniel Lim
44
Posted 15/01/2017 at 16:07:10
Tony @37
I thought it should be 4 pts taken, 5 for and 1 against?

Peter Gorman
45
Posted 15/01/2017 at 16:08:00
So it has been confirmed; Tom Davies is a big game player.
Rightly praise the team for this great performance. Keep it up for God's sake.
Stephen Brown
46
Posted 15/01/2017 at 16:08:13
Special mention for Ashley Williams today! Solid!!!
Tony Heron
47
Posted 15/01/2017 at 16:09:48
Daniel @ 44. You're right, of course, thanks for correcting me. Delirium can do strange things!!!
David Donnellan
49
Posted 15/01/2017 at 16:11:40
Not one bad perfomance out there in my opinion. It was a million miles from the dire performance I watched last week.
Pep looked like he was on the edge of a breakdown on their bench. He looked a very broken man.
COYB! Onwards & upwards!
Mick Davies
50
Posted 15/01/2017 at 16:12:14
Drew @ 42, glad you gave Robles credit for his good but unglamorous work – he seems to keep a hell of a lot of clean sheets. I just hope he keeps his place as I think with the confidence a run of games gives him, he can become an Everton stalwart.
David Donnellan
51
Posted 15/01/2017 at 16:13:26
Nice to see Stones have a shitter too!
The grass isn't always greener...
Mark Morrissey
52
Posted 15/01/2017 at 16:15:24
Weeks ago, I was sat watching us play Leicester and I turned to my kids and said "When I was a young lad I used to stand in the Gwladys Street End and watch a fella playing for us called Alan Whittle. Davies reminds me of him with his shock of blonde hair" I couldn't believe it today to hear the commentator say "Davies has Everton in his blood, his uncle is Alan Whittle". Gobsmacked.
Alan was also a product of the Everton youth academy and he must be chuffed to bits to see his nephew emulating him. A great Everton Story. I would love to have seen him in the crowd today. I hope he was there; I'm made up for him and what a game.
It's a crying shame that we are out of the cups but at least you can see the nucleus of a team forming. You can't blame Rom trying to claim the goal. He's not a monocled city gent. He's a mercenary goalscorer and you'd expect that. Chuffed for the team – now get a few more in and ship a few out before January finishes. NSNO
Adam Scott
53
Posted 15/01/2017 at 16:15:46
I think we need to initiate contract talks with Ross. Let's get him tied down and build our team around them now.
Rick Pattinson
54
Posted 15/01/2017 at 16:16:20
See – why the hell can't we play like that every week We looked so controlled and confident? I knew after the first goal, this was gonna be a goooood day. Keep it up, boys!!!
Jon Withey
55
Posted 15/01/2017 at 16:17:00
Really glad to see Davies coming through and he compliments Barkley too – hopefully takes some of the silly expectation off of Ross's shoulders. I hope to be watching those two in our midfield for some time to come.
Perhaps Lookman is effectively the replacement for Deulofeu – he started off well!
Special mention for the defence, who can't have had an easy game – good to see young Holgate racking up some minutes too.
We seem to have plenty of midfielders now – what's next? Another centre-half, winger or striker?
Eddie Dunn
56
Posted 15/01/2017 at 16:18:38
Koeman got it right, and all the subs too. A Sunday where I feel great instead of shit. Davies was immense, and the little boy scored on his debut... magic!
Williams a great organiser at the back.
Gavin Johnson
57
Posted 15/01/2017 at 16:18:50
What a game! Koeman is doing a great job when we face the clubs who are supposedly bigger than us, barring the RS defeat.
I think that game must have cemented Tom Davies's place in our starting 11. Do we really need to buy another central midfielder now? We have Gana, Schneiderlin, Davies & Barkley.
Davies looks the complete midfielder, and can do anything. He's got high energy, he can defend, he can move the ball forward. He looks a special player.
I was gutted after the Leicester defeat last weekend. How quick things can change in football...
Gordon Roberts
58
Posted 15/01/2017 at 16:21:24
I really hope this win doesn't stop us pursuing more quality players to add to the squad over the next 2 weeks. A centre-half, another winger and a striker please. COYB
Paul Thompson
59
Posted 15/01/2017 at 16:22:34
Jon (#55) is right, much praise for the defence and the way that Koeman set us up. For all their possession City had very few clear cut scoring opportunities. In contrast, at least in the second half we looked consistently dangerous on the break.
This was aggressive, but skillful football with barely a weak link throughout the side. With oldies like Mirallas rejuvenated and young talents coming through, we have a lot to look forward to.
David Ellis
60
Posted 15/01/2017 at 16:28:40
I recall people saying previously that Lukaku hasn't got the physique that will allow him to run throughout a whole match closing down and chasing lost causes...
Well, he did it until the 90th minute today. He can do it... just sometimes he doesn't.
Joe Foster
61
Posted 15/01/2017 at 16:28:45
Barkley has to stay!
Jay Wood
62
Posted 15/01/2017 at 16:28:45
Well whatya know?
Just reading today's 4-0 tanking is Pep's heaviest EVER defeat in a league game.
Sweet!
Andy Walker
63
Posted 15/01/2017 at 16:31:28
That was fantastic, we looked so in control of the game. Five at the back definitely suits us.
Could anyone think we would have been capable of that type of controlled performance under Martinez? That performance was Koeman all day long. So please, for some, let's move on from Koeman is no better than Martinez and what does he do for his salary.
You saw how he's changing our team today. And just look at the effect Koeman is having on Barkley; tough love is working.
Geoffrey Hall
64
Posted 15/01/2017 at 16:32:13
Really brilliant day! So proud... I hope Man Utd beat Liverpool.
Brian Denton
65
Posted 15/01/2017 at 16:32:17
Well, I haven't felt this good since we twatted Arsenal a few years back. Our next game after that was Palace, which brought us all back to earth. No repeat please!
Every player did well today, not a passenger among them. It showed me that Barry still has a role to play, and it was good to see Baines put in a very good performance, his first in a while.
As for Tom Davies – well the comparison with Alan Ball is a bit silly at this stage, but he reminds me a lot of the Master, whom I saw regularly at his peak for Everton. Tom's presence as a local hope will also take some of the pressure off Ross, which can only be good for him. I reckon the first rumours of a move by the big boys for Tom will be coming soon. But he seems a level-headed lad.
Pep will now see what it means to manage in a league where there are more than two decent teams.
Ian Riley
66
Posted 15/01/2017 at 16:33:42
Not bad. Taken 4-0 at the start!

Paul Conway
67
Posted 15/01/2017 at 16:34:11
IMHO, Davies doesn't have to realise his potential – he has already arrived. He looks like the complete player, physical, technique, endurance, tackles, dummies and dinks.
At such a tender age he is starting to look like the player senior players are looking to depend on. Koeman must be chuffed with this lad.
David Price
68
Posted 15/01/2017 at 16:35:48
Great formation today, Baines and Coleman superb, Holgate has to play every game.
We did sit back a little at 2-0 but Davies was magnificent for the third. That is a glimpse what Koeman can achieve when he has everything in place.
Brilliant Everton today, every one of them – just brilliant.
Paul Kossoff
69
Posted 15/01/2017 at 16:37:36
A terminally ill 5-year-old Sunderland fan has appeared as an Everton mascot for the visit of Manchester City in the Premier League.
Bradley Lowery, from Blackhall Colliery near Hartlepool, was cheered as he was carried onto the pitch by Toffees striker Romelu Lukaku on Sunday.
Before kick-off, Bradley kicked a ball into the Goodison Park net.
God bless Bradley, the real hero of the day.
Adam Scott
70
Posted 15/01/2017 at 16:37:56
All-in-all an excellent display by all. A few honourable mentions for me.
Robles – Commanding performance. Had little to do, but what he did, he did with confidence. A far better option than Stek at this point.
Holgate – Got caught out once, but when playing three at the back, he really fits into the system well. Gets about the pitch and does the simple things well. Real prospect.
Williams – A real leaders performance today. Best in a blue shirt.
Funes Mori – Lad has had some criticism. Was poor last week. Solid today. Took on responsibility well and physically was excellent. If he can iron out the maverick streak, I feel he is a good defender.
Barkley – Not everything come off for Ross, but I thought it was an assured, mature performance. Looks a lot, lot fitter under Koeman as well. The ball for Mirallas sums up what he offers though. I think he will shine with Schneiderlin, Gana and Davies around him regularly.
Davies – Now he needs to consistently do it. I thought he gave the ball away a bit in the first half. He is a little raw. He will make mistakes, but God, what a prospect for this club he is. What a second half for a teenager.
Lukaku – A leader's performance. His goalscoring record is phenomenal and we are so, so lucky to have him. Don't care what anyone says.
COYB
Tony Hill
71
Posted 15/01/2017 at 16:38:26
Just wonderful. A superb all-round performance. That an 18-year-old should be so brilliant against a top midfield is astonishing.
A word too for Robles who was very important in the first half. I thought Barry had a very good game, as did Coleman. A brilliant, crucial finish from Mirallas and what a joy for young Lookman.
Too much to say, really, but it feels marvellous to come away from Goodison after a game like that.
Seamus McCrudden
72
Posted 15/01/2017 at 16:38:42
5-3-2 with Baines and Coleman all the way for me. We have the defensive nous with 3 centres at the back and the pace to hit them on the break. Possession is over-rated!
Derek Knox
73
Posted 15/01/2017 at 16:39:15
A major confidence booster today, for the rest of the campaign, providing they can carry that momentum on.
It's against the lower sides we always seem to get it wrong!
Adam Scott
74
Posted 15/01/2017 at 16:39:49
Missed out Coleman. His best display for time.
Frankly though, I could go through the whole eleven, and I include Barry in that.
Ian Bennett
75
Posted 15/01/2017 at 16:39:56
EASY, EASY, EASY!!!
Great performance and quality subs. We look a lot better with Holgate at the back and Davies playing forward passes.
John Stones looks like he's not going to learn. He's just incapable of smashing it away. Rio Ferdinand was a similar player at West Ham – but by the time he got to Leeds Utd and Man Utd, he knew when to play the percentages. John just can't or won't. I can see the pressure building on this one.
Seamus McCrudden
76
Posted 15/01/2017 at 16:40:18
Well said, Paul Kosoff.
Paul Kossoff
77
Posted 15/01/2017 at 16:43:58
'The fourth goal finally came and it was a peach from the 12-year-old Ademola Lookman,' 12? Is that a record?
James Morgan
78
Posted 15/01/2017 at 16:44:55
Wow. Wow. Wow. What a performance from EVERY player.
I thought Barkley was everywhere and looking to create all the time.
Barry was effective at breaking up play and relieving pressure, the back three were immense.
Holgate looks so cool for a young lad. Mirallas was lively and showed what he offers when he's on it.
Robles was solid and commanding, the full backs were energetic.
Lukaku was working hard and linking well and finished his goal sweetly.
But Davies. Tom Davies. What a complete performance from the lad. At 18, running rings round Toure and Zabaleta, world class showing. I was so glad Rom didn't nick the goal! Great stuff.
And then Lookman comes on to finish it off with a smashing goal. Things are looking up now, let's not cock it up!
Charles Brewer
79
Posted 15/01/2017 at 16:49:38
Did anyone else see The Miracle of Gwladys Street? Tom Davies ran to the crowd after scoring and immediately afterwards some bloke was waving his crutches in the air.
Clearly Davies had cured him of a broken leg or maybe he was a double amputee or something. No question about it being a miracle, and loads better than some floaty statue.
David Barks
80
Posted 15/01/2017 at 16:49:42
Absolutely brilliant all around. Maybe the most important thing is the team unity that was on display at the end. The entire team seemed to come together today, something clicked.
Seeing Davies take that goal was special. But then hearing the roar coming from all four stands, singing as one after the final whistle had blown, that was something very special.
Nobody can expect results like that every match. But seeing the positive results and performances more often than not, that's what is needed. And that is why I'm hoping that something has clicked with this team and we see that growth over the second half of the season.
Confidence and unity, that's what I saw by the end of that match. Brilliant stuff, keep it going Koeman.
Jay Harris
81
Posted 15/01/2017 at 16:50:01
Brian,
Palace have been our bogey team for years....
Time to put that to bed and build on our performances.
Dean Adams
82
Posted 15/01/2017 at 16:53:39
So we can now see the style that Koeman wants and the players responded superbly. Wonderful to see that three teenagers played again today and that two scored.
Tom Davies was magnificent today, as were all the team. So proud of the team and manager. Things are looking really bright. The future is bright, the future is blue.
Raymond Fox
83
Posted 15/01/2017 at 16:54:50
Well, blow me down, I didn't see that coming.
So much for my predictions! What the odds were of us winning 4-0 must have been bloody astronomical.
A good performance I thought by all the players, give Robles the shirt permanent – he's plenty good enough and will only get better with more games.
I'm made up for the younger players, Davies has that edge about him that good players need. Holgate has plenty natural talent and should start every game, I'd like to see Galloway brought back into the squad as well I just hope he doesn't slip though our net, we'll regret it if we let him go.
A dream debut for the kid Lookman, you couldn't make it up.
Proud to be a Toffee tonight because of the result and more so for making a special day for little Bradley Lowery.
John G Davies
84
Posted 15/01/2017 at 16:55:38
Wrong of our fans to boo the new Bobby Moore. They should have cheered every time he got the ball.
To get 㿛½ million for a defender as poor as Stones is unbelievable.
Don Alexander
85
Posted 15/01/2017 at 16:56:17
Big Ron well and truly celebrated a la Conte/Klopp this time, and rightly so. I hope the players enjoyed the sight enough to want to see it again in the next match.
Well done to everyone today, some really exciting reasons to be cheerful with the youngsters, and Tom Davies, well, if anyone playing for Barcelona had won the ball deep in his own half in the first place, then run through most of the opposition and showing such a moment of ball control magic at full pelt, and then recovering to skilfully chip the keeper, well, we'd all be having to watch it again and again for weeks! Fantastico!!
Tom Magill
86
Posted 15/01/2017 at 16:56:43
I'm getting the feeling we're on the way back to where we belong, the elite of England.
NIL SATIS NISI OPTIMUM
Colin Glassar
87
Posted 15/01/2017 at 16:57:06
A nice touch by Rom when Lookman came on, it looked like he was saying "just enjoy it" and boy did he enjoy it.
Great to see the team so united and happy even if some of them know they don't have a future with us.
Peter Creer
88
Posted 15/01/2017 at 16:57:28
Davies did run rings round Zabaleta and Toure. That is because he is half their age. This game is getting so fast that I am sure we will see more teams getting younger. The high press requires legs and Toure and Zabaletta did not provide that for City (and I'm glad they didn't) and I think that City will be making changes as they move forward.
As for us, full steam ahead!
COYB!
Colin Hughes
89
Posted 15/01/2017 at 16:58:17
As usual though the redshite are about to steal the limelight off us by winning at United. I would love Old Trafford to disappear into a sinkhole in the next hour.
Barry Pearce
90
Posted 15/01/2017 at 17:02:33
Just a fantastic day all round.
Well done, Unsy. He's developed some real gems. More to come as well. COYB.

Will Mabon
91
Posted 15/01/2017 at 17:07:00
Not a lot to add about the players' performances, I think it's all been said.
David Barks used an appropriate word - unity. That, and the players clicking. The right frame of mind and atmosphere within a team is vital.
I think Koeman has been guilty in respect of unsettling too many, too quickly, but maybe in the last month, a corner is being turned with the management as well as the players.
Pretty damned positive today!
John Daley
93
Posted 15/01/2017 at 17:11:03
Fantastic result and a performance of grit, effort, ruthlessness and (unusually for an Everton team of recent years) first- to last-minute discipline. Those last two goals though? Up like a loon willing them in (and, no offence Rom, but I had my fingers crossed you pulled off an air shot on the line for the third).
I thought we were, to a man, superb and stuck to the task admirably even with City dominating possession and popping it about without really testing Robles.
Will (@39), criticism of Barkley is par for the course irrespective of any positive contributions he might make, but I too struggle to see how anyone can claim he lacked composure on the ball until after the third goal went in, when he himself set up the second and third with sublime touches. He very nearly slid Lukaku in for another and was clearly making a concerted effort to put himself about.
Then again, I'd defend any of our players against criticism of their performances today. Everyone (even Schneiderlin who looked a bit rusty when he came on) played their part. That applies to the manager too, who was more vocal and animated than I've seen him thus far and who made common-sense subs and changes at exactly the right times.
If, as some claimed, the season was effectively over after last week, then why do I feel so enthused off the back of just one game?
Anyway, inspired directly by Ademola Lookman's wide grin of sheer, unadulterated, delight at the climax, I'm off to lock Rigsby and Mel Gibson (not the real one's, our two dogs) in a room downstairs, while the wife rifles through her lingerie closet.
Andy Sommer
95
Posted 15/01/2017 at 17:14:17
Not sure if anyone mentioned this or noticed it but Rom gave Lookman a pep talk as he was coming on and was made up for the lad after he scored. Showed a happy Rom as a real mentor. Great to see.
Roman Sidey
96
Posted 15/01/2017 at 17:16:59
Class act from both clubs regarding young Bradley. Seeing Rom carry him out there was magical, and the flag from the City supporters was spot on.
Just as spot on was everything Everton did on the pitch. When I saw the pre-game line-up, I was happy – that's our strongest available 11 at the moment with Gana off dodging bullets.
What a game from Davies. I am a little biased when it comes to Lukaku, but I think you can see him just stop his foot in time for the goal to go over the line for Davies to get the credit he deserved. As has been said though, when you're standing where Rom was standing, you make sure it's in, first and foremost.
The goal from Lookman was a cracker too. Sharp angle, confident strike, what a boy.
I am over the moon for Mirallas too. He is such a talented player and today was one of his finest games for the club.
I said it in the forum, but since I started supporting the club in 2002, that is the best game I've seen Everton play.
Also interesting to note, that was Lukaku's 300th career club game. At 23 years of age, that is incredible.

Darren Hind
97
Posted 15/01/2017 at 17:17:22
"Those prematurely looking for Koeman are going to look a bit stupid today."
Sorry, Jay, but it is you who is looking stupid. We called for Davies – despite Koeman insisting he wasn't ready
We knew how good Holgate was and called for him – despite Koeman insisting he had this imaginary dip in form and dropping him (have we lost when he's started?)
We insisted these players were good enough despite all claims to the contrary. They have just mullered probably the most expensively assembled team in history.
This was NOT Koeman's team. it was the a team made up of players he has slagged off. He only brought in one of the starting eleven.
Why cant we just enjoy a great day instead of trying to score cheap points right at the start of your post???
The season does not start here. Bad management has seen to it that the season is well and truly over.
I'm made up about today's performance, I'm made up for the fans, the players and the manager. Don't try to spoil it with this I-told-you-so shite. You'll only end up looking far more stupid than those you want to attack.
The season does not start here (a half-witted claim) but we can build on today. We can stop crying over spilt milk and move on...
If the manager eventually gets this right... nobody will care about how long it took him.
Jason Broome
98
Posted 15/01/2017 at 17:19:45
Blown away by Lookman's finish. Looking forward to seeing him play again.
Davies reminds me of an 80s style Everton player. That was an immense box-to-box display and a never say die attitude to get his goal.
Dave Ganley
99
Posted 15/01/2017 at 17:22:58
Wow, I wasn't expecting that. Thought we may sneak a 2-1 win but that was excellent. So glad we got a positive reaction after last week.
Special mention for Tom Davies. He was excellent in the middle and his goal was taken with the coolness of a veteran.
City were pretty average but that shouldn't take away the fact that we made them ordinary. The bar has now been set.
Well done, Blues – we have been waiting for something like that for quite a while.
Christy Ring
100
Posted 15/01/2017 at 17:23:05
Absolutely thrilled, can't wait to watch Match of the Day. Superb performance from 1-14, especially Davies and Barkley.
Kunal Desai
101
Posted 15/01/2017 at 17:26:52
Exceptional performance that. Tom Davies – what a star and what a player. Him and Holgate were brilliant.
Money can buy you Stones.
Charles Brewer
102
Posted 15/01/2017 at 17:30:05
Christy, are you serious. Match of the Day will be 58.5 minutes of Liverpool's amazing win (I am assuming) from a fantastically worked penalty. I mean how much better could football get?
There will then be 1.25 minutes of the useless wingnut crisp salesman going on about Leicester and a discussion about whether Lukaku should be banned for life or for eternity because of his vicious assault at the end.
The remaining 15 seconds will show the Everton goals (with the titles rolling over them).
Jon Withey
103
Posted 15/01/2017 at 17:31:52
Or perhaps the manager brought the youngsters in at the right time and the rest for Holgate was also well timed – we can only speculate.
I'm glad Koeman is coming out fighting regarding the squad if this is the result.
The criticism of some of the performances until this point have been well justified.
It's now clear that he doesn't fancy Jags (age) or Deulofeu moving forward. Niasse and Cleverly also on their way. Yet to be seen what happens with McCarthy but perhaps he'll be here until summer.
Kone, McGeady, Gibson... Are they actually sale-able?
Barry, Oviedo, Lennon still have a part in the squad, I guess.
Mike Dolan
104
Posted 15/01/2017 at 17:39:11
Brilliant today, we played with energy and conviction the full 90 minutes. It's so joyful to see Davies, Holgate, and Lookman playing with style. The way Davies and Lookman took their goals was magnificent for such young players.
Someone said that Davies reminded them of Alan Ball and that is spot on. Ball was like that as a young player with Blackpool and Everton – all fire and in your face.
Believe me: Koeman is the man... He just needs a few more Koeman players. In spite of some woeful results, this team has been playing a lot better since the Arsenal game. Ecstatic.

Tim Taylor
105
Posted 15/01/2017 at 17:49:05
Charles Brewer (#102) – Fantastic! And sadly probably true...
Brent Stephens
106
Posted 15/01/2017 at 17:52:29
God, here we go. Another fecking argument on TW – on a day of a superb win. Enjoy it for feck's sake!
Interesting that we scored a few with the current squad even before the new lads came on – so the future augurs well.
So much energy introduced when Schneiderlin and McCarthy came on.
I see Paul Gallagher on the Live Forum said when we were 2 up something like "imagine what it would be like if we scored 4"! Very prescient, Paul.
Dave Abrahams
107
Posted 15/01/2017 at 17:53:19
Tim (#105) – maybe not!!!
Brian Denton
108
Posted 15/01/2017 at 17:55:37
Good luck with the wife, John.
Can't she just put her Everton kit on, though?
Terry Underwood
109
Posted 15/01/2017 at 17:55:52
Fuck me – who saw that coming????????
Colin Glassar
110
Posted 15/01/2017 at 17:57:34
I think McCarthy still has a future with us. Maybe not starting very game but coming on to close games down with the magnificent Barry coming to the end of his career.
Davies, Gana, Schneiderlin, Barkley will probably be the first choice midfield. I hope we can get at least two more quality players in.
Andy Crooks
111
Posted 15/01/2017 at 17:58:14
Darren (#97), I agree. No need for gloating. Some Evertonians had some well-founded concerns. However, I have had a shite, really shite, demoralising weekend which my team have brought a silver lining to.
These are the times to enjoy. I look forward to MotD more than for a long, long time. Who would swap being an Evertonian?
Michael Kenrick
112
Posted 15/01/2017 at 18:03:34
That result has done wonders... narrowing the gap with the rest of the top seven (he-he) and putting a gap between us and The Baggies. And giving our goal-difference a very welcome boost.
Brent Stephens
113
Posted 15/01/2017 at 18:05:46
"narrowing the gap with the rest of the top seven" - very good!
Craig Walker
114
Posted 15/01/2017 at 18:06:09
I thought Mirallas was excellent today. It's a shame that the RS got that 94 minute goal because our home form has been encouraging. Would still like to see us get some more creativity and goals via the transfer window.
I hope this win doesn't mean that we don't strengthen in this window. Things are looking better though. I've always been supportive of Koeman and I thought his outburst last week was exactly what the club hierarchy needed to hear.
Mick Davies
115
Posted 15/01/2017 at 18:06:51
We must now have the strongest midfield in the league. Our 'best' player this season is missing yet we're leading against City, and we bring on TWO top class defensive midfielders to see the game out.
That was City's biggest defeat since 2008 by the way; let's hope we've turned a corner, albeit a week too late.
Charles Brewer
116
Posted 15/01/2017 at 18:06:59
Well, I can see how a 1-1 draw at Old Trafford with an actual penalty and a rebound from a post being slotted in from 2 yards must be far more gripping than an 18-year-old going from one end of the pitch to the other, or a 9-year-old scoring with his first touch in the Premier League.
And then there was a first-time reaction shot from one of the Premier League's leading scorers and a cracking attack finishing with an accurate and deliberate shot following a storming run.
Yes, I can hardly wait for the excitement of watching whichever dull ex-footballers they dig out for the event.
Dave Abrahams
117
Posted 15/01/2017 at 18:07:27
Brent (#106) too true mate, I am made up with the result, the performance, as Jay Wood said, the first time this season we have played and competed for the whole match. I really hope we have now turned the corner with many more performances like this one to come in the rest of the season.
Just in case we don't. I'm savouring every minute of this one, well done the whole team, now keep it up – and Ibrahimovic has just put some icing on the cake.
Mark Daley
118
Posted 15/01/2017 at 18:08:16
Bloody Everton. Just when I'd given up on them, they give me hope again. Who'd be a Blue? Come on!!!!
Paul Tran
119
Posted 15/01/2017 at 18:08:45
What a great performance, I'm still buzzing! I've criticised both Barkley and Mirallas, they were great today.
If we could bottle Davies's streetwise attitude, nous and skill, we'd go a long way. Please be kind to him when he has the inevitable dip in form that young players have.
I still think we need to strengthen. We know these players can be good, it's about playing with that intensity and attitude consistently.
I'm imagining that intensity, with a real playmaker and a second striker. No sitting back, keep looking for these players.
Andrew Presly
120
Posted 15/01/2017 at 18:09:44
Simply beautiful.
Paul Holmes
121
Posted 15/01/2017 at 18:10:15
I posted I was gutted Barry was starting because I thought we needed more energy and legs in midfield, but credit is due: I thought he had a great game, along with the whole team.
A great display, onward and upward for Koeman and HIS Everton team!
Jon Cox
122
Posted 15/01/2017 at 18:13:30
What's the betting:

(A) The meeja tomorrow will be all about Guardthedoorola;
(B) Plucky little Everton;
(C) It was how bad City were – NOT about how good Everton were.... And lastly;
(D) What a bunch of shitfaced twats the media are when it comes to chatting about EFC. Media, pass the sick bag.
John G Davies
123
Posted 15/01/2017 at 18:14:20
A great performance from the lads today. One to eleven top of the shop. We rode our luck a little in the first half-hour but stuck at it.
We were always going to get chances against a weak City defence. I think we did well in selling Stones, yet another very poor performance in a season full of them from him.
I didn't understand how one or two on ToffeeWeb labelled Stones the new Bobby Moore. I didn't rate him at all and was happy we sold him. A poor centre-half who won't be playing for Man City next season.
The work rate and spirit was fantastic to see. I have never wavered in my support for Koeman. He will be a great Everton manager. He has had stick off a couple on here. They will slowly but surely change their tune.

Si Turner
124
Posted 15/01/2017 at 18:15:18
What a performance and result. I can't name one player in a blue shirt who had a bad game, real team effort.
Sitting on the left side of the Gwladys St, I got full view of the Davies's trick... That's the best 1st first team goal from an young Everton player since Rooney! Made up for him!
Mick Davies
125
Posted 15/01/2017 at 18:16:07
The Sky Sports sycophants are still drooling over Milner's penalty and a tame header! Makes me sick to think that there was a terrific performance from a potential future England captain, and 4 great goals (no headers or pens) yet a dull game involving a side who are classed as a 'great' but have never won the Premier League is worthy of an hour's gab...
Max Murphy
126
Posted 15/01/2017 at 18:16:32
BBC 18:05 news. Sports headlines: "Man United draw level against Liverpool with late equaliser." It then shows Ibrahimovic's goal.
Funny, I thought there were 2 games in the Premier League today. I wonder will we get a mention on MotD2 tonight.
John Hammond
127
Posted 15/01/2017 at 18:18:20
Koeman Out! Never plays youngsters and why aren't we top of the league by 10 points? This direct football nonsense is garbage. We're all better managers than he could ever be. Let's get a manager in who's never managed a top flight team ever. That'll show 'em. He's foreign, doesn't get us.
Andrew Presly
128
Posted 15/01/2017 at 18:19:21
Mick it's great, Carragher's lost his voice and is getting increasingly tetchy over there on LFC TV aka Sky Sports 1. Wonderful to see.
Paul Nicholls
129
Posted 15/01/2017 at 18:20:17
Who and where is that blert who keeps calling Koeman a fraud and wants him to be sacked? Apologies if I've missed his post.
Dan Davies
130
Posted 15/01/2017 at 18:21:19
Made my weekend that has! What a goal from Davies too. Are we just going to hover at seventh place or can we push on and get some results to join the crowd above us?
If we get nearer to those above and further away from those below, you can't deny we are going in the right direction. A couple more quality signings for January, please, Everton.
COYBB!
Jon Cox
131
Posted 15/01/2017 at 18:24:50
"We rode our luck a little in the first half hour but stuck at it."
RUBBISH! We defended like Trojans. The game of football is as much about defence as about attack.
Antony Matthews
132
Posted 15/01/2017 at 18:26:54
Thank you very much for the 47 million,
Thank you very much, thank you very very much.
John G Davies
133
Posted 15/01/2017 at 18:27:25
Paul (#129).
Now, now. No point scoring please. :-)
Andy Walker
134
Posted 15/01/2017 at 18:29:17
Darren (#97) – so 'bad management' has seen that our season is over but today's victory was delivered by 'NOT Koeman's team'?
Koeman's fault when we lose, but not to his credit when we win eh?
Go on, try giving Koeman a bit of deserved credit for once, it won't kill you!
He's changed our shape, is clearly getting more out of Barkley and other players. There are definite signs of a change of player mentality as well as tactics. That's down to the manager.
Mike Berry
135
Posted 15/01/2017 at 18:29:50
Koeman out... standing with his team selections, subs and the way he set us up today. High energy pressing and quick counter-attacking with players available as passing options.
Okay, sometime it was played a little too often, but you could see how well the tactics worked over all. The whole team worked their socks off and dug in when necessary.
Tom Davies deserved his MotM award; for a young man of 18, he was outstanding in the 2nd half. Encouraging to see Rom having a word with Lookman when coming on, the pep talk obviously worked! Well done EFC, a day to remember.
James Byrne
136
Posted 15/01/2017 at 18:31:45
Superb game and great to be in the Park End to wave the Citeh fans off at the final whistle.
So the big question is, what are the anti Koeman whinging brigade going to write about now. I mean, come on; I've never read so much shite in years on these forums against a manager in such a short space of time at the realm.
At least for a week anyway the "happy crowd" can crawl under a rock FFS.
Jay Woods
138
Posted 15/01/2017 at 18:37:43
Pity it wasn't Liverpool on the end of that.
But wow, that was some improvement. I wonder will Pep resign.
Will Mabon
139
Posted 15/01/2017 at 18:39:50
"I'm off to lock Rigsby and Mel Gibson (not the real one's, our two dogs) in a room downstairs, while the wife rifles through her lingerie closet."
I save that stuff for FA Cup wins so I'm safe again for another year.
Colin Glassar
140
Posted 15/01/2017 at 18:40:17
Looks like we might be getting a few minutes of post-match analysis now. Sourness and Carra must be sick as parrots to talk about us.
Chris Leyland
141
Posted 15/01/2017 at 18:43:36
Mick – it is because of the crisis enveloping Anfield as they haven't won this year yet.
Meanwhile, since Christmas it is 10 points from 12 in the league for the mighty blues with 11 scored and 2 conceded. Who knows, maybe we are capable of stringing a run together to catch the line of Man City after today's result?
Duncan McDine
142
Posted 15/01/2017 at 18:51:07
That was a real Everton performance. Tom Davies seems to have sparked something in our team lately, Ross especially is a beast when he chases and battles like he did today. Rom still looks like a spoiled child, and Funes Mori was all over the place for most of the first half, but this was an aggressive, assertive display.
Now I can't wait for Saturday at Palace. Paul Smith – will I see you there? Knowing my luck, we'll be shite!!!
Jonathan Miller
143
Posted 15/01/2017 at 18:52:02
Who said Koeman never plays youngsters...
Davies was fantastic and should have a glittering career in front of him.
Gavin Johnson
145
Posted 15/01/2017 at 18:53:07
Colin (#110),
Yes, we look sorted in midfield now. We need two more quality signings besides the Belfodil deal.
Prior to the game, I would have said one of the signings would need to be a quality winger like Depay, but I now think we should be playing 3-4-3 or 3-5-2 with wingbacks.
Buy a top goalkeeper if any are available and a good young centre-back. I have no expectations that we'll sign Van Dijk but let's go for Michael Keane from Burnley. There's been talk that we'll sign him in the summer for 㿀m. Let's sign him now and offer Burnley Jags and money, now it looks as though Jagielka's 1st team days are numbered.
Dave Cooney
146
Posted 15/01/2017 at 18:54:07
The boy Davies can dine out on that performance. Feel like a Chinese man has offered me a shed load of money. Might linger round the chippy later.
Rock me baby like a wagon wheel.
Mike Hughes
147
Posted 15/01/2017 at 18:54:22
For once I'm looking forward to MotD.
Great win for us.
Stones sounds like he had a nightmare – 㿛½m a steal as it stands.
And Man Utd getting a late equaliser was an added sweetener.
John Raftery
148
Posted 15/01/2017 at 18:54:34
Hopefully Koeman will see that the introduction of youth has given us the energy and enthusiasm missing from so many games earlier in the season. In many ways the games against the top teams are the easiest both for the players and the fans.
Everybody was up for it today. Obviously the first goal was crucial and it was great to see Romelu score another tap-in! After that we controlled the game without controlling possession.
The main question now is whether or not we can maintain this level against Palace, Stoke, Bournemouth and the rest of the teams below us in the table. Let's hope we can.
Tony Hill
149
Posted 15/01/2017 at 18:57:56
As others have said, it is the unity of the side that matters; that, and not cocking it up against crap opposition after a feast like today – so let's do the business at Palace next week.
Those calling out Koeman sceptics would do well to reflect that this was the first complete performance we have managed this season, after 20 games and after we have exited both cup competitions swiftly.
I am thrilled by this win, as I have said above, and by what it promises but let's not pretend that anyone who has been critical is a fool. We need to keep it going, for the rest of this season (in which we are playing only for 6th at best) and for next season and the one after that.

Roger Helm
150
Posted 15/01/2017 at 18:59:38
Charles (#116), I think Lookman is only eight, actually – what an age to score in the premier league with your first kick!
As for Tom Davies, a goal, an assist, a goal-line clearance, MotM display – not a bad day at the office. In fact all our players scored eight or more in my book.
Just got home and still buzzing – going to look on the Citeh fan sites and feel even better.
Colin Glassar
151
Posted 15/01/2017 at 19:01:55
Agree Gavin, a top centre-back and another goal scoring forward would do me this window. I think Seamus and Bainsey look so much more comfortable playing as wing backs and give us that width.
Jay (#138), I think Pep seriously underestimated our league. We might not have the quality the Spanish and German leagues have but every single team will give it a go and won't roll over to the richer clubs.
Pep is a top, top manager but very highly strung and high maintenance. I don't think he will resign but he could have a breakdown of some sort.
Gavin Johnson
152
Posted 15/01/2017 at 19:02:21
And to think that the Guardiola methodology was what we were aspiring to under Martinez last season.
City look like a Martinez team with better players. It gives us a glimpse of the future if Martinez had been kept on and given Moshiri and Usmanov's money.
Guardiola's system looks flawed in our domestic league. I could see him resigning before the end of the season.
Darren Hind
153
Posted 15/01/2017 at 19:09:12
Andy @134
Yes that about the size of it, Rank bad management made us ugly and got us knocked out of both cups
And unless you know different, The starting 11 was made up of ten players who were here before Koeman..
I wasn't passing an opinion, I was stating a fact..
Koeman now knows he isn't managing a club supported by just-Glad-to-be-here south coast Hobby fans. Thankfully he has " changed his tune" on many fronts.
The club doesn't pay him for one match. We pay him £6 million a year and we expect massive improvements.
Koeman is clearly listening and learning about this club. This was a massive step in the right direction. I'm more than happy to give all the credit he deserves for today's performance. I'm made up.
Mike Powell
154
Posted 15/01/2017 at 19:09:34
That's the best we have played in years, every single player put in a shift. Koeman will get us back were we belong.
We have to try and win every game now till the end off the season. If we play like that, then we will beat anyone
Paul Ferry
155
Posted 15/01/2017 at 19:09:56
Ciaràn McGlone 1 -
"Just seen Barry's face in the tunnel there... heart sank. Inevitable."
Ciaràn, I'm surprised that you did not come back on after your half-time uncharitable comments (especially on erm, Davies) to congratulate Koeman and the team on a superb victory.
Kieran Kinsella
156
Posted 15/01/2017 at 19:11:04
I couldn't care less about the pundits. Why even mention them?
Brian Denton
157
Posted 15/01/2017 at 19:19:42
Kieran, I'd like it to be different, but the pundits push a narrative ('plucky little club, punching above its weight" etc) which makes it harder for us to attract really top-class players, and deep-pocketed sponsors.
So, alas, it does matter.
Jamie Sweet
158
Posted 15/01/2017 at 19:21:21
What a day!
Just curious whether there is anyone out there who still thinks we should have turned down 㿛½million for John Stones?
Will Mabon
159
Posted 15/01/2017 at 19:23:19
"Guardiola's system looks flawed in our domestic league. I could see him resigning before the end of the season."
That system or its players are certainly not firing on all cylinders right now... and yet, his previous teams almost always had the upper hand in European football against Premier League teams. Maybe harder to play against more industrial opposition than other teams of quality. Complex game, this footy.

Kevin Rowlands
160
Posted 15/01/2017 at 19:25:31
For me, the best Everton performance in years. Absolutely loved it; lots to look forward to.
John G Davies
161
Posted 15/01/2017 at 19:31:38
Jamie (#158).
There won't be anyone taking you up on that question.
Colin Glassar
162
Posted 15/01/2017 at 19:32:40
Kieran, like Brian said, it's all about the perception others have of us. We know who, and what, we are and where we are right now, but if you listen to the (majority) pundits we are just one of the other 14 stocking fillers.
It's demeaning, unfair and dishonest. They aren't pundits, they are fans of other clubs who push the agendas of those clubs.
Mike Gaynes
163
Posted 15/01/2017 at 19:38:32
I'm grinning so wide my face is cramping.
Trivia question for the historians here... anybody know whether Lookman's goal is the fastest debut goal ever for an Everton player? Has anybody done it quicker than 10 minutes?
Anthony Dwyer
164
Posted 15/01/2017 at 19:38:35
Unbelievable performance, City simply couldn't live with us.
Many fans wanted younger players on the pitch to add pace and aggression; today we seen the fruits of playing the young lads.
Davies and Holgate looked comfortable in the company of City's super stars, I also believe they bring more out of Ross, he looks like he takes more responsibility with them around.
Funes Mori is another that impressed, Robles too, them two players aren't kids, but they lower the age by over 15 years from Jags and Stek.
I've also been critical of Williams, but he seems more comfortable in a three man partnership, and today he looked like a leader.
Mirallas is frustrating in some ways as I feel he can do more, but in his defence he seems more suited to the roll of a second striker, more so than a wide man.
Last but not least, Lookman will be happy with his goal, and Schneiderlin gets a win on his debut.
Every player impressed today, no-one can be faulted.
Absolutely buzzing.
Rick Tarleton
165
Posted 15/01/2017 at 19:40:05
A superb display, there wasn't a weak link. Congratulations to all the players and the manager and let's hope this is the "Oxford" moment that happened for Kendall.
Anthony Dwyer
166
Posted 15/01/2017 at 19:40:25
Just wondering if anyone would swap Stones for Holgate?
Bob Skelton
167
Posted 15/01/2017 at 19:40:36
Great win today. Still buzzing. Some good youngsters coming through.
I had to smile at City, Guardiola reminded of Martinez with money but without Messi. All he thinks about is pass pass pass.
No credit given to the opposition. They are poor losers who act like they should win all the time. No class...
Still, a great day. COYB
Terry McLavey
168
Posted 15/01/2017 at 19:41:24
Great performance – shows money can't buy everything, eh, Citeh!
Loved that Stones made a bollocks and loved that Davies went to the fans to celebrate after celebration with team mates, it's amazing how things can change!
Mike Gaynes
169
Posted 15/01/2017 at 19:42:20
Actually, let me correct my last post. I just cycled back the recording. Lookman scored exactly 4:25 after entering the pitch.
Anybody done it faster?
Graham Mockford
170
Posted 15/01/2017 at 19:43:18
Mike Gayne's (#163),
Tony Cottee scored after 34 seconds on his debut vs Newcastle.
John G Davies
171
Posted 15/01/2017 at 19:45:58
Anthony (#166),
Holgate is a better defender than Stones – even at this early stage of his career. A Rolls Royce in the making.
Trevor Peers
172
Posted 15/01/2017 at 19:46:47
I guess the secret to good management is getting performances out of players who have previously been very poor. Koeman certainly managed that today, we destroyed City and, aside from last weeks debacle v Leicester, the signs lately, are that we could be hitting a rich vein of form.
They all did well today, good team performance, Davies is the catalyst, he's been outstanding. Well done, son!!!
Paul Smith
173
Posted 15/01/2017 at 19:49:45
Wow! What a display. Lost my Internet connection for 20 minutes of the first half – fuming. Cue the cats making off sharpish.
Every player excellent. I was concerned when McCarthy came on for Barry who was having a blinder, but given his age understandable. Somebody said we were due to give someone a hiding – who'd have thought it'd be Citeh.
Duncan #(142) nah can't make it - working (gutted). Definitely be at WHL in March though. Say hi to the lads for me.
Guy Hastings
174
Posted 15/01/2017 at 19:49:48
Bet we're still last on MotD.
Mike Gaynes
175
Posted 15/01/2017 at 19:50:22
Cheers, Graham. Wow, that's amazing. I remembered him scoring a hat trick in his first game, but didn't remember how quick the first one was.
Of course, Cottee was a veteran already when he arrived... Lookman's goal is pretty astonishing too. By my count it was his third Premier League touch.

Brian Harrison
176
Posted 15/01/2017 at 19:51:36
I definitely think 3 at the back suits this group of players best, we are able to keep our shape better.
I thought Lukaku gave a masterclass in centre forward play today, I am some times critical of certain aspects of his game but when he plays like that he is worth every penny of the 㿷 million quoted. He bullied Stones and Otamendi, I don't think I have ever seen him put himself about so much. I think he really fancied taking on Stones and Otamendi, now he has to do it against bigger and stronger centre backs than these 2.
Tom Davies I think for an 18 year old to give such an assured performance in the hardest position for any body to play was outstanding. He looks a very good footballer but isn't afraid to put his foot in, and playing in central midfield these skills are essential.
A word for his partner Gareth Barry, he might not have the legs to get through 90 minutes but his reading of play to be in the right place at the right time is invaluable to Tom and the rest of the team.
Holgate another top class performance, alongside Williams and Funes Mori; apart from Silva finding a bit of room in the first half they marshalled City's forwards the whole game.
Although they had a lot less of the ball than City it was the best 90 minutes we have seem this season. Nice to see young Lookman come on and score at the end, there was a feeling inside the ground at the end were fans were thinking are they finally buying into what Koeman wants.
Playing Mirallas just behind Lukaku worked on two fronts: first, it brought out the best in Mirallas, rather than him being stuck out wide. Secondly, it definitely helped Lukaku; as I said earlier, that was the most aggressive I have seen him play for a long time.
Joe Clitherow
177
Posted 15/01/2017 at 19:51:56
Mike Gaynes (#163),
You'd have to go some to beat the 34 seconds on the clock for Tony Cottee's debut, in a game where he also scored a hat-trick.
Dean Adams
178
Posted 15/01/2017 at 19:54:19
With our next 5 fixtures being against teams below us, we really should be attempting to maximise on our current situation.
Today looked like many of the squad finally realised what the manager has been telling them, although some who were missing today could well be on their way out the door.
I wonder if some fans will catch up and realise that Koeman is a top manager and that his methods, although very different to what went before, are far superior? Time will tell.
Come on you blues, today was magnificent, let's just enjoy it.
Conor Skelly
179
Posted 15/01/2017 at 19:57:51
City were soft and played into our hands. We still need another striker because God forbid anything happens to Rom. But...
Davies is a little bit special. Lookman took his goal brilliantly and Holgate is fantastic.
Speechless. Let's see how all this plays out. If something special is about to happen, I don't want to jinx it.
I will float to work in the morning.
Joe McMahon
180
Posted 15/01/2017 at 20:00:45
Most enjoyable performance in years. Tom Davies was magnificent. Hopefully today possibly could be a springboard.
I'm also impressed that Tom looks like he could be in a Nirvana tribute band!
Ciarán McGlone
181
Posted 15/01/2017 at 20:05:43
Just peeled myself off the ceiling..
I've nothing to add to the add to the comments above apart from this... Holgate oozes captaincy material.
Terry Underwood
182
Posted 15/01/2017 at 20:06:21
Next transfer window: City bid 㿞M for Davies, Chelsea bid 㿨M, etc...
Eugene Ruane
183
Posted 15/01/2017 at 20:11:34
Almost the perfect day.
Out of the blue (pun intended) I was treated by a mate to The Alex Young Suite. (I gave my ticket to a mate so it wasn't wasted.)
Free bevvy plus three course 'brunch' which included British colonial fave, Kedgeree (haddock, boiled rice, parsley, hard-boiled eggs, mild curry sauce).
Then we took our (padded leather) seats and instead of the usual display of depressing ineptness, we watched Everton run, chase and harry, then confidently stick four past Man City.
(Any manager calling himself 'Pep' deserves to get twatted 4-0.)
All our players worked like bastards but special mentions for Davies, Lukaku and Barry.
Local shitteratti on view in the suite?
Ricky 'tramp juice' Tomlinson.
Fat Joe, the mayor
Andy Nichols (these days I think he's now 'giving back to the community' or... some bollocks).
Mike Parry, apparently one half of TalkSport's 'The Two Mikes' (no idea but my mate had heard of him)
I sat next to him – a living cartoon of a British 'sports journalist', he did an entire bottle of white himself...before his full English (I live on sausage dinners and Quavers and he made me look like Mr Motivator).
That said, he was a nice enough feller and (as he mentioned 'Reidy' and 'Merse') I'm guessing he could tell many a ribald football-related anecdote.
Ex players on display – Jim Pearson and Paul Power.
Power talked about his career and came across as a very intelligent, articulate feller (lives in France now, near the Spanish border)
Only downside, my usual seat in the corner of the upper Gladys/Bullens provides me 'cover' for smoking my e-gigs (which are ludicrously not allowed).
Here I felt a bit exposed though I still managed a few drags, so Everton – Link
Got to the alehouse for the second half of their game with Man Utd and was praying for Rooney to break the Utd goals record with a last-minute winner but, as I said, almost the perfect day.
Up the Toffees!
Jerome Shields
184
Posted 15/01/2017 at 20:13:54
Fantastic result. But I have seen too many false dawns. They need to win the next match, which they have repeatedly failed to do, if this is to be the start of anything.
Hopefully the new signings will give us something different, and more players in the team will become a threat to the opposition.
Eddie Dunn
185
Posted 15/01/2017 at 20:15:11
It's so funny how the media were giving City the Title after they won the first 10 games. Now Guardiola has been found out and he looks tetchy and very uncomfortable. The romantics are now looking to Klopp or Conte for their saviour.
Our pragmatic boss is discovering his best team, and we are improving. I have been a backer all the way through (with my own misgivings), but it is so great to celebrate this superb victory.
Good for McCarthy, and Schneiderlin coming on and shoring us up. And so marvellous to see Lookman in his cameo, put the icing on the cake.
Now let's get behind the "project" and be happy!
Keith Dempsey
186
Posted 15/01/2017 at 20:18:51
I posted in the week "The season starts here" that if it did then hopefully we would get a different approach and play with some intent. I think Koeman might have read it. I finished it with "what a difference a week could make".
My only disappointment were the boo boys treatment of Stones, I don't think he owes us anything and I thought that's what set us apart from the others in being fair minded.
Will Charlton fans do the same to Lookman if we play them in the future as it's no different. But still a great day to be a blue.
Hywel Owen
187
Posted 15/01/2017 at 20:20:29
Excellent performance from the lads.
On the "down" side, how long before the media decide that Man Utd are "interested" in Davies and Holgate? Go find your own talent, you unspeakable vultures.
Today's Man Utd - Liverpool game will, I hope, have killed off any notion of Rooney spending his twilight days at Goodison.
Ray Robinson
188
Posted 15/01/2017 at 20:21:21
The
whole
team deserves the plaudits it is getting but I'd like to point out the outstanding contribution that Robles made today too. For the first time ever, I am starting to see a reliable goalkeeper who is inspiring confidence. The way he plucked Toure's free kick out of the air was fantastic and the save from Aguero's low drive (when it was 3-0) was outstanding.
Plus, if we are going to be more direct (nothing wrong in that Pep), his kicking is far superior to Howard's and gets us a further 10-20 yards down the pitch straight away.
I was also made up at the apparent unity in the team. Little things like Robles running the whole length of the pitch to celebrate, Lukaku properly celebrating a goal in the centre circle (not even his own!), the sheer delight on Davies's face when he scored, the elation of Lookman when he buried his third touch are all indications that the dressing room is a very pleasant place to be right now.
Incidentally, Lookman's first touch was impressive too. He put a crucial foot in on the edge of our box to dispossess a City player. Maybe not many people noticed that.
I'm going to enjoy MotD tonight! The only pity is that I'm in the middle of dry January!
Dave Williams
189
Posted 15/01/2017 at 20:22:44
What a great performance. I have been saying all season that Ron would come good!!!
Not really... but this was a display of determination, guts, will to win and some decent skill too and only one Koeman buy on the pitch until young Lookman came on at the end.
Kev had his best game in an awful long time and Rom actually grafted throughout. I thought Funes Mori was outstanding, attacking the ball and making sure he got there first, the whole defence was good against a very skillful City front four. Barry was rock solid but the stars have to be the teenagers who so many of us have been calling for all season.
Holgate stayed calm despite being faced with Aguero and okay he was beaten a few times but so would most players faced by those four – I thought he was very decent.
As for Tom he played better as the game went on and his goal was outstanding but what a great celebration to see how much it meant to him. No pre-meditated posturing, just the sheer joy of scoring for HIS team in front of the Street. I have to confess it brought a tear to my eye.
Perhaps the manager has started to get the message through to them – roll on the next game!
John Keating
190
Posted 15/01/2017 at 20:23:52
I did mention on another thread that we should play at least one youngster and have a couple on the bench every week. We have some great kids in the U23s who if given the chance could do a job for the first team.
In my opinion we will finish roughly where we are now in the league. If we give our kids a chance they may save us a fortune. The more opportunities we give the kids the more they'll come on as players.
Another plus today was having 3 locals on the pitch. Think if we could get another 1 or 2 local lads either in the team or on the bench.

Mike Gaynes
191
Posted 15/01/2017 at 20:24:37
According to NBC, the first time ever two teenagers have scored for the same team in a Premier League game.
Joe Clitherow
192
Posted 15/01/2017 at 20:26:36
Lukaku's goal a tap-in? Are you for real?
Tap-ins are goals from one to two yards out generally into an open goal or with a stranded goalkeeper – and most welcome they are too, nothing wrong with great goalscorers making a career out of them.
Arrow-like first-time shots just inside the post from 12 yards out, slipped in between a covering defender and the despairing dive of a goalkeeper, are NOT tap-ins by any definition. Said shot executed after the scorer stops his run at just the right time to fool his covering marker and create a split second of time and enough space to take a quick pass. They are the mark of a lethal instinctive finisher in peak confidence at the top of his game.
Peter Laing
193
Posted 15/01/2017 at 20:28:49
Magic from Everton today, great atmosphere at the Grand Old Lady and possibly the best performance that I have witnessed in more than 10 years. Every player to a man put a shift in with immense displays from Holgate and Davies.
City a bunch of shiny trinkets, no team spirit or work ethic, welcome to your new surroundings, John Stones, I hope that you continue to thrive amongst this collective meffery.
Darren Hind
194
Posted 15/01/2017 at 20:40:38
Big fan of Holgate and predicted he would make the breakthrough this season – once the penny finally dropped with the manager. But like Stones he has a lot to learn.
Not comparable with Stones. He has never played for a manager who insist he plays out from the back... every time, whereas Stones has never played for a manager who didn't.
No English centre-half (ever) has been put under so much scrutiny as Stones, even though he his still a baby in centre half terms... I think that's because his ability is unquestionable.
When he matures into a player who makes his own decisions rather than a boy who follows instructions, the blind will begin to see.
Funny how some people will still post 2-3 times a thread about him even though he has long since departed. Tells you a lot that does.
Des Farren
195
Posted 15/01/2017 at 20:43:00
I would love to say something positive and different about today's performance but you have all beaten me to it. Just wonderful.
John G Davies
196
Posted 15/01/2017 at 20:45:34
Darren.
The fact that Michael's article is titled, "Fantastic young Blues roast city and Sones" probably invites comments about him.
John Pierce
197
Posted 15/01/2017 at 20:51:22
Nice to a see a performance to be proud of.
Credit to Koeman for playing a balanced side. Many on here suggested a 3-5-2, it definitely benefits several of our personnel better.
Coleman and Baines look less exposed, Williams of the player at Swansea. Good mix in midfield, perhaps all three are different.
So winning at Palace next week is the only way to consolidate today's excellence.
David Hallwood
198
Posted 15/01/2017 at 20:52:07
Darren(194). yes Stones is progressing instead of a major mistake a game he's now doing 2.
Take our 4th btw beautifully put away by Lookman... Stones turned into traffic and got caught; how many seasons has he been doing that? His decision making and positional play is poor and not getting any better
IMO Stones flatters to deceive; he moves like a thoroughbred but forgets the basic reason why he's on the team and that's to defend.
Great piece of business to get the money we got for him.
Freddy Maldonado
199
Posted 15/01/2017 at 20:54:55
Just got done watching the match on my DVR.
Wow! We plastered them-absolutely wonderful moment! Davies running into the crowd shows his love and heart for this club. Lookman scoring just brought me to my knees at the end. I'm a grown man but I choked up. Everton was in my soul today and it feels magnificent.
Thank you Everton!
Oliver Molloy
200
Posted 15/01/2017 at 20:56:30
"When he matures into a player who makes his own decisions rather than a boy who follows instructions, the blind will begin to see".
Darren, if you saying Stones never makes his own decisions, I would have to disagree.

Kevin Tully
201
Posted 15/01/2017 at 20:57:16
I just hope all Blues who have wanted the manager sacked over the past few weeks, or even months, will stick to their guns.
One result couldn't change your mind, surely? Because if it did, what would that say about your opinion?
Come on, let's hear you call for Koeman's sacking. You know who you are. Have some balls.
Raymond Fox
202
Posted 15/01/2017 at 20:59:18
Totally agree with John (#190), we are in the position until the end of the season were we don't urgently need more players. We have young players the likes of Galloway, Browning, Pennington, Dowell, Calvert-Lewin all on the side lines.
I realise that 1 or 2 are injured and a couple are on loan but all show plenty of promise. I'd prefer to wait till the summer and then splash big money on 2 or 3 serious players.
Dave Williams
203
Posted 15/01/2017 at 21:00:40
ps: I thought Ross was excellent and was actually getting stuck in. I agree with a lot of others when they say that having Tom alongside him will help as he will create space for Ross and also set the sort of tempo and example which Alan Ball used to do which rubbed off on the rest of the team.
Ross has to be signed up and Robles is looking very confident, sharp and absolutely enormous in goal! He could yet be the answer if given a decent run.
George McKane
204
Posted 15/01/2017 at 21:03:07
Just got in... a bit worse for wear. Fantastic day – French TV Filmed me all day at The Dark House. Before the game, I showed them my betting slip: Everton 4 - 0 Man City 100 to 1.
Great feeling inTDH after the game... Yahoooo – more tomorrow.
Mike Green
205
Posted 15/01/2017 at 21:04:38
Man City had their chances in the first half and had they taken one / been given a penalty (not beyond the realms of possibility), it could've been a very different story. But, we battled and got our game together and bit by bit put them well and truly under.
Spectacular performance by Davies, Ross did really well but needs to work on instinct which is when he really can cause trouble and hats off to Rom for a complete 90 minute performance and not fluffing his lines to get us off the mark. AND a goal and assist from Mirallas – swoon .
Please let this be a glimpse of the future. Add Gana and Bolasie to that with a few more quality options and we could have a real team on our hands – all brought to life by the spark that is Tom Davies.
Oh, and yes, take a bow, Joel Robles!
Darren Hind
206
Posted 15/01/2017 at 21:08:51
Get in George.
Fella behind me had 3-0. He still celebrated like a proper blue when the 4th went in.
Incredible shout from him, even more incredible from you
Stan Schofield
207
Posted 15/01/2017 at 21:10:42
This performance underlines the fact that we do have a talented squad, with or without new signings, provided they're organised well and gel as a team.
Ray@188: It's dry January for me too. Drinking only well-hopped, dry beers, several of which will be consumed during MotD.
Tony Abrahams
208
Posted 15/01/2017 at 21:19:33
Save it for another day, Kev, and let's just enjoy what we have just witnessed today. Made up for George, who always cheers me up on matchday!
Damian Wilde
209
Posted 15/01/2017 at 21:20:16
We were superb. Defence so solid. Baines & Coleman bombing forward, Coleman outstanding. Robles commanding and containing.
Davies – MotM. How many of us said he should have been playing months ago!
We played 'football' today – more like it. Holgate & Davies give energy & verve to our play.
Barkley was good in patches, but when he had time, he gave the ball away with appalling passes, the lad is thick.
Fantastic display, enjoyed the game so much. 😀 And brilliant for the new lad as well, everyone's beaming! COYB.
Andy Crooks
210
Posted 15/01/2017 at 21:24:20
Darren (#194), I was going to suggest to Michael K that the title of the piece was a little unfair "... City and Stones", however, the absolute secret of his reports are the fact that they are written by a fan as the game unfolds and are unique.
Stones is, in my view, a top player and I will always wish him the best. What did you think of the mighty Lukaku, by the way?
Andrew Wayne
211
Posted 15/01/2017 at 21:25:13
I have just watched the match back again having recorded it whilst we were at the game today. Absolutely wonderful stuff – still grinning like a lunatic.
There just aren't many better moments than Tom Davies' goal and his leap into the arms of the Gwladys Street or our new baby-faced assassin Ademola scoring at the end. The only thing that could top this is an announcement of the new ground on the waterfront tomorrow.
The most striking thing was the togetherness of the team when they scored and at the end. Sheer joy and brilliant to see.
Alan Bodell
212
Posted 15/01/2017 at 21:28:04
That was just about as good as it gets, Holgate and Davies never put a foot wrong and oh, we have a future to really look forward to.
I hate Clattenburg with a passion ever since the derby when Carragher threw Lescott down in the penalty area and waved on and when young Tom scored that beauty and embraced the Gwladys Street.
I could cringe if he bought out a card but no, he had some decency there; otherwise, I think he wouldn't have got out of the ground in one piece but oh, just a perfect day.
Patrick Murphy
213
Posted 15/01/2017 at 21:28:38
It's not very often you come away from the game and five or six players are vying for the Man of the Match award. Mirallas, Holgate, Robles, Davies, Barkley and Lukaku could all have been awarded the award without complaint, but it had to go to Davies because of his influence on the game, his pass for the opener, his clearance off the line, his first goal for the club and – possibly the most important – his discipline for the whole 90 minutes.
Of course city could have won a penalty but to say that things went Everton's way is to undermine the performance of the whole team, they worked their socks off when it was needed and then added the killer punches when required, that isn't being lucky – that's being very good at what they were trying to do.
In fact I would say it was one of Everton's best victories over a 'superior' team in the last 10 years, perhaps longer. We weren't hanging on by our fingernails we had a plan and executed it almost perfectly. It was one of those games where you can say, if you were lucky enough to be in the ground, "I was there!" – that matters and hopefully there'll be many more such days to come in the future.

Peter Cummings
214
Posted 15/01/2017 at 21:34:58
I can't really add to the accolades on TW, everything I wanted to say on todays performance has been said in spades by the best fans in the game.
We were up at 5 am here to get organised for the 8 am kick off and boy was it worth it, must admit after the Leicester disaster we weren't too optimistic but being real Everton diehards we lived in hopes that City would have an off day and reckoned if we could get a point we would be happy.
Suffice to say that the Grand Old Lady came good big time and showed why we love her, courtesy of a performance both on the field and from every vantage point occupied by the faithful inside her, you guys were absolutely FAN-tastic!!! COYB
Brent Stephens
215
Posted 15/01/2017 at 21:40:25
"Just curious whether there is anyone out there who still thinks we should have turned down 㿛½million for John Stones?"
Can't be many. Good piece of business. The difference between Holgate and Stones IMO is decision-making. Holgate already looking cool (as Stones can look) but also has better decision-making.
Andy Meighan
216
Posted 15/01/2017 at 21:40:28
Patrick (#213),
I couldn't agree more. Easily 6 if not more could have walked away with MotM. Unbelievable performance, unbelievable day... to slaughter a side a like that was sensational and I mean that was a slaughter.
I'm so happy tonight. I'm passed out now and I'm up for work in a few hours.
Everton, I love you!!!
John Pierce
217
Posted 15/01/2017 at 21:41:57
Mike Green, good post. Tell me how do you work on instinct?
Jon Bentley
218
Posted 15/01/2017 at 21:42:09
Mike (#191)
I think NBC said the first time "for Everton" that 2 teenagers scored in the Premier League. At least I think that's what they said, as I was delirious at the time!!
Superb feed, whoever recommended that, by the way.
Darren Hind
219
Posted 15/01/2017 at 21:45:06
Andy,
I was made up with Lukaku. His goal was not as easy as he made it look. Great work from young Tom and Mirallas, but it's difficult to let a ball come across your body like that. You can look a twat if it doesn't come off, but he was emphatic. Gave us a terrific foundation to build upon.
I was delighted with a few today. I've criticised Funes Mori in the past but fuck me he was taking no prisoners today – loved seeing Aguero whine and bleat at the ref throughout the entire second half.
There are a few obvious candidates for MotM and I wouldn't argue with any, I think our Rolls Royce of a left back is beginning to purr again.
Paul Tran
221
Posted 15/01/2017 at 21:48:32
I don't think Koeman did anything different today. The players did it for him. Can they do it consistently? I hope we're still searching for reinforcements. We need them.
John G Davies
222
Posted 15/01/2017 at 21:58:22
I agree, Andy, about Lukaku. A monster if he allows his aggression to show.
Darren re the questions asked by a couple of posters earlier.
1) Would you swap Stones for Holgate?
2) Do you think we should have turned down 㿛½ million for Stones?
Kevin Elliott
223
Posted 15/01/2017 at 22:01:30
I said it on another thread and ill say it again.
Davies is a dirty fucker... Something we have been crying out for for years.
We have a serious player on our hands.
Teddy Bertin
224
Posted 15/01/2017 at 22:04:15
Everton beating the team that started the season as title favourites 4-0 and delivering the "world's greatest manager" his biggest ever league defeat isn't on the BBC home page, but Liverpool drawing 1-1 with a team and manager that were nowhere last season is the top story.
Lewis Barclay
225
Posted 15/01/2017 at 22:24:25
Don't care about John Stones after the 90 minutes finished today. Just care about another convincing win at Selhurst Park next weekend.
I'd love to see us barely drop a point for the rest of the season.
Ernie Baywood
226
Posted 15/01/2017 at 22:27:04
I'm struggling to think of the last time I smiled like this at an Everton performance. Great stories running right through it and all underpinned by good old fashioned hard work.
For all the modern football geniuses, there's something in just applying yourself to a task. Why on earth don't they get it?
Mike Green
227
Posted 15/01/2017 at 22:28:36
John (#217) – by instinct I think I mean not getting the ball, thinking, looking up, giving it a touch, having another think, looking up, touch, then pass. I mean getting the ball and giving it to the best option on the table at that point – which is what he's capable of – until he starts thinking it all through too much.
In my opinion. Davies seems to illustrate this by attacking the situation at hand with immediacy and speed which shits the life out of the opposition because, once they've tried to work out what's going on, the moment has passed, and so has Davies. But then I might be talking complete bollocks.... :)
Tony Abrahams
228
Posted 15/01/2017 at 22:28:46
I was made up with everyone today, especially Ashley Williams, who played like the reason we signed him, but have to agree with Darren, about Baines, who is an absolute pleasure to watch.
James Marshall
229
Posted 15/01/2017 at 22:29:11
Avoided the result due to working all day. Just seen MotD and nearly choked on my tea and biscuits! I think I woke my elderly neighbour up as well!
Magnificent stuff. Tom Davies looked class, and the team looked extremely impressive. Loved Davies's and Lookman's goals. This is why we keep coming back for more...
Tom Bowers
230
Posted 15/01/2017 at 22:38:39
Paul Tran, you are so right. System was the same and the opening 20 minutes was the same but the players showed more intensity after that and even Mirallas stepped up to the plate with a really fine goal at a crucial time.
Davies was the catalyst and Barkley responded with Robles also playing a part at vital moments.
Let's hope now they can get a good run going and continue the good work against woeful Palace.
Tony Hill
231
Posted 15/01/2017 at 22:52:55
What's encouraging is that we look to be developing a bit of nastiness, bite and craft. We disrupted a few passages of play today with niggly fouls (I accept we gave away too many free kicks in dangerous areas) but we were physically imposing in that game, stronger than them.
Schneiderlin will add more steel in due course. That's one of the things we've lacked most: presence in games, hard and edgy play. If we keep that going, then we will have a formidable base.
James Watts
232
Posted 15/01/2017 at 22:57:32
After last week, I had pretty much given up on this season. When I saw the team Koeman put out, I thought screw that, I'm off to bed, not watching us get tonked again.
8 hours later I wake up and see the score. WTF?!?! Am I still dreaming?!
Just wow.
I'm now going to watch the game with a smile on my face, for once.
Brian Hennessy
233
Posted 15/01/2017 at 23:00:11
Oh my God, just watched MotD and Phil Neville is delusional – he has just said John Stones didn't make any mistakes today.
Thank heavens for Shearer – at least he called it as it is. Still, nothing can take away from our performance today, Davies's goal looks better each time I see it.
Brian Wilkinson
234
Posted 15/01/2017 at 23:00:48
I cannot fault any player today, superb team performance, special mention to Robles, he's quicker off his line now, starting to catch instead of punch and yet another clean sheet.
Ronnie, ffs, do not change a winning team; learn from your past two mistakes in changing a winning team.
Peter Fearon
235
Posted 15/01/2017 at 23:03:30
The knowledge that fresh players are coming into the side seemed to focus the minds of a couple of players who have been dragging their arses, like Gareth Barry, Kevin Mirallas and Ross Barkley. Davies and Holgate are obviously playing to keep their places.
Yes it is a special moment to savour but, no, it will take more than one result to change my view of Koeman. This is all about consistency, not individual results.
I loved this performance and the determination, industry, graft, organization and flashes of brilliance but I want to see this level of play more often before getting into full-fledged "The School of Science is Back" mode.
Graham Mockford
236
Posted 15/01/2017 at 23:09:15
A hugely enjoyable result but actually it all went our way. Getting carried away is as ridiculous as those strangely quiet posters who were calling for Koeman to go after last week's result.
He needs two more windows to form the squad he can call his own. There are some reasons to be positive. We have tightened up defensively and we have a number of good young players coming through.
We didn't get kedgeree in the People's Lounge. Ham, mash, black pudding and beans was the rather strange fayre served up. And just for a change all the chocolate chip cookies had gone by the time I got down for my half-time cup of tea.
Brian Wilkinson
237
Posted 15/01/2017 at 23:17:26
Graham @236, spot on.
I'm not sure if you saw my post last week, when some were blowing a fuse. I said then, chill out, stop whinging and will only help in the transfer market and a bit of youth given a run, now our cup run is over.
He has bought well in the window, finally trusted in youth and a couple more signings will go a long way to building for next season.
Andy Crooks
238
Posted 15/01/2017 at 23:17:32
Tony Hill, I agree, we had a bit of edge today. Our young players had the day of which memories for life are made. Good luck to them. What a fucking wonderful day.
By the way, for Koeman to give Lookman a chance today suggests to me we have made a special signing.
Oliver Molloy
240
Posted 15/01/2017 at 23:25:28
Peter,
Mirallas and Barkley have definitely upped their work rate. I don't think you could accuse Barry of dragging his arse. He may not have the legs for 90 mins, but he has always been committed and given what his body will allow.
Peter Carpenter
241
Posted 15/01/2017 at 23:35:58
Phil Neville - the Father Dougal of football punditry.
Kev Johnson
242
Posted 15/01/2017 at 23:36:07
Finding it hard to get to sleep, the smile on my face is keeping me awake.
Dan Davies
243
Posted 15/01/2017 at 23:39:24
I'm all for bringing the young local boys through the system. Let's keep the heart of Everton by bringing through players like Barkley and Davies. The more the better. COYB.
Eddie Dunn
244
Posted 15/01/2017 at 23:40:22
Sorry if anyone else has said this... I just watched MotD after seeing it live on an earlier stream, but well done to Clattenburg! He didn't give them a pen (in my opinion ,rightly) as Baines slid helplessly on the greasy turf, and Robles had already positioned himself on the deck for the expected shot.
Also very well done to Clattenburg for not giving Davies a second yellow for his celebration with the St End. Sensible refereeing in a season blighted by some poor displays.
He was also aware of Otamendi's histrionics, booking Rom and the prostrate calamitous defender. Nice to see Rom bashing a few people.
Long may it continue!
Colin Glassar
245
Posted 15/01/2017 at 23:42:02
You're right Graham, one swallow doesn't make a summer or whatever the saying is. We still have a long, long road ahead of us but we can still enjoy today's game.
The signs of something special are there but we still need more and better players to make this sustainable.
Keith Monaghan
246
Posted 15/01/2017 at 23:56:05
A great day for everyone connected with the club today. However, one "swallow doesn't make a summer"; it's great to enjoy it, but we mustn't get carried away.
Koeman has made mistakes, but it's been great to hear our manager talking sense & speaking the truth – nothing wrong in saying there's players here who don't have a future at the club.
We do still need more decent players to compete in the top 6 – a class centre-back, a midfield play-maker who sees passes quickly and treasures possession of the ball, and an alternative striker.
I hope Robles becomes our No 1 – Roberto denied him a couple of seasons ago when unjustifiably recalling Tim Howard after he was beginning to look like a decent goalkeeper after about 7 games on the bounce – he could save us a lot of cash.
Koeman has handled Tom Davies & Mason Holgate well – no good overloading them too soon – we want 10 good years out of them.
Even though his days are numbered, Barry still has an invaluable contribution to make, as he showed today.
Re John Stones, the deal was right for us at the time, but he's still a top player – yes, he makes mistakes, but who doesn't and look at the rubbish defenders & organisation around him – and he's only been in the Premier League 3 years, at least 2 years less than some other grossly over-rated English players.
James Flynn
247
Posted 15/01/2017 at 00:01:21
Davies's goal shows our talented youth all in one flow. A glimpse of what can be.
Of course, he started it. It goes past Rom to Ross. Rom sprints left calling for the ball. 3 defenders, THREE shift with Rom, leaving Davies all alone.
Ross holds the ball until Rom clears the defenders out and lays it on for the kid, who finished with the aplomb of a veteran predator.
Also, please Koeman stay with Kevin behind Rom. Let the other guy worry about Everton for a change.

Darryl Ritchie
248
Posted 15/01/2017 at 00:11:00
5:30 am start time here. I slept in until 9:00; getting up that early to watch us lose is just masochistic.
I checked the score online. 4-0! Well, that was expected, wasn't it Wait a second 4-0 Everton!!!! It's a good thing I recorded the game.
Everything I could say, has already been said. A couple observations, though:
Man City reminded me of Martinez's Everton. Everything sideways and back. It was nearly all meaningless possession. At one point they completed 15 passes in a row, not one in the our half. Sound familiar?
We can beat the likes of Man City and Arsenal, now if we could manage a result against the likes of Burnley and Bournemouth of the league, we should be alright.
Without a doubt, the most enjoyable match in a long time.
Oliver Molloy
249
Posted 16/01/2017 at 00:13:19
Eddie Dunn,
100% penalty to City – nothing sensible about that decision.
Davies never received any yellow card, did he!
Ian Pilkington
250
Posted 16/01/2017 at 00:19:38
One of my best experiences at Goodison since my first game in 1961, particularly pleasing to see Davies and Lookman score. A superb all round team performance.
Mike Green
251
Posted 16/01/2017 at 00:33:08
Peter Carpenter (#241) – that's a brace with your 'cup-tied' comment the other day, keep that quality going and we've got a book! :D
Mike Rees
252
Posted 16/01/2017 at 00:44:16
What a turnaround from last week!! A fantastic response and terrific result! What it is to be an Evertonian!
Let's hope we use today's result as a benchmark for the rest of the season and finish as high as we can in the table... COYB!!!!!
David Pearl
253
Posted 16/01/2017 at 00:57:35
George (#204). Very nice! I had 4-1. I always go for the ridiculous. Once or twice a season something comes in.
Great game in the end. I didn't like how we sat back so deep. Robles looked really assured. Impressed today, he looked solid. I thought Davies started slowly but got better as the game went on. The finish was really good, especially after a long run and getting off the floor.
Barry played better today. I thought the game passed Schneiderlin by a little bit when he came on but he is bound to be a bit rusty. Great substitutions though to be able to bring on quality for a change. And Lookman was the icing on the cake.
Baines also has his best game in a while. Helped by being able to play further upfield with Funes Mori covering. My only other gripe would be Robles playing too many long balls.
Also Mirallas had a great game, although he seems to make the same runs as Lukaku which doesn't help Ross. Let's hope we carry this into the next game. The players seem to have left the nervous endings to distant memory.
I admit I liked how Martinez 'wanted' to play football but he just couldn't get across to his players the importance of stopping the cross. Koeman demands more. From the players and the board. Now we have to keep this up...
Derek Thomas
254
Posted 16/01/2017 at 01:05:48
Really pleased for all concerned, you didn't need a video feed to see the big smiles on the Live Forum... But – You're only as good as your next game, next up that perennial banana skin, the rapidly sinking Palace, who even under Fat Sam, can't buy a win, though will probably have 3 or 4 who haven't scored all season/for 18 months/ ever... they're the sort of games we need to be putting out this sort of performance... anybody can have their 'once a year day' - once a year.
On the other hand maybe Koeman is slowly getting it right... If so, everybody on the field yesterday must have it drummed into them that this is now the required standard, the benchmark, the bare minimum required... or else Palace will do their banana skin / Fat Sam inspired rope a dope trick on us.
29-71% possession – don't believe a word of it. Whoever is counting whatever it is they count needs to take off their Sky specs. This figure was flashed up after 20 mins. Was the game so standardised and evenly pace (in City's favour) that those 20 min figures remained the same until the end – total Bollocks. This is just the sky paid pass counters pushing the sky big 6 based narrative.
Pep has more problems than Koeman at the moment, but he has more money to throw at them as well. One being that his (and Martinez's) brand of possession football doesn't go too well in the Premier League for very long. If Koeman really wants Van Dijk, I think he will have to move soon before Pep does.
Peter Fearon
255
Posted 16/01/2017 at 01:07:25
Oliver, yes I agree. Barry's arse has been dragging for different reasons than, say, Mirallas. But still...

Bill Watson
256
Posted 16/01/2017 at 01:11:17
Oliver (#249),
Tom Davies was booked in the 5th minute.
James Flynn
257
Posted 16/01/2017 at 01:16:04
Whoops, forgot to add, speaking of age, who started Kevin's goal?
Gareth "Needs to be dropped" Barry.
Paul Kelly
258
Posted 16/01/2017 at 01:17:34
Still on high hours later, how good of a feeling must it be being one of those kids, especially Davies? Couldn't be happier for them.
Speaking about Davies, talking to my dad earlier and he told us once that Davies's uncle, Alan Whittle, whilst he was waiting at a bus stop for the ( the football match bus, back in the day , obviously) Alan Whittle pulled up and took him and his friend (a young lady, 18 years old, might of had something to do with it!) a lift to the match in his Capri. Good man. Better result.
Mark Wilson
259
Posted 16/01/2017 at 01:56:42
That win was far better than the silly verdict delivered by the god-like Pep. City possession was mostly sideways, little to really hurt us and actually they created few chances.
We deserve a few more like that after a pretty disappointing, dire at times, first season for Koeman. Of course if we win all our remaining games who knows !!
Davies showed why many wanted him in the side two months ago. Similarly Holgate. Though I have to say both exceeded any expectations by a long long way.
Mirallas had a cracking game, Ross dink for Kevin's goal showed real class and tho I thought he had a decent game there were still a number of hugely frustrating moments but, there's a bloody voice screaming in my head, don't sell him, don't sell, give him these next few months with new players around him from further January purchases, and Morgan and Davies / Gana bossing midfield and creating space.
Days like this are sadly rare for us but boy – it was just so good to watch.
Jay Wood
260
Posted 16/01/2017 at 02:03:39
Graham @ 236.
"A hugely enjoyable result but actually it all went our way. Getting carried away is as ridiculous, etc."
I see plenty in this thread celebrating a much merited victory in a single game. I don't see much in the way of 'getting carried away' with said single victory.
I'm puzzled by your claim (and 1 or 2 others) that "actually, it all went our way" which implies we were some how fortunate and denigrates the performance somewhat.
How did it 'go our way?' If it went our way it is because we MADE it go our way, not due to City's failings. Other than the Sterling 'penalty' incident, when else did they genuinely threaten our goal?
That was because our defensive lines, twixt midfield and defence, were tight and made it difficult for City to play through. When they did encroach and get into the penalty area, I thought Robles was superb in tidying up everything.
I liked the matter-of-fact way he gathered in the ball, tucked it under one arm and strode forward with it, looking to start a counter, with the air of "is that all you've got?" For possibly the first time since he arrived at Everton, for me he showed today he could be a genuine option (although I am not averse to signing a proven top-top goal-stopper, if possible).
Our 1st goal 'went our way' because, successively, Mirallas, then Barkley, then Coleman pressed the City man in possession so they coughed up the ball to Davies. Tom, Mirallas and Lukaku were all alive to the situation. Mirallas set off pointing where he wanted the ball, Davies delivered a perfectly weighted through ball, Kev's sharp turn and 1-touch pass into Lukaku (who held his position well in anticipation of the cross) who finished with a crisp 1-touch finish.
The 2nd goal had similar features. Lukaku and Barkley both press City players. Toure coughs up the ball to Barry who plays a very cute ball to Romelu. Rom almost puts in Mirallas with a through ball, barely cut out by City. Ross is alive to the situation, is 1st to the loose ball and plays a delicious 1st time ball into Kev who is equally alert, takes one touch and places a great shot across the keeper. 2-0. Nothing fortunate in that one either. Just good team play, pressing and technique.
The 3rd goal started with Holgate snapping at a City player which turns over the ball. Tom Davies picks up the loose ball deep in his own half and a Goodison eternal memory is created. His run into the heart of City's half. The deft flick whilst running at pace which takes him clear of 2 City players in close attendance. The pass inside to Rom-Ross. Tom getting clattered to the ground, but still with the desire to pick himself up off the floor to take advantage of Ross's (again...) vision and incisive pass. The composure to dink it over the keeper as he did. Nothing fortuitous about that at all.
In between the 3rd and 4th goal, who like me enjoyed when Sterling slyly left one on Davies how both Tom and Holgate confronted him? More of that please boys. Show the opposition we are not going to meekly accept such aggression and – as in the all-conquering side of the 80s – we have 'avengers' and 'enforcers' who will look after their mates in the team.
Then finally the 4th goal. Holgate plays a ball down the flank and Coleman sets off to press Stones. Even BEFORE Stones's attempted clearance ricochets off Seaumus into the City area, Lookman is alive to the possibilities. He sprints past the other City central defender and is rewarded for his anticipation. His 1st touch to control the dropping ball is sublime. His finish from an angle clinical.
There were other chances that fell our way other than the registered goals. Don't forget also the incisive move for Kev's offside 'goal' early on, again created by good pressing and incisive passing.
City gifted us nothing. It was our play that created the situation for all our goals. Having set a standard, the challenge is now to maintain and build on it.
Keith Glazzard
261
Posted 16/01/2017 at 02:22:55
I just came in to say thanks to the lads, everyone of them, for the best birthday present I can remember getting (I try to avoid them these days!)
Amazing isn't it, a lad like Tom Davies can make Rom and Kevin look like the class players they are and can inspire Ross, who so easily loses his way if the team isn't buzzing.
Tom will have to be protected, nurtured. City aren't a kicking team (Sterling did his best but he is just a kid) and he perhaps shouldn't start against some of the dirty bastards in the league. Not for a while yet anyway. But we can wait.
Mick Davies
262
Posted 16/01/2017 at 02:30:30
Kevin Tully @ 201, aren't you the brave one? Never heard you going against the majority on here when we were calling for Davies and Holgate to play, and Jagielka benched.
One game after 5 months of shite, and tamely exiting 2 cups doesn't make some of us forget everything. We all want Koeman to succeed and Everton to be successful, but we don't want the side to regress now.
It has to be a settled side, full of pace and fight, starting at Palace, then we'll know if he got it right today, or it was a one-off.
David Pearl
263
Posted 16/01/2017 at 02:34:35
Confidence, self-belief. It grew today. Koeman has to make sure it's not a one-off.
Pep. Poor guy gets another top job handed to him. Not a one- or two-horse race this league though! I'm sure it might be different with Messi, Iniesta, Xavi etc in his team. What will he do? Pretty interesting.
That playing around at the back including the goalkeeper. It probably seems like genius in his head... as long as the opposing team don't close them down. Did Aguero even play today? Always rated De Bruyne but where was he? Great performance!
Ernie Baywood
264
Posted 16/01/2017 at 02:49:59
David, I'm not going to write off Pep just yet but there does seem to be a misunderstanding about how this league works. You can't just play 'your style' and assume that the fact you have more expensive players will win out.
City again did exactly what they did against Leicester and every other team. Tippy tappy and the whole team moves up the pitch. It's suicide to play against us or Leicester with that kind of high line. We've got the players to withstand and counter – as do many in the league.
So Koeman got it dead right today, but anticipating what Pep will do isn't exactly difficult. The performance still needed to be good and we were resilient and organised in defence and clinical in front of goal. Also, we had a bit of luck in the first half with the missed Sterling and Silva chances and the Sterling penalty appeal (I thought it was 100% a penalty on replay but couldn't tell what had happened in real time).
Onto Palace. COYB!
Bill Gienapp
265
Posted 16/01/2017 at 03:18:50
Loved the look on Schneiderlin's face while celebrating the fourth goal. I'm sure he was like "Geez, I could get used to this – how come you guys aren't top of the table??"
That Lookman goal was special. I remember thinking, when the ball deflected off Coleman's body and landed at his feet – "There's no way... there's NO WAY..." What a truly awesome moment – even Koeman was shaking his head and grinning like a Cheshire Cat.
No tears for Pep, who might have to do some honest-to-goodness WORK for once refurbishing City's roster, and even less for Stones, who's still out there doing the same silly shit he did for us (he should also ease up on the ink, as the tats don't suit him at all – what, is he supposed to be some sort of badass now? Come on).
Darryl Ritchie
266
Posted 16/01/2017 at 03:42:30
I have a question. Who was captain today? I looked for an arm band, but no one was wearing one.
David Barks
267
Posted 16/01/2017 at 03:45:36
Darryl,
Barry was captain and then passed it to Baines when he went off.
Gary Russell
268
Posted 16/01/2017 at 05:13:49
Ernie @264,
'Also had a bit of luck in the first half with the missed Sterling and Silva chances...'
Silvas chance was Robles saving our arse, that's what I witnessed anyway. He was also off his line and in Sterling's face for his two chances. Robles has never been given a run and deserves one after waiting in the wings for over three seasons.
As much as we all go on about the money they make etc; goalkeeper is the hardest position for me and you get crucified for a mistake while outfielders get more leeway due to the nature of the position. To keep your head down and sit on the bench season after season must be tough, no matter how big the wedge is.
Tom's goal came from Holgate dispossessing Sterling with a great tackle to set him on his way. Fan-fucking-tastic game.
Alan J Thompson
269
Posted 16/01/2017 at 06:38:10
John Daley (#93); Rigsby, aka Len Rossiter, was, I believe, a Wavertree lad as is Barkley and Alan Whittle's family have lived in that area for generations.
Anthony Dwyer (#166); who would swap Stonesy for Holgate? Err... Man City.
Will Mabon
270
Posted 16/01/2017 at 07:13:32
There's one thing from City that impressed. Though they simply didn't function today and gave us very few moments of worry, right up until the fourth goal they kept trying.
They did have appreciably more possession (it was not 79-21 though). We had them comfortably contained for much of the time but they kept plugging away and trying to build, kept coming, ineffective or not. That kind of commitment should be a given for a serious team.
Have to say the unmentionables were the same today at the Theatre of Queens. buzzing around endlessly in those horrible barf-inducing luminous kits. Takes great fitness.
Jon Bentley
271
Posted 16/01/2017 at 07:30:18
Do you know what else made me smile? Other than the goals, grit, determination, debuts, young players etc etc (what did the Romans ever do for us hey?!) was the sight of Robles running the full length of the pitch to celebrate number 4... pure joy for the result and our goal scoring foetus.
Dave Pritchard
272
Posted 16/01/2017 at 07:56:46
The youngsters took centre-stage but a word for the older players as well as they all put a shift in. Also well done Clattenberg for not giving them a pen even when it was one. Rare feeling after a game this season – similar to after the Arsenal game.
Important now not to make it just the one great performance followed by several average to poor ones which is what happened after beating Arsenal.
Andy Walker
273
Posted 16/01/2017 at 08:04:47
Darren (#153), 'Rank bad management made us ugly and got us knocked out of both cups' that mate is not a fact, it's your opinion.
Others might say we got knocked out of the cup because the players didn't deliver and should take responsibility. Your own valid opinion on stuff doesn't make it fact.
Ian Jones
274
Posted 16/01/2017 at 08:05:50
All this analysis about matches is as useful as a Man City defence. Looked at www.fourfourtwo.com which I think get their info from Opta. If possession is about the number of passes, the maths add up:
673 passes for city. Everton 267 passes. Total 940 passes. Man City percentage: 71%. Everton 29%.
As many on here and various pundits have often said, it's what you do with the ball that counts. Tippy tappy stuff is fine if you don't want to lose possession. After all the opposition can't hurt you if they have don't have the ball. Blah blah blah.
However, sometimes, watch out what happens if you do give them the ball. :)
We know as much from the last season or two.
Also re assists. I have mentioned this before but there should be a stat recorded for the assistee to the assist. Tom Davies won't have his pass recorded for the ball through to Mirallas for Lukaku's goal. We know. He knows. But records don't. This type if pass is often the key to a goal, not the assist.
And well done to Clattenberg for not booking Davies for his audience participation.
Tony Abrahams
275
Posted 16/01/2017 at 08:17:06
Mick (#262), leave it for another time, which I'm sure will come, and just enjoy the positives, wherever they have come from?
Like most people, I Never saw that coming, but it was obvious from early on we just looked a lot more solid and organised.
James 257, I'm glad you brought that pass up. It was the pass of the match for me, very clever, and showed how valuable a three yard pass can sometimes be, but I don't think you can argue that Barry has looked very poor lately, and was lucky to start yesterday's game?
I think if you read Ken Buckley, he says that Barry needs to play every game, because when he stops, he takes a bit of time to get back up to "his speed" but he does bring a lot of order to Everton's play, and he's also got a great football brain as well.
Graham Mockford
276
Posted 16/01/2017 at 08:28:22
Jay (#260),
You have four shots on target, you win 4-0. It's fair to say things go your way. That doesn't denigrate the performance, we fully deserved three points especially for the excellence of our defending.
And for getting carried away, I give you post #12.
Les Green
277
Posted 16/01/2017 at 08:44:34
A great and famous win, but did anybody else notice that Rom still didn't smile after his goal, but he couldn't help himself when Tom Davis scored – he looked really pleased for the lad.
Laurie Hartley
278
Posted 16/01/2017 at 09:01:15
I am not dreaming am I? I have just watched the 20 minute highlights twice. What a performance!
First up let me say I have been a big critic of Lukaku and to a lesser extent Mirallas but it was those two who set us up for this great win. No doubt about it Mirallas is a top class second striker he took his goal beautifully and what a set up for Lukaku who took his chance with aplomb.
Lukaku looked to me for the first time for some time like he was part of the team. His reaction to his team mates goals was fantastic and the smile on his face when he congratulated young Lookman was priceless. Come on Romelu – more of that and we'll love you again.
By the way I thought the youngster deserved his goal – he was "lurking" for that rebound, beautiful first touch and finish.
Credit to Koeman also for starting Tom Davies ahead of McCarthy. That lad is royalty. One of the things I really liked about his performance was his headed clearance off the line. When that cross went over his head he made straight for the back post – well done Tom. He has got a bit of mongrel in him too as displayed when Sterling left one on him.
I was wrong – the season is not over – not by a long chalk if we keep playing for each other like that. As Ken would say – Oh the joy!
Liam Reilly
280
Posted 16/01/2017 at 09:23:37
This reminded me of our captitulation at Anfield in Martinez's first season, where Everton had all the ball but not in dangerous areas and were picked apart on the counter.
Great performance but Palace will play a lot more direct than City and won't leave those holes at the back. So it'll be interesting to see if the side can show some guile and break them down.
Jon Davis
281
Posted 16/01/2017 at 10:27:15
Maybe we can play catch up to Man Utd, Liverpool and the rest, maybe that will be a fun target for us – play predator to their prey? That should give some more meaning to the remainder of the season – overtaking one or more of these has to be our target now, they can't win every game and we gained two points on two of the top 6 yesterday alone.
Did anyone see Sky Sports 1 last night where they did the final round up towards the end of the show? Thierry Henry asked Carragher if he was still an Everton fan live on air, Carragher didn't have a reply aside from pulling an awkward face.
Lolz.
Roger Helm
282
Posted 16/01/2017 at 10:54:32
Have watched Tom's goal a few times and it just gets better – the goal of the season? The strength for a 70-metre run under pressure, great balance and quick feet to cut inside, quick one-two with Rom, gets knocked down and bounces up again, and after all that the composure and skill for a perfect little dink over the keeper.
I know Tom's no Lionel Messi, but if Messi had scored that, we'd be watching it on YouTube forever.
Jim Murphy
283
Posted 16/01/2017 at 11:34:20
I thought it was great the way Lukaku went over to Lookman as he was waiting to come on and had a word in his ear. Absolute class and real togetherness.
Lukaku gets some stick at times on TW but he showed another side yesterday, even carrying the mascot around before kick off. Well done, Romelu.
Jay Wood
284
Posted 16/01/2017 at 11:57:16
Graham @ 276
"You have four shots on target you win 4-0. It's fair to say things go your way."
That continues to imply (in the context of your earlier post) we got lucky. We didn't. I've given you detailed analysis of each goal that demonstrates we made our own 'luck.' It wasn't gifted. It was part of an overall game plan that the players, for the first time this season, successfully applied over the entire 90 minutes of the game.
Each goal we scored yesterday resulted from a mix of aggressive pressing, incisive passing, good technique, good awareness and clinical finishing that ripped City apart. Nothing 'lucky', or 'gifted', or fortune 'going our way' about the goals or the result, AT ALL.
As to your reference to post 12 as some sort of supporting 'evidence' that folk in this thread are "getting carried away" after a single decent performance, if that's the best you can draw on from nigh on 300 posts to justify your claim, for me, it only serves to negate it. It's clearly a euphoric one liner very soon after the final whistle.
James Macdonald
285
Posted 16/01/2017 at 12:06:33
Not keen on denigration by Evertonians of John Stones... a few reasons:

(1) He was the least bad of their back four;
(2) I'm not sure he can be blamed for last goal – pure bad luck... 9/10, the ball would have deflected off or somewhere not dangerous;
(3) He did not do a Costa, Payet or Sterling when leaving and we cannot really fault him for personal ambition;
(4) Every dog has its day and I am sure we won't enjoy City fans crowing too loudly next time they beat us and John Stones has a good game – and I guarantee this will happen, I am afraid... I had the same feeling in reverse after we lost this season and there were loads of Saints fans gloating about Kidman;
(5) Strikes me John Stones is genuinely a good lad generally and deserves a break; and
(6) Probably £47½ million was significantly inflated and we are the net winners in terms of the benefits of the proceeds in that transaction.
Jamie Barlow
286
Posted 16/01/2017 at 12:10:33
It's not pure bad luck for our fourth. He could have just simply put the ball out of play.
Somebody said yesterday that the difference in Holgate and Stones is, Holgate wants to defend, Stones wants to look good defending.
Graham Mockford
289
Posted 16/01/2017 at 12:30:44
Jay,
I would concentrate on what I said, rather what you imply I said. I said 'we fully deserved three points'. You say I imply 'we got lucky'.
My only point was that to win 4-0 when you have four shots on target requires an element of good fortune. I suspect I haven't seen it happen before. That's completely different than saying we were lucky to win.
As for getting carried away, people should fill their boots but of course in the same way as losing the previous week didn't mean it was time to part company with the manager, this week's win doesn't mean we've got it cracked.
James Marshall
290
Posted 16/01/2017 at 12:38:35
I've just read that today is meant to be 'Blue Monday', the most depressing day of the year... Well today really IS a BLUE Monday for all the right reasons!
(And I have a date with a really hot girl tonight!)
Anthony Hawkins
291
Posted 16/01/2017 at 13:01:40
Robles doesn't get much of a mention but he seems to have performed really well and should take a lot of credit from the game.

Jay Wood
292
Posted 16/01/2017 at 13:17:01
Graham @ 289.
And you should concentrate on what I said (and possibly acknowledge the implications of your own words as they could be legitimately read by others).
The very first lines in my post @ 284, first quoting your words in your post @ 276, were:
"You have four shots on target you win 4-0. It's fair to say things go your way."
(My words...) That continues to imply (in the context of your earlier post) we got lucky.
*****
My words reference the opening words of your post @ 236, in which your opening lines were: ""A hugely enjoyable result but actually it all went our way. Getting carried away is as ridiculous, [etc.]"
Yes, you acknowledge the pleasure you derived (like, I hope, all Blues) from yesterday's emphatic win. But twice, your words do serve to denigrate the result, unjustifiably IMO.
Kevin Tully
293
Posted 16/01/2017 at 13:19:05
Eugene, were you in Row B seat No 33 yesterday, by any chance?
Graham Mockford
294
Posted 16/01/2017 at 13:53:39
Jay
Are you hard of thinking? I could not be clearer.
Deserved to win, scoring four goals from four shots is statistically rare. Simple really.
Michael Neely
295
Posted 16/01/2017 at 14:24:46
Anthony (#291). Spot on, mate, Robles was really good yesterday. His kicking was especially good and his reading of the game much improved.
Loved it when in injury time, he kicked the ball into the family enclosure instead of picking it up, great bit of time wasting and in no way can the referee add time on.
Soren Moyer
296
Posted 16/01/2017 at 14:37:28
I still think we need to strengthen at the back. Yesterday, at times our deffence was all over the place, but luckily a combination of crap finishing and good goalkeeping stopped them from scoring.
Kim Vivian
297
Posted 16/01/2017 at 14:37:38
Jim (#283). I agree, and no hissy-pissy arm waving and that I saw.
Davies' goal was sheer magic and probably would only come from a precocious teenager. And precocious I would call it – that cheeky knock inside to skin the defenders on him, and then when clattered to the ground by an enemy defender (don't know who it was) instead of staying down like he had been hit by a wrecking ball, as many older pros might have done, he was up and ready when the return came before the equally precocious dink over Bravo. It was almost like park football.
Brilliant. Will be our goal of the season I would wager.
Jay Wood
298
Posted 16/01/2017 at 14:38:24
Nowt wrong with my thought processes, Graham.
You seem to be struggling with yours, focussing as you are on the '4 shots on target = 4 goals = rare phenomena = good fortune' equation, as if that is all that happened in the game. It wasn't.
As described in my earlier posts, there was a deliberate game plan and strategy that the players – for the first time under Koeman – successfully applied across the full 90 minutes of the game.
The four goalscoring incidents did not happen by chance, in isolation, outside of that overall game strategy. Rather, they were the accumulation of a perfectly administered plan.
As I wrote earlier, each goal we scored yesterday resulted from a mix of aggressive pressing, incisive passing, good technique, good awareness and clinical finishing that ripped City apart. Nothing 'lucky', or 'gifted', or fortune 'going our way' about the goals or the result, AT ALL.
There were other passages of play that contained elements of the above that for various reasons did not climax with your simple 'shot on goal = goal, etc' phenomenon, but might have. There were passages of play other than the 4 goals which neither resulted in either a shot on goal or (naturally!) a goal. Capiche?
Or ... is that too simple for you to follow?
Kim Vivian
299
Posted 16/01/2017 at 14:39:51
Roger – (#282). Just reading back through the thread for the first time. You seem to have said it all almost word for word before me. Sorry about that, mate.
Patrick Murphy
300
Posted 16/01/2017 at 14:53:43
Whilst not casting doubt on the talent of the youngsters who played such a major part in yesterday's victory, it is food for thought to see how the previous 15 Everton goalscoring teenagers have fared since they first caught national attention.
Sean Patton
301
Posted 16/01/2017 at 14:58:24
Jon (#271),
I clocked that as well – a lovely touch from Robles. I also liked Koeman rebuking Otamendi for his reaction to Lukaku's gentle shove.
Oliver Molloy
302
Posted 16/01/2017 at 15:09:21
Bill @ 256...
Was he really? I cannot remember seeing that nor can I see it recorded in any reports...
Guy Hastings
303
Posted 16/01/2017 at 15:09:33
Finally gave our new cat a name Toffeecat.
Mind you, had it remained nil-nil at full time after the ref turned down Sterling's penalty appeal, she'd have been Cattenburg.
Brian Denton
304
Posted 16/01/2017 at 15:42:49
Interesting link, that one, Patrick (#300) Of course it only covers real football, ie, Premier League, so didn't mention a certain Joe Royle, who scored quite a few goals as a teenager. Others can no doubt come up with other equally luminous examples.
Once again, I was reminded of the tragedy that was Billy Kenny, a lad with a truly great career in prospect but which he threw away. It was also interesting to read about Michael Branch:
He served three years in prison, and in September 2016, he was training to become an accountant.
He was certainly getting his training in the right place. There's a job for him at Everton when he qualifies .

Patrick Murphy
305
Posted 16/01/2017 at 15:55:05
Cheers, Brian (#304),
As you rightly say, that list only considers the Premier League era, here is a link to all those youngsters who have netted for Everton:
http://www.evertonresults.com/youngestscorers.htm
Jamie Crowley
306
Posted 16/01/2017 at 16:06:35
I was "born Blue" August of 2007.
Can anyone remember a game the last decade that was better than what we saw yesterday?
I've the memory of a field mouse, but honestly that HAS to be right up there with best games of the last decade.
Marvelous! Utter joy yesterday.
Stan Schofield
307
Posted 16/01/2017 at 16:10:26
Patrick@305:
Of particular note is Alan Whittle (Tom Davies's uncle), who in the 1969-70 Championship winning season scored 5 goals whilst 19, and 6 more after turning 20.
I recall he replaced Jimmy Husband mid-season, who had his ankle broken by hatchet-man Dave MacKay when we were playing Derby Co at home.
Tony Hill
308
Posted 16/01/2017 at 16:19:34
He scored a lot of important goals, Stan, including one away at West Ham I remember in particular, one in the away derby and one in the game where we took the title against WBA. A very good finisher who just found his moment with us in that great season.
Stan Schofield
309
Posted 16/01/2017 at 16:49:02
Jamie@286: I'm not too bothered about Stones now he's not with us, but I agree with you. I think he's a cracking player, but not a cracking defender. In fact, it's always struck me that he looks like he should be an attacking midfielder rather than a defender.
It was amusing to see the argument about him on MotD last night. Neville refused to answer Shearer's repeated question as to whether he thought Stones a good defender (not just a good footballer), which to me effectively answered No. Neville ought to become a politician.
Brian Denton
310
Posted 16/01/2017 at 16:51:03
Tony, Alan Whittle scored, I think, six on the trot (not fucking ''on the spin'' as all those arse pundits say nowadays) in the 1969-70 Championship run-in.
I remember especially listening to my tranny when we won away 1-0 at Spurs in an evening midweek. At that point, I knew we would be Champions! We beat them 3-2 in the return at Goodison the Saturday after.
(Note to our younger readers: It was quite common in those days to play both home and away league games midweek and following Saturday. I remember us beating Man Utd home and away in the space of a few days at the start of that great season.)
God, I was spoilt as a kid! Still, Everton have got their own back on me in my declining years...
Stan Schofield
311
Posted 16/01/2017 at 17:05:42
Not only did Whittle score so many in that run-in, but he was incredibly skillful and tricky on the ball, fitting in that team wonderfully. That was true 'School of Science'.
Brian Furey
312
Posted 16/01/2017 at 17:09:59
I think we're quick to blame Kenwright when something goes wrong. Well how about praising him for bringing in Stones and selling for such a profit? Even if it did mean paying off Martinez and Niasse. I see Chelsea paid Mourinho £8.3M as a payoff.
I think McCarthy will want to move to a club where he is playing regularly. I can't see him happy to sit on the bench and play a sub's role. With Davies rising up the ranks of late and showing he can play some good attacking football as well as defend, then I'd say McCarthy could find himself 4th or 5th choice.
It was good to see Mirallas raise his game yesterday as he saw another youngster maybe come in to add some competition for his place. I'd still like us to get a replacement for the right wing though as Deulofeu and Lennon are not good enough.
Yeah our home form with the exception of the derby and Leicester (FA Cup) has been excellent. We've only conceded 7 goals at Goodison and scored 19 in the league. That's better than Man City's and Man Utd's home records.
We seem to raise our intensity and workrate against the bigger teams but let it slip against the lesser teams... like our performances against Hull and Leicester in the cup.
Football matches are strange how they pan out sometimes. Had the ref have given that penalty and Aguero been a yard closer to the ball he slid in for, it could have been so different. But goals win matches and we were clinical yesterday.
I thought the ball in from Mirallas to Rom was amazing as he hardly looked up but still knew exactly where to put it. Days like yesterday will make it harder for Rom to not love life at Everton. Thoughts of him carrying out the young kid with cancer, then him acting as mentor to the young teenagers coming into the side whilst he continues to score goals.
He will probably become our top scorer in the Premier League this season with 5 more to beat Duncan's record of 60. I'd say he looks at Stones and thinks it all could go so wrong.
John G Davies
313
Posted 16/01/2017 at 17:32:29
Stan,
I have said the same about Stones for 18 months. He would be a decent player sitting as a defensive mid. He can see a pass and has a good first touch.
I am afraid he will never be a top class defender as long as he has a hole in his arse.
John G Davies
314
Posted 16/01/2017 at 17:35:17
Brian (#312),
It's nothing at all to do with Kenwright. Even Moyes can't take full credit. He didn't want to sign Stones. His scouting staff had to fight with him to make the signing.

James Hughes
315
Posted 16/01/2017 at 18:00:22
Best thing about yesterday was seeing some steel on the pitch. Holgate and Davies squaring up with the opposition... Lukaku knocking over Otamendi and not apologising, along with Koeman on the pitch backing him up.
A better man than me said, "You can play... but you have to earn the right to play."
Grant Rorrison
316
Posted 16/01/2017 at 18:25:49
John G Davies (#314). Was on his way to Wigan before Moyes finally jumped in. Maybe we should thank Martinez? ;)
Ben Hayes
317
Posted 16/01/2017 at 18:26:24
Mike Gaynes (#191), Not sure if anyone else has said so but we played Arsenal in '97 when Michael Ball and Danny Cadamateri both scored when we were 2-0 down and think they were both 18 at the time.
Patrick Murphy
318
Posted 16/01/2017 at 18:34:06
Ben (#317),
That's correct and in the previous home game against Barnsley, Danny scored his first league goal, as did John Oster, who was also a teenager when he scored.
Ben Hayes
319
Posted 16/01/2017 at 18:40:13
Thanks, Patrick.
I wasn't at that game but remember the Arsenal game as I was there and our comeback was great and Michael Ball was amazing that day and I thought we had a left back for many a year. Shame about his injury problems though.

Guy Hastings
320
Posted 16/01/2017 at 18:43:03
Brian (#312),
I thought the ball in from Mirallas to Rom was amazing as he hardly looked up but still knew exactly where to put it.
Spot on, and for his goal he didn't look up at all, he knew just where to hit it. I've always had a soft spot for Kevin Mirallas and I hope Koeman keeps him.
James Hughes
321
Posted 16/01/2017 at 18:50:04
Gotta share this:
🇯🇴 @Jordolenko
Can't wait for a John Stones defensive error that lets Lookman in for a debut goal in the last few minutes.
1:31 PM - 15 Jan 2017... Courtesy of the Beeb.
Colin Glassar
323
Posted 16/01/2017 at 19:24:34
Just need to get on a winning run now and see where we are in a few weeks time. I still think we need two more quality signings. I just hope the board don't think we are okay after one fantastic performance.
Keith Monaghan
324
Posted 16/01/2017 at 19:29:51
James MacDonald @ 285.
Great to hear a mature opinion re the booing of John Stones, which was not supported by the majority of Evertonians. He is a very good player & will get better who is surrounded by poor defenders and defensive organisation around him. The deal was a good deal for us at the time, but a real shame he wouldn't stay & learn under Koeman.
We need at least one decent central defender to join us before the start of next season, even if Funes Mori's confidence is re-built from the destruction inflicted on him & others in the 2nd half of last season.
Ian Horan
325
Posted 16/01/2017 at 19:32:40
Listening to the radio earlier, City Talk and a comment was made on the new shirt sponsors, a Russian company MegaFon owned by Usmanov. Then they tried to back track. Kerching!!!
Peter Laing
326
Posted 16/01/2017 at 19:40:02
James (#285) and Keith (#324) – what's with the John Stones love in? He no longer plays for Everton so in my opinion he no longer matters. Stones was contracted to Everton and he exercised his right to request a transfer request which the board and Martinez rejected.
It is quite clear that John had his head turned whilst on international duty and bought into the indulgent and self serving culture that persists in his pal Raheem Sterling. Stones began to believe in his own publicity, he thought he was bigger than Everton and is evidently hopeful that by joining City he was being fast tracked in terms of his development and quest for honours, fame and fortune.
Evertonians don't suffer fools gladly – you are either with us and one of us or against us. Stones was reminded of that yesterday and I hope he enjoyed his return as much as I did.
Peter McHugh
327
Posted 16/01/2017 at 19:48:57
Keith – John Stones played 3 seasons (perhaps 4) for us and two of those seasons asked to leave. He was also cocky with the fans despite being young and most certainly not knowing best. He believed the hype.
He seems a nice lad but from a footballing point of view no problem our fans booing him. Would I boo him, no, I prefer the senseless booing – I love booing those players who previously played for LFC, even if rubbish!
Darren Hind
328
Posted 16/01/2017 at 20:01:45
Andy the fact that I was quoting is that 10 of yesterdays starting eleven where here before Koeman Sorry, but its an irrefutable one.
My opinion that rank bad management has made us ugly and got us knocked out of both cups can I guess be refuted... but only by you its seems.
I'm curious to know, do you blame the players for the imbalance and ugliness of the tactics employed this season?
Do you blame the players for us getting bounced out of the league cup? Seeing as it was Koeman who ripped a team in winning form to pieces leaving half of them out?
Do you blame the players for taking off our quickest center back against Leicester in the FA Cup only to be caught by two counter attacks?
The buck stops with Koeman and his rank bad management as far as I'm concerned. You disagree ? that's your prerogative.
Darren Hind
329
Posted 16/01/2017 at 20:37:13
You do make me laugh, Kevin Tully.
Just noticed your challenge there. I don't know about having balls but you do have some front.
You are the guy that has repeatedly told us poor old Ronald has got nothing to work with, they are just not "good enough".
Now that the players who are "not good enough" the youngster who are "not ready" have murdered Peps superstars. what will you do for apologies/excuses in future?
We now KNOW they are good enough (as if there was a doubt) we now know they were ready (as if there was any doubt).
Let's hope the penny has finally dropped and Ronnie boy doesn't change a winning team – again.
Stan Schofield
330
Posted 16/01/2017 at 20:49:16
Darren, the squad we have is a very good one, despite a lot of posts on TW saying that we need a major overhaul and a lot of them need 'shipping out'. Koeman has no doubt made it stronger with the signings, especially Gana, and we are more solid defensively.
Under Martinez, we often displayed tremendous attacking skill and flair, but were weak defensively, and of course everything went to pot. With Koeman, I was expecting the stronger defence he's injected, to be combined with the attacking flair we've seen in the past, using his 'total football' Dutch know-how. But it wasn't panning out like that, and we've been continuing to lack organisation, which has been disappointing.
So although I've supported him throughout, and although we expect time to be required to get to consistent top-6, I've been concerned by the lack of progress in organisation, and by the hoofball approach, but was hoping he had something up his sleeve besides reiterating a need for 'pressing'.
Well, after yesterday I've got more hope, although it's only one game. If we can get some consistency, more performances like yesterday's, then I'll be satisfied with Koeman.
Paul Tran
331
Posted 16/01/2017 at 20:54:59
Darren, I'd say these players are more than good enough on their day. The issue for me is whether they can be consistently good enough. You could argue that he could keep that team the same for five games to give them a chance and I'd accept that. I still need to be convinced that they have that consistency in them.
I hope this regime still looks at strengthening the squad with better players. Under the old regime, this win would have created an excuse to sit back and do nothing. I'm hoping we see the difference in the next two weeks.
Kevin Tully
332
Posted 16/01/2017 at 21:16:26
Darren, I've got to say that as the self-appointed leader of the jerky-kneed, spoilt child brigade, I'm disappointed that one decent result would actually give 'the clueless Dutchman' a reprieve from your ire.
I thought you would at least have stuck to your guns mate.
Cue the "Prove to me where I've said I want him sacked" standard Dazza reply...
The fact remains, one win shouldn't change anybody's view if they want a manager sacked just seven days before. And yes, they need calling out.
John G Davies
333
Posted 16/01/2017 at 21:36:19
That's football for you, Kevin.
As Koeman progresses the club, more and more will join the "I never wanted him sacked" gang.
I have backed him 100% from the off and continue to do so.
Stan Schofield
334
Posted 16/01/2017 at 21:41:16
John, true, but what's written is archived as well, in case of disagreement and anyone wanting to play amateur barrister.
John G Davies
335
Posted 16/01/2017 at 21:48:46
Hopefully nobody on here would resort to that, Stan. All entitled to their opinion. Just have the courage to stick with it.
Or at least be big enough to point out your change of heart.

Darren Hind
336
Posted 16/01/2017 at 21:57:12
I don't have to offer up a "prove where I've wanted him sacked" post Kev. You know and I know that you can't. The reason I have not called for it is pretty obvious. I don't see why he should get £18M for serving up some of the worst performances I've seen in 50 years. I would absolutely begrudge it... but then we've done that one haven't we.
I wanted him to leave, I believe he should have fallen onto his sword – done the right thing...Not just for getting us knocked out of both cups, first time of asking, but for the sheer dross he has served up whilst blaming everyone else.
But here's the thing: Although I will stand by my earlier assessment. I will have the good grace to praise his victories and be prepared to admit I was wrong.
You on the other hand seem to think that by doing everything his critics have been calling for (for weeks/months) he has suddenly redeemed himself and your claims that everything was the players fault has suddenly gained credibility. Sorrreeee.
You've painted your self into a corner my old china plate, if the players now start producing they will have proved you wrong and if they prove you wrong, they will prove all criticism of Ronnie and his public declarations legitimate.
Will you admit that, if Koeman had selected the players his critics were calling for weeks ago, we may well be doing considerably better? After wiping the floor with the superstars of City, will you admit you were wrong about these players.
To reverse your question... Do YOU have the balls?
Kevin Tully
337
Posted 16/01/2017 at 22:02:40
Stan, I don't think any Blue has been happy with the football, or the results this season, but wanting ANY manager sacked when he is quite clearly assessing & rebuilding a poor squad (to challenge the major players) is ridiculous.
What do they think the next feller will have to do? It only took around 15 games before we heard Koeman wasn't the man for us. He may turn out not to be, but let's give him a fighting chance eh?
Kevin Tully
338
Posted 16/01/2017 at 22:08:25
Darren, if these players start to produce consistent performances like yesterday, that won't prove anyone wrong or right. Building a real team will take time, new signings, and some chemistry which cannot be coached.
If it was that simple, we'd all be picking up ٤m a season.
ps: Fair play for saying you wanted him to resign.
Peter Laing
339
Posted 16/01/2017 at 22:12:22
Darren, you are childish and most people on here have got your number.
Koeman has spent the past 7 months reversing the previous incumbent's culture that he embedded into the Football Club. A culture that pervaded like the stale stench of failure, keep possession at all costs and deliver the square root of fuck all whilst talking up his squad and blowing smoke up their arses.
It takes more than 7 months to eradicate and the irony is that we witnessed a similar strategy yesterday from Pep and his charges typified by the keeper trying to play from the back when it quite clearly needed hoofing away.
Darren Hind
340
Posted 16/01/2017 at 22:18:36
So have I got this right? If these players start or keep producing, they won't be proving anyone wrong?
Not even those who have steadfastly claimed they are not good enough?
Seems you want to see other people's balls, Kev, but you're not prepared to swing your own.
Kevin Tully
341
Posted 16/01/2017 at 22:23:36
Darren, as the manager has stated, a lot of them have their card marked. We may see a whole midfield & club captain moved on. Let's wait and see who starts the first game next season compared to this. My guess is about 4.
Graham Mockford
342
Posted 16/01/2017 at 22:23:39
Darren,
I think the issue for me is how quickly some have called for Koeman to be sacked / resign (delete as appropriate).
We are literally half a season in. He made two significant signings in the first window, one of whom is crocked. Our actual results could be best described as average (or 'seventhish' as a certain poster likes to call it). Getting knocked out of two cups is disappointing but has happened for the previous 21 seasons l. It seems to me to be far too hasty not to give the guy a decent chance to build a side.
I think a number of key players under Martinez he's looked at and doesn't fancy such as McCarthy, Deulofeu, Oviedo. A couple are at the end of their careers, Jags and Barry, and there are some serial dross that need shipping out such as McGeady, Kone, Gibson and Niasse.
That's probably nine first team squad players need replacing either with signings or bringing through younger players. If we don't see a significant improvement by this time next year then maybe there is a case to reconsider but, having invested money into his contract and given him money to spend, it seems he needs time to make it pay.
Stan Schofield
343
Posted 16/01/2017 at 22:28:34
Kevin@336: Agreed, any manager is under review all the time, needs to be given time subject to this review.
Keith Harrison
344
Posted 16/01/2017 at 22:29:42
Kev, you do pick up £6m a season! And I think you should buy Darren a drink before the next home game. That's providing he stops winding you up, of course.
Brent Stephens
345
Posted 16/01/2017 at 22:30:25
Graham "having invested money into his contract and given him money to spend, it seems he needs time to make it pay".
Yes, I think that's always been most people's view. I must admit to getting very frustrated with some of our performances in the first half of the season, but calling for his head so soon was always going to be premature, even before any apparent turnaround.
And I don't say that just because we won handsomely at the weekend – we could go to Palace and lose, and it's still the case that the man needs time.
Kevin Tully
346
Posted 16/01/2017 at 22:33:35
It would be my pleasure, Keith.
Andy Crooks
347
Posted 16/01/2017 at 22:34:24
Darren, you have never called for Koeman to go and have made pertinent criticism. However, it seems to me that the same set of players might be shite next week and it might not be down to Koeman.
The money paid to Koeman so far is gone but it was well spent if work behind the scenes led to yesterday. I accept that it appears that Koeman is now doing what we all wanted but he had options to test, vagaries, personalities and nuances to figure out.
I gave Moyes and Martinez a lot more time. We pay him huge money; can you not accept that, for now he must be trusted?
Brent Stephens
348
Posted 16/01/2017 at 22:34:47
Kevin, can I be a WUM as well and get a drink off you?
Ernie Baywood
349
Posted 16/01/2017 at 22:35:00
I haven't called for him to be sacked or to resign. That would be silly this early in his reign and I haven't seen many posts expecting it.
What I have done is comment that I just don't rate his performance so far. Despite that great win against Man City, he still hasn't won me over.
So far his performance hasn't been particularly good in terms of team selection, tactics, in game changes. We've seen a team generally lacking commitment and motivation. A manager deflecting criticism onto his players. To top it all off, he's not particularly likeable in the way he talks about our club (which probably isn't an issue if you're winning games).
One swallow doesn't make a summer. He'll get time to prove he can do this. Despite that great win, the early signs haven't been anything special. Let's see what happens against Palace before declaring any corners have been turned.
Darren Hind
350
Posted 16/01/2017 at 22:42:17
KT & Mockers,
I don't disagree that 4-5 maybe even 6 players needed to be moved on. I also appreciate that its easier said than done.
My point here is that the criticism of Koeman has been absolutely legitimate. He has made some howling decisions.
Some of us will make our decisions early – especially if we don't see the signs we are looking for. and some will want time to weigh everything up.
the problem with the patient ones is they tend to stick to their guns long after the game is up – see last manager.
Like I say, if Koeman proves me wrong, I will be man enough to come on and say so... but let's face it, its already too late for him to do it this season.
We can't all accept what been served up thus far this season – that would be just wrong.
Darren Hind
351
Posted 16/01/2017 at 22:50:43
Keith;
Great to hear from you, mate, and well done for picking up the gauntlet elsewhere on the site.
Good luck and enjoy.
KT;
Look forward to it
Graham Mockford
352
Posted 16/01/2017 at 22:52:27
Darren,
I don't think anyone would claim to be happy with how the season has gone. Results have been a bit better recently but of course two real kicks in the teeth with the derby and the FA Cup exit. We need to maintain momentum for the remainder of the season and I would be looking for 30 points from our remaining 17 games.
For reference, Klopp got 31 points from his first 21 games.
Jay Harris
353
Posted 16/01/2017 at 22:54:55
Darren, grow up for gods sake. Nobody is mocking you.
We are just saying it is very premature to call for the manager to be sacked after a few months in the job having inherited a chaotic, unfit and disorganised squad.
Klopp inherited an expensively assembled squad and spent another £100m and it took him 12 months to make his mark.
We already knew this squad was inconsistent and Koeman needs time to mould and develop it in his image.
Tony Hill
354
Posted 16/01/2017 at 23:06:03
It is fortunate for us all that the team has decided to start playing for the manager. At one stage this season, they had decided not to and we all know where that leads.
That change may well be down to Koeman working his magic behind the scenes. But I don't care about the reason if we play like yesterday, especially when it counts and the pressure is on, and over a long period of time to bring success, rather than just the occasional happy day.
Patrick Murphy
355
Posted 16/01/2017 at 23:25:21
Tony (#354),
Football is a very strange sport at times, one day you're flat on the floor – the next, you're walking on air.
What I hope that every Everton player takes from yesterday is what an arena Goodison is when everyone is pulling in the same direction, if they want to experience that sort of atmosphere more often, they have to produce performances similar to yesterday more often.
The team have to make performances like yesterday the norm and not the exception; we still have a long road to travel, but it will be fun to watch if the players decide they are going to put every ounce of effort into their game.
Perhaps the influx of youngsters has reminded the elder players that football should be enjoyed and not endured; perhaps the signing of a couple of new boys has made some realise that their place in the team is not guaranteed. Whatever the reasons we can only hope that everything combines to make Everton a good team that is worth watching and, with the Goodison crowd behind them, all things are possible.
Nicholas Ryan
356
Posted 16/01/2017 at 23:36:21
Just thought I should clear up a slight misunderstanding over some previous posts:
'Koeman must go', means: '...must go to the top of the class, as he is clearly a genius'.
'Koeman is an idiot', simply means: 'compared to Professor Steven Hawking and Professor Brian Cox, he may be somewhat cognitively challenged'.
'Pasty-faced Edam-chewer' simply emphasises the lack of ruddy-cheeked good health, common in those from the Low Countries, with a penchant for fromage.
'Couldn't run a whelk-stall', means, Might have a slight difficulty marrying his avowed tactical genius to the marketing of fish.
'Has to go by the end of the fucking season', is clearly a reference to the 2019-20 season.
'As much chance of getting into Europe as Teresa May', is clearly a reference to the Prime Minister's surprise, soon-to-be-published book , 'Brexit, Schmexit'.
'Worse than Martinez', is merely a slogan asking Everton fans 'to boldly go' to an as-yet-undiscovered Universe, several trillion light-years away, where there is, allegedly, a life-form, which actually believes that!
Ste Lewis
357
Posted 16/01/2017 at 00:05:07
The youngsters seem likeable lads off the field and take no prisoners on it – they are not phased one bit by the occasion. Not afraid to speak up and will stick it to anyone.
They have also brought unseen mentoring qualities out of our established players, noticeable that Lukaku has taken Lookman under his wing. They have made bonds between us. Their sheer joy at playing has been great to see and the established players clearly want to help them.
They have brought camaraderie back into the first team and helped to unite us. Says a lot about their character and bodes well for the future; they are a credit to their coaches. Exciting times ahead?
Alexander Murphy
358
Posted 17/01/2017 at 02:52:43
Adam #70, I really like your comment. Much like Tom Davies's contribution not entirely perfect, but very very important.

Thought that Barkley did far more right than wrong. In fact, I thought that he did loads more, full stop. Hope Koeman can inspire these kids, and include Barkley here. Surely he realises that the old timers are less likely to do things his way.

Judging by Tom Davies's application all he needs is time on the pitch and encourgement. I think there's too much coaching these days and it removes character. Bloody excited watching young Tom out-man City's multi-million midfield. Go to it Tom, please.
Stan Schofield
359
Posted 17/01/2017 at 09:49:36
Nicholas @356:

As Einstein once said, "If we can understand Everton, we can understand the universe."

As Hawking once said, "If we can understand the universe, we can understand ourselves".

And as Cox once said, "Things can only get better, our kid".
John G Davies
360
Posted 17/01/2017 at 10:14:40
Look, the bottom line is it is ridiculous to want a manager removed after 12 games in charge regardless of method. Whether it be through sacking or through the manager falling on his own sword.
Absolute folly.
Stan Schofield
361
Posted 17/01/2017 at 10:43:37
John, correct, but I think only a minority were calling for that after the FA Cup exit. Opinions can get polarised between, give him a few years, to, sack him now. As discussed previously, the reality is that he is, and should be, under review.
Great game on Sunday, and I hope it represents a turning of a corner, but that doesn't detract from the reality. Obviously, we don't realistically expect every game to be like that (although it would be great if they were), but we do expect to see a developing system and consistency. Only time will tell.
John G Davies
362
Posted 17/01/2017 at 12:43:38
Stan.
All managers are constantly under review.
Sunday's game was one game, nothing more nothing less. It is though indicative of the potential of the squad. He has got us moving in the right direction.
Tony Draper
363
Posted 17/01/2017 at 14:16:31
Patrick (#355),
That second paragraph if yours is brilliant. Us fans are probably too reluctant and our players have not fired us up. Ronald Koeman needs to work on unifying his players with his fans.
He got bloody angry last weekend and he also felt our anger but the response was exactly correct. Just hope that he has got the Goodison Bug from the City match because if he has then we are all finally in on something that has been absent since Joe Royle grabbed us by the scruff of the neck.
Geoff Williams
364
Posted 17/01/2017 at 16:19:48
It was a great team effort on Sunday with some wonderful individual performances. It will take more than one excellent result to convince me that Koeman is the right man. At least he realises that playing Deulofeu and Mirallas in the same team is a mistake.
---
Add Your Comments
In order to post a comment, you need to be logged in as a registered user of the site.
Or Sign up as a ToffeeWeb Member — it's free, takes just a few minutes and will allow you to post your comments on articles and Talking Points submissions across the site.
© ToffeeWeb