Report
Blues do the business against Moyes and the old boys
By Michael Kenrick
25/02/2017

223 Comments [Jump to last]
Share: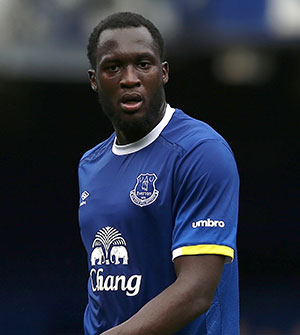 Lukaku is now joint leading scorer for Everton in the Premier League era with Duncan Ferguson, both on 60 goals.
Everton 2 - 0 Sunderland
After what feels like an eternity since Everton last played, the Blues are back in action at Goodison Park this weekend and Ronald Koeman has named an unchanged line-up to face a Sunderland side that is sitting on the bottom of the Premier League.
David Moyes names recent Everton departees Bryan Oviedo and Darron Gibson in his Sunderland team, with Joleon Lescott on the bench; Rodwell, Pienaar and Anichebe all injured. And for a player he brought to Everton, Leighton Baines, he makes his 300th Premier League appearance for the Blues.
It took a couple of minutes for Everton to move forward, Coleman clipping in a great cross that won a corner, turned behind at the near post by Schneiderlin. They attacked down the right again, Coleman fouled this time. Another Everton corner delivered for Schneiderlin at the near post, and a third corner played deeper this time by Barkley. Davies forcing a fourth corner, causing havoc in the Sunderland defence but cleared away. That was the first 5 minutes, all played in Sunderland's half.
A rare attack down the left saw Baines pick out Lookman, his first-time side-foot shot fumbled by Pickford. Sunderland countered and won a corner that did not really threaten but Davies's touch from Barkley's excellent ball was lacking.
Another corner from Barkley was way too low but evaded Funes Mori, who should have done more, and was too pacey for Lukaku coming in late at the far post. Borini then fouled Coleman just outside the Sunderland box, and Barkley cut the free-kick back to Lookman who seemed surprised and skied it!
Sunderland got forward again and forced another corner off a deflection that was finally cleared. Gana and Lookman combined nicely, Gana driving in from the left but firing on Pickford at a far too narrow angle instead of pulling it back.
Everton were forced to work the ball around patiently, knowing perhaps that their early intent should have seen greater care of the ball that could have brought the early goal they needed. But the cohesion of play on the final ball had so far been lacking and they already looked to be running out of ideas with just a quarter of the game gone.
A poor foul by Lookman on Ndong only merited a lecture from Stuart Atwell. Baines was next to commit an infraction, closer to the Blues goal, the delivery badly overhit by Larsson. But Sunderland were seeing a lot more of the ball, if not really threatening the Gwladys Street goal.
Larsson clipped Barkley's heel and Baines curled in a decent delivery but Williams could only head it high. Gibson then saw yellow for upending Lookman. the game had become very scrappy and lacking in structure, Sunderland getting a free kick off the left corner of the Everton area, sent in too low by Larsson and it led to a better break by Everton but the last ball in from Barkley was too close to Pickford. Lukaku was then wrongly called offside.
Finally, though, a fine sweeping move sliced through the resistant Sunderland defence. An incredibly clever curled crossfield ball from deep by Davies fooled the defender and found Coleman in space who picked out Gueye with a pinpoint cross and the finish from Everton's fine midfielder was first-time, strong and hard into the roof of the Sunderland net. A very good looking goal!
Barkley then tried his luck from outside the area and almost beat Pickford with a dipping shot. A corner ensued and later in that play, Davies put just a fraction too much curl on a fine snapshot that beat Pickford but smashed off the outside of the post behind him to wrap up the half.
Proceedings resumed under the dour scowl of David Moyes on the touchline, Lookman too easily losing the ball to Ndong, leading to a corner, and a half-chance for the Black Cats as Defoe came close with the Blues unable to break out until it went behind for a goal-kick. But the Everton were soon under pressure again, Williams blocking out well for another corner that went behind off Jones.
The Blues finally attacked, Baines getting caught by Jones but Gueye's ball selling Lookman short as Referee Atwell rightly played advantage. But Sunderland were not giving up easily, winning another corner on the Everton right but Robles held off any threat. Coleman almost got around Oviedo for an inviting ball from Barkley. A shot by Lukaku was blocked by Ndong. Davies got forward but the ball overran Coleman as Mirallas replaced Lookman.
Schneiderlin had been impressive in the Barry role, spraying accurate passes around from the centre of the field, and intercepting well, a ball to Lukaku winning a corner but again the Blues failed to penetrate, Lukaku caught flat-footed by a deflected cross. Barkley, Davies and Coleman conspired to overplay things a little without creating a chance as the Blues sought a second goal to seal the win.
But the Everton defence were living dangerously at times, and not driving forward with enough confidence and intent against an increasingly stubborn Sunderland side. Barkley had a chance to run but he stalled before finding Mirallas who shot poorly across goal, Tom Davies then being replaced by Enner Valencia.
Everton were getting sloppy at times in midfield, however, Coleman finally overlapping but his ball in to Barkley was curling behind him and he could not adjust, stretching back for the shot. Lukaku picked up the ball and ran forward but shot straight at Pickford. Lukaku again got behind the defence but Pickford anticipated his better shot and batted it away well.
Gueye was fouled poorly by Oviedo who was booked, but the free-kick was well overhit. Schneiderlin appeared to be fouled but Sunderland surged forward and Defoe looked to have scored but his shot bounced down off the bar and just in front of the line, and was eventually bundled away.
Everton were under serious pressure but, from a Sunderland corner, the ball was moved very rapidly up the right wing, Mirallas turning quickly and releasing Lukaku who scampered away with it but stumbled at the last moment as Oviedo came in and the ball deflected twice off the defender's legs, over Pickford ― a very lucky goal in the end, but they all count!
Barkley was withdrawn to a tremendous ovation from the enthusiastic Goodison crowd, McCarthy coming on to hold things down for the final 10 minutes. Valencia got free from a fine Lukaku pass and looked all set to make it three but could not get the ball past Pickford's long legs.
Into added time, Mirallas tried another shot at goal but it was off-target again. Not a scintillating performance by any means for the Blues, now undefeated in nine games, but job done and another strike against David Moyes for good measure.
Everton: Robles, Coleman, Williams, Funes Mori, Baines, Gueye, Schneiderlin, Davies (70' Valencia), Barkley (82' McCarthy), Lookman (60' Mirallas), Lukaku.
Subs not Used: Stekelenburg, Jagielka, Holgate, Barry.
Sunderland: Pickford, Jones (90' Manquillo), Kone, O'Shea, Oviedo [Y:77'], Larsson, Gibson [Y:36'] (79' Honeyman), Ndong, Borini (79' Khazri), Januzaj, Defoe.
Subs not Used: Mika, Lescott, Love, Gooch.
Referee: Stuart Atwell
Attendance: 39,595
---
Reader Comments (223)
Note: the following content is not moderated or vetted by the site owners at the time of submission. Comments are the responsibility of the poster. Disclaimer
Tony Smith
1
Posted 25/02/2017 at 14:12:30
Surely we'll win this one: rich vein of form, at home, against the worst team in the league. But, then again...
Michael Penley
2
Posted 25/02/2017 at 14:13:51
Unchanged is good, I guess. If we want an unchanged result. I'd prefer 3 points personally but Koeman is Koeman.
Chris Donnelly
3
Posted 25/02/2017 at 14:15:09
Good luck to the lads, glad to see our young team has not changed.

Rome wasn't built in a day, but Moshiri and Ronald are doing an amazing job of lifting the spirits of the whole club, even big Rom has nearly cracked a smile lately.

Frank Wade
4
Posted 25/02/2017 at 14:28:01
Not so sure of the ad just above the first comment on the Android version. Champions Travel my arse.
Brian Cleveland
5
Posted 25/02/2017 at 14:34:20
I had a bad dream last night, we lost 2-0!
But I'm happy about that... my dreams never come true!
:-)
Andrew Cunningham
6
Posted 25/02/2017 at 14:38:28
Is the live forum down?

Zahir Jaffer
7
Posted 25/02/2017 at 14:42:55
Looking forward to this encounter. There's a lot at stake considering OFM and our two ex-Evertonions at the opposite end. With them battling relegation, they won't be giving any freebies.
We have to set a precedent and take maximum points from the relegation battlers; not get complacent. We've been marines on the field since the new year, and I expect nothing less today. COYB
Dermot Byrne
8
Posted 25/02/2017 at 14:48:27
Link to live forum not visible?
It is here: http://ToffeeWeb.com/comment/live/
Harvey Miller
9
Posted 25/02/2017 at 14:54:30
Any working streams?
Harvey Miller
10
Posted 25/02/2017 at 14:57:58
Where's the forum? The match is not the same without the bickering and moaning and the usual not-related information that makes the living more suitable.
Andrew Cunningham
11
Posted 25/02/2017 at 14:59:00
Thanks, Dermot, but got told No. Any scores update? :)

Ray Said
12
Posted 25/02/2017 at 15:01:12
No forum! I depend on that for weird recipes, random bits of philosophy, film analogies and some footy discussion.
Anto Byrne
13
Posted 25/02/2017 at 15:01:48
http://www.vipleague.co/football/395474/1/Everton-vs-sunderland-live-stream-online.html
Hugh Jenkins
14
Posted 25/02/2017 at 15:32:29
Is the live forum a thing of the past? Is this an experiment, a permanent change, or just an oversight?

Adam Buckley
16
Posted 25/02/2017 at 15:39:32
First Row sports always has links, Toffees (all sports). If it's being played on TV somewhere on the planet, it'll be on First Row.
Joseph Terrence
17
Posted 25/02/2017 at 15:46:19
One thing that bodes well going forward is the togetherness of the squad, as can be seen by the squad's reaction to Gana scoring – it was great. The same thing could be seen when Davies and Lookman scored.
Tom Bowers
18
Posted 25/02/2017 at 15:56:31
Job half-done. A very patient Everton controlling the game and then hitting Sunderland when they may have thought they were doing a good job containing the Blues.
What a tremendous goal and what a pass by Tom Davies to Coleman. I am sure Southgate was impressed by that. COYB
Matthew Williams
19
Posted 25/02/2017 at 15:59:55
Davies is quality, has to play from now on in.
Peter Cummings
20
Posted 25/02/2017 at 16:11:30
Great goal, just hope we don't relapse as we have done too many times in some of our 'two-half' displays. Keep it up, lads.
Dan Parker
21
Posted 25/02/2017 at 16:27:09
C'mon, lads, take control of this...
Gaute Lie
22
Posted 25/02/2017 at 16:46:21
Lukaku is the Juggernaut!! Unstoppable!!!
James Welford
23
Posted 25/02/2017 at 16:57:01
Morgan and Idrissa and Seamus joint MotM for me. That match was won from midfield. We're looking good for a work in progress!
Colin Glassar
25
Posted 25/02/2017 at 17:07:21
The live forum was working but there are more people on the Bikini Atoll then on the LF today.
Craig Fletcher
26
Posted 25/02/2017 at 17:09:24
Not earth-shattering, but a good professional job by the blues. Gueye and Schneiderlin superb in midfield.
Was it just me that thought Valencia was poor when he came on in the second half?
Christy Ring
27
Posted 25/02/2017 at 17:12:18
An important win after the two week break, to keep the momentum going. Spurs next week a huge game.
George Cumiskey
28
Posted 25/02/2017 at 17:15:28
I think Ross should have gone off, not Davies. He wasn't having any effect on the game. I thought Tom was playing really well. Typical Everton though – great first half, poor second.
Mick Davies
29
Posted 25/02/2017 at 17:16:14
Craig, it wasn't just you. He is no better than Kone, who doesn't get a look in these days.
Another clean sheet, and hardly anything for Robles to do is a good sign (I know Defoe hit the bar, but that's all part of a keepers spatial awareness) defensively. Just need more support for our class striker.
Colin Glassar
30
Posted 25/02/2017 at 17:18:02
Sounds like we are getting used to this winning lark. Nothing really to discuss about this game – just another run-of-the-mill victory.
Mike Gaynes
31
Posted 25/02/2017 at 17:21:35
Craig, no, I think everybody who saw the game thought he stunk today.
Gio Mero
32
Posted 25/02/2017 at 17:22:02
Guys, I wasn't able to see the game. Any words on Davies's and Lookman's performances?
Dave Williams
33
Posted 25/02/2017 at 17:23:56
Played as well as we needed to.
Tremendous goals and no way was Rom's goal lucky – once he started that run, there was only ever going to be one outcome.
On the West Country Blues coach back to Devon and Morgan is the near unanimous choice for MotM – what a class act he is!!
Tony Waring
35
Posted 25/02/2017 at 17:31:35
Just an aside – Conor McAleny scored a hat-trick for Oxford this afternoon.
Gary Russell
36
Posted 25/02/2017 at 17:38:40
Good effort Dave @ 33. Bravo
Don Alexander
37
Posted 25/02/2017 at 17:51:55
Just seen Ronald Koeman on TV and was impressed with what he said. He said the second half was unacceptable (in effect) because we dropped off the pace/effort of the first half. Whatever next? A professional manager assessing a performance in a professional way!
Good result, okay performance, no need to fear anyone in this league. Let's hope the belief we're increasingly seeing on the pitch continues to grow.
Shane Corcoran
38
Posted 25/02/2017 at 17:55:46
George (#28), we're usually very bad starters and better in the second half.
Dave (#33), it certainly was lucky as there's no guarantee where it was going had Oviedo not deflected it in.
Denis Richardson
39
Posted 25/02/2017 at 18:00:32
Missed the game but sounds like it was more professional than anything else. Only care about the result at this stage to keep the pressure up. Just 4 points behind Man Utd and their game in hand is away to Man City. Hopefully the Ranieri sacking does us a favour and Leicester beat the RS on Monday (disgraceful as the sacking was!).
2-0 win, no injuries, job done.
Spurs away next, that'll be a real test but we've got a week to rest and regroup.
Good weekend all round so far.
Can anyone let me know what sort of reception Moyes got? Hopefully the ex-players got a good reception, even though Gibson has just stolen a wage of us for about 4 years!
Dave Abrahams
40
Posted 25/02/2017 at 18:01:52
It wasn't a great game or performance by Everton but happy with the win and more than happy with Morgan – his name was on most people's lips at the end of the game.
Dave Abrahams
41
Posted 25/02/2017 at 18:04:06
Tony (#35), yes, and he scored the winner for Oxford last week as well, settling in nicely down there with Lundstram and Ledson.
Tom Bowers
42
Posted 25/02/2017 at 18:21:34
Make no mistake, this was a good result. There are no easy games, even if they look that way on paper.
Sunderland were desperate and as long as it was 1-0 they would have always felt they had a chance and given that Everton's defensive qualities are not yet the best it was obvious some nervousness would creep in as Sunderland had a go.The second goal was crucial and would have been nicer if it had come earlier.
By the way, anyone know the last time Everton went the whole of January and February unbeaten in the league?
Jay Wood
43
Posted 25/02/2017 at 18:24:56
Whilst neither a great spectacle nor graced with much in the way of flowing football, it was an efficient and routine win with no great anxiety-inducing moments. I'm kinda getting used to that in recent weeks and I'll settle for that at this stage of the Koeman evolution and see where it takes us by season's end.
Nobody of the starting XI played badly, although Lookman wasn't quite on it today. The standouts for me were Williams, and Coleman in defence, Morgan, Gana and Ross in midfield.
Schneiderlin is rapidly becoming an essential component of the team. His anchoring role gives Gana more licence to harry and chase further forward and his goal was a beauty. Great crossfield pass by Davies, good awareness and cut back from Coleman – stitch that!
Good to hear that Koeman chastised their 2nd half performance, but it truth we could have had a couple of more goals. Mirallas did okay when he came on – set up Lukaku's goal nicely. Romelu deserved the break he got in scoring having carried the ball from the half way line. McCarthy was slack when he came on, Valencia dire. More depth in the striker department is urgently required.
Keep reelin' 'em in Blues. Top 6 is still on.
Tony Hill
44
Posted 25/02/2017 at 18:28:45
Schneiderlin looks like he may be one of our best buys, just a delight to watch his calmness and awareness. Gueye was back to his best and was my Man of the Match given his goal and the fact his persistence led to the second goal.
I thought Williams, especially, and Funes Mori did well.
Lookman looked a bit overawed but he will be fine, he needs time. Davies's pass leading up to the first was fantastic and he still promises great things.
We just have to keep at it.
Jim Bennings
46
Posted 25/02/2017 at 18:54:38
Another good win, a hard-fought win and the type that this time last season we would have been crying out for doing the dirty gritty work and defending dirty against a team that came to make it a battle.
It's true there are no easy games in this league, Sunderland are bottom but this year so far have held Liverpool and Tottenham to draws.
For me, Morgan Schneiderlin was pure quality today, his spacial awareness, reading of the game, tough tackling and his passing ability show me quite why he got the move to Manchester United in the first place.
I thought the distribution overall from the fullbacks was a bit poor today (Coleman's set up for Gueye excluded) .
It was very pleasing to see Gueye finally get on the scoresheet at long last and cap off his best performance since before Christmas.
We will undoubtedly need to improve next week at White Hart Lane if we are to take any kind of positive result from what is usually a bogey ground and basically a bogey team we scarcely beat.
But for today it's another step in the right direction and proves Koeman has brought back the Goodison fear factor in making this place a teak-tough venue to take anything from.
Tony Hill
47
Posted 25/02/2017 at 18:56:38
I've just had another look at the Gueye goal and that Davies pass really is a wonder, it says a great deal about that young man's ability.
George Cumiskey
48
Posted 25/02/2017 at 19:00:28
Schneiderlin, Gana, and Davies were great today but we still need a clever Number 10. By the way, Seamus put in another captain's performance!
Colin Hughes
49
Posted 25/02/2017 at 19:01:29
Tom Bowers (#42),
It was 2008 the last time we went throughout January and February unbeaten in the league, losing only to Chelsea and Oldham in both cups.
George Cumiskey
50
Posted 25/02/2017 at 19:11:12
I thought Ross was very subdued today; every time he got the ball, he slowed the play down. He never run at the defence or had a shot at goal.
Michael Kenrick
51
Posted 25/02/2017 at 19:14:55
George,
"He never run at the defence or had a shot at goal."
Alternative fact alert! I think you might need to watch the game again, George. I was jazzed with the ovation he got from the Goodison crowd when he came off.
Habib Erkan Jr
52
Posted 25/02/2017 at 19:18:38
2017 is the year Ross Barkley becomes a leader of this side, it becomes more apparent with every match.
Morgan Schneiderlin, what a pleasing footballer to watch on the pitch!
George Cumiskey
53
Posted 25/02/2017 at 19:18:50
Mike (#51), yes, I heard the great ovation he got and was shocked it was bigger than the one Davies got!
Martin Mason
54
Posted 25/02/2017 at 19:22:04
Shane @38:
Lukaku was running at the defence with the sole intention of scoring a goal, his shot was deflected but intended to hit the net and his success ratio at that is amazing. A large number of goals come via deflections, it's part of the game and as long as the intent is to score then there is normally no "luck" involved whatever that may be.
I saw his goal as a very good example of how his runs at goal are often unstoppable and as he was awarded the goal, I rate it as a very good one rather than a lucky deflection, which are usually awarded to the defender.
I thought today's performance was very good and we're getting into a good run now. I really look forward to the Spurs game because that will be a measure of how we're doing in real terms against a truly peer team. I believe that we're on the verge of great things in the medium to long term but that this will be subject to very hard work and no small amount of pain for us on the way.
I respect the way that the club is being operated now with good finance available, competence in key places, and an emphasis on developing our own academy players and value buys. We are the buzz team of the Premier League at the moment and it is great to be an Evertonian.
Oh to see a dockside ground with 60k capacity including standing areas. There are no possible reasons now why standing can't be permitted in correctly designed areas. I've criticised fans for standing but in reality it shows that there's still a good demand for standing areas. This would reduce the cost of going to the game and improve the atmosphere.
Steavey Buckley
55
Posted 25/02/2017 at 19:23:23
Everton today lacked a cutting edge up front so made hard work of beating Sunderland, who grew in confidence in the second half as Everton retreated more into their own half.
But a great goal by Gueye, who finished off a great move between Tom Davies and Coleman, who sent a great cross in for Gueye to finish off with a great strike.
Alex Moore
56
Posted 25/02/2017 at 19:25:02
I love what Coleman brings to this team, but man, if he could just improve his crosses into the box, I feel like we'd be more dangerous.
Dave Williams
57
Posted 25/02/2017 at 19:27:13
I thought Ross was very good as was Seamus.
Must agree to differ re Roms goal (not that it matters) – when someone as fast and strong as him powers over 50 yards and despite the close attentions of a defender and keeper, the ball goes in, and bearing in mind how often he does that, in my book he wasn't lucky.
No big deal anyway, the boys won and it's a happy trip home – our coach is tranquil!!
Martin Mason
58
Posted 25/02/2017 at 19:30:59
It is correct that Williams and Funes Mori were good today but I see both as weak links that have to be resolved if we're to match the top teams. IMHO neither would get into any of the top 6 sides in the Premier League and, whilst good against Sunderland, will always find their limit against the best.
I hope that the resolution to the defence problem can be found from within.
Terence Tyler
60
Posted 25/02/2017 at 19:50:46
George@ 50 absolutely right about Ross, anybody who suggest differently, is talking sentimental codswallop.
Roger Helm
61
Posted 25/02/2017 at 19:54:41
We had so much quality, it was one-way traffic – did Sunderland have a serious goal attempt? But we still have a worrying tendency to switch off for 15-20 minute spells when it seems the players cannot control or pass the ball. Better teams than Sunderland will punish those. Koeman is right to flag that up.
But what quality in midfield! Schneiderlin, Gueye, Davies and Barkley could all have got MotM. Gueye must have made six or eight interceptions – no wonder he tops that league.
If Rom signs his new mega-contract and we get a good centre-back and support striker, it is looking more like a top-four side.
Jay Harris
62
Posted 25/02/2017 at 19:57:40
I said before the game that Gueye would be the first name on the team sheet for me and he didn't let us down. MotM for me, closely followed by Morgan and Seamus.
I thought Valencia was poor today.
Robles v Pickford... based on today, we should stick with what w'eve got.
Tony Hill
63
Posted 25/02/2017 at 19:59:33
Barkley wasn't marvellous today but was fine.
He put Coleman in with a great flick inside two minutes and we should have done better, he put in Mirallas later on, had a shot which bounced awkwardly in front of Pickford and one piece of tight control on the touchline when he bamboozled two or three Sunderland players showed talent beyond any other player on the pitch. His general play was solid as the acknowledgement of the crowd showed.
What is it with those who can't wait to do him down? Absurd.
Colin Glassar
64
Posted 25/02/2017 at 20:03:23
Why is Ross always under the microscope? The lad will have an average game now and then so why don't you just lay off him? Btw, the sky pundits were drooling over him earlier on so why are the people ITK always wrong?
Dave Abrahams
65
Posted 25/02/2017 at 20:06:54
Not having a go at Tom Davies, I thought he had a good game, but that pass for the first goal, it turned out to be a brilliant pass bit it was aimed at Barkley and finished up on the right wing to Colman. That was my view of it from the centre of the Upper Bullens Road stand.
Dermot Byrne
66
Posted 25/02/2017 at 20:09:30
I have previously doubted Ross's decision-making ability. But happy to acknowledge he has improved a great deal and I think those criticising him today are wide of the mark. He was comfortable on the ball, made good passes, changed the direction of play and linked well.
It wasn't his best but he contributed to a run-of-the-mill win. What encourages me most is his confidence is rising weekly and I am looking forward to his future at Everton.
Grant Rorrison
67
Posted 25/02/2017 at 20:09:48
Shit game. Looked like watching a finished Moyes team versus a work-in-progress Moyes team.
Sunderland reasonably solid, but not solid enough, with little to no imagination going forward. Us, solid enough defensively and just enough in the attacking third to get the goals that won the game.
All-in-all, pretty uninspiring stuff.
John Malone
68
Posted 25/02/2017 at 20:13:33
Another good result; another indifferent performance!
Good points are:-
Another three points!
Morgan Schneiderlin is quality!
Another clean sheet!
Davies looks a player!
Coleman's unbelievable workrate!
Gueye broke his duck!
Bad points are:-
Koeman doesn't know his best eleven!
Lookman not ready for the Premier League!
The centre-halves do their job's but look very dodgy at times!
We do not move the ball quick enough?
Coleman's crossing!
Barkley going MIA!
We are undeniably getting better but we are still a work-in-progress. If we were playing a better team today, thing's could have been a lot different. We are not still not a disciplined team with or without the ball but the signs of us improving are there; Koeman seems to know what he wants and expects so hopefully we will get there!

Dermot Byrne
69
Posted 25/02/2017 at 20:15:31
Check it on TV, Dave. I don't know but am willing to just go along with it being one of the passes of the season. Why wouldn't you?
Tony Hill
70
Posted 25/02/2017 at 20:16:06
It's very interesting that, Dave (65). I've looked at it a few times and can't make up my mind. Your view will have been better than mine in the Park End by the away fans. The pass when you look at it on YouTube seems to fade perfectly away to the right into Coleman's path, it's an odd angle he gets on it – which may actually support your assessment.
Tony Hill
71
Posted 25/02/2017 at 20:18:16
Sorry, Dave, I've just had another look and am convinced it was for Coleman.
Brent Stephens
72
Posted 25/02/2017 at 20:29:12
Some people saying Ross was poor. Can't believe I'm reading that. Nor would the capacity crowd at Goodison Park who cheered him off.
Paul Setter
73
Posted 25/02/2017 at 20:34:00
There is a feeling about this team, it's not quite there but certainly heading in the direction we crave.
I will eat my hat at some point. I was one of the first to constantly want Koeman out with some of the pathetic results before Arsenal at home, but I'm happy to be proved wrong.
We are possibly 2 signings away from being considered a good side – a top striker and a back-up left back. Our squad has decent cover throughout now Koeman has cleared all the muck out.
Spurs next and I'm in the view they aren't all that great... despite being told how amazing they are.
Jay Wood
74
Posted 25/02/2017 at 20:44:03
Dave @ 65. I'm with others supporting the belief that Tom Davies meant his pass to Coleman, although I appreciate why you thought otherwise.
Watching it live on my PC, my first instinct was like yours – Tom Davies got lucky with a mishit pass.
Having had the benefit of watching the replays -– a luxury you sat in the stadium don't have – I am each time more convinced Tom was looking for Coleman.
When you get the chance, watch it back yourself. Note how Tom looks up, shapes his body and hits the pass. Watch the flight of the ball, the angle and pace of the pass. It is way behind Ross, but falls perfectly in the path of Seamus.
I'm convinced Tom meant it... he has already shown he has that vision, quickness of thought and ability to hit such a pass. As Dermont comments, it ranks as one of the passes of the season. Top quality.
Grant Rorrison
76
Posted 25/02/2017 at 20:44:28
Dave (#65). If that ball was aimed at Barkley, the lad wants to go back in the U-23s. It wasn't even going towards him before it bends off sharply at the end.
Coleman does well the take it so cleanly and put a nice cross in for Gueye to finish in style. The highlight of an otherwise poor game of football.
John Hughes
77
Posted 25/02/2017 at 20:49:44
Blimey – here we go again. Barkley is missing in action, shit etc. Lookman's not ready for the Premier League – oh yeah and how does he become ready? By getting starts in games like today's, I would suggest.
It wasn't long ago when similar things were being said of Tom Davies, now he's becoming everyone's favourite Blue. Come on lads, this is work in progress and I think these youngsters particularly need supporting and nurturing.
Oh, and by the way... Koeman out.
Laura Round
78
Posted 25/02/2017 at 20:49:50
Dave (#65), I saw it the same as you (Lower Bullens 4); not that it matters now... :)
Brian Williams
79
Posted 25/02/2017 at 20:50:21
George (#50),
Sorry but you're talking absolute crap there!
Watch Ross's shot that the goalie just managed to fumble past the post.
Watch some of the passes he made, after delaying for the player to make the run, before playing it through the eye of the needle to his feet.
If Barkley doesn't play the ball within a millisecond of receiving it, some of the crowd start to moan and look complete idiots when they see what he does after "waiting" for the runner.
I've critisized Ross in the past but people saying he was poor today obviously know fuck all about football, sorry.
Roger Helm
80
Posted 25/02/2017 at 20:52:08
We urgently need a new stadium. I am a STH but it is very difficult to buy tickets for friends when all the home games are sold out. I can't even buy a ST for my wife as the ST allocation is sold out. I have to "register an interest" and the club will get back to me if one is available.
Dave Williams
81
Posted 25/02/2017 at 20:56:50
Brian (#79) – spot on. Ross controlled spells of play beautifully and looked class.
Southgate was just behind me in the main stand and could not fail to have been impressed by him – and by Leighton, who was excellent.
Grant Rorrison
82
Posted 25/02/2017 at 20:57:07
Brian (#79). "If Barkley doesn't play the ball within a millisecond of receiving it, some of the crowd start to moan."
A lot of fans in absolute bollocks shocker!
Christy Ring
83
Posted 25/02/2017 at 20:57:18
Don't understand the constant criticism of Ross, a class act.
Jeff Armstrong
84
Posted 25/02/2017 at 20:58:35
Dave, from the opposite side of the ground from you, I thought Davies SHOULD have found Barkley from his pass, but I think he outwitted both of us by deliberately finding Shay.
Tony Abrahams
85
Posted 25/02/2017 at 20:59:18
Davies, definately never meant that pass to go to Coleman, but the fact that Coleman was that far up the pitch meant that he turned a badly over hit pass, into the pass of the match, so credit to Seamus there.
I wish young Tom, would have hit his shot that hit the post like he hit that pass though, because I'm sure it would have flew in!
Dave Abrahams
86
Posted 25/02/2017 at 20:59:48
Fair enough to those who have seen replays, I'll go along with that, fella sat next to me was laughing at the pass and how it finished up, seems we were both wrong.
Unless Tom has got eyes like Ben Turpin and he was looking at Barkley but seeing Coleman.
Keith Monaghan
87
Posted 25/02/2017 at 21:00:17
I was at the game today. We shouldn't complain, but it was one of poorest 2-0 wins I've seen.
Ross was good in the first half but a non-participant in the 2nd – he should've been the first hooked with Lookman; the crowd-reaction when he went off was by way of encouragement. He should not be allowed to take corners or free-kicks.
Our MotM by a distance was Schneiderlin; Gueye & Seamus were also very good.
Matthew Clarke
88
Posted 25/02/2017 at 21:06:29
Dave @ 65, I have to agree with you, I sit just to the left of the Lower Gwladys St and more or less in line with Davies when he hit the pass and, it was aimed for Ross.
What made a would of been misplaced pass was Coleman continuing his run at pace and, making the misplaced pass into the goal scoring opportunity for Gana to score, which was a difficult chance to convert but didn't he just!
Peter Fearon
89
Posted 25/02/2017 at 21:08:34
It wasn't a world beating performance today but it didn't have to be. There were flashes of brilliance from Coleman, Tom Davies, Gana, Barkley and Lukaku and that was all that was needed in the end. The idea that Barkley slows down the attack or that Lookman isn't ready for the Premier League is absurd.
Jay Harris
90
Posted 25/02/2017 at 21:09:43
Forgot to add that 2 very poor decisions by the officials could have cost us that win today.
The first when Lukaku was called for offside when he would have had a clear run on goal.
And the second when Schneiderlin was fouled in the lead up to Defoe hitting the crossbar.
Can I also ask those criticizing the young lads to lay off. The "Big Ron Revolution" is only just starting and we are still unbeaten in 2017. We need to put our trust in the management and get behind the team.
Pete Cross
91
Posted 25/02/2017 at 21:11:41
From my seat, halfway from the Park End to the centre-circle in the Top Balcony, I have to agree with Dave – the pass was mishit... although I haven't seen any replays yet.
Peter Mills
92
Posted 25/02/2017 at 21:14:26
Interesting analysis of the pass by Tom Davies. From the Main Stand, Park End goal-line, I thought it was excellent, my pal thought it was lucky! Haven't seen it since.
But we were in agreement about some superb defending by Gueye immediately before our second goal. Look out for it.
Aidy Dews
93
Posted 25/02/2017 at 21:14:43
We didn't play great by any means today but got the 3 points and a shut out. Regardless of our recent results, I think it's clear for everyone to see were still not fluent enough in the final third.
I've no issue with Lukaku here; yes, I may slate him sometimes with regards to his work rate and touch etc but the lad just scores goals and that's why he isn't an issue but at the minute, out wide and in the hole between midfield and attacking, were seriously lacking that quality and class imo.
Barkley at the min is playing wide right in a forward 3 and doing a job but where he isn't a natural wide player he doesn't offer us any width and doesn't get close enough to Lukaku and wants to drop in to the centre of the park and get involved. We desperately need a genuine, quality right-sided player that will give us width and balance but who also has clever movement in off the line and the ability to link the play with Lukaku, give us another dimension and chip in with goals. It's a shame we couldn't of signed either of Lucas Perez or Gabbiadini cos both would of give us that imo!
And I like Davies and think he's been brilliant but, in a midfield 3 when playing a 4-3-3, I think a more naturally attack minded CM would be more suited in there with Schneiderlin & Gueye. Schneiderlin seems to be the sitter, the quarter back that wins the ball and sprays it about. Gueye seems the bundle of energy that goes box to box and puts himself about and atm Davies is being used as the attacking one to go forward and help in attack but I think he's a box-to-box mid but as good as he's been and will become, he won't be taking that place of Gueye's in the team just yet, not imo anyway.
So we need an attack minded CM that looks to break beyond the lines, get in the box and want to get goals but can also create. Is that player Barkley? Maybe but I wouldn't mind seeing a Sigurdsson type in there.
With Schneiderlin & Gueye in CM we look strong but just need a bit more quality and class in the final third to be able to open teams up more and get at them. For me we lack movement which leads to us having to play square and back more than we really need to.
When we play through the lines quickly we look a real threat and are hard to handle and a bit of pace, clever movement in wide areas and a creative link in midfield would help a lot.
We're not a million miles off from having a good side! Get a few quality players in in certain areas (CB, ACM, RW) and some competition up front and a few decent squad fillers, plus Lukaku tied down to a new and improved deal and we'll be fine. We need to carry on this run that were on and hope we make Europe cos some form of Europe come the end of the season is going to help massively imo when it comes to trying to sign a better level of player to help us kick on!
But things atm are going well and the early signs of our team are looking promising for the future and long may it continue!
Alan Bodell
94
Posted 25/02/2017 at 21:17:21
How enjoyable that was when they started the oh so original library bollox and we told them they were going down.
But Tom Davies is a proper gem going to to the top; Ross played well today but he really isn't the one for set pieces but I guess the orders are him over Leighton who rarely fails.
Grumbling aside another, 3 points so I'll crack another tin to that.
Tony Abrahams
95
Posted 25/02/2017 at 21:25:26
Just before he went off, it looked like Barkley was slowing us down when he wouldn't run quicker with the ball down the right wing. He came inside, played a pass, but then never really followed it forward. Next moment he had the ball again and slipped Mirallas in, with a really clever pass.
I think the kid is really starting to improve and his consistency levels have also began to really improve. He still has a way to go, of course, but, like his team, he's suddenly becoming a real work in progress!
Des Farren
96
Posted 25/02/2017 at 21:26:18
This team is far from being the finished article. I do not think Barkley is anything as good as what people are claiming he is and without substantive change, next season will be no different.
In fact, this season, to my mind, is little different, with a few exceptions, from the dross of the previous 10+ years. We supporters are easily pleased, it seems.
Gavin Johnson
97
Posted 25/02/2017 at 21:26:37
I thought we played some very good football at times today.
I also couldn't see why Barkley came in for stick today. Give the lad a break!!
Brent Stephens
98
Posted 25/02/2017 at 21:34:22
No doubt in my mind that Koeman has Ross coming on in leaps and bonds – leaps to challenge for headers; bounds to close down the play. I'm really impressed with the way he's upped his workrate and effort.

Philip Yensen
99
Posted 25/02/2017 at 21:36:44
Once again, sorry folks, Barkley had chances to play a simple pass and take a return, he also had several oportunities to put a first-time ball into the penalty area. As soon as he has time to think... he is fucked, he can't pick that first-time pass.
A player in space, a player available for a wall pass? No, he wants that defence-splitting pass that comes off one or twice a game. Unfortunately it makes him look great now and again. It's all the easy bits that he can't do that he gets stick for. Simple pass and go, chase back and tackle.
Once again, we played Martinez football, passing across the back four and midfield. Time and time again, we played the ball to someone with two people on him whilst there were players wide open either side. We eventually fed the ball back to Robles and he hoofed it up to Lukaku same shit as Martinez.
Coleman golloping towards an overlap, stops dead and either plays the ball back or square. Tommy Wright and Gary Stevens crossed the ball without thinking.
We need 2 central defenders. I don't like this passing game from our defence, they have not got the intelligence for it. Do us a favour and hoof it first time instead of 10 passes and the goalie hoofing it.
Peter Mills
100
Posted 25/02/2017 at 21:52:36
And while we are analysing, I will take "very lucky" goals all day long if they involve our centre forward running at pace from the half-way line under constant pressure from a defender before bundling the ball into the net.
Ernie Baywood
101
Posted 25/02/2017 at 22:15:37
I thought Ross's decision making was very good. He wasn't exactly outstanding but he did a very good job. Not sure why his performance would be a topic for discussion.
On the Davies wonderpass, I also saw it as not being intended for Coleman. Only one person really knows. I don't think Seamus was aiming for Gana either! But you make your own luck. The reason we scored was because we moved it forward early when Sunderland had lost shape, got numbers forward quickly, and didn't just hump it at the goalkeeper from out wide. Play to spaces and get players forward... they were still the right decisions.
Lukaku's goal masked a very quiet day for him today. We still haven't quite figured out how to involve him when teams set out to frustrate us. Not an issue today but it will be in the future and still needs work.
I thought Gana was MotM today. Best performance by him since the first few games of the season. He tackled everything and was like having a 12th man.
Morgan also exceptional. We've been missing a proper controlling midfielder since Gibson threatened to be one. The amazing thing with Morgan is that he's always one pass away, constantly the easiest pass to play to. I had to look up his stats this morning to confirm what I'd seen – he completed 87 passes!
Seamus... born leader. Never too old to improve his crossing though. Hibbert managed it later in his career!
Trevor Lynes
102
Posted 25/02/2017 at 22:16:47
All the Barkley fans should look at the stats.He is supposed to be an attacking midfielder but he hardly ever scores a goal !
He exasperates me as he has ability but tends to fade.He is not a natural schemer or scorer.If we sign a second striker and a clever passer then Ross will be on the bench I'm afraid.
Lukaku is still without support and teams just concentrate on keeping him tightly marked as that seems to prevent us scoring.Gueye scored his first goal for us today and until Lukaku got his goal we were struggling as no one else from the attack is scoring.We must get goals from Barkley, Mirallas and Lookman.At least one of them has to score at least ten goals a season.I will let Lookman get settled but the other two should be chipping in.Barkley is now a regular starter and five league goals is poor from an attacking player who is playing for us.
Drew O'Neall
103
Posted 25/02/2017 at 22:24:35
Aidy (#93),
Would a more orthodox centre forward make the difference, in your opinion?
In my view, a strong, tall, back-to-goal, hold-up player would better link the play and you could put Lukaku in the channel to stretch it and receive the ball in the second phase.
This approach would probably necessitate abandoning the other advanced player in our current formation and moving to a two up front system but that might suit Barkley too as the AMF with width coming from wing backs.. It would probably limit Lookman and our other 'wingers' chances but they aren't exactly pulling up trees.
I think this would give a more natural balance to the side and allow Lukaku to flourish.
John Malone
104
Posted 25/02/2017 at 22:31:55
John (#77), Peter (#89), if it's 'absurd' or 'bollocks' that Barkley dropped his level in the second half (aka MIA), or that Lookman is not yet ready for 90 minutes every week in the Premier League, then why did Koeman sub them both??
There's nothing negative about telling the facts; if you can't see Lookman is too small and lightweight to hold down a starting place in a team that is competing for the top European places in the Premier League then you need to change your spec's I'll bet he doesn't start against Tottenham!
Lookman looks like he will be a top player, he has a the touch the brain the skill but he just does not yet have the strength or the knowhow to keep his place, he looks like what he is a boy playing with men.
For me, Barkley has improved a lot lately and he is the most dynamic midfielder we have, some of his skills and through balls were quality today but he stopped competing off the ball in the last 20 mins, i.e. jumping for headers, closing men down and winning second balls. I wasn't slagging him or his entire performance, I was just stating the fact that he dropped off the pace!
In the same way, I thought some of Coleman's crossing was poor. I still thought he had good game and was second only to Morgan Schneiderlin for MotM for his sheer workrate and for providing the assist and sliding some lovely through ball's up to Rom.
No bandwagon following just my own personal opinion! Tottenham next week will show us where we are really at, a hardworking well organised team with quality in every position!
Liam Reilly
105
Posted 25/02/2017 at 22:36:08
I hope Ross Barkley doesn't read these threads.
There's not a club in the Premier League that wouldn't have him and if he was playing as poorly as made out on here, he'd have been hooked by Koeman long before he came off to an ovation.
Have to say, I only saw it once but agree with Laura and Dave as in I don't think Davies's pass was meant for Coleman; but I've been wrong before.
But hey, isn't it good to win even when not playing well?
Andrew James
106
Posted 25/02/2017 at 22:43:17
Regarding Barkley, he had 2 men on him all the time, one occasion in the second half there were 3. I thought he played some lovely stuff, just didn't come off.
Funes Mori seems to be the one tasked with bringing it out or Morgan folds back and does it. The former was hit and miss today. He too often hit a shallow clearance which meant the ball came back.
Tom's goal - I was directly behind it in the Lower HKGSE and I am sure it took a ricochet. It looked like he was going for Coleman but the ricochet seemed to land it higher up the pitch for Coleman to get onto in space. Tom was lively today but sometimes the ball just didn't stick with him. I like what him and Barkley are doing together although the elongated head tennis in the second half was a bit tiresome.
I thought Valencia was frustrating. There is a player in there but too often he stumbles or runs over the ball.
Lukaku should have had more goals. He looked like he was struggling to get a clean shot away but that might be because the very good Pickford was standing strong so Lukaku took his time to make a choice. Lukaku really came alive for a 15 minute spell later on.
Dan Davies
107
Posted 25/02/2017 at 22:44:56
Three points, thank you very much. No complaints from me.
Both Morgan and Gana deserve Man of the Match. Although I'd give it to Gana for scoring the goal.
As for Barkley, get off his back. He's probably not as good as we all dreamed but he seems to be trying his best. It will be interesting to see if Davies gets the same level of scrutiny on TW a couple of years from now.
Tony Hill
108
Posted 25/02/2017 at 22:46:12
I've suggested before that we need pace, either through raw speed of individual players or through speed of passing. We saw neither today, except for our excellent first goal, and the lack of movement up front remains a serious problem.
If we're going to get into the top 4 ever, then we need to become much more incisive. This strange ponderousness has been a problem now for a long time. A lot of it comes as a result of the "build it from the back" legacy of Pep wannabe, Roberto, yet the same formula stuff seems to afflict many teams: it's become a default mode because of received continental wisdom about recycling the ball and passing the opposition to death.
Part of the reason Leicester won the Premier League last season is that they bucked that habit and moved the ball simply and at speed to positions of threat. It pains me to say it but the RS earlier this season were successful because they moved forward at pace – happily, they've lost that habit..
We saw again today with the first goal how simple, quick play can deliver for us. I was pleased to hear Koeman lament our falling away in the second half and how we were too backward thinking in our play.
Apart from the purchase of 3-4 top class players in areas we all know about, the quickening of our attack is the next major, and (we can hope) definitive, step towards success. Ronald knows it, and has got the defence (including defensive midfield) right, first of all. Or, at least, I hope that's what his plan is.
Geoff Williams
109
Posted 25/02/2017 at 22:51:17
Barkley had a good game and at times he was very good today. Get off his back.
Paul Conway
110
Posted 25/02/2017 at 22:56:35
Sunderland are no pushover!, especially when they are fighting for Premier League survival, nor is any other relegation threatened team.
We could have (should have) won this game 4-1 or 5-1 but there would be still people criticising our performance.
Dan Parker
111
Posted 25/02/2017 at 22:58:38
Barkley's still only 23, he'll get better and better. Another good performance today.
We're playing well as a team at the moment and look very cohesive, personally I don't think it's the time to focus criticism on individuals when we're unbeaten this year. In contrast, the Champions haven't scored a goal...
Ste Traverse
112
Posted 25/02/2017 at 23:11:04
Solid, if unspectacular, performance from us today against a crap team who have a mediocre manager.
I desperately want us to get into Europe, so we need the Mancs to get a result tomorrow.
Our points total is better than any Premier League team in 2017. We need to keep this going with plenty of tough away games coming in the final quarter of the season.
Peter Morris
113
Posted 25/02/2017 at 23:12:41
I think Gueye got better as the game progressed, and was back to the levels he achieved when he first joined us.
That said, I think Morgan Schneiderlin was simply majestic. An absolute joy to watch. He didn't put a foot wrong in the whole game. He has also solved the problem we have been plagued with up until he signed-namely he protects the two centre backs. No longer panic stations when teams try to hit us on the break. A really high quality player with a great work attitude. I think we are really lucky to have secured his services.
Good contributions too, as other have said from Ross, Seamus and the evergreen Bainesy.
Brian Wilkinson
114
Posted 25/02/2017 at 23:15:09
Two-nil win, 3 points, unbeaten in the Premier League this year and still faults to be found... Jesus, some people are hard to please.
Jonathan Miller
115
Posted 25/02/2017 at 23:21:52
Morgan was MotM. However, Barkley (according to the Opta stats) created 5 chances – 3 more than anyone else in a blue shirt. He also completed more passes in the attacking third – 17, which was 4 more than Gana in 2nd.
He also put more crosses in the box than any other player, 11, ahead of Baines (7) and Coleman (50. So criticism as usual is ridiculously out of proportion.
The Barkley critics were made to eat humble pie imo when Barkley was howled at by some for slowing the game down (when not a lot on), waited... and put Mirallas clean through with sublime pass. Keep hating though and you will eventually drive him away. Then you can turn your attention to Davies, Lookman etc... Idiots!
Dan Davies
116
Posted 25/02/2017 at 23:42:26
Jonathan @ 115, even after a routine win some still need to pick out Barkley for criticism. Totally unnecessary. We should be building this boy up not knocking him down at every opportunity. Unbelievable.
Soren Moyer
117
Posted 25/02/2017 at 00:19:59
Why was Ross drenched in sweat after 5 minutes of playing?
Bill Gienapp
118
Posted 26/02/2017 at 00:20:32
Methinks some doth protest too much. Most of us would have *killed* for this sort of simple, businesslike win last year!
Schneiderlin and Gueye were pure class today. It's nice to see McCarthy regaining his form, but I don't see how you can argue he's anything other than a fourth choice option at this point, as some have tried of late. That's not meant as a knock on McCarthy – it's simply the reality of the situation.
Andrew James
119
Posted 26/02/2017 at 00:23:12
I liked Barkley today – although I am always pro-Ross.... yet I thought his play was great. Nice little dribbles, retention of the ball, some chasing back, commanding recycle, a few killer passes...
He's the fulcrum. My only critique is that he could shoot early sometimes.
Damian Wilde
121
Posted 26/02/2017 at 00:28:42
Another solid display. A few nervy moments, but we could have had four or five. Job done.
MotM for me – Idrissa Gana Gueye, outstanding. Most played fairly well. Morgan, very composed. Davies is a great little player.
Ross though... yes, he was okay at times, but he is one of our lesser players. I remember in the first half he had loads of space and Lookman was in an advanced position on the left wing, an easy ball. Barkley ignores the obvious and better ball and stupidly decides to pass it all the way over to the other side of the pitch... and it goes out for a throw-in! 🙈 Just not quite fully got it for me.
Be great if we did Spurs next week.
Feeling more confident about Everton now. Clear out more deadwood in the summer, more signings and more youth coming through and we can have a good go!
Enjoying going to the game at the moment; let's make Europe. COYB.
Ernie Baywood
122
Posted 26/02/2017 at 00:34:21
Bill #118 Nothing wrong with an unimpressive 3 points!
They can be a mixed bag as an indicator of future form though. Pull one out when you've been performing poorly and it's not really a great sign of improvement to come. Do it when you're in form and it's a case of finding ways to win when you have an off day. Last year we had some unimpressive wins but you just knew we weren't turning any corners... but now? Maybe just maybe we can put pressure on the teams above us.
Our form right now is impressive. The best in the league http://www.soccerstats.com/formtable.asp?league=england
Over the last 6 games we've kept 4 clean sheets and scored more than anyone! (Obviously Bournemouth helped).
Now the challenge is to maintain that form and not do what we did after our last impressive run of results at the start of the season http://www.soccerstats.com/team.asp?league=england&teamid=22
Lots of red and yellow in that middle portion!
James Flynn
123
Posted 25/02/2017 at 00:36:49
Watched the replay many times (mostly because it made me feel good).
The pass from Davies to Coleman was intended all the way. You can see him look up before hitting it. Not surprising he'd look up and see Coleman flying up the flank.
Coleman's subsequent pass? Was it intended for Barkley and missed or did Ross hear Gana calling for it and let it go thru? Odd not to see any comments about that, yet plenty about Davies's pass to Seamus.
Davies's vision and pass to Coleman, though, was sweet.
About Davies, we all see he's a player. Beyond that pass to Seamus, his smack off the post took some shifting his body in position to hit it at all.
A teenager in with the big boys, he's holding his own well. God knows next week against a first-rate, flying club like Tottenham, he'll need Morgan and Gana flying too.
David Edwards
124
Posted 26/02/2017 at 00:36:58
Solid, steady performance. 2-0 – nothing to get too excited about, but we are starting to see the origins of a strong team if we can iron out a few crease and add in the summer.
Barkley is improving, Lookman is a long-term prospect (please don't undermine him so soon) and if we strengthen our defence and can convince Lukaku there is a future in our new docklands stadium with the backing of Moshiri and others, I think next year could be interesting.
7th place – probably, but let's give it a run to catch any Sky 6 team should they falter. The glass has changed from half-empty to half-full in recent weeks, but we still need to get the barmaid to top it up to the line!
Gavin Moss
125
Posted 26/02/2017 at 00:48:40
First game of the season for me. Thought we looked solid in midfield, people criticising Barkley need a reality check. The boy is class. Causes problems, can run at players, can pass. We've been lacking that kind of player since Trevor Steven!

He should have scored today though. I think next season could really be a top 4 possibility.

I saw someone mention Koeman doesn't know his best 11. I think that's true, but only because we have genuine competition for places... Not a bad problem to have, surely? Coyb
Don Alexander
126
Posted 26/02/2017 at 00:54:50
The visible improvement in "pressing" is good news, as is the manager's observations on the drop-off in the second half. It augers well for the future and we are after all only in the first season with a proper manager and, hopefully, imminent major investment.
As Shearer said on MOTD, no team seeking to win things can do so unless every aspect of football, including winning the ball back, is right at the forefront of every player's mind. That said, I thought both goals were excellent in build-up and execution. I was also pleased to see that Lukaku got mobbed by his team-mates.
We might just be getting there but I hope that any player unable to do what Koeman demands in every match, start to finish, loses the privilege of playing. With two or three more signings in summer there'll be real pressure on every player, and a good thing too.
Gavin Moss
127
Posted 26/02/2017 at 00:56:40
Brian (#114),
I couldn't agree more, pal. Let's have a reality check and know what and who we are. This season anyway! Maybe big things next season, let's see. Coyb!
James Flynn
128
Posted 26/02/2017 at 01:45:01
The few top clubs who can afford him don't need Lukaku.
We do.
He left Chelsea because he wanted to play right now. Loaned and signed, well into his 4th season, he has since.
Most important to me is that he hasn't once put in a transfer request.
No doubt he expects and has earned a big wage increase. Fair enough. Moshiri can OK upping his wages.
I'll wait until he does a "John Stones" before I think he's departing.
Julian Wait
129
Posted 26/02/2017 at 01:59:13
A decent first half, intriguing game, we won 2-0, and could easily have been 4-1. We'd have drawn or lost this game last season. Their keeper MotM. And no-one had a shocker. What's not to like?
Gordon Crawford
130
Posted 26/02/2017 at 02:28:44
Some people need to take a long hard look at themselves, for the abuse they aim at Ross. The boy is pure quality. Yes, he will have his good days and his bad days, but who doesn't? Today he was a little off colour, but he still played well.
Great result also.
Julian Wait
131
Posted 26/02/2017 at 02:33:32
Shout out to Baines the quiet leader. Multiple times on TV coverage showed him talking to other players about the game, it seemed like he was giving advice on different ways to approach situations (Davies, Gana).
James Flynn
132
Posted 26/02/2017 at 02:58:27
Just watched again the highlights.
A ball bouncing around fell in front of Davies, which he smacked off the upright. Pure instinct. Plus THAT pass out to a running Coleman.
This kid is for real.
Looking forward to him next weekend away at Spurs, who kick every opposing player at every chance and who keep the accelerator pressed to the floor.
Glenn Williams
133
Posted 26/02/2017 at 03:12:03
By the way, in addition to this being Lukaku's 60th league goal for Everton, it is his 110th top division league goal over all as he had 17 league goals for West Brom and 33 top division goals for Anderlecht.

Interestingly, only Chelsea managed to render him goalless over a whole season (2011-12)!
Glenn Williams
134
Posted 26/02/2017 at 03:43:02
Oops make that 110 top flight league goals for Romelu not 100!! 60 for Everton, 17 for West Brom and 33 goals for Anderlecht. Thats 110 league goals in 246 appearances for a rate of 0.447 per league appearance.
David Barks
135
Posted 26/02/2017 at 05:02:50
Barkley was very good today, consistent the entire match. He was patient with the ball at his feet but not wasteful. He didn't go blindly into defenders, he looked for the right option and took it. He's progressed very nicely over the course of the season and seems a much more mature player than the one that ended last season.
Davies did quite well. I say his pass that set up the goal was meant for Barkley, but who cares. He was looking up and played it forwar. What is great is that we were sending players forward again because we have such a solid foundation, Morgan and Gana clean up everything. Coleman gets forward so well, but his delivery should be so much more. No reason that can't improve though.
Sunderland came out to be compact and we were able to break them down. When a side tries to attack us we should be very dangerous and solid in defense and midfield. It's absolutely improving and promising. If we can get into Europe and add a couple of real quality players while retaining Lukaku, next season should be one of great expectations.
Mike Dolan
136
Posted 26/02/2017 at 05:56:45
I thought the team plated well today – both Schneiderlin and Gana were excellent. Schneiderlin looks to me like a total thoroughbred... pure class – what a great player.
Tom Davies's pass was intentional, the boy is a player. He has the total tool kit but for an 18-year-old to have the balls to even consider playing that ball tell you all you need to know about Tom Davies. Good win today, enjoy it.

Will Mabon
137
Posted 26/02/2017 at 06:42:58
We're much improved. Attitude better, movement, fitness, commitment. New players in doing well. A tougher unit, conceding less.
Another win yesterday. Unbeaten in '17, form team of '17 so far. And yet – just four points ahead of West Brom and nineteen behind the leaders.
This league is tough.
Darren Hind
138
Posted 26/02/2017 at 07:32:21
I was directly opposite Dave A and I saw the pass exactly the way he did
There is always more to a good pass than the ball ending up where you intended it to go. There has to be movement, anticipation. Seamus saw the direction the ball was heading very early and was on to it, therefore making it a good pass. Happy days.
It's a measure of the honesty of your average Evertonian that this conversation is even taking place, can you imagine the kopites doing that? "He mean it – End Ov!"
A lovely goal whichever way you look at it; if our players can show the sort of anticipation Seamus showed yesterday, we will see quite a few more brilliant passes.
Talking of Honesty, Lukaku will be hoping the dubious goals panel don't look too closely at his goal... otherwise they will decide it wasn't.
On the game itself; Another "functional" performance...
Terry Farrell
139
Posted 25/02/2017 at 08:41:49
Those who love to criticise on here must think that our players have to get everything 100% right or they haven't played well. The whole team played well yesterday! Morgan, Gana, Barkley and Seamus standing out.
Ross is the man who will receive the ball in tight areas creating space for others and inevitably he won't come out of it with the ball every time. Without his ability to do this, hoof ball is the defender's only option.
He was great yesterday and two amazing bits of skill from him were one of the highlights of the match. Tom Davies also has this fearlessness and shows for the ball all over the pitch.
Mike Berry
140
Posted 26/02/2017 at 08:56:15
Ronald has us well organised at the back, very hard to pass through in the middle, and going forward in numbers on the breakaways. The tactics are excellent and boy arent we fit now! – this was mentioned on MotD to.
I expect a strong finish where other team may fade; we are getting stronger.

Ruth Forshaw
141
Posted 26/02/2017 at 09:08:27
Got just what I expected yesterday – a bit of a sluggish performance which always seem to happen after a stint away of weather training – but we won so hey ho, let's take that and move on. The true test comes next weekend and of course the weekend after with West Brom hard on our heels.
Anyone still thinking Koeman isn't the man needs their bumps feeling! Full house every game, including hospitality; season ticket numbers capped; improvement in every player on pitch from last season; unbeaten so far in 2017; team who have picked up most points in the Premier League since 1st January – just admit you 're wrong and enjoy the moment!!!

John G Davies
142
Posted 26/02/2017 at 09:08:54
A poor game entertainment wise. Tempo was too slow a lot of the time.
Positives are we still took 3 points. There is a serious partnership developing between Gana and Morgan.
A work in progress.
Ian Bennett
143
Posted 26/02/2017 at 09:19:38
MotM by a street was Schneirderlein, he looks a top signing to play in front of the back 4. It was no surprise that they only got a chance when the ref missed a foul on him 60 yards up pitch.
I am surprised by the Ross beating. I am a huge critic of his when he goes missing, holds onto the ball too much, or is directionless. I don't think that was the case yesterday. He tried to give it some tempo against a side fighting for their lives with no real ambition. At times the midfield did get in each other's way, but when it clicked the 4 looked really good.
The one I thought that struggled was Lookman. He got caught, was unlucky with some efforts and some things did come off which seemed to hit his confidence. No surprise he got pulled, and perhaps might be worth moving to the bench for a couple of games.
Solid regulation win.
Paul Tran
144
Posted 26/02/2017 at 09:29:53
A welcome but dull three points.
Schneiderlin and Gana looked good together, clearing up everything, with the former using the ball particularly well.
Barkley was okay; Lookman and Davies never really imposed themselves on the game, which meant we lacked creativity. No problem against such a poor side. Part of a young player's education is to learn how to cope with struggling in a game. You only learn on the pitch and I hope they both get another chance.
The performance of Valencia showed me that while we're more solid at the back and centre mid (always a good first step), some genuine guile is needed up top with Rom. Hope Koeman finds someone in the Defoe mould.
Chris Gould
145
Posted 26/02/2017 at 09:31:08
"Ross Barkley one of our lesser players."
I guess we all see things differently, but this, to me, is beyond comprehension.
Barkley had a very good game and some of the passes he makes are beyond anyone else we have in the team. Some people seem to have a strange dislike of the lad and refuse to appreciate his qualities. Don't understand it.
Barry Williams
146
Posted 26/02/2017 at 10:12:14
I have read through all the comments on here and cannot believe the negativity, is it a ToffeeWeb thing?
Right, for me Lukaku's goal wasn't lucky, he picked the ball up on the half way line, sprinted towards goal with the sole intention of scoring. He had a defender for company, a load of the pitch to cover and a top goalkeeper to beat and beat him he did. It took a deflection, well it might if someone is sliding into you and the keeper is doing his best to save it. Was Sharp's stunner against Liverpool lucky because it maybe swerved through the air due to the design of his boots or the wind on that day!!??
Gana's goal was class. Whether the pass from Davies was meant is academic. We had players in positions to exploit the opposition, a midfielder arriving at the right place and right time hitting a peach of a shot from an excellent pass! Excellent move, excellent goal!
The idea that on another day against a better team we would have lost that etc etc... Other days like when we beat the better teams Man City 4-0, or Arsenal 2-1? Is it just possible that we would adopt a different approach against these teams?
Why are people having a go at Barkley? I was very critical of him when watching last seasons matches and this season's early matches for his lack of awareness, lack of fitness and lack of willing to muck in. Not now! He is slimmer, fitter and doing a really good job of pressing and tracking back from his advanced role (afterall we do have 3 other midfielders in there). I think people expect Pele-like perfect performances from him every time, if he doesn't achieve this he is fair game for being vilified.
Lookman is already starting to attract negative comments! He is a teenager who not that long ago was playing Sunday league football. For me his ascension to the Premier League is something to behold, he can only get used to the standard by actually playing. It is not like he is a passenger or massively out of his depth is it?
Anyways, a good 3 points, 2 decent goals, a number of decent moves and chances, another clean sheet against a team fighting to stay up with new players who undoubtedly want to prove something. For the most part, we also kept Defoe quiet, not an easy thing to do.
I don't have a consignment of happy pills to send out, but just have a think, we are unbeaten in 9 and have the top goalscorer in the league, a defence that has tightened up considerably and a batch of excellent youngsters. Yet it still isn't enough for some!
Colin Glassar
147
Posted 26/02/2017 at 10:28:35
Barry, there always has and always will be a small group of people who will never be satisfied with the team, players or manager – whatever happens.
I don't know what the psychological term is but it must have a name. This need to find fault. To criticise for criticisms sake. To moan and always seek out the negative. The need for a scapegoat and target etc . it's a bit sad but I suppose it makes them happy in a weird way.
People have a right to vent their frustrations and concerns but my god it gets worrying when it's the same people with the same targets and same arguments over and over again, despite the results or performances. It is very pathological.
Brent Stephens
148
Posted 26/02/2017 at 10:34:24
Two very good goals in a game in which there were enough positives for me. The biggest positive being Schneiderlin's performance.
I loved the fluidity and what looked like spontaneous movement that we showed. Seems to be freeing up Ross. Davies roaming I really like. The solidity of Gana and Schneiderlin to back them.
Concerned we still rely on Lukaku to get so many of our goals.
Brent Stephens
149
Posted 26/02/2017 at 10:38:23
Colin (#147), "there always has and always will be a small group of people who will never be satisfied with...I don't know what the psychological term is but it must have a name".
The reblamers?
George McKane
150
Posted 26/02/2017 at 10:43:54
Had a great day at the game yesterday. I thought some of the football was lovely, admirable – just needed better finishing but no complaints from me. Afairly easy win with no serious problems during or after the match.
Just a note: had a great day in The Dark House and without posing. It was nice that some fans had come to TDH to taste the atmosphere after seeing the film of my match routing on TW, so we are attracting new fans and followers.
Thanks for showing the film! You can see photos from yesterday's match at TDH by going to our Facebook Page – The Dark House Blues – have a look.
Mike Connolly
151
Posted 26/02/2017 at 10:49:41
Richard (#39),
"Can anyone let me know what sort of reception Moyes got? Hopefully the ex-players got a good reception, even though Gibson has just stolen a wage of us for about 4 years."
A classy reception Moyes got. (No boos, No Cheers just silent as if he did not exist.) The other players got a good reception apart from Lescott – he got booed when his name was read out.
Dave Williams
152
Posted 26/02/2017 at 10:52:43
Great post, Barry Williams (no relation)!
There were parts of Ross's game today which reminded me of the late great Alan Ball – the arrogance standing on the edge of the Sunderland box twitching his feet over the ball just daring the defenders (there were 3 of them transfixed) to try to tackle him. The brilliant backheel then drag back in the first half near the corner flag on our right which got him past two defenders who were very tight on him – totally brilliant and I can't think of another player in the UK capable of that.
His ball retention was good and at 1-0 up why take a chance and lose the ball when he could retain it and play possession? I wouldn't mind betting Koeman has asked him to do that more. Gareth Southgate was sat just behind me and cannot fail to have been impressed.
We have sad history when it comes to being harsh on our young players. I recall the young Colin Harvey getting some awful stick pre-1967 when he really blossomed into one of the all time great midfield players. Joe Royle and Jimmy Husband also came in for ridiculous comments when they were still learning their trade and even Rooney in a 0-3 Derby defeat at Goodison was torn a new one by some "connoisseurs" in the crowd. These youngsters, more than anyone, need encouragement and Ross is still in that category. Lay off him please and let him develop!
Mark Andersson
153
Posted 26/02/2017 at 10:54:28
I've not seen the match yet but, after reading all the posts, I think I need too.
No pleasing some. It was not that long ago that people were saying it's a results-based business. Two-nil is a positive result; I'm happy.
Dave Ganley
154
Posted 26/02/2017 at 10:56:27
I agree with Dave A and others in that when I saw the Davies pass first time, sat in the Main Stand opposite the away fans, I thought he had misplaced it. However, it doesn't matter, it turned into a fine pass and scored a great goal.
A dull yet functional game, I can do dull and functional when we win easily like that. I have been one of Ross's biggest critics at times but over the last few weeks he is showing some consistency and playing well. He is tracking, passing, tackling and finally showing some long overdue desire and strength in his game.
Yesterday wasn't his finest, as it wasn't the teams finest, but it was okay. Lovely back heel in first half to set Seamus free and did the basics well. Schneiderlin, Davies and Gana played well yesterday but moving forward I'm not sure that we need 3 very similar type of players on the field at the same time. Yes Gana and Davies can get forward but I feel that we need another creative front player alongside what we already have.
Anyway that's a discussion for another day. Good routine win and still unbeaten in 9. No reason why we can't go to Spurs and win next week.
Brian Harrison
155
Posted 26/02/2017 at 11:10:47
A good solid performance, apart from the Defoe shot, we never looked in any danger today. You can see this is a team full of confidence, and each now knows the role they are supposed to play.
The back 4 look very solid and you can see the improvement Koeman has made in this department alone. Funes Mori looks a vastly improved player, last season I was thinking maybe we needed to replace him but his partnership with Williams is flourishing.
Tom or Ademola didn't have their best games yesterday, but they are young talented players and all young players struggle for consistency.
Obviously next week will be a tougher test than yesterday, but they can go there with confidence, and I think we are evenly matched with Spurs. They have home advantage which always helps, but this team seem to have the ability to go away and get a result.
Darren Hind
156
Posted 26/02/2017 at 11:15:30
Colin,
There is also a small group of people who will always accept crap in the name of being a "good supporter". These people are far more damaging to our club. They will deny the evidence of their own eyes. Some were even calling for more patience and more time for Martinez when it was clear to anybody who understood the game that we were sinking under him (Know anyone?)
Not sure what the psychological term for it is, but me arl boss used to call them the mustn't-grumble-crew – accept anything and tell everyone they are deliriously happy.

People have a right to wear grass skirts and fly kites, but that doesn't seem enough for you. Why do you feel the need to bleat about imaginary negativity on a thread that is overwhelmingly positive?
If somebody has made a point you disagree with, tackle it.
Aidy Dews
157
Posted 26/02/2017 at 11:24:41
Drew (#103)
In an ideal world that probably would work best and allow Lukaku to play on the shoulder which he prefers but I'm not sure I'd go for that at the expense of putting Lukaku in a wide forward role shall we say. Koeman is a 4-3-3 man and won't revert to a 3 at the back system a lot of the time where he could play 2 up top and put a target man up there with Rom.
It's gonna be a key area to fill in the summer imo, wide right. Koeman will go with a forward 3 with, hopefully, Lukaku spearheading that with Lookman, Mirallas & Bolasie when fit, down the left. But we need a wide right forward that doesn't hug the line and likes to come inside and get forward and get close to Lukaku and link with him.
Over the years our wide players don't tend to get forward enough and get in and around Lukaku and leave him very isolated. For me we need a proper wide forward, not a winger for on the right. Wingers do tend to hang back and want the ball, we need a wide forward that will stay as high up the pitch at times as Lukaku and also come in off of the line and play close to him and support him but also want to get in the box and score goals just as much as Rom does!
That's why, personally, I think either a Lucas Perez or Gabbiadini would of been ideal as their both that sort of player. We are going to need to find another from somewhere that's going to suit that role for us. That's why Steve Walsh is paid the big bucks – to do just that!
Mike Dixon
158
Posted 26/02/2017 at 11:24:56
I fear Williams and Funes Mori will struggle at Spurs. Sunderland are a million miles away from Spurs. Hope I'm wrong but I think in 7 days this area will be full of the grim realisation that they are average at best.
If we are, and I pray we are, on the upward path to top 4, those two will cost us the necessary points to get there. Prove me wrong Boys, please!
Charlie Lloyd
159
Posted 26/02/2017 at 11:46:13
Yesterday's performance had some good parts but didn't hit the heights that were wanted. I certainly didn't think this was going to be the stroll some thought it would be. I don't mind though if we win some games like that. Isn't it the sign of a good side to still win when not totally at it?
Seamus McCrudden
160
Posted 26/02/2017 at 11:49:50
Touching on what you are saying, Brent, I too thought Morgan knitted the whole midfield together. I just thought we looked a little static at times in possession, the lack of running between the lines, not finding the space between midfield and defence. Very static and our lines too straight. Hopefully, this will come as familiarity between the midfield players grows.
Eugene Ruane
161
Posted 26/02/2017 at 11:52:32
Delighted and hugely encouraged (for the future etc) by Schneiderlin's performance yesterday. He picked and delivered some terrific passes, read things very well throughout, timed tackles beautifully and basically looked 'in charge.'
I know it's very early days (and so this is very much tempting fate) but he really does look like he could be very influential for us over the next 5 years.
All that said, for me Gana just pipped him for MotM. It's all subjective of course but this lad really is my kind of player. Doesn't give the man with the ball a minute's peace, buzzes around all over the pitch, always available to receive the ball, gets back, gets forward and pings his own passes quickly and gets things moving. And hopefully, having got his (well taken) first goal, will now relax a little in that dept.
A mention too for Tom Davies, love watching players who hate losing (games, throw-ins, 50-50s, Ludo) and this lad looks like he's in that category.
Up the Toffees!
Brian Harrison
162
Posted 26/02/2017 at 12:12:52
I also thought Gana was Man of the Match, but I can understand why many thought Schneiderlin was Man of the Match.
I know Koeman has been stressing of late for our midfield players to score more goals. So Gana scoring his first will encourage him to get in the box and score on a regular basis, and the same goes for Ross.
I think if Gana starts adding goals to his game then we will have a much sought after player. He is so like Kante, who made a massive difference to Leicester and is doing the same at Chelsea.
Brent Stephens
163
Posted 26/02/2017 at 12:13:08
Seamus (#160), yes, maybe I'm over-egging it. I just thought I saw Ross being more confident in "exploring" different parts of the pitch, as did Davies, and I felt that was possibly because they are being given more of a free rein.
Colin Glassar
164
Posted 26/02/2017 at 12:23:02
Darren, you are obviously referring to me (re: Martinez) which I completely accept and take on. I stand by my remarks vis-a-vis certain fans and certain players.
Perfection doesn't exist in any walk of life but it seems to be demanded of certain footballers. A wayward pass, a missed tackle, a skewed shot etc is often met with howls of derision, hair-pulling, chest-beating – not with an acceptance that it is part and parcel of the game.
Darren, I'm not accepting mediocrity, I'm not a happy clapper. Like you I've been watching football for a long time and I've seen some of the greatest players of all time have bad games, poor runs of form, make mistakes, look disinterested at times etc.
You say this thread has been generally positive, which it has, but there's that undercurrent of thought which tries to insert a bit of negativity when it's not really necessary, i.e. Lukaku's goal was lucky; Davies's pass was intended for Barkley, not Coleman; Valencia was/is shite, Barkley misplaced two passes; Lukaku was pointing again and pouting!!!
It wasn't a perfect performance, far from it, but sometimes it's perhaps better to just enjoy a win for once without over-analysing every minor mishap. Carpe Diem, Darren, Carpe Diem.
Barry Williams
165
Posted 26/02/2017 at 12:24:36
Darren Hind (#156),
Yes, Darren, you may be right about some people just accepting anything and being happy, but we are on a decent run, performing well and have reason to be happy with what is going on, yet people will still find fault in every little thing, turning positives into negatives.
I am 46 and have seen some dire Everton teams that needed lambasting, but imo – and it is my opinion, you can agree or disagree – the negativity on here far out-balances what is happening in reality.
What did people expect to be realistically gained in such a short space of time?
John Pierce
166
Posted 26/02/2017 at 12:26:24
A steady performance with some polished edges.
The overall average performance from the each player has gone up a level or two, with 5/6 players regularly gaving a good game. Perhaps a month or so ago it was only 3/4.
Regulation win is the cliche. It fits, well.
The pairing of Gana & Morgan have to my mind released Tom Davies and to a lesser extent Barkely to concentrate on their attacking qualities. A very good thing.
I still believe we aren't very good with four at the back and Sunderland weren't the side to validate it either. I suspect that he won't go with 3 at the back at Spurs; otherwise Holgate would have started yesterday to give him some needed game time. I think we should.
Interesting to see how next week is handled. Have we had the benefit of a benign fixture list? Can we handle being under the pump or can we play well enough to stop it being a defensive performance?
I'm anxious to find out!
John G Davies
167
Posted 26/02/2017 at 12:32:37
Sill top of the form table.👍
Colin Malone
168
Posted 26/02/2017 at 12:36:27
Ross is class. He thrives in that free role. We didn't see the best of Ross when he was put back to midfield, when Davies went off. Keep him in that free role.
One point: Is there room for Schneiderlin and Idrissa in the same team?
Sam Barrett
169
Posted 26/02/2017 at 12:41:23
Barry (#146), great post. Can you come and sit next to me at WHL on Sunday, I always get lumbered with a "Barkley hater". Looks like Davies and Lookman are gonna be the next targets for the moaners.
Couple of things from yesterday: Barkley had a decent game, I thought, but that's not enough for some people! Also, if Davies's pass for the 1st goal was lucky then can we have some more 'lucky' passes please, Tom?
Barry Williams
170
Posted 26/02/2017 at 12:51:13
Sam Barrett (#169),
Wish I could, matey, but it is a long trip from Sri Lanka to Goodison or indeed WHL! Hope to get a game or 2 in when home in the spring!
Sam Barrett
171
Posted 26/02/2017 at 12:53:55
Haha, Barry, long round trip for you then!!
Looks like I'll end up in another argument then! 😀
Barry Williams
172
Posted 26/02/2017 at 12:58:52
Sam Barrett (#171),
Depends where I go after returning to the UK, a bit of a wanderer!

George Cumiskey
173
Posted 26/02/2017 at 13:53:21
Barkley did have a decent game... but that's it – decent. I thought Davies was better and he slowed down in the second half. That's why I thought he should have come off before Davies.
Peter Morris
174
Posted 26/02/2017 at 14:10:23
This 'did Tom mean that pass' stuff is fun isn't it? I think he shanked it, but the only one who really knows is Tom himself. Maybe time for a tweet Tom?
Here's another one to while away Sunday lunchtime. I think Seamus was trying to pick out Ross with his cross not Gueye? Answers on a postcard please.
Spurs looking ominous. Already 3 up versus Stoke.
Dave Abrahams
175
Posted 26/02/2017 at 14:10:48
It seems that a lot of supporters come on ToffeeWeb and moan about certain players getting some criticism which I can understand to a degree and yet when a player like Valencia gets far more abuse hardly anyone utters a word.
Valencia came on with twenty minutes to go, didn't have a great game, yet put Lukaku through with a great pass and Lukaku had a good effort saved. The same two players reversed roles with Lukaku putting Valencia in and again the goalie made a good save. More importantly, Valencia made a lot of space for Lukaku when he came on, in fact, the last twenty minutes were the best period Lukaku had in the game.
Have a go at some fans who go overboard with the criticism but keep it fair and let that apply to all the players.
Valencia hardly gets a look in, 20 minutes here and there, so give him a chance, nobody can criticise the effort he puts in.
Laura Round
176
Posted 26/02/2017 at 14:24:15
Peter (#174), I'd agree with that. The gent sat by me agreed the ball from Tom was for Ross. Then you see Barkley put his foot out when Seamus passes the ball. Gueye was ready, reflexes of a cat. Love him.
Matthew Williams
177
Posted 26/02/2017 at 14:47:44
Three centre-backs needed for next Sunday... Kane's on fire!
I'm really looking forward to the battle of the Lane.
COYB.
Damian Wilde
178
Posted 26/02/2017 at 14:57:37
If people make valid criticisms of Barkley, it doesn't mean they're 'Ross haters' for goodness sake. Should we call the people who constantly praise Barkley 'Ross lovers'?
You have to ask the question, if he is so so good like some people make out, why does he receive criticsim? I don't think people are going to do it for the sake of it. Of course, there could be an arguement of cognitive bias in that they saw so many poor performances that memories of these override good performances.
I am a critic of Barkley. I love Everton. If someone (imo) is good, I say so. If someone is poor, I say so. If someone is a bit of both, I say so. When Cleverley played I thought he was 'average' at best. Am I a 'Cleverley hater'? No. I think Geuye is brilliant. I think Davies is brilliant. I think Robles is very good. If I thought Ross was brilliant I'd say so.
There's no arguement about Geuye, yeah? If some people were awkward/moaners, surely one or two would slag him off, yes? So the theory doesn't fit. Could it just be that sometimes Ross is very good and sometimes a bit crap?
I think because Ross is a local lad, come through the ranks, that people are desperate for him to be a worldy and so are blinkered to any criticism of him. Ross was poor at times for a good while. So now if he has a 7/8 out of 10 game, he's suddenly 'class'. There are many players in the side at present much better and much more important than Ross.
I think he has been much better of late and hopefully he continues this. He is still frustrating at times though and makes baffling mistakes. My example in my post (#121) sums him up at times. I think when he works quickly and on instinct he's decent; when he has time and has to 'think', his decision making can be very poor.
Someone mentioned he'd get in any premier side; absute nonsense – he wouldn't make the squad at Chelsea. And if we sign a raft of quality players in the summer, his place would be under threat in our side.
There needs to be some balance. For the Ross critics to acknowledge the good parts of his displays and the Ross advocates to acknowledge the poor things he does and not make out he is some sort of superstar because he isn't. I personally think Davies is already a better player.
I see Spurs were four up at half-time... tough game next week!
Darren Hind
179
Posted 26/02/2017 at 15:08:45
Colin,
Whether you agree with Dave A's original post that Davies was looking for Barkley or not, you will have read enough from him to know he is generally positive, but calls it as he see's it. Some agreed some didn't.
I was in a great position to see the flight of that pass and I agree with Dave, it was meant for Barkley, but I pointed out the positive of Seamus's anticipation. Everyone agreed it was a great goal anyway.
The Lukaku goal was lucky, I'm not talking about the pace and the power which is so fantastic to witness, but his shot was going wide, no two ways about it. The ricochets from Oviedo brought it back on target and lifted it over the keeper.
I cant for the life of me see what is negative about that, it's what happened. Would you rather we went into some fairy dairy land where we don't see those kinds of things? We've had more than our share of bad luck down the years and I for one will take some of the good stuff all day long.
It's getting a little too easy for people to post about "Negative TW" and its Negative posters, It's a not very subtle way of saying "Stop giving an opinion I don't agree with". You will not find a more positive thread ANYWERE on any clubs websites than this one today, yet you are still not happy?
Personally I think this "Negative few", "Only on this site", "Typical TW" argument is the most piss-weak, feeble-minded, nothing-to-say cop out I can imagine.
If you disagree with a post then put up a counter argument. Complaining about negativity will never make people deny what they have seen.
Remember, Colin. Its only negative if it isn't true... and if it's not true, or simply opinion, somebody with your knowledge will have no trouble knocking it for six.
John G Davies
180
Posted 26/02/2017 at 15:20:25
The pass was intended for Ross; the pass reached Coleman... great ball and bang!
Stay positive, guys:
http://www.twtd.co.uk/league-tables/competition:premier-league/form/matches:6/type:home-and-away
Graham Mockford
181
Posted 26/02/2017 at 15:31:42
Darren,
Maybe you are just hard to please but it seems you have painted yourself into a corner with your criticism of the manager. Criticism is fine, btw, I just think you are being unduly harsh. Maybe it's years of false dawns.
You described yesterday as another 'functional' performance. To me, we are on a really good run, scoring plenty of goals and not letting many in.
However, most importantly, I am starting to see the manager imposing his style and approach on to the team. In a completely new midfield three – all whom have been bought or given a chance by the manager – we now have a more energetic, higher tempo approach. We are defensively much tighter and he also doesn't see it as his role to blow smoke up players' arses when he quite rightly criticised the second-half performance.
Early days but I am happy with the progress of the first seven months. But I'll only be happy in a years time if we are not pushing for Champions League qualification.
Darren Hind
182
Posted 26/02/2017 at 15:39:32
Don't see how I've painted myself into a corner with criticism of the manager, Mockers. I don't envisage any open topped busses being required during his tenure. But then that's opinion and has (as you well know) nothing to do with the point I'm making.
I'm not even sure if Koeman has been mentioned on this thread... can't be arsed checking.
My point is, that not for the first time, somebody has come on here complaining about negativity when the thread is overwhelmingly positive. Can't think why you chose to ignore it.
Paul Tran
183
Posted 26/02/2017 at 15:47:40
Darren, it's the world we live in right now. Agree with me or it's fake news. If you're critical, you're doing us down, etc, etc.
We are currently a bang-average team that's more fit, solid and consistent than last year's model. We're going in the right direction, with some of us wondering how slow the journey will be or whether we'll actually get there.
Koeman's done what Moyes did, what any half-decent manager would do. He's made us more fit and competitive, got us doing the basics well and we're back to being the best half-decent team in the league. Let's see if he can do the exciting stuff and get us amongst that leading pack.
I refuse to get excited/despondent about what I'm watching at the moment. I suspect I'll be one or the other in a year's time.
Graham Mockford
184
Posted 26/02/2017 at 15:48:19
Darren,
I'd agree that the whole "stop being negative" is a pretty pointless argument. I'd rather people debate actual points of view.
I still maintain, however, you view of Koeman and his progress thus far is overly harsh. You have already decided we won't need open topped buses – by which you mean we won't win anything. Far too early to say.
Darren Hind
185
Posted 26/02/2017 at 15:56:39
Fair enough Mockers.
Hope you're right and we do need those vehicles I'm having trouble spelling correctly
George Cumiskey
186
Posted 26/02/2017 at 16:01:21
Why do a lot of people on ToffeeWeb get up in arms when someone gives constructive criticism of the team? Isn't that what this forum is all about?
We shouldn't just sit back and pretend all is rosy in the garden, as a lot on this site seem to do.
Colin Glassar
187
Posted 26/02/2017 at 16:04:56
Darren, I didn't say it was a negative thread, far from it. What I did say, or meant to say, was that we need to learn to enjoy the moment – not look for faults (which are many) which sort of cast doubts over our wins.
I don't know if I am making myself clear or not but I prefer to analyse draws and losses. I just accept a win for what it is and try and enjoy it.
Paul Tran
188
Posted 26/02/2017 at 16:08:53
Colin. I'd rather do what Koeman did. Praise them for the win and clean sheet, criticise the loss of momentum, the sideways/backwards passing of the second half. Seems reasonable enough to me.
Graham Mockford
189
Posted 26/02/2017 at 16:14:28
Anyway here is something I defy anyone to disagree with.
Well done, Leighton Baines. 300 Premier League appearances. A model professional, a top bloke and the only player in the last 30 years who without doubt would have got into the 1985 side.
Tom Bowers
190
Posted 26/02/2017 at 16:14:40
Colin Hughes, thanks for the info. I knew it wasn't that long although 2008 was quite a while ago.
It wasn't a great game but since when have we expected great games when so many teams just park the bus and try to steal some points with one attack which Sunderland almost did yesterday.
I think we have to give young Lookman some breathing space. The lad is a talent but is still growing mentally and physically much like Barklay who is now coming along nicely.
The next game will be tough but, with other games to come against top 5 opposition, I think this is a perfect way to prime the squad for what could be a really great season next time around.
Koeman took his time and many of us were getting impatient before Christmas but I am now ready to admit he is getting the right formula.

Chris Gould
191
Posted 26/02/2017 at 16:16:37
Darren, you shouldn't take criticism of the negativity so personally. Your comments on this thread have been neither overly negative or positive. Some others, in particular the Barkley detractors, are the fans that appear unnecessarily critical.
You don't have to defend everyone else's negativity just because you enjoy spouting it from time to time. I really don't enjoy reading the negative comments about Barkley as I truly think he is one lad who could be reading a fans site seeing as he is a true blue himself.
I still believe you will become a Koeman fan in time. It will hurt your pride to admit that you judged him too early, but ultimately it will be worth it.
Dave Abrahams
192
Posted 26/02/2017 at 16:26:39
Graham (#189), I don't want to start to start a debate just for the sake of and I love Leighton Baines but I can't really make my mind up over the different qualities of Leighton and Pat Van the man.
Do you mind if I just toss up? The best of three wins.
Paul Tran
193
Posted 26/02/2017 at 16:29:25
Psycho Pat for me. Just for the 'blood disorder' story and that goal at Norwich.
Ray Roche
194
Posted 26/02/2017 at 16:39:17
Baines for me, although it would be interesting to see him in his pomp without Pienaar to gel with. Still, I'd just have him over PvdH. But I'd have Wilson over the two of them. And he's 82 now.
Darren Hind
195
Posted 26/02/2017 at 16:52:47
Colin,
If this was a one-off, I'd have ignored it, but you regularly come on here to complain about the "negative" as you call them. You did that for three years and it turned out the negative were simply the right. Perhaps if you just countered the points?
Chris Gould,
I do not take anything personally. I don't consider my criticism negative. I think you know what I believe to be negative.
You don't need to take my claim that "a few on here are too quick to bleat about "negativity" without offering a counter argument" personally either.
Don Alexander
196
Posted 26/02/2017 at 16:57:20
Well said, Paul Tran @183. Objectivity is sometimes mistaken as negativity as far as I can see, but realists are what most of us are. It's definitely what Koeman is too.
Next Sunday should be regarded as an acid test for us. I believe we have a chance of victory but only if Rom, Ross and whomever else up front puts in a full shift on the back of total belief in their own abilities. They'll have to to match Dele Alli, Eriksen and Kane. Idrissa and Morgan are well matched to Wanyama and Dembele and since New Year there's next to nothing between the defences and goalies.
And much as I admire Leighton, it's the Welsh Wolf for me too!
Darren Hind
197
Posted 26/02/2017 at 16:58:10
Not sure if Baines would have gotten into our side in the eighties, Mockers; it was a different type of team, made up of characters. but he is the classiest player we have had since.
Love Bainesy and I love that he is purring again after the confusion Martinez created.
Class act.
Paul Tran
198
Posted 26/02/2017 at 17:08:08
I backed Adreamstillalive over Blast Of Koeman today at Naas. Does that make me negative, objective, or just richer?
Anything's an improvement on yesterday, when I fancied two at Newcastle who promptly both fell at the first!
Dave Ganley
199
Posted 26/02/2017 at 17:12:51
Some interesting opinions going on here. To be honest, Paul Tran, you are probably right in your assessment that we're bang average at the moment.
Darren, taken in the wider context of Everton Football Club, we do accept performances that we shouldn't. However, taken in the context of how far we fell when Martinez was in charge, I personally do see big signs of improvement both in playing games style and attitudes. That doesn't mean either are amazing, just that we are improving.
I happen to think that we will trouble the organisers for an open top bus while Koeman is in charge. In just 8 months of being in charge, he has managed to turn an ailing club around and get players like Barkley, Coleman and Baines playing consistently well again and brought in good players such as Schneiderlin and Gana as well as giving youth a chance in Davies and Holgate. You may point to the fact that his hand was forced with the kids but so what? The fact of the matter is, he played them and they've kept their place in the squad. He has also got rid of players who just weren't good enough for us.
We are a work in progress but we are definitely going the right way. I go to Goodison Park again expecting to win. I look forward to going to the game again, that in itself is a positive after losing the will to live during Martinez's tenure. No we're not playing champagne football at the moment and we're not playing the kind of football we should be expecting of Everton Football Club, but that's not Koeman's fault that we have fallen so far from grace. He has made us competitive again and, more importantly, made us look like winning can become a habit again.
I for one am quite positive about the future of our club; if Koeman can get our players going to the likes of the Spurs next week thinking we can win at those places, then we can challenge for honours again. Rome wasn't built in a day etc.
Chris Gould
200
Posted 26/02/2017 at 17:29:32
Darren,
Some of the negative comments on this site are justified and interesting, but some border on the absurd and there just isn't any point providing a counter argument. Some of the criticism is valid but comes across as petty and unnecessary.
Every game involving any teams can be picked apart to find mistakes or poor passages of play. What is the point of highlighting the mistakes when there is so much to praise? Some on here seem to only highlight mistakes.
We could win 6-0 and still have to read:
'Barkley was shit because at least once he made the wrong pass.' (Exaggeration? I think not...)
Some posters go missing when we win well, then appear the following week when we draw or lose... Why is that? If someone gives a fair and balanced view, mixing up the positives with the negatives, then their criticism will often be, or at least appear to be, more reasonable.
There are a few who always seem to moan. Their negative comments just become an irritant. I am not talking about you, Darren. Just explaining my view. For what (little) it's worth.
Paul Tran
201
Posted 26/02/2017 at 17:30:41
Good points there, Dave. Part of the problem is that, so far, the improvements have mainly been underlying ones: debts wiped clean; squad looks fitter; good youngsters getting games in place of those who won't improve; lots of deadwood sold; bit of attitude in the team; more people expecting us to win games; etc.
It's that next step, the extra bit of genuine quality that consistently gets us out of our seats, that will push us into the pack above. That's what we're waiting for... That's what some of us will get excited about.
Mike Dolan
202
Posted 26/02/2017 at 17:41:30
We all know how lost Ross Barkley was at the end of last season, how slow and indecisive and lacking any semblance of confidence he was. How it looked like one of those promising players who was just to oddball to ever fit into a top team. And we moaned.
We all know just by looking how he has totally turned that around how now he is able to tackle, hold the ball up, pass the ball brilliantly to carve out chances and is confident enough to celebrate his goals sometimes before he has even scored them. Yet we moan.
Everton have some really good players, I love them all, but we only have two players at this moment with the style and strut to play at the very highest level and they are Schneiderlin and Barkley. But we moan.
Tony Hill
203
Posted 26/02/2017 at 17:43:25
We just don't know about Koeman and this Everton side yet. Some promising signs but we have to do well for the rest of this season, including a couple of wins at the top 6 sides away please, and carry it on next season after strengthening in our obviously deficient areas. And then the same the season after that and so on – that's what the big sides do, of course.
Baines is one of my favourite players and a nice man but I wish he had had more confidence in himself. He could have been a top class international left back but hid his light under a bushel.
Occasionally now for us (he did it against Man Utd this season) he will take off the handbrake and run against the opposition to brilliant effect. His crossing (the Coleman equaliser against Arsenal apart) is a shadow of what it once was. He tried a few of his trademark fast passes into threatening positions yesterday but they don't come off as often as they used to.
I suspect he's still not at top notch fitness levels after his ankle problems and may not now ever be. I have great memories of him at his best but I would get a new left-back for next season.

Tom Bowers
204
Posted 26/02/2017 at 17:47:30
Nobody will change the opinions of some people. Fans have their lists of players they don't like, no matter what they do.
How can you criticise Rom with 17 goals? He's not perfect and neither is Harry Kane or Costa.
I hated Ossie for many years and nobody could change my mind but Moyes loved him.
Barkley has faults but is getting back his confidence which somehow went astray a while back.
Sure Everton will lose one or two games before the end of the season but avoiding defeat since 1st January has been a big improvement and can become habit-forming, we hope.
John G Davies
205
Posted 26/02/2017 at 18:51:11
Everyone is entitled to their own opinion, whether it be from a negative or a positive viewpoint. The issue is when someone refuses to alter their stance regardless of results.
You can't expect the negative posters to all of a sudden become "glass half-full" just because we win a few games. In saying that, to deny the obvious improvement Koeman has brought is to be blinkered at the very least.
Colin Glassar
206
Posted 26/02/2017 at 18:58:54
Spot on, Tom.
Patrick Murphy
207
Posted 26/02/2017 at 19:06:19
Tom (#204),
Rom is far from perfect and mostly if he doesn't score he doesn't contribute. If he could be half as involved as Kane or half as alert as Costa, he could have added another 20 plus goals to his tally.
I realise that all three players have their different qualities but Rom is found too often in cruise mode, but so too are his team-mates. If the attitude of Rom and the team changes radically in the next six to twelve months, Everton FC could be onto something pretty special.

Tony Abrahams
208
Posted 26/02/2017 at 19:18:24
Negatives? Positives? Learn more when you win, and find out a bit more about your mates, when you lose?
Tony Abrahams
209
Posted 26/02/2017 at 19:23:21
Agree about Lukaku, Patrick, especially because you're one of the posters who usually only say things for the good of the team. My own view is that, the more players we get closer to Romelu, the better he plays?
John G Davies
210
Posted 26/02/2017 at 19:50:22
Tony (#209),
Good point. I would take it a step further:
Given his size, you may think this point is not valid. I reckon Rom would get even more goals playing off a target man.

Will Mabon
211
Posted 26/02/2017 at 20:12:51
Damian, post 178:
"I am a critic of Barkley."
You should get a tee-shirt with that on. There's a difference between making criticism when merited and nominating oneself a critic, primed and ready.
Barkley, like many gifted players, gets a tough ride. The expectations are higher, it goes with the territory.
Tom Davies is already an excellent player, and his potential appears large. He's becoming a fans' favourite. We'll see how his treatment is when he suffers a loss of form. He's made several potentially costly mistakes in losing possession near our box but so far few have jumped on him. He still has new-lad dividend.
Davies's ball to Coleman yesterday – widely discussed here, many choosing to positively assume it was meant as happened, a matter of skill and intent. Of course we don't know for sure. It's debatable. That's the difference when people look to support rather than criticize.
Barkley has played countless passes like that. There have been several games this season where people have been all over his performance, not even noticing or mentioning his crucial part in making a goal. He can do things that no-one else in this current team will ever be able to do.
You're mistaken about Gueye. He went right off the boil for weeks before he left for AFCON. Many on here did notice and it was discussed at the time. He's not been here long, he's not an Everton lad, and he played well yesterday – so all is forgiven.
Woe betide Barkley however, should he have an off game. When he's played well this season, it's invariably been credited to Koeman. He can't win.
It was said, ridiculously, by more than one earlier in the season, that Barkley should leave the club to progress. However, if being properly appreciated in a true football sense was his prime concern, it would probably be true.
Should it ever come to pass that he looks to leave this club, we'll see exactly how much he's understood by the football world at large. The vast majority of the pundits that spend their time fawning over The Sky Big Six seem to mention Everton rarely and reluctantly. They mention Barkley often enough though.
Colin Glassar
212
Posted 26/02/2017 at 20:27:19
Last comment on Barkley; before the game yesterday he had created 54 goal scoring chances, the most by any English player in the Premier League. Not my stats, btw.
Philip Yensen
213
Posted 26/02/2017 at 20:54:10
While we're at it, the pass from Coleman was not meant for Gueye either.
Stan Schofield
214
Posted 26/02/2017 at 21:06:34
Just one further last comment on Barkley. I've written quite a few posts defending Barkley, saying he's bound to come goid again, it's almost a law of physics. Well, he came good again, so I won't defend him again, no need to, his playing says everything.
Besides which, many of the negative criticisms, including statements that he's bound to end up at the likes of West Brom, have been so ridiculous as to be of comic proportions, and for which it's actually difficult being arsed to respond.
Laura Round
215
Posted 26/02/2017 at 22:02:59
Will (#211), my contribution regarding 'the pass' was merely my observation. I wasn't looking for fault or being negative. I'm an eternal optimist, let's face it we must all be deep down..
Ernie Baywood
217
Posted 26/02/2017 at 22:16:13
Dave Ganley - very much agree with your post.
"we're not playing champagne football at the moment and we're not playing the kind of football we should be expecting of Everton Football Club"
I might challenge this bit though. What defines champagne football? By definition, it's football that wins matches isn't it? I'm interested in hearing what people see as an Everton style of football.
I loved that first Martinez season. He married the discipline of a Moyes team with expansive football. In the same way that Moyes could never quite take the shackles off, Martinez then failed to put them on enough.
Right now, over a smallish run of games, I'm seeing a team that has a nice balance between discipline and creativity. Maybe we could be a bit more dynamic and we will likely need a good dip into the transfer market to correct that. But are we a million miles away? I suspect we're closer right now than we've been under our last two managers.
Dan Davies
218
Posted 26/02/2017 at 22:40:52
Chris @ 200, totally agree with you there. It seems some on TW are more concerned with backing themselves up over previous threads where they have been challenged on their viewpoint rather than give a fair and balanced opinion.
If what I've said above makes you feel defensive, yes I'm talking about you! Ha ha!
Tom Bowers
219
Posted 26/02/2017 at 23:12:35
No doubt about it – Coleman has been probably Everton's MVP offensively since he came back off loan and in my opinion a better player than Walker of Spurs in that position.
Tom Davies's pass to him yesterday, if meant, was simply sensational. Very few players can play that kind of pass these days. Some that excelled at it were Hoddle, Colin Bell and dare I say Gerrard.
This lad Davies is a shoo-in to a future England squad assuming his form is consistent but, more importantly, for Everton. With Lookman, Gana and Morgan Schneiderlin, the midfield of Everton promises so much for next season.
Don Alexander
220
Posted 27/02/2017 at 01:25:56
Comments about Ross Barkley, mine included, are becoming tiresome. He is what he is, an established first team player in a decent, not yet top, club.
In my opinion comparison with Hoddle is valid. He too had supreme skill but he too was unable or unwilling to do the bit generally known as "muck and bullets" and that's often where games are won, even now. That's a lot to do with why neither he nor his team ever won anything more than the FA Cup in England, and Everton are aiming way higher than that these days.
But before anyone starts jumping all over me as a Ross-hater, I'd just like to say that I've never slagged him off. That said, comparisons between him and the likes of Gerrard, Colin Bell and Alan Ball are ludicrously wide of the mark. Every one of them, winners all, had tremendous skill and innate willingness to "get stuck in".
It ain't necessarily his fault, he's a good player, but I'm still waiting to see him grip a game by the scruff of the neck like any of those three regularly did, and yes, all three of them still had a stinker every now and then. Having an occasional stinker is a given (ask Messi!). Nobody needs to be slaughtered for it unless that's all they have, week in week out, and Ross has way more than that.
Will Mabon
222
Posted 27/02/2017 at 06:26:06
Laura, 215:
Nothing wrong with a bit of optimism or positivity when justified! I cited the Tom Davies pass only as a comparison to the differing attitudes towards various players.
Laura Round
224
Posted 27/02/2017 at 07:48:25
That's cool Will, it just read (to me!) that anyone who thought the pass wasn't accurate was negative and unsupportive. I'm sure that's not what you meant though. Generally as long as the ball ends up in the net I couldn't care less! 💙
Trevor Peers
225
Posted 27/02/2017 at 09:07:06
There's far too much emphasis on Barkley in this thread, the lad is playing a lot better and should be left to get on with it. Having said that, could we find a better player in the transfer market ? The answer is of course yes, but that's for Koeman alone to decide, most of us are delighted with the manager's progress this season.
After the last two catastrophic years of Martinez, it's great to be playing a brand of winning football again. Obviously we're nowhere near the finished article, but the improvement that has been made is outstanding.
Dave Abrahams
226
Posted 27/02/2017 at 09:19:23
Laura(215) your point of view, re Tom Davies passes echo's mine, as you said, on Saturday night, after making your point, ' not that it matters now' making it obvious you couldn't care less about the pass as long as the attack resulted in a goal for the blues.
I think most posters were of the same mind whether they thought Tom's pass was exquisite or mishit.
Brent Stephens
227
Posted 27/02/2017 at 09:28:18
I don't think I know anybody who is blindly devoted to Koeman. I sense that even those who are most positive about him are not "blindly devoted".
Ray Roche
228
Posted 27/02/2017 at 09:57:10
Trevor Peers #225
I had to smile when you say that " far too much emphasis on Barkley in this thread" and it's you who has mentioned him.
"could we find a better player in the transfer market ? The answer is of course yes," . I'd be delighted to hear the list of better players than Barkley who are available and who we could afford.
Because I don't think such players exist. It would serve some of the Barkley Bashers on here right if he was sold to Chelsea or United and won every damn trophy there is because, in a good team, he'd be that good.
Laura Round
229
Posted 27/02/2017 at 10:10:38
Dave 226 yes that's right. Ultimately I don't care 😂 That's not to say I don't appreciate a great pass, player, game or goal. I of course do but the reason I attend the game? To win. :)
Barry Williams
230
Posted 27/02/2017 at 13:11:14
Darren Hind 221
I don't know who is ''blindly devoted to Koeman'', but your comment is incredibly generalising and sweeping. I speak for myself only. I came on here and was quite surprised at the negativity of a lot of people towards the performance and some of the players, some posters were balanced, quite a few, imo, were just being overly negative about a performance and players that I didn't think was warranted! But, again that us my opinion. I have highlighted why in my other posts.
Tom Bowers
231
Posted 27/02/2017 at 13:34:34
The team is doing well. What's the beef ?
Barklay is playing a lot better these days and I believe the new lads are helping like Davies and Morgan.
Many top class players make mistakes and make the most ridiculous passes when not under pressure as I kept seeing yesterday in the Mickey Mouse cup final.
Barks. is a terrific player so let's get behind him.
As for Lukaku some want him to do more when he is not scoring. Okay maybe, but he is not built like a Messi or Sterling.
Speaking of Sterling, does anyone else see how many times he has possession and delivers very little ?
George McKane
232
Posted 27/02/2017 at 14:08:19
On a slightly different note - - TW link encouraged new visitors to The Dark House (see our FB Page - - The Dark House Blues) and new Evertonians - - we had visitors from Finland, Germany and Netherlands - - see this comment from Mat in Netherlands.
"But this weekend was different from our 'pilgrimages' to Everton FC in the last years. Everything changed as we stepped into the Barlow Arms, attracted by the film on ToffeeWeb a couple of weeks ago.
We want to thank you for the great reception you gave us, it made us feel like home among fellow Evertonians, who were there when this great club won some of it's finest trophies and who walked up the stairs of The Grand Old Lady so many times…."
Nice One and nice to welcome fellow Blues from around The World - - well in TW.

Brian Furey
234
Posted 28/02/2017 at 10:42:07
I only saw the brief highlights on MotD on Saturday night so it's very pleasing to read on here all the positive opinions on Gana and Schneiderlin. It sounds like Barry & McCarthy have been replaced with two players who seem to have the defensive resolve needed but also have a lot more energy and skill to start attacks and release Davies and Barkley for more attacking play. It will be interesting to see if McCarthy is happy to hang around after the summer or will Koeman fit him in somewhere, like for tougher games like away to Spurs this weekend.
I hope Schneiderlin feels he has a point to prove now to Mourinho and Man Utd by becoming a great player for us and hopefully he too can start scoring more goals as he's a talented lad.
Did anyone else thing Rom was very greedy for his goal on Saturday. I know it was an important goal for him but there was a very obvious pass into Valencia I think who would have been straight through but Rom did well to hold off his man and with a bit of fortune scored. Had he missed, I'd say Valencia, Koeman and the fans would have been very annoyed with him for not passing it.
We are on a great run and it certainly has been helped with the RS falling to pieces since they beat us and again last night. man Utd have a game in hand over them now and should they win that then we will be chasing Liverpool then not Man Utd. They have got Arsenal at home next, the Burnley and then away to Man City. Wouldn't it be nice if the game at Anfield on 1st April was to pass them out?
---
Add Your Comments
In order to post a comment, you need to be logged in as a registered user of the site.
Or Sign up as a ToffeeWeb Member — it's free, takes just a few minutes and will allow you to post your comments on articles and Talking Points submissions across the site.
© ToffeeWeb