Everton vs Leicester City

50 Comments [Jump to last]
Friday 6 January 2017
FA Cup 3rd Round Preview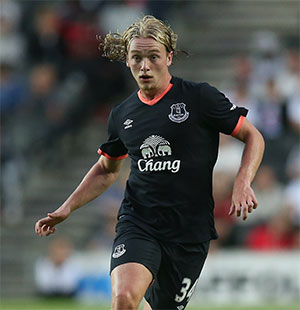 Tom Davies could make his second start in the absence of Idrissa Gueye who is at the Africa Cup of Nations
With a strong start to 2017 in the form of Monday's 3-0 win over Southampton, Everton's focus shifts to the road to Wembley against Leicester City.
With the Premier League's top six in ominous form and Everton's form still plagued by inconsistency, a crack at finishing in the Champions League spots — always an ambitious target — looks to be a very long shot and, depending on what happens in the cups, European qualification via the league might also end up being beyond Ronald Koeman's team.
That leaves the FA Cup as perhaps the most viable route to both Europe and the end of what will be a 22-year wait for silverware for the Blues. It was a topic that came up during the sit-down chat at the AGM between Bill Kenwright, Farhad Moshiri and Darren Griffiths on Wednesday evening and while the club's major shareholder rightly cited Premier League performance as the best measure of Everton's progress, the Chairman argued that winning silverware — in any guise — has to be a priority as well.
Having bombed out of the League Cup after just two rounds, Koeman has indicated that he and his players will be fully focused on the FA Cup which will hopefully mean a full-strength or similarly strong team selection for the visit of Leicester, one of three all-Premier League ties in the third round.
Idrissa Gueye will be missing for the first time since the one-game ban he served in early November as he takes part in the Africa Cup of Nations for Senegal. With James McCarthy ruled out with a hamstring injury, Muhamed Besic not due to return until next month, Tom Cleverley out of favour and Darron Gibson lost in the treatment room somewhere, the loss of the midfielder for a month had the potential to be crippling but the emergence of Tom Davies has come at just the right time.
An impressive substitute at Leicester and Hull and then a starter for the first time under Koeman against Southampton, the 18-year-old may still be raw but he is ready to step into the breach and is expected to be in the line-up to face the Foxes this weekend, most likely alongside Gareth Barry.
Maarten Stekelenburg's injury means that Joel Robles will continue in goal and both Romelu Lukaku and Ross Barkley is a shoo-ins in the forward areas but the rest of the line-up is more or less up to the manager's whims and whether he will make more changes than are necessary to a side that has finally started showing some consistency of late.
Aaron Lennon is a doubt after picking up a knock, either in the last game or in training, and new signing Ademola Lookman is cup-tied (he will be paraded on the pitch to greet the fans, however) which could mean a return to the line-up for Enner Valencia and a spot on the bench, perhaps, for Gerard Deulofeu who hasn't played since the defeat at Watford almost a month ago.
In defence, meanwhile, both Phil Jagielka and Mason Holgate will be keen to see action again and could very well do so if Koeman goes with three at the back like he did at the King Power Stadium on Boxing Day — the 20-year-old had another impressive outing that day.
Claudio Ranieri's team selection will also be affected by AFCoN, with all three of Islam Slimani, Riyad Mahrez and Daniel Amartey unavailable because of the tournament. Jamie Vardy, who was missing the last time the sides met two week ago, is back from suspension, however, while Danny Drinkwater could also return and new £15m signing Wilfred Ndidi is elgible to start if called upon.
While the Champions' defence of their stunning title has fallen well short of their expectations and they existed the EFL Cup at the same stage as Everton with defeat to Chelsea, they have, of course, made an impressive debut in the Champions League so they can't be discounted on the basis of their league form which has been very patchy.
A home tie for a Toffees team that feels like it is gathering momentum coupled with the psychological advantage of having won at Leicester so recently should be enough to give Koeman's men the edge in this one. Hopefully, it will mark the beginning of another march on Wembley and the chance to go one better than last season when the dream ended in heartbreak at the semi-final stage.
Kick-off: 3pm, Saturday, 7th January, 2017
Referee: Martin Atkinson
Last year: Everton 2 - 0 Dagenham & Redbridge
Predicted Line-up: Robles, Holgate, Williams, Funes Mori, Coleman, Barry, Davies, Baines, Barkley, Mirallas, Lukaku
Full details: ToffeeWeb match page
---
Reader Comments (50)
Note: the following content is not moderated or vetted by the site owners at the time of submission. Comments are the responsibility of the poster. Disclaimer
Daniel Joseph
1
Posted 06/01/2017 at 22:22:06
It's been a while since I was able to take me dad to the match. I'm looking for a "quiet" boozer for a couple of pints before the game. Dad is 82. Somewhere between Kirkdale Station and Goodison.
Baz Williamson
3
Posted 06/01/2017 at 22:52:50
The Barlow Arms', off Westminster Road, great boozer for matchday.
Paul Smith
4
Posted 06/01/2017 at 23:02:37
Doubt there will be any streams for this one. Damn, radio instead.
Tony Hill
5
Posted 06/01/2017 at 23:05:19
I still savour the April semi-final, despite the tragic ending, because it was wonderful to be among so many Blues at the new Wembley. Such are the acoustics at that stadium that you feel weirdly enclosed with your fellow fans and I must say I found it very moving.
Let's aim to get there again, and then again, and to bring it home.
Ray Roche
6
Posted 06/01/2017 at 23:05:28
I usually get a good stream on http://mamahd.com/Everton-live-stream. I'll be at the match but good luck with it.
Paul Smith
7
Posted 06/01/2017 at 23:06:25
Thanks, Ray.
Charlie Lloyd
9
Posted 07/01/2017 at 01:17:09
A good review, Lyndon.
The predicted line-up.
I'm thinking Koeman may go 3 at the back with Holgate starting to counteract the Leicester break. Further forward, Valencia may start over Mirallas. I do hope Davies gets the nod again.
Anthony Dwyer
10
Posted 07/01/2017 at 01:31:49
Daniel @1.
Maybe try Crofts Social Club on City Road as it's spacious, you can take some chips in there from the chippy and it's easy enough to get served.
Best I've got to offer, mate.
Anthony Dwyer
11
Posted 07/01/2017 at 01:39:52
On another note: real shame Gana isn't here for one last game, also shame McCarthy isn't fit, Barry looks very leggy at the minute, I'd rather him and Jags sat out the next two at least.
Never no with Barry though as he can dictate the tempo sometimes; he's also a good mentor for Davies, but we need to play fast to be at our best, and unfortunately Barry doesn't have that in his locker.
We've been a little unfortunate this week in regards to Gana going away, McCarthy being injured as wel as Gibson and Besic. Davies has been a blessing.
The Gibson situation is horrendous, – whoever gave him a new deal needs sacking.
Anthony Dwyer
12
Posted 07/01/2017 at 01:45:36
Robles
Coleman, Baines (wing backs).
Holgate, Williams, Funes Mori (centre-backs)
Davies, Barkley (central midfield)
Valencia, Lukaku, Mirallas (front three)
No Barry
Too attacking??
Too lightweight??
Too ambitious??
Thoughts???
David Pearl
13
Posted 07/01/2017 at 03:33:49
A centre midfield of Barkley and Davies? I personally don't think they are ready to provide the axis we need. They are not disciplined enough.
I'm expecting Barry to play behind those two. He might not be able to play 2 games in a week anymore but he is nowhere near finished.
I wouldn't be surprised however, if we do get another centre-back, to see Jags move to Sunderland before the end of the month.
Ajay Gopal
14
Posted 07/01/2017 at 06:33:57
I think he will go with a conventional 4-4-2 and rest Williams and Coleman.
Robles
Holgate, Jagielka, Funes Mori, Baines
Cleverly, Davies, Barry, Barkley
Valencia, Lukaku
Plenty of legs and attacking threats. I also like the all English midfield!
Subs: Hewelt, Browning, Lennon, Mirallas, Dowell, Niasse (??)
Gareth Clark
15
Posted 07/01/2017 at 07:03:51
Robles
Holgate, Jagielka(c), Funes Mori
Coleman, Davies, Barry, Baines
Barkley
Lukaku, Valencia
Subs: Hewelt, Williams, Cleverley, Dowell, Mirallas, Deulofeu, Henen.
Andy Codling
16
Posted 07/01/2017 at 07:16:36
Anyone in Thailand know if this is on any channels?
John G Davies
17
Posted 07/01/2017 at 07:21:08
Koeman likes to play three centre-halves against sides that play with two forwards.
So either 3-5-2 or 3-4-3.

Kevin McCartney
18
Posted 07/01/2017 at 09:20:56
Slightly off topic but I'm reading up on all the media coverage regarding the AGM.
All media outlets just rattle on about the training ground naming rights and the preferred dock stadium development, but they also refer to a, 'new a shirt sponsorship deal', does anyone now who it's with, how long etc?
Hopefully it's not a bloody renewal with Chang so we still continue to have two fucking white elephants plastered on the front and it's still to be manufactured by no other than that 'classy' (out-dated) world renowned (wtfrt) Umbro.
Eric Myles
19
Posted 07/01/2017 at 09:28:48
Andy (#16),
Thailand don't have the rights to show the FA Cup games.
Eric Myles
20
Posted 07/01/2017 at 09:37:58
Although Channel 7 sometimes show a recorded FA Cup game, I doubt it will be ours.
Santosh Benjamin
21
Posted 07/01/2017 at 09:51:20
Why are there absolutely no links to this game?
Dave Abrahams
22
Posted 07/01/2017 at 10:10:42
I hope that Cleverley is given a chance by the crowd when he comes on, either starting or as a sub, especially if he is used out wide. He always gives his all and is a decent player.
Most of all, I want Everton to progress, no matter who plays; it will not be an easy game.
Paul Smith
23
Posted 07/01/2017 at 10:25:34
Santosh, historically FA Cup games, unless on the BBC, won't be televised. You'll be hard pushed to fund a link, hence my earlier post.
Happens every January. :(
Eddie Dunn
24
Posted 07/01/2017 at 10:39:59
Can't see any links in my usual places (Firstrowsports). I think it was similar last year.
We should have too much for Leicester, as they will be missing more players than us.
Our selection will be interesting, as any players we are hoping to ship out (domestically) will not want to be cup-tied.

George McKane
26
Posted 07/01/2017 at 11:13:04
Daniel, call into The Barlow Arms – known as The Dark House – from Kirkdale Station down Westminster Road, you can't miss it.
Call me if you need a seat for your Dad – 07972601052.
George McKane
27
Posted 07/01/2017 at 11:18:13
Great to be back to a bit of normality on match day. The last 2 or 3 home games have been straight from work or with Southampton directly from Milano.
Saturday 3:00pm KO, FA Cup – forget what the media say, this is The Cup, the beginning of our Cup Run.
I am at home listening to a bit of Van The Man – I am a Soldier of Fortune; Take Me Back Way Way Back; Saturday Morning Listening to Debussy; Rave on John Donne... I will get ready soon and leave for The Dark House.
From my house in New Brighton, I can normally see the Liverpool Waterfront and from another window I can see Goodison – wonderful. Today, it is all covered in mist... but slowly clearing – maybe a statement about Everton and our future.
Tony Abrahams
28
Posted 07/01/2017 at 11:36:41
I thought your first post was a nice gesture, George, and your second one showed what you live for... When Saturday Comes!
Think this will be a hard game, but always get a shiver when the FA Cup, comes around. It might have lost a bit of its romance, but it will always be the most special competition in the world to me.
Love your last sentence, George, I would love it to be true. I'm just getting the tea-leaves out now, to see what Mystic Meg thinks!
George McKane
29
Posted 07/01/2017 at 11:55:51
Thank you, Tony for your lovely response – just leaving now. I'll be in TDH in about 15 minutes. I love the whole ritual of it...
In The Golden Afternoon, In The Golden Afternoon just goona see The Blue Boys Play, makes we wanna blow my harmonica (and I just did and am taking it to TDH).
Cosmic grooves right over The Mersey to all our Blue Brothers.
Colin Battison
30
Posted 07/01/2017 at 12:07:41
Hi Folks..
There is a link on vipbox tv guys for our game later.
COYB
Tony Abrahams
31
Posted 07/01/2017 at 12:10:39
Don't think you can beat the harmonica for a singsong in the pub, George. Just as long as everyone is happy.
Give us a fucking cup, Everton, especially for all the fanatical young Toffees, who, just like yourself, George, live for the blues...!
Stephen Coles
32
Posted 07/01/2017 at 12:22:58
Kevin @18,
The shirt sponsor mentioned was an extra one on one of the sleeves. We will probably have to wait till the Chang deal expires before that's changed... Which I don't know when that is.
I have a feeling that all our future sponsors will be from companies owned by the USM people.
Raymond Fox
33
Posted 07/01/2017 at 12:23:25
No way of knowing what side Koeman will pick, but it should be our best eleven, it would be crazy not to. My guess is the result will be close, 2-1 Everton.
What surprises me nowadays about players, is the time it takes for them to get over injuries. I understand the severity of ligament damage, but so called knocks seem to take weeks nowadays!
We have a well paid medical team so I suppose they know best.
Andy Codling
34
Posted 07/01/2017 at 12:28:02
Cheers, Eric, so 6 instead, then.
Denis Richardson
35
Posted 07/01/2017 at 12:29:57
I see Smalling plays for Man Utd today, so that's him cup-tied if we were to get him.
Tony Dove
36
Posted 07/01/2017 at 12:41:20
Ray @6 – can't remember the last time I got a good stream on.
Colin Hughes
37
Posted 07/01/2017 at 12:47:41
Just watched Football Focus and in typical BBC fashion they did not even acknowledge our game. They seem to think today's stand out games (and they listed about 10 on screen), include Hull v Swansea, Ipswich v Lincoln and Stoke v Wolves. Five times winners versus the Premier League Champions clearly isn't worthy of a mention in the BBC's eyes.
Top that off, a minute later with Gobshite Lawro claiming it's a three-horse title race between Chelsea, Man City and the RedShite despite the fact Spurs will go 2nd if/when they beat West Brom in the Saturday lunchtime kick off next week and have the best defensive record in the Premier League.
Brian Garside
38
Posted 07/01/2017 at 12:56:06
http://neofeed.tv/70052/1/Watch--Everton-FC-vs-Leicester-City/
Tony. Try this later.
Mike Green
39
Posted 07/01/2017 at 13:06:18
Good shout, Colin – I thought Spurs (particularly defensively) were superb on Wednesday night. They're a far better team than Liverpool and expect them to prove it come May.
Add City, Chelsea, Arsenal, even Man Utd (who'll do their level best to put as spanner in their spokes) and it wont be easy for LFC. Touch wood they'll get Europa qualification to really put the brakes on them next year.
Mike Green
40
Posted 07/01/2017 at 13:11:38
Colin – looks like we might be one of the three featured games on MotD tonight, the others being Man Utd v Reading and AFC Wimbledon v Sutton Utd.

Tony Draper
41
Posted 07/01/2017 at 13:13:46
For those seeking streaming, looks like we're out of luck today. livesoccer.tv lists only BBC Radio coverage in GB & Eire. Normally the best "go to" site for finding foreign channels that are broadcasting.
Then look the channel up via Mobdro (app) on any compatible device (phone, tablet or firestick) via wifi. However, I managed to get a stream via Mobdro last week, just took ages to find, so I missed a good portion of the first half.
Kim Vivian
42
Posted 07/01/2017 at 13:21:44
I am usually very upbeat but for some reason feel a wee bit pessimistic about this game. No Gana, no McCarthy, no Calvert-Lewin, Lennon doubtful, Lookman cup-tied, Vardy back, Huth back? etc.
Could see a draw but let's hope Valencia turns up today, Lukaku puts a shift in and we do 'em first time round. Could be a stage for Deulofeu to show us what he can do. I'd like to see him on today.
COYB
Andy Meighan
43
Posted 07/01/2017 at 13:25:55
Love George's posts. Rave on John Donne indeed, Georgie lad. Superb!
Colin Battison
44
Posted 07/01/2017 at 13:44:39
There's a link on vipbox, guys...
Eric Myles
45
Posted 07/01/2017 at 13:44:40
Wish I could join you, Andy!!
Eric Myles
46
Posted 07/01/2017 at 14:01:53
If Mike (#40) is right, Andy, you can catch it tomorrow on Filmon at 05:30 if you're home by then, or 14:30, if you're awake by then, Pattaya time.
Laura Round
47
Posted 07/01/2017 at 14:33:37
Anyone know where Vardy is?!?
Steavey Buckley
48
Posted 07/01/2017 at 14:36:16
1 Robles
25 Funes Mori
5 Williams
30 Holgate
23 Coleman
26 Davies
18 Barry
8 Barkley
3 Baines
10 Lukaku
19 Valencia
Substitutes
6 Jagielka
7 Deulofeu
9 Koné
11 Mirallas
15 Cleverley
20 Oviedo
41 Hewelt
Phil Sammon
49
Posted 07/01/2017 at 14:46:35
Interesting Steavey.
5-3-2?
Not a winger in sight.
Steavey Buckley
50
Posted 07/01/2017 at 14:49:15
Phil, I didn't pick the team, Koeman did.
Trevor Lynes
51
Posted 07/01/2017 at 14:49:39
Does anyone know if Lukaku has actually signed a new contract? It was supposedly 99% complete before Christmas! We seem to be really slow at every business deal we make.
Strange side today IMO with no 'real' wide player on view. If Valencia starts out wide, what about the other wing?
David Pearl
52
Posted 07/01/2017 at 14:52:12
That's because we are playing with wing-backs and 2 up top. Good strong team. Pity no streams today as I couldnt make it. COYB
Peter Kowalski
53
Posted 08/01/2017 at 17:43:04
Only 5 shots on goal, 14 overall shots and 11 corners. Source:
Fctables
. If they play like that against Man City, we will lose again.
---
Add Your Comments
In order to post a comment, you need to be logged in as a registered user of the site.
Or Sign up as a ToffeeWeb Member — it's free, takes just a few minutes and will allow you to post your comments on articles and Talking Points submissions across the site.