Mirallas heading back to Olympiakos
Loan deal confirmed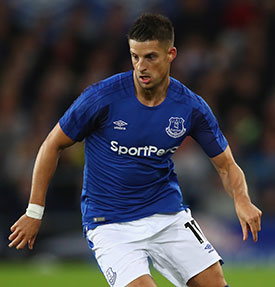 Updated
Everton have agreed to send Kevin Mirallas back to Olympiakos in a loan deal for now.
The forward secured a return to the club from which he joined the Blues that he wanted last summer when the Goodison hierarchy refused to sanction a loan deal.
Now, the Everton have acceded to this request. Initially it was reported as a permanent deal but the Greek club have negotiated a temporary transfer, perhaps with an option to buy the Belgian for around €5m in the summer.
Mirallas looked destined to leave Everton a year ago but eventually signed a new three-year contract at the end of the 2016-17 season, one which would cost the club a further £9m were he to remain on the bench or out of the team until 2020.
He has struggled to rediscover the form that made him such a valuable player in the latter stages of David Moyes's tenure as Toffees boss or at the height of the Roberto Martinez era.
In and out of the side under Ronald Koeman earlier this season, he has been dropped from the squad entirely by Sam Allardyce in recent weeks but will get the chance for first team football back in Greece.
---
---