Tottenham Hotspur vs Everton

99 Comments [Jump to last]
Friday 12 January 2018
Match Preview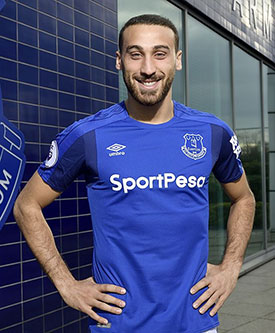 Cenk Tosun is a Blue at last but will he start?
Tony McArdle/Everton FC/Getty Images
Updated Everton get back to the bread and butter of the Premier League this weekend with their season essentially over bar the goal of a top-seven finish and the relative intrigue of whether Sam Allardyce can evolve beyond his limited reputation.
The fact that the first game after the elimination from the FA Cup at the first time of asking will be at Wembley is a mildly bitter twist of fate just as the distance at which the Blues continue to lag behind their one-time peers, Tottenham, won't be lost on the travelling Evertonians.
While the cup offered one last shot at success in what has been a pretty miserable season, the fact that another date under the arch is off the table really will sharpen the focus on the manager, particularly now that he has landed his top priority for January — a striker to ease the burden on Dominic Calvert-Lewin.
Cenk Tosun wasn't signed in time to face Liverpool last Friday but with a week to settle into his new surroundings, get familiar with his team-mates and hone his fitness again, he could be in contention for a starting berth rather than a place on the bench as would have been likely at Anfield.
Whether the addition of a more rounded and experienced striker proves to be the tonic to transform a side that has, frankly, been pretty abysmal going forward since the 3-1 win over Swansea almost a month ago remains to be seen.
Much will depend on the formation and personnel deployed behind him and whether Allardyce opts for the overtly defensive posture he adopted at Bournemouth when he played three defensive midfielders and a lone striker.
Wayne Rooney came off the bench that day in place of James McCarthy but couldn't inspire Everton to victory and his removal from the fray against Liverpool last week following a worryingly ineffective and indisciplined performance doesn't bode well for his chances of leading a newly dynamic Blues side now that Tosun will be leading the line.
Instead, the incisiveness came from Gylfi Sigurdsson who scored the equaliser that threatened to force a replace and the badly-needed creativity came from Ademola Lookman. The young winger, criminally overlooked at West Brom and Bournemouth — they were two games that were begging for him to come on in the final quarter of an hour to inject some direct running and inventiveness — made a strong case for his inclusion in the squad at Wembley but the strength of the opposition might make Allardyce think twice about starting him.
That honour will likely go to Yannick Bolasie again while the number of more defensively-minded central midfielders that end up in the line-up could depend on the fitness of Idrissa Gueye. The Senegalese international was risked at Bournemouth, aggravated a hamstring injury, has missed the last two matches and is therefore probably still doubtful.
Leighton Baines remains sidelined with a calf problem while, on the other side of defence, Seamus Coleman's rehabilitation continues with, perhaps, the end of the month as a target for his return. Michael Keane is also ruled out as he continues to have problems with a gashed foot.
Cuco Martina and Jonjoe Kenny will continue to deputise, leaving Allardyce just needing to perm two from Phil Jagielka, Mason Holgate and Ashley Williams, assuming he doesn't go for five at the back instead.
Spurs, who begin the weekend in fifth place, were held at Wembley by West Ham in their last League outing but had, prior to that, looked like they had finally got to grips with their temporary home with strong consecutive wins over Southampton, Brighton and Stoke City in the League and Apoel Nicosia in the Champions League.
They have shown themselves to be susceptible to teams that go at them on their home turf, something Everton haven't really done at any point this season under three different managers but Blues will be looking to see if Allardyce can maintain his side's defensive solidity against a very strong attacking team while starting to add some adventure going forward in his own team.
Kick-off: 5:30pm, Saturday 13 January, 2018
Referee: Craig Pawson
Last Time: Tottenham Hotspur 3-2 Everton
Predicted Line-up: Pickford, Kenny, Holgate, Jagielka, Martina, Schneiderlin, McCarthy, Rooney, Sigurdsson, Bolasie, Tosun
---
Reader Comments (99)
Note: the following content is not moderated or vetted by the site owners at the time of submission. Comments are the responsibility of the poster. Disclaimer
Steve Bingham
1
Posted 12/01/2018 at 07:32:09
I'm going to have a fiver on us to win 1-0 with our new striker scoring.
Mike Dixon
2
Posted 12/01/2018 at 08:31:03
Steve. Love your optimism!
I'll take 1-1 with anyone scoring. Little steps...
Liam Reilly
3
Posted 12/01/2018 at 08:33:24
I can't see any way that Tottenham won't score in this game; big pitch and their counter-attack is the best in the league.
Hope I'm wrong but, if they score an early goal, this may not be pleasant viewing.
Neil Lawson
4
Posted 12/01/2018 at 08:33:25
We have never, so far as I can remember, won at the new Wembley. Hardly likely to break their duck if Lyndon's line up is correct.
Probably more likelihood of me running a sub 20 min Parkrun tomorrow morning than Big Sam picking any sort of line up designed to cross the half-way line, but I suppose I could hide in the woods and miss out the first half-mile.
Kane scoring must be the banker basis of any accumulator tomorrow!! Ever the optimist!
Peter Larkin
5
Posted 12/01/2018 at 08:34:26
Expecting another backs-to-the-wall job with maybe 1 shot on target. Tosun to struggle like every other striker who gets isolated. 3-0 to Spurs for me, with pressure mounting on big Sam.
Barry McNally
6
Posted 12/01/2018 at 08:47:05
Anyone know what our ticket allocation is?
Les Martin
7
Posted 12/01/2018 at 08:52:36
Same team as ending against Liverpool but with Cenk on as the main striker. We talk about Spurs' attacking style, but our team could do it to them!
Simon Jones
8
Posted 12/01/2018 at 09:15:22
On the BBC Sport website live feed
"Everton face Tottenham at Wembley tomorrow and Sam Allardyce is speaking about Seamus Coleman's fitness.
"I think if I asked him now would he join the squad to face Spurs, he'd say 'Yes, I'm fit enough' but we have indicators to monitor if when he comes back his body is ready to face the challenges."
The boss adds that Micheal Keane is out with a bad gash on his foot.
That's likely to be some of the best news of the year, well the first bit is!
Derek Knox
9
Posted 12/01/2018 at 10:06:30
This won't be an easy game at all; but I am quietly confident we can get something from it; provided there are no stupid errors like passing and giving them space.
Admittedly, Schneiderlin has been a tad better these last few games; despite us losing, but I still am nervous with him in the side; wish we could move him on and get a proper general in midfield.
I hope if Cenk starts; he will have a decent debut, and preferably a scoring one; I hope also to see Lookman involved at some stage; he changed the dynamic at Anfield when he came on, albeit too late.
COYB
Robert Leigh
10
Posted 12/01/2018 at 10:13:59
It'd be harsh to drop Calvert-Lewin, also think Tosun would benefit from 60 mins viewing time from the bench before chucking him in against Spurs.
Pickford
Kenny Holgate Keane Martina
McCarthy Davies Sigurdsson
Lennon Calvert-Lewin Bolasie
Subs: Robles, Jagielka, Garbutt, Schneiderlin, Lookman, Rooney, Tosun.
I think this game would be too quick for Rooney & Schneiderlin, we'll need young Tom's energy and Lennon will be well up for this.
Looking stronger though considering no Williams, Sandro, Klaassen, Besic, or the injured lads are in my choice 18!
I would also like to see Garbutt on the bench if we can, and maybe a few minutes to sure up the left hand side ahead of a possible start v West Brom next week – though highly unlikely!
How can a player who performed well for us and was wanted elsewhere drop to such a low?

Clive Rogers
11
Posted 12/01/2018 at 10:26:13
Lennon has not scored a goal for two years.
Winston Williamson
12
Posted 12/01/2018 at 10:28:36
I know Big Sam was brought in to steady the ship and stop us conceding a lot of goals, but I do not ever look forward to watching Everton play anymore. Keeping it tight and praying for a miracle does not inspire me to watch our club.
Our lack of attacking intent, against anyone, is killing it for me. I do not expect us to attack anymore, only to sit deep and defend and hope we get lucky. It's depressing viewing...
The only exception to this now is wanting to see if Tosun is any good; however, I expect him to be completely isolated in this game...
Mike Dixon
13
Posted 12/01/2018 at 10:51:16
Those on here should listen to Sam in his pre match interview. An honest assessment of us. Refreshing.
Jim Bennings
14
Posted 12/01/2018 at 10:52:54
Why would it be harsh to drop Calvert-Lewin? Three league goals all season and Allardyce has admitted what we all know, the lad is knackered!.
I don't see any way we will get a result at Spurs tomorrow that's not being negative just realistic. Everton don't win these type of fixtures and certainly not when we are playing as poorly as we are at present .
We also haven't beat Tottenham home or away since December 2012 so it's yet another serial bogey team.
Paul McCoy
15
Posted 12/01/2018 at 10:56:51
I predict a backs to the wall performance with at most 2 shots on target. I also think water might be described as 'wet'.
John Keating
16
Posted 12/01/2018 at 11:10:22
I think Lyndon's team will probably start.
However given the chance I personally would play Lookman, Vlasic or Calvert-Lewin out wide in place of Rooney and let Sigurdsson play central.
I'm surprised to hear we are in for Walcott; seems to me there are a couple of other positions need sorting first.
Bob Parrington
17
Posted 12/01/2018 at 11:14:05
Y'know, it's great to see some Everton players with smiles on their faces. A smile costs nothing! But each one is priceless!
Tosun adds to Bolasie, Niasse and Lookman in particular.
Positive thinking everybody! Let's get on with it!
Shane Corcoran
18
Posted 12/01/2018 at 11:19:55
Bob, Lookman? I think he's going to cry every time I see him.
John Hammond
19
Posted 12/01/2018 at 11:34:25
I didn't see the Man Utd game and didn't realise Vlasic got a full 90 minutes. How did he do? Worth another start against Spurs?
We need Sigurdsson in his best position against the top teams so I'd stick him central and have McCarthy and Davies sat behind. Tosun surely has to start.
Paul Kelly
20
Posted 12/01/2018 at 11:50:49
Sam Allardyce says we're in talks to sign Walcott.
Len Hawkins
22
Posted 12/01/2018 at 12:37:27
I'd give Calvert-Lewin a free week in the sun with his WAG and then, when he's really knackered, send him to a monastery for a couple of weeks – that should freshen him up.
Hopefully the club would check that they aren't holding a Monks Ball while he's there, otherwise the screaming might keep him awake.
Nigel Munford
23
Posted 12/01/2018 at 12:41:07
Robert at 10, you can't play Keane as he's injured.
Gwilym Jones
24
Posted 12/01/2018 at 13:03:37
I hope Sam has warned them to watch diver Alli.
George Cumiskey
25
Posted 12/01/2018 at 13:06:46
I see some people are still using 'honesty' and 'Allardyce' in the same sentence?
Lenny Kingman
26
Posted 12/01/2018 at 13:25:11
Get the new boy on from the start and let's see what he is made of.
He's fortunate enough to have come to play for a great club such as Everton, it would be most enlightening to see if he can show, right from the off, what he intends to do to reimburse the faith shown by management.
Ian Edwards
27
Posted 12/01/2018 at 13:34:46
I would resist calls to play Vlasic. He has shown nothing since his purchase and I would put him in the same bracket as Klaasen and Sandro.
I would have Bolasie with Siggy just behind Tosun.
Holgate needs to start and if we can leave Kenny out all the better. He has been a liability in a few away games: Southampton, Leicester and Bournemouth.
James Marshall
28
Posted 12/01/2018 at 13:38:25
This will be the first game I've managed to get to this season, and we win about 1 in 10 when I'm in the ground.
Cross everything.
Danny Baily
29
Posted 12/01/2018 at 13:38:45
Any players who are considered as long-term first team players should be starting.
If Tosun is up for it, let's throw him in.
The season is over in January (in terms of positive things to play for, again); let's start building some understanding between players for next season.
Sam Hoare
30
Posted 12/01/2018 at 14:19:31
I'd like to see a solid team with some physicality and pace up front. I'm dropping Rooney because I think it's best to play either him or Sigurdsson and I think the Icelander probably offers more overall and gives the ball away less.
We've got to start Tosun if he's fit to give everyone a lift. I think Calvert-Lewin would support him well and has the pace and height to help a counter-attack in combination with Kenny who he knows well.
Pickford
Kenny Holgate Jagielka Martina
McCarthy Gueye Sigurdsson
Calvert-Lewin Tosun Bolasie
John Boon
31
Posted 12/01/2018 at 14:24:17
I'm looking forward to seeing Tosun.
I like one recent article suggesting Palace would consider swapping Van Aarnholt for Niasse. This would make a lot of sense.
As for Saturday's team. I have confidence in Allardyce's choice. I presume he has now seen the team enough both in games and in practice. I just hope we get as much luck as West Ham did in Spurs last home game.
Tom Bowers
33
Posted 12/01/2018 at 14:36:33
No matter who starts, many will say it's a sure fire 3 points for Spurs. However, Spurs may just think they only have to turn up but Everton can relax now (not that they haven't been relaxed all season).
Joking aside, sometimes the weirdest results can happen when you least expect it. With Bolasie finding his feet again and the addition of Tosun, Everton may just be a better team offensively.
The kiss of death is always when you hope for an upset but it goes right out the window when they concede early on. The defence is a real problem and when you have someone like Harry Kane up against you it's difficult to keep him under wraps for 90 minutes.
Jay Harris
34
Posted 12/01/2018 at 15:22:57
Rooney would be found out by Spurs hard-tackling midfield so I would leave him on the bench for this one.
Keane is injured which for me is not a problem as he has been our worst CB this season and, although Jags performed heroically in the derby I like the Williams Holgate combination more so a back 4 of Kenny Holgate Williams Martina.
Defensive mids are questionable. if Gana is fit he is a sure starter for me and although I prefer McCarthy to Schneiderlin he is too similar to Gana in his positioning so may not be the best fit.
Lennon has complemented Kenny well this season and Sigurdsson has just started to hit form. We need Bolasie's pace and trickery and up front Tosun is a must.
I would like to see us keep it tight for the first half and frustrate the crowd then open up and get the winner second half.
I just hope the ref isn't conned by Alli falling when someone goes near him.
Easy on paper isn't it.
John Malone
35
Posted 12/01/2018 at 15:25:48
Ian (#27), are you kidding me?? Every time I've seen Vlasic play he has brought something to the table!
I rate him and think, with right players to play with, he will be a decent player!
Paul Kossoff
36
Posted 12/01/2018 at 15:43:00
A newly dynamic Blues side??? Say what now???? On the basis of???
Eric Paul
37
Posted 12/01/2018 at 15:56:10
Ian @27,
Leave Kenny out for whom? He is one of the only plus points of the season.
Dave Abrahams
38
Posted 12/01/2018 at 16:03:43
The left-back position is the one we all know needs strengthening and yet there doesn't seem any urgency in doing anything to get some one in there. Talking about getting Garbutt into the squad and bringing back Galloway from Sunderland will not change the weakness there.
Leaving Rooney on the bench will help the team, he might play better for the last 30 minutes. Watching him trying to play 90 mins lately has been sad for me, a really great player once, now struggling badly.
Dave Evans
39
Posted 12/01/2018 at 16:06:48
@36 a few question marks there, Paul – one for each outfield player?
Tony Everan
40
Posted 12/01/2018 at 16:09:04
We have some threat now. With Bolasie improving, and Tosun wanting to impress, there's a goal (or two) for us.
We will have to defend like lions to keep them out though, but we've done that a few times this season. So a positive result is possible.
Spurs 1, Everton 2 sounds good.
John Smith
41
Posted 12/01/2018 at 16:12:55
Gio Mero
42
Posted 12/01/2018 at 16:28:09
Calvert-Lewin gets a lot of stick for his poor scoring record but I can't think of many golden opportunities he squandered. There are a few but not many that would have scored many more and done the job he's asked to do for the team...
The little I saw of Tosun he's slower than Calvert-Lewin. How on earth he is going to score if we don't change our style of football I really don't know. We need a box to box midfield and a playmaker sitting in front of our defenders. Let's get Pirlo out of retirement.
Matthew Williams
43
Posted 12/01/2018 at 16:32:42
Tosun to score... but sadly Spurs will do us again.
2-1.
Paul Birmingham
44
Posted 12/01/2018 at 17:34:16
It's a chance to put on a winning away day. The spotlight will be on us and bearing the next few games we must get a result.
I hope and hope Tosun gets stuck in and ruffles up Spurs. No daft mistakes and giving Kane and Alli goals on a plate.
I'd start with Lookman or Vlasic and use Rooney as a sub but I sense Rooney will start and Vlasic or Lookman will be subs, either coming on again for Bolasie... 3-1 to us with a surprise performance!
Being optimistic but we have turned these over before so we'll be overdue tomorrow.
Michael Lynch
46
Posted 12/01/2018 at 18:27:14
I'm slightly concerned by Big Sam's less than positive comments about Tosun's likely impact. I understand his caution, of course it's always a risk when you buy a player from outside the Premier League, but I wonder if he's seen something in training that makes him doubtful about the new lad's potential?
Maybe like when Moyes bought Krøldrup and (allegedly) discovered he couldn't head a ball?
John Boon
47
Posted 12/01/2018 at 18:27:37
I agree with John Malone (#35). Vlasic is not the finished product, but he has shown far more than many others. I feel that, with the proper coaching and advice, he could become a really top player. He must be still adapting to a new team and country.
He needs help on how to defend, but so do all the guys who are actually playing defence.
I feel the same way about Lookman. We have to be patient with all these younger players. They are probably far more nervous than we are. On second thoughts, I am not so sure.
Just watching the Blues this year is like standing on the edge of a cliff for 90 minutes. And many times I feel I have fallen off.
Jack Convery
48
Posted 12/01/2018 at 18:34:35
2-2 is my bet. Tosun and Williams. Kane for their two.
Tony Hill
49
Posted 12/01/2018 at 18:36:51
Agreed, Michael (#46), strange words and rather gloomy ones. Not the confidence I would have expected from the manager – and which should have been communicated regardless. His first ill-judged remark in a press conference (though I confess I also thought his remark a couple of weeks ago about Pickford being "a bit early" as England Number 1 was a bit odd too).
If Allardyce is going to make a success of things – as I very much hope he will – then he has to maintain a bright and upbeat front.
Mind you, Moshiri's less than ringing endorsement of Sam at the AGM was not designed to boost the managerial mood.
John Pierce
50
Posted 12/01/2018 at 18:47:50
This in many ways is a replica of last week's game. A chance to see if Allardyce is prepared to play the same way. We were not great last week but did have an out ball.
You have to say adding Lookman to this with Bolasie on a massive pitch feels like good a idea.
This could be enhanced by Tosun who is reputed to be physically adept and link play well. To keep up with them Sigurdsson seems to be the right choice, leaving Rooney splintered.
A very simple midfield of Gueye and McCarthy might work, but I fear the lack of a decent ball player flounders my plan. Schneiderlin too slow, Rooney like Barry as season or two again would get destroyed.
If Allardyce goes back to his self styled shithousery then he deserves the pelters he'll get.
Ian Bennett
51
Posted 12/01/2018 at 19:26:01
Hope we have a bit of a go, on what is a big pitch. Lookman to come on and win it.
Pickford
Martina
Kenny
Jagielka
Holgate
Gueye
McCarthy
Rooney
Sigurdsson
Bolasie
Tosun
Stephen Williams
52
Posted 12/01/2018 at 19:55:37
I just can't understand the 'nothing left to play for' comments. This is just plain wrong. Whilst we can't win a trophy, we should spend the last 16 games building a platform on which the club can move forward and provides the basis of a plan to have a real go from the off next season.
We should also expose the younger players to a system that suits both the club and their own development. It's a shame that we have a dinosaur as manager who inspires little faith in being able to deliver this.
Notwithstanding this, we must set up to be both difficult to beat and to cause problems to the opposition. To achieve this, I'd set up like most teams do nowadays; back four, two energetic shields, four attackers including two quick wides and a No 10 behind the striker. With the personnel we have, I'd go for:
Pickford
Kenny, Holgate, Jagielka, Martina
Gueye, McCarthy
Lookman, Sigurdsson, Bolasie
Tosun
With Calvert-Lewin, Vlasic, Baningime etc available to come off the bench when starting 11 tire.
Mick Conalty
53
Posted 12/01/2018 at 21:11:29
I went as a kid to Spurs v Everton, I think it was early sixties. Spurs 2 Everton 4. Tony Kay played. What a player, what a team.
Returned home on same train as the players. It was a corridor train in those days. We went for a walk along the corridor and there in the compartments were the Everton players having a game of cards. We were invited in to meet our heroes.
Happy days.
Tony Abrahams
54
Posted 12/01/2018 at 21:23:27
That looks like a good team to me Stephen. I personally think Allardyce is just speaking the truth about Tosun, even if our new signing has been a lot more bullish, with his talk.
Football should always be about what players or the team do out on the pitch, and although this is one of the most difficult games on our entire fixture list, I'm looking forward to seeing how we do, and also think we are massively overpriced at 9/1.
Raymond Fox
55
Posted 12/01/2018 at 21:25:33
I see some are still sniping at Allardyce, in case their forgetting we have gone from relegation candidates to comfortable and that's in spite of playing some very difficult fixtures.
As for Allardyce's tactics, the fact is we have a moderate team with very little creativity at the moment, selling Lukaku and replacing him with Tosun sums the club up.
We are 14/1 to win tomorrow, while I don't fancy we will win 14/1 does seem like a very big price! Stranger things have happened.
Rob Birks
56
Posted 12/01/2018 at 21:41:22
And on another note... this is: Where the bleedin' hell is Bainsey?
Steavey Buckley
57
Posted 12/01/2018 at 21:54:47
Everton need 2 rows of 4 defenders and 4 midfield players to cover for each other. 2 strikers to give any resemblance of any attacking threat. Bolasie and Rooney will be a luxury if they start. If they do start, Everton will be beaten 3-0.
Roger Helm
58
Posted 12/01/2018 at 22:45:12
Well, Steavey (#57), with 14 outfield players and a goalie, we should be in with a good chance.
Mike Jones
59
Posted 12/01/2018 at 22:45:43
We'll lose.
Eddie Dunn
60
Posted 12/01/2018 at 22:57:54
My prediction is a 1-1 draw. Lookman from 25 yards for us and Kane for them.
Lev Vellene
61
Posted 12/01/2018 at 23:23:34
No one expects us to win this one...
So 2 by Tosun, and then he'll be baffled by the elder players asking him to pipe it down and go for just a one-goal defeat...
Nah! We can do this, and they don't expect us to try, I'd think!
Derek Knox
62
Posted 12/01/2018 at 23:48:30
Eddie, love the positivity, but what about second half? :-)
Steavey Buckley
63
Posted 12/01/2018 at 23:50:18
Roger, I always believed 2 x 4 = 8 + 2 = 10 outfield players. But I have to agree, 14 players would be more useful, permitting.
Kim Vivian
64
Posted 13/01/2018 at 00:33:27
I think we might get something out of this game. Can't see Spurs remaining goalless so bizarrely have predicted 2-2 this time out. Hmmmmm.
Peter Cummings
65
Posted 13/01/2018 at 01:04:45
Can't see us getting anything from this one. As well as Kane, we will have to contend with Alli, Eriksen and Son, all whom are miles ahead of us in skill speed and thinking, maybe if it was a final we could hold them but it isn't and we won't, but at least we can say we got to Wembley.
Geoff Lambert
66
Posted 13/01/2018 at 01:14:06
Think we might go for a 0-0 I don't know why! Just a hunch...
Jamie Crowley
67
Posted 13/01/2018 at 03:48:34
Shut down Kane. It's that simple.
Whomever plays at CB has to be on him like flies on shit.
Todd Watkins
68
Posted 13/01/2018 at 03:58:06
Make or break, this game, for Everton's season. We have to treat it as a cup final. Man-mark Kane all game.
Give Tosun the support he needs, hell bang them in. If we can do that, I think we can graft out a win. COYB. 3- 1.
Nathan Osborne
69
Posted 13/01/2018 at 06:06:22
Pickford
Kenny
Holgate
Jagielka
Garbutt
Davies
Schneiderlin
Rooney
Bolasie
Tosun
Sigurdsson
Subs - Robles Williams Martina McCarthy Lennon Calvert-Lewin Niasse
This is the only lineup that could take anything out of the game. Should be playing Garbutt over Martina. Prediction is 2-1 Tottenham – Hope I'm wrong. COYB
Brian Porter
70
Posted 13/01/2018 at 06:18:00
I just hope Tosun starts. Playing Calvert-Lewin for him to properly integrate with the team or come to terms with life in the Premier League.
He needs game time, lots of it, and what better place to make his debut than Wembley? He'll be well fired up to show his abilities on a stage like that.
Gareth Clark
71
Posted 13/01/2018 at 06:37:43
Our team against stronger opposition should be 2 CDMs and Sigurdsson playing on the left (as much as I hate it).
Pickford
Kenny Holgate Williams Martina
Idrissa McCarthy
Bolasie Rooney(c) Sigurdsson
Calvert-Lewin
Robles, Jagielka, Coleman, Schneiderlin, Davies, Lookman, Tosun
Tosun & Lookman off the bench. Hoping that Coleman gets on the bench too.
As much as I'd like Tosun to start, giving him 30 minutes against a slightly more tired opposition seems the best option, and then starting the next game.
Kunal Desai
72
Posted 13/01/2018 at 07:40:20
Offered complimentary tickets for this one but turned it down as I would have been seated in the Spurs end and the fact that Spurs will put until 2 or 3 past us. Decided to swerve this off.
Mike Dixon
73
Posted 13/01/2018 at 08:07:33
Geoff (#66),
0-0 would be a very good result, don't knock it.
Real Madrid lost 3-1 there.
Lewis Barclay
74
Posted 13/01/2018 at 08:33:12
Pickford
Kenny Holgate Jagielka Martina
McCarthy Gueye
Sigurdsson
Lookman Tosun Bolasie
Alex Mullan
75
Posted 13/01/2018 at 09:56:51
If Holgate plays he will almost certainly cost us at least 1 goal. Nearly always does. I have no idea what anyone sees in him but then again I am just a bloke in an armchair.
Eric Paul
76
Posted 13/01/2018 at 10:06:34
Holgate is our best central defender in my opinion
Darren Hind
77
Posted 13/01/2018 at 10:13:34
Eric
Agreed. Holgate is probably the best central defender in the Premier League for his age. Why some managers play him at full-back is beyond me. I've rated him since I first saw him a couple of seasons back.
Immense talent... let's hope he doesn't get the same treatment as Stones got. Plenty of people slagged him off. Now Pep reckons he has the best centre-half in the game.
David Ellis
78
Posted 13/01/2018 at 10:19:13
Looking at Sam's recent comments that Vlasic and Lookman are "for the future " means unlikely either will start. Shame.
I like the idea of Lookman, Tosun and Bolasie up front with Sigurdsson as No 10 with two defensive midfielders behind. Maybe we'll play this formation once we have Walcott in, instead of Lookman.
Peter Hughes
79
Posted 13/01/2018 at 10:33:44
Holgate is a liability imo
Brian Harrison
80
Posted 13/01/2018 at 10:44:14
Nothing to do with this thread but I would just like to say well done to the supporters of Dortmund who are boycotting their Monday night game. This is to let Sky in Germany know that they don't want Monday night football.
Pity the fans in this country didn't make a stand against Friday and Monday and Saturday night games. Without full stadiums, Sky have got nothing to sell. I wish the fans would realize the power that we have about time we exercised that power. Sky are only interested in the armchair viewers and not the proper match-going fans.
Tom Bowers
81
Posted 13/01/2018 at 10:54:51
This is always a difficult fixture and with Kane scoring for fun it becomes even more so.
Everton do have problems at the back where Holgate hasn't really established himself as a tough cookie.
With the aging Jags. and Williams it becomes an even bigger problem.
Keane is another young player who's form is questionable and the less said about Martina the better.
Despite the fact they have nothing to play for except pride I cannot see Everton starting this match any differently than they usuually do.
If they sit back then it could be a disaster with Erickson pulling the strings and the front two interchanging causing havoc.
Tosun may only start on the bench as Sam goes with the team that showed some promise against the RS.
Everton have to get Spurs out of their comfort zone by getting in some serious early attacks.

Joe O'Brien
82
Posted 13/01/2018 at 12:05:42
Gareth @71 Coleman is miles away from making the bench, even tho it would be a massive boost to see him there.
Eric Paul
84
Posted 13/01/2018 at 13:17:42
Holgate makes no more mistakes than our other central defenders the difference being at 21 he is learning from them. Remember another central defender who used to play for us (John Stones) and was also a liability to many ToffeeWebbers, who's mind was probably made up to leave due to the abuse he received from his own fans.
Keith Gleave
85
Posted 13/01/2018 at 13:20:44
It does make me cringe when I see some of the comments but we all have our thoughts on players.
We need a box to box midfielder, this was Klassen's position for Ajax and was good at it, yet we have never played him in this position.
We have problems with goal scoring, Sandro was bought as a player with some pace who can cut in from wide areas or sit behind main striker and score goals, we have never played him in these positions properly.
It is also obvious that Sigurdssonplays far better when Rooney is not on the pitch and connects better with the rest of the team.
We have a left back who really struggles going forward and so the attacks down this side are too slow or break down, this has to be addressed.
Overall though my thoughts are play people where they are supposed to play and get the best out of them, this is one of the reasons we are where we are. These players also need time on the pitch, so if its not in the first team get them in the Under-23s and understanding a pattern of play.
Geoff Evans
86
Posted 13/01/2018 at 13:46:04
Welcome to Tosun, hope he knows what he's let him self in for, what take him too long to find out.
Welcome to total football, only joking.
Dave Pritchard
87
Posted 13/01/2018 at 13:48:22
Todd @ 68, how do you rate this game as make or break for our season? One of the oddest comments I've read on here.
John Malone
88
Posted 13/01/2018 at 13:54:01
Brian (#80), I actually enjoy late night midweek games under the lights! I'm not sure what there problem is? It's the early morning or like you mentioned Friday nights that don't do it for me!
Midweek football has always been played even in the amateur leagues!
Anyway back to what really matters. Hopefully Tosun will be a revelation and will bag at least a brace today and bring us an unexpected win!
I will still be happy as long as Tosun shows us he has the quality to hold the ball up, win headers and the ability to have a decent shot on goal!! It's a big ask for him to produce on his debut at Wembley against a decent Spurs team bit fingers crossed he's the guy we've been waiting for!!
Up the Toffees!
Dermot Byrne
89
Posted 13/01/2018 at 13:58:28
Don't expect headlines for the new lad today. Temptation will be for some to slag off anyone involved in his purchase if he has a shit game.
Shallow bastards... it take 2 poor games to justify that!
Geoff Evans
90
Posted 13/01/2018 at 14:08:41
Tom (#81), Everton crossing the halfway line in the first half and having a shot on goal will definitely confuse Spurs.
They definitely won't expect that kind of ambition.
Dave Abrahams
91
Posted 13/01/2018 at 14:12:56
Mick (53), that game was either 1964 or 1965. I think Alex Young scored in that game. I know he played; if I'm not mistaken, he was dropped for the next game to allow Fred Pickering to come in and make his debut versus Nottm Forest.
James Marshall
92
Posted 13/01/2018 at 14:14:39
On the way down to London on the train at the moment – a handful of Norwich blues on the train too. Looking forward to a compelling attacking display and lots of goals. From us, obviously. ;-)
John Keating
93
Posted 13/01/2018 at 14:16:36
The usual pre-match thread.
Holgate is the future; no a disaster waiting to happen.
Play Williams; no, Williams is finished.
Vlasic brings nothing; no, Vlasic causes mayhem.
Calvert-Lewin is second rate; Calvert-Lewin is a great young player. Kenny is no player, let's bring back a long term injured Coleman, Kenny is a big plus this season.
And so it goes on. Opinions is all it is as everyone sees different things during the game.
At the end of the day, the manager will pick a team to get something from this game and if we can indeed sneak a point, I'd be made up.
After the game, we can spend the next few days slagging Allardyce for everything including crap exchange rates and the weather.
Eddie Dunn
94
Posted 13/01/2018 at 14:35:41
I expect Kane to score today especially as he is keen on having a pot from distance. Although Pickford has generally been good, he has a weakness when off his line and our defence are often slow to close-down. We will need to suffocate Kane (not literally) which will prove very difficult on the big Wembley pitch.
David Pearl
95
Posted 13/01/2018 at 14:57:55
Keith (#85)
Klaassen, I agree he hasn't been played as a box-to-box player and maybe needs another go. I don't think he will get that chance.
Sandro has been played enough to see he doesn't have the same time and space here to adapt his game.
Rooney and Sigurdsson can play on the same pitch. Although Siggy is better in the middle (all his goals come from the middle) and Rooney also better deeper and centre (as he is the only player we have that can play a pass over the top).
When Sam Allardyce came in, we played 4-3-3 then changed it to 4-5-1 and then 4-2-3-1. I've noticed we have played with more attacking players in recent games but we have to play on the front foot.
What we are in desperate need of is to pick up a LB (either a left back or a Leighton Baines) unless either Garbutt comes back into the squad or Galloway returns. I hope we show some ambition in this game and off the pitch by signing Walcott.
Ashley Roberts
96
Posted 13/01/2018 at 14:58:39
Given the fact that Wembley is a larger pitch than normal, I would like to stretch Spurs on the wings, so for me I would start both Bolasie and Lookman. I like the lineup Lewis (#74) has proposed but I would swap Rooney for Gueye.
David Barks
97
Posted 13/01/2018 at 15:16:21
Leicester showing everyone that if you just go into a match against the likes of Chelsea and actually look to attack, you blunt the opposition's ability to attack.
What a thought... that if you attack them, they have to defend instead of just throwing wave after wave of attack at your goal. I hope we at least try to attack today, otherwise what is the point?
David Pearl
98
Posted 13/01/2018 at 15:26:03
David, We are experts at giving the ball back to the opposition in either 5 seconds or 5 passes. Mayve Leicester can play an outball. Would be nice to see us play with some width on that Wembley pitch.
Mike Dolan
99
Posted 13/01/2018 at 15:26:32
Klaassen is a good player who I agree has never played in his true position since he came to Everton. He needs to play to find the form that enticed us to pay £20+ million for him just a few short months ago Sandro much the same. Either give them both a confidence rehab in the Under-23s and bring them back in defined roles that suit their games.
Rooney should play at least 45 minutes in every game if possible he is our leading scorer in a side that struggles to score goals . We should judge him on what he is to us now not what he was 5 years ago he is still a great player just a different player.
Always a tough game for us away to Spurs. I would take another dire 0-0 and hold my nose for another week. Coming out of today without a loss would be a win almost . We'll be ready to carry the game to them next year. Maybe.

Jamie Evans
100
Posted 13/01/2018 at 15:30:37
David (#97) correct. Our Manager is unfortunately just not wired in that way.
He will set up safety first as we did at Anfield in the league and try to nick something. It's desperately dull isn't it. Oh well. Up the toffees.
Let's be honest, there's nothing we can do about it but get behind him.
Brian Williams
101
Posted 13/01/2018 at 15:47:38
I think we'll see Allardyce's tactics changing when he feels he has the personnel to do so.
There was a piece in the Red Echo where he quite clearly recognizes and states the need to entertain as well as gain points. Worth reading.

John Keating
102
Posted 13/01/2018 at 16:22:18
In the sunshine watching Leicester - Chelsea and goals from elsewhere.
What a good team Leicester are, equal to Chelsea. If they get nothing from this game, it will be a travesty
Scores so far just show how anyone can beat anyone in this league. We still need a few more points
David Barks
103
Posted 13/01/2018 at 16:26:25
It's about attitude, John. Their manager spoke openly before the game that they were going to attack Chelsea, and that when they score they will go for a second.
Of course now the ref has completely screwed them and the viewers by sending a man off. What a travesty.
Add Your Comments
In order to post a comment, you need to be logged in as a registered user of the site.
Or Sign up as a ToffeeWeb Member — it's free, takes just a few minutes and will allow you to post your comments on articles and Talking Points submissions across the site.