Allardyce content to avoid 'dreaded' vote of confidence from Moshiri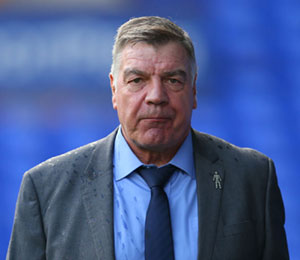 Everton FC/Getty Images
Sam Allardyce has expanded on the comments he made yesterday regarding regarding Thursday's meeting with Farhad Moshiri but wouldn't confirm that Everton's major shareholder gave him his unequivocal backing.
The manager was asked during the television media portion of his pre-match press conference whether he had the clarity he was seeking from Moshiri about his future at Goodison Park following reports from two of the leading tabloids suggesting he hadn't got the assurance he was seeking.
"We discussed the plans for next season yesterday with Farhad," Allardyce said in his presser at Finch Farm, "and we've got some clarity now moving forward."
Despite his insistence, however, based on comments attributed to him by The Guardian's Andy Hunter today from a subsequent interview, things aren't quite so cut and dried. Allardyce was asked whether Moshiri had given him a 100% commitment that he will remain in charge for the remaining year of his 18-month contract and demurred, choosing to focus on the talks about future plans for the team.
"I'm not going to tell you one way or the other," the 63-year-old said. "We discussed next season and if I wasn't going to be here why would we be discussing next season at great length? I have found Farhad nothing but supportive from day one and still just as supportive yesterday.
"What they asked me to do, I've done. I can't do any more than what I've achieved up to this point. Well, yes I could. We could have got better results and more points but I think under the circumstances, when you look at the overall position, I think we have achieved a lot.
"Clarity is the fact I've had a meeting with him and I'm telling you and the meeting has been about what's happening next season.
"Farhad doesn't feel the need to come out and say anything publicly, so I'm saying we had a meeting yesterday to discuss next season's plans, pre-season, players and which direction we are going to go in.
"I said [last week] I can't tell Farhad what to do. 'It would help,' I said. He doesn't feel the need to do that. By the fact we've had the meeting, he's in the position where he doesn't feel he needs to do that.
"He may well feel that if he did that you would just say: 'Oh, he's had the dreaded vote of confidence.'"
Of course, Moshiri's stance leaves the door open for another change in the managerial hot-seat at the end of the season, something that the brevity of Allardyce's contract suggested was possible from the outset.
The renowned Premier League firefighter was hired to ensure that Everton preserved their top-flight status after a horrendous start to the 2017-18 season and two worryingly poor performances against Atalanta and Southampton under interim boss, David Unsworth.
Unsworth handed the reins to Allardyce with a handsome 4-0 win over West Ham United in his final game in charge at the end of November, paving the way for the subsequent improvement in the club's league position.
Doubts remain, however, over Allardyce's suitability to the Everton job and Moshiri's ambitions, his ability to transform the Blues into a side capable of winning consistently, provide entertaining football and challenge for the Champions League places next season.
That has led to persistent speculation that not only is the club's hierarchy looking to bring in PSV Eindhoven's technical director Marcel Brands but they're also hoping to lure a longer-term managerial appointment to Goodison as well, with Shakhtar Donetsk's Paulo Fonseca and former Watford boss, Marco Silva, the two names most commonly raised as options.
---
---