Silva confident of imminent new signings
Wednesday, 18 July, 2018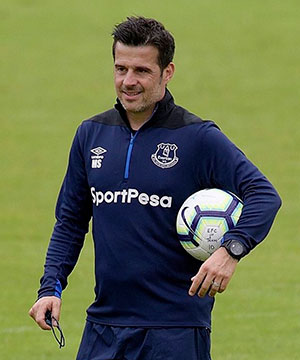 Marco Silva says that he expects Everton to finally begin their close-season spending "in the next few days" as the club's pre-season preparations continue.
Along with Tottenham and Burnley, Everton are one of just three Premier League teams yet to make an incoming signing this summer but the new manager expects that to change soon.
"[I]t is clear for us what we need," Silva said after the 1-1 friendly draw against Bury this evening. "It's clear for me as well, our board and our owner, it is clear they know what we need. It is clear what our targets are and where we want to improve our squad well.
"Of course, the boys are working well and are working really hard but, like all the other teams, we want to improve our squad and be more competitive as well.
"[W]e want a normal number in our squad and we are working on both sides. Of course, after the next weekend I will start taking some decisions as well because we will have finalised the third week of pre-season and that is the moment to take some important decisions about our players as well.
"And we expect in the next few days the new players we need will start to arrive.
"I'm confident [of landing] our targets," Silva continued. "If you ask me, in a normal situation it is not the perfect situation because this season the market will close early, this is new for us.
"In a normal situation we have maybe already signed one or two players, we haven't signed anybody yet but we have until the end of the market to sign our targets and it is something we have to do because we need and we need to give a signal for our team and for our fans what we want for the season."
---
Reader Comments (95)
Note: the following content is not moderated or vetted by the site owners at the time of submission. Comments are the responsibility of the poster. Disclaimer
David Connor
1
Posted 19/07/2018 at 00:07:41
I can't see us ever having a spending spree like we had last year ever again. Mr Moshiri had his fingers well and truly burned by the clowns Walsh & Koeman. First time we get someone with cash to spend and those two jokers well and truly cock it up.
He will be more cautious from now on, whoever we have as manager. I for one can't blame him.<>Oh, by the way — get your skates on, Marco, the clock's ticking...
Peter Gorman
2
Posted 19/07/2018 at 00:30:47
As much as I want to see several faces out the door, I don't just want signings for the sake of signings; they need to be genuine quality or we'll struggle this coming season.
Unfortunately that would require an outlay similar to last year, just not spunked on average to below-average wasters.
I genuinely believe Tosun is a forward we can build around, and Pickford has proven his worth to a larger audience. We have some very decent young kids who I feel won't let us down when called to chip in but, frankly, everything else between Tosun and Pickford could do with an upgrade.
Fran Mitchell
3
Posted 19/07/2018 at 00:53:37
The assessment of the squad is very important. The new coaching team need to assess if the players we have are good enough, or if they have the attitude to adapt.
The likes of Klaassen, Sandro, Mirallas, Schneiderlin, Besic, Niasse, Bolasie and some of the youngsters have question marks that only Silva and co can evaluate. Maybe some of these can play a role, most probably not.
We can't be making any mistakes like before, patience is needed, and probably another couple of windows too.
We need patience, let's trust Brands and Silva. We'll get there.

Gavin Johnson
4
Posted 19/07/2018 at 02:17:14
Lookman was ominously missing tonight. Fingers crossed he's not going to Leipzig. My gut feeling is that he wants to go.
Bobby Mallon
5
Posted 19/07/2018 at 05:33:00
I think we will sign 3 players and two of those will be defenders.
Alan J Thompson
6
Posted 19/07/2018 at 05:53:26
One has to be a pacy central defender with some ability in the air in order to push further up the pitch. We seem to have enough defensive midfielders, it's sorting out a couple who can get forward as well. Similarly, we have enough wingers out of whom there has to be somebody who can track back. That leaves a creative midfielder and someone to play wide left.
The one thing he does say is that there won't be wholesale in-comings.
Victor Yu
7
Posted 19/07/2018 at 06:06:34
Is Lookman on his way to Germany?
Lyndon Lloyd
8
Posted 19/07/2018 at 06:28:56
There was a suggestion that a Leipzig scout wanted to attend the Bury game to watch Lookman but Everton refused him a ticket. If true, they might have withheld the player from the team in case the scout got in anyway.
Some of the other rumours on Twitter have suggested that any move for Malcom would be predicated on Lookman leaving. So, if you believe Sky, L'Equipe and The Mirror (all three say a deal is close) over the Echo (who say we've made no contact) regarding our interest in the Brazilian then you might put some stock in the assertion that Lookman could be on his way for around €20m.
I have no information either way.
John Hughes
9
Posted 19/07/2018 at 07:01:08
Lyndon – Why would Leipzig send a scout to Bury to watch Lookman, given that they had him on loan for a good stretch last season? Doesn't make sense.
Jim Bennings
10
Posted 19/07/2018 at 07:58:22
Peter (#2),
Do you really think Tosun is or has been that convincing so far to make such statements?
It's early days but if, as I expect Everton will play a lone striker then all the evidence to me particularly at the end of last season, suggests Niasse is more capable of doing that than Cenk.
I'm not ruling him out but he looks a little fragile on the mobility front and in a team that lacks genuine consistent central midfield attacking support, I do wonder if many games will pass Tosun by.
I'm not even advocating that we should make do with Niasse (for me, I'd have still looked to add a more powerful athletic goal scoring dimension up front) but Oumar offers more unpredictability and just plain and simply more "nuisance factor" than anything else we have in the striking department at present anyway.
John Raftery
11
Posted 19/07/2018 at 08:02:32
With last season's players we will likely finish, at best, in last season's position. More likely we will be in the lower reaches of the league. So the addition of at least two quality players is essential to enable the team to compete with more of the teams in the top half of the table.
Judging by the pensive look on his face at the end of last night's match the realisation of the size of the task on his hands may now have dawned on Silva.
Colin Glassar
12
Posted 19/07/2018 at 08:04:59
Welcome to Everton, Marco. Nothing is ever 'clear' with us and nothing is ever 'normal'. When listening to Our Beloved Leader say the Lord's Prayer backwards in your head otherwise you will fall under his spell and end up with a few, cheap, Man Utd rejects.
Steven Jones
13
Posted 19/07/2018 at 08:05:27
Think Bury was a last run out for a load of them – last chance saloon.
Some were rested ready for two competitive games at the weekend. Hopefully Holgate and Lookman back in... Walcot as well – we lacked penetration down the flanks last night.
We will see very different line-ups overall at the weekend.
Looking forward to it – jumping on a plane at 4pm, Faro bound, so hoping for something closer to the team we hope to see come August without new signings.

Sam Hoare
14
Posted 19/07/2018 at 08:07:45
I don't think he'd be saying this so early in his Everton careers unless he was pretty certain we were actively trying to sign players.
I'm guessing the delay has something to do with the apparent lack of interest in our deadwood. They are desperate to balance the squad, rightfully so. Expect to see a few outgoing loans of players where we are still paying a % of their overblown wages.
Steve Ferns
16
Posted 19/07/2018 at 08:12:37
It's the DoF system, Sam. Marco is able to focus on coaching and preparing the side but he's clearly as unhappy as the rest of us that he's still waiting on new additions.
Ray Roche
17
Posted 19/07/2018 at 08:14:22
Steven @13,
I thought that Kenny made good progress down the right in the second half during the 30-35 minutes I managed to see. I was also impressed with Robinson and Besic played a decent game too.
Rob Newling
18
Posted 19/07/2018 at 08:38:59
Peter @2
When the chips are down, we can always rely on Pickford... ;-)
John Kavanagh
19
Posted 19/07/2018 at 09:24:19
Colin (#12). Rubbish. There's been nothing cheap about our very expensive Man Utd rejects. Anyway, I am pleased that Silva is doing things right by assessing the squad and giving everyone the opportunity to impress in the limited time available. No-one can have any excuses about not having been given a chance by Silva if they fail to make the cut.
I have confidence that given a proper fitness and training regime and a game plan other than hoof and hope, then our youngsters will not let us down – especially under the captaincy of Coleman please.
Losing Lookman would be a real blow, but any signings must be young enough to have a re-sale value and be a clear improvement on what we have.

Peter Gorman
20
Posted 19/07/2018 at 09:57:27
Hi Jim – yeah I do think Tosun is a world class goalscorer even though I also see those weaknesses that you do. He can really finish.
His stats last season confirm this – he fed on scraps and took most chances, more so than Kane or Salah (if a valid comparison if possible).
5 in 12 starts under a Manager that played anti-football ain't bad – we'll see how many he gets when Silva has an attacking front three going for it.
Simon Smith
21
Posted 19/07/2018 at 10:04:30
Worrying noises coming out of Mordor at present.
Neil Wood
22
Posted 19/07/2018 at 10:10:23
I think Tosun will prove a very shrewd purchase in the long run... he's a fantastically accomplished finisher and like the above states, 5 in 12 ain't bad when playing horrendous football.
If you play to his strengths, I can see a 25-goal season.
Chris Gould
23
Posted 19/07/2018 at 10:30:56
Sounds to me like we have deals pretty much agreed upon. No way would he have made such a statement without assurances from Brands that signings were imminent.
I am not bothered by the Lookman situation. I don't think he's anywhere near as good as many seem to believe. He's very raw, not lightning quick, and has so much to learn.
Although he did well for Leipzig, he did have some dreadful performances and the Bundesliga is inferior to the Premier League. If he goes, Malcom is an upgrade. If he stays, he isn't ready to be a regular starter in the Premier League.

Victor Yu
24
Posted 19/07/2018 at 10:48:11
Now teamtalk.com suggests we are in for Zaha and Welbeck.
Danny Broderick
25
Posted 19/07/2018 at 10:49:15
3 weeks until the end of the transfer window now. We need to get a couple of players in ASAP to allow them to bed in. Even now it is last minute. Signing players in the last week of the window means they are not ready for the big kick off, and that leaves us under prepared.
Like someone else said, we cannot hope to improve on last season if we have the same team minus some deadwood. We need a minimum of 2 quality players, sooner rather than later.
Jim Bennings
26
Posted 19/07/2018 at 11:00:27
Peter,
There's that all too often used "world class" phrase being used again which is coined way, way too often these days.
Think Tosun is a decent forward, maybe in the Jelavic mould but world class goal scorer he ain't.
Players that had international class skills and scoring ability as strikers in recent years, Lukaku, Louis Saha etc etc — players who made their own chances with either pace power or skills
Clive Rogers
27
Posted 19/07/2018 at 11:08:38
Jim, #10, I share your doubts about Tosun, he is so slow. He can finish, but has he got the pace to get there?
To be honest, he only looks interested in the box. His general play has been woeful. It's worrying that Niasse looked more likely to score against Bury.
Matt Muzi
28
Posted 19/07/2018 at 11:30:43
I can see us going into the season without making all if any of the signings Silva wants.
We've been well & truly shafted by the over-inflated contracts Schneiderlin, Mirallas, Sandro, Klaassen, Williams & Bolasie are on. I think we'll be lucky to loan some of these players out and are going to be stuck with them for some time.
I've no expectations for this season, other than avoid a relegation fight, then anything else is a bonus!
Nitesh Kanchan
30
Posted 19/07/2018 at 11:33:15
Niasse should stay, he could be the difference where we finish next season, just like it was last season, we could have been relegated. In spite of playing fewer games last season due to late inclusion in senior squad and then the unjust suspension, he still kept scoring. I don't know if we need another striker, but Niasse got to stay.
For me the problem was defence and midfield last season. We conceded the highest last season in the Premier League, so we need one big centre-back signing. Mina is being linked, I don't know if he is good though. In the midfield, we got Sigurdsson. Strikers were isolated last season due to tactics but, with Silva's tactics, we need someone who can create more.
Davies and Dowell are young they will hit their peak in two years time if they get proper game time, they need to start games but they will make mistakes and learn from it. So they will need protection from one of the three Morgan or Besic or Gana, whoever plays.
Shaqiri or Mahrez would have been great because of their Premier League experience but that hope is gone now. Outside the Premier League, I would prefer one of three Banega, Ziyech or Lozano, all three played well at the World Cup. If not them then it has to be Zaha.
Klaassen needs to go out on loan to a Premier League club.
Brian Williams
31
Posted 19/07/2018 at 11:33:17
Olivier Giroud of three years ago was as slow, and he certainly managed to get there when it counted.
Not comparing the skills of each player merely pointing out that although pace is really important 99% of the time Giroud (just as an example) has managed to be a top player by playing to his own strengths, and pace was never one of them.
Mal van Schaick
32
Posted 19/07/2018 at 11:50:58
Please don't start talking shit like Allardyce, Koeman and Martinez.
The squad is too big and needs to be brought down to around 25 squad players. Get rid of 12/13 from the current squad and bring in 3 quality players.
It is clear what the fans expect, and that is attractive, quality football with good results, getting points from the usual top 4 clubs... and not more bullshit.
Jim Bennings
33
Posted 19/07/2018 at 11:54:43
To be fair, Giroud is physically strong and tall and pretty adept aerially — that's what makes him quite a handful.
I go back to the Jelavic (example) regarding Tosun, I think he will need men supplying him inside the box with really reliable service and men around supporting him, something every forward needs but some more so than others whilst there are those that cope quite well with the lone striker responsibility.
Brian Williams
34
Posted 19/07/2018 at 12:04:10
Good points, Jim. Tell you what though, Jesus Christ himself would have struggled with the lack of service any of our recent strikers have had to deal with, mate, as a lone striker or with one or both of the others in the original Holy Trinity up there with him.
Clive Rogers
35
Posted 19/07/2018 at 12:31:51
Brian (#31), I know what you mean; Sheringham was the same, but I don't put Tosun in that class. I have doubts about him based on some really poor performances last season. Admittedly with poor support. Ten games will tell us.
Brian Williams
36
Posted 19/07/2018 at 12:39:02
True, Clive, and I have to say I too believe we have to be aiming for a higher class of striker than we presently have at the club.
John Hall
37
Posted 19/07/2018 at 13:38:26
The executioner is sharрening his axe; where will it fall? Exciting times ahead....
Steve Brown
38
Posted 19/07/2018 at 13:49:36
Lookman will get over Leipzig's interest if he is a first team regular.
Lee Paige
39
Posted 19/07/2018 at 13:52:45
None of this is inspiring confidence for the upcoming season. Right now, I don't see us finishing in the top half of the table and more than likely our new manager not lasting long. The scavengers will then build up around our rotting carcass, picking off the likes of Pickford. This is turning into a disaster.
Brian Williams
40
Posted 19/07/2018 at 13:57:16
You should go into scriptwriting, Lee:
"Scavengers around our rotting carcass."
Pure gold.

John Clowes
41
Posted 19/07/2018 at 13:59:59
It seems very doom and gloom on here. I'm not particularly worried though we do need a few new signings.
I just think, if Sam could get us to 8th, I don't see why Silva can't do better. Would people be happy with 7th and playing better football if we don't sign anyone?
John Clowes
42
Posted 19/07/2018 at 14:09:08
From what they've said so far, Brands and Silva have said we need to trim the squad. And if you were another team in the Premier League, would you really want Williams, Bolasie, Klaassen, Mirallas and Sandro on their current wages?
Silva seems quite confident we will buy soon; I don't know why but I trust him and particularly Brands to sign the right people for the right price in the right position. Right?!
Sam Hoare
43
Posted 19/07/2018 at 14:14:43
I think a big problem is that the European windows all close later than our new transfer deadline. That means that quite a few potential buyers for our deadwood are in no hurry. Which leaves Brands & Silva in a dilemma.
Do they buy a new winger, midfielder, or defender now (or in the next 3 weeks) in the hope that they can still shift the likes of Bolasie, Schneiderlin, Williams etc to European clubs afterwards?
We have a massive squad with an overblown wage bill and we definitely need to balance the books to a degree. But do we buy now and cross fingers that the sales will happen in August? What a mess Koeman, Walsh and Elstone(?) left us in!
John Clowes
44
Posted 19/07/2018 at 14:21:30
For some reason, I can't see any foreign clubs going for Williams but Bolasie and Klaassen could be possibilities.
If a Greek team sent Mirallas back from a loan early, I think he will be very hard to shift.
Darren Hind
45
Posted 19/07/2018 at 14:29:02
I think anybody expecting top class striking from Tosun (20 Premier League goals) is storing up disappointment for himself.
Peter Gorman
46
Posted 19/07/2018 at 14:30:57
Jim, I think we may be talking cross-purposes here – when I refer to Tosun as a 'world-class' goalscorer, I am referring to his conversion rate and finishing ability. I am not referring to his overall game that has all the deficiencies that you've pointed out.
Simply put: on the evidence of last season and his stats at Besiktas and for Turkey, Tosun does not require many chances to score goals. It stands to reason that, if the side can produce more chances for him, we should see more goals. If Tosun had a greater ability to create chances for himself, then I doubt he'd have signed for us for £27 million, if at all.
ps: I lost count of the number of poor games Lukaku had for us but it didn't stop his class showing through on plenty of occasions.
Steve Ferns
47
Posted 19/07/2018 at 14:34:07
Darren, probably just like when Rooney hit his 10th of the season and we were thinking he could get to 15 easy enough and were dreaming of 20.
Loko Sanchez
48
Posted 19/07/2018 at 14:48:32
Fran (#3). I don't get why there is a question mark on Niasse as far as his future with Everton. What more does he need to do?
He scores goals (check);
He runs like a man possessed (check);
He makes most of the hopeful balls (check);
And overall he seems like a good lad (check).
Clive Rogers
49
Posted 19/07/2018 at 16:48:21
Look, #48, he is just not good enough. His control, passing and awareness of team mates are all poor. He has had four managers at Everton none of whom have picked him regularly. After his loan to Hull they decided against signing him. He is one of a number of players we are struggling to offload.
Geoff Lambert
50
Posted 19/07/2018 at 16:53:51
Got to keep Niasse in the team, Just for the he makes you smile factor..
Michael Lynch
51
Posted 19/07/2018 at 17:20:27
By this time last summer we'd signed Klaassen, Onyekuru, Pickford, Keane, Sandro, Rooney, and Martina. Of course they mostly turned out to be shite, but nevertheless just saying like.
John Clowes
53
Posted 19/07/2018 at 18:21:27
To be fair, Clive (#49), Hull had just got relegated so I can see why they wouldn't be able to pay £10m+.
Darren Hind
54
Posted 19/07/2018 at 18:24:33
The difference is, Steve, Rooney had a realistic chance of getting 20 goals.
The good news is: If Tosun does have 10 goals round about Chrimbo, at least this manager will not ask him to play the second half of the season in his own half.
Gary Carter
55
Posted 19/07/2018 at 18:35:04
Just sounded like a load of excuses, kept going on about an unusual situation, what's unusual about it!? The windows closing early that's all, same as it is for all the other teams.
Gary Carter
56
Posted 19/07/2018 at 18:47:13
John Clowes, I'm confused by your assertion that, if Allardyce could get us to 8th, you don't see why Silva can't get 7th. His win rate for Hull was 36%, his win rate for Watford was 30%.
Sam Allardyce's win rate averaged above 40% for his various clubs, Silva could turn out to be worse than Martinez and I've found it very strange that Moshiri has pursued him in the way he did when he's done nothing to show he will get us into the top 6.
Nitesh Kanchan
57
Posted 19/07/2018 at 18:54:40
Darren, he also had the realistic chance of giving away 20 goals.
Nitesh Kanchan
58
Posted 19/07/2018 at 19:26:04
Darren, he also had realistic chance of giving away 20 goals. His lack of pace and tired passing was a big problem at times.
Transfer update: Niasse staying confirmed by Marco Silva.
Pat Kelly
59
Posted 19/07/2018 at 19:50:57
Is anyone excited about the coming season or just apprehensive ? With incomings likely to be very limited, we are stuck with mostly the same desperadoes. Hold on tight — it's gonna be a bumpy ride from the start.
Tony Everan
60
Posted 19/07/2018 at 20:04:41
Apprehensive about the transfer window, apprehensive about the forthcoming season. Excited about Silva, apprehensive about Brands, but excited it all could change with two or three great signings.
Rob Halligan
61
Posted 19/07/2018 at 20:14:06
It seems like Silva is probably settled on his forwards for the season. The Red Echo reporting tonight that Oumar Niasse is going nowhere, and will be an important squad member, with Silva saying he adds something different to the other strikers.
Alan Bodell
62
Posted 19/07/2018 at 20:14:13
Anyone know what island Steve Walsh has retired to in the Carribean? As I am planning a trip out there to get away from this humidity and I'd love to have a word with him before the season starts and hear what he thinks he did for us.
Loko Sanchez
63
Posted 19/07/2018 at 20:21:01
Look, #49, where are the managers who didn't believe in Niasse now? Out of the four managers Niasse has had at Everton, he outlasted three of them (Martinez, Koeman and Allardyce). All three were sacked!
The fourth (Silva), was reported in the Echo today to have said that Niasse is here to stay as he is a useful in certain game situations. So, I guess Silva thinks he is good enough to play for Everton.
Steavey Buckley
64
Posted 19/07/2018 at 20:25:16
Everton have lost a great opportunity to build a great team after Koeman was appointed. Now, Everton have lost their 3 best players and did not replace them and buy better other players for other positions. Next season is going to be another frustrating season.
Pat Kelly
65
Posted 19/07/2018 at 20:33:46
Tony (#60),

Apprehensive 3 Excited 2
Brian Hennessy
66
Posted 19/07/2018 at 20:35:01
Alan @62 - I believe the spot Steve Walsh went to is called Craggy Island.
He wanted to surround himself with the same type of people he worked with last year and was last seen taking scouting advice from Dougal...
Phil (Kelsall) Roberts
67
Posted 19/07/2018 at 20:41:34
Rob Halligan (#61)... Scores Goals?
Rob Halligan
68
Posted 19/07/2018 at 20:58:23
Not me, Phil. I played in goal. 😂😂
Rob Halligan
69
Posted 19/07/2018 at 21:03:42
Only joking, mate. I know what you mean. At the moment he's scoring goals and also creating a lot of chances for himself. Even last night he hit the woodwork three times. So far this pre season he could easily be in double figures in terms of goals scored. Ok, the standard of opposition has been poor but at least he's been in the positions to score or hit the woodwork.
Going by the article in the Red Echo, it seems like Sandro won't be anywhere near the first team. Silva mentioned Tosun and Calvert-Lewin, but no mention of Sandro.
Sam Hoare
70
Posted 19/07/2018 at 21:06:51
Doesn't look like Malcom is coming. Or Mina.
Welbeck and Phil Jones next? Hope not.
Andrew Ellams
71
Posted 19/07/2018 at 21:14:59
I read this morning that we are going to be competing with the likes of Huddersfield and Brighton for Marvin Plattenhardt. Not sure I can deal with those sorts of dizzy heights.
Alan Bodell
72
Posted 19/07/2018 at 21:43:19
Brian (#66), weird world this, mate, get paid big for fucking doing nothing, wished I could get on that mad circus payroll.
Martin Berry
73
Posted 19/07/2018 at 22:38:08
Its a massive job clearing out the unwanted and bringing in the players required.
I cannot see or expect anything in the new season other than consolidation as we try to turn things around.
Any of the faithful who think we will be challenging will be disappointed and we will be looking at 2019-20 to give it a real go.
Victor Yu
74
Posted 20/07/2018 at 06:53:57
Who? Ashley Young, Phil Jones, and Jack Rodwell?
Victor Yu
76
Posted 20/07/2018 at 09:43:12
Teamtalk.com is saying we are in for Welbeck (£15M). That's not a bad deal if it happens.
Geoff Lambert
77
Posted 20/07/2018 at 10:17:08
Victor, is this the same site that claim the RS are in for Kylian Mbappe????
Ken Williams
78
Posted 20/07/2018 at 10:37:38
So, in the Everton dictionary, how is 'imminent' defined...?
Tony Everan
79
Posted 20/07/2018 at 10:50:24
Imminent: meaning (efc dictionary of football terms) ;
Fuck all happening any time soon.
Tony Everan
80
Posted 20/07/2018 at 10:56:15
Will we be stitched up again?
Last season, Arsenal and Giroud reeled us in and fried us like a kipper.
This season, it looks like we are enquiring about players from club above us. They may string us along and then pull the plug at the last minute. Knowing then they have taken us out of the game as a competitor.
Any dealings with clubs above us must have a deadline to avoid being left in the lurch for a year. If they have not signed on the dotted line by next weekend, walk away.
Ciaran O'Brien
81
Posted 20/07/2018 at 12:33:22
Does anyone feel that we have been doing the usual and waiting for the bloody Sky money to come in before we start to spend?
Grant Rorrison
82
Posted 20/07/2018 at 12:36:51
Ciaran 81. More likely the Pickford money. ;)
Jamie Evans
83
Posted 20/07/2018 at 12:50:21
Quality not quantity.
Some things can't be rushed.
Ciaran O'Brien
84
Posted 20/07/2018 at 12:53:49
Well if we sell Pickford, it would be nothing short of disgraceful from the club, and nothing will have changed. We have already let go of Robles and Stek is old and not good enough.
I'm starting to worry now that we won't bring in anyone or if we do they will be crocks or more Ushited rejects. The window closes in 3 bloody weeks and we all know how poor our squad is. Koeman and Walsh royally fucked us over with last summers dealings.
Why Welbeck? He's injury prone and isn't prolific. We desperately need a new top class left back, centre back and a pacy creative goal scorer in midfield or up front.
If we don't sign anyone and if we manage a top 7 finish with this squad then Silva should be given a medal.
Steavey Buckley
85
Posted 20/07/2018 at 13:44:20
Everton are going into the new season without a quality left back, left centre back, left winger, quality striker and 2 midfield players. Without them, Everton are going to struggle all season like some helta skelta.
Phil (Kelsall) Roberts
86
Posted 20/07/2018 at 13:47:00
Steavey,
Without a quality left back? Baines is not a quality left back?
I can agree with "without a quality left back if Baines gets injured or as the season progresses his age catches up with him" but can't agree with "without a quality left back"
Joe McMahon
87
Posted 20/07/2018 at 13:53:12
Baines has been on the way down for the last 4 - 5 seasons. He is not the standard required now. We need a left back with pace and who doesn't turn their back on shots and stops crosses.
Steve Ferns
88
Posted 20/07/2018 at 13:53:23
Agreed Phil. I have had some fears over Baines eased with his performances so far in pre-season, but I still fear over his injury record. I'd like to see a better backup than Robinson. However, if Robinson did get an extended run through a Baines injury, could he become the player we need? Robinson will never make it unless he gets games. Silva is brave enough to play kids like Robinson.
Stephen Davies
89
Posted 20/07/2018 at 13:58:09
It looks like Malcolm X
Steavey Buckley
90
Posted 20/07/2018 at 15:00:26
Phil (#86), Everton go into a new season with an under-strength half-quality team. What is also frustrating, Liverpool across the park have gone from strength to strength.
Phil (Kelsall) Roberts
91
Posted 20/07/2018 at 15:21:14
Steavey, partly right. It is not an understrength team, it is an understrength quality team. Silva and Brands say we have too many players so we cannot be understrength.
Spending £20M on a player just now gets you a back-up. Did we misread it like in 1992 and all of a sudden >£40M is what you need for quality? In which case, we got lucky with Pickford and we have Sigurdsson.
Lee Paige
92
Posted 20/07/2018 at 15:48:31
Impending DOOM, Doom, doom
Steavey Buckley
93
Posted 20/07/2018 at 16:12:51
Phil #91 Under strength as in not enough quality. In fact, there is less hope than last season because the players bought were thought as quality. Now, we know they are not quality but the money is now not there longer for someone responsible to buy the quality players. Although, the optimists still believe Sandro and Klaassen should be given more time as long as it takes.
Andrew Clare
94
Posted 20/07/2018 at 16:34:07
If we are going to buy, then we have to buy quality. Welbeck, Jones and the like are just like the crap we already have – you know the ones: Williams, Bolasie, most of the team in fact... bar about four players.
If we can get 4 quality players in then we will have 8 top class players who can carry the other 3 until the next window. Maybe Silva will be able to improve some of them. I just hope we don't 'make do' and buy more mediocrity.
Brian Williams
95
Posted 20/07/2018 at 16:35:52
Mina should be a good buy.
Kristian Boyce
96
Posted 20/07/2018 at 16:55:04
Brand's comments in the Echo today say that after the Portugal visit he's going to have the 'not very nice conversations' with some of the players about them leaving. I can't see any incomings before those conversations take place. Brands and Silva have had 3 weeks to assess the playing staff and now the big cull is going to happen. Unfortunately it only gives us a couple of weeks to get rid and replace a bunch of players.
Michael Morgan
100
Posted 21/07/2018 at 17:44:16
Thanks moderators, my debate question has moved to it's own fan article.
Victor Yu
101
Posted 23/07/2018 at 08:58:17
We are looking at Schurrle too?
https://www.teamtalk.com/news/schurrle-switch-to-spark-triple-winger-activity-at-everton-palace
Kunal Desai
102
Posted 23/07/2018 at 09:21:02
Joao Moutinho to Wolves for £5 million. Why aren't we in for someone like this? Proven international and Champions League experience. Creativity we desperately need. At 31, we would still get another 3 years, with it being a modest fee, it's a no-brainer.
Add Your Comments
In order to post a comment, you need to be logged in as a registered user of the site.
Or Sign up as a ToffeeWeb Member — it's free, takes just a few minutes and will allow you to post your comments on articles and Talking Points submissions across the site.