Bournemouth vs Everton
Friday, 24 August, 2018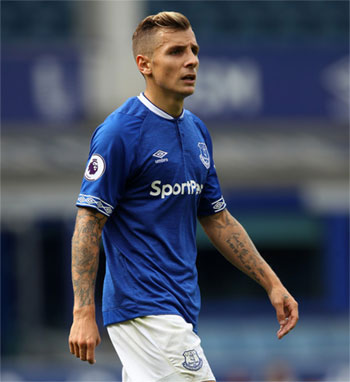 Lucas Digne is available again after missing last weekend's game against Southampton with a minor injury
Everton are on the road again this weekend as they travel to the south coast to face Bournemouth in their third game of the season.
Buoyed by Marco Silva's first win as manager over the Cherries' near neighbours last weekend at Goodison Park, the Blues will be looking to register their first away victory of the campaign in what is, on the face of it, a tricky but winnable fixture.
Assessing just how tricky Bournemouth could potentially be, however, isn't always straightforward and that is especially true this time. Unlike last December when they were struggling and in danger of being sucked into a protracted battle against relegation, Eddie Howe's team sit third in the Premier League, albeit after just two matches (remember when they didn't use to publish the standings until after the third game?), with two victories.
The first was against newly-promoted Cardiff, however, a side that, due to the realities of the modern-day Premier League, will be among the favourites to go down again this season, while the second was at West Ham, who are the stand-out candidate to "do an Everton" and fail spectacularly having spent a boat-load of players over the summer.
It's too soon, of course, to really judge the Hammers, of course, even if they do look to be very soft-centred and there is something to be said for the fact that Bournemouth came back from a goal down to win at the London Stadium. It's that stick-to-it-iveness that they can display that often makes them so unpredictable.
Everton found that out to their cost at Dean Court before in Roberto Martinez's last season in charge, while both Ronald Koeman and Sam Allardyce suffered ignominious defeats to the Cherries on the south coast. Regardless of the home team's prior form, Bournemouth away is often not an easy fixture but Howe's commitment to open, passing football means that there are ways to beat them and in the likes of Richarlison, Marco Silva might just have the tools to dismantle them.
The Brazilian goes in search of more goals to add to his brilliant start to life with the Toffees, having displayed his versatility and potency with strikes from a set-piece, a wonderful piece of individual inspiration and in front of goal from a cross. On the other flank, Theo Walcott got off the mark last weekend against Southampton and he would have bagged a brace with more careful finishing in the second half of the 2-1 win at Goodison Park.
Together with Richarlison, the ceaseless work-rate of Cenk Tosun and the combination of pressing and distribution of Gylfi Sigurdsson, Everton have an attacking unit that looks potent again after being almost completely toothless at times under Allardyce just a few months ago.
That is without the exciting prospect of seeing Bernard added to the equation. The Blues' other Brazilian summer signing is getting close to match fitness and Silva intimated in his pre-match press conference that a decision on whether or not to include him in the squad would be made late. If he were to make an appearance, it would likely be off the bench but, again, Everton have shown enough going forward that Silva can take his time before introducing the new man if need be.
The manager will have to make one change from the team that started against the Saints, however. Morgan Schneiderlin, who was forced off after 23 minutes of last week's game with a muscle problem, is ruled out of this one, meaning that Tom Davies is likely to be called upon to deputise again.
The young midfielder was the one to replace the Frenchman last Saturday and while Sigurdsson is capable of dropping back into a deeper role that would require Idrissa Gueye to assume fully defensive-midfield responsibilities, Davies is probably the safer bet to assure the minimum of disruption.
At the back, Kurt Zouma and Lucas Digne are available but are likely to be named among the substitutes, again for the sake of continuity, but the incumbent partnership of Michael Keane and Mason Holgate are unlikely to be given an easy ride by Callum Wilson who has pace and loves to run the channels.
With it's tight confines, small capacity and, by consequence, smaller than usual away support, Vitality Stadium can be an awkward place to go so this game has the feel of one that, if Everton can win, it will feel like another real boost to this fledgeling season.
It's the kind of game that teams with designs on the top six should be winning and the evidence thus far suggests that they have now have the organisation, cohesiveness and attacking potency to achieve it if they can keep things tight at the back.
Kick-off: 3pm, Saturday 25 August, 2018
Referee: Lee Probert
Last Time: Bournemouth 2-1 Everton
Predicted Line-up: Pickford, Coleman, Holgate, Keane, Baines, Gueye, Davies, Sigurdsson, Walcott, Richarlison, Tosun
---
Reader Comments (141)
Note: the following content is not moderated or vetted by the site owners at the time of submission. Comments are the responsibility of the poster. Disclaimer
Jakub Kollar
1
Posted 24/08/2018 at 06:23:03
It would be huge surprise if we witnessed a different line-up than Lyndon's. It will be interesting to see whether Lookman will be included in the squad tomorrow, too.
Dermot Byrne
2
Posted 24/08/2018 at 06:42:54
Win this one and it could really raise confidence another level.
Would be great to see players leave the field with smiles on their faces and enjoying this season. Can have a big impact as these players become a team again rather than 11 individuals hiding within their own nightmares.
I am really excited about Bernard and wonder if we may see him off the bench.
Hopefully we can take the risk after our third!
Martin Janes
3
Posted 24/08/2018 at 06:48:15
Bernard will be a hit.
Davies doesn't pack a punch and seems vacant
John G Davies
4
Posted 24/08/2018 at 07:15:20
Difficult game this. A decent side with a good young manager. They have had a good start and will want to maintain it.
Our manager is still settling into the job and the players learning more every week of how he wants to play.
I'll take a draw here.
Amit Vithlani
5
Posted 24/08/2018 at 07:24:41
Dermot @ 2, I agree with those thoughts. I am a fan of Bournemouth and Eddie Howe. Last night I listened to Steve Cook who said we played in a similar style to the Cherries, and drew a comparison between Silva and Howe.
Bournemouth have always caused us problems and I think they look a very good side in the 2 games so far this season.
It would indeed be great to see Bernard enjoying a run out.
Shaun Laycock
6
Posted 24/08/2018 at 07:40:32
I can't see us keeping a clean sheet so will have to outscore them... 3 - 2 to us. Up the Blues! A cheeky peek at our other new Brazilian would be cool.
Kim Vivian
7
Posted 24/08/2018 at 07:44:55
A game against a manager who many (myself included) thought might have been a good fit here. The Cherries are not easy pickings and I predict another draw tomorrow. Maybe 1-1, and maybe a bit turgid this game.
Hoping for a motivating away win of course but we are still finding our feet this term so fingers crossed, and let's get Richarlison on the slate again.
Steavey Buckley
8
Posted 24/08/2018 at 07:47:49
Everton are thinly spread in midfield. I would have kept Besic until there are more options.
Mike Kehoe
9
Posted 24/08/2018 at 07:53:35
So nice not to dread the weekends and feel optimism again. They are a decent well-organised team and it will be a tough game.
No matter what the result, I don't expect to have my weekend ruined by an expensive idiot whose attacking strategy was set-pieces.
Ian Burns
10
Posted 24/08/2018 at 07:53:37
I wouldn't be too displeased with a draw tomorrow whilst praying and shouting for a win!
My worry is Keane vs Wilson which will mean we will have to score 3 to get this over the line.
Great admirer of Eddie Howe and the Bournemouth story and I am now hoping to be admiring Marco Silva and the Everton resurgent story!
Bob Parrington
11
Posted 24/08/2018 at 08:33:18
With this defensive line-up (as per last season) there is no reason for us to expect a clean sheet. The question is: "Can we score enough goals to get the win?"
Martin Berry
12
Posted 24/08/2018 at 08:53:24
I am a fan of Bournemouth and their Manager, but if they had our front four we would really be worried.
I think many teams are going to get caught out by our pace up front and I expect us to narrowly win maybe 2-1.
Gerard Carey
13
Posted 24/08/2018 at 09:08:41
A clean sheet would be very welcome; what are the chances of Zouma coming in for Keane? Or will we have to wait for the League Cup to see him?
Sam Hoare
14
Posted 24/08/2018 at 09:17:35
I think Michael Keane playing a high line against the likes of King and Wilson is unlikely to end well. Time and time again, he's been caught out by runs down the channel.
He has been better this season and is a good choice against more physical forwards or teams where we expect to sit a bit deeper but I hope Zouma replaces him this weekend.
Jay Harris
15
Posted 24/08/2018 at 09:21:03
It would be really nice to get a clean sheet but, with our record at Bournemouth and the defensive weaknesses we still have, I am a bit concerned about this one.
I just hope we score more than them and Tosun gets off the mark.
Jay Harris
16
Posted 24/08/2018 at 09:26:52
BTW, did anyone notice Mayor Joe's comment that he thought Everton were looking at "other" ways to finance Bramley-Moore Dock rather than a "City Council" assisted loan?
To me, that suggests Usmanov may actually be looking seriously at us.
Mike Allison
17
Posted 24/08/2018 at 09:30:00
On a slightly more frivolous note, brace yourselves for the disgusting 'third' kit we're going to wear tomorrow.
John Raftery
18
Posted 24/08/2018 at 10:03:16
Only four of the thirteen players used at Bournemouth last December will play tomorrow; Pickford, Keane, Gueye and Sigurdsson. Our attacking deficiencies were all too evident that day.
Since then, thankfully, we have spent around £87m on three forwards who have given the manager realistic attacking options. The main question mark about the current team concerns their ability to defend, especially at set pieces.
Rob Halligan
19
Posted 24/08/2018 at 10:07:48
Regarding the new third kit to be worn tomorrow. The OS describes the shorts as a "Peacoat Blue" colour. What exactly does Peacoat Blue look like?
Regardless of whatever Peacoat Blue looks like, I remember the first, and probably only time, we wore that khaki green third kit also down on the south coast, at Southampton, and came away with a resounding 3-0 win. Let's hope this new kit brings a similar result tomorrow.
Derek Knox
20
Posted 24/08/2018 at 10:22:10
I do think we have the 'tools' up front to win this fixture, but am not so confident that the Centre back pairing, of Keane and Holgate will be capable of shutting them out at the back.
That is assuming of course he starts with the predicted team, also in midfield, if he sticks with Davies as a partner to Gana, will he have the game to link the forwards, and assist Gana in breaking up play from Bournemouth?
I do like Davies but feel he needs to be more assertive, thankfully with a fully fit squad, there will be no half hearted displays.
This won't be an easy game because they have had a winning start to the season and will be buoyed at home, in front of their faithful. Also as we have found to our detriment, that they keep going until the final whistle.
It is winnable with the correct team selection, so let's just hope we can pull it off.
Darren Hind
21
Posted 24/08/2018 at 10:22:37
Looking forward to this. They will most definitely come at us, but that will leave opportunity's for us.
Given the huge difference in budgets we should be looking to win against smaller clubs. Defend well and we should win
John Hammond
22
Posted 24/08/2018 at 10:27:37
Probably another entertaining 2-2 like the Wolves game. Think we'll have to wait until next week for the clean sheet when Huddersfield drag their sorry arses down to Goodison.
Tony Abrahams
23
Posted 24/08/2018 at 10:35:06
He's been a bit better since the start of this season, Darren, but if we are to defend better and win, then I think the change that Sam@14 asks for is imperative, because a simple ball down the channel, is all it takes to expose Michael Keane?
How brave is Silva? He will know instinctively that this is possibly our biggest problem defensively, but will he wait for disaster to happen first, or will he make the change that deep down, he knows he has to?

Ajay Gopal
24
Posted 24/08/2018 at 10:41:51
Lyndon, I absolutely agree that our front 4 of Tosun, Richarlison, Walcott and Sigurdsson will cause problems to any team in the Premier League. I only hope that Tosun can find his scoring boots soon.
Gueye, Davies and Sigurdsson press and harry the opposition well. Coleman and Baines are excellent along the flanks. Holgate is coming along well, Keane needs the confidence of a few clean sheets. Pickford got away with a blooper last week (everybody is talking of his wonder save instead), but he is solid.
Overall, the team is looking in much better shape now with Mina, Digne, Zouma, Gomes, Bernard, Lookman, Dowell, Baningime yet to show us what they can do. The only area of concern for me is the goalkeeping situation. If Pickford were to get injured (God forbid), then I think Stekelenburg is a very worrisome backup.
Robert Leigh
25
Posted 24/08/2018 at 11:17:35
I agree, that lineup is most likely but, as others have mentioned, the Wilson vs Keane footrace is a concern.
Zouma would be a better, quicker option, but I doubt he'll play. It would be interesting to see a back three though:
Pickford
Holgate Keane Zouma
Coleman Gana Sigurdsson Baines
Walcott Tosun Richarlison
But if Davies plays instead of Zouma in the 4-2-3-1 system, I think we'll have too much for them anyway.
Len Hawkins
26
Posted 24/08/2018 at 11:20:09
Rob #19
Regarding shades of blue, in the 70's I was in my local hostelry when the barmaid shouted does anyone own a blue Rover 2000 when this bloke who obviously owned it shouted back "is it Zercon blue".
I would imagine peacock blue to be similar to the shade your member would go after a dodgy sexual liaison.
Obviously not seen before in genteel Bournemouth.
James Morgan
27
Posted 24/08/2018 at 11:20:10
Amit and Martin, "I'm a fan of Bournemouth"
You're on the wrong site if that's the case!
Got to be winning these if we have hopes of top six. We have a far better team and squad than these so we we need to show it.

David Hallwood
28
Posted 24/08/2018 at 11:36:02
Great summary as always, Lyndon.
Message to kit designers, we play in Royal Blue ffs – not any other poncy shade. Who do you think you are, Dulux or Lawrence Llewelyn Bowen??? Rant over.
There is little doubt we have the tools offensively to beat Bournemouth; however, keeping clean sheets this season, or at least until the team get used to zonal marking and/or Zouma and Mina have the influence that Van Dijk had on the RS (if you remember pre signing him they looked like they'd ship a goal everytime they were attacked).
Difficult game tomorrow with a well-drilled side with a few players, if they played for the Sky darlings, would be all over the tabloids.
One last thought, how about Beni in for Schneiderlin?

Mike Allison
29
Posted 24/08/2018 at 11:37:15
I'd be very surprised if the team selection was anything other than Davies in for Schneiderlin and the rest the same. I also think, Ajay, that Tosun will get plenty of goals this season, especially if Richarlison continues to play so well and become the focus of concentration for opposition defences. We have a front four who can all cause problems in their own, very different, ways and I'm pretty confident they'll all get their moment in the sun.
As for the fixture as a whole, going to Bournemouth and winning, especially given that they've won their first two, would be an excellent signal. However, I'm a little worried we're getting carried away just because the mood and intent of the team is so much better than it was under Allardyce. All we've got so far is mood, we need to turn it into real results. This fixture is quite an early indicator of what to expect this season. I'm not saying defeat would be a disaster, but it would be a huge check on our expectations. As others have mentioned, a win would be a signal that a genuine crack at the top six is on the cards.
Steven Jones
30
Posted 24/08/2018 at 11:43:48
Jay 16 - I spotted that. May also mean we go for a £750M type budget funded by the Oligarch duo.
Other comments on our CEO and t'other Mr Harriss seem to show we are moving forward with enthusiasm and quality…
Interesting times… the January window could be interesting if Silva gets us rocking.
David Ellis
31
Posted 24/08/2018 at 11:49:10
Yes Mike I agree this fixture is a bit of a bell weather. Win it and its Top 6 form (or higher). Failure to win and it's no higher than 7th.
I really want a win this weekend – we should have too much for them and although they've won both their games I don't think they've played as well as we have. West Ham were woeful and their other win came against Cardiff – likely the weakest team in the Premier League
They have a young lad from Sheff Utd called Brooks who they are raving about – he looks about 15 years old but can certainly pick a pass. He needs to be closed down in midfield.
Lawro on the BBC has them down to beat us!
David Ellis
32
Posted 24/08/2018 at 11:54:05
Here is an extract the preview from the Bournemouth fan site
===========================================
Our first two games of our fourth Premier League season began with two well-deserved wins against Cardiff City and West Ham United. We beat Cardiff 2-0 at home with goals from Fraser and Wilson, and deservedly came from behind to win at West Ham's ground – the London Stadium. A goal from Callum Wilson and six minutes later the winner from Steve Cook turned the game around and we won a very exciting match. It meant that we are now on a 4 game winning streak - the first time this has happened in the PL for us. Another win by coming from behind further established us to be known as 'The Comeback Kings'.
Everton currently sit one place below us in 7th position after drawing their opener 2-2 with newly-promoted Wolves and beating nearby Southampton 2-1 last weekend. Record signing Richarlison already has three goals to his name and looks like the exciting prospect he did this time last season at Watford. The team have looked very strong going forward but there are vulnerabilities at the back – similar to us. It will be a very interesting match to watch due to the similarities of both teams and I wouldn't be surprised if there are a few goals for both sides
AFCB Player to Watch:
There were some standout players from last game and Cardiff. Callum Wilson, David Brooks, Adam Smith and Steve Cook have shone. I'll have to go with Steve Cook. He's a rock in defence who is extremely brave and very talented. He created Callum's excellent solo goal at the London Stadium and scored the winner for us, and was personally my man of the match that game. He's a determined player and a future captain, and will surely be able to cope with the attacking capability of Everton with Nathan Ake by his side.

Everton Player to Watch:
It has to be Richarlison. Having been Man of the Match in his previous two games (Wolves (A) and Southampton (H)) along with three goals already this season, the £50 million signing scored his first goal for previous club Watford against us, so it'll be interesting how he gets on this weekend.
Rob Dolby
33
Posted 24/08/2018 at 11:59:52
This will be a tough game for our midfield tomorrow. Gana and Davies will have to have top games for us to come away with the points.
I wouldn't mind us defending a bit deeper, Keane was exposed a lot with that high line last week.
Good chance to see if Silva varies the tactics away from home.
Coyb.
Dermot Byrne
34
Posted 24/08/2018 at 12:02:17
Pretty fair assessment, David (#32)?

Dennis Stevens
35
Posted 24/08/2018 at 13:03:52
Len Hawkins (#26) – I suspect a fair percentage of "genteel" Bournemouth's economy is fuelled by dodgy sexual liaisons.
John Keating
36
Posted 24/08/2018 at 13:05:46
Have to agree with Lyndon's starting 11.
Fraser and Wilson will give us big problems especially against Keane.
Thankfully Silva has had another full interrupted week to work with them. Thankfully no distractions from the crap Europa League.
Hopefully another chance to see more improvement but another draw I'm afraid.
John G Davies
37
Posted 24/08/2018 at 13:06:44
Tough game against a side set up by a manager who some of our fans told us would be getting the Arsenal, Chelsea or Everton job.
Does Eddie zonal mark from set-pieces?
Jamie Crowley
38
Posted 24/08/2018 at 13:36:31
A lot of, "I'd be happy with a draw" comments.
No Everton team should ever be happy with a draw against Bournemouth.
We need to win this one. It will be difficult as Bournemouth are a good side.
Three points. We need them.
James Marshall
39
Posted 24/08/2018 at 14:05:17
Genteel Bournemouth? It might look it in the main part, but there are really crappy areas around the town – Bournemouth is not genteel once you step away from the beach and the retirement homes.
Aside from that, we need to win games, and win them now – it's all too easy to drop behind the pace early on and never make up that ground. If we have any aspirations to finish in the top 6, we have to believe we'll win every week.
Mike Allison
41
Posted 24/08/2018 at 14:21:35
I don't think you can be 'happy' with a draw here. You might be 'reasonably accepting that a draw isn't disastrous', but if we are targeting the top 6, then only a win could bring about genuine happiness.
This kind of conversation is exactly why I re-worked my 'What's a good result?' article! Bournemouth away is on the borderline of being a 'win' or a 'draw' game, depending on whether you think Bournemouth will finish in the bottom 6, or if you think they'll do better.
Before the season I'd have said this is a 'win' game, but they've won two, Wilson looks dangerous and we're not fully up and running yet. Therefore I'll be very pleased with a win and see it as the biggest sign yet that things are going well.
James Marshall
42
Posted 24/08/2018 at 14:28:15
It's worth noting they've won their last 4 Premier League games – the final two last season and now two this. All tight affairs though so we should be going there all guns blazing, show no fear, and attack them.
Rob Halligan
43
Posted 24/08/2018 at 14:36:36
Well said, Jamie. This is Bournemouth we're playing, not Man City or Chelsea or any other of the so-called top six. It's bloody Bournemouth.
The fact that it's away probably makes it more difficult, but we should be going there feeling confident of winning. Before the Wolves game, all I seemed to read / hear was we were going to get beat. Well we never and, in my opinion, we should have won, even with ten men.
As Mike Allison says, this is the type of game we should all be looking to win if we seriously want to challenge the top six (I hate saying that), so less of the negativity and let's go down there tomorrow and win.
It's a bloody long coach journey to go with a negative attitude, so I'm going for a 3-1 win for the mighty blues.
Jamie Crowley
44
Posted 24/08/2018 at 14:51:45
Agreed Rob.
And Mike @41 -
This game is exactly the premise, in my opinion I echo your thoughts, of your article / submission.
This game, if we have any aspirations at all, must be a three-pointer.
Ask yourself, would Man City, Man Utd, Spurs, Chelsea, Liverpool, etc, think if they lost at Bournemouth that it's three points dropped?
Of course they would!!!
As should we!
Fran Mitchell
45
Posted 24/08/2018 at 15:06:00
This is a game that, in previous seasons, we would be happy with a draw because 'Bournemouth are a good team, good manager etc etc'. But, this is a game, with our new found ambition, we should only settle for a victory.
If, after 3 games, playing Wolves, Southampton, and Bournemouth, we have 7 points, we have real cause for optimism. If we have 5, it's a bit meh. If we have 4, questions will be raised and our ambition/confidence will be sapped.
Our strike force should guarantee victory, they are quite weak defensively, and the pace of Richarlison and Walcott should cause damage. I'd like to see Lookman on the bench in place of Niasse. Richarlison will probably be on the receiving end of 'extra attention', so may find difficulty to last the 90 minutes.
Davies can hopefully grow from a promising performance last week also.
I expect Keane to keep his place still, but would prefer to see Zouma.
I'd prefer: Pickford, Baines, Coleman, Holgate, Zouma, Davies, Gana, Sigurdsson, Walcott, Richarlison, Tosun. Subs: Stekelenburg, Keane, Digne, Baningime, Bernard, Calvert-Lewin, Lookman.
I expect: Pickford, Baines, Coleman, Holgate, Keane, Davies, Gana, Sigurdsson, Walcott, Richarlison, Tosun. Subs: Stekelenburg, Zouma, Digne, Baningime, Dowell, Calvert-Lewin, Niasse.
Derek Taylor
46
Posted 24/08/2018 at 15:07:00
I wonder how long Silva will retain his halo once we suffer our first defeat?
We seem to be awash with tactical geniuses on ToffeeWeb and, no doubt, they will be well able to apportion the blame when any is due.
I can see that Keene is 'the unloved one' early season with Davies a close second. Schneiderlin seems to be off the 'shit list' for now but that's probably because he's injured!
An absorbing site, particularly if you don't mind being talked down to by fellow posters.
Brian Williams
47
Posted 24/08/2018 at 15:13:18
An absorbing site, particularly if you don't mind being talked down to by fellow posters.
Think you just did that yourself with your own post, mate – lol!
Derek Taylor
48
Posted 24/08/2018 at 15:15:03
As I said. Mr Williams...….
Brian Williams
49
Posted 24/08/2018 at 15:34:18
As you said what, Derek?
Kristian Boyce
50
Posted 24/08/2018 at 15:39:30
Genteel??!! Hahaha. I went to Uni in Bournemouth back in the late 90s and the area around the stadium, Boscombe was an absolute dump full of dingy student accommodation and smack heads.
My first memory of being there on my first day was being told to stay inside my house by armed police as a junkie was walking down Boscombe High Street with a sawn-off shotgun.
Also, with the new-found wealth Bournemouth have, I'm half-tempted to ask for the 5 quid back I gave them when they used to do a collection down at the Main Square when they were about to go under.
Steven Jones
51
Posted 24/08/2018 at 15:55:03
Brian …FFS there was a big slice of talking down arrogance … the false intelligence is the thing that takes most reasonable posters on here backwards … we are not all keyboard warriors like some ….
If we met in a pub or a networking event set up by TW (Hint there) - we would be a lot more polite and supportive and less trying to put each other down when it is tongue and cheek and done with great humour and consideration funnies are lovely, when it is done with pernickety condescending criticism - it is not. … simples really … :-)
(Am I being a hypocrite by pointing this out …. off for some contemplation and self analysis :-)
Jim Bennings
52
Posted 24/08/2018 at 16:02:47
It will be very interesting to see if Silva can improve on our dire diabolical away from that has stretched back two years now that has seen just THREE wins from the last THIRTY on the road.
Gary Russell
53
Posted 24/08/2018 at 16:10:23
Indeed, pernickety condescending criticism gets on ya nerves.
Derek, his name is Keane, not Keene.
Steven Jones
54
Posted 24/08/2018 at 16:51:06
Tee-hee, Gary!
Darren Hind
55
Posted 24/08/2018 at 16:58:41
Rob H,
How many tickets did we get? Seems a lot of people asking around.

Tony Abrahams
56
Posted 24/08/2018 at 17:00:28
The thing about blame, Derek, is that it doesn't really matter, unless of course you are in a court of law.
Rob Halligan
57
Posted 24/08/2018 at 17:00:52
Around 1,200, Darren.
Mike Benjamin
58
Posted 24/08/2018 at 17:08:57
Just looked at Lawro's predictions. If all his came true, we would be relegated by Christmas. RS tosser.
Paul Kossoff
59
Posted 24/08/2018 at 17:10:41
A draw would be great with this line-up. Davies should not be starting as I just can't see what he gives to the team apart from giving the ball away.
The sooner the new players come in, the better. Keane and Baines will be targeted.
Mike Gaynes
60
Posted 24/08/2018 at 17:31:13
David #32, Steve Cook is the CB I lobbied for relentlessly last year instead of Keane -- a better player who would have cost less than half as much.
And on the CB subject, I wonder how many of the folks here calling for Zouma have actually seen him play much. All I recall is that he was a statue on Tosun's first goal at Stoke back in March, and I have zero memory of how he played at Goodison when we beat them last August. Anybody want to give me a scouting report on why he should replace Keane, who has actually played pretty well so far?
Darren Hind
61
Posted 24/08/2018 at 17:41:10
Have a great day, Rob.

Tony Abrahams
62
Posted 24/08/2018 at 18:11:00
I haven't seen much of Zouma, either Mike, but I've seen enough of Michael Keane, to know that he his in trouble the minute, he has to turn.
Diagonal balls or even just straight balls down the side, always seem to put him in trouble, and it's not just a lack of pace, it also seems to be a lack of awareness, even if it's easy watching from the side.
He's okay when the game is in front of him, made a great block to stop a certain goal last week, but he seems to find it hard with movement, and It doesn't even have to be that good of a good pass, to put Keane under pressure.
I hope I'm proved wrong, but I just don't think he can play in a defensively high line, and I wouldn't be surprised if Baines, was told to reign in his attacking play during the second half last week, because of Keane's shortcomings. Although it might have just been because Schneiderlin was not there to constantly give him the ball?
Terry Farrell
63
Posted 24/08/2018 at 18:38:39
Martin, I hate our fans having a go at our players particularly the young lads. Tom is only 20 so still a few years off his peak but he was superb last week and deserves to start. Back him – it will make you feel good!
Lenny Kingman
64
Posted 24/08/2018 at 18:44:38
One of these old days, in the near future, the likes of Bournemouth can look back on this period of their history as a time they played against teams such as ours, in a league match, as incredible.
Bill Gienapp
65
Posted 24/08/2018 at 18:49:29
A win would obviously be immense – it would allow us to continue building momentum and confidence, while making important strides to correct our lousy away form.
That being said, I think people are getting a little carried away with the significance of this match, suggesting that a loss would end any top-six ambitions we might have. Not sure how you can say that when we aren't even close to playing our optimal starting XI at the moment.
Lev Vellene
66
Posted 24/08/2018 at 18:50:46
I'm not really sure what I'll expect from this game, be it win or lose. But one thing that has set my mind at near-zen ease is the fact that we keep on keeping on if bad things happen, we don't fold under Silva!
So I'm really looking forward to this game, and I'm a cautious optimist as to the result!
Mike Gaynes
67
Posted 24/08/2018 at 18:53:10
Tony #62, no argument with any of that my friend -- I'm no fan of Keane's work either, and as noted above I was not in favor of his signing.
But I've posted this query several times since the first reports that we were in pursuit of Zouma, and I've yet to have anyone provide an informed assessment of the player, aside from the fact that he's big enough to head the Liver Bird off the top of the building.
Stoke gave up the joint-most goals in the Prem last season with the top-class Butland in goal, and it couldn't have been all Shawcross' fault, so why again are we so excited about Zouma? Anybody?
Steve Ferns
68
Posted 24/08/2018 at 19:00:48
Mike, wasn't Zouma amazing for Chelsea until he did his ACL or some other nasty knee injury. He's said to have lost a yard since which is why Chelsea shipped him out on loan. I've never properly watched him for 90 minutes, just seen games in which he's played. I always thought he was "alright". That is never good and never bad, just alright.
John G Davies
69
Posted 24/08/2018 at 19:08:03
Mike, 67
Have a look at the Stoke stats when Zouma played, against when he didn't.

Mike Gaynes
70
Posted 24/08/2018 at 19:09:27
Beats me, Steve. I know that in 2015 he was third choice behind Cahill and Terry, then came in when Terry got hurt, then blew the knee. I just don't remember much of him. Even though I saw him for 90 minutes twice last season. Never made an impression on me.
John G, he played almost every game for them last year. 34 of 38 in the league. Unless they gave up a bunch of those 68 goals in the four games he missed, my question stands.
Ian Bennett
71
Posted 24/08/2018 at 19:17:03
Just to chip in. I think Sky did some scores of his impact on Stoke as noted above, but also his rankings on duels, interceptions etc. If memory serves me right he was very highly ranked on most scores.
I was advocating getting him all summer with Loftus-Cheek and Batshuayi – so I am pleased. I can't believe Arsenal didn't go in for him. Assuming he's over the knee injury, I think he could be a top premier league defender.
A loan deal gives us an option to try before we buy. Yes, we don't have a price in the agreement – but I struggle to see him go back to Chelsea... it's 2.5 years since he last played for them.
Tony Abrahams
72
Posted 24/08/2018 at 19:20:39
You can see that Stoke's problem runs much deeper though Mike, and it was interesting what Charlie Adam said, about too many players not really giving two f..cks, about the club, last season.
When problems run deep, you have got to clear the decks, so I'm glad with most of the work that Brands and Silva, have done in such a short space of time.
Silva it seems has certain standards, I love the way he talks about "obligation" but this can also pose problems for a manager, who wants to have a tight nit-group, because as you say, just because Keane hasn't done to badly in the games so far, it doesn't mean he's good enough.
I'm looking forward to seeing you this winter Mike, I promised you a present, I haven't forgot, but I know what your biggest present would be this December, and I'd love Michael Keane, to score the winner for you!
It's never personal with Everton players, I just want them to be the best that they can be. No pointing blaming anyone on a football pitch, because either way, it never changes the result.
Mike Gaynes
73
Posted 24/08/2018 at 19:37:18
Thanks, Ian.
Tony, love the way you think -- although I'm gonna put my money on Mina to head in that gamewinning free kick at Mordor!
Interesting comment from Adam, especially considering he pretty much handed us the game at Stoke with that idiotic red card.
I look forward to meeting you and Dave too!
Marcus Leigh
74
Posted 24/08/2018 at 19:37:46
After the shambles of last season, how incredibly cathartic it feels to have optimism once again. Richarlison's instant impact has provided some much needed hope for the future, while the other new recruits, once bedded in, all have the potential to take us up another gear too. Three points tomorrow and we're definitely on a roll. COYB.
Derek Taylor
75
Posted 24/08/2018 at 19:56:21
I agree with you, Tony, Brands and Silva have done a good job in shipping out so many of the Martinez/Koeman reigns. But they cannot have all been 'bad eggs' and I have always felt that too many of this brood were just not good enough.
Just how could that have happened? Our previous managers were a long way from being novices in that role for their judgement to have been so impaired!
Clive Rogers
76
Posted 24/08/2018 at 20:01:10
I don't believe that mayor Joe's comments are an indication that Usmanov may being coming onboard. Rather that momentum lefties in the Liverpool Labour Party are putting pressure on Joe not to loan the money. This was reported a few weeks ago in the local press.
I think if Usmanov did come on board, the money for the new ground would still be borrowed at low interest from somewhere. That is the way these big business guys work. They very rarely use their own money.
Dermot Byrne
77
Posted 24/08/2018 at 20:09:45
I saw that story too Clive
Funny it didn't have legs.
Lev Vellene
78
Posted 24/08/2018 at 20:10:33
Derek #75
I think Martinez might have been too prone to gush about positives to address the negatives about players that the fans saw more clearly.
Koeman was not really as bad tactically as he seemed by the end, but if you are so wary of direct contact with the players that you have your brother be the middle-man, then it can not end well! And it didn't...
Raymond Fox
79
Posted 24/08/2018 at 20:17:26
Strange betting on the game!
13/8 Bournemouth 13/5 the draw 7/4 Everton.
They are struggling to pick a winner which normally would mean offering a poor price for a drawn game.
Hoping we win of course, but 13/5 for a draw is a cracking price.
Tony Abrahams
80
Posted 24/08/2018 at 20:31:01
Too many players were not good enough? Exactly Derek, I couldn't agree more with that mate, and hopefully, with better players coming into the side, we will all have less to disagree about.
The team that started against Stoke, on the opening day last season, only had Lukaku, signed by Martinez, so It can't be underestimated how quickly, Brands and Silva, have got to work, in preventing Everton, becoming another Stoke, with Schneiderlin's newly found attitude hopefully being the best sign of things to come?
Tony Abrahams
81
Posted 24/08/2018 at 20:34:01
That's surely one for professional gamblers that then Raymond, back whichever team you fancy, and also the draw?
John G Davies
82
Posted 24/08/2018 at 20:38:43
Tony,
Professional gamblers wouldn't touch this game with a bargepole, mate.
Tony Sullivan
83
Posted 24/08/2018 at 20:41:44
Clive Rogers @76
Not sure about Momentum lefties putting pressure on Joe Anderson. The whole idea of using council taxpayers' money to fund a scheme for a private company never was sustainable, either politically or economically, it was always 'pie in the sky'.
We will need someone like Usmanov on board to fund Bramley-Moore as our new home.
Tony Abrahams
84
Posted 24/08/2018 at 20:43:58
It shows you how much I know John G, but looking at the prices, then as long as the team you fancy don't lose, then you could get very decent returns, especially if the game turns out to be a draw?
Darren Hind
85
Posted 24/08/2018 at 20:47:04
Tony,
We went into the betting shop where Boundary Street meets Scottie Road before we played Wimbledon in THAT game. The Board said Everton to go down 4/5. My mate went mad.
The Kopites (dirty bastards) were piling on. He demanded to know what odds we were to stay up... That was 4/5 as well, the bastards give nothing away.
He shouted at us "Get your fucking money out... we'll have these fuckers over!1" We scraped £114.50p between seven of us... that was all our money. He put the lot on.
Rob B Williams
86
Posted 24/08/2018 at 20:57:39
RF 79, You don't by any chance work for that outfit that MK was talking about?
The ones that were trying to convert us all into gamblers??
Tony Abrahams
87
Posted 24/08/2018 at 21:05:01
I love a story with a happy ending, Darren, and with those prices tomorrow, then people with money, could do very well?
John G Davies
88
Posted 24/08/2018 at 21:47:13
£100 on the draw £360
£100 on the Blue's £275
If you don't think we will get beat its a minimum £75 profit Tony
Raymond Fox
89
Posted 24/08/2018 at 21:53:49
We are all gamblers Rob, as soon as we get out of bed!
Not many bet on the draw, their probably trying to get some money on it. Just seems like a big price.
Tom Bowers
90
Posted 24/08/2018 at 21:58:03
There are no easy games in the Premier League at any time of the season and tomorrow will be just as tough for both teams even though both have made a good start. However, neither team can yet be regarded as a top-six contender despite where they are now and in view of the opposition they have both faced.
We know Everton are a work in progress and until we see the newer members are integrated into the actual scheme of things we may not see just how much they have progressed since last season if any.
Certainly there are some promising signs but we cannot get carried away just yet.
Hopefully tomorrow's game will be another stepping stone in the right direction at least.
Paul Tran
91
Posted 24/08/2018 at 21:59:28
Raymond, you'll get better value than that elsewhere.
Darren, Here's a sad footy punting story. 1986, we played Wednesday in the semi, they played Southampton and West Tip was nailed on to win the Grand National. We left for Villa Park too early for a bookies, so we thought we'd get the treble on when we got near Villa Park. The car's fan belt broke on the M6, which stuffed us for time, even though my mate fixed it with a pair of tights he bought in the service station.
We got to Villa Park just in time for kick off, we beat Wednesday in extra time, they beat Southampton and West Tip hosed up.
I'd backed West Tip ante post, but in the excitement of winning the semi, we forgot about the treble until we got back home to the Bug & Bite (Peter Mills will know!).
If was a great night in there, Blues coming back from Birmingham, Reds coming back from Highbury. We spent more than what we would have won, but I wished we'd done that treble!
Brian Garside
92
Posted 24/08/2018 at 22:10:46
Holgate must be first-choice centre-half from now on. Dowell on the bench too.
John G Davies
93
Posted 24/08/2018 at 22:12:46
https://www.oddschecker.com/football
There you go Raymond.
Good luck.
Tony Abrahams
94
Posted 24/08/2018 at 22:25:19
Worse bet I never got on was down to the booze, having a good laugh, and then it was all to late before I remembered.
We were leaving for Portsmouth dead early, and I said I wasn't even having a bevy. That never lasted long because someone put snatch on the telly. Funny film, start laughing, where's the ale?
Gets near Pompey, I'm "lines of cotton" goes in this boozer, and there is about 15 of their lads in there, so I start winding them up. Had a laugh with them, and because our coach wasn't full, I told them to get on it.
They were made up because it seemed like we were still about half an hour away from the ground. Loads of good stick, funny, we gets near Fratton Pk, and they are all grabbing me, come on scouse, we owe you a few drinks for this, you're coming with us.
Had a laugh, but forgot about my bet which was a £10 double. Everton to win 2-1, and Southampton to win at Anfield by the same score. 9/1 Everton, 25/1Saints, ah well it's only fuckin money, and if I would have seen that firm again, it was more than a few drinks they ended up costing me!
Anyway back to the game, I hope you enjoy it Rob amongst others, and I was only thinking today that I wished I was going tomorrow, and it's a very long time since I thought that.
Bill Gienapp
95
Posted 24/08/2018 at 22:34:17
Heard on-line that Lookman's been left out of the squad/hasn't made the trip this weekend. Anyone know if that's true?
Paul Kelly
96
Posted 24/08/2018 at 22:39:08
Last year's three defensive mid's and a cameo of a 20% fit Bolasie (looking like he was running in treacle) was a very low point of the last season on the south coast, plus a last minute winner for them just summed up the whole day.
All three points tomorrow, anything less would be disappointing regardless of their winstreak. I sense a good game for the neutral.
Let's pop their cherries!

Sam Hoare
97
Posted 24/08/2018 at 22:40:11
Mike Gaynes, I've seen Zouma play a fair bit for Chelsea and Stoke and think he'll do better than Keane once (if) he settles.
He's strong as an ox, has a fantastic leap and is surprisingly quick for his size. He's decent on the ball and will occasionally bring it out though not always convincingly. He can get caught ball watching but mostly his positioning is good. He reminds me a fair bit of Sylvain Distin. I think against mobile attackers he will do a better job of defending in a high line than Michael Keane.
Stoke were terrible last year. Form that has continued into the premiership. Zouma was amongst their best players and cannot be held responsible for their collective failings.
Ernie Baywood
98
Posted 24/08/2018 at 22:46:43
No-one talking about Cenk? For us to be a decent team we need a striker bagging double figures. Most seem to acknowledge Cenk isn't world class but should be good for 12-15.
He's done well, in my opinion, in the first two games but has he even had a chance yet? Certainly hasn't looked capable of hitting big numbers this season. In fact, half the time he's not even attacking the dropping ball in the box. More likely to be doing the hard yards on the edge of the box.
This feels like the sort of game where we'll need to score more than once. We could really do with our striker being a goal threat.
Paul Birmingham
99
Posted 24/08/2018 at 22:51:48
Every game is high stakes, and all players are fighting for a place.
Howe is no mug, and will have done his homework. Can our midfield stop the feeds to their forwards...?
Should be a cracker, and a game we can win, if we don't make basic mistakes.
Ed Prytherch
100
Posted 25/08/2018 at 02:34:02
Paul #96 - great description of Bolasie running in treacle, picking his knees up high and going nowhere. LOL
John Pierce
101
Posted 25/08/2018 at 03:25:52
Zoooooma & Holgate
20 minutes from Bernard
Davies to boss it
4-0 to the Toffees
Darren Hind
102
Posted 25/08/2018 at 07:19:06
"I said I wasn't having a bevy. That never lasted long"
I think we've all been on that bus Tony. I wonder how long big Rob will last today before he reaches for his first can of Nelson (if he hasn't already). My youngest better be sharing his out or he'll end up in the same state as you by the time he gets there
I'm envious of those going down there today. Koeman and Allardyce killed it for me, but I don't believe Silva will ever go into a game with the sole purpose of not getting beat. I really fancy getting back to a few away games this season.
Tickets may be hard to come by, Three years ago I was well in, Never failed to get a ticket no matter how scarce, but its surprising how quickly you fall down the pecking order when you stop going. Feels harsh, but its only fair. Those who stuck with the boys through the Koeman/Allardyce era are up there with those who travel from other countries for a game. They deserve to be first in line.
Jamie Evans
104
Posted 25/08/2018 at 07:27:09
1,200 of us there today, really, that's all?
Full support 💙 will be needed.
Onward Evertonians and if anyone does feel the need to invade the pitch, please, no Lonsdales this time. We still haven't heard the end of it from the other crowd.
Derek Knox
105
Posted 25/08/2018 at 07:34:46
I have been reading about Kurt Zouma who played at least four games for Chelsea, as a defensive midfielder, and by all accounts, both he and Chelsea were successful with that arrangement.
While I suspect Silva will stick with the predicted line up, it's always an option if our midfield are not performing as a unit.
COYB
Amit Vithlani
106
Posted 25/08/2018 at 07:42:07
Sam @ 97 fully agree with Zouma/Distin comparison. I think Zouma is left footed too? Sylvain got better with age (he was woeful at Newcastle), had many clubs before he peaked and I fancy Zouma follow a similar progression.

Mike Gaynes
107
Posted 25/08/2018 at 07:56:42
Sam #97, that all sounds good. If he's got even a bit of Distin's pace, it'll be a beautiful thing to see.
Darren Hind
108
Posted 25/08/2018 at 08:09:49
Talk of the devil

Distin coming on talk shite shortly to talk to Georgie Bingham
Tony Abrahams
109
Posted 25/08/2018 at 08:30:07
I could have wrote that second to last post myself Darren, couldn't agree more, and also hope my oldest lad, does the same as your youngest!
I'm a bit to tired for the long treck to Bournemouth, these school holidays, have done me in, but it's just nice to have the feeling, that I want to re-join the fastest moving light infantry in the country once again!
It's a joy to travel away with Everton, but Koeman and Allardyce also wrecked it for me, so I don't mind having to get to the back of the queue, behind some of the most loyal supporters in the land. ONWARD EVERTONIANS!
James Stewart
110
Posted 25/08/2018 at 08:35:18
Some strange comments regarding Bournemouth, personally I think they are poor and always mess about with it at the back. Very Martinez like. This will play right into Silva's high press. An easy win 0-3.
1-3 if Keane if playing.
Patrick Eimsman
111
Posted 25/08/2018 at 09:01:04
Cenk Tosun looking like the new Marcus Bent !
Gary Russell
112
Posted 25/08/2018 at 09:03:42
Not sure if that's a wee dig at Cenk, Patrick?
Marcus Leigh
113
Posted 25/08/2018 at 09:04:00
Favourable article about us on this morning's Guardian homepage. Just a shame about some of the more puerile comments.
Link
John G Davies
115
Posted 25/08/2018 at 09:26:12
Great piece that Marcus.
Gaffer comes across really well.
Good luck to all of the Blue's travelling, best fans in the league for me the away support. Never miss a game regardless of how we are playing, easy to follow a successful side away from home, not so easy to follow a side playing dour football as we have over the years.
A credit to the club.
My away days are down to a few handpicked games a season now, but time served.
Starting off as a kid getting the bus to the Lancs, hitching a lift to Haydock Island before the 62 was built, then on from there. Used to hitch the London games on a Friday night, progressing through bunking the special, then onto a bit of comfort.
Great days sorely missed.
Ian Bennett
116
Posted 25/08/2018 at 09:41:34
A big game today.
Win, and we can go on a great run that would give top 6 ambitions a real shot in the arm. Lose and we can see that Silva will need time to turn the ship around.
A real interesting game. Do you change a winning team, or do you strengthen the defence before Keane/Holgate wobble against dangerous opposition, or do you even change to an untried 3 at the back?
I expect same team as last week plus Tom Davies, but I would be happier seeing Zouma come in for Schneiderlein. To win this game we need to keep a clean sheet/limit them - and Keane/Holgate Vs Wilson/King looks like a goal fest to me.
Good luck blues.
Rob B Williams
117
Posted 25/08/2018 at 09:43:52
ML 113 - Thanks for sharing that link it shows what I have been missing for some time - a decent newspaper to read. Cheers.

Clive Rogers
118
Posted 25/08/2018 at 09:50:24
Tony, #83, not sure it would be tax payers money. I understood it was the council's ability to borrow at low interest which would be passed on to EFC and the council would make a small profit.
Clive Rogers
119
Posted 25/08/2018 at 10:01:06
Silva and Brands are top quality and have made a brilliant start already as can be seen by the improved form of players who struggled last season. I have not felt this level of excitement about our prospects since Kendall's first stint.
Michael Lynch
120
Posted 25/08/2018 at 10:21:33
Be interesting to see how we approach the match today. I loved us having four up front at Goodison, even when we were "defending" a 2-1 lead - and Siggi being further forward definitely brings out the best of his game. We're almost certainly going to get some embarrassing spankings this season, and I'm bracing myself not to moan too much when we do. As long as we hand out a few spankings ourselves, I'll be happy. I think.
Steavey Buckley
121
Posted 25/08/2018 at 10:36:51
Football has certainly changed for the worse for Everton when teams like Bournemouth, Watford, Burnley and Brighton are serious opposition when playing them away from Goodison. That means that teams like Liverpool, Chelsea, Arsenal, Spurs, Man City and United are practically unbeatable away.
James Marshall
122
Posted 25/08/2018 at 10:46:00
Steavey, why has it taken a turn for the worse? The game is awash with money, and we Evertonians have for many years complained about the so called 'Elite' clubs so why shouldn't other teams such as Bournemouth, Watford, Burnley & Brighton be denied any aspirations of being a top club?
You can't have it both ways. If you want to challenge the status quo, you don't get to pick & choose who challenges it, you need everyone to challenge it.
Seamus McCrudden
123
Posted 25/08/2018 at 10:58:19
Well said, James.
Steavey Buckley
124
Posted 25/08/2018 at 11:07:48
James (122) you have failed to recognise that in footballing terms Everton have not 'pushed on', especially, in the past 2 seasons, when Everton have allowed 3 of their best players to leave who have not replaced. Something that Bournemouth have not experienced. Their better players don't leave.
James Marshall
125
Posted 25/08/2018 at 11:11:49
Steavey - I haven't failed to grasp anything, I'm very aware of that failing of Everton. I just don't understand why anyone would suggest that Everton have a divine right to be considered 'better' than anyone else.
We (Evertonians) complain mercilessly on here about the 'Sky darlings' yet you're now saying that those other clubs should be considered 'under' us. Isn't that a bit hypocritical?
We signed lots of apparently 'top' players in the summer so they are trying to rebuild. We're a mid-table side and have been for over 20 years. We're not a top club just because we won a few trophies in the '60s & '80s.
Tony Sullivan
126
Posted 25/08/2018 at 11:13:59
Clive (#119),
The question then arises if the council can borrow to fund Bramley-Moore Dock, why not spend the money on housing or fund other hard-hit services?
Also, over time, councils change political colour.

Brian Harrison
127
Posted 25/08/2018 at 11:15:34
There are no easy away games in the Premier League, some are harder than others but no easy games as Man Utd found out last week.
Our record at Bournemouth isn't great – I don't think we have won a Premier League game at their ground. It would be nice to change that stat today. To me, Bournemouth are a bit like Everton were under Martinez: likely to score but also likely to concede. So I don't think whatever happens we will see a 0-0 game today.
I wonder if Silva will play Davies in Schneiderlin's position, till Gomes is fit; we don't seem to have a lot of options. What we do know is that Everton will try and play on the front foot which is a change from the way we have approached away games in the last 2 seasons. Hopefully the change of style will help us stay undefeated.
Brian Harrison
128
Posted 25/08/2018 at 11:23:16
Tony
The reason the council want to borrow the money from a government fund is they will make £7 million a year profit from Everton. Money that can be spent doing exactly what you are asking them to do.
But if they borrow the money how do they pay it back, the government has a cap on council rates, so its either do a Hatton and produce an illegal budget or go bankrupt as a City. Then the government would take over the running of the city, now wouldn't that be fun.
Steavey Buckley
129
Posted 25/08/2018 at 11:30:24
I disagree with you James, it is very rarely for any club to push on when they keep on losing their better players. I have watched Everton since 1960, each time they lost their better players, there was a dip in form until they were replaced.
But after 1970 when Everton lost Ball, Kendall, Harvey, Labone, Ray Wilson, Gordon West, John Hurst and Tommy Wright it took 14 years for Everton to recover when Kendall as manager won Everton's first trophy.
Dave Williams
130
Posted 25/08/2018 at 11:36:07
I've never been a gambler but recall the start of 1977-78 season with the £10k Daily Express prize for the guy who scores 30 league goals.
My hero with the beard was quoted at 200-1 to be that guy and I was outraged. I remember ranting to my mate that if I had a few spare £s, I would put a tenner on him just out of annoyance.
£2k back then was equal to my annual salary – what a prize fool!!!
James Marshall
131
Posted 25/08/2018 at 11:37:03
I don't understand what you're disagreeing with, Steavey. It appears we're talking at cross purposes here. This conversation doesn't make any sense!
I keep agreeing with you, and you keep saying you disagree with me!
My point isn't about Everton 'pushing on', it's about your original point that Everton should be somehow better than Bournemouth etc by right. I agree we haven't got better in the last few years.
This feels like a circular conversation... :-)
Steavey Buckley
132
Posted 25/08/2018 at 11:41:53
Could be James.
James Marshall
133
Posted 25/08/2018 at 11:50:36
I'm glad we cleared that up, Steavey.
Christopher Timmins
134
Posted 25/08/2018 at 11:58:38
Expecting 3 points today which may push us into the top 6, hopefully, our natural home for the rest of the season.
Andy Meighan
135
Posted 25/08/2018 at 12:20:48
Not a good hunting ground for us. I can't see anything changing today.
We gave away a lot of chances last week against an ordinary side and I think we 'll concede a couple today. Not confident at all and I've got a bad feeling about this one.
We've got to address this shocking away form if we are to harbour any lofty ambitions.... I really, really hope I'm wrong... But!
Mike Corcoran
136
Posted 25/08/2018 at 12:26:40
The council borrow at low rate and charge us a higher rate for the loan thus making money to spend on services. Isn't that how it works?
Bobby Thomas
138
Posted 25/08/2018 at 12:53:36
As I understand it, Mike, it's advantageous as we are able to borrow the money at the lower rates of interest than the council would be able to access.
The money we would pay the council would essentially be for it, the council, taking the risk. Which I think would be around £7 million over 25 years.
Dermot Byrne
139
Posted 25/08/2018 at 12:54:10
That is the idea I think 136 Mike. A council using imagination to support a key local business develop and also make money from that, to deliver much needed public services as central government cuts their grant.
I have no idea of local authority law but to me this seems a move that should appeal to Tories (imaginative use of money market), Lib Dems (local decision making) and Labour (more money for public services).
And even Momentum must surely have a problem blocking a move to help redirect money from a multi-million pound club into local services for those in need.
But I am sure someone must see a problem.
The only one I can see is someone offers us better terms. Would have to be significantly better for the club to abandon the potential social impact in Council deal.
Raymond Fox
142
Posted 25/08/2018 at 13:07:43
I feel more confident this season about our prospects than I have for a few years. When we get a fit full squad to choose from and if we can stay free of injuries I think we will challenge for 6th.
I'm not sure of the wisdom of letting Bolasie go on loan though. I think we will have to score a few times today if we are to win, because I don't see us nilling them!
Phil (Kelsall) Roberts
143
Posted 25/08/2018 at 13:27:28
James Marshall (#125)
Everton:
Cup 84 and 95
League 85 and 87
European Trophy 85
Spurs:
Cup 91
League - err 1961.
European Trophy - err 1963
League Cup - 99 and 08
They are a big six club and Sky Darlings. If they are for their trophy history, then we are even more. So a top club is all about not winning anything but having lots of money. Sad times.
James Marshall
144
Posted 25/08/2018 at 13:53:23
Phil - they're a Sky darling because they finish in the top 4 or 6 regularly. You can split hairs all you like, the fact stands, Everton are not a top club anymore/at the moment.
Dermot O'Brien
145
Posted 25/08/2018 at 13:57:57
Good luck and thank you to all the traveling supporters today. You are a special breed.
Stan Schofield
146
Posted 25/08/2018 at 14:05:05
James, if I could just throw one in here. I think a club's 'character' is defined by it's history and supporters. With us, the history is richer than for most, and the expectations (not merely the hopes) of supporters are much higher than most.
Although Sky focus on the 'top-6', it's likely quite transitory, a short-term reflection of current big money. When the location of the big money changes, the focus of Sky will change.
Our successes were founded on big money (John Moores') some time ago, and they were big successes that have set our expectations in concrete. For us, averaging a league position of 8th (which we've done over the last few decades) is totally unsatisfactory. We want, and expect, to be top dogs. In this sense, although we're not one of the 'top-6' presently, historically we are a top club, and fully expect to be 'elite' again quite soon.
Dermot Byrne
147
Posted 25/08/2018 at 14:11:36
Stan #146: cannot disagree with a word of that.
That is what makes us insane!
Add Your Comments
In order to post a comment, you need to be logged in as a registered user of the site.
Or Sign up as a ToffeeWeb Member — it's free, takes just a few minutes and will allow you to post your comments on articles and Talking Points submissions across the site.