Perspiration but no inspiration as Blues are held
Everton 1 - 1 Huddersfield Town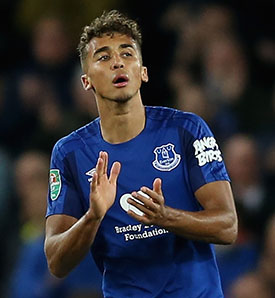 Dominic Calvert-Lewin scored his third goal in the space for four days but Everton couldn't find a winner
Everton were forced to settle for a disappointing point against Huddersfield Town following a largely lacklustre display at Goodison Park.
The Blues fell behind for the first time this season when, almost inevitably, they conceded from a corner 11 minutes before half-time but an almost immediate reply looked to have set the stage for them to go on and win the game in the second half.
In a frustrating echo of last season's attacking woes, however, Marco Silva's side failed to register another shot on target all game and the contest petered out to a 1-1 draw.
Shorn of the suspended Richarlison and a growing list of injured players that included Idrissa Gueye, Phil Jagielka and new signings Bernard, Andre Gomes, Yerry Mina, Silva opted for a formation with two strikers in the form of Cenk Tosun and midweek goalscorer, Dominic Calvert-Lewin.
Kurt Zouma made his first start in the Premier League alongside Mason Holgate, as did Lucas Digne who replaced Leighton Baines at left back.
Everton started brightly enough and forced an early corner before Zouma was the surprise origin of a bouncing shot from distance that whistled narrowly past Jonas Lössl's right-hand post.
It was a rare sight of goal, however, for a Blues team that almost wholly lacked imagination despite enjoying the bulk of the possession. Given the absence of their more inventive outlets, the onus fell very much on the shoulders of Gylfi Sigurdsson and Theo Walcott to provide the cutting edge in the final third but both struggled to fulfil the brief.
For their part, the Terriers' chief threat was coming from Philip Billing's long throws into the box but it was from a 34th-minute corner that they scored, capitalising on a weakness to flicked-on set-pieces that Everton appear no closer to resolving under Silva's penchant for the zonal marking system.
Billing was the recipient of the ball unmarked in front of Jordan Pickford's goal and he headed home to make it 1-0.
To their credit, Everton were back level in less than 90 seconds from the kind of accurate delivery from the flanks that was so conspicuous by its absence for the rest of the game.
Digne it was who whipped the ball in from the left to pick out Calvert-Lewin and he guided the ball home via the goalkeeper's out-stretched glove to level things up.
The rest of the game was an exercise in futility for Silva's men as they tried vainly to pick their way past an organised Huddersfield rearguard. The further loss of Walcott to a hip injury after an awkward fall in the second half didn't help matters, although it did afford Ademola Lookman a decent runout and it was he who almost fashioned a goalscoring chance for Sigurdsson.
Great work by the young winger on the right ended with him firing the ball low into the six-yard box but it was just too far ahead of the Icelandic international's toe.
Generally, though, for all their dominance of the ball, Everton weren't able to do much with it and as the one on whom many no doubt put their hopes as the one capable of producing some magic, Lookman didn't have much of an impact, although his lack of playing time will have been a contributory factor.
Neither Seamus Coleman, Digne or Leighton Baines after he came on to replace the Frenchman in the closing stages were ever able to get down the flanks on the overlap to the byline and it made for predictable fare from the opposition's perspective who kept their hosts contained for the most part.
Calvert-Lewin had a couple of other headed opportunities, one in particular that he might have done better with, and there were further headed chances for Zouma and Tosun, the latter coming from substitute Oumar Niasse who hooked a cross back in front of goal but the Turk couldn't react in time to get underneath the ball.
Silva's assessment afterwards was an acknowledgement of where his team fell down on an afternoon where many expected Everton to collect all three points having failed to pick up the win should have done at Bournemouth last weekend.
It was a day when the side as a whole failed to really get going and it was difficult to pick out a strong performance from the bunch but. Zouma was probably the one that stood out the most.
The Portuguese described it as "a tough day. We controlled possession but in these games we need more creativity in our game."
The two-week international break until the visit of West Ham will hopefully give some of those players carrying minor knocks to recover in time to be available for selection. With Richarlison due to serve the final match of his three-game ban and Andre Gomes unlikely to be fit, the big hope in that regard will be for Bernard to overcome the issue that precluded his involvement this weekend.
More importantly, the manager will get time to work more with his players to hopefully drill them better on the defensive side when it comes to set-pieces and try and draw more creativity out of a group of players that can do better than was on show today.
---
Reader Comments (129)
Note: the following content is not moderated or vetted by the site owners at the time of submission. Comments are the responsibility of the poster. Disclaimer
Jakub Kollar
1
Posted 02/09/2018 at 07:08:50
Don't worry and don't become too negative, people. It's gonna get better. I was also frustrated yesterday but remember, we're on the right path.
Benjamin Dyke
2
Posted 02/09/2018 at 07:45:52
Thanks for the match report. It was horribly frustrating yesterday but in Silva, we seem to have a coach that has some answers. At least he sees it and says it, as we would want him too. We'll have better days.
As for individual performances, we were horribly lacking in central midfield. Schneiderlin did his job okay enough but can't drive us forward, but Davies showed all his weaknesses.
He passed the ball away about 10 times, both long and short.
He got caught in possession.
His attempts at incisive passes around their box came off once in the whole game.
He didn't tackle well.
He won no aerial battles.
He's young so has room to improve but we need a better box to box central midfield.
Gueye isn't the answer either. Work to do in central midfield. Digne had a good game but pairing with Calvert-Lewin limited our creativity on the left. Calvert-Lewin is a striker, not a left winger, and it shows.
Walcott is a bright spark and looks capable of creating or trying something but he needs support around the box. Tosun fought hard, created a shot for himself that wasn't too far off being a brilliant goal but got no service from the flanks and will never outrun defenders.
Defensively, we were okay but made Huddersfield look dangerous on the break. Good game by Zouma, covering in the channels and in sprints with attackers.
Onwards and upwards. After last season's catastrophe, we can at least begin to see a shape and identity and with the new players possibly a much better season. But it ain't gonna happen overnight. Unbeaten going into the international break and could easily have had 2 more wins.
Chris Gould
4
Posted 02/09/2018 at 08:18:58
I have been one of many who has been saying for a while that Davies is simply not good enough.
It doesn't matter how highly thought of he was as a 17-year-old. Central midfield is no place for kids. He looks like a schoolboy amongst men and makes the wrong decision and poor passes over and over again. The sooner he is back on the bench the better we'll become.
This is not me writing the kid off. He may develop into a very good player, but right now he is simply not good enough. We need to recognise that his development may be better served elsewhere. He has so much growing to do and probably shouldn't do it under the glare of Goodison Park. We don't have the patience as fans as we have been starved of success for so long. We can't carry passengers.
If we keep playing Tom Davies, he's going to get his confidence crushed. The crowd will turn on him as he simply isn't ready and plays in a position of real influence.
Jim Bennings
5
Posted 02/09/2018 at 08:24:02
Benjamin,
It's funny you say Tosun got no service because one ball across the box from Lookman in the second half was a striker's dream and I'd suggest that Cenk works hard at getting himself in positions where he can actually hurt teams.
It's easy to bemoan the service but other players are scoring, Digne's cross for Calvert-Lewin – was that also not good service?
Tosun's work ethic in other areas is commendable but at £27 million if we wanted work horse strikers we could have signed Charlie Austin, Shane Long and Glenn Murray for probably less than that combined total.
I also don't really see how defensively we were okay and it's becoming a massive problem, this zonal marking from corners and set-pieces.
I do agree with the assessment on Davies though. I said last season the lad doesn't look anything like Premier League standard and, whether he's 20, 30 or 40 years old, that's just a plain fact – age is irrelevant.
Our midfield is still terribly lacking in creativity and there's little spark there and it was very easy for Huddersfield to contain us because we had no answers or variety to try something different.
I hope the lad Bernard can get fit ASAP and he can be the answer to some issues in that area.
Si Pulford
6
Posted 02/09/2018 at 08:32:55
I think the criticism of Davies is slightly harsh. At this stage in his development he should be coming off the bench and starting the odd cup game but injuries have forced the boss' hand. I can't think of who else we could have played there yesterday with the injury list we (already) have?
If Gomes and Gueye where fit Davies would probably come off the bench for the last 15 and not have the expectation of the crowd weighing him down. He's a good player but he's raw. He's made over 50 appearances already, clearly there is a player in there — he was excellent against Rotherham. Maybe in a couple of years, he will be excellent against Premier League teams more often.
Ian Riley
7
Posted 02/09/2018 at 09:07:59
Jim (#5) spot on!! The next two weeks gives the management time to reflect. Don't get me wrong – some of these players again are being asked to change their style of play. I have felt that we have no leaders. Who is motivating whom? Who is bollocking whom when standards drop? Successful teams have leaders who demand more.
For me, players like Tosun and Davies are not Premier League players. The club should have sent Davies out on loan to a Championship club. Our central midfield is not good enough to challenge the top four.
Silva has to be the right person to take us forward. I believe he is. Stability is crucial now to install his philosophy but it's going to take time and transfer windows to get right.
The atmosphere at grounds now has changed from 20, 30 years ago. We are paying theatre prices and then some! Fans are waiting to be entertained.
Sadly shouting your team or a players name is not a very British thing to do anymore. Football has become a very middle class sport. Goodison is typical of many grounds in the Premier League. The vocal support would drown out the negative shouting years ago. Not anymore. It's the other way round. This won't change. Expectation and cost go hand in hand.
Pat Kelly
8
Posted 02/09/2018 at 09:11:44
If Silva thinks that was a tough day, he'd better brace himself for when we play some quality opposition. This largely talentless bunch will be shown for what they are. If you can't get more than one shot on target at home to Huddersfield, you've no chance against a footballing team.
Stephen Bird
9
Posted 02/09/2018 at 09:12:48
Si (#6),
I understand your defence of Davies, but with 60-plus appearances shouldn't the development curve be further advanced if he really has what it takes?
No-one doubts his desire, commitment or energy. But he is seriously lacking in technical ability.
I rather doubt that he will do it with us as, irrespective of his age, he already has the miles on the clock.
Joe McMahon
10
Posted 02/09/2018 at 09:18:12
Sadly, having forwards attacking with pace, like them across the park, is a world away. Improvements are being addressed and I do believe that the new recruits by M&M are a vast improvement to a very average and aging squad.
The whole defence and midfield of Moyes, Koeman, Martinez, Unsworth, then Allardyce needs replacing, and this has slowly started. Then somehow we have to attract the kind of striker we actually want and need. This is gonna be hard with no Champions League football, or even history of Champions League football. We cannot expect Silva and Brands to mend it all following 30 years of neglect on and off the pitch.
Ray Smith
11
Posted 02/09/2018 at 09:28:01
Huddersfield came to spoil and they succeeded.
They slowed everything down, feigned injuries and the ref did sweet fuck-all about it.
We fell into their trap and, apart from Zouma, who showed how solid he is, Schneiderlin and Digne, the rest were pretty average to say the least.
I'm not going to knock Davies, because he is being brought on too fast. Every time he got the ball, he was odds on to lose it or his passes simply didn't come off. A spell on the bench wouldn't go amiss. I personally thought he was odds on to be substituted, however, with whom?
Richarlison is already being missed, he would have slotted at least one of the missed chances.
Anyways, onwards and upwards.
Paul Birmingham
12
Posted 02/09/2018 at 09:44:43
It was a stinker, and highlights the squad understanding and style of play is far from finished.
It's another reality check, but I do believe M&M have a plan, but patience is needed.
Being an Evertonian is always full of angst and forbidding; after 30 years of mediocrity on and off the park, it will take time.
Hopefully that was the low point at Goodison Park for this season.
Good teams won't be forgiving. Let's enjoy the break and regroup, and beat West Ham, well, and break the mound and whack Arsenal! I wish.
Niall McIlhone
13
Posted 02/09/2018 at 09:45:14
We are going to get quite a few games of this sort, with spoiling tactics from the opposition, and we have to have faith that the manager can move us forward, particularly with creativity in midfield.
I envisage that, once Bernard is match fit, he will become our creative outlet, and personally, I think this would benefit Sigurdsson, who at the moment is working very hard, but does not have any midfield partner with any attacking guile.
Then there's Gomes to come in, probably as an option from the bench to start with, but he will give us greater scope for transition to attack from deep midfield. We have not lost yet and, should we beat the Hammers next week, that will be a good platform to tackle the Gunners.
Jerome Shields
14
Posted 02/09/2018 at 09:50:23
The problem is:
Everton have played: Wolves, Southampton, Bournemouth, and Huddersfield.
Luckily our next game is West Ham.
Ian Bennett
15
Posted 02/09/2018 at 10:01:08
It was a chance for the kids to shine with experienced players out, and they broadly failed against a side that will be relegated this season. Bar the outstanding Zouma, the rest was a throwback to the poor performances of last season, which is perhaps no surprise with key men missing.
Too many injuries and suspensions cost the team any rhythm or quality. It is a case of another 2 points dropped to add to those dropped against Wolves and Bournemouth.
Set-pieces remain a mess, and probably will do until Mina is fit to be the main man to clear away. We need to stop the stupid suspensions and clear the treatment room whilst very winnable games are in the offing.
Geoffrey Williams
16
Posted 02/09/2018 at 10:21:12
dup
Kase Chow
17
Posted 02/09/2018 at 10:23:13
I really want to believe in Tosun. I really wanted to believe that he was gonna be, if not a 25 Goal a season man then 20. Sadly, I don't think he's even good for 15.
All those naysayers of Lukaku will never admit they were wrong but God how we miss him. He's not good enough for Man Utd so maybe Everton was his level!
Anyway, it's a slow build from M&M but I hope they have at least 2 strikers in mind. (I still don't understand how we've gone another transfer window without buying one.)
As it stands we have no regular 15- or 20-goals-a-season man and that's what you need to win a game like yesterday's.
Jim Bennings
18
Posted 02/09/2018 at 10:28:42
Kase,
I said when Lukaku was here, we should have been thanking our lucky stars to have a striker of such prolific ability.
Let's be honest, there's hardly been an abundance of lethal marksmen at this club since the day Gary Lineker left and, prior to Lukaku, we were enduring Bent, Beattie, Jelavic to name a few – hardly world class strikers.
It's back to the days of honest toil now and few goals.
Jay Harris
19
Posted 02/09/2018 at 11:14:30
For me, the right side was totally anaemic and the left side only slightly better and with Tosun hardly moving to open up the defence.
WTF do people expect from the youngest player on the pitch? Seasoned internationals were totally shit yesterday but all the vitriol is aimed at Tom Davies.
The only player who deserved an Everton shirt yesterday is Zouma.
The rest, including Seamus and Walcott, were a disgrace – but let's blame the kid, eh?
Andy Williams
20
Posted 02/09/2018 at 11:37:41
Jerome, Wolves drew against an 11-man Man City. We beat Southampton. We were poor yesterday. Bournemouth are rarely easy. A few weeks ago, we were getting battered by Blackburn. Work in progress.
Gordon White
21
Posted 02/09/2018 at 11:50:37
If that shot had come off – how differently people might be talking about him today. To be fair, there wasn't a lot of service for Tosun from a midfield bereft of ideas.
Coleman continued where he had left off in the last game. Baines seems to have a problem taking the ball forward – most times the ball was returned from whence it came. At least Digne's first thought is to progress the attack – not leave it to someone else.
Talking of which, Davies was lost out there, at best ineffective, and I thought Calvert-Lewin was lucky not to see a red card. But then again, we played better the other week, when Jags walked, with 10 men! The difference – Richarlison.
I think we will continue to experience problems with set pieces until we have a set back four who are well practiced, and have confidence in the gaffer's system. And that will take time. Fans are already impatient for instant results. Performances may get worse, before they get better.
On a positive note, I thought Zouma had a good game and Pickford's distribution was a highlight. We've got key players to return and signings we still haven't seen play yet! I'm hoping Mina and Gomes will have a similar impact to Richarlison. If so, I genuinely believe we could have a chance of some silverware this season, although improving on last season's league position may be more difficult.
This season, and next, will be about gradually morphing the team into an effective unit capable of beating teams like Huddersfield Town, even on an off day. And mixing it with the big boys.
We have the beginnings of a good team with Pickford, Digne, Richarlison, Sigurdsson, Walcott and the possibility that more names could be added to that list when new signings eventually take to the park. Taking us to the next level – we already know that more quality players are needed and these are unlikely to come in January. Patience is the key, no matter how frustrating it gets.
William Gall
22
Posted 02/09/2018 at 12:08:00
The problem I had with the game was that, with our left-sided winger suspended, we replaced him with Calvert-Lewin, a central player who kept trying to drift into the middle; this made us ineffective down the left.
Right up to the end of the transfer window, the club would not even loan out Lookman and stated he was the future of the club. Why did we not replace a player who plays left-sided, with a player that does instead of two central forwards?
I understand they wanted to bring in Calvert-Lewin as he scored 2 goals this week so he should have played instead of Tosun.
In the case of Davies, I believe he is in the Rooney trap, where every local youngster showing promise is expected to be another Rooney. The problem is, that type of player is as rare as hen's teeth, and it will be very rare that we will be getting a young local player like Rooney again.
I agree with the comments that he should come off the bench or be loaned out, before the crowd start slagging him off and ruining his confidence.

John Raftery
23
Posted 02/09/2018 at 12:11:20
Yesterday demonstrated that the style of play is primarily dependent on the calibre of players available to the manager rather than the manager's aspirations. For the last quarter of an hour, we had three centre-forwards on the pitch. Presumably Silva decided we might as well resort to longer balls given our inability to pass or run through midfield.
Our last manager and one or two others before him were castigated for employing such tactics. Sometimes, though, a manager has no alternative.
Steavey Buckley
24
Posted 02/09/2018 at 12:48:34
Everton have begun their second season without a recognised centre-forward. This will continue to haunt Everton until put right.
George Cumiskey
25
Posted 02/09/2018 at 13:51:16
Jay @ 19 spot on, mate, let's all slag off the young player trying his best, while conveniently ignoring how bad our £45 million man was.
Clive Rogers
26
Posted 02/09/2018 at 13:51:29
I was really disappointed with Sigurdsson yesterday. Playing central directly behind Tosun, he was the one Silva was looking to for creativity, but it just never happened. He saw plenty of the ball, but lost the ball several times through lack of pace, while none of his forward passes got through.
He seems to be just an average player. It was no surprise when he was subbed. I feel Silva must be losing patience with him and his place must be under pressure now from Bernard and Gomes when they are fit.
Steve Ferns
27
Posted 02/09/2018 at 13:55:44
Silva was going nuts on the sidelines yesterday. He really was not happy.
I don't think Gylfi had a nightmare or didn't try, they just took him out the game, he couldn't do what De Bruyne does and find a way into the game and we couldn't exploit the congestion in the middle by exploiting the wings.
It was far too slow in every regard yesterday. By the time we got the ball to the flanks they got out and shut the pass down. We needed to be switching play and really making them work. We didn't and even at the end they still had energy to defend.
When's the last time you saw Man City's opponents have energy at the end of the match? We have to move the ball more quickly and pull these defences apart by quick passing.
Steve Ferns
28
Posted 02/09/2018 at 14:06:42
Oh what about the penalty we should have had? Tosun is knocked to the floor at the end by a hand / punch and we get nothing. Didn't show that on MotD.
Stephen Davies
29
Posted 02/09/2018 at 14:30:08
Steve (#27), Yes you are right and Silva said almost exactly the same in his post-match comments.
He wanted the ball moved quicker... unfortunately, the players out there at the time were, for some reason, unable to do this.
Victor Yu
30
Posted 02/09/2018 at 14:35:36
If Silva wants to move the ball quicker then he should stop playing Davies. He slows everything down (or gives the ball away or overhits his passes etc) or passes the ball sideway or backwards.
Derek Knox
31
Posted 02/09/2018 at 15:14:40
Steve @ 28, I have just looked at your link, but didn't realise it was that bad. Surely they will look at this retrospectively, like they did with Niasse's simulation and apportion some sort of retributive action.
Oh sorry mate, that only seems to happen to us, doesn't it?
I was really disappointed with most of the players yesterday, but have held back until I simmered down, while I appreciate that Marco Silva has 'inherited' a mismatch of substandard and some decent players, it won't happen overnight.
There is no excuse for the total lack of creativity in midfield and with the forward line too. These players are picking up astronomical wages, and invariably producing nothing that is commensurate.
Most fans are working and apportioning a large part of time and money to turn up to support them. Many fans too travelling long journeys to attend, and they can't even be bothered to break into a sweat, I despair.
It's supposed be entertaining too, totally devoid of that yesterday, against a team that will be struggling again to stay in the Premier League.
The only redeeming factor, is that a lot of players are out injured and one suspended, can't come back quick enough for me.
Brent Stephens
32
Posted 02/09/2018 at 15:25:44
Victor, "Davies... passes the ball sideway or backwards".
For me, Davies always tries to turn with the ball towards the opposition not away from them. He's always looking to go forward with the ball. More than most. You can't always do it but he always wants to. No easy way out for him.
Jamie Crowley
33
Posted 02/09/2018 at 15:29:50
Chris Gould mentions something regarding Tom Davies I believe may be spot on. Not all of it, but stating Tom isn't / wasn't good enough and needs to develop.
I'd give him a respite and not start him against West Ham.
Kids can come and go, game to game. We've seen this with Stones and Lukaku most recently - they could blow very hot, then very cold. It happens with all athletes, more so with young athletes.
The boy did play midweek as well, and he played wonderfully; lest we forget.
Sit him for a game or two. Make him fight for his position to regain focus.
But write him off? No way.
The cannons aimed at this kid are a step too far for me.
People are frustrated. Aiming that frustration at Tom Davies is, in my opinion, short-sighted in the extreme.
Fran Mitchell
34
Posted 02/09/2018 at 15:38:48
Coleman was poor and, for me, needs to be dropped for Kenny.
Tosun was completely ineffective, again. Calvert-Lewin has more pace, more dynamism, more impact and more goal threat. He should be our No 9.
Walcott was way below par and proves that he is just too inconsistent to rely upon, he should not be a guaranteed starter with Lookman and Bernard in the squad.
Sigurdsson is just having very little impact on games; with Dowell and Gomes around, plus Bernard, he should also be dropped for now.
Davies has much to improve, but was far from the worst on the pitch.
The good thing is we now have a squad (injuries notwithstanding) that means we don't have to wait for a player to regain form.
Victor Yu
35
Posted 02/09/2018 at 15:50:48
Yes, Davies does try to pass forward at times. 99% of the time he overhits when he does it. Maybe that's why he prefers to pass back or sideway instead.
He is just not good enough. Plain and simple.
I will say it one more time. Even Cleverley and Gibson were a lot more useful than Davies during their times at Goodison. Gibson's passing ability was outstanding while Cleverley is average at everything but at least he was miles ahead of what Davies is today.
John G Davies
36
Posted 02/09/2018 at 15:52:48
It's more than short-sighted Jamie. It's not on.
The kid may make it, he may not. One thing is certain, it will be more difficult for him to make it if he doesn't get the fans' backing.

Brent Stephens
37
Posted 02/09/2018 at 15:57:42
Victor, my point isn't about Tom's passing; it's about where he turns when he receives the ball. In my view, he's always looking to turn forwards with the ball (and then either pass or carry the ball), rather than backwards and away from a marker which is the safe option. To that extent, he's more likely to get caught with the ball – but also more likely to get pace in a movement – just what Silva wants.
Joe McMahon
38
Posted 02/09/2018 at 16:08:33
Victor, I'm sorry but Darren Gibson scored I think one Premier League goal in about 3 seasons. Always injured or drink driving.
And he took £100s of thousands in wages during this time.
Sean Herbert
39
Posted 02/09/2018 at 16:44:19
For the life of me I cannot understand how people criticise Davies, yet make excuses for Sigurdsson! The £45 million pound man has done
nothing so far to warrant any sort of star billing.
What has happened to the free-kicks and dead-ball situations Sigurdsson is supposed to be special at? From what I have seen, his corners are nothing special and almost all of the free-kicks have resulted in absolutely nothing. The guy has no pace, something Davies is often criticised for, and is currently creating very little. Yet hardly a word said in anger about him.
I agree, Davies is struggling, but he will improve; I doubt the same can be said for Sigurdsson. If he is the creative spark we were waiting for, then I believe it's going to be a very long wait!!
Gary Russell
40
Posted 02/09/2018 at 16:59:26
Victor Yu, change the fucking record for christs sakes. WE GET IT. You don't rate Davies. Why do you feel the need to post again and again and again going on and on? You are way into double figures. IT IS BEYOND BORING.
You are continually addressed by name on your posts, but have yet to address any posters with a reply. All you do is spout the most negative, repetitive shite...

Harry Hockley
41
Posted 02/09/2018 at 17:00:31
Bette Davis would've been more useful than Tom Davies! (Aye, Derek... haha!)
Simply not good enough, the boy; I'm sorry but it's true.
Jim Bennings
42
Posted 02/09/2018 at 17:02:09
Sean (#39),
Sigurdsson doesn't escape any criticism from me, yesterday he was poor but let's put it this way last season he has shown what he can do with various great goals and a solid goal scoring record from midfield at Swansea prior.
People keep saying Davies will improve but normally, at the age of 20, a player shows signs of what he can do regardless of other deficiencies and drawbacks.
At 20, Barkley could run with the ball and score but his decision-making was poor (still is).
Rodwell was a sweet passer of the ball and could strike a mean shot so we could see what he had but he was just never fit.
Rooney was unreal at 16 so forget that.
Even lesser lights with no real end product or brain like Cadamarteri or Anichebe, Vaughan etc, you knew what they offered, the potential to iron out brainless errors never fulfilled but there were glimpses of potential at one stage.
Even Dan Gosling, poor in general but you knew he might chip in with the odd goal here or there but left after less than two years and never fulfilled it anyway.
But Tom Davies, I'm sad to say, he just hasn't shown anything at all to suggest there's much to even improve on. One really good goal some 18 months ago but he's offered just nothing since, nothing that tells me this time next year he's going to be any better.
I suggested a loan at a Championship club to maybe find who he actually is and what he might best excel at because I honestly can't see him playing well enough to warrant game time.
Gary Russell
43
Posted 02/09/2018 at 17:03:23
Harry Yu/Victor Hockley...
Daniel Johnson
44
Posted 02/09/2018 at 17:06:58
Early season optimism coupled with an easy fixture list has now fizzled out with the realisation that Marco Silva isn't a miracle worker.
It's also hard to overlook the fact that our strikeforce is one of the weakest in the Premier League. Niasse, Calvert-Lewin and Tosun are just not up to the task of firing us into the top 6 never mind the top lofty 4. This glaring weakness still hasn't been addressed and at no point in the summer did it look like Brands and Silva were looking at a new striker.
Tosun no doubt can finish but, compared to the pace, power and mobility of Liverpool and Man City forward line, we're stuck in the dark ages. Huddersfield, one of the worst teams to ever grace the Premier League, were largely untroubled by our forward line. They held steady knowing we didn't have the pace, skill or guile top break them down.
The January window is bad time to buy but, if Brands and Silva have a target in mind, then they should go all out to get him then rather than wait til the summer. Sterner tests this season await and the wheels could yet come off if our forward line don't start scoring. A big pacy expensive striker is a must and Moshiri has got to dig deep to fund him or we are going nowhere.
Jim Harrison
45
Posted 02/09/2018 at 17:17:26
Daniel (#44),
We have no idea what players they were looking for. To be honest, they probably looked at what they had and what was available in their price range and thought "stick".
Huddersfield are not one of the worst teams. They are in the division on merit. They out performed at least 3 teams last season, all on bigger budgets. Yesterday they set up defensively and we didn't have the guile to break them down. Our attack was missing one first-choice player for 90 mins and another crocked.
It was a flat performance, but not a disastrous one. The season is 4 games old. The injured players due back will boost us. Last season, this same group of players that we are watching were the biggest shit storm I have seen in years.
Patience. Get behind the team.
Harry Hockley
46
Posted 02/09/2018 at 17:28:26
Gary, Not sure what you're trying to imply here, that I continually slay off Davies without replying when asked?
No I will definitely reply when questioned, I have my reasons why I don't like him as I highlighted in yesterday's match report.

I'm not the only one to pick out Davies's bad performance, there are plenty on here that have voiced their opinion about Davies more than once – and believe me, we're mostly thinking the same thing about him.
Derek Taylor
47
Posted 02/09/2018 at 17:31:39
It seems that, rather like last season, they bought what was available rather than with a 'shopping list' to hand. Hence we have some areas overcovered and others deserted. How Brands and Silva could think we could achieve anything without a decent striker, I know not .
A comfortable middle-order position should be achieved but not much else.
Sean Herbert
48
Posted 02/09/2018 at 17:49:40
Jim (#42).
I tend to agree with you that a loan might be a good idea for Davies. Personally I think he will turn out to be a good player but that's just my opinion.
But Sigurdsson has been a huge let down as far as I am concerned. I have noticed you have criticised him in previous posts and I wasn't really aiming my post at you directly... More towards the people who seem to think Sigurdsson can do no wrong. For me, he isn't the creative force we need to progress.
As I already mentioned, I am still waiting to see this dead-ball prowess he is allegedly expert at too.
Tony Twist
49
Posted 02/09/2018 at 18:25:16
I think Brands has done reasonably well but Silva has flattered to deceive in my opinion. I still don't see any improvement with our defending and, to be quite honest, our attacking has only slightly improved, the improvement has been Richarlison.
I just can't see us causing the big teams any problems at all without him. I hope Silva has more in the tank as we can't just scrap most of the squad.
Drew O'Neall
50
Posted 02/09/2018 at 18:26:25
Silva failed to adjust his tactics to make more options available to the deep lying midfielders who had plenty of ball and little to pass at. Perhaps because he doesn't yet trust this defensive partnership and felt he had to retain the midfield shield?
Derek Taylor
51
Posted 02/09/2018 at 18:38:05
Tony @ 49, none of us can really make a judgement on Brands' signings until they've all kicked a ball in anger. All we know about most of them is that they arrived crocked and are still not ready for action!
Tom Bowers
52
Posted 02/09/2018 at 18:52:13
Obviously all fans are pissed at the performance, especially at home against a team like Huddersfield. It was even more unacceptable because we had some good excuses for dropping full points against Bournemouth and Wolves and of course we all expected a lot more.
In retrospect, and after the usual knee-jerk reactions, it has to be expected also that this is a work in progress; after the dismal season under Koeman and Allardyce, one cannot expect everything to fall into place immediately despite the new manager and player acquisitions.
It may indeed take the whole of this season to whip them into any semblance of a squad that can join the big six or whatever. Some teams such as Bournemouth, Watford and Wolves are playing solid games and the Blues are still unbeaten despite some setbacks.
We have to be somewhat optimistic that, when Mina, Gomes and Bernard are available, things will improve as Zouma and Digne look decent acquisitions already.
Just getting a new manager and new players doesn't mean immediate success. It will take a combination of managerial expertise and player consistency to get the best out of the talent available and also create a team spirit which in itself can go a long way.
Barry Connor
53
Posted 02/09/2018 at 19:00:43
Derek 51;
You are absolutely correct.
Bernard may have provided the guile to break down the Huddersfield defence yesterday and Mina may have helped prevent the opposition scoring.
I agree that Sigurdsson should not have been withdrawn as Davies could not provide the creativity needed.
Pity that all the summer signings have not been available to date but bear in mind that although we are desperate for success, it will take time for the new regime to make an impact, just as it did at Man City and look at them now!!!
My biggest concern is that Liverpool appear to have hit upon a formula to challenge Man City and, although I am confident we will catch them up, I believe that they will encounter financial constraints which will force them to appeal to Uefa that they are a 'Special Case' which invariably will be granted.

Jerome Shields
54
Posted 02/09/2018 at 19:01:00
Andy (#20),
There is a difference when we will play Man City, Chelsea, Arsenal, Tottenham and Man Utd.
When you play at the shallow end of the Premier League pool, it is different than the deep end of the Premier League pool. Last season, Big Sam worked out that you didn't even need to go into the deep end to survive in the Premier League. So his team didn't even turn up.
I would have liked to see more progress, especially not conceding preventable goals and better balls into the forwards. Also, the same weak areas are coming up all the time, though the defence is a lot better, hopefully not by default.
The test case of Everton's season will be Arsenal, as always, even with a new Manager.
Barry Connor
55
Posted 02/09/2018 at 19:02:47
Jerome 54:
Good point well made.
John Boon
56
Posted 02/09/2018 at 19:21:00
I have read many posts and everyone comes to the same conclusion that it was a very poor game with far too few chances. Without analysing any further I just wonder why we seem to always sign players who are injured or unfit to play. We need creativity and our new signings were supposed to provide that.
How far away from fitness are the three musketeers Bernard, Mina and the third guy Can't even remember his name.
Rick Tarleton
57
Posted 02/09/2018 at 19:31:06
On Forster's definition of genius, 98% perspiration 2% inspiration, we are only two and a half percent away from genius.
Kim Vivian
58
Posted 02/09/2018 at 19:47:33
Let me say I am very optimistic about Marco Silva, largely after reading Steve Ferns's analyses, and am very aware of the paucity of our squad as demonstrated by the problems thrown up by our current spate of injuries and suspensions.
I do feel we should be patient, but when listening to all the "can't be expected to change things overnight" arguments – I find myself thinking about Gracia and Watford...
Just saying, like.
Raymond Fox
59
Posted 02/09/2018 at 20:45:34
It's a lot to do with expectancy, when you look at our squad where do you expect us to finish?
If our players had the skill, ability call it what you may to play like the usual top 6 players the brutal truth is they wouldn't be playing for us at this time.
We finished 8th last season playing terrible according to many. That really doesn't leave us with much room to maneuver. I could see us at a stretch finishing 6th but I doubt higher than that. So realistically we will probably improve one or two places.
I'm afraid we will have to endure a good many more games like Saturdays before the seasons over. There's many worse teams than us if that's any consolation!
Clive Rogers
60
Posted 02/09/2018 at 20:46:16
By substituting Sigurdsson yesterday at 1-1, after a very poor performance in what was thought to be his best position, it indicates that Silva is losing faith in him. I believe he will lose his place when Bernard and Gomes are fit.
Jamie Crowley
61
Posted 02/09/2018 at 22:51:44
Jerome @54 -
I keep going back and forth between:
Not good enough. We've dropped points
To
Patience grasshopper, Rome wasn't built in a day.
Your post @ 54 is -
Load, rack, pull the trigger, BANG!
Spot on.
I swore I'd preach patience. The Arsenal game will be a gigantic litmus test.
Great post. Let's see which side of the pool we are swimming on come that time.
Andy Williams
63
Posted 02/09/2018 at 22:52:21
Jerome. I am aware of the difference but what I was saying was that we have generally improved week on week – despite injuries and suspensions (until yesterday). We will likely take many a knock this season but I am willing to give Silva time to sort it which many don't seem willing to.
Look at the signings he has made and been able to play – Charlie, Digne and Zouma – and tell me that there are no signs of positivity there.
Dick Fearon
65
Posted 03/09/2018 at 00:33:26
Lipsticking pigs after such a performance does not help.
Our millionaire players and staff should own up that it was a great dollop of stinking shite.
Jerome Shields
66
Posted 02/09/2018 at 00:43:17
Barry (#55) and Jamie (#61) – Thank You for your comments.
Andy (#63), Of course, you are right: there have been improvements. . . . but I have supported Everton since the 60s and have suffered much, like other fans during these past 20 years. Repeatly, we have started off the season with hope only to realise that we have been sold a pup.
Brands and Silva have been a breath of fresh air. Brands in particular has reduced the squad and seems to be working well with Silva. They did manage to seemingly change the perception of Everton as a football career destination, but now appear to have only half succeeded in this as the crock element seems to emerge.
Silva, a genuine advocate (unlike Koeman) of a high-pressing game, has changed the way Everton play but weaknesses have emerged. The defence, which has been a disaster area for this past five years, and inconsistent before that, in the first game showed itself to be true to type.
The two perpetrators of elementary mistakes were still in their positions for the second game. One was sent off; a goal resulted. Holgate came in and should have been playing from the start of the season.
The second perpetrator was picked for the next game and was caught out in the goal that was scored. He was picked for the next game, where he was responsible, not Baines for another goal. He was injured and the player replacing him should have been playing from the start of the season.
The set-pieces resulting in three goals against are consistent with Silva's record regarding set-pieces with other Premier League sides he has managed. . . a poor record. Unchallenged crosses from the right wing is another consistent problem.
Has the defence been sorted out by default? What happening when the suspension is up and injuries recovered from? The set-piece problem hasn't been sorted on the training ground. . . has it even been looked at? We are in the Premier League — why not?
The midfield and wings supported the defence and hoof, in Big Sams set-up. The big improvement was to be the quality of the ball into the forwards, which was non-existent under Big Sam. Richarlison was a good signing, causing problems for defences, though his provider passes needed some work. What about the rest? Not so good. . . Walcott has improved and Lookman looks as if he can also. Take Richarlison out, threat ended. Digne's quality ball was a example of what is needed,
Of the forwards, Calvert-Lewin is the only scorer; Tosun hasn't hit target or beat a defender; Niasse's head is up his ass – I would take his locker off him to get back his focus. He might be better leading the line which Tosun seems unable to do, often facing in the wrong direction and reluctant to turn around,
So what is progress for Everton?
Against the shallow end of the Premier League, that is to win all games. If we hadn't've conceded these preventable goals, we would have.
To improve the quality of the ball to the forwards: we are only achieving this now and then.
To have all forwards hitting the target: only one is and the other two don't look like they can.
The result of the latter is the opposition defences at the shallow end of the League are confident enough to push up and compress the play. . . High pressing game out the window.
To take points off teams in the deep end of the League: No chance if you can't defend crosses or set-pieces. . .
Provide quality ball to the forwards: we have only one forward who can hit the target and two others a defence can confidently push up on (and have time to mark their recently discovered star winger out of the game if winding him up fails), never with no threat to shape or organisation of the defence.
Everton have a two-week break and one more game in the shallow end to sort out these weaknesses. Can they move on? There have been some good signs, but the results are not much better than last season and key weaknesses exist, which will mean that Everton will sink in the deep end if Silva doesn't sort them out. We still haven't got two consecutive wins yet,
Roll on the Arsenal litmus test, the barometer of Everton's progress every season. . . When we last beat them, we got into the Champions League qualifying slots!
Laurie Hartley
67
Posted 03/09/2018 at 05:19:53
Jerome (#66) – Zouma's performance was the highlight of that game for me. I though Holgate did alright but my hope is that Mina when fit, will prove he was worth the effort and partner Zouma.
Jerome Shields
68
Posted 03/09/2018 at 07:56:53
Laurie (#67),
At least Holgate is not prone to consistent elementary errors and has had some playing time. Mina may improve things but the right wing is a worry.
Coleman is below par. The fact he is 31 and had a serious injury could hold him back. He looks to be struggling with fitness. Last season, he was allowed to come in too quickly and play two very intense full games. . . Not the perfect rehab.
Even with Mina, we need to bring in another centre-back, and I might add, another long-awaited centre-forward to replace Lukaku. I hope Bernard is a quality player and Gomes is a leader.
Jim Bennings
69
Posted 03/09/2018 at 08:05:03
Jerome (#66),
Did we get into the Champions League last time we beat Arsenal? I'm struggling to recall which game you refer to?
Yes, it's a litmus test at Arsenal but I would not expect much as we never turn up there, you can count on one hand good Everton performances away to Arsenal since we last won there in 1996.
Have you seen the away games before Christmas Jerome? Running consecutively it's:
Arsenal
Leicester
Manchester United
Chelsea
Liverpool
Manchester City
I'd say pretty much all litmus tests there.
Kevin Prytherch
70
Posted 03/09/2018 at 08:13:21
Interestingly (and this is based purely on statistics since I couldn't watch the game)...
Only 2 players had a higher pass completion rate than Davies - 89%.
The player who made the most clearances was Holgate.
Kind of goes against the never ending arguments that Davies constantly gives the ball away and that Holgate gets outmuscled constantly.
Maybe we single these players out and unfairly criticise them because they've come through the academy and not the other way round.
Tony Everan
71
Posted 03/09/2018 at 08:31:57
Zouma was confident, strong and assured. Looked quality, I thought the goal we conceded was a bit unlucky that it glanced off his head and went plum to their player.
Holgate did well on the ground but aerially lost out far to often to the long ball. Their attacker seemed to have it covered every time to hold it up or lay it off. It contributed to Huddersfield having little sustained pressure put upon them.
Davies gets criticised, but Schneiderlin, Gana, and Sigurdsson could be equally deserving of criticism. Maybe more so considering their experience and seniority. Whoever takes the flack it is the same old problem, lack of top quality and creativity coming from those midfield positions.
We missed a special player on Saturday. You need someone special to rise above the combative mediocrity of these type of games. The mediocrity on both sides cancelled each other out.
We were crying out for Richarlison to penetrate their defence. Or hopefully Bernard to do a David Silva type job as an intelligent quick-footed advanced midfielder, creating openings.
I can't wait for Richarlison return and Bernard to give us that much needed creativity.
Joe McMahon
72
Posted 03/09/2018 at 08:47:37
Kevin, Holgate isn't from the Everton academy.
James Marshall
73
Posted 03/09/2018 at 08:53:45
We're 7th, and played 2 games with 10 men. Huddersfield play with 10 men behind the ball so I'd suggest plenty of teams will struggle to break them down as we did and we have lots of players missing.
There are plenty of reasons not to berate the players – people exert an awful lot of energy singling players out for criticism – win, lose or draw – which I personally don't believe tells the full story.
So far, I've been pleasantly surprised with how we've played and our league position, despite what felt like a rubbish performance on Saturday.
Kevin Prytherch
74
Posted 03/09/2018 at 09:01:10
Joe, he still gets the criticism associated with coming through - same way Calvert-Lewin does. Admittedly nowhere near as much as Davies does.
Justin Doone
75
Posted 03/09/2018 at 09:14:08
I can only presume people get mixed up between Davies and Schneiderlin because it is Schnides who only ever passes backwards or sideways. Always the easy option, never looks to get involved in attacks or for movement upfront to pass too. He's shocking.
We should have got Mooy or Drinkwater for this as other than potentially Gomes we don't have a deep midfield passer. Before the new signings, Besic was probably our best passing midfielder but he's loaned to Boro.
If our style is a pressing game, someone needs to explain it to the players. Koeman failed drastically with this and the same players are still failing to implement it.
Schnides is too slow to and his casual jogging around a pitch leaves gaping holes that Huddersfield exploited time and again. He can't press or mark a man. Sigurdsson, Tosun also to slow for this style.
There's a lot of pressure already on Silva that Bernard and Gomes will bring a big improvement in style and quality; time will tell but there seems little chance of them playing until October.
Positives for me were the Zouma, Holgate partnership as both had good games. Calvert-Lewin scored and continued to carry a threat. Should have been moved up top with Lookman replacing Tosun and playing wide left.
I'll reserve judgement on Digne but, against Huddersfield, I would have hoped for much better from both full backs.
Andy Williams
76
Posted 03/09/2018 at 09:34:11
Jerome. You beat me slightly. I have been going to the game since 1974.
I know there is a real desire to return to the top but just some food for thought — Silva has made a better start than Kendall. His system needs big strong quick defenders and we saw what a difference Zouma could make on Saturday.
New system, no chance to pick a consistent line-up, best players missing, dodgy decisions. Still unbeaten...
Merle Urquart
77
Posted 03/09/2018 at 10:01:14
James (#73),
Good points; my main concern is that, despite the fact that, since the season started, we get in the opponent's half more and a bit quicker compared to the last couple of seasons, that second half performance on Saturday was straight out of the Koeman / Allardyce manual. I was hoping Silva would simply not allow that to happen.
On the bright side, Zouma looked good and Digne's deliveries looked bang on too.

James Marshall
78
Posted 03/09/2018 at 10:17:18
Merle - we clearly (as mentioned above) lack a full-blown striker to score goals. I like Tosun and he does provide a focal point of sorts, but we simply don't have a high-scoring centre-forward in the team and they're still finding their way under Silva. We have players missing and I think the players should be given a bit of a break from the criticism given the above.
Football, as someone once said, is indeed a funny old game. There is no one simple answer, purely because you're talking about 22 free-thinking humans charging about a field chasing a small spherical object for 90 minutes. Weird shit will happen.
Clive Rogers
79
Posted 03/09/2018 at 10:24:24
Jerome (#68), Colman is 29. Until next month anyway.
Joe McMahon
80
Posted 03/09/2018 at 10:31:08
Merle, correct about Digne's deliveries. What I've seen of the new arrivals is way better than anyone on the squad prior to M&M, Walcott aside. It's such a pity M&M weren't here 2 seasons ago.
Victor Yu
81
Posted 03/09/2018 at 10:37:32
I think we should take it easy on Coleman.
It takes time for someone to be back in form after a terrible injury like that.
Matthew Williams
82
Posted 03/09/2018 at 11:00:41
Two points just thrown away again... this draw now puts our next game versus West Ham down as a must-win.
Time to be more adventurous and go at them right from the off, which in turn will get the crowd fired up and drive the lads on to produce the goods and bag the three points.
Rob Dolby
83
Posted 03/09/2018 at 11:05:59
It sounds to me like Davies is becoming the new boo boys favourite.
A lot of naive comments about him giving the ball away are unfair. He did okay on Saturday and rode his luck with some tackles but that's what happens playing centre-mid in the Premier League.
Holgate did get outmuscled as their striker obviously targeted him over Zouma but the lad still defended well. Huddersfield are the new Stoke, nobody is going to have an easy game against them if they don't score first.
To beat them, we needed some individual skill to get past players, not sure why we didn't get the ball out to Lookman more. We also needed the likes of Walcott drifting inside and let Tosen slip out wide occasionally. Their statue centre-backs had a easy afternoon.
Kevin Prytherch
84
Posted 03/09/2018 at 11:16:12
Rob - Davies on Saturday attempted 58 passes, 52 were successful. That's just 6 times he gave the ball away.
The only players better than him were sideways Schneiderlin and Lookman.
Laurie Hartley
85
Posted 03/09/2018 at 11:19:49
Tony (#71) – Correct, at least Zouma got to the corner which is a vast improvement on the last 3 goals conceded from corners. Once it got past him, though, we were outnumbered.
Zouma looks capable of running the show at the back to me.
Jerome – as I said, I thought Holgate did okay (he is not afraid to welly it when in doubt!) but, if Mina is as good or better than Zouma, then that partnership would be another big step in the right direction.
Coleman, I am sorry to say, looked like he is struggling. Too often on Saturday he slowed everything down when he got the ball. That is the opposite of what we have come to expect from him. I hope he can find form because the left-back position is well sorted in my opinion.
Unlike several of our numbers, I am not willing to write off Tosun just yet. To me, he is a scavenger, an opportunist-type striker who can, and is willing, to pick a pass to a teammate in a better position. We need to see Richarlison and Walcott (or Lookman) on either side of him to see the best of him.
On Saturday, I would have brought Baines on, pushed Digne further forward, pulled Sigurdsson, put Calvert-Lewin up top and dropped Tosun back in just behind him. (Steve Ferns will probably think I have gone crazy – but I have always been like this...)
The other thing that pleased me about Saturday was that Browning was on the bench. I know he has had a poor run since his injury and going out on loan, but I think that lad can still make the grade. I reckon he has got something about him.
Brian Williams
86
Posted 03/09/2018 at 11:31:18
Kevin (#84),
Interesting stats... but, as we know, they can be misleading. Not having a go at Davies here although he was as bad on Saturday as he was good midweek.
The point with passing stats is that every simple 3-5 yard pass completed goes towards those stats so It's difficult to assess on numbers alone.
The thing I'll say for Davies is, though, that he doesn't hide, unlike Schneiderlin who consistently finds a place behind an opposing player, when the going gets tough, in order not to receive the ball. I've bored my next-seat neighbours with this over the last two seasons and they are beginning to see it now.
Just one instance on Saturday was when Davies picked the ball up on the right side of midfield and started to take it forward. He had nowhere to go and started to struggle and Schneiderlin simply parked himself with an opposing player between him and Tom and stayed there as the play moved on instead of actually running into a large space which was readily available and could have helped Tom and the team.
He does that a lot in games. It's quite subtle but, if you watch him, he makes a habit of it.
Jerome Shields
87
Posted 03/09/2018 at 11:33:21
Jim (#69),
l did think about that after my post. The season was during the Moyes era. . . Of course you are right – we also beat them in the Martinez era, but Crystal Palace put paid to our pretentiousness.
I think the Arsenal games stick out because it was against them that Rooney got that goal at Goodison Park. But also Arsenal, over these past 20 years, have shown Everton for what they are, beating them with Science.
The other deep-end teams we have given a go of it, only in most cases to falter in the next game.
The problem that I have is that Arsenal have never been the team they were, after the George Graham influence went. They have been a side that challenge, but Alex Ferguson always had a smirk on his face when Manchester United played them, and so do other Managers. Everton just got beat, and seemed to have no idea.
The good thing about the last three years is the fans know where the problems are and there are no hiding places. Anything I have mentioned on ToffeeWeb has been well documented by other contributors.
Silva needs to shape up and be the coach he is supposed to be. He does have time, but not time to not addresses weaknesses and hope for the best. Everton fans are the most patient fans in the Premier League. . . but don't try to sell them a pup.
Kevin Prytherch
88
Posted 03/09/2018 at 11:39:05
Brian - I've said the same thing about Schneiderlin on numerous other posts. He makes sure he's not in a position to receive the ball by placing himself too close to, or behind the opposition.
A player in his role should be the primary outlet when the defenders have the ball; however, all he does is limit options, forcing either a sideways pass, a risky pass, or a long ball.
Brian Williams
89
Posted 03/09/2018 at 11:41:26
I'm glad it's not just me that thinks that, Kev.
Tony Everan
90
Posted 03/09/2018 at 12:41:52
Coleman is not himself, is he injured? Is he confused by Silva's instructions?
There was a moment in the 2nd half when he got the ball 30 yards out, space in front of him... just the kind of opportunity Seamus causes havoc in. I expected him to get his bull head on and drive into the space, committing the average defender and whipping in a shot or a low cross across the face of the goal.
But no, a soon as he got the ball, there was a half-panicked poor cross, over hit, that went out of play.
Seamus knows he is misfiring, he walked away shaking his head. I'm hoping normal service will be resumed.
Mike Gwyer
91
Posted 03/09/2018 at 12:54:08
Brian Williams.
After reading your post, I was left thinking that Schneiderlin plays for the opposition and not Everton.
Firstly, Davies did run into trouble but good options were available to him when he first received ball and that instance of player availability disappears very, very quickly. Are you really expecting the opposition to just stand there and let Schneiderlin receive the ball unmarked? Now for me, you could've said Schneiderlin was man-marked but you chose to say Schneiderlin hid behind an opposing player.
Huddersfield did their job well, two men on Sigurdsson and Walcott leaving Davies and Calvert-Lewin quite often unmarked, but they got their sums right as they knew who would cause them the most trouble.
Anyway, for m,e it's all hypothetical as it's a given that Silva will choose Schneiderlin before Davies every day of the week. No contest.
Andy Williams
92
Posted 03/09/2018 at 13:36:59
I've just read that Tom Davies has been nominated for The European Golden Boy award by journalists. Thank god they don't read TW!
Kevin Prytherch
93
Posted 03/09/2018 at 14:02:44
Mike - watch Schneiderlin closely in the next game. He is often stood behind an opposition player when a couple of steps either left or right would put him in a position to receive it. He simply does not show for the ball often enough for the type of role he is meant to play.
It usually has little to do with the opposition marking him as he is in acres of space, it's just acres of space in an area where he can't be passed to.
Derek Knox
94
Posted 03/09/2018 at 14:08:56
Kevin @93, I was beginning to think I was the only one who thinks Schneiderlin is a total fraud, and has been stealing a living since the day he was brought in by another charlatan, Koeman.
He would have been well out the door by now if I had anything to do with it, preferably Outer Mongolia, but you can't do that because he has a Lucrative Con-trick!
Brian Williams
95
Posted 03/09/2018 at 14:38:34
Mike (#91),
Now for me, you could've said Schneiderlin was man-marked but you chose to say Schneiderlin hid behind an opposing player.
Yes, Mike, I could've said that, if that had been the case, but it wasn't which is why I said what I said.
See Kevin's post at 93 which puts the point across perfectly.
Mike Gwyer
96
Posted 03/09/2018 at 14:43:30
Derek, Do you really think that Silva plays Schneiderlin because of his contract? Bolasie, Klaassen, Rooney and Sandro have all gone – big contracts but no longer wanted; now, if Silva wanted him gone, Schneiderlin would be gone.
He does his job, exactly what Silva wants, he plays in front of the two centre-backs and allows the full-backs to attack. He links play with whoever is available, but he is anchored to his position. Now, who tells him to play how he's playing?
Against Southampton, we lost all shape when he got injured and for me we would have beaten Bournemouth if he had played.
Kevin, I watch the whole team and we are playing well; we were a bit unlucky on Saturday, but it happens to all teams in the Premier League. If you are trying to convince me that Schneiderlin hides behind opposing players to avoid being involved, I would say that you have an biased issue with this player. For me, he's playing well.
Alan J Thompson
97
Posted 03/09/2018 at 15:19:07
Brian & Kevin, I'm with you on Schneiderlin and like you, I was beginning to think I was the only one seeing it. He hides so as not to receive the ball, he rarely gets forward when we attack, and doesn't like committing to a tackle.
Who would I play instead of him? Almost anybody who puts in some effort and hopefully with the bonus of taking some responsibility. The only excuse I could possibly put up for him is that he is told to play that way; otherwise, why is he picked as often as he is, and even by the caretaker manager?
Brent Stephens
98
Posted 03/09/2018 at 15:23:38
Alan, Brian, Kevin.
Schneiderlin hiding so he doesn't receive the ball is something I posted on last season. Once I'd first noticed it, it was shamefully obvious to me thereafter – I even used the "shameful" word at the time and "cowardly". Must admit I'd hadn't noticed it so much this season.
Jerome Shields
99
Posted 03/09/2018 at 15:36:39
Mike (#96).
I agree with your analysis of Schniederlin. He is being told to play as a defending midfielder, sitting deep. I also think he has a tough job given the situations that have happened around him, particularly during the Big Sam era.
Things have improved, but he is still cautious of getting sucked out of position, such has been the standard of play around him. He keeps doing the job he is told to do and keeps getting selected.
Brian Williams
100
Posted 03/09/2018 at 15:43:11
Just goes to show, opinions are like arseholes. Everybody has one and they're often very different. :-)
Alan J Thompson
101
Posted 03/09/2018 at 15:50:36
Brian (#100); I hope that isn't another spectator sport.
John G Davies
102
Posted 03/09/2018 at 15:52:43
Alan, 101.
Why don't you give Brian a ring to discuss?
Alan J Thompson
103
Posted 03/09/2018 at 15:55:19
John G; I think he's seen enough on that subject and it has the position it does so that you don't have to see it!
John G Davies
104
Posted 03/09/2018 at 15:58:00
Fair enough, Alan.
Dennis Stevens
105
Posted 03/09/2018 at 16:09:22
Brian, I thought it was: Everybody's got one & everybody else's stinks!
Brian Williams
106
Posted 03/09/2018 at 17:05:59
Jeez I've opened a right can of worms!
Alan J Thompson
107
Posted 03/09/2018 at 17:09:11
You've been itching to get that one out, haven't you, Brian.
Peter Mills
108
Posted 03/09/2018 at 17:15:29
The most striking fault of Seamus this season has been the number of times he has allowed a pass to him to slip under his foot and out of play.
It's almost as if he is trying to play too quickly, thinking of his next move before he completes the basic control of the ball. It could be he has been told to play slightly differently to how he has previously – should that be the case, I'm sure he will adapt, he's a proper player.
John G Davies
109
Posted 03/09/2018 at 17:25:11
He's struggling at the moment, Peter, no denying that. Wonder is he carrying a knock or is he just out of form.
Either way, I agree with you mate. He will come good.
Ray Said
110
Posted 03/09/2018 at 17:51:00
I agree with most of the negative comments about Morgan Schneiderlin. I think he once was a decent player but that was three seasons ago and that player has gone never to return. What we are left with is someone impersonating a defensive midfielder.
If we want someone to sit, break up play and play the simple pass, then give young Baningime a go. If we want a dynamic, forward passer driving the team forward, then lets hope Gomes is that player if he is ever fit enough to play – either way, Schneiderlin is not the answer.
Merle Urquart
111
Posted 03/09/2018 at 18:07:01
Mike Gwyer (#96),
I can't agree there about Schneiderlin "if he would have stayed on, we would have lost against Bournemouth". We have lost many a game with him and his "can't be arsed" demeanour being pivotal in the defeat, including last season's game at the Vitality Stadium.
Merle Urquart
112
Posted 03/09/2018 at 18:19:30
Soz, Mike, I got your quote wrong:
"Against Southampton, we lost all shape when he got injured and for me we would have beaten by Bournemouth if he had played."
We would have actually beaten Bournemouth but for Leighton's daft unnecessary push for the penalty.
Mark Williams
113
Posted 03/09/2018 at 18:20:38
I sometimes wonder if there are players that are unfortunate in their demeanor and this get fans irate. Work-rate is something that should be a given. If a player is perceived not to be giving 100% effort, then fans become antagonistic.
Examples off the top of my head include Berbatov, Waddle, Fellaini, and McManaman. They have a laconic style of running which gives the impression to spectators that they are not working hard. Those on the pitch know differently.
Usain Bolt makes running look effortless until he is at full throttle and no-one can say that guy is slow. I'm not saying that this wipes away all of Schneiderlin's critics... just that, even though he might look like he is not trying, he may be trying very hard.
Paul Kossoff
115
Posted 03/09/2018 at 19:20:59
Just imagine if we hadn't bought anyone this season, and the shower that didn't turn up (again) on Saturday was all we had, relegation a distinct possibility.
Let's hope our new recruits have a lot more skill and pride. No more excuses for this squad!
Simon Dalzell
116
Posted 03/09/2018 at 19:23:22
We need to be patient, of course. New manager, new players, injury problems, etc, etc.
Having said this, one thing really concerns and baffles me. How many games does it take to realize that someone needs to be standing directly in front of the goal, six yards out when defending corners etc???!!!
Three opposition players totally unmarked for the goal. A regular occurrence this season. Surely this should have been sorted, whoever is in the team???
John Roberts
117
Posted 03/09/2018 at 22:00:58
Fully agree with nearly everyone's opinion of Tom Davies, not good enough, I'm afraid. At 20 years old, he should be showing a lot more promise than he is currently, he's had plenty of game time and the time the Man City goal bought him is expiring fast! I would love to be proved wrong but I'm not sure I will be.
Andy Williams
118
Posted 03/09/2018 at 22:34:04
John Roberts. That's not nearly everyone's opinion - far from it.
Hugh Jenkins
119
Posted 03/09/2018 at 22:50:49
Simon (116). The problem is, I expect, that the spot you mention is on the periphery of two zones and each of the players designated to those zones it leaving it to be the responsibility of the player who is supposed to be marking the adjacent zone.
This will certainly be true if, as is so often the case at corners and other set pieces, the attacking players are jostling and moving around all the time prior to the corner of free kick being taken and therfore moving in and out of the adjacent zones.
It then comes down to what many have said on here in recent weeks - the defending players then have to attack the ball as it comes into their "zone". It is something I am sure we will work on and start to get right when we have a more settled back 4.
Jay Harris
120
Posted 03/09/2018 at 23:01:39
John (#117),
As Andy says, that is not "Nearly everyone's opinion."
Tom Davies was the youngest player on the pitch and gives his all for the cause. But, as anyone who knows the game will tell you, you need movement in front of you to be able to pass and move.
Walcott, Coleman, Sigurdsson and Tosun – all seasoned internationals – were all like statues the whole game. But hey, Tom Davies is an easy target, so let's blame him, eh.
Victor, you make me laugh. You absolutely slaughter Tom Davies and yet Seamus, who hasn't had a decent game all season, you are making excuses for.
I am surprised any of our kids want to play for the first team with the dog's abuse they get.
Mike Connolly
121
Posted 03/09/2018 at 23:59:37
Jay: "I am surprised any of our kids want to play for the first team with the dog's abuse they get."
Our kids would not get into another Premier League team. They buy the finished article. They have had the opportunity to play in the first team but don't seem to be able to grasp their chance.
Tom Davies moreso — he seems to be going backwards. I'm not having a go at him because he's local, Seamus has been shite all season. I just want to see our team challenging for some silverware, even if it means a cull on some of our favourite players.
Victor Yu
122
Posted 04/09/2018 at 00:10:03
It takes a while for players to come back to form after a terrible injury. Some players won't even come back to form (eg, Yakubu).
It is very possible that Coleman has lost a step or two after the injury. But give him some time to find his form. After all, he just came back from the bad injury a few months ago.
Laurie Hartley
123
Posted 04/09/2018 at 01:56:44
If a youngster has come all the way through our academy, there is no way he should be harangued on the pitch when he makes the breakthrough into the first team provided he is giving it his best.
Criticism on here though is fair enough, even if some of us find it unpalatable or unfair. We can tell each other we disagree or if we feel sufficiently angered, tell each other to wind our neck in. I have got my handle ready.
Up the Blues.
Andy Williams
124
Posted 04/09/2018 at 08:22:37
Mike 121: "Our kids would not get into another Premier League team". Are you sure? What do you think we are? Some kind of youth club keeping the waifs and strays off the streets – that is why Victor hates Tom so much, he's been scrumping his apples again.
Victor you are hilarious. "Give Seamus time". You don't allow Davies Jr to have a relatively poor game following a universally accepted good game. He must have scrumped your entire orchard.
Laurie, I generally agree but sometimes the criticism of one of the young players is so relentless – mentioning no names but he has (had!) apples that it spreads and does emerge at the ground.
Jay Harris
125
Posted 04/09/2018 at 09:05:26
Mike,
the kid had a bad season last year and appeared confused by what he was supposed to do by Koeman and Allardyce so, yes, in that respect he has gone backwards. But this season especially on Wednesday he showed glimpses of what he is capable of.
Last Saturday, the whole team except Zouma were poor so how we can expect a 20-year-old kid (who has just been nominated again for best young player) to shine amongst that shit, I don't know.
Justin Doone
126
Posted 04/09/2018 at 09:40:42
Corners, free kicks and long balls punted towards our goal have become a general weakness of ours for the last 5 years or so. I have rarely seen a defence so confused by a simple punt upfield.
If there is no threat, control it and pass it. Any doubt don't let it bounce and clear it away. What's so hard to understand?
When defending corners and free kicks, we lack pace and strength so we can't leave a large gap between goalkeeper and penalty area / edge of the box as it's too easy for pacey strikers to run into the space unchallenged.
There needs to be a fusion when marking with 5 key zones identified: back post, penalty spot, 6 yard box etc, and the rest man marking.
We have some great set piece specialists so I would hope corners and free kicks to be one of our strengths not a weakness. We haven't posed an attacking threat since Cahil and Lescott left.
Why can't we mix it up more and target the back post more often. It's always harder for goalkeepers and defenders to deal with out-swinging back post bullets.
The world cup highlighted how important set pieces are for all nations, France and Croatia both benefited from several free kicks whipped in quickly and accurately.
Calvert-Lewin can be a real threat along with Zouma and Mina we should be working more on defending and attacking set-piece situations.
Those reds and Spurs both get praised for their attacking football which I can't argue with but what they do is fairly simple. Chase down the ball as a team in a compact organised way. This is what Martinez and Koeman failed to get our players to do.
They often play long direct balls into channels knowing most teams full-backs have left space to exploit. Having a back 3 helps nullify the space.
Get players forward quickly to support (helped by the fact they are in advanced positions because they close down from the front) and the more options they have in and around the box the more chances can be created.
All their players have pace and energy but most importantly you can see at half-time they look like they have given 100%. Tired, heavy breathing been at it from kick-off. In contrast, I don't remember Mirallis, Barkley, Schneiderlin, Baines or Coleman sweat in the last few years?
You can clearly see the running, closing and effort put in by Richarlison, Calvert-Lewin, Tosun, Gana and Davies but we need the whole team to give 100% to be successful. A good 20 minutes here and there isn't going to reward the team with silverware.
Bobby Mallon
127
Posted 04/09/2018 at 10:19:03
Football is an easy game, that should, in my opinion, be played to suit the opponent. Don't play a high defensive line against the likes of Liverpool and Man City. Attack more against the likes of the West Ham. It's about mixing it up, playing to your strengths on the day. No zonal – just attack the frigging ball at corners!
Ian Jones
128
Posted 04/09/2018 at 10:53:58
Apologies if this has been mentioned before. I haven't read all the posts.
Re defending at corners. In the good old days, goalkeepers used to come out and attempt to collect the ball taking out anyone that got in the way.
I appreciate that the game has moved on, and there is more blocking and general subterfuge going on but it's quite useful to know that your goalkeeper is on his way.
I noticed that Allison at Liverpool has started doing this... of course, occasionally goalkeepers would drop it, Grobelaar style .
James Marshall
129
Posted 04/09/2018 at 12:41:31
On the Coleman thing – he may never be the player he once was. Physical fitness is one thing, the mental side is quite another. After that injury, his head might never get back to the place where he's at full tilt so I wouldn't be at all surprised if we never see the same player again.
Stephen Davies
130
Posted 04/09/2018 at 12:50:00
Ian (#128),
That's a very valid point.
I think you're right – there does appear to be less 'catching' of balls by the goalkeeper from corners and free kicks compared to the 'old days'.
Whether this has to do with the type of balls they use now I don't know but it is a puzzling one.
Merle Urquart
131
Posted 04/09/2018 at 15:57:54
What's wrong with man marking? If someone scores, it's your fault if you weren't marking him. End of story — there's no hiding.
Geoff Lambert
132
Posted 04/09/2018 at 16:04:46
Ian (#128), it's not just corners, Could you ever imagine seeing big Nev or Peter Schmeichel punch the ball away when they could catch it?
Simon Dalzell
133
Posted 04/09/2018 at 20:02:07
Hugh (#119),
Thanks for the explanation. Hope things improve as you suggest they might. I don't like this system, but perhaps I'll see it differently before too long.
Add Your Comments
In order to post a comment, you need to be logged in as a registered user of the site.
Or Sign up as a ToffeeWeb Member — it's free, takes just a few minutes and will allow you to post your comments on articles and Talking Points submissions across the site.