Report
Dismal Everton escape with a draw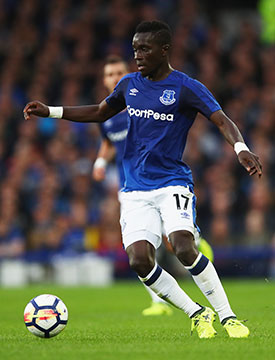 Idrissa Gueye misses his first game of the season through injury
EVERTON 1 - 1 HUDDERSFIELD TOWN
Everton went behind all too easily off another corner but responded immediately through Calvert-Lewin, yet they could not break through again in a dreadful second half.
Tom Davies, Lucas Digne and Dominic Calvert-Lewin retain their places after good performances against Rotherham United in midweek, with Leighton Baines dropping to the bench. Gana, Mina, Gomes, Bernard, Jagielka, Keane and McCarthy are all injured; Richarlison is suspended.
The bench also features Tyias Browning, Kieran Dowell, and Ademola Lookman.
The expected pattern of the game was evident from kick-off, Everton passing the ball around and looking to probe forward, through the massed and solid defence, but Walcott and Sigurdsson almost got through with some clever flicks, winning an early corner that almost led to a counter.
An early yellow card for Billing, a stretching lunge catching Zouma deep in Everton's half. there was a little more open running with Calvert-Lewin seemingly clipped but not getting the free-kick. Meanwhile, Huddersfield were quite prepared to come out of their shell with pace as soon as they secured the turnover.
Zouma stepped up into space and fired off a very fine strike that bounced inches wide of Lössl's post. But, apart from that, the close interpassing and movement off the ball was breaking down well outside the Huddersfield area.
Better structured attacking ended with a dragged shot across goal from Captain Coleman; Huddersfield countered weakly and the game patter resumed, Tosun almost but not quite making a killer through-pass. Walcott sent in a high cross and Tosun was clearly pushed over by Zanka, but well off the flight of the ball. A good cross in at the other end was heading for Mounie and Pickford punched away the danger. But nerves were jangling a little each time the Trotters advanced toward the Gwladys Street, such was the openness and pace on show.
Coleman was easily dispossessed as Everton tried to advance but were allowing themselves to be thwarted a little too easily, needing a little more guile to break things down and create a meaningful opening, Davies lucky not to be booked for a loose tackle from behind.
Despite good work by Davies winning the ball back, Coleman produced another overhit cross. Calvert-Lewin was extremely lucky with a rash studs-up, over-the-ball lunge that would have been a red had he made contact. Tosun almost got inside the area before he let fly, a little too early, high and wide.
Digne pulled out a better cross from the left but it was never on for Walcott who was clipped. Key passes by Calvert-Lewin and then Tosun found defenders rather than the intended attacking targets, while Schnederlin slid in a little too aggressively but was again not shown a possible card.
The long throws from Billing on the left were causing Everton some concerns, a Mooy shot winning a corner, the visitors pressing hard. Another corner all too predictably ended up in the Everton net for another shocking zonal marking disaster, Billing the man to head home unchallenged.
The response, however, was immediate: a fine cross in from Digne headed well by Calvert-Lewin and forced past the keeper's limp-wristed save to level things once again, and demonstrate very clearly that there was a way through this Huddersfield defence.
Walcott's shot spun away for a corner that Digne powered in brilliantly and it looked like Zouma must connect. Walcott was caught in the follow-up, landing on a defender's leg. But he recovered well enough to put a decent cross onto Calvert-Lewin's head, the execution disappointingly lacking control or direction.
The half was played out with little more incident, Referee Atwell blowing a little early as Coleman set to cross, ending a slightly frustrating half, Everton dominant but still level.
The game resumed with Everton again trying to play close-control football but crucially failing with key passes too easy for defenders to pick off and immediately swing into counter-attack, Mounie quick to warm Pickford's gloves with a decent shot on target.
Hogate got himself booked for a shirt tug as Walcott went down again, and was substituted, Ademola Lookman coming on to a nice welcome from the Goodison Faithful after a firm word or thirty in his ear from Marco Silva, and taking up a psoition wide right. An early substitution from Siva, albeit forced.
But Huddersfield again came forward far too easily, Mounie and La Para(?) getting in eachother's way. Everton were trying to play football but it just was not working, and they were losing the ball far far too easily. The crowd decided they needed to up the ante with some rare vocal encouragement but it just was not happening, Huddersfield able to interrupt the play seemingly at will. Davies, late with a lunge, saw yellow.
Lookman had a chance to run forward with the ball but checked and turned back... really frustrating. Sigurdsson was fouled, his deep free-kick met by three Everton players, Zouma offside. Then it was the visitor's turn for their own free-kick routine, Everton defending a little better, Pickford catching the weak header.
Davies tried to break the mould but overhit his chipped pass straight out of play. Coleman had plenty of space on the other side but again overhit his cross straight out of play. The sloppiness seemingly endemic at this point Another set-piece chance, out wide left, saw Digne curl his cross straight to Lössl. /p>
Digne tried the long-throw routine with no greater effect. Lookman was unable to dribble through three defenders but foced another chance and a great cross in that you could have wafted in with yer cap, Tosun and Calvert-Lewin both inches away from scoring.
Time to ring the changes: Baines and Niasse on for Sigurdsson and Digne, with 15 mins or so left to rescue 2 vital points going missing. But Calvert-Lewin passes the ball directly behind Baines and out of play. A spell of the sloppy head-tennis ended in Zouma heading behind for another Hudderfield corner, Davies getting the important first touch, and there was a corner down the other end for Baines to swing in, CL heading over, his heading style again in question as he lets the ball hit his head rather than providing any direction with his neck muscles.
Tosun got inside the well-defended Huddersfield area but was easily dispossessed. Baines and Calvert-Lewin again failed to interchange cleanly and another forward move was thwarted. But Niasse did better, winning a corner, Niasse clipping the ball back from deep and Tisun having to improvise his header, flying over.
The 4 minutes of added time brought no additional urgency and those vital 2 points evaporated into the overcast Goodison air, a really poor display all round from a makeshift Everton side suffering heavily from injuries.
Scorers: Calvert-Lewin (37'); Billing (35')
Everton: Pickford, Coleman, Holgate [Y:55'], Zouma, Digne (76' Baines), Schneiderlin [Y:85'], Davies [Y:63'], Sigurdsson (76' Niasse), Walcott (57' Lookman), Tosun, Calvert-Lewin.
Subs not Used: Stekelenburg, Browning, Kenny, Dowell.
Huddersfield Town: Lossl, Lowe, Kongolo, Schindler, Zanka [Y:89'], Hadergjonaj [Y:73'], Billing [Y:4'], Mooy, Diakhaby (60' Kachunga), Van La Parra, Mounie (92' Depoitre).
Subs: Mbenza, Williams, Pritchard, Schofield ( Durm).
Referee: Stuart Atwell

Attendance: 38,767
---
Reader Comments (262)
Note: the following content is not moderated or vetted by the site owners at the time of submission. Comments are the responsibility of the poster. Disclaimer
Denis Richardson
1
Posted 01/09/2018 at 14:08:46
With the opening 3 games we've had, would certainly have liked more than 5 points but nothing to worry about so far. However, if we fail to win today then 6 points from 4 games, with non against top sides, doesn't have the same gloss to it.
We could do with a win today playing probably the worst or second worst team in the league. Can't see too much attacking threat from Huddersfield so would be disappointed if our keystone cops defence routine isn't put to bed for one game at least.
Also interesting to see how the team cope without Richarlison in the starting line up.
David Pearl
2
Posted 01/09/2018 at 14:18:03
Team shape offers no excuses for Schneiderlin so hoping he carries on his form. Would like to see more from Calvert-Lewin. 3 points needed.
Ciarán McGlone
3
Posted 01/09/2018 at 14:19:46
Whatever way we play at least one player will be out of their natural position.
Not holding out for much entertainment in this one. If Lookman is available then play him.. instead of shoving a square peg into a left wing position.
Fran Mitchell
4
Posted 01/09/2018 at 14:26:45
Quite the injury list. Good timing for the international break.
Gavin Johnson
5
Posted 01/09/2018 at 14:49:31
I'm not convinced about playing Calvert-Lewin as a wide attacker over Lookman but I guess he deserves a place for that brace the other night.
Harry Hockley
6
Posted 01/09/2018 at 14:54:43
At least Lookman is in the squad doesn't deserve a starting spot yet.
Derek Knox
7
Posted 01/09/2018 at 14:55:10
Interesting that Browning is on the bench, he is one of the young players I have always liked, but doesn't seem to get too many chances.
In my humble opinion far better than Pennington, who is now a Tractor boy for the season.
Jay Wood
[BRZ]
8
Posted 01/09/2018 at 14:59:32
Seamus back as skip in Jags and Baines absence.
That bench has got to encourage the young 'uns at the club. This manager will give you a chance.
Ernie Baywood
9
Posted 01/09/2018 at 15:39:34
1-1 but how does zonal marking not include the middle of the 6 yard line? They had a couple of players there that didn't have a blue shirt anywhere near them from the moment the corner was taken. A million miles from good enough. I've never had that space in the amateurs - pros must be amazed at it.
Ciarán McGlone
10
Posted 01/09/2018 at 15:48:47
From my sofa, Huddersfield were the better side in that half.
Two bang average teams.
Calvert-Lewin is not a winger and Tosun is a tube. Take the tube off put Calvert-Lewin up top where he belongs and put Lookman on.
Not much we can do about our centre 3 in midfield though.
Jay Wood
[BRZ]
11
Posted 01/09/2018 at 15:59:09
Third time this season Everton has conceded from a corner, thanks to a flick on at the near post, this time thanks to our own player, Zouma.
This is clearly an area that needs addressing, whatever defensive system is applied.
Either the near post ball and possible flick ons is nullified, or, in anticipation that the ball will arrive centrally in the six yard box centrally from such a play, defending players need to be alert to this, because the 3 goals conceded in this manner the goalscorer has had all the time and freedom in the world to score.
A pity for Zouma who looks very impressive in everything. Heading, tackling, pace, passing - even shooting!
Grateful for the quick equaliser. Nice movement and angled header by Dom. Digne playing a part in the goal. He too looks good. Seamus again not looking at his best. Tosun lively. Siggy and Morgan pulling the strings in midfield, Tom busy.
Huddersfield has set out their stall, to sit deep and defend, but I'm hopeful some of the guile and movement on display in that first half that didn't quite come of will reap its rewards in the second.
Ciarán McGlone
12
Posted 01/09/2018 at 16:32:36
This is hard to watch.
Michael Kenrick
13
Posted 01/09/2018 at 16:56:09
That was poor in every respect, all over the field. They were just not at the races today. A massive disappointment. One attempt on target. One.
Ernie Baywood
14
Posted 01/09/2018 at 16:58:32
Still unbeaten!
But look around the team that finished the game and you'll see what many have been saying over the last few weeks in the face of excited optimism. There have been positive signs but the majority of these players are still the same - and the performances so far haven't been too far from the script of managers past. Today could have been a Roberto or Koeman effort.
Baines - done
Coleman - limited (terrible today)
Zouma - average
Holgate - potential
Schneiderlin - average
Davies - hmm
Lookman - gets better the less he plays
Niasse - we know what he is
Calvert-Lewin - hmm
Tosun - has he had a shot on target in 4 games?
So you add Richarlison back in and it's only one player better than average.
The idea that we were back on track was very optimistic. Don't tell me we're better organised in defence - it's an absolute mess from set pieces.
Just such a lack of quality today. Right through the team.
Ciarán McGlone
15
Posted 01/09/2018 at 16:58:51
Fair result from an absolutely horrible game to watch. Koemanesque.. no structure, no balance, no guile.
You have to question the decision to let both Bolasie and Vlasic go out on loan when we resort to playing strikers on the wing. It doesn't work. We've been doing it for years and it's not suddenly going to start working now.
Zouma is the only ray of light from today. There's a proper player in there.
Our midfield were utterly useless today. I'm not surprised Sigurdsson was dragged off. Frankly I'd have dragged Davies and Schneiderlin off too if there was any suitable replacements.
Victor Yu
16
Posted 01/09/2018 at 16:59:37
Davies is barely good enough for U23.
As I mentioned many times, we need a world class striker as well.
Josh Barber
17
Posted 01/09/2018 at 17:03:24
Dismal. One attempt on target in a 90-minute game is unacceptable under any circumstances.
Pat Kelly
18
Posted 01/09/2018 at 17:03:47
Third week in a row where Coleman has shown he's finished as a wingback. Every attack through him was just a waste of effort. No creativity in midfield or up front.
Davies can't pass the ball forward and is not Premier League level. The sooner the crocks we signed are fit, the better... because this bunch would be lucky to make mid-table.
Steve Ferns
19
Posted 01/09/2018 at 17:04:21
It was dismal from start to finish. The atmosphere in the ground was very poor and that was before we'd kicked a ball in anger and it only got worse.
How can you expect a performance when it's groans, jeers, and moans when things don't go to perfection?
We were shite today, no one had hold of the midfield and Sigurdsson couldn't get himself into the game. Davies was poor. Coleman has been shite both times he's had the armband. Sorry lads, I don't see a captain there.
Tosun had one chance he made for himself and after that he spent the rest of the game scrapping but not getting any service, but he did not get himself into goal scoring opportunities.
Next up it's West Ham and they're due a win. We need a good atmosphere and a good performance to beat them. If we don't beat them, then this season is going backwards fast.
Darren Murphy
20
Posted 01/09/2018 at 17:05:06
Rubbish against a first half bus parking team, no decent midfielder who can thread a ball, and no decent striker. No points dropped because we were shite. Onwards and upwards. digne and Zouma played okay. Disappointed. Beer O'clock .
Tony Twist
21
Posted 01/09/2018 at 17:06:33
Hmmm, in a dismal season we beat these last year. Very poor and worrying times to come as we play teams with a bit of ability. I don't see the defensive performance improving thus far.
George Cumiskey
22
Posted 01/09/2018 at 17:06:39
Absolutely dire and the people slagging Davies off and saying Siggy played well beggars belief, he made one good pass to Tosun the whole game. Mooy was head and shoulders above him.
We were lucky to come away with a draw and if Lookman is the future god help us.
Phillip Warrington
23
Posted 01/09/2018 at 17:07:15
A lot of Championship player performances today – not too many Premier League worthy performances.
It may be just me but Ademola Lookman didn't look to be too interested in playing today but maybe, like the team had a really bad second half.
The passing is just too slow – they go from side to side, which is okay if it's at speed which allows you to move players out of position, but we move it so slow it does the opposite – it allows teams to recover their position.
Harry Hockley
24
Posted 01/09/2018 at 17:07:21
Well that Tom Davies performance was as bad if not worse than any bad game Schneiderlin had last season.
Constantly giving it away in dangerous areas.
Constantly passing back to the defence and putting them under pressure resulting in hoofing it up the pitch.
Scared to make any more forward passes incase he gives it away again due to complete lack of confidence.
Runs at one pace the whole game aimlessly like a spring chicken.

How he played the full 90 is a bit of a head scratcher to me although Sigurdsson was poor he needed bringing off.
Going to give Seamus a pass today hasn't quite looked at it since his comeback which is understandable but I expect better in the coming games.
Tom Roberts
25
Posted 01/09/2018 at 17:07:41
Coleman has been garbage for all 4 games now. Tom Davies has been garbage for two seasons but, because he's a blue, that's okay, isn't it? The lad is stealing a living from Everton FC.
Jay Wood
[BRZ]
26
Posted 01/09/2018 at 17:09:04
Opps! That wasn't meant to happen, was it?
That second half was abysmal. The worst 45 minutes on Silva's watch.
Everton simply didn't take sufficient care with the ball in the second half. Poor passing and control meant players chasing to recover the lost ball, coughing up cheap possession and clumsy free kicks. Even from promising free-kick situations we gifted the ball directly to their keeper.
This played right into Huddersfield's hands. The stop-start nature of the game meant Everton never got up a head of steam. The visitors deliberately took as long as they could over any restart. In truth, they were never really stretched all game.
Pickford did all that was necessary from him and his kicking continues to improve. Coleman is still off the pace and Kenny could be challenging for his place before much longer if he continues in this form. Holgate I like, but he had a roller-coaster of a game today. Zouma looked the most assured of our defenders. Digne laid on the goal and had some good moments, but he was also culpable with some poor delivery. Baines did OK when he came on.
Davies had a real pick 'n mix game. Some good moments, but some really poor ones also. Schneiderlin and Sigurdsson played well for the most part. Walcott on the periphery of things. Tosun showed well as did DCL, who took his goal well. Lookman created a half chance, but with the way the team was playing, couldn't get involved enough. Niasse's brief appearance was par for the course.
So the Silva revolution stalled a tad today. Six points from the five fixtures we've played is not a great return. Plenty to work on still, that's for sure.
Les Graham
27
Posted 01/09/2018 at 17:09:07
This was exactly the kind of reason I gave up my season ticket. Come on... drawing at home vs Huddersfield? And a very poor Huddersfield at that.
I like Tom Davies, I think he's a solid bloke... but I seriously doubt he is good enough for what we need. How many times did he lose the ball today? An unbelievable amount of times... everything seemed sluggish today, and very poor.
I'd also like to query what the score is with Everton signing crocks...? We seem to sign players, then don't play them for months!!! May be a slight exaggeration, but it sure as hell feels like it!
Anyway... the general gist is, a home draw with Huddersfield is nowhere near acceptable — feels like a loss.

Paul Ellam
28
Posted 01/09/2018 at 17:09:14
Shocking result. Could have been worse but SHOULD have been a whole lot better.
This easy looking start to the season where we should have picked up lots of points is proving to be a false dawn. I fear for the results coming our way when the big teams come up!
Defensively we look like conceding every single game. And in January we MUST buy a top quality striker, somebody in the bracket as Lukaku who will get us 15-20 goals guaranteed.
Harry Hockley
30
Posted 01/09/2018 at 17:12:31
Anyone saying Davies played okay did not watch the match or need to visit specsavers.
Paul Rimmer
31
Posted 01/09/2018 at 17:13:00
Zouma had a decent game. Digne and Calvert-Lewin can hold their heads up but the rest were shocking.
Our passing today was horrendous – Huddersfield passed it better! Zero creativity from midfield and seemed scared to even try something different. As bad as I've seen us play.
Christy Ring
32
Posted 01/09/2018 at 17:13:22
Totally dismal, the one threat was Walcott, who had to be replaced. The midfield non-existent, and I have to say we missed Gueye.
The international break has come at the right time, we might get a few of our walking wounded back, but not beating Huddersfield at home, who were the better team is disappointing to say the least.
Seamus, whether being captain has put extra pressure on him, but his crosses are shocking, Hibbert was more of an attacking threat.
Harry Hockley
33
Posted 01/09/2018 at 17:14:26
Lol Hibbert more effective than Coleman.
Jay Wood
[BRZ]
34
Posted 01/09/2018 at 17:15:04
Steve @ 19.
Surprised to read you thought the atmosphere at the ground was poor today. For the first time in a long time on the stream I watched you could frequently hear sustained chanting from the home fans at different times, trying to lift the team.
Maybe just strategically placed effect mics giving a false impression...
Victor Yu
35
Posted 01/09/2018 at 17:16:55
Calvert-Lewin is not a winger (he isn't that good anyways despite his goal). Davies is U23 quality. No pace in the team after Walcott got hurt. Never able to defend corners.
The most worrying is we don't seem to have the 'we have to win' attitude. I mean late in the game everyone was still at walking pace. Pickford didn't seem to be in a hurry to take his goal kicks. No one was running to get the ball when it was out of play.
Gordon White
36
Posted 01/09/2018 at 17:19:30
Pickford, Digne, Walcott played well. Davies was awful, again. Kenny should be playing instead of Coleman.
We should have whipped these boys.
Ernie Baywood
37
Posted 01/09/2018 at 17:20:08
Jay, it's was the classic moans and groans from the crowd today. Not that you can really blame them.
For as much as we slate the defending for their goal let's be honest about our own goal. Poor defending and it should have been a regulation save.
We were very lucky to get a point out of that.
Terence Leong
38
Posted 01/09/2018 at 17:22:33
It's our poorest performance thus far.
It seems that nobody wants to try to shoot from outside, other than Zouma.
Digne was the standout performer.
Calvert-Lewin can't hold up the ball and link play from the flank. Unless we keep him in the middle, it's a double whammy. He is not effective, and the ability to attack down the left flank is totally nullified.
But between him and Tosun, I would still plug for Tosun.
We are not playing to Tosun's strengths. The longer he goes without a goal, the more debilitating it is for his confidence.
Davies seem clueless or fearful whenever he has the ball. The number of tackles or ball in the air that he has won, are far and few.

Ray Jacques
39
Posted 01/09/2018 at 17:22:34
We may get Lukaku back!! My Man Utd friends and the general crowd at Old Trafford really don't rate him.
We are going to get days like today as we are still a team of average players until the new guys can get fit and hopefully make an impact.
Games such as this illuminate the crap we have in central midfield as we cannot play positive passes with pace on the ball and get defensive teams turning as the ball is played in the channels behind them. Needs to be moved quickly, one touch per player and change the direction.
Sorry but I cannot see a Premier League midfield footballer in Davies. Wonder if we could turn him into a right back?

Gordon White
40
Posted 01/09/2018 at 17:22:49
Harry @24,
Couldn't agree more. Imagine if we'd played anyone half decent.
John Keating
41
Posted 01/09/2018 at 17:23:19
Dismal is putting it mildly – a disgrace more like it.
Huddersfield came, set up and played for a nil-nil draw, so what do we do?
I'm saying nothing about the marking or lack of it because we'll get the usual posters or should I say poster come on about how they need time to take it all in! Unbelievable!! We were clueless how to break them down.
I don't know what's wrong with Coleman but he was terrible today. He's been great for us but there's something far wrong.
That's 6 points thrown away out of 4 games; yes, thrown away.
There can be no excuses today – we were just shit from back to front. Nobody comes away with a plus.
And as for Silva and his zonal system...?
Daniel Lim
42
Posted 01/09/2018 at 17:23:34
Anyone calling for Marco Silva's head?
Although I am not, but I doubt he is a good manager with what I saw in the 55 minutes or so (started 15 seconds before Calvert-Lewin's goal) of football. Totally shit football.

Jim Bennings
43
Posted 01/09/2018 at 17:23:50
We can only hope that Bernard is something special and Richarlison can't come back soon enough because that team today was so lacking in creativity it was unbelievable at times.
I was shouted down last season for my criticism of Davies but now people are seeing what I saw 6 months ago, he offers literally nothing and don't tell me he eodfers energy because he offers less energy than a 99-year-old (no disrespect to anyone 99). He's utter shocking for a Premier League midfielder he really is.
Don't get me started on zonal marking but already I've seen enough to suggest Mina and Zouma will be the defensive first choice and I haven't even seen Mina play yet, it's that bad!!!
I'm also worried about our lack of investment in a number 9 up front, I applaud Tosun's workrate but he just isn't the goal scoring centre-forward we are craving and I'll be surprised if he gets more than 7 or 8 League goals.
Utter shambles that performance today it was!!
Drew O'Neall
44
Posted 01/09/2018 at 17:24:44
Should have switched Sigurdsson deep for Schneiderlin second half and subbed Schneiderlin off for another goal threat/creative player up front eg Niasse, Dowell or Lookman.
The main problem was when Huddersfield's kick and rush broke down our midfielders weren't bright or optimistic enough to get the ball forward and Huddersfield got dense and narrow fast.
Andrew Clare
45
Posted 01/09/2018 at 17:27:07
We are bound to have bad games here and there along the way but I would say that there are one or two maybe three players who were out there today who should not be wearing an Everton shirt. I won't name them but I think you all know who they are.
Once Mina, Bernard and Richarlison are fully integrated I think we will be a different cup of tea.
George Cumiskey
46
Posted 01/09/2018 at 17:27:42
Davies was really poor today but to ignore how bad Sigurdsson was is criminal, because he cost £45 million people seem to shy away from criticism and make Davis the easy target.
One shot on goal is an Allardyce type of game, and for me Niasse should get a run out instead of Tosun — he can't do any worse.
Victor Yu
47
Posted 01/09/2018 at 17:27:43
As I mentioned many times, Davies is not good at anything.
He has no speed, isn't good at tackling, can't dribble, can't make long passes, isn't good in the air, isn't physically strong, only makes sideway or backward passes, isn't good at shooting.
But I guess he is young and is a blue and comes up from the academy so it is okay, right?
People keep complaining about Schnederlin but he is 3 times better than Davies.
Denis Richardson
48
Posted 01/09/2018 at 17:28:06
I watched the Leicester - Liverpool game earlier and couldn't help wondering why on earth we didn't try to sign Maddison. Great looking player, comfortable on the ball in tight spaces, with quick feet and an eye for a pass, and also gets goals. He'll be a cert in the national team in the near future and looks like he's been playing top level for years. even though he's only 21 and only took the step up last month. Sigurdsson cost twice what he did!
As for today's game, the less said the better. Work in progress I guess and shows how Richarlison is head and shoulders above all the players we have.
Positives:
- Digne looks like a decent buy so the transition from Baines can start
- Well taken goal for Calvert-Lewin, do his confidence good
- Zouma looks decent, am not in a rush to have Jags back in the side
- Holgate progressing (tbh I still don't really rate him but he's getting better)
Negatives:
- Davies is not a prem player. Always 'busy' but doesn't actually do anything.
- We need to stop playing strikers on the wing - Calvert-Lewin is never in a million years a winger
- We still badly lack any creativity in midfield - already desperate to get Richarlison back
- Tosun puts a shift in but I'm not sure if that's really enough. He certainly doesn't look like a £27m striker to me.
- Everton + corners = no clean sheet. Schoolboy errors still being made. Silva's teams aren't known for tight defences, I'm just glad we're not playing any of the top teams for a while yet.
Still unbeaten, I guess... and we have the woeful West Ham at home next — surely that will be 3 points?
David Barks
49
Posted 01/09/2018 at 17:28:14
Poor performance by a lot of players that we've known are below the quality needed due to injuries and suspensions combined with Huddersfield coming to defend and kick us. Bernard and Richarlison will be in the starting 11 once they're back. Davies showing that he's nowhere near good enough at this level, Gana offers much more and will be right back in the team.
These injuries and suspensions have been very damaging. It's killed the continuity and understanding amongst the players. The international break couldn't have come soon enough. We need to have a settled side get a run of games together. Changing one player out here and there is one thing. Having to make wholesale changes every damn game is too much for a club in our position that doesn't have that same quality in depth.
Davie Turner
50
Posted 01/09/2018 at 17:30:17
Time to clutch at straws as I can't get my head round this result.
International break should see the squad recover (4 games in) and at least that pre-season is over!
Big home game against struggling West Ham, who have the talent to hurt us if we still can't defend. Should at least be more open and suit the players. Hard to say 'must win' at this stage but it feels like at least an important one to get on the board.
Going to go back to avoiding today's result, maybe some miracle will happen between now and MotD...
Jim Bennings
51
Posted 01/09/2018 at 17:31:16
George
At least Sigurdsson worked hard; Davies trots around in a half-arsed jog most of the game and is the same every week.
Daniel Lim
52
Posted 01/09/2018 at 17:34:03
What miracle, Davie? LOL
Harry Hockley
53
Posted 01/09/2018 at 17:36:14
Victor, agreed Davies is shite, Schneiderlin was good today although no-one shined... he made tackles and made some neat (forward) passes, much more accomplished than the local boy.
Barry Williams
54
Posted 01/09/2018 at 17:39:05
Jagielka - suspended
Mina - injured
Keane - injured
Gomes - injured
Bernard - injured
Richarlison - suspended
Gueye - injured
Baningime - injured
McCarthy - injured
Walcott - taken off
Sold/loaned - Rooney, Sandro, Mirallas, Vlasic, Klaassen, Besic, Bolasie, Williams, Martina etc...
Just to point out that things have changed in double-quick time. Yes, not great today, but let's consider the situation with regards to injuries, suspensions and turn-over of staff!
John Keating
55
Posted 01/09/2018 at 17:39:20
The only hope we have of a top 8 finish is if Silva gets the whole shower in during the break and actually shows them where to stand and what to do at set pieces.
Either the players are all half-wits for not being able to take anything in or Silva is a half-wit for persisting with a system our present dim wits can't cope with.
Silva is obsessed that we will play zonal when defending but he has to tweak it to suit the players we have.
Huddersfield came and got what they wanted; 36,000 of us got a completely wasted day.
George Cumiskey
56
Posted 01/09/2018 at 17:40:29
Jim @51 worked hard? He cost £45 mill, Davies worked hard but was crap, the same as Sigurdsson.
Mike Powell
58
Posted 01/09/2018 at 17:40:42
That was piss-poor. After everyone was raving about how good Davies was against Rotherham reserves, he was back to his self today. He should not be anywhere near the first team, and Tosun is just as bad. We are desperate for a striker, hopefully we get one in January.
Sam Hoare
59
Posted 01/09/2018 at 17:42:03
Very disappointing result that now makes our start to the season look very mediocre.
I was less sure than others on the pre-match thread that we would win comfortably but at least I expected us to create a few more chances.
We were missing Gana, Richarlison, Bernard, Keane, Mina, McCarthy and Gomes who might all be considered starting players. Plus Lookman is not totally match fit and Walcott went off. I hope there'll be better to come.
Jay Wood
[BRZ]
60
Posted 01/09/2018 at 17:42:52
Ernie @ 37. Thanks for the 'crowd report'.
For our goal, I think the biggest break we get is Digne getting around his marking full back very easily. If I was the Huddersfield manager, I'd be very unhappy at that.
Calvert-Lewin's header is more than decent and if you watch, the angle and touch he gets on the cross continues to take the flight of the ball away from the 'keeper which may be why he was deceived.
That makes Dom our top joint scorer this season with less minutes playing time than Richarlison.
Derek Knox
62
Posted 01/09/2018 at 17:51:07
Victor @57, the tea-lady would have made a difference, even with tea-trolley intact than some of those playing today, where was the pride in the shirt, commitment and creativity?
George Cumiskey
63
Posted 01/09/2018 at 17:51:26
Siggy completed 10 passes in the whole game and we had 58% possession and that's a fact.
John Pierce
64
Posted 01/09/2018 at 17:51:32
Don't let the nascent tenure of Silva or the injuries cover up a poor performance. It was middling at best. Everton would expect to beat Huddersfield at any time in their history expect under Herbert Chapman!
We lacked guile and Silva's post-match he said as much, why then did he not start with Lookman? Whilst not as good as Richarlison he does attract players to him, and create space for others. I'm disappointed he started Calvert-Lewin, it affected our shape far too much and let Huddersfield defend the middle were they looked very comfortable.
Hey Ho 'pointless West Ham' next. We always beat them right?! Our premier league bunny!
Stale Haverstadlokken
65
Posted 01/09/2018 at 17:51:49
Lookman got his chance and didn't grab it. Calvin-Lewis has something in his game, but should play in front with Tosun. Davis hasn't improved since the 16-17 season. Tosun works hard, but he isn't a out-and-out goalscorer. Not good enough!!
Gavin Johnson
66
Posted 01/09/2018 at 17:51:58
Looks like the honeymoon is over!! A very poor game, and the kind of game we should be winning comfortably if we're to make an improvement on our league finish from last season.
We were pretty poor in all areas. Coleman is off the pace and needs to be challenged by Kenny. I was impressed with Digne, and thought he was one of our better players but he was taken off due to lack of options on the bench. Schneiderlin is being slaughtered by some but I think he's an easy target. He was actually one of our better players today. The other player who had a good game was Zouma of course.
We need to get the new signings fit and integrated into the team. Gomes especially. Central midfield is a particularly weak area and I hate to pull Davies down but other than his enthusiasm he offers very little. Not much creativity and he loses the ball far too much. His development seems to have stalled and needs to be used from the bench this season.
It's a shame that we couldn't go into the international break without a win. But it's not as bad as some are making out. There were a lot of through ball attempts, something lacking last season. Unfortunately the players weren't in sync and none of them came off, but we'll improve. We have too many good players to come back from injury and suspension.
Andy Walker
67
Posted 01/09/2018 at 17:52:57
I repeat, Davies is not good enough. That's it. I don't care if he's young 'and a true blue'. Every game he plays he demonstrates why he's not remotely good enough. I'll keep going on and on and on about it until he's not in the team. Nothing else to add.
Kieran Kinsella
68
Posted 01/09/2018 at 17:53:56
I guess I am not as upset as others since maybe I set my expectations lower. Essentially, the core of this team: Davies, Sigurdsson, Baines, Coleman etc more often than not put in poor performances last year under three different managers. Expecting them to suddenly become good each week is a bit of a stretch.
Injuries obviously don't help. Zonal marking takes time to adjust but I do have some concerns on the recruitment. Walcott is great but injury prone and he limped out today. If he has his usual Arsenal style injury record then we don't really have coverage down the right. Gomes seems like a bit of a nutter, I am not sure Goodison is a place for players with "fragile" personalities to thrive. Bernard, who knows he has never played in a proper league.
Marco Silva may well be a joker, it is too soon to tell. But I anticipated growing pains this season for all the reasons listed above. Silva may be the next Kendall or the next Walker but I think it is too soon to pass judgement.
Philip Bunting
69
Posted 01/09/2018 at 17:55:04
I'm not as deflated as I was against Bournemouth last week. At least when I seen the team, well midfield to be precise, I knew we would struggle to break down Huddersfield.
This is the same midfield from last year. No creativity, energy or noose to know what to do with the ball when they have it. Richarlison has been our MotM for the first 3 games, hardly surprising.
If said before and I will say it again. Davies is not a top midfielder never will be. Excels at not that much really, sooner have Dowell in there. Anyway, draw is what I expected. Sooner the injured get up to speed the better
Julian Exshaw
70
Posted 01/09/2018 at 17:55:07
I would imagine that was as frustrating to play in as it was to watch. Huddersfield clearly had spoiling tactics in mind and it worked beautifully for them. I just hope this was an exception rather than the rule for our season. We badly need our new signings in the team as quickly as possible.
I noticed how rarely we seem to penetrate once near the opponent's box, it always seems to go wide. Surely Gylfi's job is to slide through balls to get through the tightest defences.
What also frustrates me is the insistence on passing back to Pickford in order not to lose possession but we lose it anyway as soon as he clears it.
I think Silva will get it right but I fear we'll have to suffer a few more afternoons like this yet.
Denis Richardson
71
Posted 01/09/2018 at 17:56:15
Barry 54 - get your point but your list needs to be trimmed a bit.
Mina was signed inured, as was Gomes and Bernard is yet to play – we still don't know how any of them will pan out but expect (hope) they'll be better than what we have. Baningime would likely not have started today as is and McCarthy last played in 1823 so is not exactly being missed (should've been offloaded ages ago anyway).
Main big losses for me today were Richarlison and Gueye - with both we probably would have won (you'd think). However, the performance from the team that started was still woeful and there's no excuse for the goal conceded.
Can't play great every time but we're beginning to make a habit drawing against teams that will probably finished bottom half.
Not a 'must win' but we really need to beat W.Ham next up.
Should have a different first XI after the break, so here's hoping that performance is the last shite one for a while.
Paul Birmingham
73
Posted 01/09/2018 at 18:00:23
Still early days but the disappointment is total. Frustrating and for me lack of fight and character, especially in midfield.
Drops in form today for most of the team and you could argue no guile and fight in midfield. We should have got into them today but their game plan worked, and the worst time wasting team for many years, they had a better performing midfield today in my view.
Zouma and Digna look the part and played well. Calvert-Lewin tries, but he's not a winger, and needs to play the right pass, the simple passes that come off.
Still poor marking from set plays, this must be fixed at Finch Farm, soon, as any team at the moment can score against us from set plays.
Not sure for hooking Siggy as that was our main avenue of potential creativity today. Let's hope Walcott is ok, in two weeks.
But no tenancious harrying with out Gana, and I can't see an all-action midfielder in the making with respect to Tom, as he shunts round, too many side and back passes and very few creative balls, not just today but the last season too.
Not gonna get too despondent, but the Hammers is now a must win game.
Let's stay positive but it seems that many are fed up to the back teeth already, but it's a new regime, and miles of patience are needed. Let's get the squad available and see what happens when they are all available.
Hopefully we get a settled back four very soon, and get the spark back in the team.
Let's hope Tosun starts getting better service and scores and in two weeks we get back on track.
Solace in the ale, but it won't taste good nor will I feel good, as this was an opportunity missed.
Poxy international break already, but it may in this case do us a favour. Let's hope so, and in two weeks, the team is up for the game.
George Cumiskey
74
Posted 01/09/2018 at 18:00:45
Andy @ 67 exactly right but don't forget to add Siggy to your opinion.
Stephen Brown
75
Posted 01/09/2018 at 18:05:10
Poor performance but a number of sensible articles written in the summer called for patience while Silva and Brands sort out the mess!
Alan J Thompson
76
Posted 01/09/2018 at 18:05:58
Two bloody awful sides and for mine Silva must take most of the blame for our display.
I don't know how many of you actually watch the game and how many have made their minds up before it starts. The only Everton players to come out with any credit were Zouma, Digne, and Davies. Schneiderlin did do what little he did well but in the first half we looked short a man as Schneiderlin rarely set foot outside our half. I"m not a great fan of his and I don't particularly blame him but Silva should have been insisting he push forward more.
Coleman seems to be frightened of doing that which he does best, tearing down the wing putting the wind up the opposition. Today it looked like he was told to fall back whenever he got the ball in a forward position, nobody until Lookman came on seemed to want to take a man on but by that time we were playing Tosun, Calvert-Lewin, Niasse and Lookman up front with absolutely no idea how to get the ball up there and nobody actually leading the line.
We looked a shapeless shambles with little or no plan and the blame for that must lie with the manager. Heaven help us when we start playing against the better sides.
John Pierce
77
Posted 01/09/2018 at 18:13:05
Quite telling that in a performance that underwhelmed it feels like Tom Davies is copping the most? Oddly there were plenty of others who were equally or less effective Coleman, Tosun & Sigurdsson perhaps?
Colin Metcalfe
78
Posted 01/09/2018 at 18:13:31
Well, that was truly shocking! Just got back and I should have stayed at home and watched the cricket.
I reckon we should look at it as 1 point gained because to be fair we didn't deserve a draw; if their keeper had saved that effort from Calvert-Lewin, we would've lost because, playing the way we were, not in a month of Sunday's we would've scored.
Some real dreadful performances today, too many to mention, We need to get the new boys fit because we desperately need someone who can unlock tight defenses like today!
Only 6:00pm but that bottle of Pinot is open already, what a waste of a day!
Jim Bennings
79
Posted 01/09/2018 at 18:16:38
The optimism felt after 70 minutes and 2-0 up at Bournemouth already with 4 points on the board has now been tempered much.
Unbeaten yes but that's Everton and has been Everton for years stretching back to the Moyes era, too many draws against the mediocrity of the league hence why we never fulfil our potential to challenge the top teams.
We don't beat the top six usually home or away so the matches against the Bournemouth's, Huddersfield's should be reaping more than draws.
West Ham need dispatching promptly in two weeks time before we go to the Emirates for our annual surrender job to Arsenal. Failure to beat West Ham could put undue pressure on the players, early days but nobody wants another autumn of discontent again.
ps: I'm really worried about Seamus Coleman, he's had a bad injury but he's been back since January and frankly he looks like he's lost a good 5 yards of pace.
David Connor
80
Posted 01/09/2018 at 18:16:57
Poor performance all round today. Silva had his hands tied to a certain extent because of injuries and a suspension. Make no mistake, when and if we get everyone fit, the team will be vastly different from the one we've seen today.
It only confirmed my feelings that our first eleven, when fit, will be good. Our squad overall is piss-poor. We will win nothing until the dross we have are gone. Unfortunately, that includes all our young players, Calvert-Lewin and Davies included. They just ain't good enough as far as I'm concerned...
Kieran Kinsella
81
Posted 01/09/2018 at 18:18:43
Can't polish a turd. Rome wasn't built in a day. Night is darkest before the dawn.
Geoff Lambert
82
Posted 01/09/2018 at 18:20:26
Just got back from the game. Makes you wish you lived somewhere else and could just watch the 5 min on MotD.
Midfield and attack today where woeful thank goodness for Zouma think he will partner Mina when fit, and we might be able to defend the balls coming in to our box which are causing all the problems.
Tosun works hard but very little end product why does he keep falling over? Calvert-Lewin should have had a hat-trick the two 6-yard headers he fluffed over the bar would have been buried in the back of the net by my Nan. Took his goal well though and another assist from the impressive Digne.
We need the injured players back asap and let's hope they are better than what was on show today.
George Cumiskey
83
Posted 01/09/2018 at 18:20:35
John Pierce spot on mate.
George Cumiskey
84
Posted 01/09/2018 at 18:28:22
Kieran, as the actress said to the bishop – no penetration!
John Roberts
85
Posted 01/09/2018 at 18:29:38
Huddersfield are my bankers for relegation and grafting for one point at home to them is very poor. Kind of except there are a lot of changes going on especially with our defence but we should be grinding out wins in these games, we hand enough quality on the pitch.
Mark McParlan
86
Posted 01/09/2018 at 18:29:40
Just back from Goodison... rather awful performance to be honest.
Didn't have any criticisms of the line up Silva put out - with the squad having so many players injured, unfit, or suspended, that was the best side to play. I'll start with the scores on the doors...
Pickford 7 - no major issues, didn't particularly do anything wrong. Always came out as necessary to clear the ball, dealt with the routine tame shots fired at him. His distribution impressed me particularly today, but so many of his balls placed perfectly into the feet of blue shirts were given away immediately.
Coleman - 3. Just played really, really, badly all round for 90 minutes. Useless going forward - he can't cross a ball (i feel that I have to make this comment after every single match. Hasn't crossed a football well since 13/14). So many times he lost the ball in awful positions either through being dispossessed, or terrible short passes. His energy running back after their wingers is all that saved us from those mistakes. I do believe that judging on the start of this season... we are slowly seeing the start of his decline. It's extremely, very few players have been as loved by the crowd as Seamus in years. That horrific leg break for Ireland haunts him still.
That's one I'd be delighted to be proven wrong on though/
Personally I rate Jonjoe Kenny ever so highy... I have said this all season and last. I think Kenny is brilliant and should be wondering when he will be getting some serious Premier League minutes. A true Evertonian and local lad as well,
Holgate - 4. Another I like a lot, but he was woeful today. Got nearly everything wrong. Appalling at getting the ball from defence to midfield/forwards. Constantly outpaced, outmuscled, outjumped by the opposition. Resorted to fouling.
Zouma - 8 - MOTM. First time I've ever seen him in a blue shirt. Wow. Wow. I was seriously impressed. A massive, commanding, no nonsense centre half who can really bring the ball forward. And as we discovered in the first half, doesn't half have a bad shot on him either. Keep it up Kurt.
Digne - 7. He is extremely Baines-like I think, and fortunately 10 years younger than Leighton. Don't have any major issues with his performance. This is a player who has played for France, PSG, Roma, Barcelona. I think he'll get better than today. Great cross for Calvert-Lewin's goal - twice in two games those two have linked for a goal. Very encouraging.
Schneiderlin - 4. Pretty rubbish I thought. Reverted back to last years Schneiderlin, the unadventurous player who only kicks the ball backwards, and if you're very lucky, sometimes sideways too. Unimpressed.
Davies - 5. Just want to say how much I hate the hatred that the crowd seems to have against this young man and local lad. His mistakes get roared at more than any other player. There's a very large horrible section of our fanbase who love nothing more than to chastise one of our own and berate his every fault. What drove Barkley out of the club? Hatred and abuse from the stands. I don't envy any young Evertonian in the team, because they will be harassed and targeted by the crowd more than any other. It sickens me. Ross, now Tom. Once he's hounded out the club, maybe next year Kieran Dowell, or Jonjoe Kenny will be next. Tom didn't play well today. But he didn't disgrace the shirt.
And it's not like Davies is going to be a regular starting midfielder this season anyway. Gueye, Sigurdsson, Gomes, Schneiderlin, will all be ahead of him. Bernard too if he plays in midfield. He'll be more of a bench player once everyone is fit. Give the lad a break.
Sigurdsson - 6. Has a great propensity at times to appear to just... not do anything. And it is true. Sometimes he just doesn't do anything. But for me and I think most other Evertonians, he is still such a quality player. £45million was daylight robbery, but he's still a good player who makes things happen. Didn't agree with his substitution particularly.
Walcott - 5. Didn't really do anything today to be honest. Theo again proves very inconsistent - incredible for a couple of games (Southampton, Bournemouth), but useless for a couple more (Wolves, Huddersfield). We'll stick with him though because he is undoubtedly one of our best players
Calvert-Lewin - 8. I read comments here every week from people - "DCL isn't good enough for the Premier League", Ridiculous. He's a striker, who does this weird thing, where he scores a lot of goals. He's 21. English. And the best striker in our team. People bang on about the Everton team never having "winners". This kid scored a World Cup Winning goal for England u20's. He is a good player. Excellent aerial ability, reasonably quick, very athletic. His finishing is still poor but I think this kid could go on to be a great England and Everton player. We need to make the most of him. I want him starting centre-forward in the Premier League semi-regularly - I seriously believe in him.
Tosun - 4. Tosun always 'does alright' but nothing more, ever. I said right at the start of the season that I'd be shocked if he scored 10 goals this season. So far I am being proven right. Offers absolutely nothing that every other Forward in the League can't also offer. Would prefer to have him dropped soon, for a front 3 of Richarlison - DCL - Walcott unless he nets against West Ham (fat chance).
SUBS; Baines - 6. Was alright. Still a good player.
Lookman - 5. Don't really get Lookman personally. Far too lightweight to ever be taken seriously. He did well in the Bundlesiga... great, but the Bundesliga is rubbish compared to the Premier League nowadays.
////////////////////////////////////////////////////////////
The Zonal Marking thing is still an absolute disaster. We go into every game having basically conceded already because every match without fail we always concede a corner goal. Every. Single. Match. Marco - sort it out. Either adapt to a man-marking system, or make your system better. Perhaps Yerry Mina coming in will help alleviate the issue - all 6 foot 5 of him!
////////////////////////////////////////////////////////////
Ultimately though, I'd like to think that we shouldn't read TOO much into this performance. So many key players were still missing who in that second half could have changed the game. Gomes in midfield. Bernard, Richarlison. And I'm dreaming of an unstoppable Zouma-Mina wall already.
Still a wholly underwhelming start to the season though. A win at West Ham is a must otherwise we will have 1 win from our opening 5 fixtures - all of which were entirely winnable games. Being 'unbeaten' is great until you realise we've played against rubbish teams, relatively speaking.
Jim Bennings
87
Posted 01/09/2018 at 18:31:01
I think Tosun is much like Jelavic (minus the instant lethal Jelly impact of his intro months).
Fans appreciate the work he puts in but at £27 million, I mean really was that all that was available in terms of strikers? Yes he had a very strong scoring record in Turkey but the Turkish League is miles off the Premier League.
He's going to soon be judged on how many goals he is scoring or not scoring and all he's really done is have a few long-range efforts in games so far, he's not getting into positions to hurt teams, it's easy to criticise a lack of service but other players have scored haven't they?
I'm just wondering if Richarlison down the middle as striker might prove a far more fruitful move in the long-term view of things. (Thierry Henry made the transition quite well didn't he).
Paul Thompson
88
Posted 01/09/2018 at 18:31:28
In attacking terms, it felt like last season and that's not surprising because it was last season's team!
We know what the problems are and so I'm sure does Silva (see his post-match comments). No real creativity and moving the ball too slowly. Add Richarlison, Bernard and Gomes and we will look a different team.
The defence is slowly reshaping itself. Zouma and Digne are good players, with Mina to come. Yes, it was poor and frustrating, but this is not the preferred 1st team.
Ed Prytherch
89
Posted 01/09/2018 at 18:36:40
We looked like a good attacking team with Richarlison and Walcott running riot down the wings but we are a blunt force without them. The slow stuff in midfield was last season's crap.
Zouma was impressive and Digne had a decent game except for his free kicks. I think he deserves to keep his place but we miss a good left footed option at dead balls.
Seamus's form is a mystery. He came back amazingly well last year after the long layoff but now after more time to get fit he looks like he has just returned from the injury. Maybe he needs to spend a few games on the bench to wake him up.
The midfield of Schneiderlin, Davies and Sigurdsson did not work well today. They looked like three individuals rather than a midfield team. Not what you would call the engine room.
Barry Williams
90
Posted 01/09/2018 at 18:40:16
Denis Richardson
Regardless of whether we bought players injured or not, they are Everton players now and are injured. Whether they would have started or haven't started yet doesn't mean they couldn't have had an impact if fit, even from the bench. From my list of injuries/suspensions I reckon 4-5 of them are potential would be starters, so yes, we have missed them, whether they have started a game yet or not!
Very early days, a little disappointing. but we do have players that can come in and potentially make a massive difference! When was the last time we could say that?
Mark Tanton
91
Posted 01/09/2018 at 18:48:06
If I'm right, didn't Martinez's record points season start with a 2-2 at Norwich, and a 0-0 draw at home to WBA? Until today we'd played pretty well and dropped points. Today we were, admitedly, garbage.
Brent Stephens
92
Posted 01/09/2018 at 18:51:34
Very disappointing. Result and performance. Nothing at all Silva-esque in that, apart from the zonal non-marking. Next game, please.
Mick Howard
93
Posted 01/09/2018 at 18:51:52
Give the lads a break, they must be knackered. Different style of play this season more energetic with more pressing and more intensity in training.
Also, they've played two games down to 10 men and could've and should've won both of them and now played three games in a week this week. Rotherham wasn't easy on Wednesday.
Good time for a break, recharge batteries and a chance to start to bring in some of the new lads as they get fit. Much better overall than last season. Unbeaten and in the next round of the cup with a home draw. Come on you Blues.
Jeff Armstrong
94
Posted 01/09/2018 at 19:01:21
Mark 86, pretty much agree with most of what you say, substitutions where puzzling. Davies or Schneiderlin should have made way for Dowell in the last 20, at least he has A pass in him. Siggy should have stayed on, he wasn't great but decent players like him are not going to score worldly,s by being subbed off.
Holgate's passing has always been, and still is, woeful.
Baines on for Digne? WTF? We were chasing the game.
Zonal marking is a joke, why do we have to concede a shed load of goals before we drop it? Drop it now like every other team in history has.
Silva is worrying me with slow, bizarre subs and zonal marking.

Eddie Dunn
95
Posted 01/09/2018 at 19:06:51
Ernie Baywood, to say Zouma was average is breathtaking! On a day where most of our lads showed supreme averageness, Digne and Zouma shone like lighthouses in the Mersey fog.
Holgate did ok too but the others were one-paced, predictable and in Coleman's case (unfit).
Siggy, though also lethargic, was the only hope of unlocking their massed defence but to sub him basically meant we would settle for a draw.
Calvert-Lewin is not a winger and showed that in the box, he is a handfull.
Please Mr Silva, pick players in their right positions.
Sam Hoare
96
Posted 01/09/2018 at 19:11:40
There are seldom if ever such things as walkovers in the Premier League unless you're the top one or two teams... and even they slip up on occasion. It's what makes the Premier League so exciting.
Huddersfield came with a plan that they executed very well.
We are a team that was horrendous last season trying to learn how to be a lot better this season. But that will not be easy. Expect ups and downs. Worse downs than today at some point.
I'm still excited to see this team and system when the likes of Richarlison, Mina, Gomes and Bernard are playing and up to full speed.
Paul Columb
97
Posted 01/09/2018 at 19:16:11
Pretty harsh game on the eyes. Didn't come together for us at all. Can't argue with the starting 11 selection based on availability and mid-week performance but the subs completely missed the mark for me.
Davies had a poor game in contrast to mid week and should have been pulled for Dowell IMO. Digne had a massive game and unless carrying a knock, it made no sense to bring Baines on. Kenny for Seamus would've been more logical and given us a spark up the right and brought Lookman into the game more.

Brian Hennessy
98
Posted 01/09/2018 at 19:17:19
Very frustrating when a team comes to Goodison Park with no real interest in playing decent attacking football. I suppose it's to be expected when you see the players they have at their disposal.
As for Huddersfield, they were not much better...
Jim Bennings
99
Posted 01/09/2018 at 19:18:11
Zouma looks so strong and quick he'd put a grizzly bear on its arse!
Zouma and Mina (6ft-5in he's gotta be a beast in the air?) has to be the deal at central defence – no disrespect to Keane or Holgate but we need to have bodyguards at the back.
Jon Withey
100
Posted 01/09/2018 at 19:24:31
Calvert-Lewin > Tosun?
Tosun would seem to be the better finisher – but he hasn't done much of that recently.
Not too concerned by the result as we were missing some important players .
Bill Watson
101
Posted 01/09/2018 at 19:25:10
Today we just couldn't put two passes together and failed to trouble their goalkeeper, all match.
Hopefully, we will improve when we get some of the new players up and running.
Coleman has struggled all season and seems half a yard short and is constantly over hitting crosses. Maybe it's time he was rested for a few games.
Pat Kelly
102
Posted 01/09/2018 at 19:29:06
The reality is that many of our players today don't have it in them to be much better.
Coleman is finished as a wingback. He can still defend but he can no longer service the front line. This has been a declining part of his game for some time.
Holgate is a work in progress but he always looks wary and I seriously doubt he has the capacity to be much better. Better opposition will expose him.
Schneiderlin and Sigurdsson just about turn up. It would be better if they didn't.
Davies is out of his depth and if he had great potential, it would have shown by now.
Tosun is not a goalscorer and will never be prolific or even adequate.
Walcott is great on his day but that's rare enough between sick days.
Niasse, I'm as lost for words as he is on the pitch.
Lookman, we should've taken the £25m.
I may be proven wrong on all of the above but I've lost faith in them.
Digne and Zouma, very promising signings even at this early stage. Richarlison the standout player by far to date.
Yes, it's early days this season with Silva but he can't make poor or average players much better than they are.
Derek Taylor
103
Posted 01/09/2018 at 19:36:31
Any hope that Silva could transform last season's geese into swans flew out of the window today. And questions will soon have to be asked why he and our 'star finder general' signed a bunch of crocks who have hardly kicked a ball in anger as yet.
Already moved to tell us that his disastrous zonal marking system is non-negotiable, his stay here could be of similar duration to that he spent at Watford. I smell another booby of Moshiri`s choice but as long as it's our benefactor's money being wasted why should we worry?
David Barks
104
Posted 01/09/2018 at 19:39:29
Ah lovely, so we now know that the patience of some Evertonians is exactly 5 matches. Brilliant stuff. All hope is lost. Because a couple of players weren't available in the first 4 games of a 38 game season, never mind the additional years they're signed for, means it's a transfer window disaster. I give up.
Jim Bennings
105
Posted 01/09/2018 at 19:39:59
Lukaku should have been replaced with Vardy (last season, not now). I don't care what age he is, last season, he got 20 league goals — that's what we need!
It took six months to replace Lukaku with Tosun who doesn't appear a prolific goal scorer at this standard at least, arguably the equivalent of Liverpool selling Salah and replacing him with Ings.
The need for a top class striker with the money we had/have is still paramount to future success.
Jim Bennings
106
Posted 01/09/2018 at 19:41:47
David
Don't start gaping in about Evertonians lacking patience mate, we've been patient for far too long pal, nearly a decade without a derby win, never had Champions League football, no trophy since 1995 and one Cup Final in that time, we've hardly been spoilt rotten.
David Barks
107
Posted 01/09/2018 at 19:49:39
Jim, you made the point for me. It's been years of poor management from top down. But you expect all to be fixed in 4 league games and one transfer window?
And to remind you, the key this window was getting a ton of players off the wage bill to make up for those previous mistakes. But yeah, instant success, that works.
John Keating
108
Posted 01/09/2018 at 19:53:17
Come on, guys, please lets stop using this nonsensical excuse that our defending will improve when we have this mythical settled back 4.
Silva defends with 11 men back so it's not just defenders we have to look to, it's also the midfield and forwards involved.
Look at the amount of players we have used in the last couple of months, both pre-season and season. Not one, not a single one look comfortable... and not one have a clue about their jobs.
I mentioned after the Rotherham game, I could hear them getting worked up prior to Rotherham's goal. My brother and mates in the Gwladys Street End told me it was similar today.
Unless Silva sorts this out soon, the goodwill of the crowd will turn. He has had this transfer window. If after the January and next Summer windows come and go and we still show a crap defence, Silva will be on his way.
Absolutely pissed off we haven't looked at righting this after so many games. It is a squad game so just thinking it's the job of our "settled" back 4 is ridiculous.
Jim Potter
109
Posted 01/09/2018 at 19:53:40
That was as bad as anything I endured last season.
Awful.
Coleman very disappointing.
Holgate poor.
Davies crap.
Lookman shite. I was one of the fools giving him a heroes welcome. For what? That he was forced to stay?! Spoilt prick.
Gylfie and Zouma played decently.
I know. It's going to take Silva time. But boy, they were painfully bad today.
The ref was a joke allowing them to waste so much time from minute one.
Dave Abrahams
110
Posted 01/09/2018 at 19:54:07
I thought from the first minute Huddersfield came to niggle, frustrate and waste time. When they played some football, they were better than us.
There was no shape of any description to Everton's game. Zouma and Digne had good games. Pickford had little to do. The rest of last season's players performed without any energy, heart or guile, leaving most supporters frustrated and agitated by the sorry and disheartening 90 minutes.
Five of the players signed in the summer didn't play today so it will get better, they can't come into the team quick enough for me.
Premier League football is often described as the best in the world; this game would never be shown as an example, putrid from start to finish along with most of the players; and the referee wasn't as good as putrid.
Dave Lynch
111
Posted 01/09/2018 at 20:02:49
Let's get real here.
Unlike last season when we played the best the league had to offer, we have this season, played 3 mediocre/poor sides.
We have surrendered a 2 goal lead to Bournemouth, scraped a win over Soton and drew with Wolves. Coupled with todays dire performance it's not looking promising despite the missing players.
Carry on like this and it'll be carnage when we play any of the top 4.
Steavey Buckley
112
Posted 01/09/2018 at 20:03:42
4 games, 6 points against moderate opposition, but what happens when Everton play a good team? The team today was very unbalanced, unimaginative and uncreative with no width on the left side.
Calvert-Lewin should play in the middle because Tosun offers little with 0 goals in 4 games. The big plus today was Digne a younger version of Baines, but Coleman is playing on past reputation, because his crossing and shooting are woeful, and runs down to the bye-line are non-existent. He sums up Everton's day with only 1 effort on target.
Everton can change managers but the DNA of the side remains same and need to do better to change. Finally, zonal marking is a waste of time if the opposition are unmarked.
Lawrence Green
113
Posted 01/09/2018 at 20:06:56
I'm surprised to read that some think that the crowd were quiet and in moaning mode today, I suppose it depends where you sit in the stadium, from my seat in the Upper Gwladys it was noisy and those around me whilst unhappy with the overall display were willing the boys on to victory, the fact that the players didn't respond to that encouragement is no fault of the supporters.
It was a poor performance with some very poor individual performances, that happens sometimes, move on regroup and hope for better next time, we've been doing it for forty years or more why should a single result or performance define a season?
Oh and for those who thought that Silva or indeed any manager was going to transform a mid-table team into Champions League, top six challengers overnight, forget it. A mid-table team is what we are, regardless of who we recruited in the summer and regardless of the tactics employed by the new manager.
Enjoy the good games when they arrive and don't get carried away when they do and for those days like today acknowledge it for what it is a performance that we will see more often than we'd like to but until we buy top four / six players all over the park, we are prone to suffer days such as today.
George Cumiskey
114
Posted 01/09/2018 at 20:09:03
Why do people keep saying Gylfi had a decent game? He was woeful.
Stan Schofield
115
Posted 01/09/2018 at 20:16:14
The side has been chopped and changed through injuries and two red cards. It's not surprising there'll be a shite performance under those circumstances. But we should expect improvement, consistently, once the we have full strength.
Don Alexander
116
Posted 01/09/2018 at 20:23:53
A number of us point to a poor defence and midfield, together with a fairly average attack. I hope those critics reflect they should be supporting M&M who have after all signed three first team defenders, two first team midfielders and one first team striker, three of whom have yet to play at all for us.
There's cause for hope, but today's performance was very unsatisfactory.
Ciarán McGlone
117
Posted 01/09/2018 at 20:26:29
George @114,
Because a lot of people are desperate for him to succeed, hyped him up before he joined and can't see that he's as average a Number 10 as you get in this league.
When we actually get a decent Number 10, they'll see the error of their ways... frankly, I don't think we'll see real improvement until we buy that truly great Number 10.
John Keating
118
Posted 01/09/2018 at 20:27:25
Stan,
That sounds great "when we have full strength." What team ever have full strength for any period of time?
It is a squad game with injuries and suspensions dictating the team named on match day.
Any player coming on, of in fact we have 2 players for every position, should fit in the system straight away.
Seems we have some sort of system going forward and absolutely nothing defensive wise except crossed fingers. A bit like Martinez in a way don't you think?
Paul Brown
119
Posted 01/09/2018 at 20:32:33
That was awful to watch. Coleman playing like a Sunday league player... in fact, he played like a coal man with a wooden leg.
Davies? What does he do? Except mince about putting aimless passes back and forth. He needs to be benched, binned or sent back to Unsworth for rehabilitation. Oh, and get rid of that hairstyle as well, sonny!
Walcott played like he couldn't wait to get injured. We never once put a ball in front for anyone to run on to, no imagination.
Calvert-Lewin, supposed to be the fastest player in the league, yet no-one tries to exploit his alleged pace .
On the plus side, Zouma looks a player and hopefully Digne can only improve.
Andy Meighan
120
Posted 01/09/2018 at 20:33:23
I think Pat at 102 has summed it up. A lot of work to be done for Silva and I'm sure he 'll get it right eventually. Yes, today was poor and I've seen Davies getting hammered and rightly so but, for me, the worst player on that pitch today was Sigurdsson.
An absolute imposter. We were led to believe he was supposedly meant to unlock tight defences. Believe me, he can't! He's slow, can't turn, and can't anticipate what's going on around him. To think we paid an astronomical fee for him beggars belief. An absolute shit signing, along with Schneiderlin... £70-odd millions worth of shite.
Oh yes, the usual suspects will come on tonight saying how great they are. Yes, Feans, Abrahams, Hind... Go take a look at yourselves tonight – that was fucking awful. 50 years a Blue, by the way, so do not try to bully me with your trash.
Stephen Davies
122
Posted 01/09/2018 at 20:39:30
Steavey (#112),
Besides his comeback game, Coleman has been generally poor. I hope it's just a bad run of fun rather than something he's lost through his horrific injury but definitely not the same player.
David Barks
123
Posted 01/09/2018 at 20:43:26
John,
It's a squad game and we're only getting started rebuilding the squad. That's been the point all summer, getting rid of a ton of players and bringing in the new generation. It was always going to take time.
It's been 4 league games, 4. Richarlison, Bernard, Mina, Gana, Gomes, Keane, Jagielka all out. It's one thing to be missing 1 or 2. That's not our situation, and it's made worse by it being the start of the season with a new manager and new style of play all around.
John Keating
124
Posted 01/09/2018 at 20:52:32
David,
I don't know what you do for a living. Most people I know work and if something is not right they stop, have a look, think about the problem and rectify it.
Most people I know don't do a job, have a problem and keep making the same problem for themselves.
Now I know you reckon it takes time to impart Silva's methods, tactics and requirements on this squad so can I ask, in your opinion, how long do you reckon it takes to tell an international professional footballer to defend a couple of square meters of grass?
Fran Mitchell
125
Posted 01/09/2018 at 20:52:47
When Gomes or Benard come in Sigurdsson is out. Tosun should be dropped for Calvert-Lewin. Give Kenny a shot at right back.
Ian Riley
126
Posted 01/09/2018 at 20:57:30
Am I missing something here? Did we play Huddersfield town? No offense to them but one shot on target by us!! Sorry, we should be beating teams like this. Our so-called top players are hiding in games like this. The management must expect like me that a half-decent performance should end up in three points.
Please tell me what Davies offers? Can anyone tell me the last decent performance he put in? Local lad doesn't cut it with me. A holding player he is not. Two holding players at home against Huddersfield Town? Give me a break.
Truthfully we are not playing well for 90 minutes. Yes, patience is required as we are on four managers in two years but no excuses today. Yes, too many having an off today but it was an opportunity missed. Our start to the season unbeaten. Wow, Wolves, Bournemouth and Huddersfield and Southampton, leaves us on 6 points out of 12. Enough said!!
Kevin Turner
127
Posted 01/09/2018 at 20:57:37
I haven't been on here for a while and it may be a while before I do so again. I hope some of the shameful slagging off of the new manager and players new and old stops and these people have to eat their words. Ripping into players after a few games whilst we refashion the squad and playing style is frankly ludicrous.
Peter Mills
128
Posted 01/09/2018 at 20:58:11
Well, it wasn't a great afternoon. But I certainly didn't come away thinking we had "escaped with a point" as the headline says. I, and everyone I have spoken with since the final whistle, was just frustrated not to get the win.
Remaining patient and positive, we are unbeaten with mostly last year's team, despite giving away a goal per game – if we can sort out that defending nonsense we will improve our points tally.
A final note on a curious moment in the game – the referee blew for half time 1 minute and 50 seconds after the 4th official signified a minimum of 2 minutes extra time, just as Seamus was about to cross the ball. I found it strange.
Raymond Fox
129
Posted 01/09/2018 at 21:00:48
They were always going to come and park the bus and they won't be the last. We are still short on creativity and scoring ability as we have been for too long now. It's early days though and we are missing lots of players that will be first pick when they return.
I must admit nowadays that my expectations are purposely lowered to offset the usual disappointments that inevitably follow when supporting Everton.
Only when we buy the very best players on par with your Man City, Chelsea and them that shall be nameless, will we be able to compete at the very top. Will that ever happen?
John Malone
130
Posted 01/09/2018 at 21:07:21
The lack of creativity when Richarlison isn't in the team is a concern other partnerships have got to do better i.e. Coleman/Walcott, Tosun/Sigurdsson.
Huddersfield made it difficult for us but the players and the manager should have more nouse in order to find a way through the parked bus.
The midfield is a problem area for me you can clearly see Schneiderlin and Davies are both not long term answer's to bringing us success, not great defensively and very limited in creativity we desperately need Gomes to come in and hit the ground running and be a class act.
I thought Sliva could have done a lot more with his substitution's and brought Niasse and Lookman a lot earlier and played them through the middle instead of out wide.
Tosun for me is not good enough to the lead line on his own he's like an old man up there he has no pace not enough strength and creates zero threat on his own or linking up he falls over whenever he has to turn quickly!
Stan Schofield
131
Posted 01/09/2018 at 21:07:51
John @118: Yes, I agree, still issues defensively. You're right that few if any teams have full strength for any period of time, but at the same time you must admit our injury list and two red cards is unusual.
Jim Bennings
132
Posted 01/09/2018 at 21:14:36
John Malone
I'd have to agree regarding Tosun unable to lead the line alone, I said in April that there's no way he's built to be a lone striker.
Lukaku has many detractors at Everton (bit silly because we aren't likely to see such a prolific centre-forward at this club again any time soon) but he could bulldozer his way through defences singlehanded with pace and power, as seen especially in the 2015-16 and 2016-17 campaigns.
Tosun is simply not going to offer that kind of outlet, you can't just lob a hopeful ball over the top and expect him to do anything with it because he hasn't the mobility or presence and even when the rangy gangly cart horse figure of Niasse came on he did more in 10 minutes by winning a few corners and being a nuisance than Tosun did all match.
Andy Riley
133
Posted 01/09/2018 at 21:17:05
Peter @128.
I agree that half-time thing only ever seems to happen to us. Any other team attacking the ref seems to wait till the ball is on the halfway line before blowing.
A bit like the red cards for Jakielka and Richarlison – can't really argue with the decisions but it never seems to be applied to others in the same way — especially the Sky darlings.
John Keating
134
Posted 01/09/2018 at 21:17:58
Stan,
Injuries cards etc is just part of football and we have to get on with it.
Silva is quite rightly praised for improving individual performances of players we slagged last season. He is quite rightly praised for our improved attacking prowess.
However when thousands of us see the same mistakes without seemingly nothing done to rectify them then quite rightly we should call it. Regardless of who the manager is or how long he has been here he should be accountable.
Let's be honest its not just the supporters who have asked questions. Silva himself has admitted we should have seen games out Silva himself has admitted our defending needs to improve.
Some things do not need time and transfer windows to improve our play.
Ed Prytherch
135
Posted 01/09/2018 at 21:18:45
The two players that we are most missing are a prolific striker and a dominant midfielder, someone who can win the ball and drive forward and be a threat in the box. He does not have to be a genius passer more a Cahill, Kante, Wilshire type.
Seamus looks distracted, someone who has a load on his mind. Lack of fitness does not account for his lapses in concentration. I hope that everything is okay with his family.
Jay Harris
137
Posted 01/09/2018 at 21:35:11
I was in the Park End and throughout the game all I could hear was the Huddersfield supporters sounding as if they owned the place and constantly referring to Goodison Park as a Library.
If that wasn't embarrassing enough we played with the same lethargy that was apparent when we allowed Rotherham back into the game.
I don't know why there is so much animosity towards the youngest player on the pitch when he is surrounded by experienced internationals who looked like they were having trials for Tranmere. With the exception of Zouma and Holgate, I would struggle to find anyone who could score more than a 3 out of 10.
Seamus has left his form somewhere but it hasn't been evident all season. Walcott just went through the motions which meant our right flank was totally ineffective going forward and very weak defensively. The number of times Seamus got skinned was embarrassing.
I wish someone could extol the virtues of Tosun because all I see is a shortarse who can't compete in the air and isn't particularly quick. Yes, he does a lot of running around but then so do squirrels.
Andy Crooks
138
Posted 01/09/2018 at 21:38:03
Tosun works hard and is an enabler. Unfortunately he doesn't seem to have goals in him. Injuries have hit us but it does not, in my view, excuse what is a disappointing start.
Our defence look like old dogs bewildered by the new tricks they are being taught.
We are on an upward curve but shit is shit and that was utter shit.
Brent Stephens
139
Posted 01/09/2018 at 21:38:26
Has Dermot Byrne really been banned? He's just one of many who reads certain posters who rip into other posters non-stop and who belittle them, and yet he generally holds his tongue. One rebuke from him and he's banned? Is he really? Bring back Dermot! Bring back Dermot!
Andy Crooks
140
Posted 01/09/2018 at 21:43:40
Brent, I have posted on here for many years and it is a knitting circle now compared to how it was when there was actually robust debate. No-one is "belittled".
John Keating
141
Posted 01/09/2018 at 21:45:42
Jay, I agree... But apparently – see Kevin 127 and others – we are not allowed to criticize anything because Silva is just in the job.
Praising the manager when we see him do something good is okay but, when he doesn't, we have to accept it as he's just in the door.
Shame when we can't have an opinion.
David Connor
142
Posted 01/09/2018 at 21:47:45
Let's look on the positive side, people. Another 34 draws & we are safe! We'd also go through the season unbeaten. Realisticly, we ain't gonna break the top six are we. We are looking at 6th or 7th if we are lucky.
On today's showing we will be lucky to make the top half. We have a piss poor squad. Simple as that, & unless we get a great manager and a state of the art stadium, things ain't gonna change Don't hold your breath folks...
Brent Stephens
143
Posted 01/09/2018 at 21:49:26
Andy, with respect, what happened years ago is, to me, not that relevant as to what happens now and its acceptability. I can only call it as I see it now and what's appropriate now, and I just see some degree of belittling of other posters.
You don't belittle others, Andy, but I'm afraid some are too quick to start the "ad hominem". It's noticeable that occasionally a few posters make a comment on a game or whatever and state in passing that they tend not to post nowadays because of this.

John Raftery
144
Posted 01/09/2018 at 21:52:43
Two of the items on the charge sheet against our last manager were the lack of shots on target and the poor style of play. In our first two games fans were hailing the new regime for the uplift in shots and style. A key player in that improvement was Richarlison who along with Walcott on the other flank offered pace as well as goals.
Today we saw the consequences when you take those sort of players out of the equation. We lacked pace and width especially after Walcott departed with the midfield struggling to find an outlet and passing the ball into a series of cul-de-sacs.
Our problems in creating width are compounded by Seamus starting the season so poorly. Nothing is coming off for him at the moment. Every cross seems to go astray and his shooting is weak. He has yet to score since his return.
Sigurdsson's limitations were exposed today. Unless a pass is directed straight to his feet he has neither the pace nor the agility to stretch for anything even slightly off-line. He was tightly marked when we moved up the pitch. I lost count of the number of times he was dispossessed, admittedly in tight situations. When that happens he has little to offer that can make a difference.
We are already behind the curve for a top-six finish and given the doubts concerning Silva's ability to take a Premier League team through a full campaign it is critical we garner as many points as we possibly can in these early weeks. The positive news is that despite the notable absence of Richarlison we remain unbeaten, the opposition were restricted to very few opportunities in front of goal and in Kurt Zouma we appear to have a solid defender.

Jerome Shields
145
Posted 01/09/2018 at 21:54:26
Disappointing. The weaknesses are obvious and well documented on ToffeeWeb.
The defence is weak, though the actual standard of play is higher. Less errors. It's the organisation of the defence that is the problem in that players are not aware and able to anticipate where the dangerous attacks are coming from. There is also weaknesses cutting out crosses. Coleman isn't the player he was.
Schneuiderlin is doing his job, but there is a lack of good ball being supplied to the forwards from the attacking midfield and wing.
The forwards are not able to get in position, with the exception of Calvert Lewis and are unable to beat their marker. This allows the opposition defence to maintain a defensive line and shape and push the defensive line up in support of their midfield.
In the case of the defense, this is down to the way they are coached. In midfield, we need Bernard in as soon as possible. Richarlison needs to grow up fast, because he will be a target when he comes back, being one of the few threats to unsettle defences. Calvert-Lewin is playing well but Tosun needs to improve a lot. Niasse played better when he had no locker. We need to buy in a centre-forward; neither of these guys are good enough.
Lookman, we are going to need him because he at least looks as if he could beat a marker.
Both Bournemouth and Huddersfield played like last season and have had some degree of success last week and this week.
It tells you that Everton have a long way to go to improve and be able to challenge in any competition.

Jack Convery
146
Posted 01/09/2018 at 21:55:22
When faced with 10 behind the ball as we were today, you must have a player upfront and in the centre who can play with his back to goal. A player who can either hold the ball, play quick one-twos with players looking to get beyond him or spread it wide to players looking to get behind the packed defence. On the outside, Calvert-Lewin is the best we have at doing that and he wins a fair share of headers too.
On reflection, and with that wonderful thing called hindsight, Silva could have changed things at half-time to 3-5-2. He could have taken Coleman off as he is not his usual self – is the former broken leg giving him pain, I wonder? A back 3 of Holgate, Zouma and Digne. A midfield of Schneiderlin Davies, Lookman (for Coleman), Sigurdsson and Walcott. Then play Tosun in and around Calvert-Lewin who plays with his back to goal.
I only saw the second half but we failed to win any free kicks between 18 and 25 yards in front of the goal. Did they ever need to put a wall up? A centre-forward is more likely to win free kicks with defenders tackling from behind, than continually trying to thread the eye of a needle with a pass most of our players are not capable of producing.
I know hindsight is a wonderful thing but if you are not looking like scoring from open play, which we only did once in the second half (Lookman's cross), getting free kicks in and around the box with Siggy's ability has to be attempted. If we had got in front, they would have had to play more openly.
That is why the RS play at 100 mph in the first 15 minutes, to blow these teams away, in an attempt to prevent teams parking the bus for 90 minutes. Last week they struggled to overturn Brighton and Klopp's had 3½ seasons and his best IX on the pitch!
There will be more games like this at Goodison if we fail to get in front early doors or fail to change tactics when Plan A is never going to work. Silva now knows the true limitations of the squad, so a Plan B has to be found from what have available now.
I have faith in what is happening in and around EFC at the present time and hiccups like today will happen but lets not forget most of these players have got 2 managers the sack and had EFC go cap in hand to Farhad Moshiri. 2 more transfer windows are needed to fully overhaul the squad and not just the team.
Keep the faith. COYBs.
Kevin Turner
147
Posted 01/09/2018 at 21:55:46
John (#141), it's the 1st of September and 4 games in. Yes, everyone has an opinion but can we just give the new set-up a couple or three months to show how they're shaping up before casting judgement.
James Flynn
148
Posted 01/09/2018 at 22:00:41
If injury to better players forces it, I'd prefer some combination of Dowell in front of, or around, Gueye than any more of Davies. Davies is a hard worker. Into his 3rd season, it appears that's all he'll ever be, a hard worker.
Better a genuine talent, Dowell, be pushed than persist with "McCarthy II".
And McCarthy was better at that job.
John Raftery
149
Posted 01/09/2018 at 22:01:53
Peter (128) The board went up to signal two minutes additional time ten seconds after the 45 minute point. He actually blew for time at 47 minutes and 11 seconds. I know this because, saddo that I am, I keep the time on my stop watch.
John Keating
150
Posted 01/09/2018 at 22:02:42
Kevin, does that include all the praise Silva is getting as well?
Martin Berry
151
Posted 01/09/2018 at 22:08:39
Our weak point was shown today with total lack of creativity in midfield and no one going wide to stretch the Huddersfield defence.
They set up not to lose and in Aaron Mooy they had the best player on the pitch, a player we should have been in for in the window.

Dick Fearon
152
Posted 01/09/2018 at 22:10:29
What's with all this fuss about Lookman??? There was no budding genius on show that everyone raves about.
We should grab whatever we can and get shut before the truth be known.
Peter Mills
153
Posted 01/09/2018 at 22:14:40
Ah, John (#149), I'm still an analogue kind of guy. It seems your digital precision has trumped my wind-up watch, so I will apologise and accept that I was simply frustrated by the moment!
Gary Willock
154
Posted 01/09/2018 at 22:15:25
Some personal thoughts, many already covered of course:
1) Davies was exceptional on Wednesday, not sure whether it was the inferior opposition or having to work alongside Morgan that messed him up today. For me, James@148 has a point here: we need a truly creative player here but next to any one of Gueye, Davies, or Schneiderlin. Not sure Dowell is the answer there, but hopefully Gomes is! I'd like to see Sigurdsson given a try further back, with either Dowell, Bernard or Lookman given a go in the 10.
2) Manager had just 2 of his own players – let's lay off the judgement for now even though the '3 defender bench' and subs where mind-bogglingly questionable.
3) Holgate, Zouma, and Digne look great; with Mina and Keane back, it's looking good except...
4) Coleman is just 'missing something' – not least of which is the ability to shoot and play a final ball. 2-3 more games after international and its time to give Kenny a go.
5) Calvert-Lewin needs to be given the striker slot for a few weeks. He's earning it, even if Cenk puts the effort in too.
All-in-all, I came out feeling angry, not miserable. I'll take that all day vs the depression of Allardyce.
Sean Kelly
155
Posted 01/09/2018 at 22:16:42
A total of three points against Huddersfield, Wolves, and Bournemouth is hardly top 6 standard. We are soft. Silva's record was never great. I just hope that 6 points doesn't come back to haunt us come April or May.
Jeff Armstrong
156
Posted 01/09/2018 at 22:20:59
Aaron Mooy is a top top player, he ran the show here last season and did again today. Just goes to show you not only need ability but have to be fashionable too, Huddersfield and Australia simply won't do.
James Flynn
157
Posted 01/09/2018 at 22:23:59
Dick (152) - Lookman. Just like Davies, McCarthy, Schneiderlin, and Besic.
No way good enough for the Club to push forward.
A 6-years younger Gareth Barry, newly arrived, would make all 5 redundant by his arrival.
We need quality, not this handful of average players making up the numbers.
Ernie Baywood
158
Posted 01/09/2018 at 22:27:53
Eddie Dunn (#95 - I didn't say Zouma was average today. I thought he had a decent game. Though not sure you could go much beyond that in a game where the opposition were so limited in attack.
What I said was that he is average. Recent history demonstrates that. He may work out well for us but he's not a world class centre-back. And he's not even our player.
He's average, just like the vast majority of the team that finished that game.
We can bleat at that performance and talk about lack of desire or leadership but look at who was on the pitch. There's very limited talent. It's just not a good set of footballers.
The performance had to be expected. The team is shite! Let's hope the new boys can make an impact (which is far from a sure thing – see last season's dealings). Otherwise it's crazy to think we'll be doing any more than in recent seasons.
Bjoern Haall
159
Posted 01/09/2018 at 22:35:22
Rome was not built in one day. Yes – I'm not satisfied with the result. But I do think Everton will be a force in 2-3 years.
Let the players be and let's be supportive. We might not be a Premier League winning squad every season. But maybe grab a title or a cup along the way and start to roll the stone towards more stable results and more titles.
I do believe in the club and the way it is going. Strategy will win in the end.
Jeff Armstrong
160
Posted 01/09/2018 at 22:52:34
Ernie, strong words, but true.
John Raftery
161
Posted 01/09/2018 at 22:55:42
Kevin (147) I am very happy to give the new regime not two or three months but two or three seasons to build a team before passing judgment. That is providing things don't go completely pear shaped in the meantime.
My concerns regarding Silva are about his ability to drag an average team out of a bad run which we will inevitably have at some stage. I will be more than happy to repeat last season's 49 points and 8th place. Anything better than that will be a bonus.
Bobby Mallon
162
Posted 01/09/2018 at 22:58:05
Well we are 4 games in and, of our signings, Zouma plays his 1st game and so does Digne. Why did we sign so many crocks???
Andy Williams
163
Posted 01/09/2018 at 23:02:03
Awful match. Ridiculous over-reaction.
Eddie Dunn
164
Posted 01/09/2018 at 23:04:54
Tom Davies looked good some time back when throwing himself forward joining in with Del and Rom. He is a shadow of that player trying to do a Gana impression.
He needs too long on the ball, fails to see what's on, and had several shots/passes charged down giving options for Huddersfield to counter.
Calvert-Lewin on the wing – square pegs, round holes... reminds me of Roberto. Tosun needs benching, and Calvert-Lewin should get a game at 9.
The team played like strangers today, nobody seemed to know what the others were meant to do. Siggy was getting in Calvert-Lewin's way, Calvert-Lewin was getting in Digne's way, Davies was in everyone's way!
Huddersfield are poor and we managed one shot... Boy, do we need the cavalry.
Simon Smith
165
Posted 01/09/2018 at 23:15:04
We were poor today no one can deny that, but one thing that annoys me is the way some of our fans jump straight to the young lads to dish out blame.
Davies was poor, Holgate has played better and Calvert-Lewin wasn't exactly on fire; that said, we could look at things differently.
Davies never hides, always wants the ball, even when, like today, he's playing poorly.
Holgate will learn lessons from being up against each and every Premier League striker, no matter who they are, and, truth be known, only for the set-up from the corner, he would have been a part of a clean sheet.
Calvert-Lewin isn't and never will be an out-and-out wide man, yet he continued to work hard at it and got his goal.
Did the young trio do any worse than the seasoned pros? Did the experienced trio of Coleman, Sigurdsson and Tosun do any better? Did Schniederlin, Walcott and sub Lookman, who we all seem to be desperate to see? I'd say No!
Fact is, today, we were without some players who have the potential to be huge players for us, and, as a result, we played some of the country's finest youngsters.
I honestly believe players like Richardson, Bernard and especially Gomes from a central position would have found a way through. Had Gomes played instead of Davies or Schniederlin, we would have had a player who was much more capable of picking killer passes.
Had Bernard been fit or Richarlison not been suspended, then Calvert-Lewin would have been an option from the bench, and we would have had wide attacking options who provide genuine width especially when Walcott went off.
I'm not defending the kids for under-performing, I'm simply saying the blame needs putting at the feet of experienced players who cost and earn a whole lot more than the young lads before being thrown at at the kids.
Lots still needs fixing by the manager, he needs all his players fit to get his best side out. Imo, he needs to work out his subs quicker and be more proactive. He also needs to work out our big problem from crosses in general, and especially the corners.
Rome wasn't built in a day, men — we've been shite for a while now and if anyone expected a quick fix they only needed to watch pre-season.
Dan Davies
166
Posted 01/09/2018 at 23:35:09
The problem we have with Davies is that he is not living up to our expectations; that is not his fault – it's ours.
You have to play players in form. I think Tosun will come good and bang in a few but, at the moment, I would swap him for Calvert-Lewin , simply because Dom is hitting the net.
Zouma starts.
Kenny for Coleman? Seamus not the same player after his injury, unfortunately. I hope he proves me wrong.
Captaincy is a big issue for me. Do we have a leader? Who should be captain? I would vote Coleman but the boy is in shocking form he's lucky to be in the team.
When Bernard, Mina and Gomez are ready, it's going to be interesting because I think Richarlison and Digne along with Zouma are already first teamers.
Captain? Pickford? Not a fan of goalkeepers as captains. Gana? I think this is a problem.
Paul Birmingham
167
Posted 01/09/2018 at 23:35:49
All Evertonians are wounded bad-style tonight. Reflect today, the month, and the last 4 years, and 30-odd years, and deffo, "Cest La Vie" of the wrong type.
Best laugh today was seeing the RS keeper's stunt. Hope eternal, and hopefully over the break, we get more players back.
It's a WIP, and miles and miles of patience are needed. Between now and Chrimbo, I think there will be a different team. Let's stay positive.
Hugh Jenkins
168
Posted 01/09/2018 at 23:39:40
Who is claiming that Silva is the new "Messiah"? Many will say it is Steve Ferns — but all Steve has done is point out the pros and cons of Silva's past record and his philosophy.
Over a substantial period of time (25 years, or more) we, as a club, have contrived, by various misguided decisions, to drag ourselves into an abominable mess. However, by luck, or otherwise, we have also contrived to keep ourselves relevant and also, occasionally, remind the rest of "who we are".
This season, we are again, re-writing the script and it is still going to be a long haul back. But, when I look at the BBC site today and see that we are one of the very few clubs that has no red "L" in our results column, I do believe we are, at last, on the road to recovery.
I am confident that, over the course of this season, we shall turn many of the former red "L's" into either "Ws" or "Ds" and that a draw at home to Huddersfield, at this stage of a "re-organisation" season for us, will be seen as nothing more than a "Blip' in the not too distant future.
Kunal Desai
169
Posted 01/09/2018 at 23:59:37
Terrible game compounded further with a horrendous journey to and from the game with speed restrictions and lanes closures. Certainly one to forget.
It did appear some of our players appeared as though they hadn't played with each other before, lost count how many times they bumped into each other or went for the same ball and in turn lost possession.
We need some of the injured players back very soon.
Peter Cummings
170
Posted 01/09/2018 at 23:59:57
No point in adding my ten pence comment on another shambolic display as it's all been covered by those who were at the game.
Deeply disappointing, one shot on goal, and a total lack of passion, with last season's faults still very much in evidence, passing diabolical, possession constantly given away, poor tackling — the list is endless, and familiar.
John Voigt
171
Posted 01/09/2018 at 00:05:36
We need to bed in the rest of our new players before we start drawing conclusions about how this season is going to go.
It's obvious that if we don't use a majority of our new signings we'll just look like last year's team. Not having Richardson available really hurt our chances for taking 3 points today.
Hopefully it will only be a month before we see that our new signings are working out and we can start winning some meaningful games.
Derek Thomas
172
Posted 01/09/2018 at 00:11:24
We still don't have the answer to a hard-working, orginised 'park the bus' side within our squad... until that is addressed, nothing will change.
Simon Smith
173
Posted 02/09/2018 at 00:14:53
Derek, I cant help but think trying a 4-4-2 formation may be worth a go!!
Trevor Peers
174
Posted 02/09/2018 at 00:26:53
Zonal marking! This is not a blip — it's football suicide! Silva has to change this system or it could be his undoing. This is the problem when you appoint a manager with his defensive record.
The question is this: "Is Silva clever enough to change a system he has always used and believes in?" There have been encouraging signs in our attacking play, until today's poor performance.
Obviously there are more players to come in, so the picture is not yet complete, as to how it will all knit together. Zonal marking must be abandoned, though — that's very clear.
Justin Doone
175
Posted 01/09/2018 at 00:45:25
The most disappointing aspect was the lack of creativity, passing and movement but also the closing down of players and space. What happened to the effort to nullify their threat and counter attacks?
I agree with most. Too many poor performances. Calvert-Lewin is a stricker, not an attacking forward or winger. Lookman should have started on the left. Zonal marking doesn't work if there's 5 attacking players against 2. There needs to be a blend of key zonal positions and man marking.
I recently re-watched Davies's goal against Man City and that talent is still there but he hasn't progressed or improved his passing game. A key part of a midfielder's role. However, he looks a better player when playing with Gana than he does with Schneiderlin as, in my opinion, he has to cover for him. I just don't rate Schneiderlin.
I'm hoping Gomes will become our midfield diamond as he's a really talented player. Players like Mooy and Drinkwater open up opposing teams with a great range of passing and link-up play, something we haven't had since Arteta. Hopefully Gomes can bring that.
I hope Richarlison returns refreshed and ready to go again. What a player!
A poor day but another point.
Paul Birmingham
176
Posted 02/09/2018 at 00:47:26
My view is that that, whilst we live in eternal hope, we know by pain, instinct, angst for far too long, that we are a very long way from where we want to be.
To have players like Harpo, Richo, Clarke, come in knit in and tell and tell is seemingly very difficult for EFC.
I'm for playing the cards we have (aces, is to be proven), but we need commitment and game management.
It drains the life from me to see how we fail to shoot from outside the box, albeit today very encouragingly Zouma, had a go. He's been here 5 mins, his instinct kicked in, but what does it tell him about the squad?
Why isn't Sigudsson, Tosun, etc trying their luck, and at least working the keeper?
There's some mentality issues – taking ownership, being a boss on the park, snarling the right way on the park, fighting for the cause, giving two hoots for the cause, playing for the club and supporters...
The list of basic attributes for success in football is huge. It's a simple game, but by fate, and set up, we now seem to conspire to help the opposition, by hook or crook.
We all have our view, but the club and the team has got to unleash hell soon, and transform all the negativity of the last 30 odd years. We live in hope but we are realistic; now to build a fully reliable squad.
No-one can turn back time, but until this squad gets desire, fight and passion, and understanding of EFC, and EFC supporters, I sense that, as the weeks pass, the huge burden will just weigh to the issue.
Must win v West Ham. Let's hope this break turns out to be a good break for EFC.
Tony Hill
177
Posted 02/09/2018 at 00:54:22
A game which showed that this has never been about coaching, despite the fantasies of many on here; no, it has always been about the inadequacy of our players and the inadequacy of their attitude.
Much of the Everton fan base has been deluded in the belief that it just needed a new manager to introduce a fresh philosophy, a new "scintillating" brand of football. Indeed, much of the fan base still thinks we've made that transition and that we're playing a different brand of football already. I know why that is so: because sloppy and lazy thinking among those who should know better has prepared the ground.
Until we grow up and look reality in the face, we will continue to fail. It's going to be a hard grind and we're not prepared to accept that. More fool us.
Dan Davies
178
Posted 02/09/2018 at 01:22:22
We need a leader on the pitch and Silva has to find him. Unfortunately I don't believe we've got one.
This zonal v man marking debate is bullshit. Why can't we zonal mark and then man mark on set pieces going into our box?
Just win the fuckin ball!!
At the end of the day it's about fight and desire and guts mixed with skill and determination and a will to win.
On today's showing we ain't got it.
Paul Birmingham
179
Posted 02/09/2018 at 01:34:54
My view above Tosun, had a pot shot, I forgot but today and previously, the whole team declines to shoot, from outside the box.
It looks from a supporters view, there's no instinct to shoot or turn the opponents defence.
It's scary how the RS, make chances from positions where there looks like nothing is on.
EFC, 2018-19, is a massive, WIP. This doesn't allow for excuses, for poor play. Fight and fight and have belief that we will win every match. We would love to see, such traits, but it's like winning the pools..
Psyche and Tempo, must be instilled, and commitment to run them down and or our play, or out will the opposition. But win the game.
Easy to say and hard to do, but it requires a tuned in team and Captain of the team, and a fearless manager..
It's time now to start the full recovery plan. The clock is always running, and let's win a trophy, beat the top six home and away, especially the RS..
Wishful thinking!
Tommy Carter
180
Posted 02/09/2018 at 01:58:09
I am very relaxed about this season. Silva is the right man for us, of that I am convinced.
The team that he is trying to assemble is about 8 weeks from fruition. This team will be enhanced by the players Silva has brought in.
Eventually the back 4 will be:
Coleman Mina Zouma Digne
And with Pickford behind them, we will stop conceding goals
Eventually our midfield / attack will be enhanced by Bernard and Gomez as well as Richarlison building upon his early season promise.
The added creativity will bring more out of Cenk Tosun.
Davies and Calvert-Lewin will see less playing time and will feature only when it will benefit their development.
No doom and gloom as far as I'm concerned. To me this looks really promising and light years ahead of what was on offer from big Sam or Koeman
Jamie Crowley
181
Posted 02/09/2018 at 02:03:32
I couldn't watch the second half as I had a soccer tournament with a son. I was forced to listen on the radio via the OS.
My heart sank for about the last 40 or so minutes of the game.
The groans of frustration from the crowd were clearly audible. The announcer stated people left early as well.
A frustrated Goodison is death.
We need three points against West Ham to get the good vibe back desperately. The culmination of frustration with the fans since Martinez' second year is proving to result in one hell of an impatient fanbase, and a toxic atmosphere lingers all too frequently.
It seems to seep straight through to TW as well. Brent Stephens mentioned Dermot Byrne might be banned? That's a shame. Apologize and come back, sir. Micheal and Lyndon are extremely forgiving people – I know this first hand having been banned myself.
I also notice some of the most knowledgable, intelligent, humorous, and respected posters aren't posting as often and it's a shame.
Christine Foster, Eugene Ruane, John Daly, Joe Clitherow, Tony Marsh, Paul Ferry, Kevin Tully, hell go back a long way and add Richard Dodd – just to name a very few.
We need an injection of talent / enthusiasm and some injured players to come back - at the Club and TW.
And we have to stop dropping points. We drew, in terrible fashion, at home to the mighty Huddersfield.
That can't happen.
Victor Yu
182
Posted 02/09/2018 at 03:12:21
The most disturbing thing is I didn't see any sense of urgency. It didn't seem like we were desperate to go for the win.
Late in the game it still took ages for Pickford to take his goal kicks. No one ran to grab the ball to hurry up when it was out of play. Almost everyone was still jogging late in the game.
Dave Lynch
184
Posted 02/09/2018 at 03:37:05
Doing a night shift and have just read the match report on the official site. These are two quotes that stood out.
"Word is getting around about the goal threat this Everton team possess"
"Everton where blending finesse with force".
Now I know it's the official take on things but FFS who wrote that! Hans Christian Anderson?
Jason Leung
185
Posted 02/09/2018 at 03:38:51
I think the positive to take is that we are showing some signs of attacking intent, even if is a poor attempt, at least we are attacking.
As people are saying, when Gomes, Bernard and even Mina are in the squad, we will see a massive increase in quality because, as hard as it is to say, Davies and for me Calvert-Lewin just aren't good enough. Hopefully they are back after the break!
John Boon
186
Posted 02/09/2018 at 05:17:54
Yes. We were abysmal and by all the posts there is little to be optimistic about.
We played badly against a poor Premier League team. I agree with all the negative responses but I still see a glimmer of light. Our two new players did not disgrace themselves. We still have new players to come in.
We have a manager who is still finding out about his players. Other teams, even the best, will have bad days. I still feel so relieved that Senile Sam has gone. We have to believe that better times are to come. Evertonians NEVER give up.
Robin Cannon
187
Posted 02/09/2018 at 05:23:34
I'm not reading too much into it.
We played badly. As teams sometimes do. Especially teams under new management and making changes.
We played badly while trying to push forward. We played badly while making attempts on goal (the "badly" part is why all those attempts were off target). We played badly while trying to play football and to win the game.
I can accept playing badly occasionally when it's playing badly while trying, by and large, to do the right things.
Jim Harrison
188
Posted 02/09/2018 at 05:24:58
For me the midfield is still the big issue. We need a dominant unit in there. We are too soft through the middle. Tom Davies did alright, but faded. Morgan wasn't bad, just doesn't dictate play.
I doesn't help that by the end of the game we were without our first choice wise attacking played either. Calvert-Lewin gave a decent account of himself out of position but is better through the middle. Lookman did little to suggest he deserves a starting place.
Positive about Zouma and Digne though. Both played well.
Jay Wood
[BRZ]
189
Posted 02/09/2018 at 05:36:59
From the BBC match report, for those wanting to see less of Calvert-Lewin:
"Since the start of last season, Dominic Calvert-Lewin has been directly involved in more goals for Everton in all competitions than any other player (11 goals, six assists)."
Phtt! Who needs a player who offers so much in terms of the game's most precious commodity: goals.
Dave Lynch
190
Posted 02/09/2018 at 05:59:17
11 goals and six assists... In a season and a bit!
Right little Marco Van Basten.
Jay Wood
[BRZ]
191
Posted 02/09/2018 at 06:16:01
Chose to ignore the bit about no other Everton player matches his contribution in the game's most precious commodity then, Dave – goals...?
Who needs 'em, eh?
Victor Yu
192
Posted 02/09/2018 at 06:17:58
Tom Davies did alright? Are you serious?
No wonder Koeman tried him at right-back. Maybe that is his position after all.
Gary Gibson
193
Posted 02/09/2018 at 06:21:03
I took a friend of mine to the match yesterday. He's a Stoke fan but he likes to see us do well. He said that he was shocked at how vitriolic and negative the atmosphere was. I hadn't noticed it myself, but I suppose I've become inured to it.
In the 1980s, we fans were like the 12th man. Not anymore.
Dave Lynch
194
Posted 02/09/2018 at 06:32:49
Jay.
I'd love to know how many of those goals where in the Premier League, I'll bet half of them where against lower opposition in cup competitions.
Jerome Shields
195
Posted 02/09/2018 at 06:32:57
Calvert-Lewin is the only forward Everton have got at the moment who is scoring goals. He is also the only one likely to be on target; Tosun has not had a shot on target in four games.
On MotD, it was shown that Silva's teams have a weakness regarding set-pieces. During the week in training, set-piece problems where not addressed, having conceded two goals in previous games from set pieces. I hope Silva was watching his stats on MotD.
He also has a problem with how his centre-forward is playing, since tactically it's allowed both Bournemouth and Huddersfield to play a higher defensive line and compress middle field and at times overrun it.
Both these problems are coaching problems and need to be addressed by the Coach.
Tom Dodds
196
Posted 02/09/2018 at 06:41:46
You're spot on, Gary @193.
I'm in the Upper Bullens and with the exception of a few 'old sweats' the majority of the crowd seem actually embarrassed to join in (with the Gwladys Street, of course).
And on that thought, has anyone else from there noticed the same?
Amit Vithlani
197
Posted 02/09/2018 at 07:06:33
"11 goals and six assists... In a season and a bit!
Right little Marco Van Basten."
Indeed Dave. Because you will, of course, be able to tell us which other striker we have who can compare to Marco van Basten.
Is it the duo of centre forwards who cost us £40M, who also played the same opposition you deride Calvert-Lewin for?
You will also of course be able to point me in direction of centre-forward back-ups – which is what Calvert-Lewin undoubtedly is – at other clubs who have a record comparable to the great Dutchman. Giroud? Lacazette? Janssen? Solanke? Sturridge?
You will also remind us the numerous times the Dutchman played as a wide player or, heck even wing back (and I attended that game against Stoke, where Calvert-Lewin produced an assist for Rooney, despite Koeman unbelievably playing him at right wingback).
Calvert-Lewin is doing a fine job for us when called upon to do so. He is not Van Basten and no-one is pretending he is, but he does contribute on a regular basis when brought on. We are being let down by a whole host of more experienced pros brought in at great cost to who he is a back-up.
I do not know if he will go on to play for England and become an Everton great but I do know that I am glad we have him, and I am glad we shipped out Bolasie, Vlasic and Ramirez who would have done less for us.
I also have things in perspective, unlike you. The club will (a) not likely ever be able to afford a Marco Van Basten in their ranks; (b) spent the last window addressing the weaknesses at left-back, centre-back, and lack of pace in the forward line... so we did not get a goal scorer; (c) trimmed the squad; and (d) will need a few windows to address the problem areas in central midfield and lack of goals from the centre-forward position.
Until then, Calvert-Lewin, Niasse, Tosun, Richan, Walcott anrlisod Lookman are our options and, with no Richarlison, Calvert-Lewin and Walcott are the form players.
So, personally, I am glad we have him even if he doesn't reach your exacting standards of the forwards we should have (ie, must be comparable to the Dutch Legend, and one of the greatest No 9s of the last 35 years).
Dave Lynch
198
Posted 02/09/2018 at 07:14:39
Amit.
Cut it any way you want, buddy, his goals-per-game ratio is appalling for a striker, as, granted are the others we have.
Do we blame the coaching and management team? Damn fucking right we do... but he is still not Premier League class by any stretch. If he was, he would be playing for one of the top 4.
Because that's the Everton way... aka Lukaku.
Amit Vithlani
199
Posted 02/09/2018 at 07:23:24
"Do we blame the coaching and management team? Damn fucking right we do... but he is still not Premier League class by any stretch, if he was he would be playing for one of the top 4.
Because that's the Everton way... aka Lukaku."
Dave, you are having an argument with yourself there and I suggest you do so with the curtains drawn and well away from any sharp objects. Meanwhile, I am sure the club and Calvert-Lewin will be quietly satisfied that they have a good young pro who has done fine when played in several positions (left-wing yesterday) which might have affected the goal record you deride.
Tony Abrahams
200
Posted 02/09/2018 at 07:39:32
Andy Meighan, I'm sorry I never took a look at myself last night mate, because I never read your post until this morning.
Funny because I was laughing at you during the live forum last week mate, and then Sigurdsson made the two goals. (Was I bullying you with your trash?)
The only imposter I see in an Everton shirt is Schneiderlin, but I hope you are right and Silva gets it right eventually, even though I haven't got a clue why you go on about going the match for 50 years though Andy?
Sam Hoare
201
Posted 02/09/2018 at 08:16:40
Dave @198, "Damn fucking right we do,.. but he is still not Premier League class by any stretch; if he was, he would be playing for one of the top 4."
Errr... don't you mean top 4 class then? Or Champions League class?
People keep saying the likes of Davies and Calvert-Lewin are not 'Premier League class' even though they play and have played a fair bit... in the Premier League!
Symptomatic of the strange desire in some to put our youngsters down more than they deserve.
Gary Edwards
202
Posted 02/09/2018 at 08:19:24
Re: the atmosphere at Goodison Park, if I was the man making the decisions at EFC, I'd find ways to create an atmosphere through acoustics or e atmoeven 'pipe in' a positivsphere.
Similarly, I would muffle the noise coming from the away fans.
Joe Blow will rarely initiate a chant / song but he'll gladly join in, what most need is a bit of encouragement so provide that stimulus. You never know... you may hear a noise from the Main Stand.
As for performances vs Huddersfield. Digne and Zouma impressed, Davies didn't, nor did Seamus; the right side didn't provide much at all. I think Calvert-Lewin should be given the nod down the middle (faster and more powerful than Tosun). Slightly baffling subs too.
Jakub Kollar
203
Posted 02/09/2018 at 08:35:49
Dave,
"...he is still not Premier League class by any stretch; if he was, he would be playing for one of the top 4."
So basically only players from top 4 clubs are Premier League class. What class are the rest?
Shouldn't only top 4 (whatever that is) play in the Premier League?
I'm just trying to understand.
John G Davies
204
Posted 02/09/2018 at 08:47:01
Andy Meighan @120,
Don't want to stick my nose in but it has to be said. Dave and Tony Abrahams, Steve Ferns are very fair-minded posters on ToffeeWeb.
I have never seen them use a personal insult on here. They don't force their opinion on anyone, or get riled if you don't agree with them.
Unfair of you to suggest otherwise.
Dave Abrahams
205
Posted 02/09/2018 at 09:07:20
Andy (#120), sorry just read your post this morning, busy last night. If you read my post at (#110) it might give you reason to think again over your post.
I love Everton as much as yourself but when they play badly I let my feelings out. I think everyone who was at the game yesterday was frustrated and agitated so I understand if you were the same as me.
Steve Cotton
206
Posted 02/09/2018 at 09:10:39
If he is going to persevere with the zonal system, how about not leaving Tom Davies as the sole marker in the middle of the 6-yard box against two 6'-2" attackers?
Or, failing that, we need to win the first ball which we haven't done on at least 8 occasions so far... recipe for disaster and you can bet other teams are planning to exploit it against us.
Alan J Thompson
207
Posted 02/09/2018 at 09:17:28
It seems to me that Silva had problems at Watford with defending and he has brought that with him. It also seems that he wants the players to change to fit the system rather than using their strengths within the/a system. Perhaps he needs to show more flexibility.
Coleman no longer tries to overlap past the opposition defence and it has been suggested that Silva wants him more aware of helping out the central defence rather than getting forward. Schneiderlin's game doesn't seem to have changed but both he and Davies, again, seem to have been told to play further back rather than getting forward in support. Tosun's work rate has increased but seems to be at the expense of getting into scoring positions.
Hopefully, in time, Silva (or those players presently unavailable for selection) will show that he is capable of either more flexibility and/or sorting out our obvious problems but should it continue then perhaps Mr Brands might like to invite him out for dinner and a chat one night. And it goes without saying, we all hope he gets it right.
Stephen Bird
208
Posted 02/09/2018 at 09:31:59
John G #204
John as ever you are spot on, Steve, Darren and Dave are prolific contributors. Their visibility will always attract detractors but I'm sure when they put their considered and articulate views forward they are not expecting everyone to bow down and agree with them.
Darren has the most direct style of prose, he doesn't mince his words, but his content always has substance and will always develop the thread positively, the very reason why these forums are a fantastic read.
I have locked horns with Darren before, considered offering him a straight fight in Stanley Park but instead chose to find ways of articulating my views back to him!
All contributors great or small play a great role in making ToffeeWeb forums the great read they are. More power to your arm, one and all!
Mike Gwyer
209
Posted 02/09/2018 at 10:00:44
Seems to be a lot posters pulling up other posters with the mantra of "I know far, far more about how Everton play footy than you do".
We all watch the game and we all see things differently, it allows for a good conversation and many points but never an agenda of hey, "I'm mister know-it-all".
For me, we were a tad unlucky yesterday but we need to win more of the ball in the second phase. Huddersfield seemed to be far quicker at regrouping once they had cleared the ball.
We all get pissed when the blues lose, but now we are getting pissed when we draw with teams who park the bus and we are playing with around 6 first team players out injured or suspended. What can Silva do? We have limited options as to who plays out wide and very limited options as to who plays in the middle; with injuries, we are back to putting round pegs into square holes, which in the Premier League, is a struggle.
The worst thing though; it will be on every team's agenda to attack our defence from set pieces, Wagner said this post match. We have got to sort out this zonal marking shit.
Karl Meighan
210
Posted 02/09/2018 at 10:07:35
Surely, if were struggling to break down stubborn defensive sides, instead of constantly trying to thread the needle, which we don't have the players able to do anyway, let's get the ball out wide and put crosses into the opponent's box. The 3 or 4 crosses we put into the box resulted in a goal and the only other times we looked likely to open up Huddersfield.
I thought Zouma had an encouraging debut although he wasn't really tested. Coleman's final ball has always been poor imo but his other qualities have covered it. I ain't worried about Seamus – all players suffer from dips in form – the key is not letting it drag on too long.
Davies and Calvert-Lewin should have been sent on loan to Championship sides to help toughen them up and ready them for the step up. I don't see either of them being good enough but, at least if they were sent out on loan for the season, we would almost certainly have more answers about being good enough for Everton FC.
I don't think we should be too hard on Tosun the service to him was awful. Huddersfield won't be the only team to come and park the bus but we have to be smarter in dealing with these teams.
Christy Ring
211
Posted 02/09/2018 at 10:37:30
Andy @120,
We're all hurting after yesterday's shambolic performance, as true blues fans. I have to say, your comments on Steve, Darren, Dave and Tony are completely wrong. I love reading their immense and knowledgeable comments here on this forum, and they have never insulted anyone, or forced their opinion on anyone, and to suggest otherwise is completely wrong.
Eddie Dunn
212
Posted 02/09/2018 at 10:42:46
One aspect of the play in recent games has been Coleman's poor form. He has underhit or overhit his crosses and had a sequence of poor touches in one game. However, would I be correct in thinking that Walcott is not the easiest player to interact with?
Although Walcott has been lively of late, I can recall quite a few occasions where he has got in Seamus's way, or taken the ball off him or Davies, when they have looked in a better position to put in a cross.
Just wondered if anyone else has noticed?
Terry Farrell
214
Posted 02/09/2018 at 10:52:19
Corners against. Everton have both full-backs on the posts inside. Fast player on half-way line. The opposition has to leave 2 men on half-way line plus corner taker. This leaves 7 men we mark with our 7 men. Old school, I know, but it works.
It amazes me how many goals are headed up to 1 m inside the post with no-one there to clear it when a man on the post mops up, eg, Harry Kane against Man Utd... and us every game! I've yet to hear a plausible reason for not doing this.
Brian Porter
215
Posted 02/09/2018 at 10:53:18
Karl (#210),
Sorry, but I must disagree with you re Davies and Calvert-Lewin. Tom Davies is now in his third season as a member of the first team squad, and you won't find many players in his situation being sent out on loan nowadays, especially as Silva showed his faith in him by making him captain against Rotherham.
As for Calvert-Lewin, three goals in a week isn't a bad return from a player you don't think is good enough to be part of the first team. He is probably the only back-up we have for Tosun who despite his hard work so far this season, remains goalless. Calvert-Lewin will improve more by regular appearances for us than by spending a season on loan in the Championship or elsewhere.
Who do you think would be a suitable back-up if Tosun gets injured or loses his form? I think we all know Oumar is best as an impact sub rather than a starter so your idea would leave us woefully short in the striker department.
Jay Harris
216
Posted 02/09/2018 at 11:01:50
Terry,
Sorry, mate, but the opposition have 10 outfield players – the same as us – that leaves one player unmarked in your system which is exactly the problem we're having with Silva's system.
For me, defending balls into the box should be easy. We should be first to the ball or, if we're going to be outjumped, put enough pressure on the man so he can't get a decent touch on the ball.
It's as simple as that, whether its zonal or man-to-man.
Our problem is we have players who lose concentration.
Andy Williams
217
Posted 02/09/2018 at 11:09:12
Karl. I think that was the major problem yesterday – the width. They were obviously intent on stifling it and Calvert-Lewin (who I do think is good enough for the Premier League as a backup striker) is not a winger.
I think Charlie would have made a massive difference yesterday. Not only being able to unlock them and get behind them but also giving other players space. And I think that therein lies the answer to the unbelievably premature criticism of Silva. He bought Charlie because he knows that he is the kind of player to do that.
Huddersfield are on a survival footing from the start and they really frustrate many home teams. We were poor but, unlike many here, I will reserve any real judgement of Silva until his acquisitions are playing and the defence is settled and has had a proper chance to assimilate his tactics. It was only a few games ago that Blackburn were putting 3 past us.
Chris Gould
218
Posted 02/09/2018 at 11:25:26
I don't think Silva deserves criticism for the starting 11. Who else could he pick?
Apart from Zouma, none of these players are his buys. Zouma was our best player. Richarlison was badly missed.
Bernard will hopefully get up to speed quickly, and I'm hoping Gomes gets fit and brings some much needed quality into central midfield. Digne and Mina will complement Zouma. Suddenly the team will look more like Silva's team, and hopefully they're players brought in because of their understanding of zonal marking and the attacking opportunities it can bring.
There will be no place for Davies or Calvert-Lewin, but I think Calvert-Lewin deserves a place on the bench and can see him deputising well for Tosun. I also have high hopes for Holgate. Dowell should go back out on loan.
I still have high hopes for an exciting season.
Frank Crewe
219
Posted 02/09/2018 at 11:33:42
We are basically still playing with the side that finished last season and it still has the same problems. Players out of position, shot shy and a leaky defence. Well now we have two weeks to finally get the players we signed weeks ago fit. There used to be a time when players just got on with it... but now, every ache and pain and piddling knock means they don't play.
Hopefully Mina, Bernard, and Gomes will finally be fit enough to play and along, with Digne, Zouma, and Richarlison over his suspension, we can at last see changes for the better and things will improve.
We all hoped with the run of relatively easier fixtures and all the new signings, we would have more points on the board than we actually have. But we are 7th and still unbeaten, even after playing most of two games with 10 men, and we still haven't seen our strongest side on the park.
So things are not as bad as some would have us believe. If things carry on like this when all our players are fit, including the new signings, then we can start to worry.

John G Davies
220
Posted 02/09/2018 at 11:38:24
Chris, Frank.
Very sensible comments. The calamity of last season can't be corrected in the short period Silva has been in charge.
Terry Farrell
222
Posted 02/09/2018 at 11:59:01
Jay,
Putting 2 on post and 1 on half-way leaves 7. 1 taking corner and 2 on half-way leaves 7. The other problem with zonal is a standing jump versus a player on the move.
Geoff Lambert
223
Posted 02/09/2018 at 12:00:48
Dave (#198), will have to agree with you on that one, mate. Spot on.
Mark McParlan
224
Posted 02/09/2018 at 12:02:10
Can't believe the things I'm reading about Calvert-Lewin here. He is a young, enthusiastic, English player who, when called upon, constantly delivers the goods. He always works hard, tries his best, gives it all for the team. I saw him tracking back and trying to help out Digne on that left-hand side a lot yesterday.
He had that last season too, but the issue was some really poor finishing. Well, in the space of 4 days, Dominic has finished 3 chances very well and been rewarded with 3 goals. Very expensive, and ageing foreign players like Tosun meanwhile a never going to score in a million years.
Then I come onto ToffeeWeb, expecting to see praise for the young lad saving us a point. But no. Of course not. There's a horrible section of our fanbase who love nothing more than to berate and attack young English players. Very negative people who clearly take some twisted pleasure from this.
"Apparently Premier League standard". WTF? He is objectively the best striker in our team. Since the start of last season, he has 11 goals and 6 assists – not a single other player to pull on the Everton shirt in that time has managed that. Not one.
Sorry he isn't Marco Van fucking Basten! Dominic is coming along just fine. He's a player who scored goals and created assists, wins penalties (Lovren at Anfield last season, remember). The last player in the team that should be getting criticised here. Leave him be.
Edit: I refresh the page, and I see others calling for him to be loaned to the Championship. Jesus wept.
Stan Schofield
225
Posted 02/09/2018 at 12:06:21
Each new signing who has played has made a noticeable difference. As such, every reason to anticipate that the new signings who haven't yet played will also make a noticeable difference when they do play. Therefore, we can expect to get consistently noticeably better when we're at 'full strength' or 'nearly full strength' where we're not as depleted as at present.
Brian Harrison
226
Posted 02/09/2018 at 12:09:31
Well, a really poor result and an equally poor performance, nothing like how we have played under Silva in the first 3 league games. That was more a performance we witnessed under Allardyce and Koeman.
Let's start with the positives and yes there were a couple: Digne was my MotM, closely followed by Zouma. Both players brought in by Brands and Silva and we have already seen the impact that Richarlison has had. So the new players we have seen look a big improvement; if Mina, Gomes and Bernard are of the same quality, then we will have something to get excited about.
Yesterday was a team that 9 had been there last season, and sadly they performed as they did last season. I am really concerned that Seamus since that awful leg break seems to have lost a yard of pace, which was one of his strengths. I noticed against Southampton how he struggled defensively and the same yesterday. Let's hope he can in the coming weeks regain that lost pace, though with such a bad injury, I am not optimistic.
The midfield without Gana lacked that intensity he brings, and our midfield with Schneiderlin and Davies playing together just isn't strong enough. Hopefully Gomes and Bernard will add extra guile when fit.
My main worry has to be up front, that's 3 consecutive managers who have played Calvert-Lewin wide left – he is never a wide player. His goal was from a centre-forward's position on the 6-yard box, a nice glancing header from a smashing cross from Digne. Sadly, Walcott was not at his best yesterday and Huddersfield decided with no Richarlison he was the main threat and effectively double-marked him. Again, that just highlights what Richarlison brings to this team.
Finally to Cenk Tosun, lovely guy and he has embraced everything about the club since he arrived. He works hard but there are loads of guys who work hard, but a forward's stock is always judged by the number of goals he scores. I feel he has too many deficiencies to make him into the striker we need.
He lacks pace so you can't play the ball down the channels as the defender will always beat him to it. For the same reason, you can't play the ball over the top for him to chase. And yesterday quite often when we played the ball into his feet the defender beat him to it. I agree he has some nice touches when he gets on the ball, but you need more than that to play in a team trying to break into the top 6.
Finally, I would just say to my fellow match goers when was it okay to boo changes made by Silva 4 games into his tenure, and follow that with a section booing the players off at the end? Now I know like me they are entitled to do whatever they want – they pay their money. But we are supposed to be supporters and, believe me, we have got enough pundits willing to knock our team. As supporters, we are supposed to have an emotional attachment to the club — do we really think booing adds anything positive to that attachment? Whatever we think of the performance, there was no lack of effort or determination from the players.
I can understand the frustration at not winning a game we expected to win in a canter, I feel exactly the same. But we do need to try and change the atmosphere in Goodison Park. I have to say I have been going since 1956 and, apart from the cushion throwers in the 70s, the atmosphere is as bad as I can remember.

Stan Schofield
227
Posted 02/09/2018 at 12:17:12
Mark @224: Spot on regarding Calvert-Lewin. Also, it's one thing for a young player to be criticised on an online forum, but quite another if they're berated at the match, such as in the case of Davies.
I've never liked this, back from when I was a kid and remember even the great Alan Ball (and a bit later even Howard Kendall, even though he'd pretty much single-handedly kept us in the 1st Division) being barracked by individuals in the crowd.
Apart from anything else, it seems illogical, since it's not going to make the player improve, and is likely to put him further off his game.
John Raftery
228
Posted 02/09/2018 at 12:39:52
Tony (177) You are absolutely correct that our problems were never about the coaching. It was about the players.
Brian (226) Agreed, I can recall crowds of 13,000 in the eighties giving far more vocal encouragement than the full houses we have had in the past couple of seasons. We are shamed by the fans of other clubs: Crystal Palace, Huddersfield, Brighton, Spurs at White Hart Lane, Wolves, Bournemouth and Leicester are examples of teams which enjoy strong vocal support despite some of those clubs struggling at times.
I believe the atmosphere once the game kicks off is not helped by the excruciating din from the speakers both pre-match and during half-time. I imagine some people quite enjoy a bit of peace and quiet after having their ears bashed.
Victor Yu
229
Posted 02/09/2018 at 12:42:28
I think managers play Calvert-Lewin out wide because he is not strong at holding up the ball. To me, he is not a wide player and won't be effective as a lone striker. Until he gets strong and starts to hold up the ball better, I don't see any role suitable for him.
Again, a season out on loan would have been better for his development. We should have kept Mirallas and send Calvert-Lewin out on loan instead.
Geoff Lambert
230
Posted 02/09/2018 at 12:43:04
Mark 224 "who when called upon constantly delivers the goods."
You are joking ?
The past four Everton managers have had the chance to play him as the Number 9 but, for some reason, didn't Can you figure out why?
I do think it's a bit unfair playing him out wide all the time but that's only when we have a shortage in that position.
I think our front line is as toothless a front line that I have seen for many years. Tosun, Calvert-Lewin and Niasse would struggle to get into the starting 11 at most bottom-half Premier League teams.
We need a goal scorer in January or we will sink even lower than we where last season.
Christy Ring
231
Posted 02/09/2018 at 13:46:50
We're still lacking a top striker, but Calvert-Lewin is more a target man than Tosun, so why not try playing them together upfront?
Steve Ferns
232
Posted 02/09/2018 at 13:48:42
Because doing so would mean dropping Gylfi and pushing the wingers back into midfield, where Walcott is terrible, and stop the full backs from getting forwards. It would also mean relying on the central midfielders to be creative.
Christy Ring
233
Posted 02/09/2018 at 14:12:57
Steve, it's 4-4-2, with 2 wingers out wide, and our fullbacks can overlap. Yesterday, we created 1 chance against Huddersfield.
John G Davies
234
Posted 02/09/2018 at 14:17:33
Who would be your midfield four in that set-up, Christy?
Steve Ferns
235
Posted 02/09/2018 at 14:19:37
That's more of an old-fashioned 4-2-4 and we went that way after Niasse came on, but we couldn't create anything to really get a golden opportunity.
I don't know why Baines came on. We should have gone with Dowell for Davies and tried to create more as Huddersfield sat further and further back. He's also capable of shooting from outside the box.
Paul Tran
236
Posted 02/09/2018 at 14:24:53
The one thing I've enjoyed this season has been the sense of purpose the team has shown. That wasn't there yesterday. As a 'far away boy' watching on my laptop, I got the sense that none of those players believed we were going to win that game.
That's what disappointed me yesterday.
Still, only four games in with better players to come in, or back. I want that purpose back against West Ham, though.
Christy Ring
237
Posted 02/09/2018 at 14:38:46
Agree Steve, Dowell should have been brought on, he's a more creative player.
John, regarding my midfield, we had Calvert-Lewin playing on the left yesterday, he's not a winger, he's a target man, against Huddersfield we should have put him beside Tosun. I know when Richarlison returns, we can play Tosun as the lone striker, because he can drift in from the wing.
John G Davies
238
Posted 02/09/2018 at 15:01:50
Afternoon Paul,
I agree, that was missing yesterday. Good day for us gambling wise though, by way of compensation. This Too Darn Hot has a good chance of winning a classic.

Brent Stephens
239
Posted 02/09/2018 at 15:20:14
I was also hoping that Dowell would be the one to come on for his creativity. A risk given his inexperience but Silva obviously sees things in his game. The lad has awareness and an eye for a killer pass – just what we needed against two banks of 5 and 4, working closely together.
Paul Tran
243
Posted 02/09/2018 at 17:49:19
Yes John, looks like a classic winner in the making if she trains on. And a master ride by David Allan to get Take Cover to the rail from stall 9.
Now, if only we can get these injured players back quickly and Silva gets them all to concentrate and attack the ball when we defend set pieces.
Paul Tran
245
Posted 02/09/2018 at 18:16:24
Yes, John, of course he's a colt. There'll be no golden scissors for him!
Paul Tran
247
Posted 02/09/2018 at 19:50:01
He'll be more pleased with his career after racing, John. That's when he'll realise what it's for.
Steve Huyton
249
Posted 02/09/2018 at 20:37:35
I am surprised at how little comment has been made about the substitutions yesterday.
Clearly, Walcott was injured and a change had to be made. Lookman looked rusty but it seemed the right move. However, I don't really see what is to be gained by switching left backs.
If Baines was brought on because he is seen as better going forward, then he should have started against a team who were predictably very defensive. We were clearly lacking creativity so why not bring on Dowell?
I understand Niasse coming on. That is why he is still in the squad but Dowell and Niasse for Davies and Calvert-Lewin with Sigurdsson pulling out to the left would have made more sense to me.
Andy Crooks
250
Posted 02/09/2018 at 20:49:21
John G, you are the main purveyor of yellow symbols and threats don't appear to bother you. So, I will bribe you. Next years Derby winner did not run yesterday. Stop the smiley symbols, join with me in having them banned, and I will tell you the 2019 Derby winner. If you are zealous enough, I will put a tenner on it for you!!
Clive Rogers
251
Posted 02/09/2018 at 21:02:19
Steve, #249, Sigurdsson was very poor yesterday in his best position supposedly. So there would be no gain in moving him to wide left where he struggled for so long under Koeman.
I feel Silva is losing faith in him and won't be surprised to see him lose his place when our signings are fit. In truth, he has been an average player for us, including dead-ball situations.
Andrew Wayne
252
Posted 02/09/2018 at 21:39:38
A certain lack of perspective in a number of the comments. I was at Goodison Park yesterday and whilst I agree the outcome was disappointing, compared to last season and before, I don't think it was anywhere near as bad as is being painted. We should have beaten a poor Huddersfield but at least looked as though we could.
It is very early days in what promises to be a proper resurgence compared to the Dutch halfwit and the Spanish fraud's time in charge. We had 8 players out and have Mina, Bernard and Gomes to come in yet. After 3-4 seasons of dreading going the game there is an optimism about that was unthinkable last season.
For goodness sake, there needs to be some giving their heads a wobble. A 7-8th finish in a first season and a good cup run (possibly a trophy) would be a huge improvement. Finally, I am glad to have bought my season tickets for me and the missus, who got the point where she didn't want to go.
Phil Lewis
253
Posted 03/09/2018 at 02:02:08
I believe that those people who are jumping to conclusions at such an early stage of the season, regarding both or playing squad and the new managerial set-up, are being both unrealistic and unfair with their premature criticism.
In spite of witnessing a massive shake-up at the club in all areas, we are undoubtedly heading in the right direction. However, do not expect everything to fall into place overnight. We have a young squad, so the experience of Coleman, Baines, Jagielka, Walcott and other senior players will prove invaluable both on match day and on the training ground.
It is folly to write off players at this time. We have a long season ahead. At last, the squad has rightly been pruned but, make no mistake, we will be needing all of the remaining players at our disposal for the coming campaign.
Patience is the keyword. Yes, we have waited and been starved of silverware for far too long, but I honestly believe that we are on the verge of building something special at Goodison Park — exciting, entertaining and successful.I have faith in Marco Silva. Let us pass judgement when all of his signings are fit and have been given sufficient playing time to adjust to the Premier League.
I would have liked Dowell to have played at least a part of Saturday's game; I have to confess to not seeing much of him as yet. But it was plain for all to see that creatively we lacked... perhaps he could have provided the spark to win the game. Hopefully, like others on the first team fringe, his time will no doubt come.
I'm glad Lookman stayed with the club, he has massive potential. Calvert-Lewin will develop into a first class centre forward. Older fans will recall that even the mighty Graeme Sharpe took 2-3 seasons after his arrival at the club to establish himself in the first team. These are intelligent skilful players, but please realise that they are only developing young boys, still learning their trade. The future looks brighter than it has done for an awful long time.
Some people are saying that we should have accumulated more points from the games played so far. Maybe so, but the fact is that even the very top teams will all drop points to lesser opposition. That's football. Remember last season when the magnificent Man City dropped points to a truly dreadful EFC!
I'm confident of a top six finish and good cup runs. The future is looking 'Shining-Silva-Ware'!
Victor Yu
254
Posted 03/09/2018 at 02:26:36
I think Digne was not fully fit and couldn't last the whole 90. That's why we made the change.
John G Davies
255
Posted 03/09/2018 at 05:23:12
😎 Cool Andy.
All gambling advice will be considered.
John G Davies
256
Posted 03/09/2018 at 09:23:48
Only joking, Andy.
You seem a decent lad. If it annoys you that much, I will leave it out.
Andy Crooks
257
Posted 03/09/2018 at 11:00:30
Just joking, John. Keep them coming.
Tony Everan
258
Posted 03/09/2018 at 11:01:26
To win away, the best weapon is pace, Walcott and Richarlison are great weapons.
To win at home against lesser, bus-parking teams, we need guile and creativity, like David Silva or Eden Hazard. On Saturday, we had none of it. Not even close.
We missed Richarlison's pace and directness. Nobody committed a Huddersfield defender hardly all match.
We will win matches at home through sheer endeavour, but the sooner Bernard (or Gomes) can influence this type of match, the better.
Soren Moyer
260
Posted 03/09/2018 at 13:45:30
There is absolutely no way any team can get into top 6 with players like Davies, Schneiderlin, Tosun, Gana or even Coleman in his current form!
Steve Ferns
261
Posted 03/09/2018 at 14:08:24
Soren, is that really the aim for this season?
Surely, the aim in a transitional season is to lay the foundations to enable us to build towards that? So we would want to maintain last season's 8th and try to reclaim 7th. We can do this with the squad we have now, and probably without the new signings.
If we can close the gap enough on the top 5, and Arsenal stutter enough, then maybe we can overtake them with a bucket-load of luck.
Soren Moyer
262
Posted 03/09/2018 at 14:56:52
Hi Steve. Hope you are doing well buddy. That was meant for those who think or expect we should finish this season as a top 6 team.
Steve Barr
263
Posted 03/09/2018 at 15:16:52
Steve @ #261,
I'm still concerned we'll be able to maintain last season's "foundations" of a 7th or 8th finish. I say that based on what I see as "mental strength" issues rather than playing ability. I believe we now have better players than last season but so do the other mid-table teams we will be up against.
I know it's early days, but based on what I've seen of Watford for example, we'll struggle to match teams like that, both mentally and physically for that matter!
Gary Russell
264
Posted 03/09/2018 at 15:20:36
Ste @ 263, 4 games in, I'd say it's a tad premature to make any conclusions on how the season will pan out for any Premier League team. 'Tis a long old slog.
John G Davies
265
Posted 03/09/2018 at 15:50:09
Steve @263,
I would have a decent wager we finish above Watford.
Steve Barr
266
Posted 03/09/2018 at 15:56:50
John, I hope our new signings, once settled in, will give us the quality and mental strength we need to finish 7th or 8th.
However, can you remember when we last came back to win from being 1 down against a team of Tottenham's calibre? We never looked like doing it against Huddersfield yesterday, hence my concern and negativity at this stage!
John G Davies
267
Posted 03/09/2018 at 15:59:53
I understand, Steve, early days though, mate. Watford showed tremendous spirit yesterday so I can see where you are coming from.
Dave Abrahams
268
Posted 03/09/2018 at 16:08:28
Steve (266), I understand what you are saying and agree with the thought, but I think we did it against Arsenal the season before last, when Williams scored the winner.
Steve Barr
269
Posted 03/09/2018 at 16:37:02
Dave,
Other than that, what have the Romans ever done for us?!
Fran Mitchell
270
Posted 03/09/2018 at 16:42:12
My main conclusion so far: we didn't half miss out on a player in that Maddison lad. Imagine him in Sigurdsson's position...
Chris Gould
274
Posted 03/09/2018 at 19:13:05
Fran 270, he looks a fantastic talent. I was excited when we were reportedly in for him in the summer. Apparently he wanted to stay close to home so not blaming the club for not getting him. He's destined for big things.
Alan McGuffog
276
Posted 03/09/2018 at 19:40:17
Do we play the Hammers next? That's good because they've lost all four. So we are bound to get three points. No?
Bill Gienapp
277
Posted 03/09/2018 at 20:41:05
I avoided this thread for a few days because I knew it would be a total shitshow, and I wasn't disappointed.
Look, it was a poor performance. No one disputes that. And it was a disappointing one, given that we should absolutely be taking a full three points at home against Huddersfield, no questions asked.
But here's a radical thought - there are no sweeping, season-defining conclusions to be drawn from this one match. Just as, in spite of what some would have you believe, there are no definitive statements to be made about the Silva era, or the squad itself, or even any particular player, on the basis of this one match.
Also - those who are now acting like the transfer window was some sort of farce because Bernard, Mina and Gomes have missed the first few games of the season? Seriously? Give me a freakin' break here.
Derek Taylor
278
Posted 03/09/2018 at 22:04:39
Bill, it was crap!
Jack Convery
279
Posted 03/09/2018 at 22:51:00
The reason EFC fans boo is simple – they take too much notice of what goes on over in Mordor. They forget Klopp has been in charge for 3½ seasons and spent millions on class players - Mane, Van Dijk, Salah etc. We are just beginning (again) after last seasons fuck-up. That has nothing do do with Silva or Brands. You cannot make a silk purse from a sow's ear. We must be patient and give the new regime our full support.
Playing in a stadium that's more like a morgue with lots of ghouls just ready to scream and shout at every mistake must make some of the players more than a bit nervous and edgy. The atmosphere was much better v Rotherham. I just wish we were playing WHU in a night match as the atmosphere is usually so much more positive before kick off.
On Saturday, my impression is that everyone sat back and just expected EFC to turn over Huddersfield – football's not like that until you have built a team over a number of seasons that terrifies teams like Huddersfield before they step out on to the pitch. It's what Man City have to a certain extent and what Liverpool are developing. We are beginning this process and I for one believe that this time it is going to come good. Three transfer windows should suffice and a good solid couple of seasons developing the team and how it plays.
Even Howard Kendall didn't get it right for a while and he was nearly pushed out the door by the impatience of the mob – thank god for Phillip Carter (RIP). I have faith and patience and so must those who want success so badly, just as I do. COYBs
Jack Convery
280
Posted 03/09/2018 at 22:55:46
Seri is the player we missed out on – Maddison is good but Seri is the real deal now and what a steal Fulham got. He'll be with a bigger London club next season – no doubt about it.
Dan Davies
281
Posted 04/09/2018 at 00:22:47
Well said, Jack @ 279.
Clive Lewis
282
Posted 05/09/2018 at 00:07:40
Fair play to the udders, is that the nickname? They were in our faces for much of the match. Our passing was off as well. Zonal marking was off again.
Add Your Comments
In order to post a comment, you need to be logged in as a registered user of the site.
Or Sign up as a ToffeeWeb Member — it's free, takes just a few minutes and will allow you to post your comments on articles and Talking Points submissions across the site.
© ToffeeWeb