Richarlison bags two for Brazil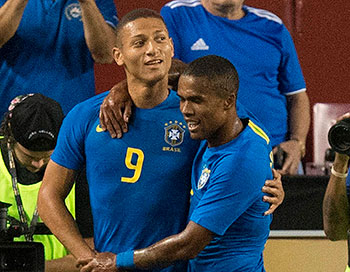 Richarlison is off the mark for Brazil's senior side
Jim Watson/AFP/Getty Images
Richarlison scored his first goals for Brazil while Antonee Robinson provided the assist for the USA's winner over Mexico this evening.
Richarlison earned only his second cap for his country's senior side but found the net twice as Brazil beat El Salvador 5-0.
Meanwhile, Robinson came on as a 55th-minute substitute for his country and it was from one of his bombing raids down the left flank that he centred for Tyler Adams to sweep home his first international goal.
Mexico had had Angel Zalvidar sent off four minutes earlier and could not find an equaliser in what ended as a 1-0 win for the States in Nashville, Tennessee.
On Monday night, Cenk Tosun was on the spot with a deft assist for Turkey, as they came back from 2-0 down to beat Sweden 3-2.
>
Jordan Pickford was rested as one of many changes Gareth Southgate made to his England selection for a friendly against Switzerland played at the King Power Stadium where Marcus Rashford scored the solitary winner.
Seamus Coleman sat out injured for Ireland with his newly-acquired foot problem while Ashley Williams was dropped for Wales. Mo Besic played in Bosnia-Herzegovina's 1-0 win over Austria.
Gylfi Sigurdsson was again helpless to prevent another embarrassing scoreline for Iceland who lost 3-0 at home to Belgium with two of the goals coming from Romelu Lukaku.
And Henry Onyekuru became a hero for Nigeria, scoring the opening goal in fine style as they beat Liberia.
---
Reader Comments (75)
Note: the following content is not moderated or vetted by the site owners at the time of submission. Comments are the responsibility of the poster. Disclaimer
Hugh Jenkins
1
Posted 11/09/2018 at 22:43:51
Andy – The way Fraser Hornby is banging 'em in for Scotland U21s I wouldn't be too worried about Calvert-Lewin's injury.
Jay Wood
[BRZ]
2
Posted 12/09/2018 at 01:39:10
GREAT start for Richarlison on his full Brazil debut!
Two minutes in, gets in behind the defence in Brazil's first attack, brought down - penalty! Neymar scores.
Fraser Hornby bagged a pair to add to his weekend hat-trick for Scotland, who won 2-1 in Holland.
Very, VERY well taken goal for the first. Watch it here:
Scroll down to a Twitter link to see the goal.
Jay Wood
[BRZ]
3
Posted 12/09/2018 at 01:47:14
RICHARLISON!!!! 2-0!!!
GREAT GOAL!!!
Brazilian commentators drooling over him!
Interestingly, AGAIN wearing the #9 shirt and AGAIN being played down the middle, rather than on the flank.
Jay Wood
[BRZ]
4
Posted 12/09/2018 at 02:41:15
Coutinho made it 3-0 at the interval.
Five minutes into the 2nd half, ball breaks to Richarlison in a crowded penalty area...BLAM! One-touch left-footed finish inside the near post. 4-0 - two for our boy...
The Brazilian commentators continue to drool.
BUT! He ain't gonna be allowed his hat-trick. Three minutes after his goal, multiple subs and Richarlison is among them. Big hug from his manager as he comes off.
Fran Mitchell
5
Posted 12/09/2018 at 03:44:03
Didn't see the game, but 3 mates of mine sent WhatsApp messages going on about the 'Menino do Everton' scoring 2 goals for Brasil.
We are on the map.
Mike Gaynes
6
Posted 12/09/2018 at 03:55:16
Antonee Robinson just laid on a beautiful assist to give the USA a 1-0 lead over Mexico. Perfect pass off an overlapping run down the left.
That's his second assist in a USA shirt. That makes him the all-time assist leader for a USA left back.
I'm kidding about that last part.
Mike Gaynes
7
Posted 12/09/2018 at 03:58:01
And moments later Robinson blew past the Mexico right back like he was standing still, and dropped a perfect cross over two defenders onto the foot of Bobby Wood.
Of course my fellow Yanks who know Bobby Wood have already guessed what happened next.
It's still 1-0.
Eugene Kearney
8
Posted 12/09/2018 at 05:46:18
Get in there!! Well done Richarlisson.
Can't wait till he's back in the Everton jersey.
Brian Porter
9
Posted 12/09/2018 at 06:29:13
Can't help wondering where we might have been if Charlie hadn't got himself suspended for three games.
Michael Kenrick
11
Posted 12/09/2018 at 07:06:46
Rick Pattinson
12
Posted 12/09/2018 at 07:26:07
This lad is special — the big boys will come sniffing around, end of this season, for sure!
Liam Reilly
13
Posted 12/09/2018 at 07:47:13
I wonder what that arse Paul Merson will say?
Brian Murray
14
Posted 12/09/2018 at 07:47:15
Rick,
I thought we were one of the Big Boys... ???
Or has Bill done a number on you as well? Time to think and act big – like Moshiri and Marcel... take note, Mr Silva.
Ian Bennett
15
Posted 12/09/2018 at 08:05:41
In time I'd like to see Richarlison played upfront as our Number 9. He has the size, pace, work rate and goal scoring ability that would worth a look.
Arnautovic, Henry, Ronaldo have all started on the wing and looked pretty good upfront.
Victor Yu
16
Posted 12/09/2018 at 08:09:58
Real Madrid's new Number 9 in 2 years?
Colin Glassar
17
Posted 12/09/2018 at 08:20:28
Liam, have some sympathy for poor old Merson. First his stupid, unnecessary, comments about Richarlison have come back to bitch slap him in the gob and now, Usmanov might be coming on board threatening Arsenal's position in the top 6.
Merson has a long history of being wrong. When it comes to Everton, long may it continue.
Jim Bennings
18
Posted 12/09/2018 at 08:26:33
Never one for the international break during the season but I can't deny that having an Everton player ripping it up for Brazil of all nations does make me proud!
We need to get this lad back ASAP from suspension.
Alan McGuffog
19
Posted 12/09/2018 at 08:31:52
If he keeps on like this, I can see Man Utd offering some magic beans and Smalling in January. Good times!
Martin Berry
20
Posted 12/09/2018 at 08:45:36
And those who said he was over-priced? Well, thank the lord we paid what we did when we did because it's not going to be the just the Premier League who is after him (Man City?), the rest of Europe, Barca etc will be too — it's inevitable.
Added to Oneyekuru's growing reputation and we are going to have some amazing striking options.
Hornby on the bench on Sunday, anyone?
Robert Leigh
21
Posted 12/09/2018 at 08:48:36
Unbelievable stuff - nice that we have some players out there putting us into the forefront of peoples minds.
Henry is looking promising too; what a collection of young forward players we will have at our disposal:
Richarlison, Henry, Calvert-Lewin, Lookman, Hornby...
Paul Birmingham
22
Posted 12/09/2018 at 08:49:07
More cause to get a song sorted for him on his return.
Steve Ferns raised the point on TW last month.
Will Mabon
23
Posted 12/09/2018 at 08:49:34
Not the definition of good times I'd have chosen, Alan.
Robert Workman
24
Posted 12/09/2018 at 08:52:04
Everton should give him the Number 9 shirt and play him as a centre-forward.
Jim Bennings
25
Posted 12/09/2018 at 08:53:15
Alan
I bloody hope not!
It would just be like Everton to sell him if he has a fantastic season and hits 18-20 goals.
The key for this club is holding on to its best players if it's ever going to be taken seriously by the top sides about breaking up that top 6 party.
Too often the pound signs have lit up our eyes and we've had our belly tickled by big noisy Manchester clubs.
Lukaku should have been told he stays until we said he goes, and with any other top players in the future that needs to be our stance.
That's why I particularly enjoyed Martinez's stance and refusal to back down to Chelsea over the Stones saga (one of Roberto's finest moments that was).
Alan McGuffog
26
Posted 12/09/2018 at 09:20:06
Jim. I agree with you. We are getting a bit ahead of ourselves here but let's be hypothetical: say he is the real deal and bangs in 20 plus goals this season. The media will start demanding that he DESERVES to be at one of its clubs. The reaction of Mr Moshiri will indicate what the long-term plan is. Like I said... all hypothetical.
Dave Lynch
27
Posted 12/09/2018 at 09:22:07
On the down side, I hear Saumus has fractured his foot.
Sam Hoare
28
Posted 12/09/2018 at 09:22:54
Richarlison won't be leaving soon. Unless some preposterous money is offered. He clearly loves Silva and is already getting international starts whilst at Everton.
Interesting to see him playing through the centre. Much as I like Tosun, I'm not convinced he's a top 4/6 striker. He does link play well as witnessed by his assist for Turkey.
In less encouraging international news, Lookman was fairly anonymous in his appearance for England U21s and was first to be subbed off. Hope he sorts out his head and starts playing as he can sharpish as we might well need him against West Ham.
Dave Abrahams
29
Posted 12/09/2018 at 09:22:56
Jay (3), definitely not to put a damper on Charlie's performance, but how strong are El Salvador rated?
Andy Williams
30
Posted 12/09/2018 at 09:53:52
Dave. Does it matter?
He was playing in a team with the cream of Brazil and he scored 2 corking goals out of 5 and won a penalty for another.
Man of the Match, and Neymar doing Charlie's pigeon dance with him. Everton talked about all over the world. What is not to like?
Brian Murray
31
Posted 12/09/2018 at 09:53:58
Alan. We no longer have someone with a corner-shop mentality at the helm, rubbing his hands at the first big juicy bid for our Crown Jewels. As Lookman will testify....
John Keating
32
Posted 12/09/2018 at 09:58:23
As mentioned above, now we are getting mentioned on the international stage!
Regardless of the opposition, it will do the lad's confidence a power of good. The flip side is that now he will be marked even more severely. Silva will have to seriously work on his temperament.
Absolutely great to see the other young lads doing so well. I'd name young Hornby in the squad at the weekend, his confidence must be sky high and he will be raring to go!
Think we'll have to stop lads playing for the Republic, bad luck there. Thankfully we have Kenny or Holgate who can step in for Coleman.
We have to reward our youngsters by, if not playing them, at least put them on the bench.
Barry McNally
33
Posted 12/09/2018 at 10:24:46
Liberia president George Weah, 51, played 79 mins of the game in which Onyekuru scored!
Tony Everan
34
Posted 12/09/2018 at 10:26:41
Fantastic for Richarlison. He has a great future ahead of him with Everton.
He will reign in his temper when provoked and channel his anger into causing maximum pain for the opposition, by scoring and assists.
He is part of the formula that will get us top 6 this year and top 4 next. The Sky Six are looking over their shoulders. We have a couple of great years ahead of us as a club, Silva won't leave and Richarlison won't be sold in that time. The team will be strengthened when necessary. When Bernard and Mina enter the fray, we can push on and take points off the Sky Six.
Because of injuries, I think we will have to wait another month before we are on a proper roll. I'm optimistic we can then upset any of the top 6.
Michael Lynch
35
Posted 12/09/2018 at 10:46:56
Looking forward to seeing a few mates of mine who scoffed at us signing Richarlison in the summer. How many times did I hear that Richarlison cost more than Ronaldo and Messi combined or whatever it was the dickheads were saying? They laughed even louder when I said that he'd be seen to be a bargain by the end of the season.
Dave Abrahams
36
Posted 12/09/2018 at 11:22:38
Andy (30), yes I understand what you are saying and I think Charlie is going to be a very good player for the Blues. My question, I think, is relevant: the better the team you score against, the better the performance is recognised, surely there is no harm in that, Andy?
Tom Bowers
37
Posted 12/09/2018 at 11:32:28
Richarlison made scoring look easy.
We all hope he stays fit and gets no more suspensions as this kid is the real deal, someone we have been waiting for a long time.
With the right support, he can become the rebirth of the Blues.
Jay Wood
[BRZ]
38
Posted 12/09/2018 at 12:37:30
It's a legitimate question, Dave Abrahams. Even my missus was asking "Why are we playing El Salvador?"
They are ranked 72 by FIFA, so well down the pecking order.
But - by 'eck! - as this link shows, our boy played well. VERY well.
The run in behind the defence he made to win the penalty was his very first touch of the game.
His first goal, Brazil's second, is a bit clipped in the link. His movement before receiving the ball was excellent, and his finish - even with his own player Douglas Costa momentarily getting in his way - was sublime. One touch, right instep, from the left of the penalty, curled beautifully over the keeper into the top right corner.
Clinical.
Watch also Coutinho's goal before halftime and note Richarlison's movement which opens the middle for Coutinho to take advantage of.
Then Coutinho loses the ball in a (good) dribble in a crowded penalty area and Richarlison's reaction, finishing, power, technique and accuracy is again, clinical. One touch. Left foot. Small space to aim at inside the keeper's near post. BANG! 4-0 and a double.
Minutes later he was subbed off in the 55th minute. It was still enough time on the park to win the MoTM from all Brazilian commentators.
Anyone who knows football also knows that the #10 shirt for Brazil has almost mythical status. Next in the pecking order is most definitely the #9 shirt. Think Ronaldo and Tostao, among others.
Well, after Russia when the #9 Gabriel Jesus fired blanks (and in my eyes he is a very good player, who played well at the WC but didn't score), there is a real debate and concern about the #9 shirt in Brazil.
I think Fred in 2014 - who scored one goal - is the only Brazilian #9 to score in the last three WCs.
So it is interesting - very interesting - that Tite first gave Richarlison the #9 shirt and then in the two games he has selected the player for he played him up front, down the middle.
Now Gabriel Jesus didn't even make this squad, when the vast majority of Tite's WC squad were called up. Yes, Richarlison was a late replacement for his friend and former team mate at Fluminese, their #9 Pedro. But as Richarlison himself said last week, "I'm sad for my friend Pedro, but I'm happy for me. I'm going to do everything I can to make the shirt my own."
He's doing just that.
Tite is clearly looking for alternatives and changing the old guard.
In game, at halftime and post-match, all the Brazilian commentators were drooling about Richarlison's performance. His finishing. His technique. His movement. His speed. His strength. His energy and how he chases everything, offensively and defensively.
They went as far as to say he liberates Neymar to allow Brazil's star player to dictate and influence the game more. Brazil created many chances after our boy went off. Each time, when good opportunities were spurned, they commented how Everton (the player!), or Willian's finishing was not as clean and clinical as Richarlison's.
Finally, Richarlison showed great game craft as a #9. He was very aware of his position in relation to his markers. Not once did he stray offside all game. He was always on the move and in sync with the play and movement around him.
Because of the Beatles (commonly referred to in Brazil as 'Os quatro meninos do Liverpool' - 'the four lads from Liverpool'), the city is well-known in the country.
The commentators paraphrased this in commentary last night: 'Richarlison, o menino do Everton, continua a brilhar para a seleção, como ele brilhar para o seu time' - 'Richarlison, the boy from Everton, continues to shine for Brazil, as he has shone for his team.'
Made me proud as feck!
Andy Williams
39
Posted 12/09/2018 at 12:40:20
Dave. I understand what you are saying but one of my points – not well expressed, admittedly – was that it doesn't matter what the opposition was, he outscored and was more productive than Neymar, Coutinho et al against the same opposition.
And have you seen the goals? Well worth watching.
Jay Wood
[BRZ]
40
Posted 12/09/2018 at 12:51:02
Just one more thing. The manager, Tite's post-match comments on Richarlison:
"We followed Richarlison before the World Cup. He played well at Watford, and it is difficult to start so well in England. Now he has started very well at Everton. We have other good options for the side, but the chance arose in Pedro's situation (out through injury). Richarlison likes the position and knows how to score.
"Richarlison does not look away, he looks at the goal. He has great penetration."
On his options for the #9 shirt, Tite added:
"The three attackers we have for the position make different movements. Firmino is half and half. He sometimes leaves the #9 position and plays in midfield, as he does for Liverpool. And he has presence in the area. Both Richarlison and Gabriel Jesus are alike, they give you more depth."
Jay Wood
[BRZ]
41
Posted 12/09/2018 at 13:08:59
Dang! Just one more, one more thing!
I forgot to mention the interview with the player himself, onfield, immediately after the game.
It's reassuring to doomsayers (well...maybe not) that he referenced Everton 2-3 times. When asked about Tite's comment – 'Richarlison has the scent for goals' – the player replied:
"I'm very happy about my goals. I'm grateful I could reward Tite for the chance he gave me. Now I have to go back to Everton and continue to work hard so I can return to the national team more times.
"If the manager wants to play me wide or centrally, I'll play as he orders. I want to return to Everton and work even harder."
Brian Harrison
42
Posted 12/09/2018 at 13:19:50
Jay Wood,
It's always good to hear someone who lives in Brazil and watched the game give his analysis, rather than have to rely on a journalists perspective. I was very interested to read what you said Tite said after the game, about Richarlison playing as a central striker. I have said for weeks it is only a matter of time before Silva moves Richarlison to that position, some said that will never happen. For me. he has all the attributes you want from a central striker, pace, athleticsm. strength and the most important part an eye for a goal.
So, Jay, I have only seen his goals, so can you tell me where he played last night.
Jay Wood
[BRZ]
43
Posted 12/09/2018 at 13:27:57
Already said above Brain.
Wore the #9. Played the #9 role.
And played it very, VERY well!
You're ahead of the curve and on to something, Brian!
Michael Lynch
44
Posted 12/09/2018 at 13:40:28
His first goal was an absolute pearler. And he scored one with his right foot, one with his left foot. Both goals he had to make for himself it seems, as the Brazilian attackers are so incredibly selfish they never seem to pass the ball.
Be interesting to see if Silva does consider playing him that centrally. Bernard on the left, Walcott on the right, Richarlison down the middle would be some front line, with Sigurdsson slipping in some of his trademark passes from just behind.
We're going to win the lot.
Brian Harrison
45
Posted 12/09/2018 at 14:10:26
Jay,
Thanks, I am sorry I hadn't read your earlier post, I had just got in and was popping out within 25 minutes so only had time to read your last post hence my stupid questions. I have now read your earlier posts, I always listen to Tim Vickery who is on TalkSport every Wednesday around 3:00pm. He like you is based in Brazil and always worth listening too, I know some Evertonians criticized him over his opinion on Funes Mori before we signed him, but we all have different opinions and maybe he did highlight his deficiencies.
I listened to him last year talk about Richarlison when still at Watford, and he said this kid has had non-stop football for the last 18 months, and suggested watch him after his pre-season break. Little did I know at the time that he would sign for Everton and start so well, as Tim suggested he would.
Steve Ferns
46
Posted 12/09/2018 at 14:11:44
Thanks for that, Jay, especially the link, and the post-game comments by player and manager. Good to see he's still talking about us, but getting ahead of himself. I think the bond with the manager is our ace card for the future (presuming he continues this form).
This week has now shown Richarlison that he is as good as he wants to be. I hope he does come back and works hard, because we have one hell of a player on our hands here. Dare I say it, but he could even be better than Lukaku was at his age and I think the lad will believe that he can take us into the champions league.
Jay, don't you think Richarlison could have had a hat-trick. It was either Coutinho or Neymar who charged into the box and got themselves tackled when Richarlison was unmarked and could have tapped it home. If it was Neymar, then that sums the lad up for me, always more about himself than team (to this casual observer anyway).
I can't wait for the weekend now.
Brian Harrison
47
Posted 12/09/2018 at 14:21:36
Steve,
As you know, I said some weeks back that I thought it was inevitable that Silva would move him to be the main striker, and you said he doesn't fit the profile of the type of main striker that Silva likes. Just wondering if you are still of that opinion, seeing Tite played him there and he played well?
For me, he has always looked like a centre-forward, Steve, if you also remember after you did your brilliant analysis of our Southampton game in the Premier League, I said to look at the positioning of both Richarlison and Tosun just before Richarlison scored. Both were within a foot of one another yet it was Richarlison who attacked the cross, not Tosun. For me, that only confirmed that he has a striker's mentality.
Michael Lynch
48
Posted 12/09/2018 at 14:23:44
Unfortunately, probably no Walcott at the weekend and Richarlison is still suspended. Coleman of course out too, together all the rest of our long term injured.
Going to be a makeshift team on Sunday.
Steve Ferns
49
Posted 12/09/2018 at 14:41:33
Thanks for the kind words, Brian. No, I think Richarlison is where he's best and were he wants to be.
A Number 9 in the Premier League needs to be more physical than he'd like. Tosun has taken a battering in every game this season. He's scrapping for the ball all game long. That's not Richarlison – he's best playing off Tosun. He's still upfront. He's coming off the wing and getting into the box and it's working great.
Back to goal is not Richarlison's game. He wants ball to feet. A Number 9 for Brazil can get the ball to feet as evidenced by the highlights I saw. In the Premier League, it'd be getting the ball with his back to goal, sly digs in the back off the big centre-back, taking a physical beating.
You don't see the RS wanting to play Salah as a Number 9. Same with Richarlison. He's not on the wing. He's left of a front 3. Leave him there and let him run riot.
Jay Wood
[BRZ]
50
Posted 12/09/2018 at 14:45:17
Steve @ 46.
You don't have to doubt your instinct. It was Neymar, the selfish twat. My missus was hugely entertained by the names I called Neymar, both in Portuguese and English!
On the question of Richarlison playing the Number 9 role in the Premier League for Everton, it must be said Brazil play through teams on the ground with speed and swift accurate passing to feet. I don't think Richarlison contested a single ball in the air last night, because he didn't need to. Everton remains a LONG way off being able to play like that.
Tom Bowers
51
Posted 12/09/2018 at 14:54:13
The strength in depth is what the best teams have and that usually comes with big money and I mean big wages too. Goalscoring always comes at a premium and, without Walcott and Richarlison, Everton will obviously struggle. Tosun and Niasse do not have what the other two have and so it may be down to Gylfi to grab what is necessary to win on Sunday.
If the Blues can stay in touch until everyone is available (if it ever happens) then the season may yet have some reward.
Sorry to hear about Seamus again and somehow it seems internationals are not his lucky games but it will throw up the chance for Kenny to stake a claim again or just go with three at the back with a 5-man midfield including Bernard who may really improve things.
The Hammers have been poor so far... but then so were Huddersfield!
Steve Ferns
52
Posted 12/09/2018 at 15:13:46
Why go three the back? It's really five at the back and teams still play a Schneiderlin type so that's six at the back for me. Far too defensive. Why not go like for like and have faith in Jonjoe?
John G Davies
53
Posted 12/09/2018 at 16:08:40
One swallow doth not a summer make.
(Said the bag of yeast to the organist)
But I think this lad will turn out to be a bargain at the fee paid for him.
Benjamin Dyke
54
Posted 12/09/2018 at 17:05:05
Whilst we're all enjoying the Richarlison performance for Brazil, I'd like to comment about Tosun's performance for Turkey. I watched the game on TV here in Sweden and Cenk did not impress me! I was hoping to see something more from him than we get to see at Everton but these are my observations:
1. He did not win a single aerial battle the whole game – neither from long passes to him nor from clearances or punts upfield; I ended up thinking that we could have saved a few quid if we wanted someone dangerous at aerial balls.
2. He didn't hold up any long balls.
3. He couldn't outpace Sweden's full-backs or centre-backs.
4. He didn't have a single shot on target from what I remember.
5. He chased in the channels a fair bit but was caught offside there a few times.
6. He did do two or three good link-ups in the middle of the opposition half or near the penalty box but he didn't hold up or win the ball at all in the box.
7. He had no possession centrally.
Now Sweden are okay defensively but no way better than a lot of Premier League teams and Cenk's performance seriously worried me; he cost a good whack – I know we cannot compare him to someone who fetches Lukaku's price but I cannot see him being a success here. He displayed for Turkey exactly what we've seen at Everton.
Anyway, I'm all for being talked round by you lot – what do you all think?
Dave Abrahams
55
Posted 12/09/2018 at 17:31:55
Andy (39), just watched the goals, two very well taken efforts, we'll miss him on Sunday but he has the rest of the season to make up for his suspension.
Jay (38), thanks for the link to the goals, well worth watching.
Jim Bennings
56
Posted 12/09/2018 at 20:35:51
Benjamin at 54
Well I spotted in the West Ham game on the final day of last season the lack of mobility Tosun has and had my concerns that day, Niasse came on as a substitute and instantly offered more running and mobility than Cenk.
Fans got a bit carried away because he scored 5 goals but it was hardly a tally that suggested a lethal striker was on the horizon (didn't Jelavic get 11 goals in his first 10 games).
Tosun is a mid-table striker in all honesty, he'll put a shift in for you but then so would someone much cheaper like a Shane Long or Charlie Austin.
Allardyce told us in January the best on offer at that time across Europe was Tosun, but surely we could have got a striker to do something on a par with what Tosun has offered for less than £27 million quid?
£27 million is still pretty big money in my eyes for a striker that's not going to potentially get 10-15 goals (obviously the 20-25 goals lads host double that).
I think Tosun will have a task to hit the 10 goal mark.
It's still a wad of cash for someone who at 27 years old is just being lauded for "putting a shift in".
Ed Prytherch
57
Posted 12/09/2018 at 21:04:07
Liam asked what would Paul Merson say: "Son of a bitch, give me a drink!"
Jay Wood
[BRZ]
58
Posted 12/09/2018 at 21:13:53
Dave @ 55.
Did you also see an earlier link I made showing Fraser Hornby's first of two goals he scored against Holland yesterday, making it 5 in two games for the lad?
Very, VERY well taken goal. Speed of thought and execution, strength and accuracy to score from 40+ yards.
Watch it here:
Scroll down to a Twitter link to see the goal.
Have you seen him in the flesh, Dave? If so, what's your evaluation of the lad?
Steve Ferns
59
Posted 12/09/2018 at 21:28:34
Jay, I've only seen Fraser on the box. He's a central midfielder who supposedly converted to striker after a significant growth spurt. He plays like he's been upfront his entire life.
He's a big target man type. Against age group players he bullies defenders with his physicality. He's got a decent turn of pace without being quick. He seems to be very good in the air. He's got good feet and clearly by the second goal he's able to get his head up and think quickly. Maybe that's from playing midfield for so long.
It's a critical season for him I think. He's linked too Leeds after Bamford did his knee. A loan there in January could be interesting. If he's good enough for the championship leaders, then he's worth a shot in pre season next summer for us.
All that said, Calvert-Lewin went off injured, Richarlison's suspended, Walcott is still injured, so we're scraping the first team barrel right now. I'd have him on the bench for West Ham. Massive opportunity for Lookman too. I'd expect to see something of Bernard as well.
Dave Abrahams
60
Posted 12/09/2018 at 21:41:47
Jay (58), yes I saw the goals on another link. A well-taken goal, as you say. What you haven't mentioned, Jay, is Fraser scored with his weaker left foot, so that augers well for his ability.
He was signed from Northampton Town as a central midfield player and was persuaded to play as a striker only last season. He has already played for the first team in one of the Europa League games last season, when he played nearly all of the game.
Fraser struck up a good partnership with Anthony Evans last season and they play well together. I can see Hornby being included in the first team squad this season; he has plenty of ability, looks like he wants to learn, level-headed. I think he has a very good chance with Everton, especially with Silva being in charge, because it looks like, under him, any young player who looks like he deserves a chance will get one.
Gaute Lie
61
Posted 12/09/2018 at 23:36:04
Good for him. And good for the Club.
Looks like he's gonna be the goalscorer in the team. Let just hope he can play so the ref don't have to give him cards unnecessary.
But it seems Everton has gotten a diamond (perhaps a raw one, but anyway a diamond).

Phil Smith
62
Posted 13/09/2018 at 02:31:10
Both goals were top drawer. Right foot into the top corner and left foot into the bottom left. Both were on the run and slammed in. That £45 mil or whatever it was is starting to look cheap.
Gordon Crawford
63
Posted 13/09/2018 at 11:57:21
Already he is being asked about Barcelona and Madrid. The world has gone mad. Fantastic start for the boy, hopefully it will continue. :)
Kim Vivian
66
Posted 13/09/2018 at 12:34:00
Not impressed with alleged comments that he sees EFC as a stepping stone on his way to the big time. Hard nose time on the horizon for our negotiators, I think.
Steve Ferns
67
Posted 13/09/2018 at 14:10:59
Kim, he was given a loaded question. He said he would like to play for the Spanish giants when asked by AS. What's he to do, lie? He did say he'd only just got here and that he wants to win things at Everton. I think he answered as well as he could.
Here's his actual words to the loaded question about playing for Barcelona or Fascist Madrid:
"That's a tricky question (laughs). They are two giants, the dream of any player. But I just got to Everton, I'm very happy.
"The next step will depend a lot on what I do here. I hope to do a lot of good things in Everton, to win something significant and to give back the confidence of the club and the fans. This is my great motivation right now.
"I hope to have a great season, to continue helping Everton and to finally win a spot in the Brazilian national team. These are my goals.
"Of course, everything can change over time. The bar can go up and the steps can be bigger and more ambitious. It takes a lot of work and maintain concentration for that to happen. And hopefully it happens."
Kieran Kinsella
68
Posted 13/09/2018 at 14:20:26
I worry this kid may be a Balotelli. He had 30 games with no goals and no assists. Then three goals in two games, one red card, could have been a red against Wolves too. Then he said he was upset not to initially be picked by Brazil. I found that staggering.
Yes, of course you aspire to play for your country but you think two good games in 10 months is enough? Calvert-Lewin just had two good games and I haven't heard him complain about being an U21 sub. Yes, he has talent, but I do have concerns over his ego and attitude.
Steve Ferns
69
Posted 13/09/2018 at 14:35:53
Wow Kieran, now he's Balotelli? Based on what, a red card and a desire to play for his country?
Jay Wood
[BRZ]
70
Posted 13/09/2018 at 15:01:32
Deary Lord...
The 2 K's - Kim and Kieran.
I rather think your posts say a lot more about your mindsets than that of Richarlison.
Kieran Kinsella
71
Posted 13/09/2018 at 15:26:13
Steve 69 & Jay 70,
Just to clarify, I hope he is not the next Balotelli, I am just saying that I see warning signs.
Maybe I am jaded after reading too many Mirallas quotes this week but we live in a crazy world where it is hard to tell if two guys are innocent tourists who fly 3,000 to see Salisbury Cathedral then change their mind after 30 minutes of walking in slush, or if they are KGB assassins.
So, if he is the next Balotelli, you heard it here first, although David Icke will probably take credit.
Harry Hockley
72
Posted 13/09/2018 at 15:27:07
Off topic here, did anyone see Lookman's performance against Latvia on Tuesday night for the U21s? Odd there's not a thread about our boys who played in it, only about Richy's Brazil performance.
Anyway, Lookman was very poor, starting to hear enough about this boy and most of it negative on his part, can't help but think maybe we should've cashed in when the £25M was on the table, he ain't proving me wrong yet... in fact, he's starting to prove he could be another Koeman flop.
I've had a Look, man... and I don't like, man; get rid in Jan, man.
Kieran Kinsella
73
Posted 13/09/2018 at 15:52:42
Harry Hockley @72,
I worry this kid Lookman may be a Balotelli.
Kim Vivian
74
Posted 13/09/2018 at 20:23:13
Guys - Steve, Jay...
I did say 'alleged' and, to be honest, I don't read that transcript from Steve like it was portrayed. I was sceptical at first when we pursued him but I'm liking what I see.
As with the whole set up right now, just 4 games in, it remains speculative but I do feel cautiously optimistic and am really hoping for big things from Richy and Co.
And not just to stick one on Merson.
Brian Harrison
75
Posted 13/09/2018 at 20:38:57
Harry & Kieran,
I read what Aidy Boothroyd, the manager of the England Under 20s, said about Lookman. He played for 60 minutes when Boothroyd took him off. After the game, Boothroyd said, Ademola Lookman is a very talented player but whether it was the on-off transfer to Leipzig or just lack of game time he has had the lad didn't look focused.
I also think the boy has talent and I was delighted when we kept hold of him in the transfer window. But, although he did create a chance in the Premier League game against Huddersfield, his body language didn't look good. We have till January to make him see he has a great future here under Silva and Brands who both rate him. But, if his mind is set on going to RB Leipzig, then sell him for top money.
Harry Hockley
76
Posted 13/09/2018 at 22:33:34
Brian, all potential – that's all it's been since he came. I know he's young but he hasn't even shown anything as yet and he's had his chances.
I would think he's doing the morale amongst the players no good at all as this carries on now... we'll see.
Kieran Kinsella
77
Posted 13/09/2018 at 22:43:33
Brian
I agree he has talent. My concern is attitude. Coleman spoke a few weeks ago about how academy players now assume they are all going to make it at the top level. Given that he is a one-man club, I assume he was talking about our academy.
With Lookman I wonder if he feels he has shown his worth a few times so has nothing to prove. If we don't fete him as a star, he sulks. Now there are rumours he is ready to play for Nigeria as he hasn't had a full England cap yet. Seems like a kid in a hurry.
This is where in the old days Peter Reid would throw his muddy boots at him and tell him to get scrubbing. Nowadays he probably has agents telling him he is too good for us and grass is greener elsewhere. I hope I am wrong. I really do cause he has talent.
Tom Bowers
78
Posted 13/09/2018 at 22:51:58
You do your talking on the field and quite a few Everton players over the last two seasons have failed to do so.
Lookman and Davies burst on the scene in the Man City game last season but both have disappointed since. They are both still young and have time to get to that top level but some young players are impatient.
The Bundesliga is very good but the Premier League is the toughest and Lookman probably feels he is worth a start or two but his scoring potential is behind that of Walcott at the moment. Davies works very hard but can be one paced when tracking back so his best position is yet to be determined.
Everton have a lot of things to iron out especially when the new guys finally get going so Silva can see what his most productive starting formation is. If Walcott is not 100% for the Hammers game then perhaps this may be Lookman's opportunity.
Add Your Comments
In order to post a comment, you need to be logged in as a registered user of the site.
Or Sign up as a ToffeeWeb Member — it's free, takes just a few minutes and will allow you to post your comments on articles and Talking Points submissions across the site.