Dowell yearning for game time
Thursday, 8 November, 2018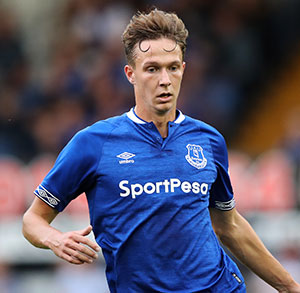 Kieran Dowell says he enjoyed getting a run-out at Goodison Park again in Tuesday evening's SportPesa Trophy game against Gor Mahia.
The 21-year-old was a first-team regular during his loan spell with Nottingham Forest last season, was an integral part of the Everton Under-23s side the year before and played regularly in pre-season this past summer as Marco Silva ran the rule over his new squad.
The arrivals of Theo Walcott, Richarlison and Bernard this year have meant there is now stiff competition for the likes of Dowell and Ademola Lookman on the wings while Gylfi Sigurdsson's impressive form means he is automatic choice in the No.10 role.
Dowell was deployed behind the striker in the ill-fated Carabao Cup tie against Southampton in September but has not featured for the first team since. Nevertheless, he says he is learning a great deal from being SIgurdsson's understudy.
"Yeah, that's been the frustrating thing at the moment — not getting as much game time," the Ormskirk-born midfielder told the Liverpool Echo after the 4-0 win over the Kenyan side.
"It's nice to get the kit on and get on the pitch at Goodison as well. It was good.
"I still haven't got that first competitive [goal] for Everton but it's always nice to score in front of a good turn out.
"I'm always learning. Obviously Gylfi is a great player to be underneath.
"He's flying at the minute and he's a top professional. He works really hard and he's a great technician who scores some worldies. I think I've came on loads with him."
---
Reader Comments (46)
Note: the following content is not moderated or vetted by the site owners at the time of submission. Comments are the responsibility of the poster. Disclaimer
Jim Bennings
1
Posted 08/11/2018 at 08:29:22
I was quite surprised to see him stay here and not go out on loan in the summer. He's not ready for the top flight yet and I think most of what the Nottm Forest fans pointed out last season was evident against Southampton in the Cup match.
He's a decent technician but I don't think he looks physically quick or strong enough to be involved in games at a higher standard.
For a clear example of that, who would you have out of:
Dowell or Sigurdsson?
Dowell or Gomes?
Dowell or Gana?
You wouldn't have him in ahead of any of those lads and you wouldn't put him out wide because he's not quick enough, nor is he better than anything we have out there either.
I think a loan in January will do him the world of good, it took Ross Barkley and Leon Osman several loans away to Championship clubs before they became Premier League material.
John Raftery
2
Posted 08/11/2018 at 08:30:41
December is a busy month in which injuries and suspensions may give him a further opportunity. If not, It will probably make sense for him to be loaned out in January.
Colin Glassar
3
Posted 08/11/2018 at 08:41:55
If he's not good enough (and I don't know if he is) then we should sell him. I've only seen glimpses of him, mostly playing for England, and he seems a talent but, when he was out on loan, the reviews were hardly encouraging.
Martin Berry
4
Posted 08/11/2018 at 08:42:36
It's going to be very hard for him to break in and I can only see him moving on as he wants to play. On that point, it's best for his career to be playing and I am sure we all wish him well.
Peter Gorman
5
Posted 08/11/2018 at 09:05:50
Dowell is one of those players who can be as good as he wants to be. Superbly gifted technically but gives the impression he lacks fire in the belly. Sure there have been games where he works hard for the team but they are almost always followed by passivity next time out.
What is this kid waiting for?
Jim Bennings
6
Posted 08/11/2018 at 09:24:12
I'm not sure he's quite that good yet, Peter.
I'd refer that philosophy more to the likes of Paul Pogba etc.
Clive Rogers
7
Posted 08/11/2018 at 09:38:52
I've watched him a few times and he definitely has the ability and vision but, as other posters say, lacks a bit of drive, passion, fire or whatever it is that players like Tim Cahill had. I wouldn't write him off though, he's still young.
Derek Knox
8
Posted 08/11/2018 at 09:57:42
I have watched Kieran Dowell play at various levels of his development, and took an interest in his time at Forest on loan.
Forest fans loved him when he first started, and became a regular scorer and integral part of their team but, as the season progressed, Dowell regressed. disappearing out of games. In the end, the Forest fans were glad to see him return to Everton, a real 'hero to zero' story.
As a few have mentioned, he has great technical skill and ability, but often fades in games, and seems to lack that edge. He has the potential to be a very good player, but can he maintain that on a regular basis?
Chris Gould
9
Posted 08/11/2018 at 10:28:30
Many have made the same observations about Dowell for years. Technically gifted but appears uninterested and drifts out of games. It's very unlikely he will change now. I am sure many coaches have pointed out those same problems for years. It's clearly part of who he is and some aspects of who we are cannot be changed.
Even if Sigurdsson was injured or suspended, Dowell would not get on the pitch. For the sake of his career, I believe he should leave.
We can't progress if we play kids who aren't ready or good enough. Look at the difference Gomes has made coming in for Davies. And Zouma playing instead of Holgate.
There is a reason Man City don't play Foden and Chelsea don't play Loftus-Cheek. They want to win the Premier League, and you cannot achieve your best league position playing kids who are still developing.
If we are serious about breaking the top 6, then we have to be ruthless. It takes a special kid to be under 21 and good enough to be in a top 6 team. Even Martial and Rashford haven't played as much as they would have liked in a struggling Man Utd team.
I believe that Davies and Calvert-Lewin have potential and, although I'm not yet convinced that they are our future, I remain hopeful. Davies has a lot of time on his side but needs to make significant strides.
I believe Dowell should and will leave.
Ajay Gopal
10
Posted 08/11/2018 at 10:43:31
This is a squad game, and at the moment, Gylfi, Gana and Gomes are the established midfield 3.
I truly believe Schneiderlin's days at Everton are numbered; he might push to move on to another team in the Premier League – someone like Bournemouth, Crystal Palace, Watford or the likes.
So, we have Davies, McCarthy, Baningime, and Dowell as back-ups. Dowell might get a few minutes in the FA Cup or later in the season. A loan may very well be a good option.
Drew O'Neall
11
Posted 08/11/2018 at 11:00:36
Ajay - 10
I think you should look at it like this (forgive the European style position numbers for simplicity!):
10
Sigurdsson
Bernard
Dowell
8
Gomes
Sigurdsson
Gana
Davies
McCarthy
Dowell
7
Walcott
Richarlison
Bernard
Lookman
Dowell
11
Richarlison
Bernard
Walcott
Lookman
Dowell
He's not competing with Gana, Davies and Schneiderlin for the number 6 position but even still he's way off getting game time in any of the positions he plays.
Expect to seen him out on loan in January.

Sam Hoare
12
Posted 08/11/2018 at 11:04:30
18-23 development is all about getting as many first-team games as possible. Dowell and possibly Holgate too should be getting loans to good Championship teams in January. Then, it's up to them to show that they can play to a high standard consistently and challenge for a starting place next season.
I think the likes of Davies, Calvert-Lewin, Kenny and Lookman are a step closer to the first team and likely to get more minutes.
Brian Harrison
13
Posted 08/11/2018 at 11:05:40
The Premier League has so much money that, for youngsters to break into a Premier League side, they have to be very very good. We ourselves have lads who won the U20 World Cup with England yet all are struggling to get into the side.
The higher the team is in the Premier League, the harder it is for kids to get game time. Just look at Loftus-Cheek: played well for England but can't get a regular game for Chelsea and is now considering going out on loan again.
Maybe the Premier League need to bring in a rule that allows clubs to only let players go on loan for 1 season; then, after that, they either retain them in their 26-man squad or sell the player. That would be one way of stopping the likes of the big boys stockpiling some of the World's best kids and sending them on loan to pay their wages, while clubs asses whether to keep them.
Bernard Dooley
14
Posted 08/11/2018 at 11:06:26
Interesting posts from Colin (#3) and Derek (#8). Dowell scored 8 goals for Forest before Christmas last season but finished his season there on 9, with 4 assists, in a league not known for namby-pamby football. As Derek says, fans raved about him. My Nottingham relatives couldn't believe their luck in having him at the City ground.
No coincidence that Mark Warburton was his manager during this hot spell. Warburton believed in him but got sacked. In January, Karanka took over and didn't like his languid style. Herein lies the problem. Dowell is not always trusted by managers. He was in the team that won the Under-20 World Cup but was often substituted when more pace, power, or effort was thought to be needed.
Like others, I am not sure that Kieran Dowell can convince managers who always need results urgently, and there are others ahead of him at Goodison who look to be able to contribute more than him, even though his talent is not in doubt.
Dave Williams
15
Posted 08/11/2018 at 11:14:58
He reminds me a bit of Sheedy who was not one for getting involved in the midfield war of attrition but, in the comparative safety of the flank, wreaked havoc in any opposition defence. He had zero pace but was the best by far in his position for a number of years. I think he was around 22/23 before he came good?
Ian Jones
16
Posted 08/11/2018 at 11:22:02
To be fair to Kieran Dowell, he seemed to be doing okay at Forest, then the manager was sacked around December, new one comes in and probably has new ideas, brings new players in and at that stage, it perhaps goes a bit pear-shaped for Kieran.
Like many young players, and not just at Everton, they don't get the opportunities these days to play regularly and develop their game. A few youngsters are playing abroad. That might be the future route for many...

Bernard (#14), you got there before me with the change of managers.
Tony Everan
17
Posted 08/11/2018 at 12:28:14
One thing is for sure, he needs more game time.
Either loan him out and let him prove he is good enough, or sell him with a buy-back clause. At the moment, he won't get game time with EFC.
James Stewart
18
Posted 08/11/2018 at 15:40:52
Not good enough, needs a move.
Ben Howard
19
Posted 08/11/2018 at 16:42:18
He is very gifted technically and has all the ability. As others have said he may lack the physicality needed to operate effectively in the Premier League. He's still young though and I would hope with top class coaching and conditioning we can get him to the standard. Having Gylfi to learn from should not be overlooked either as his stamina is something to be admired. I hope Keiran sees how important that aspect of his game really is.
Peter Gorman
20
Posted 08/11/2018 at 16:59:44
I don't necessarily agree with the ruthlessness expressed in Chris Gould's post but the comment; "t's clearly part of who he is and some aspects of who we are cannot be changed" definitely rings true to me.
Kieran Dowell is a noticeably quiet lad and perhaps this is why he doesn't seem to express himself as much in games as his talent almost demands.
By comparison, the character of Tom Davies and DCL are very different and I suppose it is no surprise that they were elevated far quicker into the team despite the polarised opinions about their current ability and potential.
One of the most persistent comments made about Tom Davies by his former coaches is the young lad's ability and eagerness to learn. It seems that Dowell strikes most of us as a lad who may yet improve technically but shows next to no sign of ever developing the ability to really take the game on, which in my opinion at least is a crying shame. It is not often that Everton or England produce such 'flair' players.
Fran Mitchell
21
Posted 08/11/2018 at 17:11:43
He's very talented, albeit a bit casual. No coincidence his form dropped when at Forrest when they employed the Spanish Allardyce as manager.
The lad is very young still, and could well develop into a top player. He has an eye for goal, and abilitu to score from almost anywhere on the pitch this makes him ideal back up to Sigurrdson.
We are too eager to cast off young lads as crap if they don't turn out to be wunderkids.
Maybe a loan to Bielsa's leeds for a few months could make him develop that bit more, or maybe 10 games with the blues and training week in week out with Silva and co.
There is a player there, I hope we can get it out of him.
Will Mabon
22
Posted 08/11/2018 at 17:27:04
Some interesting observations made above. As well as inherent mental aspects in an individual that are not easy to change, there are physical attributes that are impossible to change.
Even at the staggeringly high fitness in this level of football, there are variations. You cannot change speed or stamina past a point if it isn't in your makeup. Anyone can get stronger to a degree but getting usefully stronger without carrying much extra weight has to be genetically possible.
From what I have seen of Dowell though, "Languid" is a good word for much of his play or movement. He has a sort of uncommitted look at times. Then again, did Pirlo ever look like he was even trying half the time? Extreme example, I know.
Tom Bowers
23
Posted 08/11/2018 at 18:52:34
Have to agree like a number of younger players on the fringes he hasn't quite shown the progress expected.
Everton have had many over the year's and most have moved on to other clubs in other leagues only to prove they really didn't have what it takes.
Vaughan, Jeffers and Jutkeiwiz are some names that come to mind.
Steavey Buckley
24
Posted 08/11/2018 at 23:45:02
Everton are in an unenviable position of having too many players from the academy who are just not good enough. At present, there is not one player from the academy who makes the starting team.

Peter Gorman
25
Posted 09/11/2018 at 00:13:40
Steavey – aside from not qualifying what constitutes the standard of 'not good enough' and overlooking the fact that our academy produces first-team players and full internationals at a rate that is the envy of many, it is certainly true that not one current graduate makes the starting team.
Quite a few make the squad though. And the funny thing about these young footie players is how they seemingly improve with age. Bizarre, I know.
Harry Hockley
26
Posted 09/11/2018 at 00:38:49
He's not ready yet but I'm time who knows, but definitely not for fit the rigors of the Premier League, a loan in January would probably be best for him just now, still a lot to live up to now we have players in his position.
Geoff Lambert
27
Posted 09/11/2018 at 00:53:25
It's hard to say he is not ready when he has not had a run of games in the first team. Maybe he will have to bide his time and keep training hard it only takes a couple of good games and his confidence will grow.
The lad has talent and can score wonder goals out of the blue, but not if he is not getting a decent run of games.
Don Alexander
28
Posted 09/11/2018 at 01:04:36
I don't mind admitting I'm really bemused by others who state Dowell, or any other such player with years under their belt at a Premier League club even though they're now "only" 21, "just might" turn out to be a top player if he can hone his craft in a lesser division with a lesser team playing lesser football.
I've said it before but, in 1966, Alan Ball was also only 21, yet he was Man of the Match in a World Cup Final. So any 21-year-old not yet staking a claim by virtue of effort or innate skill has simply missed the boat to any future beyond "journeyman", in my opinion. And that goes for any player at any other club too, even though there may be just a very few examples of players who only "emerged" as top class in their mid to late 20s.
In my 55 years as an Everton fan I can only recall Rooney from our "nursery" as being a really top-notch player rated by others in football. I have the highest possible regard for Colin Harvey too, but he never received Rooney-like appreciation. Apart from that, our much vaunted "nursery" has been conspicuous for decades in adding very little to the first team in a way that made opponents crap themselves.
Dowell has reached the point where he needs to perform in a way that's demanding of selection. He's failed to do so.
His problem, not ours.
Sell.
Steavey Buckley
29
Posted 09/11/2018 at 01:40:04
Peter #25. You may find that all Premier League clubs have a footballing obligation to have certain amount of English born players in their squads. Yet, Silva did not buy or acquire one English born player during the summer transfer window.
That's why the players who have made a big impact on Everton this season are born overseas, because, for too long, English clubs focused more on stamina and fitness than technical ability.
Bobby Mallon
30
Posted 09/11/2018 at 05:54:36
Kieran Dowell has the technical ability that Steve Buckley mentions, he just doesn't have the run around attitude of a Bernard to go with it. If that's all that's missing, then it's up to him now to put all that effort in. He should only be let go if he can't be arsed to be a more modern day player he has all the technical stuff.
Dave Williams
31
Posted 09/11/2018 at 09:23:04
Don,
Ratcliffe was one of the best centre-backs in Europe. Royle, who would have been world class but for that terrible back injury, and ditto Higgins; Harvey, who I would have in my all-time greats XI before Rooney any day...
But, thinking about it, you are right: we tend to be better developing youngsters from other clubs. Our own show promise: Husband, Whittle, Jones, Cadamarteri, Vaughan, Rodwell, Barkley etc... then fall away for whatever reason. David Johnson was one of the better ones but he had his best years away from us, like Rooney.
Kevin Prytherch
32
Posted 09/11/2018 at 12:26:47
Don Alexander
Dowell has just turned 21, so would have started the season as a 20-year-old.
3 examples of players having their "breakout season" after Dowell (And Ball).
Drogba - 23/24
Shearer - 21/22
Kane - 21/22
They were 3 of the best players in the Premier League era (fair enough Kane might not fall into that category yet but is heading in the right direction) but would never have been given the chance with a philosophy like yours.
Simon Smith
33
Posted 09/11/2018 at 12:44:12
Dowell does still have time on his side but that won't last much longer. He hits the nail on its head when speaking about Sigurdsson – one of his best attributes is his work rate. This is the same for many top flair players – including Silva, Suarez, Sanchez and Isco to name but a few.
It's okay to say it and even clever to notice Sigurdsson's work rate, but he has to follow that work rate in games.
I've seen Dowell in the U23s vs Man City and to me he didn't look like a guy trying to catch the manager's eye; he looked like he could only be bothered when someone gave him the ball and he didn't work hard to receive it or win it back for us. He has lot's to learn before he is an important player for us.
I agree, a loan deal would be best for him; then, if we can make the Europa League a mainstay in the group stages next season, that could really make him.
Don Alexander
34
Posted 09/11/2018 at 13:41:05
Kevin (#32),
I don't advocate ending his career but how much longer do we keep him and the plethora of others of his age being churned out of Finch Farm?
To me his type of languid demeanor is fine if you're a Pirlo (or a Gomes, hopefully) but it's not fine if you've no second string to your game and, as he showed at Forest, he has a real tendency to fade when trying to mix it in a mans league, unlike Lookman, Davies, Calvert-Lewin, Holgate or Kenny for example.
He might be more technically gifted than all of them, by the way, but in terms of "heart" he just seems a little lacking, and I take no pleasure in reaching that opinion either.
John G Davies
35
Posted 09/11/2018 at 14:10:58
Not good enough for where we are hoping to get to. I wish him all the best.
Stan Schofield
36
Posted 09/11/2018 at 14:44:52
Players like Dowell, who's 'main game' is flair and doing the unexpected, rather than relying on physical effort, tend to fare better under managers who promote good attacking football. The managers of the 'top-6' are all in this category, and it seems that Silva is too.
One of the aspects of 'good attacking football' is that often the ball is made to do the work. The best sides press well, but this is ineffective without flair players who make the ball do the work. A good side needs players with a very high work rate, and it needs 'flair players' who rely less on this attribute.
Dowell hasn't had much first team game time, certainly nothing in Premier League matches under Silva. I think his potential for making a major contribution to our progress can be assessed only after he's had a chance to show what he can do with his flair, in a side like the current one where we are gelling more, and where the pressing is being complemented by effective use of the ball doing the work.
Dave Abrahams
37
Posted 09/11/2018 at 15:43:08
Stan (36), Keiran can make the ball talk, he has that much talent, but, in lots of games where Keiran is involved, the ball doesn't say a lot, the game drifts on by without him, and he lets it.
I know it sounds harsh but that's the way it is. I've been saying this since Dowell was 16; I mentioned his style once, without mentioning his name, but Harold Mathews was right on the ball, he said "You must mean Dowell" and Harold knew his football.
I always mean it to be constructive criticism but, unless Keiran puts more effort into his game, he will always be on the outside looking in. Much, much better people, than me, who know the game and are involved in it, must have repeatedly told Keiran this. Is he ever going to listen?
Stan Schofield
38
Posted 09/11/2018 at 16:38:54
Dave, that's a good question, and I don't know the answer. Every player needs a bit of fire in their belly, and sometimes they can develop it. You can't make a player a great ball-player, but you can give them some fire.
Under Silva, we've got a number of players who've been here some time, but have only just started strutting their stuff, showing more fluidity and the enjoyment and fire that can go with it. And they're experienced professionals. So who knows what can be done with a relative youngster who has unusual skills but just needs a spark to get him going.
We can't afford to experiment in the first team, but we can give him a chance. He's only started one Premier League game, when we beat Norwich 3-0, and he played well in a team that was arguably less effective than the current one.
Fran Mitchell
39
Posted 09/11/2018 at 16:50:57
Some players need time, I feel we are way to eager to write players off. Part of the modern mentality, I guess, but we are very quick to write a player off. If he doesn't look like Pelé in his first two 15 minute sub appearances or doesn't score a hat-trick when playing in a mis-mash team of youngsters and reserves in the League Cup, then sell immediately.
Look at Lingard, only started to show his potential at 25 or 26, and there have been plenty others... heck, look at Callum Wilson. So to write off a player at 21, with barely any first-team football on his CV, is premature.
Dowell has the attributes to be a top player, but yes, he needs to develop, and to be trained. That task is with him, and our coaching staff. But we should try, because yes, it does mean something when a young local lad comes good, and he could save us a fair wad of cash.(Do we really want to have to spend £30 million for a Sigurdsson back up?)
John Pierce
40
Posted 09/11/2018 at 17:41:15
Name one 1st team game he's genuinely influenced or turned the result? There might be one out there but it's not readily coming to the top of my head.
Then look at Lookman, he has on a similar amount of game time proven decisive in moments. Palace only two weeks ago, the cross for the opening goal.
Both the same cohort, but I only ever find myself thinking give Lookman more of a chance?
Why is that? It is, I suspect, because I know one will make it, the other won't.
Even Lookman's temper tantrums show more outward desire than Dowell.
Sell.
Danny Broderick
41
Posted 09/11/2018 at 18:07:35
If young English footballers who have won the World Cup at their age range should be sold by the time they reach 21, what do we expect from them?
In Davies, Calvert-Lewin, Dowell and Kenny, we have some cracking young players who could all do with first-team football. They're not ready for us now, but would all benefit from more game time in the Championship for a year, and then with a lesser team in the Premier League.
Some of the best players in our history (Graham Sharp?) would have been discarded if we hadn't shown a bit of patience when he was 21. Come to think of it, half of our 80s team would not have been considered good enough at 21.
We have some of the best up-and-coming talent in the country. We need to get them some game time and show some patience – we might have a world beater in there. Harry Kane wasn't even getting a game in the Premier League at 21 – he's worth £200 million now! Let's see what happens!
Simon Smith
42
Posted 10/11/2018 at 12:55:16
Agreed, Danny, young lads need to be given the benefit of the doubt but, in turn, they should be expected to put a shift in.
Imo,Calvert-Lewin, Kenny, Lookman and Davies work their socks off, Baningime didn't look to me like he had that type of effort level when he played in the first team, and likewise, Dowell has been the same. Lately, I've watched a bit of Baningime and he's working himself really hard, he's been very impressive, but in the same games (especially the Man City game), Dowell hasn't even looked interested.
I believe the ball is firmly in Dowell's corner: if he works as hard as the others, he will get more game time; if not, he will have a successful loan spell.
Michael Lynch
43
Posted 10/11/2018 at 14:24:45
The squad and club has taken a huge leap forward in quality this season, from the manager down. With players like Richarlison, Digne, Bernard, Gomes and – hopefully – Mina, the bar has been raised.
So far, Dowell is not in that class. He's not even shown as much as Davies, who himself may struggle to get on the bench after next summer's transfer window if the club carries on with its current ambitions.
If he's happy to stay and fight for his place, great. Otherwise, wish him all the best and sell him on. But, if he does stay, he'll be competing with the existing squad, new signings, and the next batch of youngsters to come through. He's going to have to do something pretty spectactular to break into our first team.
Kase Chow
44
Posted 10/11/2018 at 14:26:50
John #40,
What temper tantrums from Lookman?
I know he went on loan last year to Germany for first-team football – are you counting that?
And also he wanted a move back there this season. But he hardly refused to play for us again (like Tevez) or tweeted bad stuff about the club (like Berhahino).
I'm so intrigued as to how a few rumours said often enough become accepted fact???
Brian Williams
45
Posted 10/11/2018 at 14:57:27
I think the "temper tantrums" that John may be referring to were two incidents in one particular game (can't remember the opponent) where Lookman actually sat on the turf and thumped it with both hands after losing the ball when running into a blind alley. It looked like he was unhappy with his team mates as, only minutes earlier he had a little strop, only for a second or two, when a similar thing happened. Probably borne out of frustration and a desire to do better.
"Tantrums" may just be John's way of describing those actions. "Flashes of temper" may have been more accurate but I knew what he meant.

Karl Meighan
46
Posted 12/11/2018 at 11:47:36
A good thing in Dowell's favour is Silva, I do think he needs to find a way of staying involved in games when he does play and in Silva there is every chance if he performs when his chance comes he will stay involved.
It is slightly unfortunate for him that the games he plays he will have squad players around him so the service he receives may not be the best which probably makes it easier for him to drift out of games.
I might be the only one here who thinks he should not go out on loan; he will just fall further down the pecking order whilst at least he has quality technical players to learn from even if he is training alongside them.
Add Your Comments
In order to post a comment, you need to be logged in as a registered user of the site.
Or Sign up as a ToffeeWeb Member — it's free, takes just a few minutes and will allow you to post your comments on articles and Talking Points submissions across the site.