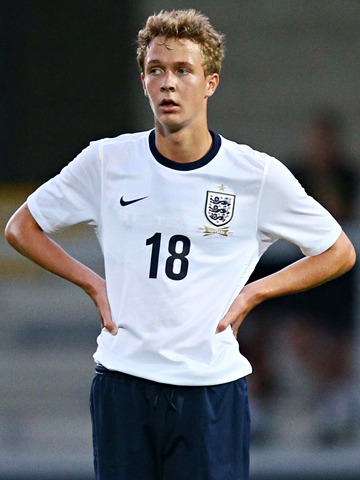 Kieran Dowell is an Everton Academy player from Aughton, near Ormskirk. An attacking midfielder with an eye for goal, he is predominantly left-footed but can shoot from distance with either foot and looks very neat on the ball. In May 2014, The Guardian singled him out as Everton's best prospect born between 1 September 1997 and 31 August 1998 in a feature on 40 of the world's top youngsters. Of those, only two were English, the other being Everton midfielder Ryan Ledson.
Dowell's inclusion on the list should not be seen as a surprise. Everton have been dominant with that particular age group for some time, and Dowell has been at the front of the charge. In May 2015, he signed his first professional contract set to run through June 2017. The then 17-year-old midfielder was a regular for David Unsworth's Under-21s side and made his first-team debut for Everton in the Europa League dead rubber against FC Krasnodar in December 2014.
After signing, he said: "It's what I have wanted to do ever since I joined the club, so it's great to be able to finally say I'm a professional footballer for Everton. I've been here since I was seven. I was with a few different clubs before that, but then I got the opportunity to join Everton and I've enjoyed everything about it all the way through the age groups.
"All the coaches have been brilliant with me, I've been on some great trips with the club and there are always opportunities. To be honest, [the 2014-15 season] has probably exceeded my expectations in terms of what I wanted to achieve," he said. "I made my first-team debut which has been the main highlight of my year - but we've also had a good run in the Under-21s and Under-18s leagues as well."
"It was unbelievable and being an Evertonian myself, it was a dream come true. All my family are Blues as well so they were there watching and they were made up for me. Ever since I came up to the seniors this year, it's been something that I have noticed - the first-team players are really friendly and really helpful. They'll always look to give you little tips for your game which is obviously really good.
"Roberto has been great, too. He has congratulated me [on signing a professional contract] and he's told to just keep going and to work even harder."
The next time he got to wear a senior jersey was at Tynecastle, coming on as a late substitute in the 2015 pre-season friendly against Hearts. He as very impressive in the pre-season Dundee game. His vision, touch, and balance are all top class and he shows great promise of becoming an attacking force operating from the right. However, he picked up an ankle injury around same time as Leighton Baines and missed the early months of what could be his breakout season:
"I was training with the first team and I went for a ball. Unfortunately I have gone to ground and snapped the ligament, which meant I had to have an operation. It was a bit of a nightmare really!
Dowell came back also around the same time as his first team mate, playing for the Under-18s in a win way to Stoke City. He has progressed to the Under-21s and received plenty of acclaim when he scored all three goals in a win over Leicester City U21s at Goodison Park. That would not be enough to propel him into consideration for inclusion in an injury-hit first team squad as the Premier League season wound down, with Martinez having been notably reluctant to blood many of his bright up-&-coming youngsters.
But after Martinez was finally sacked, Dowell was one of two youngsters to be given their debuts in the Premier League by caretaker manager David Unsworth in the last game of the season against relegated Norwich City. He caught the eye, setting up the first of Everton's three goals as they got back to winning ways. And in June 2016, he was awarded a new 3-year contract after Ronald Koeman had been appointed.
His laconic style is deceptive as it can hide his better skills, notably his ability to play quick, forward passes, his dead-ball kicking, crossing and finishing ability. He seems to link well with Kenny, tracking back in support of the full back, and in terms of decision-making he is generally excellent – certainly much better than Ross Barkley or Gerard Deulofeu.
Despite playing an important part in the Under-23s triumph winning Premier League 2, he was not rewarded with any involvement at the senior level, but would be picked as one of five Everton players for the England team that would go on to win the U20 World Cup in South Korea. A couple of excellent strikes in pre-season did not convince Ronald Koeman to give him an opportunity to show what he could do in the early qualifying rounds of the Europa League; instead, he was dispatched to Nottingham Forest on loan for the full season.