Everton beaten again as Seagulls edge tight affair
Saturday, 29 December, 2018
Brighton & Hove Albion 1 - 0 Everton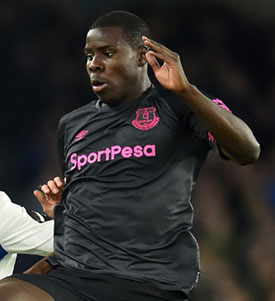 Kurt Zouma hit the bar late on with a header and Richarlison also had a shot turned onto the woodwork by David Button
Getty Images
2018 ended with defeat for Everton as Brighton battled their way to a narrow victory on the south coast thanks to Jurgen Locadia's second-half strike.
The Blues were hoping to build on their Boxing Day hammering of Burnley but never really found their rhythm against a resolute and uncompromising Seagulls side that refused to allow them time to settle into their normal game.
Everton hit the woodwork twice and wasted a couple of other clear openings and were punished for their profligacy somewhat cruelly when a corner bounced off the unwitting André Gomes and into the path of Locadia who made no mistake.
Featuring two changes from the team that started at Turf Moor on Wednesday with Richarlison and Idrissa Gueye coming in for Dominic Calvert-Lewin and Gylfi Sigurdsson but the retention of the central defensive trio that featured in that win, Everton found the going tough from the outset. Chris Hughton's well-drilled outfit were quick to close down and were effective in smothering the Toffees when they had the ball.
Yet it was the visitors who carved out the best chances in the first half. Michael Keane could have done better with a free header after Bernard had swung the ball back in following an 11th-minute corner and debutant goalkeeper David Button was called into action for the first time in the 27th minute when he spilled Bernard's shot and then parried Richarlison's follow-up, the latter Brazilian being flagged incorrectly for offside.
Two minutes later, another Richarlison effort was saved by Button and fell to the arriving Seamus Coleman but he elected to control the ball first and his eventual shot was deflected behind. A couple more minutes after that, Gueye's powerful effort from the edge of the box was also saved.
Brighton had a couple of moments of their own in the first period but they had largely failed to unduly trouble Everton's back line. Pascal Groß crossed for Florin Andone but Pickford did well to push the ball away before the forward could connect in front of goal. Later, Yerry Mina had to be alert to nip in in front of Davy Propper to concede a corner as the midfielder tried to connect with another cross from the right.
Brighton emerged the stronger of the two sides after the half-time break and had the visitors penned back for a long spell before they eventually forced home the game's only goal. As was the case against Burnley, sterling work by Pickford was undone shortly afterwards by Everton's susceptibility at set-pieces.
The keeper made a brilliant point-blank save to push Andone's header over the bar after Mina had conceded a foul near the Blues' right touchline but while the resulting corner was repelled, a loose pass by Bernard required an intervention by Keane that handed the home side another dead-ball situation from which they would profit.
The corner just before the hour mark was lofted into the box, Mina couldn't make contact with a header and Locadia was on hand to slice the loose ball past the stranded Jordan Pickford after it had come off Gomes. The goal was initially ruled out by referee Andy Madley but was eventually given, correctly, following consultation with his assistant.
Everton were almost level within three minutes. Mina, who had stolen into an advanced position, passed to Richarlison in the Brighton box and he almost surprised Button with a shot through a crowd of players but the keeper got a hand on it and diverted it onto the post.
Then, after Gylfi Sigurdsson had replaced the Colombian defender, Bernard accelerated away down the left flank, cut back inside but then sliced his shot horribly wide.
Everton pushed in the closing stages after Calvert-Lewin and then Oumar Niasse were thrown on in place of Gomes and Bernard and they were almost rewarded when Kurt Zouma rose highest to meet a Sigurdsson free-kick but could only watch as his header bounced off the face of the crossbar.
Niasse would see the last shot of the game comfortably gathered in stoppage time after Lucas Digne had fired a direct free-kick disappointingly into the wall but it wasn't to be Everton's day.
The Blues dropped back to 10th place for the time being following their third defeat in four games and must now prepare for the visit of Leicester in three days' time where they will look to start the New Year off right with what would be their first home win since late November.
---
Reader Comments (74)
Note: the following content is not moderated or vetted by the site owners at the time of submission. Comments are the responsibility of the poster. Disclaimer
Benjamin Dyke
1
Posted 29/12/2018 at 18:24:24
Poor today again. Back to old away performances albeit not helped by a ref who was unwise to Brighton's dreadful anti football tactics from the start.
But if we want to finish top 6, let alone top 4, we have to be able to play against teams set up like Brighton. They got lucky with the goal and we were profligate unfortunately. I thought we looked like we had enough attacking wise to beat them but it never came off sadly.
Oh well, back to the drawing board for the coaching staff.
Henry Lloyd
2
Posted 29/12/2018 at 18:29:46
To lose to Brighton and never really look like winning tells me that the players we have currently are fucking useless.
I watched the game and saw the same sorry shit I've been watching for far too long. What the fuck is happening to this club. Someone tell me what are we going to do?
No signings in January according to Brands... Silva trusts Calvert-Lewin to do better things... Is he fucking serious?? What the fuck is going on??????
My money is on Silva not being here for the start of next season!! Anyone care to have a bet with me on that????
Robin Cannon
3
Posted 29/12/2018 at 18:40:03
A toothless 1-0 defeat to mediocre opposition, three days after a 5-1 win, is about as Everton a result as possible.
I still feel more positive about almost every game this season than last. But the frustration is also greater. Last season I'd given up, this season we play, or try to play, better, more attacking football. And we don't always do it well, but more irritatingly we just waste so much good work.
We didn't really deserve anything from the game today, despite hitting the woodwork. Niasse's first touches when he came on were embarrassing for a professional footballer. Walcott seems to be able to make the wrong decision every single time he's in a good position. Richarlison needs to stop flinging himself to the ground and start getting himself into the game.
Henry Lloyd
4
Posted 29/12/2018 at 18:42:14
Well said, Robin, I agree with every word. These players are just not good enough.
Pat Kelly
5
Posted 29/12/2018 at 18:46:59
Henry, agree Silva will be gone this season. Any manager who thinks Niasse is the answer doesn't know what he's doing. Maybe he's letting the owner know he has no one better. But Brands doesn't like the January window. They'll like the door even less.
Henry Lloyd
6
Posted 29/12/2018 at 18:48:42
Yes it's a good point the fact that we only have the likes of niasse to rely on is pathetic and also embarrassing it is shit being an Evertonian right now eh?
James Stewart
7
Posted 29/12/2018 at 18:52:48
The fact that we are counting on new signings coming in to enable us to beat the likes of Brighton is embarrassing. We have already spent millions and got worse. Their strikers were twice as dangerous as ours, Duffy was also better than any of our cbs. Highlights just how badly we have squandered millions.
Silva was also tactically out of his depth. Houghton had his number just like Benitez did recently. Silva has no plan B whatsoever. If only we had a manager worth a damn for once.
Jim Bennings
8
Posted 29/12/2018 at 18:53:17
In all hindsight we would have been better off keeping Koeman and just sacking the walking disaster Steve Walsh.
The money we have spent on the last two managers and millions spent on international players is fast becoming a joke of Randy Lerner proportions.
Henry Lloyd
9
Posted 29/12/2018 at 18:56:20
Yes James, it really is staggering how this shit goes; it's appalling to watch this team and it's got to be said, the players we have are a woeful pitiful waste of money.
Also, it has to be said, because it's true, the manager has to go because he is clueless, absolutely clueless – we have to get a proven successful manager.
I was against Silva from the off for one reason only: he has done fuck-all in England — absolutely fuck-all! Why is he here???
Colin Glassar
10
Posted 29/12/2018 at 18:56:33
The top teams fight for every ball, never stop running, argue every decision, show no respect to the opposition, expect to win every game etc... The complete antithesis to Everton.
Pat Kelly
12
Posted 29/12/2018 at 19:02:36
It costs relatively little to change a manager compared to the money spent on the likes of Tosun and Niasse. Not to forget the wages we pay to Sandro. If Silva can't get a return from his big buys, Richarlison, Mina, Bernard, then why let him waste more money. Silva is on borrowed time.
Joe McMahon
13
Posted 29/12/2018 at 19:05:11
Henry, difficult to attract the kind of manager you want when we have never played in the Champions League. Will need the stadium and then off mad wages as City did. Sadly it's years off though.
Henry Lloyd
14
Posted 29/12/2018 at 19:05:13
Bernard was free but you're absolutely right about not letting him spend more money.
Henry Lloyd
15
Posted 29/12/2018 at 19:07:50
Yes, Joe, again correct ... but we must be entitled to better than Silva shouldn't we???
Pat Kelly
16
Posted 29/12/2018 at 19:07:56
Henry, someone on TW said we paid a £10M fee to Bernard plus £100k a week for 5 years — so we're on the hook for £36m if that's true!
Henry Lloyd
17
Posted 29/12/2018 at 19:10:02
I'm sure someone is going to verify the Bernard situation but I am fairly sure the fee was nothing and have no idea how much we are paying him! Whatever it is judged in today, he is not worth it.
Michael Lynch
18
Posted 29/12/2018 at 19:11:17
Pat, you're right - compared to buying a new team, changing manager costs buttons. I'm all for giving the man at the top a fair crack at the job, but I have seen nothing in the way SIlva goes about his business - either with us, or with Watford or Hull - to suggest he's capable of turning a top half team into a top six team. We've actually gone backwards in terms of results, and it's not like we've been unlucky in many of the games we've lost or drawn.
We are showing no fight, no intensity, just petulance and sloppiness.
Pat Kelly
19
Posted 29/12/2018 at 19:21:53
Michael, if we get no one decent in January who can score goals we won't be a top half team end of season.
Ian Riley
20
Posted 29/12/2018 at 19:42:50
Sadly we are a mid table premiership club. No more, no less. Sadly, it's the hope that's killing us slowly.
Paul Birmingham
21
Posted 29/12/2018 at 19:47:28
Colin @10, that's spot on and EFC, has been like this for donkies years.
I'm numb to the RS and don't care about the RS, but the sad reality is this team and previous liked backbone and spirit, fight and belief.
Players talking about fatigue is not good enough an excuse for another insipid lack lustre performance.
It's tough days ahead for a EFC, and they must show moral fibre and not wilt and disappear, against Leicester.
The stable and consistency in performance, albeit the lack of, is massive.
Jekyl & Hyde, and totally unreliable, are EFC.
When it will change, perhaps next season, after the summer window, but that's a massive challenge in itself, as getting the right quality of player based on where we are now will be very tough.
Nothing further to say, as every one has spoken, on various TW, threads, the last couple of days.
If, How,& Why, and it's the annual half year review.
Seriously a long way to go, but there is hope, and surely the Clubs fortunes will turn soon.
I'm hoping and praying for the FA Cup, and most will say I'm mad, and I am but after so many wilderness years, you adapt.
The cross bar is lowered in view of the season so far so top 10, finishing 10th, is my end of season predictition and I hope, I'm proven, wrong.
Jim Bennings
22
Posted 29/12/2018 at 19:49:27
The next month is massive to see some serious progress at Everton otherwise we are merely floating towards yet another year in no mans land.
Leicester, Bournemouth, Southampton and Huddersfield, if we can't take at least 10 points from these games then we can forget it.
We don't win enough games, 2 wins from 9 matches against Burnley and Cardiff is simply not good enough.
Defeat to Leicester or even a draw and it's hard to see any momentum being built.
I am very concerned by Silva being limited in terms of acting quickly when things are going wrong, taking too long to sense when a substitution needs making, not for the first time this season.
He needs to start putting a rocket up the arses of underperforming players, or drop them to the bench and get on to Marcel Brands about bringing better players in again.
Whatever, he needs to start be proactive.
David Pearl
23
Posted 29/12/2018 at 19:51:13
I think the shape is much better but the players didn't execute in the right areas. This line up suits the players we have, in particular forwards that don't have to chase back and aren't stuck out wide. The players are good enough but it's new to them and they still need time to gel over these knee jerk reactions. The season however is slipping on by and sooner than later we have to see this progression that financially we've made for Silva, Still in transition yes but what l didn't like is throwing on players with no apparent plan. Mina was getting poorer as the game wore on but he should of bought on jagiekja and kept the shape and also bought on DCL for Charlie. Our final ball constantly let us down. It's also time that Silva could show us he knows how to turn a game. More often now he looks lost if things aren't going our way.
Neil Lawson
24
Posted 29/12/2018 at 19:54:51
It's pathetic how, half-way through the season, so many of you are calling for the manager's head. No, it's not great at the moment, but there are sufficient signs of improvement to justify patience and to give Silva adequate time to sink or swim.
Some of us are old enough to remember that Howard Kendall was minutes from the sack and was only saved by a poor back pass. A season of consolidation is, in my view, acceptable, provided that, by the end, the positives are clearly identifiable and progress can reasonably be expected.
Anthony A Hughes
25
Posted 29/12/2018 at 19:59:28
What are the signs of improvement?
At the moment... certainly not Premier League position — and they do say the table never lies.
James Hill
26
Posted 29/12/2018 at 20:00:49
This is only a personal opinion but here goes. I believe we as Evertonians have far too high expectations of this season. 6th place would be a major achievement for a transition year. I would suspect that this is one of the youngest squads we have had in years and with that will come inconsistency. Most of the signings so far are in the age bracket to mould in to a good team. (Not sure on Mina yet.)
The fatigue thing is a myth perpetuate by those who want a Christmas break. All clubs are in the same boat, some are better equipped to coped, usually the wealthy clubs with bigger squads.
I believe Marcel Brands will get it right, every time he opens his mouth commonsense and good logic comes out. It has taken that crowd over the park 5 years to build a team and from a much better starting point than Everton.
I believe we as Evertonians have become quite toxic and impatient over the years in the doldrums and we as supporters need to change. It will take time, probably 3 years, to become something like consistent enough to challenge for the league and top four on a regular basis. Winning the league for me is the ultimate goal, not Europe.
So looking at the performances and our win ratio over the course of the season is how we should look at success. If they keep improving, we will eventually get to the level we all desire. Let's be patient. If we start going on long losing streaks, then is the time to get worried.

Tony Abrahams
27
Posted 29/12/2018 at 20:04:30
I will have a bet with you that Silva is still here next season, Henry.
Phillip Warrington
28
Posted 29/12/2018 at 20:07:32
People, we are a mediocre team with players who are paid way over the average, so winning or losing doesn't mean jack shit because they are very comfortable financially whether they lose or win.
Brands will get it right eventually but at the moment he can't get new players in unless he can offload players, and that's hard due to the ridiculously high wages they are on compared to their ability. They will not move on willingly because they will never get paid the same wages they are on at Everton and don't forget at the end of this season we will have at least 7 of those players returning.
We have missed the boat; it will take 2 or 3 years to officially get previous irrational signings off the books, but unfourtantely our biggest rivals will go from strength to strength, collecting £65 to £75 mill a year from Champions League revenue alone. We are going to endure the jokes and frustration from the other side of town for a long time.
Wes Ray
29
Posted 29/12/2018 at 20:09:34
After 40+ years of supporting our great club and team, I've seen much better and undeniably worse times than this. One of the things I miss from the seventies and eighties is ruthless streak which ran thru the whole club, including supporters. We were never satisfied being second best and it showed.
Times are different but we are still in the game, not in the doldrums of the lower leagues. Moshiri is our best bet to get back on the top and we should take it. He aims high and as fans we should too, beating a relegation team after a string of disappointments is not enough.
I truly hoped Silva would succeed but there is no indication of that. Unsettling that he has not managed to bring on any kind cohesion into the team, tinkering with tactics and line-ups from one game to another doesn't help. Today was the first time you could see clear frustration in the players and that is ominous.
As much as we detest Liverpool, one has to admit they knew what they were getting when hiring Klopp. To claim that results are being seen only this season is disingenuous, progress was evident early on and he had clear template and plan. That it took only two seasons to get things together is unsettling but from the start everybody knew how they will play and where they are aiming for.
Instead of wishfully hoping for things to happen, we have to be ambitious and get ruthless again.
Rob Dolby
30
Posted 29/12/2018 at 20:13:50
We didn't have much luck today. Brighton are workman-like at best.
The manager has to take the rap today. No need for 3 at the back when the opposition flood the midfield and won nearly every second ball. He should have made tactical changes mid way through the first half but waited and then just put forwards on for he sake of it.
Pickford, Keane, Zouma, Digne and Gueye were the only ones imo who can say they had a go. Bernard and Walcott may as well have stayed at home.
If we don't have money available Brands should be looking at free transfers in January. Brahimi & Dembele are all out of contract in the summer – both would improve us.
John Raftery
31
Posted 29/12/2018 at 20:21:33
There is no point in trying to sign players who, in all probability, will do no more than lift us to seventh at best, more likely eighth. Much better to wait until the summer when better targets will be available. Responding to the impatience of fans by rushing into the market to find at best short-term solutions will not serve our long-term interests.
The same applies to the manager's position. The fans wanted rid of Allardyce, at any price it seemed. The owner complied, presumably confident he had identified the right men to take the club forward. While I was never convinced Silva had proven himself as a top manager, we must now stick with him unless or until it becomes clear he is not up to the job. Sacking managers after half a season and dealing with the ensuing upheaval is a recipe for ongoing decline. It takes time to build a successful team, especially when the starting point is an ageing squad and a threat of relegation, as it was in our case.
As for the thought we should have kept Koeman, he takes the major share of the blame for the mess we were in when he was dismissed. He had no discernible strategy for developing the team or a playing system, was clueless tactically, and seemed to be a very poor man manager. His handling of Barkley cost us at least £25M. Lukaku's goals saved us in his first season. After his and to all intents and purposes Barkley's departure, we were heading for the drop as the scattergun approach in the transfer market took hold.
Derek Taylor
32
Posted 29/12/2018 at 20:22:12
Pat, no-one 'comes in on a free'. Those players who let their contracts run down, thus depriving their clubs of a transfer fee, always demand a signing on fee that reflects their market worth. That upfront fee is usually at least double the annual salary negotiated by their agents, thus the real fee for Bernard was c £10M. Some free transfer that then!
Other than the likes of Jose and the Liverpool and Man City gods, managers expect the pay off to be when they fail and eventually get the sack. This amount is usually the sum of unpaid salaries plus + plus for keeping their traps shut. On this basis, Silva has already done very well, thank you, at Hull and Watford. More to come from Everton soon, no doubt.
The aforementioned Randy Lerner, on giving up the ghost at Villa, was quoted as saying that he thought he knew a bit about sports management from his experience in the States, but nothing prepared him for owning a Premier League club over here. He hired the best business brains to protect his interest but they were no match for the greed of footballers, managers and their agents! He pulled up the drawbridge when it came to writing off over £300M – mostly spent on transfers – and went home with grateful fans chanting 'Lerner Out!'
Such is 'the beautiful game' today, I fear.
Tony Abrahams
33
Posted 29/12/2018 at 20:34:10
I saw a bit of frustration coming into our play since the Watford game, Wes. Before this, it looked like we were turning into a team... but, since then, it's like some players are playing off a different page.
We are a new team, with only Coleman, Gueye, and Lewin, having been at the club for over 18 months, and seven of today's starters, have only been at the club for 12 months. Take Walcott out (if only) and six have only recently joined the club.
It's not transition, it's fact, just like it's a fact that only some of our players are really good enough. I think the ones that joined us in the summer, are mostly better than what we already had here, and until some more players are brought in, then we will continue to suffer for both real improvement and consistency.
Tony Twist
34
Posted 29/12/2018 at 20:47:59
Second rate mediocrity. How bad must Burnley be!
Peter Knight
36
Posted 29/12/2018 at 21:03:29
The goal was offside due to active play, the ball was a rebound off Gomes falling to a player in an offside position, giving him an advantage. Fifa rules... unless it was a pass-back by Gomes.
Ian Riley
37
Posted 29/12/2018 at 21:04:30
Silva here next season? I hope so! I believe we have made improvements from last season in style and formation. Yes, we need changes in playing staff but we must stay with Silva.
Do we go back to Moyes, Allardyce or Martinez? Silva has brought quality but it will take time. We are tired of waiting but that's the way it is.
My only advice to Silva is to take the FA Cup seriously. A cup run to the quarter-finals or semi-finals develops confidence into believing we can win something. Go out in the early rounds and the season is over. Winning trophies is hard and, with two available, it does limit us.
Happy and Healthy New Year all.
Michael Kenrick
38
Posted 29/12/2018 at 21:10:07
I know they are always changing the offside rule, Peter, but I thought it had to be a clear forward ball from an attacker that creates offside. This was a redirection from a corner, not a pass back, but it was unintentional from the attacking team's perspective.
They gained an advantage by being in an offside position, except that they weren't offside because the ball did not come to them off their own player. Back in the day, I thought we called it "being played-on" by a defender?
Steve Mink
39
Posted 29/12/2018 at 22:07:31
I was there today. Thought Bernard was the only one who earned his corn. Playing a back three against the likes of Brighton was paying way too much respect and unbalanced the whole side. Gomes was distinctly mediocre.
Paul Birmingham
40
Posted 29/12/2018 at 23:01:15
More salt to the wounds and watching MOTD, and yet again theres RS nominees for the diving Oscars and GBH, and assault.
If only Dunc would get a flash back to his playing days and do something!
Words can't express my discord for the RS and the Trogladite Show, aka MOTD.
Even Shearers brainwashed.
Still hopefully we can soon banish the Ghosts of Christmas Past, and our line of illustrious strikers, Barn Door Barlow, Brett Angel, and the rest.
Our new scouting system will unearth some gems, next summer. That's got to be our aim, a must do.
The spot light has never been off the RS, and weve been in the shadows for so long.
Our time will come. Tough, tough times, but, there's always hope..
I'm keen to see what goes on at FF. Based on today, not enough?
Jim Marray
41
Posted 29/12/2018 at 23:12:43
I watched the whole of this game and felt we were playing for a draw. A late flurry at the end of the first half was only because Brighton had frightened us.
As for Silva's comments, we had two more shots only one of which was on target (if BBC match stats are to be believed) than Brighton and for the life of me I don't see how that means we should have won.
After 20 mins I had to check the team info again because, despite his name being on the sheet, I had not seen hide nor hair of Walcott. As for the rest, every time they had the ball there was a Brighton player or two just waiting to make the tackle. When they had the ball, bar two or three brief periods of pressing, we just let them run at us till they got into the final third.
Our strikers won't score until we can get the ball in the box. Worse still, they are so lacking in confidence they don't even take risks of a rebound, hence Bernard's failure to score from the knock-down by Richarlison.
My concern right now is that the poor performances and money wasted on crap managers who play lovely football (but constantly fail to deliver) means there is a risk that Moshiri may well put the club up for sale or worse still walk away like the twat at Villa (Doug Ellis).
Paul Birmingham
42
Posted 29/12/2018 at 00:12:52
More salt to the wounds and watching MotD, and yet again there's RS nominees for the diving Oscars and GBH, and assault.
If only Dunc would get a flash back to his playing days and do something!
Words can't express my discord for the RS and the Trogladite Show, aka MotD.
Even Shearer's brainwashed.
Still hopefully we can soon banish the Ghosts of Christmas Past, and our line of illustrious strikers, Barn Door Barlow, Brett Angell, and the rest.
Our new scouting system will unearth some gems, next summer. That's got to be our aim, a must do.
The spotlight has never been off the RS, and we've been in the shadows for so long.
Our time will come. Tough, tough times, but, there's always hope...
I'm keen to see what goes on at Finch Farm. Based on today, not enough?
The goal that Brighton scored was fair and square and as it hit Gomes, it's a no contest by the game's rules.
Things Can Only Get Better... That was the tune of the day on a famous day in 1994.
Things will get better, and EFC, must get better. It's a fine edge, these next few years as the club needs to be on the right agenda and with the right profile.
What happens in 2019 will be interesting... "What's Our Name?"
Phil Sammon
43
Posted 29/12/2018 at 01:10:21
A 2 am kickoff meant I slept through this one and got up to watch the replay. God, am I glad I didn't stay up for it!
There was so much wrong with the set-up, even before a ball was kicked. I detest playing 3 centre backs, no matter how much money you've spent assembling them. The formation somehow manages to not only nullify your own attacking width but also gives free reign to the opposition's wide men. Walcott and Bernard didn't seem to know where they should be. It's unfathomable how the former lasted 90 minutes – he saw so little of the ball.
It's a shame because, with Duffy and Dunk at the back, we should have been looking to get Walcott into the channels.
Gomes was poor but I think he and Gana were a pairing doomed to fail. Neither one of them is particularly frightening for the opposition. 3 centre-backs and 2 holding mids is a pretty pathetic offering in a game we should have been looking to win.
A special mention also goes out to Richarlison. The guy is 21 years old, yet he behaves like a toddler. I'm not even sure he's that good of a footballer. He's incredibly unpredictable which can work for and against him. He gives his all, that is not in doubt. However, he makes so many bad decisions and, without beating around the bush, the lad is a fucking cheat. Someone needs to pull him aside and sort it out because he's embarrassing himself and the club with his diving and constant feigning of injury.
Bill Watson
44
Posted 30/12/2018 at 01:30:08
I intended to have a long weekend in Brighton but circumstances meant I had to make it a day trip. I must say, I was impressed with Brighton's free Park and Ride bus shuttle which, apparently, was a condition of the planning permission for their ground. Maybe Everton will need to look at something like this for Bramley-Moore Dock.
I was less impressed with the football and we appeared totally disjointed and off the pace. Silva spent the week talking up Calvert-Lewin and then drops him to the bench! Why chop and change a side that's just won 1-5 away, however flattering that scoreline may have been?
Richarlison is not a centre-forward who can hold up the ball and he wins very few aerial balls. Gomes had his poorest game so far and we were constantly second best in midfield. Upfront and Walcott continues to frustrate and disappoint and I'm mystified why he gets selected week after week.
As has so often happened, this season, their goal was set up by us. Our standard of passing is abysmal and we continually put ourselves under pressure, and concede goals, because of it.
It's to be hoped Silva has learned from the Southampton League Cup debacle and resists making wholesale changes for the Lincoln game. Patience is wearing thin and any repeat won't be forgiven.
Henry Lloyd
45
Posted 30/12/2018 at 03:49:06
Phil (43), Great comments regarding Richarlison and I agree totally and this is why the manager must not be around for much longer.
Tony (27), Let me know what the bet is Tony and I will take it as I must tell you I tried to give the guy a chance but you must agree from the Brighton game – the man is NOT Premier League class!!
Paul Setter
46
Posted 30/12/2018 at 07:40:45
After 20 games last season, we had 27 points – the same as this season; the only plus is +7 goal swing. We had won 7 drawn 6 lost 7 which is mirrored to this seasons results. So my question to Moshiri is: Where exactly is this an improvement on previous management??
Yes, it's easier to watch than under the last two jokers but only just. Personally, I think Everton won't finish top 10 with the form of Wolves, Leicester, Watford and West Ham.
This manager was headhunted... For what – the same muck we have had for years!
Jerome Shields
47
Posted 30/12/2018 at 08:16:22
As soon as Silva's team selection was known, the trend of events was predictable. Dropping Calvert-Lewin and bring on Richarlison as centre-forward just handed the game to the Seagulls.
As with Newcastle, Watford, and Tottenham, the Seagulls didn't have to worry about the forward line: no high press, poor ball retention, poor pass completion by Richarlison; Bernard nullified and Walcott not getting a kick of the ball.
The Seagulls were able to confidently dominate midfield, pushing the two (!!!) Everton midfielders deep. The poor final third play of Everton, added to by long inaccurate passing from the two pressurised midfielders. Note not the necessary midfield trio that the Premier League demands, Digne and Coleman pushed deeper also as a result.
Bolstered by The Seagulls, a high defensive line there was plenty of support for their forward line to get the one goal. Against better opposition, it would have been more as they would have exploited Colman's deficiencies more. Silva's substitutions were nothing but blind panic as he maintained two in midfield.
Silva does not know that he has to coach an improvement in pass completion in the final third and select a midfield trio if he can bolster it with an additional box-to-box midfielder.
I would put Richarlison into the U23s and tell him not to attempt to score, just work on his ball retention and pass completion. Silva definitely does not know the importance of passing in the final third, between forwards, which he has ignored all season. Pickford did not panic for a change.
The Seagulls looked organised, because Everton were so disorganised. They had plenty of recent videos to watch of Silva's poor work. It would have been a laugh.
If Silva persists with this, there will be more days like this. Clearly this result is down to your poor management, Mr Silva.
Jerome Shields
48
Posted 30/12/2018 at 08:22:52
By the way, Richarlison's fall down and roll about routine is the work of his self-proclaimed mentor, Neymar!!!
Derek Knox
49
Posted 30/12/2018 at 08:56:41
It never ceases to amaze me that virtually the same team, bar a couple of changes, could put in two contrastingly different performances. It's not as if weeks had passed, it was a matter of three days.
While it could be argued that Brighton were a marginally better team than Burnley at present, it does not excuse the lack of any sign of constructive football from ourselves.
I am afraid the responsibility must lie with Silva, who seems to fluctuate between a decent performance and a shambolic fiasco, from game to game. While I don't think it would achieve anything by sacking him at this juncture of the season, I am convinced, unless he dramatically turns things round, he is living on borrowed time!
Mike Kehoe
50
Posted 30/12/2018 at 09:05:07
It's always disappointing to lose a game but I think some people should try and keep a bit of perspective. The game is about tiny margins, no-one needs to think beyond the last derby to appreciate that. So, if decisions go for you, it's a win; if the ball is a couple of inches lower, it's a goal; it's an accumulation of little things that makes such a difference.
Silva and Brands have taken over from the clusterfuck that was Allardyce and Koeman and it will take time to turn things around. It is pathetic for people to be questioning if they will be here next season at this point; the time to asks that question has got to be after a few more transfer windows.
This season is a transition and anyone thinking different is wrong. A new manager with different ideas will take a while to get things right. If we go out of the FA Cup, the season ends that instant and all we can do then is hope Man City get their shit together because Liverpool are looking unstoppable. The worse thing for Everton would be for unreasonable and unrealistic fans to start demanding Silva's head and filling Goodison Park with that strangling toxic tension which fills our players with crippling fear and destroys confidence.
Everton have been bang average for a long time; the managers in recent years have been appalling; the board have been impotent and naive; European football has been rare and brief; in short, we are further from the top six than many seem able or willing to accept.
It will take time and money to bridge that gulf and realistic expectations and a little patience can only help.
James Byrne
51
Posted 30/12/2018 at 09:32:41
Another frustrating, poor game. To be fair, we did hit the woodwork twice in this game, but I agree with lots of the comments regarding player criticism.
I've just read up on the backroom staff who work for Silva, and I see quite a few are obviously from Portugal. What I've always wondered here is what does Duncan Ferguson actually do as the first team coach! Is it not a coincidence that, since we've been through all these managers, and we've produced the same shite football... is there a link here?!?
Brian Patrick
52
Posted 30/12/2018 at 09:50:47
What a masterclass from Moutinho yesterday. No fear, peak fitness, attitude. They beat Spurs away from home.
We always have a 'we will lose anyway' attitude before every game v Spurs, Liverpool etc.
Brian Murray
53
Posted 30/12/2018 at 10:00:46
James Byrne @51. If Big Dunc's continued appointment is not the cosy Everton Way of Blue Bill, then surely at the very least he should make pussycats like Lukaku and Calvert-Lewin into fearsome lions.
We have never seen any improvement in aggression or will to be a winner in any of the forwards I assume he works with. Even these basic requirements are totally foreign to our club's mentality.
Tony Abrahams
54
Posted 30/12/2018 at 10:18:12
Up to you, Henry, whatever you want, mate, because — if you think another change of manager is the answer so early in to his tenure — then I have the polar opposite view.
James Hughes
55
Posted 30/12/2018 at 10:48:31
We are all over the place at present. Never sure which team is going to take the pitch.
We can forget all aspirations of qualifying for Europe if we carry on playing like we are. At present, I will be happy when we reach 40 points. Changing the manager (again) is not an option so let's hope Marco's blip ends sooner rather than later.
No chance of a 10-game winning run, is there, Marco?
Phil Sammon
56
Posted 30/12/2018 at 11:02:58
I can't believe people are calling for the manager to be dismissed. He's not having a great run but sacking him is absolutely not the answer.
Karl Meighan
57
Posted 30/12/2018 at 11:39:31
Mike @50,
Sensible words; however, conceding goals from corners and set-pieces – with players ball-watching and failing to react, read and attack the ball – has to stop.
Good teams will miss chances but, if they manage to score once, it will mainly be enough. I very much doubt this team will win many games one-nil whilst struggling – and that's what a good side would have come away with yesterday.
We seem to have this bad habit of giving away scruffy goals, mainly from set-pieces, whilst being unable to score this type of goal which is crucial in close away games.
Brian Patrick
58
Posted 30/12/2018 at 11:54:36
Moshiri must know that this team will not get Champions League footie. Brands says there is no money for a striker. Fair enough – they have spent a lot in the summer. But there's the rub.
Maybe our only remit is the same as in the Kenwright era: just stay in the Premier League...
Enter, stage left... you know who!!!
John Audsley
59
Posted 30/12/2018 at 12:20:45
A new manager is a silly idea and its clear Silva needs time but the level of effort yesterday was bad
The level of performance since the derby has been poor except for the Burnley game.
The players and coaching staff need a wake up otherwise we will finish in 12th at best if we continue to play like we are doing.
We need a leader on the pitch and a top quality striker, the amount of chances we miss is embarrassing.
Paul Gallagher
60
Posted 30/12/2018 at 13:24:01
My RS and Arse mates have been laughing at our 7,000-plus goals landmark. It was actually mentioned on MotD, who would have thought that.
They text me to say that Everton have played 384 extra games than them in the top flight, yet they still have won more games than us. Even when we find a positive stat about the club, those smug gets will attempt to diminish our achievements.
Come on, Man City – do us Evertonians a favour and make up some ground today, and on the 3rd. Sad state of affairs, the only thing I have to hope for this season is for anyone but the RS to win the league, such is the mediocrity of this once-great club.
Gerry Ring
61
Posted 30/12/2018 at 13:28:31
It's very worrying looking at what's happening at the moment. One thing that we are sorely lacking in is commitment. You look at Shane Duffy contesting a ball compared to our players. He only sees one thing and gets nearly all 40/60 challenges.
We have a soft underbelly with not enough guys prepared to get down and dirty when things start to go wrong. I think we should give McCarthy a run out given that Silva says that he is fit and ready. When we keep playing Walcott, who only appears to give 70% at best, we haven't a chance of contesting against top- and mid-table teams.
I also think that Walcott's performances are affecting Coleman's confidence & his willingness to get forward.
Tony Abrahams
62
Posted 30/12/2018 at 13:34:06
That's what football fans do, Paul. I often ask Liverpudlians, how Juventus must feel when they hear them singing about conquering the whole of Europe.
Geoff Lambert
63
Posted 30/12/2018 at 13:45:14
Paul! I got the same text off one of my RS mates and along the lines of Tony's post. I said "7000 goals and all with no casualties as well".
Brian Patrick
64
Posted 30/12/2018 at 13:49:26
Liverpool have achieved what they have largely at our expense; the Heysel scandal, monopolising the media, the bias in the local council over the years, weak ownership compounded by Kenwright, nepotism throughout the club.
The new stadium won't change anything. As I've said many times, Moshiri needs to get You Know Who on board or we are doomed for eternity.
Oliver Molloy
65
Posted 30/12/2018 at 14:14:19
Moshri has called time on big money transfers. For the next few windows, it will be players out to generate any money for new signings, I hear.
Moshri will stand by Silva (providing there is no danger of relegation). He has now realised every time the club sacks the manager, it is all about the money once again, new players all over again, and absolutely no guarantee that it will work out.
Everton are many years away from challenging the top four as results this season have shown.
And I wish to fuck people would just give over about the other crowd.

Paul Gallagher
66
Posted 30/12/2018 at 14:14:42
Sad state of affairs – even Arsenal fans are laughing at Everton, when they look like they won't be seeing another league title for a very long time.
Arsenal haven't been the same club since their new stadium was in the pipeline, or when they moved to the Emirates. They have declined since; obviously we would have loved to have finished in the top 4 for almost 20 years. Maybe a new stadium expense has set them back for another decade. Or they made a big mistake with Usmanov.
Wenger was very stubborn and refused to change... Silva I think maybe the same, but probably won't be as successful. Most clubs that have moved to a new stadium (barring Man City) haven't done so well in England. Hopefully we can't do much worse than mid-table obscurity.
The RS haven't won much in the last 29 years, yet they are still one of the media darlings behind Man Utd. The media darlings may not be too kind to Arsenal, if they go nearly 30 years without a league title.
In some ways, you can't blame the media for largely ignoring us, we have been unambitious for the last 30 years. We are one of the few clubs that have regressed with money spent, I hope we don't end up like Villa. I would gladly eat humble pie, but I think Moshiri will be back looking for a new manager again. I don't think he should sack him yet, but results-wise we haven't improved since last season.
Anything less than 8th, Silva should go; after all, Allardyce was made redundant for finishing 8th. I don't want to see exciting football and lose 2-6 at home. I would rather have Moyes's 1-0 wins in 2004-05. I don't expect to see much improvement next season either.
Moshiri has wasted some amount of money on redundancy packages. We should never be looking at any manager that has relegation on his CV.
Joe McMahon
67
Posted 30/12/2018 at 14:29:31
Paul, I know what you mean, but even Wenger had relegation on his CV. It's always gonna be difficult for us to attract anything even like the best due to having no Champions League history.
Paul Gallagher
68
Posted 30/12/2018 at 14:36:05
It's all about the ambition from the board, selling a vision, a plan to take the club forward. If you said, 10 years ago, Pep would be managing Man City, who have had less success than us, you would have been laughed out of town.
The very nature of Moshiri's appointed managers would suggest that we aren't looking to compete for the top 6. You could be right and Moshiri will accept a top 10 every season, until the stadium is built, and we may find less money being spent on transfers. Then Moshiri may hope to sell the club on.
Jerome Shields
69
Posted 30/12/2018 at 20:31:54
Silva has thrown away the chance over the festive fixtures to progress twice.
Firstly, against Newcastle, he showed he was tactically inept as Benitez exposed the weaknesses in his set-up and Silva showed he had no alternative plans. Silva continued for the next two games with the same setup and no alternatives, and predictably was exposed.
Against Burnley, he at last pursued a different set-up and team selection, showing there were alternatives.
The second chance of progress, against Brighton, he wasted. Silva reverted back to the forward line against Brighton that had caused the problems in the first place and also depleted midfield to accommodate it.
Obviously, Silva hasn't a clue where the weaknesses are, but more teams are aware and benefiting as a result.
I dread his next team selection and set-up, I am starting to lose confidence in his managing and coaching ability. He should have never been given a 3-year contract.
Brian Patrick
70
Posted 30/12/2018 at 20:40:35
Oliver, it's not about Moshiri. It's about the next interloper. If he was to enter the equation, then Anfield would be a training ground for Liverpool's only team, Everton... I have a very reliable source indicating this could be the case.
Tony Abrahams
71
Posted 30/12/2018 at 21:44:12
Tell us more, Brian? Especially because it was only yesterday that you were asking, "What happens if Moshiri walks away?"
Anthony Murphy
72
Posted 31/12/2018 at 00:44:22
Brian, I'm confused. An interloper would suggest someone not welcome yet you are suggesting (based on a very reliable source) that, if this was to happen, we would benefit massively. Care to expand a bit?
Mike Kehoe
73
Posted 31/12/2018 at 09:32:10
Karl @57,
Sadly, at this point in time, we are not a good side, but that could change with better finishing. Of course, this was always the lament when Moyes was in charge and we were forever shopping in the bargain basement. At least we now look a threat and I have more confidence in Silva and Brands anyone since Moyes.
Justin Doone
74
Posted 31/12/2018 at 12:18:46
I had low expectations for this season before it started and we are probably about where I think we will end up. Many will agree this is not good enough. We have gone backwards in league position and possibly points. Sack the manager etc.
But when I watch the quality of the players, the team and the majority of what we are trying to do, we have moved forward. It's a pleasure to watch genuinely gifted players play good football but also put the effort in, not simply shrug shoulders. Yes I'd love to watch that whilst winning every game but that's unrealistic and I believe consistency will come more next season.
I'm not saying write this season off but to simply enjoy the foundations that are being laid for next season.
I see Silva as another Martinez, nice guy, trying to play good attacking football but the defensive side of the game is lacking. Not my first choice but the right kind of footballing man.
I'm more hopeful of what the future can be in 2 or 3 years not dreading the potential dour "park the bus and kick it long" routine that I refused to watch last season.
Early days, long way to go, we are not top 6 so forget that. But whether in a few years it's Silva or not, the players and the foundations are being put in place to continue developing the team and style in the right way.
Oliver Molloy
75
Posted 31/12/2018 at 13:18:14
Brian most likely is referring to Usmanov, I would think, and this may happen and it may not.
Certainly he would be interested if the rumoured interest in streaming from Amazon and Netflix with the Premier League goes ahead in the next few years... hey ho, there will be even more money!
Chris Davies
76
Posted 02/01/2019 at 04:13:04
Mike @50,
Holy shit balls, that was a great post!
Add Your Comments
In order to post a comment, you need to be logged in as a registered user of the site.
Or Sign up as a ToffeeWeb Member — it's free, takes just a few minutes and will allow you to post your comments on articles and Talking Points submissions across the site.