Report
Brighton do a number on profligate Blues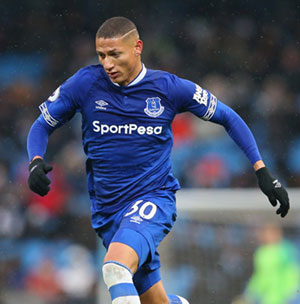 Rested against Burnley, Richarlison was recalled to face Brighton against whom he scored twice at Goodison last month
Brighton & Hove Albion 1 - 0 Everton
Everton forged a number of good chances in a tough first-half at Brighton only to give up a goal to failed zonal marking on a corner.
Richarlison and Gueye return to the starting line-up, Calvert-Lewin and Gylfi Sigurdsson returning to the bench. The back three of Mina, Zouma and Keane continue.
For the home side, Shane Duffy, leading scorer Glen Murray is on the bench, while Anthony Knockheart is not involved. Keeper Matt Ryan is away at the Asia Cup.
Brighton kicked off with Everton in all black strip, the ball zipping around at pace until Brighton won an early free-kick. Montoya beat two Everton players only to run into Gueye who majestically took the ball off his toes.
Everton were getting the high press put on them all over the field, and finding it hard to make any space. But Gomes did, feeding Coleman with a tremendous pass, his cross straight at Button.
Richarlison picked the ball up and turned well to run forward but went to ground: no free-kick. Everton were trying to make good passing moves but Brighton were closing them down very effectively. Bernard won a corner that Digne played in well and Keane had a decent chance with his header but put it wide and was disappointed not to have tested the freshman keeper, Button.
Mina gave away a poor free-kick, shoving Andone off the ball, but the danger was repelled. But Pickford bravely saved a certain goal with his body as Andone came in on him. Brighton were making a strong fist of it, really testing the Everton defence.
Everton resorted to the long ball to try and release Richarlison with no result. Barnard and Gomes were triple-teamed. Gomes looked to release Digne but passed straight to Marsh, Brighton's covering and blocking the channels being very effective.
Walcott whipped a ball in that the keeper spilled, Bernard found it as his feet and played in Richarlison who looked to score but was flagged offside as his shot was cleared off the line.
Richarlison ran in down his favourite left-channel, his shot blocked away to Coleman, who failed to shoot and was soon closed down. Walcott followed up and lashed a shot on target but easy for Button. At least Everton had created some chances but ominously failed to take any of them.
Another good move saw Bernard fouled as Walcott chipped toward the far post and beyond Gueye who was not tall enough. Gomes played another loose pass straight to a defender and a sustained Brighton attack ensued. Good defensive play by Zouma stopped a frenetic advance by Propper.
More Brighton pressure saw Richarlison collapse in a heap, and stay down a long time while everyone ignored him. This type of physical press seems to bring out the worst in him.
A brilliant interception by Gueye saw him run forward but he could not play in Richarlison. Everton were putting together some fine movement, Richarlison heading back across goal, the ball just not falling right for Benard, who was on his heels and didn't anticipate it correctly. Would Everton pay for these missed chances?
A great ball from Gueye was crossed in first time by Digne to Richarlison who went to ground again under pressure. Everton pressed forward and won a late corner, but it ended with a foul called on the Everton attackers. Brighton had made it a really difficult half for Everton but their class had seen a handful of good chances created that were not taken.
Hostilities resumed but the play was scrappy overall. Brighton were the first to show with a great through ball played in behind by Propper after a great turn but Zouma was across superbly to deny Andone. Mina failed to play out the back and created a chance that was curled wide. But the tempo of the game was raised and Bernard was booked for getting involved with Marc after the ball was not played out by either side after Richarlison had gone down in a heap yet again, turning his ankle after overstretching and losing his balance. Stupid reaction from Bernard.
Brighton smelled blood and pushed Everton back, two Brighton players going down without calls before Minoa made another poor foul wide left and saw yellow for his troubles. The free-kick was headed well by Gross, and saved brilliantly at close range by Pickford. More last-ditched defending by Everton led to a corner, the ball fell to Locadia off Gomes but was initially ruled offside until the referee consulted the linesman, with three unmarked Brighton players, a really poor advert for zonal marking.
Richarlison got in as Everton responded well, and saw his shot pushed on to the post, Digne's follow-up deflected behind but nothing from the corner. A real test now for Everton with Silva calling up Sigurdsson in place of Mina, but not until a corner was overhit and wasted.
Brighton now took an age to play in a free-kick, and were called offside. Bu Brighton were now in control. Bernard went on a great run and had to score but sliced horribly, screwing the ball out for a throw-in.
Gomes was having a nightmare and he was finally hauled off for Calvert-Lewin. A better move down the right failed when Walcott's ball was underweighted. Sigurdsson tried to get in the mood with a long-range shot that was miles off target, as Chris Houghton rang his changes, Murray coming on to cause Everton even more headaches.
Bernard and Richarlison looked to combine and exchanged passes only for Duffy to dispossess Richarlison with ease. Nothing seemed to be working as Walcott was bamboozled by Bernado's trickery and persistence. He then gave away a ridiculous corner that Pickford punched out but it looked like an easy goal for Murray, only for Keane to head his shot away.
The final last-ditch change by Marco Silva was Niasse on for Bernard, now six attackers on to save Everton blushes. A corner won, swung in by Digne, and away by Duffy. The ball just wasn't sticking for Everton, as move after move broke down.
Sigurdsson was fouled wide right. He drove in a brilliant curler that Zouma ros high for and hammered into the cross-bar with Button all sewn up.... It was just not going to happen for the traveling Blues today.
With time running out, Calvert-Lewin had his ankles clipped, Digne drove the free-kick straight into the wall. A Brighton clearance fell straight to Walcott but he was denied space. However, Niasse did well to pull out a shot in the crowd; however, not strong enough to beat Button.
Digne tried a long throw but it was booted away, and he was not prepared to let things go, getting involved with Murray at the end after the whistle finally went on a hugely frustrating game for Everton. Normal service resumed.
Kick-off: 3pm, Saturday 29 December 2018
Brighton & Hove Albion: Button, Montoya, Duffy, Dunk, Bernardo, March, Propper, Stephens, Gross, Andone (74' Murray), Locadia.
Subs: Bong, Kayal, Bissouma, Balogun, Steele, Gyokeres.
Everton: Pickford, Mina [Y:56'] (65' Sigurdsson), Keane, Zouma, Coleman, Gomes (72' Calvert-Lewin), Gueye, Digne, Walcott, Bernard [Y:53] (79' Niasse), Richarlison.
Subs not Used: Stekelenburg, Baines, Jagielka, Davies.
Referee: Andy Madley
---
Reader Comments (226)
Note: the following content is not moderated or vetted by the site owners at the time of submission. Comments are the responsibility of the poster. Disclaimer
Jerome Shields
1
Posted 29/12/2018 at 14:26:56
I would have played Calvert-Lewin ahead of Richarlison.
Machiel Barnard
2
Posted 29/12/2018 at 14:28:44
It will be interesting to see if Gomes will be asked to be the holding midfielder or be the creative attacking midfielder now that Sigurdsson is not playing?
Jay Harris
3
Posted 29/12/2018 at 14:31:57
I think it's a mistake to play 3 at the back against Brighton.
Agreed with it against Burnley but Brighton are strong on the flanks.
This nullifies our threat up front and invites pressure.
Minik Hansen
4
Posted 29/12/2018 at 14:40:05
I have a feeling Niasse will play and have a positive impact. Long time no see. COYB.
Mark McParlan
5
Posted 29/12/2018 at 14:43:44
Don't understand why we need the 5 at the back system now with Gueye back. Having a defensive midfielder in the team negates the need for it entirely.
By the looks of it, we've now got Bernard out on the wide left again, where he is much less effective as a winger than in the centre. And we now are also left with Richarlison up front again - a dubious decision, but we'll see.
I don't see why we needed to rest Calvert-Lewin particularly, I would have kept his place in the team. He was building up a decent run of form.
Would've preferred a line up resembling this:
----------Calvert Lewin
Richarlison-Bernard-Walcott
Gomes-Gueye
Digne - Mina - Zouma - Coleman
//////////////////////////////
Anyways, let's hope regardless that it's a roaring success. 3 points would be great.
Jay Wood
[BRZ]
6
Posted 29/12/2018 at 15:57:59
It's a good test this.
Brighton are mostly tidy and effective in what they do, but as the half progressed we were clearly the more creative and dominant side.
As Michael says in his live running commentary, let's hope we don't regret more missed chances.
Gomes looks a tad fatigued and as a result loose in some of his passing. I expect Siggy to sub in for him at some stage. The standout player from the first half for me is Gana Gueye. Breaking up everything. Receiving and moving the ball on well in tight situations. Picking up loose passes. Driving forward. Wide range of passing. Barely missed a pass all game.
Not convinced about playing Richarlison up front down the middle against Brighton. DC-L's hold-up play and aerial ability would be far more effective IMO against their defence. And Richarlison really must stop going down under any challenge and have a wee tantrum when he doesn't get the free kick.
Keep it tight at the back as we have, take 1, at least, of our chances, and another away win is on the cards.
Clive Rogers
7
Posted 29/12/2018 at 16:03:07
DCL has been left out as he was really poor against Burnley losing the ball consistently with Silve saying he needed to do more. Siggy must come on early second half to win the game.
Jim Marray
8
Posted 29/12/2018 at 16:36:21
This has been one poor game. Last to every loose ball, no real cohesion, Brighton are an average team and they are making us look less than average. I always saw the Burnley game as simply 3 points and not as some sort of revival and today has reinforced that view.
Christy Ring
9
Posted 29/12/2018 at 16:41:53
Niasse on, enough said.
Frank Crewe
10
Posted 29/12/2018 at 16:47:27
Like when we beat West Ham 4-0 last year. After that nothing. Burnley game the same. No consistency. Manager won't play a proper CF even though we have two of them. They mentioned that for the last 4 seasons at this stage of the season we have had 26 or 27 points. This season is no different. We simply can't make any progress. .
Ian Lloyd
11
Posted 29/12/2018 at 16:54:20
Why change a winning side? I keep saying it - clueless
Pete Hughes
12
Posted 29/12/2018 at 16:54:36
Jesus christ,Burnley must be absolutely atrocious?
Ian Lloyd
13
Posted 29/12/2018 at 16:55:38
Correct Pete
John Voigt
14
Posted 29/12/2018 at 16:56:14
David Connor
15
Posted 29/12/2018 at 16:56:23
Typical Everton. Absolute fucking garbage.
How much have we spent compared to Wolves and Brighton? Exactly... Piss poor squad ours. It may take another £200 million before we can match the mighty Brighton & Wolves in the Premier League...
Very disheartening, to say the least... But not unexpected.
Jamie Crowley
16
Posted 29/12/2018 at 16:56:38
Everton are a rollercoaster. Up one minute, down the next.
We are so inconsistent it's laughable.
Terrible today. No movement off the ball, shooting atrocious, Rich diving and embarrassing, not enough effort or inspiration.
Up and down, up and down, and so it goes on and on. Someone stop the rollercoaster ride, it's maddening.
Michael Lynch
17
Posted 29/12/2018 at 16:56:49
Brighton deserved the points, we were spineless, useless and careless. Silva is really making a pig's arse of this season so far. It was bad enough watching the dross served up by Koeman and Sam, but at least the SHite weren't running away with the title.
THis has all the hallmarks of one of the most painful seasons in our history come May.
Jim Harrison
18
Posted 29/12/2018 at 16:56:51
That was fookin awful. Couldnt pass, bullied. Didn't deserve anything
Ralph Basnett
19
Posted 29/12/2018 at 16:57:53
Pitiful.
I really can't see where this team is going (except down).
To many poor performances against lowly clubs, no heart, passion or personal pride.
Gomes will not stay.
Coleman will.
DCl and Tosser will still be our strikers, they will not play,
No youth will be given opportunities- and we will continue to suck.
The fookin life of an Evertonian is shit!!!
And now I get to watch the shoite tear the Arse a new one!
George Cumiskey
20
Posted 29/12/2018 at 16:57:56
How embarrassing, it shows you what a fluke one off the Burnley result was.
Walcott was a complete nonentity AGAIN.
By the way boys you were right to berate me when I said we're desperate for a goalscorer or we will finish in the bottom half. As long as we have DCL in the squad.
Did he actually touch the ball after he came on ?.
Jim Marray
21
Posted 29/12/2018 at 16:58:01
@12 they are. But having just seen the Wolves Spurs score I am starting to think we are not that brilliant either.
Jamie Crowley
22
Posted 29/12/2018 at 16:58:41
Highlight of the day was the use of the word "tranche" on the live forum.
That's it.
Brent Stephens
23
Posted 29/12/2018 at 16:58:52
Gutted. Really poor. Anticlimax after Burnley.
Brian Williams
24
Posted 29/12/2018 at 16:59:00
What pisses me off the most is that that was a relatively simple game to win.
Lack of all out effort and too many "nearly" men in our side.
How long Marco will persist with Walcott God only knows.
The lad loses posession far too easily and continues to run into cul de sacs.
Poor all round today. Still half a team worth of players short of being a decent side.
Phil Rodgers
25
Posted 29/12/2018 at 16:59:46
Absolutely pathetic
Jamie Crowley
26
Posted 29/12/2018 at 16:59:57
By tomorrow, we'll be 16 points off 4th place.
Can't polish that turd.
Gary Willock
27
Posted 29/12/2018 at 17:01:17
Desperately disappointing, and dreading Leicester now on New Year's Day. Resting Siggy and benching DCL were very poor decisions today, and Silva waited too long to change it. We need to accept that 5-3-2 only going to work against certain teams with no strength on wings.
Hopefully Marcel has seen that shambles and realised that there are different definitions of 'trouble', and for a club our size failing to challenge is trouble.
Schneiderlin, Niasse, Tosun, and Davis to move on this month. Midfield, Striker and right back in please.
Brent Stephens
28
Posted 29/12/2018 at 17:01:29
Brian, agree, Walcott was a no-show today. We can do better than him.
Roman Sidey
29
Posted 29/12/2018 at 17:01:33
It's getting very difficult to get any joy out of supporting this club. It's the same shit every fucking season. I always thought the lack of urgency was a Moyes trait, but it's still the same. For five minutes after Brighton scored, Everton looked like they wanted an equaliser, but after that it looked like they just wanted to get on the bus and go home.
Coleman is running out of goodwill; he just hasn't got it anymore.
Calvert-Lewin is a waste of space, and I don't see any reason why he's paid to play football.
Walcott had, I think, his worst game for us, which is saying something - we had Deulefeu who is carving wings at Watford and ended up with this absolute waster.
Mina's decision making today when tackling was suicidal.
Richarlison is good but is very immature even for a 21 year old.
Pickford needs to learn how to kick a moving ball, cos he's a liability in that regard.
I'm neither here nor there on Silva yet, but a good proportion of our poor results, especially this month, is down to players just not doing their job.
Ralph Basnett
30
Posted 29/12/2018 at 17:03:29
George (20), I to am not a great admirer of DCL, does not offer anything
Jim Bennings
31
Posted 29/12/2018 at 17:03:36
Everton players and management must be slow learners.
Why does silva wait so long to make subs when it's obvious to all watching that at least three players were having nightmares.
Why not start DCL in what was always going to be a physical battle and Richarlison doesn't fancy these types of battles.
We need a top class striker, it's that fookin obvious because in games when there's little space we don't have the quality to make that difference.
One win in December is a shocking return and we need to probably win five of the next six before the likes of Wolves are over the hill and far away.
I'm really really disappointed that after a decent autumn we have just lost our way and consistency has evaporated.
I can't see this team finishing much higher than 8th so I really hope Brands has some idea of what we need.
Coleman needs replacing ASAP and how Walcott keeps starting beggars belief the lads been so bad today again.
Gomes doesn't look fit or is just starting to show limitations Schneiderlin style.
Bernard has technical ability but the lad shoots like a toddler on whiskey and Farley's.
Phil Rodgers
32
Posted 29/12/2018 at 17:04:12
Feels like another wasted season
Grant Rorrison
33
Posted 29/12/2018 at 17:04:33
See Wolves won 3-1 at that side with 'no weaknesses' today. When are people going to stop defending shit and accept we're garbage and going nowhere.
Jamie Crowley
35
Posted 29/12/2018 at 17:04:45
Going to watch college football today. At least I'll see kids, who receive only tuition money, play their hearts out for their team.
It's so incredibly frustrating to watch men paid a king's ransom take a day off and not focus, going through the motions.
I'm livid.
Mark McParlan
36
Posted 29/12/2018 at 17:05:06
Absolutely atrocious performance.
There are 1-0 defeats, and there are 1-0 defeats.
This was one of those where you never believed that we were going to score. We could have played that match all day long, and still wouldn't have scored.
I attacked the team selection before the match - my gut feeling from the second I saw it I knew I didn't like it. What I thought would happen, did happen.
The back 5 is a good idea when there's no cover ahead in the midfield - for example in the Burnley game, where Gueye was missing and we weren't playing with a defensive midfielder.
But with Gueye back in the team, that line-up was cowardly. Bernard out on the left where he provides almost nothing. Richarlison up front - just isn't a great idea. It's hardly rocket science - play an out and out centre-forward if you want to score goals.
Yerry Mina's distribution out from the back remains shocking. I have no idea how he ended up at Barcelona. When he can't win the ball, he'll just barge over the opposing attacked and give away fouls in dangerous areas.
Someone tell Keane and Zouma how to head the ball at the goal, because they just can't do it.
Gueye did his job I suppose. Gomes has continually regressed every match for several weeks now, ever since the Derby performance. It is extremely concerning, because everything was going through him at one point. All his passes we're finding a blue shirt - no longer.
Sigurdsson should have started - he does this strange thing where he has a habit of kicking the ball in the net occasionally.
Something Bernard will never do. He has zero killer instinct. None. He is never going to score for us. He runs around with the ball alright, but from an attacking player his finishing is laughable. Walcott is Walcott. Just, so, so, average. Sometimes when Richarlison doesn't score you really wonder what he actually contributes. Other than falling over and swinging his arms around. Let's not forget though, he's still the youngest player on the pitch - I will give him the benefit of the doubt. Others have less excuses.
Complete waste of an afternoon watching that. The only reason the chase for 7th is still on is because so many teams are also as ridiculously inconsistent as us. Extremely concerning performance.
Jay Wood
[BRZ]
37
Posted 29/12/2018 at 17:05:08
Filth. Absolute filth from Everton in the second half.
OK. Unlucky on the goal, but we continually broke up our own momentum by giving away so many cheap free kicks.
Totally failed to get any foothold in the game in the second half as a result.
Once again, for me, Silva's substitutions from a losing position too bold, too early. It completely disrupts the balance of the team.
Having started with 3 centre backs, a like-for-like swap of Sigurdson for Gomes (who was off-colour today) would have maintained the balance of the team better.
Thereafter, with Bernard and Walcott returning to being very peripheral, plus Richarlison struggling at centre forward and clearly cutting a frustrated figure, DC-L coming on earlier for any of them with a slight tweak if necessary would have served us better I feel.
With Niasse also added to the fray, by game's end we had a very unbalanced line-up and it showed.
Hugely annoying.
John Hammond
38
Posted 29/12/2018 at 17:05:21
Three games in a week, what do you expect. Two days to recover until the next game.
Brian Wilkinson
39
Posted 29/12/2018 at 17:05:30
Not had chance to see the game so will catch it later and go off comments on here.
Have to agree with Ian, why change a winning team unless forced upon by injury or suspension.
Also with Mark about playing 5 at the back, no need when we have Gueye back in the team.
If the tinkering continues, god knows what team is going to be fielded in the f a cup.
Grant Rorrison
40
Posted 29/12/2018 at 17:07:06
Are you talking about us or the players, John @38?
Ray Jacques
41
Posted 29/12/2018 at 17:08:45
Typical Everton.
John Hall
42
Posted 29/12/2018 at 17:08:46
Pretty poor today. Scraped the barrel with the substitutions with not one of them making any impact.
Another average season and I am afraid to say some bang-average performers. Theo played like it was a warm-up for 90 minutes!!
Top half of the table at best but hopefully a few more transfer windows and we will move forward.
Christy Ring
43
Posted 29/12/2018 at 17:10:18
Depressing performance, and it was enough for me, when Niasse came on, and having to watch his first touch. Spurs losing summed up a crap day.
Michael Lynch
44
Posted 29/12/2018 at 17:10:41
John @38 - everyone has a crowded fixture list. There are no excuses for the performances against Spurs and Brighton. We are in freefall now, unable to beat anyone except the basement teams. We've still got five of the Sky clubs to play at home and I'd be surprised if we pick up one point from them.
Bottom-half finish on the cards here.
John Keating
45
Posted 29/12/2018 at 17:11:03
Just waiting for "in transition" "guys are tired" etc etc etc... couldn't be just simple like the team selection and tactics were wrong, could it?
Silva just doesn't seem to have any sort of plan if things aren't working. We are getting lots of excuses but, after hearing them time after time, it gets a bit boring.
Last season, I remember hearing loads of posters saying that we had really good players – we just needed a manager to bring out the best in them. Well it certainly isn't Silva.
Even the shower we have surely must be capable of getting results against the likes of Huddersfield, Bournemouth, Watford, Brighton?
I don't know about the players needing to have a look at themselves but as a coach and manager Silva needs to look at himself.
Ciarán McGlone
46
Posted 29/12/2018 at 17:11:26
I should have went to the pub.
I'm going now though.
Brian Wilkinson
47
Posted 29/12/2018 at 17:11:38
Hibs vs Hearts on soon; I still say we dropped a bollock letting Naismith go too soon – he's still banging the goals in 3 years after he was assumed ready for the knacker's yard.
We could have done with him in a few games this season, certainly better than any out-and-out strikers we have here.
Pete Hughes
48
Posted 29/12/2018 at 17:12:01
George Cumiskey, if Calvert-Lewin is the answer I am fucked if I know what the question is?
Jim Bennings
49
Posted 29/12/2018 at 17:12:27
Grant @33,
Other clubs can win away to top six clubs but, at Everton, apparently transition doesn't allow it so there's the answer.
Joke isn't it, really.
Jamie Crowley
50
Posted 29/12/2018 at 17:12:54
Ciaran -
I'd buy you one to help dull the pain were I near you.
Good call.
Danny Baily
51
Posted 29/12/2018 at 17:13:39
I think the players are struggling to care. Just 13 pts to go.
Joe McMahon
53
Posted 29/12/2018 at 17:15:04
Where the hell we gonna escape too when the American club win the league (easily), and Everton (yet again) are just a dated laughing stock? We are so far behind, in terms of image, players, stadium, silverware, Champions League... it's criminal for a once-respected club.
Iain Jones
54
Posted 29/12/2018 at 17:15:16
Utterly crap second half. Walcott gets a 3 out 10 for me. Weak in possession, weak on the ball, and piss-poor in a tackle!!!!!
Roman Sidey
55
Posted 29/12/2018 at 17:16:24
Iain, where does the 3 for Walcott come from? Overly generous in my view.
Michael Lynch
58
Posted 29/12/2018 at 17:16:37
I can't actually believe this season. The RS will be nine points clear in a couple of hours, and we are back to square one. Again.
I really fucking hate football.
Ian Bennett
59
Posted 29/12/2018 at 17:18:59
Typical Everton - win 5:1 last time out, up against a rookie keeper, and piss the bed.
I just wouldn't have changed the previous team. Keep the momentum, and take the players off when you need to change it.
Very frustrating, and shows the work and difficulty to float this ship.
Iain Jones
60
Posted 29/12/2018 at 17:20:00
Perhaps 3 was generous! But second half we were terrible. I'm so depressed at the moment and can't see it getting better. Wolves have just beaten Spurs away and we can't beat any top six teams.
Dermot Byrne
61
Posted 29/12/2018 at 17:20:24
Phew glad that is over. Very dull and predictable play and poor passing and finishing.
Sat in an airport and the departures board more fun.
Oh and I am angriest of everyone on TW. 😠😠🗯️😤👴
Dermot Byrne
62
Posted 29/12/2018 at 17:21:59
Oh no you're not.
Roman Sidey
63
Posted 29/12/2018 at 17:24:37
That Wolves win at Spurs has made me think about upsets. Every season you see these types of results fairly often. Everton never seem to do it. Two years ago we beat Man City 4-0, but other than that, we just don't get these upset results any more.
I don't expect us to beat the top 5-6 teams every time, but every now and then would show that the players give a shit.
Joe McMahon
64
Posted 29/12/2018 at 17:26:00
Brian @47,
Naismith couldn't even get into the first team at Norwich (when in the Championship). Even the likes of Wigan wouldn't want him.
How low have we sunk, Adam Rooney goes from Aberdeen to Salford and we go cap in hand to Hearts (a team below St Johnston).
George Cumiskey
65
Posted 29/12/2018 at 17:27:16
Ralf @30 not you mate but there's a hell of a lot of people on ToffeeWeb who think he's the answer, you couldn't make it up.
Mike Galley
66
Posted 29/12/2018 at 17:28:54
Talk about Groundhog Day. I'm afraid we're all repeating comments and statements that we come out with every season. I honestly can't see what can be done to change things.
I'll never, ever be ashamed of being a blue, but I'm afraid I'm not too proud of Everton at the moment.
William Gall
67
Posted 29/12/2018 at 17:29:05
We are constantly being told that we should give Silva a chance. I was always of the opinion that, when you are given a chance, you take it to improve, Silva is not taking his chances very well and this is being exposed on the pitch.
His team selections at times seems as he has never seen the opposition play before; he plays players who are way off-form and seems at times unsure of changes that should be made during the game that sometimes seem to just turn into desperation.
I may be wrong but I thought Calvert-Lewin led the line okay and wasn't frightened to put himself about and with the 2 central defenders that Brighton have, he would have been a better choice than Richarlison as he is brushed off the ball easily and is wasted as a centre-forward.
Yes, we cannot be changing managers all the time because of bad results – but the manager has to realize that being given a chance it is time he improved the team to an extent that, week-in & week-out, we are not going from hot to cold.
I may be wrong but usually other teams seem fitter than us and play more as a team.
Andy Crooks
68
Posted 29/12/2018 at 17:30:46
Poor performance from the players. Worse from the coach. I reckon we could be bullied by the Brownies. Nice guy Marco and his squad of nice guys.
Garry Corgan
69
Posted 29/12/2018 at 17:31:10
As I said in the Live Forum – at the beginning of play, we'd only beaten teams in the bottom 7 with the exception of Leicester.
Unable to beat the Top 6 and the teams around us – Watford, West Ham, Wolves, Bournemouth. This does not bode well.
Jim Bennings
70
Posted 29/12/2018 at 17:31:32
Roman
Didn't you hear about the unwritten law that because Everton are in transition we can't beat the top six clubs?
You must have been in a alternative universe because this rule has been out a good while now mate.
Everton don't beat top six clubs because we are in transition.
Forget the fact that we have pissed away millions and millions of pound on so-called international footballers, and the fact our chairman headhunted a manager he was willing to pay over £10 million to Watford for last year, we are always in that grand stage of transition so it's ok to just compete and get beat against top six clubs.
Remember it next time we get skullfooked by a big boy.
John Pierce
71
Posted 29/12/2018 at 17:31:57
Marcel needs to take Marco to the woodshed and give him a good kicking. Formation wrong, yet again against a side who keep the ball on the floor. It left the Easter island trio at the back to lump it at Walcott and Bernard. They loved that.
Short of any decent passing options using the back three and Gana, Gomes was bypassed and swamped. Poor lad, felt for him.
Richarilson still only effective from the left and deeper got kicked to bits without troubling the centre-backs. He's 21 and got buckets of talent, just play him were he's most effective.
We beat them comfortably last time out with a clear plan, this was overkill. Silva worryingly is getting the set-up wrong repeatedly.
Everton are operating with a limp — the right side is completely paralyzed; both players need a rest, there is no production or threat down that side at all.
Then Marco just lashes every forward he has up front, our shape dissolved, 2-4-4 at the end. It looked amateurish and embarrassing.
He has to get his head straight and sort it out. A shitshow? That would be kind.
The hottest of Christmas hot takes.
Kieran Kinsella
72
Posted 29/12/2018 at 17:33:45
Mike Galley @66,
Yep. This reminds me of Roberto Martinez's second season. We are just mediocre but the optimists says "Well, we are 11th right now but if we win the next 3 games we could still get 6th."
Then we win one, the optimist group expands, then we lose one, slip down again and so on and so forth until the season is over. We roll out Jagielka and Coleman to give the usual soundbites about "We need to do our talking on the pitch, we know we need to do better," etc.
Rinse and repeat.
Iain Jones
73
Posted 29/12/2018 at 17:36:22
The manager is definitely not going anywhere. But he has got to get his best team sorted quickly. Richarlison upfront against big defensive players doesn't work!!!
Walcott is utter crap. Why can't he see that? Remember that fat twat Sam Allardyce saying judge me on my signings? Walcott and Cenk!!!!!!!
Peter Gorman
74
Posted 29/12/2018 at 17:37:10
Frustratingly poor idea to make changes to a winning team.
Andy Walker
75
Posted 29/12/2018 at 17:37:16
We deserved a draw, hitting post and bar, but it was a below average performance. Walcott, Gomes (in particular) and Mina were all very poor and Bernard did his usual panic when got near goal. I thought Gana and Zouma were our best players.
Paul Tran
76
Posted 29/12/2018 at 17:38:42
Disappointing that, after what he said about Calvert-Lewin, he dropped him and stuck Richarlison up front against two strong centre-halves.
Gomes looked knackered or is he carrying a knock? The rest of them were fit enough, but showed an appalling lack of resilience and nous. Ten outfield players waiting for someone else to do something.
Brian Harrison
77
Posted 29/12/2018 at 17:38:52
I said before the game that today would be a litmus test to see if we are progressing or whether its just the same old Everton. So another winnable away game goes begging, we are 2 points ahead of Brighton who have spent nothing compared to what we have spent.
I can only imagine what Moshiri thinks he has spent £250 million and we are further away from a top 6 than the day he took over. Only Everton could spend this sort of money and go backwards. Now 10th and West Ham will jump above us if they get anything out of the Burnley game, and Bournemouth will go above us if they beat Man Utd.
It really is hard to try and stay positive, if shooting yourself in the foot was an Olympic sport we would be Gold medalists. Leicester on New Years day and I couldnt tell you what the result of that game will be, even though they lost to Cardiff today.
John Boon
78
Posted 29/12/2018 at 17:40:00
One comment. For his sake and my sanity, Richarlison has got to stop falling over and complaining. It doesn't help and he is now known as a player who always goes to ground. He is closely marked because he is supposed to be a good player, and of late I am not even sure about that.
Kunal Desai
79
Posted 29/12/2018 at 17:40:09
Small time club, always bumbling along in midtable mediocrity.
We've been crap for 20-odd years, nothing suggests that will change anytime soon. We might be lucky enough to see change in another 25 years, but still won't hold my breath.
No wonder we get laughed about by the RS, long-term laughing stock of a club.
Paul Hewitt
80
Posted 29/12/2018 at 17:41:01
No Jim. We don't beat the top 6 because we ain't good enough. It's that simple.
George Cumiskey
81
Posted 29/12/2018 at 17:41:16
Andy, "we deserved a draw"?!

What game were you watching?
Paul Birmingham
82
Posted 29/12/2018 at 17:42:38
It's another exceedingly bad day, and how many times do we have to say this, this season and for many previous seasons.
Horses for course with this squad but today I believe our starting line up invited trouble.
Being brutal, if Theo, starts v Leicester, I'll be very surprised. It's as good as having 10 men, and with Seamus demise, and plus the whole team generally have a stinker, it's hard to see what comes next.
Their rookie keeper should have been under siege, but playing like this against Brighton shows that we can't cobble two back-to-back wins away, and on this form, being realistic, I sense a very frustrating 2019.
No consistency, same old defence and goalkeeper issues, no craft and guile, another bizarre goal, and not enough class and guile today in midfield and attack is scatter gun.
I reckon Bernard offers more in each game and today he's hooked and Walcott endures again.
Seriously we aren't scoring enough and the Burnley result was a fluke score, and the stats state we hit the woodwork, twice but we didn't score.
Harrowing times, when you can smell the red mist rising and the seismic shift in the dynamic of this season, if as it seems, the title is being given away to the RS.
How and why is it we can't be consistent and just get the simple things right?
I'm not sure for Calvert-Lewin's hard work and efforts he will make the grade. I can't see it happening.
I'm seeing us as making up the numbers in the best of the rest and we won't be top of the rest, this season on today's showing.
Frustrating and sadly it's becoming the normal, for Jekyl & Hyde performances by EFC.
Enjoy the weekend TWrs, and All The Very Best of Health, Happiness and a Good Fortune in 2019, to You and Your Families.🤙🙂🍺🏐☘️⚽️☘️☘️☘️☘️☘️🍺

John Keating
83
Posted 29/12/2018 at 17:43:57
Andy we got what we deserved - nothing.
To excuses we were second best all over the pitch and in the dugout!!
I think we've played 22 games this season?? And I don't think anyone except maybe Digne has played every game, yet we are so slow and lethargic it beggars belief. It's been like this for a while now.
The more I see of Silva and the way he operates the more I see of Martinez. Scary.
Mike Galley
84
Posted 29/12/2018 at 17:44:28
Kieran @72,
Funnily enough, we where just talking before the game about Martinez. One of the lads commented about how criticisms of Silva are eerily similar to criticisms of Martinez.
Hope they're wrong, but it is worrying.
Derek Taylor
85
Posted 29/12/2018 at 17:48:43
What a surprise! Found wanting and fired at Hull, found wanting and fired at Watford. But apparently good enough for those who profess to know the game at Everton. Really?
Clive Rogers
86
Posted 29/12/2018 at 17:50:21
So disappointing, Walcott awful, Bernard weak and can't finish, Richarlison going to ground all the time and Gomes getting worse every game.
You could see their goal coming but no reaction from Silva till too late with Sigurdsson sat there. Calvert-Lewin is not the answer.
Chris Jenkins
87
Posted 29/12/2018 at 17:51:00
Just how many more games is Silva going to be given before the axe falls? We should be making short work of teams like Brighton yet we consistently fail to do so. Regardless of the compensation that he will be entitled to surely his contract has to be terminated p.d.q.
For a manager whose record is patchy at best, I see absolutely no hope of any sustained progress whilst he remains in charge although I continue to fear being dragged into the relegation quagmire if the Board fail to act quickly.
Reappoint David Moyes until the end of the season, review how he performs over the nest few months and if there is no positive progress, then see if Eddie Howe could be tempted away from Bournemouth or, if that fails, look at people who have achieved success on limited resources like Derek McInnes of Aberdeen. There are many good potential managers outside the Premiership. The money squandered on so called top managers, Martinez, Koeman and now Silva has produced absolutely no return.
Some are quick to overlook the fact that there is no guarantee that Moshiri will stay and continue to pump vast amounts into new players. He is first and foremost a businessman who wants a return on his investment

Jim Bennings
88
Posted 29/12/2018 at 17:53:38
I would be very surprised if this time next year both Walcott and Coleman aren't sharing the same field, out to graze with other old retired horses.
Seamus should always be remembered for the top lad he is and he was fantastic for years but the engine has gone now, the body won't do what the heart and head wants, there's no room for sentiment in football.
Walcott looks gone now aswell, he came in and looked bang on it in January but his decline has been evident for a good three months or so now.
I still can't believe after all the money we've spent we were still looking to Oumar Niasse to save a point at Brighton, it's just rather laughable really and it makes a mockery of people who think you can challenge the top six without signing a proven top class striker.

Brian Williams
89
Posted 29/12/2018 at 17:53:50
Get a grip Chris for God's sake.
Moyes? Give your head a wobble for fuck's sake.
Roman Sidey
90
Posted 29/12/2018 at 17:53:51
Brian,
"Leicester on New Year's Day and I couldn't tell you what the result of that game will be..."
That is bang on. We could win or lose 4-0, draw 0-0 or 2-2, win or lose 2-0 and I wouldn't be surprised at any of those results.
A brief shot of endorphins from the early Arsenal goal there has already been replaced with dread.
Wayne Maher
91
Posted 29/12/2018 at 17:54:37
How did they do a number on us?
It was 1-0 and a boring game up till the last half hour. Journos... bloody useless.
Philip Yensen
92
Posted 29/12/2018 at 17:55:29
Once again we were crap, no shape, no fire and no direction.
Once again Pickford, made a couple of good saves but positional sense non existent,
Keane could not mark a bingo board. Just a poor centre-half.
Coleman body shape is negative he always receives the ball ready to pass backwards. Will not hit a first time ball, forever taking a 2nd touch. >Put Zouma and Mina as centre-backs and leave it.
Richarleson kept looking for protection from the Ref. Needs more guile.
Digna is fine.
Walcott, a nothing player: no spark, no fight, no vision.
Gana struggles when players around him don't do their jobs.
Gomes wanted to play the killer ball but it never ever came off. Head dropped every time he fucked up and backtracking was poor.
We are a sorry side. Don't forget, if Burnley were a bit stronger, we would have had our arses kick there. Poor poor performance today.
Paul Birmingham
93
Posted 29/12/2018 at 17:55:30
Yep agree, it's time to pray for miracles.
There's half a season to endure, and that's the way it will be bar a miraculous transformation of this squad in terms of drive, fight, guile and belief.
Trevor Peers
94
Posted 29/12/2018 at 17:55:45
Get Usmanov in and sign a proper manager. Is the only way we'll ever compete again. Why isn't Moshiri actively pursuing his rich mate? It could only happen at Everton.
David Hallwood
95
Posted 29/12/2018 at 17:57:30
Win today and we would be in 7th. If if if
Joe McMahon
96
Posted 29/12/2018 at 17:58:26
Chris @89, are you serious? Moyes has been sacked or released by 4 clubs since "11 years of no wins at Anfield" Everton in under a season and you want this dinosaur back. WTF has years of shite done to fans expectations???
Paul Tran
97
Posted 29/12/2018 at 17:59:05
Chris, for the umpteenth time, Moyes is a busted flush. He peaked at an ambition-free Everton. McInnes is a bottler. He bottled taking the Rangers job after courting them publically. His team regularly bottle big games.
Moshiri won't be going anywhere until the stadiums built. Then he'll be looking to make a killing if/when he's had enough.
Ian Lloyd
99
Posted 29/12/2018 at 18:00:08
I'll say it again - we head hunted this guy?!? Never wanted him ever and a charlatan again
We would have been miles better with pellegrini for example (just off the top of my head)
Same old rubbish and he's got his supporters on here (god knows why)
Throwing million after millions away each year ! Why don't we throw daft money at a good manager for a change?!?
Give me strength.
Jim Bennings
100
Posted 29/12/2018 at 18:00:10
We constantly rave about players that have a handful of decent games (we did it with Schneiderlin in 2017) and the reality is, they don't offer anywhere near enough to sustain a top 6 challenge.
All talk of spending "anything it takes" on Gomes — it's pretty absurd.
Yes he's just one example, he's a elegant passer of the ball etc but does he look like an all round midfielder that will dominate or score goals?
No.
The difference is with better players elsewhere is they turn out in the big games regularly and revel in big occasions. At Everton we usually only win when the opposition are completely abject.
We rarely win when opponents match our work and endeavour.
Paul Tran
101
Posted 29/12/2018 at 18:00:29
Getaway Trump in the midfield, David?
Michael Connelly
102
Posted 29/12/2018 at 18:09:06
Chris J, on what basis should we be making short work of teams like Brighton, when our out-and-out strikers consist of Calvert-Lewin, Niasse, and Tosun?
We replaced half the side in the summer; give them a chance to replace the other half before calling for Silva's head.
David Connor
103
Posted 29/12/2018 at 18:15:49
What a bloody joke our great club has become. There isn't any sign of it changing any time soon either...
Wonder if Mr Moshiri is thinking "What the fuck have I done buying into this club?" Most people would!
£200 + million spent on a mid-table team... Fucking unreal!
Jim Bennings
104
Posted 29/12/2018 at 18:16:14
Calvert-Lewin, Tosun and Niasse couldn't make short work of a subbuteo team.
Three of the shittest striking options we've had up front for as long as I can remember.
Christy Ring
105
Posted 29/12/2018 at 18:23:23
Gomes looking very sluggish, needs a rest, why not give Macca a start, he must be chomping at the bit, and I know Tosun has been poor, but he offers a lot more than Niasse.
Gordon Crawford
107
Posted 29/12/2018 at 18:25:51
Typical cowardice from our superstars today again. Honestly half these players need the boot. We won't improve if we don't beat teams like this.
We are too soft and it's time we grew some balls. How we miss a Thomas Gravesen type player.
Colin Glassar
108
Posted 29/12/2018 at 18:29:35
I've said it before and I'll say it again, I'm placing my hopes in Brands. He's not going to want to be dragged down by an underperforming manager or players. I think he'll be ruthless in the summer with his end of season performance review.
I said before the Burnley game that Silva could turn out to be a genius or a poor version of Roberto Martinez and at the halfway stage the jury is still out.
Silva, for me, has been a big disappointment as he reinvigorated both Hull and Watford (initially) before fading. This hasn't happened at Everton as we've been usually poor to mediocre this season with one or two bright spots.
I'm sick and tired of waiting for Everton to wake up and become the team that some of us remember. I don't know what the cure is but there's a deep sickness at the club which has been spreading for over 30 years now and it needs cutting out at the roots.
Ian Horan
110
Posted 29/12/2018 at 18:33:16
A number of people strongly absent from TW after the Burnley game now return with, "Silva's shite", "Silvas a Charlatan"... Check the dictionary for the term supporters!!!!
FFS give it a rest; we got beat 1-0. Let's have some degree of reasoned debate instead of sweeping statements.
One transfer window Silva has had, surely we ain't deluded enough to think we are gonna break the top 4 this season or next...
Happy New Year to one and all.
Dave Abrahams
111
Posted 29/12/2018 at 18:37:45
Some of the Everton performances are very frustrating. The way we start some of the games in either half, we started slow today, got back into the game then started the second half even slower than the first half, happens game after game.
Then to listen to Michael Keane blaming fatigue for today's failings... fatigue, that's an insult to every fan, more so to the fans who were up at the crack of dawn to get down to watch that half-hearted attempt to try and get something from the game.
Then listening, not only to Keane, but the manager Silva speaking after the game, didn't look or feel like there was a lot of life in him either.
We are used to getting beat but the lack of fight, effort and will to get back into the game was really galling today.
Fatigue, well it's starting to get very tedious listening to some of the remarks by the players and manager after each poor display, good job a lot of us are patient.
Brian Wilkinson
112
Posted 29/12/2018 at 18:37:59
Hit the nail on the head Jim, what he has done in three years, not 6 months like Silva.
What do you expect the second coming of Christ, it takes time to build a team.
It took Klopp three seasons to assemble his own team and he made big mistakes in his first season or so.
I could not give a flying huff about our neighbours, for me I want to see what Silva and Brands can do in the next two seasons.
I think Mina,Digni, Gomes and Richarlison are a good start.
The rest he has to try and get the best out of for the time being until he can bring in the players he wants.
Rome was not built in a Day, stop worrying about our neighbours, every team has a blip, it will come over the park, it only takes a couple of injuries to key players, for now I am staying positive and looking forward to Siggerson scoring the winning goal in the cup final.
Onwards and upwards.
Martin Berry
113
Posted 29/12/2018 at 18:39:07
We, supposedly? I have the better players but we lost against Brighton!
I can only assume they worked harder than us and, if so, that's poor stuff and needs sorting out asap.
William Gall
115
Posted 29/12/2018 at 18:40:27
The reality and contrast between us and the top team will be 27 points, that is how far behind in our players, managers and owner are facing. The other point that makes this so sad to look at is: from the last 5 games, we have obtained 4 points.
This is not a team in transition – this is a team that seems to have no direction, and that must reflect from the top to the team manager and his staff... Yes, you have to give a manager a chance and the last manager done what he was hired for, but the present manager does not seem to grasp the opportunity he has been given, and seems unable to learn from his mistakes.
He is, apart from a calamitous mistake from the keeper, able to get results at Chelsea and Liverpool but, up against mediocre teams as today, he fails miserably.
Ian Lloyd
117
Posted 29/12/2018 at 18:40:59
Ian @121,
I didn't comment on the Burnley result as I knew it was a one-off – they are certainties for relegation.
I'm not a "Ooooh, we beat Burnley, Silva is a god." happy clapper.
I stand by my words and if you're not happy with that then so what? I always will support the club – I don't have to support the manager.
I'm not deluded (like some) to think that we are a top 4 side but I'm also not deluded to think this guy is the answer – his record is shambolic.

Michael Connelly
118
Posted 29/12/2018 at 18:41:17
Colin G, with reference to my earlier post, the cure is replacing the Calvert-Lewin, Niasse, Tosun striking triumvirate. Not sure what Silva is expected to do with that trio, apart from not play them, which he typically does.
Brian Wilkinson
119
Posted 29/12/2018 at 18:43:59
Ian @121, spot on, mate. I mentioned the same after the Burnley win, I just knew they would return after we lost today, does my head in.
Colin Glassar
120
Posted 29/12/2018 at 18:47:05
Michael, I can see the potential in Calvert-Lewin; the other two can go as far as I'm concerned. Our main problem is down the right with Coleman and Walcott. I think it's time to plan for the future without either of them.
Don Alexander
121
Posted 29/12/2018 at 18:48:52
Criticism of Silva is misplaced in my opinion. The squad we've had for years, regardless of comings and goings, is awash with mentally weak, physically lacking self-serving millionaires who've all realised our club is the summit of their careers and incomes. The last thing several of them want is Europa Cup qualification and, perish the thought, CL qualification cos that would mean way more money coming in for way better players than we can currently sign.
And no, I don't have any proof of the above, I've just had to rely on my eyes for all the evidence I need.
For that reason I suggest we give Silva to the end of next season before we start to blame him for the mediocrity still swamping FF.
George Cumiskey
122
Posted 29/12/2018 at 18:49:43
Ian Horan@ 121,
Yes, there are plenty of people on ToffeeWeb deluded enough to think we're going to break into the top four either this season, next season, the season after that, or the season after that, or the season after that...
Tony Abrahams
123
Posted 29/12/2018 at 18:57:28
Only saving grace for me is to dream! I was listening to the game on radio Merseyside, and the commentator for whatever reason read out an Everton team, from a fixture against Brighton, from 1982.
It contained Ratcliffe, Stevens, Richardson, Sharp, and he might have even said Big Nev. None of them were that good, at the time, and my initial thoughts were what a half a team they became?
I then went home and witnessed that second half of shite, and thought that we have probably got enough good players for half a team! Lunatics the fuckin lot of us, and the only thing tired about Everton today Dave, was having to watch them.
Mike Galley
124
Posted 29/12/2018 at 18:59:22
Dave #122.
Did Keane really blame fatigue? Really?
If we'd had a European campaign and a run in the League Cup, I wouldn't buy that. We've had the least amount of games possible for a Premier league team this season!!!
I'm afraid he epitomises the lack of determination to succeed that exists in this football club at the moment.
Fatigue??? Give me strength!!
Ian Horan
125
Posted 29/12/2018 at 19:02:17
Ian L @128; I am not a happy clapper myself. But we need to put things in context, we are on a different level to last season actually looking creative in 50% of our games.
We competed at Arsenal, remember their 1st goal offside. At Utd a dubious penalty for their first Chelsea a good point when Chelsea were unbeaten. LFC a fluke goal.
The balance isn't right yet, but I can see signs that we aren't a bad team, we are however inconsistent. In 12 months time, let's see where we are.
Michael Connelly
126
Posted 29/12/2018 at 19:05:36
Colin, yes, emergency surgery required down the right hand side also. I would give Silva and Brands the opportunity to address these areas before casting judgement on the manager.
Joe McMahon
127
Posted 29/12/2018 at 19:11:23
Mike@135 the players excuses are symbolic of the years of failure. Even some supporters are happy with never competing. I've read on this website today, someone wanting Moyes and Naismith back.
Chris Corn
128
Posted 29/12/2018 at 19:11:45
The club is weak mentally from top to bottom. It goes back to the Panathanikos loss in the EC and the FA cup semi final in 1971 when we lost and Joe Royle himself says that's the "day a team died and we handed the baton of superiority over".
Apart from the 84-87 and 95 years it has been one sob story after another. The 1975 title capitulation with four games to go, the Hamilton incident and umpteen derby defeats, losing to 2nd division West Ham in 1980 FACSF, failing to win a game of significance at home or abroad under Moyes with the exception of the 2009 semi final. Smashing Arsenal under Martinez then meekly losing to Palace and Southampton when we were in the driving seat to qualify for CL. 2 goals up at The Etihad and still fold in the League Cup semi.
These are just some of many examples of the weakness and medocrity that courses through the veins of EFC in the last nearly 50 years. It doesn't matter who is in charge or who plays. It is The Everton Way.
Colin Glassar
129
Posted 29/12/2018 at 19:12:20
I'm interested to see how Silva reacts to this Michael, and I'm certainly not giving up on him just yet. He has to be ruthless with, fans favourite, Coleman and with Walcott who I've never rated.
Seamus has lost the pace, bravery and inventiveness he used to possess in bucketloads. He's now a shadow of his former self and he should now be used sparingly. Either give Kenny a run of games or get Wan-Bisaka in in January whatever the cost.
George Cumiskey
130
Posted 29/12/2018 at 19:16:22
The same people who are saying "Let's see where we are in 12 months time" will be saying "Let's see where we are in 12 months time".
I hear the same rubbish being spouted season after season.
Jamie Crowley
131
Posted 29/12/2018 at 19:16:43
I know this is completely harsh on Sigurdsson, but there was discussion on the Live Forum about Bernard playing the 10, and personally I'd kill to see it.
That kid can't shoot. We're not playing to his assets. His ball control, technical skill, and trickery are superb. Just behind Calvert-Lewin with Rich on the left and Theo / Lookman on the right could be a deadly combination.
I'm not sure what the answer is, but I'd give an arm to see that front four given a try. I think Bernard could unlock a lot of the opposition's defense.
Anthony A Hughes
132
Posted 29/12/2018 at 19:18:26
I don't know about physical fatigue but mentally I don't see the desire or intensity from our players. We seem to play with the handbrake slighty on, where's the pressing game and the fast counter attacking style we were led to believe was coming?

Chris Corn
133
Posted 29/12/2018 at 19:19:35
Colin 140. On the subject of Coleman, I watched him today and you can see he has no confidence to scamper to the by line anymore and make something happen.its a shame because hes a class act as a player and man but I cannot see him finding that yard of pace he seems to have lost and he is a shadow of his former self.
Mike Galley
134
Posted 29/12/2018 at 19:22:25
Joe, seen that myself. I was (am) a fan of the job Moyes done in the first 5/6 years here. But he got sucked into the little Everton narrative. Some might argue he instigated it.
Bring him back? Not for me.
As for Naismith. I had a lot of time for his effort and determination. Like I did for Stracqalursi. Bit give me a peak Graeme sharp any day.
Ian Lloyd
135
Posted 29/12/2018 at 19:25:30
Trevor Peers
136
Posted 29/12/2018 at 19:27:17
Jamie @136, I think you're confusing the Premier League with the Zingari League in Liverpool if you think Bernard is a playmaker — get a grip.
Colin Glassar
137
Posted 29/12/2018 at 19:32:43
Everyone's day comes, Chris. Coleman and Bainsey have been fantastic servants to the club but the elite teams show no mercy or sentimentality. The likes of Keane, Rooney, Gerrard, Lampard etc have all been shown the door once the pace goes.
This is not an indictment on either of them it's just Father Time doing his thing.
As for your excellent post 136, I always remember the Sandy Brown own goal and my dad (rs) saying to me, "that's you lot finished". I don't know if he was clairvoyant or what but even as a very young, Everton mad, kid I felt something had changed. The earth had moved from underneath us. It's never, ever, been the same since. Even in the 80's they beat us in the sodding Milk Cup then got us banned.
It's hard being an Evertonian. It's a few moments of joy and long periods of sadness and frustration.
Michael Kenrick
138
Posted 29/12/2018 at 19:38:19
I have to say I got more annoyed than ever with Richarlison's nonsense this time. He injured himself at that point where both sides played on, leading to Bernard's petulance in an almost comical Little-and-Large face-off with Marsh.
It came in a crucial spell of the game, during which Brighton had really shown the initiative after the break, and we had two players booked, and that great reaction save from Pickford, before they inevitably got the goal their desire and drive fully merited.
I think we only succeeded in making things worse for ourselves, with zero leadership again from Silva, who should have reacted much sooner to the game swinging in their favour — well before the goal was actually scored — but I think we all saw it coming, didn't we?
Mike Jones
139
Posted 29/12/2018 at 19:38:48
Mid table mediocrity. Meanwhile, Liverpool just look awesome
Chris Corn
140
Posted 29/12/2018 at 19:42:18
Colin, you are dead right. I didn't even mention not winning the treble and handing the double over in the mid 80's as at the time we were so good we thought we would be up there for a long time to come and the bile between us and our lovable neighbours had yet to truly manifest. As it happened by the end of that decade we had fallen to pieces and have never recovered.
Ashley Roberts
141
Posted 29/12/2018 at 19:44:54
That has to go down as one of the worst performances I have seen for a long time.
Effectively playing 6 defensive players against lowly Brighton is beyond a joke. If you are going to play with a back 5, you don't play another defensive midfielder in Gana. If Sílva wanted to stick with the back 5, he should not have dropped Sigurdsson from the line-up.
It was clear right from the off that the formation was wrong. Apart for maybe 5 to 10 minutes in the first half ,we were bloody atrocious. The back three of Zouma, Keane and Mina do not have a forward pass between them.
I think I saw Keane make 10 side ways passes to Mina when he was under no pressure himself. The reason being when he did try a forward pass it went out of play.
Richarlison is not a centre-forward and I am getting totally tired of him rolling around the floor like a poleaxed pig when in reality he has not been touched. It was his playacting that broke the game up that eventually led to their goal.
For me, I am beginning to doubt the ability of Sílva. To play such a defensive-minded team against Brighton is just ridiculous. Since the Liverpool game, Everton have just not been at the races. The result against Burnley aside, which is because they are in free-fall, has been bottom-part-of-the-table quality — and that is where we will finish this season. Absolutely pathetic!!
Brian Patrick
142
Posted 29/12/2018 at 19:51:48
What happens if we don't beat Leicester at home?
Steavey Buckley
143
Posted 29/12/2018 at 19:51:49
Tactically, the formation made no sense putting Bernard out wide with no creativity in midfield. I only understood Walcott was playing by looking at the team sheet, as his contribution was about zero.
Brighton's Duffy and Dunk were left to take care of Richarlison, who must have been wondering where the rest of his team mates where, as he was left alone and isolated. Coleman still wants to give, but his best days are over, when Everton need Coleman of yesteryears. Everton cannot rise above mediocrity because they cannot beat the better teams or even Brighton away.
Oh, how I would like a goal-keeper to come out for crosses when corners are taken. Makes footballing life so much easier.
Tony Abrahams
144
Posted 29/12/2018 at 19:58:24
Chris, I know I said I'm dreaming, but we were shite for the first part of the eighties, and that's why I brought up that half-a-team before.
I remember reading a report in the Daily Mirror, on 1 January 1984, and the reporter wrote that, on his way to Birmingham, he was going to read George Orwell's 1984, because things couldn't get much worse for Everton.
Eighteen months later, we were voted World Soccer Team of the Year, so I'm going to keep believing, even if it sends me into the nut-house.
I thought we were shite today, but in the past it was just accepted and, whilst it looks the same right now, I'm not sure it is when I saw some of our players' expressions during today's game.
Tony Abrahams
145
Posted 29/12/2018 at 20:01:08
Brian @142, have you got an answer for that question?
Darren Hind
146
Posted 29/12/2018 at 20:02:25
I am still struggling to understand the thinking behind today's line-up. Why did he persevere with Mina when Gana was back and he could have gone with his preferred formation? Mina is a mistake waiting to happen.
And why would you challenge a striker to give you more... then bench him?
Ian Riley
147
Posted 29/12/2018 at 20:04:06
Sadly this is a big job. Anyone who thought top four was even realistic requires therapy and quickly. Please seek help.
Take a look at Tottenham Hotspur FC. Fantastic football but trophies not forthcoming over the past few years. Liverpool have been building on and off for the past 10 years. Sadly, we are years behind top four. Silva the answer? Well, if three/five hundred million pops up into the boardroom. Jose is free.
My moan today is changing a winning side. Why? Fatigue? Give me strength. January must be a moving on month for some players. Just another Christmas passing with little cheer.
Keep the faith.
Darren Hind
148
Posted 29/12/2018 at 20:04:46
Brian 142
We all come on here again and moan like fuck
Brian Patrick
149
Posted 29/12/2018 at 20:04:49
Tony. No. Because at times we play good football but I suppose results are results.
Tony Abrahams
150
Posted 29/12/2018 at 20:07:04
I think it's because he wants to play with 3 centre-backs long-term, Darren, and then, because we are in the middle of a load of games, he's also played Gueye, because he's had a few games off.
Paul Tran
151
Posted 29/12/2018 at 20:09:58
Darren, you're dead right about Calvert-Lewin. He needs at least a dozen games in his proper position. To praise him and then drop him for a non-centre-forward was ridiculous.
Still, I'm gonna carry on drinking this nice bottle of red and dream about Cheltenham & Aintree.
Tony Abrahams
152
Posted 29/12/2018 at 20:15:43
No 'suppose' about it, Brian, and it's why we will slip further down the Premier League if we don't beat Leicester on Tuesday.
I couldn't care where we finish if it's outside the bottom three, but that would obviously change if the football was like today's.
We have some good players now, although some would disagree, but that's because results are everything, and when things don't go well, it's easier and more natural for most to focus on the negatives.
John Keating
153
Posted 29/12/2018 at 20:16:11
Tony,
At times this season individually, and as pairs, our 3 centre-halves have played well. I think Silva is just shoehorning the 3 of them in the same team because he doesn't want to drop one.
We've seen recent managers trying to fit in their favourites to a team and that has caused us grief. Silva seems another one.
Silva's tactical awareness, team tactics and team selection is sometimes really baffling.
Pat Kelly
154
Posted 29/12/2018 at 20:17:10
Silva is still trying to find his best eleven. I'm not convinced he could find his own ass with both hands.
Just as well he gets it handed to him every other week.
Chris Corn
155
Posted 29/12/2018 at 20:17:25
Tony 144, you're right to keep dreaming but the days of hoping for a Kevin Brock back pass to change the club's fortunes are exactly that: a dream. In Moshiri's tenure we have spent circa £300 M on three managers and big money signings and are clinging on to a spec in the top half – never mind top 6 – and that's amongst teams who have spent a fraction of what we have spent.
Paul Kelly
156
Posted 29/12/2018 at 20:21:39
I've had time to reflect on this result, plus others and apart from the flash in the pan that was Burnley, I think we're on a hiding to nothing at the moment.
Poor Management, though I will admit that Marcel Brands's mane is every bit as exotic as you'd imagine in person, wow, what a do!
Darren Hind
157
Posted 29/12/2018 at 20:23:04
Paul T
Made up for you. a cracking effort against CH prospect. More to come there too.
Got on E/W so a small profit and a nice distraction.
Derek Knox
158
Posted 29/12/2018 at 20:26:39
Sorry to say this, guys and girls, but I really don't think that Marco Silva is the Manager we need.
He is too frivolous in his team selections for starters, he doesn't assess the opposition properly, and is very reluctant to admit that he has made a mistake!
Mark Murphy
159
Posted 29/12/2018 at 20:28:41
Just back from the game and I have to say I feel sorry for those poor sods that did the 548 miles that Brighton accredited them for travelling, but that was fucking shite! The line up was shite; the tactics were shite; the players (with very few exceptions) were shite; Brighton were shite; and we were shiter!
After over 50 years supporting the blues through thick and thin I want to say "Fuck off, Everton! You're shite from top to bottom!"
Before anyone says it I've had a pint, yes, but nowhere near eno. ugh to be unaware of what I'm saying.... That was fucking rubbish and anyone who can take positives out of that are deluded. I saw more hope in the Spurs game than this one!
And my mate took his lad to his first away game to sample our "amazing" away support. Oh yeah – we were loud in the bar and if the players, especially Richarlison and Mina, had been in earshot, they may have been galvanised.
But they weren't – they were on the pitch where all they heard were Brighton supporters!
Another myth destroyed. It's easy to sing when you take the lead in two minutes – today, the fans and the team and the coaches and the tactics were all...shite!

Dan Davies
160
Posted 29/12/2018 at 20:37:06
The team picked seems to be Silva's preferred choice because he keeps going back to it.
Just because a team looks good on paper, doesn't mean it does the business on the grass.
He should have kept the same team from Burnley and told them "More of the same!"
Paul Tran
161
Posted 29/12/2018 at 20:40:38
Cheers Darren. I wasn't going to back him until I saw the 9/1 before the off, so I lamped on each way. 10/1 was a bigger bonus.
We're all thrilled with his run. Hopefully he'll come out eating and bucking tomorrow and there'll be one more run before Cheltenham/Aintree. Champ will be among the favourites for the Cheltenham novices (not the CH), so coming second to him was a great performance.
Glad you got on and got a couple of quid from it.
Tony Abrahams
162
Posted 29/12/2018 at 20:40:44
Maybe you're right, John K, but I just have a feeling that three at the back is part of Silva's long-term thinking.
Neil Copeland
163
Posted 29/12/2018 at 21:01:23
I am a natural "pint half-full" type and generally see the positives in most things, including Everton. But I am really starting to worry that we are not making any progress at all.
Yes, I know we have better players than last season with a better Director of Football, better manager, backroom etc etc. What I can't understand is why we seem to be going backwards? I almost expected the Spurs result... but not the result today.
So, do we really have better players or simply ones that show off ball skills every now and again? If we have a better manager, why does he make so many tactical mistakes? I think we do actually have a better Director of Football who now needs to show his teeth by "advising or reminding" the manager of what he is there for.
It's too early to judge Silva or some of the players but the day is getting ever closer at the moment. I just want to see steady week-by-week improvement; I am not expecting miracles. I do not expect to see us win 5-1 every week neither do I expect to see us lose 3 out of 4 though (no matter who the opposition is).
After almost 50 years of supporting Everton, I suppose I should know better.
Alan McGuffog
164
Posted 29/12/2018 at 21:02:16
Colin, I must agree with your overall point (sadly). However, Sandy scored that one in December 1969. Hughes and Bobby Graham the other two.
But did not that season end on something of a high? True, we went to hell on a handcart after that!
Tony Everan
165
Posted 29/12/2018 at 21:02:38
We are Watford, West Ham, Leicester, Wolves class. Inconsistent; some days good... some days lacking a bit of quality. If we show our better side 7th is possible.
I am still optimistic that, with 2 more transfer windows, M&M can do much better next season.
This season has boiled down to the FA Cup; if we are lucky with the draw, we could have a decent run.
Paul Tran
166
Posted 29/12/2018 at 21:03:15
Nothing wrong with three at the back for me. You need full backs who can push on and give the forwards service. We only have one that can do that. Pickford made one great save and I think we were unlucky with the goal.
The real problems are going forward. Gana is a good tackler/spoiler but can't pass water or shoot. Gomes is good but needs Sigurdsson to give him space. Walcott can't keep the ball or produce enough. Richarlison is not a centre-forward so why persist with him there? Bernard works hard and can create, but sends out distress signals when he sees the goal.
I would:
Play three at the back and be looking for a right-back.
Play Calvert-Lewin and give him a proper run in his proper position.
Play Sigurdsson every game as long as he's breathing.
Put Bernard on shooting practice.
Bin Walcott.
Beg Brands to find me some midfield muscle and a goalscorer.
I'm won't have this percentage 'play the system that suits the players' nonsense. Do what Klopp did: have a method and tell the players to adapt or they'll be replaced.
But for me, if Silva's going to have any credibility, he's going to have to pick a team and stick with it long enough for it to bed in.
The halfway house we had today won't help anyone.
John Pierce
167
Posted 29/12/2018 at 21:06:06
I enjoyed immensely the back three and Gana passing the ball amongst themselves. Scintillating.
Add to that Seamus' & Walcott's inability to pass a ball to a black shirt, and a Richarlison's greedy nature, we had maybe three players on the field who can pass a ball well.
It just doesn't wash whatever season we are having to lose that game against a side like Brighton.
Silva got it wrong, not for the first time against poor opponents.
5/21, 1 win in 7, that is not transition for me.

Pat Kelly
168
Posted 29/12/2018 at 21:25:36
Everton so far this season in Premier League:
Played 20 Won 7
Clean sheets 4
Shots on target 34%
Accuracy of crosses 25%
Tony Abrahams
169
Posted 29/12/2018 at 21:36:05
Paul @166, we all have our own views but that paragraph about not playing the system just to suit the players is the only way we are ever going to find genuine improvement.
I couldn't agree more and I think that is what is beginning to happen behind the scenes at Everton right now.
Also, I agree about picking a team and sticking with it, which is also something I'm sure he will begin to do, once this busy Christmas period has been played out?
Brian Patrick
170
Posted 29/12/2018 at 21:38:44
If the Moshiri project doesn't work, I'm not sure there will be a Plan B...
Tony Abrahams
171
Posted 29/12/2018 at 21:40:56
Brilliant Brian, it's made me laugh that, mate!
Frank Kearns
172
Posted 29/12/2018 at 21:52:11
Very disjointed, looked like a bunch of lads just met for a kick-about, no team spirit, Coleman not cajoling his team and Richarlison is becoming a bit of a diva, goes to ground too easy.
I'm beginning to worry why Silva has managed 4 teams in 4 years...
John Hughes
173
Posted 29/12/2018 at 22:26:17
I was pleased when Silva was appointed and I thought then that it would take at least a couple of seasons to make some decent progress. It seems to me that Silva will play a certain way whether or not he has the tools available, a bit like Martinez.
I wonder whether these guys gamble on the club eventually coughing up the dosh along the way... ie, play a different way and get some results = less chance of the players I want. I don't know... just a thought.
I know it's been said a couple of million times but we still lack leaders on the field. Watching a Liverpool tonight – skippers left, right and centre. Let's hope 2019 brings improvement; all the best to Blues and their families all over.
Jay Harris
174
Posted 29/12/2018 at 22:59:08
Anyone who says you can't blame Silva needs their head examined.
Playing 3 at the back (to keep Mina happy) was okay against Burnley, who throw it up to two big lumps up front, but before today's game, a number of us said that 3 at the back will not work against Brighton.
It left midfield weak with Gomes overrun and poor Richarlison on his own up front with 2 battering rams for company while our 3 big lumps of centre-backs were passing backwards and forwards to each other and Pickford because they didn't have anyone in front of them to pass to.
Pickford then launches it up front to their two battering rams who immediately turn the tide against us again.
This was a game that cried out for Sigurdsson's workrate and Calvert-Lewin's physicality up front.
I said when Martinez was appointed that Everton should not ever employ a manager who has had a team relegated. Silva has done nothing to change my view.
I would give him until the end of the season and, if he hasn't shown any maturity in team selection or tactics, I would move on to someone else.
Trevor Peers
175
Posted 29/12/2018 at 23:27:45
Silva's prowess as a great tactican, that has been put forward by many on here, is now looking at bit lame; we've seen precious little of it since he arrived here.
You would think, after spunking £90 million on new players, there would be a coherent game plan on view. We don't expect it to be brilliant, but at times it's been as awful as the dross we've seen for the last few seasons and therefore he's just not good enough.
No doubt he will be given another season. The owner head-hunted him after all; be prepared for more chronic disappointment.
Brian Wilkinson
176
Posted 29/12/2018 at 23:45:05
If you think this selection was bad changing a winning team, god only knows what team we are going to put out for the FA Cup game.
Make no mistake, too many changes and the big following Lincoln are bringing to get behind their team, and it could all end badly.
Most on here would agree we start with our closest starting 11 as possible; however, I cannot help thinking we will start with the likes of Schneiderlin, Baines, Jagielka, Tosun, Niasse, Stekelenburg and Davies.
Gio Mero
177
Posted 30/12/2018 at 00:51:24
Walcott did well after joining us when he was still sprinkled with Arsenal's dust in spite of having spent too much time on their bench.
Now after a good injury-free spell, playing week-in & week-out he has regressed to the Championship's level.
Can we say the same of Schneiderlin, Keane, Tosun, Rooney, and surely others I can't think of in the last couple of seasons? What kind of disease is this?
Mike Jones
178
Posted 30/12/2018 at 01:14:25
We are just Shite. End of. Keep Brands and lose Silva.
Simon Dalzell
179
Posted 30/12/2018 at 01:20:17
Just the usual clueless manager: team selection, subs, tactics, etc etc etc. Clueless players. No sense of enthusiasm, skill, desire...
I'm just sick, and bored with writing the same, time and time again. Doesn't it just wear you out? How does Walcott stay on? ARGGHHHHH!
I think I need some sort of counselling.
Simon Dalzell
180
Posted 30/12/2018 at 01:42:31
'Profligate' has appeared several times in the headlines. We need a goalscorer, though Brands says we won't get one in January. Unbelievable!! (Yes, I've had a couple...)
John Pierce
181
Posted 30/12/2018 at 01:43:02
Paul,
I hate three at the back. It requires in this modern era, defenders who are hybrids. You need one stellar centre half and two players who can also play full back to give you mobility and a passing range.
We have three Easter island 🗿 style defenders, they have little to no ability to bring the ball out, add a defensive midfielder in there and you limit yourself further.

The best example I can give you is Azpilicueta. The nearest we have would be Baines and Holgate.
Could it work with a powerhouse and Gomes? Maybe.
On your article I stressed the need for Silva not to push players in a formation they could not execute against opponents who can pass the ball.
He needs to learn quickly or the tide will turn. Our patience as a fanbase is now shattered.
Christy Ring
182
Posted 30/12/2018 at 01:47:17
It's time to give Kenny a start, flat back four, give McCarthy a start, and can we bring Tosun back.
Jamie Crowley
183
Posted 30/12/2018 at 02:37:39
Trevor Peers -
Jamie @136, I think you're confusing the Premier League with the Zingari League in Liverpool if you think Bernard is a playmaker — get a grip.
That's me bitch-slapped. Carry on.
Still think he'd be great at that role. Is it not worth a shot at trying?

Jamie Crowley
184
Posted 30/12/2018 at 02:45:07
Ugh and fuck.
I just was thinking. It's been 11 years I've been watching. For 11 years (actually about 9 since I found TW) I've been reading about how, "we're only x player(s) away to make an assault on the Top 4."
I'll be on here 11 years from today, God willing, reading the exact same shit.
My hope is drained for the day. Tomorrow I'll start afresh, hope possibly returning?
But this Holiday Season, I've not seen much to think the never-ending loop of death that is Everton - Hope, failure, hope, failure - is going to reverse itself anytime soon.
Paul Kelly
185
Posted 30/12/2018 at 04:07:54
"I'll be on here 11 years from today, God willing, reading the exact same shit."
That's the 'beauty' of being chosen Jamie, you poor fucker, but never a truer word spoken!
Machiel Barnard
186
Posted 30/12/2018 at 05:51:05
I said on another post that we need 2 wingers that can score goals, that has to be in their job description right? Yes they have to fall back and help the fullbacks defend, but they have to score goals!!!! What's more, we will stay a mediocre mid table side for us long as we do not have a world class striker.
Darren Hind
187
Posted 30/12/2018 at 06:59:22
Haha, Jamie C,
It's taken a decade, but you are finally getting it. It's the hope that kills you, mate.
Here's the thing: Our still impressive trophy haul would give the impression that this club does dynasties. It doesn't. We tend to emerge, win a trophy and disappear again. The eighties were the only time in our history we have sustained a challenge over 2-3 seasons. Even that was on the back of total despair and the biggest fan protest in the club's history.
Now you've been around for a decade, expect to start turning all Scarlet O'Hara. The despair you feel today will disappear somewhere between the moment you nodded off and the moment you wake up and realise tomorrow is indeed another day.
Stick around, Jamie lad; when we do get our shit together, the joy is unfuckingbridled.
Nobody parties like the Evertonians.
Dick Fearon
188
Posted 30/12/2018 at 07:14:34
For a brief moment, Calvert-Lewin glared at his opponent, but it was very brief, then he returned to being a docile pussycat. Niasse reminds me of an old saying, "Couldn't trap a bag of cement". Gomes is a shadow of his earlier self. We can now see why Arsenal got shut of Walcott.
Richarlison mopes and goes to ground like a spoilt kid. Less talk from him about goalscoring and more about actually doing it would be nice.
Sam Hoare
189
Posted 30/12/2018 at 07:41:00
It's no coincidence that the three teams at the top of the league all have managers who have had time to build something.
I was a big advocate of Silva this Summer but have been underwhelmed on the whole so far. Some better football, one good unbeaten run and seemingly a better calibre of player but way too much inconsistency. But I do believe, if we are to ever make progress, we will need to give a manager time.
We will never know for sure whether any manager will improve things over time (like Moyes did) or make things worse (like Martinez and Koeman did) but I'm still hopeful Silva will fall into the former bracket even if the signs of progress are less visible now than they were heading into the derby.
I have trust in Brands. The guy oozes common sense and football experience. If he backs Silva with more time to get a tune out of these players, then so do I. Our best run (pre-derby) came with a relatively settled team and formation. We had the busiest festive schedule of any Premier League team and I do believe he has had to rotate more than he'd like. Perhaps once the schedule calms we may see the consistency of selection and results return. There needs to be clearer signs in the second half of the season that we are heading upwards for sure.
Colin Glassar
191
Posted 30/12/2018 at 08:13:53
Jamie, some of us have been kicked in the balls so many times by Everton, it's a wonder we have any balls left! Your journey has only just begun, mate.
Amit Vithlani
192
Posted 30/12/2018 at 08:22:38
Turning on Silva is ludicrous. He is one of several managers we have had plagued by a rot. It is clear that something runs deep which needs to be addressed for any manager to succeed.
The rot does run back to Kendall's departure in 1987, and was briefly erased under Joe Royle ("Bollocks to your dream final, lads").
Is it a surprise Kendall and Royle had good derby records and scored wins at Anfield? Both won trophies, beat superior opposition (on paper) – Man Utd hated playing us under Royle, whilst Kendall masterminded some terrific wins (remember he won 3-0 at Old Trafford with a poor side).
There seemed to be a pride, passion and "don't care who you are" attitude in their teams.
Since then, a succession of managers have overseen a culture of acceptance of our lot, which has fed a mental fragility.
I follow the live odds in games. When Everton go behind, the odds on them winning collapse. This is because our come-from-behind victories are very rare.
We have a very poor win ratio away from home. Then there is of course the mental block against the top 6 and the disastrous derby record spanning almost a decade!!
Profligacy in front of goal and poor decision-making is a further symptom of this fragility – seen this season against Brighton, West Ham Utd, Newcastle Utd, Watford, Man Utd, Man City.
In the latest display, Silva got his tactics wrong but, even so, we had the chances to take the lead. He also persists with Zonal Marking which continues to cost us goals.
Yet, once we went behind and he put on the cavalry, we could not (as is the case so often) turn it around.
Brands is being hailed by many. But he and Silva will have a tough time turning around our fortunes. They will need to find a way of reversing decades-old weaknesses that seeps through the club; those old failings which will hold us back from succeeding.
Tony Everan
193
Posted 30/12/2018 at 08:29:59
Away from home the team needed to exploit the pace of Walcott and Richarlison out wide, and have a more combative physical centre-forward. Calvert-Lewin should have played, with Richarlison and Walcott wide.
We should have had a back four with the Gana, Gomes, Sigurdsson diamond in midfield, sucking them in and getting the ball out wide fast.
I feel we have lost a bit of shape and coherence lately, with trying to squeeze 3 centre-backs into the team. It's a mistake, we look disjointed and ordinary because of it. Most of all, it negates our prowess going forward by seemingly negating the pace that Walcott and Richarlison have got and what they were bought for!
Finally, stop playing Richarlison as centre-forward! As good as he is, his pace and danger is wasted. Defenders struggle badly when he gets it out wide and is running with it and cutting in or crossing. He is young, inexperienced and a victim to the clever centre-backs of poor Premier League teams, getting held and kicked and beaten to headers. Play Calvert-Lewin from now on; if he doesn't measure up, get someone in who does. Even a loanee in the short term, because Tosun and Niasse are not the answer.
We need a striker of the Lukaku, Costa type, one who won't be bullied and can score 20+, with many goals out of nothing. We are missing it badly. Defences such as Brighton's are not put under stress, and have no fear of our attack — that's got to change.

Derek Taylor
194
Posted 30/12/2018 at 09:08:30
No doubt the forthcoming FA Cup tie against Lincoln will provide Marco with the opportunity to give a rest to these overworked 'star' players. Unfortunately, it will not be the club's 'young bucks' who will get a chance to shine but his 'bench brigade' of yesterday's men.
Whilst it will be a pleasure to get sight of forgotten men like Jagielka and Baines, I, like many others, had rather hoped I had seen the last of Schneiderlin, Niasse and that dreadful goalie who should have been released two years ago!
Of course, were the very worse to happen, little blame could attach to the manager as he will have proved – if he needed to – that, below his 'first picks', the cupboard is bare. And, of course, it's the Premier League places that bring in the money for replacements, after all.

Dermot Byrne
195
Posted 30/12/2018 at 09:30:04
Darren #187; a brill post and a mixture of the dreams mixed with realism I have had the joy of carrying around for 58 years.
But you are right: when we do pop up from time to time and win something, it really is party time!
Tony Abrahams
196
Posted 30/12/2018 at 09:49:07
Colin @191, when you read through this thread, then it seems to me that loads of people have already lost their bollocks, mate!
I know what Everton do to us, especially with the phoniest bastards in the land riding so high and already taking the piss (please god, let this be their downfall) but, as Darren says, we are fuckin Everton, so let's fight fire with fire and let's go and win the fucking FA Cup!
Alan J Thompson
197
Posted 30/12/2018 at 10:55:12
So now we've found another out for this manager; we've been this way for decades! Nothing to do with him picking the wrong side to play the wrong tactics! Six defensive players, a makeshift centre-forward for two widemen not to cross to and we wonder why the midfield looks poor!
Yeah, rotation, very professional, very today's sport! Soon they'll be asking for an autumn break to go with those for summer and winter and any chance when there's an international tournament on?
John Hammond
198
Posted 30/12/2018 at 10:59:50
Paul #190: Change isn't going to happen instantly. We've played 4 months of the season so what are you expecting exactly? We're playing better football, we've cut down the squad size as well as brought in some very good players who have, barring Zouma and Richarlison, never played in this league before and are doing well.
So we have a combination of a new manager and half a new first team plus the same players from the last few seasons. This was always going to be a bumpy ride and I don't know why anyone would think it would be anything other than that!
Stan Schofield
199
Posted 30/12/2018 at 11:51:08
I can't really understand why we had three centre-backs whilst Sigurdsson was on the bench. Before the game, there were loads of posts on here saying we needed a more attacking set-up. As far as I can see, it just leaves a depleted midfield, with little offensive threat.
Maybe Sigurdsson needed benching because he needed a rest, and maybe Silva has no option but to rotate the way he did given the high intensity of games. But, to rotate, we need strength in depth, which we don't have, and that will require more signings of expensive players.
People have said we've spent £200M and are still mid-table. But that's no surprise, is it? These days, £200M will have us treading water, even if the quality of football improves. To compete with the top 4, think 5 times £200M, which would give us a measure of player investment commensurate with the current top teams.
Unless we have a scale of investment like that, to make us one of the wealthiest clubs (like we were with the John Moores money), we're likely to remain mid-table, regardless of new management appointments and new players.
So, unless Usmanov or someone with comparable wealth comes on board, we have to set our expectations at remaining more or less where we are, with the usual ups and downs of a midtable club. There's no point in lamenting the rise of Liverpool under Klopp because their investment has been massive. It's as simple as that.
Denis Richardson
200
Posted 30/12/2018 at 11:54:07
To put things into perspective, our current first team consists of the following players, all signed in the last couple of seasons (* for those Brands & Silva brought in):
Pickford £30m
Keane £24m
Mina £23m*
Digne £17m*
Sigurdsson £45m
Richarlison £50m*
Walcott £27m
Tosun £27m
Bernard £9m*
Lookman £11m
Niasse £13m
Schneiderlin £24m
Gueye £7m
Zouma - loan*
Gomes - loan*
The 13 permanent signings listed above have cost £307m in transfer fees and including the loanees, I'd guess the above 15 players cost the club at least £60m a year in wages (this does not obviously include wages for the likes of Williams, Vlasic, Sandro and others).
So various managers over the last 3 years have spent over £300m on a squad of players who are struggling to keep pace with the likes of Leicester, Watford and Bournemouth – each of whom has spent a fraction of that amount. How is that possible?
In fact, over the last 5 seasons, we have spent a gross £400m on players. For those who prefer net spend – we have the 5th highest net spend in the Premier League over the last 5 years. More than Spurs and the RS (thanks mainly to Coutinho).
Most people believe the wage bill is a more accurate reflection of where a club should finish (wages correlate quite closely to final league position); for the 2018-19 season, Everton have the 7th highest wage bill. So we should be finishing 7th per our wages. So, whichever way you look at it, transfer fees or wages, this club is currently underperforming.
Time will tell whether Silva will perform as expected (ie, 7th) or not but, as a group, I think we should probably be resigned to the fact that we won't be breaking into the top 6 anytime soon. For that to happen, we need to perform well and hope one or two of the current top six have off-seasons – which is actually more likely than not... but, given we're not even managing the first part, the second becomes irrelevant.
First off, we need to perform well and improve our crap away record, currently just 9 points taken from a possible 30. We're only 2 points behind 7th but also only 2 in front of 13th. I fully expect West Ham to finish above us as they seem to be playing well now after a bad start. At this point in time, I really can't see us finishing much more than where we are now: 10th. We're just so inconsistent.
18 games to go and 5 are at home to top-six clubs. January is a really big month if we're serious about getting up the league as we have 4 relatively easy games. I just hope Silva also takes the FA Cup seriously so we have something to look forward to – 'cos it's not going to be the league.
Every year is a transition year for Everton – we're somehow special in that way as it doesn't count when other teams change manager and players. We're the only ones in transition so a shite season is allowed... Go figure.
My view on Silva hasn't changed. He's simply another Martinez and hasn't got the ability to work with what he's got. Why we chased him and paid £10m in compensation, I'll never know. Still, he's here now and probably will be next season.
Sam Hoare
201
Posted 30/12/2018 at 14:00:51
Denis @200 "Every year is a transition year for Everton"
Not true. For a long time under Moyes we had stability and proffered from it.
In the last 4 years, we have had 5 different managers (if you include Unsworth). Of course, that means that we have had lots of transition recently.
I think it's reasonable to allow a manager one season and a few transfer windows to implement their style and system. If we were 11th-14th in the league midway in Silva's second season then I'd be among those calling for his head. As it is, I think he (or someone) needs to be given some time and stability.
Denis Richardson
202
Posted 30/12/2018 at 14:57:57
Sam – to be fair, Moyes was over 5 years ago... so I'm not sure how relevant it is to bring him up. Yes, we've had a load of managers in that time – but so have most of the other clubs. There are few clubs in the Premier League with managers who've been there more than 2 years, never mind 3. Managers rarely get to stay for a while – unless they are showing progress or winning something.
Every season (since Moyes) we've been in 'transiton'. It's a bollocks statement really for the very reason that hardly any club has a manager for more than 2 or 3 seasons these days so technically ¾ of the league are in 'transition' every season. A decent manager works with what they've got and tries to add to it rather than trying to build Rome in a day.
The list put down shows we've spent a fortune on our first team recently and a decent manager should be able to get them playing better and at least being super fit. There are some really good players in that list so it's a head-scratcher why we're not doing better. I was gutted when the RS appointed Klopp as he's the exact type of person we need IMO. A manager the players are willing to run through a brick wall for, not just go through the motions.
If our players put in a shift every game, we'd be on many more points. Now you may point the finger at the players but it's the manager's job to motivate them and also bring in ones who'll work well under them.
I wasn't impressed with Silva's appointment (never mind the manner) and I'm yet to be convinced. Granted he's only been here since the summer but he's had half a season already and half the first team are his signings. He can't complain about lack of money so it's the old 'bad luck' story being repeated (already).
I fully expect to finish mid-table this season, so I'm not expecting much anyway. Btw, you use the range 11th to 14th as a guide; you do realise we're only 10th on goal difference?
If Sílva takes the FA Cup seriously, he'll have an easy route to winning the fans over.
Amit Vithlani
203
Posted 30/12/2018 at 15:01:52
"So now we've found another out for this manager; we've been this way for decades!"
Ah I see. You have stepped out of your De Lorean straight from May 1987, sporting a mullet and a copy of Shoot! magazine.
Well, I will try and break it down what has happened in the intervening years your intrepid time-travelling has skipped:
Trophies - 1
Away Record - pitiful.
Record of coming back from a goal down - not very good.
Number of managers in last 5 years: 4.
Silva might have got his tactics wrong yesterday, sure. We are having a mediocre season, agreed. Our ambitions are not being met, no quibble.
However, save the exclamation mark hysteria for a time when he and Brands have had at least a couple of windows to address the deep-seated problems that have existed under this and several different coaching teams.
Sam Hoare
204
Posted 30/12/2018 at 15:15:41
Denis, 5 years is not so long ago when you used the term 'every year'.
You're right that too many teams change managers quickly in this league though you'll notice that the top 3 teams have all had their managers in for 3 years at least. Perhaps that's why they are top?
I should imagine that all those other teams do also think that they are in transition if they are in the first year of a new manager. Maybe that's why results are so difficult to predict currently with 'rubbish' Burnley currently walking all over up-and-coming West Ham and Cardiff beating Leicester away yesterday.
I'm fully aware of our position in the table and goal difference. We could easily be 11th to 14th next week. If that's still the case a year from now, then I'll likely be on the "Silva Out" wagon but, for me, it's early days still and I've seen just about enough to nourish my dwindling optimism.
Russ Quinlan
205
Posted 30/12/2018 at 15:30:44
The only reason we can think of us in 'transition' is when Silva has been with us more than 7 months and he and Brands have sorted the squad out. Just remember the absolute joke of a squad we had after Koeman's debacle... and also remember Kendall almost got the sack, as did Ferguson at Man Utd — but they were persevered with and look what happened. I'm not saying Silva is another one of them but we have to be a bit more patient than wanting to sack him now, ffs!
I hurt just as much as any lifelong Bluenose when we lose and this season will undoubtedly have more ups and downs. It doesn't help with the RS beating everyone but it shows how close we were to them to only lose to a flukey goal and they are beating Man Utd and Arsenal by big margins while we were never in danger against them until that cock-up.
I hope Silva is learning as well as the players because, unless we went and got a world class manager (and let's face it, would they come to us anyway?) which is what the RS did with Klipperty, we need to give him time and not expect miracles in his first season. It may be painful for us supporters but it's better than having Fat Sam in the dugout, for which we must be grateful.

Jay Wood
[BRZ]
206
Posted 30/12/2018 at 15:37:17
I see the 'T' word being debated over again: 'Transition'.
It should not be used as a single justification for poor performances and results. Similarly, it should not be used as a means to berate those who legitimately post we are in a club in transition.
A football club and individual posters are not exempt from life and the laws of nature: everything is constantly in transition. It is a never-ending process.
You have to be a very unforgiving Blue if you wish to attribute to Silva and Brands nearly 3 decades of poor governance, finances, transfer policy, and personnel at the club, barely half a year into their stewardship.
You can extend that to Moshiri who, in his 3 years, has clearly invested time and money in trying to turn the Good Ship Everton around from the vortex is was being sucked into.
Have Moshiri's managerial appointments and player purchases all been successful? Clearly not. But he is swift in taking action when things are not working. If Silva proves not to be an improvement on Koeman and Allardyce, for sure, he will also get his P45.
For me, it is totally legitimate to express some tolerance and a call for patience this season, as so many posters are willing to do. That does not necessarily equate to passive acceptance of poor performances and results, as some wish to oversimplify it.
Again for me, it is way, way too premature to call for Silva's head as some are starting to do. All the more so when you read some proposed replacements:
David Moyes??? Either you have no pride as an Evertonian, or you really don't know your (very recent) history.
Eddie Howe??? Take a look at Bournemouth's recent results: since the start of November. Their form has been worse than ours – P 10, W 2 (home wins to Huddersfield and Brighton) D 0, L 8, F 8, A 22.
Yeah, that works, I guess...
Brent Stephens
207
Posted 30/12/2018 at 15:39:34
Jay #206 - a very post, IMHO.
Alan J Thompson
208
Posted 30/12/2018 at 15:43:04
Amit (#203); Try reading the posts above and you might see that we seem to be going from: not his team; the last lot's dross; needs more windows; move on the deadwood; this club has been this way forever; and as you yourself point out, the results haven't improved!
So come on, Amit, tell us when your patience will run out, after how many performances like Saturday, Watford, Spurs, Newcastle – how many times do the tactics have to be wrong? Or is it just punctuation you have a problem with? Sorry, perhaps I should have typed, "with which you have a problem".
Paul Tran
209
Posted 30/12/2018 at 16:28:01
The only reason 'every year is a transition' is largely because we keep changing managers and, whether we agree or not, managers have different ideas and will bring in 'their players. The main consequence of that is that the 'new' team will need time to bed in, especially if they've come from overseas. Many overseas players take time to adapt, such as Eriksen and the two Liverpool bought last summer.
Only three years ago, people on here were laughing at Klopp, with his dropped points at home, saluting the Kop after the 1-1 against WBA, etc. They're top because they let him stick to his guns and he bought and sold well.
Silva can't be responsible for our recent history, but he can help himself more, by sticking to a settled team, playing Richarlison in the right position and by doing the two things I like about Klopp – giving the team an identity and sense of purpose that shines through for 96 minutes.
I'll give Silva two seasons. He's being backed and we'll know by then. I can't think of a manager that inherited an imbalanced rabble of a squad and turned it around in months, other than Joe Royle, who then couldn't sustain it. He also proved that getting the best out of a badly-managed half decent squad is easier than improving one beyond the top six. Interestingly, he gave the team an identity and sense of purpose.
A few weeks ago, this site was full of bravado, the team was taking shape. You can acknowledge a very poor run of form without wanting Silva's head.
Denis Richardson
210
Posted 30/12/2018 at 16:47:37
Darren @187 – I believe we also were indomitable in the 1920s. :-)

Keagan Rigney
211
Posted 30/12/2018 at 18:00:36
Why does everyone think times have changed? You must get instant results? No team has ever got instant results – ever. You think they do but, if you research everything at a team, team building, youth, development, you will see it takes years then seems instant because time goes by very fast. Even Man City didn't win instantly.
Klopp took over a Liverpool team that was still top 4 and every few years got into a final and actually won stuff before. Silva took over an Everton team with very few finals, 1 in 20 odd years. And no trophies. Yet must be fired so soon for not winning???
This will take time; hang on for the ride.
Chris Corn
212
Posted 30/12/2018 at 18:21:28
Darren 187 and Denis 210.
Harry Catterick ?! 2 league titles, 1 FA Cup and 1 Runners Up. Finished outside the top 6 once in the 60s (1966) in an era when there were sides of top quality throughout the division. No wonder he's considered the forgotten great of British managers. His clubs own supporters don't seem to know what he achieved.
As for the present, you only have to look at West Ham and Leicester weekend results to see we are in a bunch of clubs who are as capable of winning three on the spin as losing them. A list of also-rans vying for a place in the top six having spent hundreds of millions of pounds. This is as good as it's likely to get.
Neil Copeland
213
Posted 30/12/2018 at 19:32:55
I have just been watching the highlights from the Rangers - Celtic match. The intensity, passion and sheer determination displayed by every Rangers player was incredible. That is what I want to see from Everton players, that is what gets you results against better teams and sees you hammer the lesser teams.
Marco Silva can do worse that show his team that match.
Paul Tran
214
Posted 30/12/2018 at 19:42:28
Neil, Slippy's spent the last two weeks moaning about lack of commitment and desire in his players. It worked as they were really up for it yesterday.
Commitment, purpose and intensity cost nothing. Silva should have them showing all three every game.
Chris Corn
215
Posted 30/12/2018 at 19:43:15
Neil Copeland, I watched that match and it reminded me of the derbies of old. They kicked each other for 15 minutes then someone threw a ball on... 😀 Rangers showed so much desire and determination. The referee had a great game and never let the occasion get the better of him.
Premier League football is no longer allowed to be like that. It is just about Fancy Dans (of which Richarlison is one) falling over at the slightest touch. I doubt we will see the likes of yesterday's Old Firm game here again.
Neil Copeland
216
Posted 30/12/2018 at 19:56:19
Paul, yes as much as I hate giving him credit, Gerard got his approach spot on.
Chris, unfortunately I think you are right,
The other major factor was the home support which was also incredible and fuelled even more by the players' obvious passion. Oh, for Everton to show some of that.
Paul Tran
217
Posted 30/12/2018 at 20:04:55
Yes, the highlight of the game was the drop ball, which looked as though no ball had been dropped!
Slippy's done well up here to be honest. Just did the simple thing of creating a spine in the team. Of course, the pressure will hit him next season, when they'll demand trophies.
Neil Copeland
218
Posted 30/12/2018 at 20:21:44
Rangers seem to have really improved since his appointment. I have a bit of a soft spot for Rangers for no other reason than the Rangers/Celtic chant at matches in the '70s. The drop-ball was quite comical but also a credit to the passion in the game.
If Marco Silva can get some of that steel into us, we would improve dramatically, I am sure.
Jay Wood
[BRZ]
221
Posted 30/12/2018 at 22:51:49
I just had to look up the Auld Firm drop-ball incident referred to.
It's a classic!
I love the way the Ranger's player repeatedly bounces on his feet before the ball is dropped, like a prize fighter facing off against his opponent when the ref calls them together before the opening bell.
Ding! Ding!
Shane Corcoran
222
Posted 30/12/2018 at 22:55:12
Sickened by Celtic's performance in the old firm game; woeful stuff without exception.
Rangers, on the other hand, played to their absolute max and thoroughly deserved the win. Hopefully it's the kick in the arse some of the players need.
Jamie Crowley
223
Posted 31/12/2018 at 03:25:56
I haven't seen Celtic play in a long while.
Was that Scott Brown taking the drop ball? How old is he?
That dude is hard core.
That drop ball was brilliant. If soccer was played like that, it might even get some traction with NFL Americans! Hockey on feet!
Rangers hadn't beat Celtic in like 2000+ days. Was bound to happen eventually. More's the pity.
Martin Berry
224
Posted 31/12/2018 at 09:04:46
Three at the back to allow the full backs to get forward, supposedly to get crosses into Richarlison?! – against Dunk and Duffy? How as that ever going to work?
Calvert-Lewin should have started and Walcott should have been hooked, not Bernard.
When Niasse (who is a trier) is brought on to try and save the game and Tosun is not on the bench, we know we have real problems up front.
Neil Copeland
225
Posted 31/12/2018 at 09:48:13
Jamie, Scott Brown is 33 I think and still gives it everything. There is no doubt that Celtic have the better players but it shows how 110% commitment can swing things.
Stan Schofield
226
Posted 31/12/2018 at 10:29:38
This stuff about the Celtic v Rangers game is irrelevant to us. That game was a single game, and you have be careful making conclusions from a single game. We've had games this season where every one of our players has shown 100% commitment, as evidenced by the plethora of post-game ToffeeWeb posts when it's happened.
Up to the derby match, we looked like we could compete with any team, a view again backed up by a plethora of ToffeeWeb posts at the time. However, on the face of it, one cock-up in the final minute of the derby match has possibly fucked up the whole of December, apart from the Burnley match.
In December, we played 7, won 1, drew 2 and lost 4, scoring 11 and conceding 15. That's fairly shite, especially compared with looking like we could compete with any team.
I don't think Everton have a problem with players giving 100%. There are plenty of instances where players have been shite but come off the pitch knackered and soaked in sweat. I think the problem with Everton is belief.
I don't think we have belief. The entire club, including many of the supporters, don't believe we can achieve anything with what we have. We always hope and believe that success will come at some unspecified time in the future. The idea of 'jam tomorrow' seems to infect us like a plague.
Up until the derby match, there was, temporarily, some belief that we could compete with anyone. But that belief evaporated in the face of a set-back. We'll never compete at the top, we'll remain midtable, unless we have belief.
Silva started out looking like he believed we could beat anybody, and it seemed that the players and many of us believed it too. Now, it looks like there's little or no belief left. Well, it's the same team and manager that was here before December, so in principle we should be able to do now what we were doing then.
Anthony Murphy
227
Posted 31/12/2018 at 10:45:43
I was in a bar in Glasgow watching the Auld Firm. One observation was that the minute's silence was perfectly observed in the bar which I thought was a class act.
Does anyone remember the half Celtic/Rangers and Liverpool/Everton bobble hats in the '80s?
Tony Abrahams
228
Posted 31/12/2018 at 11:09:02
Great point, Stan, because having real belief is everything in life.
I think the look on Silva's face, shows that he's aware of this, so I'm sure there will be a lot of work being done behind the scenes to rectify this major and obvious problem.
Remember Mystic Meg? She made us believe! But Royle had a very committed team, even though I've always felt that belief comes through because of pride.
Steve Carse
229
Posted 31/12/2018 at 11:09:36
Stan (226), I couldn't agree more. There is absolutely no belief, no conviction, in the Everton ranks. Too many mental lightweights. Oh for signs that we have a Watson, a Reid, and an Andy Gray about to come through the ranks.
Peter Gorman
230
Posted 31/12/2018 at 11:20:05
"Oh for signs that we have a Watson, a Reid, and an Andy Gray about to come through the ranks."
Morgan Feeney.
Steve Carse
231
Posted 31/12/2018 at 11:23:51
Peter (230), I rate Feeney (and a number of others too) and for me it's disappointing that the gates now appear closed to the young players, compared to the situation pre-Allardyce.
Anthony Murphy
232
Posted 31/12/2018 at 11:32:54
Stan, I agree that it's more a mental than physical barrier for us, but part of the problem is the changes to how the game is now played.
Once upon a time in a derby, the physical nature of such a game levelled up the playing field (to an extent). Nowadays, you can't even fart without someone going to ground or drawing a free-kick. Players like Neymar have set the tone as they see football as a non-contact sport. The less physical the sport, the harder to match the more technically gifted.
On saying that, our record against the 'big six' is still fucking shocking.
Stan Schofield
233
Posted 31/12/2018 at 13:42:11
Anthony, totally agree about the technically gifted bit. However, in the case of that last derby, that Everton side is technically as gifted (or not far off) as the Liverpool side (IMO), and the midfield was easily superior. It's clear that we can take sides apart through the midfield, but we don't have punch in front of goal, in contrast to when we had Lukaku, when we had some punch but couldn't play the football to compete with other top midfields.
Although we were failing in front of goal, we were taking sides apart in midfield, and in this way rattling the top-6 (and making various people like Liverpool supporters take notice). To me, in that position we just have to stay the course (keep on keeping on, so to speak), and not get waylaid by setbacks which we simply need to forget about.
We do have the players to compete with the top-6, but not the strength in depth to do so consistently or have any 'good chance' of winning trophies, especially given the high intensity pressing these days. For example, we need a backup to the likes of Sigurdsson, who surely cannot sustain the levels of intensity he's shown this season.
But that strength in depth can be developed, firstly by doing what Brands has indicated and keeping faith with the developing talent, and secondly by new signings in the summer and subsequent transfer windows.
In short, we have the ability now to compete with some force, without relying on 'jam tomorrow', but surely cannot do so if we cave in at every setback.
To be honest, I'm a bit tired of the old chestnuts of the disallowed Hamilton goal, the Heysel ban, gamesmanship from the RS, etc as contributors to our demise. We make our own luck in the broad scheme of things, and most of it is down to us, not to others.
Neil Copeland
234
Posted 31/12/2018 at 15:03:59
Stan #226, good point well made.
Confidence will help the players believe, we desperately need a run of 3 or 4 wins to build the confidence levels back up. As you stated, the derby sapped probably more than any of us realised at the time.
After winning so handsomely at Burnley, I was disappointed and surprised by the Brighton result and performance because I really thought we would win.
A few posters have commented that our support was unusually quiet for an away game, perhaps that was a factor. On a thread last season, I stated that the support at Goodison Park needs to be more vocal and a number of people said the team needs to earn the support by entertaining us. Whilst I can see that particular point, I don't necessarily agree because, to me, the support can be a major factor in lifting the team and helping them to believe. Goodison Park remains quiet (although better than last season), despite the team being more entertaining, so I stand by my point about support.
I don't know the answer and there is no doubt that Marco Silva has his work cut out. We as supporters can help, though, by being more vocal; how we actually instigate that is another issue though.
Paul Smith
235
Posted 31/12/2018 at 15:10:08
I was at Brighton and the away support was quiet. All told, I believe we the fans were suffering with fatigue.
3 games in a week even with fan rotation takes it toll.
Onwards and upwards (we need a winter break).
Neil Copeland
236
Posted 31/12/2018 at 17:34:48
Paul, very good! Point taken.
Tony Hill
237
Posted 31/12/2018 at 18:41:40
I opposed Silva's appointment appointment and recent results might confirm my view, but there is a single game which ought to have demonstrated to all Evertonians that he is the right man. That was, of course, the derby where we played better football against Liverpool than I have seen in recent decades, including the 69-70- and 84-87 sides.
It was pure spirit of Everton and wonderful to see, despite the fuck up. I don't care about the result, we outplayed them for long stretches and that is what matters and what we need to hold on to.
We must not lose our nerve because of those fuckers, who wet themselves when they beat us freakishly. I promise you: they will not win the Premier League, Man City are better than them; we are on the rise.
Above all, we must get behind the team at Goodison. I was one of four left on our Park End row against Tottenham by the end. The singing and atmosphere are terrible. Wake up, everyone, for God's sake.
The home support at the moment is woeful and we're much, much better than that. I think it will make a 10-point difference if we support them loudly from the start, however slow and shit they seem to be. If they won't lift us, then we must lift them.
Anyway, I am sure the future is bright with this man. Back him; hold steady.
Stan Schofield
238
Posted 31/12/2018 at 19:46:16
Tony, great post. I felt exactly the same about that derby, we were extremely good, and cannot let a random cock-up mess with our heads.
I haven't heard a dickie bird from the reds I know, and that is very unusual after a derby. They haven't even commented about the cock-up at the end, probably because of the goalkeeping cock-ups they've had. There are a lot of them, and neutrals, who were gobsmacked by that derby performance, and we need to realise that.
Add Your Comments
In order to post a comment, you need to be logged in as a registered user of the site.
Or Sign up as a ToffeeWeb Member — it's free, takes just a few minutes and will allow you to post your comments on articles and Talking Points submissions across the site.
© ToffeeWeb