Everton vs Bournemouth
Saturday, 12 January, 2019
Match Preview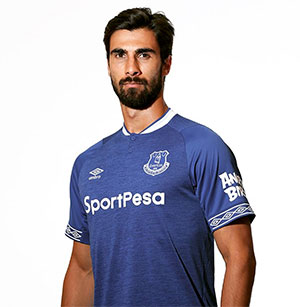 André Gomes will return to the starting XI after being rested for the first half against Lincoln
Everton are back at Goodison Park for a third successive home game to start the year with Bournemouth the visitors as Marco Silva attempts to stabilise his team's teetering Premier League form.
The Blues have won just once in the league since beating Cardiff City on the 24th of November and a run that included two draws and five defeats in that time has left them in the bottom half and Silva facing the first serious examination of his tenure.
Last weekend's defeat of Lincoln ushered Everton into the fourth round of the FA Cup but it was far from convincing so this meeting with the Cherries, the Toffees' first game with a week's break since before Christmas, has taken on greater importance than otherwise would have been the case.
Silva's men need to put on a performance but of greater urgency is a win of any description to help inject some confidence back into the ranks.
The two teams come into the weekend side by side in the table and separated only by Everton's superior goal difference as their respective good starts have given way to more chequered form.
Bournemouth beat Huddersfield and Brighton in December but were beaten by five of the top six over the rest of the month, conceding 17 goals and scoring just two in the process. They then had to come back twice against Watford to draw 3-3 at home on New Year's Day before being dumped out of the cup by their near-neighbouring Seagulls. Given Everton's top-six aspirations, that run should hearten Silva and his charges as should Eddie Howe's injury concerns.
New signing Dominic Solanke won't be able to make his debut until next month because of a hamstring injury while Callum Wilson, Josh King and Ryan Fraser, all of whom have caused the Blues problems in recent years, are doubts.
Everton, meanwhile, have a clean bill of health, allowing Silva to carefully select his best line-up based on what he has witnessed since the derby defeat at Anfield.
Lucas Digne was fully for the cup game last weekend while Richarlison and André Gomes were deployed as second-half substitutes but all three will be drafted back into the starting XI. Michael Keane was also unused against Lincoln and could come back into the side at the expense of Yerry Mina who has yet to demonstrate the required consistency since making his belated debut.
Where Richarlison plays will be of particular interest to Evertonians given that Dominic Calvert-Lewin, so impressive at times when played up front, was hooked at half-time last Saturday and his replacement, Cenk Tosun, was similarly ineffective. Oumar Niasse, the two-goal hero of this fixture last season, is highly unlikely to be considered.
It would not be a surprise to see the Brazilian restored to a central striking role which would allow Bernard and Ademola Lookman, the two goal-scorers against the Imps, to continue on the flanks.
Silva admitted in his pre-match press conference that his side needs to be better over the second half of the season than they were in the first and a win over Bournemouth would certainly get things moving in the right direction again ahead of three consecutive away games over the remainder of January.
If nothing else, the Cherries have shown themselves to be very porous at the back in recent weeks so if Everton can get their act together from an attacking point of view, there should be goals to be had. Keeping things tight against whichever attacking unit Howe is able to field will be key as Bournemouth have a habit of not laying down, although their indefatigability is more in evidence at the Vitality Stadium as the Blues found out again to their cost in the reverse fixture in August.
Kick-off: 2:15pm, Sunday 13 January, 2019
Referee: Anthony Taylor
Last time: Everton 2 - 1 Bournemouth
Predicted Line-up: Pickford, Kenny, Keane, Zouma, Digne, Gueye, Gomes, Sigurdsson, Lookman, Bernard, Richarlison
---
Reader Comments (115)
Note: the following content is not moderated or vetted by the site owners at the time of submission. Comments are the responsibility of the poster. Disclaimer
Darryl Ritchie
1
Posted 12/01/2019 at 06:29:13
Looking at the two teams on paper, we should win handily. When you consider both clubs' recent form, a scoreless draw isn't too far fetched, either.
This is a very important game! Still a lot of the season ahead, but we need a win. An impressive, never in doubt, slaughter would be nice; but I'll take ugly in a pinch.
Jerome Shields
2
Posted 12/01/2019 at 06:50:00
I think that Calvert-Lewin should play before a Richarlison. Richarlison is too wasteful of possession and has a poor pass completion rate.
Everton need to play as they did in the first 25 minutes of the Lincoln game. Silva was afraid to bring on McCarthy in the Lincoln game and made a mess of midfield. Something will have to change there, since Bournemouth are likely to play a higher defensive line, which has given Everton so many problems of late, with no answers from Silva.
Bill Gienapp
3
Posted 12/01/2019 at 07:14:40
It should be an interesting match. Bournemouth have decent firepower for a team outside the top six, so it'll be difficult to keep a clean sheet (given our current form anyway).
Conversely, they play an open style and have a shambolic defensive record, so we should (hopefully) have an easier time scoring goals than in our last two matches.
Peter Thistle
4
Posted 12/01/2019 at 07:33:08
I can't imagine we'll do any better than the last month's performances with Silva's crappy tactics. The players seem to have lost belief in their ability.
John Malone
5
Posted 12/01/2019 at 07:55:09
Lookman on the left wing, Bernard on the right, no Walcott. Richarlison up top and plenty of one-twos through the defensive block. It's not that hard a task once you try and do it the right way, Blues!
I want to see us a link and play like a team give and go pass and move with intelligence and speed.
Watching Baines against Lincoln the other week was a breath of fresh air, give go and deliver.
I can definitely see goals in this game both teams are defensively weak and both have the ability to score. My heart says 3-1 for us; my head says 2-2 draw.
John Raftery
6
Posted 12/01/2019 at 08:04:16
With the arguable exception of Burnley on 4th May, this is the easiest of our remaining home fixtures. If we don't win after a week's rest, I think we can forget about improving in the second half of the season.
Robert Leigh
7
Posted 12/01/2019 at 08:11:49
The only change to your predicted lineup I'd make Lyndon, would be to have Calvert-Lewin in place of Sigurdsson.
Pickford
Kenny - Keane - Zouma - Digne
Gomes - Gana
Lookman - Bernard - Richarlison
Calvert-Lewin
I just think Siggy needs to be dropped or given a rest – he's played a lot of football and recently he hasn't played it too well.
Martin Berry
9
Posted 12/01/2019 at 08:28:21
It's a game we just have to win after the measly return over the Christmas period, and one we will surely win.
Everton 3-1.
Ian Bennett
10
Posted 12/01/2019 at 08:31:50
My school of thought is that we need to up the creativity. The strikers aren't scoring, but I am not seeing a host of chances either.
A solid back 4. Passing ability in midfield – Sigurdsson for Gana from the bench if needed. And pace and trickery up front:
Pickford
Coleman Mina Zouma Digne
Gana Gomes Baines
Lookman Richarlison Bernard
Kunal Desai
11
Posted 12/01/2019 at 08:39:29
John Raferty, @6 – I said last month the home fixtures from Watford onwards I could not see where we were picking up any wins. I don't see it changing over the next two home games (This and Wolves). Defensively we are all over the place and still no settled back four.
Bournemouth have pace going forward in Wilson, Fraser and King. All three appear to be doubts for this one so it could work in our favour. Nevertheless, they will look to hit us on the break.

John Keating
12
Posted 12/01/2019 at 08:39:58
I haven't a clue what team or formation Silva will go with, and, after the last couple of months I doubt he will either.
Our tactics and form at home have been poor, to say the least, and it appears to me we are poorer when, as the home team, the onus is on us to go on the front foot.
I can see this game being another Leicester. More possession, more passes, no creativity and suckered on the break.
Fingers crossed and hope for a draw.
Ajay Gopal
13
Posted 12/01/2019 at 08:44:49
I really like Robert's (#7) team, I hope Silva goes with it for a few games.
Bench: Stekelenburg, Mina, Baines, Sigurdsson, Davies, Walcott, Tosun.
If we are leading 3-0 with 15 mins to go, try out Baines in the Gomes (quarterback) role.
Eddie Dunn
14
Posted 12/01/2019 at 09:12:47
I would imagine that Wilson and Fraser make the cut. We will struggle to keep them out, but really this is a game made for us. They are so bad defensively that, if we can't put two or three past them, we might as well just go home and play tiddlywinks.
Laurie Hartley
15
Posted 12/01/2019 at 09:14:57
Well Ajay – I really like Ian's team @10. I would love to see Marco start with that line-up.
Either way, my missus is wearing her lucky royal blue top today so I think we will win.
Up the Blues!
Tony Everan
16
Posted 12/01/2019 at 09:20:12
I really hope we come out all guns blazing and take the game to Bournemouth. I don't want to see too much tentative play and sideways passing.
Most of all, I don't want us to take the foot off the gas and let them back into it.
Start well and push on, particularly after half time, when we seem to come out half asleep and hand the initiative to the opposition. That certainly must be addressed.
I like Lyndon's team sheet, I too want Lookman to start, be focused and lethal.
George Cumiskey
17
Posted 12/01/2019 at 10:08:47
Brian @ 8 if only .
Derek Thomas
18
Posted 12/01/2019 at 10:09:09
I prefer Ian @ 10's team too.
Clive Rogers
19
Posted 12/01/2019 at 10:21:17
Laurie, #15, unfortunately the game is tomorrow.
Darren Hind
20
Posted 12/01/2019 at 10:24:04
I'd go with Ian's team too, with one exception: three-touches-to-get-it-under Mina has been very poor. He has played a suicide pass in most games and, for such a big man, has a worrying habit of running under high balls knocked into our area.
Hope he improves...
Brian Harrison
21
Posted 12/01/2019 at 10:45:45
I would imagine, after the comments from Moshiri at the AGM anything other than a win, would increase the pressure on Marco Silva. I really don't know why Moshiri made the comments so public, as Marco Silva said the other day he speaks to Moshiri nearly everyday and had relayed those thoughts to his players prior to the Leicester game.
I am sure everyone at the club would have been well aware that Moshiri would have been looking at being better than 11th. I also thought his comments about "we took a big gamble on Marco" baffling to say the least, nobody held a gun to his head saying he had to sign Silva. You cant knock someone who has pumped £250 million into the club, but maybe we can question his man management, seeing he has already sacked 3 managers in his short time in charge.
What the players will make of the comments or Silva himself I don't know, seeing as Silva signed half the team you would think they would be busting a gut to ease the pressure on the manager. So lets hope we can string together a few wins starting tomorrow.
Jim Bennings
22
Posted 12/01/2019 at 10:56:22
The way we've pissed goals and games away in the last month, it's hard to see better than another score draw similar to the Watford one last month.
I just feel we are too flaky defensively and going forward we are too passive with the limited striking options really beginning to hinder us.
I'd personally try out Walcott in the striker's position to see if he can find his form, Bernard on one flank then Lookman in the other with the midfield picking itself.
We can't see another Leicester and Brighton performance and, even last week against a League 2 side, we looked bleak for most of it.
Mark Murphy
23
Posted 12/01/2019 at 11:04:07
"Laurie, #15, unfortunately the game is tomorrow."
Shit!!! I'm halfway up the M1!!

Eddie Dunn
24
Posted 12/01/2019 at 11:25:55
Jim, You have been suggesting trying Walcott in the central role for a while now. I think it is worth a try but unfortunately, the lad doesn't deserve to be starting.
It will be interesting to see if Calvert-Lewin gets the nod after being hooked at halfway against Lincoln, otherwise we may simply get Richarlison in the role, bringing Bernard on the left and Lookman on the right.
Now we know we still have the possibility of a cup run to keep the interest of players and fans; I hope we see the boys cast off their shackles and play on the front foot for 90 mins rather than the Jekyll-and-Hyde stuff of late.
Brent Stephens
25
Posted 12/01/2019 at 11:55:27
Mark #23 – I take it that's a joke! You never on TW!
Jim Bennings
26
Posted 12/01/2019 at 12:24:47
Eddie,
Walcott has stunk the place out playing on the wing I'd have to agree. That's why I'd try something different with him and give him a central role to see if there's a bit less pressure of having to beat the fullback all the time, something he hasn't done all season on the wing.
I don't think Walcott has been helped by the poor form of our right back either at times and likewise. It's worth remembering though how effective he was when he first signed and we were all championing his signature from Arsenal.
I'd just see how he worked out as striker for a few games starting tomorrow and then away at his old club Southampton next week which he'd be up for.
It's pointless just sticking Calvert-Lewin up there and banging on about 'potential' this and 'potential' that, all I see is a player that's not really strong enough, doesn't make enough intelligent forward runs and frankly rarely threatens a goal, especially with his feet.
Derek Knox
27
Posted 12/01/2019 at 12:50:47
Jim @26, good point regarding Walcott down the middle, and it has been mooted on here so many times before, but will Silva give it a try? No, he expects picking the same players who have been under-performing for weeks, will suddenly click into place.
We all know some players have off-days, they are human after all, but to have off-weeks and the manager to not recognise the fact, but keep expecting things to be different, is something I can't understand.
Man City have a brilliant squad and almost any permutation of players produce a winning display, but either through injury or otherwise he does (Pep) rotate the team. Okay, a poor comparison to our squad, that may be... but at least try something different.
Mike Powell
28
Posted 12/01/2019 at 13:15:07
As long as Davies and Calvert-Lewin don't play, then we should win. We need to start keeping clean sheets because we usually need to score three or more to win. COYB
Neil Lawson
29
Posted 12/01/2019 at 13:18:45
Brian (8). Much as I enjoyed Duncan Mackenzie's time at Goodison, I think I would choose either Inchy or Alan Whittle in his place to bang in all the knockdowns and deflections.
Mind you, if we could have Dave Thomas and Bob Latchford back, we wouldn't need an 11th player to despatch Bournemouth.
Jim Bennings
30
Posted 12/01/2019 at 14:24:54
Well, a 4-point gap has now opened between us and West Ham so that adds even more pressure on us tomorrow in what is becoming a must-win game.
Paul Birmingham
31
Posted 12/01/2019 at 14:32:33
Massive game and as they all are now. The team needs to get some steel and be up for the fight. Bournemouth will play and, aside to firing blanks, the defence and team organisation for defending dead balls needs sorting.
Every dead ball of late into our box and smells fear and nerves as no one takes ownership.
Up front why not give Walcott the chance to show he can be a lethal marksman and hit the spaces. For me we are firing blanks most games and until we get a true striker, and that won't be easy, we will struggle.
I'll take a win by any means. Hopefully we get a good game and some hope to take into the end of this month.

David Hallwood
32
Posted 12/01/2019 at 14:54:38
Re: Dave Thomas. Why is it now they're paid so much more, apparently coached better and are fitter, there's not a player in the league that can beat the first man with the consistency Dave showed.
Onto the game: I agree that Woolcott should be tried down the middle, the people saying he's shite, I'd fire back "class vs form".
More controversial: I'd like to see Baines in place of Gana. Do we need a holding mid at home? Baines could play in the Pirlo role. It'll never happen and it's probably too late in the day for him to adapt, but for all Gana's interceptions and breaking the play up, his use of the ball is woeful.
Alan J Thompson
33
Posted 12/01/2019 at 15:06:17
David (#32); I often wonder if it is because they have little faith in what these new balls do – especially when you see a 'keeper move one way and look a fool as the ball suddenly goes the other. Like Digne, one game he scores with a perfect free kick and the next can't get it over the wall... and Sigurdsson for that matter.
James Stewart
34
Posted 12/01/2019 at 15:11:43
I'd be very surprised if Walcott is dropped for this one. He destroyed them last time as Bournemouth play with a ridiculous high line. They will be hoping Walcott doesn't play.
Richarlison is the only choice up top. The rest are utter garbage.
Mark Murphy
35
Posted 12/01/2019 at 15:36:50
Brent, it was... And I am... But I honestly did think it was today! I almost went for a ticket but good job I didn't as I can't make tomorrow! Hopefully the Saints game IS next Saturday as I do have a ticket for that one!
First Sunday game Everton ever played was West Brom at home in the 70s. My dad – a staunch Catholic – refused to let me go. I remember being gutted but seem to remember it was a 0-0 draw? Still, 56,000 (proddies obviously) attended the game.
Fran Mitchell
36
Posted 12/01/2019 at 15:56:59
Walcott has now been with us for 1 year, and a permanent fixture in the team. He has 7 goals in that time. Just not good enough.
Has to be Lookman, Calvert-Lewin, Richarlison or Lookman, Richarlison, Bernard.
Brent Stephens
37
Posted 12/01/2019 at 16:10:11
Mark, I meant to post "you never
know
on TW". But couldn't edit in time to insert "know".
Anyway, glad there was no wasted trip. Saints game IS Saturday – it better be as I'm going (though will be in the Saints section, as I sold my away section ticket to be able to go to the match with my lad who lives in Portsmouth).
Jim Bennings
38
Posted 12/01/2019 at 16:14:38
Fran,
How many goals has Calvert-Lewin scored in the league in that same year Walcott has been with us?
Darren Hind
39
Posted 12/01/2019 at 16:20:17
Need more than Walcott
David Hallwood
40
Posted 12/01/2019 at 16:27:48
Fran (#36), I think the point people, including me, are making is that he's never been played in his favoured position, and it made be worth giving him a run of 3-4 games up top.
Justin Doone
41
Posted 12/01/2019 at 16:56:33
I certainly hope the players and managers have more faith in their own abilities than we fans. Every game is starting to have that sense of a 'must-win' or it's all over about them.
I'm not sure reading TW helps as I'll be incredibly disappointed if we don't win and yet I can't help feeling let down already.
So let's turn the page, start a new chapter for this season and go all-out, free-flowing, attacking football. As long as the back 5/6 don't make any silly mistakes, I'm sure we are capable of creating 7 or more good chances; we should be good for an entertaining win.
Walcott is a counter-attacking player which is why he's been poor. But, as the opponent's defence is as bad as ours, it may be a good game to try him centrally to make good quick surging runs into the box.
We just need the support and creativity around him to play that final pass and or draw other defenders out of position.
Calvert-Lewin and Mina to come on as a second-half subs when they are bombarding us with crosses for their height.
It could be 5-2, 3-3, 1-3 but think positively, stay calm and shout your support we can start our winning run to close the gap!
Eddie Dunn
42
Posted 12/01/2019 at 17:09:08
Alan #33. The main reason we see so many free kicks hitting the wall (in all games – not just ours) is the refs are taking poxy little steps as they pace it out – I've even noticed some only take 8 or 9 paces. To get the ball up, over, and still have room to dip, the first bit needs a proper distance.
Take a close look tomorrow and see what I mean. I know that the tv pundits are always using graphics, with lines etc superimposed on the screen, it would be good if they could show where a wall should be placed and then refs watching would be keener to get it right.
Jim Bennings
43
Posted 12/01/2019 at 17:19:17
It's getting to the point now where – unless we start putting some quick wins on the board – then we can start waving goodbye to 7th or 8th at this rate, with the gap opening between West Ham, Watford and us.
Ray Roche
44
Posted 12/01/2019 at 17:29:00
Eddie @42,
That's a pet hate of mine, some little shit of a referee mincing 8 little paces before getting his little spray out and, with a flourish, drawing his line before flouncing across the area with a "Look at me" attitude.
The League really should ensure that their rules are adhered to.
Anthony Murphy
45
Posted 12/01/2019 at 17:43:45
Agreed Jim. Watford and West Ham. No wonder Moshiri is having a pop. I think we'll be okay tomorrow though.
Niall McIlhone
46
Posted 12/01/2019 at 17:47:47
Here here Neil @29, but equally, a Tommy Graversen and a Tim Cahill in his pomp would give us the added edge needed in the Premier League.
As for Latchford, an absolute prince amongst centre-forwards. McKenzie on the bench for a bit of magic, Davie Thomas could drop a cross on a sixpence whilst running at speed down the left. Nostalgia eh?
Sam Hoare
47
Posted 12/01/2019 at 18:10:08
Do we have any right to finish above Watford or West Ham though?
Truth is, I don't think we necessarily have a better first team or squad than many of the teams around us. Given the money we have spent, this is a failing mainly of the recruitment team, and mainly the previous regime.
Spending £100m on Bolasie, Schneiderlin and Sigurdsson for example.
I believe that Brands has begun to rectify that and the £80m spent on Mina, Richarlison and Digne will turn out to be money better spent. Time will tell.
Grant Rorrison
48
Posted 12/01/2019 at 18:24:59
Sam 47. Apart from taking their highly rated manager and best player while they're left with Tom Cleverley. No, I cant think of one.
Sam Hoare
49
Posted 12/01/2019 at 18:45:11
Grant, can't think of one what?
Grant Rorrison
50
Posted 12/01/2019 at 18:47:40
Sam @49. Reason why we would feel we have any right to finish ahead of Watford.
Sean Herbert
51
Posted 12/01/2019 at 18:49:07
Walcott has been shite for months yet still people want him to play!! Yet other players are given abuse after one poor game. Sigurdsson has also been poor of late but again excuses are made for him. Neither player warrants a start right now and Walcott in particular needs dropping.
By the way, Jim @26, I was one of the few who never championed Walcott and still don't rate him. Nor am I a big fan of Sigurdsson.
How many games has Calvert-Lewin played over the last 12 months compared to Walcott by the way?
Sam Hoare
52
Posted 12/01/2019 at 18:51:10
Glad you agree, Grant. ;)
Jim Bennings
53
Posted 12/01/2019 at 19:36:25
Sean
You'll probably find that, in the last 12 months, Calvert-Lewin has started and played quite a lot of Premier League games and scored 4 League goals since December 2017, not very convincing in my eyes.
Max Murphy
54
Posted 12/01/2019 at 19:45:41
In my opinion, Jordan Pickford should be dropped from the team, and then sold by the club. He is another Richard Wright in the making.
A decent goalkeeper should be commanding in the box, and inspire his defence. It is no surprise that, during one of the best spells in our club's history, we had the brilliant Nev Southall in goal.
I've said it before, Pickford is too short, and now he's making regular howlers. He'll soon be discarded as England's manager.
I've been watching the progress of Burnley since Tom Heaton has reappeared between the posts. They've won the last 3 games. It is little wonder that the England manager was at Turf Moor today to watch Heaton.
The thing is, Silva hasn't got the bollocks to drop him.
Brian Denton
55
Posted 12/01/2019 at 19:51:10
Mark (35) I was at that game. It was in the Cup in January 1974 and played on Sunday for reasons connected with Ted Heath's 3-day week and power cuts, I think. The kick-off was earlier than 3 pm so it would finish in daylight.
53,509 was the crowd, or so the wonderful Evertonresults.com tells me, and I've no reason to doubt it.
Lapsed Catholic in my case; no way was an hour in church keeping me from the match!
Laurie Hartley
56
Posted 12/01/2019 at 19:52:39
Clive #19 – I didn't realise till after I had posted. It's a bit of a concern because there is no way she will wear her lucky royal blue top two days on the run. It's in the washing as I type. Ah well!
Mark #23 – sorry mate!
Up the Blues
John Malone
57
Posted 12/01/2019 at 20:13:51
After today's results and seeing the table, I'm dreading tomorrow, it's already an important game but it feels like a season decider which I have no confidence in us winning.
Pat Kelly
58
Posted 12/01/2019 at 20:14:04
A defeat tomorrow, or even a draw, will leave Silva in serious trouble with two away games to come in January – unlikely to return any points if confidence is further eroded.
This could well be a turning point for Silva so I expect a win tomorrow. But this is Everton so anything could happen.
Eddie Dunn
59
Posted 12/01/2019 at 20:28:39
Ray #44, So glad to hear you are annoyed by this too. I have memories of refs properly pacing out 10 yards with decent steps, as each one is supposed to be a bleeding yard. Some of these pricks walk like they're wearing bondage trousers and can't bloody count either.
Derek Taylor
60
Posted 12/01/2019 at 20:38:25
We need only 13 points to be supersafe from relegation, so what's to worry about? There is a general acceptance from the boardroom that the emphasis is now on the ground move and Premier League survival is all that needs to accompany it.
Time to worry about Champions League and such once we are safely installed at Bramley-Moore Dock. Relax!
Dave Abrahams
61
Posted 12/01/2019 at 20:39:56
Brian (55) — and we lost the replay, most probably because you never went to mass. Mind you, I didn't go myself... to mass, that is.
Jack Convery
62
Posted 12/01/2019 at 20:46:18
I see Klopp (3 years plus as manager) needed a penalty to beat Brighton. Silva has half a season and gets it the neck for losing to said Brighton – makes you think time is the difference.
As for tomorrow... COYBs.
Jay Harris
63
Posted 12/01/2019 at 21:09:02
Jack, that is the difference between winning and losing, my friend. Some people are just serial losers which is why we are falling away rapidly from the top of the table.
We have no excuse tomorrow. Tiredness cannot be an issue. We have a full complement of players and we have had plenty of together time to prepare.
IMO this is a watershed game for Silva:-
Lose and he loses the support and good will he has generated.
Win and those green shoots may start to flower again.
Nothing less than 3 points and let's have the 12th man instead of the library!!
COYB
Roger Helm
64
Posted 12/01/2019 at 21:22:13
According to WhoScored app, Calvert-Lewin has scored 6 goals in 25 appearances.
Not so good, but in fact those appearances involved 748 minutes of game time, ie, about 8 full match equivalents.
Also, he spent most of that time on the left wing, or playing for a team struggling under Koeman and Allardyce.
I think that is not a bad return, considering he is just starting his career and is not yet physically mature. I say give him a long run as centre-forward. We aren't going to win anything this season anyway.
Clive Rogers
65
Posted 12/01/2019 at 21:31:43
Laurie, #56, it's down to you to wear it then.
Blue suits you, surely?
Neil Copeland
66
Posted 12/01/2019 at 21:36:10
Dave #61, I went to the West Brom game as well. Mind you I am a proddie so conscience is clear. I think the kick-off was 2pm.
Neil Copeland
67
Posted 12/01/2019 at 21:40:23
Eddie #59, in relation to Referees, what had happened to foul throw-ins? The amount of unpunished foul throws seems to have reached ridiculous levels. If they are not going to uphold the law, then shouldn't they change it?
Tom Bowers
68
Posted 12/01/2019 at 22:00:09
There isn't any excuse really for any poor performances unless you go down to ten men very early in a game.
All the teams are in the same boat playing the same number of games and trying to cope with injuries etc... and of course the biggest moneybags with the biggest pool of class players to call on.
VAR will help stop a lot of whining next season and it couldn't come a moment too soon in my book. Even today I see offsides not called and goals being scored and other offsides being called preventing a probable score.
Since they have had the officials wired up and a fourth official being introduced, I cannot for the life of me see where it has improved the game. They still can't see the obvious even when they are staring right at it.
Players are still pushing, shoving, shirt pulling and standing deliberately on opponents feet and much of it in the box and going unpunished.
Next season should make a lot of players think twice about penalty-box infringements.
Mike Gaynes
69
Posted 12/01/2019 at 22:27:24
Neil #67, they did change it, sort of. We referees got guidance from FIFA (and USSF for me) about two years ago that significantly lightened up on the interpretation of the laws for throw-ins. Generally speaking, unless it's a really blatant violation, we're to play on. If the feet are on the ground and two hands are over the head, pretty much anything goes. In particular nobody flags for "spinning" anymore.
Ray and Eddie, I have the same pet peeve about refs not giving the full 10, but I stopped pacing it off about 20 years ago. I just run to the correct spot and point, and spray if I have it. When a player wants me to pace it off, I tell him I've been doing this since before his father was born and I know how far 10 yards is, so fuck off. (Actually I don't say that last part out loud, but they get the message anyway.)
Mike Gaynes
70
Posted 12/01/2019 at 22:31:54
Roger #64, I find goals-to-minutes a more telling statistic than goals-per-appearance. Calvert-Lewin scores a goal every 260 minutes of play. That's a fair-to-middling rate of production.
Jerome Shields
71
Posted 12/01/2019 at 22:37:02
Walcott play? The problem is that he hasn't been playing when on the pitch. He has become peripheral. Consistently, he makes the lowest amount of touches than any other Everton outfield player. Plus losing control in finishing positions and poor finishing. He does help Everton retain their shape, but increasingly, midfield is being overrun.
Neil Copeland
72
Posted 12/01/2019 at 22:38:34
Mike #69, thanks for educating me; I didn't know the laws had been softened. This helps to explain some issues but I still see a lot of cases where the ball has not been taken fully over the head go unpunished.
John Pierce
73
Posted 12/01/2019 at 22:47:22
Neil, it's worth thinking about whether any team is truly disadvantaged by a foul throw-in? So why penalize it just to enforce a law?
The same goes for a moving ball, the spot of the foul, ten yards etc. Only when a team is truly disadvantaged should you apply the foul.
Whilst many apply the letter of the law, a good official will balance flow with control.
Mike Gaynes
74
Posted 12/01/2019 at 22:47:51
You're welcome, Neil. The example you cite is another good one. Anything better than a push shot from your forehead is okay to play on these days. You certainly don't have to Rory DeLap it into the middle of your back anymore.
Eddie Dunn
75
Posted 12/01/2019 at 22:48:10
Mike, that is very funny... but, now you know how annoying you all are, I hope you pace it out in future!
Colin Glassar
76
Posted 12/01/2019 at 22:52:02
Bournemouth are on a terrible run so I expect them to beat us tomorrow. We are after all the team that giveth and not taketh.
Jamie Crowley
77
Posted 12/01/2019 at 22:54:42
We currently sit 5th in the "Premier League-Championship Table of Eight".
I heard on radio, (didn't see a report?) that Moshri came out and publicly stated he wasn't happy with our league position.
We need to win. Watford above us isn't acceptable.

Eddie Dunn
78
Posted 12/01/2019 at 22:55:59
We must remember that throw-ins are only a way of resuming play after the ball has gone out of bounds, so I suppose it isn't too crucial if the hands don't go behind the head or a pinkie pops up off the turf.
We have a bloke, in his late twenties, who is a semi-pro rugby scrum-half. He plays outside with us in the summer. He has a throw-in like a guided missile, but one of the lads noticed that he spins the ball and one hand leads slightly before the other as he releases, giving it even more power. Is this legit? We are sure it isn't.
Of course, this is more than just restarting a game and is a veritable weapon.
John Malone
79
Posted 12/01/2019 at 22:56:17
Well said, Jay @63, let's us as fans actually have a go tomorrow and cheer our team instead of turning up to moan!
And for god's sake don't play Yerry the liability; Zouma and Keane all the way!
Neil Copeland
80
Posted 12/01/2019 at 22:58:17
John, agreed but an awful lot of refs seem to be very inconsistent. I know I probably view the decisions through blue-tinted specs but, for example: sometimes the most innocuous challenges are punished yet blatant fouls are not.
There are instances in my opinion when a team gains an advantage through a foul throw bring taken quickly. Whereas normally legitimately taken throw-ins are a bit of a lottery and not much of an advantage. Perhaps it may be better to replace throw-ins with something else?
Neil Copeland
81
Posted 12/01/2019 at 23:01:38
Mike #74, thanks once again, that does explain it – I thought I must have been missing something.
Mike Gaynes
82
Posted 12/01/2019 at 23:28:07
Eddie #78, that previously would have been a foul throw. Now it's seldom called. I think he'll get away with it just fine. My suggestion would be, get in the box and score.
I scored that way once in a Cup quarterfinal. We had an Italian guy who was a howitzer on throw-ins. I subbed in just as he was loading one up at their end. I sprinted all the way into the penalty area, waving my arms like a semaphore guy on a destroyer. He hit me on the dead run eight yards out and I headed it through the keeper's hands.
John Pierce
83
Posted 12/01/2019 at 23:50:55
Neil, fouls or perceived fouls are often judged on physicality. On that basis, it always feels inconsistent for sure. I'm deffo guilty of that when I watch a game.
Fouls are nearly, for me at least, not so much how physical they are (cos that's the easy bit, right?), but what opportunity has been taken away from the contact? Or indeed, has the contact impeded anyone at all?
I think the limited nature, often binary, of the punishment in football deters referees from striking the right balance.
I think eventually the sin bin will come and the 2nd yellow bins you, a 3rd gets you a cumulative red. The penalties available don't deter players from committing fouls at all imo. Since when is a footballer bothered about picking up a yellow?
It takes a poleaxing to pick up a 2nd yellow. Collateral damage. When the rules hurt the collective, we'll see teams police themselves and less ire at the referee.
Jay Harris
84
Posted 12/01/2019 at 23:51:27
Mike,
The one that really bugs me is the shielding of a ball with no intention to play it to the point of actually barging a player so he can't get to it..
This used to be obstruction and was given when I was playing (albeit some years ago).
Now you are our Dermot Gallagher (no offence intended even though I hate referees) – what is the current advice for obstruction?
Neil Copeland
85
Posted 13/01/2019 at 00:32:59
John #83, I think that is a good summary and agree that the punishment may well change in the future if only to "glam the game up a bit".
Jay #84, yep that's another one that bugs me as well.
Stephen Jones
86
Posted 13/01/2019 at 01:28:32
May be early to be panicking but I'm worried. Results for West Ham, Watford and a quickly rising Southampton. We need to start a run desperately. Fingers crossed today that the goals start coming again.
Huge pressure on everyone so if it doesn't go our way, I feel a new / different striking option is a must. Wonder what damage Yerry could do up front? Desperate times.

John Pierce
87
Posted 13/01/2019 at 04:01:48
Stephen, in a funny way, I agree with you. We lack presence up front. We don't have a centre-forward that occupies the centre-halves.
At least Mina might do that! The result is we don't move a team around, the defence tires less and we aren't as effective in the latter stages of games.
A strand I think is evident in games where we cannot break a team down. However; Bournemouth are a different type of side; I have few worries about it. Open, attack-oriented, and soft at the back. There will be enough space for us to open them up.
But I share your concern; after tomorrow, only Burnley at home is a more comfortable-looking fixture. Wolves then 5 of the big 6 at home might leave us winless.
Asking this team to do it on the road, albeit at mediocre opponents, is a big ask. I think, unless the cup gives us extra succour, 13th or 14th is our likely finishing spot.
Alan J Thompson
88
Posted 13/01/2019 at 05:09:55
Eddie (#42); is it 10 yards or 9 metres? Perhaps the length of it needs looking at, the stride, of course.
Mike Gaynes
89
Posted 13/01/2019 at 06:29:22
Jay #84, thanks but I'll go for Phil Dowd instead of Gallagher. I always liked him. Bit of a paunch, always a smile, enjoying the game as a referee should. The players liked him too. Sad to see his career end with an injury... being carried out of your last match after a long career just sucks.
To answer your question, I cannot recall the last time I called obstruction, or saw it called. I haven't seen it at the professional level in at least ten years, maybe longer. It was never common, but now it has disappeared completely. I have no idea why.
Alan J, 10 yards and 9 meters are virtually the same distance. The laws of footy don't recognize meters – everything is in yards.
Ray Roche
90
Posted 13/01/2019 at 07:56:04
Eddie @59,
I'll bow to your superior knowledge regarding bondage trousers. 😉
Geoff Cadman
91
Posted 13/01/2019 at 09:14:01
Mike,
Why is a regulation size international pitch 105 by 68 metres instead of yards like everything else? This has always confused me.
Neil Wood
92
Posted 13/01/2019 at 09:14:23
Well, I have an Interview with Everton on Wednesday and I am desperate for a win to put the recruitment team in a good mood!! Ha.
(Maybe you could all email the club recommending me; imagine the power of a load of emails from fans!! We are the People's Club after all... ;-)
I'm pretty confident of a win today and the way Bournemouth have been playing gives more confidence. I think Mina has his positives but, whilst we have Zouma, then surely he is a definite with Keane!?
Bernard has to play for me and I would play him centrally and leave Sigurdsson on the bench:
Pickford
Coleman Keane Zouma Digne
Gana Gomes
Lookman Bernard Richarlison
Calvert-Lewin
Anthony Murphy
93
Posted 13/01/2019 at 09:20:55
Neil, I haven't seen it advertised but there is definitely a current vacancy for a centre-forward?
Good luck! 😉
Neil Wood
94
Posted 13/01/2019 at 09:22:29
Ha – cheers Anthony. I've just turned 40 and still think I could do a job up top!! I would certainly offer more commitment and passion!
Thanks pal
Eddie Dunn
95
Posted 13/01/2019 at 09:26:10
Ray, I've never worn them myself, but I swear I saw Keith Hacket sporting a pair in the Marquee '77.
Dave Ganley
96
Posted 13/01/2019 at 09:44:05
A lot of negative posts, as per usual. We are going through a bad patch; it happens. Even Man City lost 3 out of 4 recently. We will come out of it and finish decently. The form we were showing up to and including the derby wasn't a fluke.
Somebody posting that we will finish 13th or 14th and someone suggesting that they are worried... go and have a word with yourselves. We are not that great but seriously, you think we're that bad? Must be watching different games to me this season.
I'm looking forward to today and expect a decent win. 2-0 to the Blues.
COYB
Jerome Shields
97
Posted 13/01/2019 at 09:45:54
Bournemouth's defensive record is poor. It is therefore ironic that their high defensive line – which caused it – will be the tactic that will give Everton problems.
Ray Roche
98
Posted 13/01/2019 at 10:01:36
Eddie, "Never worn them myself."
Yeah... right. 😁
Michael Ward
99
Posted 13/01/2019 at 10:04:26
Solanke is almost guaranteed to score today so we will need to score 2 to win.
I think the idea of Bernard on the right is a good one as I don't think Lookman offers the link play he does with the fullback and I trust Digne to create something on his own more than our right backs at the moment.
Ray Roche
100
Posted 13/01/2019 at 10:10:49
Isn't Solanke sidelined with a hamstring injury?
Eddie Dunn
101
Posted 13/01/2019 at 10:28:36
Yes, Solanke is out.
Michael Ward
102
Posted 13/01/2019 at 10:31:08
I didn't realise Solanke is out. At least that misery can be delayed for a season.
Alan J Thompson
103
Posted 13/01/2019 at 10:49:04
Mike (#89); I'm surprised especially as FIFA is based in Europe, as I thought everyone bar yourselves were metric these days. I know 9 m and 10 yds are the same (bar 9 inches) but how many know the size of their stride?
Paul Kennedy
104
Posted 13/01/2019 at 10:54:11
I feel we are playing as a team trying their hardest to get into the relegation battle rather than a top 6 spot. No win today for me – a draw at best. I really hope I am wrong.
Darren Hind
105
Posted 13/01/2019 at 11:10:38
Interesting looking across various websites, amongst those naming a preferred side Lookman's inclusion seems to be universal.
I wonder if Silva will agree...
Brian Williams
106
Posted 13/01/2019 at 11:16:40
I agree with Jay #84.
That ridiculous action of standing legs wide apart, and arms too, to prevent an attacker getting near the ball, while shepherding it out of play, pisses me right off.
I think the attacker should be able to step back and plant a deft kick in the cojones of the player guilty of obstruction!
John Malone
107
Posted 13/01/2019 at 11:23:22
Clyne will be the problem for us he is a superb athlete and will make it difficult Digne who has been our main attacking outlet lately.
Kim Vivian
108
Posted 13/01/2019 at 11:27:45
With regard to the 10 yards thing, it seems that most mowing stripes are 6 yards wide (3 full stripes for the penalty area as a template) - look next time you are watching on tv.
So it is quite easy to see if a full 10 yards has been adhered to, and also judging the range from which a shot may have been taken.
Not easy to see at the game itself of course, but often very clear on tv, which sadly is where I watch most games from these days.
Eddie Dunn
109
Posted 13/01/2019 at 11:42:27
Darren, his team selection will tell us a lot. Now Lookman is fit there is a choice to be made. It will be interesting on the right flank with the question also about Coleman v Kenny.
For me, Lookman has to start but I also want Bernard on from the off. Therefore, I suspect Richarlison will be at nine and Calvert-Lewin on the bench.
Decisions to be made in defence too, with Baines good display last week and which centre-half to drop. I would bench Mina and as well as Baines did, I feel Digne will get the nod.
James Doran
110
Posted 13/01/2019 at 11:48:40
Eddie,
I don't think it is nailed-on that Sigurdsson will start. We may see Bernard start in the No 10 position today.
Brian Harrison
111
Posted 13/01/2019 at 11:56:20
Bournemouth have never won at Goodison they have a few injuries and they are in an awful fun of form, so where better to go to alter all that.
Massive game today, even if we win we will still be a point behind West Ham and Leicester, draw or lose and all that optimism we had in the first few games will evaporate very quickly.
Let's hope that we get all 3 points with a decent performance, despite what team Marco Silva picks they need to show the confidence that was there earlier in the season. A clean sheet would also be most welcome as they are as rare as hen's teeth this season, also means if you can't keep clean sheets you have to score 2 to win any game.
Tony Hogan
112
Posted 13/01/2019 at 12:43:18
Can anyone explain as to why that prick Carragher is again allowed to comment on today's game?
Jobs for the boys, nice convenient position so he doesn't have far to travel, maybe avoid having to spit at anyone.
Disgraceful and ridiculous decision from Sky, but then again we shouldn't be surprised with the continual Liverpool bias from Sky. I'm seriously considering cancelling my subscription.
Anthony Murphy
113
Posted 13/01/2019 at 13:02:38
Brian,
That's the worry, isn't it? One thing we do have form for is giving a helping hand to teams or strikers who are in poor form.
I think we'll win today though. Can we keep a clean sheet?
Derek Knox
114
Posted 13/01/2019 at 13:23:51
Just watching the Sky Main Event preview, and what are they talking about... ?
Surprise, surprise, Tottenham v Man Utd.
Alan McGuffog
115
Posted 13/01/2019 at 14:00:10
Derek... are you really surprised? What sort of percentage of Sky subscribers do you think gives a fish's tit about Everton and Bournemouth?
Darren Hind
116
Posted 13/01/2019 at 17:35:59
Some good calls, Eddie @109.
You gave the tea leaves a good look this morning!
Add Your Comments
In order to post a comment, you need to be logged in as a registered user of the site.
Or Sign up as a ToffeeWeb Member — it's free, takes just a few minutes and will allow you to post your comments on articles and Talking Points submissions across the site.